---
Sushi in Singapore for all budgets
---
Ask any random person on the streets of Singapore for their favourite Japanese dish and "sushi" would feature in most of their answers. Whether you're someone who leaves behind proud towers of empty plates at Sushi Express or the epicurean who splurges at Waku Ghin, there's no denying how satisfying it is to finish a row of assorted nigiri. 
For all you fellow sushi lovers, we've looked collated 20 sushi spots in Singapore that are not the usual chains. Our list spans from the dollar-stretching to the salary-crushing, so there's def' something for you here!
---
For the maximum stretch to your dollar (<$15++)
---
1. Yokozuna Stall
---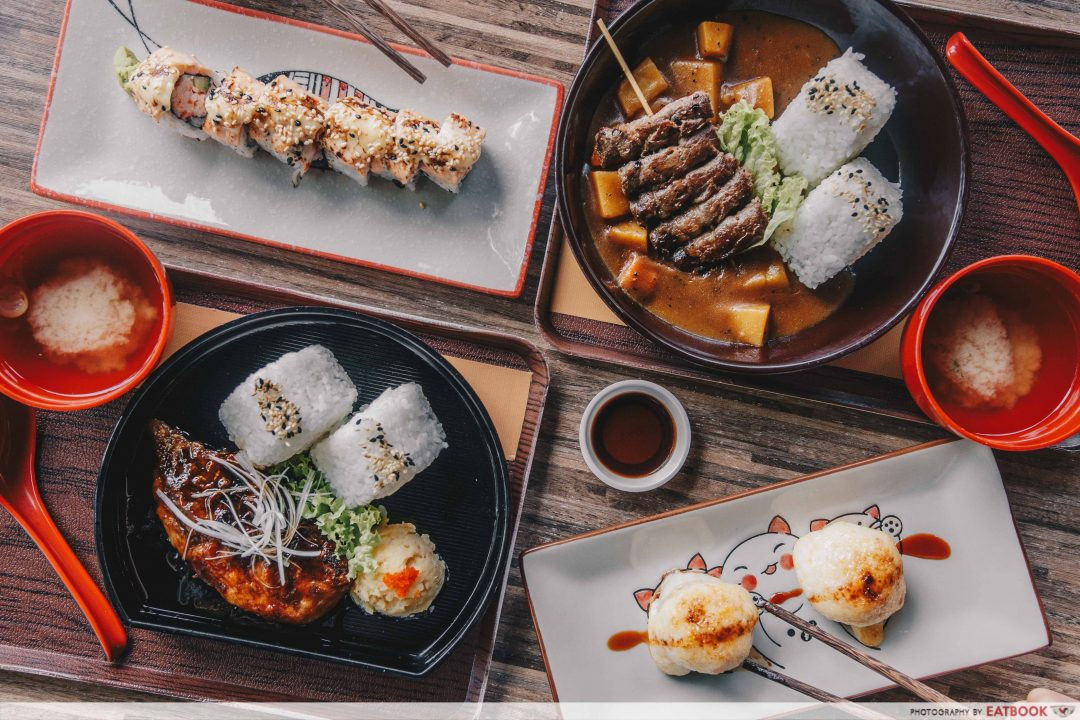 Judging from their elegantly plated dishes, most of us would naturally assume that Yokozuna Stall is an atas restaurant, guarded within the gilded doors of a five-star hotel. But in actuality, this eatery is a humble hawker stall hailing from a kopitiam in Toa Payoh, with a reputation of dishing up value-for-money Japanese meals. 
Their line of sushi is no joke as well, sealing the approval of many regulars with their gorgeously executed creations. We especially love their signature Tataki Salmon Roll ($6), which gets nearly every aspect of a good maki down pat—every slice comes chock-full of shredded crab stick and diced cucumbers. A slice of torched salmon provides the crowning touch, adding finesse to this already delicious sushi with its smoky and creamy undertones.
Check out our full review of Yokozuna Stall!
Yokozuna Stall Review: Restaurant-Quality Japanese Food At A Kopitiam In Toa Payoh
Address: 211 Lorong 8 Toa Payoh, #01-01, Singapore 310211
Opening hours: Mon-Fri 12pm to 2:30pm, 5pm to 8:30pm, Sat-Sun 12pm to 8:30pm
Website
---
2. Donya Japanese Cuisine
---
Donya Japanese Cuisine is another off-the-grid gem which we managed to suss out, sealing multiple visits with their salivating Mentai Maki ($5.80). Featuring densely packed rolls of rice, stuffed with crabstick and cucumber, and topped with a mix of torched salmon, tobiko, and mentaiko sauce, this sinfully rich maki screams for you to gulp it down in one, greedy, mouthful. Check out this hawker stall under a HDB block for your next budget sushi fix.
Check out our full review of Donya Japanese Cuisine!
Donya Japanese Cuisine Review: Cheap And Delicious Donburi And Maki At A Kopitiam
Address: 126 Lorong 1 Toa Payoh, Singapore 310126
Opening hours: Daily 11am to 2:30pm, 5pm to 9pm
Tel: 8866 2126
Website
---
3. Kazoku Japanese Cuisine
---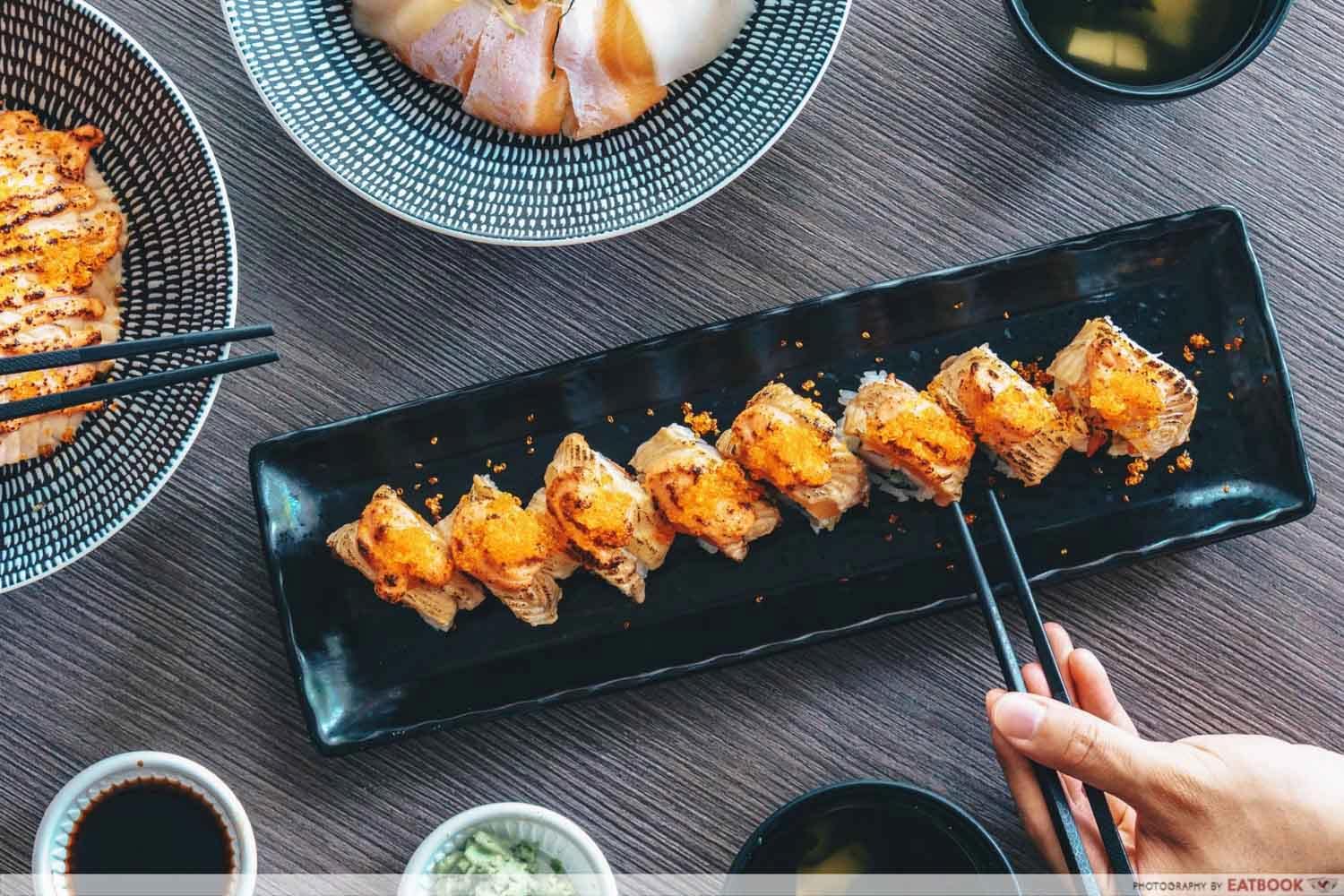 We typically associate the places near town with expensive food, but there are actually a few hidden gems known only to office workers or residents nearby. Case in point: Kazoku Japanese Cuisine. Situated near Novena MRT Station, this quiet stall is hidden in plain sight, rewarding the keen observer with affordable and delicious Japanese meals. 
Most of the dishes here don't breach the $15 threshold while the few ones which do, pamper you with a delicious melange of flavours. Special mention goes to their Aburi Mentai Roll. At $11.40, this eight-piece roll was already a steal, but with toppings such as torch-grilled mentaiko salmon and ebiko, it becomes a foodie secret best kept to yourself. 
Check out our full review of Kazoku Japanese Cuisine!
Kazoku Japanese Cuisine Review: Cheap And Good Mentaiko Salmon Don And Chirashi At Novena
Address: 1 Goldhill Plaza, #01-05, ToGather Kitchen & Bar, Singapore 308899
Opening hours: Daily 12pm to 10pm
Tel: 9687 3782
Website 
---
4. Ryoshi Sushi Ikeikemaru
---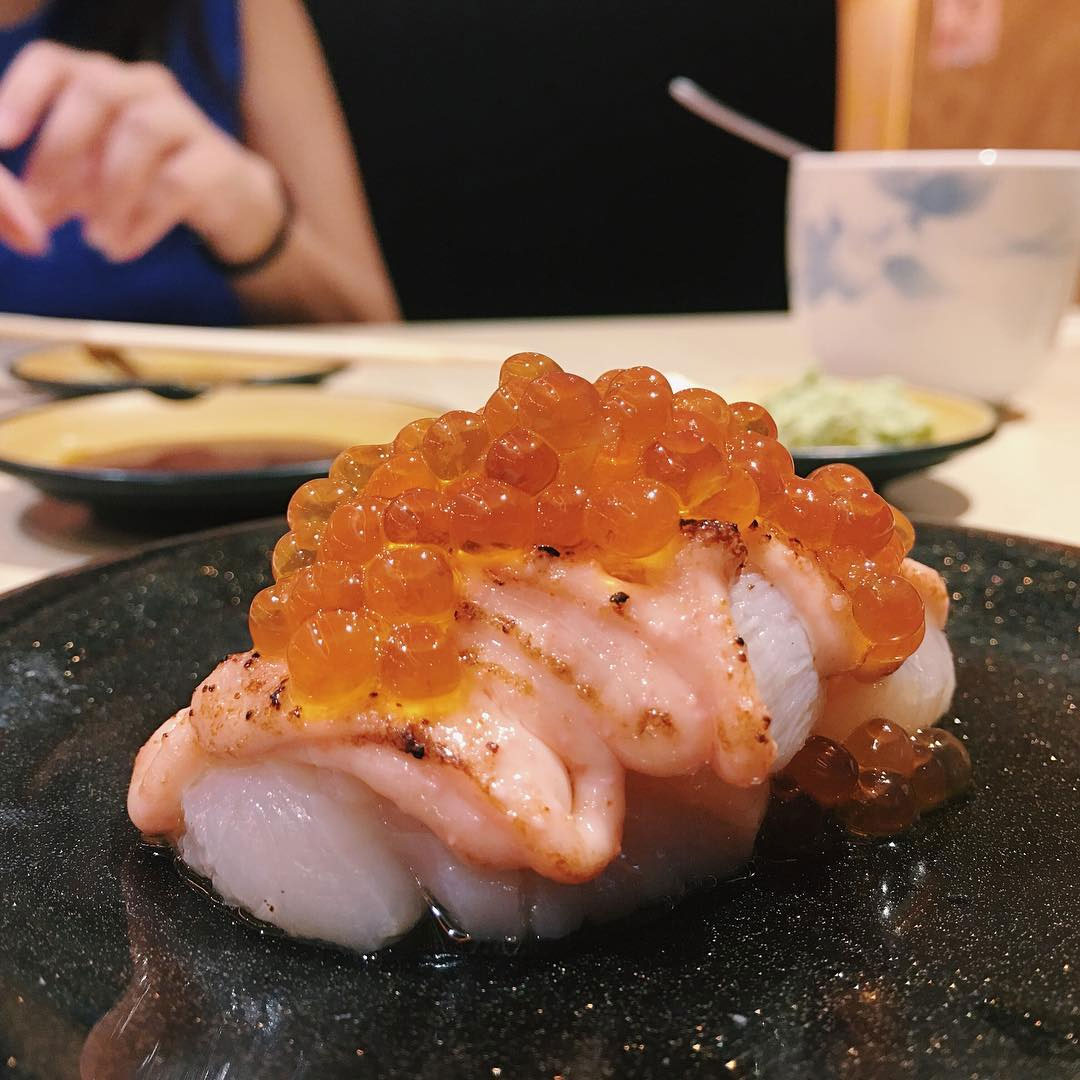 Image credit: @dai.jiak
When it comes to Japanese fare, Ryoshi Sushi Ikeikemaru not only offers affordable prices, but also passes the stringent taste test of most Japanese expats. Besides dishing up an assortment of belly-pleasing donburi, this family-friendly spot also boasts an impressive array of sushi, with prices starting at $1.80++ per plate.
If you've made a trip here for the latter, grab a seat by the conveyor belt and keep your eyes peeled for their Aburi Mentaiko Hotate. At $6.80++, it may not be the cheapest dish on their menu, but with its thick Hokkaido scallop, as well as umami-laden toppings of mentaiko sauce and ikura, it's also one you probably want. 
Address: 177 River Valley Road, #B1-31, Liang Court, Singapore 179030
Opening hours: Daily 11am to 9:30pm
Tel: 6337 1022
Website
---
5. Standing Sushi Bar
---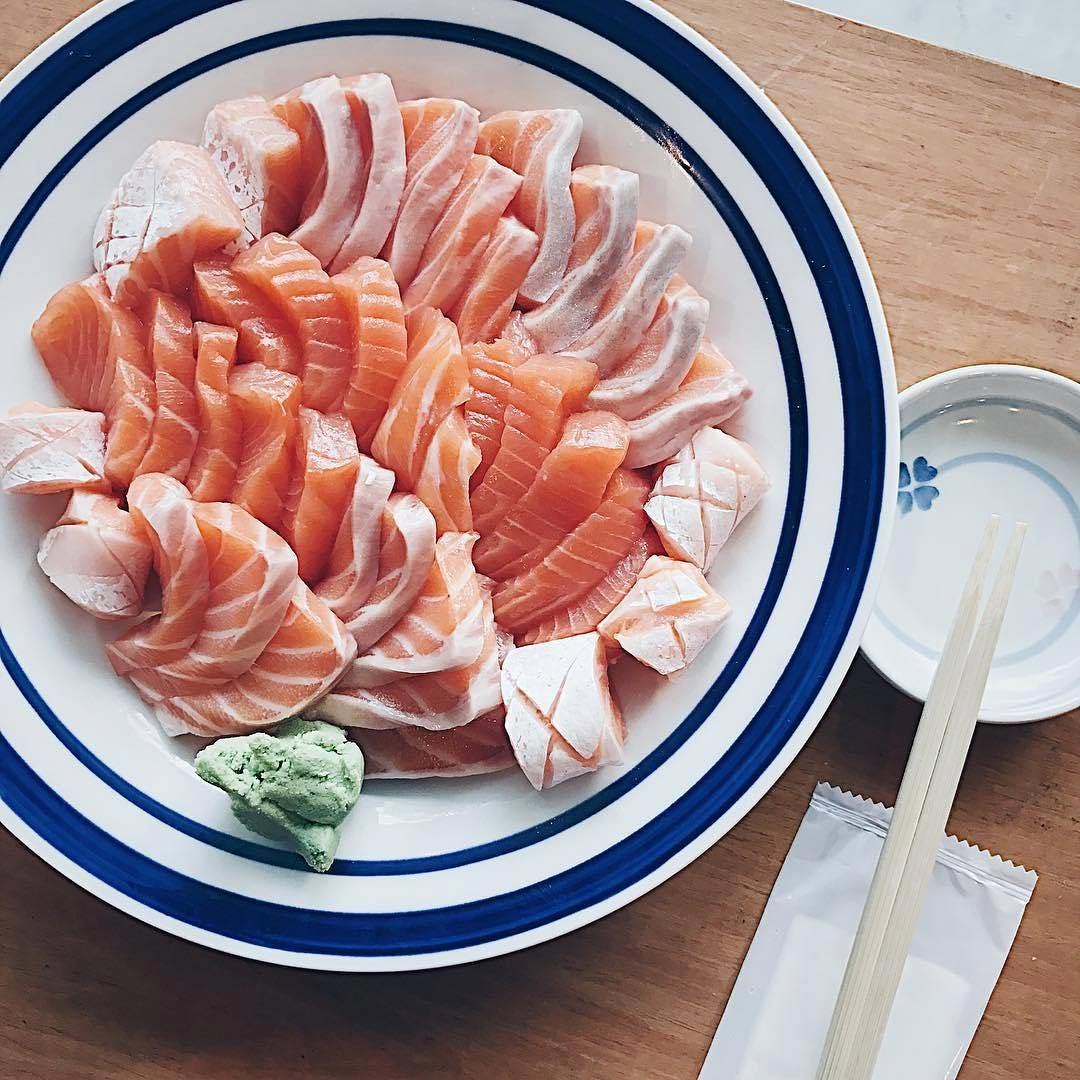 Image credit: @standingsushibar
Plates like this are not uncommon at Standing Sushi Bar. This sleek eatery has caught the eye of all salmon lovers with their popular Salmon Madness Nights, a $3 salmon sashimi promotion that has hungry bellies flooding their doors every Monday and Thursday. 
But this deal isn't the only dollar-stretching trick that they have up their sleeves. Tuesdays come with a 50% discount on their nigiri sushi and Wednesdays feature their speciality sushi rolls at half-price. From the All Salmon All The Time (U.P. $16.90++) to their spicy Fire Maki (U.P. $16.90++), these maki rolls will give you a good bang for your dollar.
Address: 331 North Bridge Road, #01-04, Odeon Towers, Singapore 188720
Opening hours: Mon-Fri 12pm to 2:30pm, 6pm to 10:30pm, Sat-Sun 12pm to 10:30pm
Tel: 6333 1335
Website
Full list of outlets
---
6. Sushi Plus
---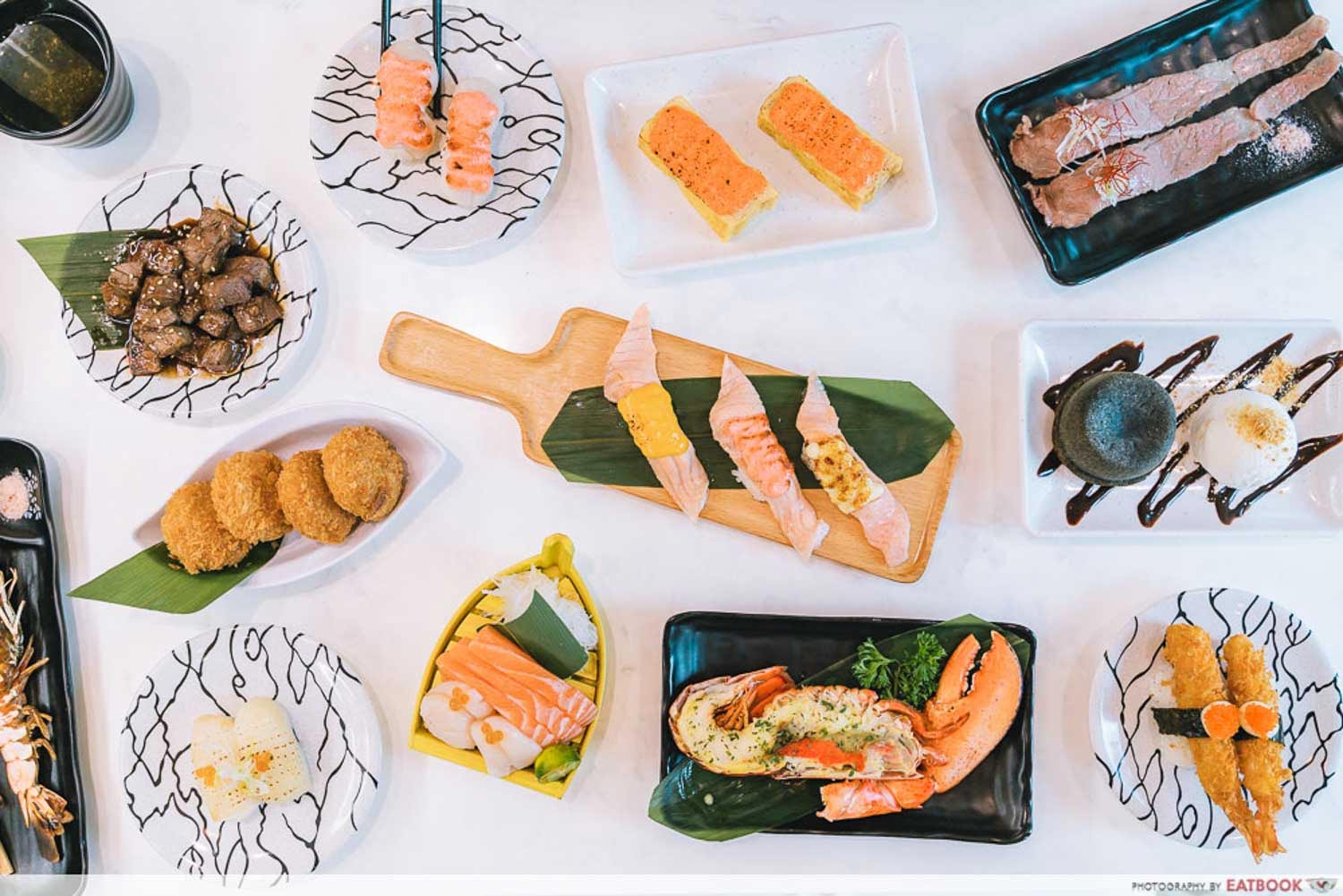 Sushi Express has long proven that you can feast on sushi without breaking the bank, and their latest concept, Sushi Plus, lives up to this reputation with their affordable prices. Most plates of sushi start from a wallet-friendly price of $1.50++, so expect to find yourself racking up a looong list of orders.
If you're unsure of what to add to your list, we recommend their popular Triple Flavour Salmon Selection ($5++). You can't go wrong with aburi salmon sushi, but these jumbo strips of salmon belly, flame-torched to a delicious smokiness and oozing with sinfully rich notes, will leave you craving for a second plate.
Check out our full review of Sushi Plus!
Sushi Plus Review: New Sushi Train And Conveyor Belt Restaurant At Bugis With Prices Starting From $1.50
Address: 200 Victoria Street, #02-53, Bugis Junction, Singapore 188021
Opening hours: Daily 11am to 9:30pm
Website
---
7. JJ Fish Mart
---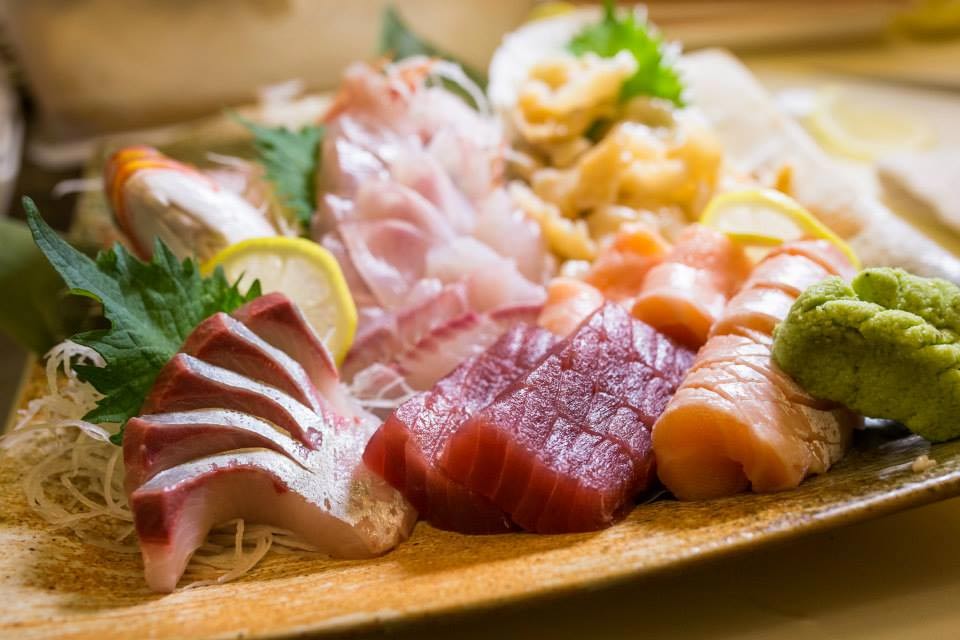 Image credit: JJ Fish Mart's Facebook Page
Now, onto the spot I'm least willing to reveal: JJ Fish Mart. This no-frill eatery rests right on the edges of the CBD but cooks up a bargain selection that could easily find their place in our hawker centres. Think Salmon Chirashi at $9.80, Maguro Maki at $4.50, and best of all, Tempura Shrimp with Aburi Salmon Maki at $14.80. This last dish features 10 chunks of sushi rice, stuffed with crunchy tempura shrimp and topped with oh-so-tender slices of aburi salmon. 
Address: 6 Eu Tong Sen Street, #01-68/69, The Central, Singapore 059817
Opening hours: Daily 12pm to 10pm
Tel: 6221 0339
Website
---
Mid-range sushi that's worth the extra dollar (<$25++)
---
8. Koji Sushi Bar
---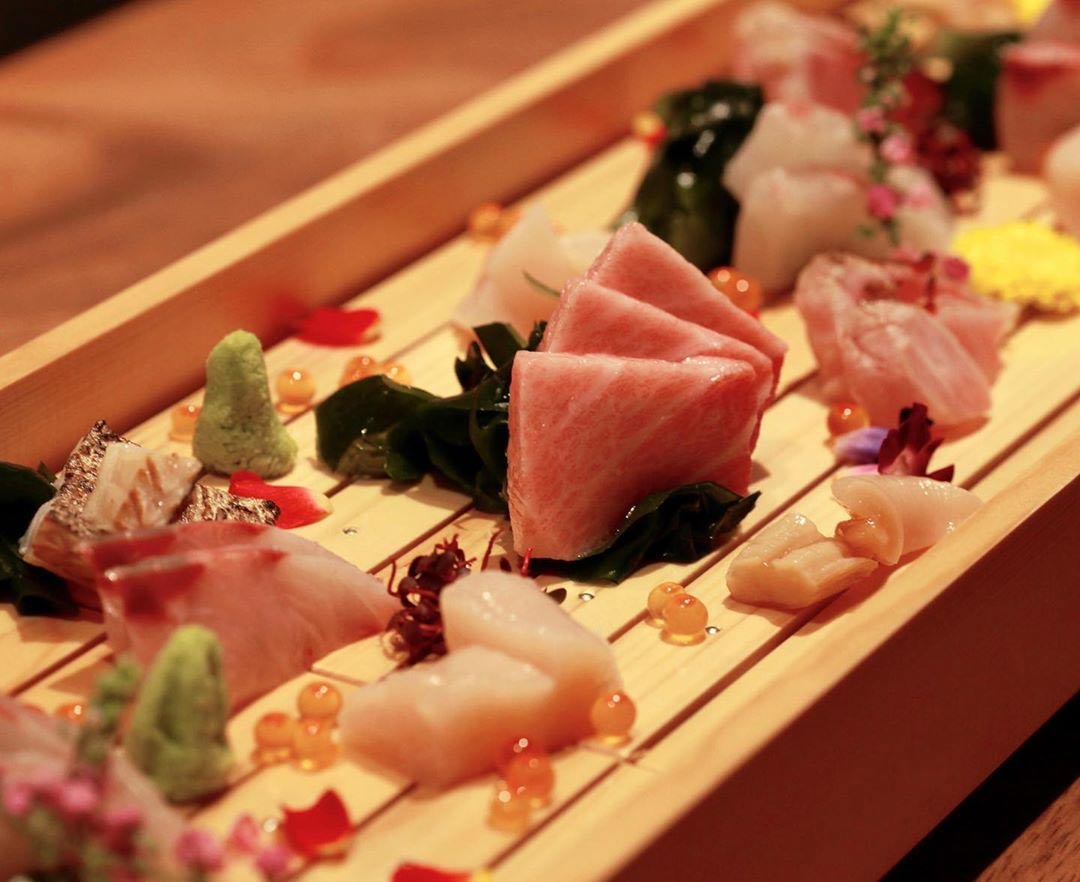 Image credit: @kojisushibars
Koji Sushi Bar is a speakeasy-esque joint; it offers a small yet cosy environment for one to enjoy the proven pairing of sake and sushi. We especially love how the latter tailors to any occasion, with their affordable Nigiri Set A ($9++) suiting budget eaters and the fancier Koji Sashimi Moriawase ($46++) setting the scene for fancier date nights.
We recommend getting at least two of their nigiri sets for a more satisfying meal. To allow their customers to enjoy a larger variety of dishes, their nigiri sushi comes in servings of five pieces. Great for your palate, great for your belly, but probably not the kindest to your wallet.
Address: 3 Pickering Street, #01-42, Singapore 048660
Opening hours: Mon-Sat 11:30am to 3pm, 6pm to 10pm
Tel: 6225 6125
Website
---
9. Sushiro
---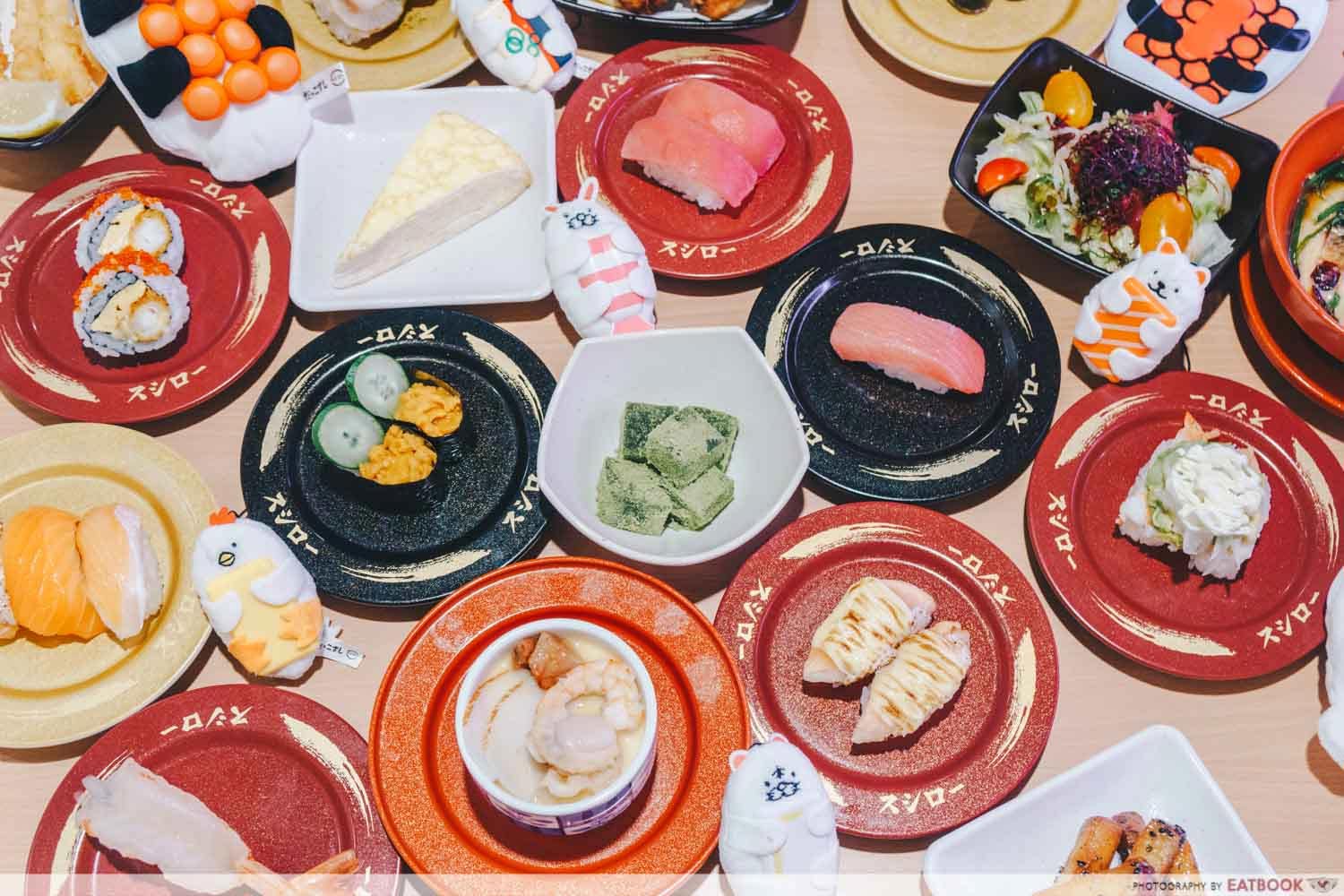 Here's what we can tell you after literally trying everything at Sushiro. Japan's largest conveyor belt sushi chain certainly sets the bar high, directly importing all ingredients from Japan, so trust them to pamper you from start to finish with their fresh and intricately assembled creations.
Keep your eyes peeled for their Fatty Tuna Sushi ($4.80++). The marbling on the massive slab of maguro doesn't mess around, so snatch these up as soon as they slip onto the conveyor belt! A second outlet recently opened at The Shaw Centre in Orchard. 
Address: 302 Tiong Bahru Plaza, #02-118, Tiong Bahru Plaza, Singapore 168732
Opening hours: Daily 11am to 10pm
Tel: 6970 2293
Website
---
10. Chojiro
---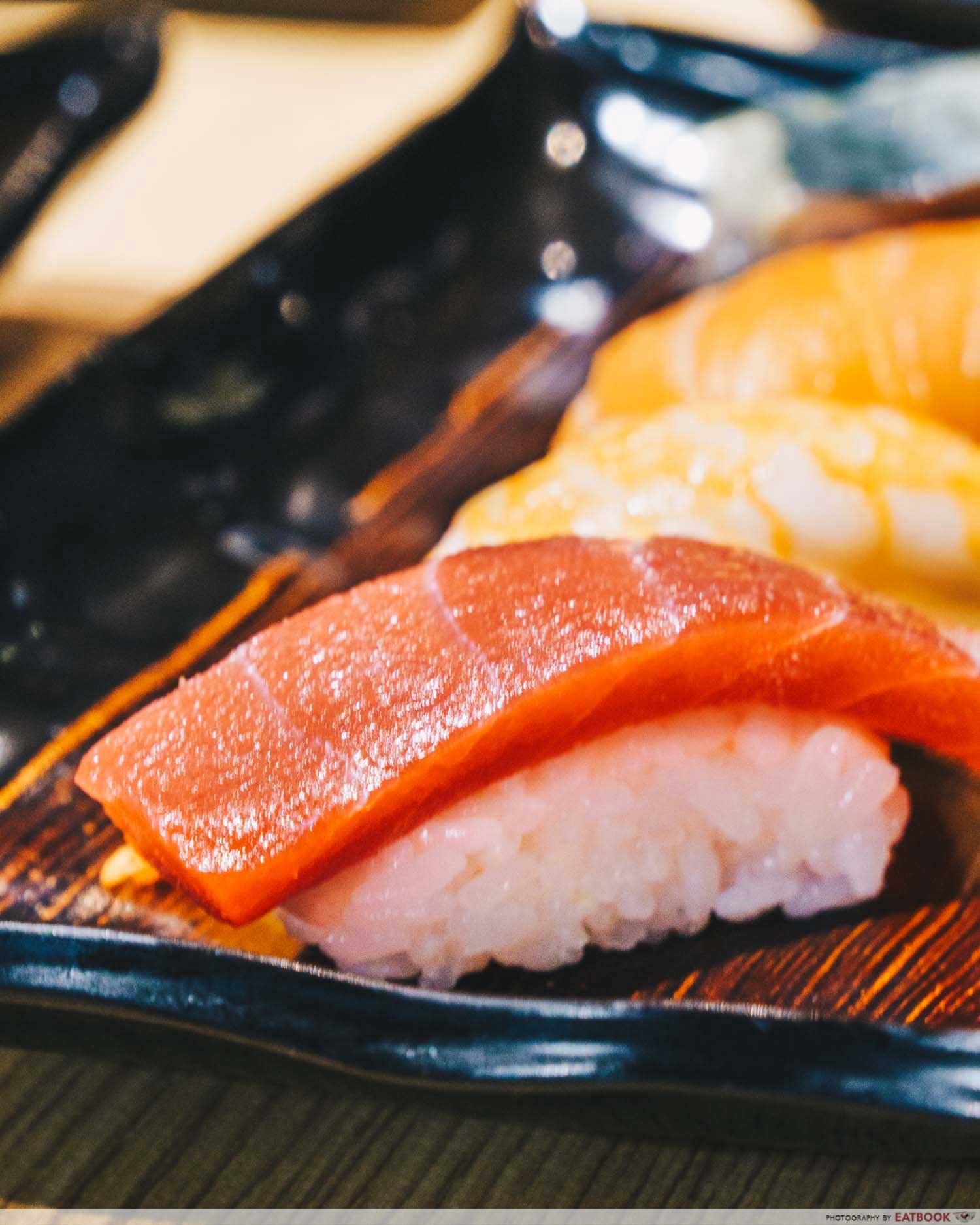 Like Sushiro, Chojiro was another big name to open their maiden outlet in Singapore last year. A team of six masterful hands helm their compact restaurant in Telok Ayer, speedily and stringently churning out neat stacks of nigiri sushi. 
While we found the texture of their rice slightly inconsistent during our first trip, the fresh quality and luscious taste of their air-flown seafood more than made up for it. Be it the bold richness of their Kyoto-style Pressed Mackerel Sushi ($4.99++) or the familiar fattiness of their Salmon Nigiri ($3.99++), their sushi sets you on a tantalising spin of intense flavours. 
Check out our review of Chojiro!
Chojiro: Affordable Conveyor Belt Sushi Restaurant From Osaka Opens At Telok Ayer
Address: 23 Church Street, #01-02/08, Capital Square, Singapore 049481
Opening hours: Daily 11:30am to 9pm
Website
---
11. Omote
---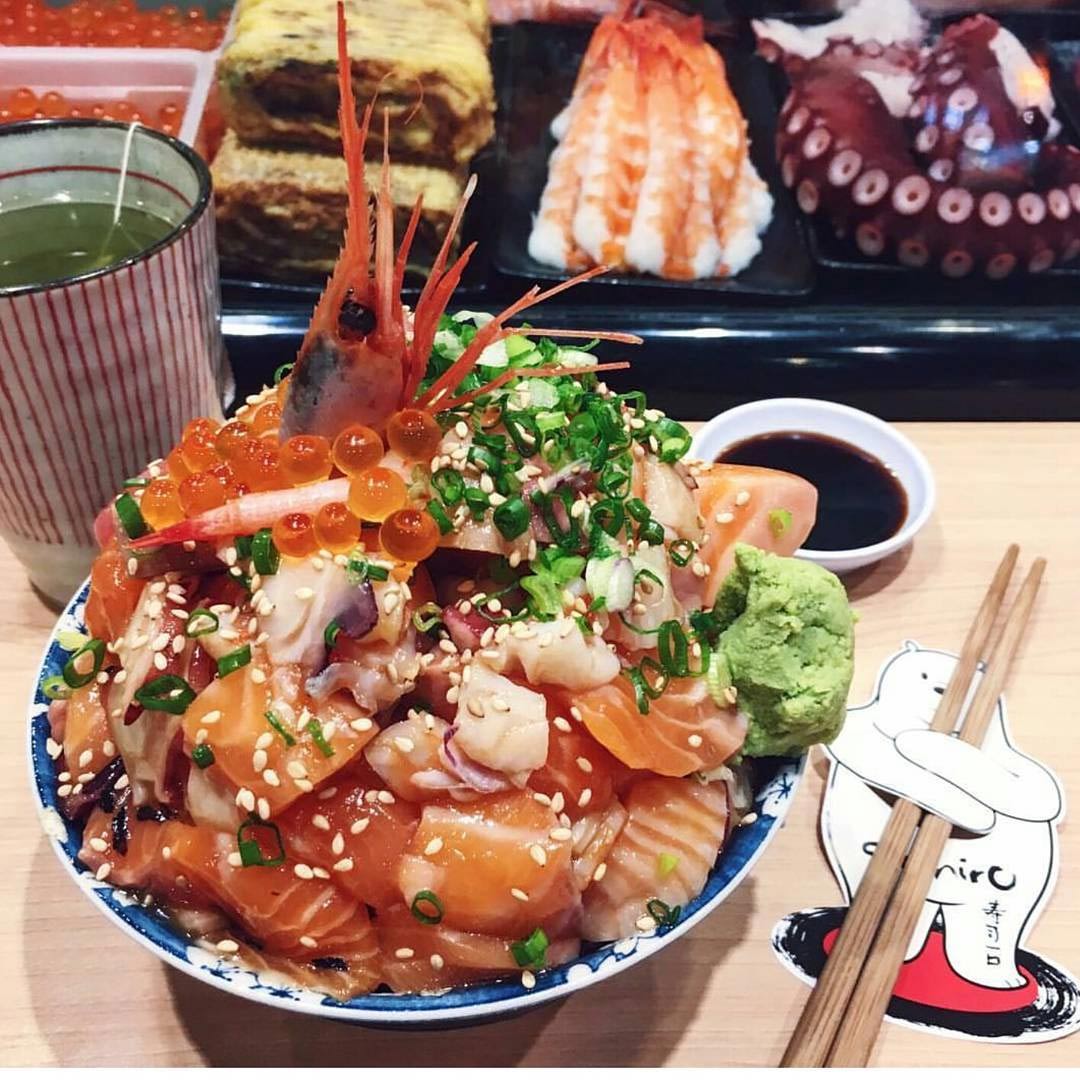 Image credit: @omotesingapore
Boasting these massive bowls of Premium Bara-Chirashi Don ($24.80), Omote has long appeared on the radar of fans of Japanese food. These eye-catching mountains of rice and diced seafood are not the only attraction at this popular Japanese eatery. The true plaudits are reserved for their in-house sushi which many regard as one of the better ones around, especially given Omote's low prices. 
Their aptly named Crowd Favourite Sushi Set ($15) stands out as the darling of the bunch, scoring high marks in both quality and quantity. Featuring four pairs of sushi, including the luscious salmon mentai, savoury tamago mentai, and buttery aburi salmon, this colourful set offers a shining example of a value-for-money sushi platter.  
Address: 301 Upper Thomson Road, #03-24A, Thomson Plaza, Singapore 574408
Opening hours: Wed-Mon 11:45am to 2:15pm, 5:45pm to 9:15pm
Tel: 9450 1020
Website
---
12. The Sushi Bar
---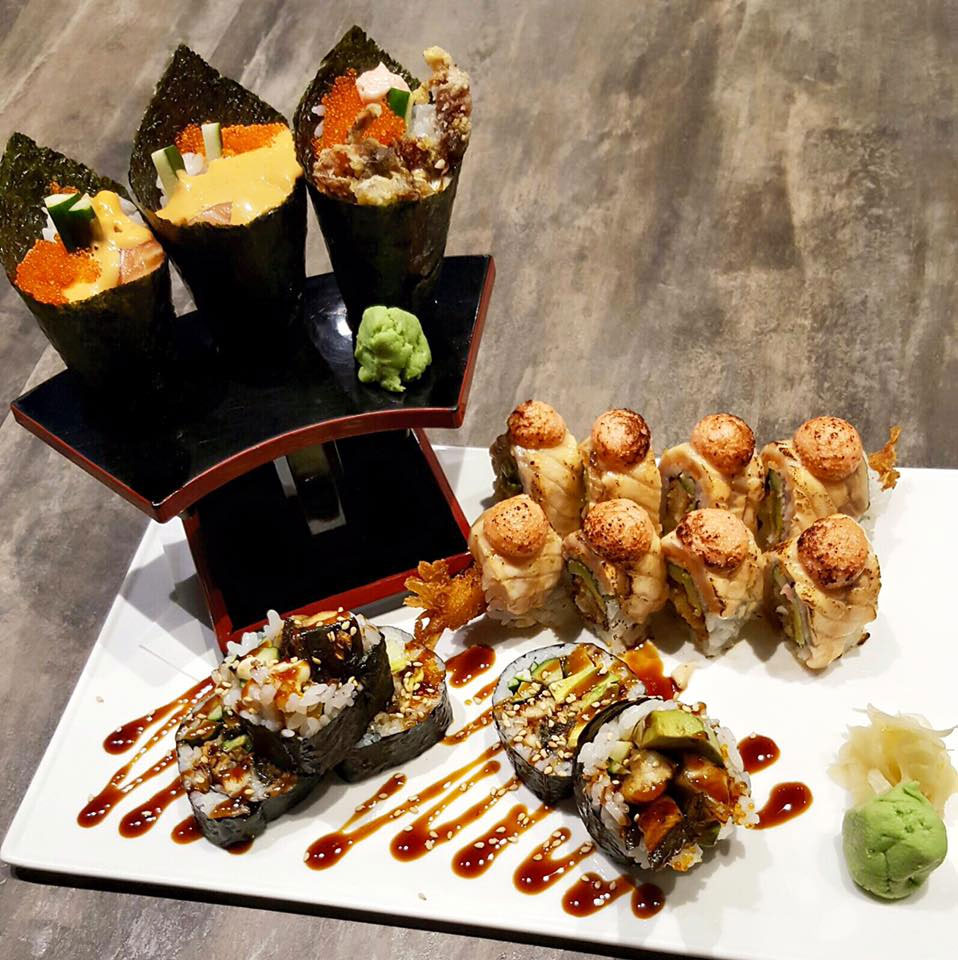 Image credit: The Sushi Bar's Facebook Page
Found at level four of Far East Plaza, The Sushi Bar has attracted a strong following since it first opened in 2012. Their prices may be average, but the quality is impressive, making this minimalist restaurant your most reliable bet for sushi after a long shopping trip along Orchard Road.
Most regulars swear by their Ebi Fry Salmon Aburi ($16.90++), a fail-safe pairing of crisp fried shrimp and flame-torched salmon. If you're searching for something special, make a mental note to ask for their Seasonal Fish Sushi. 
Address: 14 Scotts Road, #04-28, Far East Plaza, Singapore 228213
Opening hours: Mon-Thur 11:30am to 3:30pm, 5pm to 9:45pm, Fri-Sun 11:30am to 9:45pm
Tel: 9653 6464
Website
---
13. EN Sushi
---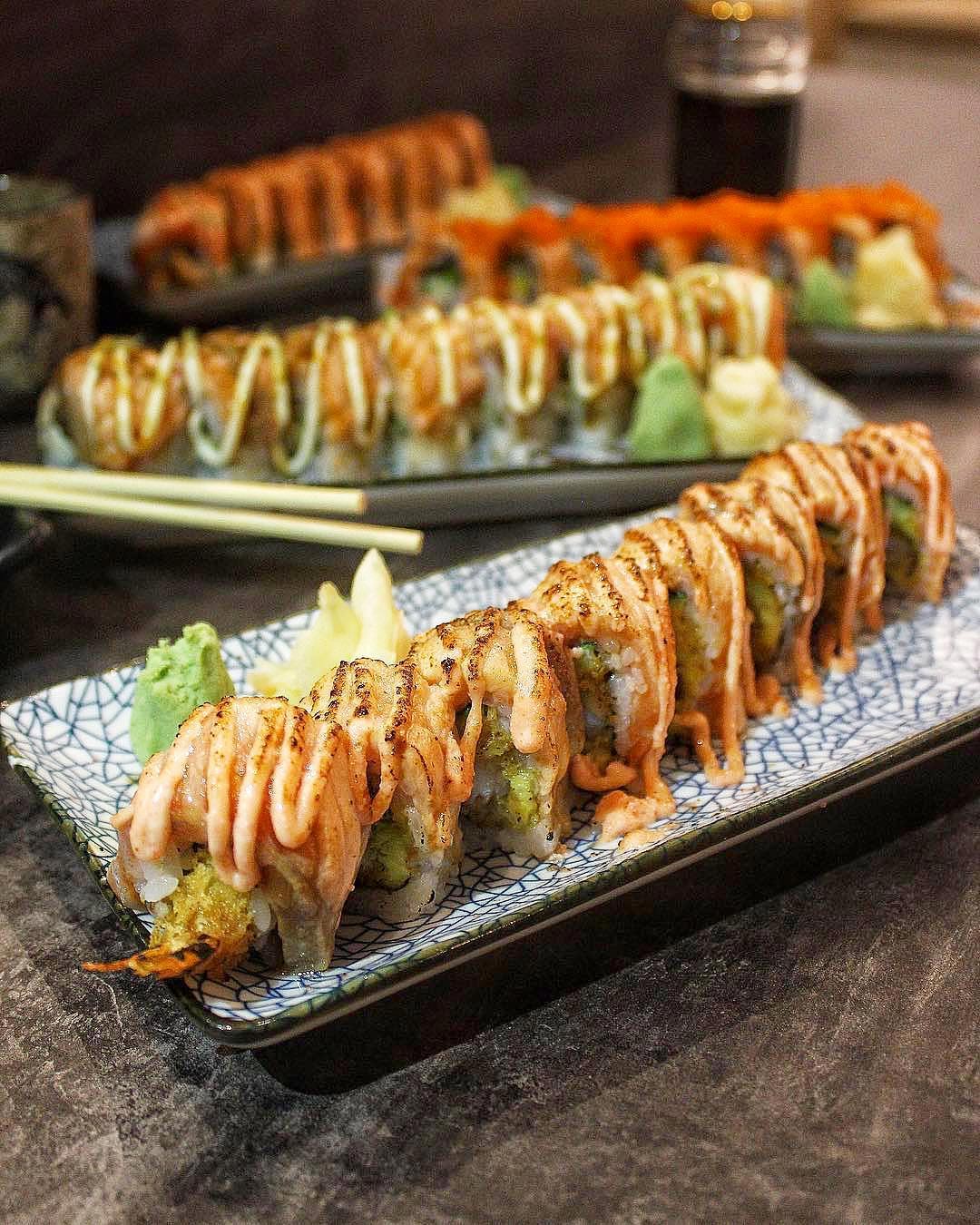 Image credit: @ensushisg
From Aburi-EN to Tamago-EN, the brains behind these popular restaurants just seem to understand what attracts snaking queues. As such, expect EN Sushi to impress with their array of mouth-watering creations that lie within their arsenal. Be it the simple hosomaki or the elaborate uramaki, their creations offer a fitting love letter to sushi. We especially love their signature Ebi Salmon Aburi Maki ($17.90++). The crunchy prawn crammed within the rice lends a pleasant textural contrast to the fork-tender salmon and chewy sushi rice.
Address: 112 Middle Road, #01-100B, Midland House, Singapore 188970
Opening hours: Mon-Thurs 11:30am to 3pm, 6pm to 10pm, Fri-Sun 11:30am to 3pm, 5:30pm to 10pm
Tel: 6259 8548
Website
---
Belly-pampering sushi buffets (<$50++)
---
14. Mitsuba
---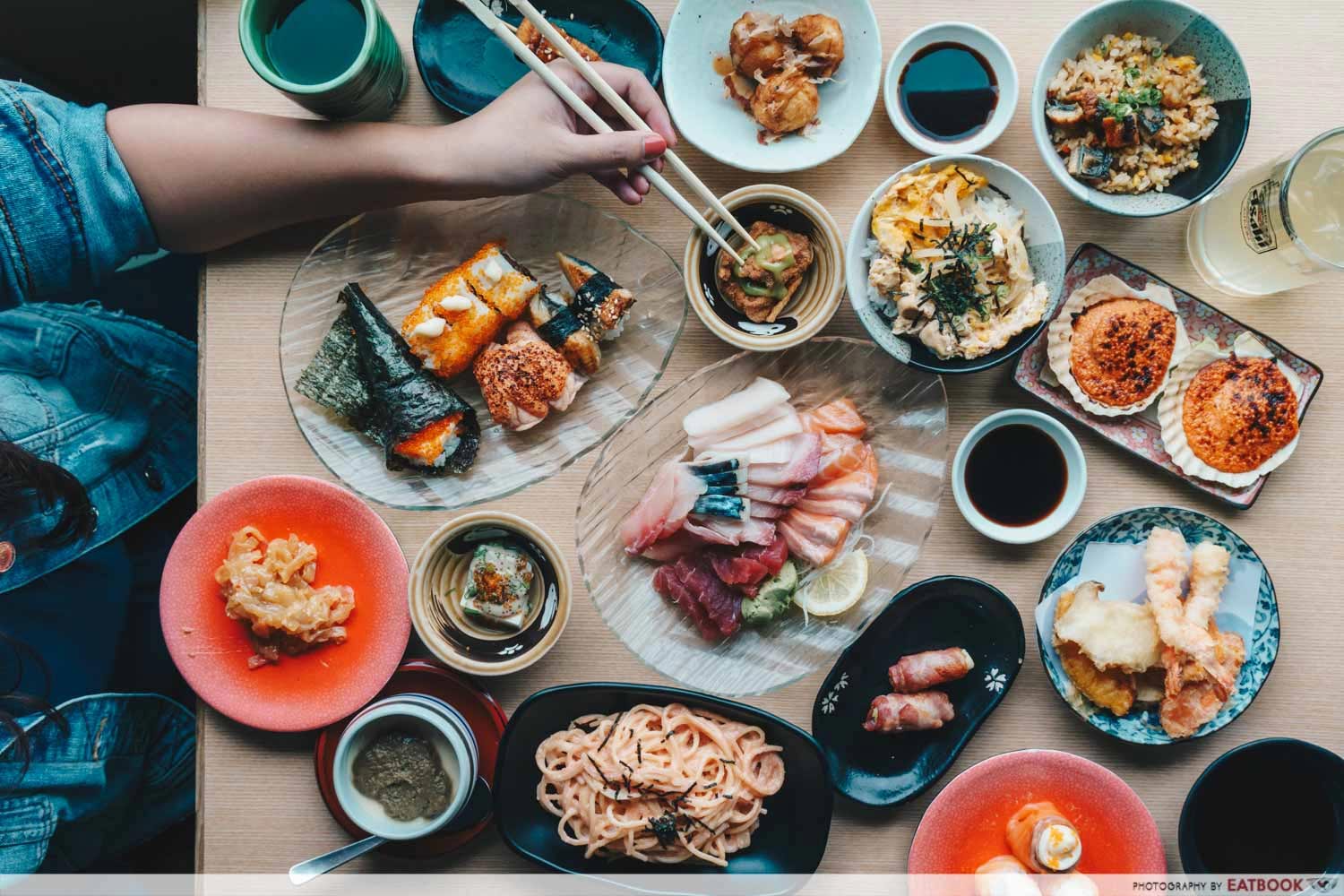 Agree to disagree, but you can't find a quality Japanese buffet in town without hitting above the forties and fifties. What you can find, however, is a reasonable one which gives every single dollar a good stretch. Mitsuba is one of these buffets. Sitting quietly beside the Singapore River, this cosy restaurant lulls you into an irretrievable food coma with their feast-worthy a la carte buffet ($41.90++). 
Featuring a whopping smorgasbord of over 150 dishes, this selection ticks every box on a Japanese foodie's wishlist, with their line of sushi deserving special credit. Whether it's the Negitoro (Tuna Belly) or Sake Mentai Aburi (Flamed Salmon in Mentaiko Sauce), these bites all impress with their fresh and luscious flavours. 
Address: 6 Eu Tong Sen Street, #03-88, The Central, Singapore 059817
Opening hours: Mon-Thur 11:30am to 3pm, 6pm to 10pm, Fri-Sun 11:30am to 3pm, 5:30pm to 7:55pm, 8pm to 10:30pm
Tel: 6227 0388
Website
---
15. Hokkaido Sushi Restaurant
---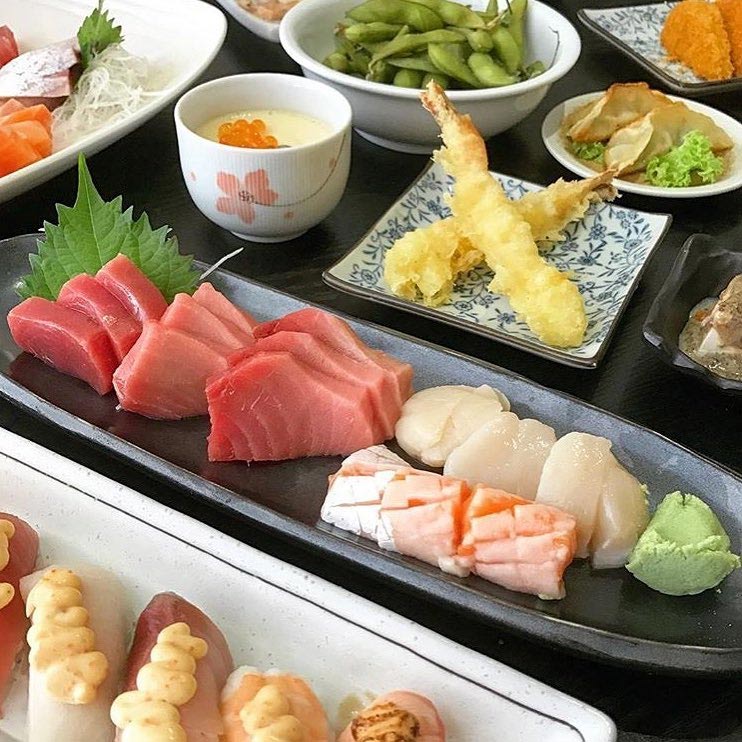 Image credit: @hokkaidosushi_sg
Hokkaido Sushi Restaurant is my family's solution when we desperately yearn for sushi, as this buffet spoils our bellies with a never-ending avalanche of maki and sashimi. Whether it's the Lunch Buffet ($40++) or Dinner Buffet ($47++ for Monday to Thursday, $51++ for Friday to Sunday), the quality of their dishes shines through, for this swanky restaurant spares no expense with their ingredients. Take their Mentai Aburi Salmon, which is prepared with generous amounts of pollack roe, such that a dizzying dance of luscious and umami flavours burst forth with every mouthful.  
Address: 81 Anson Road, Level 9, M Hotel Singapore, Singapore 079908
Opening hours: Mon-Fri 11:30am to 2:30pm, 6pm to 10pm, Sat-Sun 12pm to 3pm, 6pm to 10pm
Tel: 6221 3075
Website
---
16. Shin Minori
---

Image credit: @shinminorisg
Besides Mitsuba and Hokkaido Sushi Restaurant, Shin Minori is another place you can turn towards to satisfy your sushi cravings. This cosy eatery's slightly ulu locations have little effect on its faithful customers, as their two outlets are usually packed to the brim during the weekends.
Aside from the beautifully seared slabs of meat, the adroit hands behind Shin Minori also craft gorgeous rows of maki sushi for their Ala-carte Japanese Buffet ($43.90++ for lunch, $53.90++ for dinner), chief of which being their signature Rainbow Maki. The crowning jewel of their speciality maki rolls, this moreish bite features a shrimp tempura roll topped with four different types of raw fish. 
Address: 81 Clemenceau Avenue, #03-15/16, UE Square, Singapore 239917
Opening hours: Mon-Sat 12pm to 2:30pm, 6:15pm to 10:15pm, Sun 12pm to 2:45pm, 6:15pm to 10:15pm
Tel: 6733 2272
Website
---
For t
he most special occasions (>$70++)
---
17. Maguro Donya Miuramisakikou Sushi & Dining
---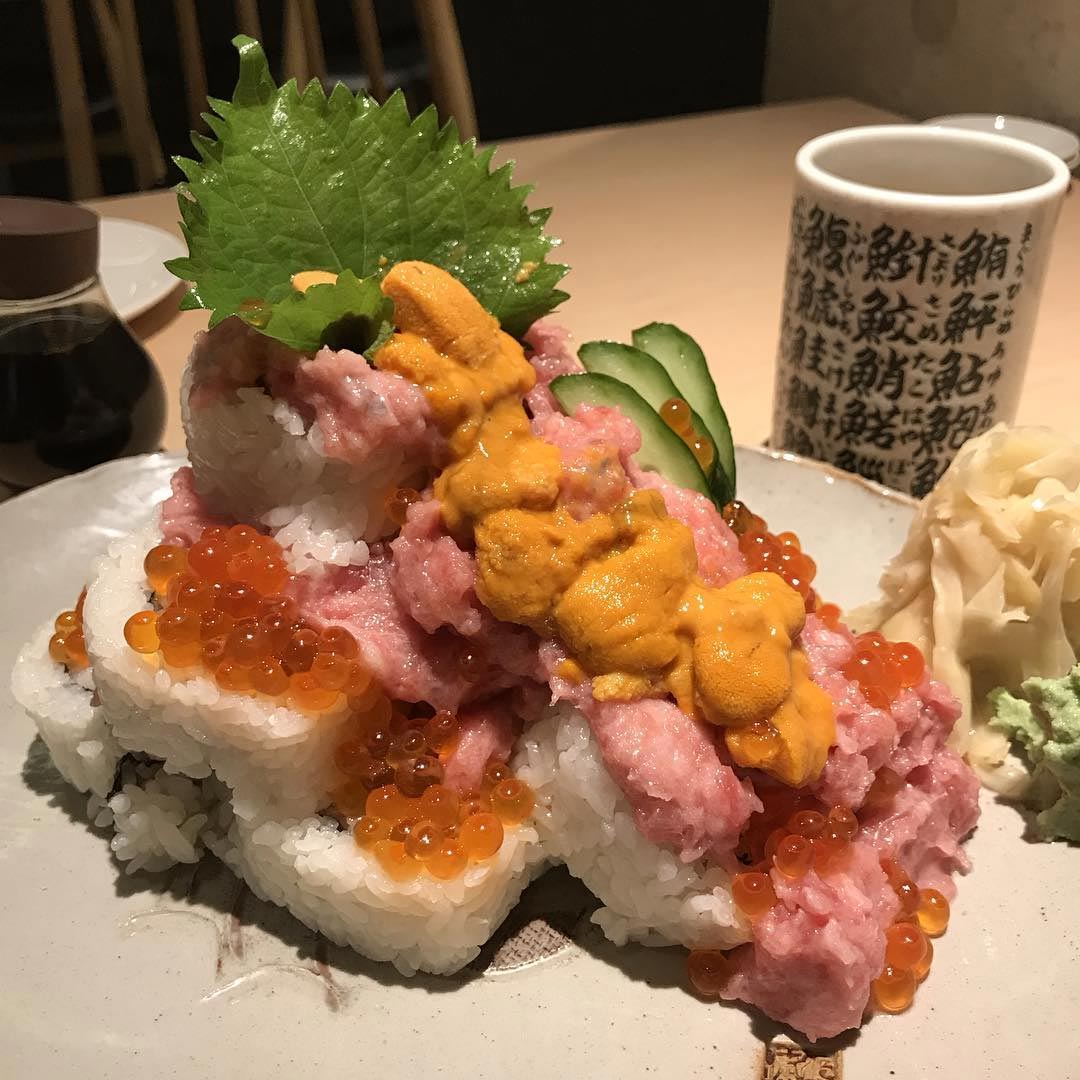 Image credit: @piromu3
MaguroDonya Miuramisakikou Sushi & Dining takes pride in serving up maguro from Miura in Kanagawa, so trust them to impress you with high quality ingredients. For a brief glimpse into their luxuriously sumptuous selection, make a beeline for the signature Maguro Uni Ikura Misaki Maki. At $64++, this glorious mountain of maki sushi will leave a painful dent on your wallet, but not without first spoiling you proper with a splendid trio of maguro toro (fatty bluefin tuna), Hokkaido sea urchin, and salmon roe. 
Address: 3 Temasek Boulevard, #03-314, Eat at Seven, Suntec City Mall, Singapore 038983
Opening hours: Mon-Sat 11:30am to 2pm, 5:30pm to 10pm, Sun 11:30am to 2:30pm, 5:30pm to 10pm
Tel: 6684 5054
Website
---
18. Shiraishi
---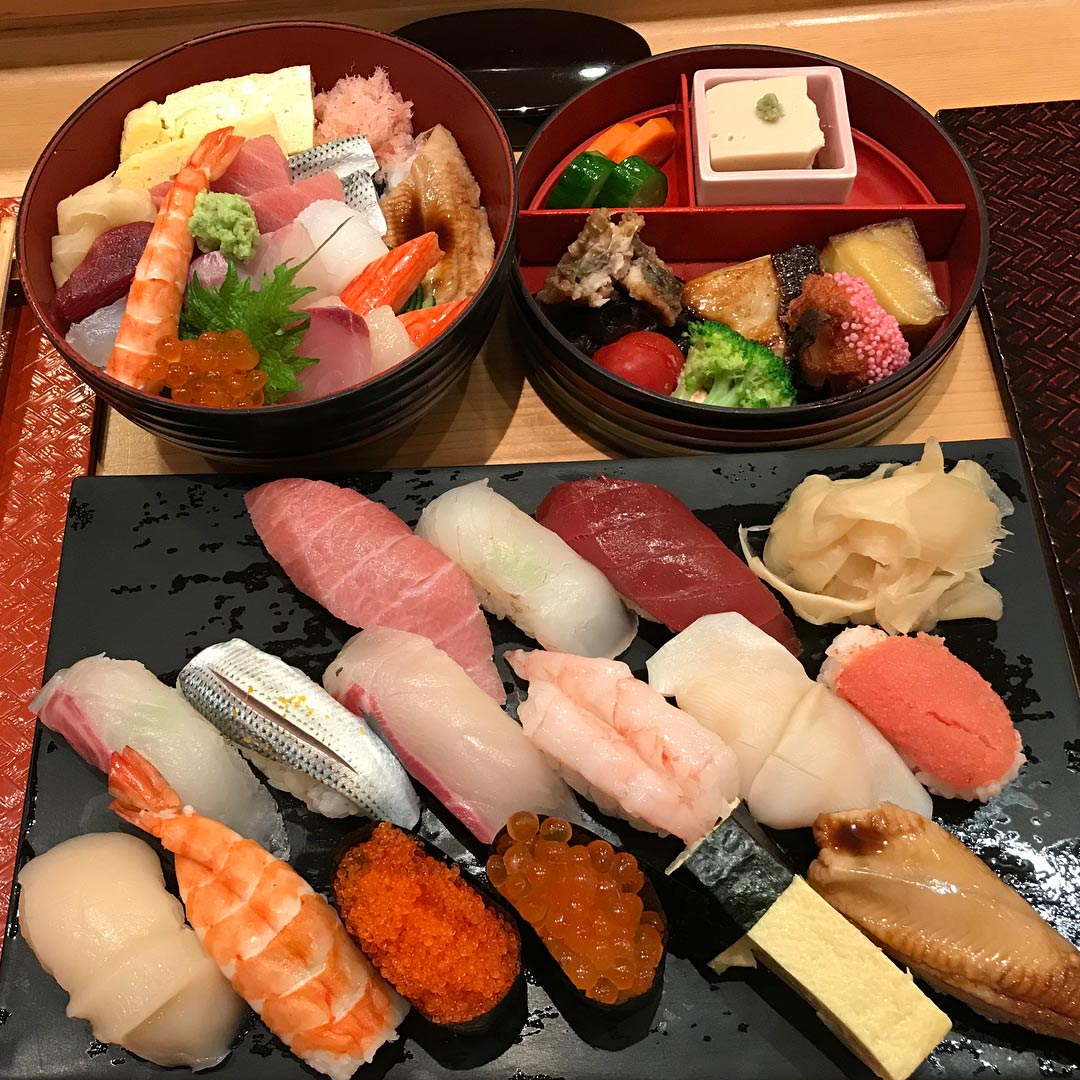 Image credit: @pdyypd
Shiraishi remains one of the rare jewels in Singapore that continues to offer traditional Edomae sushi. Just as the name suggests, Edomae sushi dates back to the Edo period, back when fishermen sailed out in wooden rafts and fishing was done with a good ol' bamboo rod. Owing to the lack of refrigeration, the sushi chefs of before often seasoned their fish with vinegar and ginger to preserve them. As such, expect Edomae sushi to surprise with a gamut of intriguing flavours, as a refreshing aftertaste—sweet, sour, or salty⁠—usually lingers at the end of every bite. 
Unfortunately, none of their sushi is available a la carte, so we recommend getting their Edomae Special 1.5 ($90++) for a good taste of everything Edomae Sushi has to offer. Otherwise, spoil yourself and head straight for their Sushi Edomae Course (Misaki) ($180++), which also comes along with a dessert and a bowl of tuna soup. 
Address: No. 7 Raffles Avenue, #03-01/02, The Ritz-Carlton, Millenia Singapore, Singapore 039799
Opening hours: Daily 12pm to 2:30pm, 6pm to 10:30pm
Tel: 6338 3788
Website
---
19. Sushi Jiro
---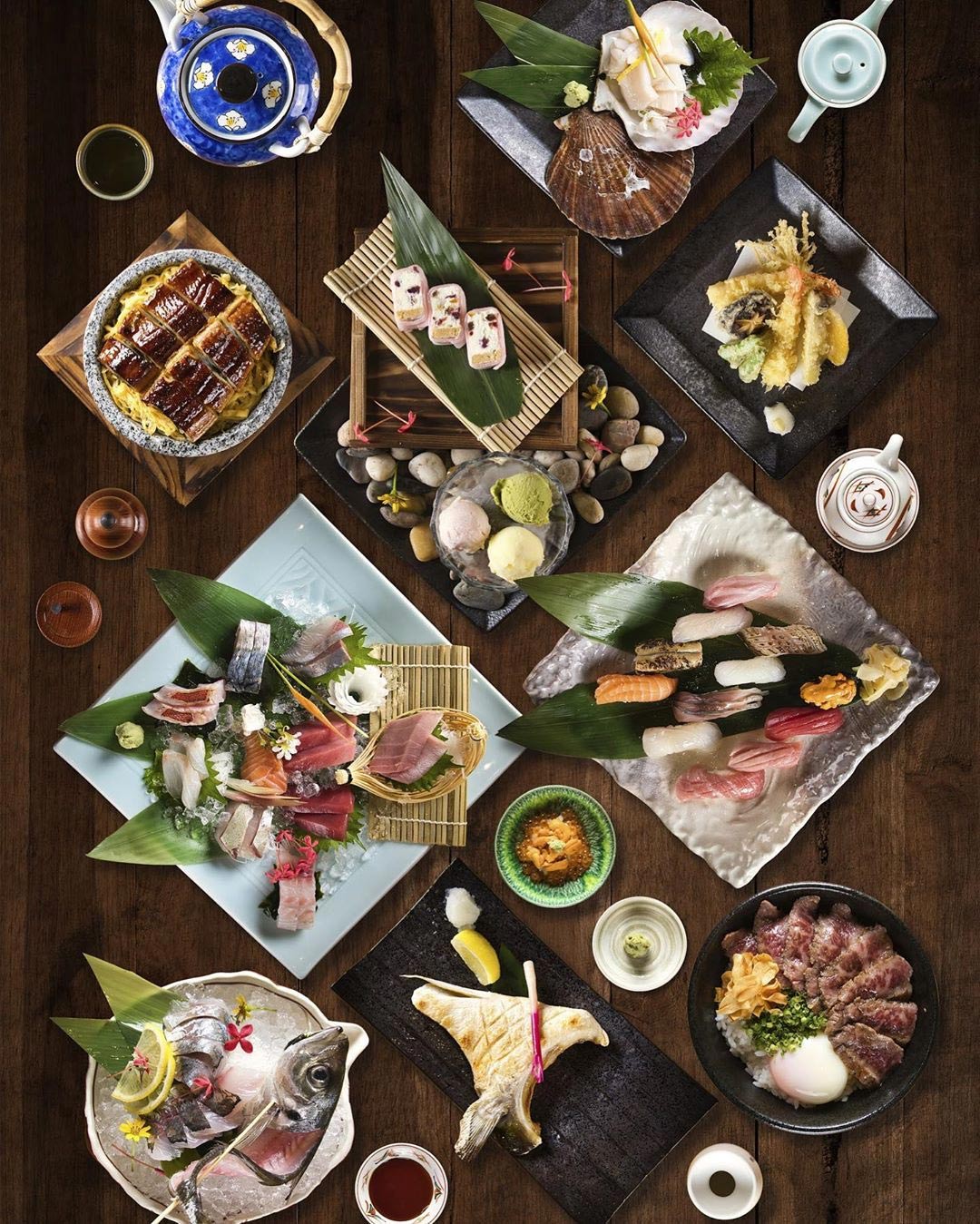 Image credit: @sushi_jiro
Over the past two decades, Sushi Jiro has set a name for themselves as one of Singapore's finest omakase and the thoughtful consideration that they invest into their ingredients shows in their sushi as well. Chef Nakano Jiro, the austere head chef behind this fine dining establishment, still plays a part in mentoring the current team. Admittedly, their Premium Sushi Platter ($118++) is hardly the cheapest platter around, but you get every dollar's worth in freshness, quality, and variety. 
Address: 6 Raffles Boulevard, #04-600, PARKROYAL COLLECTION Marina Bay, Singapore 039594
Opening hours: Daily 11:30am to 2:30pm, 6pm to 10:30pm
Tel: 6445 3055
Website
---
20. Hashida Sushi
---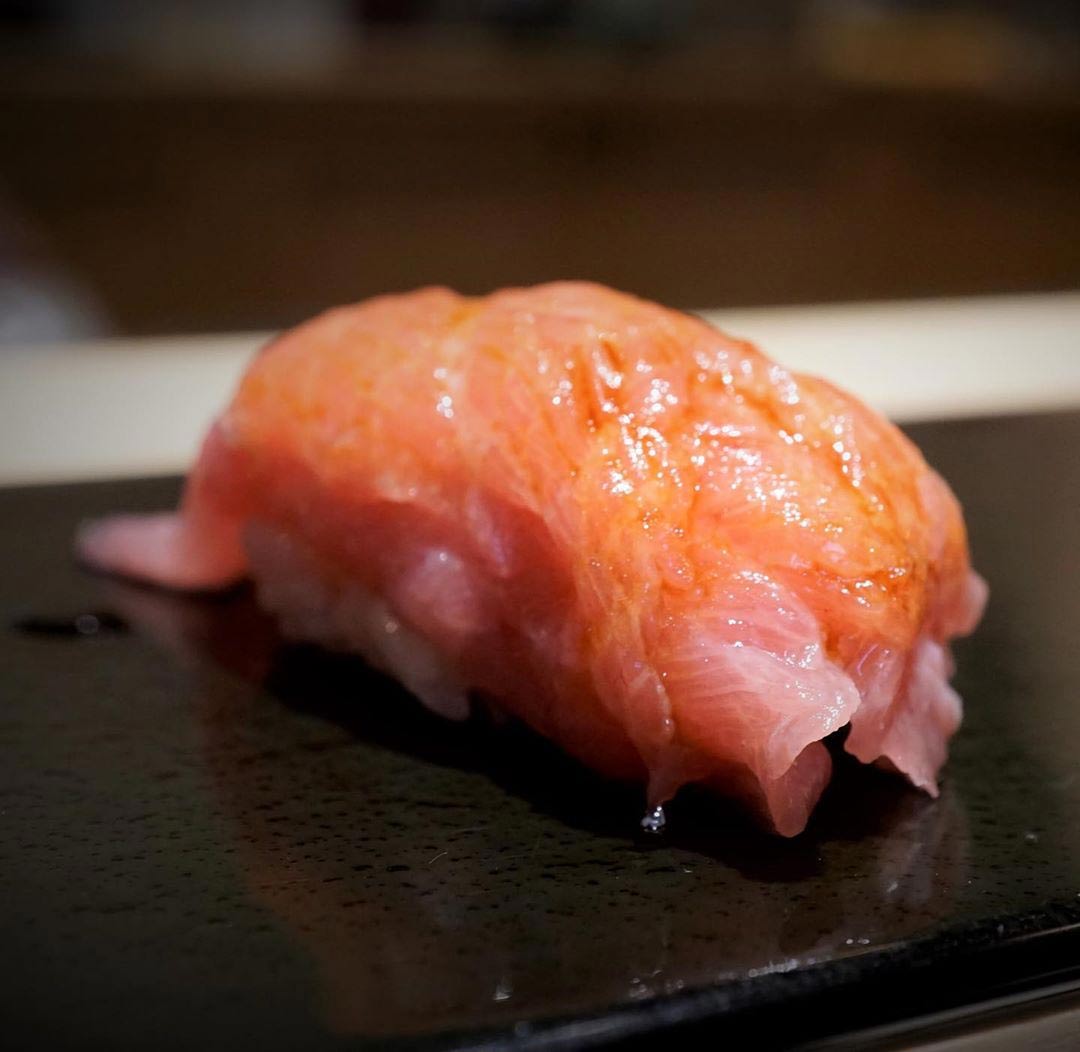 Image credit: @hashidasushintl
Ask any serious sushi lover about what lies at the peak of sushi excellence and many will point the way towards Hashida Sushi. Chef Kenjiro Hashida has extremely high standards, so expect his Chef's Omakase ($300++ to $500++) to be a near-impeccable experience. Their sashimi is flown in up to four times a week from Japan and sourced only from Hashida's trusted suppliers. 
Address: 25 Mohamed Sultan Road, Singapore 238969
Opening hours: Tue-Sun 12pm to 3pm, 7pm to 10pm
Tel: 8428 8787
Website
---
Sushi in Singapore for every occasion
---
Whether you belong to #teamnigiri or #teammaki, you can def' find something worth returning for at these delicious sushi spots. Cheap or expensive, we're always keeping an eye out for the best hidden sushi spots. So let us know if we have missed out on any of your favourites. 
For those who are constantly searching for Japanese bites, check out the 15 cheap Japanese food joints that we have sussed out as well. With all of these scrumptious treats priced below $10, you no longer have to wait agonisingly till payday for your next Japanese feast.
15 Cheap Japanese Food Joints Under $10 Serving Halal Beef Bowls And Salted Egg Ramen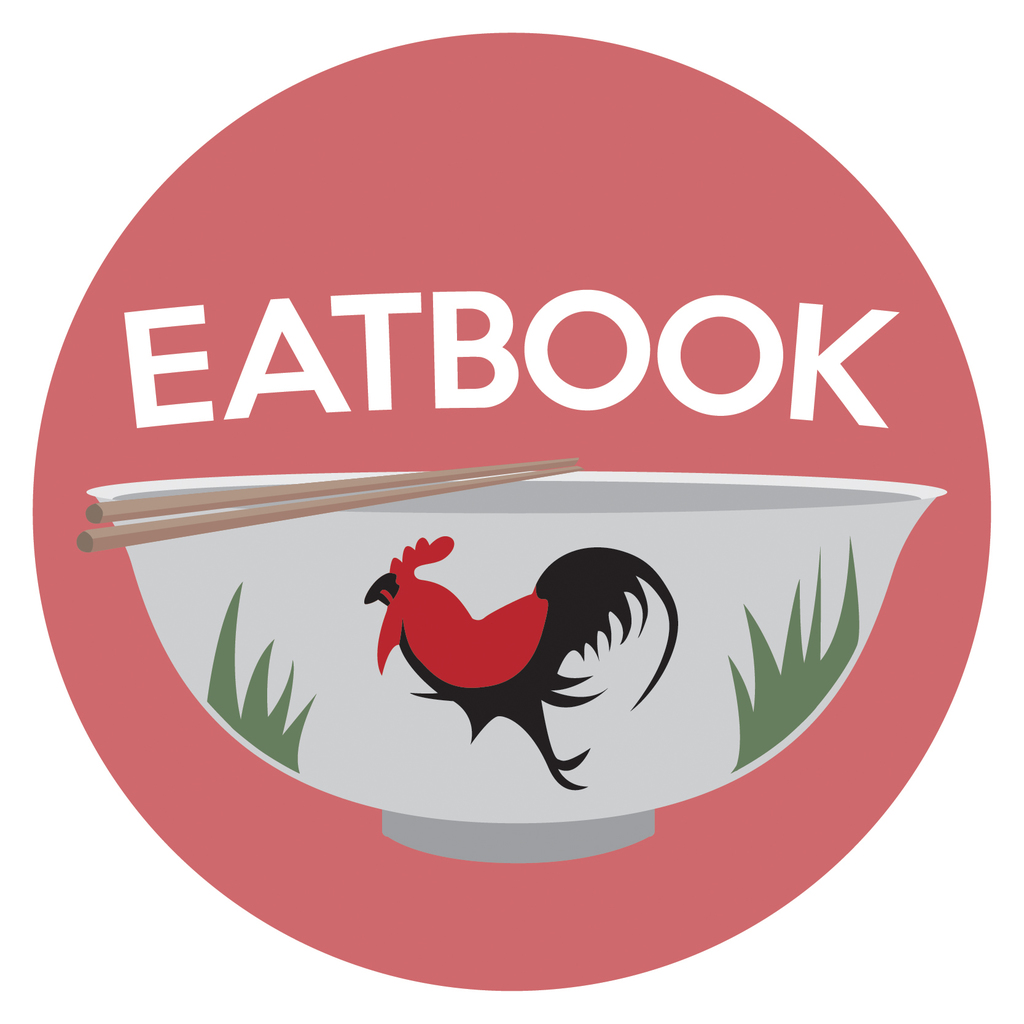 Drop us your email so you won't miss the latest news.