Sushi Plus at Bugis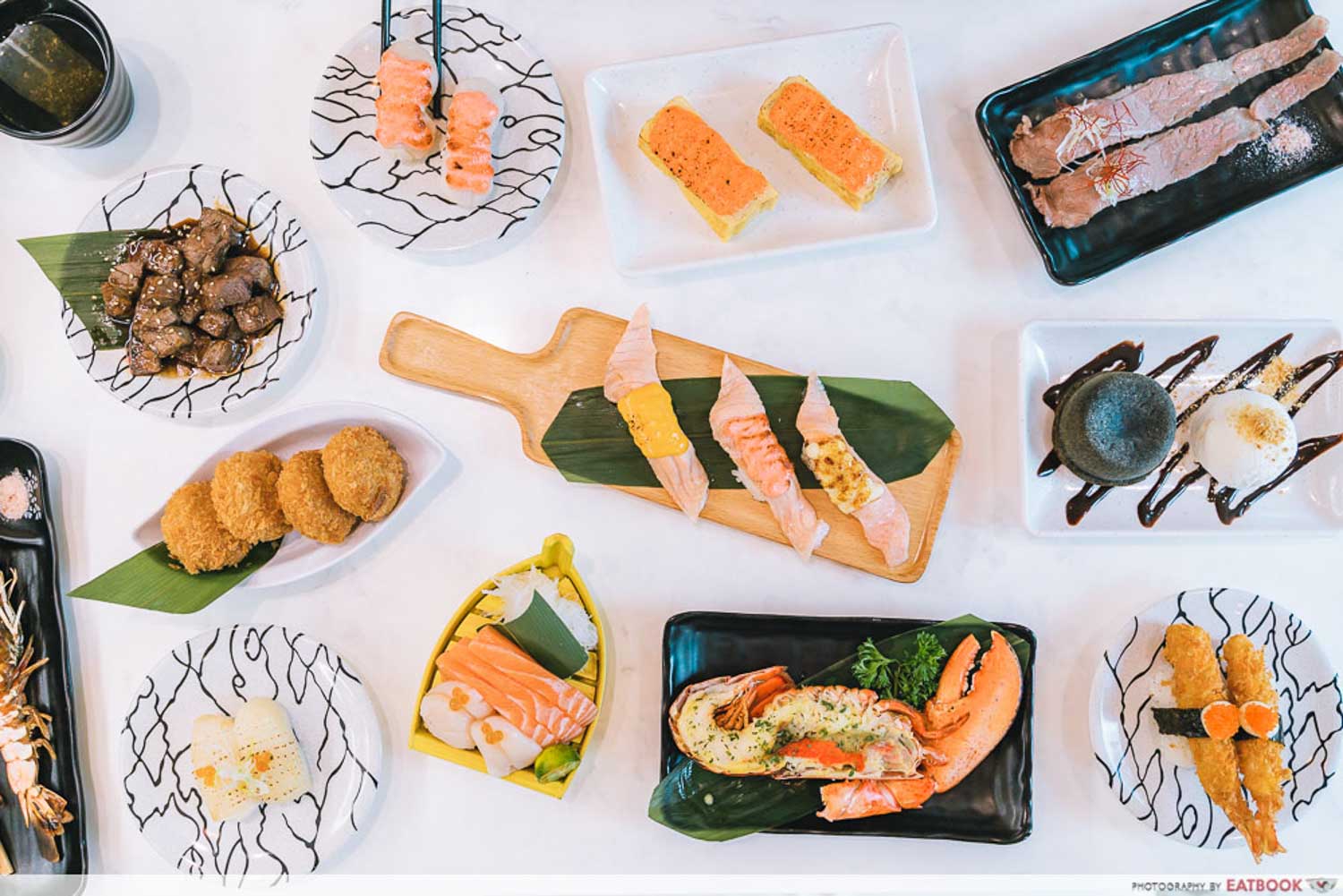 With Japanese fare being one of my top three favourite cuisines, I've hurt my poor wallet from constantly satisfying sashimi and sushi cravings. Thankfully, Sushi Plus has arrived just in time for my New Year's resolution of spending wisely.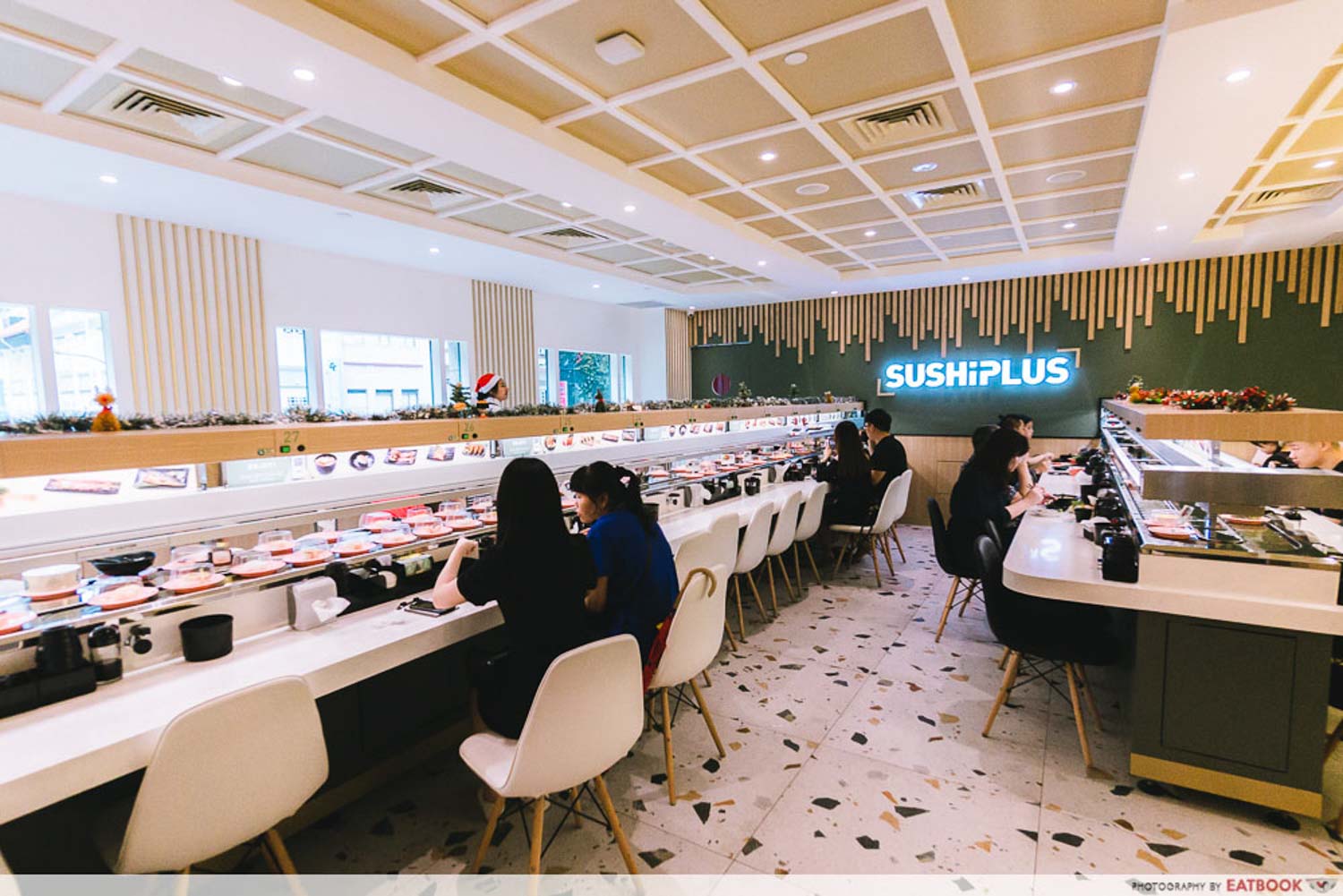 This sushi conveyor belt restaurant is the latest concept by Sushi Express. You'll still get to enjoy economical prices starting from $1.50++, with the only difference being the addition of premium options.
Food at Sushi Plus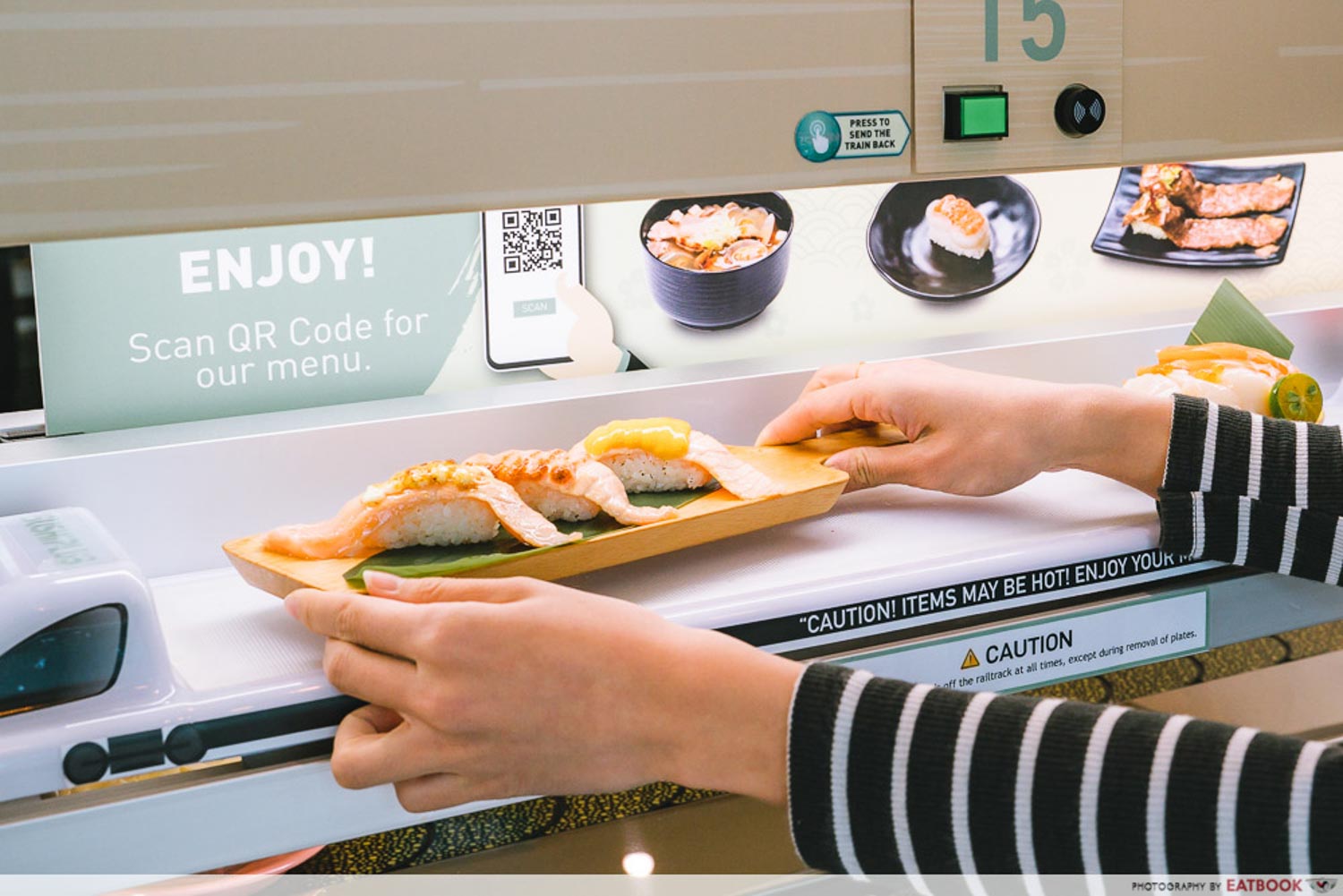 Eyeing on the array of delicately plated sushi and grilled dishes, I was surprised to find out that these were the handiwork of a team of full-time chefs trained in Taiwan. They worked together to skillfully serve premium dishes made with ingredients sourced from various countries.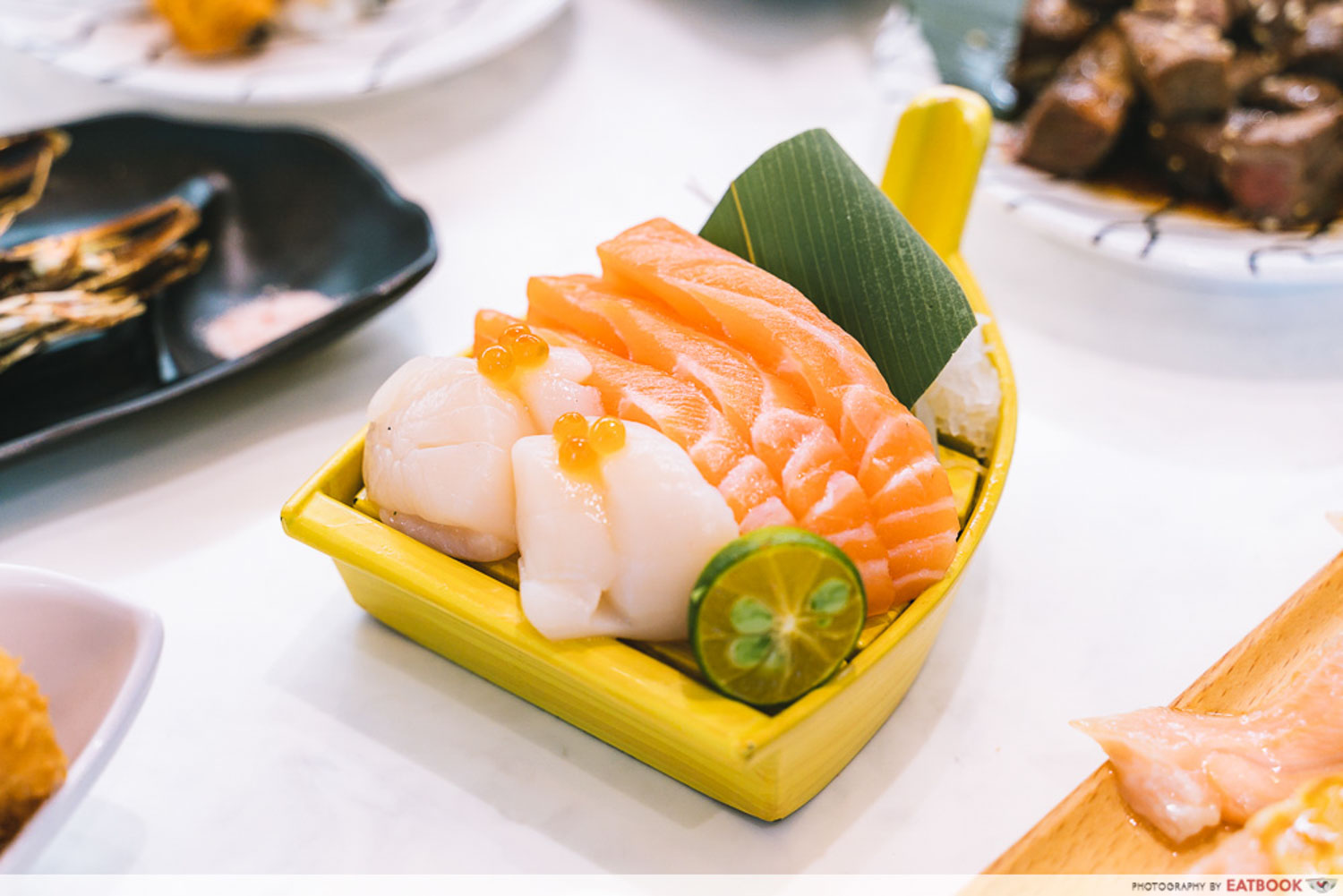 With a deep love for raw food, I went straight for the classic Assorted Sashimi ($6.50++). I was more than ready to dive into the chunky scallops and thick salmon slices.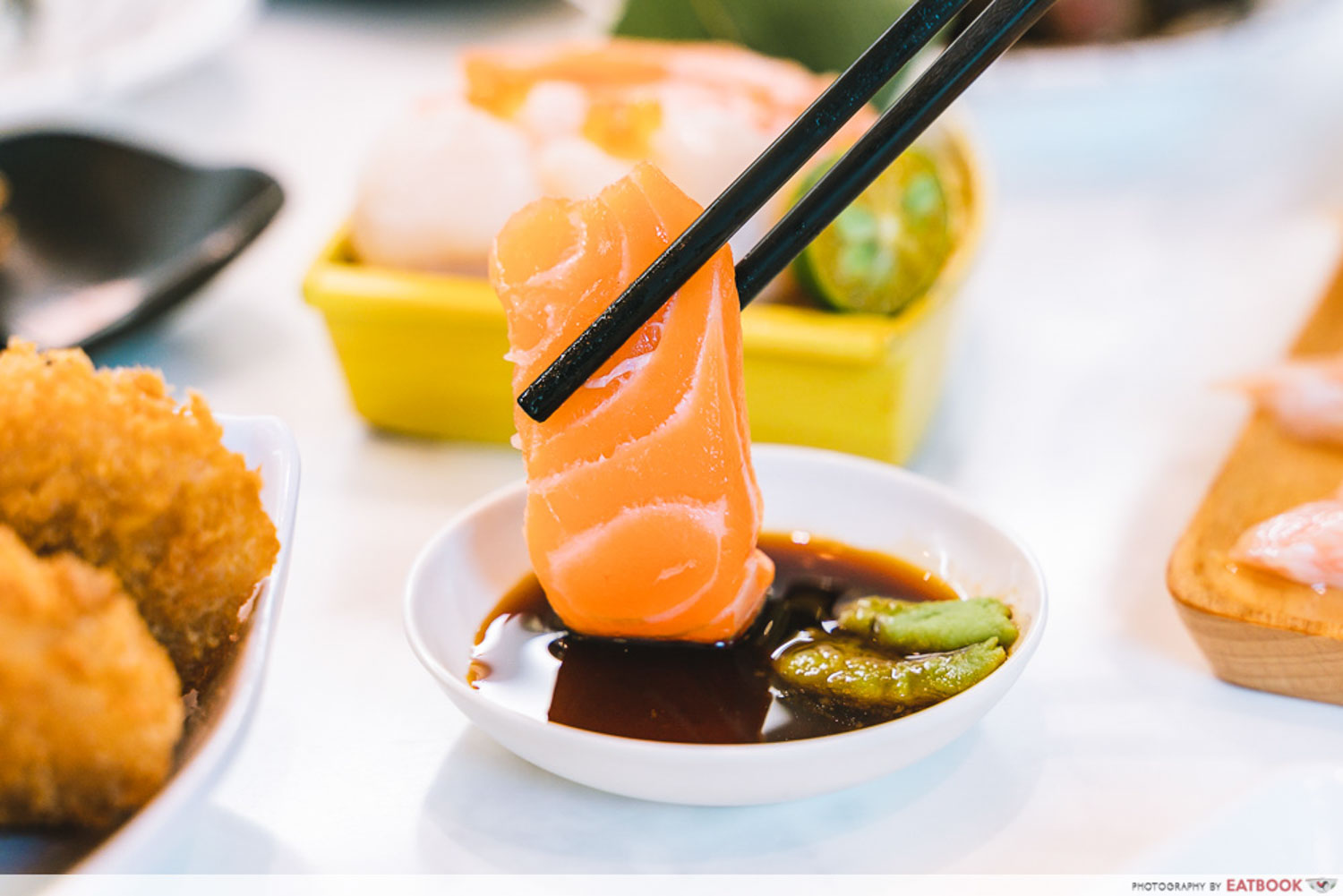 Imported from Norway, these fatty slabs of salmon had a firm texture and were fresh-tasting. I have had many bad experiences with cheap sashimi, so I appreciated how Sushi Plus' fish wasn't a distasteful revisit despite the low price point. The fat-streaked fish exuded subtle sweetness, and dipping it in soy sauce layered it with umami notes. Adding a dash of wasabi directly on the sashimi gave it an extra kick.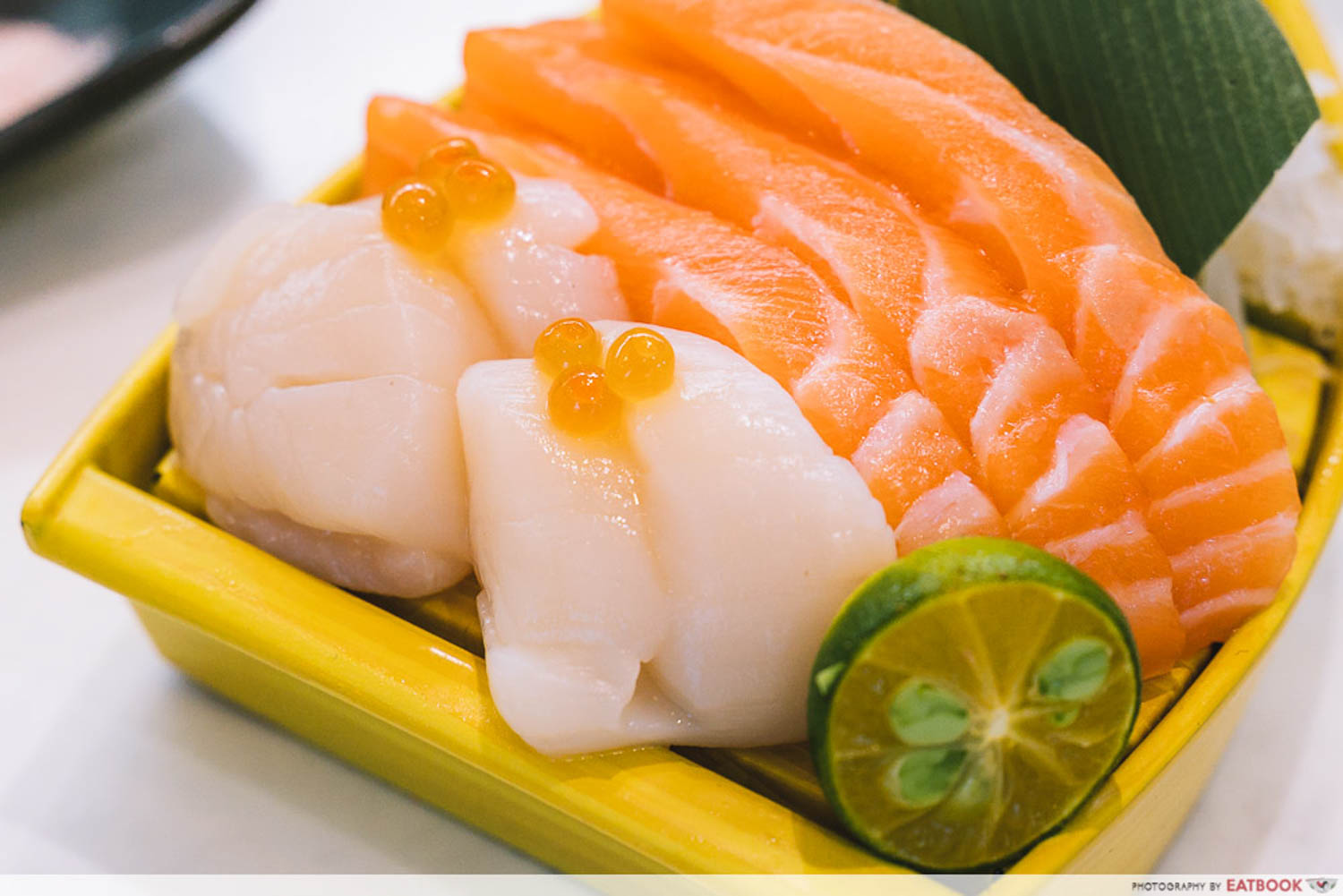 Crowned with bright orange spheres of ikura, the luscious Hokkaido scallops looked mouthwatering. Those with a sensitive stomach might want to squeeze the accompanying lime slice on the shellfish to neutralise traces of bacteria. This also helps to tenderise the mollusc for a softer chew.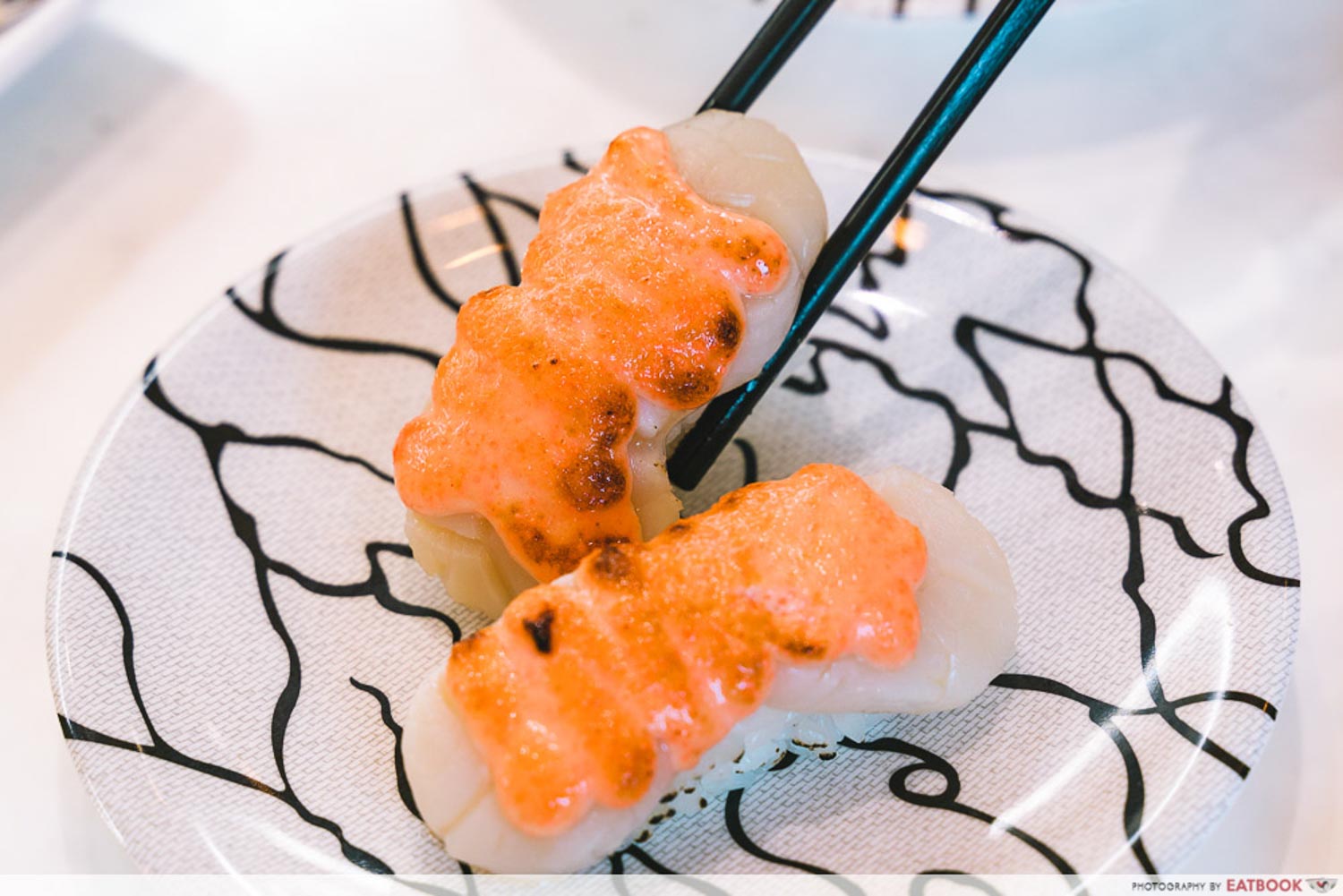 Fans of aburi sushi can get some of that flame-torched action with dishes such as Mentaiko Scallop Sushi ($2.50++ per piece). Two halved scallops rested on vinegared rice and were topped with a generous layer of mentaiko. This creamy finish was completed with the kiss of a flame.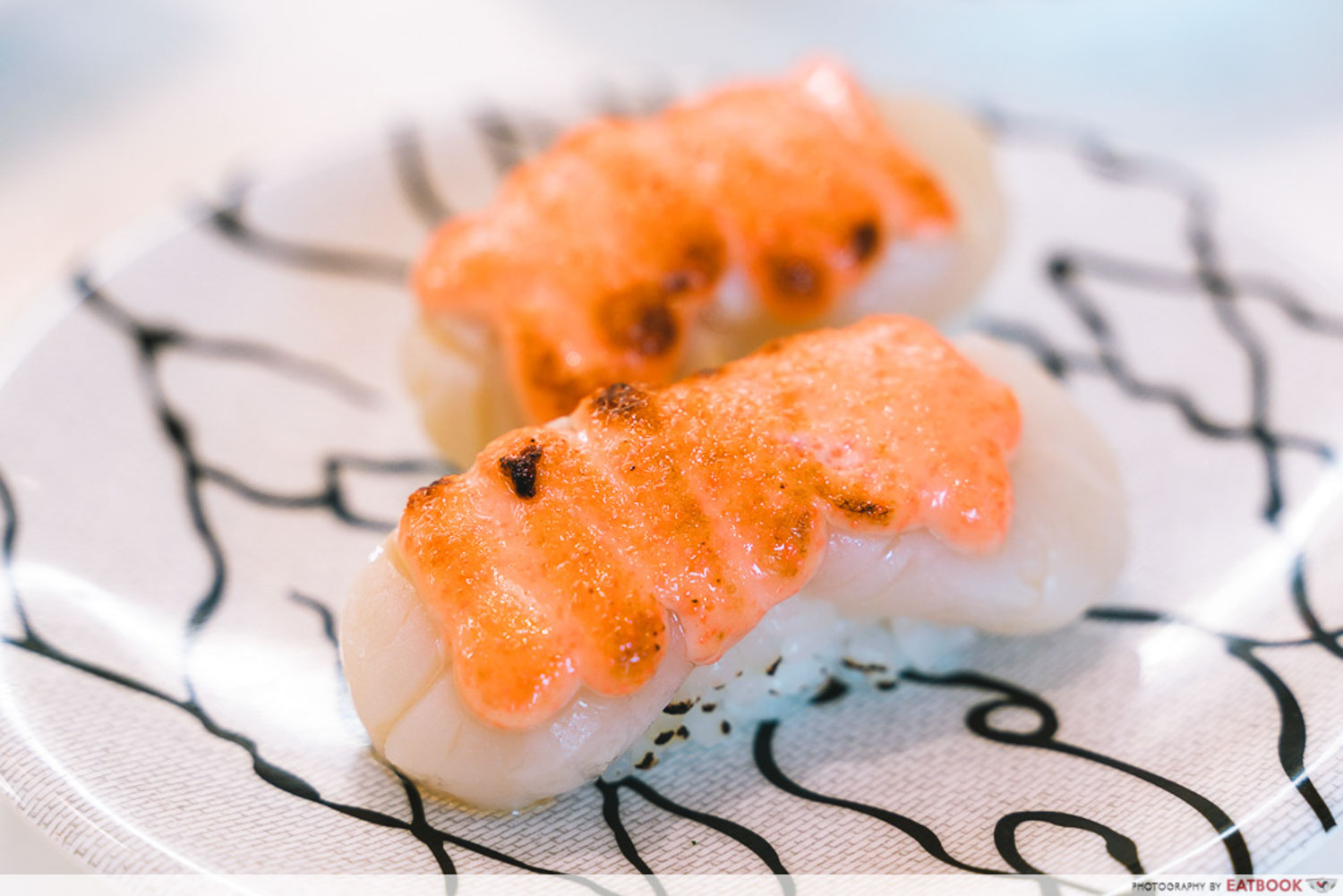 As the scallop was already rich on its own, I found the coating of mentaiko a bit too much for my liking. After having his second piece, my dining companion chimed in that this sushi can get jelak.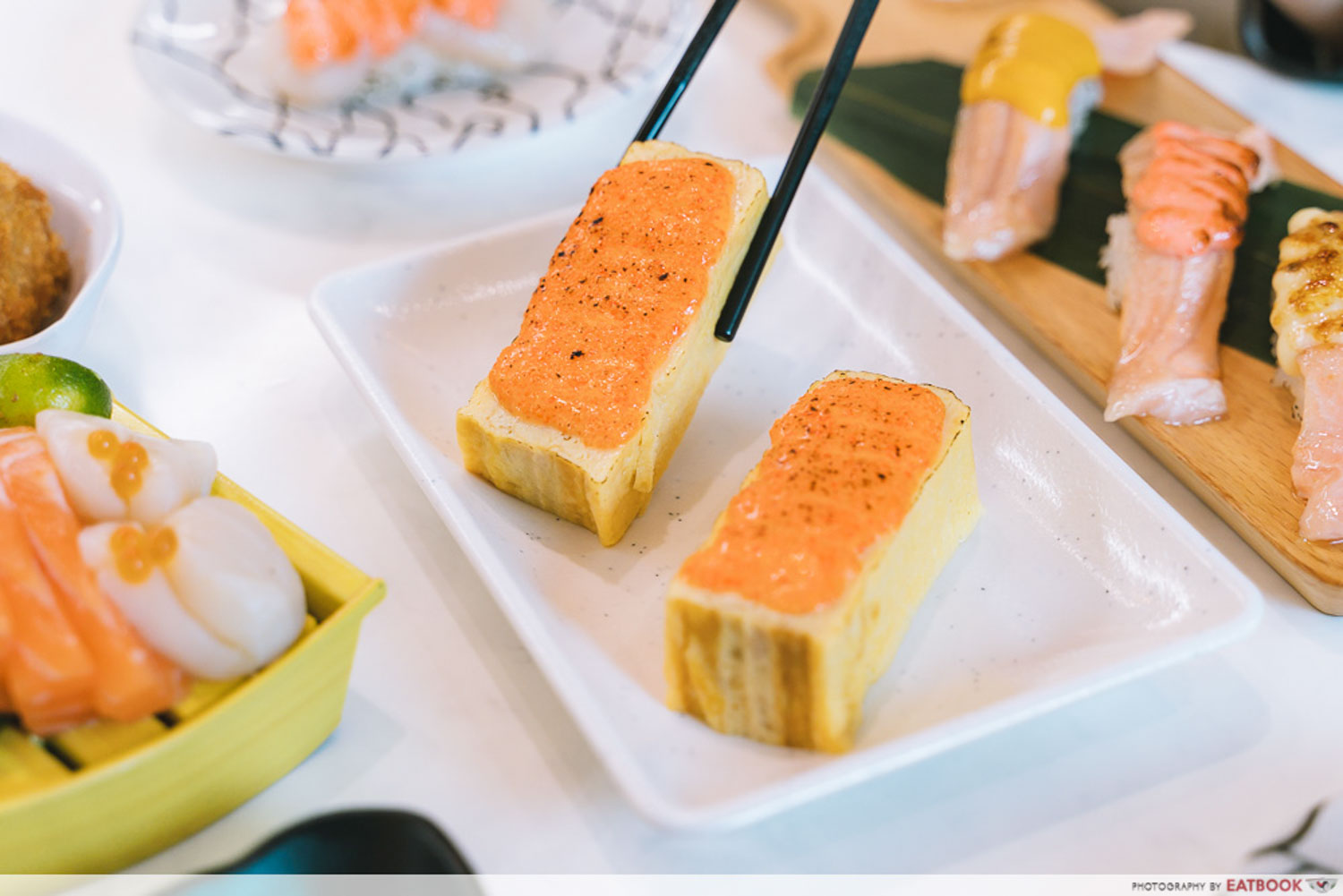 If you prefer something lighter on your palate, try out their Cheese Masago with Tamagoyaki ($1.50++ per piece). Using capelin roe added a contrasting crunch to the omelette's soft layers. This also resulted in a melange of flavours from the egg's pudding-like sweetness and savoury cheese masago.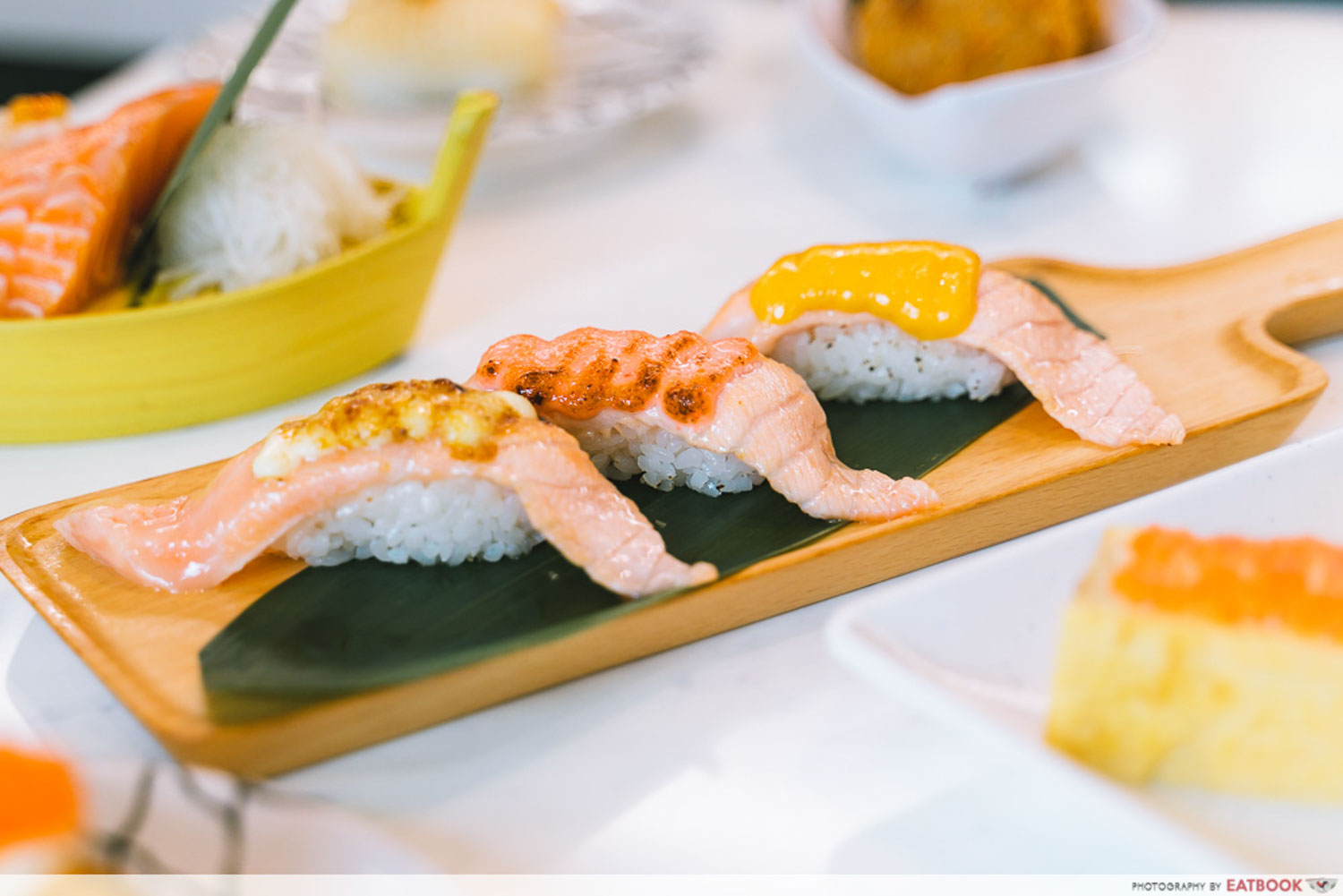 As an indecisive person, I'm glad Sushi Plus offers the Triple Flavour Salmon Selection ($5++) for a chance to sample all three of their aburi salmon sushi.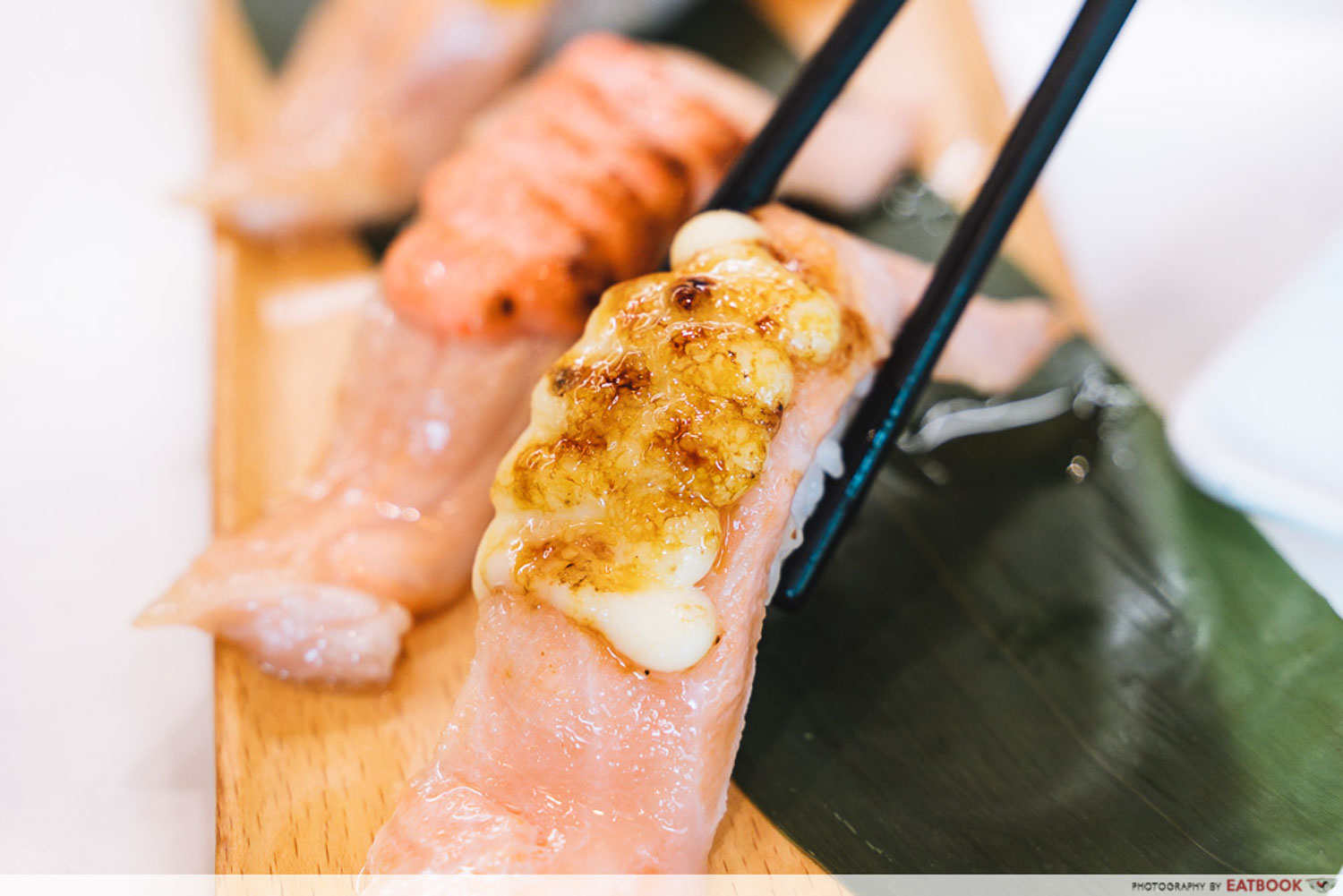 The Jumbo Caramelised Salmon was my personal favourite out of the trio. Despite glistening in oil, the sushi's greasiness was balanced out by smoky notes from the caramelised toppings.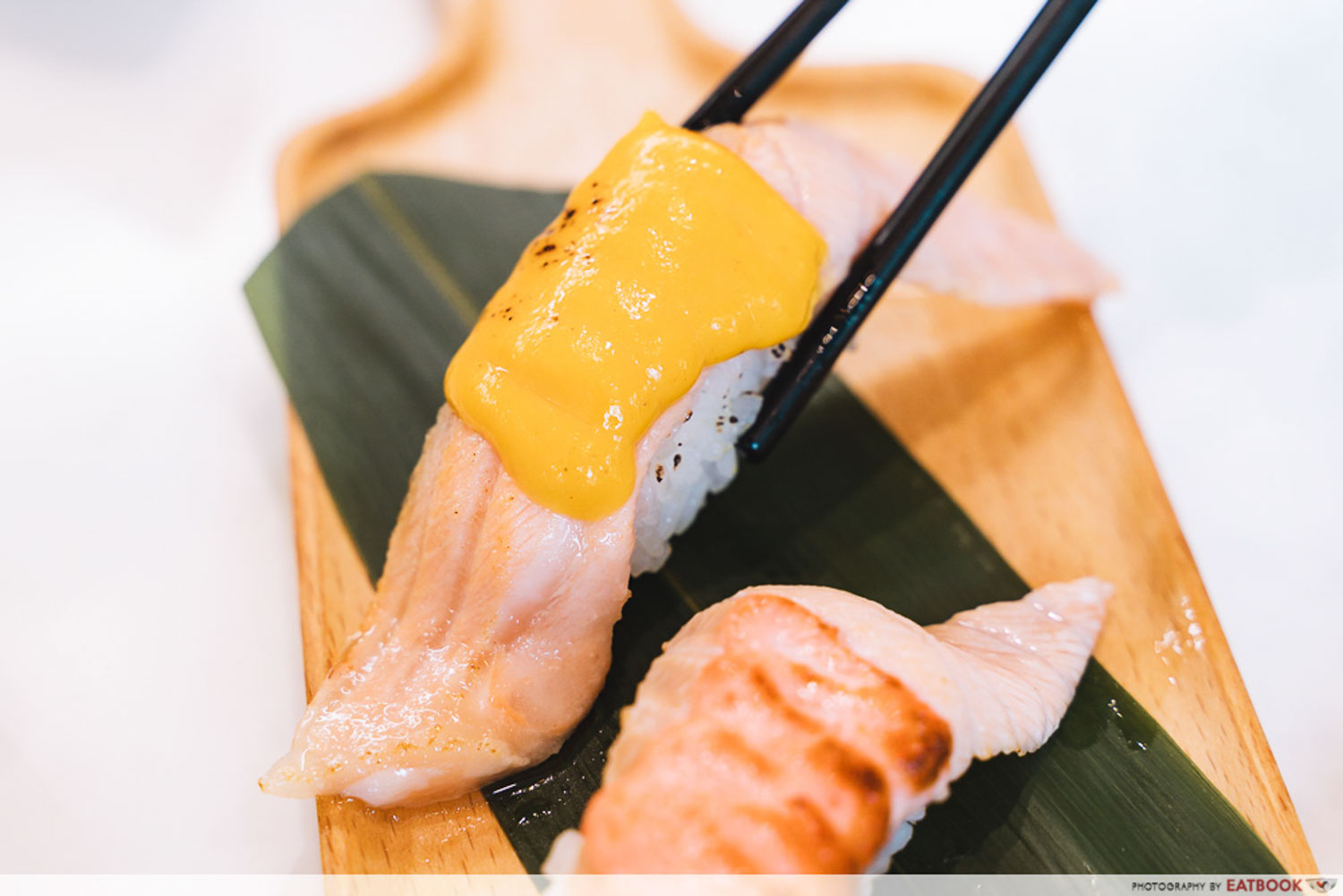 I was intrigued by the Jumbo Cheese Salmon as it sounded like an interesting pairing. However, I did feel that using nacho cheese cheapened this fish's umami flavour. Lovers of the popular cheesy movie snack might appreciate this sushi better.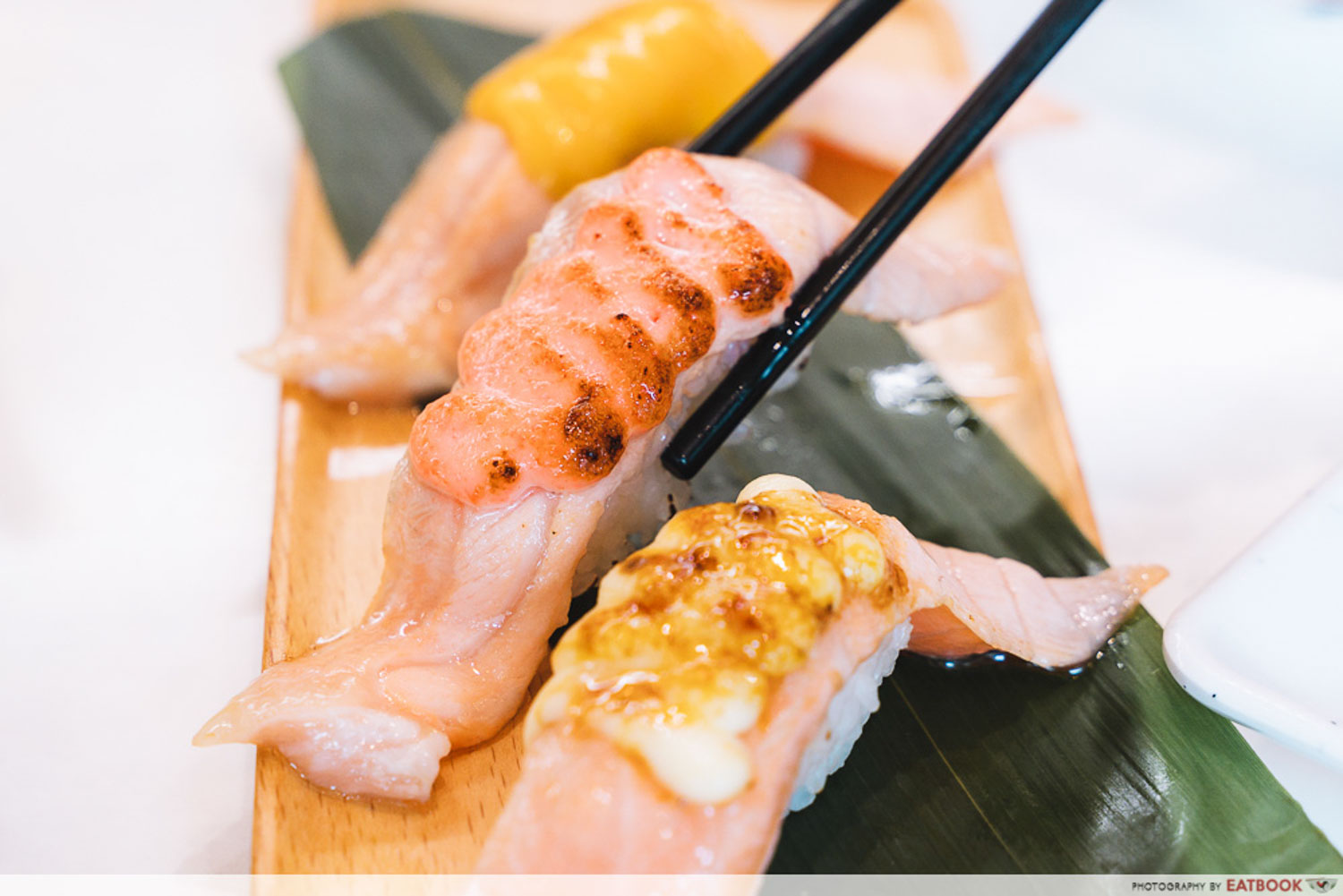 Unlike its scallop equal, the Jumbo Mentaiko Salmon proved to be a better match. As a larger slice of fish was used, the ratio of creamy topping to sweet fish was more balanced. With harmony between these two elements, this sushi was more palatable than the scallop mentaiko.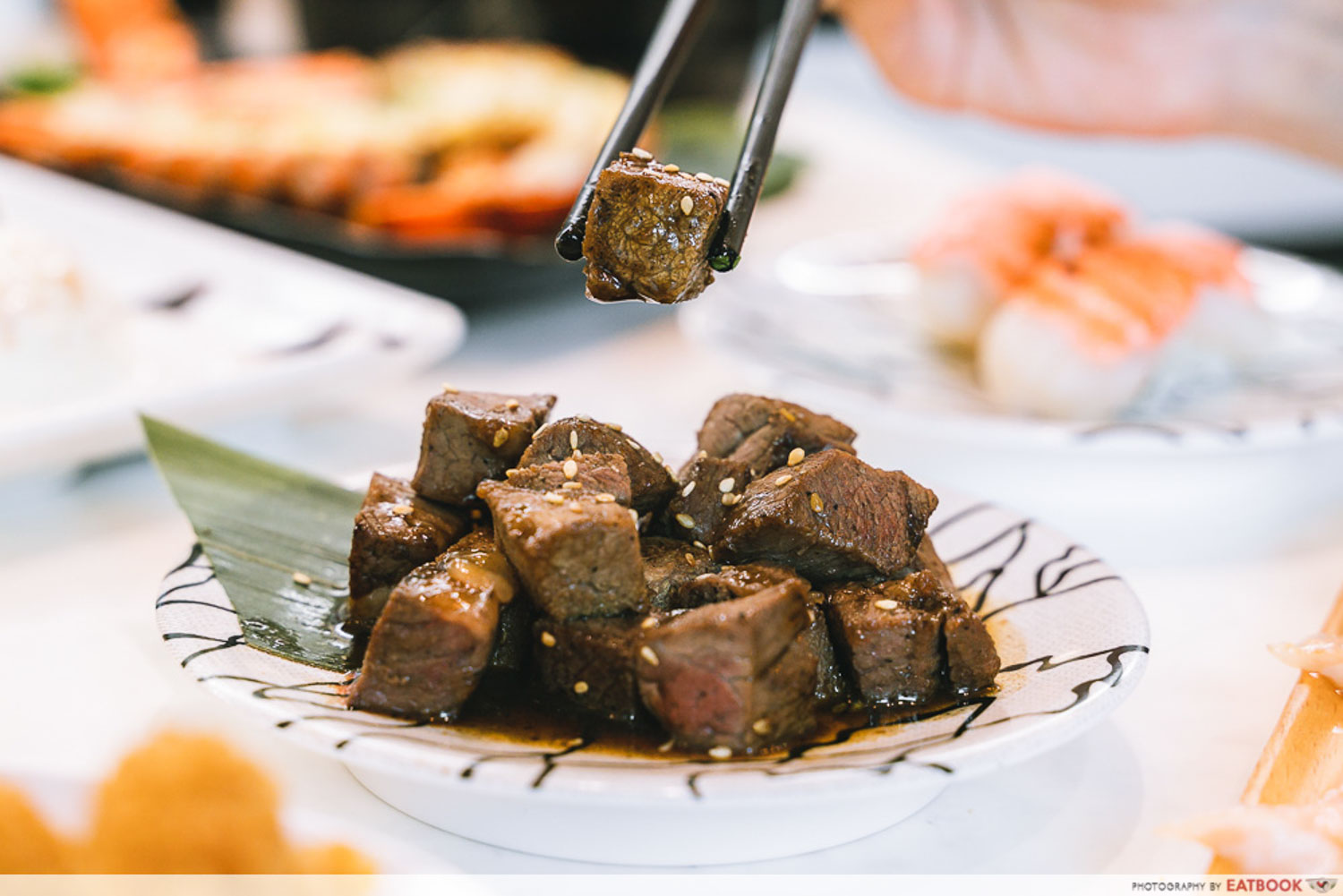 If you prefer food served above room temperature, check out their range of grilled and cooked dishes including the Seared Beef Cubes ($4++). 
Hailing from the States, this red meat was cooked on high heat to achieve its deep-brown edges. The beef's fatty layers helped in caramelising and deepening its savoury profile. These meat cubes were a little on the tough side, but the bold, beefy flavours made up for it.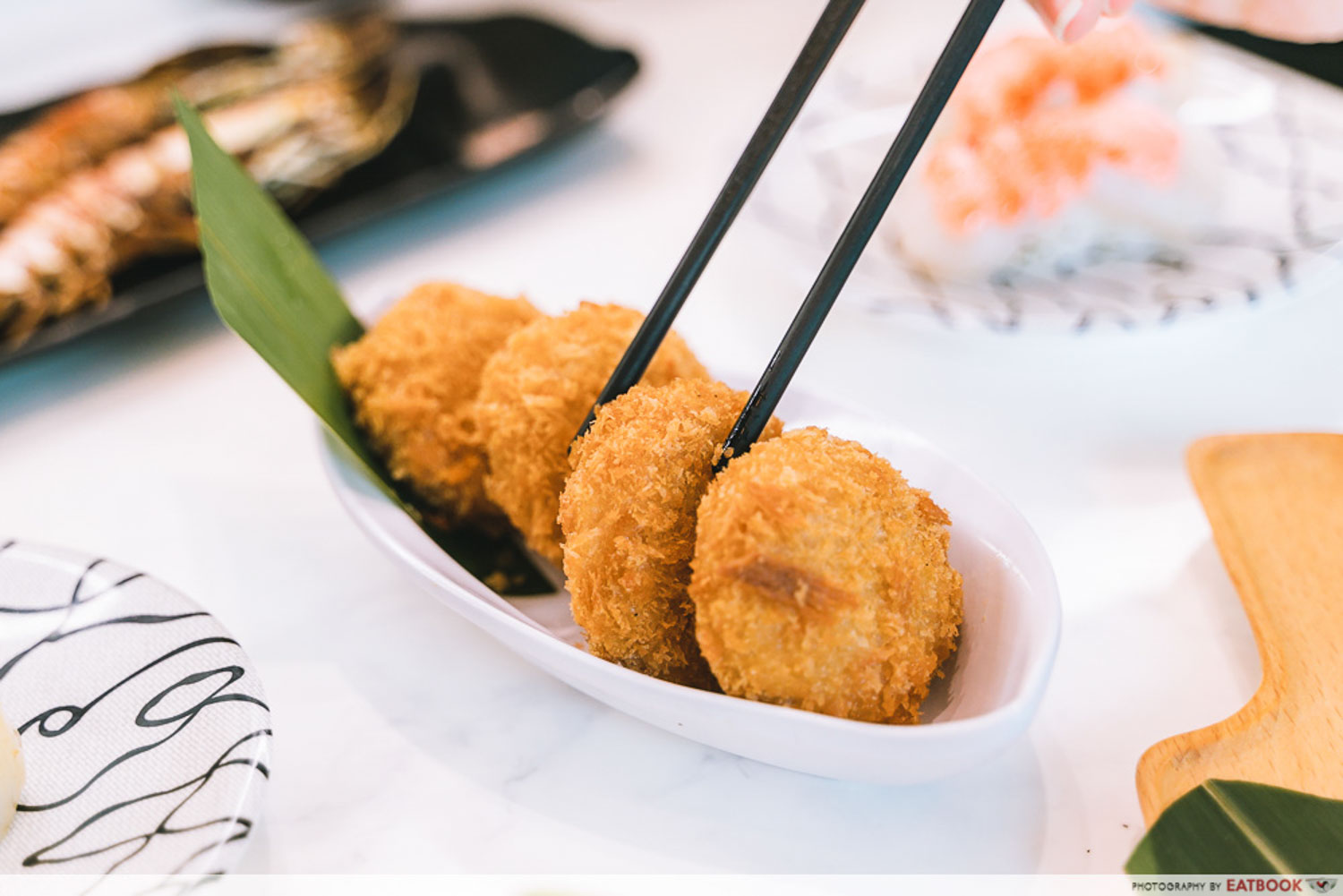 Devotees of Sushi Express can spot the difference with Sushi Plus' Sea Urchin Cream Croquette ($3++). These fried rolls are a bang for your buck, especially since uni is a pricier seafood.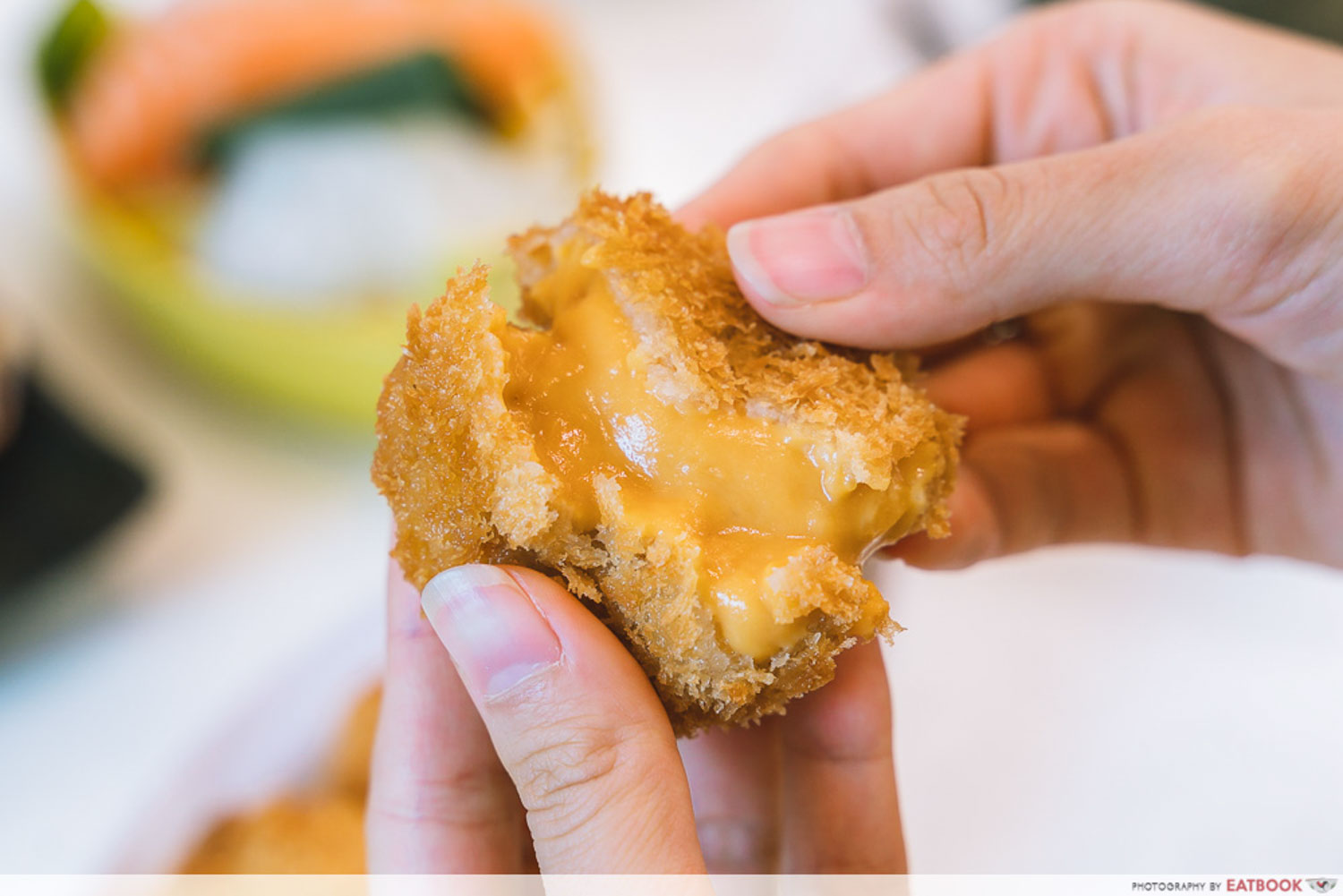 The delicate bread crumb batter provided a light crunch and gave way to a creamy filling which had a subtle umami taste. Having had the real deal during my recent trip to Japan, I wished the rich, briny uni flavour was more pronounced.
Yomie's Rice x Yogurt: Famous Yogurt Drink Stall Opens With 1-For-1 Drinks On 21 Dec 2019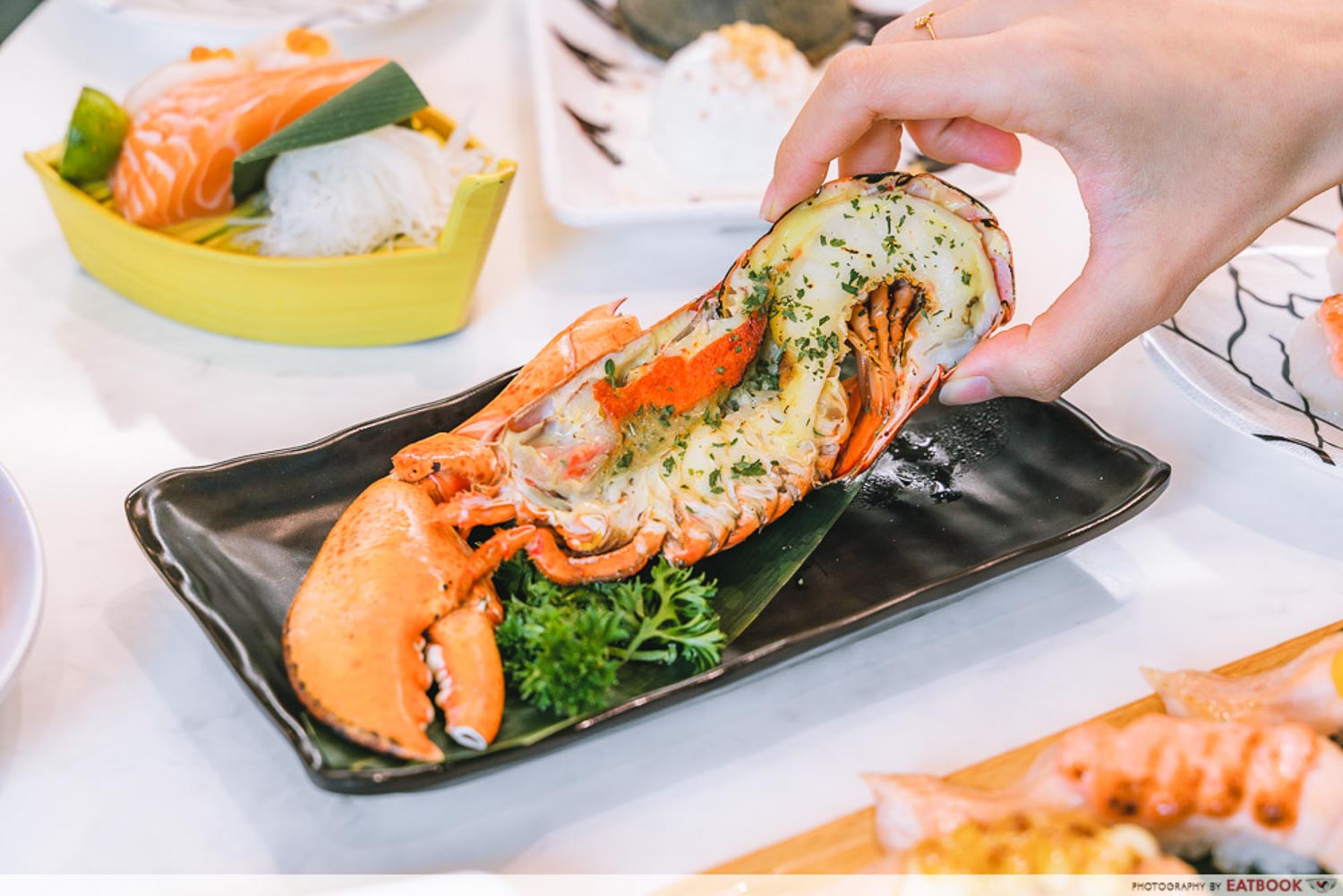 If your eyes twinkle at the sight of "Special Offer", then be sure to add an order of Grilled Butter Lobster at just $8++ per piece. This is almost a 40% discount from its usual price of $14++!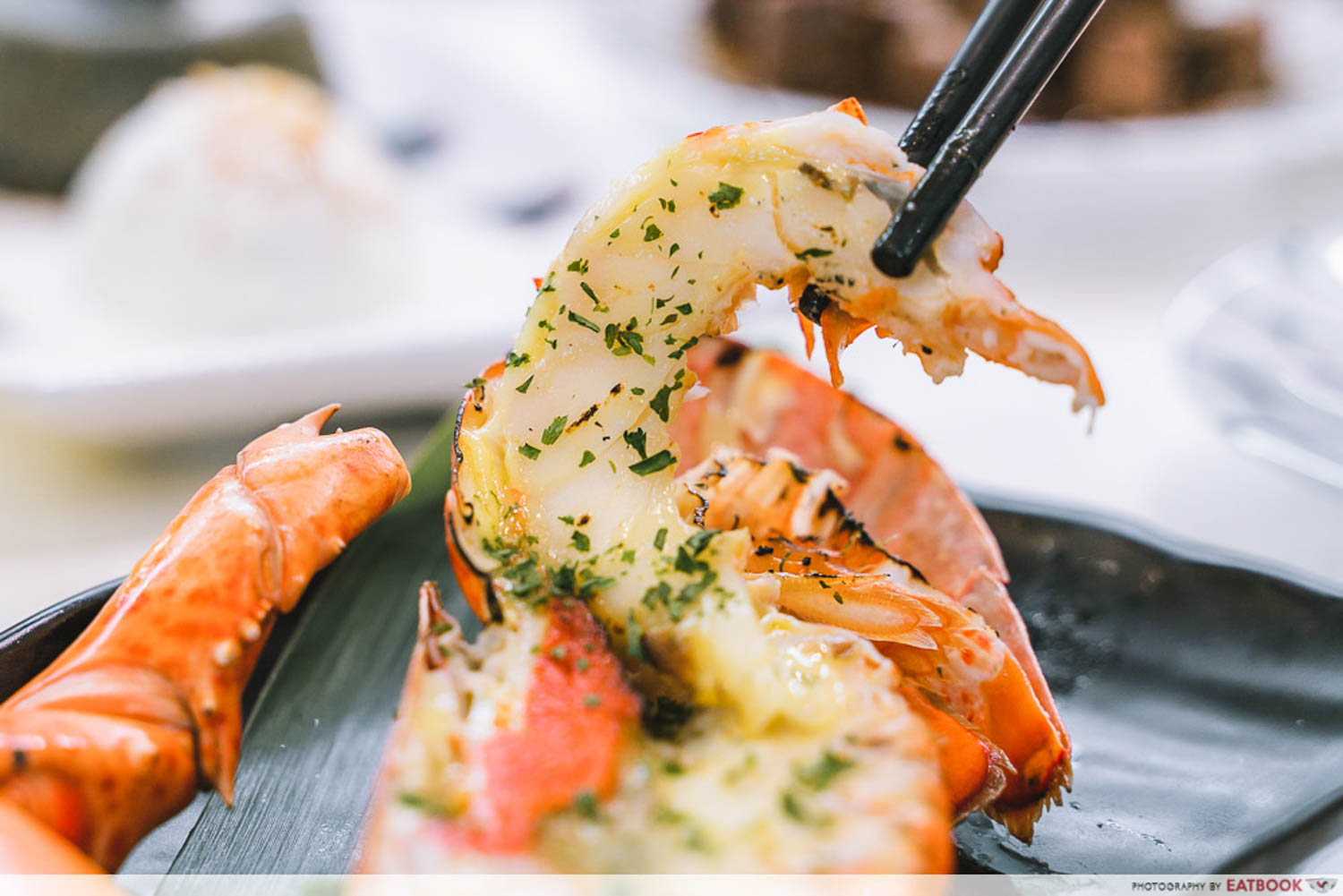 Caught in Canadian waters, the lobster was cooked with a generous slab of butter which helped to bring out the meat's natural sweetness. The firm flesh easily peeled from its shell, hinting at the crustacean's freshness.
Despite being stuffed, my sweet tooth self still made extra room for dessert. Especially since the Black Sesame Molten Lava Cake with Vanilla Ice Cream was on offer at $4.50++ instead of the usual $7++ price tag.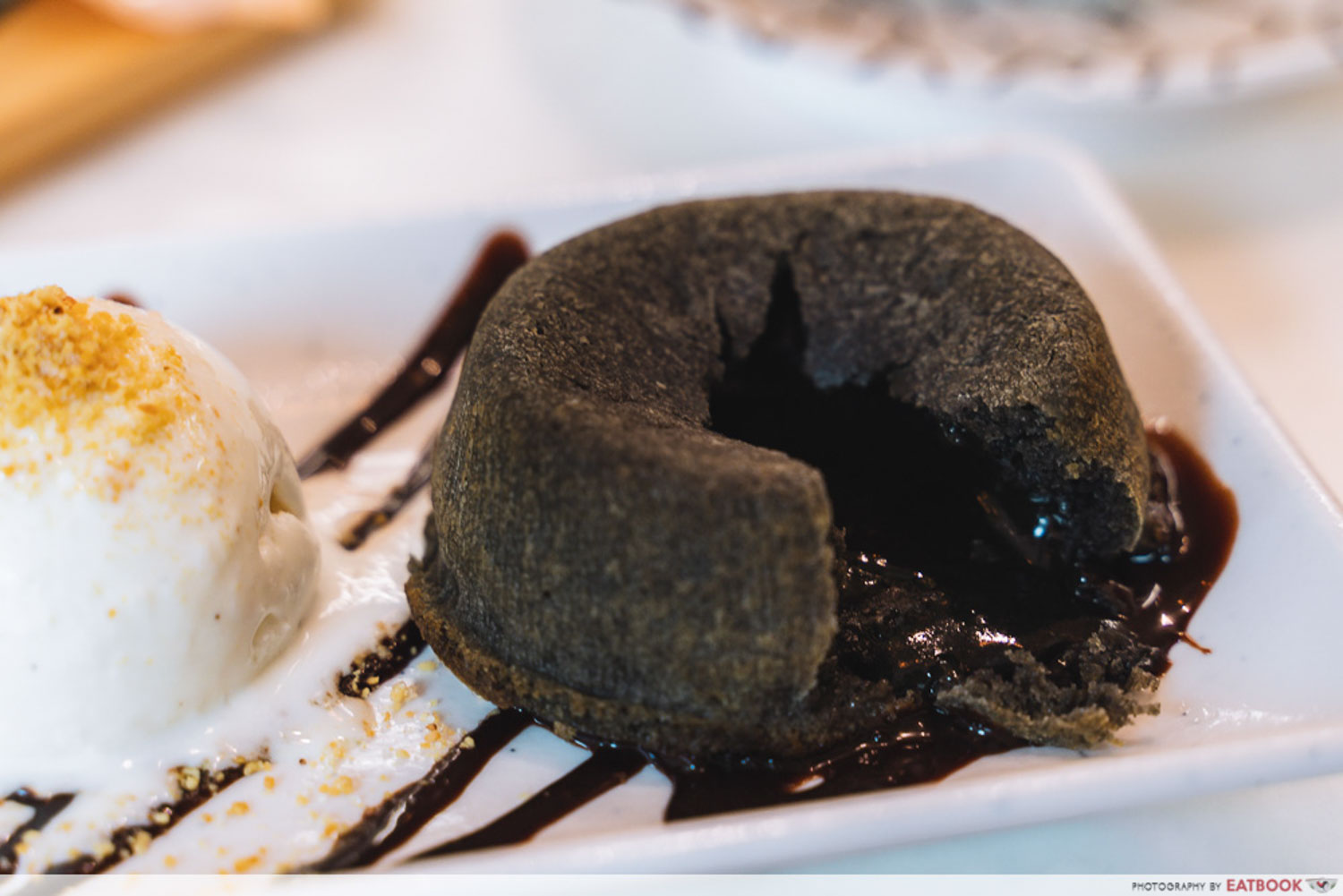 Whip out your phone to get that Boomerang shot for the runny black sesame centre flowing out of the moist cake. This sweet pairing had a good balance of nutty and bitter notes, with neither elements overshadowing the other.
Ambience at Sushi Plus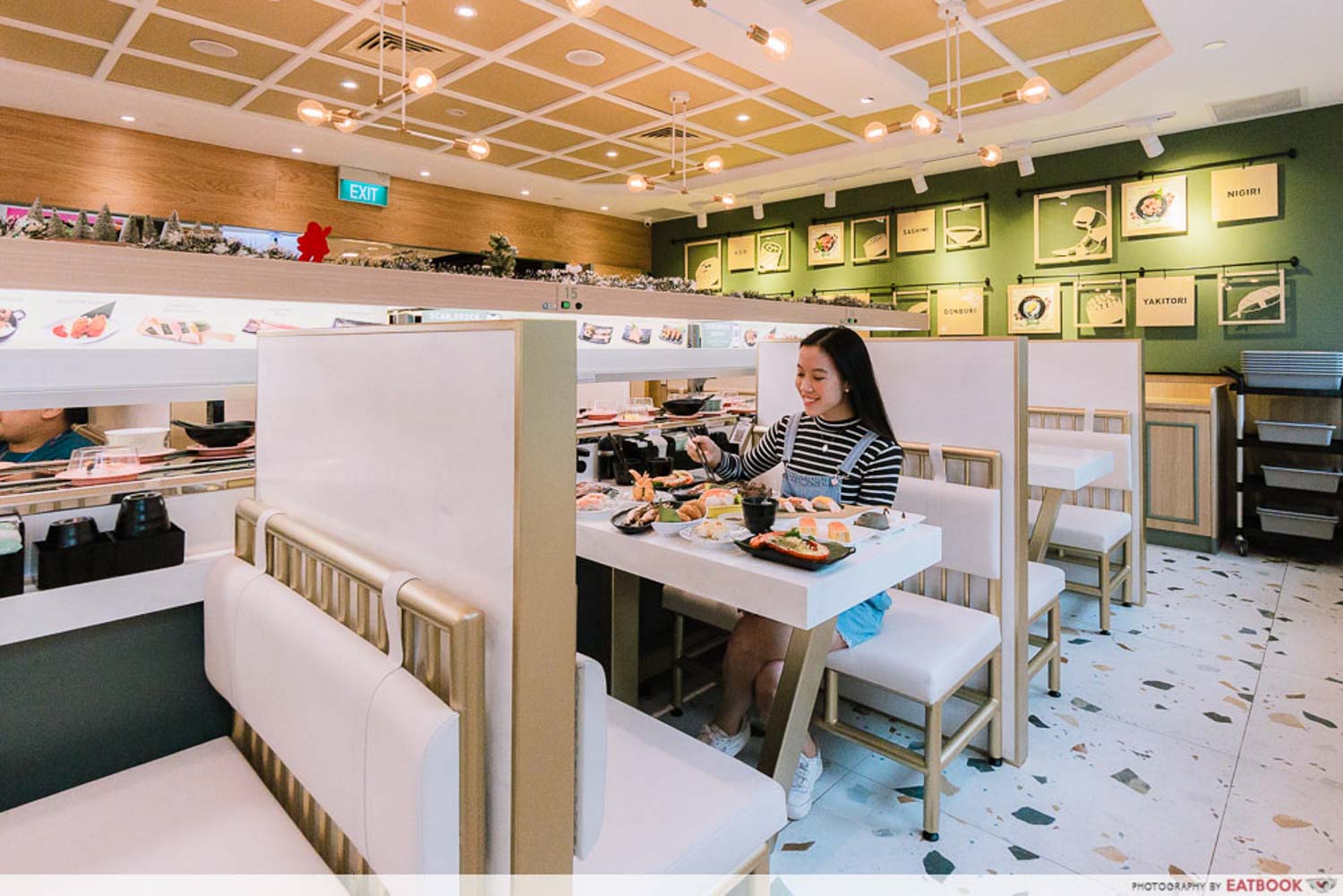 Sushi Plus may not be your traditional conveyor belt sushi restaurant, but the brightly lit interior and clean white look lent it modern vibes. Choose from four-seater booths or counter seats, with the latter giving you a prime view of the sushi belt. Conveniently located in Bugis Junction, this chic restaurant is just a short walk from Bugis MRT Station.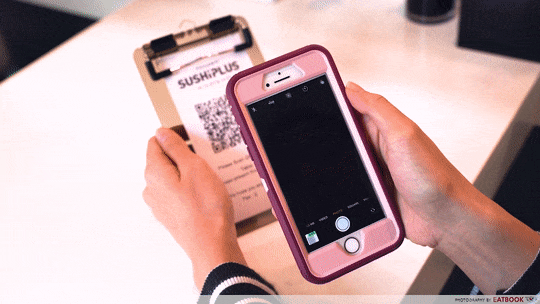 You won't have to deal with mixed-up orders, as Sushi Plus' seamless ordering system makes for a fuss-free meal. All you gotta do is scan the QR code to access their menu via your smartphone's browser and your online order will be sent to the table via a nifty lil' train. Besides this entertaining mode of service, you can take your pick from sushi plates circulating on the conveyor belt.
The verdict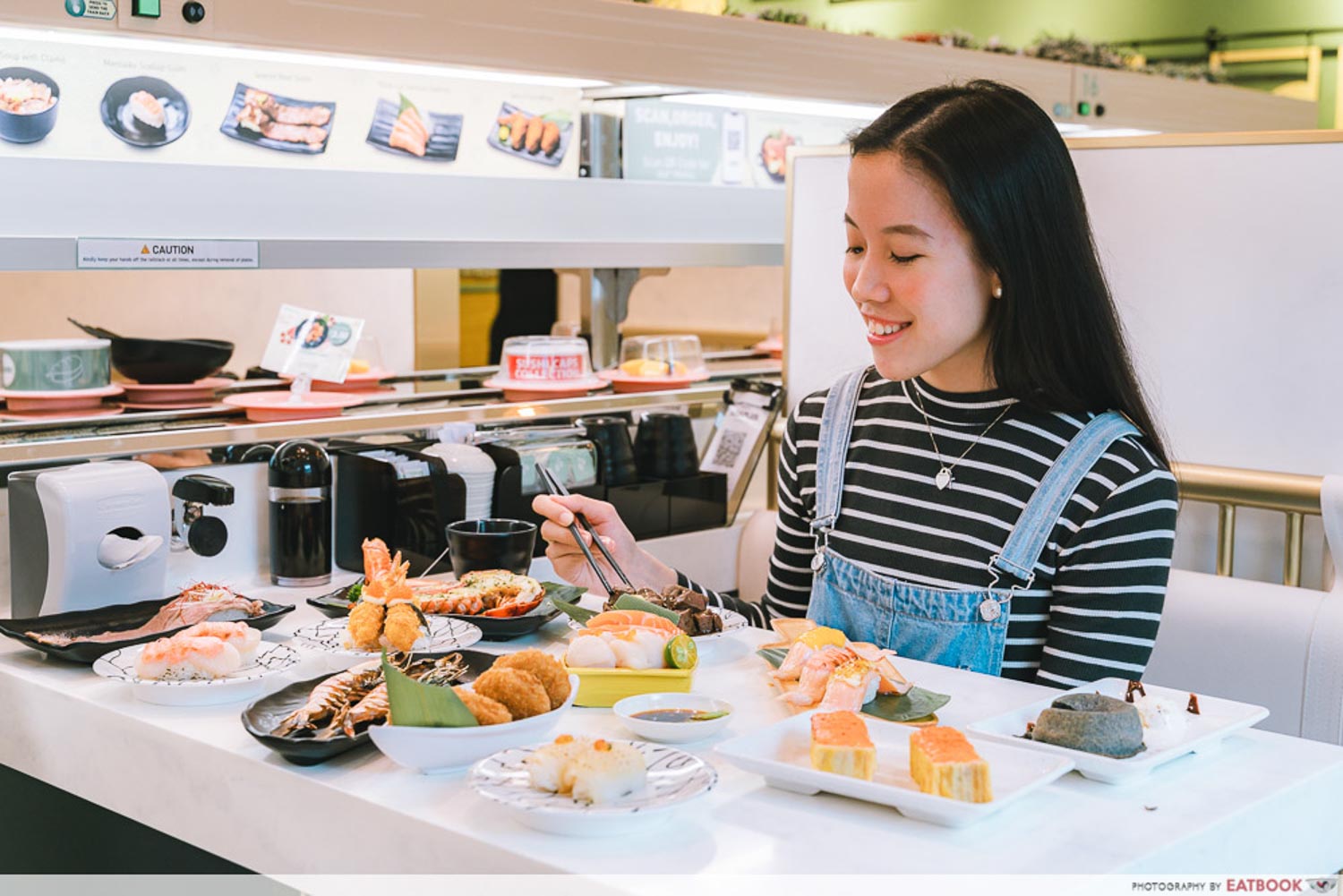 During my visit, I observed a regular stream of customers coming into Sushi Plus for a quick meal. I'm not surprised as the Japanese fare here is value for money, especially with premium dishes such as lobster and uni. Plus, the low price point doesn't discredit the quality of sushi you'll be getting. 
Address: 200 Victoria Street, #02-53, Bugis Junction, Singapore 188021
Opening hours: Daily 11am to 9:30pm
Website
Sushi Plus is not a halal-certified eatery.
Photos taken by Pichan Cruz.
This post is brought to you by Sushi Plus.
Weng Kiang Kee Porridge Review: Traditional Hainanese Porridge By Ex-Hotel Chef At Chinatown
Summary
Pros
– Prices are reasonable
– Fresh-tasting sashimi
– Good service
Cons
– Some sushi were greasy
Recommended dishes: Assorted Sashimi ($6.50++), Cheese Masago with Tamagoyaki ($1.50++ per piece), Seared Beef Cubes ($4++)
Opening hours: Daily 11am to 9:30pm
Address: 200 Victoria Street, #02-53, Bugis Junction, Singapore 188021