Healthy and tasty drinks at Yomie's Rice x Yogurt 
(Update, 26th December 2019: The promo has ended.)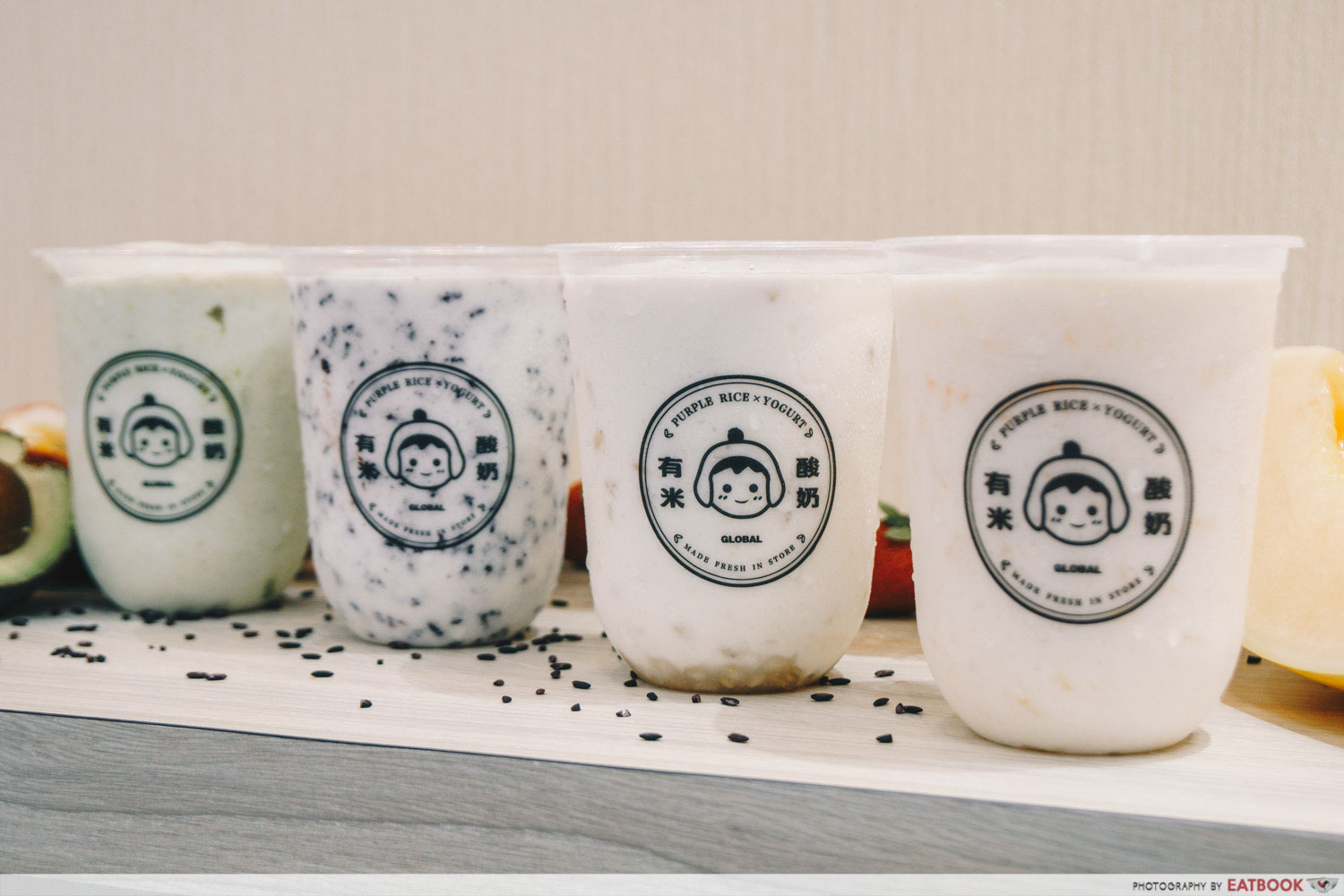 If you're a bubble tea addict like myself, you would have probably worried about all the added-up calories at some point. But even knowing that, the decadent drinks are too addictive to resist for long. Luckily, there are plenty of healthier alternatives out there, such as Yomie's Rice x Yogurt! To celebrate their grand opening on 21 December 2019, they're having a 1-for-1 promotion at all three of their outlets!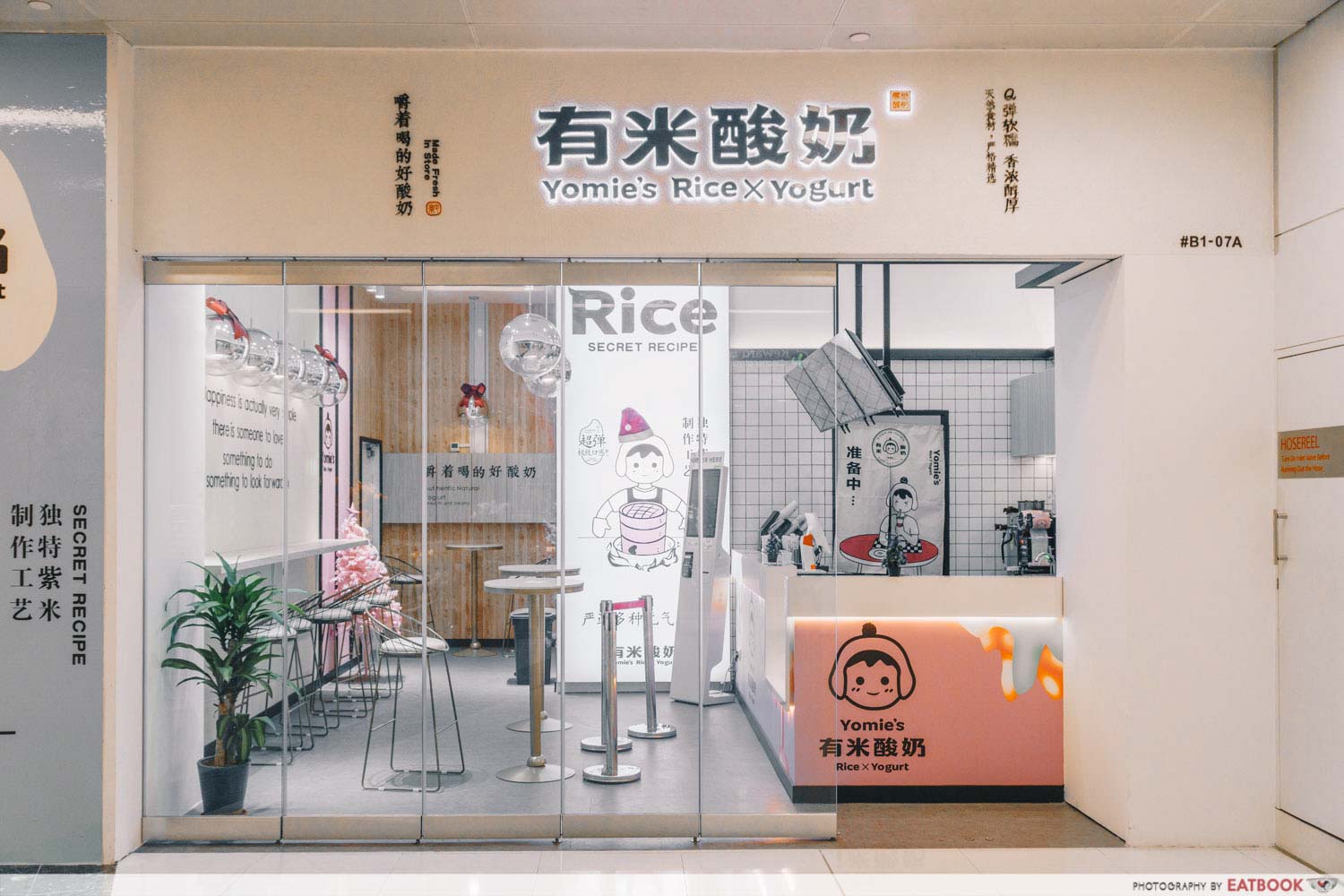 Yomie Rice x Yogurt is found at Westgate, The Centrepoint, and CityLink Mall. The famous yogurt drink brand has been expanding rapidly with over 100 outlets worldwide, and have finally made their way to Singapore. The grand opening promo begins at 11am on 21 December 2019, with each of the three outlets selling 150 sets of 1-for-1 drinks until they're sold out. 
6 Purple Rice Yogurt Drink Stalls In Singapore To Try If You Love Yomie's Rice
Lucky, you don't have to wake up early on a weekend to get your fix. A second slot is available at 6pm, with 150 more sets to claim! Do keep in mind that each customer can only get one 1-for-1 drink set. If you can't make it in time for the deal, you can still get two 50% off vouchers if you buy a drink on that day. 
The brand specialises in using all-natural ingredients. Fresh milk and locally distributed fruits are delivered to the outlets daily, and all their yogurt are made in-house. They have specialised equipment to culture whole batches of yogurt for at least 24 hours, which ensures that the drinks contain an optimum amount of live probiotics and beneficial bacteria— great for helping out with digestion!
Their signature item is Yomie's Purple Rice Yogurt ($5.60). This delicious smoothie is super thick and has a natural sweetness. Huge scoops of yogurt are blended into it, making it smooth and creamy. It's blended with purple rice grains, which are chewy, slightly sticky, and filled with antioxidants. They're a tinier, healthier alternative to pearls, but still give a varied texture to the smooth milky yogurt. 
Just like the house-made yogurt, the rice is prepared daily with a top-secret method. It goes through 11 different processes before it gets blended up, drawing out the nutritious minerals, such as Vitamin B1 and folic acid, which has anti-ageing effects.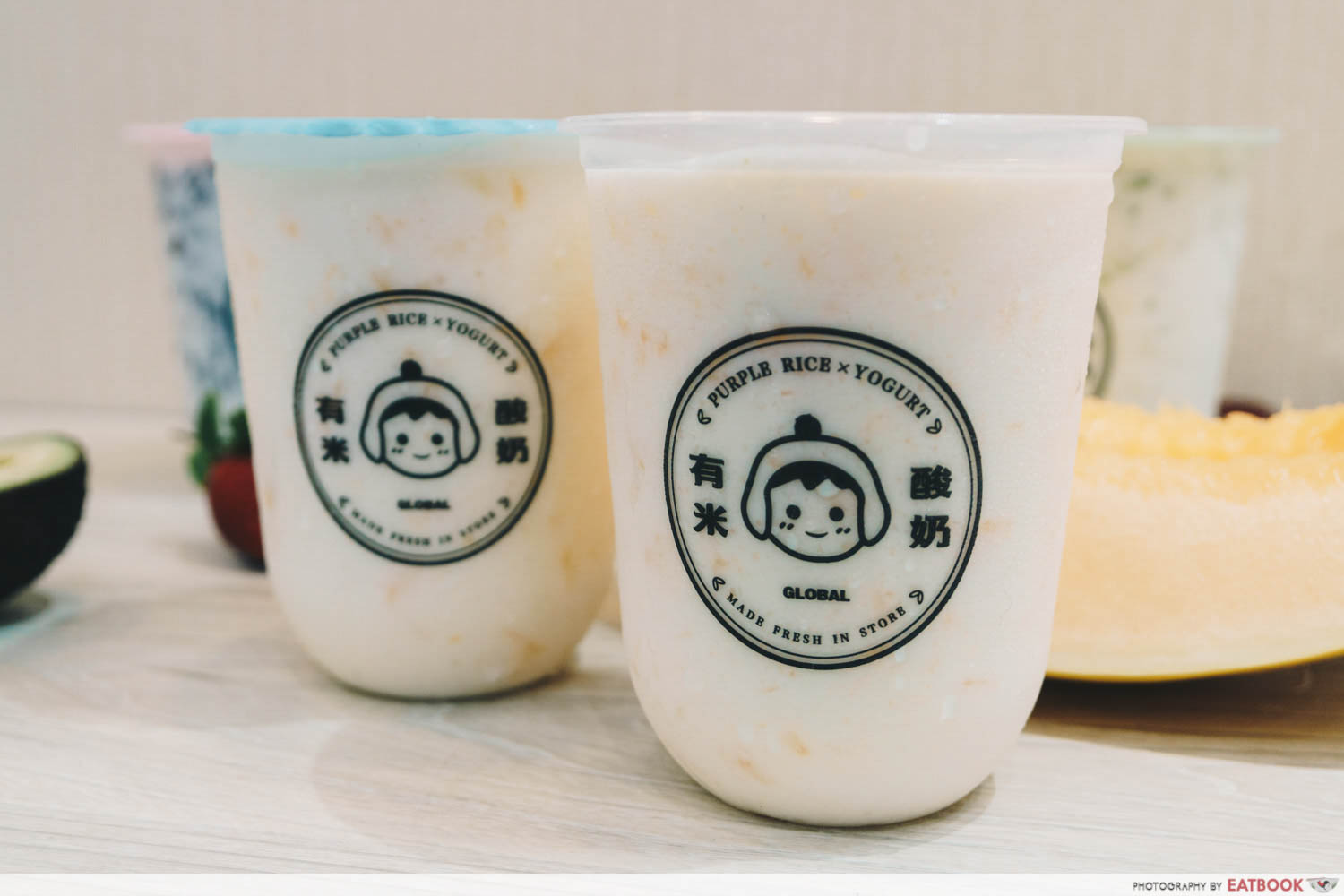 The second item in their Rice x Yogurt series is the Yomie's Oats Yogurt ($5.60). The base yogurt taste is similar to the first flavour, but the rice is substituted with chewy groat oats. I personally preferred the texture of the rice but if you enjoy having oats for breakfast, then this might be the drink for you. The toasted oats are light-tasting, slightly nutty, and packed with fibre. There was a great ratio of drink-to-topping, and each mouthful had enough oats to chew on.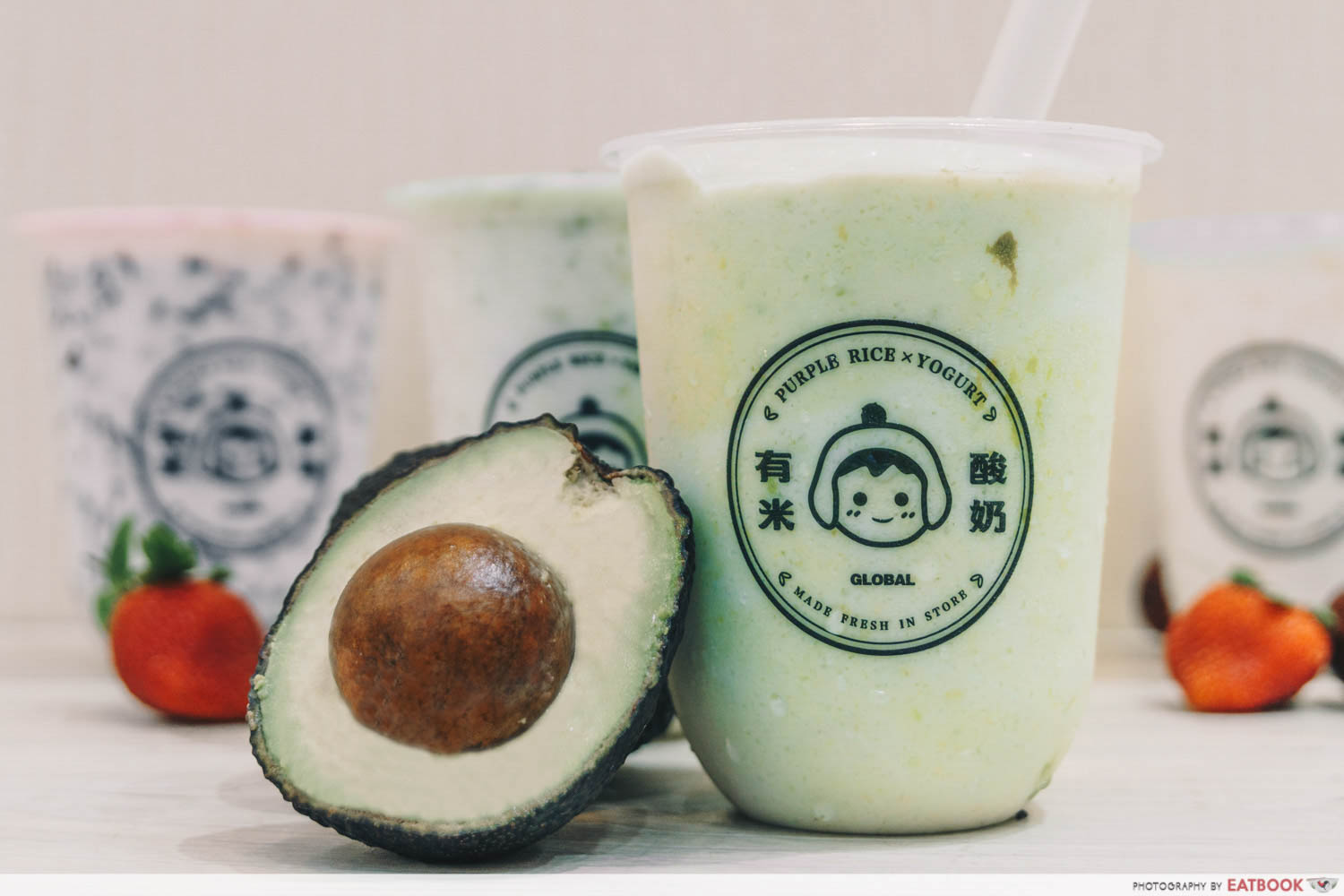 The Avos! ($7.20) is part of their fruit smoothie range. Fully ripe avocados are sliced and blended with hearty scoops of yogurt to make this decadent, creamy treat. The green fruit gives it a thicker texture and more refined richness, while the yogurt provides a tart and tangy taste. Some chunks of avocado were still present inside, which gave the drink a bit of a silky texture when they were slurped up.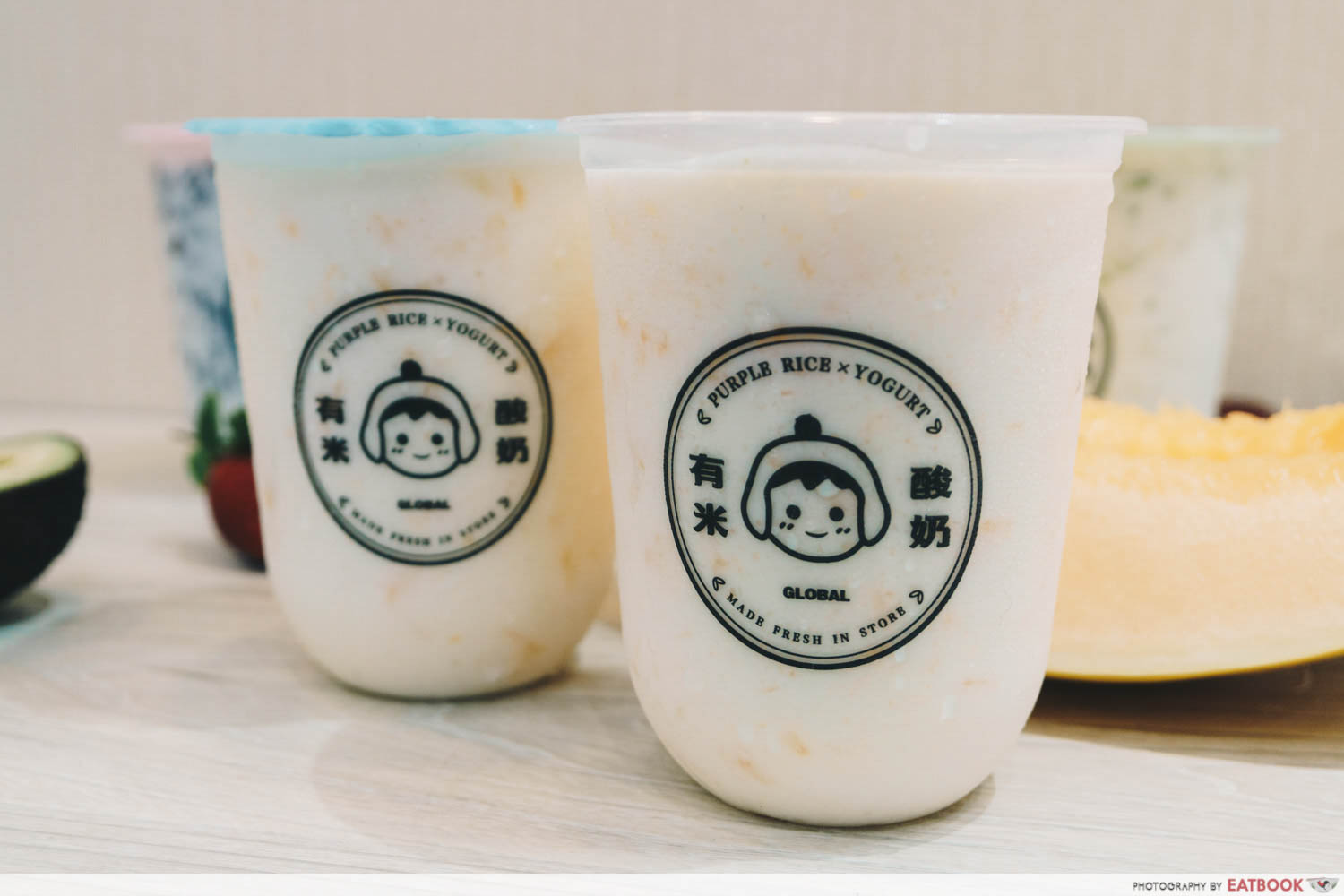 Crisp and light melons are used to make the Melon!Melon! ($6.60). The first thing I noticed when I took a sip was the real melon chunks in the cup. Due to the natural sugar of the melon, it was a lot sweeter than the others. There were also plenty of crunchy orange honeydew bits to chew on as I sipped the drink.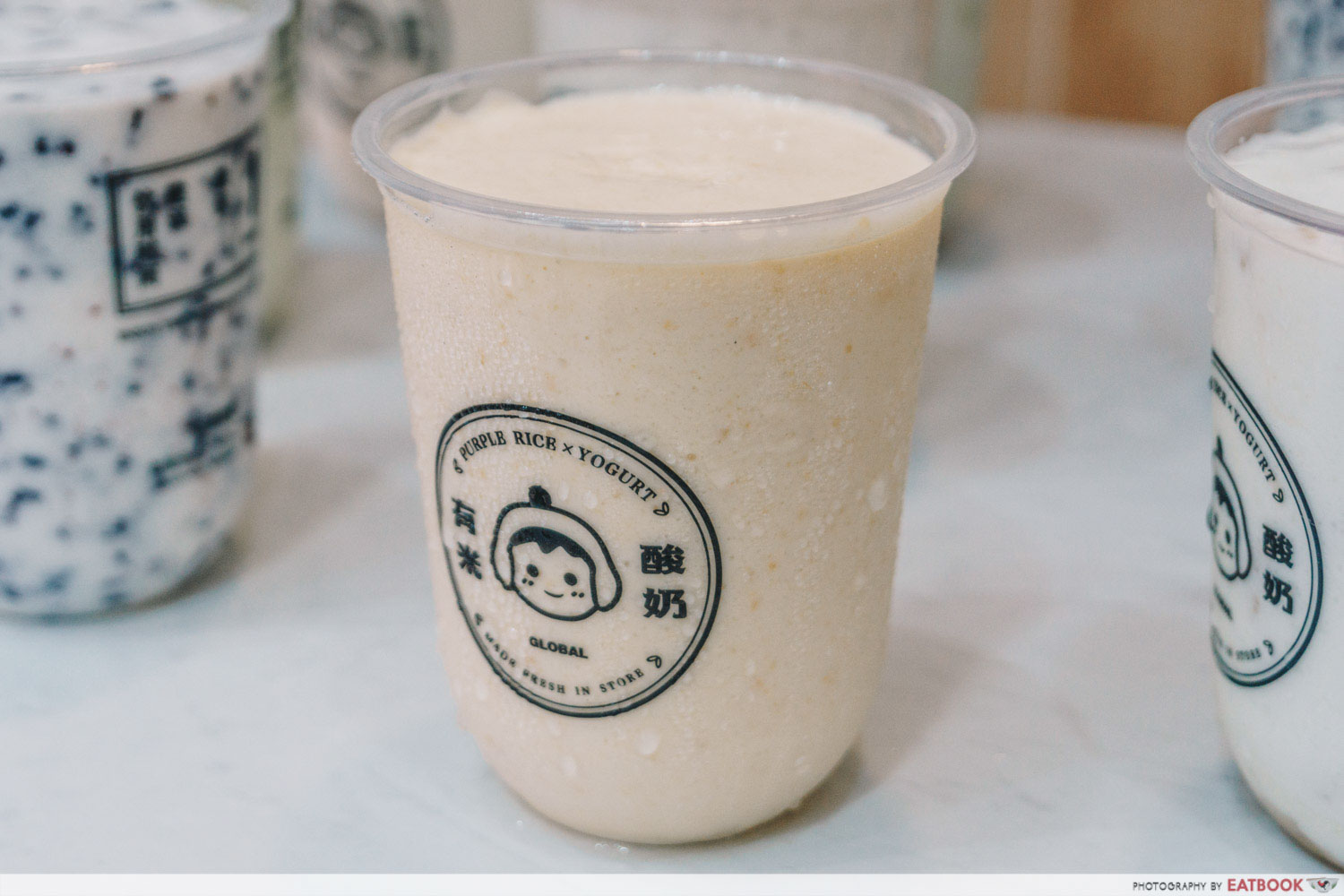 The Salted Egg Yogurt ($7.20) is certainly an unusual flavour. The salted egg taste is strong, and there are solid chunks of it mixed into the yogurt. You can feel the rough texture of the yolk, completely separate from the sweet yogurt. If you're the adventurous sort, you might want to check out this drink just to satisfy your curiosity. 
While bubble tea is simple and comforting, it might be good to go for a healthier option every once in a while. Flavours such as the purple rice and melon yogurt don't sacrifice taste for the sake of being healthy. With the 1-for-1 promotion this weekend, it's a great time to head on down with a friend and try it out for yourself!
Address: 3 Gateway Drive, #01-09A, Westgate, Singapore 608532
Tel: 8332 0535
Full list of outlets
Website
Photos taken by John Lery Villanueva.
This post is brought to you by Yomie's Rice x Yogurt.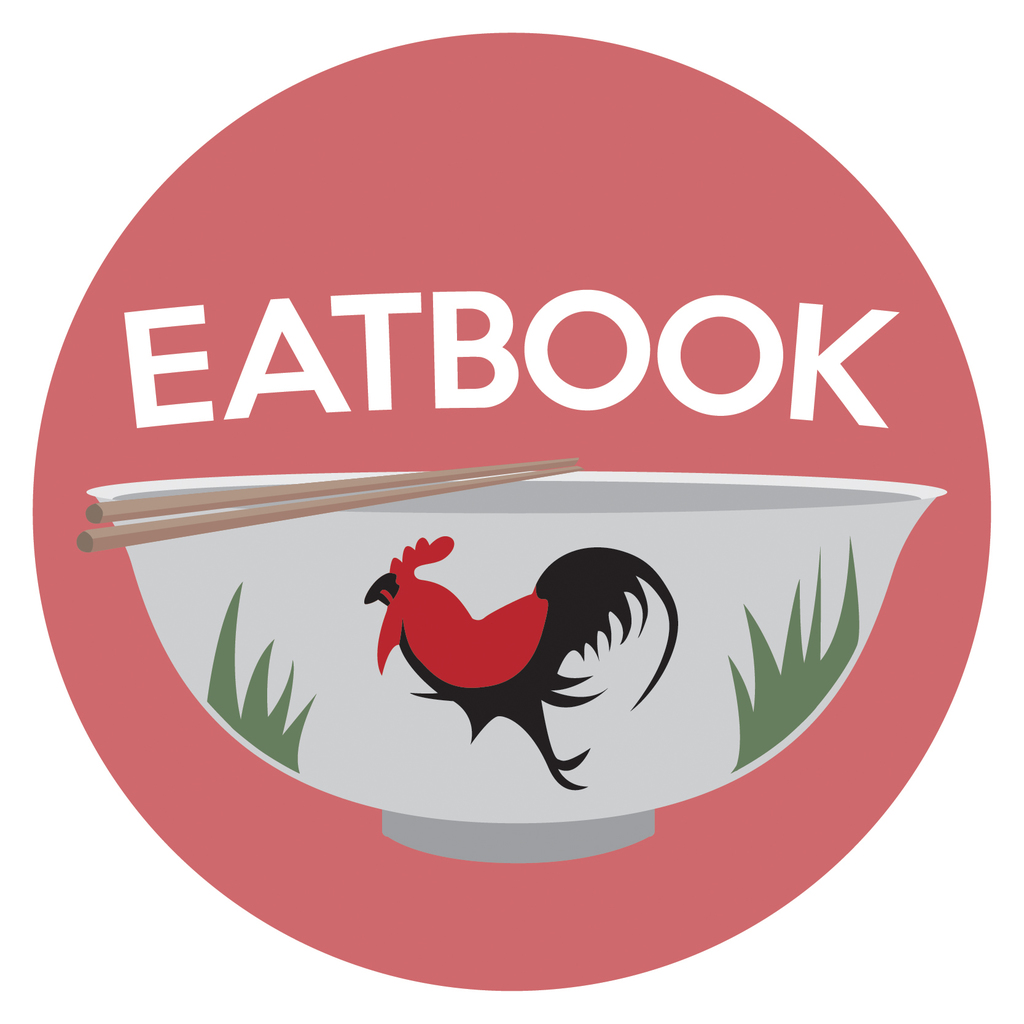 Drop us your email so you won't miss the latest news.