Yokozuna Stall is here at Toa Payoh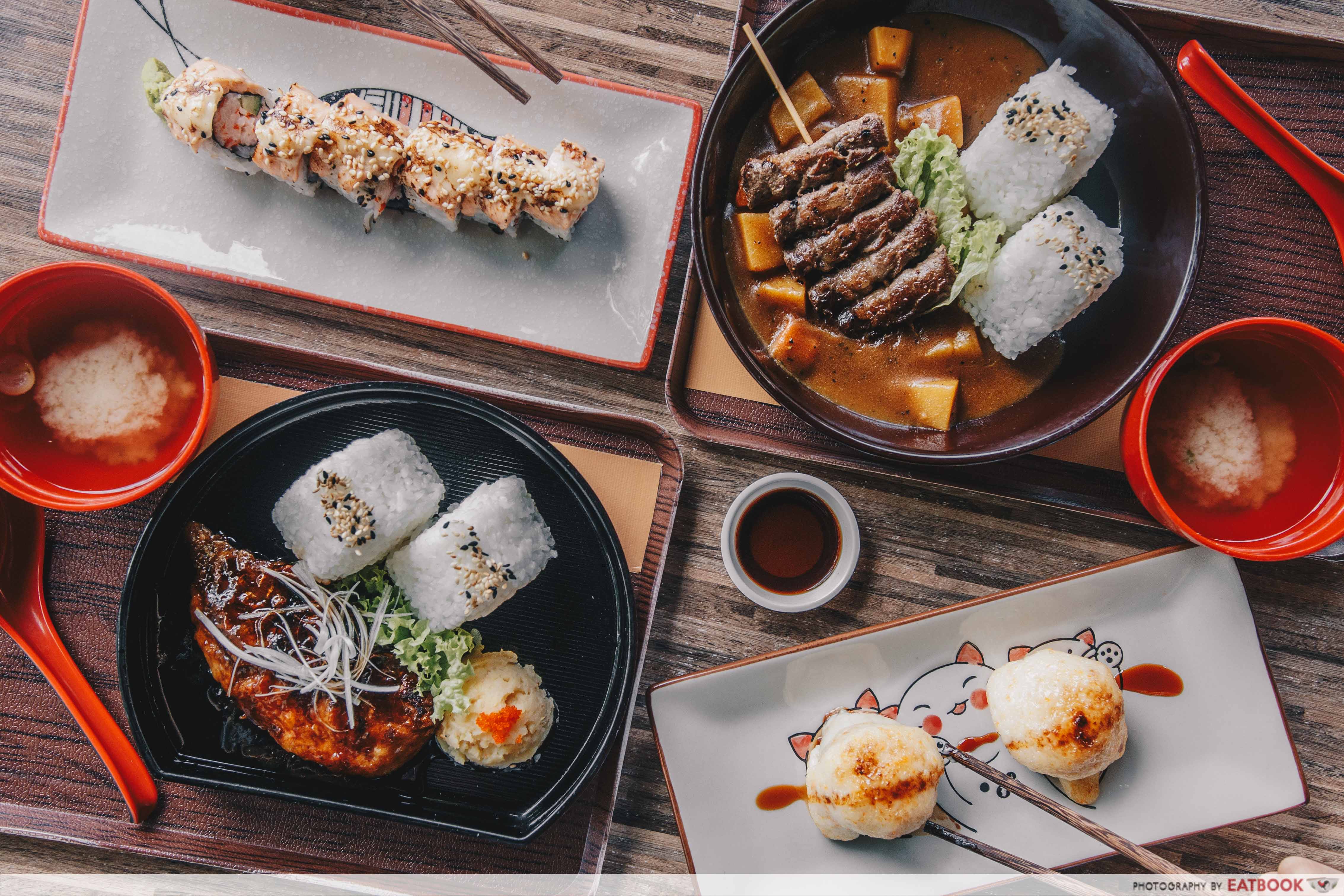 If I showed you the picture above, would you believe it was taken in a Japanese restaurant? We found Japanese hawker stall Yokozuna Stall in a small coffee shop beside Lorong 8 Toa Payoh Hawker Centre. A distinctive brown tray sat on the tables of most of the people dining there. After placing our orders, we ended up with four such trays of our own.
Food at Yokozuna Stall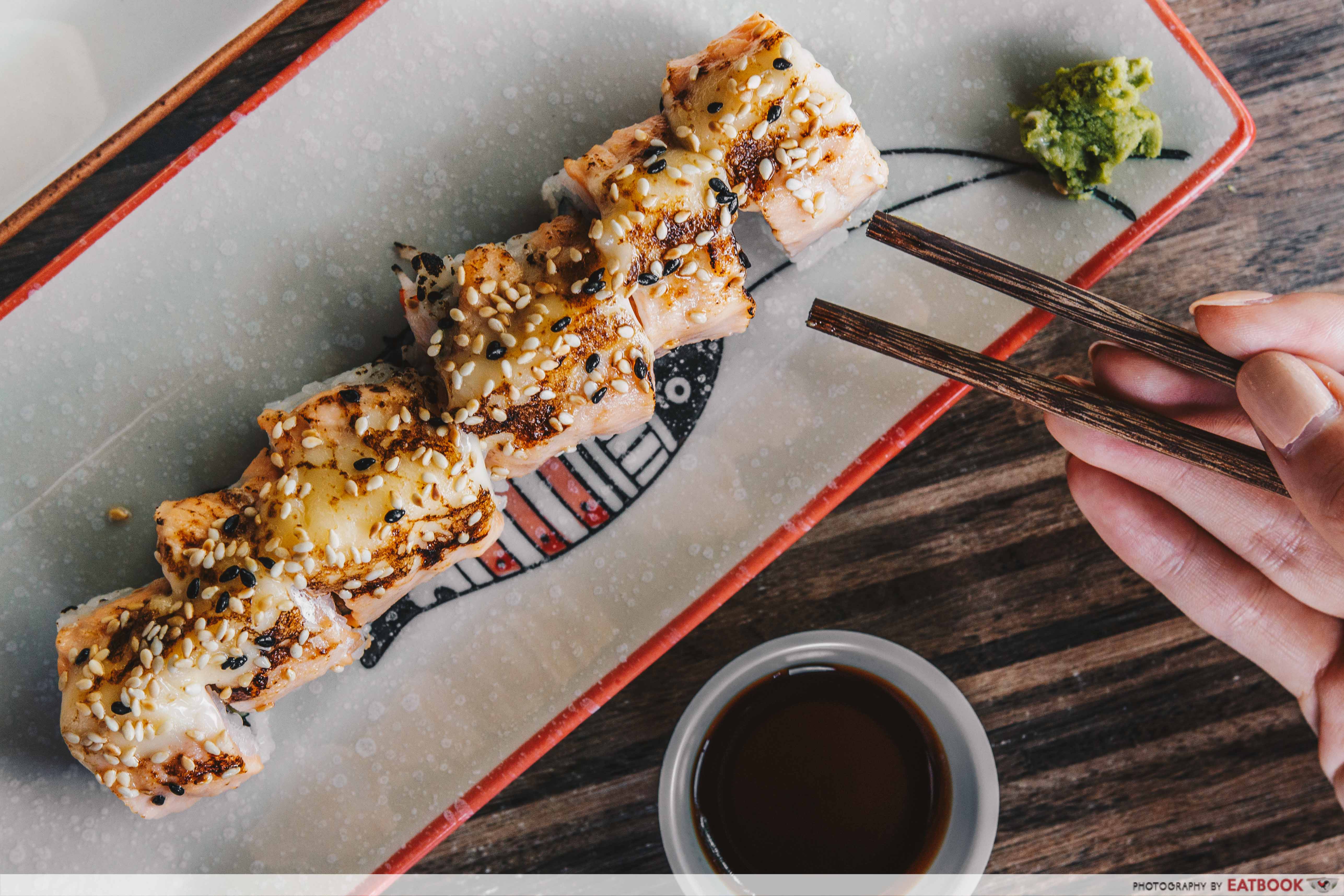 We heard the Tataki Salmon Roll ($6) is one of the more popular items on the menu. Then again, it's hard for us to resist sushi, especially when it's done well. The smoky slices of salmon topping the rice were coated in a layer of mayonnaise. Sesame seeds were sprinkled along the length of the roll as a garnish. Everything from the delicate sushi roll to the intricate plate screamed atas.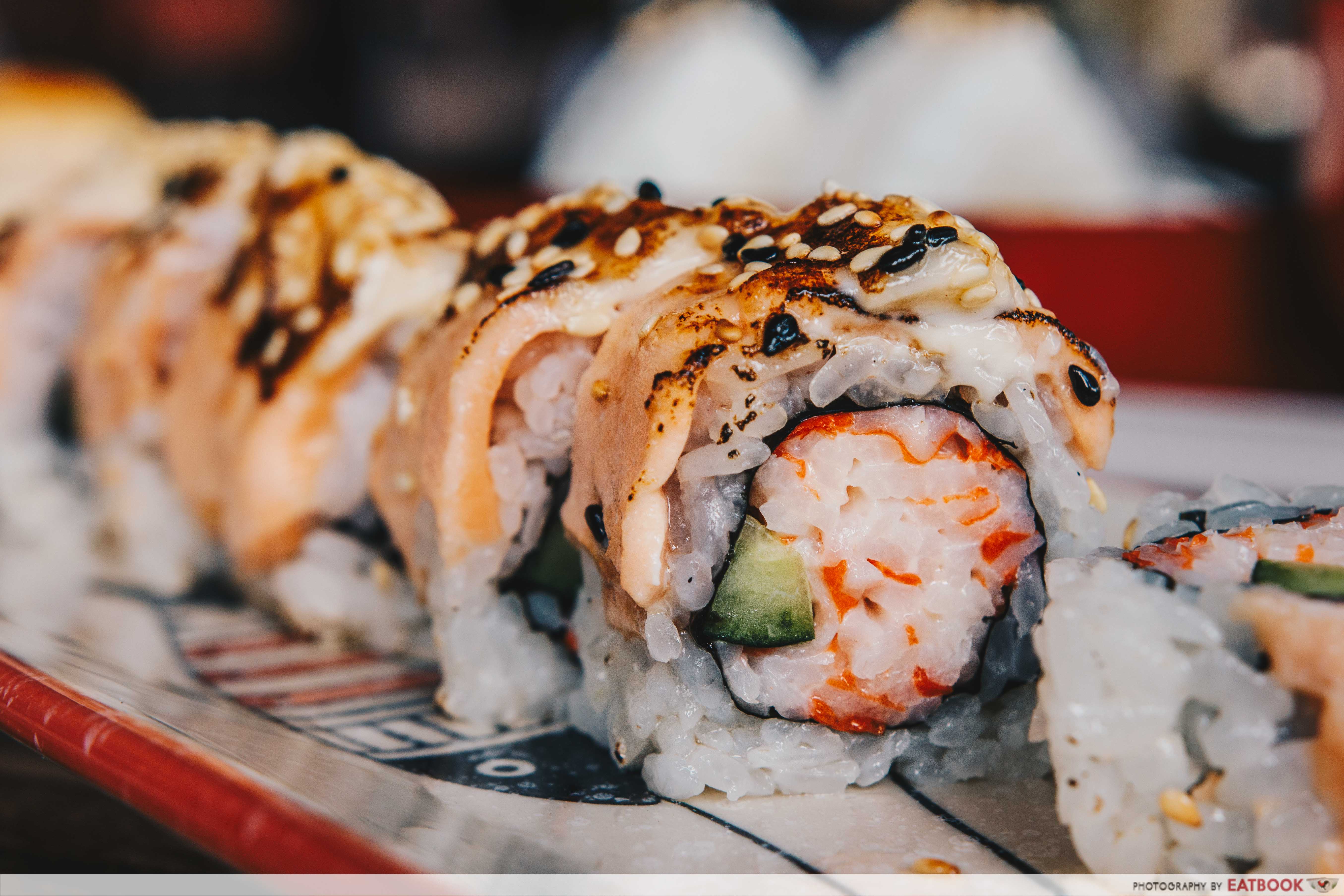 The sushi was stuffed with crab meat in mayonnaise and tiny chunks of cucumber, which lent the roll a juicy crunch. Meanwhile, the salmon gave off a pleasant, earthy aftertaste from being torched at the top.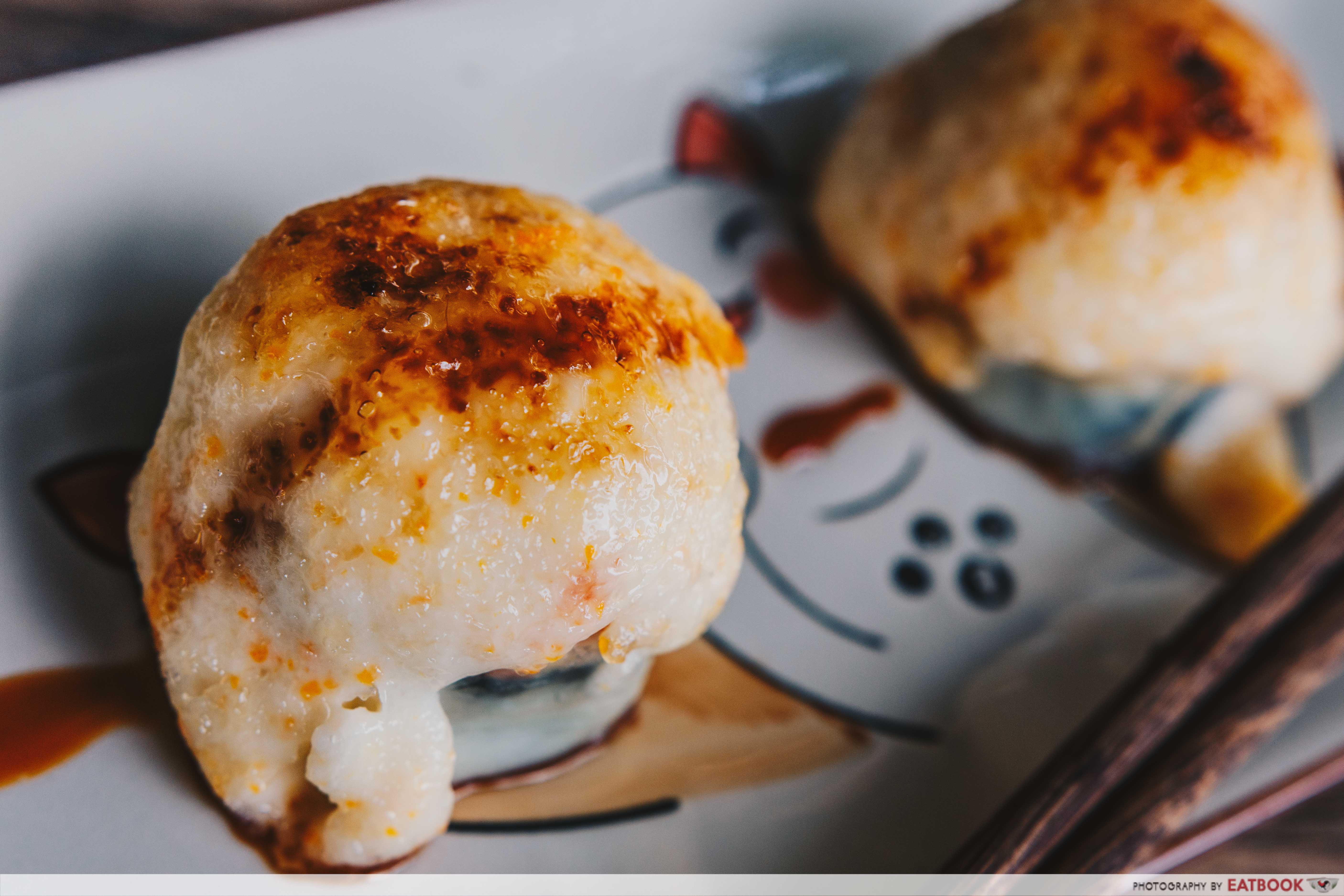 The second appetiser, Yoko Yoko ($6), is also the stall's speciality. You can't find it anywhere else. At first, I had no intention of ordering this. It's name gave no explanation as to what it is, so I just assumed from the picture that they were dumplings. It was only after the smiling stall owner recommended it to me that my interest was piqued.
'It's not a dumpling,' she said, 'It contains tilapia fish and crab meat. Give it a try.' Tilapia fish? Still feeling a little uncertain, I decided to just go for it.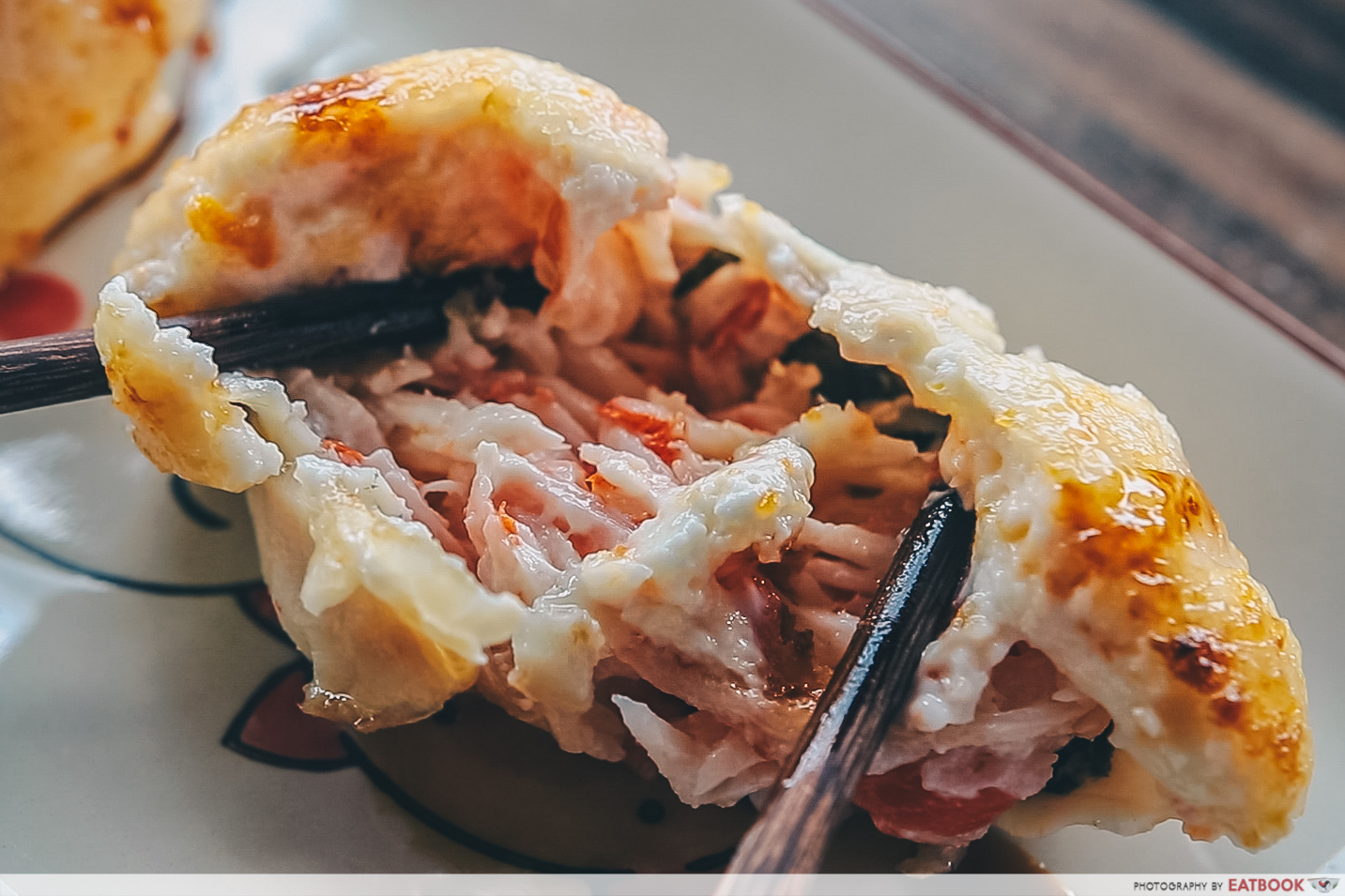 Whaddya know? I ended up really liking this one! The lady boss' husband, and co-owner of Yokozuna Stall, Mr Francis Lee, came out of the kitchen to have a little chat with me later. He explained that the Yoko Yoko contains two different kinds of mayonnaise. The first coat on top is a tangy blend of mayonnaise with avocado, leeks, carrots and onions. The second type of mayonnaise is mixed together with shredded crab meat and stuffed within the Yoko Yoko.
Winding round the Yoko Yoko are long slices of tilapia fish and seaweed. The Yoko Yoko is then grilled before it is served. You are advised to eat this hot to savour all the flavours at their best. While I enjoyed this dish, I found the tart mayonnaise a little overpowering.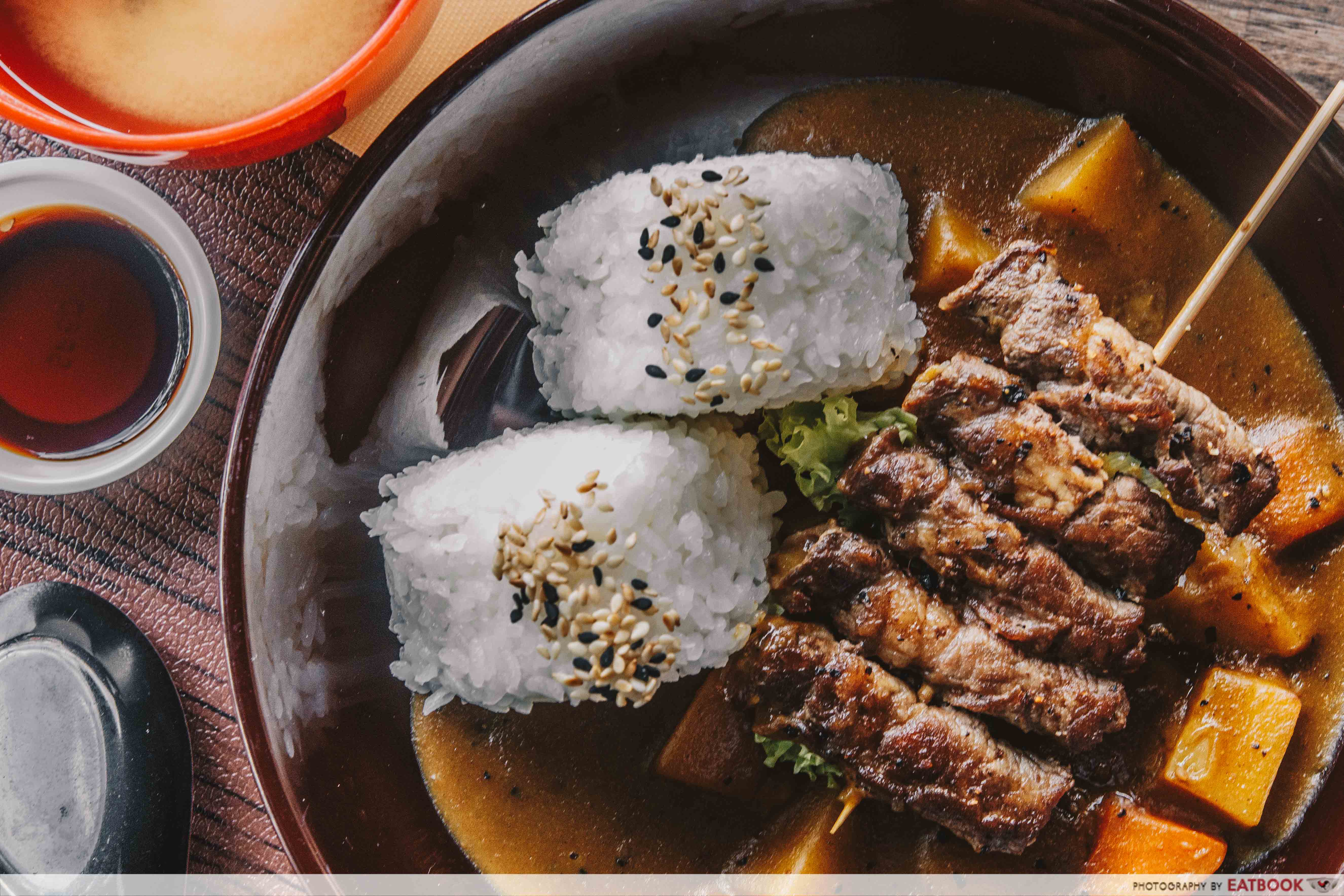 Moving on to the set meals! On weekdays from 11:30am to 2:30pm, each set meal comes with a free drink. You can choose between Coke, Sprite, iced lemon tea and a hot beverage. We ordered the Beef Curry Bento ($6.80) first, which came with beef skewers stuffed with leeks atop a base of Japanese curry. At the side was sticky Japanese rice moulded into two adorable, mini triangles.
I loved how the rolled strips of beef had leeks stuffed within, adding a tasty crunch to every bite. The curry, which contained carrot and potato cubes, was a little salty, but that no longer became a problem after mixing it into the rice.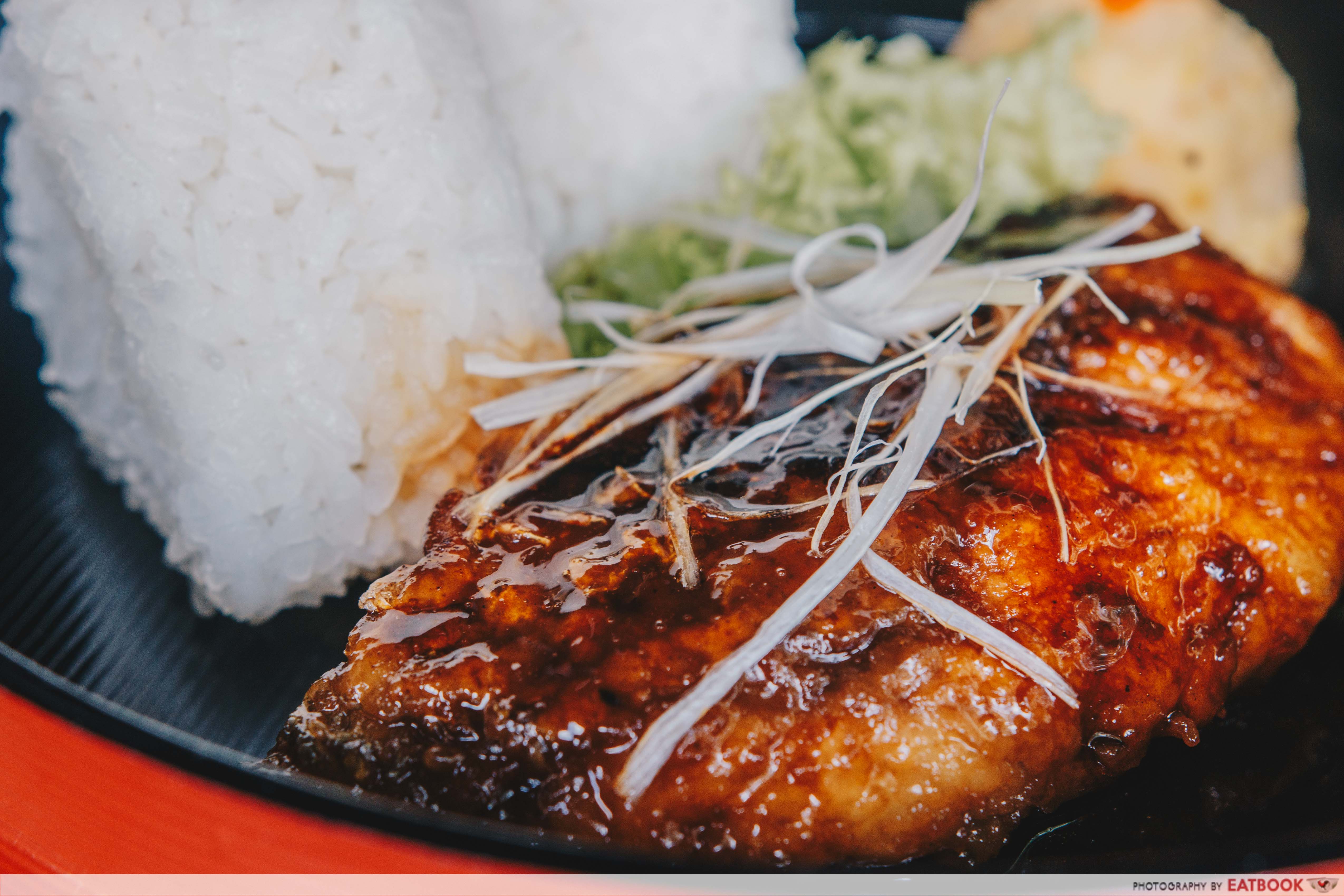 Finally, we tried the last set meal of the day- the Butter Yaki Seabass Bento ($6.80). The seabass came with rice and a dollop of mashed potatoes topped with flying fish roe.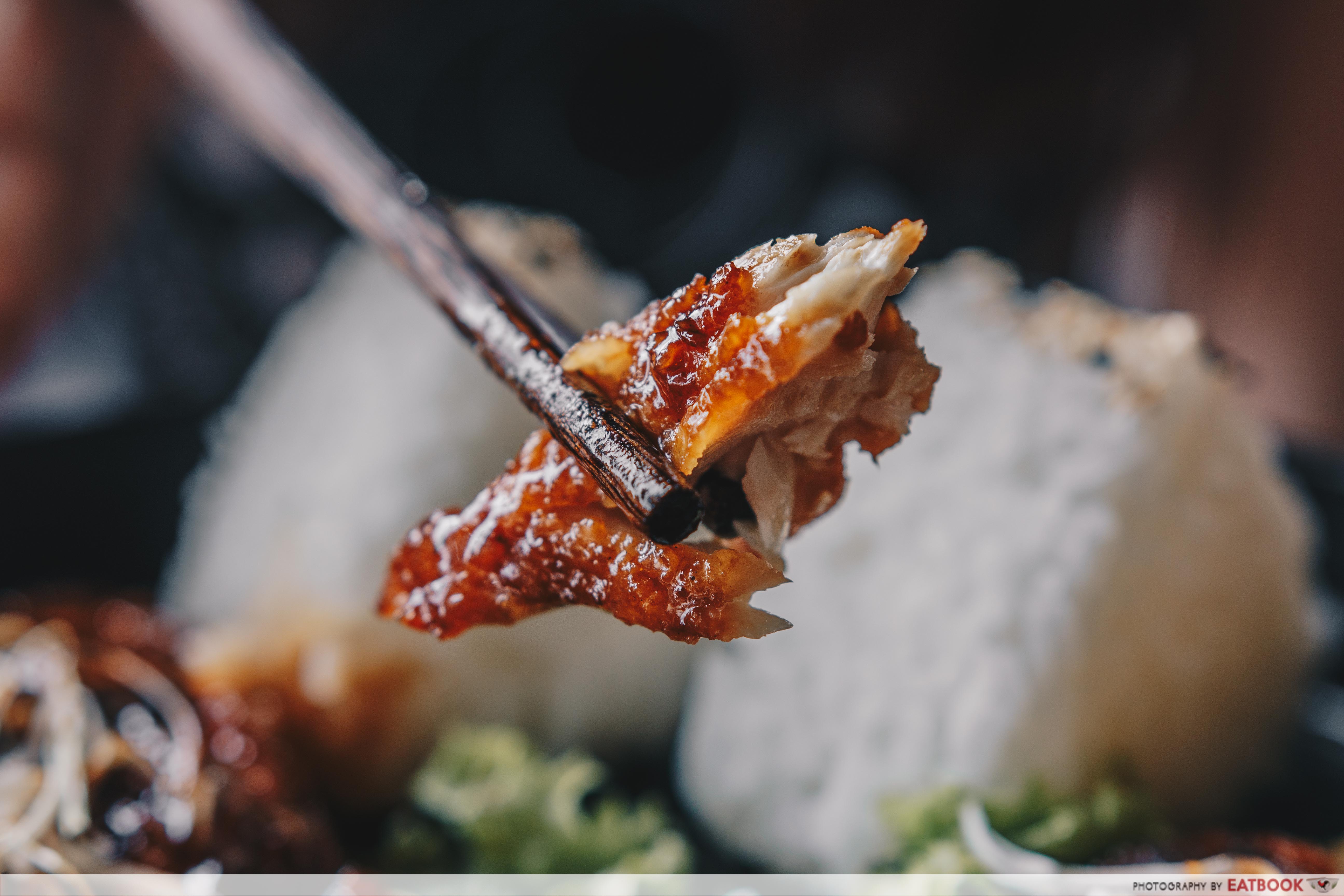 The fragrant sea bass was literally the best thing I ate that day. On the outside, it was a little crispy, and slathered in a sweet sauce, while the meat within was tender and milky from having been infused with butter. My colleagues and I wiped the fish out in a matter of minutes. This bento is a must-try if you ever plan to stop by Yokozuna Stall!
Ambience at Yokozuna Stall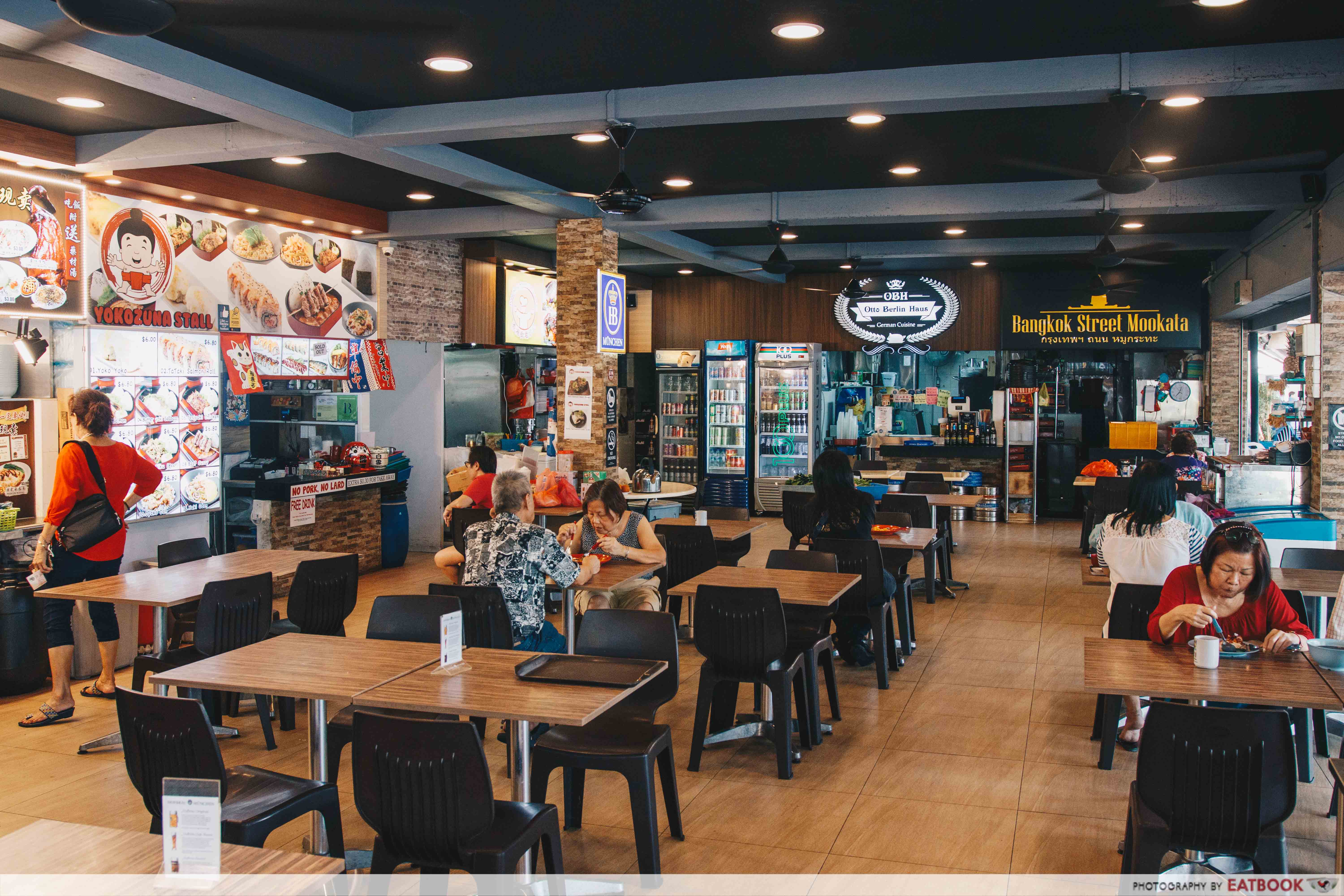 As mentioned earlier, Yokozuna Stall is located in a brightly lit coffee shop. The owner of the stall, Mr Francis Lee, has been a chef for approximately 18 years now. The Yoko Yoko dish is his own creation. He used to own a restaurant known as Yokozuna Japanese Restaurant, but ever since it ceased operations a while back, he opened Yokozuna Stall right here in the heart of Toa Payoh. With Yokozuna Stall, Mr Lee aims to serve affordable Japanese food while maintaining his previous restaurant's standards.

The verdict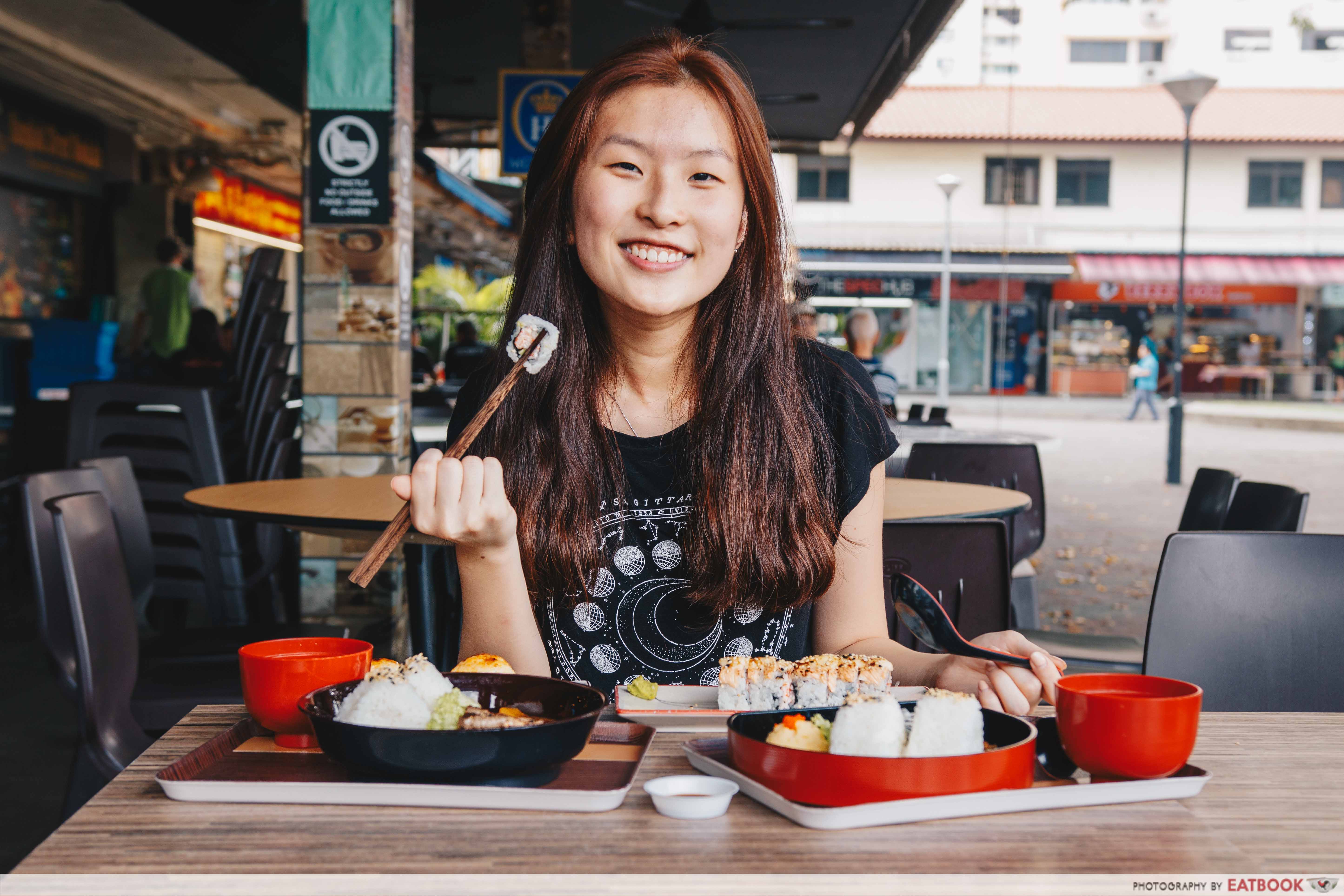 I'd come back here without a doubt. Everything about this place, from the appealing dishes to their aesthetic presentation, is begging to be Instagrammed. But most importantly, it's because I've always been a diner on a budget, and everything at Yokozuna Stall costs below $10!
For more cheap and good Japanese stalls, check out Kazan Japanese Cuisine and Donya Japanese Cuisine!
Address: 211 Lorong 8 Toa Payoh, #01-01, Singapore 310211
Opening hours: Mon-Fri 11:30am to 2:30pm, 5pm to 8:30pm, Sat-Sun 11:30am to 8:30pm
Tel: 9732 8813
Website
This is an independent review by Eatbook.sg.
Summary
Pros
– Good presentation
– Offers value for money
– Good service
Cons
– Some dishes can be a little salty
Recommended dishes: Yoko Yoko ($6), Tataki Salmon Roll ($6), Butter Yaki Seabass ($6.80), Beef Curry ($6.80)
Opening hours: Mon-Fri 11:30am to 2:30pm, 5pm to 8:30pm, Sat-Sun 11:30am to 8:30pm
Address: 211 Lorong 8 Toa Payoh, #01-01, Singapore 310211