Cheap maki and donburi at Donya Japanese Cuisine

There was a Japanese restaurant I used to frequent at least once a week with my best friends from secondary school. The restaurant was known for being the cheapest in town with student prices. I remember always ordering their chicken katsudon for lunch, and we'd get gyoza or chicken karaage as well because students get a free plate of sides on weekdays. It was a bit of a detour from our long trip home, but it was a sumptuous meal to recharge with. I distinctly remember the satisfaction of the freshly prepared chicken on a soft omelette over a bed of warm rice that was soaked with sauce.
I can't help but remember those years when I think of Donya Japanese Cuisine. Just like that restaurant, Donya Japanese Cuisine is located in a residential area and it offers affordable and enjoyable donburi.
Food at Donya Japanese Cuisine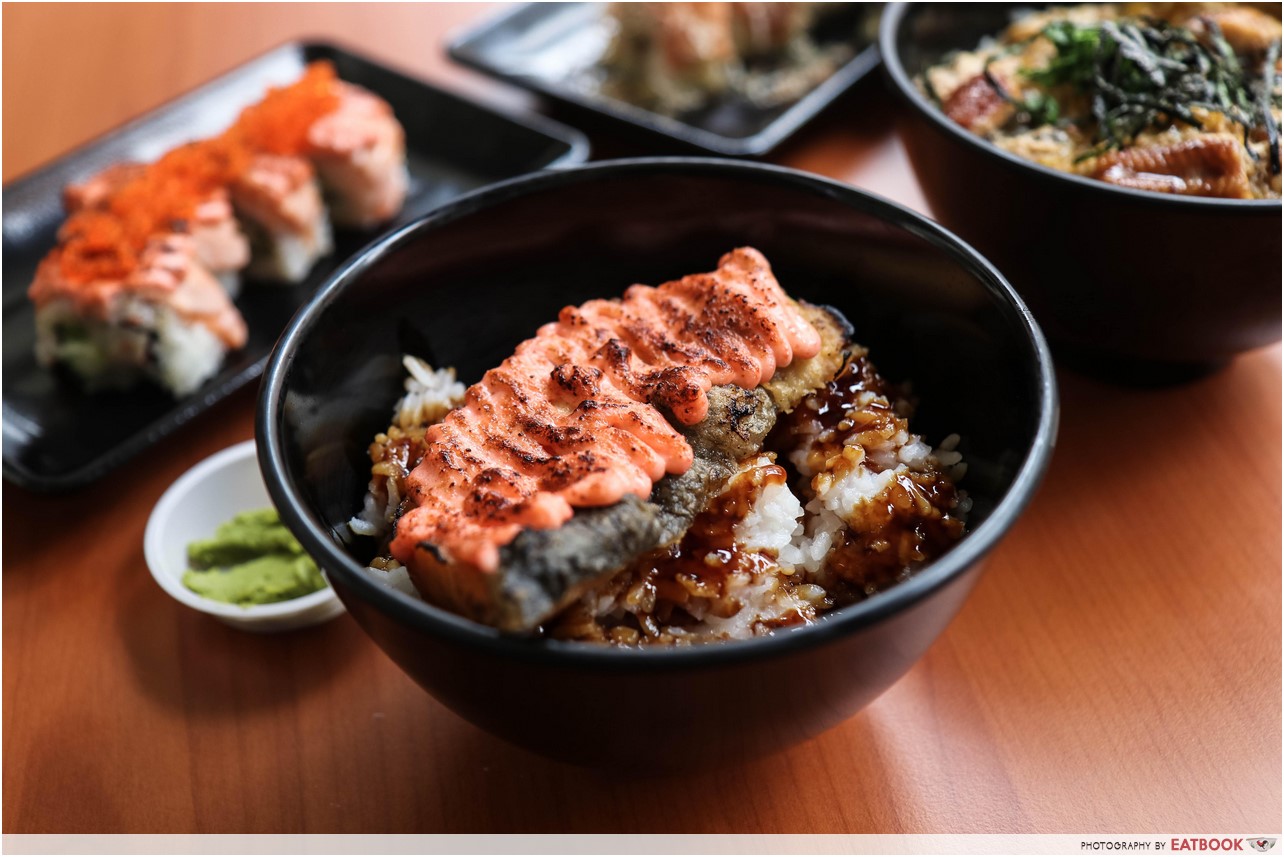 Salmon Mentai Don ($8.80) is one of their signature dishes. A generous amount of house-made mentaiko sauce was squeezed over a slab of fried salmon, before it crackled loudly while it was torched at the counter. The fish was sweet from the mentaiko sauce yet salty from its batter.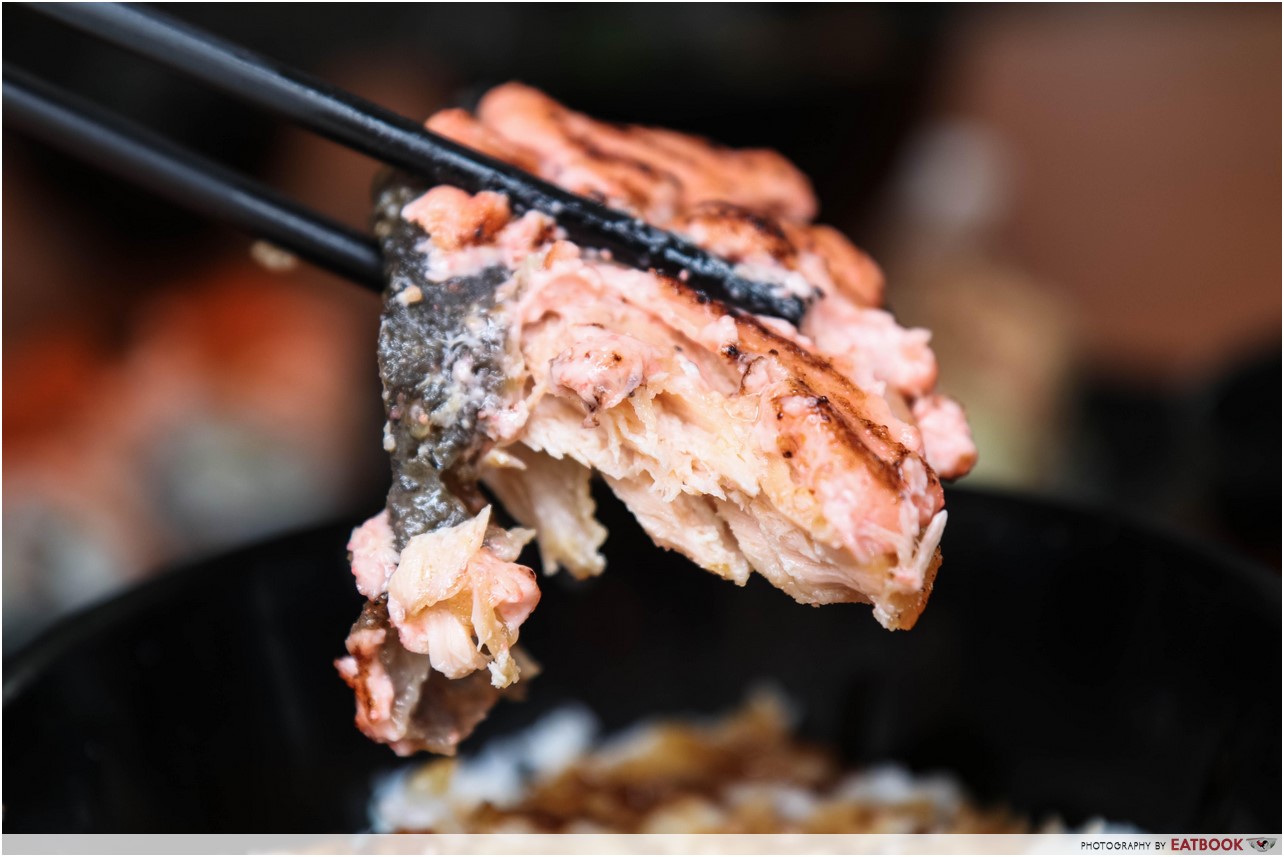 It was firm, yet not overcooked, giving it a meaty bite. The charred flavour seeped into the rice underneath, which was sweetened by donburi sauce.
I would personally pair this don with a side as I felt it needed something else to add more depth in its flavour. Perhaps some garnishes or an extra ingredient would have made it more satisfying to me. I liked that the distinct grains of Japanese rice were cooked just right, but in general, I would have preferred more of their house-made donburi sauce over it so that the bottom of the bowl could be flavoured too.
Their Unagi Tama Don ($8.80) was our favourite donburi out of those we tried. Six pieces of unagi decorated a wet omelette and a bite into a piece instantly filled me with delight.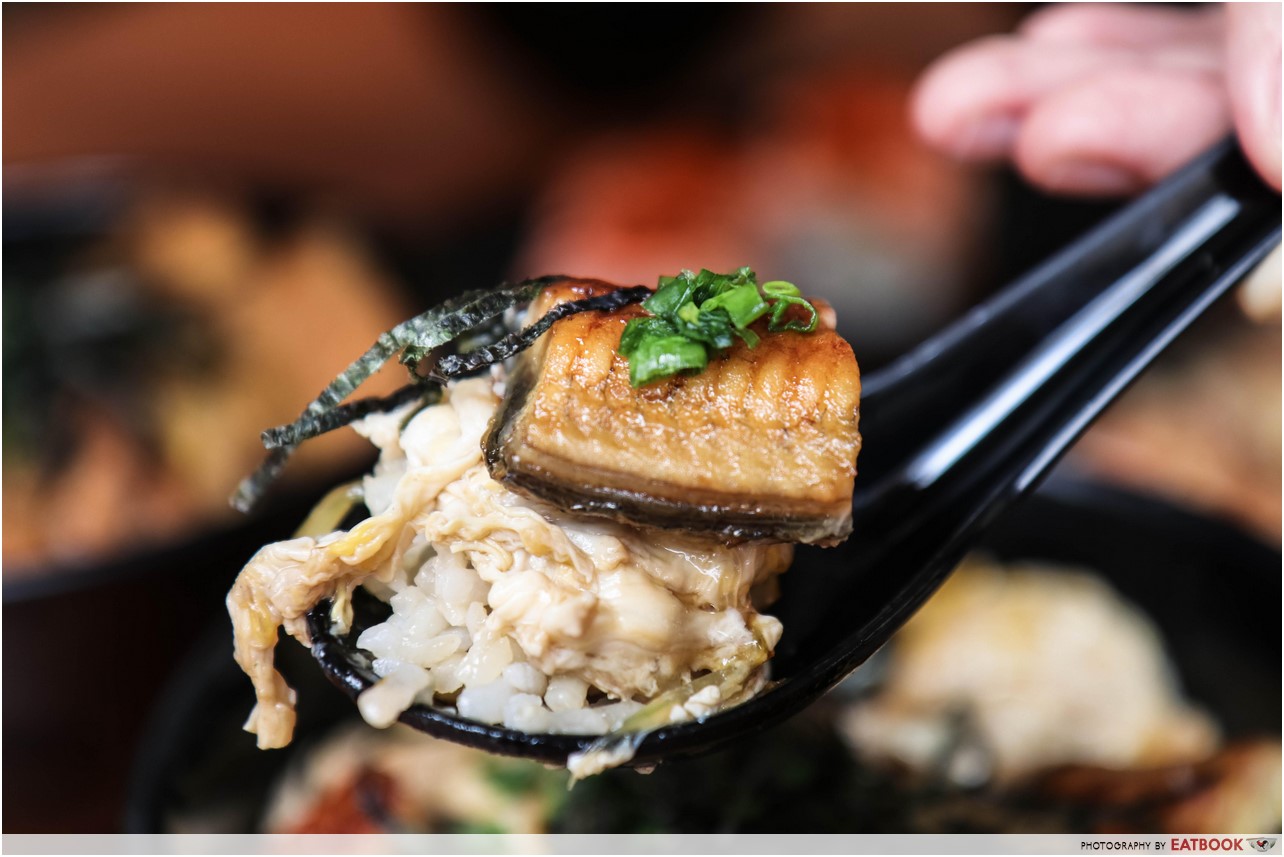 Its charred and slightly crispy top gave way to sweet meat that was soft without bones. It tasted fresh with a lightly savoury aftertaste. The egg flavoured most of the rice and added moisture, making it a delectable accompaniment.
Although there were only a few pieces of unagi, the unagi don's relatively high price felt like a reasonable trade-off for the eel's premium taste, as it's imported from Taiwan and Japan. Moreover, the donburi had a good mix of textures and felt comforting.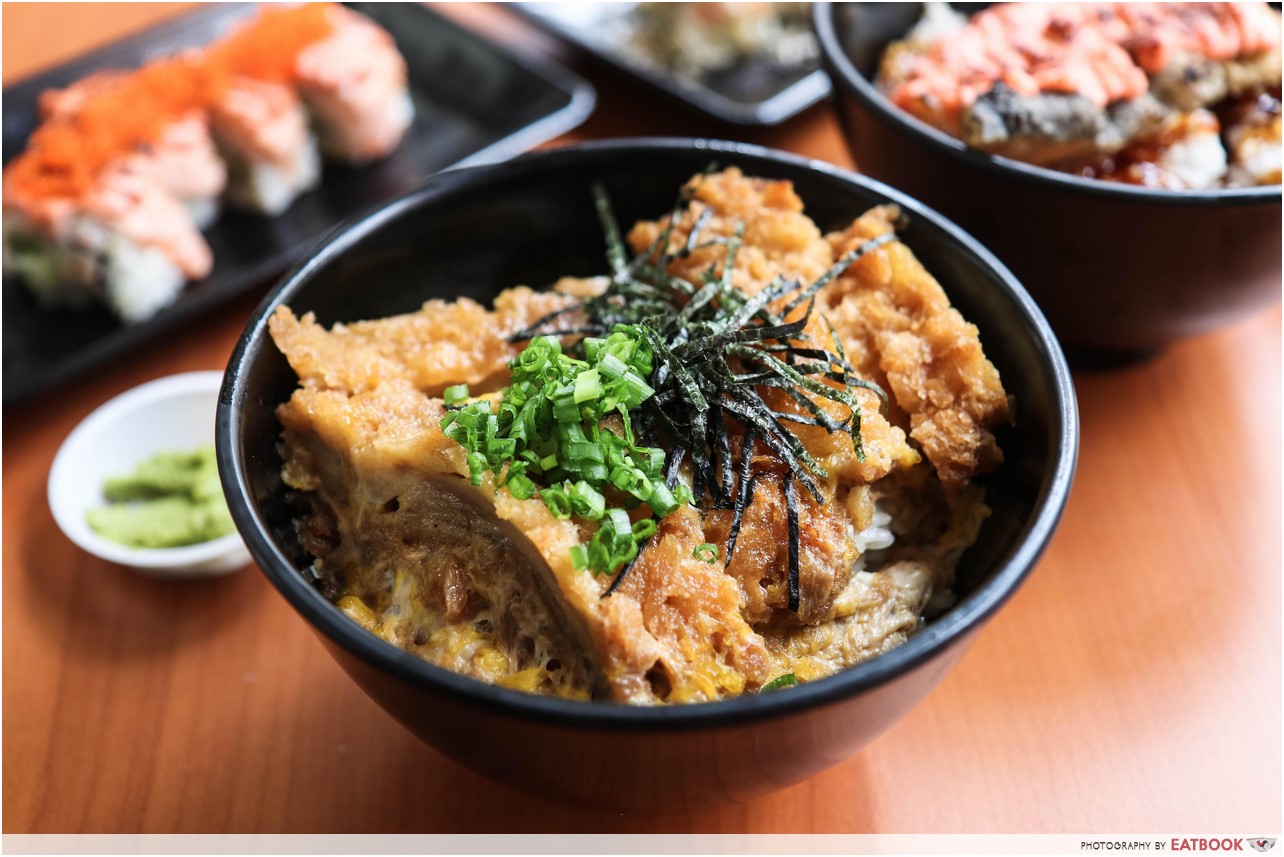 Chicken Katsu Don ($5.80) is their cheapest donburi. Despite that, it was the most filling bowl we had.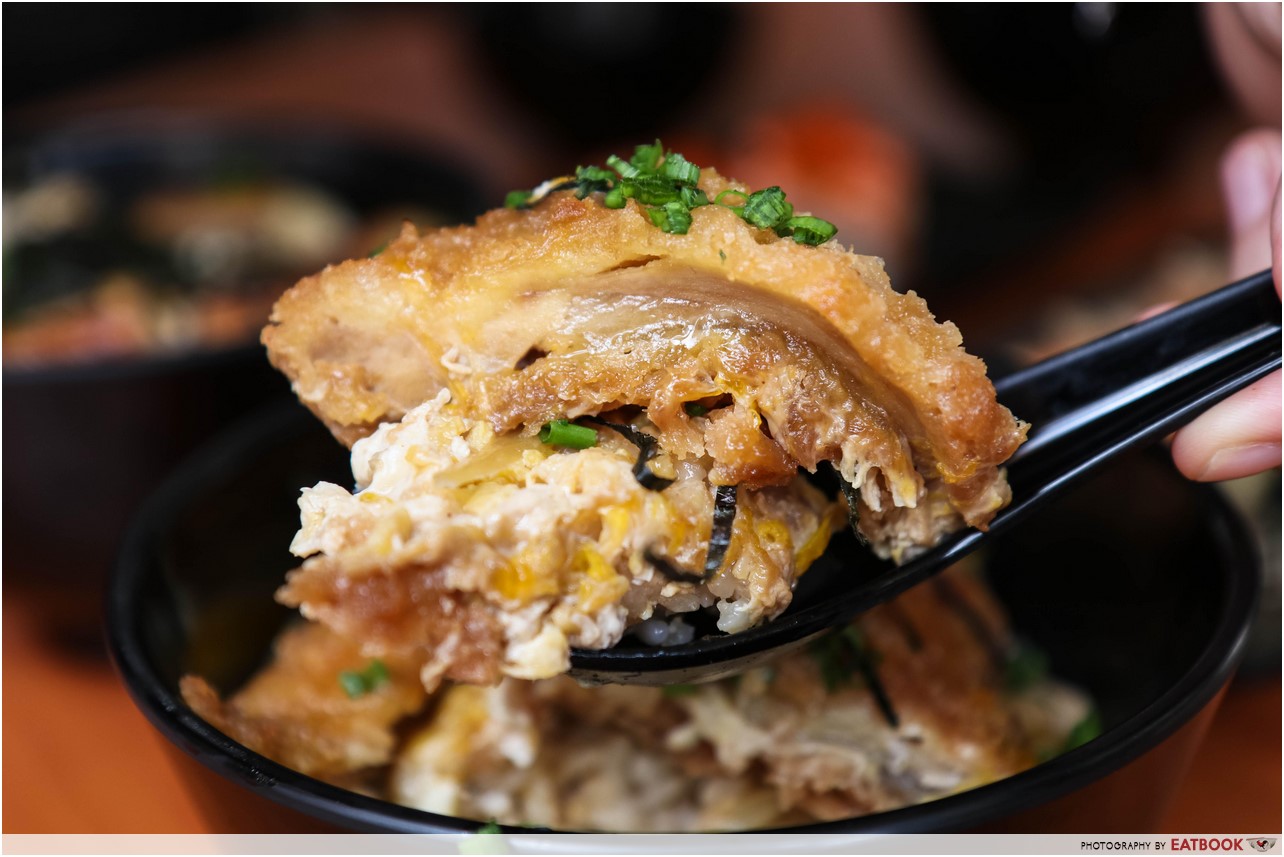 Chunky slices of meat topped off this bowl, and each piece was crusted with breadcrumbs. The meat was tender, as they used chicken thigh, but tasted slightly too salty from the batter. There was a generous amount of sauteed onions. While I would've preferred the onions to taste more intense, they are less pungent so that customers would not feel jelak.
The complimentary miso soup that came with each donburi was too watered down. Japanese pepper, chilli oil, chilli flakes, wasabi, and pickled ginger are available at the counter though their wasabi tasted powdery. Nevertheless, this was of little concern to me as their rice bowls were already good as they were.
For those who crave a curry dish, their Chicken Karaage Curry Don ($6.80) and Chicken Katsu Curry Don ($6.80) are popular. We tried a tasting portion of their curry and found it savoury with a thick consistency, without being overly creamy and jelak.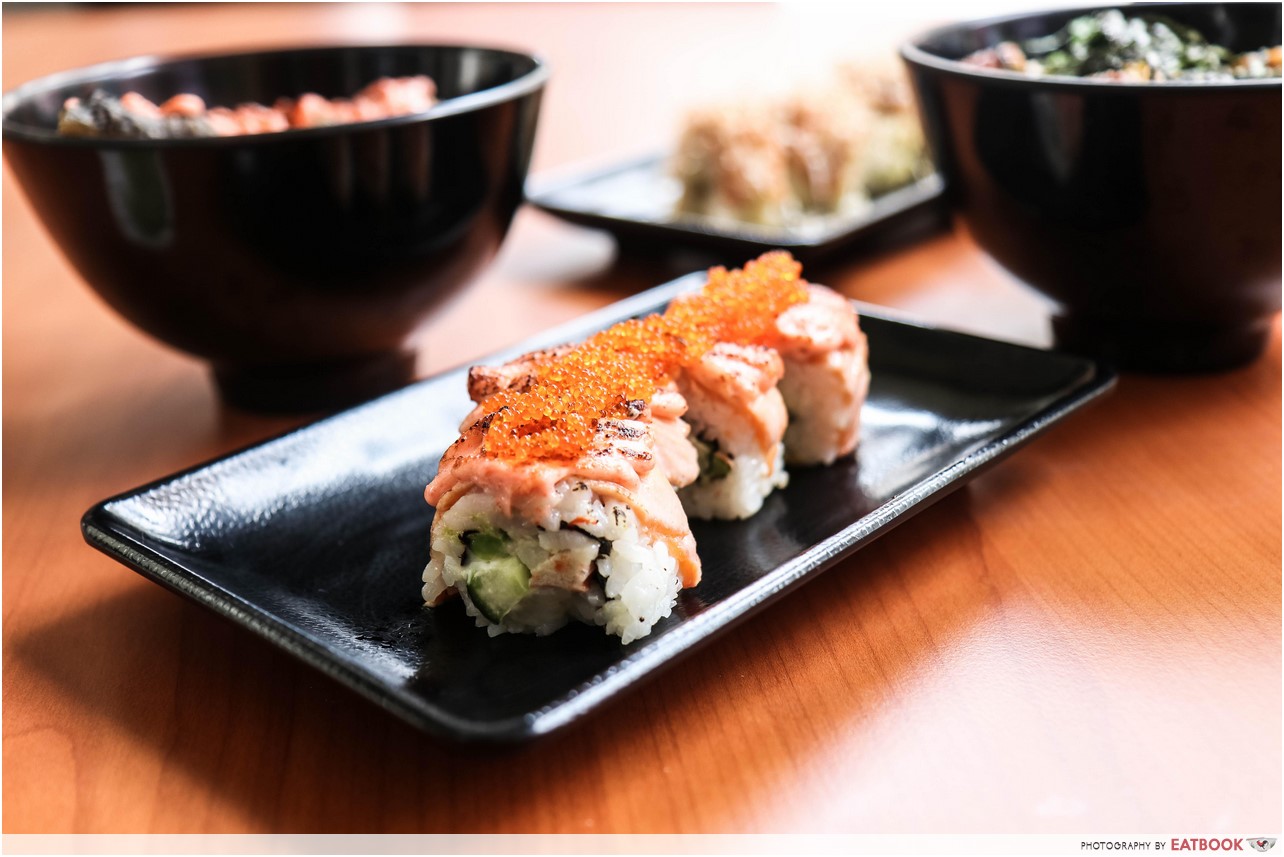 Mentai Maki ($5.80) was our other favourite dish. Each piece was sizeable and tasted so shiok. Crunchy tobiko popped in my mouth as I chewed on a delicious mix of torched salmon and mentaiko sauce, with mayo that coated the core of crabstick and cucumber.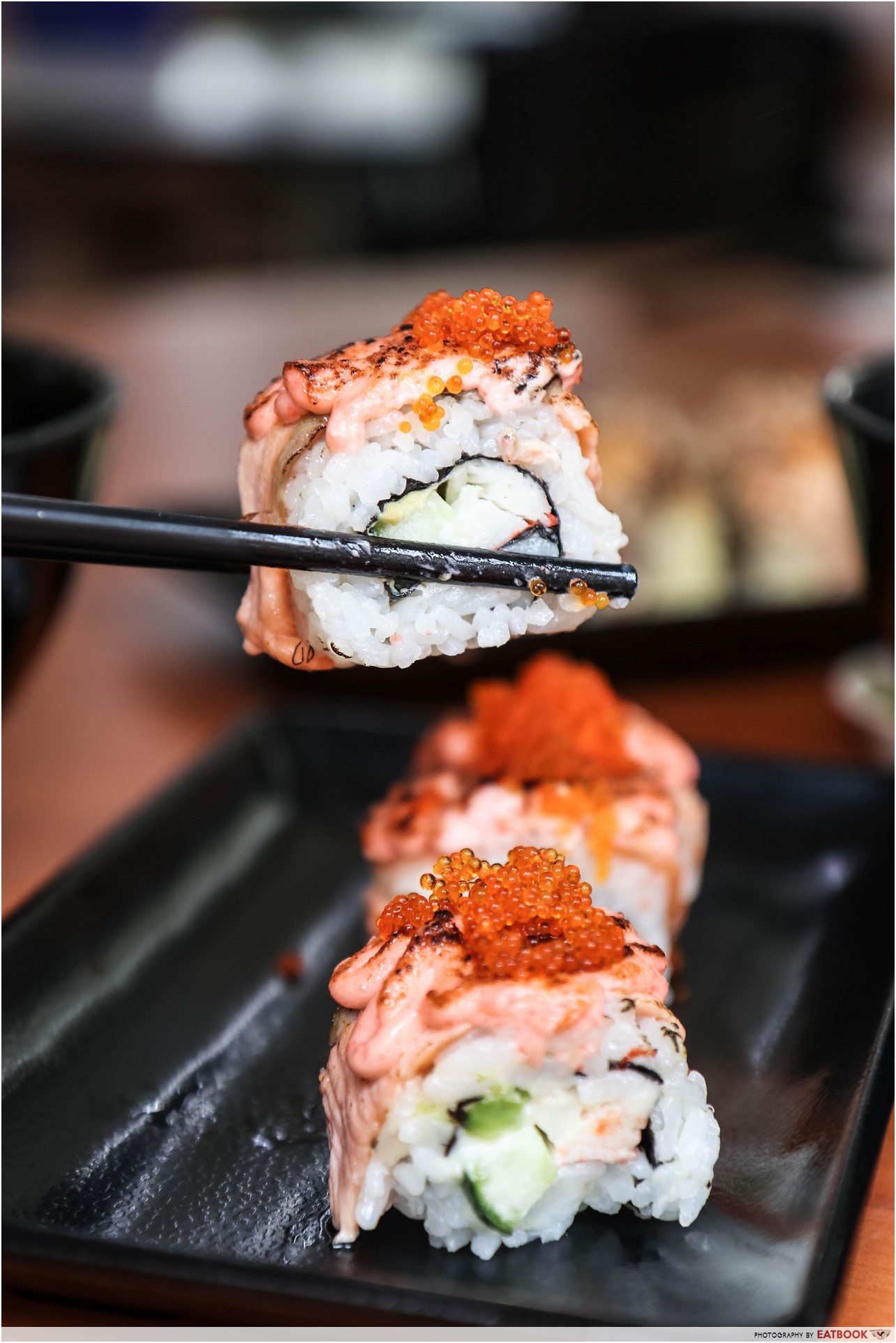 The ingredients seemed simple but the dish was well-executed. Each piece held firmly together, and the rice grains weren't too sticky.
We watched them layer fresh salmon over a large tray of maki to torch, before topping it with either donya or mentaiko sauce. The former is a yellow sauce made of egg and miso. The sauce crackled loudly as it charred, making it look even more enticing. Although there were only four pieces, the portion felt sufficient and satisfying for its price.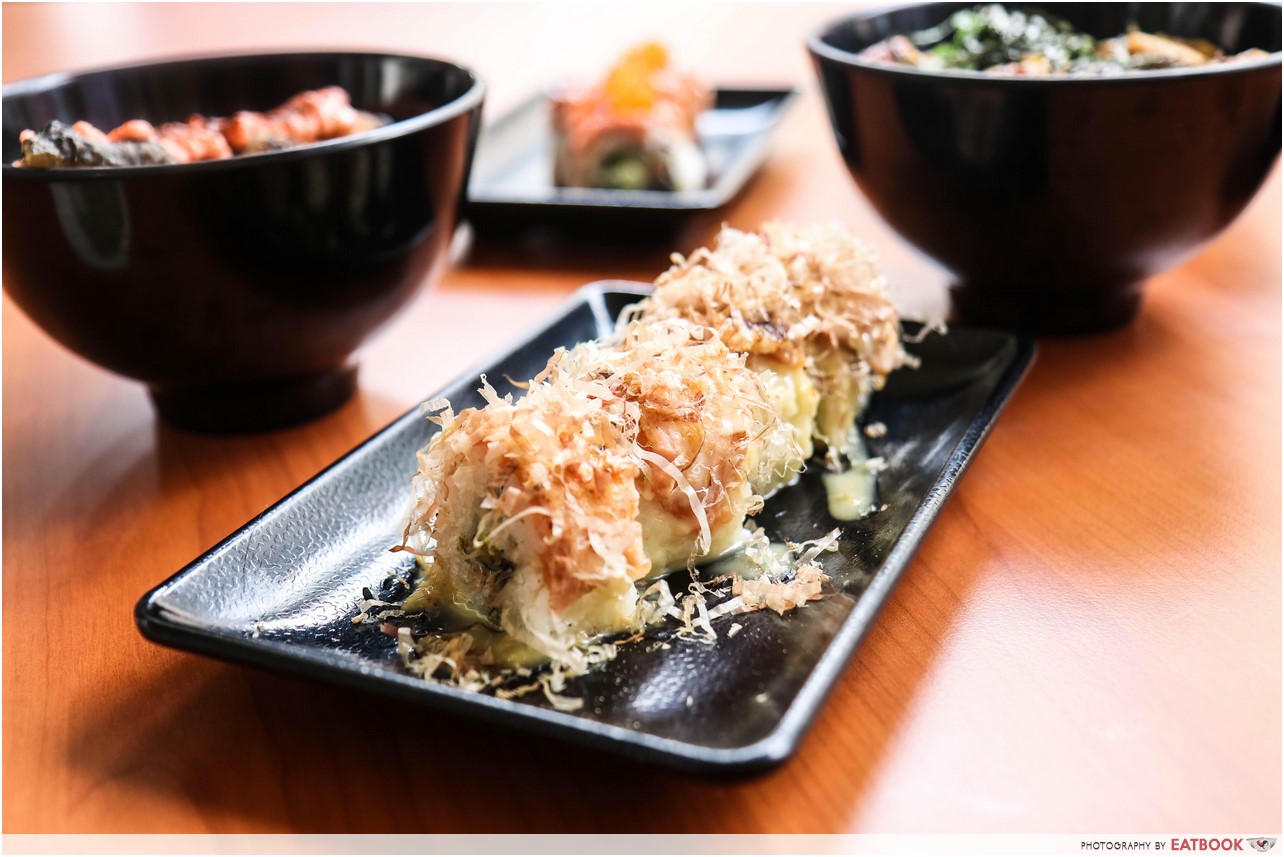 Donya Maki ($5.80) was similar to the Mentai Maki, but topped with donya sauce before being torched and decorated with bonito flakes.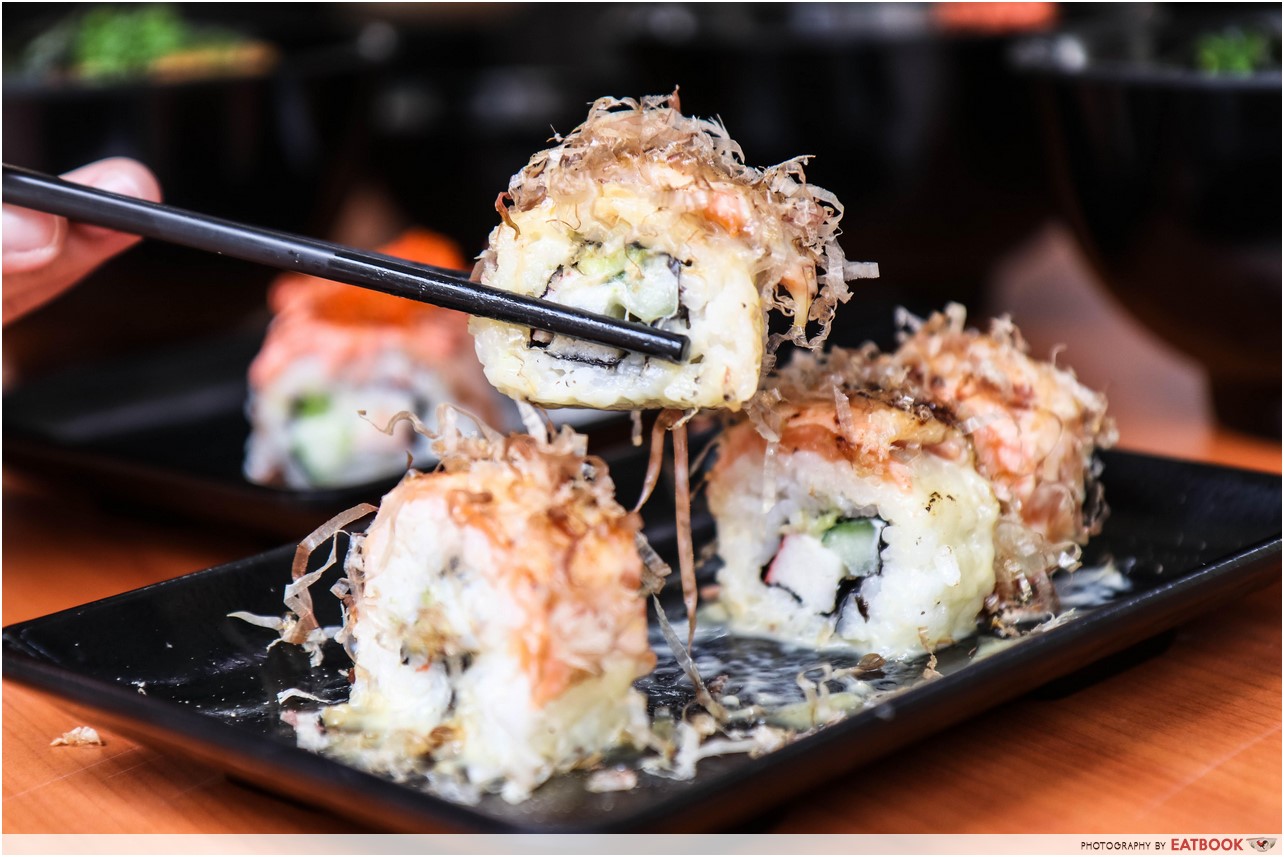 Compared to the mentaiko, the donya sauce was less savoury and the bonito, while adding some salty flavour, was not as impressionable as the tobiko. Perhaps some tweaks to the sauce would improve the taste of this dish.
Ambience at Donya Japanese Cuisine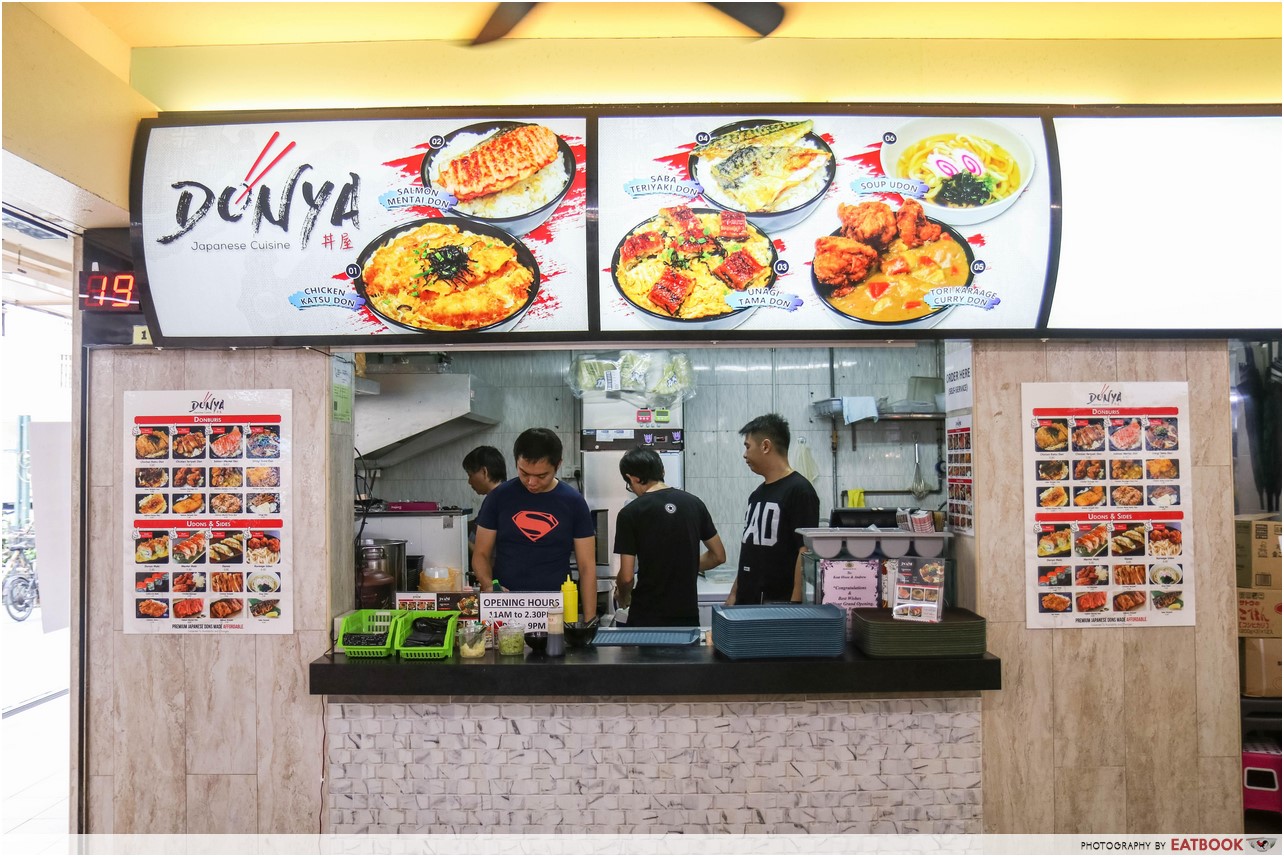 This place is a 10-minute walk from Toa Payoh MRT Station and it's located opposite Toa Payoh West Hawker Centre. Creamier Handcrafted Ice Cream and Coffee is just round the corner if you're looking for dessert.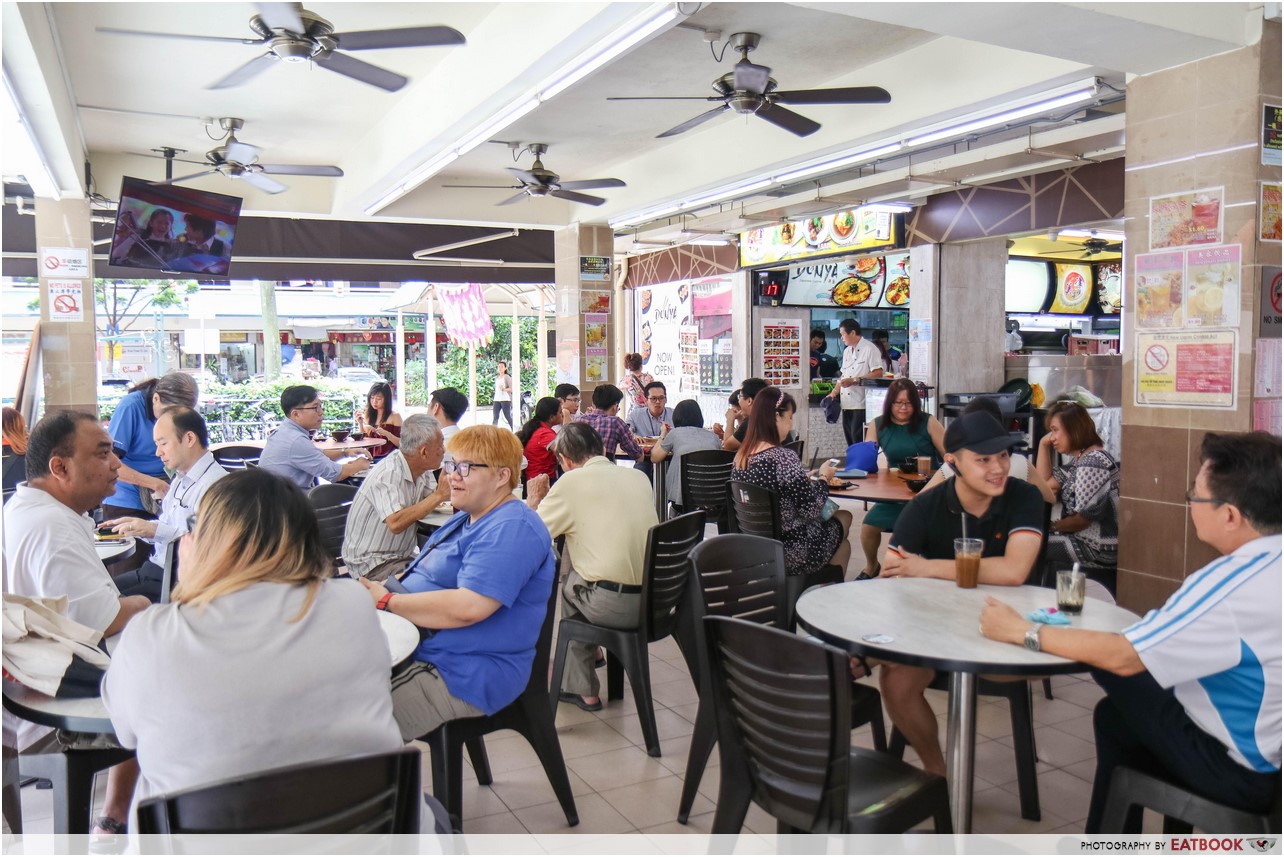 A kopitiam is not the poshest of places but Toa Payoh 126 Food House is well-ventilated and clean. Business is brisk for Donya Japanese Cuisine even though they are new. There were a few orders before ours, despite the fact that we arrived soon after they opened. I recommend coming earlier before the lunch and dinner crowds fill the seats and their maki sell out.
The verdict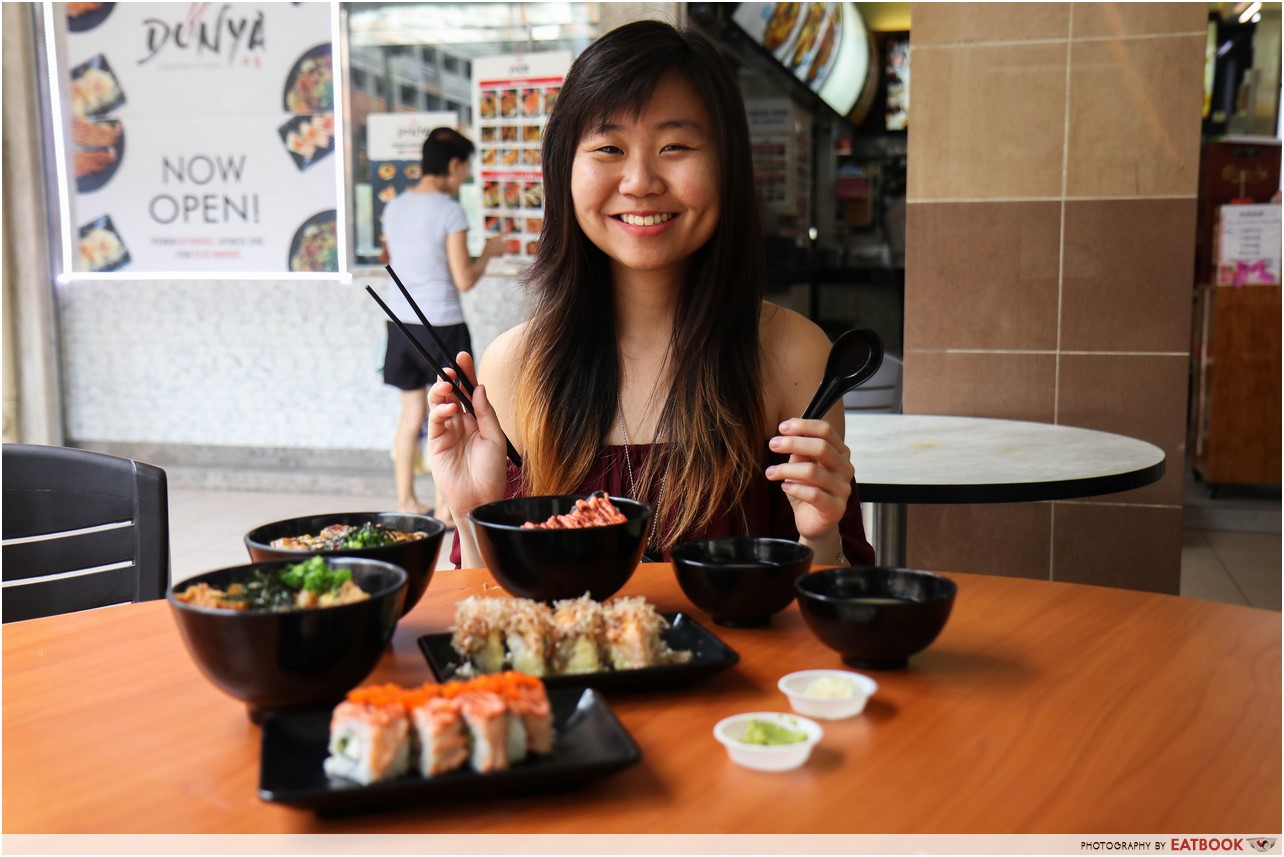 Donya Japanese Cuisine is definitely a place to go to for cheap and good Japanese food. The food here tastes almost like a restaurant meal but is priced similar to a Western stall from a hawker centre. It's also suitable to frequent because the flavours aren't overly intense. Their food didn't leave me feeling thirsty either because they don't use MSG. Plus, I like that I can always grab dessert elsewhere nearby! For more cheap and good Japanese food, check out these ramen bowls below $10.50, or Konomi Zen, which is a Japanese stall that offers nothing above $6!
Address: 126 Lorong 1 Toa Payoh, Singapore 310126
Opening hours: Daily 11am to 2:30pm, 5pm to 9pm
Tel: 8866 2126
Website
Donya Japanese Cuisine is not a halal eatery.
This is an independent review by Eatbook.sg.
Summary
Pros
– Cheap
– Sumptuous food
– Fresh ingredients
– Friendly service
Cons
– Donburi can have more donburi sauce
– Donya Maki can be improved on
– Inconvenient location
Recommended Dishes: Unagi Tama Don ($8.80), Mentai Maki ($5.80)
Operating Hours:
Daily 11am to 2:30pm, 5pm to 9pm
Tel:
8866 2126
Address: 126 Lorong 1 Toa Payoh, Singapore 310126