---
Cheap Japanese in Singapore
---
When I think of delicious Japanese food, expensive omakase and Michelin-starred restaurants come to mind. Having worked at Eatbook.sg for a while, I realised that Singapore does have really legit Japanese restaurants at affordable price points. If you're on a budget, here's a guide to cheap Japanese food in Singapore serving halal beef bowls, kopitiam yakiniku and more under $15.
---
1. Reiwa Soba
---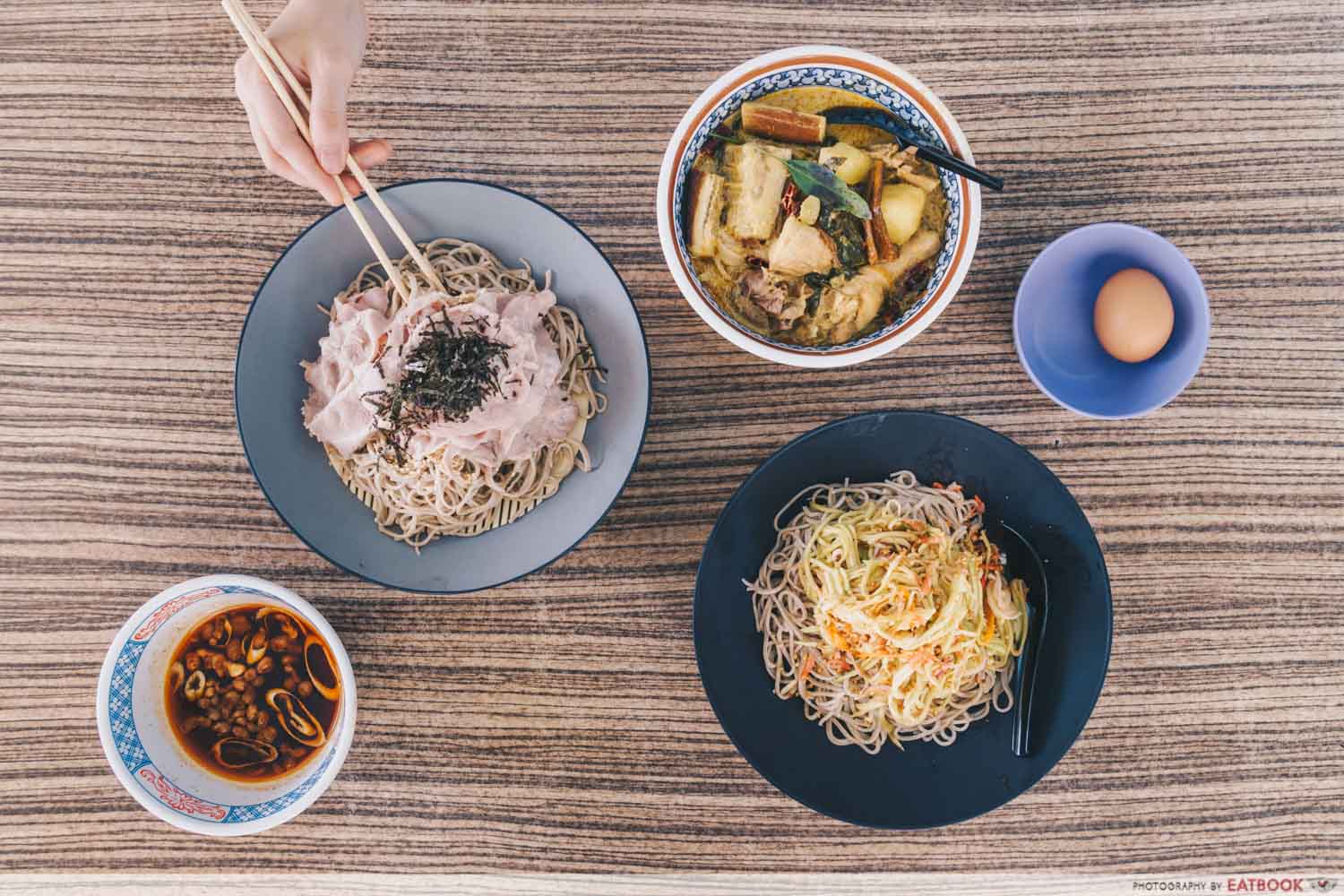 Run by a Japanese couple is Reiwa Soba, selling soba dishes with 100% buckwheat soba, prepared in-house. They serve their soba both hot and cold, priced at $10+. You can also opt to enjoy your soba with additional toppings, from Kakiage ($3+) to an Onsen Egg ($1.50+).
They're located in the heart of Bedok as well, making this a convenient pick for Easties.
Check out our Reiwa Soba review!
Address: Blk 740 Bedok Reservoir Road, #01-3177, Singapore 470740
Opening hours: Tue-Sun 11:30am to 3pm, 5:30pm to 10pm
Website
Reiwa Soba is not a halal-certified eatery.
Reiwa Soba Review: Japanese Couple Sells Thai-Influenced Handmade Soba In A Food Court
---
2. Ramen Taisho
---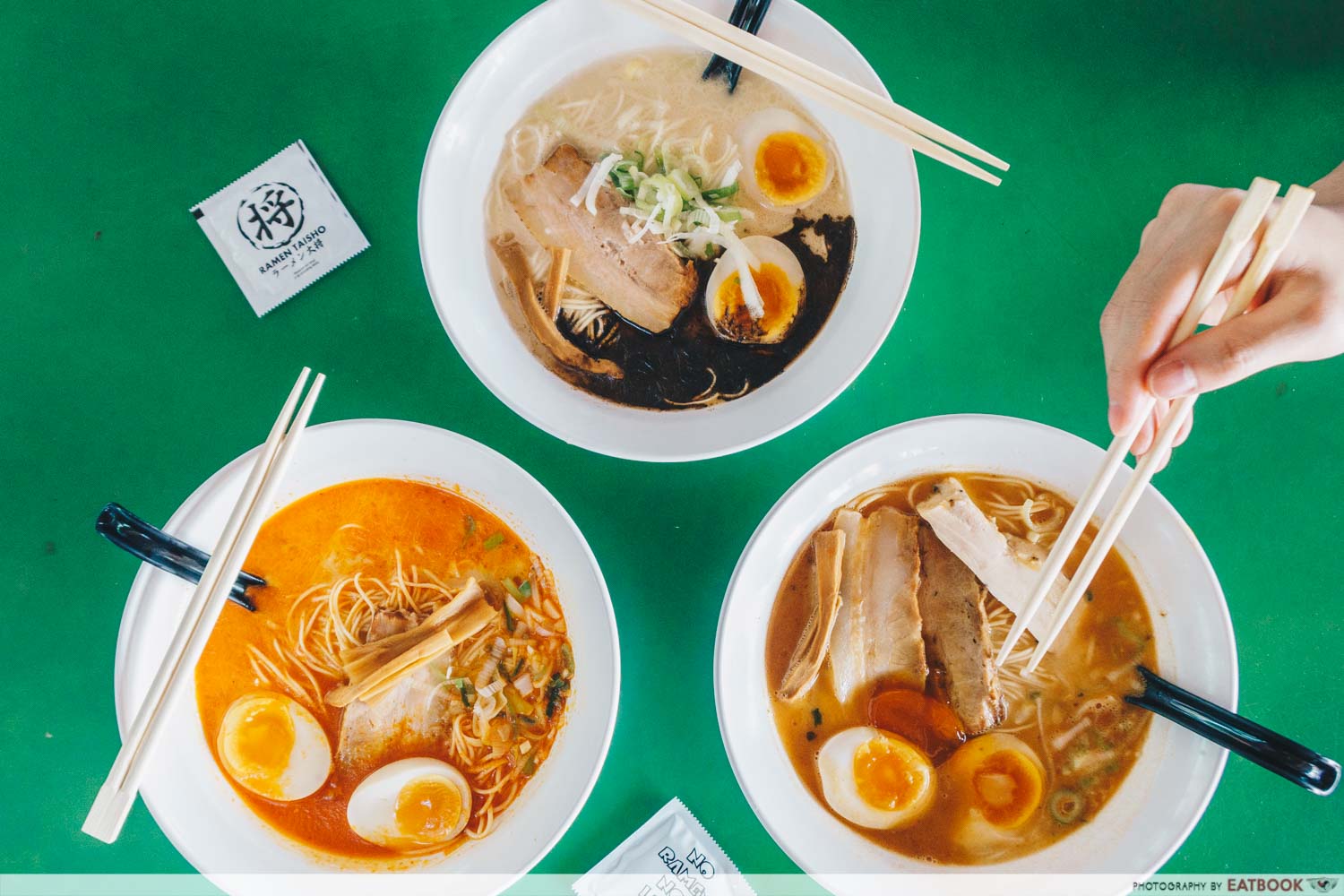 Ramen Taisho used to be a hawker stall in Maxwell Food Centre but has since become a fully fledged eatery in Bukit Batok's Le Quest Shopping Mall. The owner spent three years in and out of Japan, mastering the art of ramen making, so you can expect really good ramen here.
Their expertise shines in the Shoyu Black Tonkotsu Ramen ($12.80), which sees a fusion of creamy pork bone broth and umami-laden black garlic oil. Aside, they also have a Black Truffle Mazemen ($13.80), where dry ramen is flavoured with a sauce that's dashed with truffle oil.
Check out our Ramen Taisho review!
Address: 1 Kadayanallur Street, #01-32, Maxwell Food Centre, Singapore 069184
Opening hours: Wed-Sat 11:30am to 9:30pm
Tel: 9831 1855
Website
Ramen Taisho is not a halal-certified eatery.
Ramen Taisho Review: Salted Egg Yolk And Black Garlic Ramen At Maxwell Food Centre
---
3. Kinobe
---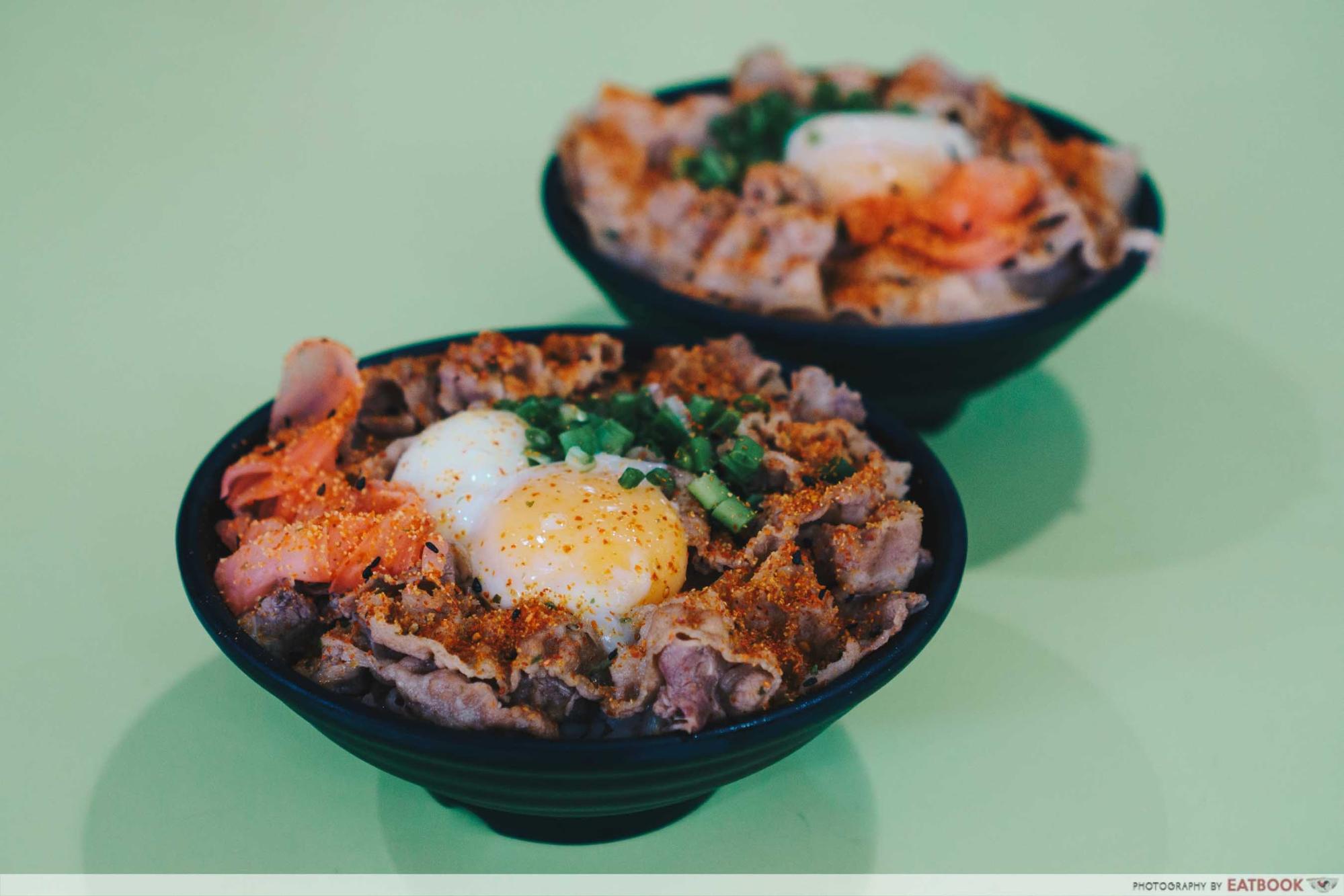 Located in Clementi is Kinobe, perfect for those looking to enjoy elevated Japanese donburi bowls without breaking the bank. Try their Wagyu Don ($12), which comprises fluffy pearl rice topped with well-marinated slices of fatty Wagyu, which is then crowned with an oozing onsen egg. 
The Butadon ($6) is equally scrumptious, with fatty strips of pork conferring a meaty aroma. Pair that with the creamy egg, and you'll be sure to love this dish.
Check out our Kinobe review!
Address: 727 Clementi West Street 2, #01-294, S11 Coffeeshop, Singapore 120727
Opening hours: Daily 11am to 2:30pm, 5pm to 9pm
Tel: 8779 1844
Website
Kinobe is not a halal-certified eatery.
Kinobe Review: Legit Gyudon and Butadon At $6 Or Less In Amoy Street
---
4. Hideki
---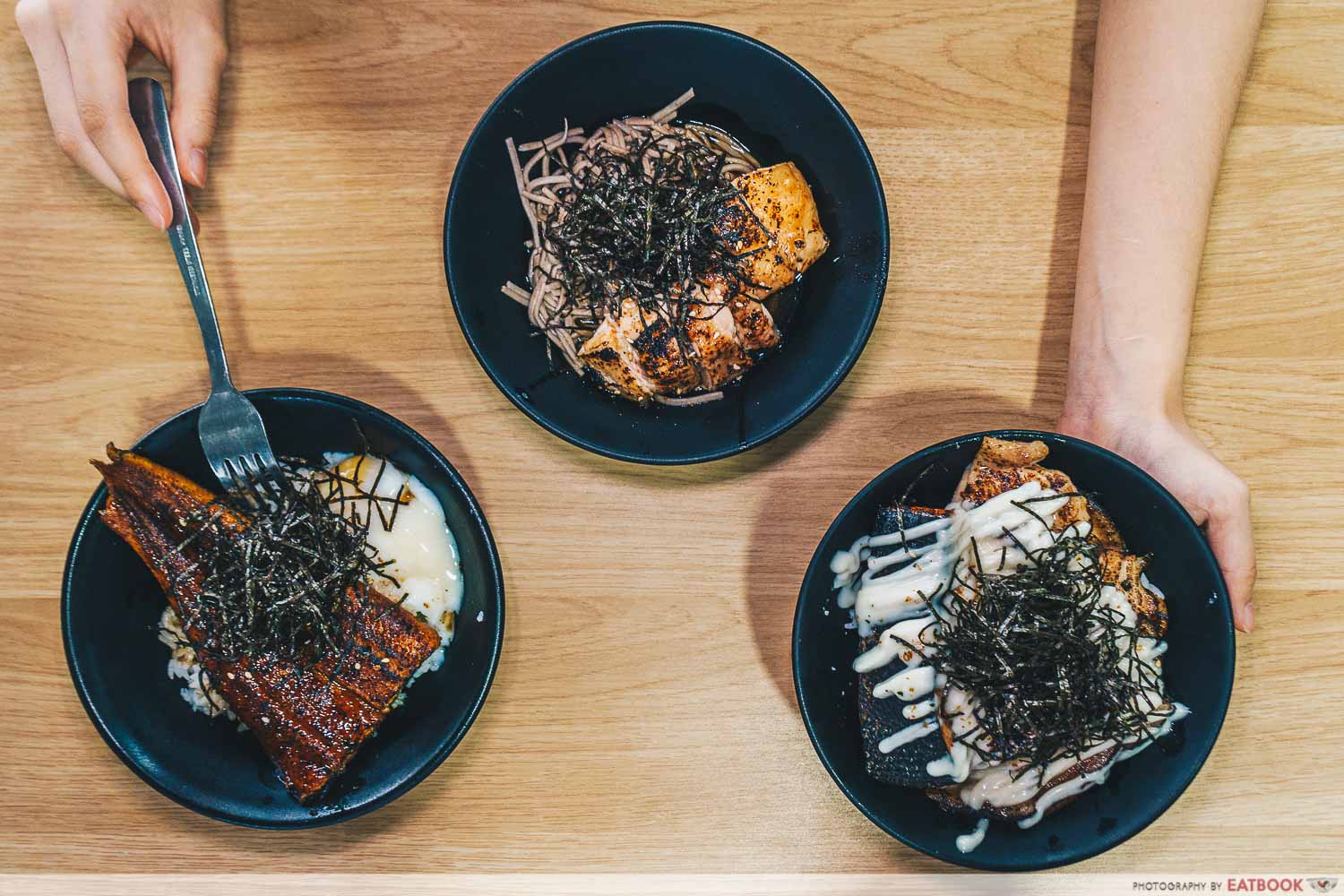 The customisable bowls at Hideki are like zhnged-up cai png. Here, you get to DIY your own bowl, with either soba or Japanese pearl grain rice as your base, and add on toppings such as unagi, mentakio salmon, and more. If personalising your bowl is too much work, don't sweat, as they've a range of combos, such as Ebi Mentai ($9.80), Aburi Pork Belly Bowl ($7.80) and more. What's even better: a bulk of their menu is priced under $10!
Check out our Hideki review!
Address: Blk 63 Kallang Bahru, #01-443, Singapore 330063
Opening hours: Daily 11am to 9pm
Tel: 9234 4659
Website
Hideki is not a halal-certified eatery.
Hideki Review: Japanese Cai Png With Aburi Salmon, Unagi, Pork Belly And More From $4 At Yishun
---
5. Kazoku Japanese Cuisine
---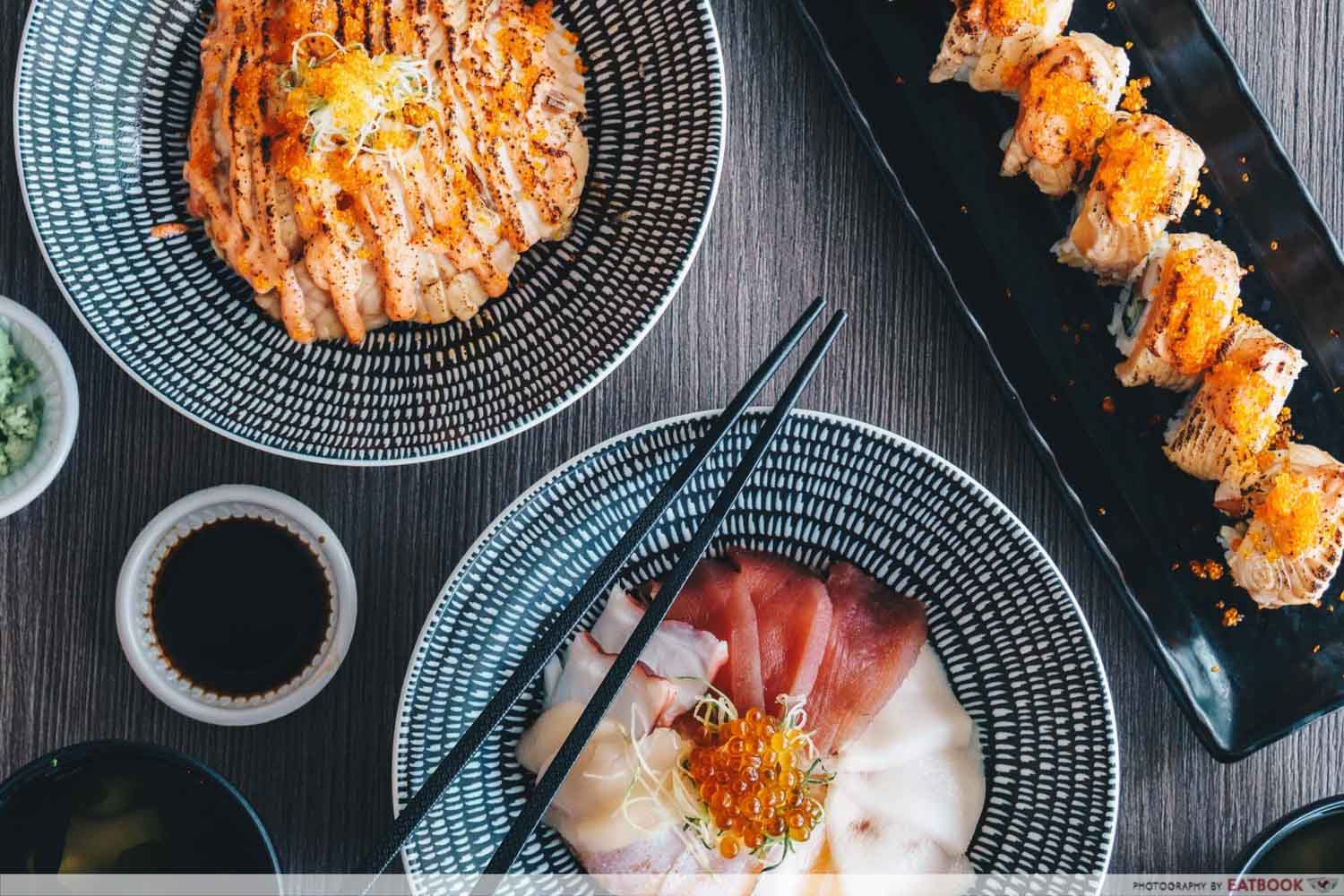 Kazoku Japanese Cuisine might appear atas, with their gorgeous cutlery designs and immaculate plating. Yet, you can find cheap Japanese food here, with most of the items priced below $10.
At just $9.90, they have a Salmon Don that is lined with plump slices of fresh salmon. The fresh seafood flavours pair well with the fluffy Japanese rice, made better with a tinge of wasabi. If you're feeling like something deep-fried, opt for the Mixed Fry Don ($9.90) with breaded prawns, scallops, and oysters.
Check out our Kazoku Japanese Cuisine review!
Address: 1 Goldhill Plaza #01-05, Singapore 308899
Opening hours: Daily 11:30am to 10pm
Tel: 9687 3782
Website
Kazoku Japanese Cuisine is not a halal-certified eatery.

Kazoku Japanese Cuisine Review: Cheap And Good Mentaiko Salmon Don And Chirashi At Novena
---
6. Buta Kin
---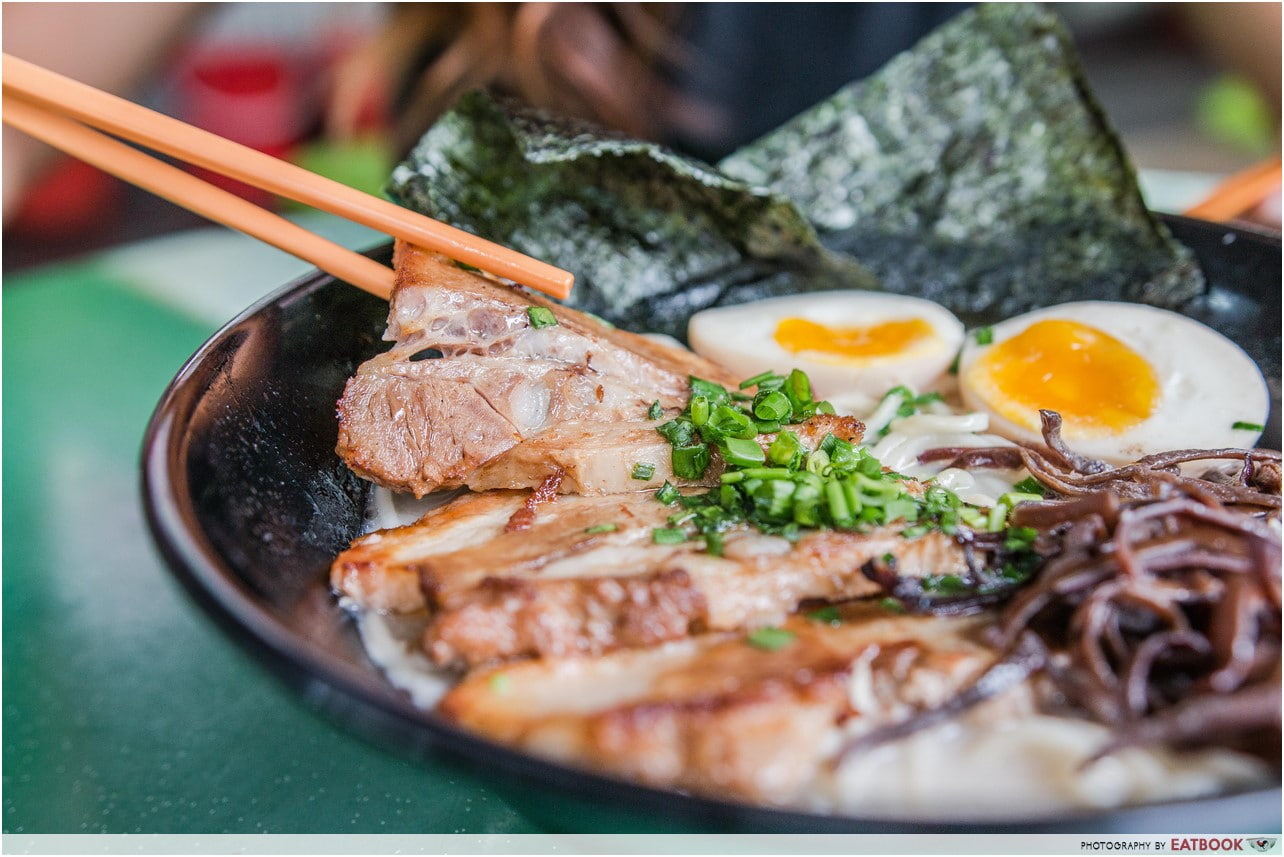 Buta Kin puts crazy-expensive ramen shops to shame. Their soup base is impressive, boiled for hours with pork and chicken bones.
Get the Special Tonkotsu Ramen (from $8), which presents you with three thick slices of chashu. Each slice is melt-in-the-mouth, highlighting a golden ratio of fat to meat. If you prefer some heat in your ramen, their Tonkotsu Red Ramen (from $6.70) makes for a good alternative.
Check out our Buta Kin review!
Address: 144 Upper Bukit Timah Road, #04-28, Beauty World Centre, Singapore 588177
Opening hours: Mon-Fri 11am to 9pm, Sat-Sun 10:30am to 9pm
Tel: 8661 60628
Website
Buta Kin is not a halal-certified eatery.
Buta Kin Review: Legit Tonkotsu Ramen For $6 At Beauty World
---
7. Kazan Japanese Cuisine
---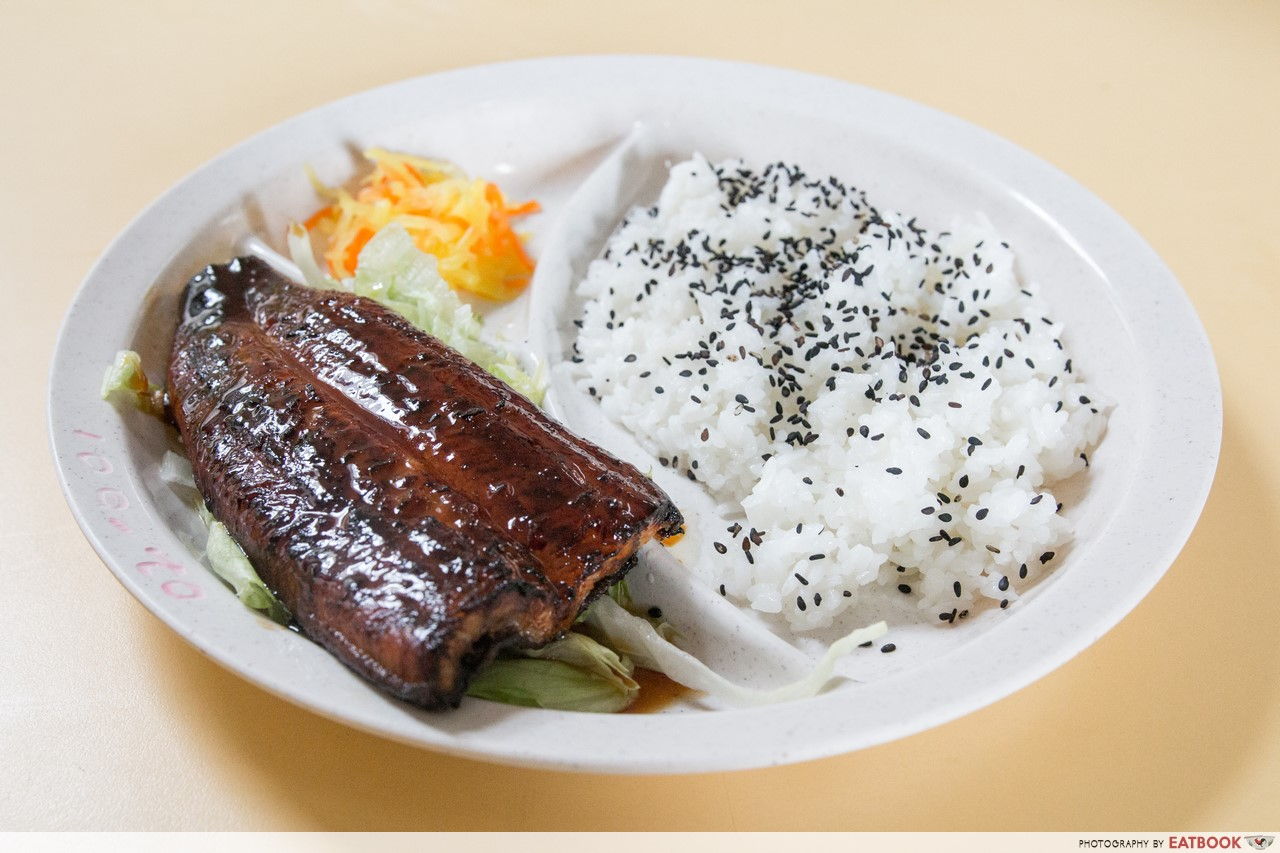 At Kazan Japanese Cuisine, you can expect cheap Japanese food that's both good in quality and generously portioned.
You'll be hard-pressed to find anywhere that serves Unagi Don with such an impressive portion at just $8.50. The unagi is steeped in a rich teriyaki sauce and broiled until it's tender.
Their Oyakodon ($5.50) is another noteworthy option, with a chicken katsu cutlet drenched in an onion and egg sauce.
Check out our Kazan Japanese Cuisine review!
Address: 335 Smith Street, #02-001, Chinatown Complex Market & Food Centre, Singapore 050335
Opening hours: Sun-Fri 12pm to 3pm, 5:30pm to 8:30pm
Tel: 8455 5229
Kazan Japanese Cuisine is not a halal-certified eatery.
Kazan Japanese Cuisine Review: Unagi Set At $8 At Chinatown Complex Food Centre
---
8. Konomi Zen
---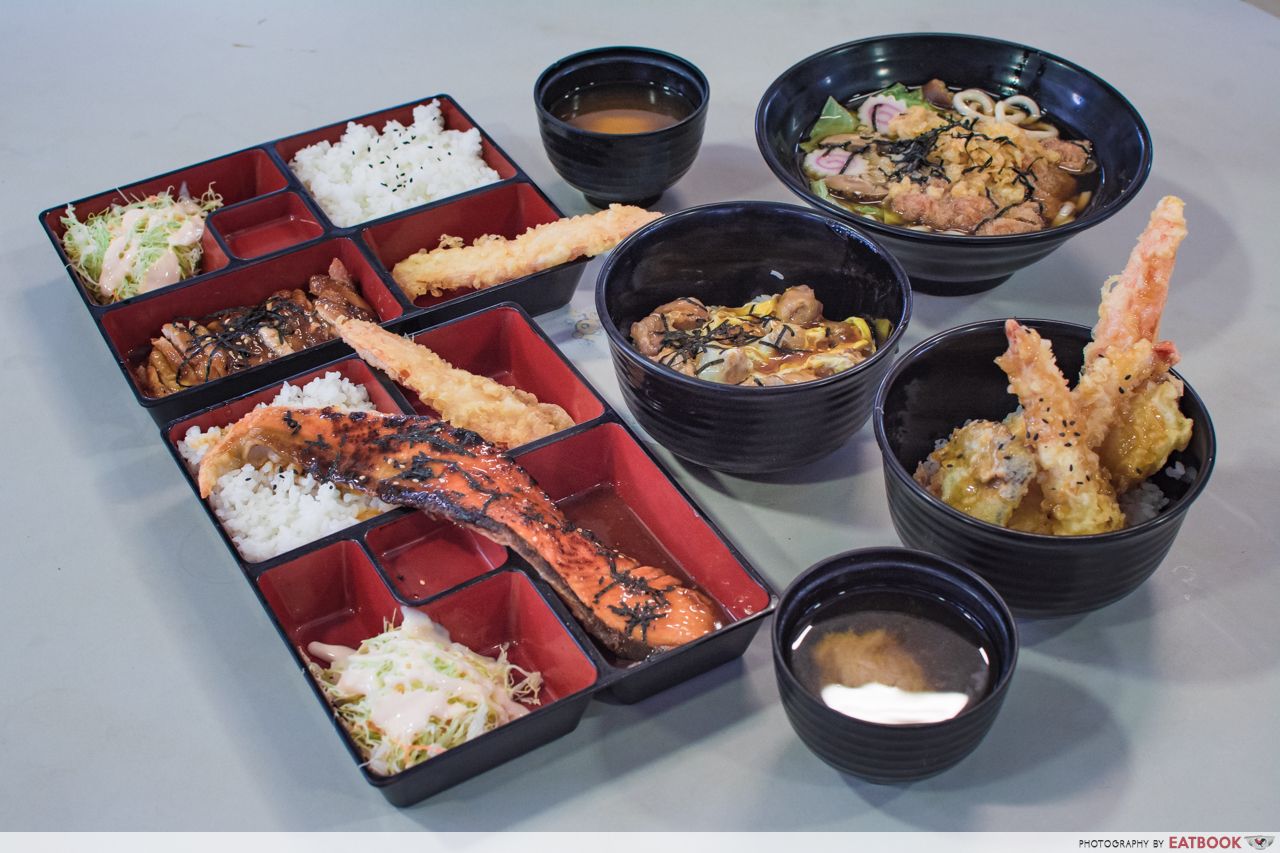 Portions at Konomi Zen are huge. At just $6, the Salmon Bento Set gives you a gigantic slice of salmon, seared to a nice char.
Their Tendon ($5) features a combination of seafood and vegetable tempura nested on fluffy Japanese rice. It's further topped with tempura bits for extra crispness.
Check out our Konomi Zen review!
Address: 628 Ang Mo Kio Avenue 4, #01-59, Ang Mo Kio 628 Market & Food Centre, Singapore 560628
Opening hours: Tue-Sat 11am to 2pm, 4:30pm to 7pm
Tel: 9734 8875
Konomi Zen is not a halal-certified eatery.
Konomi Zen Review: Japanese Stall At Ang Mo Kio With Nothing Over $6
---
9. Gyunion
---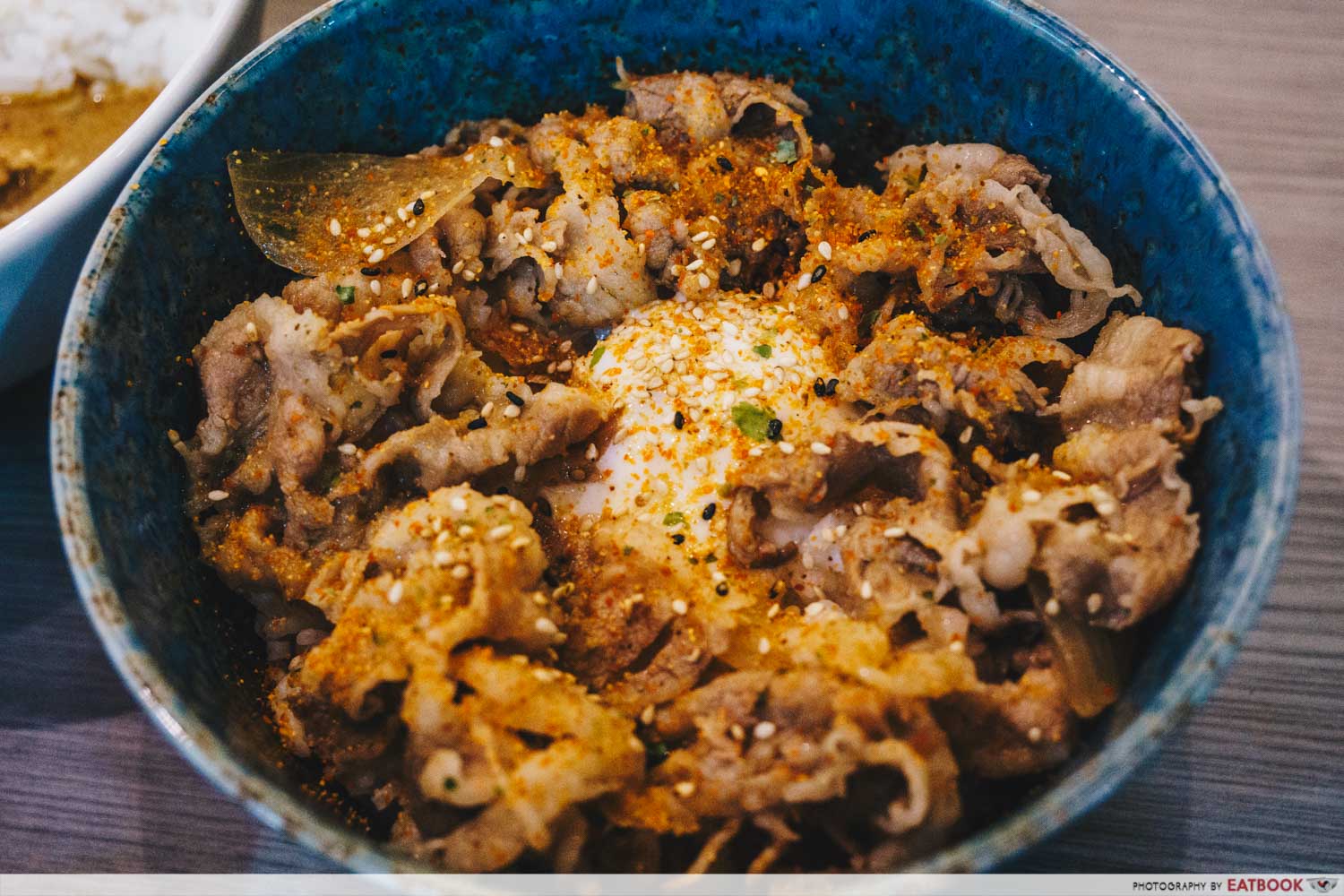 If you're nearby the CBD, head to Gyunion for cheap halal Japanese rice bowls. Their Gyu-don, for instance, costs $7.90 and features heaps of beef slices cooked in a sweet shoyu sauce. Chicken Curry Don ($7.50) is another noteworthy selection, with a generous portion of curried chicken chunks.
Check out our Gyunion review!
Address: 138 Robinson Road, #02-03, Oxley Tower, Singapore 068906
Opening hours: Mon-Wed 12pm to 6:30pm, Thur-Fri 12pm to 8pm
Website
Gyunion is not a halal-certified eatery, but Muslim-owned.
Gyunion Review: Halal Beef Donburi And Soba From $4.90 At Bencoolen
---
10. Mentai-Ya
---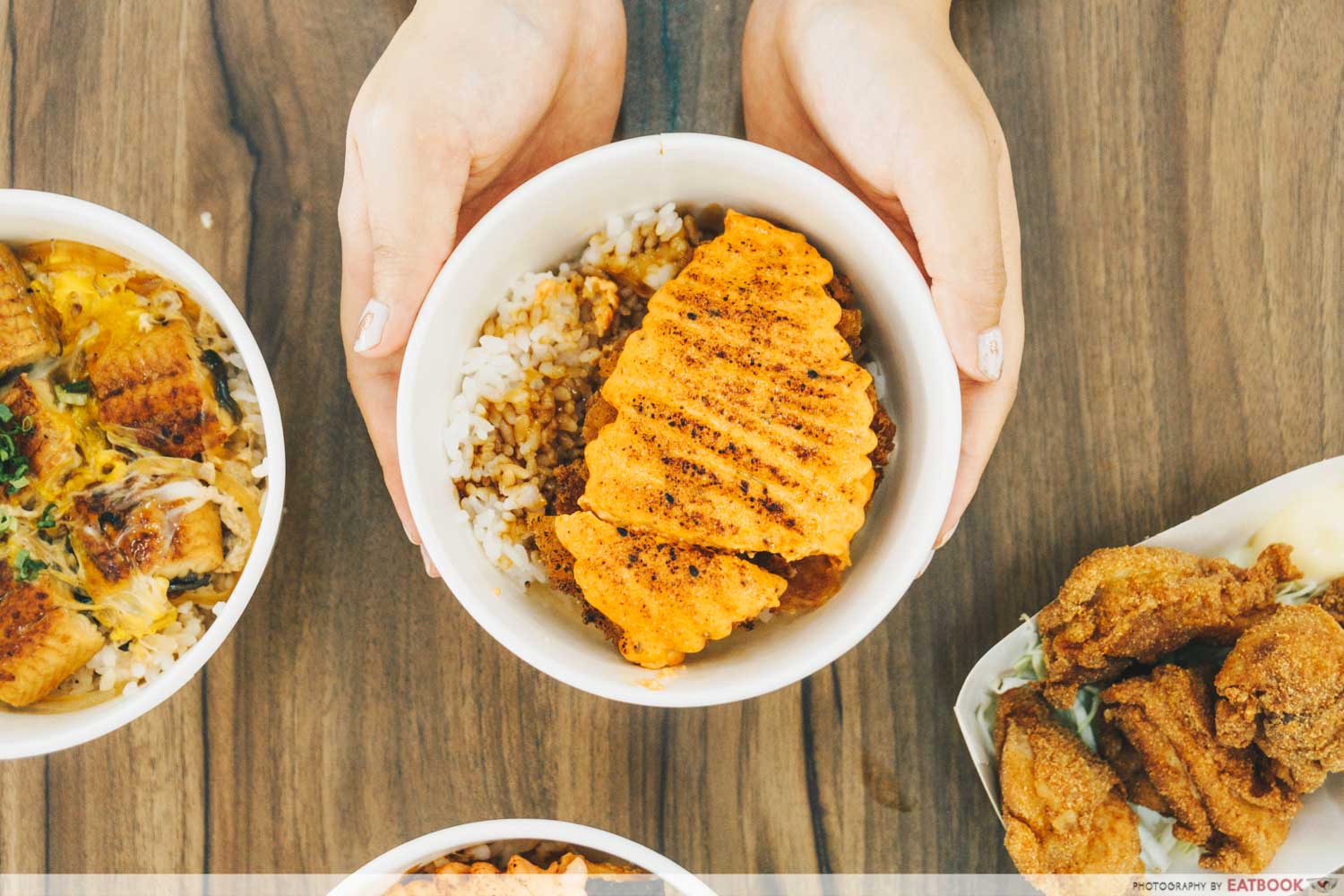 Mentai-Ya churns out 400 to 600 bowls of mentai don daily, using up to 60kg of short-grain rice each day. Their Regular Salmon Mentai Don ($9.80) is a must-try, slathered with a buttery mentaiko sauce that's blended in-house. 
Spice-lovers can opt for the Spicy Chicken Mentai Don ($8.80), which sees a crispy chicken katsu cutlet dressed in piquant mentaiko sauce.
Read our Mentai-ya review.
Address: 628 Senja Road, Singapore 670628
Opening hours: Daily 11am to 3:45pm, 5pm to 8:30pm
Tel: 8188 8628
Website
Mentai-Ya is not a halal-certified eatery.
---
11. Ima-Sushi
---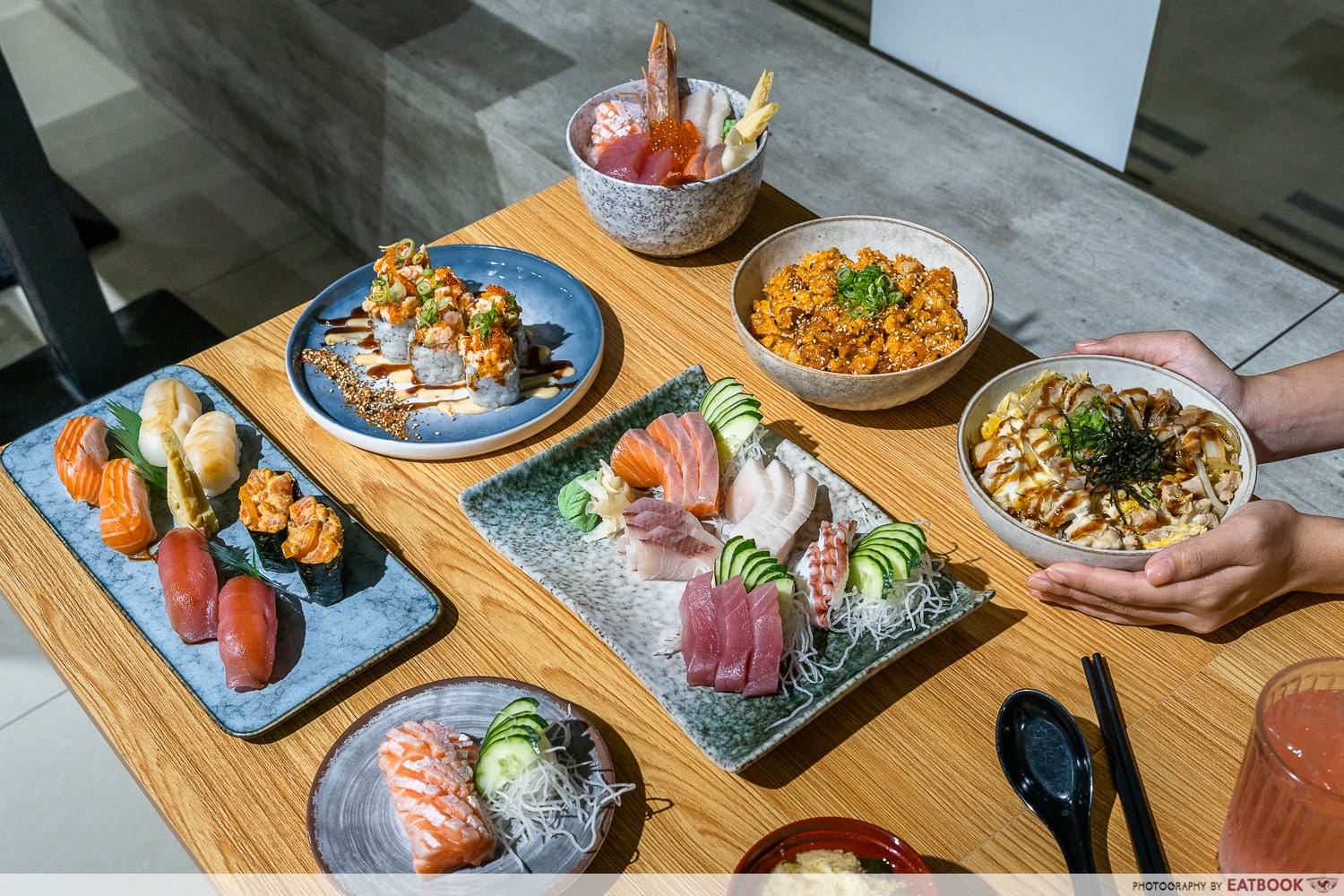 Nestled away in the basement of SMU's Li Ka Shing Library is Ima-Sushi, a great spot for affordable sushi and sashimi. The prices here are student-friendly, so for example, you can get Salmon Sushi and Maguro Sushi for $2.40. For larger meals, nab their Oyakodon ($6.40). Far from breaking the bank, this bowl comes with tender pieces of chicken thigh, a dashi-omelette, and soft pieces of onion and leek. SMU students get discounts here too!
Read our Ima-Sushi review.
Address: 70 Stamford Road, #B1-24, Singapore Management University, Li Ka Shing Library, Singapore 178901
Opening hours: Mon-Thurs 11am to 8pm, Fri 11am to 9pm, Sat 11:30am to 2:30pm
Website
Ima-Sushi is not a halal-certified eatery.
Ima-Sushi Review: $1 Salmon Sushi And Affordable Chirashi Bowls In SMU
---
12. Kuro Kare
---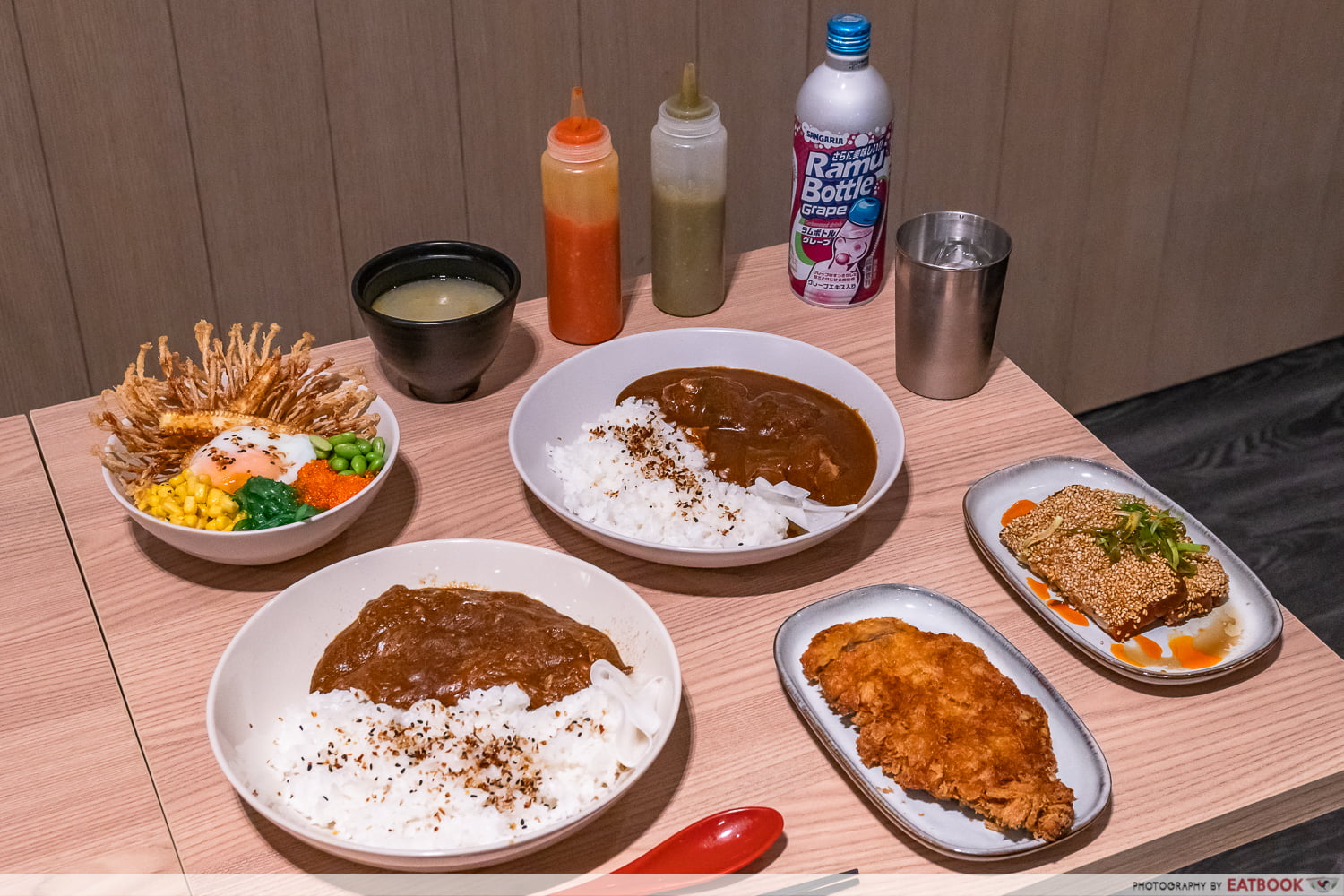 Kuro Kare is another SMU eatery serving up cheap Japanese food. The establishment is run by ex-fine dining chefs who have earned their chops at renowned restaurants such as Meta and Fleurette. It's all about their signature 36-hour slow-cooked curry here, prepared with over 25 ingredients. You get this alongside your choice of protein, and a side of furikake-topped pearl grain rice, and some house-made pickles. The Kind of a Pig Deal ($14.90++) for example, stars tender pulled pork that's been slow-cooked for 48 hours in Korean spices. If curry rice isn't your jam, Kuro Kare also has a selection of donburi bowls under $10. Flash your SMU card to get $2 off each dish.
Read our Kuro Kare review.
Address: 80 Stamford Road, #B1-65, SMU, School of Information Systems, Singapore 178902
Opening hours: Mon-Fri 11am to 8pm (refer to Google for further updates)
Website
Kuro Kare is not a halal-certified eatery.
Kuro Kare Review: 36-Hour Japanese Curry And More By Ex-Fine Dining Chefs
---
13. Tsuzuku
---
Run by a husband-wife duo is Tsuzuku, a new Japanese hawker stall in Berseh Food Centre. Though a recent addition to the food centre, the stall has garnered quite the following for their tonkatsu sets priced under $10. We especially enjoyed their Curry Katsu Set ($8.80), which comes with a slab of perfectly cooked tonkatsu, fried ebi tempura, and delicious, not-too-spicy curry. 
Read our Tsuzuku review.
Address: 166 Jalan Besar, #02-33, Berseh Food Centre, Singapore 208877
Opening hours: Mon-Sat 11am to 8pm
Tel: 8042 5542
Website
Tsuzuku is not a halal-certified eatery.
Tsuzuku Review: Affordable Curry Katsu By Japanese-Singaporean Couple In Jalan Besar
---
14. Butahage
---
Butahage is a renowned Hokkaido restaurant that specialises in grilled pork donburi bowls, AKA butadon. They returned to Singapore with two outlets, one in Suntec City and another in Tampines' Century Square, both serving up the brand's signature dish, prepared with different grades of pork. Get the Obihiro Meibutsu Pork Loin Don, priced from $11.80++ for the regular size. You get Canadian pork that's charcoal grilled and marinated with their secret tare, served atop delicious Hokkaido rice. 
Read our Butahage review.
Address: 3 Temasek Boulevard, #01-625/626 (Tower 3) Suntec City, Singapore 038983
Opening hours: Daily 11am to 10pm
Website
Butahage is not a halal-certified eatery.
Butahage Review: Famous Hokkaido Restaurant Is Back With XL Butadon, $9.50++ Tempura Don And More
---
15. Tori Sanwa
---
Tori Sanwa, a renowned Japanese oyakodon chain boasting a heritage that spans more than a century, has quietly set up shop Singapore, at basement one of Raffles City Shopping Centre. The Nagoya restaurant, as mentioned, is known for their chicken dishes, from oyakodon to their award-winning karaage. You definitely have to try their Aburi Oyako Don ($14.90++) for a unique take on the classic dish. Here, the chicken thigh pieces get scorched by a flame torch before serving, adding extra depth and smokiness to each spoonful. 
Read our Tori Sanwa review. 
Address: 252 North Bridge Road, #B1-75 Raffles City Shopping Centre, Singapore 179103
Opening hours: Daily 11:30am to 10pm
Website
Tori Sanwa is not a halal-certified eatery.
Tori Sanwa Review: Famous Oyako Don Chain With Over 120 Years Of History Opens At Raffles City
---
16. Inochi
---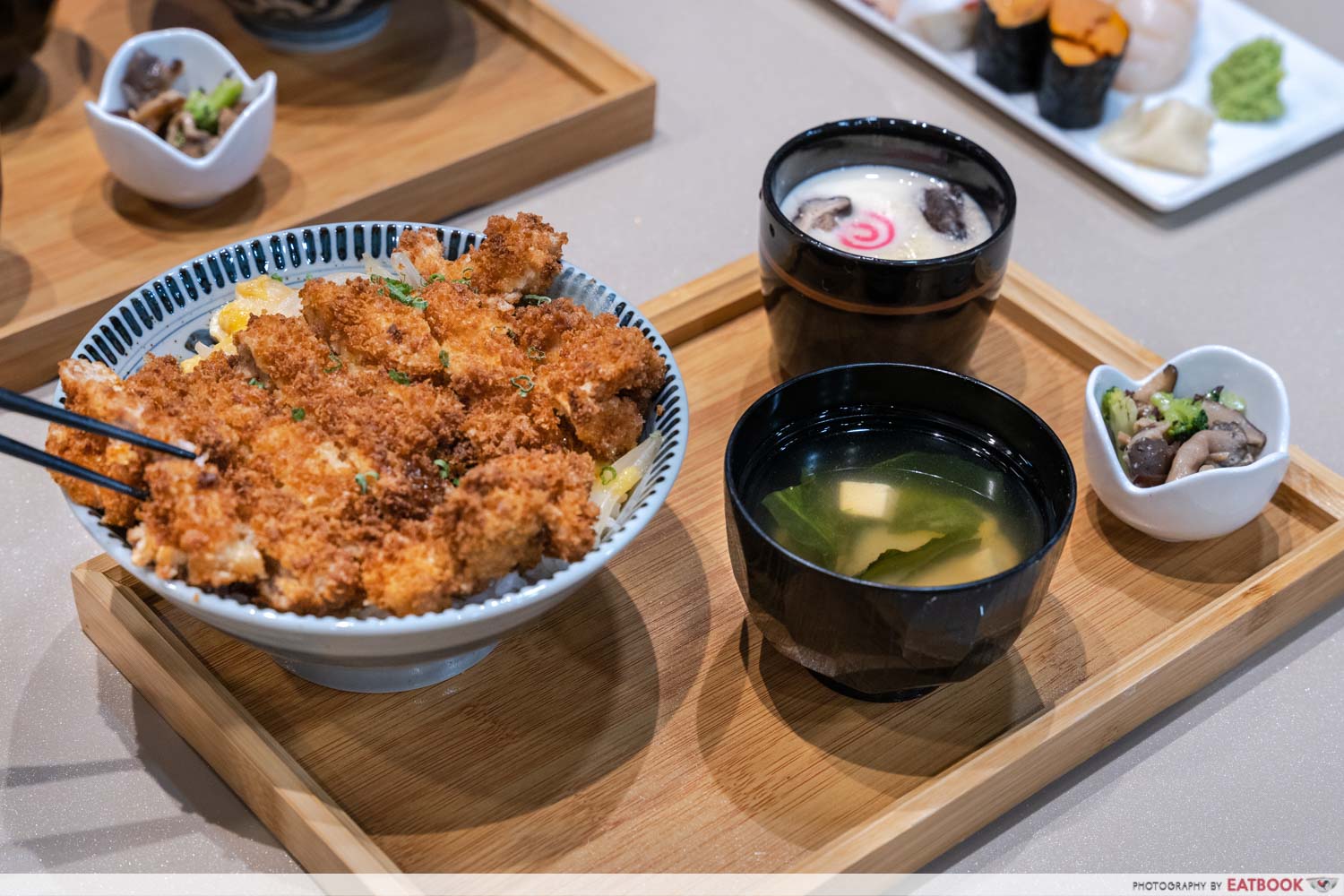 Highly rated and raved about Inochi is a hidden gem in Balestier. Tucked away on the second floor of Shaw Plaza, they're known for their wallet-friendly donburi bowls and sashimi sets, as well as their lunchtime specials. With the latter, one gets a free appetiser, miso soup, chawanmushi, and free-flow sencha when you purchase a donburi bowl. Items are typically below $15 here and are generously portioned. Their Chicken Katsu Don ($13.80+), for example, comes with a huge slab of well-fried chicken cutlet, served with seasoned rice.
Read our Inochi review.
Address: 360 Balestier Road, #02-13/14, Shaw Plaza, Singapore 329783
Opening hours: Mon-Fri 11:30am to 3pm, 5:30pm to 9:15pm, Sat-Sun 11:30am to 9:15pm
Tel: 6539 9219
Website
Inochi is not a halal-certified eatery.
Inochi Review: New Japanese Restaurant With Wallet-Friendly Chirashi Bowls At Shaw Plaza
---
17. The Ramen Stall 
---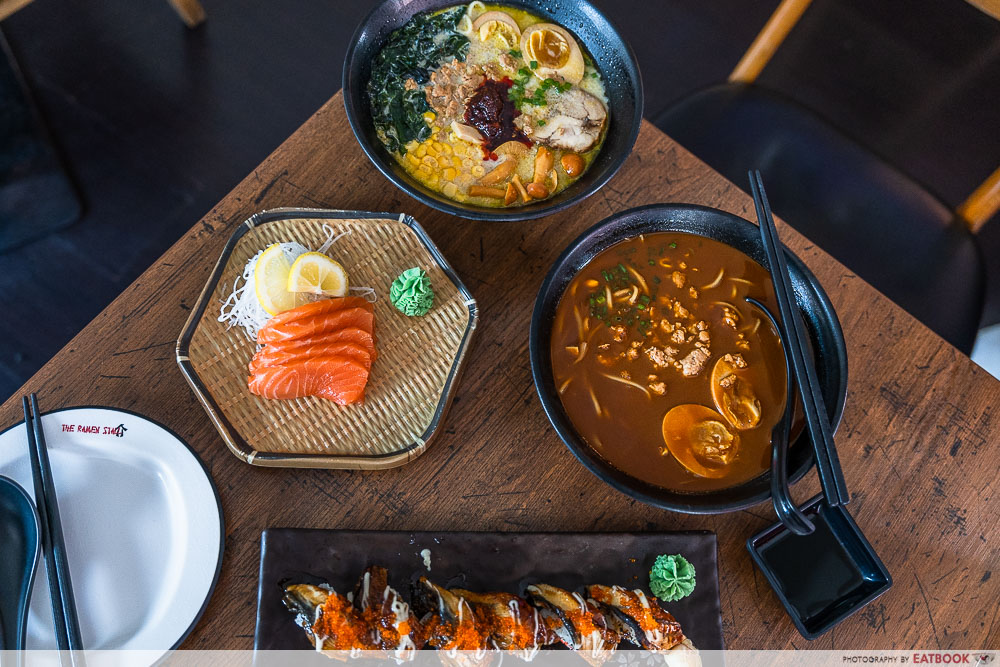 There are plenty of cheap Japanese restaurants in Singapore but finding a halal-certified option may not be the easiest. The Ramen Stall is one we personally can vouch for—the halal ramen joint along North Bridge Road has quite an extensive menu, with most of its items coming in under $15. Spicy ramen lovers will have a field day here, with the likes of their Mala Ramen ($14.90) and Volcano Ramen ($13.90++). Aside from noodle dishes, the eatery also sells maki rolls and fresh sashimi.
Read our The Ramen Stall review.
Address: 787 North Bridge Road, Singapore 198755
Opening hours: Mon-Thurs 11am to 4pm, 5pm to 11pm, Fri-Sun 11am to 11pm
Tel: 6655 0800
Website
The Ramen Stall is a halal-certified eatery.
Get Halal-Certified Ramen And Sashimi Platters Under $15++ At This Kampong Glam Eatery
---
18. Fukudon
---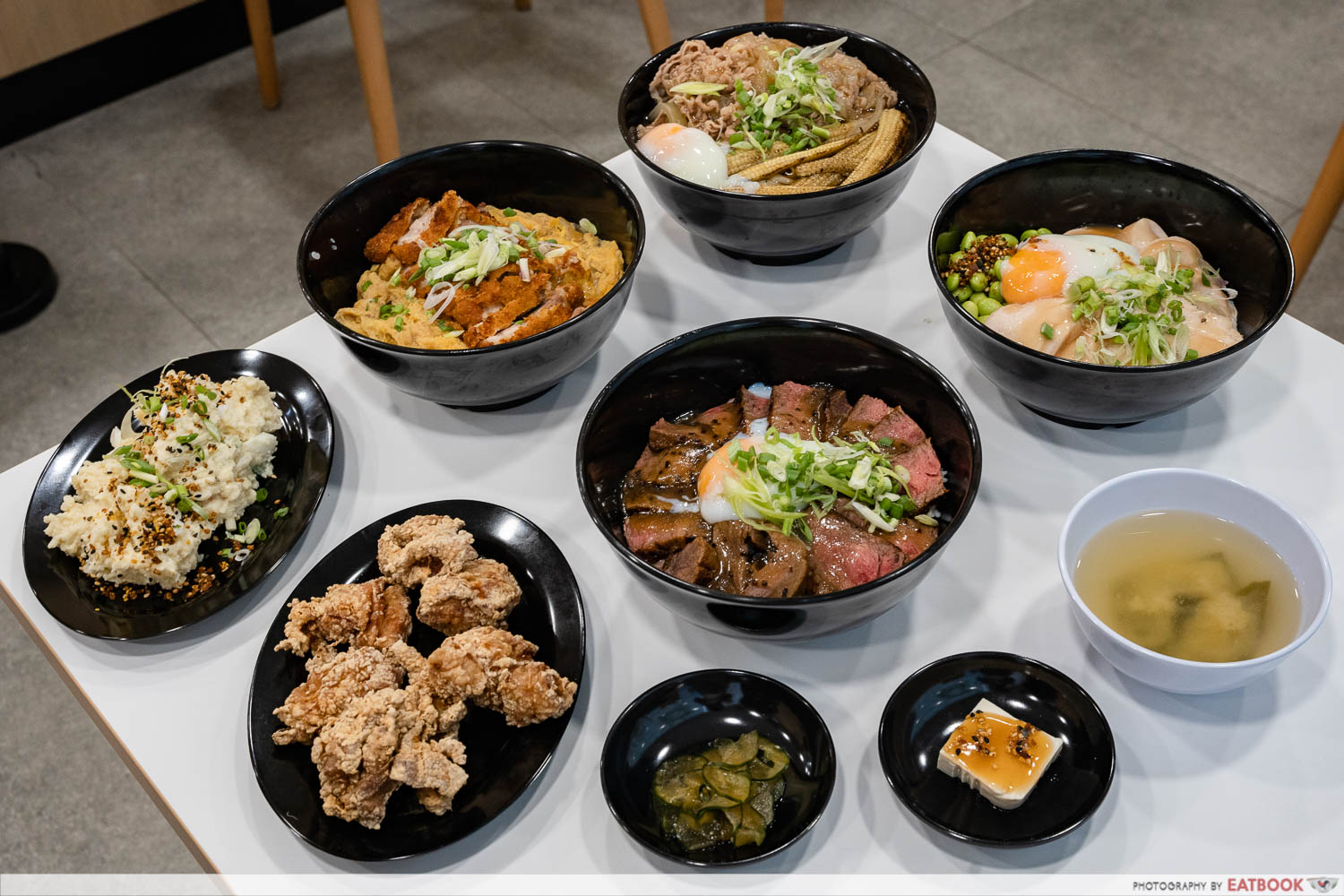 Another must-try cheap Japanese food spot is Fukudon. This hawker brands themselves as donburi specialists and has two outlets: in Marine Parade, and Velocity @Novena Square. The eatery began in 2020 and has been going strong since, with their wide array of wallet-friendly donburi bowls, including the popular Pork Belly Katsu Don ($8.50). Some of the items here aren't super conventionally Japanese but are definitely healthy picks great for a quick and protein-packed lunch. One of our fave bowls is the  Sous Vide Chicken Breast w/ Honey Soy Glaze ($7.90), served with an onsen egg and edamame.  
Read our Fukudon review.
Novena
Address: 238 Thomson Road, #03-56, Velocity@Novena, Singapore 307683
Opening hours: Daily 11am to 8pm
Tel: 9382 9948
Marine Parade
Address: 84 Marine Parade Central, #01-48, Promenade Market, Singapore 440084
Opening hours: Daily 11am to 8pm
Tel: 9382 9948
Website
Fukudon is not a halal-certified eatery.
Fukudon Review: Truffle Wagyu Don And More From $7.90 In Novena
---
19. Ichi Umai
---
Yishun diners, Ichi Umai in Junction 9 is quite the hidden gem for cheap Japanese food that doesn't skimp on quality. Run by a chef with nearly four decades of experience, the cosy eatery offers quite a wide menu of unique maki rolls, donburi, curry rice and more. If you're a fan of maki rolls that combine sweet and savoury, try their Aburi Sakebi Roll ($14.50), a maki roll with fried tempura prawns, aburi salmon, and mango sauce. For something more satisfying, you have the Kuri Buta Belly Kare ($13.90), a pork belly curry rice dish made with Spanish pork,
Read our Ichi Umai review.
Address: Yishun Avenue 9, #01-19, Junction 9, Singapore 768897
Opening hours: Daily 11:30am to 3:30pm, 5:30pm to 9:30pm
Tel: 8887 1976
Website
Ichi Umai is not a halal-certified eatery.
Ichi Umai Review: Wallet-Friendly And Unique Japanese Food By Ex-Chef In Yishun Junction 9
---
20. Ippon Fusion Bowl
---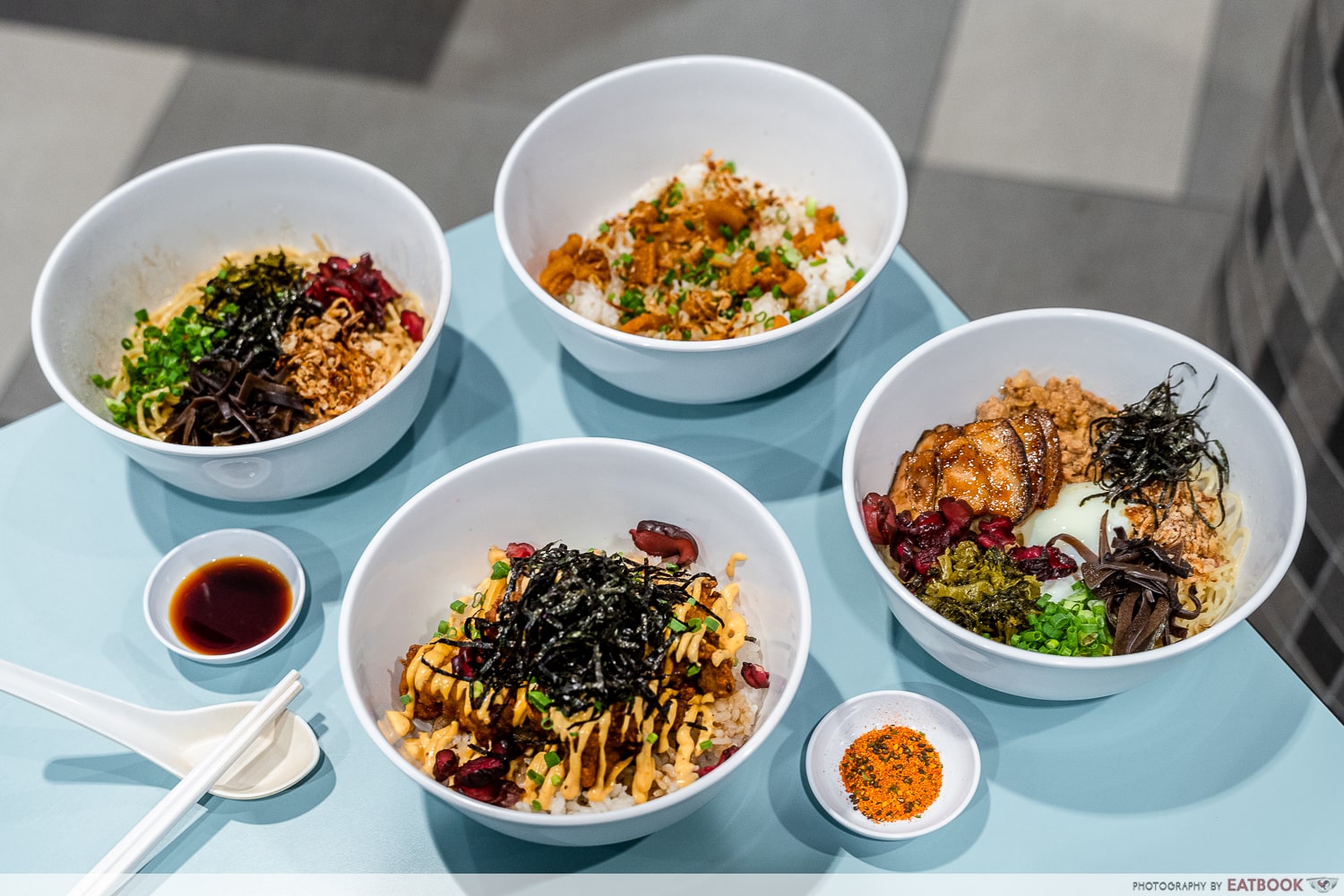 If you live in the East and you're looking for cheap Japanese food, swing by Our Tampines Hub's Ippon Fusion Bowl. The donburi stall offers a unique fusion twist on Japanese flavours, so expect unique items such as their Crispy Pork Lard Rice Bowl ($2.80), where pearl grain rice is topped with deep-fried pillows of lard, or the Ippon Noodle Bowl ($6.50), an affordable mazesoba option topped with grilled char siew. Most of the menu here is under $10 too!
Read our Ippon Fusion Bowl review.
Address: 1 Tampines Walk, #01-72, Our Tampines Hub Hawker Centre, Singapore 528523
Opening hours: Thurs-Tue 11.20am to 2.30pm, 5 to 8pm
Website
Ippon Fusion Bowl is not a halal-certified eatery. 
Ippon Fusion Bowl Review: Cheap Japanese Donburi And Pork Lard Rice Bowl In Tampines
---
Where to eat cheap Japanese food
---
Quality Japanese meals and affordable prices are not mutually exclusive, with our list of cheap Japanese food places. For other Japanese food guides, check out our lists of the best teppanyaki spots, best soba restaurants, and best yakiniku joints.
This article was originally written on 9th May 2019.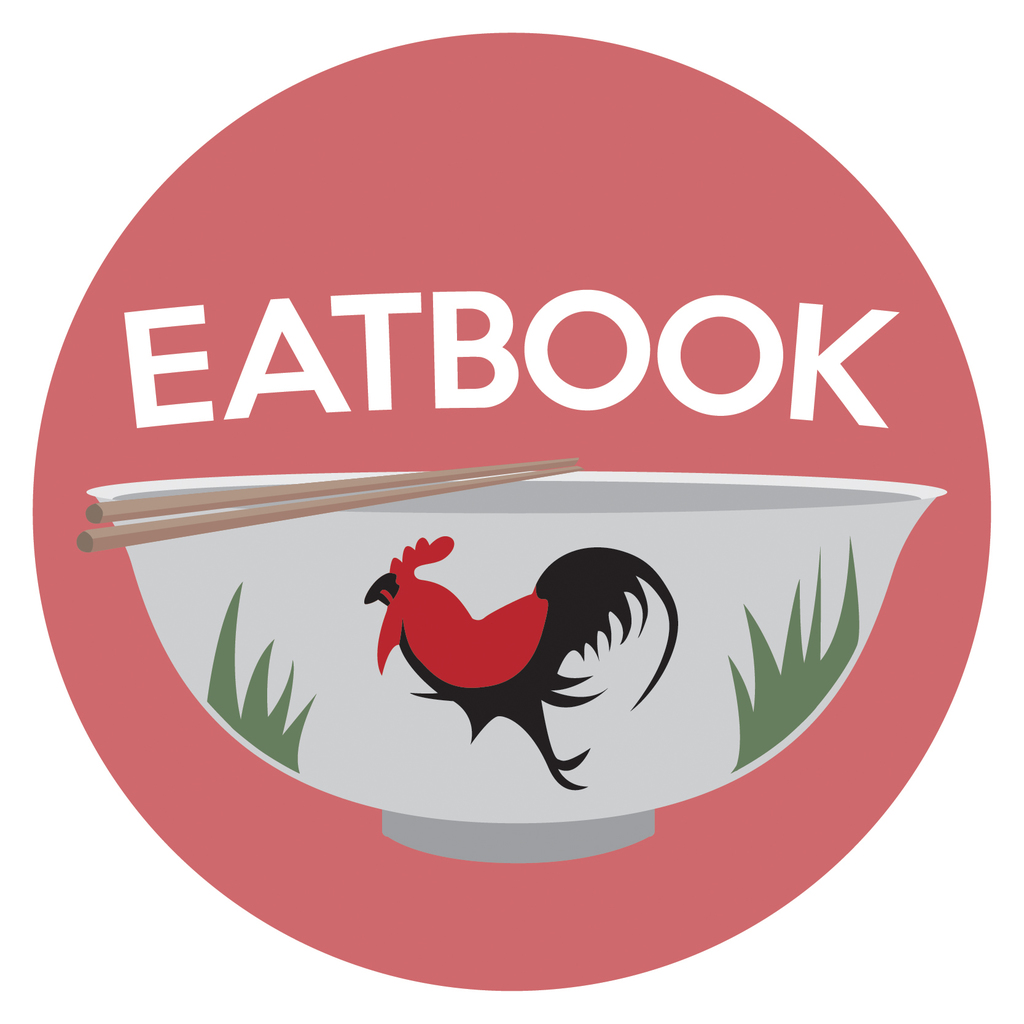 Drop us your email so you won't miss the latest news.