Ippon Fusion Bowl in Tampines has cheap Japanese rice bowls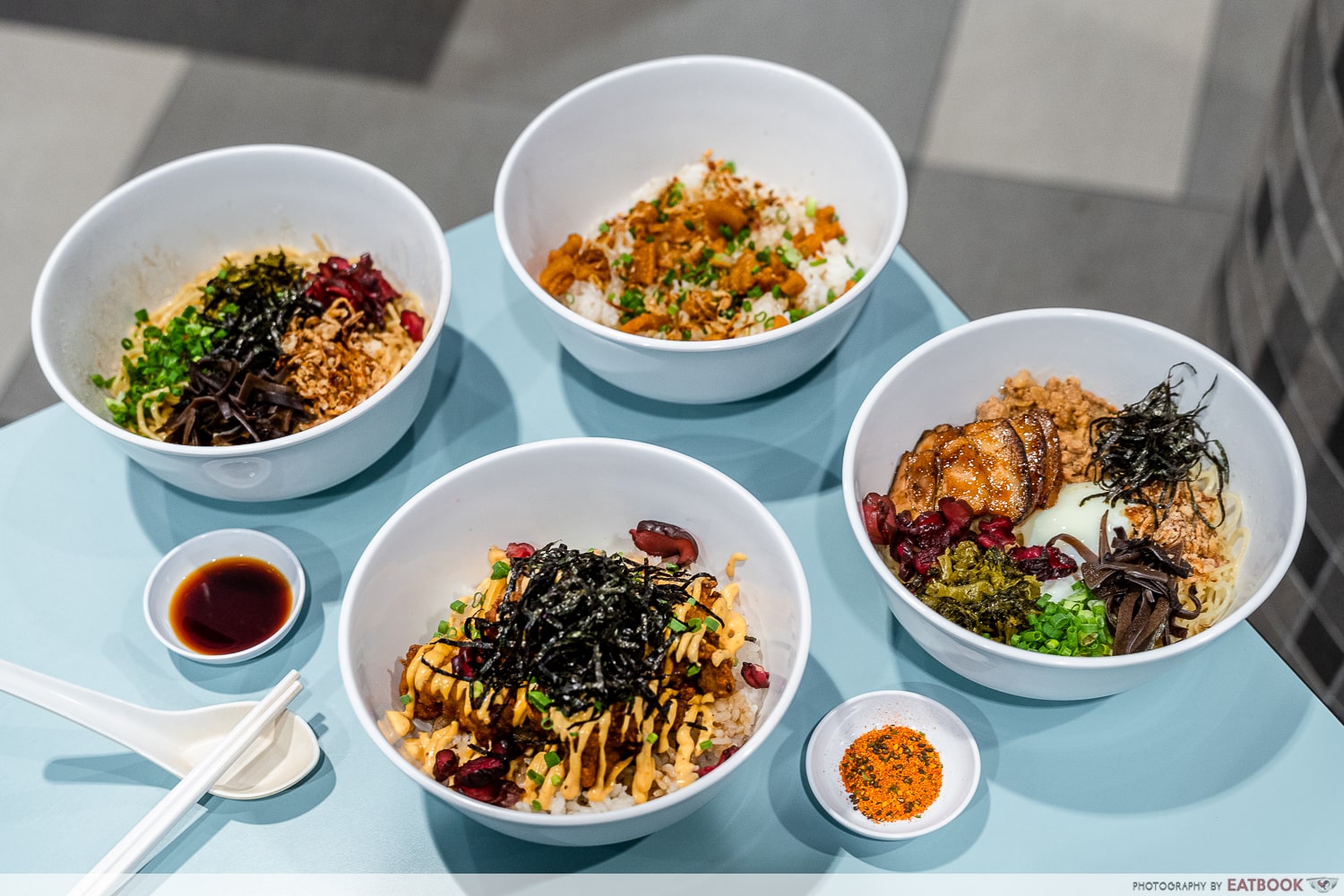 Fusion food can be a hit or miss, but Ippon Fusion Bowl and their twist on the classic Japanese donburi bowls are not only affordable, they're also said to not skimp on quality or quantity. Donburi is a favourite of mine, so I grabbed a friend and travelled all the way to Our Tampines Hub to check them out.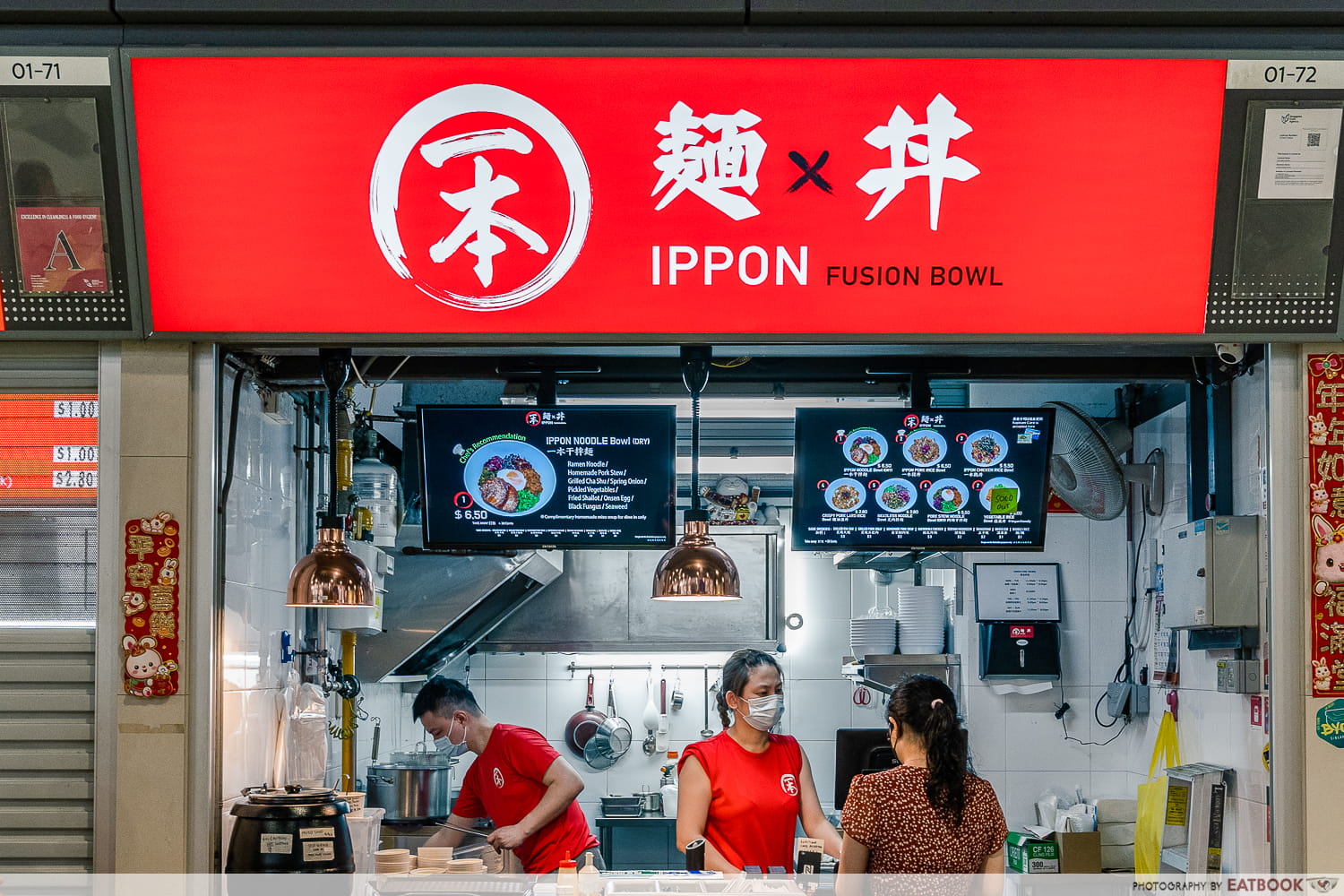 Ippon Fusion Bowl's menu is the product of hawkers Daniel, Jennifer, and their third business partner's love for Japanese food and a desire to offer something unique to the hawker scene. Daniel, who formerly worked as a chef at Marina Bay Sands and The Connoisseur Club, hopes to deliver fusion Japanese food that suits local palates,  while also surprising diners with something new.
Food at Ippon Fusion Bowl
You won't find a basic teriyaki salmon rice bowl at Ippon Fusion Bowl. Instead, what's on the menu are unique donburi with ingredients like buttermilk chicken, Chinese-style pork belly, and special sauces created by the chefs. Their dishes are also under constant improvement, with the signature noodle dish having been reworked six to eight times based on customer feedback.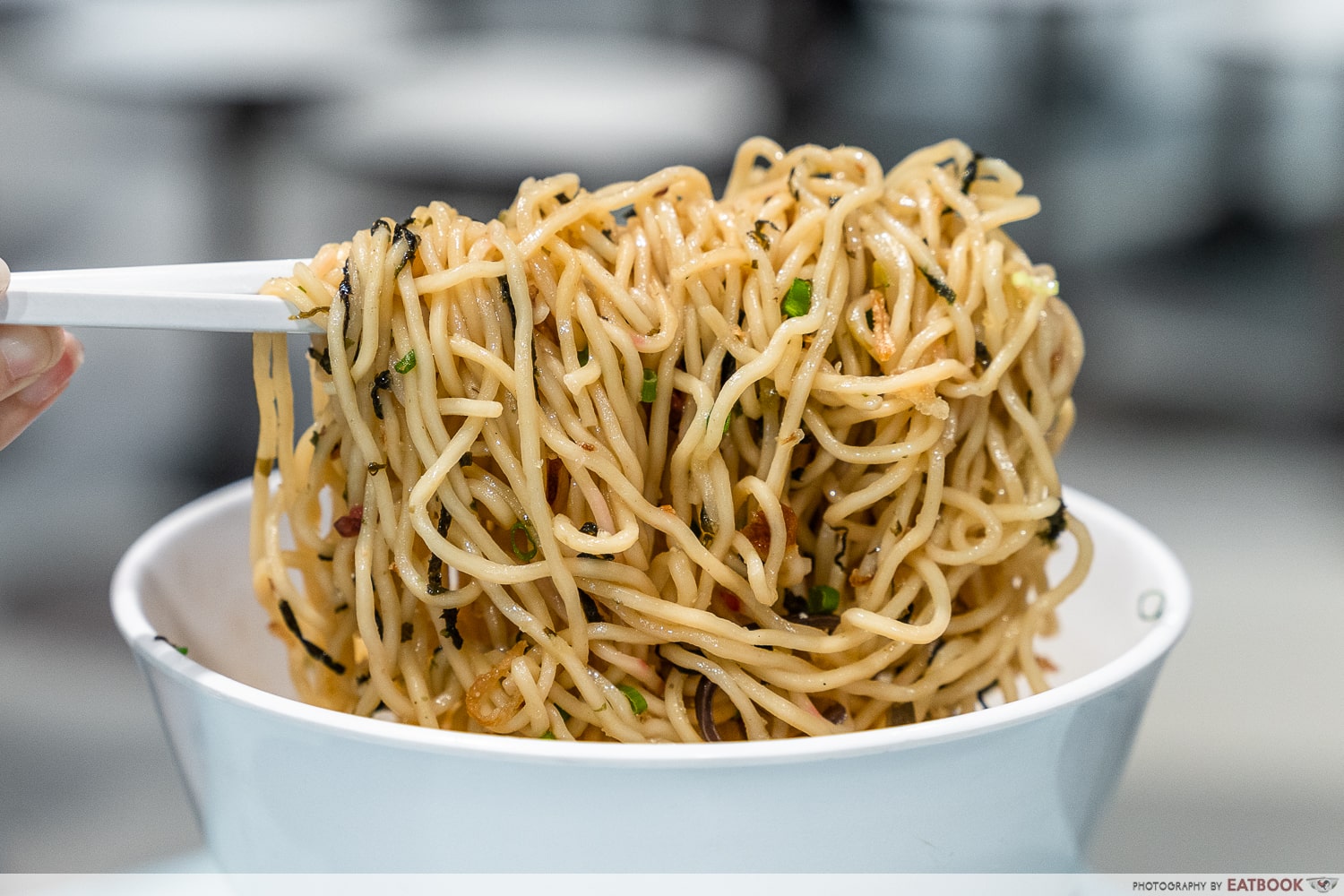 While I was talking to the couple, I was impressed at the lengths they went to ensure all their ingredients are of the highest quality while maintaining their affordable prices. For example, all of their rice bowls use premium Masshigura rice from Japan, while the ramen noodles are the same ones used by legit Japanese restaurants here in Singapore.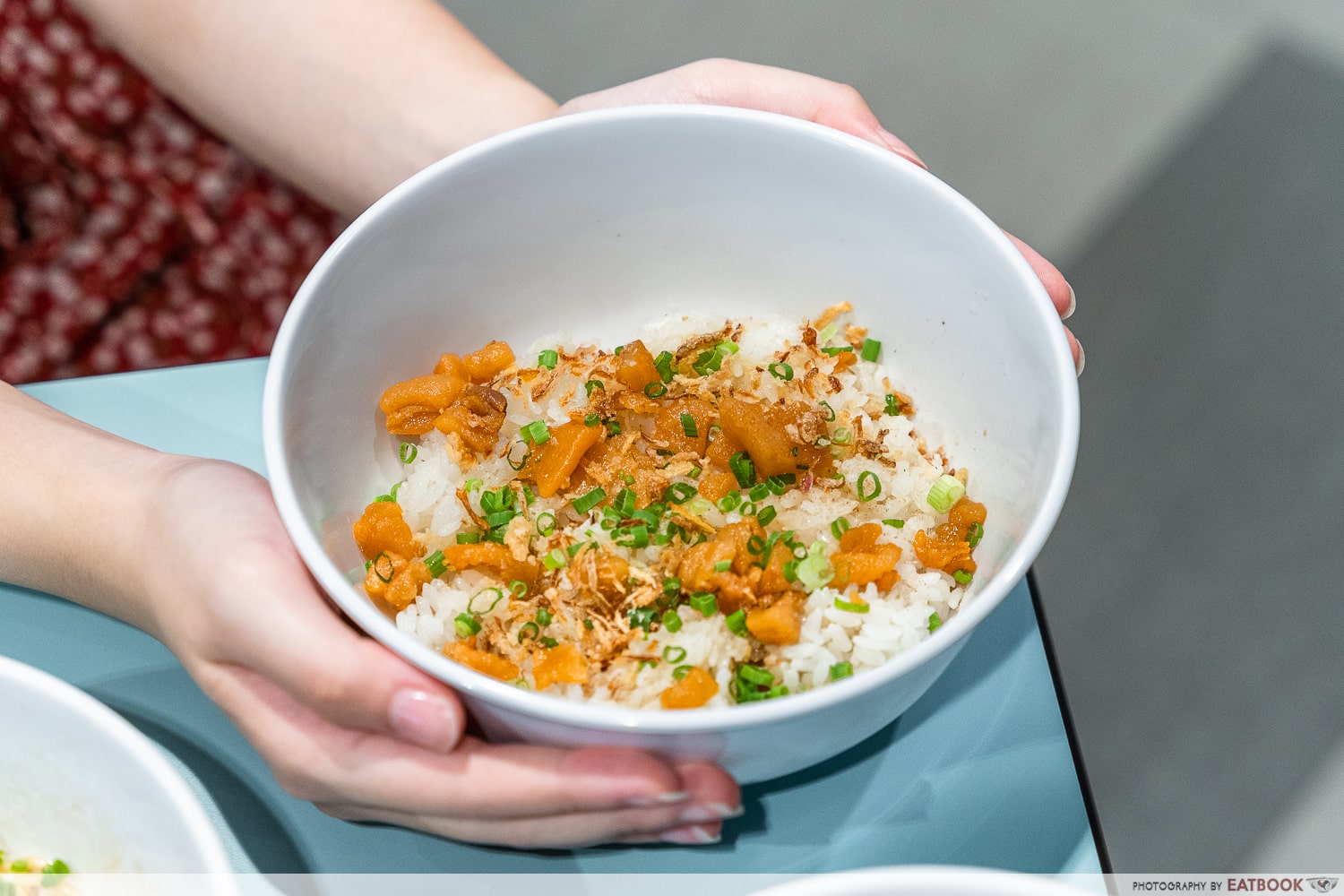 For just $2.80, you can indulge yourself with their Crispy Pork Lard Rice Bowl, which stars a hearty amount of pork lard that's been deep fried to a gorgeous golden brown colour. As a final touch, chopped spring onions and fried shallots are sprinkled generously over the crispy lard, fluffy white rice and a house-made secret sauce.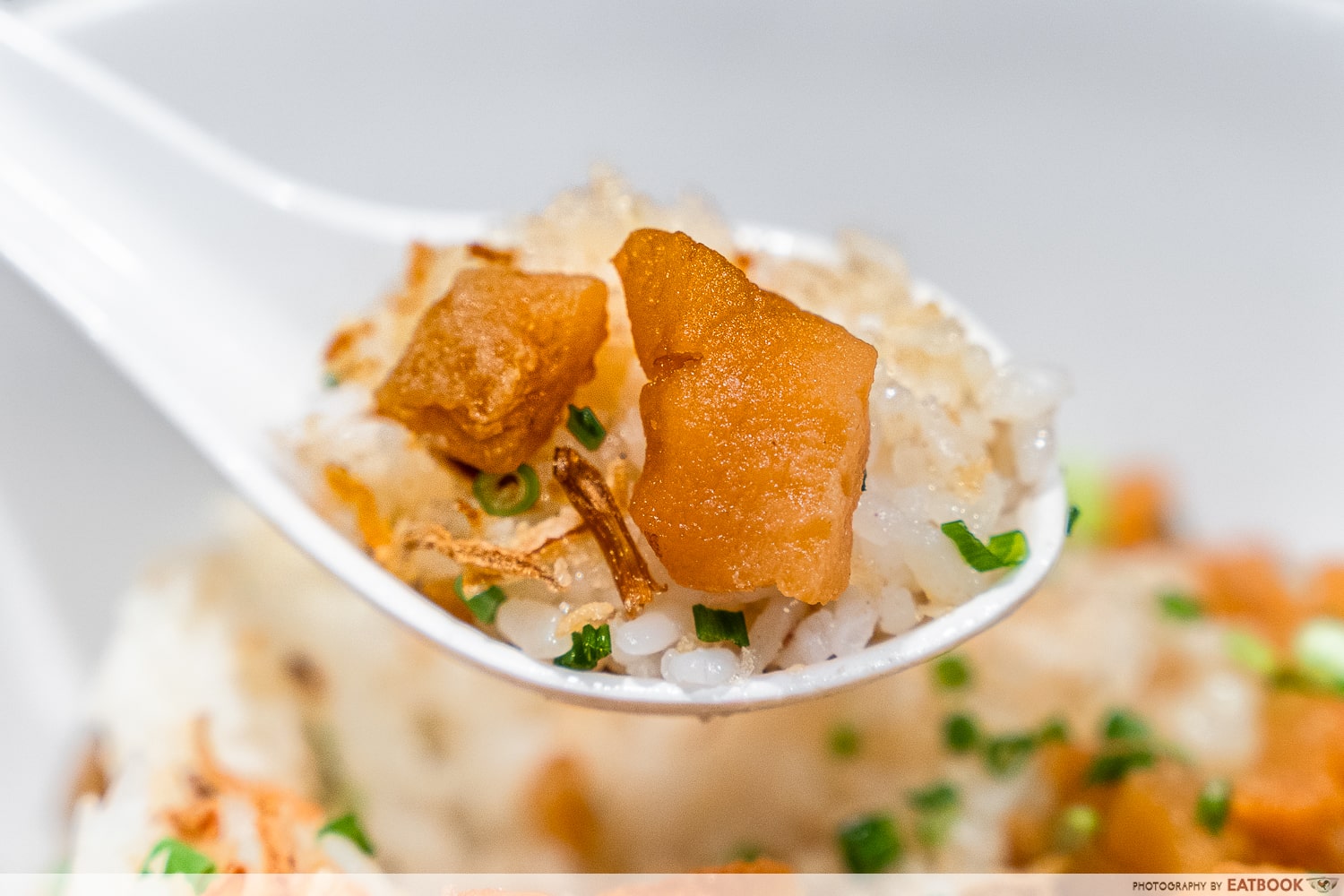 On its own, neither of us could have expected how incredibly salty the pork lard was. Every bite of the rich, crispy lard released a burst of savoury flavour that, while delicious, needed to be eaten with the sweet rice to balance it out. 
A healthier choice that favours noodle lovers and vegans is the similarly priced Meatless Noodle Bowl ($2.80). Here, springy ramen noodles are paired with spring onions, pickled vegetables, fried shallots, black fungus, and seaweed for a simple but filling meal. Despite it being a little dry, the QQ texture of the noodles and generous amount of ingredients still made for a very tasty, extremely value-for-money dish. 
Nice Rice Review: Ex-Restaurant Chef Sells French-Japanese Rice Bowls From $6.50 At AMK Hub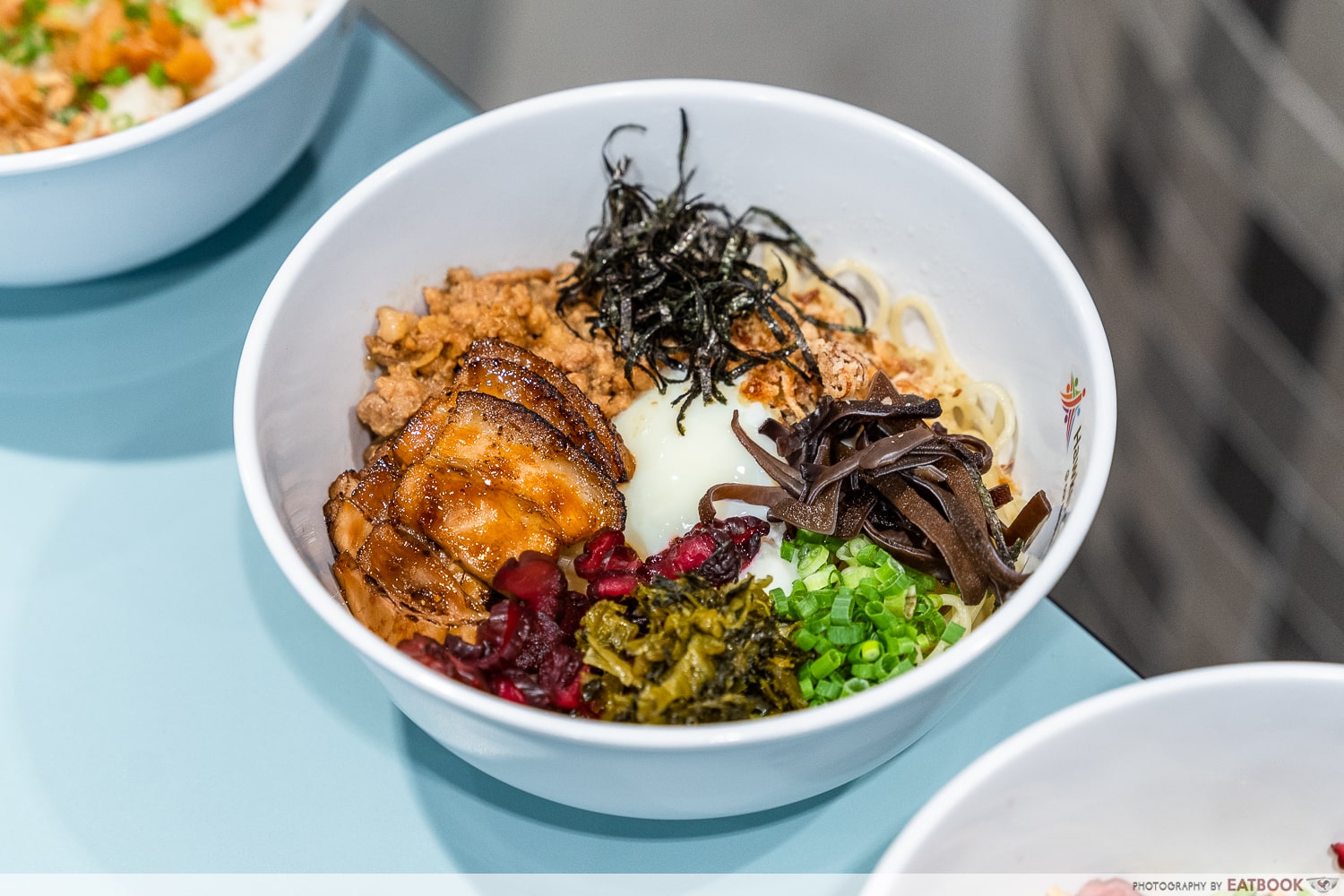 We also tried the stall's top three bestsellers, starting with Ippon Fusion Bowl's signature dish: the Ippon Noodle Bowl ($6.50). With their rich house-made pork stew as the base, grilled char siew, chewy minced pork, fresh spring onions, pickled vegetables, fried shallots, black fungus, and seaweed are piled onto a large serving of noodles, then crowned with a runny onsen egg.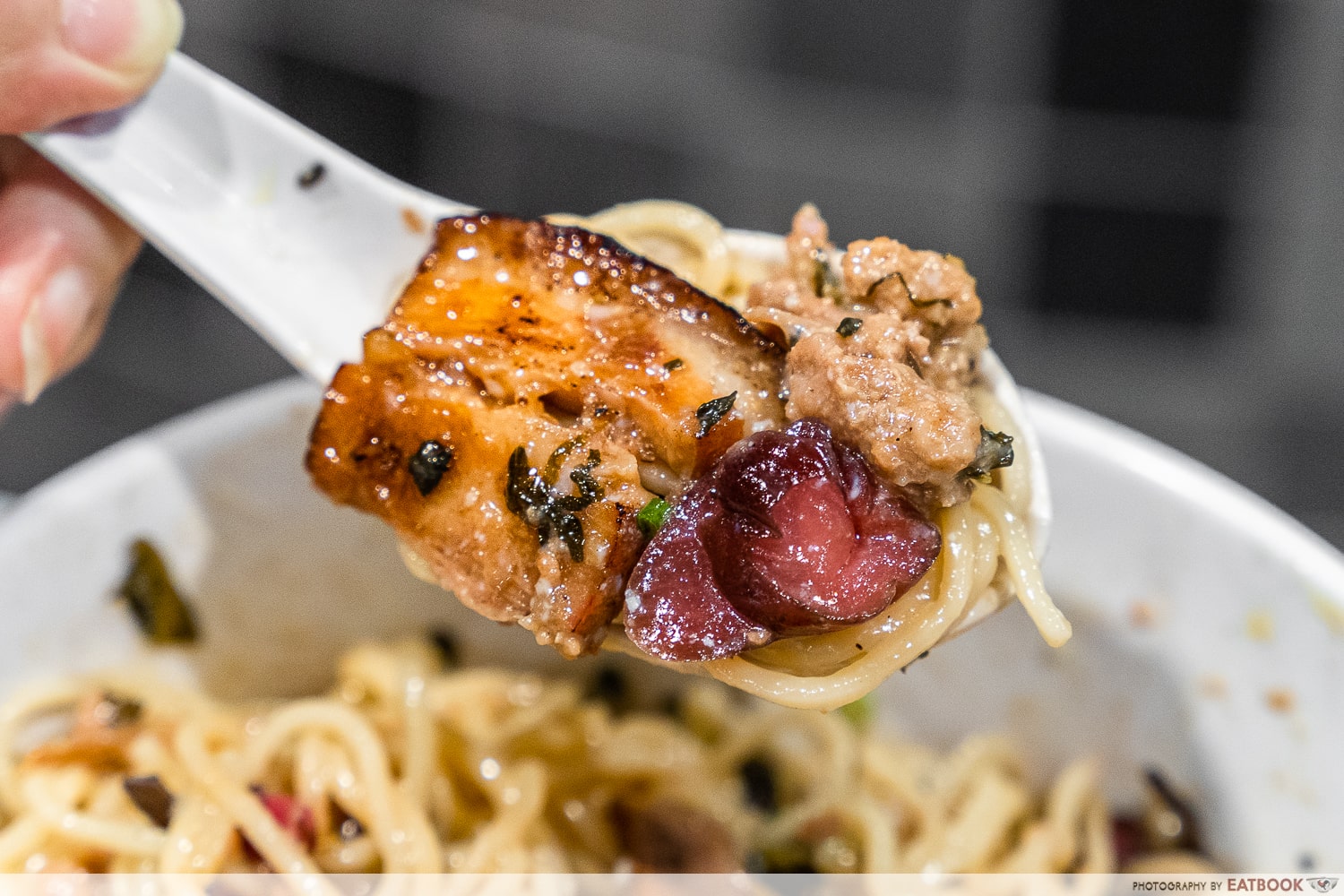 Just from the first bite alone, it was easy to tell why this was their bestselling dish. The noodles soaked up the flavour and moisture of the rich pork broth and onsen egg, making this much easier to slurp down compared to the drier noodles of the meatless noodle bowl.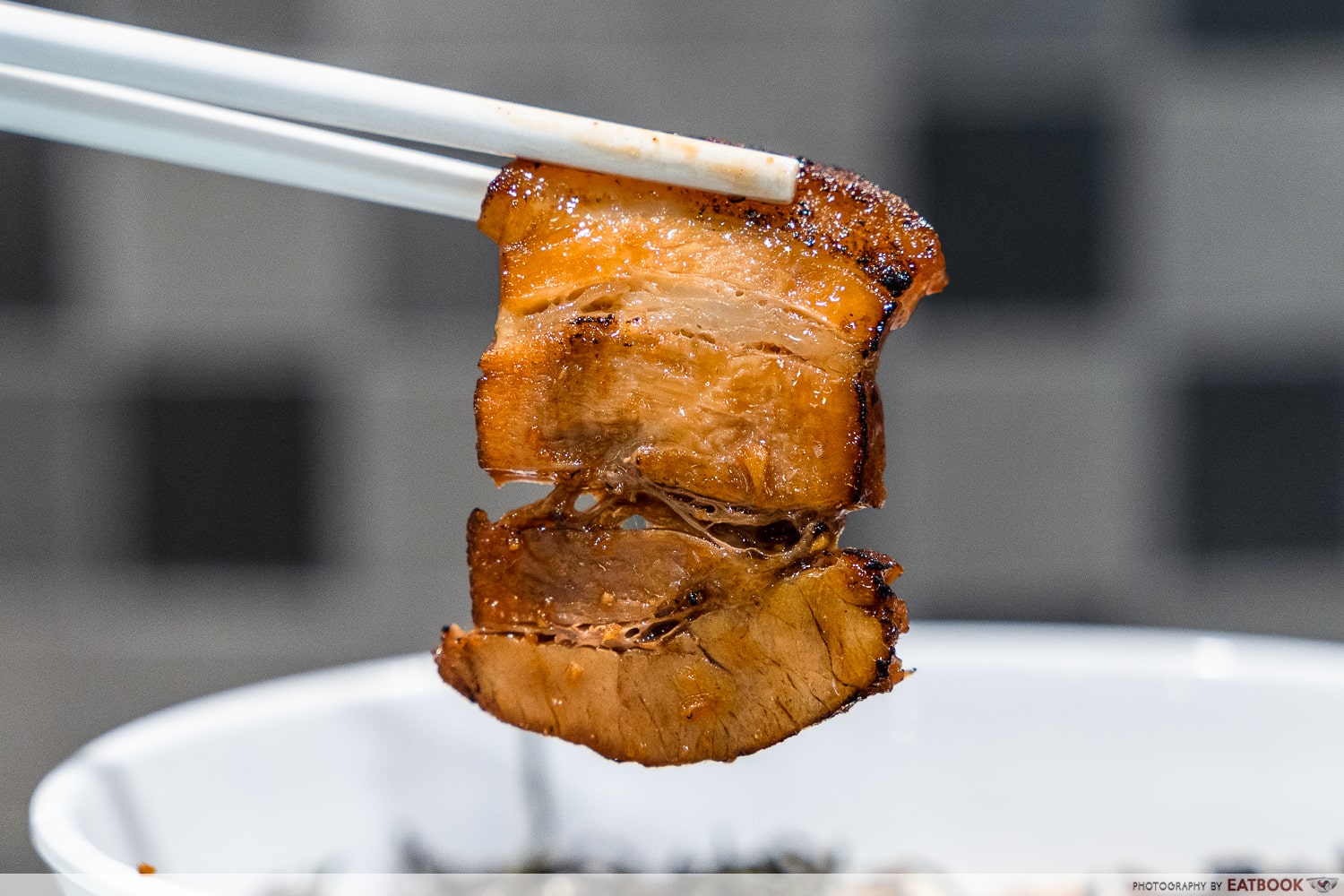 I couldn't get enough of the char siew, which is marinated in-house with their secret sauce for over an hour. The thin slices are then grilled to produce a savoury-sweet and smoky meat that simply melted in our mouth. If you aren't having their noodle bowl while you're there, I definitely recommend adding the char siew to your order as a side for $3.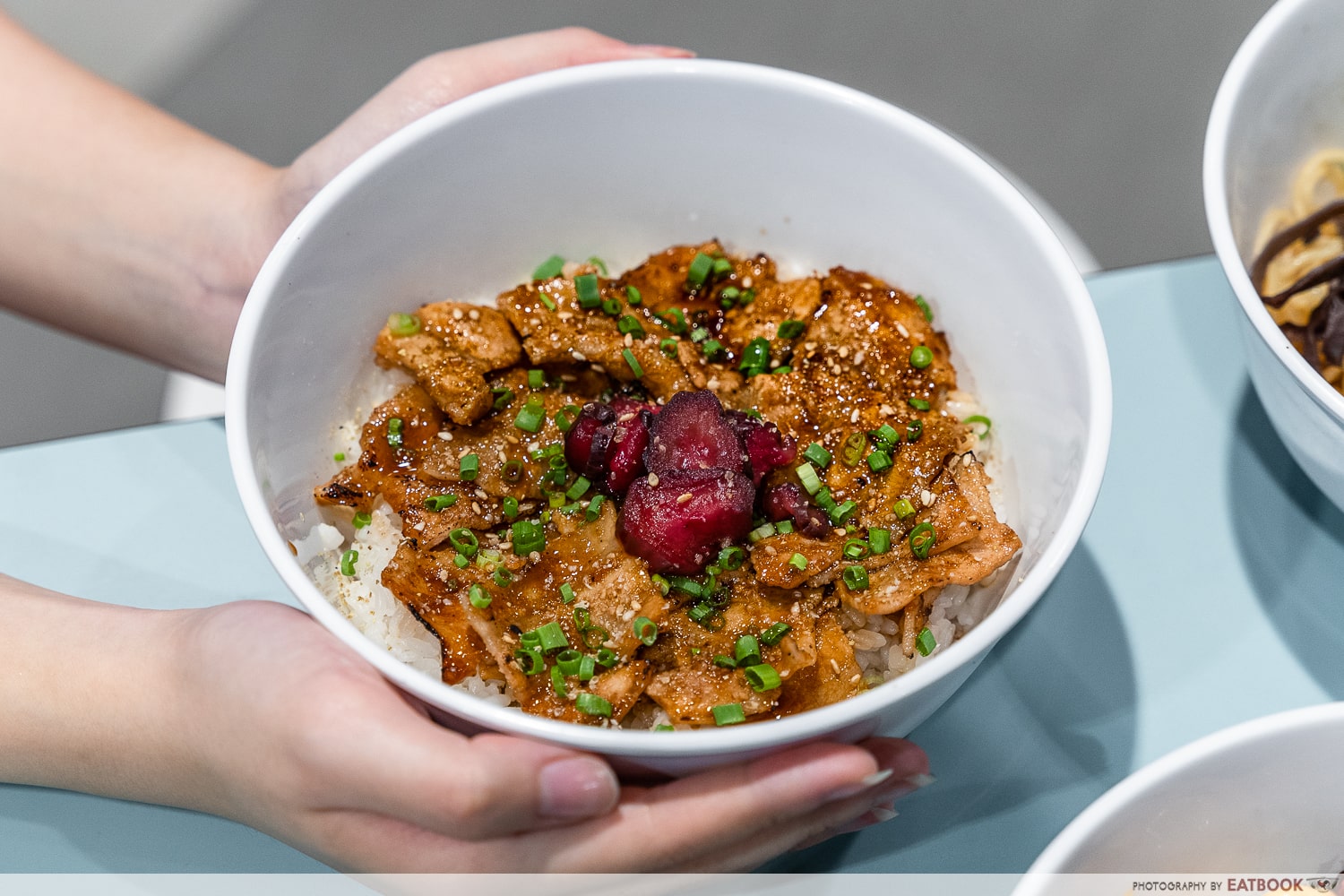 The Ippon Pork Rice Bowl ($6.50) is the second most popular dish at Ippon Fusion Bowl, featuring slices of grilled pork belly over a bed of white rice and garnished with chopped spring onions, and pickled radishes.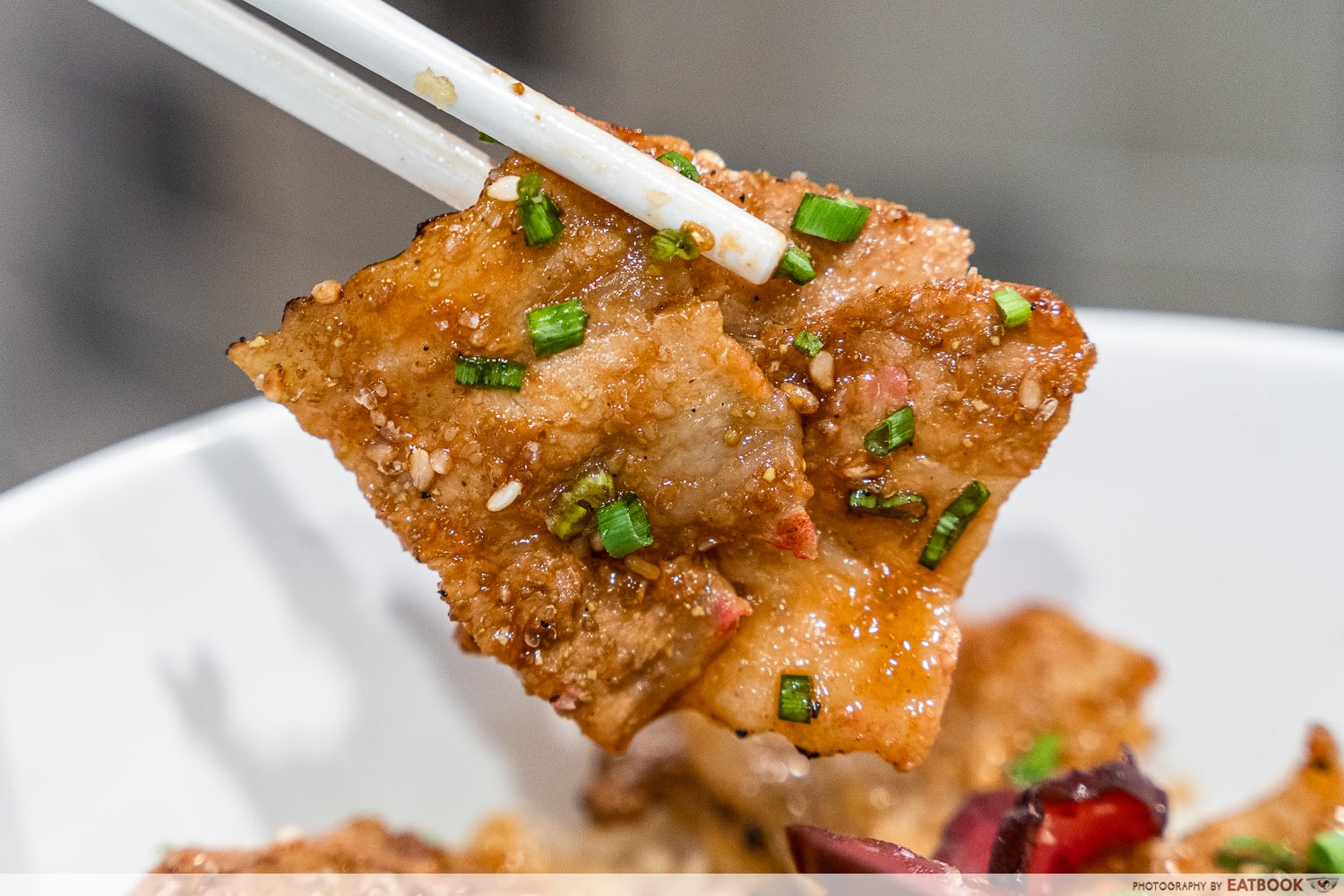 We could smell the mouth-watering fragrance of freshly grilled pork even before we tucked in. Marinated for a day with a mixture of fermented rice, sake, and mirin, the thin slices were tender and moist, but the amount of ginger in the sticky marinade sauce gave the meat an unexpectedly sharp taste. Just like the crispy pork lard bowl, the pork needed the rice and crunchy pickles to balance out its overall  seasoning.
Shin Okaya Review: Ex-Sakae Sushi Chefs Sell Affordable Japanese Rice Bowls In Kallang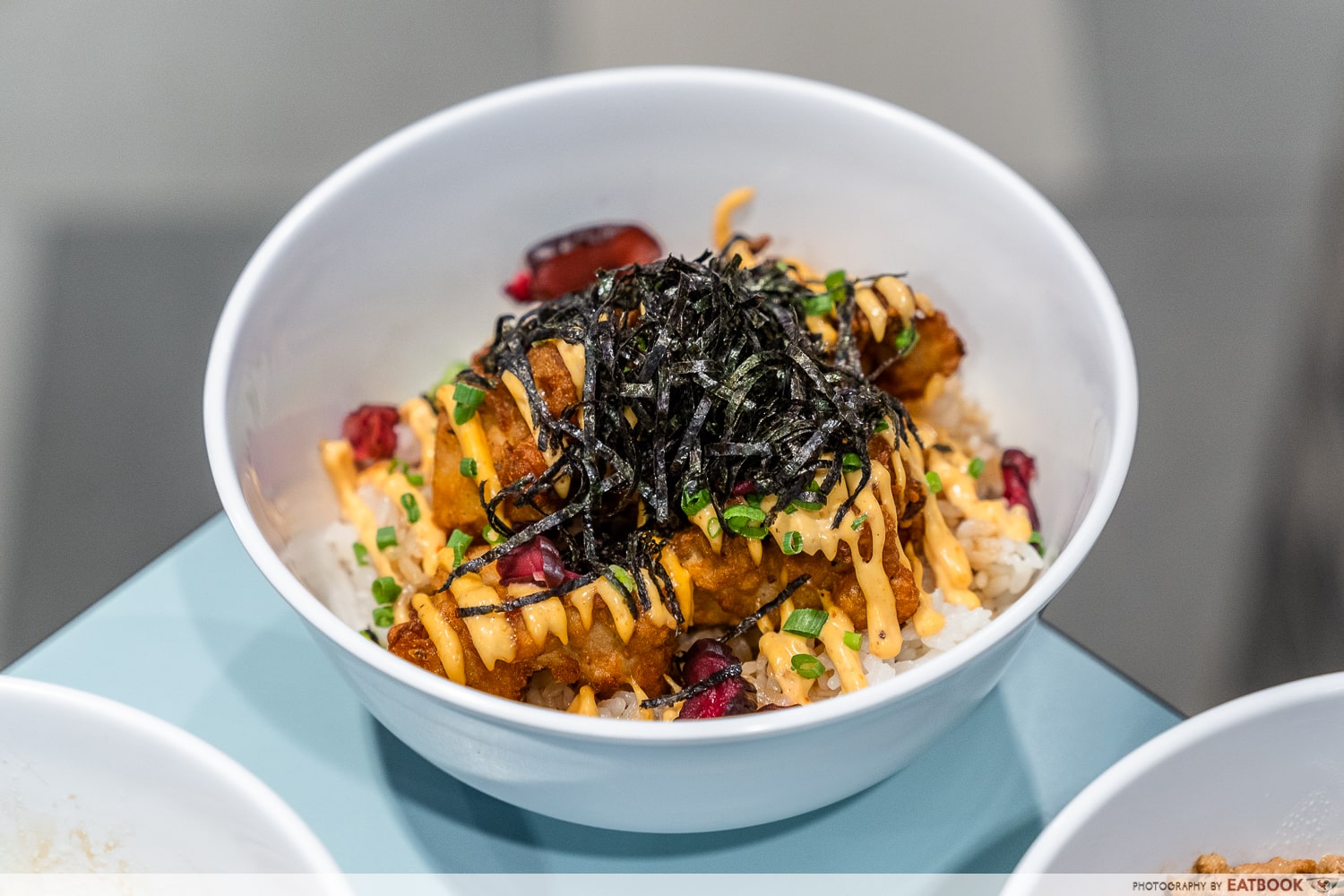 The Ippon Chicken Rice Bowl ($5.50) is apparently a favourite among the younger crowd, with fried buttermilk chicken cutlets, pickled vegetables, fried shallots, and black fungus. Topping it off is a cluster of thin seaweed and a sunny yellow Nanyang aioli sauce made from mayo, sambal chilli, and various Asian spices.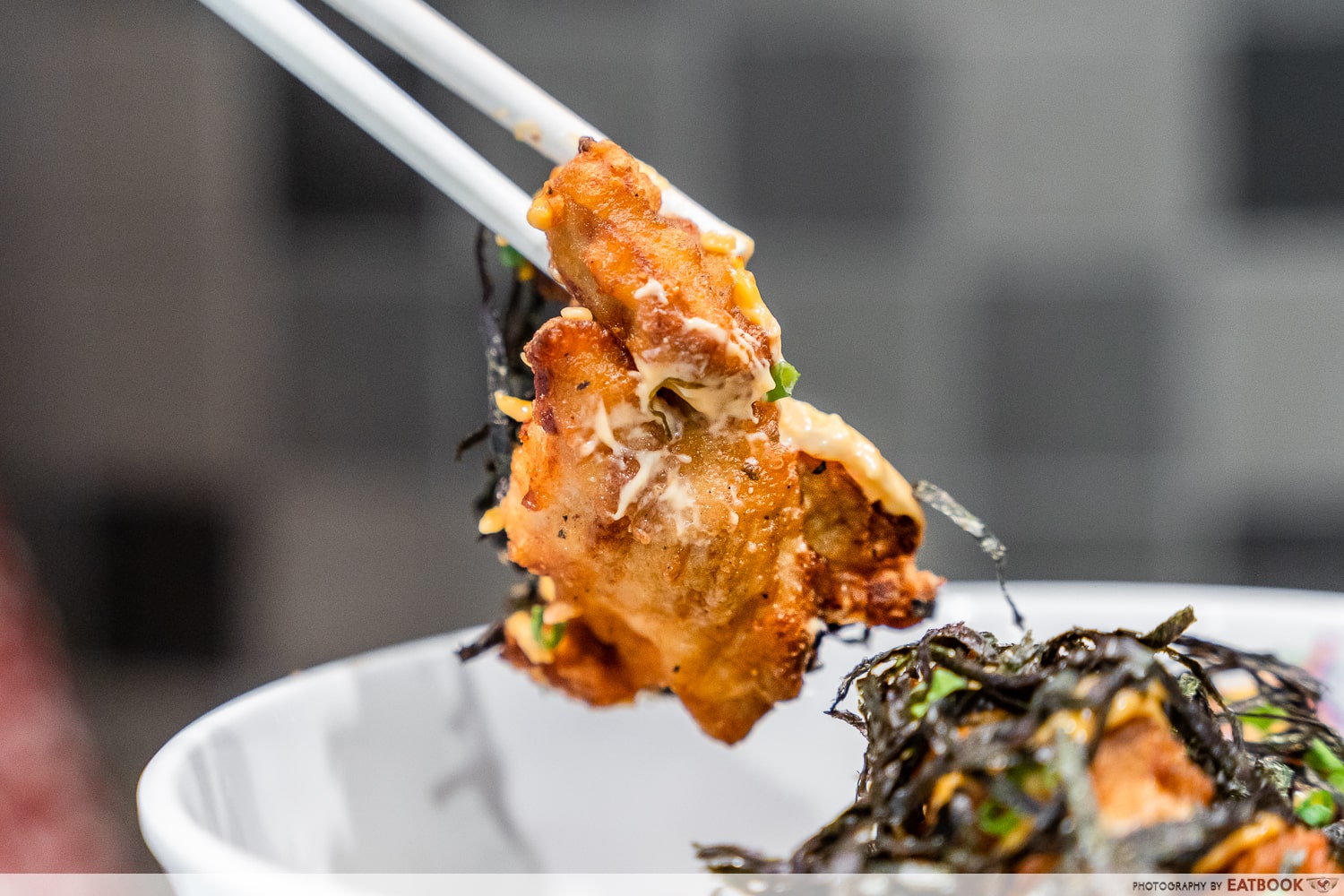 We kind of get where the kids are coming from, as the tender, juicy chunks of chicken and sweet sauce was decidedly also one of our top dishes. Taste-wise, everything in this dish went especially well together and made for a beautiful looking donburi, though we felt that the house-made sauce could afford to be heavier on the sambal chilli. 
Daniel mentioned that the original version was spicier, with the current mild and creamy version meant to account for the dish's popularity with children. Perhaps the dish could be sold with two different spice options, bringing back the original sauce for those who prefer something hotter.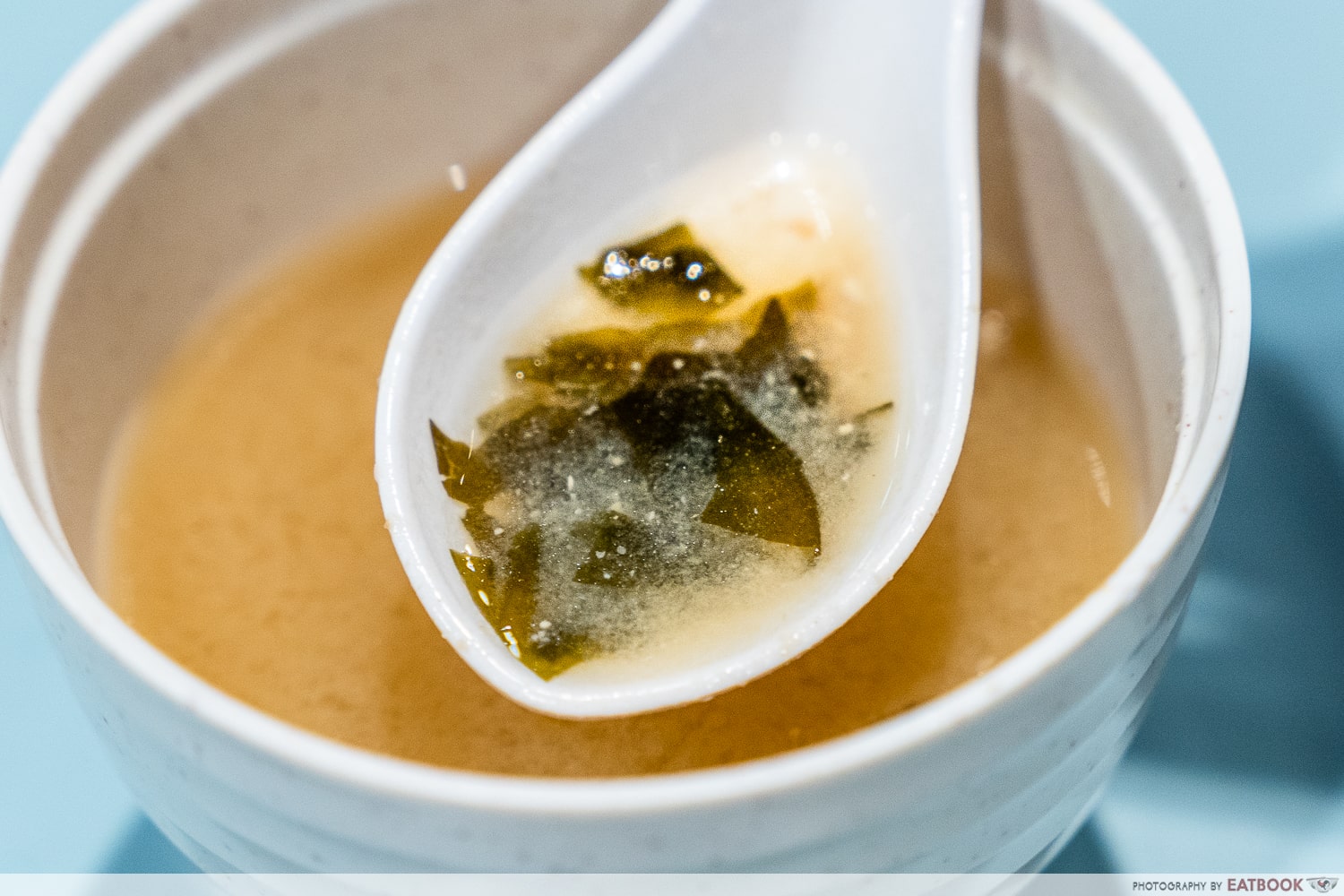 With every dine-in order, you'll also get a complimentary bowl of miso soup made with real Hidaka seaweed from Hokkaido! The broth is not too salty and was a welcome addition alongside the drier bowls we ordered, or as a refreshing break from the salty pork lard. 
Ambience at Ippon Fusion Bowl 
Ippon Fusion Bowl is located in the hawker centre within Our Tampines Hub. While it is extremely crowded around mealtimes, you won't feel stuffy in this well-ventilated and spacious hawker centre. You'll find Ippon Fusion Bowl near the entrance, sandwiched between two other stalls with red stall fronts.
Our Tampines Hub is a quick six minute walk from Tampines MRT Station, which is served by both the blue downtown and green east-west lines. 
The verdict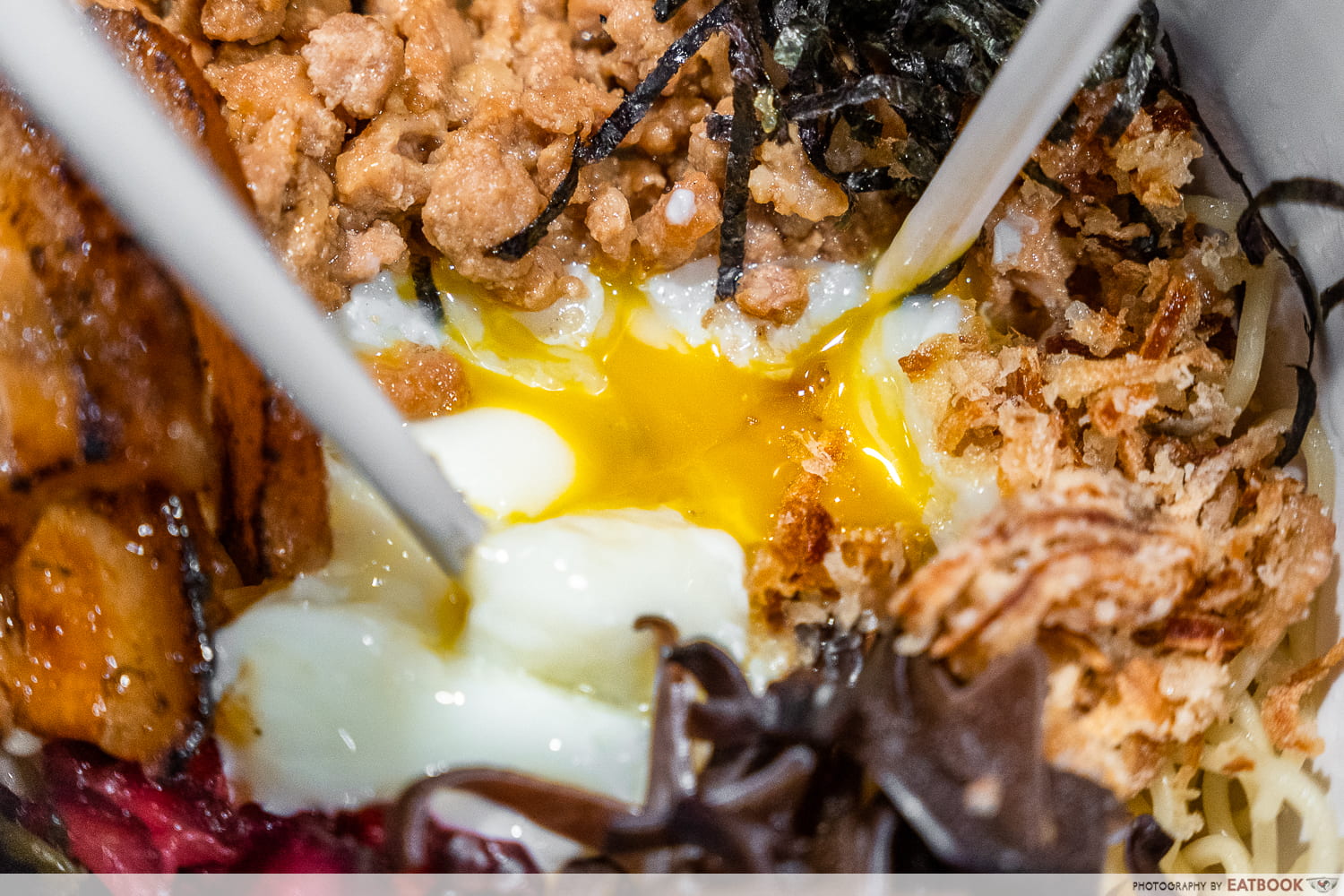 With delicious, affordable, and beautifully put-together bowls, the food offered at Ippon Fusion Bowl was definitely worth the trip to the East in my opinion. The effort that went into creating unique donburi that you won't find elsewhere is something worth admiring as you tuck in. 
Sure, there were some aspects I felt could be improved upon, but I would happily be a returning customer.
For more value-for-money Japanese rice bowls, check out our review of Shin Okaya, or read our affordable donburi guide! 
Address: 1 Tampines Walk, #01-72, Our Tampines Hub Hawker Centre, Singapore 528523
Opening hours: Thurs-Tue 11.20am to 2.30pm, 5 to 8pm
Website
Ippon Fusion Bowl is not a halal-certified eatery. 
10 Affordable Donburi Places To Enjoy Japanese Rice Bowls At $12 Or Less
Photos taken by Tan Zi Hui
This was an independent review by Eatbook.sg
Ippon Fusion Bowl Review: Cheap Japanese Donburi And Pork Lard Rice Bowl In Tampines
Ippon Fusion Bowl Review: Cheap Japanese Donburi And Pork Lard Rice Bowl In Tampine -

7.5/10
Summary
Pros
– Affordable prices
– Char siew was tender and smoky
– Convenient location
Cons
– Meatless noodle bowl was a little dry
Recommended Dishes:  Ippon Noodle Bowl ($6.50), Ippon Chicken Rice Bowl ($5.50)
Opening hours: Thurs-Tue 11.20am to 2.30pm, 5 to 8pm
Address: 1 Tampines Walk, #01-72, Our Tampines Hub Hawker Centre, Singapore 528523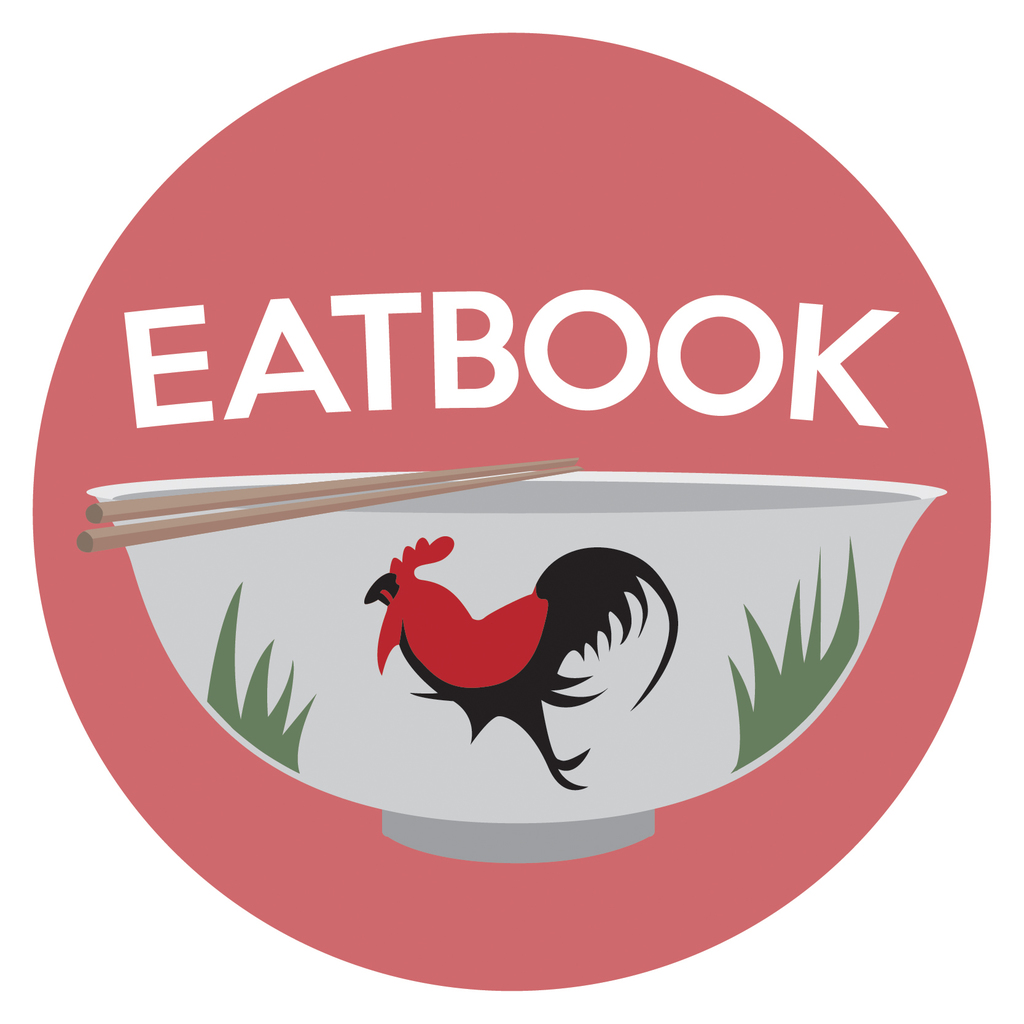 Drop us your email so you won't miss the latest news.