Fukudon for truffle don and more in Velocity @Novena Square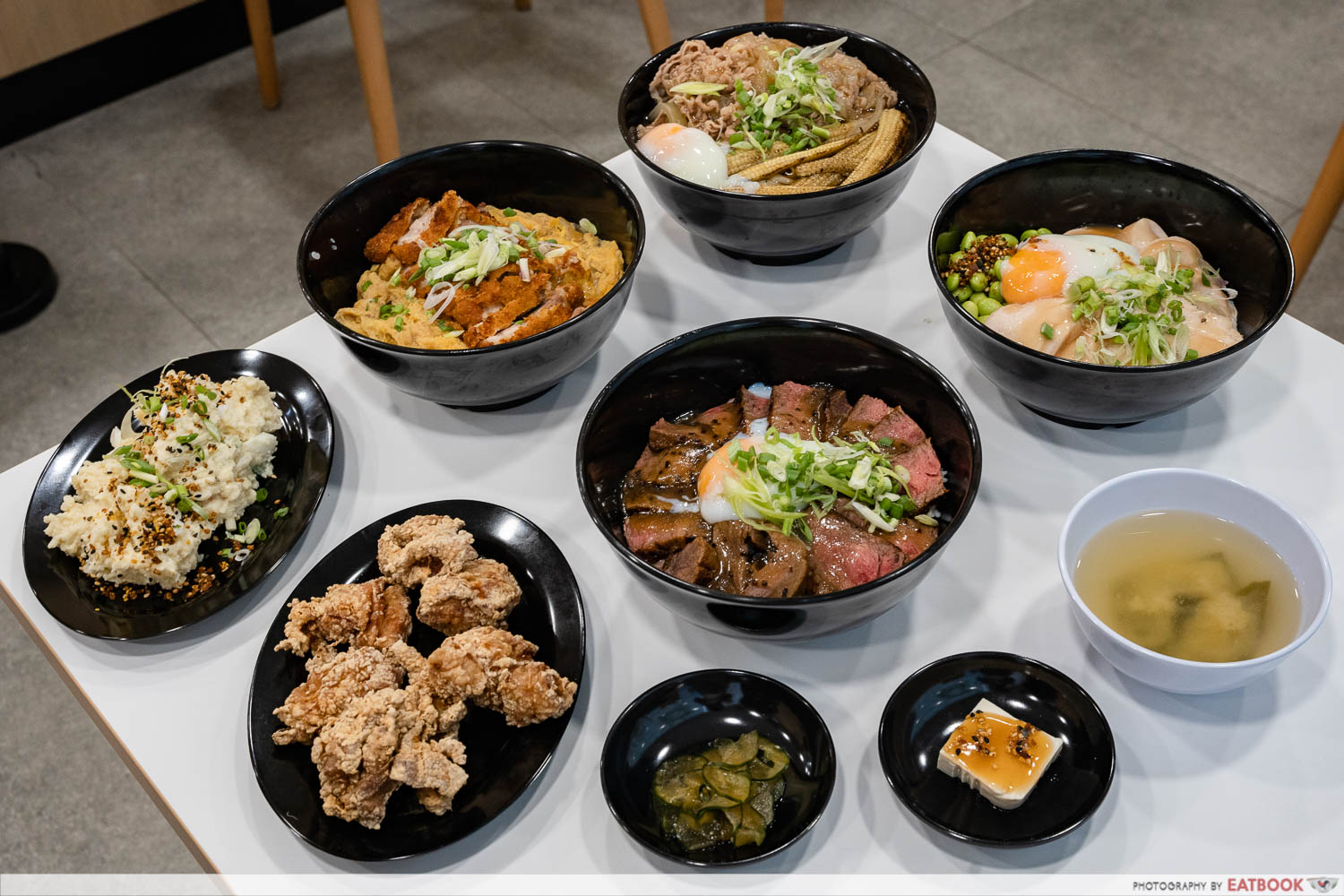 When I think of Japanese rice bowls, I fondly recall the Japanese stall in my secondary school canteen, where I had some of the tastiest, wallet-friendly don in my memory. I've never been able to find similarly wonderful versions, until I found out about Fukudon, a popular Marine Parade hawker that calls themselves donburi specialists. 
Their donburi, AKA Japanese rice bowls, garnered long queues at their East-side location, and they've recently opened in Velocity @Novena Square, which is much closer to home for me. I decided that I had to check it out!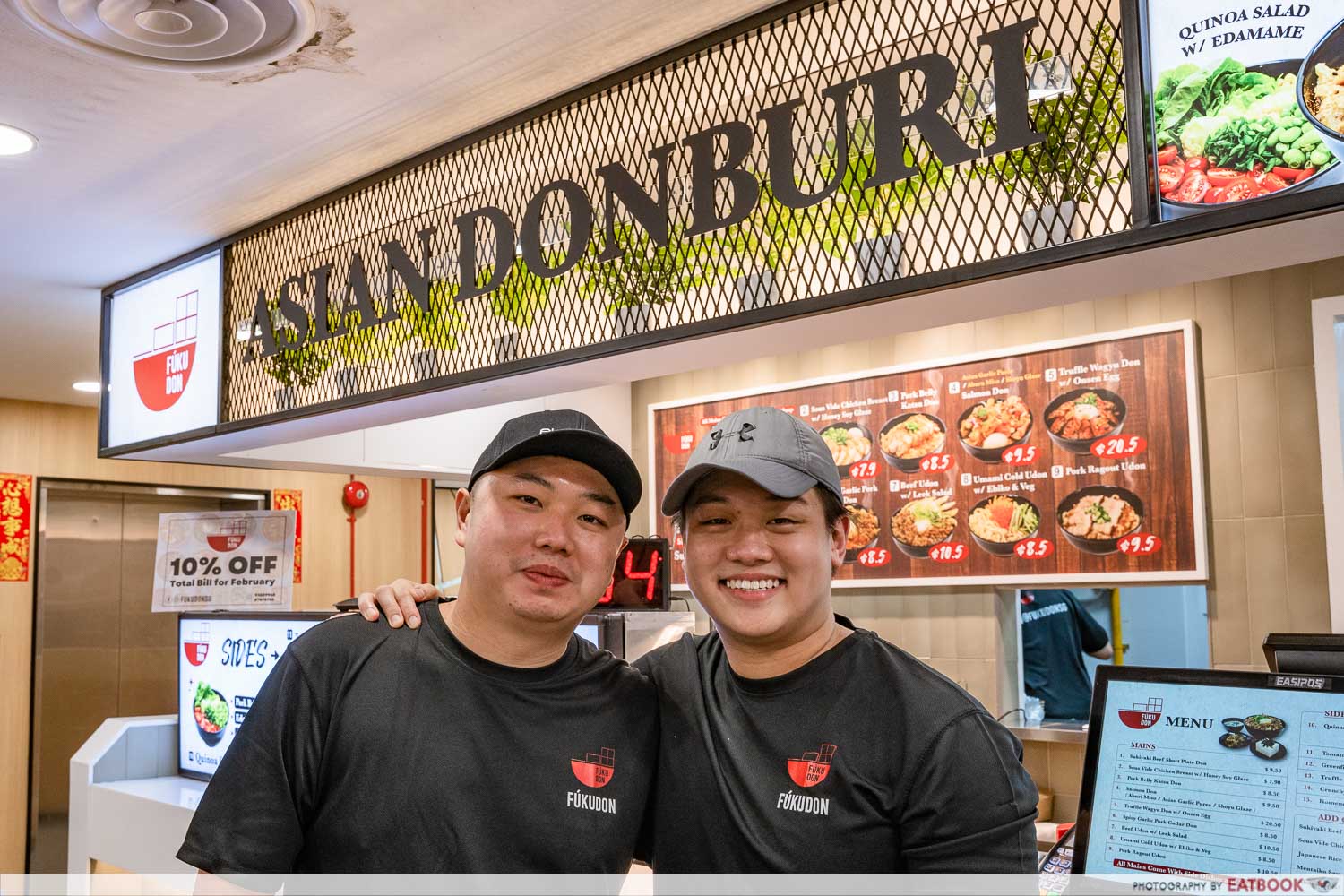 Fukudon is helmed by two young men, Jonathan Khoo and Remus Seow. They started the stall in 2020, at the peak of Singapore's Circuit Breaker. In our conversation, Remus told us that like me, he fondly remembers the Japanese rice bowls of his secondary school years, and so decided to recreate that hearty, satisfying experience for everyone to enjoy━and maybe recall their school days like we do.
Food at Fukudon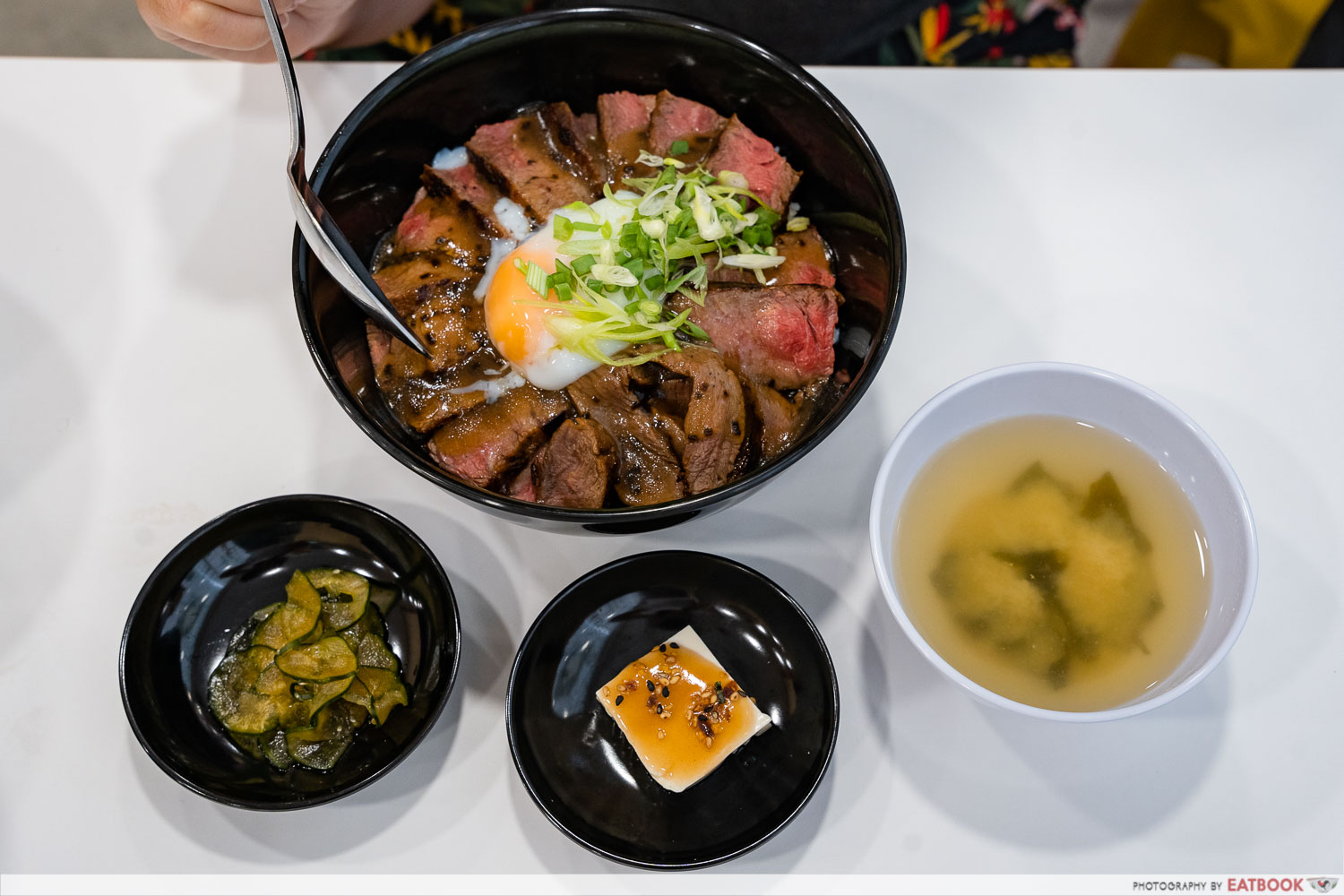 We started with their Truffle Wagyu Don w/ Onsen Egg ($20.50), which sees a generous amount of Wagyu beef and an onsen egg, splashed with a sauce made with truffle oil, truffle paste, and kombu. This, like all the other main dishes, comes with side dishes of tofu, pickled cucumber, and a bowl of miso soup.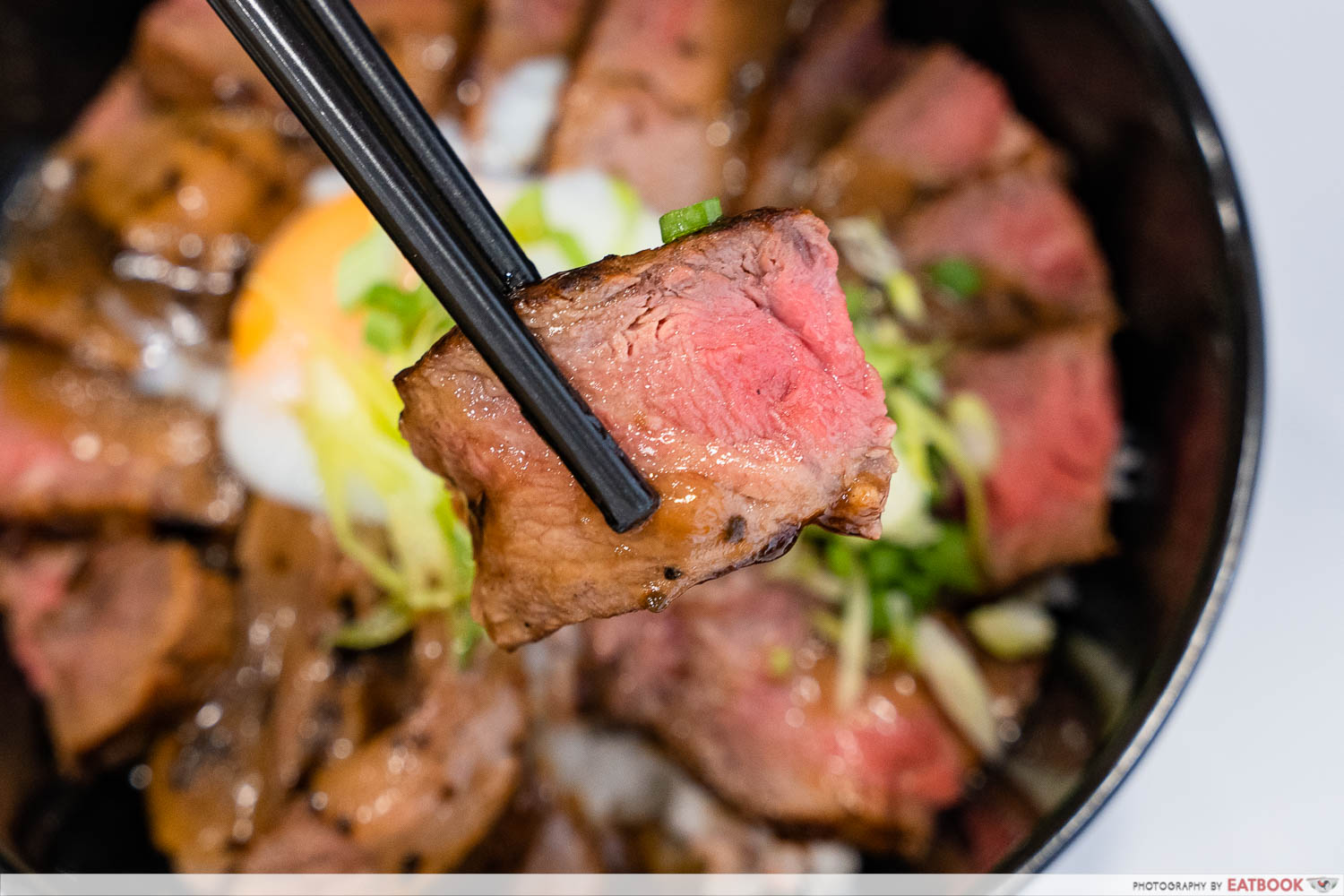 I can finally say that a dish tastes as good as it looks! Having been marinated with soya sauce, ginger, and brown sugar for at least 24 hours, the Wagyu was tender and flavourful. I also liked how the truffle flavour was prominent in the sauce, lending an earthy, umami taste to the bowl.
The onsen egg was not as flowy as I would've liked it. Regardless, after I mixed it all up, every mouthful was creamy from the egg, and flavourful from the beef and sauce. Definitely get this dish if you're looking to indulge!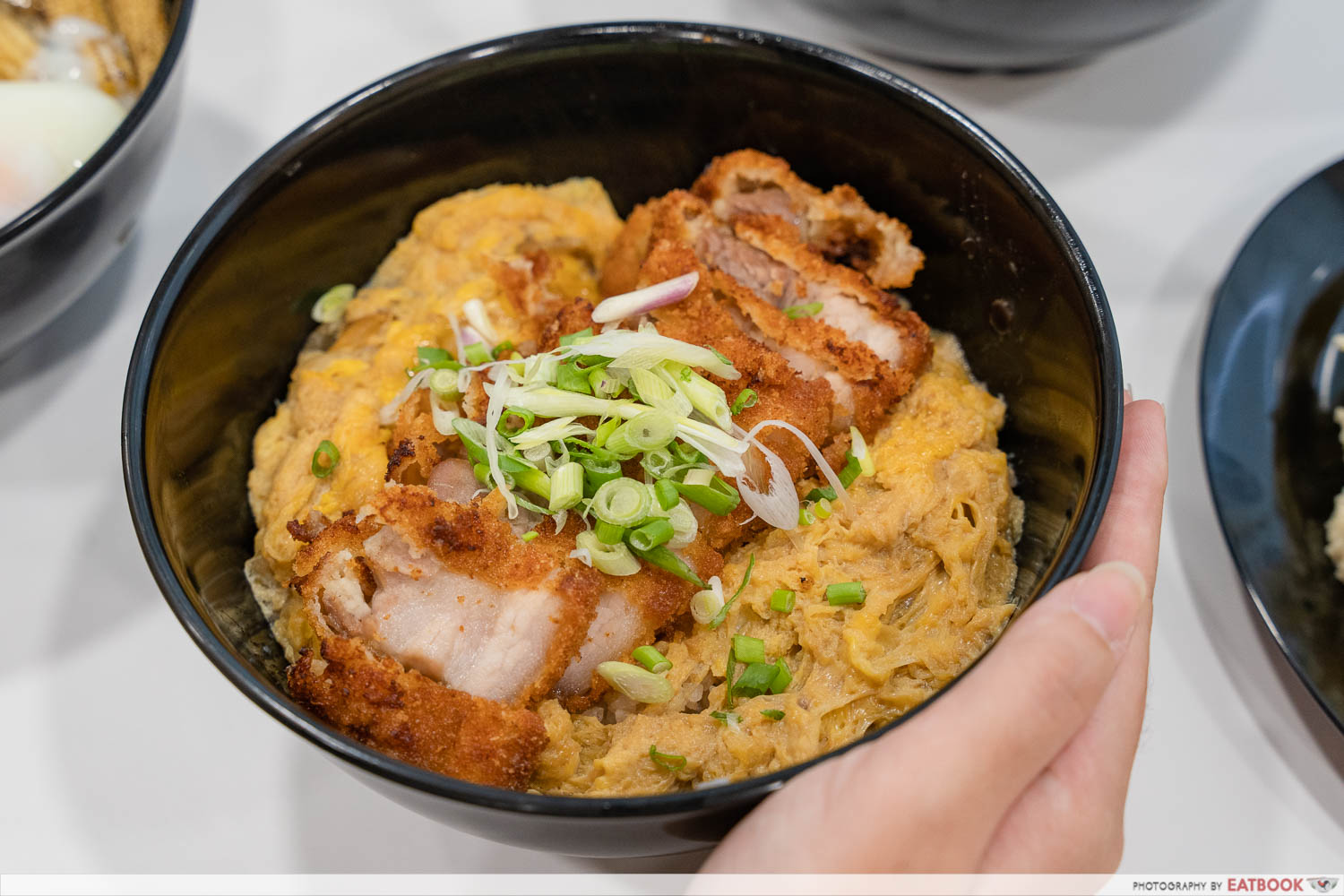 Next, we moved on to their Pork Belly Katsu Don ($8.50), which has deep-fried pork belly slices atop steamed egg and rice. I liked how the pork belly was meaty and tender with a crunchy exterior. This contrasted texturally against the fluffy egg, which also had a sweet and savoury taste. I did think that the meat was not particularly flavourful, but if you're looking for a simple, hearty option, this is for you.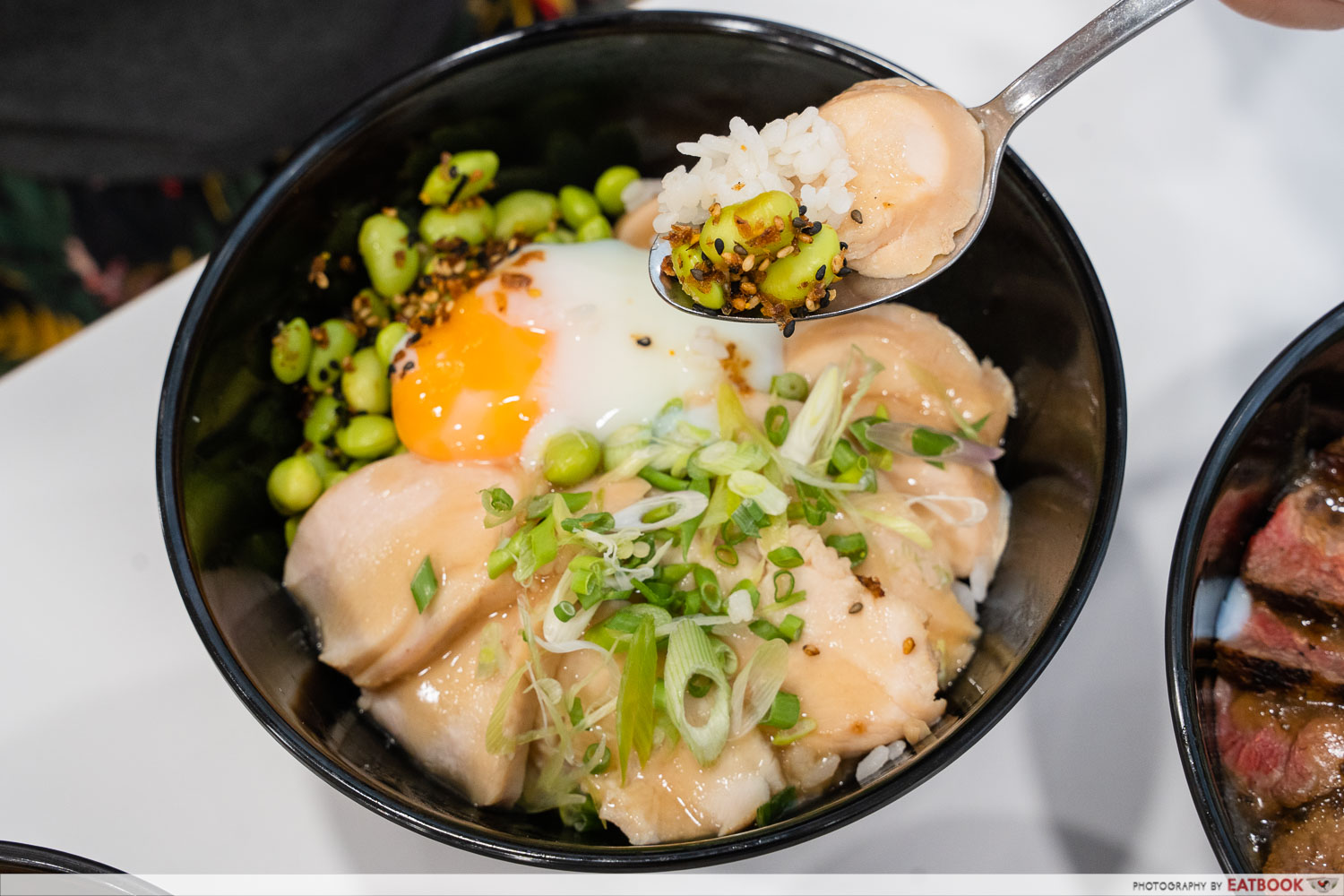 We were told that this one's popular with gym-goers: Sous Vide Chicken Breast w/ Honey Soy Glaze ($7.90). This bowl stars slices of honey soy-glazed chicken breast, an onsen egg, and edamame sprinkled with furikake on the side. To my surprise, the chicken breast wasn't dry and stringy, but turned out flavorful, moist, and tender.
Chef Remus actually remarked that he used to hate eating chicken breast, until he discovered sous vide, which produces meat of a superior texture and finish. My only gripe was that I would have preferred more gravy to have with the rice. Otherwise, if you're looking to load up on protein, you can also add on more chicken breast for $3.50.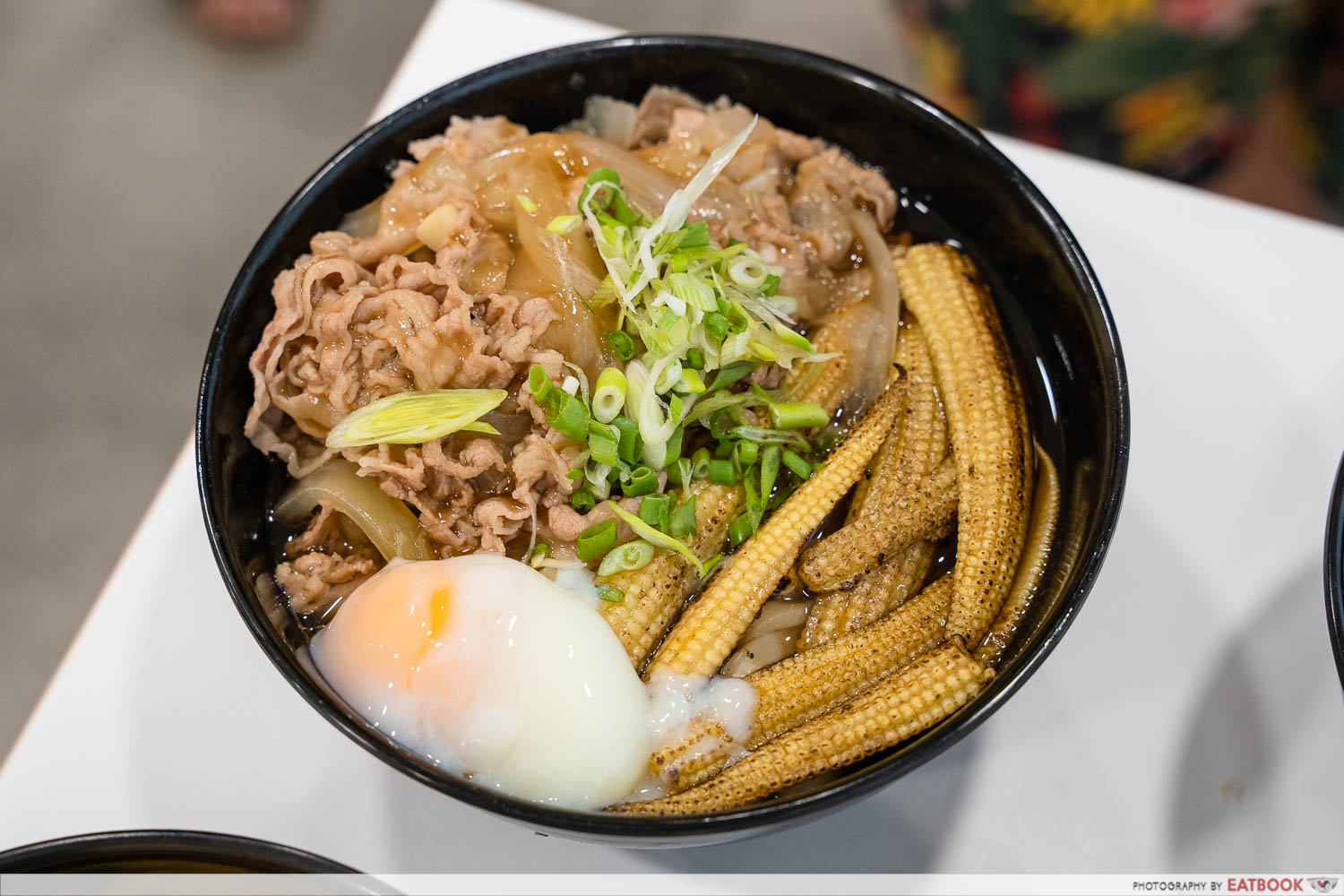 For some variety, we also had their Beef Udon w/ Leek Salad ($10.50). This bowl's packed with sukiyaki beef, grilled baby corn, and an onsen egg, served in clear broth.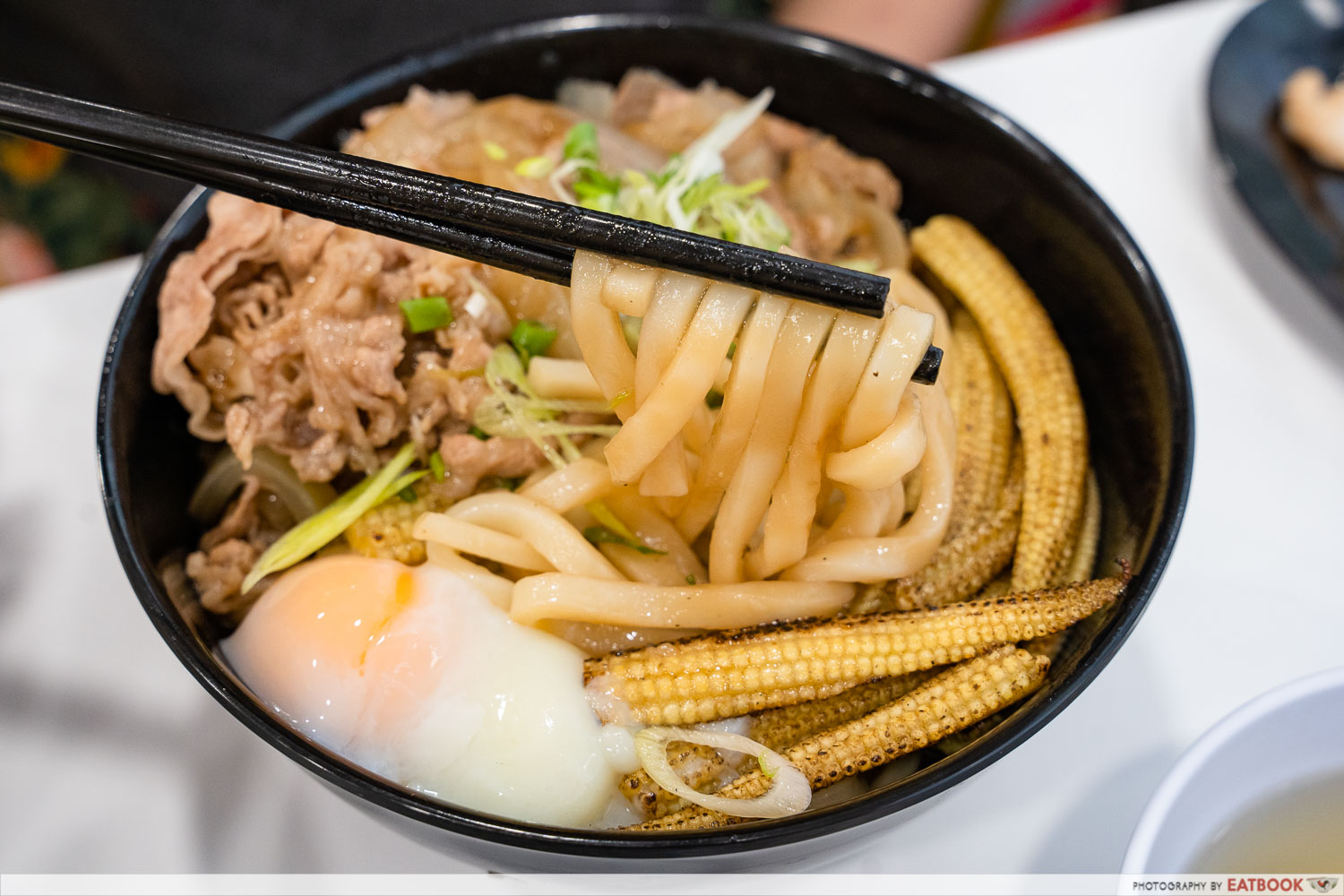 I found the sukiyaki beef tender, and flavourful from being cooked in the broth. I was expecting the miso soup base that I really disliked in typical udon bowls, but this shoyu-dashi broth turned out to be quite sweet and moreish. Plus, even though the bowl had sat out for a while, the udon retained a good chewy texture. The grilled baby corn tasted sweet, with a smokiness from the grill, and was quite crunchy too—adding some variation in texture.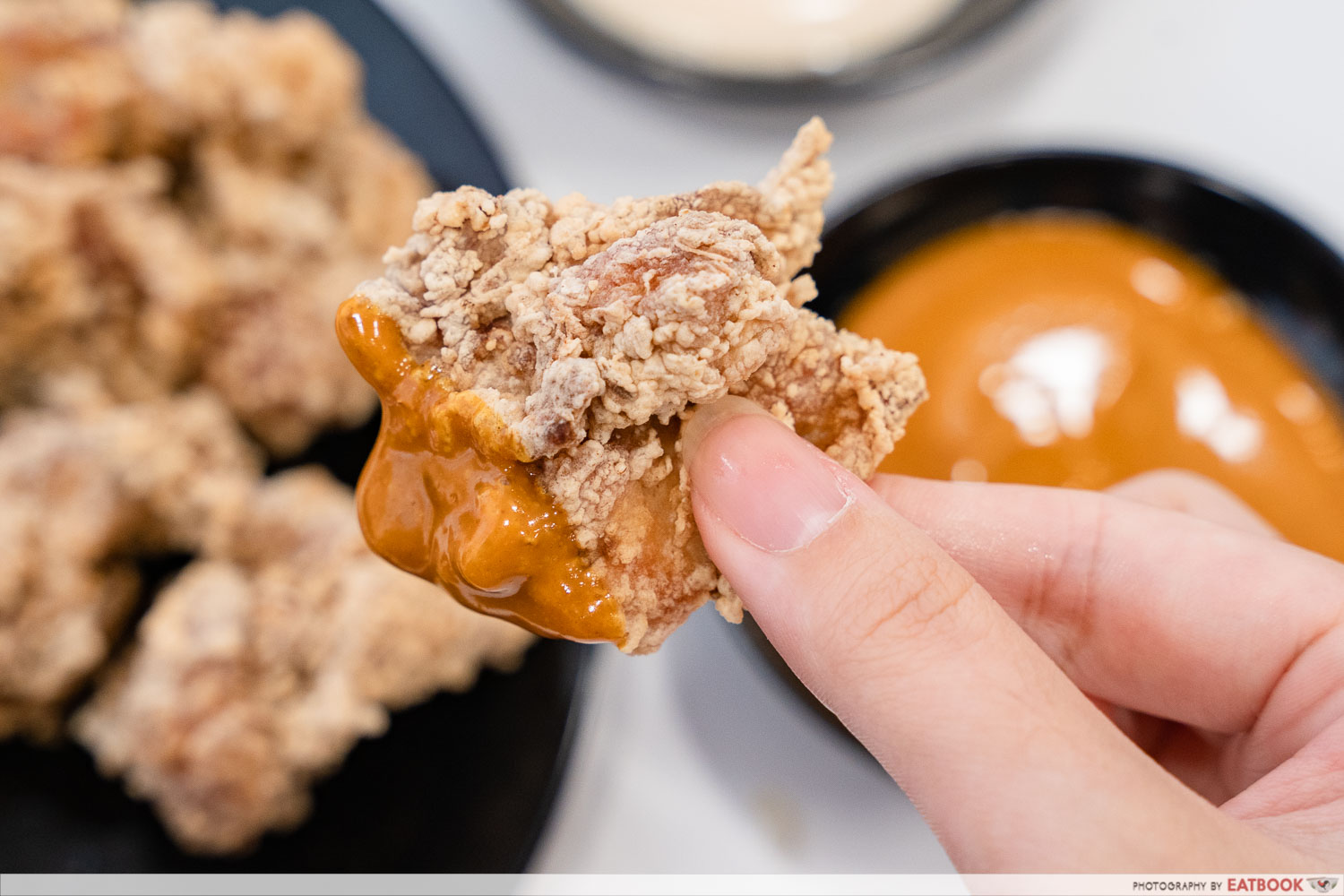 If you're here with some friends, I recommend that you get some side dishes for sharing too. We got their Homemade Karaage w/ Curry Mayo ($6.50), an outlet-exclusive dish which sees fried chicken, with a side of their house-made curry mayo dip. I'm not a huge fan of deep fried food, but I didn't find this greasy at all. 
Each piece had a super crispy, light batter, while the meat was tender and juicy. Their curry dip was also quite flavourful, tasting somewhat similar to McDonald's curry sauce, and was not that spicy, even for me, who doesn't deal with spice that well.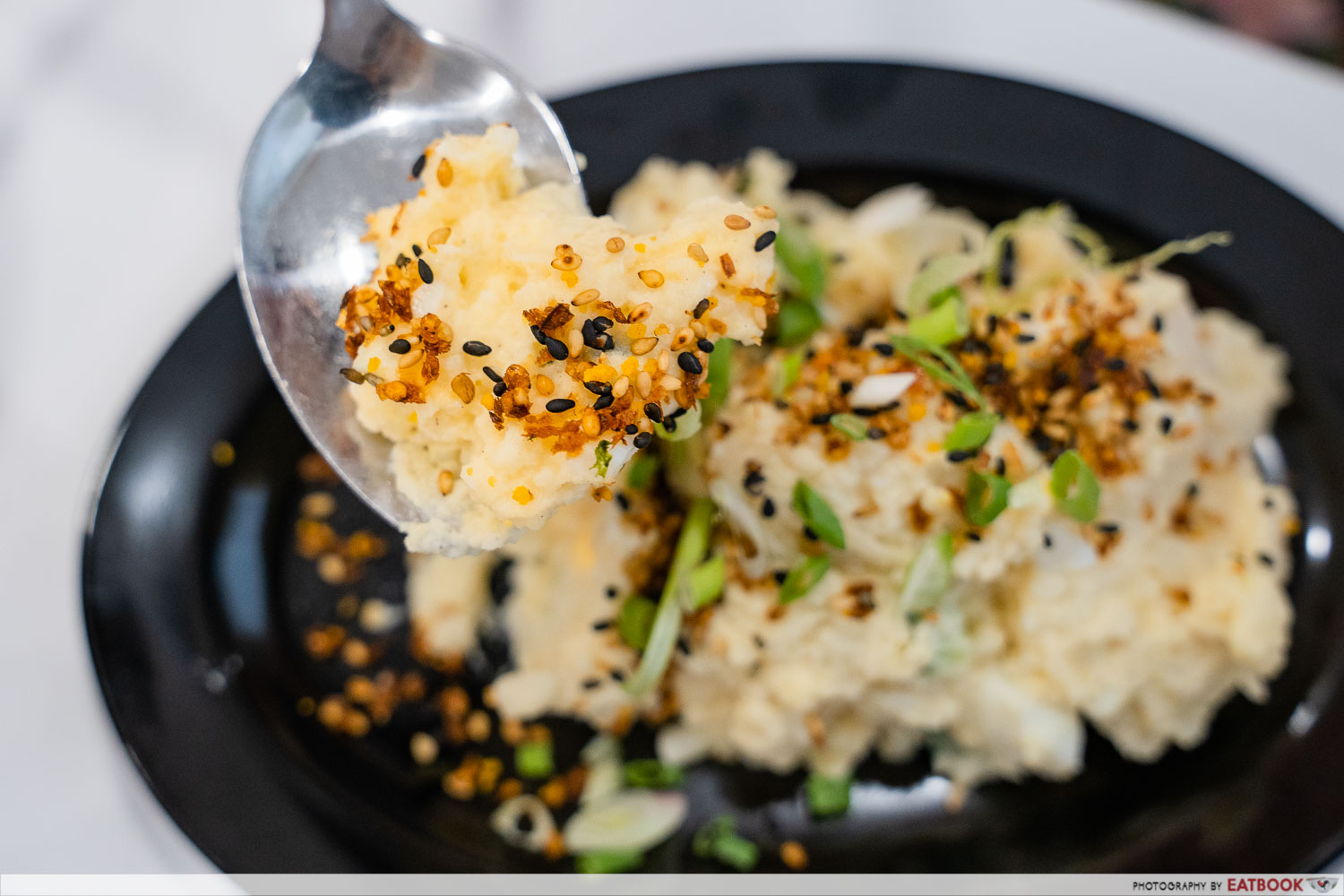 We finished off with their house-made Truffle Potato Salad ($3.90), which is also only available here. It features a thick and fluffy serving of mashed potato with chunks of carrots and cucumber, and topped with furikake. This was pretty creamy, and I enjoyed the crunchiness of the vegetables in between bites. I also liked that it was not too salty, with savoury notes from the furikake and white truffle oil that is mixed in.
Velocity@Novena Square Food Guide: 12 Places To Eat, Including Bak Kut Teh And Orh Nee Doughnuts
Ambience at Fukudon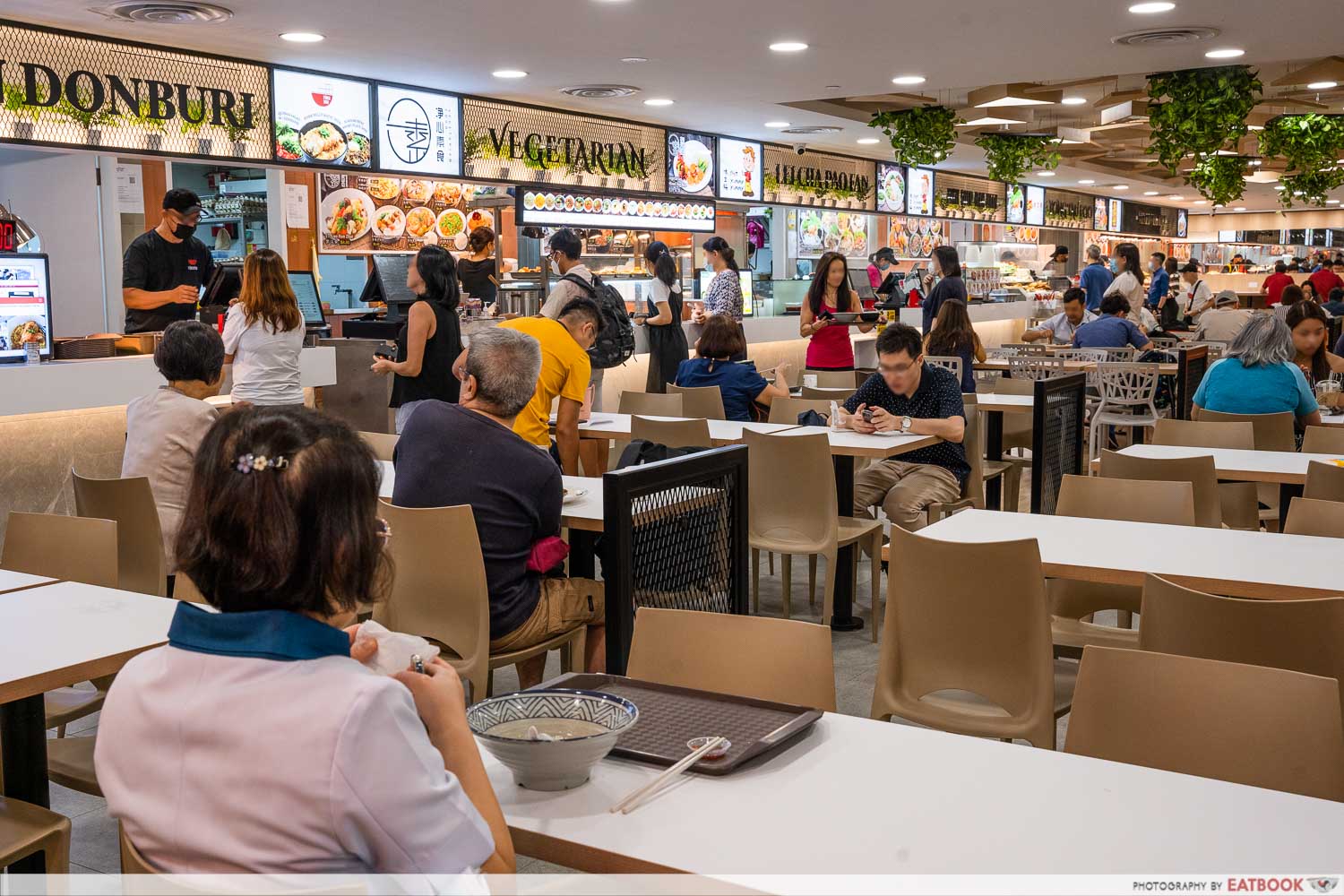 Fukudon is really convenient to get to because Velocity@Novena Square is directly connected to Novena MRT Station. Koufu Cookhouse is clean and air-conditioned, so you can have a comfortable dining experience. 
There are plenty of seats in this food court, but when it gets to lunchtime, the place is really packed. I've been told that their stall is usually very busy till 1pm, but dinner times are not that hectic, so you could choose to visit during then instead.
The verdict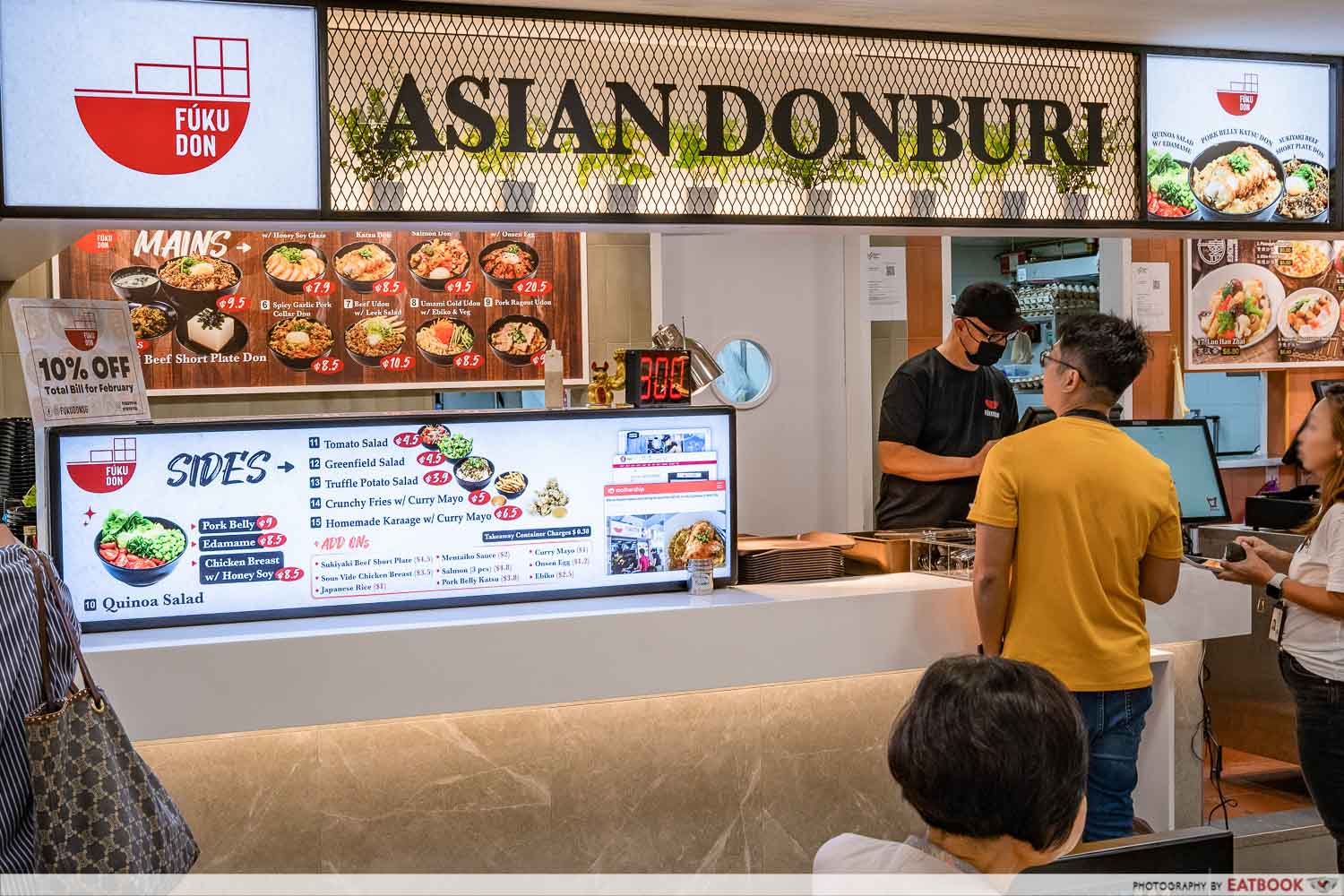 I could see the chefs' attention to detail shine through in the dishes we ordered at Fukudon. The dishes were memorable and tasty, with enough variety for diners to pick from. I'll definitely come back for more of these Japanese bowls, and bring my friends along to share their side dishes with me! 
If you're looking for more food options in this mall, read our Velocity@Novena Square food guide, with bak kut teh and orh nee doughnuts. Alternatively, for more reasonably-priced donburi, check out Maruhachi Donburi & Curry.
Novena
Address: 238 Thomson Road, #03-56, Velocity@Novena, Singapore 307683
Opening hours: Daily 11am to 8pm
Tel: 9382 9948
Marine Parade
Address: 84 Marine Parade Central, #01-48, Promenade Market, Singapore 440084
Opening hours: Daily 11am to 8pm
Tel: 9382 9948
Website
Fukudon is not a halal-certified eatery.
Maruhachi Donburi & Curry Opens Fifth Hawker Stall At Sembawang With Iberico Pork Tonkatsu And More
Photos taken by Casandra Nicholas.
This was a media tasting at Fukudon.
Fukudon Review: Truffle Wagyu Don And More From $7.90 In Novena
Fukudon Review: Truffle Wagyu Don And More From $7.90 In Novena -

8/10
Summary
Pros
-Good portions, reasonable prices considering the quality of the food
-Tasty beef, chicken, and house-made sauces
Cons
-Pork belly was slightly underwhelming as compared to the strong flavours of other dishes
-Kopitiam can get very crowded
Recommended dishes: Truffle Wagyu Don w/ Onsen Egg ($20.50), Sous Vide Chicken Breast w/ Honey Soy Glaze ($7.90), Homemade Kaarage w/ Curry Mayo ($6.50)
Opening hours: Daily 11am to 8pm
Address: 238 Thomson Road, #03-56, Velocity @ Novena, Singapore 307683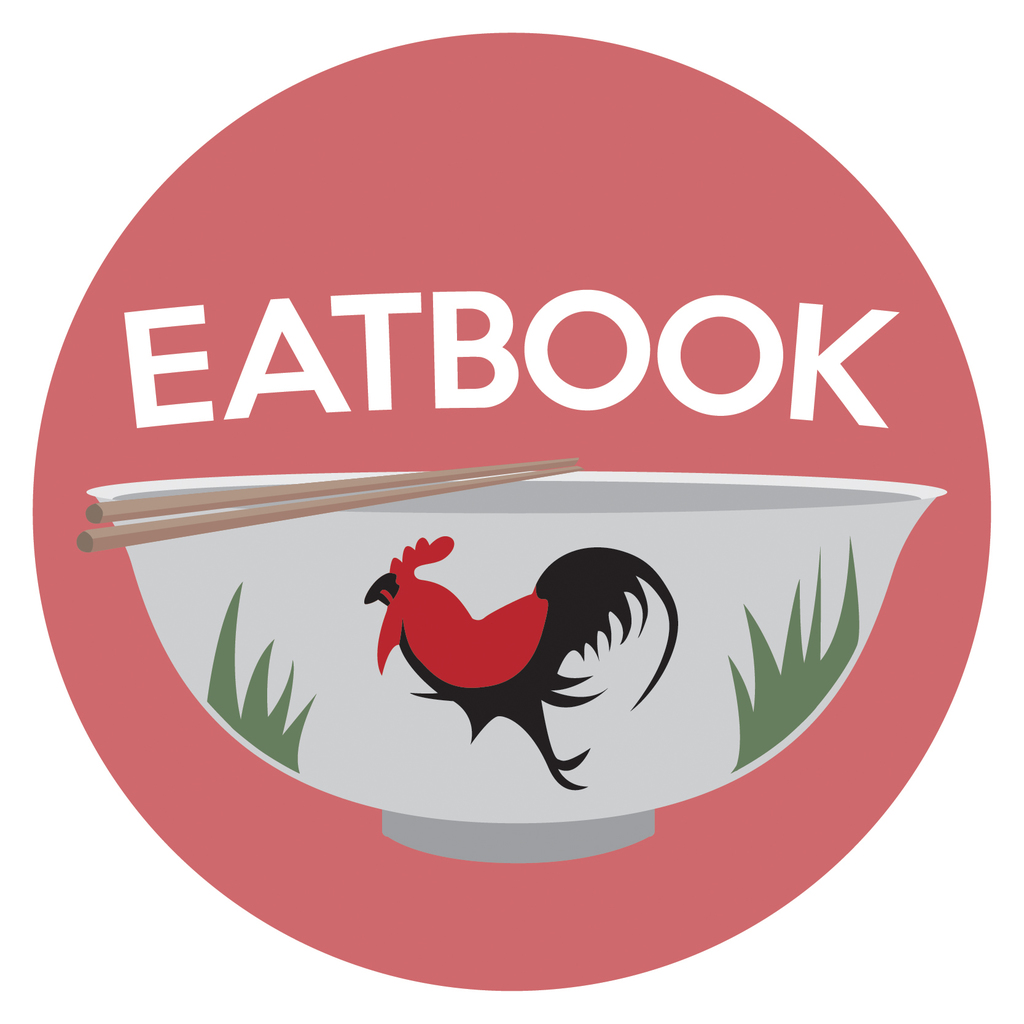 Drop us your email so you won't miss the latest news.