---
Velocity@Novena Square food places for all occasions
---
Conveniently located above Novena MRT Station, Velocity@Novena Square is home to loads of tasty food options. From tamagoyaki to comforting bowls of Korean noodles, there ought to be something for everyone at this convenient mall. To help you in your food hunt, here's a list of Velocity@Novena Square food places to check out.
---
1. Tamago-EN
---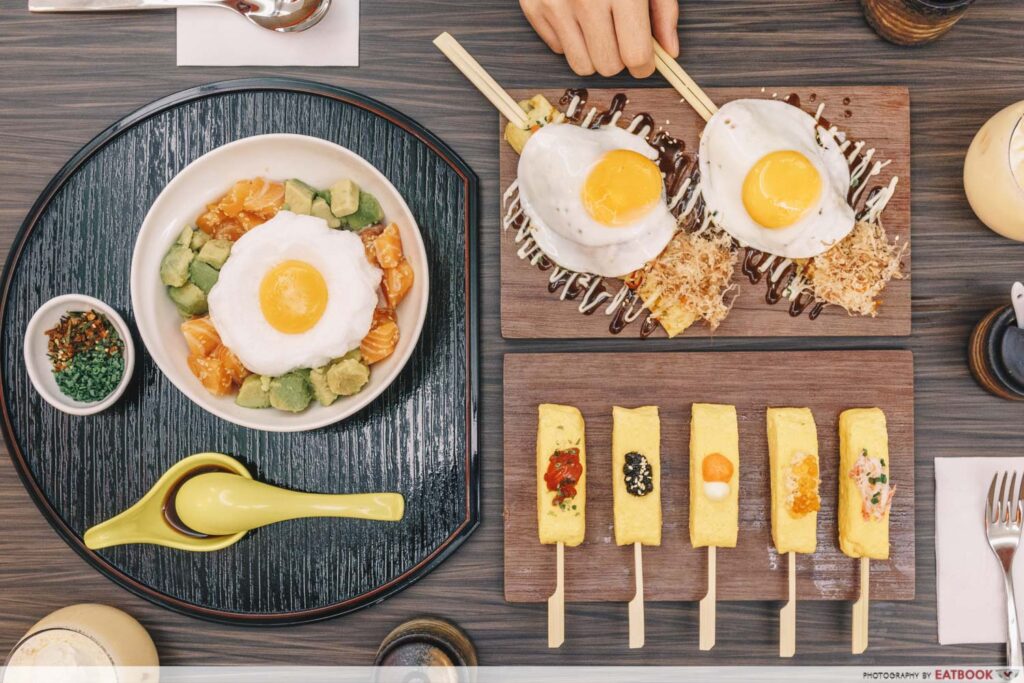 With the Japanese word for egg in its name and 25 egg dishes, Tamago-EN is bound to excite any egg lover. This egg-themed restaurant uses fresh eggs imported directly from Okinawa which give a pleasant golden orange yolk that's different from local variants.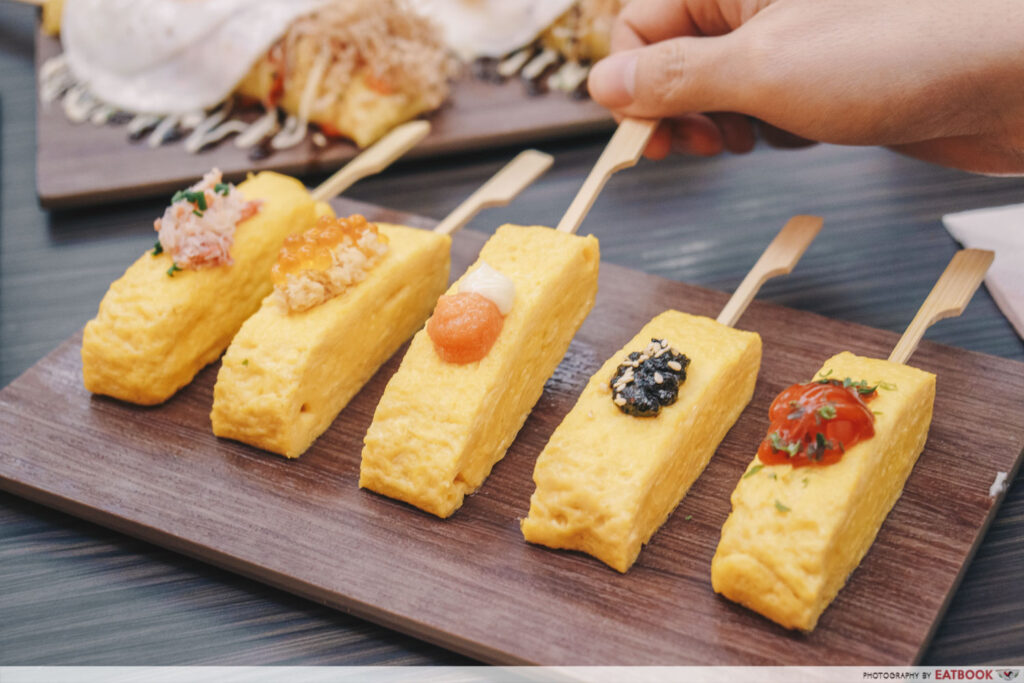 As everything is made fresh upon order, the wait for your food might take a little longer. We're fans of the 5-kind Japanese Omelette Skewer ($8.80++), which is served with an assortment of Japanese-inspired toppings such as crab meat, salmon flakes and ikura, as well as cod roe and mayo. These fluffy Japanese omelette sticks are great for sharing, and make for great sides to the popular Ultimate Egg Rice ($5.80++).
Unit number: #01-90
Opening hours: Daily 11am to 10pm
Tel: 6261 3373
Website | Menu 
---
2. Song Fa Bak Kut Teh
---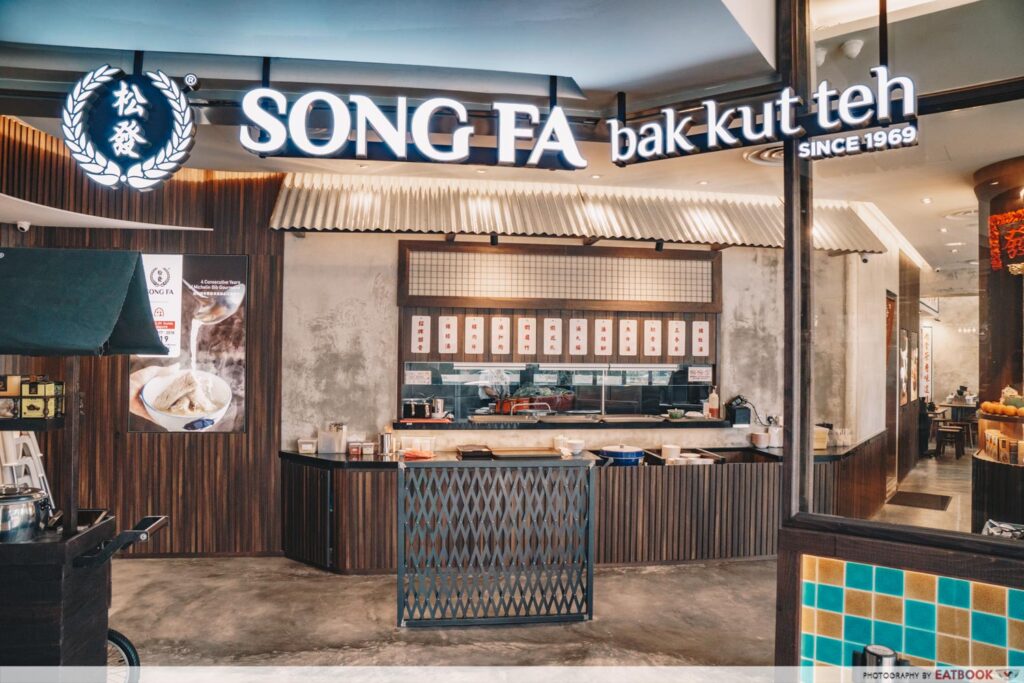 A powerhouse in the local bak kut teh scene, Song Fa Bak Kut Teh has been pushing out comforting bowls of pork rib soup since 1969. The brand is more than half a decade old, and recently opened a new outlet at Velocity@Novena Square with several store-exclusive dishes.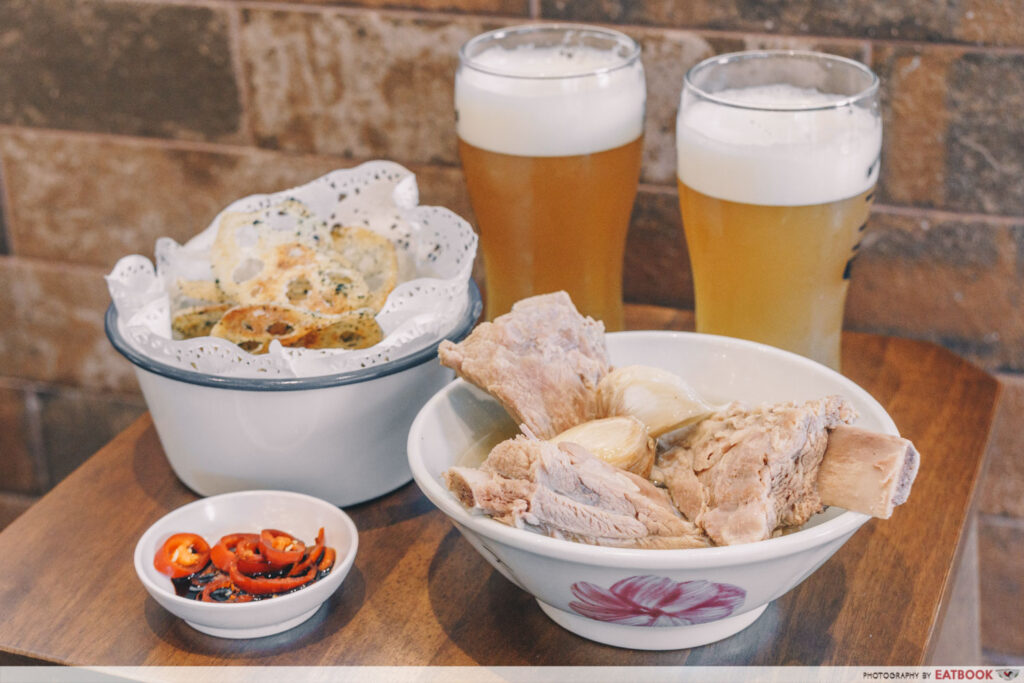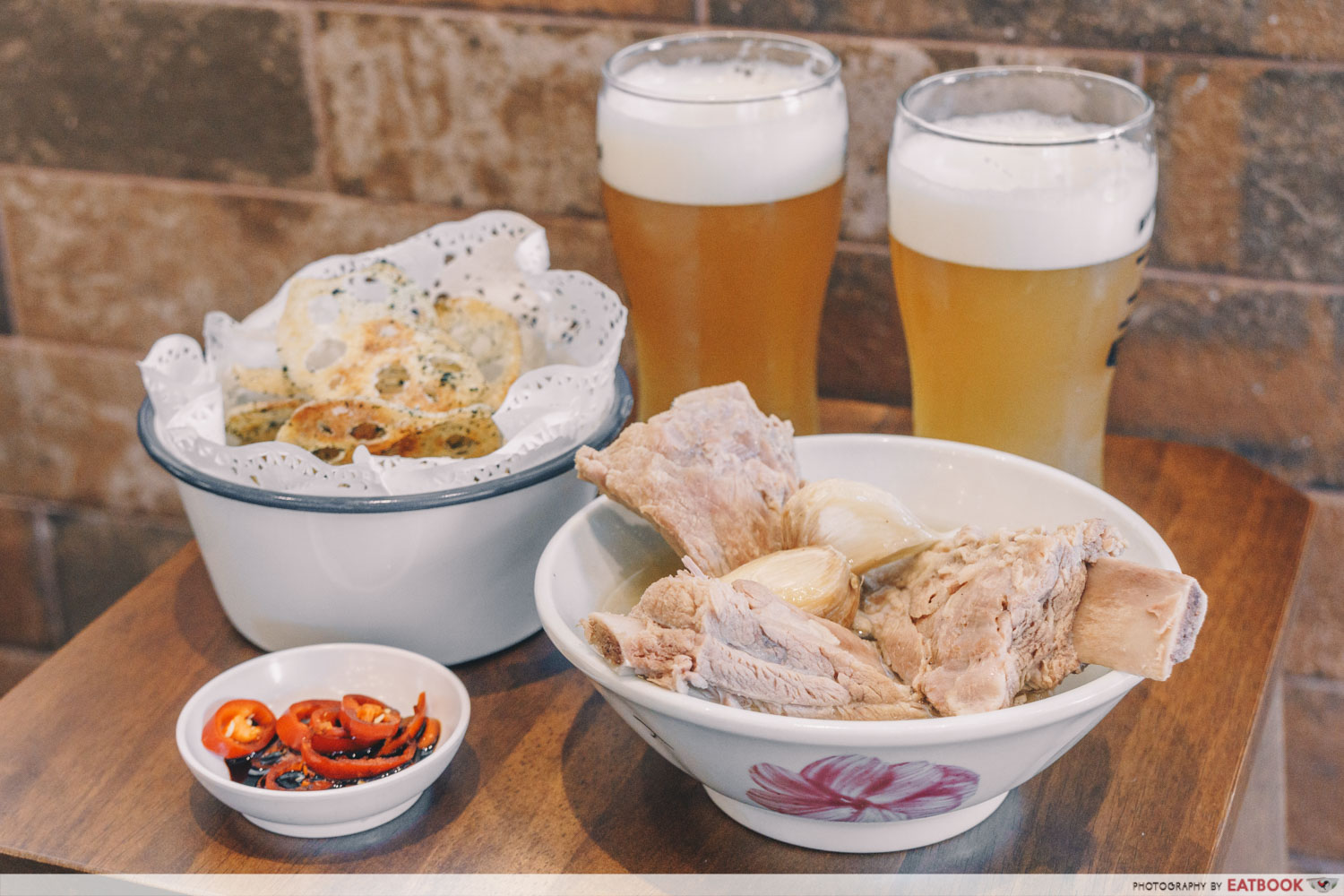 Lotus Root Chips with Seaweed ($3.20++) and King's Garden Ale ($9++) are the two dishes that can only be found at the Velocity outlet. The latter is a tea-infused pale ale that's brewed by a local brewery, The 1925 Brewing Co.. I like how it packs in fresh floral notes, with a light crisp finish that goes surprisingly well with the hearty bak kut teh broth. 
Unit number: #01-56
Opening hours: Daily 10:30am to 10pm
Tel: 6261 5283
Website | Full list of outlets
Menu 
---
3. Mun Zuk by Li Fang Congee
---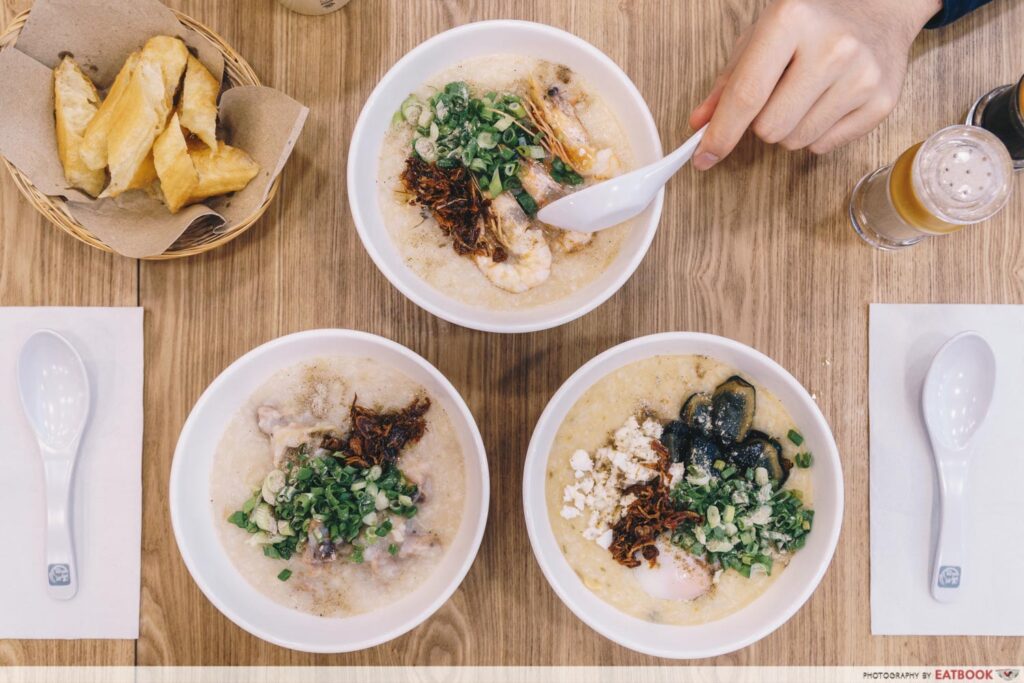 It's easy to get spoilt for choice at Mun Zuk by Li Fang Congee. With a total of 27 types of congee to choose from, there's a congee for almost every day of the month. The comforting congee dishes are made fresh daily and filled with a generous serving of ingredients.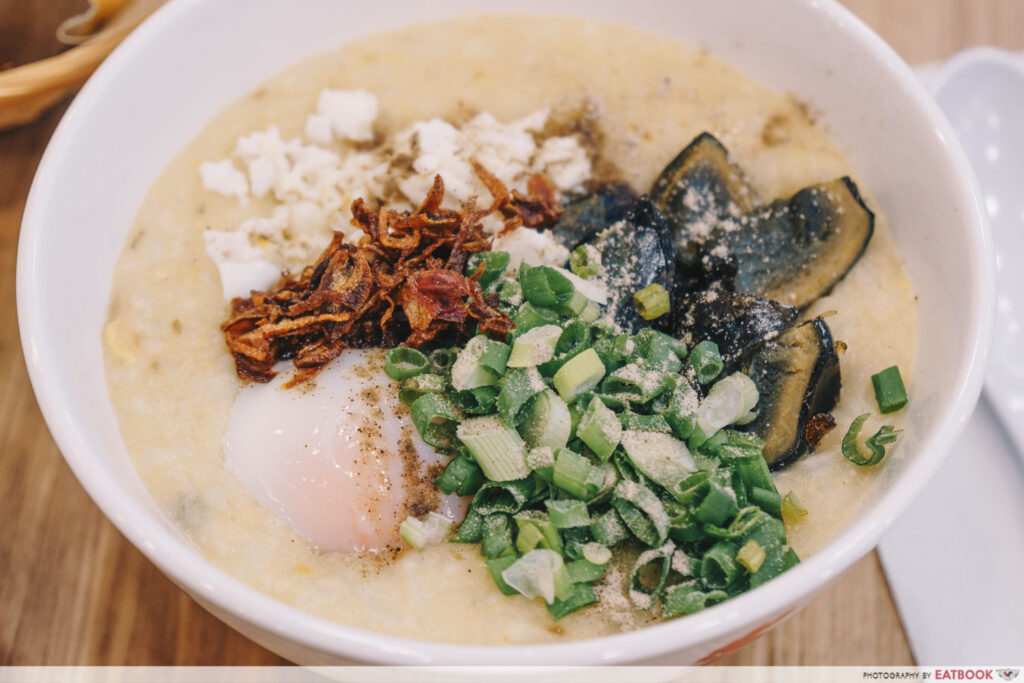 Our favourite was the Creamy Trio Egg Congee ($6.10). Instead of the usual raw egg, a poached egg accompanies pieces of salted and century eggs. The result is an extra creamy infusion that makes for a warm and tasty treat. Loads of chopped salted egg and century egg are also tossed inside, giving a good variance in texture. 
Unit number: #01-86/87
Opening hours: Daily 7:30am to 9:30pm
Tel: 9634 8383
Website 
Menu
Full list of outlets
---
4. HuLuRuk Myeon House
---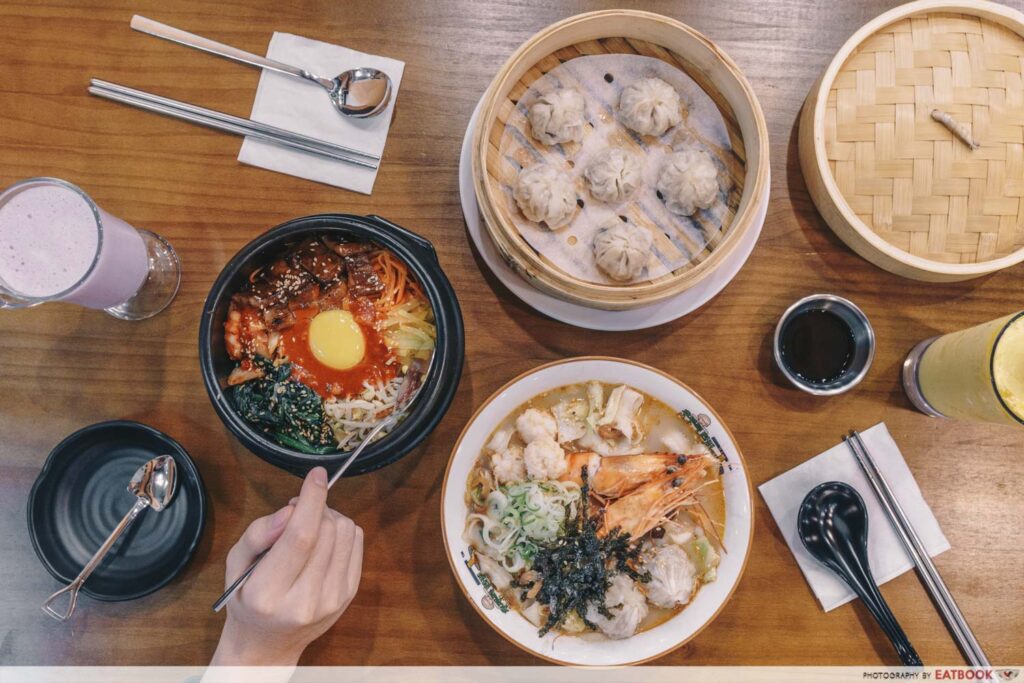 HuLuRuk Myeon House is a cosy Korean noodle house that only opened recently, but has already gained a loyal following for its handmade noodles and lip-smacking seafood broth. The recipe is from an old Korean lady, who served up bowls of noodles in Korea after World War II. She decided to retire in the late '80s, due to the death of her husband. After much convincing by her granddaughter, she restarted her business which has finally made its way to Singapore.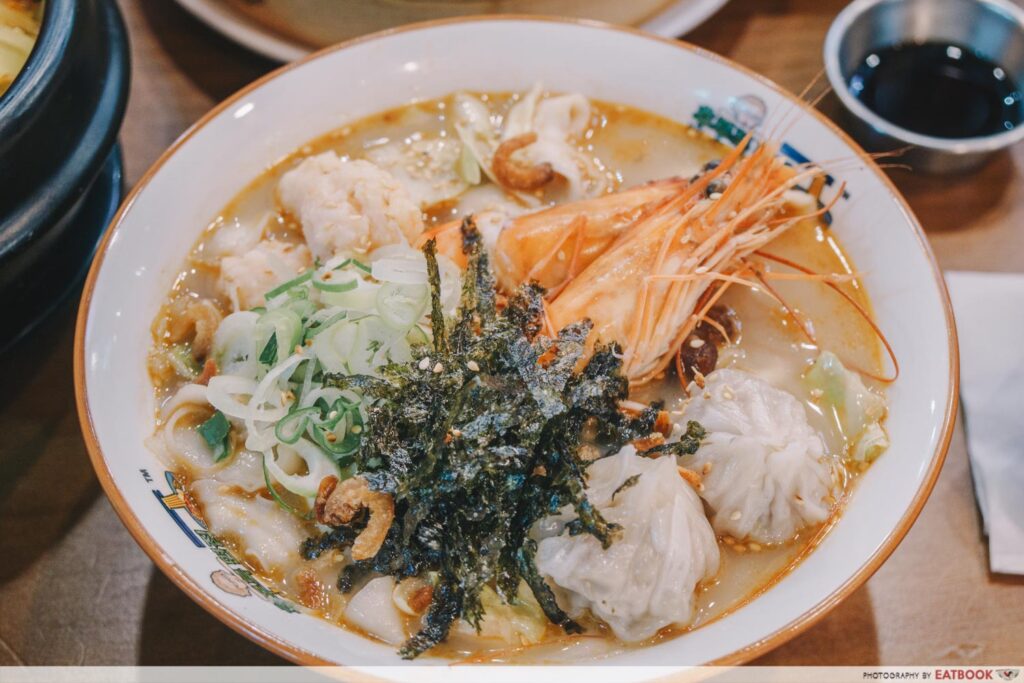 Their Signature 3 Treasure Noodles Spicy ($15.80++) is chock-full of ingredients, and comes with huge prawns, handmade shrimp paste, and the store's special original dumplings. The ingredients were all tasty in their own right, but it's the soup that stole our hearts. It was brimming with loads of rich prawn flavour that got us hooked from the first sip. 
Unit number: #01-84/85
Opening hours: Sun-Thurs 11:30am to 10pm, Fri-Sat 11:30am to 10:30pm
Tel: 8488 9606
Website | Menu
---
5. Xin Wah Kee
---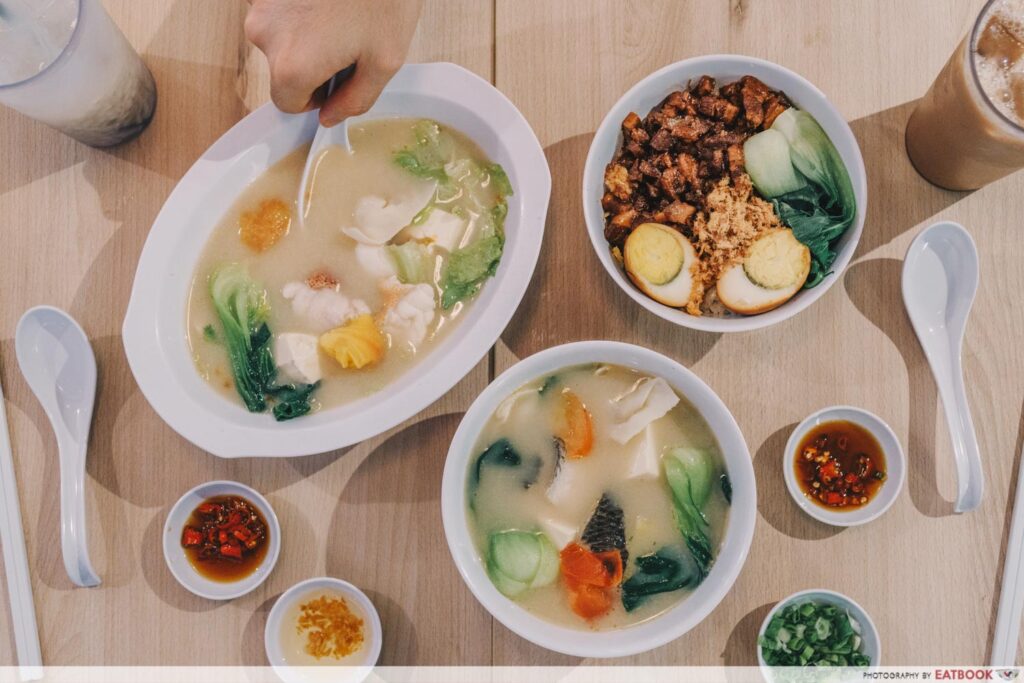 A sister brand of the Eighteen Chefs chain, Xin Wah Kee serves up exciting bowls of nourishing collagen soup. Made with chicken feet and a combination of fish, pork, and shark bones, the broth is boiled for five to six hours, resulting in a creamy and flavourful concoction.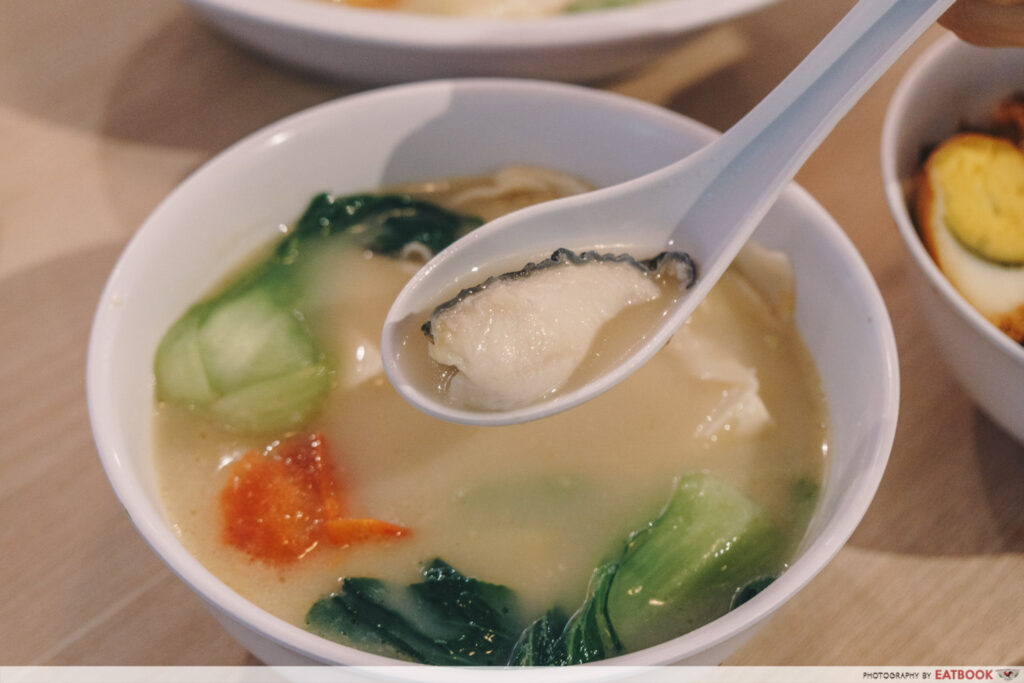 Toman Fish Soup ($6.80) is filled with thick slices of bite-sized snakehead fish. The fish soaks up the rich broth nicely, and came with a light flaky texture. You can choose to enjoy the soup with rice ($0.50) or noodles ($0.50).
Unit number: #02-26/27
Opening hours: Daily 11am to 9pm
Tel: 6261 0562
---
6. Aburi-EN
---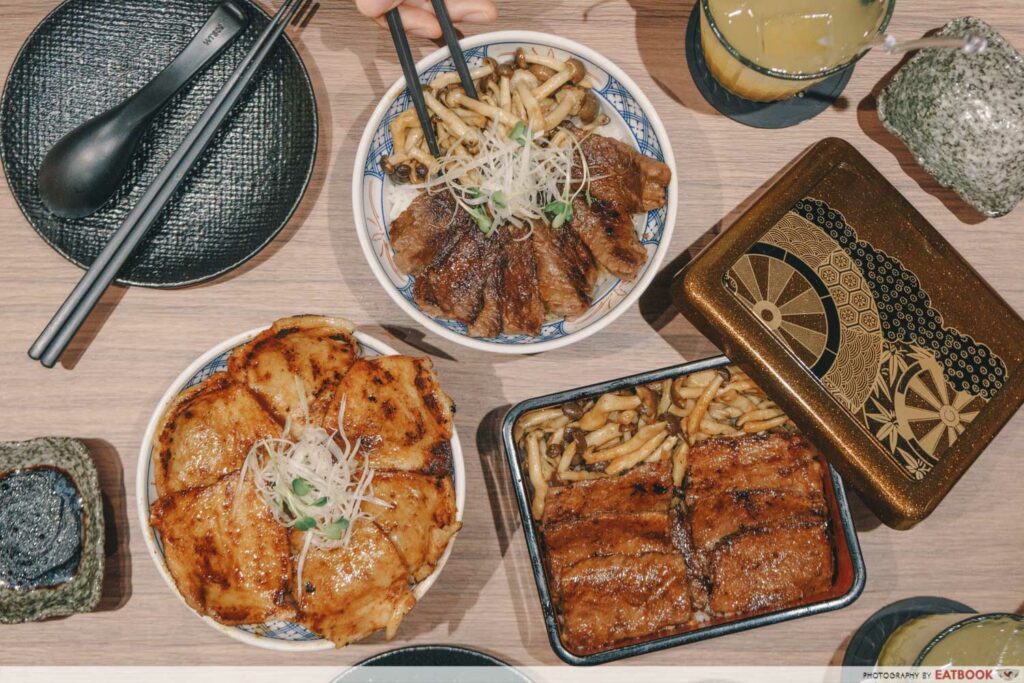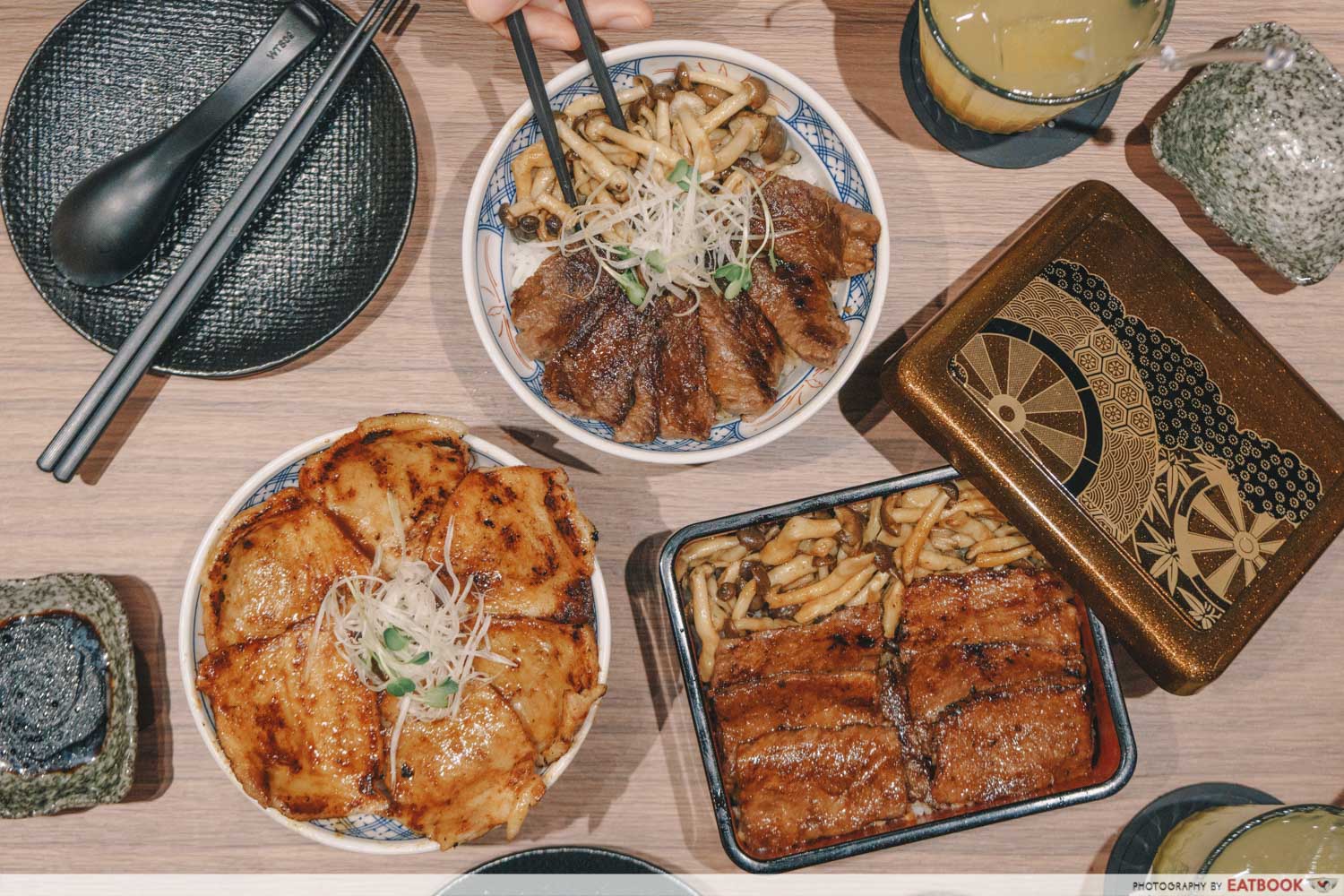 Opened by the same people behind Tamago-EN, Aburi-EN dishes up exciting bowls of chargrilled and blow-torched meats that are served on Japanese rice. The meats are nicely charred on both sides, and are cooked to just the right doneness.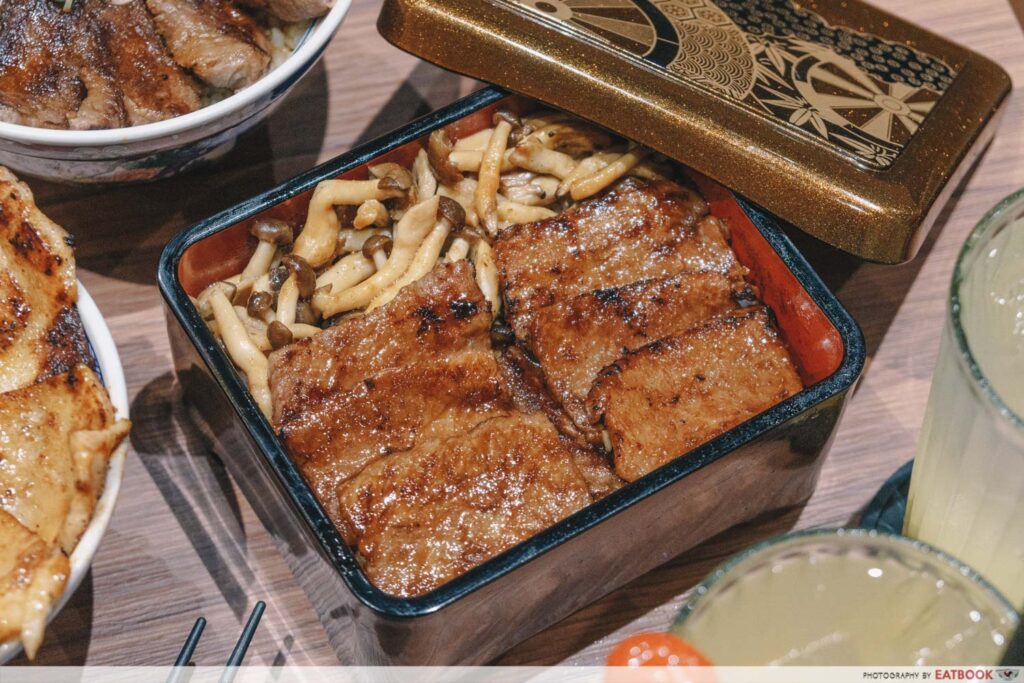 Prices for their mains start from $12++ for the Buta Don, and can stretch out to $28++ for the Premium Wagyu Jyu ($28++). The latter features six thick slices of Miyazaki Wagyu that are expertly grilled and slathered with a special sweet house-made sauce. It's hard to find another store in town that serves up melt-in-the-mouth Miyazaki beef at this price, and I would recommend this comfy joint to beef lovers and fans of Japanese-style grilled meats. 
Aburi-EN Review: Blow-torched and Chargrilled Japanese Rice Bowls In The CBD
Unit number: #01-89
Opening hours: Daily 11am to 10pm
Tel: 6261 3393
Website 
Menu
Full list of outlets
---
7. BreadTalk
---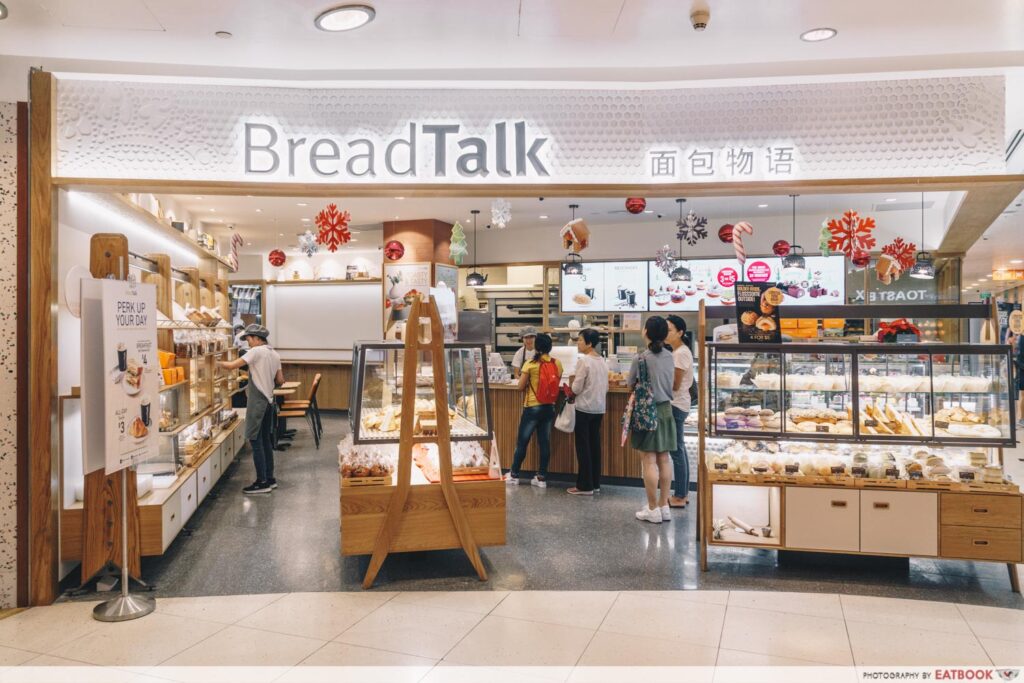 BreadTalk can be found in almost every mall in Singapore, but the one at Velocity is something special. For starters, there's an in-store seating area where you can enjoy the bakery's bread and a selection of freshly prepared sandwiches in comfort. On top of that, there's an egglet station that serves up freshly made servings of the popular Hong Kong street snack.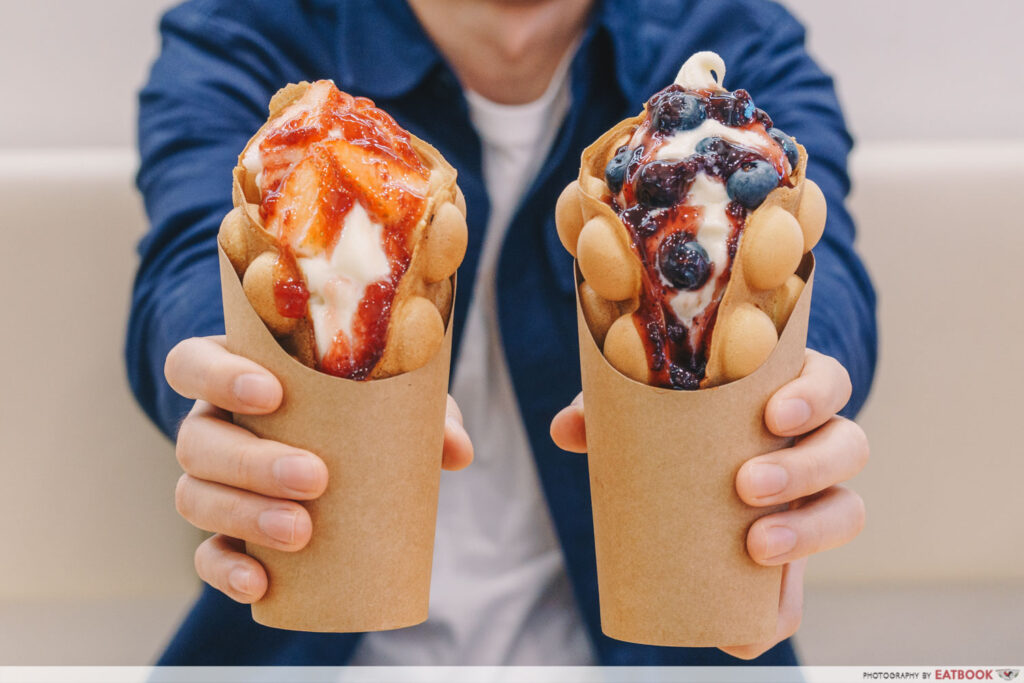 The egglet station serves up a variety of flavours. You can choose to get it Plain ($2.50) or with a generous serving of soft serve and fresh berries at $5.90. We got the Egglet with Soft Serve Strawberry ($5.90) and Egglet with Soft Serve Blueberry ($5.90), and liked how the tart berry syrup gave a nice refreshing flavour to this filling snack. 
Unit number: #01-26/27
Opening hours: Daily 10am to 9:30pm
Tel: 6251 4414
Website
---
8. SF Farm Mart
---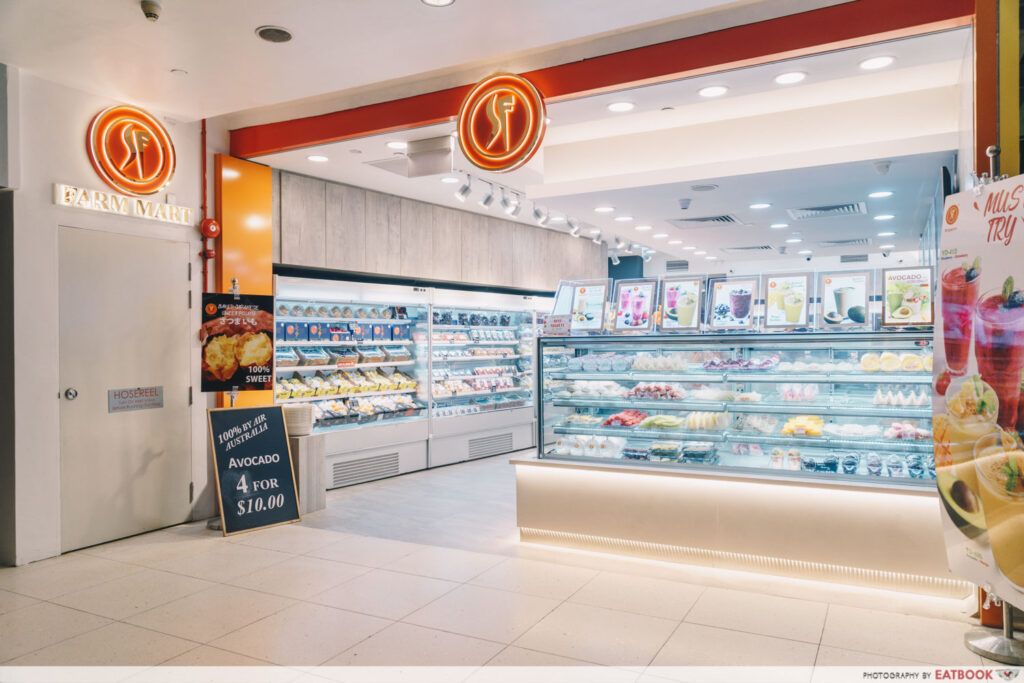 A new concept from the popular SF Fruits & Juices, SF Farm Mart not only serves up freshly squeezed juices and yoghurt smoothies, but also sells a wide variety of fresh fruits and yoghurt.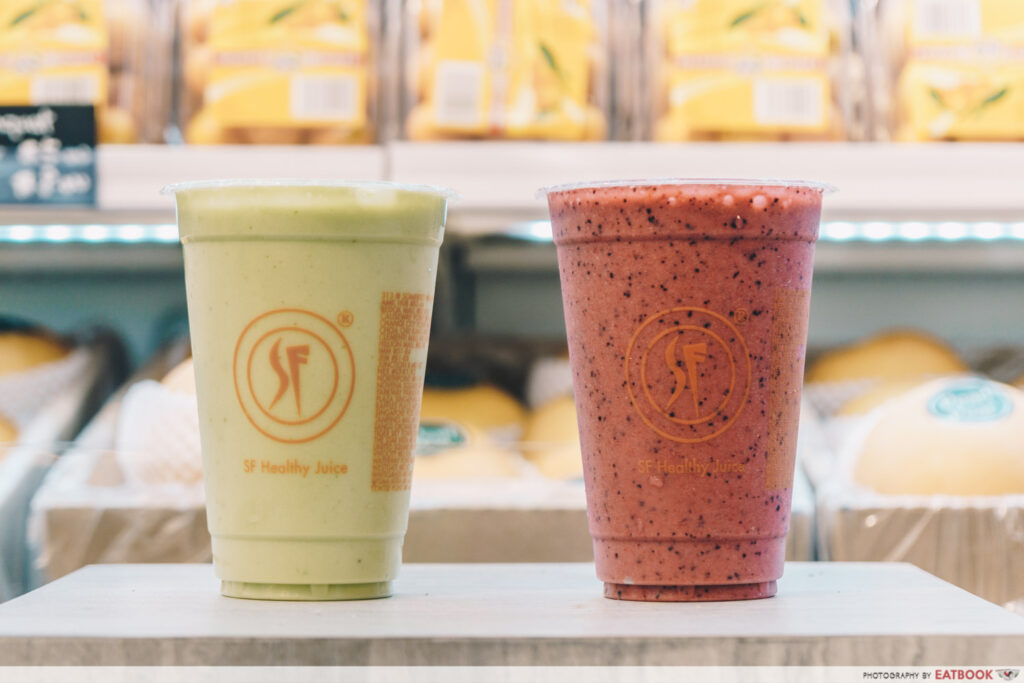 The drink menu is similar to what you can find at SF Fruits & Juices, and we liked the Avocado With Fresh Thai Coconut ($6) best. It's like an upgraded version of plain old avocado shake, but with a smoother and creamier consistency. This refreshing drink is great after a spicy meal, and even better on a warm day. Aside from smoothies, they also stock up on YoMate Yoghurt ($2.80). This Australian yoghurt comes with real fruit pieces, and uses ingredients that are sourced directly from South Australia. 
Unit number: #01-22
Opening hours: Mon-Sat 8am to 9:30pm, Sun 9am to 9:30pm
Tel: 6253 9353
---
Take part in a feast at Velocity@Novena Square
---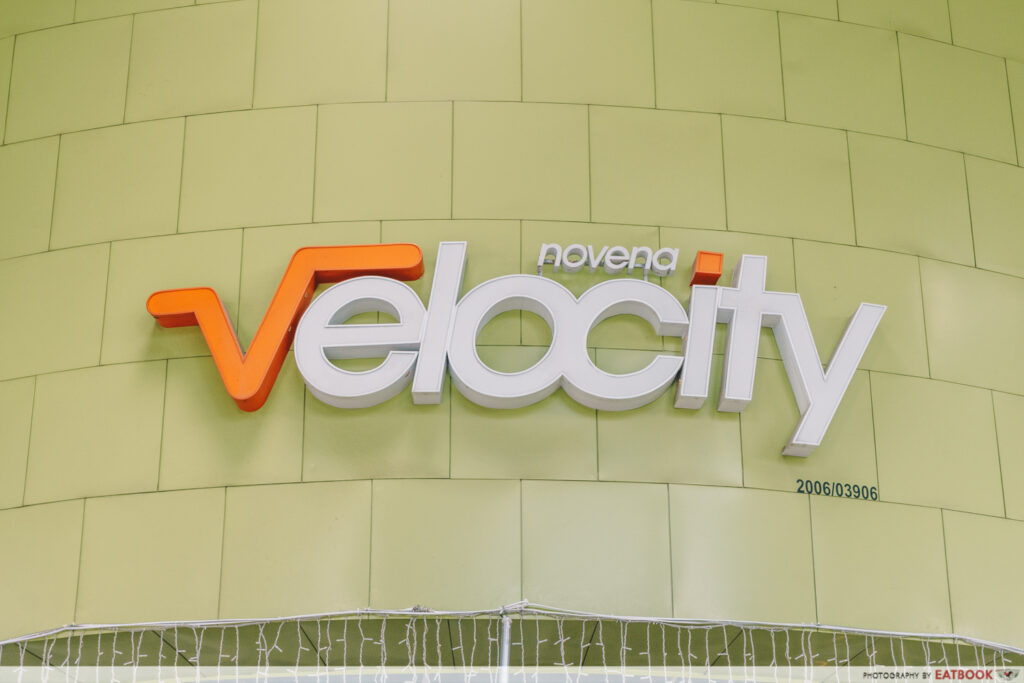 Aside from these tasty treats, there are additional reasons to dine at Velocity@Novena Square with their special loyalty card. From now till 31 January 2020, every $10 spent on a single receipt at any F&B outlet will give you a stamp. You can get up to three stamps per receipt, with exciting freebies available once you collect a minimum of four stamps.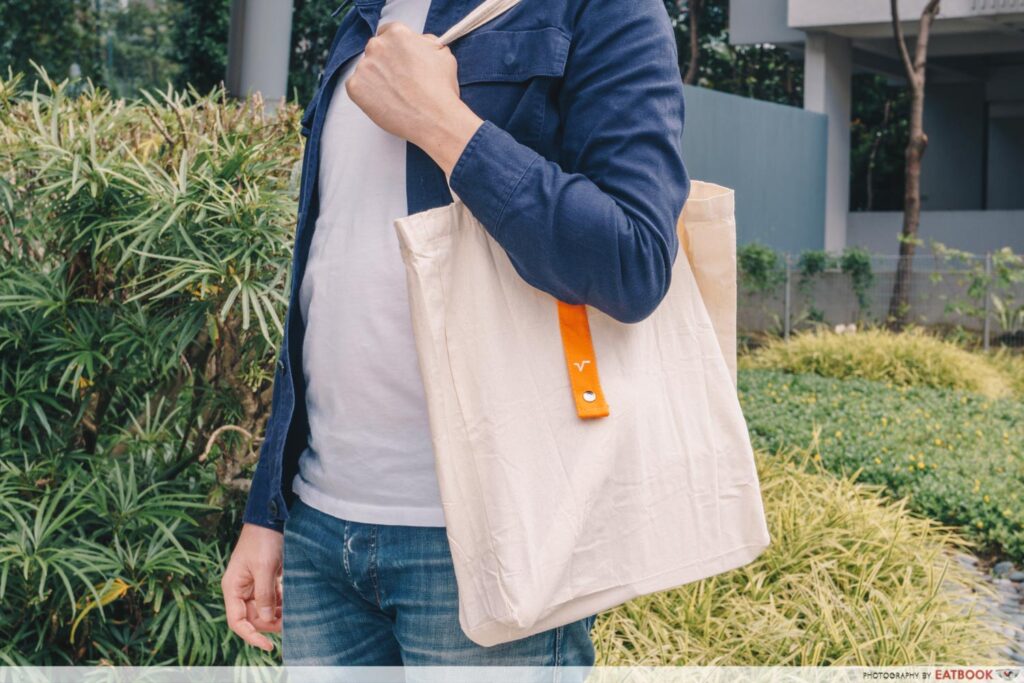 For four stamps, you'll be able to get an exclusive tote bag. This minimalist bag is ideal for tossing in your knick-knacks, and looks great on any outfit.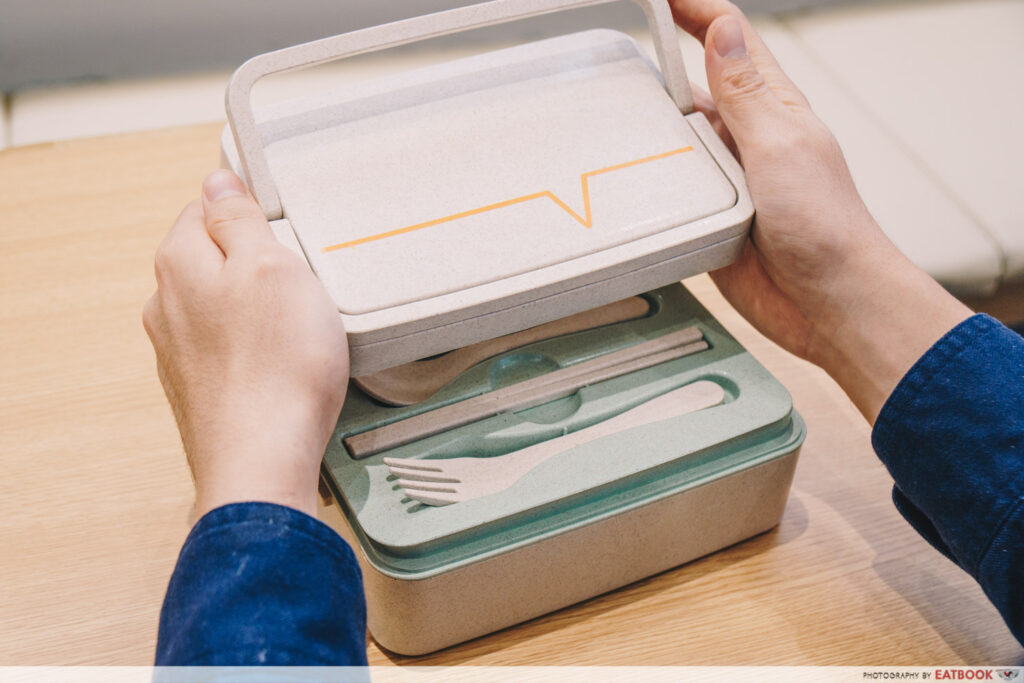 If you're looking to play your part for the environment, score 10 stamps to get an exclusive bamboo fibre lunch box. This handy lunch box comes with a set of cutlery, and can store food at both high and low temperatures. Aside from these goodies, food or shopping vouchers and U-POPP gift cards are also available for redemption. 
While you're busy collecting stamps, be sure to download the UOL's Power of Purchase Program (U-POPP) app. This loyalty programme lets you earn points for every dollar spent at Velocity, KINEX, and United Square. Collect enough points to redeem restaurant vouchers, workshop passes and more!
Address: 238 Thomson Road, Singapore 307683
Nearest MRT Station: Novena (NS20)
This post is brought to you by Velocity@Novena Square.