Josh's Grill has mains from $10.90
When it comes to dinner affairs with my friends, Bugis is often our choice, with its plethora of options ranging from hipster cafes to hawker eateries. Recently, I found out that Josh's Grill is a new addition to this foodie enclave. This grill house serves an array of Western dishes that are prepared from scratch, including grilled meats and unique sides. 
20 Bugis Food Places In Singapore Including A Halal Thai Restaurant And Vietnam Pho
For every main ordered, diners are given a handcrafted soft bread roll, much like the complimentary bread basket you'd get at fancy restaurants. These fragrant buns are soft and filled with a delightful buttery flavour.
Food at Josh's Grill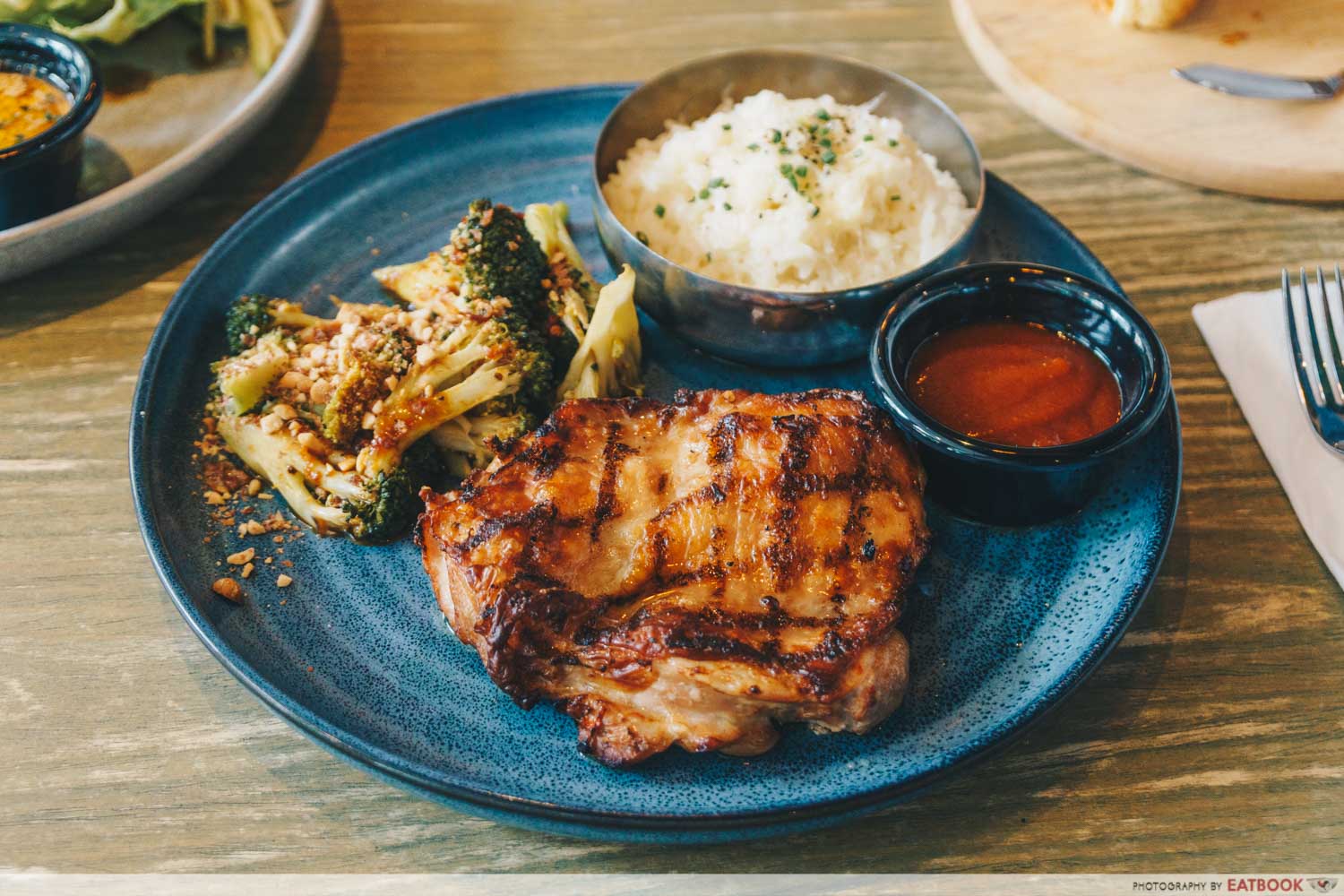 We went straight for their signature Char-Grill Spicy Chicken Chop With Homemade Dynamite Sauce ($10.90++). Josh's Grill offers a decent selection of hot and cold sides, but we decided to pair this dish with their Cheesy Butter Rice and Mala Broccoli. 
I was most intrigued by the Dynamite Sauce. It packed a punch with its potent and tangy flavours. It fell somewhere in between Tabasco sauce and barbecue sauce, where you get sweet and spicy all in one go.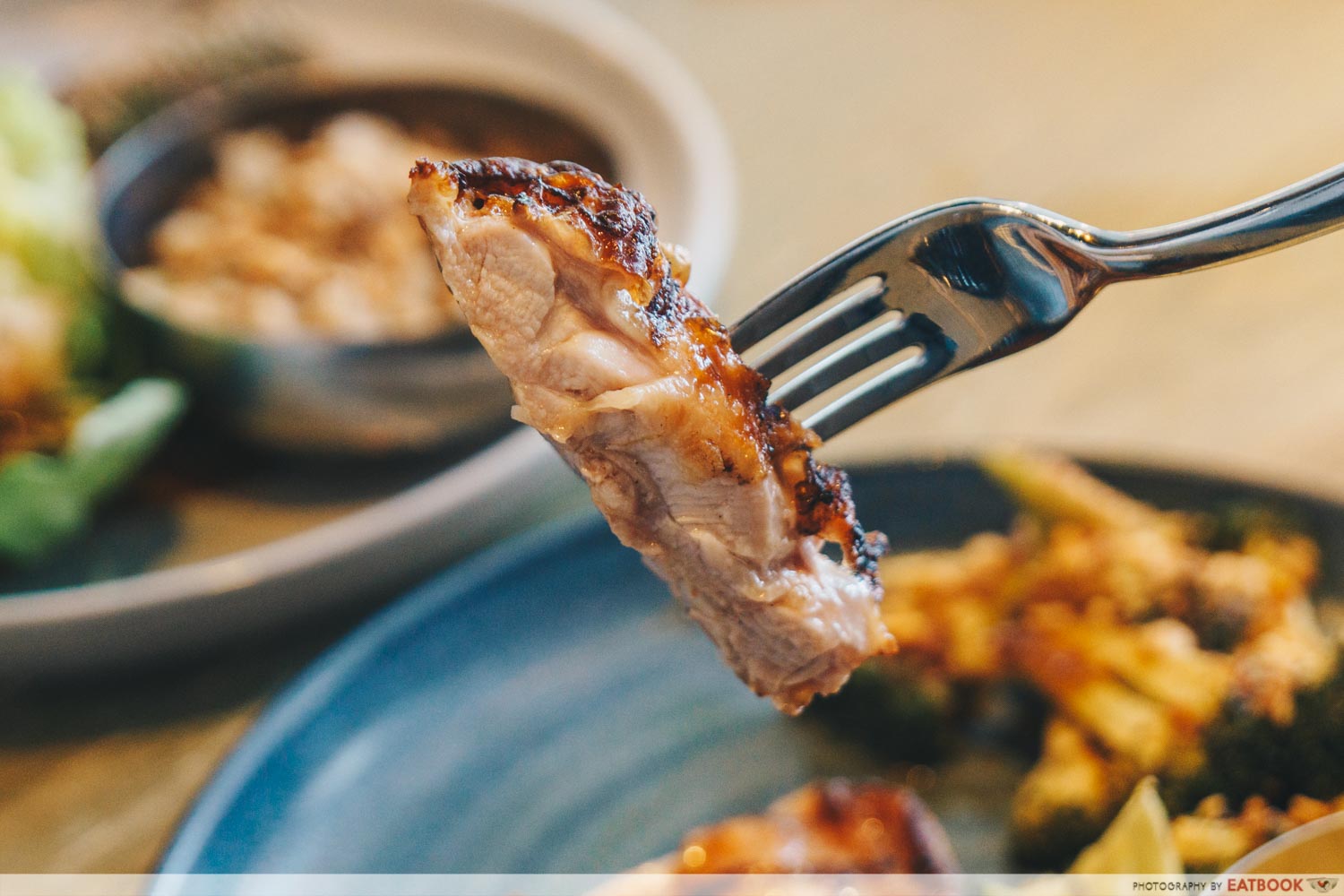 The grilled chicken alone was truly a stunner. Besides its perfectly charred golden brown skin, it was plump, extremely juicy and well-seasoned. There was also a lingering smokiness, which made it even more appetising.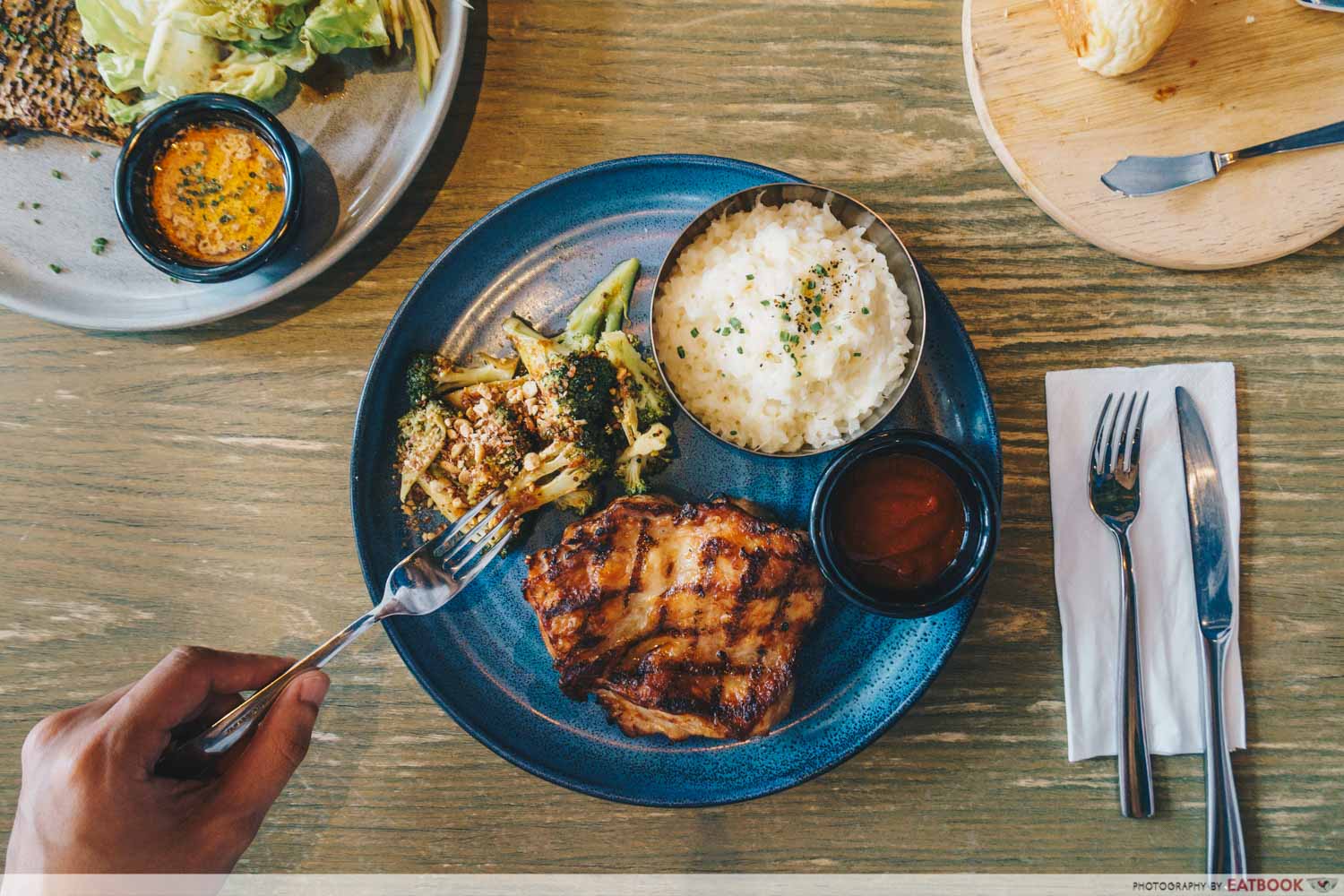 The mala broccoli had a pleasant bite to it, and had a spice level equivalent, in my opinion, to xiao la. I would've loved for it to be saucier and to have a stronger mala taste. The crushed peanuts helped add another textural element.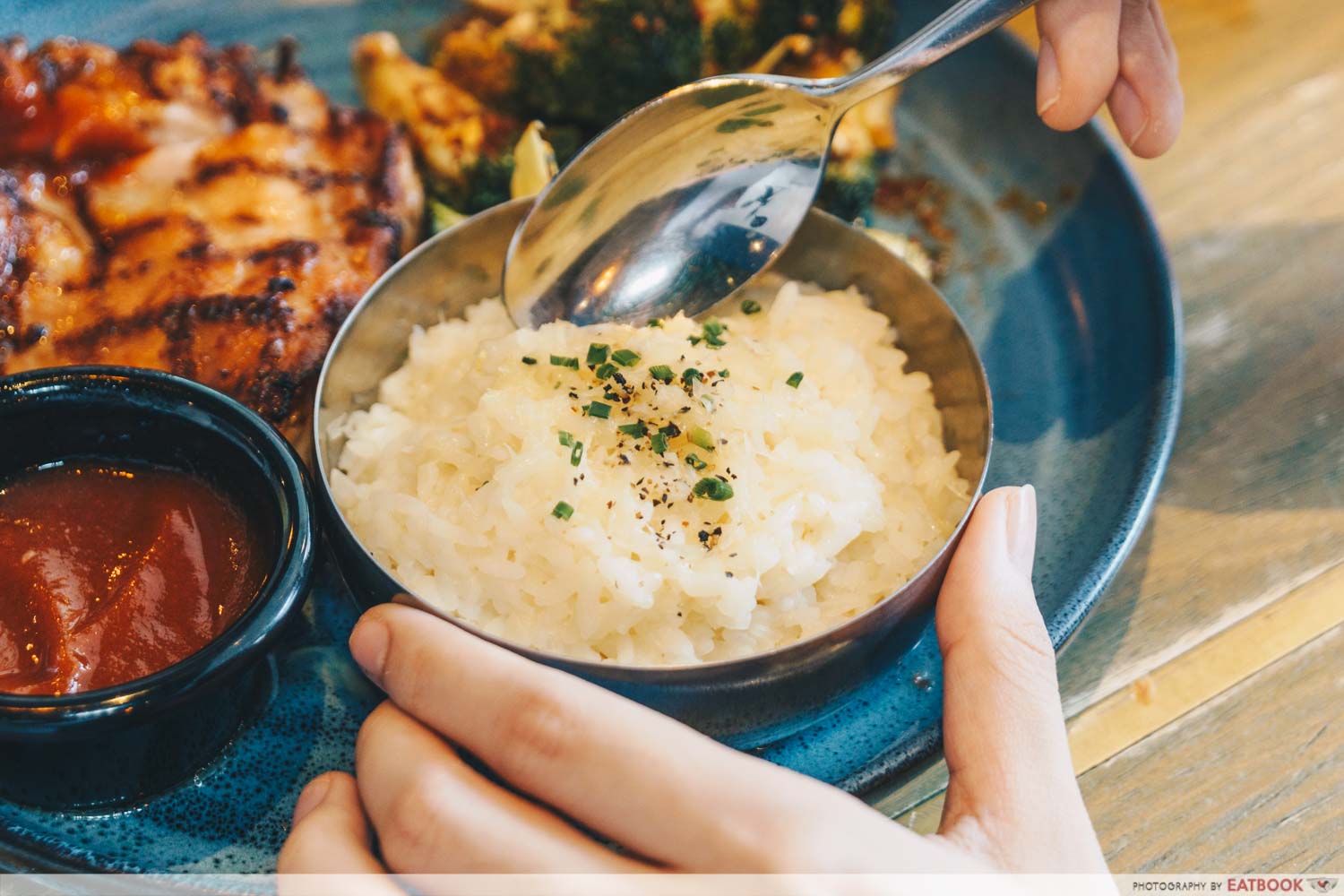 The cheesy butter rice was slightly clumpy and a little too cheesy for me. Perhaps if it was a little lighter on the cheese and had a creamier body, it would've been better.  
Even though they don't exactly gel together, I appreciated the bold and distinct notes in every component of the dish.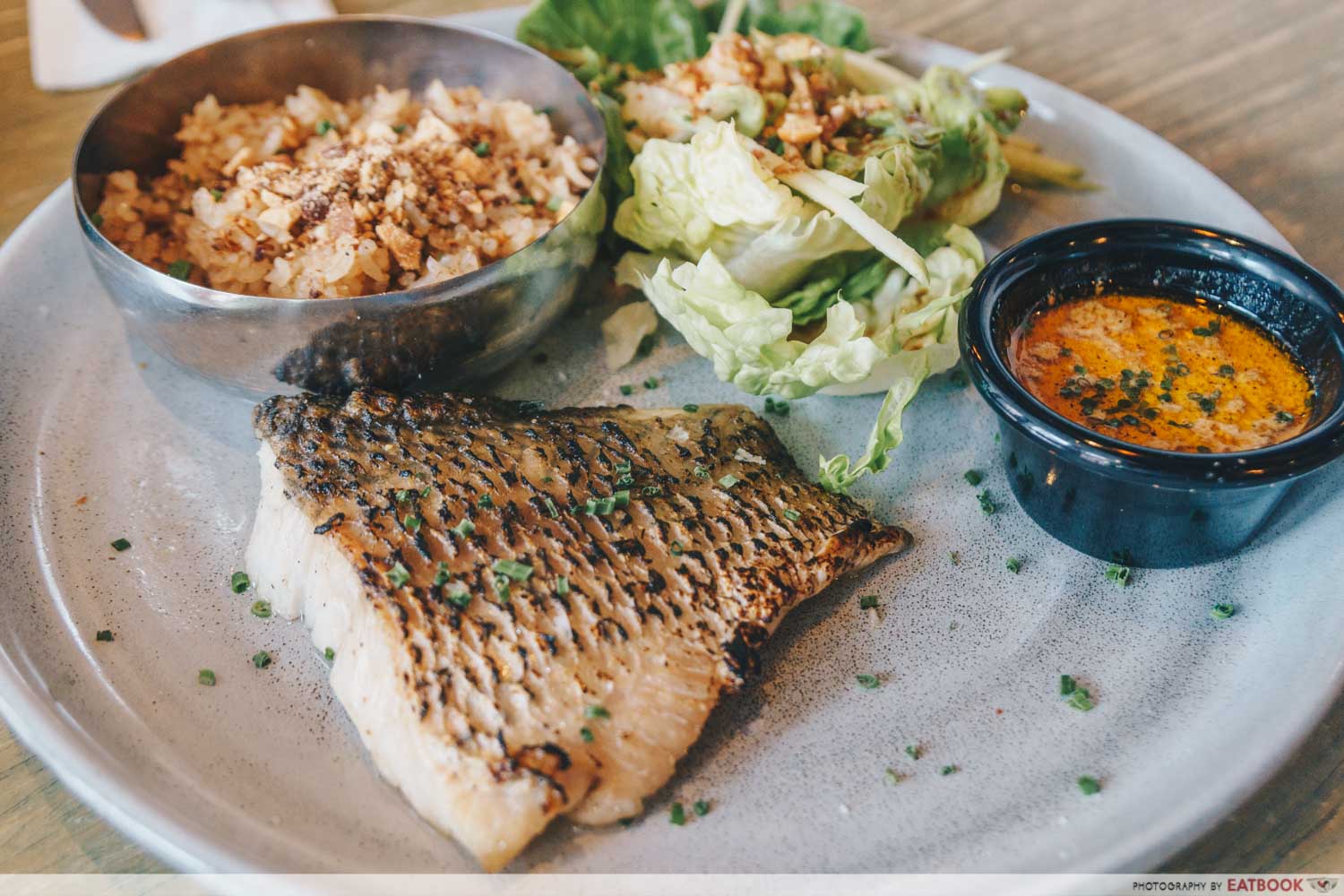 We also chose the Baked Onion Rice With Crushed Almonds and Green Mango And Pineapple Salad to go with the Char-Grill Sea Bass With Seafood Cream Sauce ($13.90++).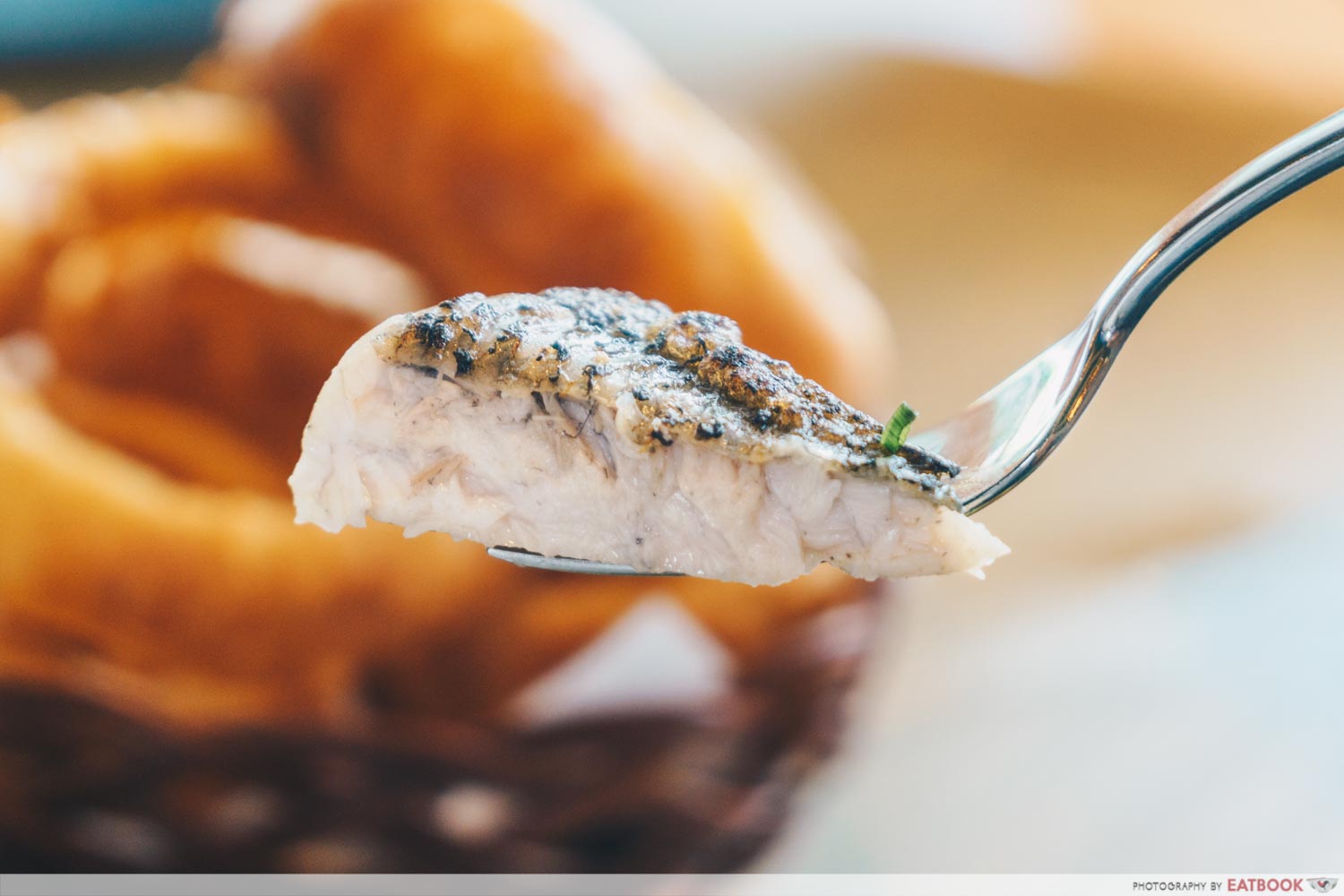 The delicate fillet of fish was moist and flaked apart easily with a fork. Similar to the chicken, the fish was grilled well. Even though it was a little under-seasoned, it wasn't a big issue because of the savoury seafood cream sauce.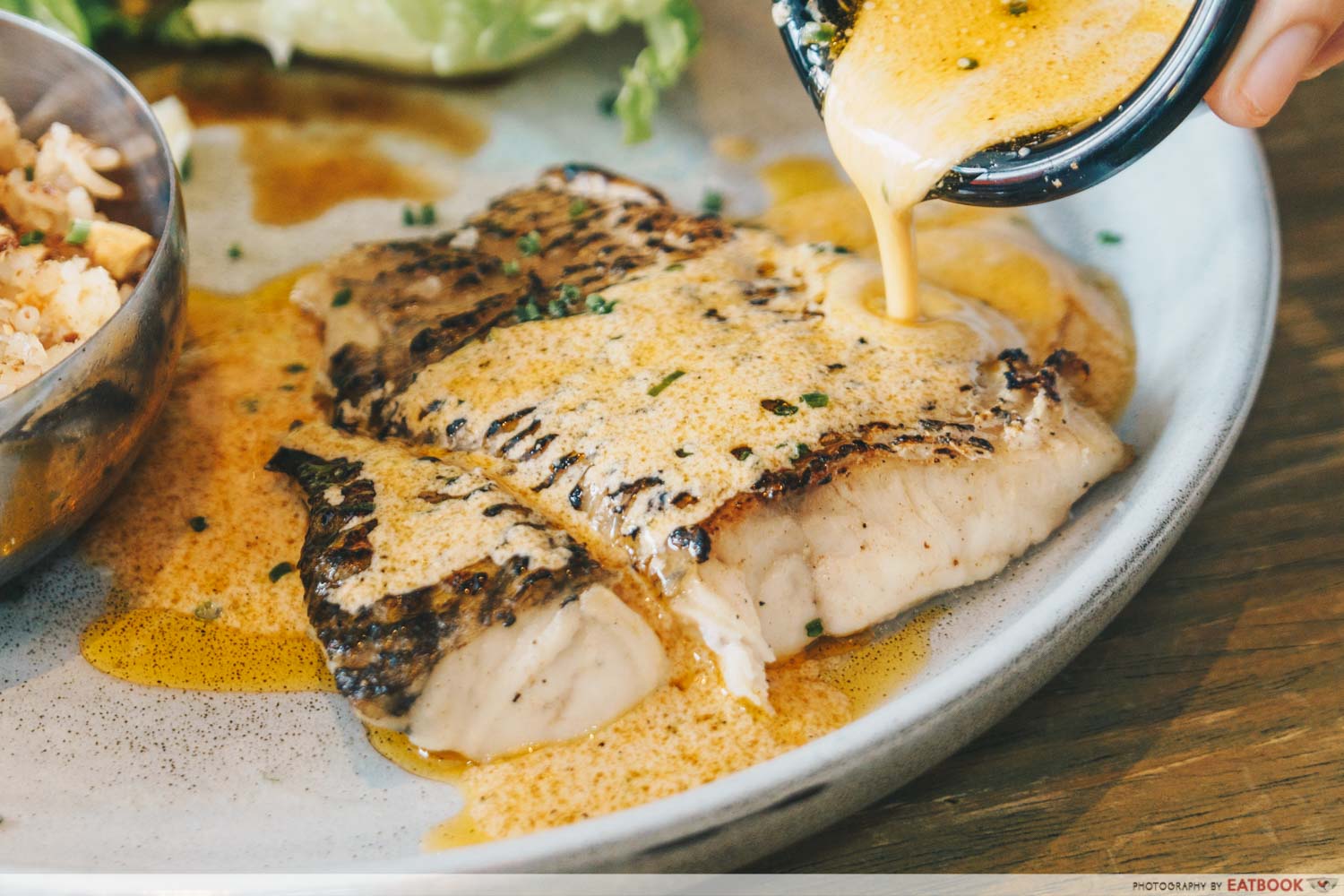 The seafood cream sauce was a tad grainy in the mouth, and the distinct layer of oil was a little off-putting. However, it had a refreshing tanginess that went well with the fish.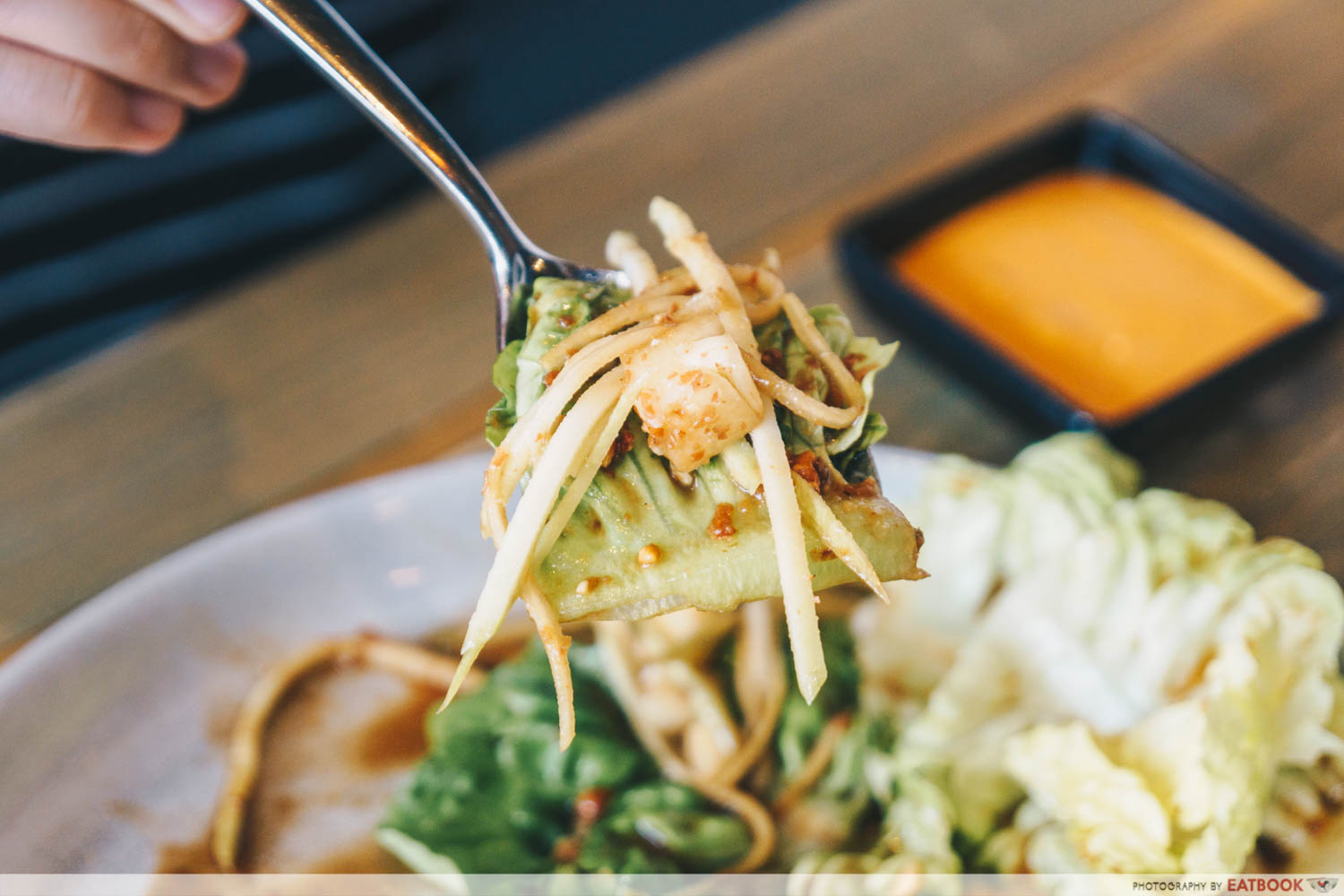 Perhaps the flavours of the Mango and Pineapple Salad are more relatable to our local palate with its rojak-like dressing. On top of the crunchy greens, the fruits brought a sweet and sour element. Opt for this if you'd like to try something different instead of the usual garden salad.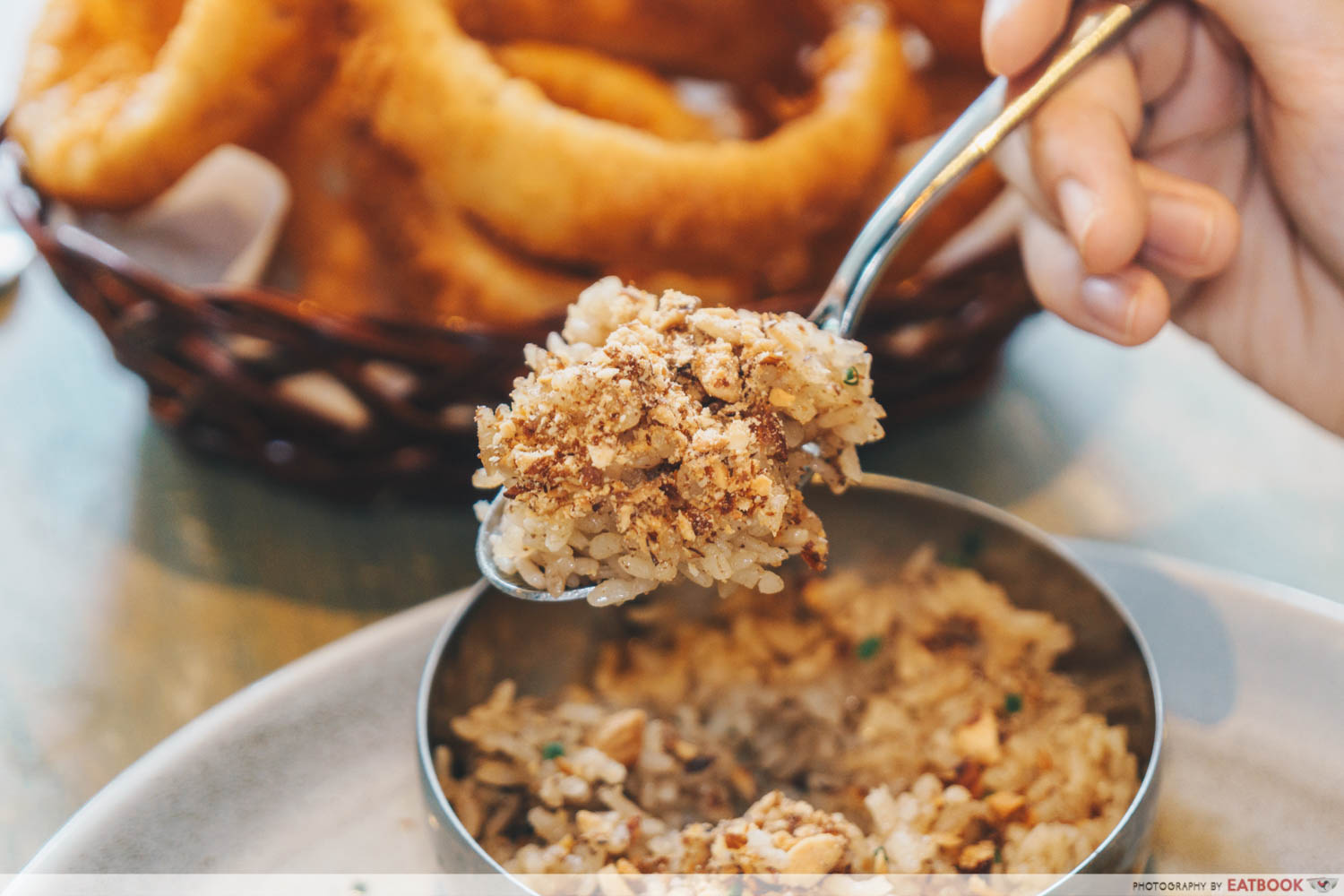 The baked onion rice was fragrant and tasty. I thoroughly enjoyed the nuttiness from the crushed almond topping.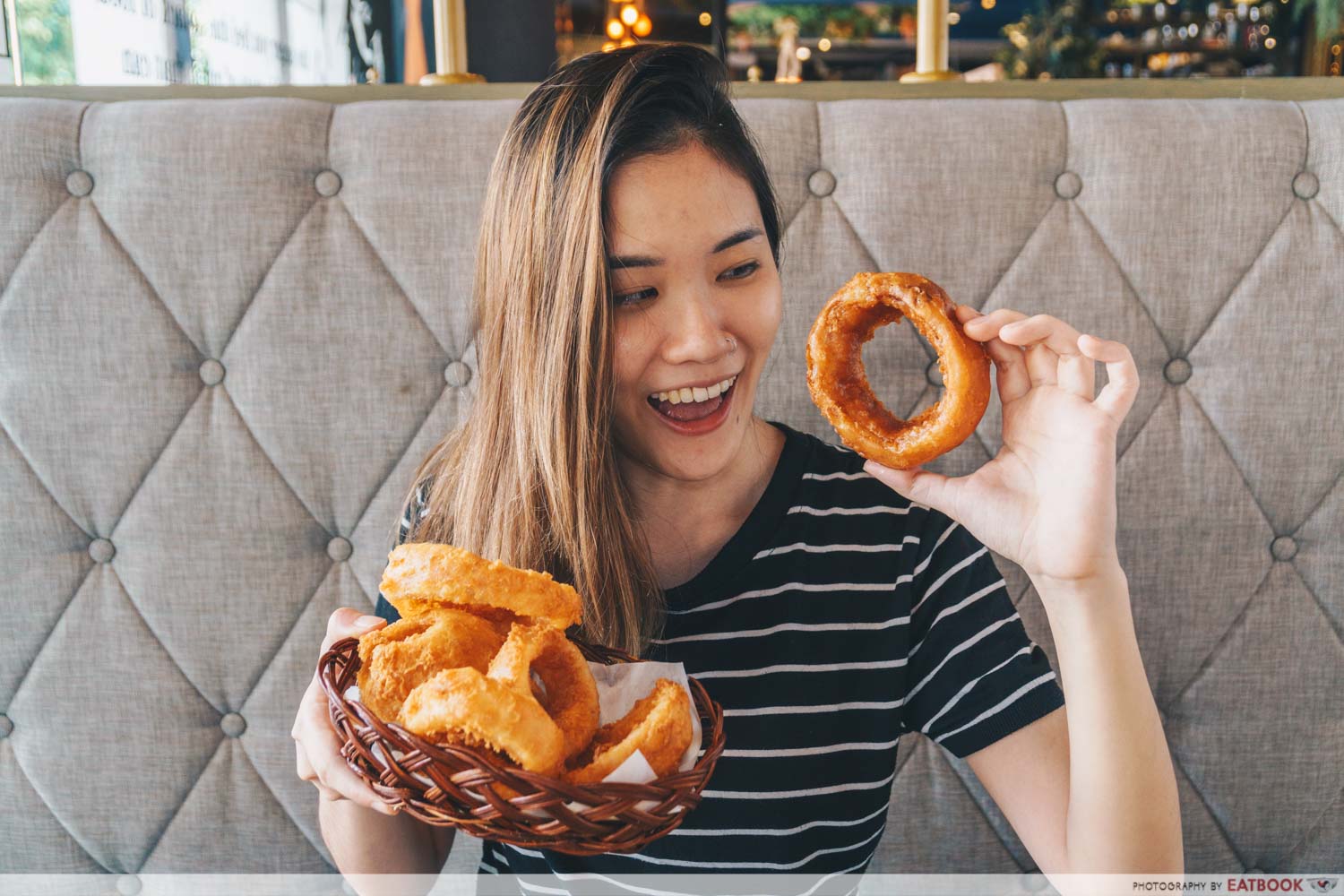 XXL platters are not new to us, but I bet you've never seen XXL onion rings like these. Be prepared, the sheer size of Josh's Famous Onion Rings ($3.90++) will knock your socks right off.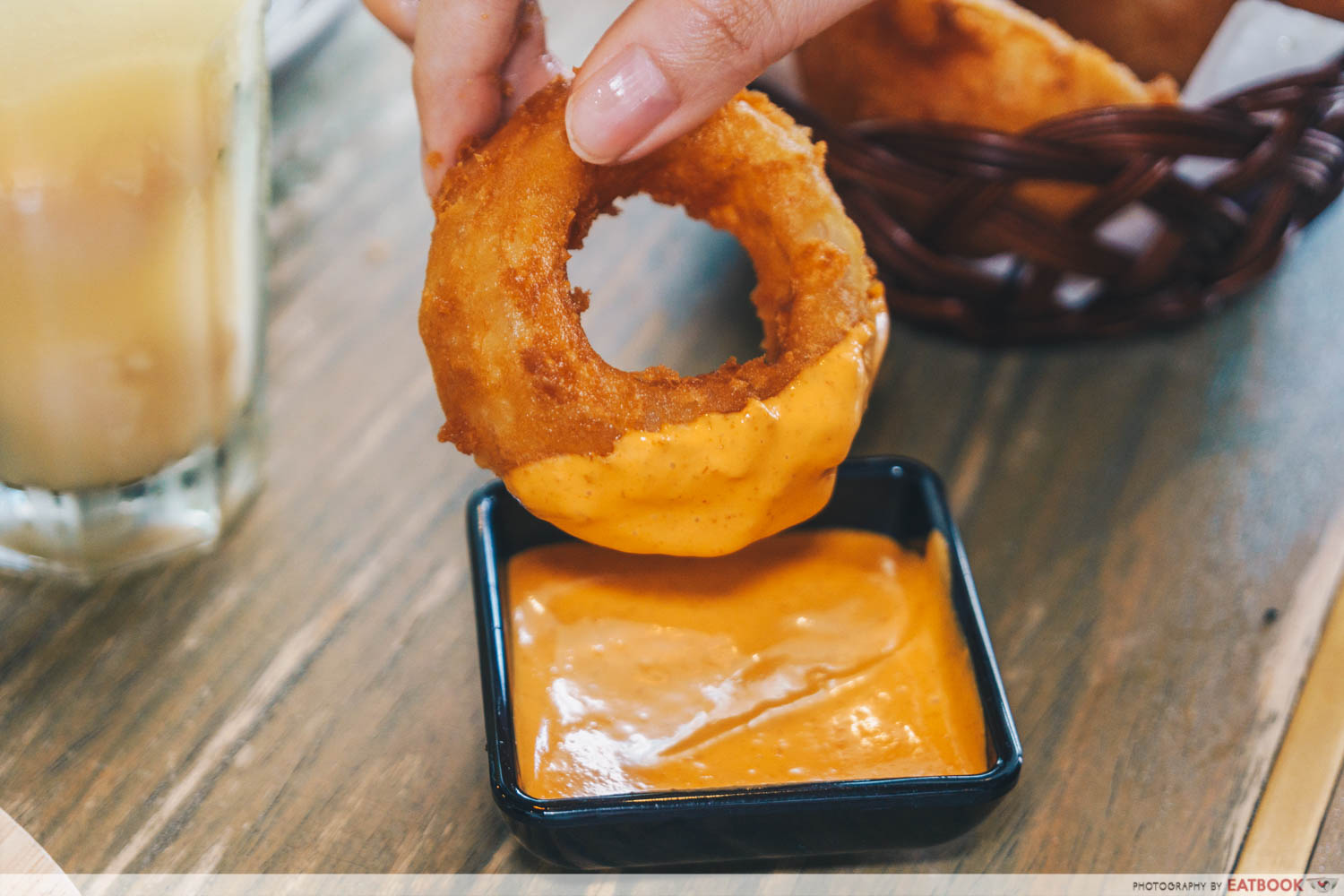 These huge, thick hoops had a light coating that was satisfyingly crunchy. Besides its salty exterior, exterior, there was also a subtle sweetness from the onion itself. Be sure to dip these rings in their rich, mayo sauce for complete indulgence. 
Ambience at Josh's Grill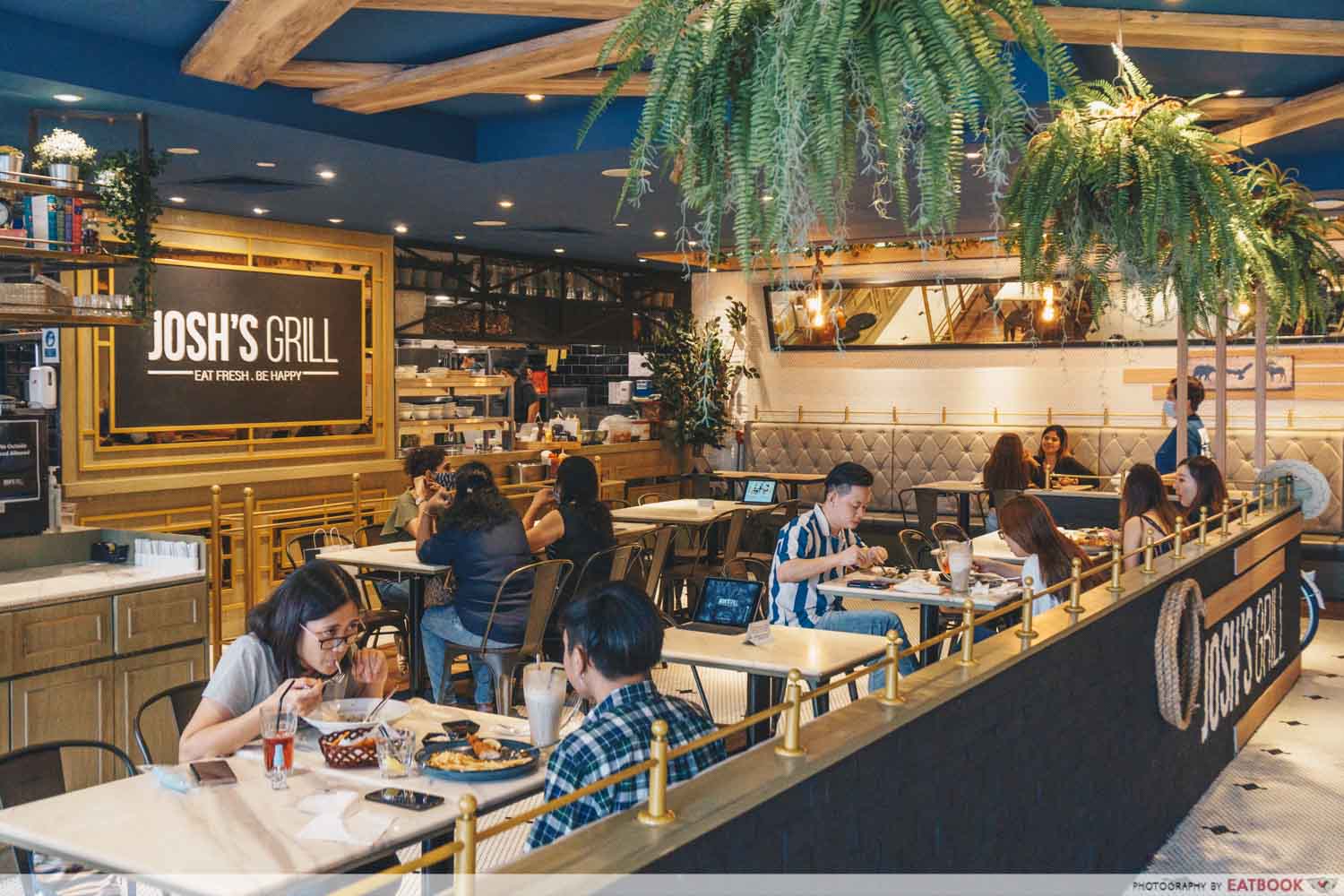 Conveniently located in Bugis Junction, Josh's Grill takes the spot facing Victoria Street. This restaurant has a modern barn-style interior bedecked with plants and rodeo-themed decorations. With a comfortable and vibrant ambience, this makes a great place to dine and chat with your friends.   
The verdict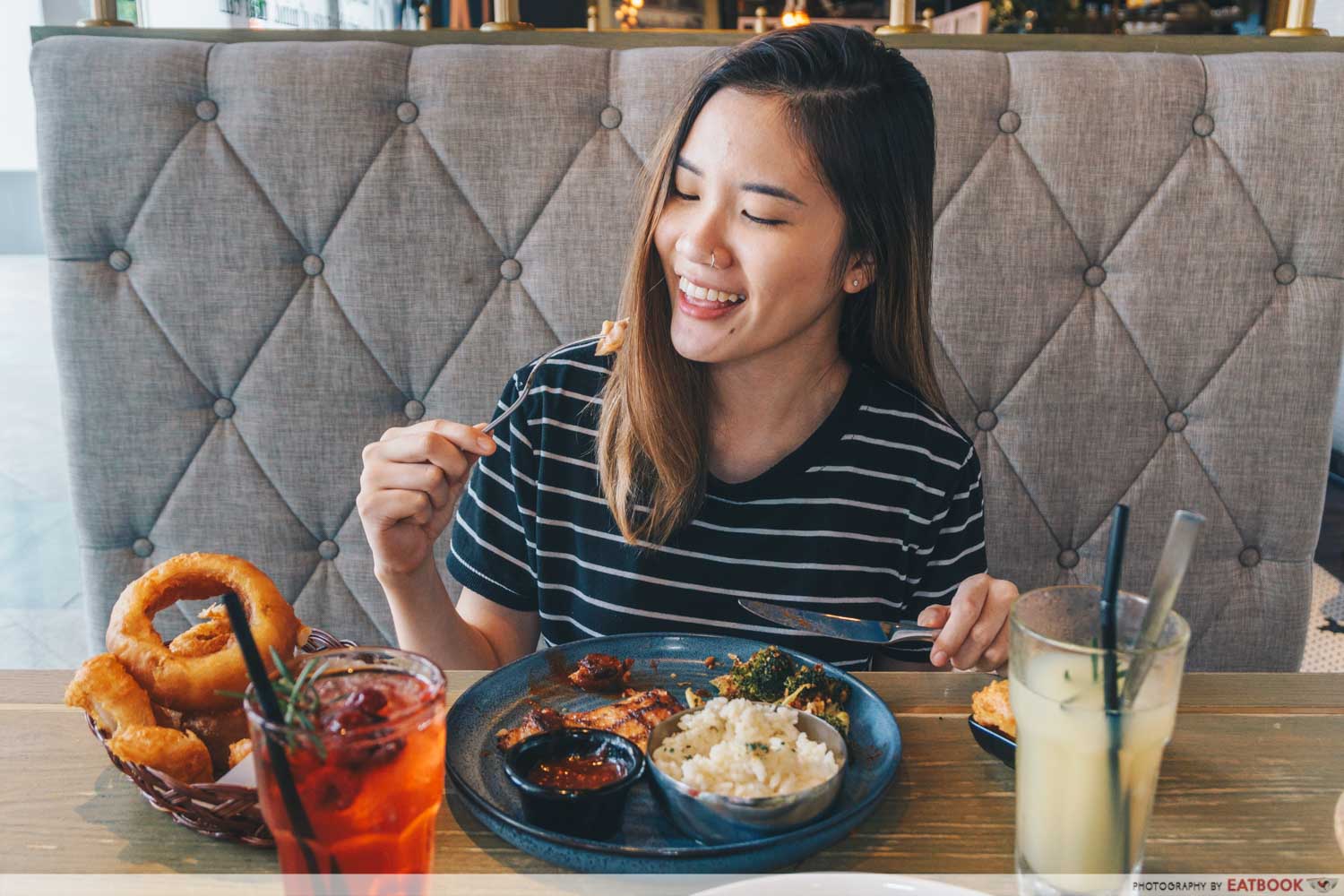 Josh's Grill has got game when it comes to their char-grilled meats. Both the chicken and fish were succulent and cooked to perfection. Though they offer a great variety of side dishes, the flavours are hit-or-miss. If you're in the vicinity, head over to Josh's Grill to indulge in their char-grilled dishes as well as their epic onion rings! 
Skinny Chef Review: XXL Fried Chicken Cutlet with Nacho Cheese and Sous-Vide Egg
While you're here, read our review on Skinny Chef for their XXL fried chicken cutlet with nacho cheese and sous-vide egg. Alternatively, check out some exciting steak deals this month at Jack's Place and Stirling Steaks! 
Jack's Place Has $12 Ribeye Steak, Meat Platters, And More New Dining Deals
Address: 200 Victoria Street, #01-69, Bugis Junction, Singapore 188021
Opening hours: Daily 11am to 10pm
Photos taken by Muhammad Hafiq.
This is an independent review by Eatbook.
Summary
Pros
– Value-for-money mains
– Chicken and fish were well-cooked
– Unique sides
Cons
– Sides were lacking in flavour
– Sauces don't complement the dishes
Recommended Dishes: Josh's Famous Onion Rings ($3.90)
Opening hours: Daily 11am to 10pm
Address: 200 Victoria Street, #01-69, Bugis Junction, Singapore 188021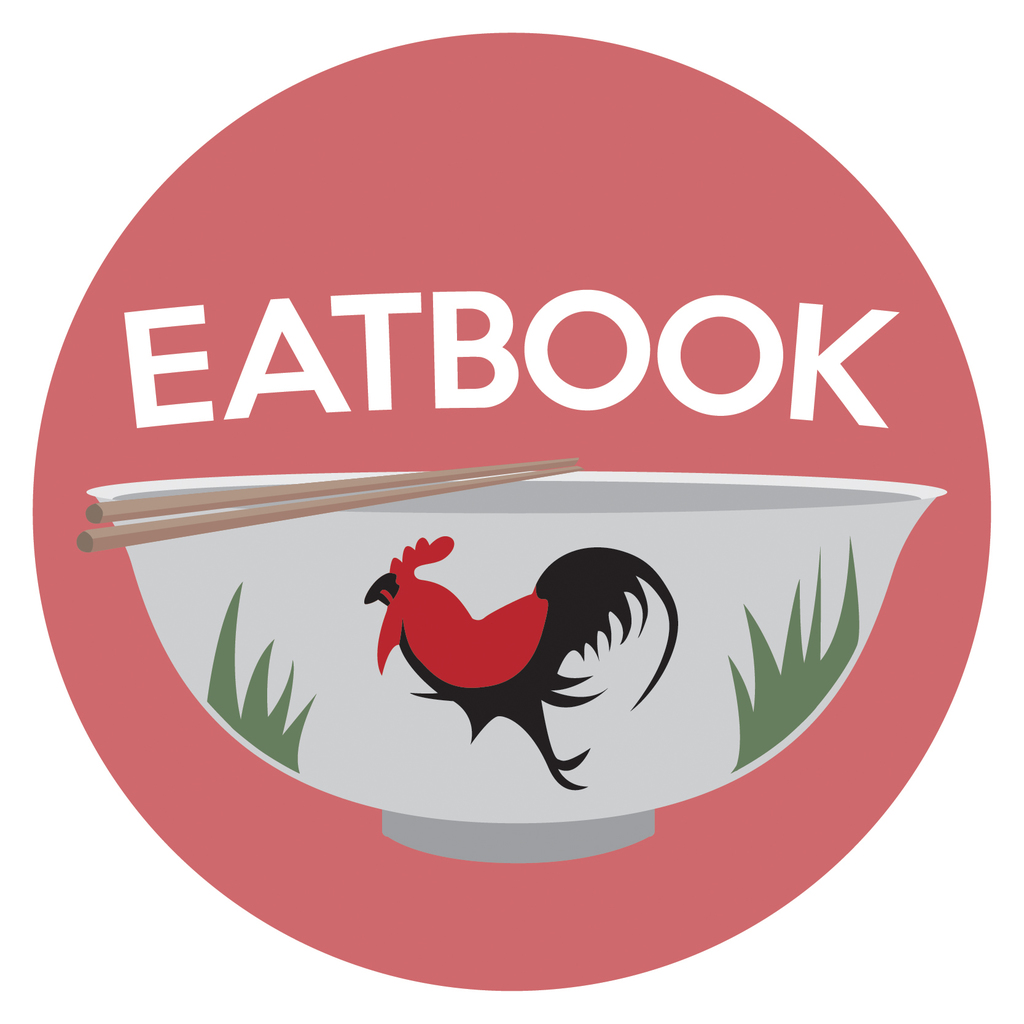 Drop us your email so you won't miss the latest news.