---
Hidden Cafes in Bugis
---
Hipster vibes in Bugis are not solely constrained to Haji Lane. There are a ton of under the radar cafes in the surrounding streets that deserve way more attention than they are given. Eatbook sheds light on 10 of these underrated indie cafes, which all hipsters should visit before they become mainstream.
---
1.Tolido's Espresso Nook
---
True to its name, Tolido's Espresso Nook is a great place to pop by for an artisanal coffee fix. Other than it's homely vibes, this cosy cafe stands out from the crowd with its price-competitiveness.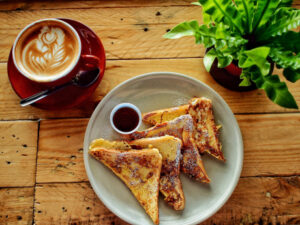 Source
Many of the items on their menu costs less than $15, making this one of the most affordable cafes in this area.
Unlike other brunch places that do breakfast sets for $20, the ultimate breakfast combo is only $11.50, and comes with pancakes, bacon, chicken chipolatas and eggs. One dish that really impressed us was the Spaghetti Vongole ($16.90).
The pasta comes with a generous portion of white clams drenched in an aromatic white wine sauce and a sprinkling of chili flakes. It's not the best vongole around, but this is probably the best you can get for the price.
Opening hours: Tue – Thu: 8am – 630pm, Fri: 9am – 6pm, Sat: 9am – 10pm, Sun: 9am – 630pm
Address: #01-63, 462 Crawford Lane, Singapore 190462
---
2.OMB
---
OMB is a bacon lover's dream come true. There is bacon in everything: bacon served with mushroom soup, bacon in the ice cream, chocolate coated bacon, and even bacon jam.
The liberal portion of whisky-infused bacon jam ($12) was sinfully addictive with its savoury caramelised notes. It's not hard to see why this is one of their bestsellers.
For people who aren't big fans of bacon, try something more toned down like the Beef & Bacon Cheeseburger ($17). The crispy bacon complements the juicy beef patty and toasted sesame buns, and the paprika fries are a nice change from the typical truffle fries.
Opening hours: Tue – Fri: 12pm – 10pm, Sat & Sun: 10am – 10pm
Address: 7 Dunlop Street, Singapore 209337
---
3.Richmond Station
---
Richmond Station offers a selection of British-inspired grub like the Crab Meat Angel Hair Pasta ($18.90), Norwegian Salmon with Pesto ($25.90), and Crab Benedict ($16.90). Unlike typical versions of this poached egg dish, Richmond station uses crumpets instead of english muffins.
Opening hours: Mon – Sun: 9am – 9pm
Address: 17 Bali Lane, Singapore 189853
---
4.Afterwit
---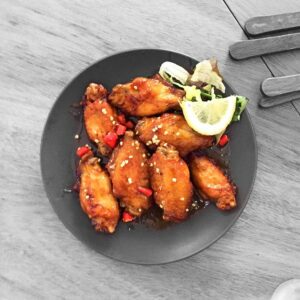 Source
Good and affordable Mexican restaurants are generally hard to find in Singapore, which is why Afterwit is a keeper. We love their ambitious menu that has everything from quesadillas to tacos and burritos. Other than their huevos benedictos ($16), my other favourite dish here is their spice-kissed oven baked wings with a hint of citrus and honey ($10). 
The space is also a heaven for local musicians who play live, so keep your ear to the ground if you're into the local music scene.
Opening hours: Mon – Sun: 11am – 10pm
Address: 778 North Bridge Road, Singapore 198746
---
5.The Betterfield
---
Up until recently, The Betterfield was probably the best kept secret in Bugis. Their food is an eclectic fusion of various Asian and French flavours and techniques, and their specialty is in sprucing up and refining ordinary and overdone dishes.
Which is exactly what they did with their Burnt Mentaiko Eggs Royale ($18). The charred mentaiko does wonders in elevating the flavour profile of the smoked salmon and poached eggs, while complementing the slightly savoury squid ink bun.
Additionally, look out for mains like the Pulled Duck Burger ($20), and their French duck confit ($21), which are executed brilliantly for a little cafe in the heartlands. While the juicy duck meat of the confit is fork tender, the skin remains delightfully crisp. The acidity in the blueberry compote also helps to balance out this rich dish.
Opening hours: Mon – Fri: 11am – 3pm / 6pm – 10pm Sat: 11am – 11pm, Sun: 11am – 8pm
Address: 261 Waterloo Street #01-23, Singapore 180261
---
6.The Hangar
---
The Hangar is a great place to kick back and relax on a weekend afternoon over their selection of "Sexy Coffee" and brunch. Their signature lemongrass steak sandwich ($14.90) is a hearty combination of tender chunks of beef infused with a mild lemongrass aroma, caramelised onions, and shimeiji mushrooms. This is one tiny space with lots of attitude, and bold flavours that will keep you coming back for more.
Opening hours: Daily, 9am – 6pm
Address: 25 Arab Street, Singapore 199724
---
7.Karafuru
---
Karafuru is the latest Japanese inspired dessert cafe that the online community cannot stop raving about – and with good reason.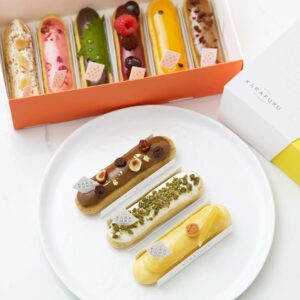 Source
Their eclairs ($7) come in unique Japanese flavours like Ume Shiso, Sakura Rose, and Ichigo Cheesecake. They also do a selection of plated parfaits ($16) that are not just pretty to look at, but are also genius combinations of delicate Japanese flavours and texture.
Opening hour: Tue – Sun: 1pm – 10pm
Address: 8 Jalan Klapa, Singapore 199320
---
8.Witbier Cafe
---
Witbier not only serves a great range of craft beers, it also has a delightful assortment of beer bites and comforting pub grub. Their Otah Bruschetta ($10) is a must-try here. The tender, spicy otah had generous chunks of mackerel in it and the softness of the otah provided a good contrast against the crispy toast.
They also do excellent deep-fried and grilled wings ($10) that are served alongside a devilishly spicy homemade chili sauce. Other more substantial offerings that pair brilliantly with craft beers include the lamb rack ($18), and beef steak ($16).
Opening hours: Mon – Fri: 12pm – 12am, Sat & Sun: 5pm – 12am
Address: 32/30 Kandahar Street, Singapore 198891
---
9.Hyde & Co
---
Hyde & Co is a contemporary English cafe better known for their extensive tea list and scones, but it's also a great place for all-day brunch. Their brunch menu strives to stand out from the crowd with its distinct English influence.
Don't miss out on bestsellers like the Lady Hyde ($12.90), The Full Works ($17.90), and Gula Gula ($12.90). While I'm not a huge fan of sweet items for brunch, the Gula Gula won me over with its gula melaka drenched crumpets.
Opening hours: Daily, 11am – 6pm
Address: 785 North Bridge Road, Singapore 198753
---
10.Dongpo Colonial Cafe
---
Dongpo Colonial Cafe exemplifies how old is gold. This cafe embraces its traditional roots by serving up classic kaya butter toast, teh-o, and soft boiled eggs.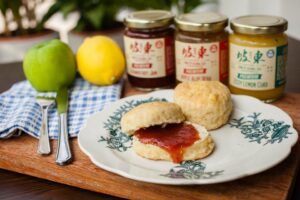 Source
It even has those old school cakes with their trademark light fluffy sponge and creamy frosting. Their homemade scones served together with strawberry jam and cream ($4.20) are also a real treat.
Opening hours: Sun – Thu: 8am – 8pm, Fri
Address: 56 Kandahar Street, Singapore 198904