---
XXL dishes in Singapore
---
There are many reasons to order a huge bowl of food; you might be really hungry, you're with loads of friends, or you simply wanna experience what it's like to be a Mukbang eater. No matter the reason, you can find a wealth of places to chow down on the likes of gigantic Thai boat noodles, jumbo chirashi bowls, and monstrous dessert platters. Here are 10 XXL dishes around Singapore for you and your friends to feast on.
---
1. Super Spicy Mala XXL Noodles (The Thai Society)
---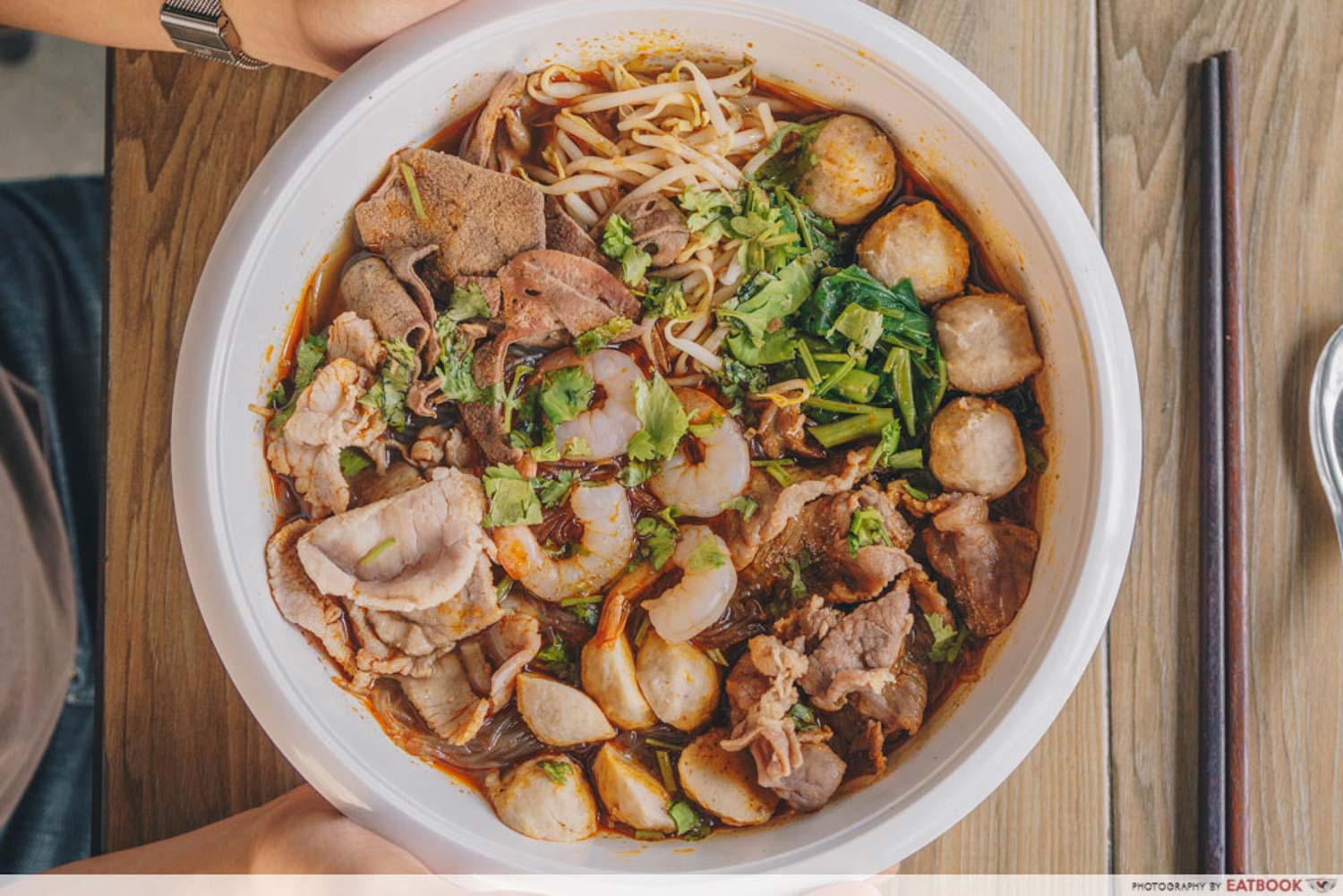 My go-to comfort food has always been a bowl of Thai boat noodles with an intense broth, drizzled with golden bits of pork fat. Imagine my delight when I found that Thai Society serves a Super Size ($19++) boat noodles, giving me more than what I could have bargained for. Feeding two to three humans, this huge bowl lets you choose between glass or rice noodles, and a soup base of red tom yum, herbal soup, or ma la. 
Although the ingredients are well cooked, the spicy versions of the boat noodles can be a little intense. So make sure you're able to take the heat if you opt for the tom yum or mala versions. You'll also get two glasses of lemongrass drink when you order the Super Size to help quench your thirst. 
The Thai Society Review: Super Spicy XXL Ma La Boat Noodles That Is Not For The Faint-hearted
Address: 116 MacKenzie Road, Singapore 228710
Opening hours: Daily 11:30am to 11pm
Tel: 6252 5565
Website | Menu
---
2. XXL Thai Basil Chicken Rice and Omelette (Im Thai Kitchen)
---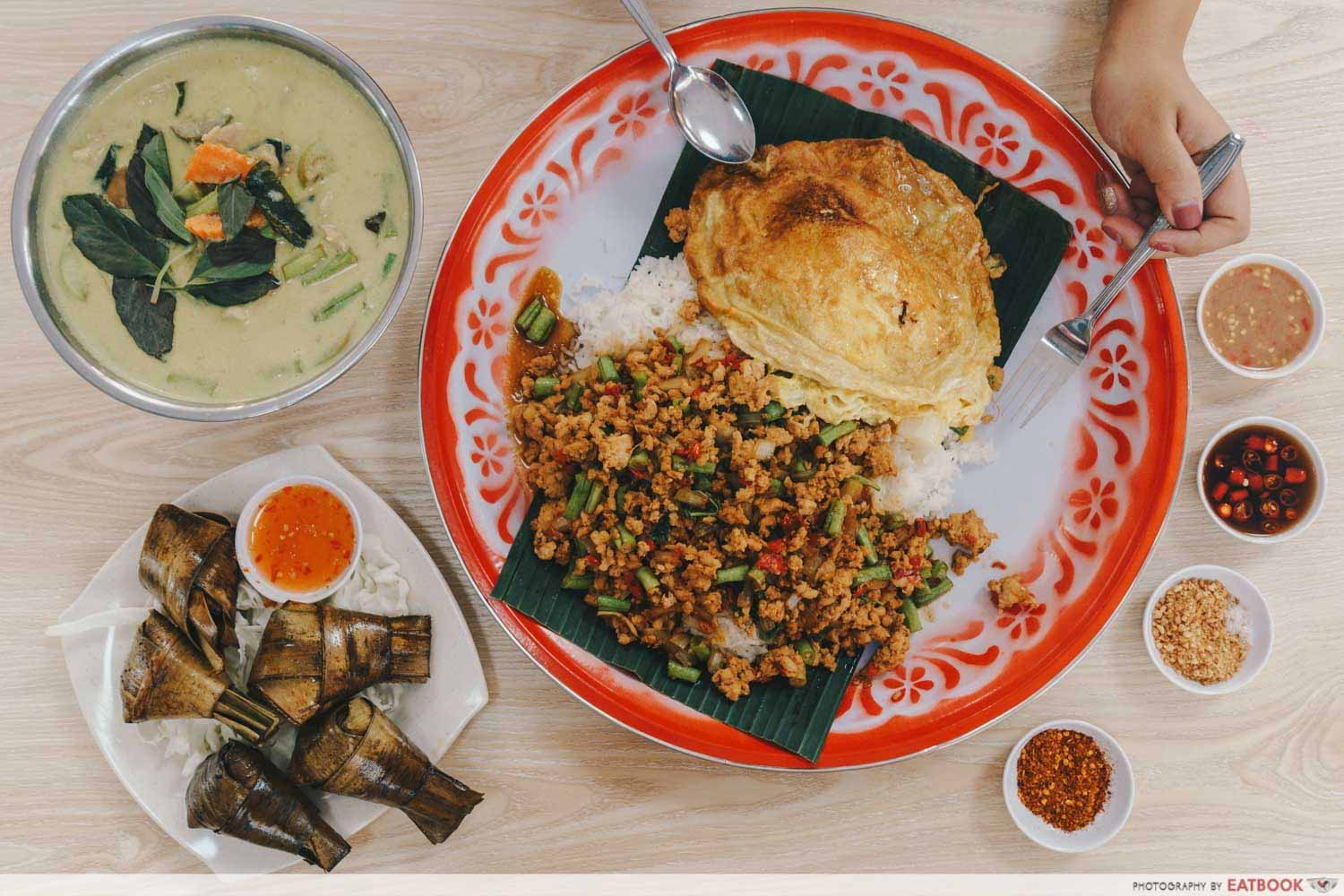 Another XXL Thai dish on the list is Im Thai Kitchen extra-large serving of Thai Basil Chicken Rice ($15.90) that comes with a fluffy and palm-sized omelette. The dish has a nice wok hei taste, though the fragrance of basil doesn't permeate the dish. A major standout is the fluffy, fried omelette blanketing the mountain of white rice. Fried in bubbling hot oil, this omelette is crispy on the outside, and holds layers of soft, eggy goodness. 
Im Thai Kitchen Review: Cheap XXL Spicy Thai Basil Chicken Rice And Omelette At Sengkang
Address: 658 Punggol East, #01-10, Stall 6, Singapore 820658
Opening hours: Mon-Tue 11:40am to 9pm, Wed-Sun 11:30am to 9pm
Tel: 9224 5992
Website
---
3. XXL Dessert Platter (House of Mu)
---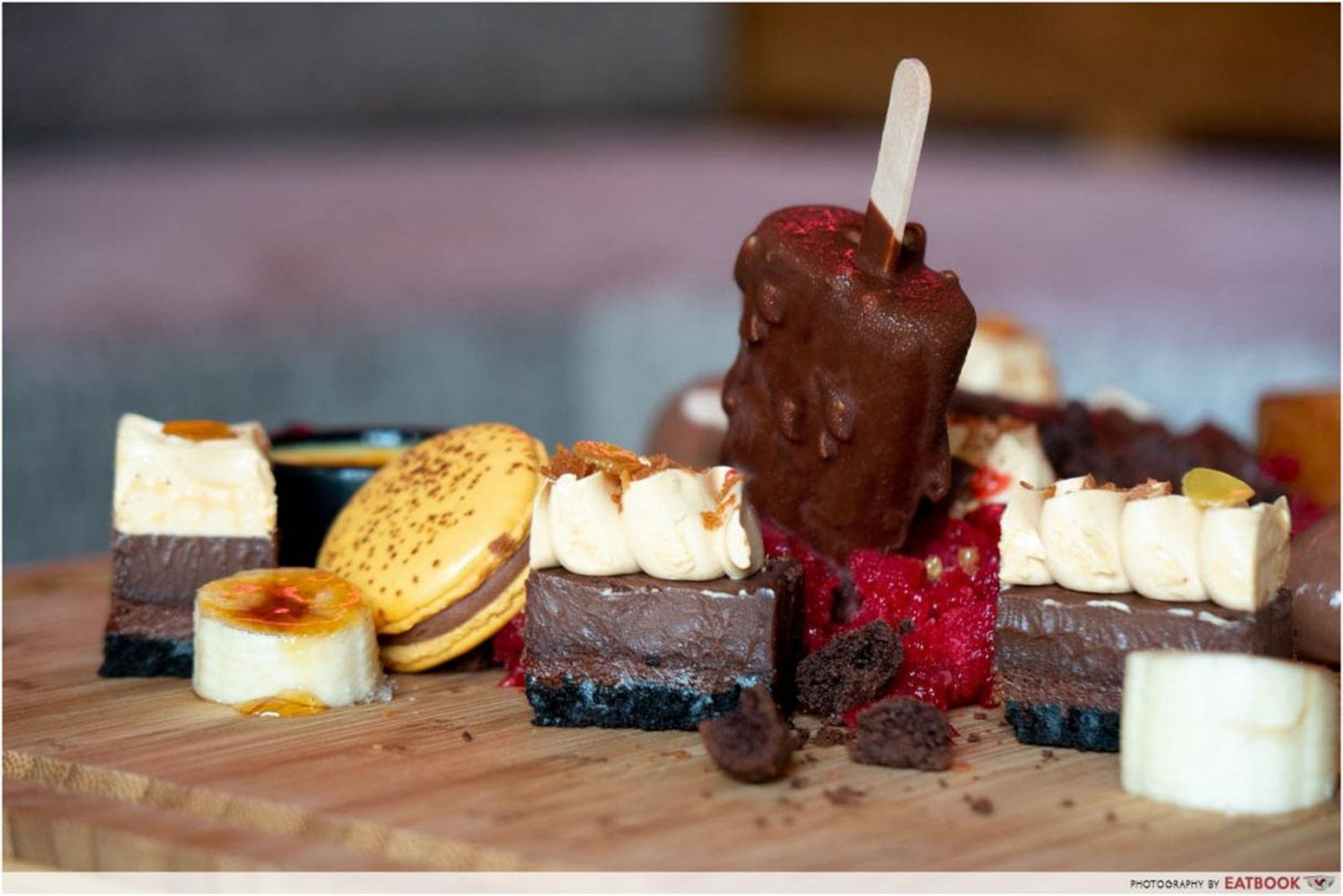 Take a break from the usual birthday cakes, and celebrate with House of Mu's monstrous Dessert Platter ($48++). Filling up the board is a wonderful assortment of cakes, macaroons, and ice-cream. Expect cubes of fudgy Oreo cake with hazelnut cream, passionfruit macarons, as well as bananas with caramelised tops. Capping the entire dessert is a decadent Magnum-like bar with peanut butter ice-cream. However, do note that the house-made deserts found on the platter changes at the chef's discretion.
House of MU Review: Hearty Meat Dishes And Giant Dessert Platter By Ex-Fat Lulu Pastry Chef
Address: 11 Mohamed Sultan Road, Singapore 239010
Opening hours: Tue-Thur 12pm to 10:30pm, Fri 12pm to 12am, Sat 9:30am to 12am, Sun 9:30am to 10:30pm
Tel: 6732 1011
---
4. XXL Bingsu (Oriental Ice Bistro)
---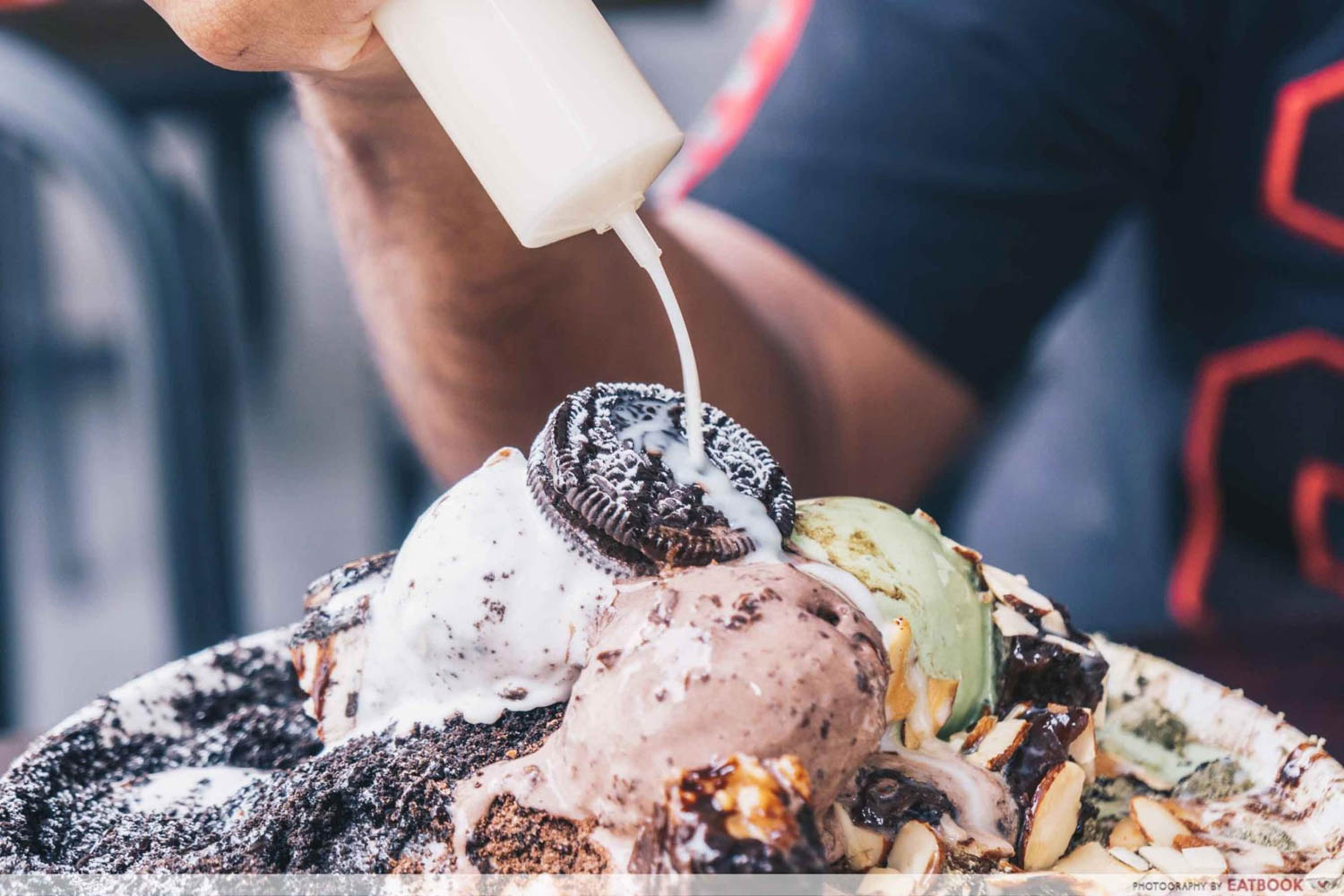 You can't call yourself a bingsu lover if you haven't tried the Overdose Bingsu ($24.90) from Oriental Ice Bistro. A combination of three different bingsu—matcha, Oreo, and choco-banana—this huge bingsu will surely be a fun dessert to tackle with two or three friends. However, keep your IG pics to a minimum 'cause the bingsu melts fast. Dig into this milky bowl of goodness, and you'll find generous scoops of ice-cream, double chocolate brownies, sliced bananas, and matcha rice cakes. 
Oriental Ice Bistro Review: XXL Bingsu And Red Velvet Cheese Toast At This Halal Cafe
Address: 89 Rangoon Road, #01-30, Singapore 218375
Opening hours: Thurs-Tues 12pm to 11pm
Website
Oriental Ice Bistro is halal-certified
---
5. XXL Meat Platter (Steak & Bones)
---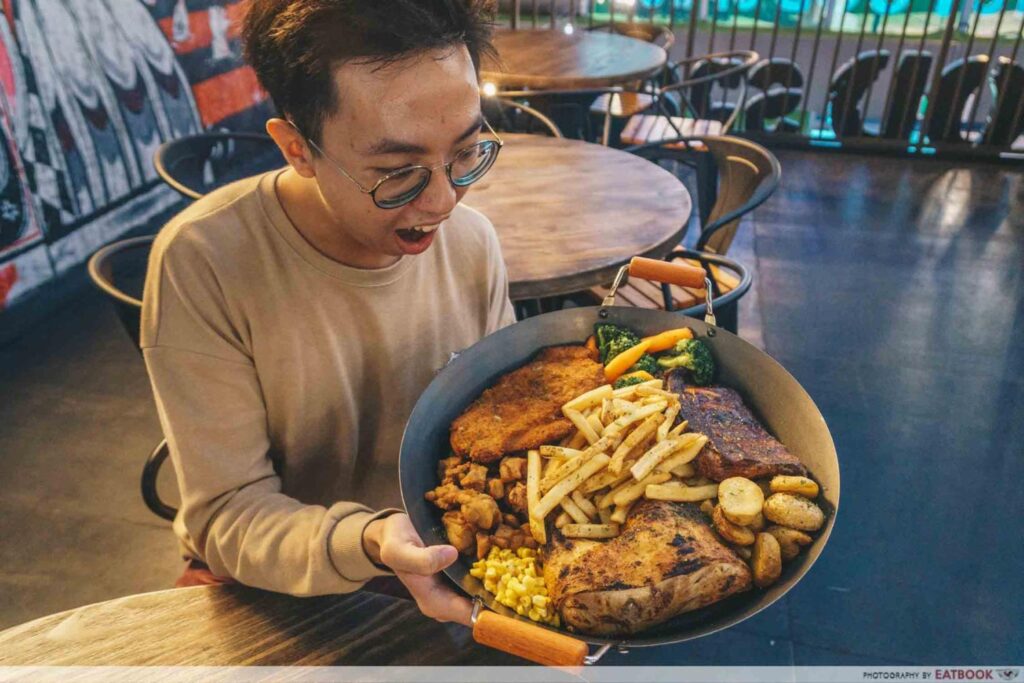 Gather your posse and swing down to Steak & Bones' for their Giant Western Platter ($29.90), which can feed around four carnivores. Arriving on on a paella pan are roasted chicken drumstick, fried pork cutlet, pork ribs, chicken karaage, thick-cut fries, baby potatoes, broccoli, carrots, and corns. The fries are free-flow too, making it even more bang for your buck! The Western fare isn't one of the best we've ever had, with some of the meat items being a tad dry, but it definitely did satisfy our hunger 100%.
Steak & Bones Review: XXL Meat Platter With Pork Ribs And Free-Flow Fries At $29.90
Address: 2 Sims Close, Gemini At Sims, Singapore 387298
Opening hours: Daily 11am to 11pm
Tel: 9696 7378
Website
---
6. XXL Tom Yum Seafood Hot Pot (Flying Wok)
---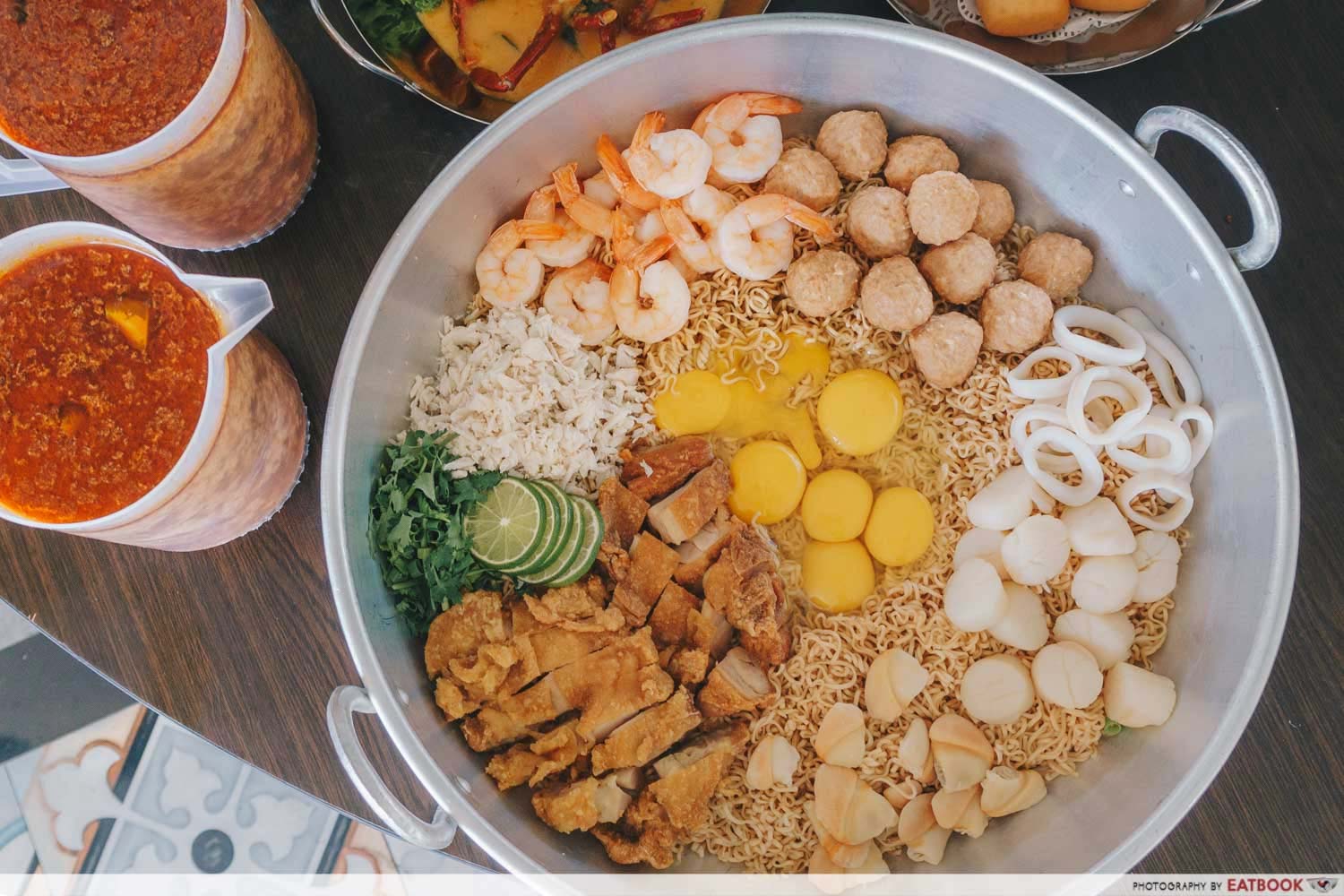 For those seeking the warm comfort of a homey steamboat, Flying Wok dishes out extra large tom yum hot pots at a fraction of the price. For just $49.90, you'll get a large pot, consisting of seafood, an assortment of mushrooms, fish balls and cheesy hot dogs that is enough to feed up to 10 people. Those feeling a little more luxurious can opt for the Extra Large ($79.90) version, where you will get a generous heap of seafood, including premium items like scallops, squid, pacific clams, real crab meat and peeled prawns. This hot pot comes with a tom yum broth that is piquant and only mildly spicy, making it shareable in a large group of friends with different spice tolerance.
Flying Wok Review: Halal XXL Tom Yum Seafood Hot Pot For 10 Hungry Folks At $49.90
Address: 105 Canberra Street, Singapore 752106
Opening hours: Daily 12pm to 10:30pm
Tel: 8776 1795
Website
Flying Wok is a halal-certified eatery.
---
7. 2KG Maki Roll (Maneko)
---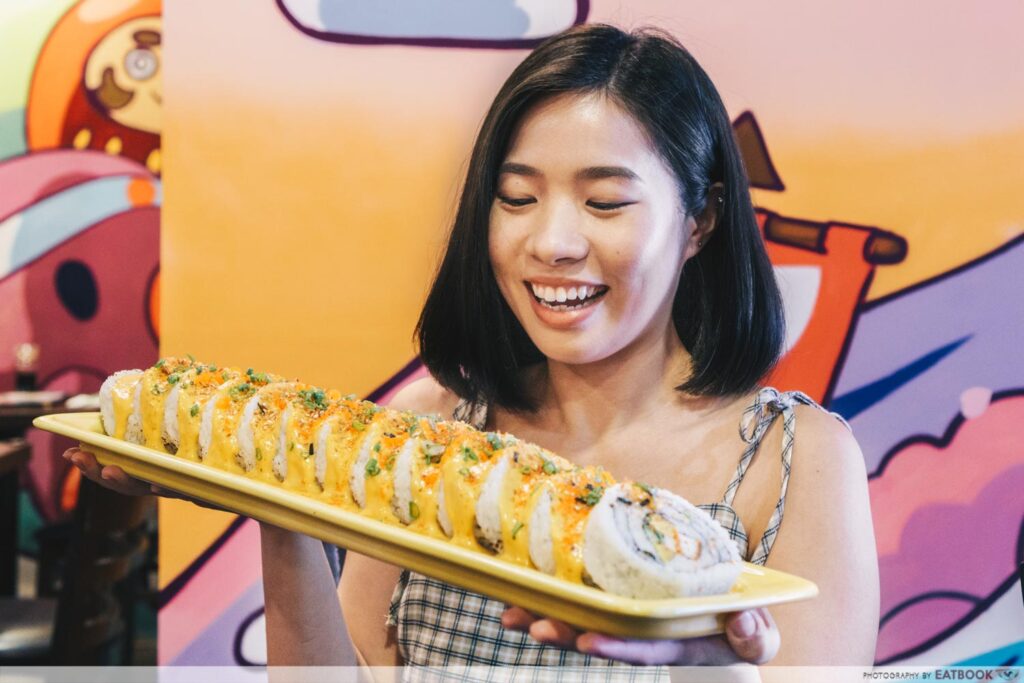 Feeding up to five famished folks, Maneko's signature 2kg Maki Roll ($49.90) has 14 thick slices of maki stuffed with generous fillings of soft-shell crab, chicken, pork katsu and tamago. The roll is drizzled with cheese sauce before being lightly torched. 
Do note that this is an off the menu dish that has to be ordered in advance, as the maki takes about 20 minutes of preparation time. Even if you're a big eater, we recommend you to avoid eating this by yourself, as it can get a little jelak.
Address: 227 Upper Thomson Road, Singapore 574359
Opening hours: Mon-Sun, 11am to 10pm
Tel: 6909 5401
Website
---
8. XXL Unagi Bara Chirashi (Unagiya Ichinoji)
---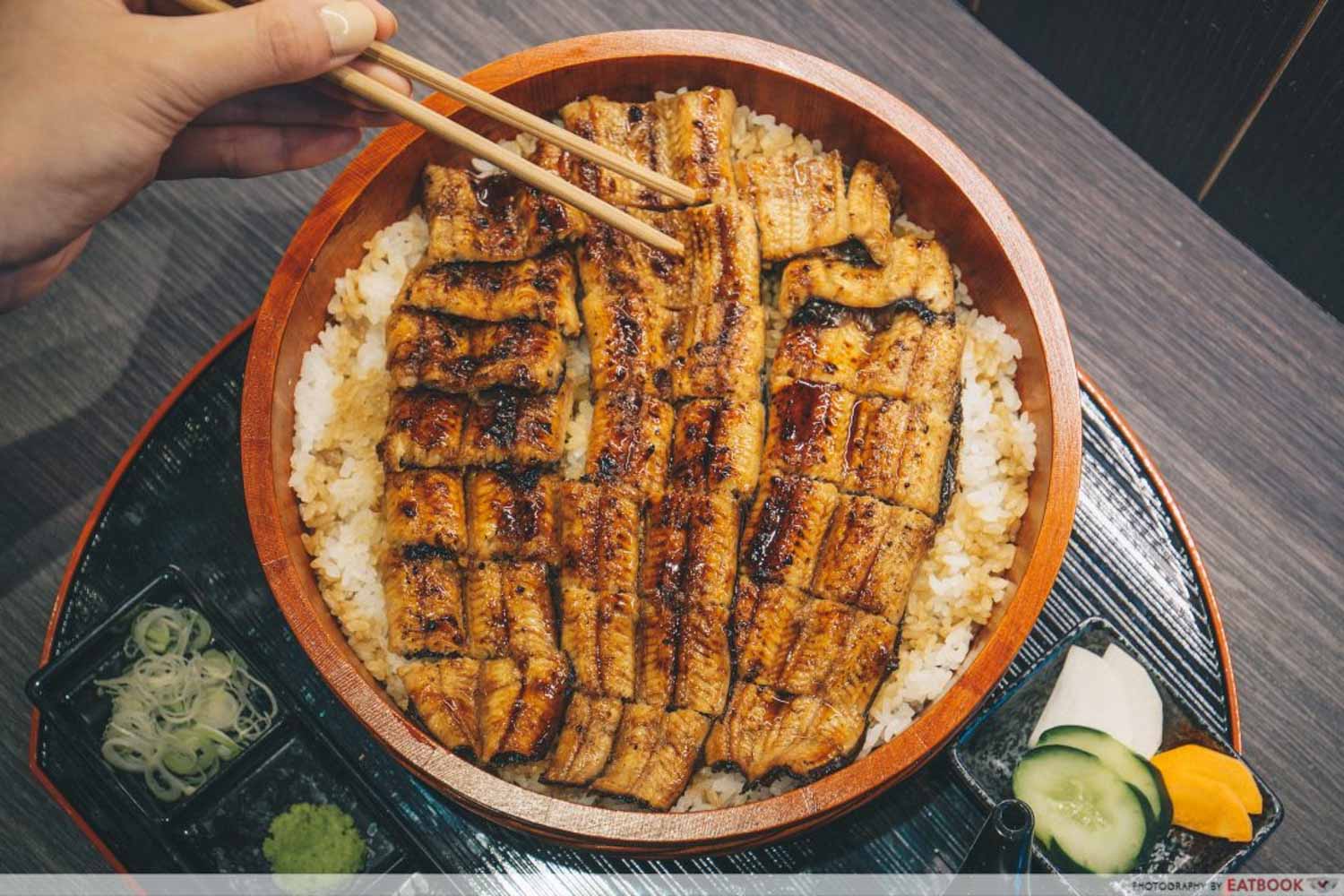 With a rich history of 125 years, Unagiya Ichinoji is a master at unagi dishes. No dish exemplifies this better than the XXL Hitsumabushi ($77.80). Lining the dish are tender chunks of charcoal-grilled eel which boast a jelly-like skin, giving each mouthfeel a wonderful mix of savoury and sweet flavours.
Unagiya Ichinoji Review: 125-Year-Old Unagi Restaurant by Tokyo's Miyagawa Honten
Address: 30 Robertson Quay, #01-05, Riverside Village Residences, Singapore 238251
Opening hours: Daily 11:30am to 3pm, 5:30pm to 10pm
Tel: 6732 1970
---
9. Large Nasi Ambeng (Enak Nasi Ambeng)
---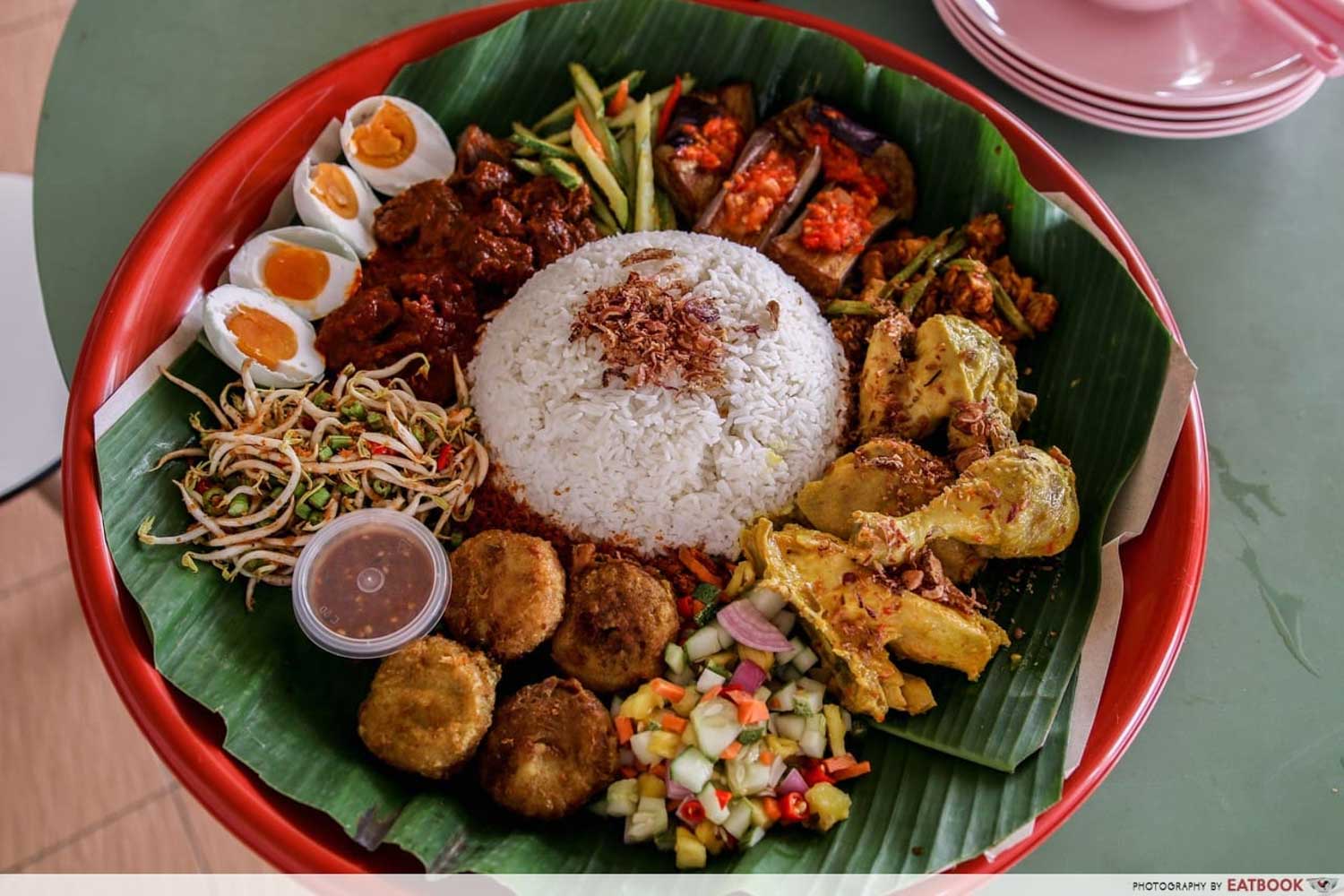 A small, unassuming hawker stall at Bedok South Food Centre, Enak Nasi Ambeng serves the Large Nasi Ambeng ($44) which feeds up to four people, A red tray is layered with large, fragrant banana leaves, and filled with a wide variety of complementing dishes such as salted egg, curry chicken, spicy sambal cuttlefish, and light, fluffy begedil.
Address: Blk 16 Bedok South Road, Bedok South Market & Food Centre, Singapore 460016
Opening hours: Wed-Sun 7am to 2pm
Tel: 9666 6909
Website
---
10. Massive Western Platter (Chops, Grills, and Sides)
---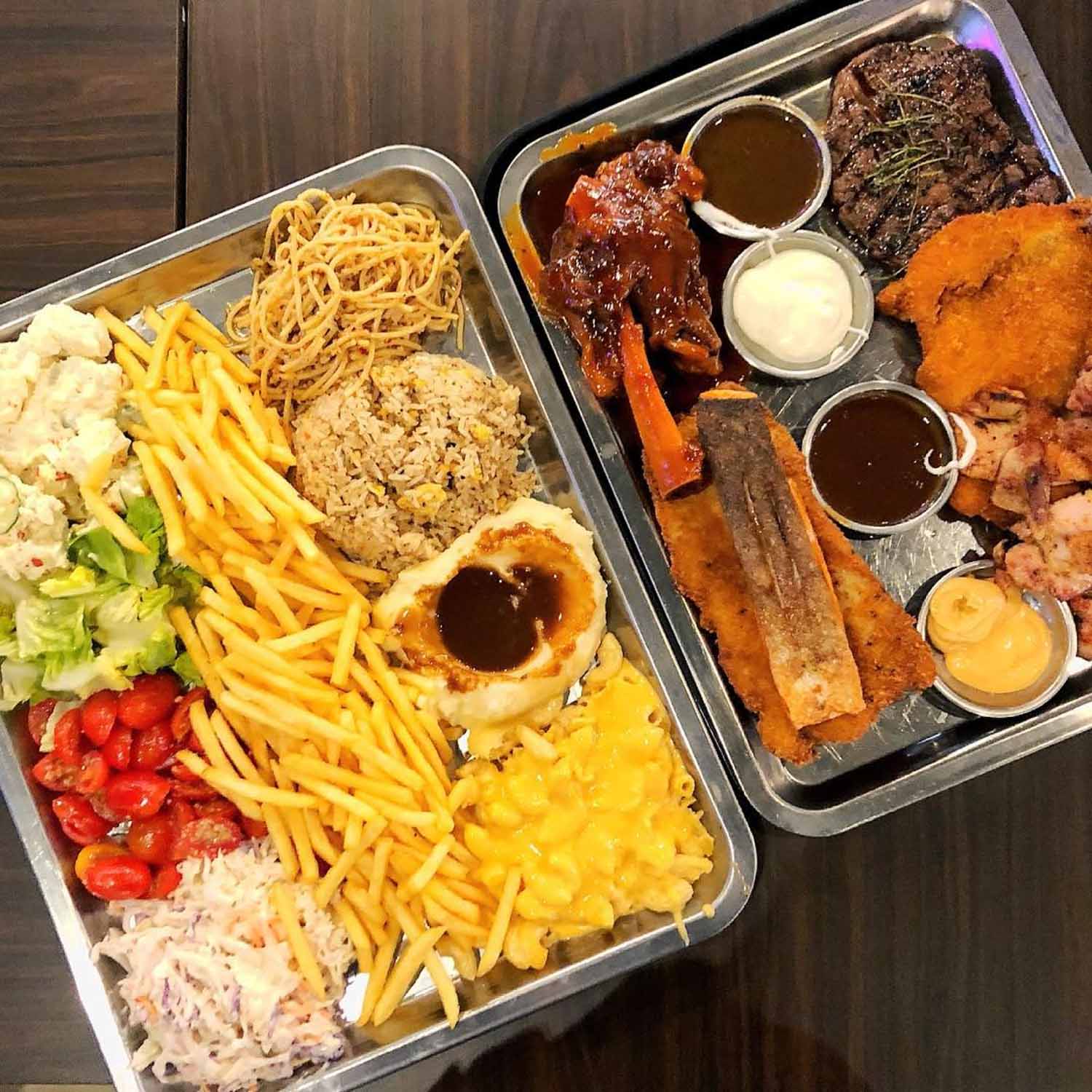 Image credit: @fcraves
I have always watched in awe as Mukbang YouTubers clear trays stacked with food. Here at Chops, Grills, and Sides, you're able to do so too, with their XXL Platter ($59.90). This platter feeds up to seven people, and comes with a mixture of 10 hot and cold sides, such as garlic fried rice, aglio olio, and mac and cheese.
These delicious sides come with indulgent grilled meats like Cajun chicken, garlic pork collar, pan-fried Norwegian salmon, spiced BBQ baby back ribs, fried breaded fish, and an Australian grain-fed ribeye steak. 
Address: 727 Ang Mo Kio Avenue 6, Broadway Coffee Shop, Singapore 560727
Opening hours: Mon-Sun 11:30am to 10pm
Tel: 9188 8206
---
Feast on these XXL dishes
---
Sometimes, a dish is so good that you can't help but want more. With these XXL dishes, you can truly indulge in your favourite food to your belly's content. The 10 places listed here offer jumbo dishes from a wide variety of cuisine, so drag your friends along and conquer them!