Feast at House of MU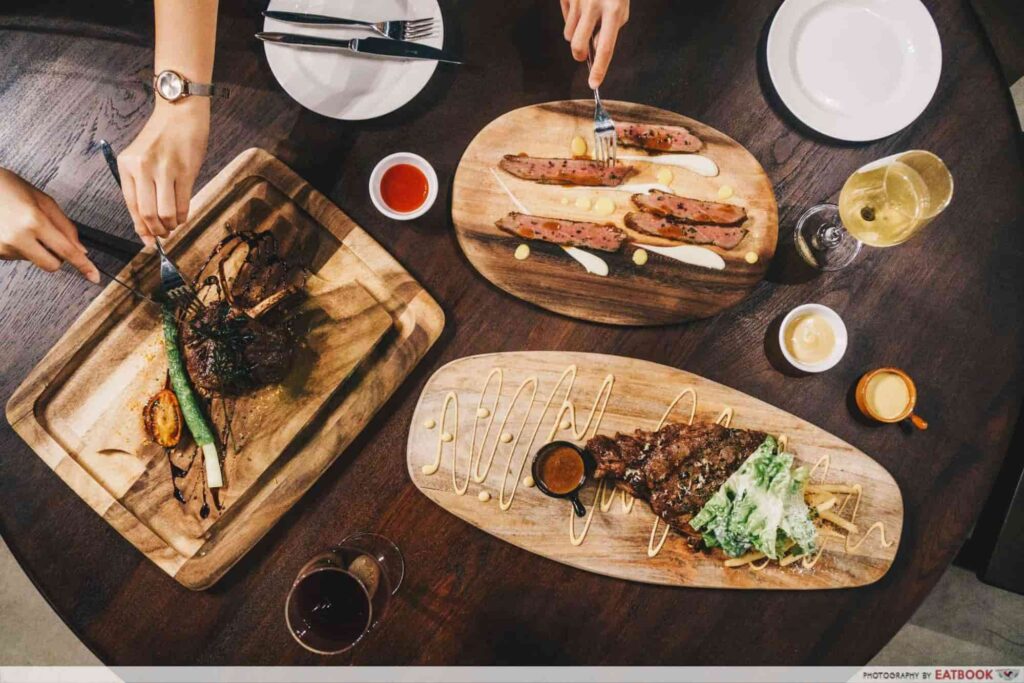 Good restaurants are hard to come by – and so are the chefs running it. House of MU managed to score two great chefs – Chef Tyrell Joon and Chef Song – to lead the kitchen.
The former boasts years of experience cooking at fine-dining restaurants such as Les Amis and Iggy's, while the pastries are carefully executed by Chef Song, who was the resident pastry chef at the now-defunct Fat Lulu's.
Food at House of Mu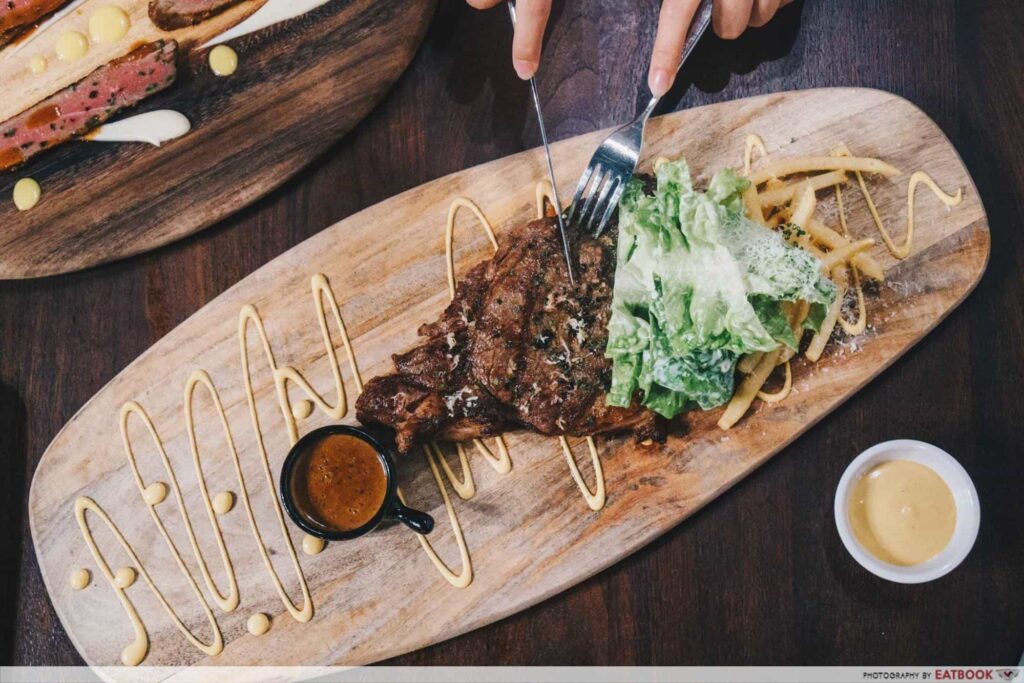 Bleeding a beautiful pink as we cut into it was the US Black Angus Ribeye ($32++). Cooked to perfection, the aromatic slab of beef melted in my mouth like butter.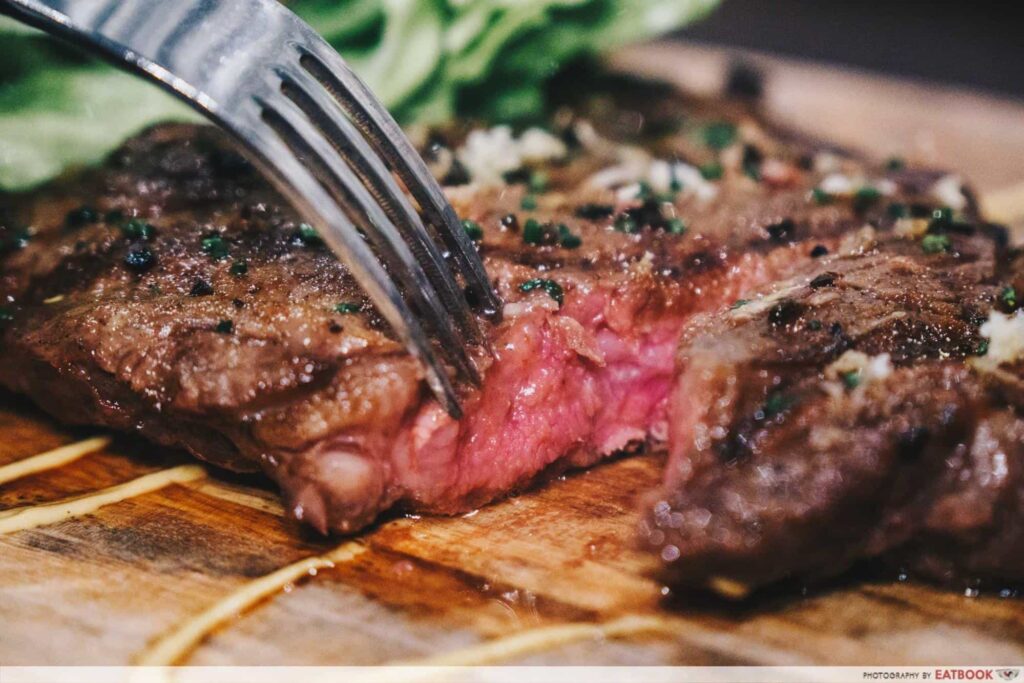 Dip it into the house-made mustard for a sharp zing. Alternatively, pair it with black pepper sauce for a savoury punch.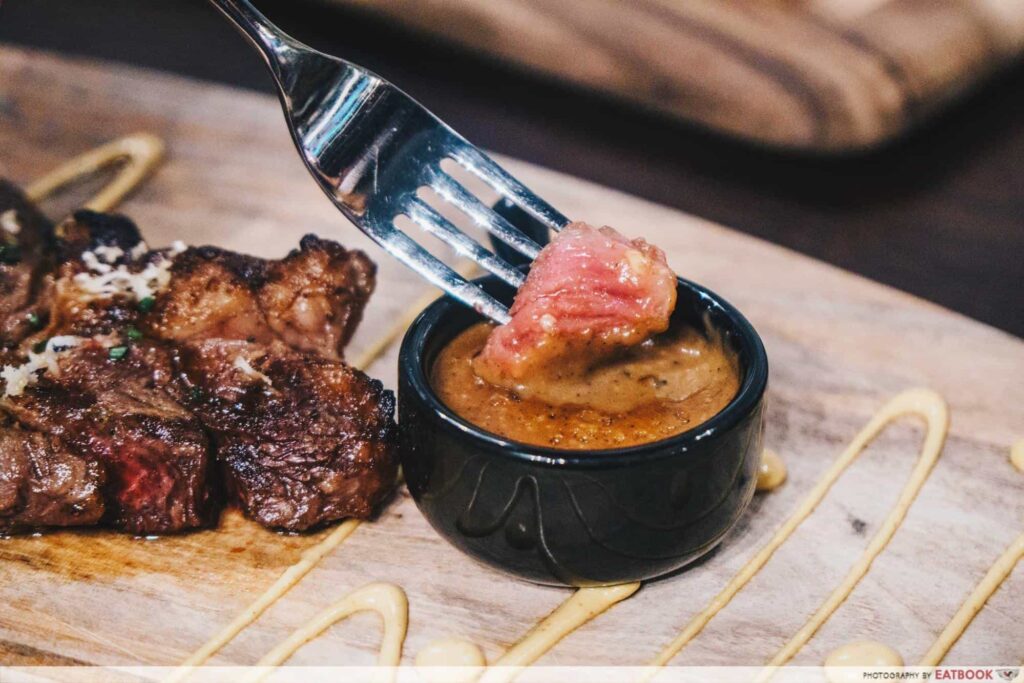 The steak was accompanied by garden greens and truffle fries, although the sides change according to the chef's discretion.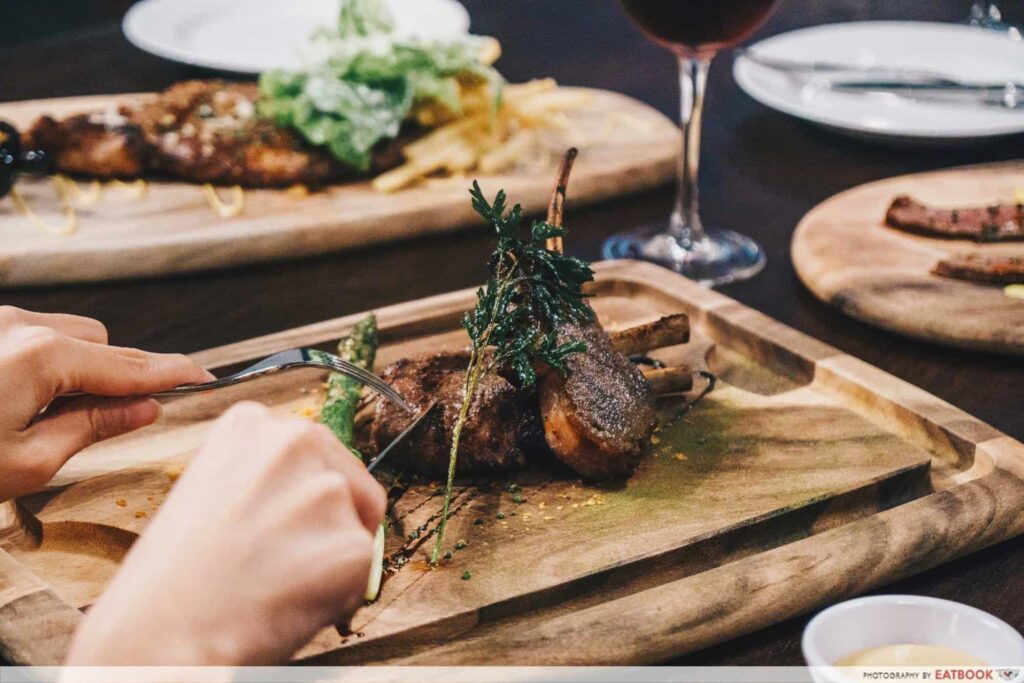 Full of moreish gamey flavour was the New Zealand Lamb Rack ($32++), which came with a side of grilled asparagus. As someone who really likes lamb, I enjoyed the full-bodied taste of this dish. There was a good amount of fatty layers too, adding to its decadence.
Chachako Review: Grilled Western Lunch Sets From $12.90 And Stretchy Cheese Toasties At Jurong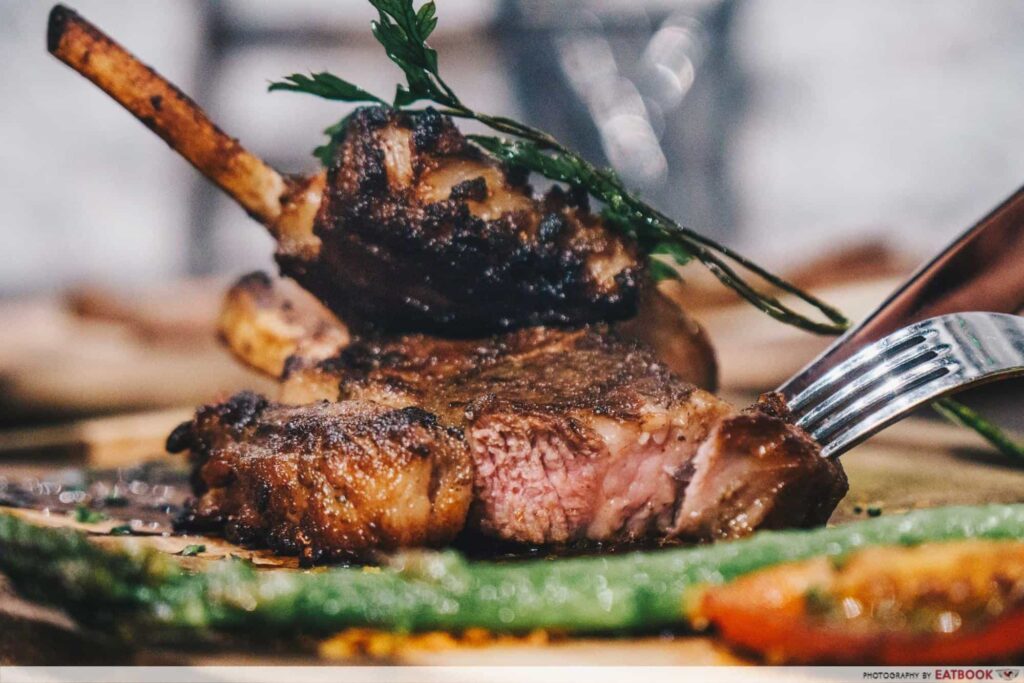 Note that the flavour can be a tad strong, so steer clear if you aren't a fan of lamb.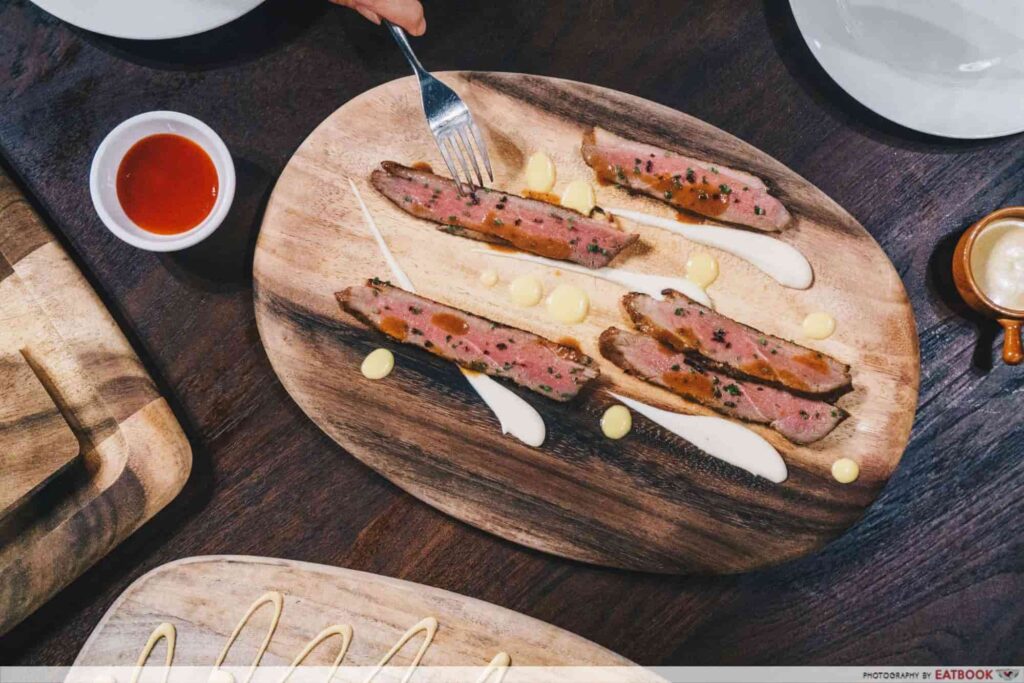 Small eaters can go for the Challan Duck Breast ($26++) – herb-infused slices that were extremely soft. I didn't fancy the texture though, as it was more mushy than tender.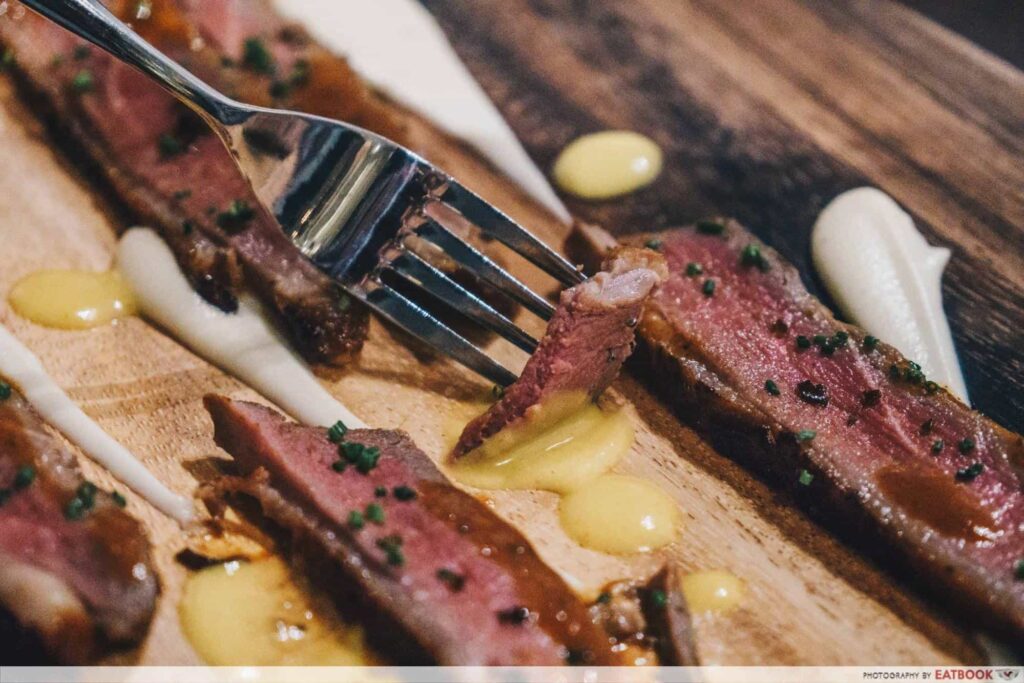 The duck came dressed in a tangy plum sauce, reminding me of a European-ised Peking duck.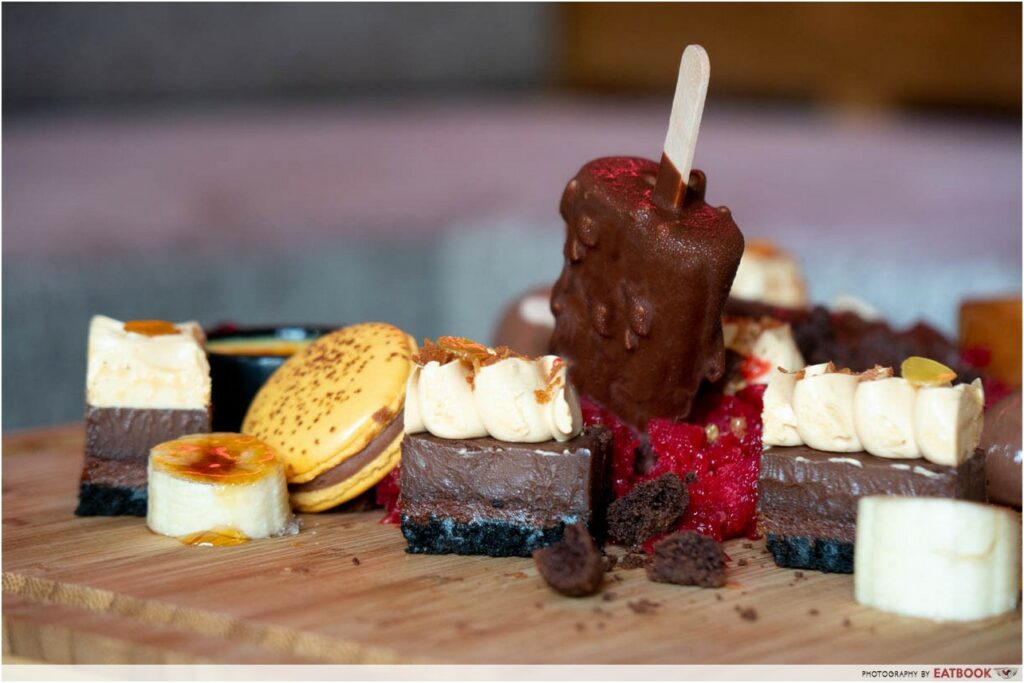 The star of the show at House of MU is definitely the monstrous Dessert Platter ($48++). Able to feed four, the assortment of treats came nicely plated on a block of wood – a recurring theme at House of MU.
Bringing his famed popsicles from Fat Lulu's here, the Magnum-like bar featured peanut butter ice-cream within. It was sweet without being too treacly, and went well with the sourish raspberry granita it sat upon.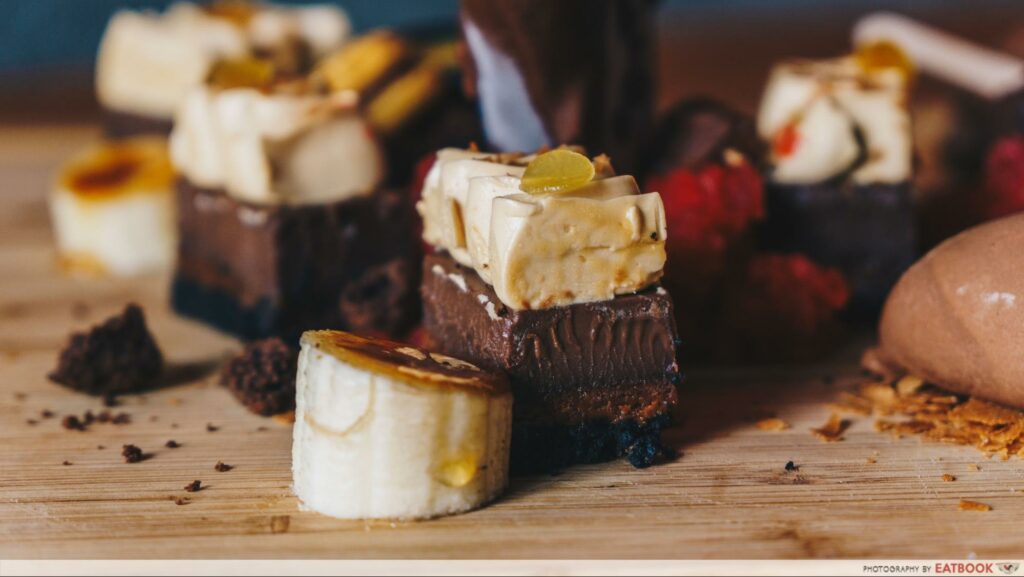 There were also cubes of Oreo cake with nutty hazelnut cream and passionfruit macarons. The Oreo cake was extremely fudgy, while the macarons were nice and soft.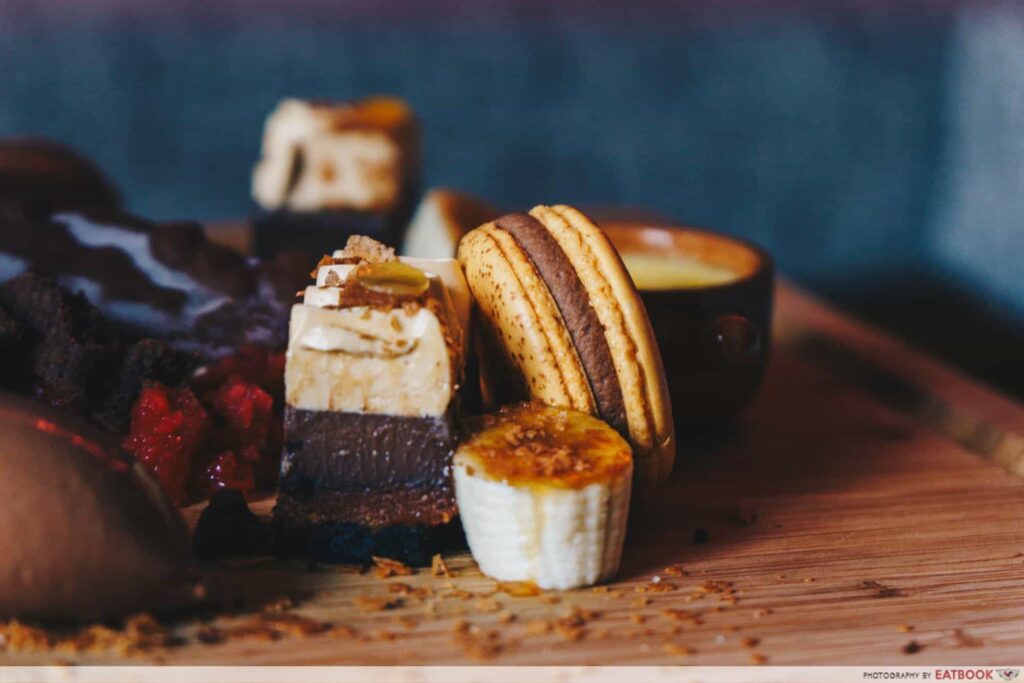 The caramelised banana took us by surprise, with its crackly burnt sugar top that paired well with the fruit.
Ambience at House of MU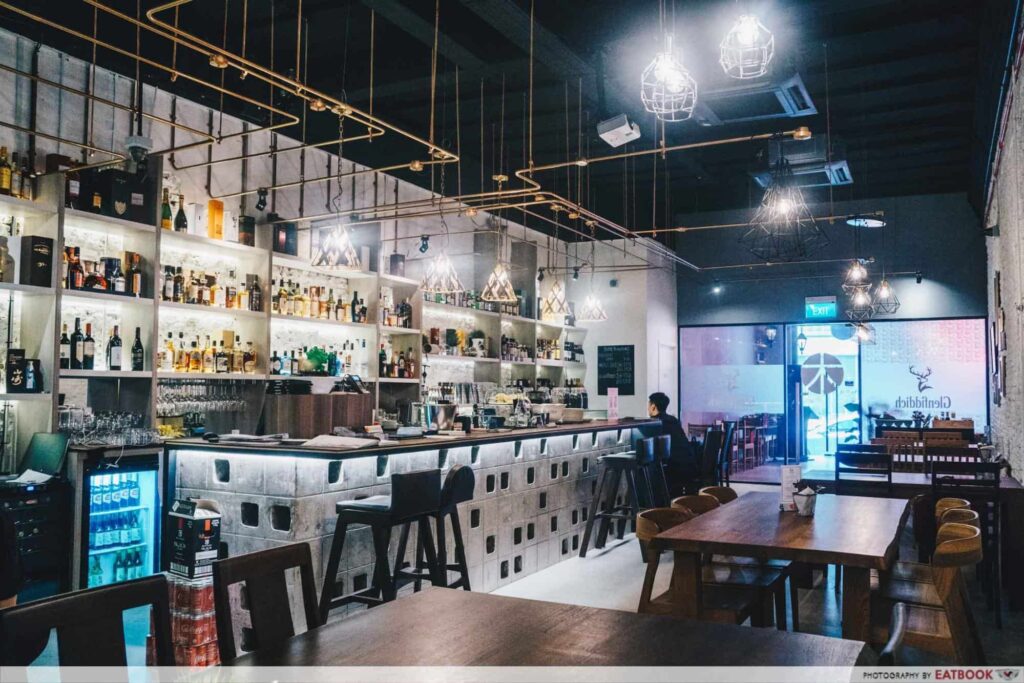 The smell of wood lingers in the air at House of MU. Opened by folks behind a Burmese teak furniture company, the space acts as a showroom, where all the tables and chairs found at the restaurant are up for sale. Most of the tables are huge enough to accommodate a big group, making it an ideal spot to dine at with your colleagues.
The verdict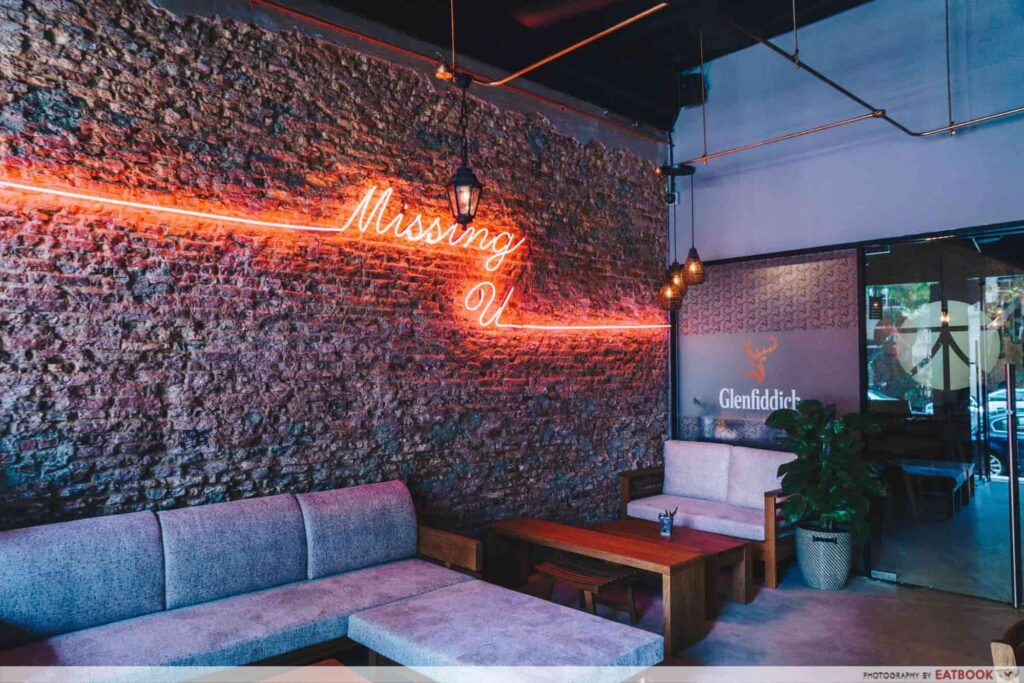 House of MU may not have made it to our 10 Best Restaurants Under $50 this year, but the dessert platter by Chef Song certainly takes the cake. You won't regret splurging on it, as each treat proves to be spectacular.
10 Best Restaurants Under $50++ Per Person With A4 Wagyu And More – Eatbook Top 50 Awards 2018
Address: 11 Mohamed Sultan Road, Singapore 239010
Opening hours: Tue-Thur 12pm to 10:30pm, Fri 12pm to 12am, Sat 9:30am to 12am, Sun 9:30am to 10:30pm
Tel: 6732 1011
Photos taken by Pepita Hope Wauran, Becky Chong and Katie Boon.
This is an independent review by Eatbook.
Summary
Pros
– Delicious dessert
– Succulent meat dishes
Cons
– Pricey
Recommended dishes: Dessert Platter ($48++), New Zealand Lamb Rack ($32++)
Opening hours: Tue-Thur 12pm to 10:30pm, Fri 12pm to 12am, Sat 9:30am to 12am, Sun 9:30am to 10:30pm
Address: 11 Mohamed Sultan Road, Singapore 239010