---
Best restaurants in Singapore 2018
---
If there's one thing the chendol/chicken rice/nasi goreng wars have taught us, it's that we take food very seriously. Whether it's staking claim to our beloved dishes or constantly hunting for new food joints, you can rely on Singaporeans to turn food into a national pastime.
In keeping with this zeitgeist, we have sussed out the 10 best restaurants in Singapore we visited in 2018 as part of our inaugural Eatbook Top 50 Awards! Every restaurant on this list lets you fill your tummy up at less than $50++ per person, so you don't have to go broke feasting on good food.
---
For casual meals (<$20++/person)
---
1. The Salted Plum
---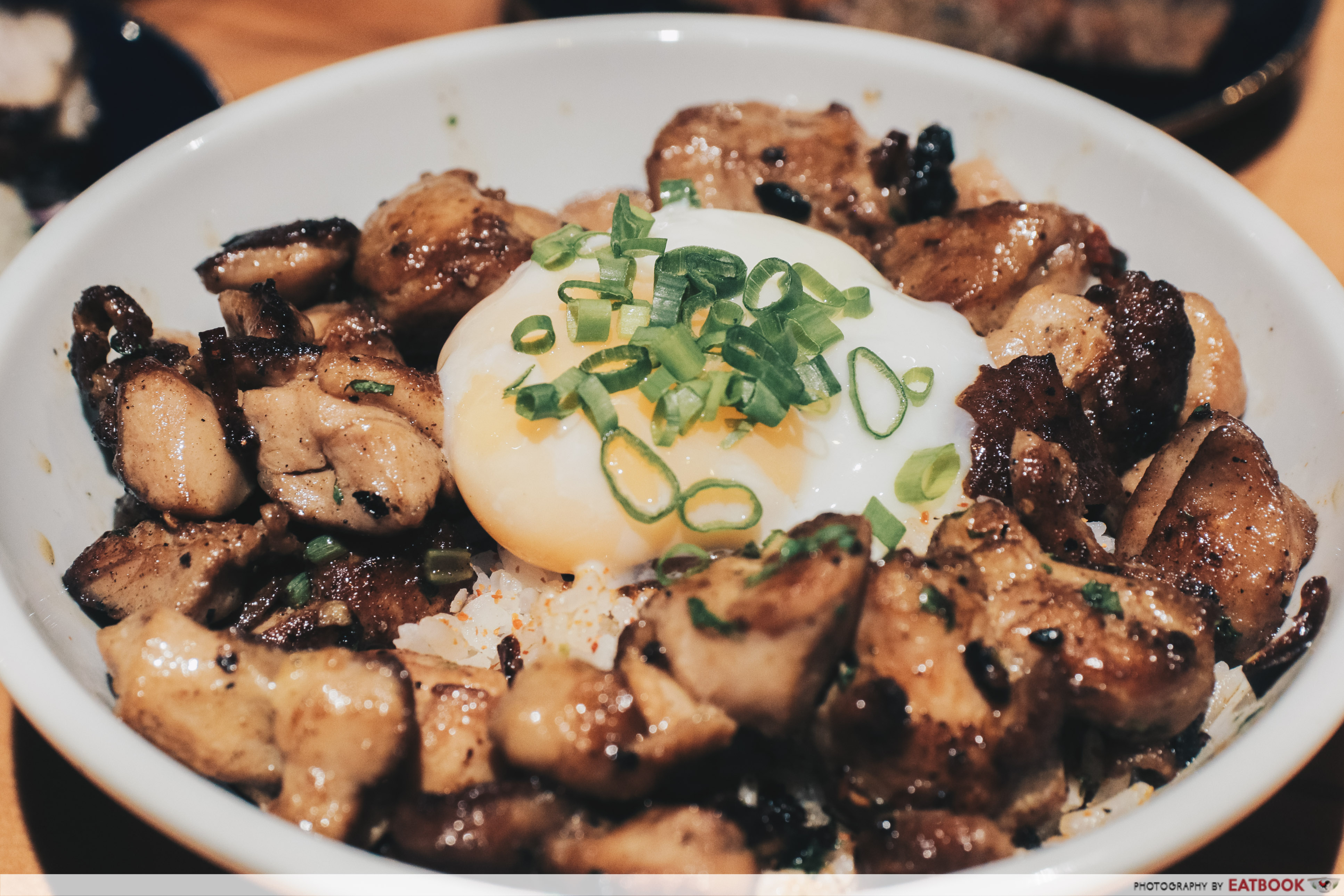 Like a phoenix, the now-defunct Five Ten has regenerated to become the swankier and tastier The Salted Plum. Located near Clarke Quay, the restaurant offers comfort Taiwanese-inspired food that'll fuel you for a night of partying.
Their Burnt Chilli Chicken Rice ($10+) features a bed of white jasmine rice, topped with seared chicken chunks and a runny sous-vide egg in the centre. Thanks to the "burnt chilli", this dish had a strong kick of heat and a full-bodied flavour.
If you're coming in a group, the selection of shareable sides like the Salted Pork ($5+) and Smashed Baby Potatoes | Plum Powder ($5+) will strike your fancy. In particular, the salted pork slices have a salty and fatty finish that'll whet your appetite.
Check out our full review of The Salted Plum!
The Salted Plum Review: Delicious Rice Bowls At $10+ By Five Ten
Address: 10 Circular Road, Singapore 049366
Opening hours: Mon-Sat 11:30pm to 2:30pm, 6pm to 9:30pm
Tel: 6260 0155
Website
Menu
---
2. Casa MANINI
---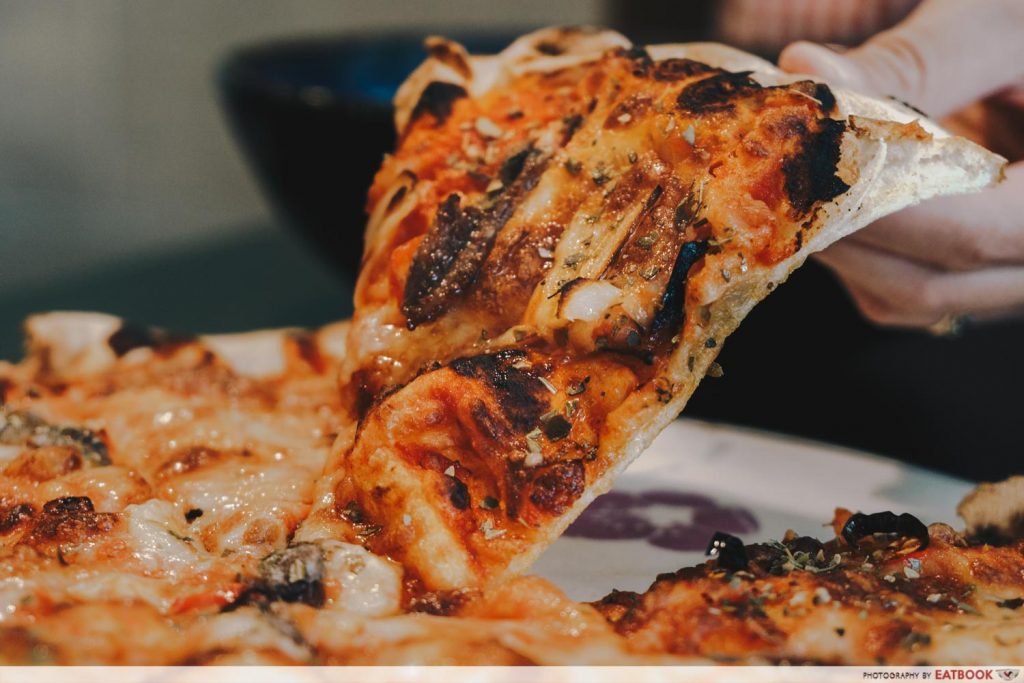 Casa MANINI proves that even a neighbourhood restaurant can dish out legit Italian nosh. As our writer succinctly puts it, "The food is really spectacular, rivalling the Italian dishes I had in Europe."
The Pizza Puttanesca ($18++) is light on ingredients but heavy on taste. The toppings are simple – mozzarella, garlic, bird's eye chilli and whole salted anchovies. And yet, they all added a unique dimension to the dish. The bird's eye chilli gave some spiciness, without being too redolent and the salted anchovies helped cut through the cheesiness of the dish.
The ambience here also has a homey vibe, thanks to its whimsical interior creating a calming garden-like environment, coupled with the friendly service.
Check out our full review of CASA Manini!
Casa MANINI Review: Legit Italian Restaurant For Pasta And Pizza In Serangoon Gardens
Address: 14b Kensington Park Road, Singapore 557265
Opening hours: Tue-Fri 12pm to 2:30pm, 6pm to 9:30pm, Sat-Sun 12pm to 3pm, 6pm to 9:30pm
Tel: 6281 1286
Website
---
3. Pita Tree Mediterranean Kitchen & Bar
---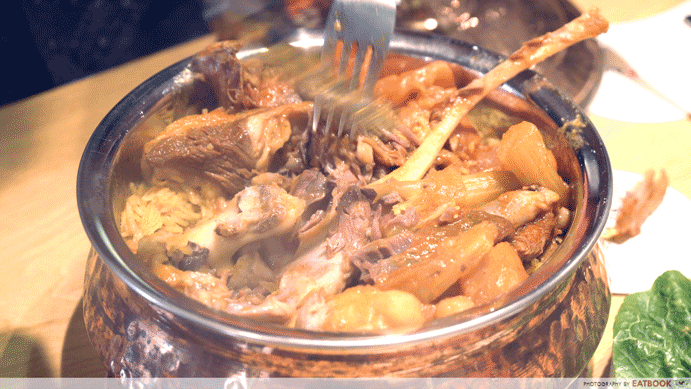 A far cry from their humble kebab kiosk in Orchard, Pita Tree Mediterranean Kitchen & Bar is a full-fledged restaurant in Boat Quay that serves an impressive range of Mediterranean nosh like skewers, dips, and stews – all at nett prices!
While their mains are generally delicious, it was the Arabic Lamb Shank Biryani ($38 for two people) that solidified their spot on this list. Slow-cooked for three hours, the meat literally slides off the bone, and into the blanket of saffron rice, carrots and raisins. It is also huge to boot. Although the serving size on the menu calls for two, it can easily feed up to four people.
Check out our full review of Pita Tree Mediterranean Kitchen & Bar!
Pita Tree Mediterranean Kitchen & Bar Review: Kebabs And Biryani At Nett Prices At Boat Quay
Address: 14 Lorong Telok, Boat Quay, Singapore 049027
Opening hours: Mon-Thur 11:30am to 10pm, Fri 11:30am to 12am, Sat 3pm to 12am
Tel: 6532 2098
Website
Pita Tree Mediterranean Kitchen & Bar at Boat Quay uses halal ingredients but serves alcohol.
---
4. Tipo Pasta Bar
---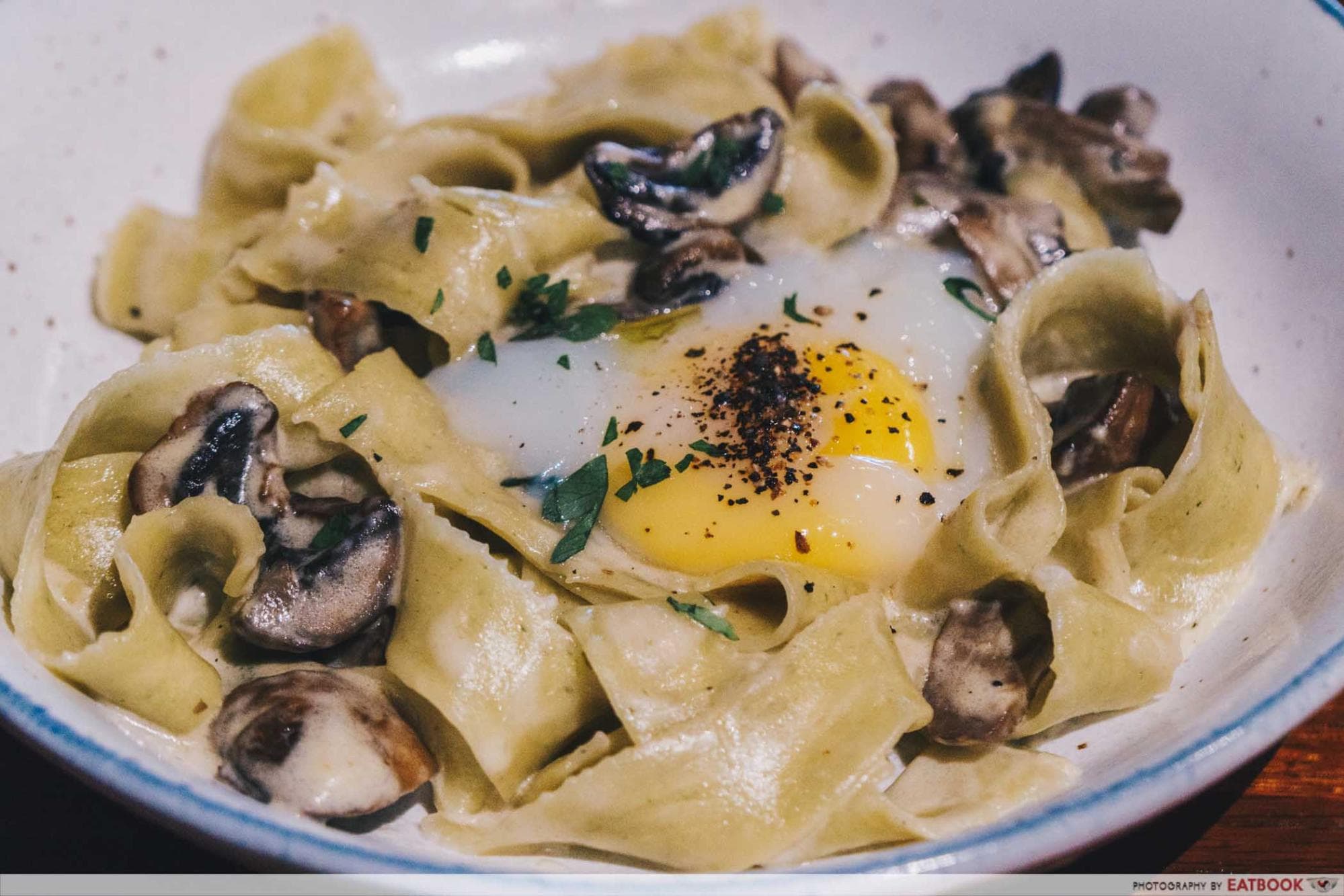 Customisable food places that churn out winning combinations for every ingredient are few and far between. That's why Tipo Pasta Bar earned a place here on this list as the different permutations worked brilliantly.
Their build your own pasta starts at $9.90+, and includes premium ingredients like garlic escargot ($3+) and truffle oil ($2+) – which, suffice to say, is affordable AF.
If you prefer choosing from a fixed menu, the Carbonara Al Funghi ($11.90+) is a safe choice. The creamy Alfredo sauce worked beautifully with the sous vide egg, giving the dish a delicate gooey texture for an indulgent mouthfeel.
Check out our full review of Tipo Pasta Bar!
Tipo Pasta Bar Review: New Halal Pasta With Premium Toppings Of Escargot And Caviar
Address: 785 North Bridge Road, Singapore 198753
Opening hours: Sun-Thur 12pm to 10pm, Fri-Sat 12pm to 11pm
Tel: 8768 0785
Website
Tipo Pasta Bar is Muslim-owned.
---
5. Le Shrimp Ramen
---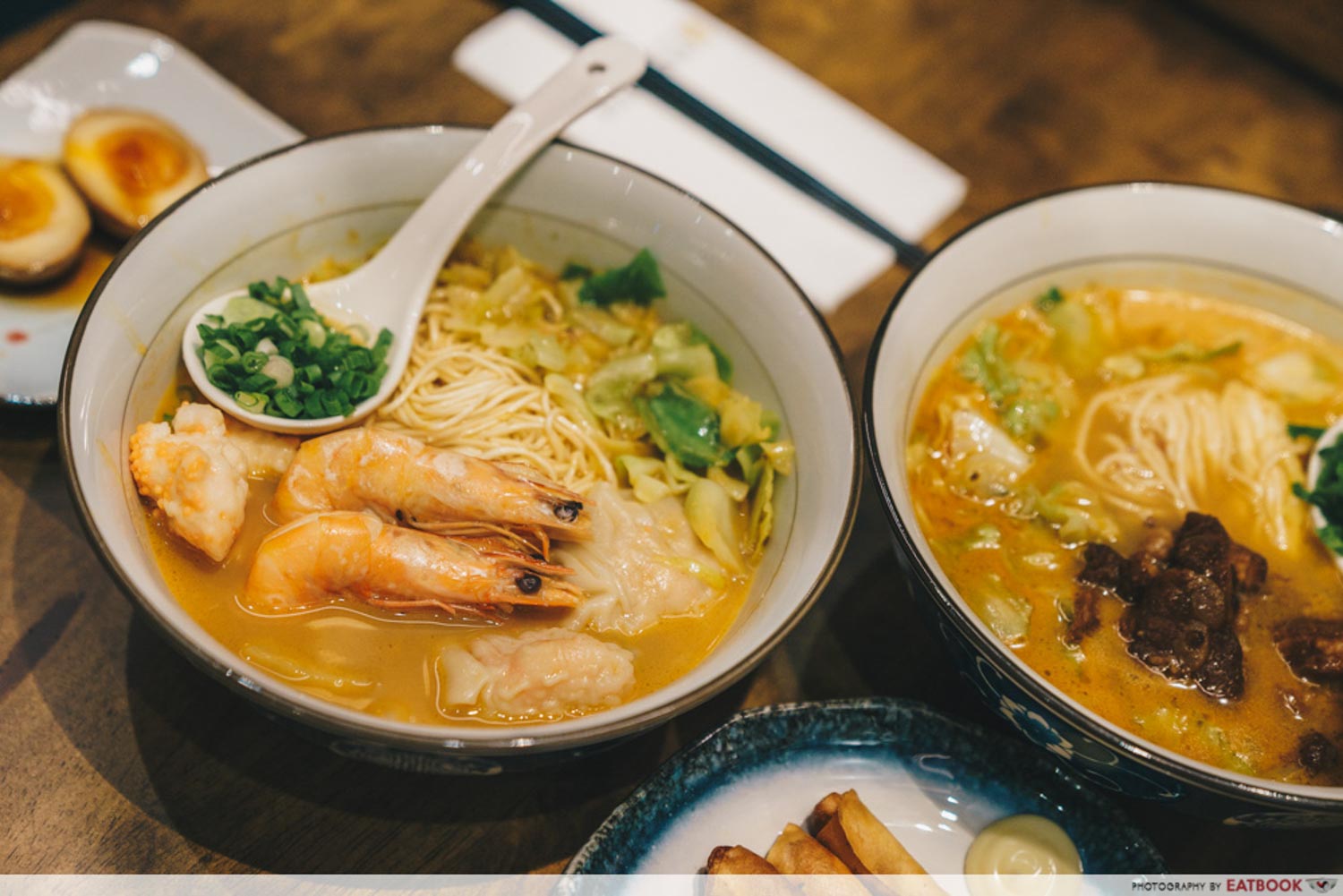 Shrimp broth ramen is a concept that'll probably make your ancestors scoff but Le Shrimp Ramen has masterfully balanced this delicate act of combining Japanese techniques with Chinese flavours.
The Le Signature Trio Shrimp Ramen ($19.90++) makes for a good starting point as it features two fresh prawns, prawn dumplings, and ebiko prawn balls placed gingerly atop a bed of Chinese la mian.
Fans of the classic hae mee and pork ribs will be glad to know that they've got the Braised Pork Ribs Shrimp Ramen ($13.90++) to keep you satisfied. The dish comes with three huge chunks of pork ribs which add a savoury element to the broth and help to bring down the sweetness from the prawns.
Check out our full review of Le Shrimp Ramen!
Address: 290 Orchard Road, #B1-42, Paragon, Singapore 238859
Opening hours: Daily 10:30am to 10pm
Website
---
To impress your date (<$40++/person)
---
6. The Guild
---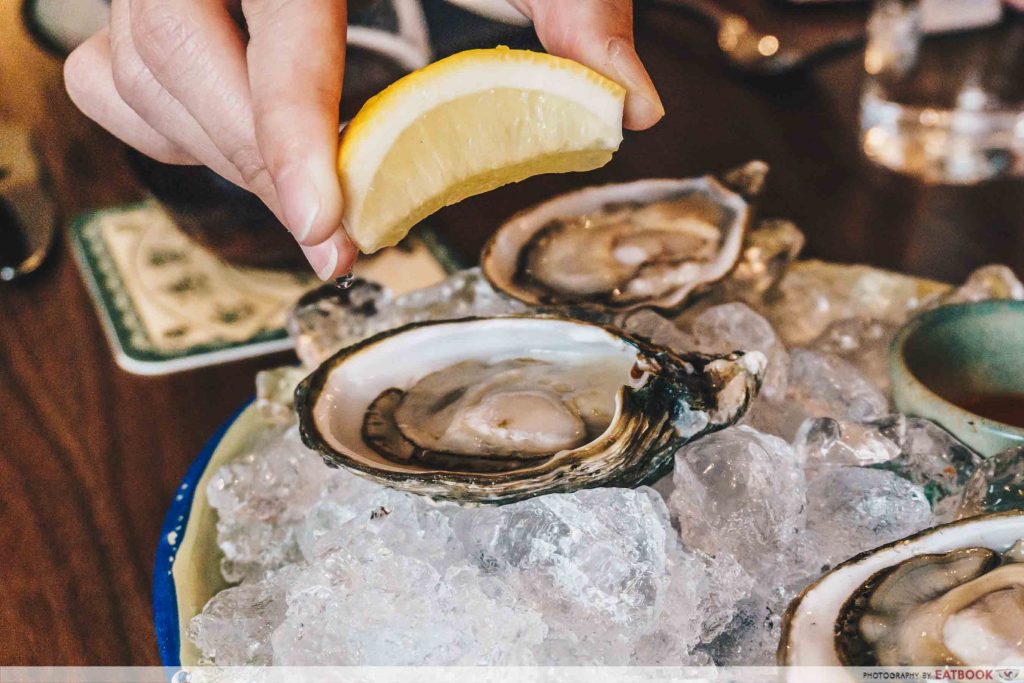 The Guild will shatter any preconceived notions you have about locally farmed oysters. Hailing from Pulau Ubin, Raw Sea Farmer Fresh Oysters ($6++ a piece) were plump and sweet. Free from sediments, they also boasted a clean finish.
For something a lil' more savoury, check out the Grilled Sweet & Spicy Bacon ($28++). Cured for two weeks with maple syrup, and then smoked in-house for six hours, the slab had a beautiful ratio of fat to tender meat.
The main reason why you can expect such fresh ingredients is that the head chef's motto is to use any freshly harvested item that can reach his doorstep within 24 hours.
Check out our full review of The Guild!
The Guild Review: Pulau Ubin-Farmed Oysters And Buah Keluak Ice-cream At Keong Saik Road
Address: 55 Keong Saik Road, Singapore 089158
Opening hours: Wed-Fri 5pm to 12am, Sat-Sun 12pm to 12am
Tel: 9042 3900
Website
Menu
---
7. Black Tap
---
A perennial favourite in the Big Apple, Black Tap finally made its way to our shores this year and boy, was it worth the wait. With a wide selection of burgers and desserts in their arsenal, pretty much everything here was a home run.
The popular Texan Burger ($25++) features a massive patty made from prime ground beef that's stacked with strips of crispy bacon, a huge onion ring, and aged cheddar. Biting into this hearty concoction will unleash a torrent of savoury juices, a clear indication of how amazing it is.
A meal here isn't complete without their gravity-defying milkshakes. If you had to pick one, opt for the Sweet N' Salty ($22++) – a peanut butter shake comprising pretzels, peanut butter cups, whipped cream, and a chocolate-frosted rim topped with M&M's.
Despite its intimidating design, this drink isn't cloying. In fact, it's balanced with hints of saltiness, making it addictive.
Check out our full review of Black Tap!
Black Tap Singapore Review: Prime Beef Burgers And Crazy Shakes At Marina Bay Sands
Address: 10 Bayfront Avenue, #L1-80, The Shoppes at Marina Bay Sands, Singapore 018956
Opening hours: Daily 11am to 11:30pm
Tel: 6688 9957
Website
---
8. The Spot
---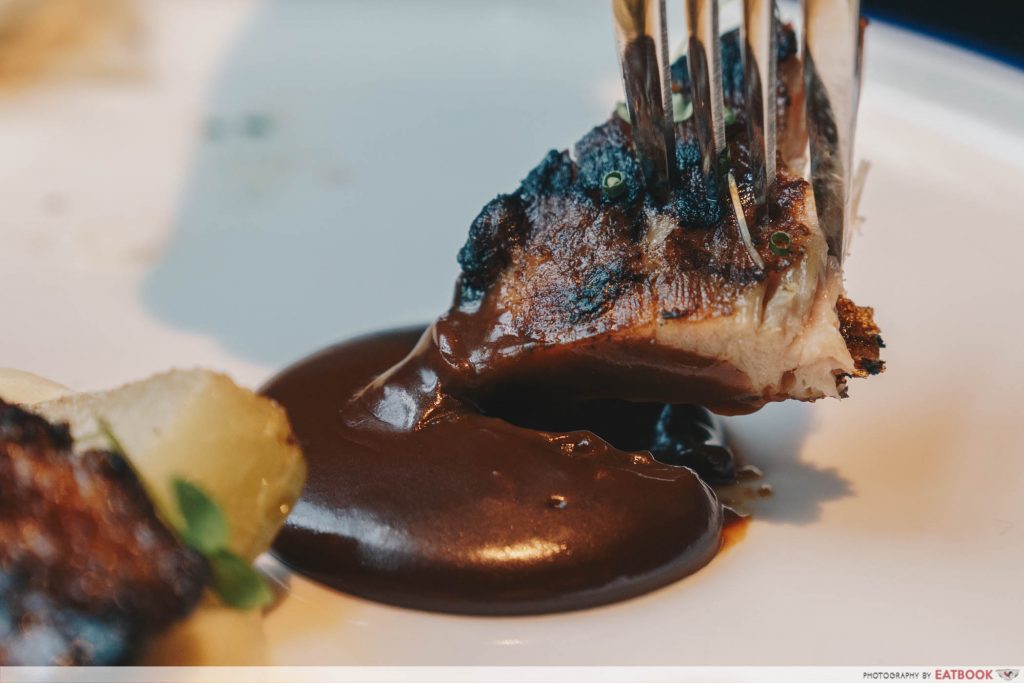 Unlike other, well, spots on this list, The Spot excels in their set lunches. At just $30++, their Two Courses set is reasonably priced as it comes with a main and a choice of either an appetiser or dessert.
One of the mains you can choose is the Pork Cheek "BBQ" which has been marinated for a day in a blend of soy and fish sauce, five-spice powder and oyster sauce. Coupled with a two-hour sous-vide process, you'll wind up with a pork jowl that's extremely tender and moist.
Cap off your meal with the Licorice Root Ice Cream, an aesthetically pleasing dessert that's worthy of an IG square. House-made with licorice root powder and malt extract, the ice-cream had a mellow woody aroma that suits the restaurant's posh interior.
Check out our full review of The Spot!
The Spot Review: Value-For-Money Set Lunch With Salmon And Green Curry Snapper In The CBD
Address: 5 Straits View, #01-26/27, Marina One, Singapore 018935
Opening hours: Mon-Fri 7:30am to 11pm, Sat 5pm to 11pm
Tel: 6284 2637
Website
---
9. Beef Sukiyaki Don Keisuke
---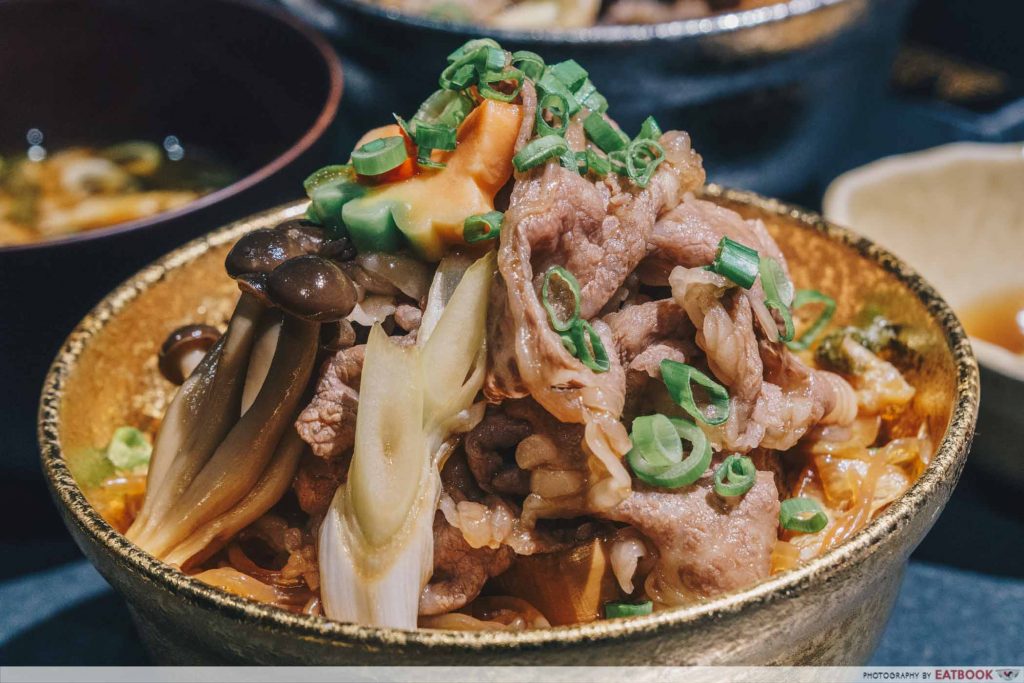 The Keisuke franchise has birthed stellar restaurants over the years, and joining this list is Beef Sukiyaki Don Keisuke.
There are only two items here, each accompanied by miso soup, sesame tofu, and an onsen egg. Make your queue worthwhile by springing for the main star itself: Kiwami Wagyu Sukiyaki Don ($29.90++).
A4 Wagyu beef is neatly presented on a tray and showed to the guest before being cooked. Possessing an even and beautiful marbling, the beef melts in your mouth. Coupled with the liberal amount of Shimeji mushrooms, braised mushrooms and shirataki noodles topping the bowl, this mountain of goodness is well-worth the price tag.
Check out our full review of Beef Sukiyaki Don Keisuke!
Beef Sukiyaki Don Keisuke Review: Gourmet Yoshinoya-esque Beef Bowls From $13.90++
Address: 11 Kee Seng Street, #01-01, Onze @ Tanjong Pagar, Singapore 089218
Opening hours: Mon-Sun 11:30am to 2:30pm, 5pm to 10pm
Tel: 6535 1129
Website
---
For large groups (<$50++/person)
---
10. Qi – House of Sichuan
---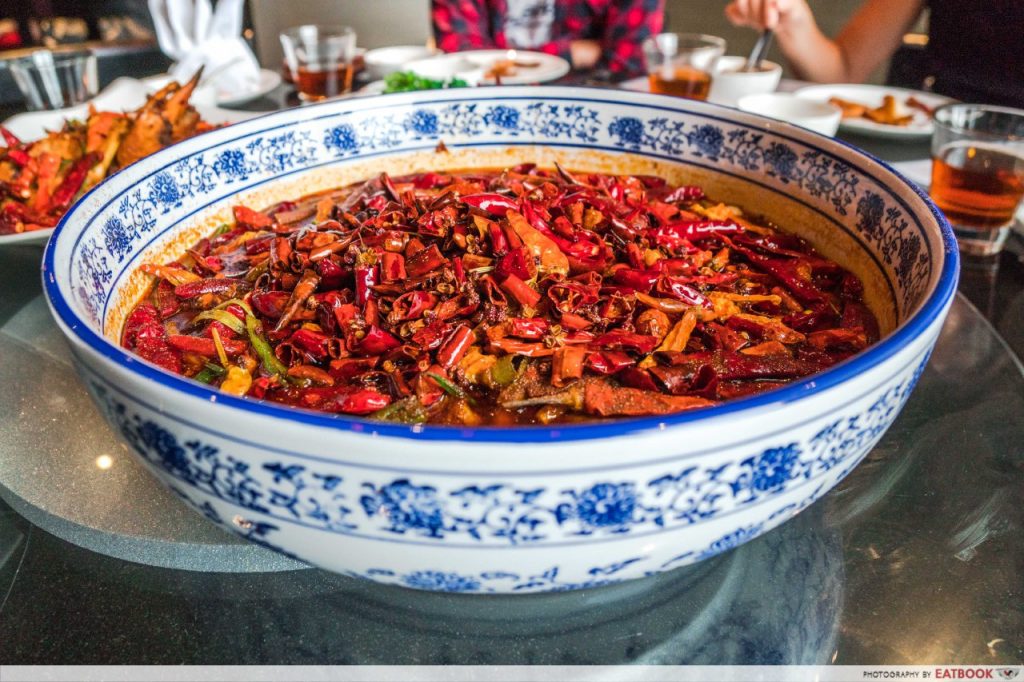 The proud owner of one Michelin star in Hong Kong, Qi – House of Sichuan serves a slew of spicy and tongue-numbing food. To feel the full force of Sichuan cuisine, the Braised Garoupa Fish Fillet in Chili Oil Soup ($40++ for small, $50++ for large) is the one to beat. Underneath the avalanche of chillies are thick slices of braised grouper fish fillet, mushrooms and sweet potato noodles.
Full disclosure, it is as spicy as it looks. After five mouthfuls, our writer's ears were ringing.
Check out our full review of Qi – House of Sichuan!
Qi – House of Sichuan Review: Spicy Ma La Dishes In The CBD By A Michelin-Starred Restaurant
Address: 8A Marina Boulevard, #02-01, Marina Bay Link Mall, Singapore 018984
Opening hours: Daily 11:30am to 3pm, 6pm to 10pm
Tel: 6634 8277
---
Treat yourself to a hearty meal
---
As 2019 draws near, end this year's chapter on a high note by treating your bae and tummy to all these restaurants you may have missed out on. From stacked burgers to hearty noodles, there's something here for every palate. Check out more Eatbook Top 50 Awards 2018 winners to find out where to head to for your next meal!
50 Best Food Places In Singapore For All Budgets – Eatbook Top 50 Awards 2018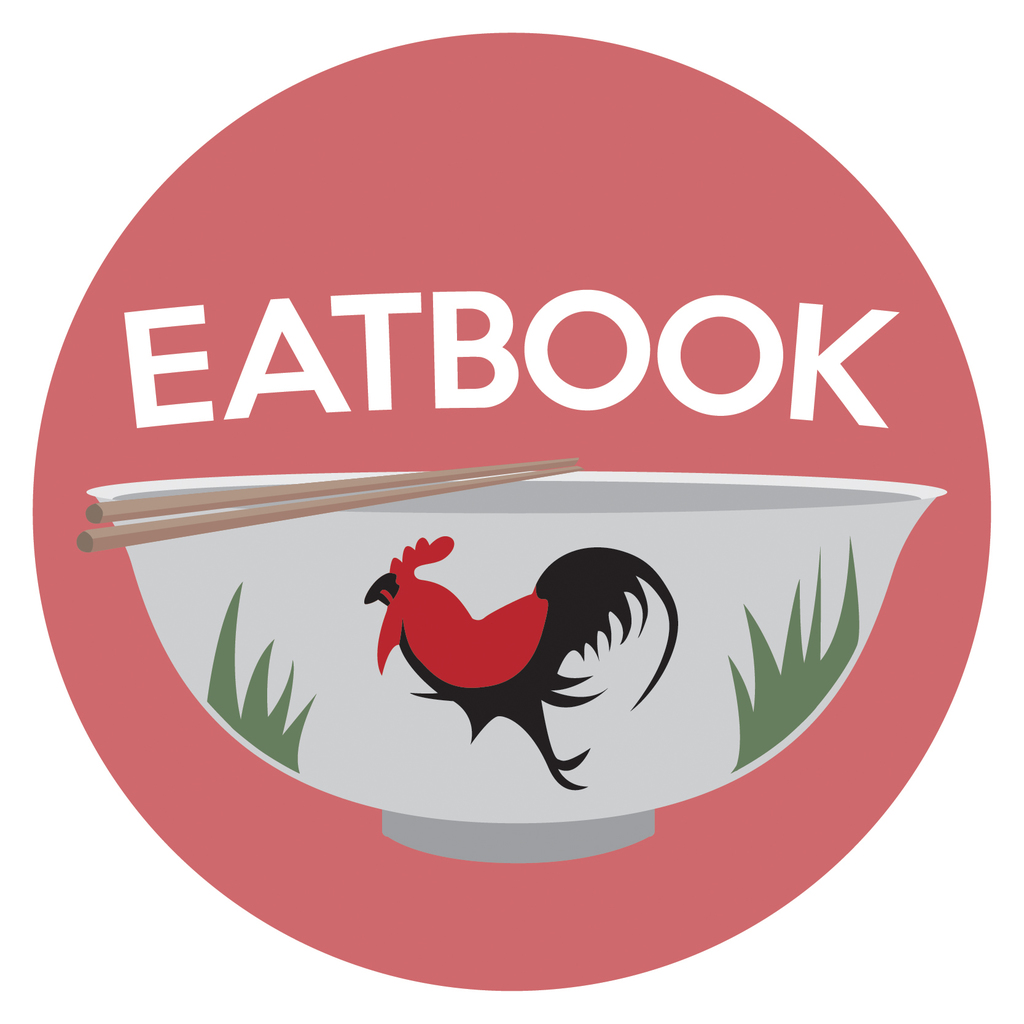 Drop us your email so you won't miss the latest news.