Le Shrimp Ramen – more than just hae mee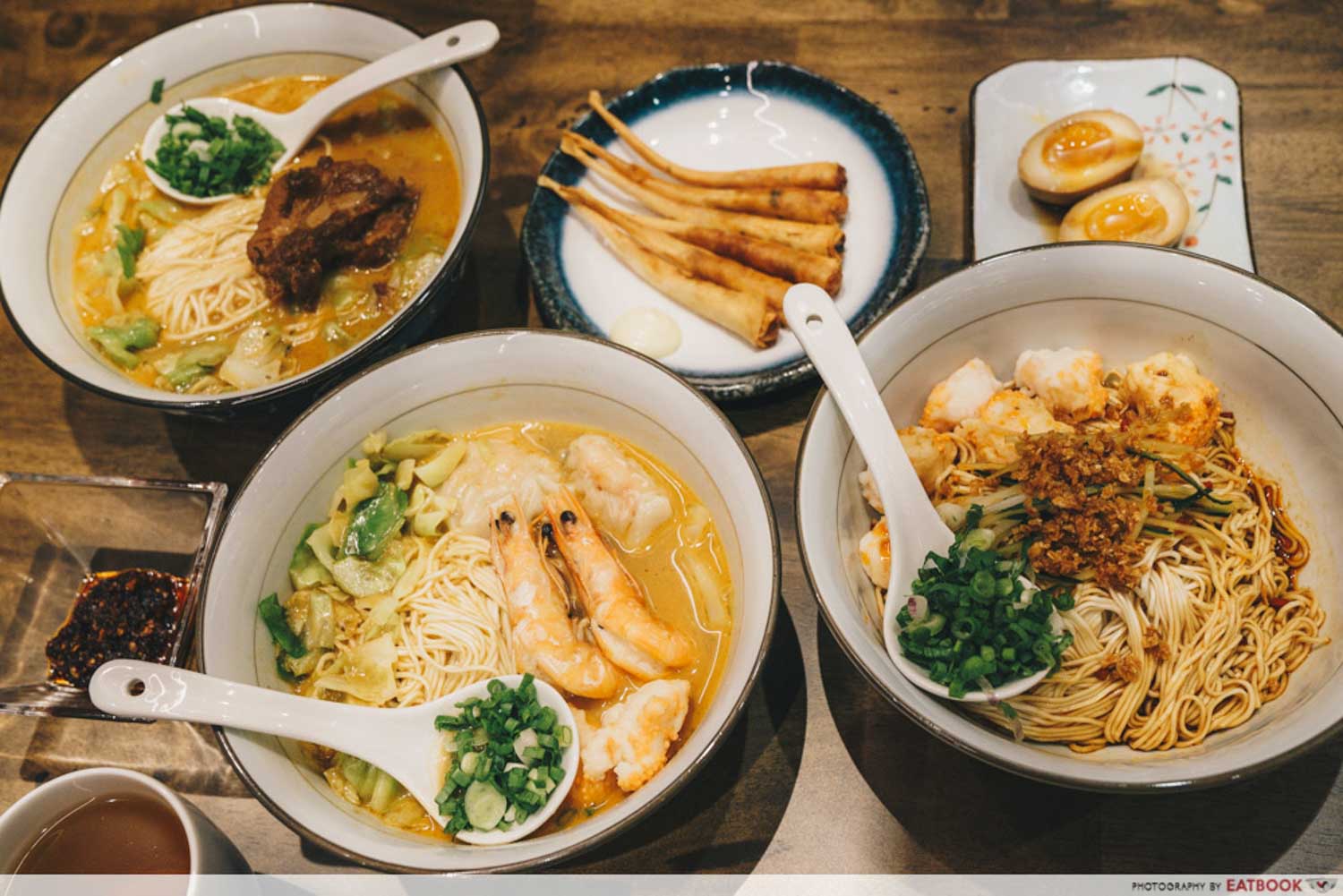 Singaporeans are spoiled for choice when dining in town, but when a new food joint rolls out, we flock to it like moths to a flame. Adding on to the list of restaurants opened by Paradise Group is their latest concept, Le Shrimp Ramen. They have fused Japanese techniques with Chinese flavours and ingredients, bringing us an ambitious menu of shrimp broth ramen.
In celebration of their grand opening, Le Shrimp Ramen will be offering a 1-for-1 ramen all day from 7 to 9 December 2018. So mark your calendars!
Food at Le Shrimp Ramen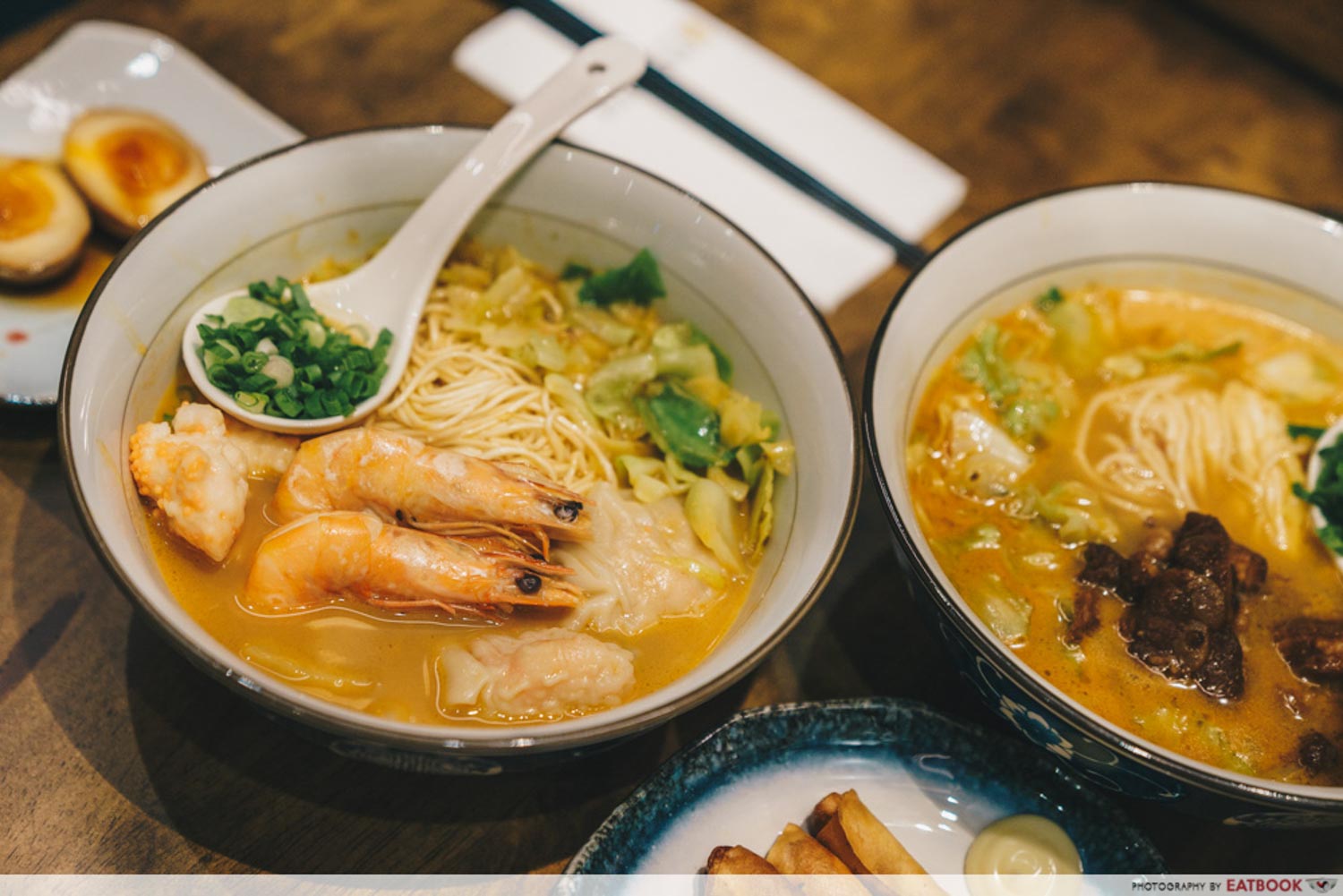 Le Signature Trio Shrimp Ramen ($19.90++) won't go wrong as your default order. It features two fresh prawns, prawn dumplings, and ebiko prawn balls placed gingerly atop a bed of Chinese la mian.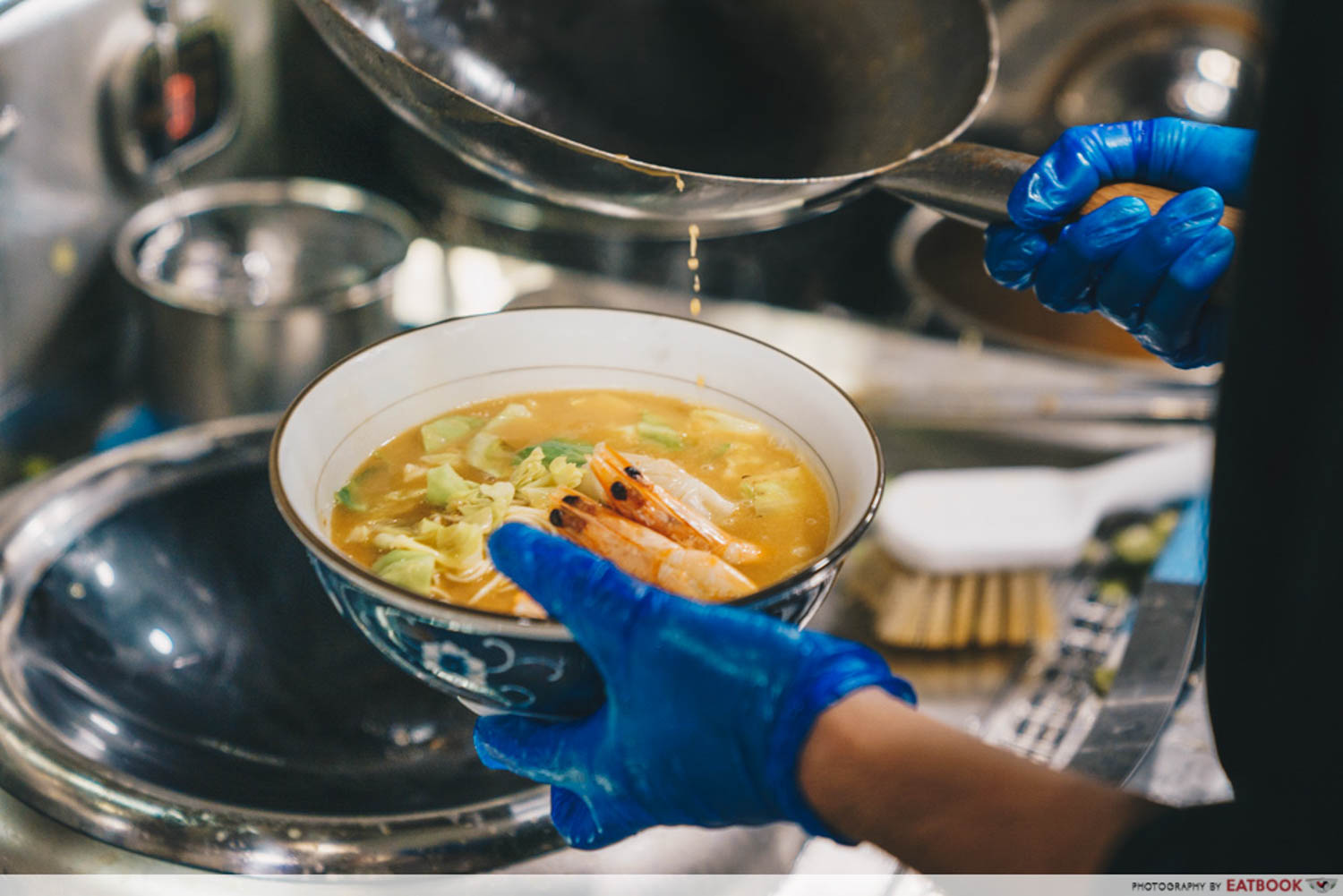 This joyful bowl of noodles lifted our spirits and delighted our senses in terms of visual, scent, and taste. The broth was an opaque hue of deep orange, and the smoky aroma promised deliciousness to come.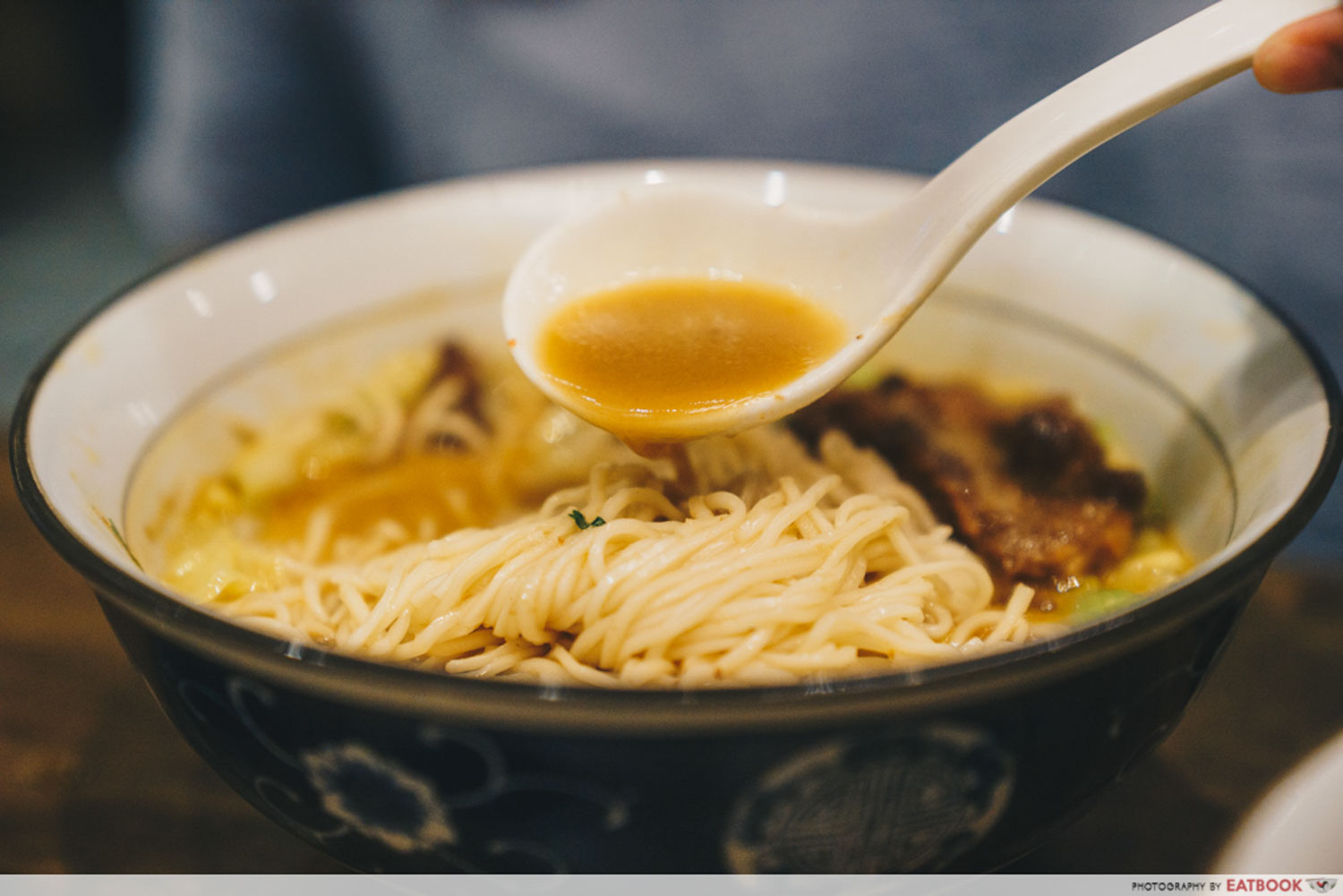 The flavour only proved that it was a broth cut from a different cloth – "the mother of all hae mee", as my colleague puts it.
This game-changing shrimp-based broth is made from a tare of baked prawns and dried scallops. It is simmered for over eight hours, and added into a pork bone stock that's boiled for a few hours with star anise, clove, and white peppercorn.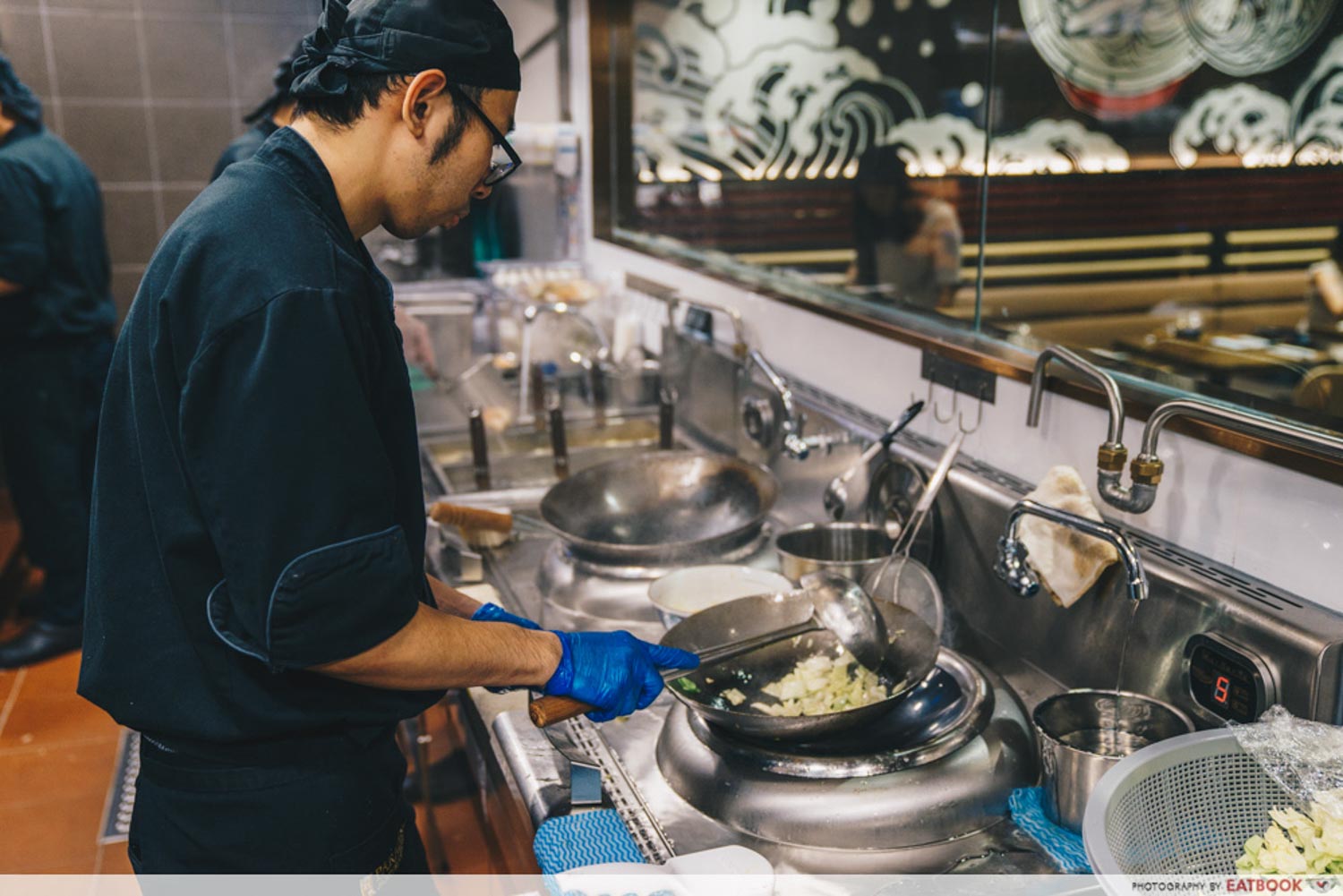 Hot scallion oil was used to stir-fry the diced cabbage, before pouring in the shrimp broth into the wok. This brought the dish up another level on the umami scale. I appreciate how even the cabbages were sweet from the caramelized edges, smoky from the slightly charred sides, and had a texture that was tender yet crunchy at the same time.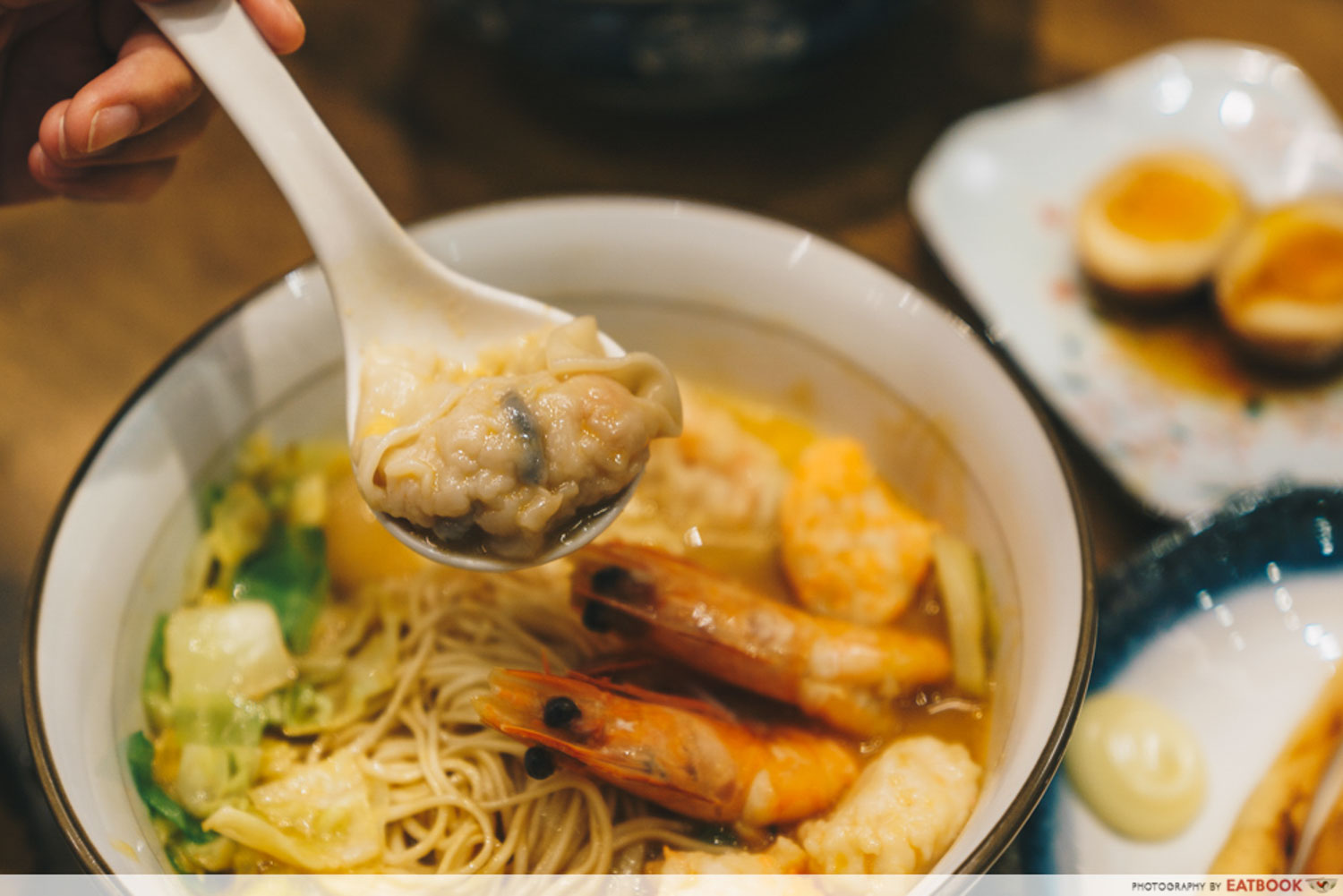 The two dumplings you get in the Le Signature Trio Shrimp Ramen are huge, as whole prawns are encased in it. The fillings were nicely seasoned and held a crunchy bite, thanks to the thinly sliced black fungus and well-cooked prawns.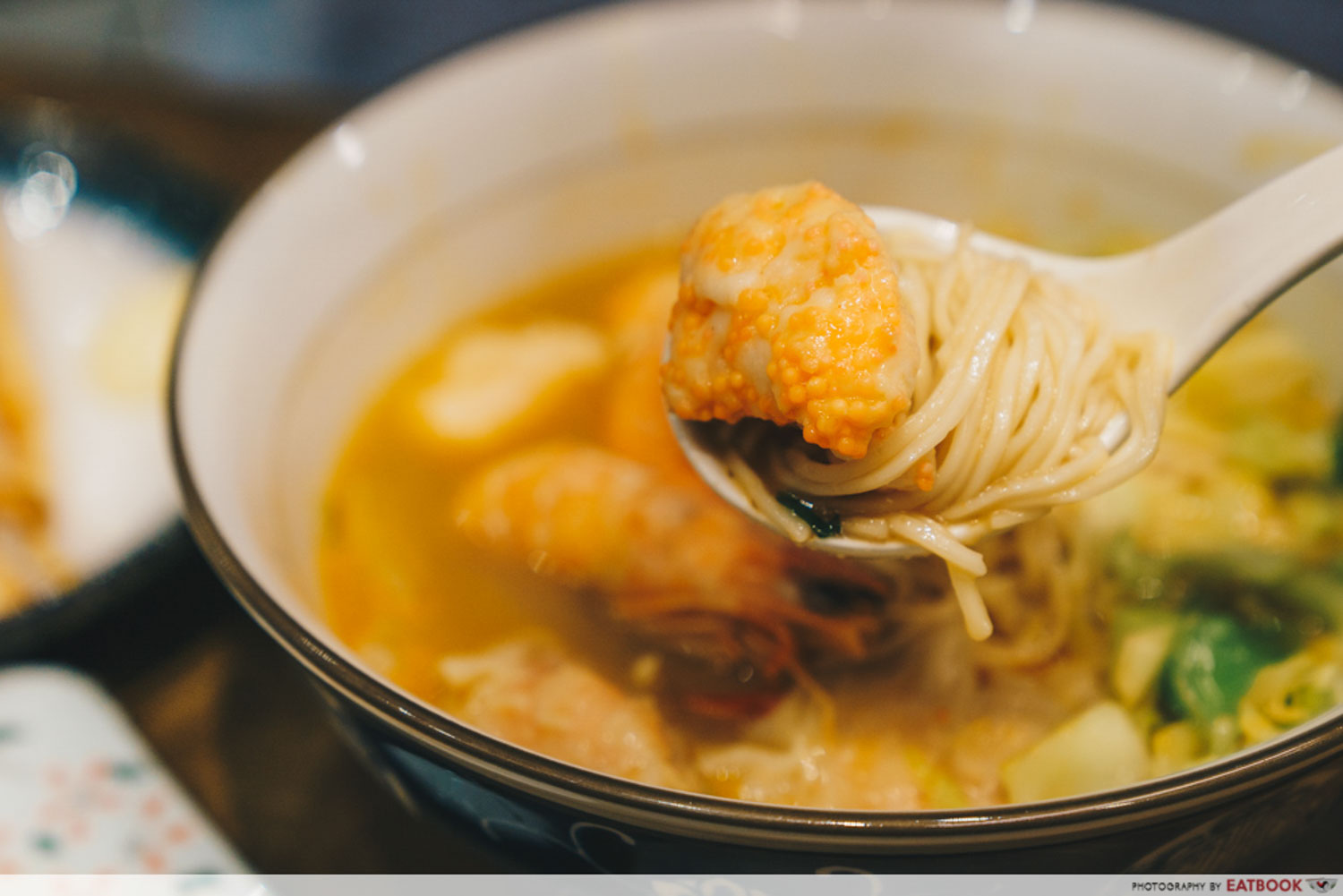 Though prawn balls are nothing new in Chinese food, these soft yet springy orbs are well worth your attention. The ebiko added some colour to the otherwise plain-looking topping. Pop each piece whole in your mouth to taste the full-bodied flavour.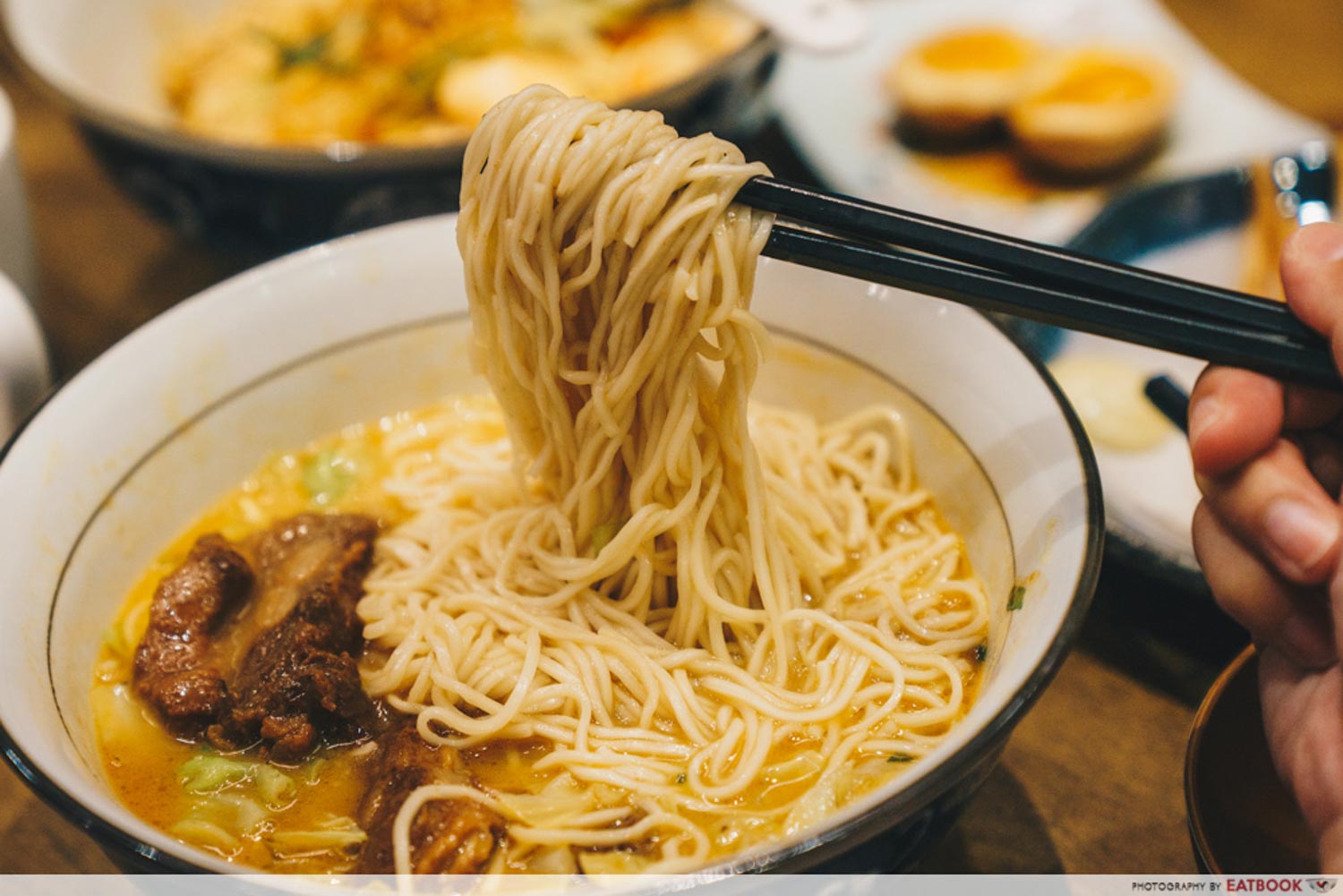 You might be expecting a mouthful of al dente ramen noodles, but the la mian here are silky and blanched to a soft consistency. These delicate strands are all handmade in-house, serving as a vessel for more broth to be slurped up.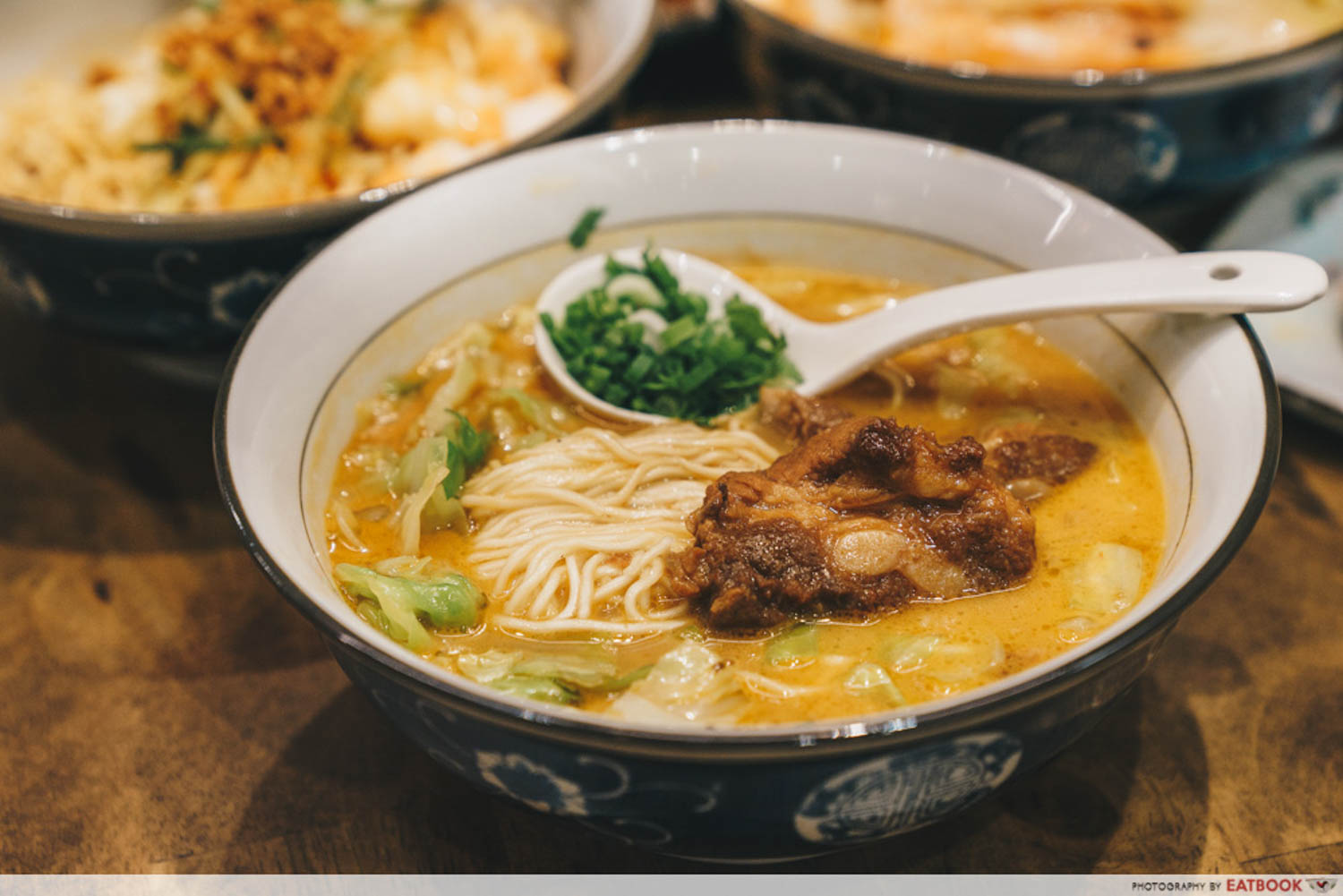 If, like me, you're hankering for your usual hae mee and pork ribs, order the Braised Pork Ribs Shrimp Ramen ($13.90++).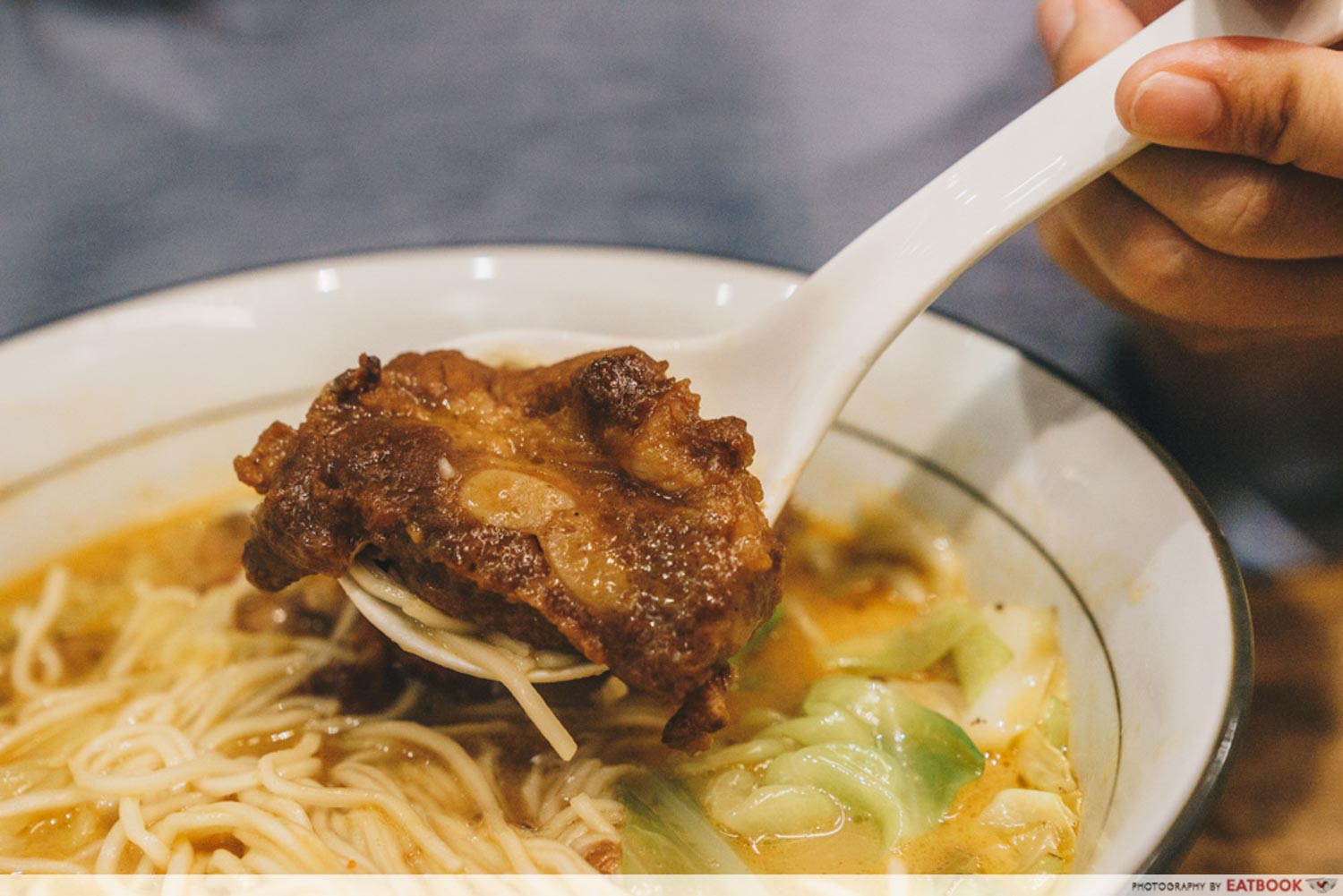 It comes with three huge chunks of braised pork ribs and oodles of noodles. They are huge but that doesn't mean you'll be willing to share.
A good bowl of prawn noodles lies in a few factors – the tasty broth, the texture of the noodles, and the chopstick-tender pork ribs. The braised meat slightly changes the flavour of the broth, bringing the sweetness from the prawns down a notch.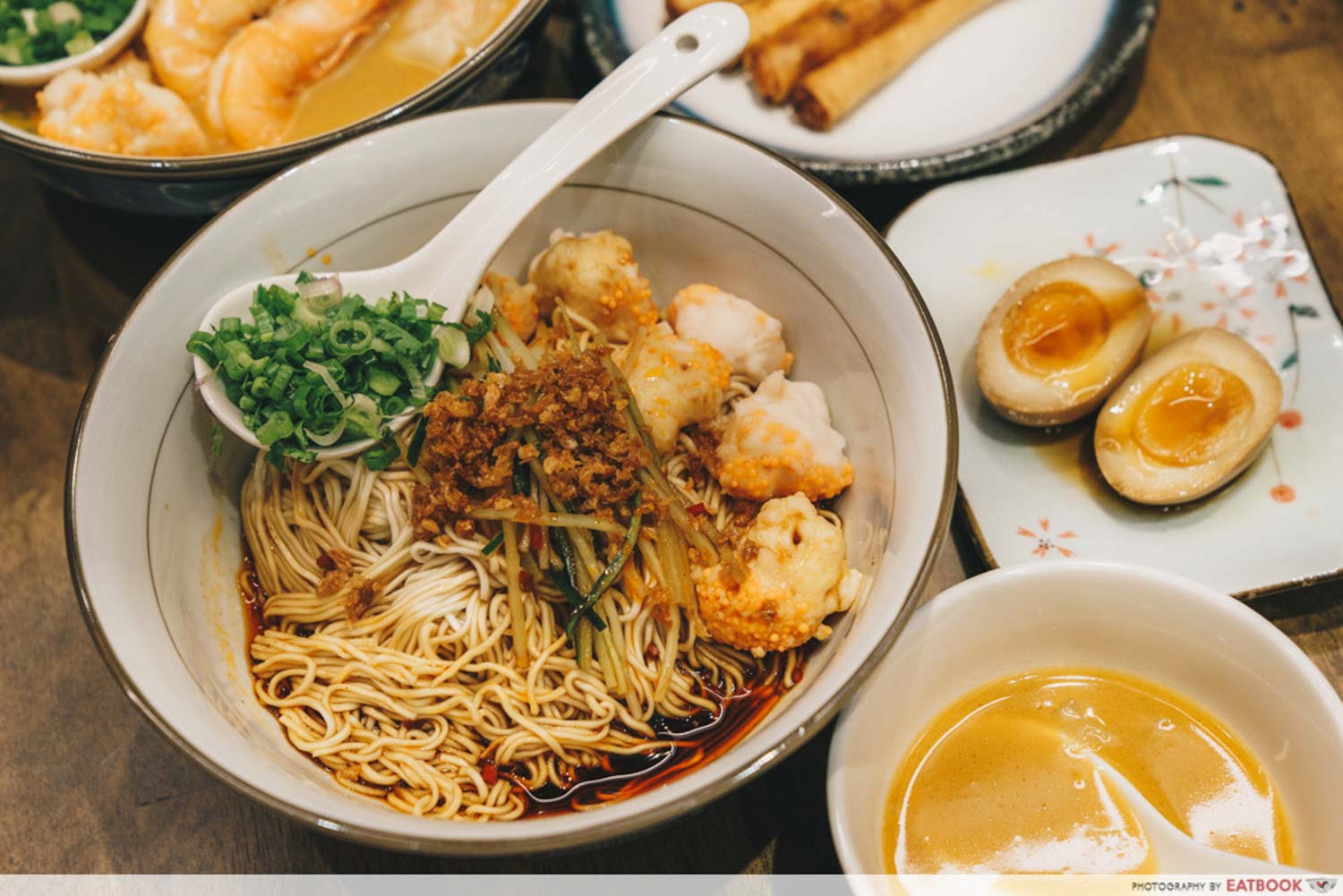 When I first set eyes on the Ebiko Prawn Paste With Chilli Vinaigrette Ramen ($11.90++), it reminded me of Canton Paradise's Pork Wanton in Chilli Vinaigrette.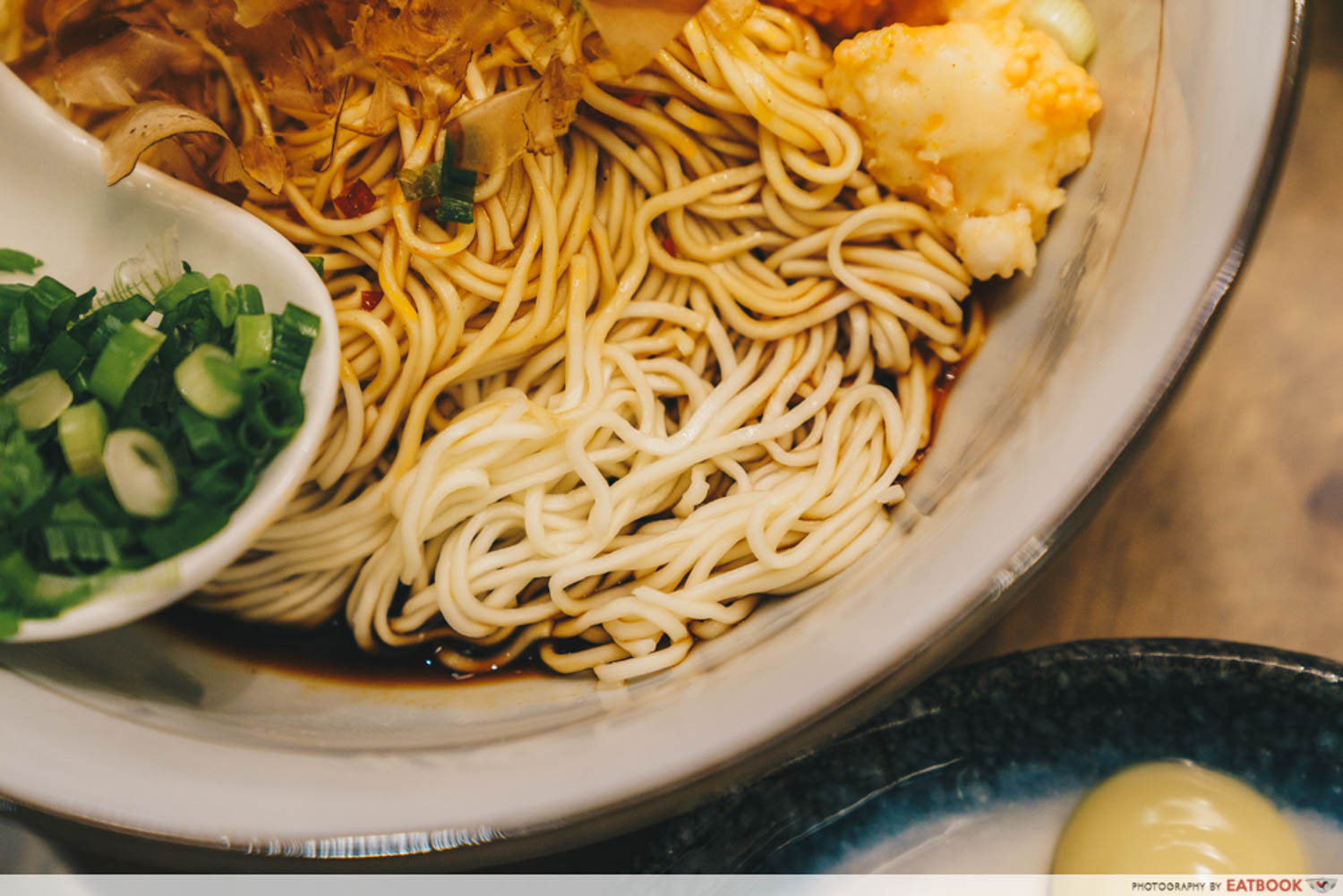 Give the dry ramen a good toss to coat each noodle evenly with vinegar and chilli oil. It might not look the part, but those who can't take spicy food should give this a pass. Other than the sour punch from the vinegar, there is also a spicy undertone imparted by chopped red chilli and spices.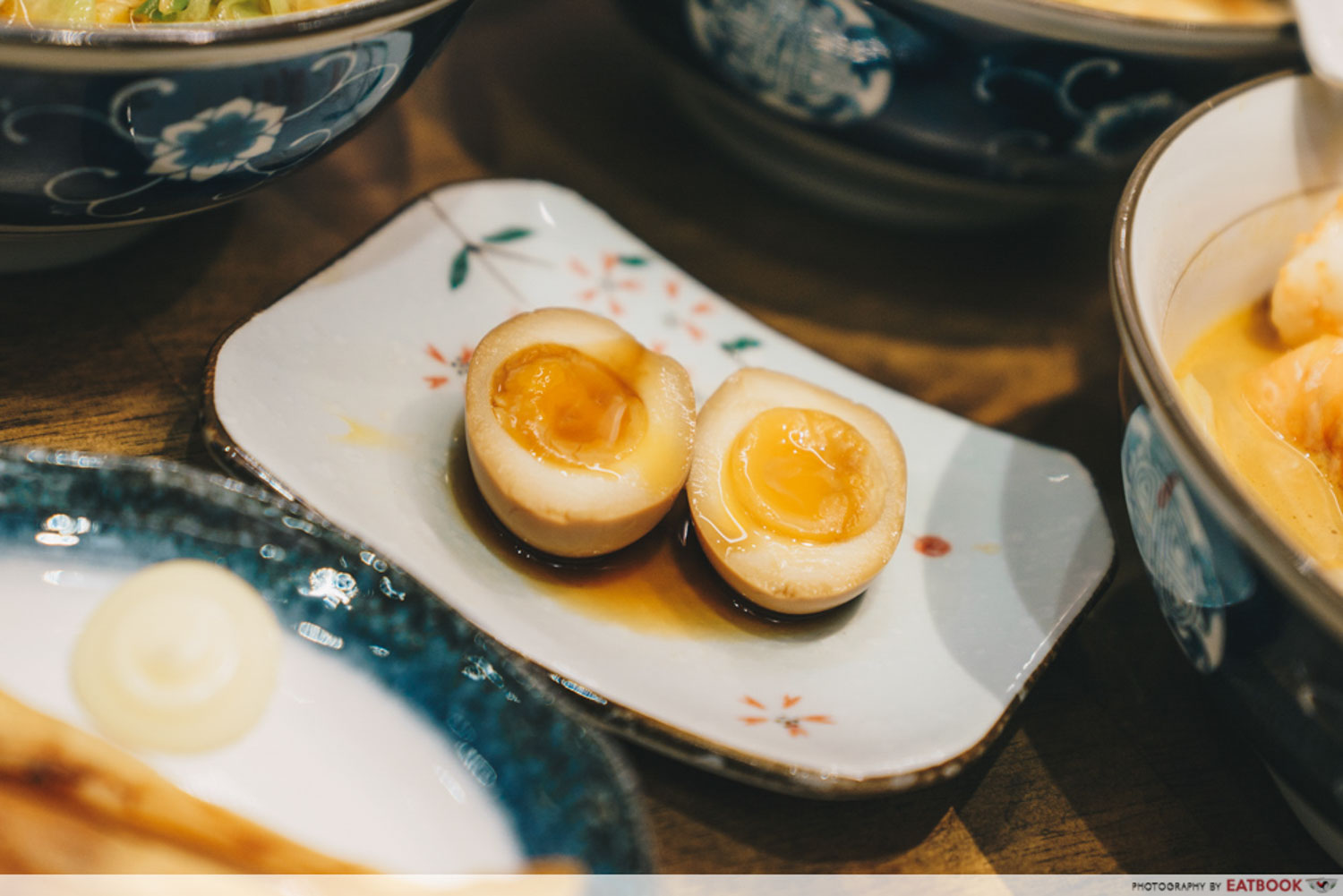 They also offer their version of ramen egg, called Long Jing Tea Lava Egg ($1.90++). Here, soya sauce takes a backseat and makes way for a toasty aroma from green tea leaves.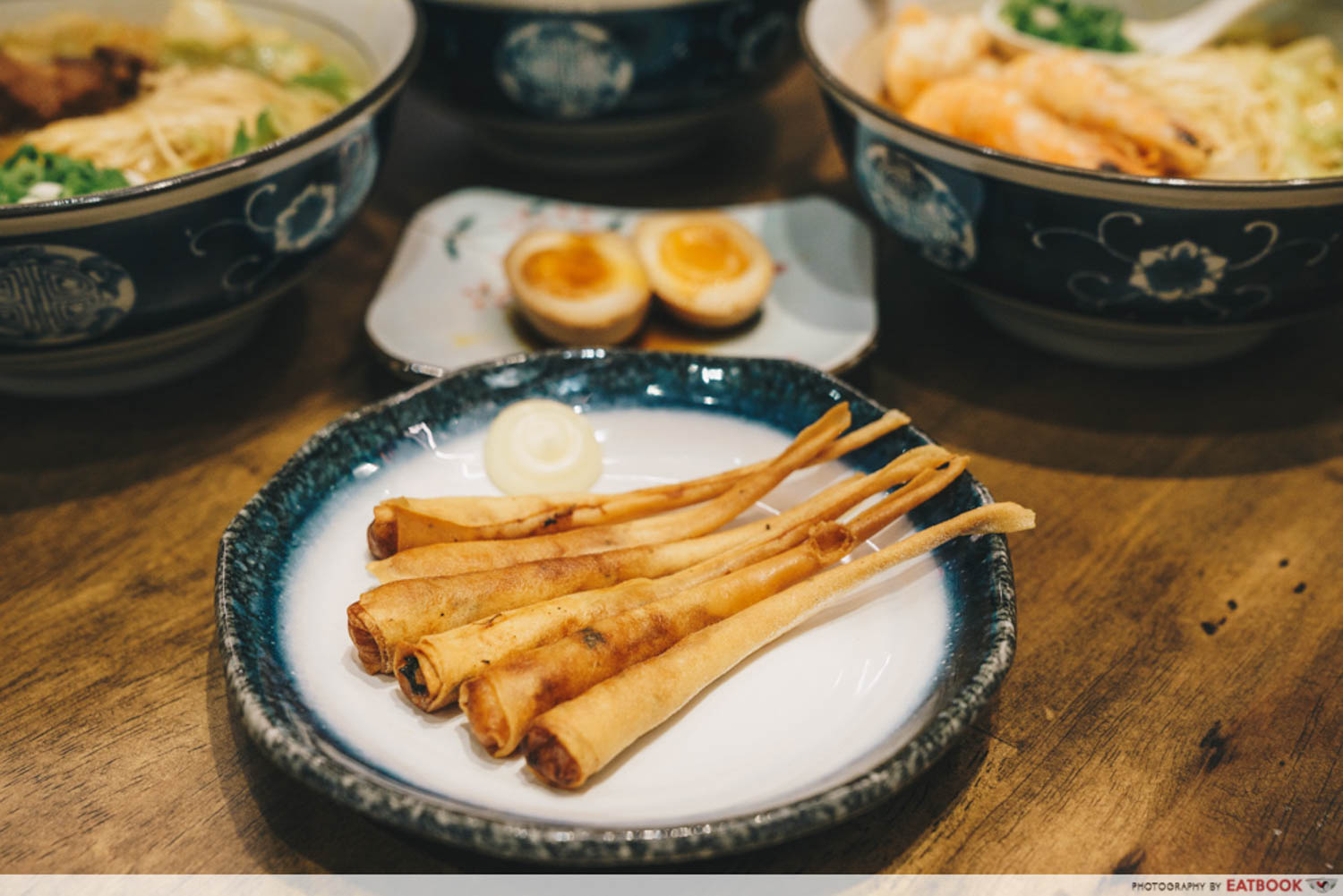 I highly recommend ending the meal on another savoury note with the Twister Prawn Rolls ($5.90++). When paired with a dollop of mayonnaise, these crispy deep-fried prawn rolls are quite simply moreish.
Ambience at Le Shrimp Ramen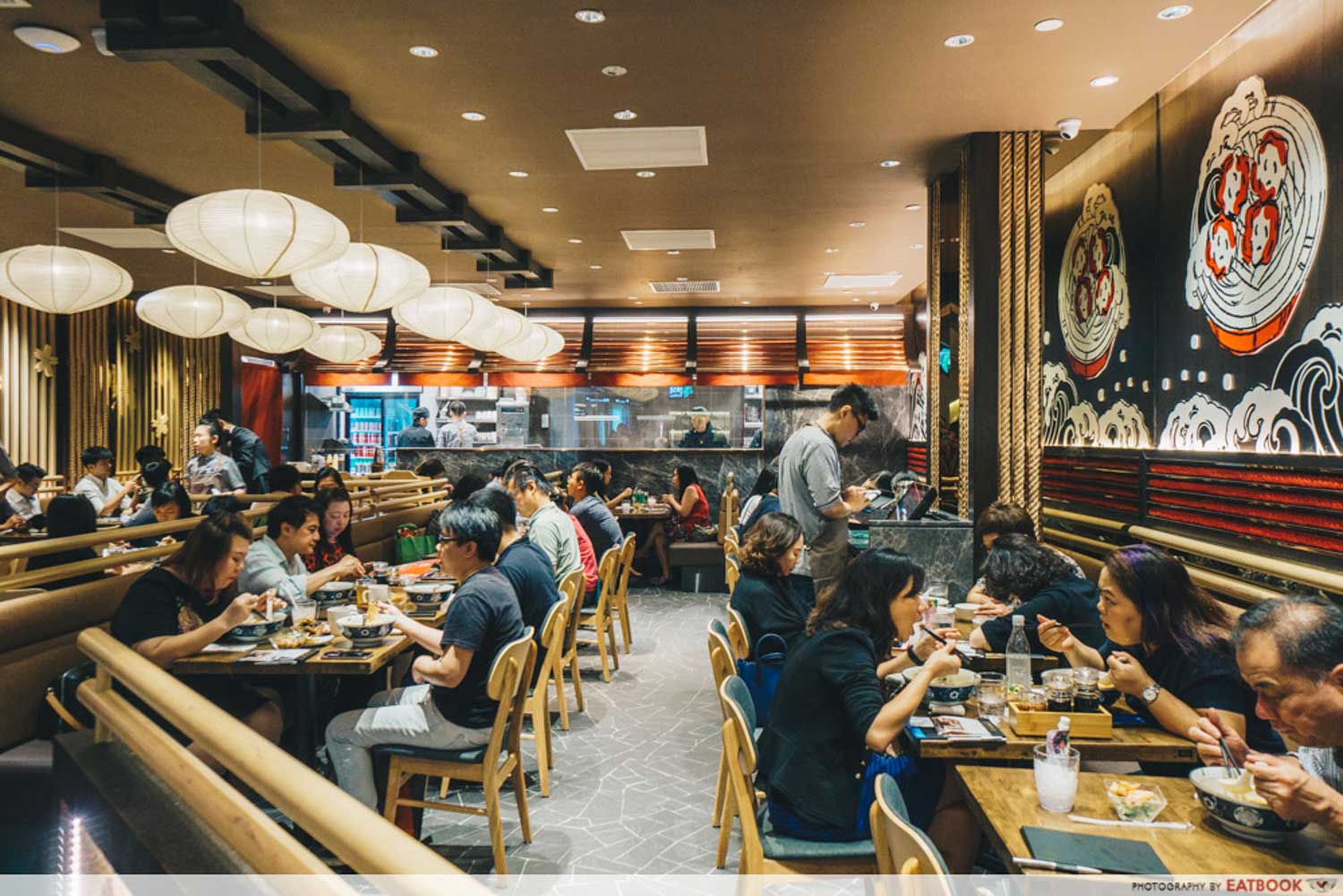 Tucked away at basement of Paragon, the restaurant is compact, modern, and spacious. Unlike squeezy ramen spots in Japan, no sharp elbows are required here. My favourite part is watching the bustling kitchen hum with activity like a well-oiled machine.
The verdict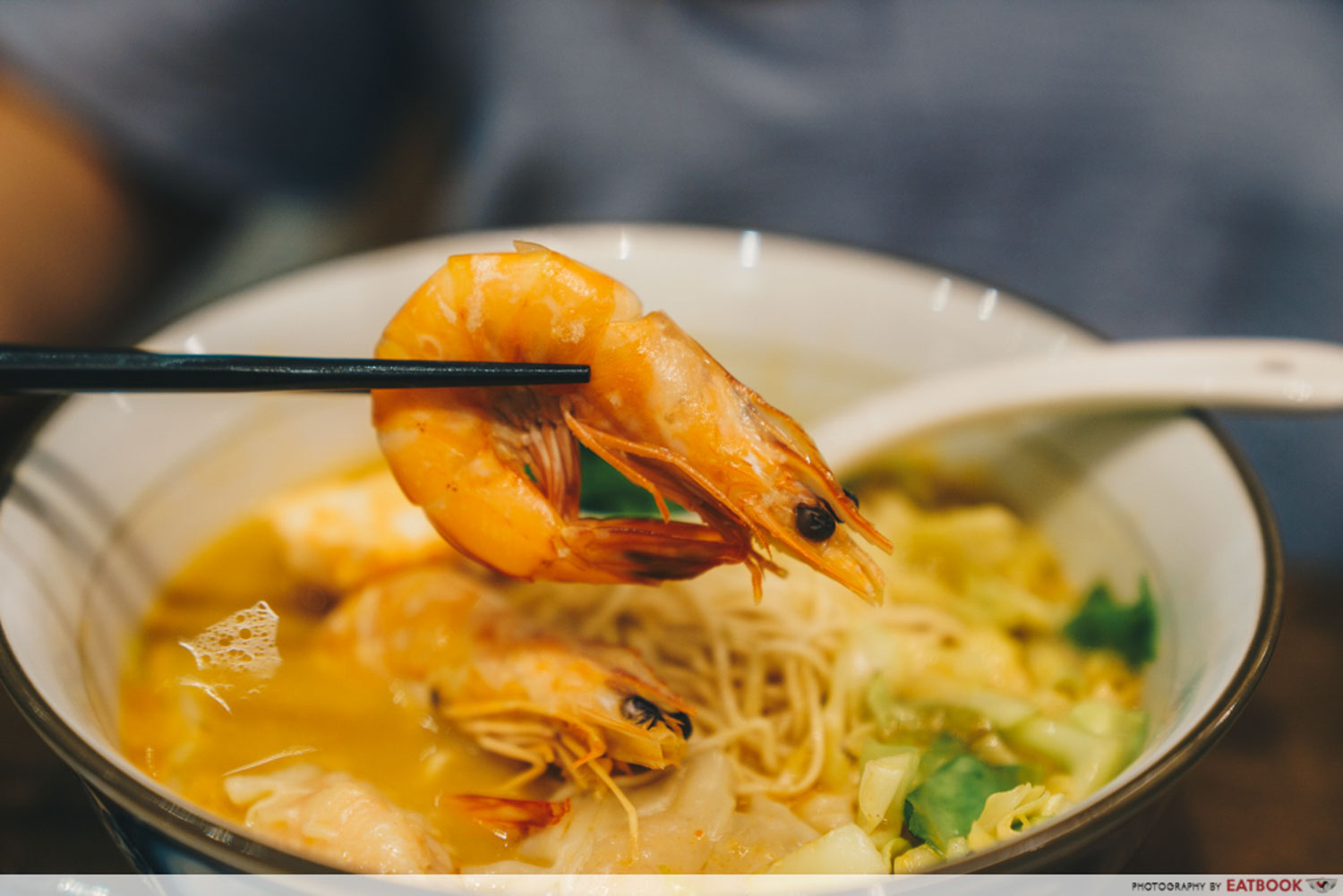 Service here is attentive and charming, and prices are justified. It's really value-for-money with the robustly flavoured dishes and generous portions. There is also tonkotsu broth ramen for those who prefer the classic porky variant.
With nothing above $20++, Le Shrimp Ramen had my colleague and I vowing to return, especially for the 1-for-1 deal!
Address: 290 Orchard Road, #B1-42, Paragon, Singapore 238859
Opening hours: Daily 10:30am to 10pm
Website
Le Shrimp Ramen is not a halal eatery.
Photos taken by John Lim.
This post is brought to you by Le Shrimp Ramen.
1-for-1 Ramen At Le Shrimp Ramen From 7 to 9 December
Summary
Pros
– Generous portions
– Value for money
– Located in town
Cons
– Not suitable for large groups during meal times
Recommended dishes: Le Signature Trio Shrimp Ramen ($19.90++), Braised Pork Ribs Shrimp Ramen ($13.90++), Ebiko Prawn Paste With Chilli Vinaigrette Ramen ($11.90++)
Opening hours: Daily 10:30am to 10pm
Address: 290 Orchard Road, #B1-42, Paragon, Singapore 238859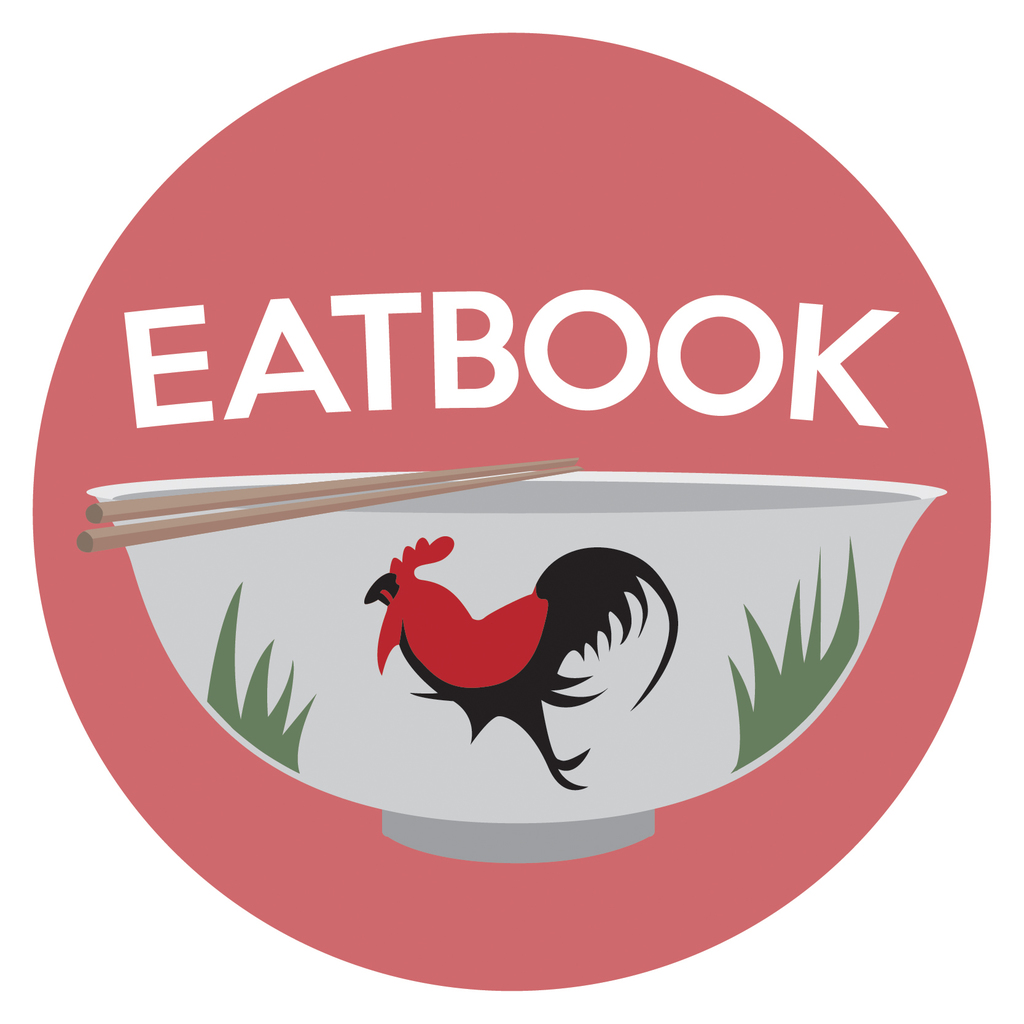 Drop us your email so you won't miss the latest news.