Pita Tree Mediterranean Kitchen at Boat Quay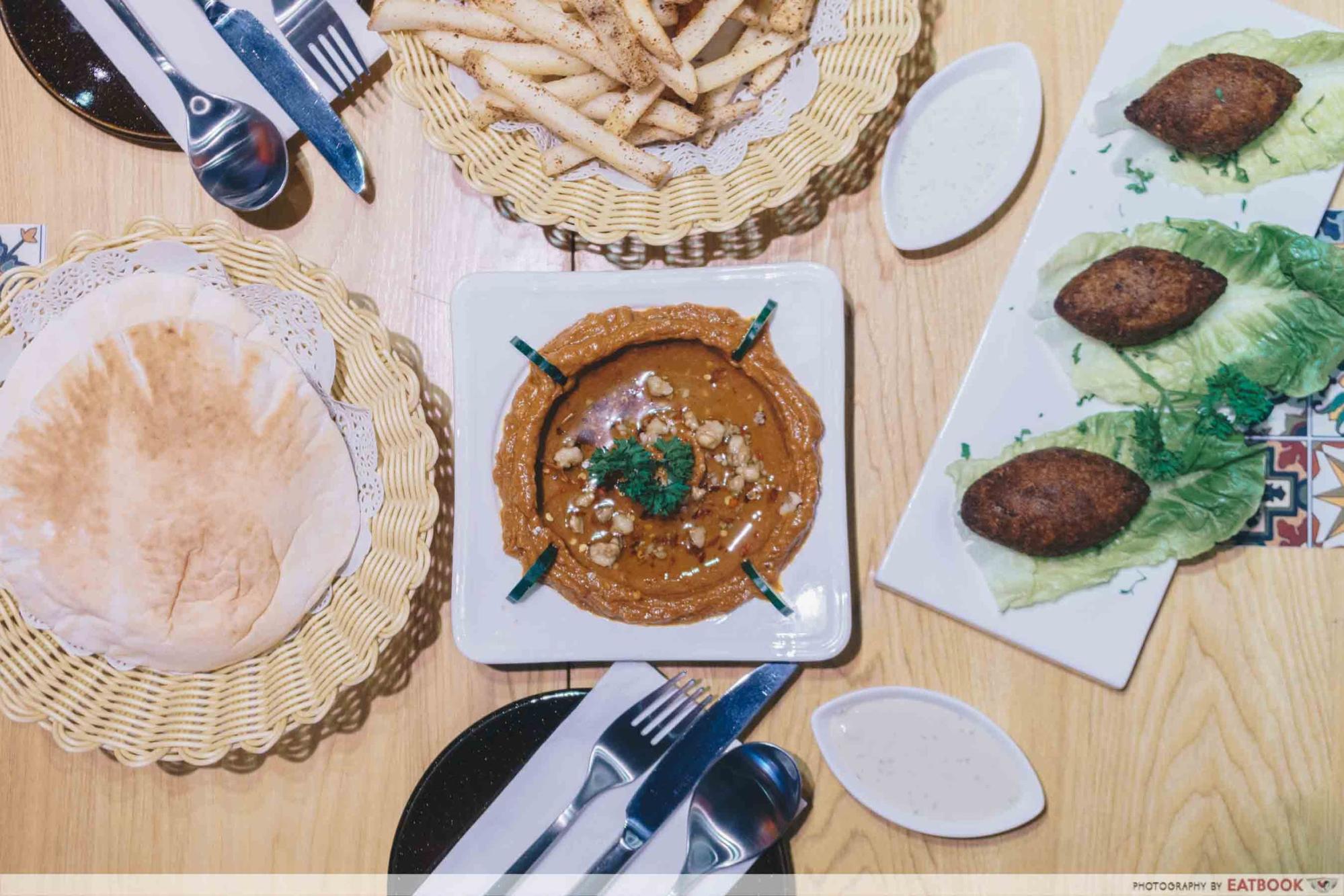 Most of us would have probably seen Pita Tree's humble kebab kiosk in the countless of times we sauntered past Ngee Ann City. Well, that tree has since blossomed into a full-fledged restaurant at Boat Quay. The month-old Pita Tree Mediterranean Kitchen serves an array of Mediterranean nosh like skewers, dips, and stews – all at nett prices! We headed to the joint to see if it could join the ranks of other good Mediterranean restaurants in Singapore.
Food at Pita Tree Mediterranean Kitchen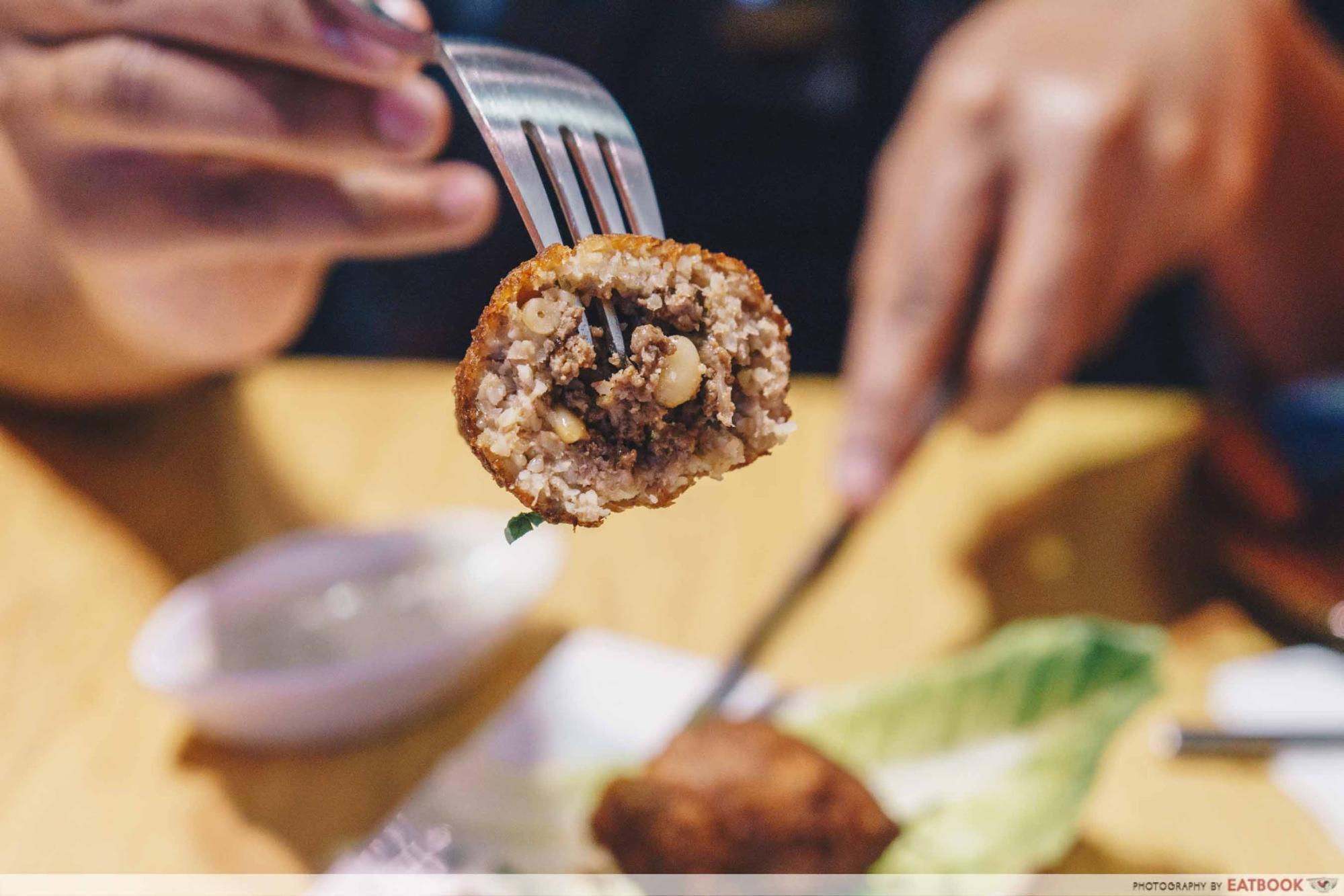 First up to bat was Kibbeh ($12) – fried lamb patty balls with bulgur (a type of grain) and onions. Even though the balls surrendered easily to my knife, I loved how they retained their shape thanks to the sturdy crust.
Upon closer inspection, the dish had a balanced ratio of meat to onions, which lent to the strong burst of umami in every mouthful. That said, I would have preferred the bulgur to be more moist.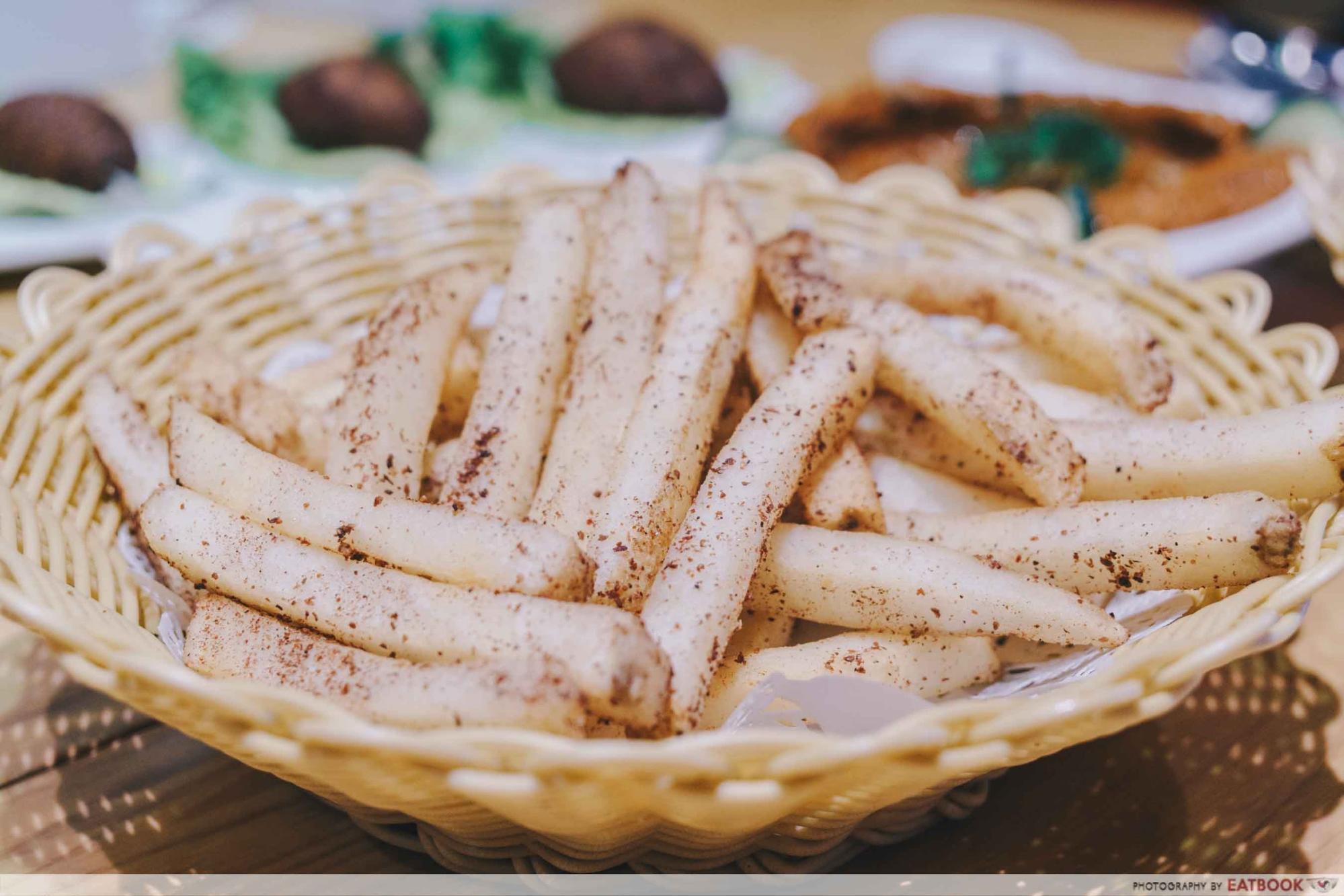 Admittedly, the Tangy Sumac Fries ($7) don't stand out much in the looks department but one nibble is all you need to keep reaching out for more. The fries are sprinkled with powdered sumac red berries, giving them a subtle citrusy tang that paired well with their crispy exterior.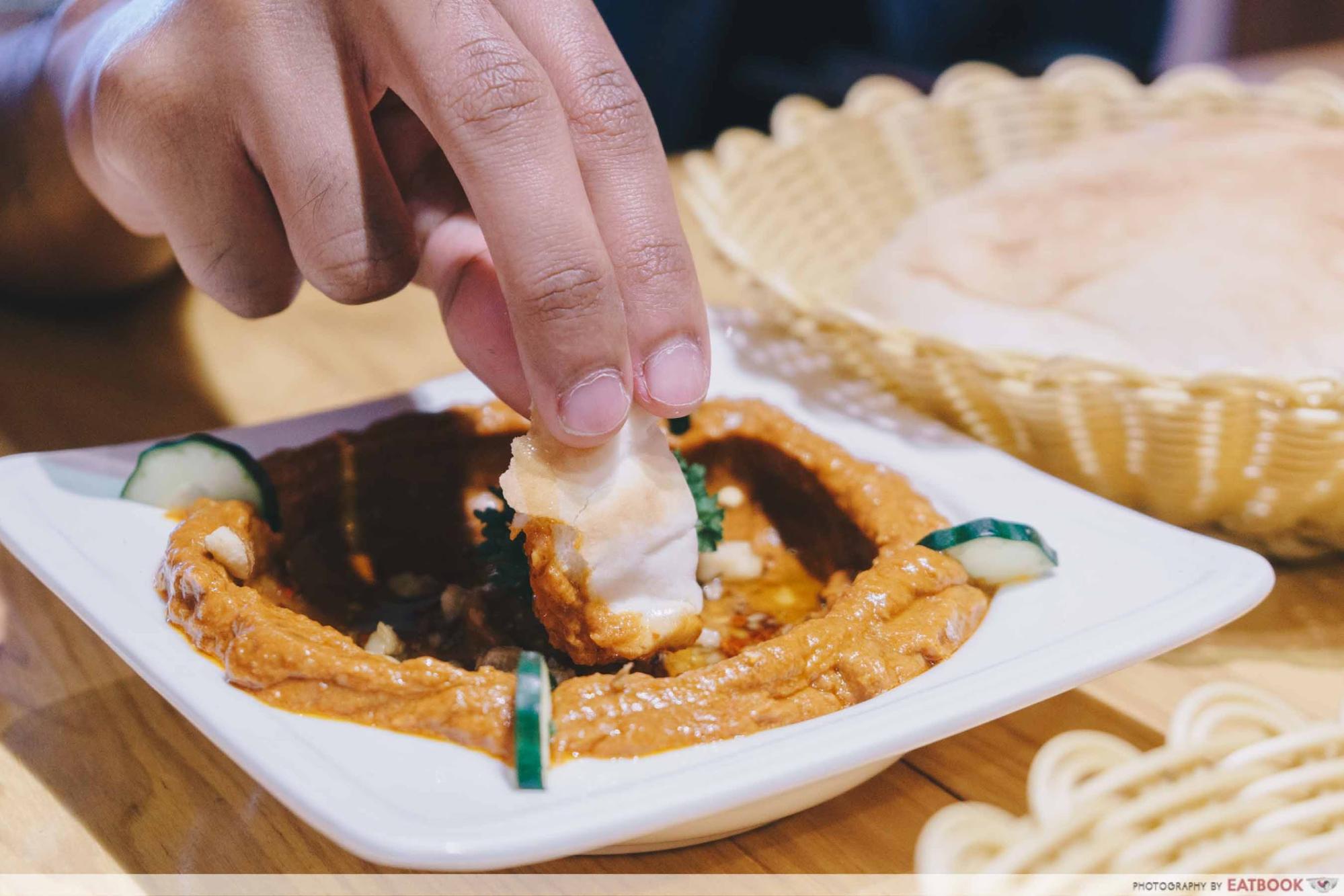 Of course, no trip to a Mediterranean restaurant is complete without trying some dips. The Spicy Eggplant Dip ($8, served with two slices of pita bread) came highly recommended and it's easy to see why. The creaminess of the sauce allowed us to scoop the dollop of blended yoghurt, eggplant, and peppers with ease.
Despite its name, the dip only had a slight peppery kick, making it shareable with those who don't handle spice well.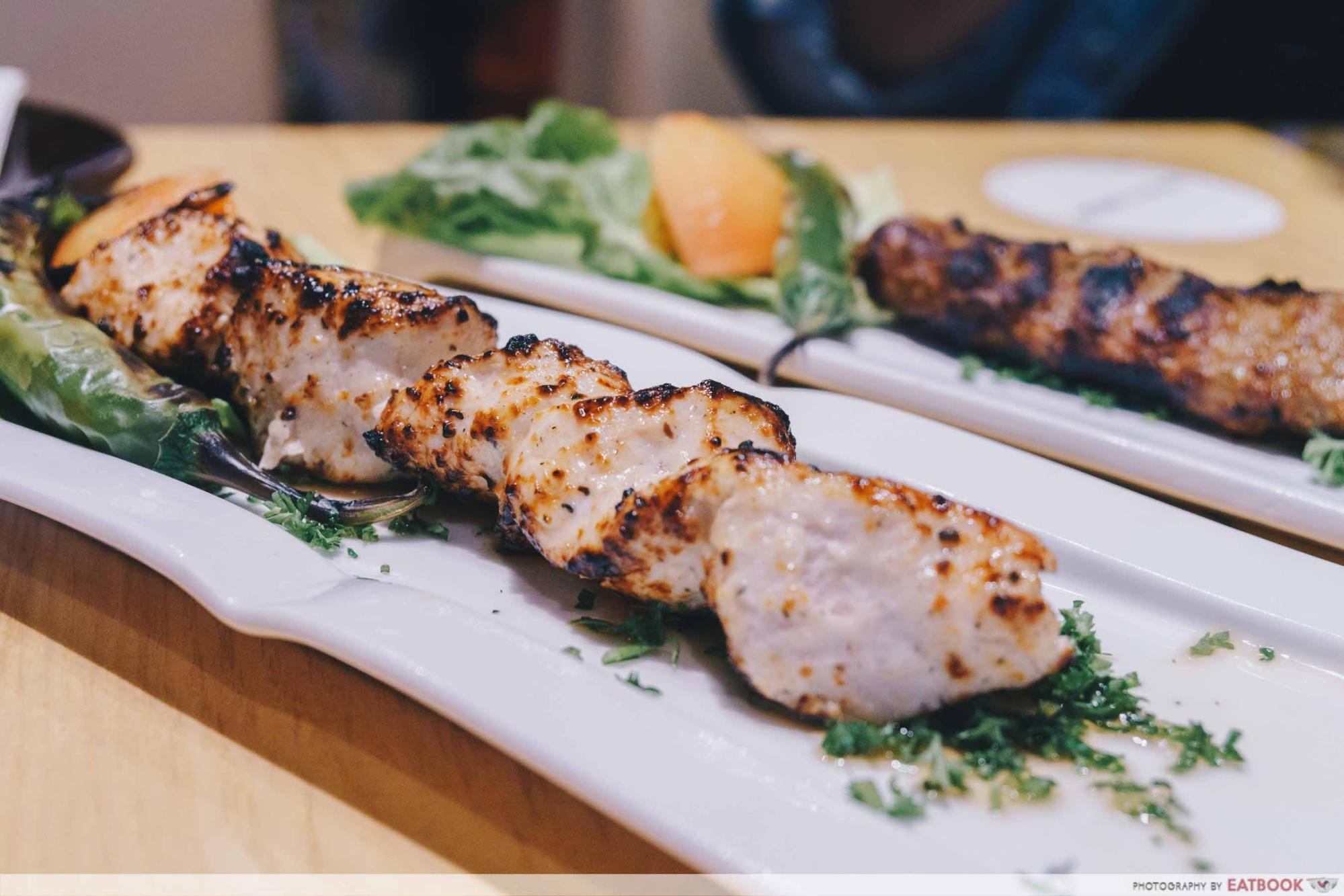 While I enjoyed the Garlic-Yoghurt Chicken ($13) and Halabi Kebab ($15) skewers, they're nothing much to shout about and are a tad pricey given their small portions.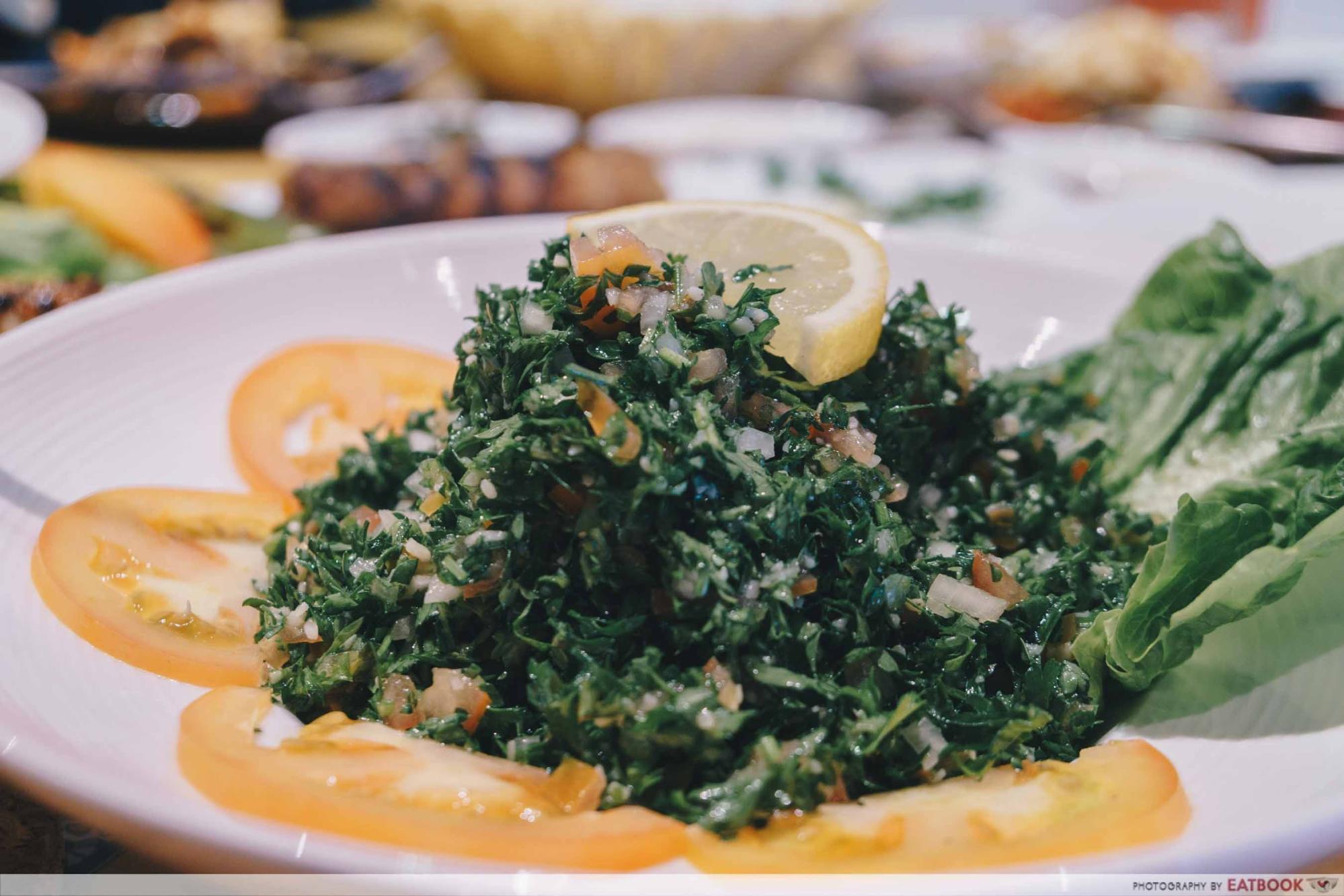 Somewhere out there is a person who would enjoy the Tabbouleh Salad ($8) but that person ain't me. You get a generous serving of chopped Italian parsley, mixed with onion, tomato and bulgur dressing.
As a dish on its own, the salad mush had an overwhelming grassy taste. I would have much preferred it if it came with pita bread to help take the edge off.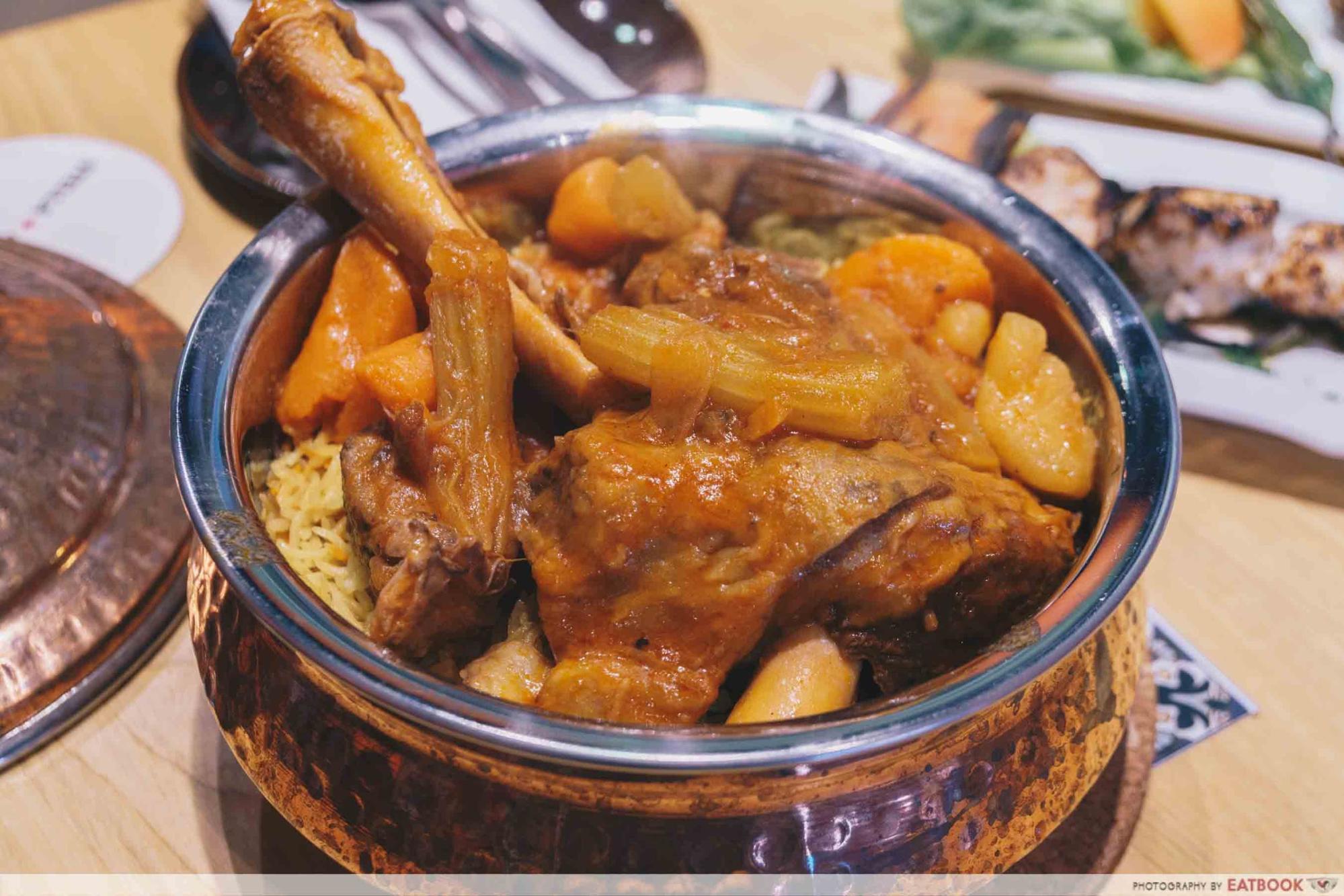 The highlight of the day was definitely the Arabic Lamb Shank Biryani ($38 for two people). I've tasted a lot of biryani in my life, and this is definitely in my top three.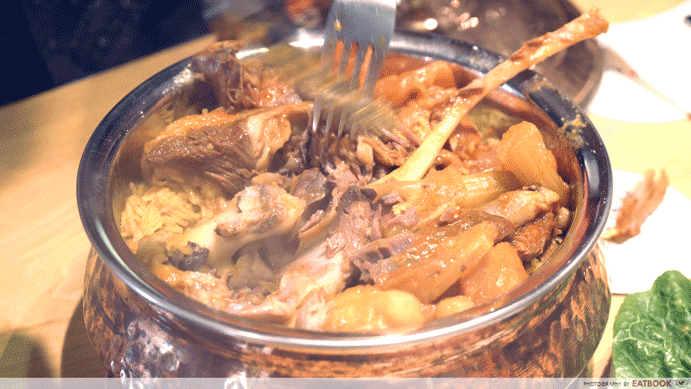 As a result of being slowed-cooked for four hours, the lamb meat effortlessly slid off the bone, and into the blanket of saffron rice, carrots and raisins. Combined with the fact that the rice was baked twice, it's no wonder every bite was concentrated with an assault of sweetness and savouriness.
Although the serving size on the menu calls for two, we highly recommend bringing a party of four to conquer this dish as it's extremely filling.
Ambience at Pita Tree Mediterranean Kitchen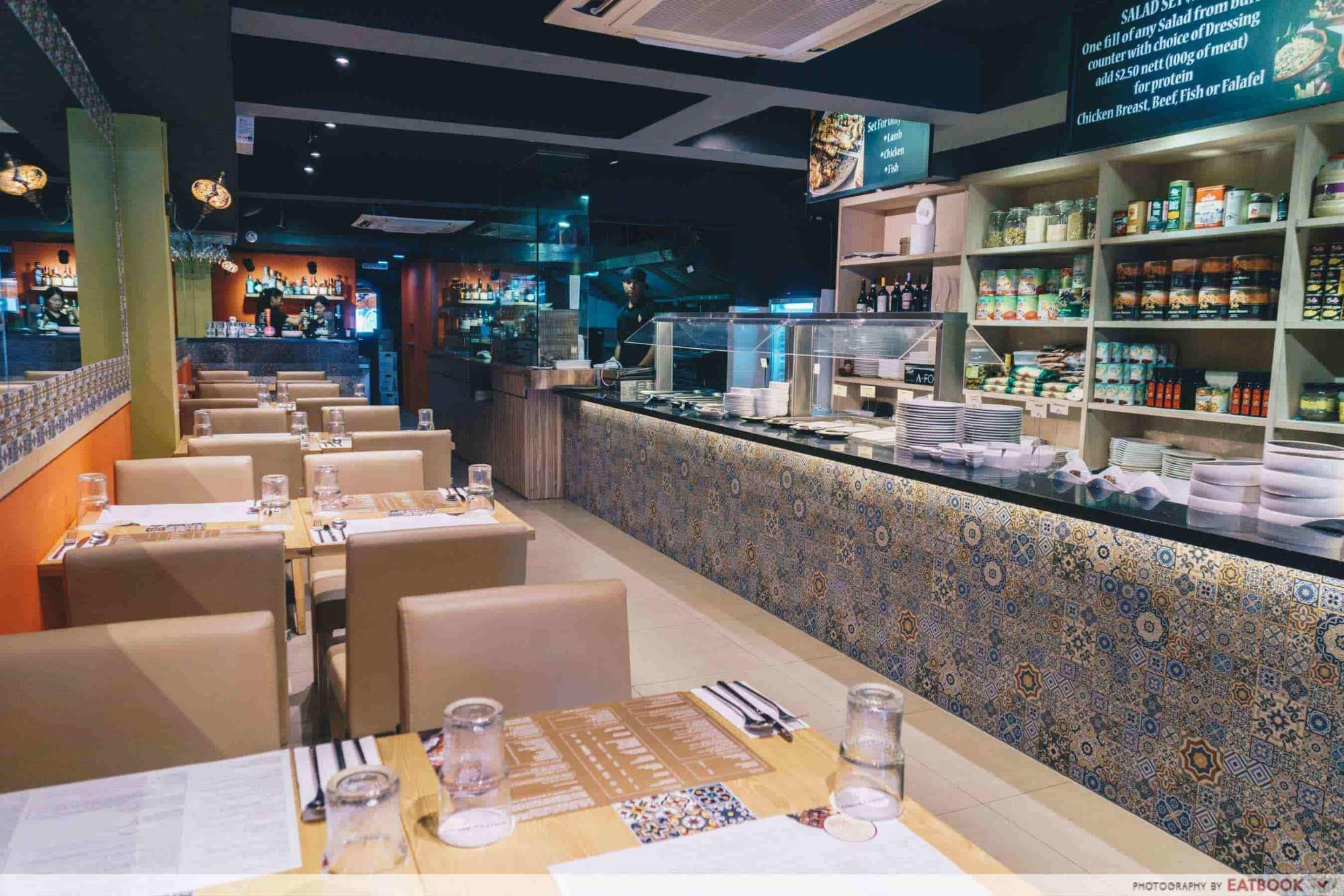 You can find Pita Tree Mediterranean Kitchen amongst the shophouses along Lorong Telok. As the place is relatively new, human traffic was light during the day, which added to the cosy vibe.
Although there's no service charge, there's still a staff member who takes and serves your order – something I thought was a nice touch.
The verdict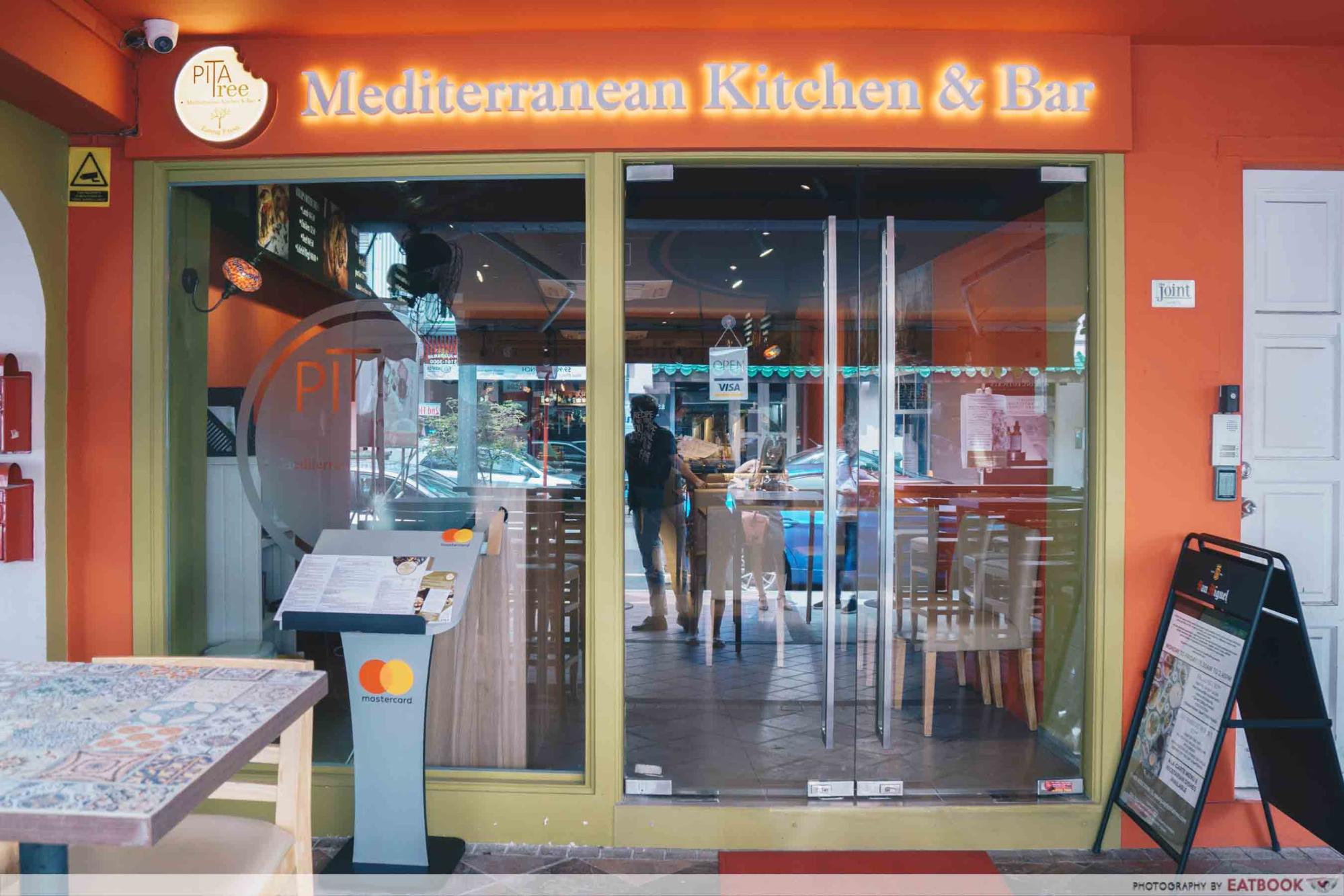 Hands down, Pita Tree Mediterranean Kitchen & served some of the best Mediterranean dishes I've ever had. While they may not suit everyone's palate, this is definitely the place to be if you're looking to begin your foray into Mediterranean cuisine.
With its cosy ambience and killer soundtrack playing in the background, the restaurant also makes for an affordable date night spot and I definitely see myself returning here with a plus one.
Address: 182 Cecil Street, #02-16/17, Frasers Tower, Singapore 069547
Opening hours: Mon-Thur 11:30am to 10pm, Fri 11:30am to 12am, Sat 3pm to 12am
Tel: 6532 2098
Website
Pita Tree Mediterranean Kitchenat Boat Quay uses halal ingredients but serves alcohol.
Photos taken by Lim An.
This was a media tasting at Pita Tree Mediterranean Kitchen.
Summary
Pros
– Flavourful food at reasonable prices
– Nett prices
– Cosy ambience
Cons
– Some dishes were disappointing
Recommended dishes: Arabic Lamb Shank Biryani ($38), Spicy Eggplant Dip ($8), Tangy Sumac Fries ($7)
Opening hours: Mon-Thur 11:30am to 10pm, Fri 11:30am to 12am, Sat 3pm to 12am
Address: 14 Lorong Telok, Boat Quay, Singapore 049027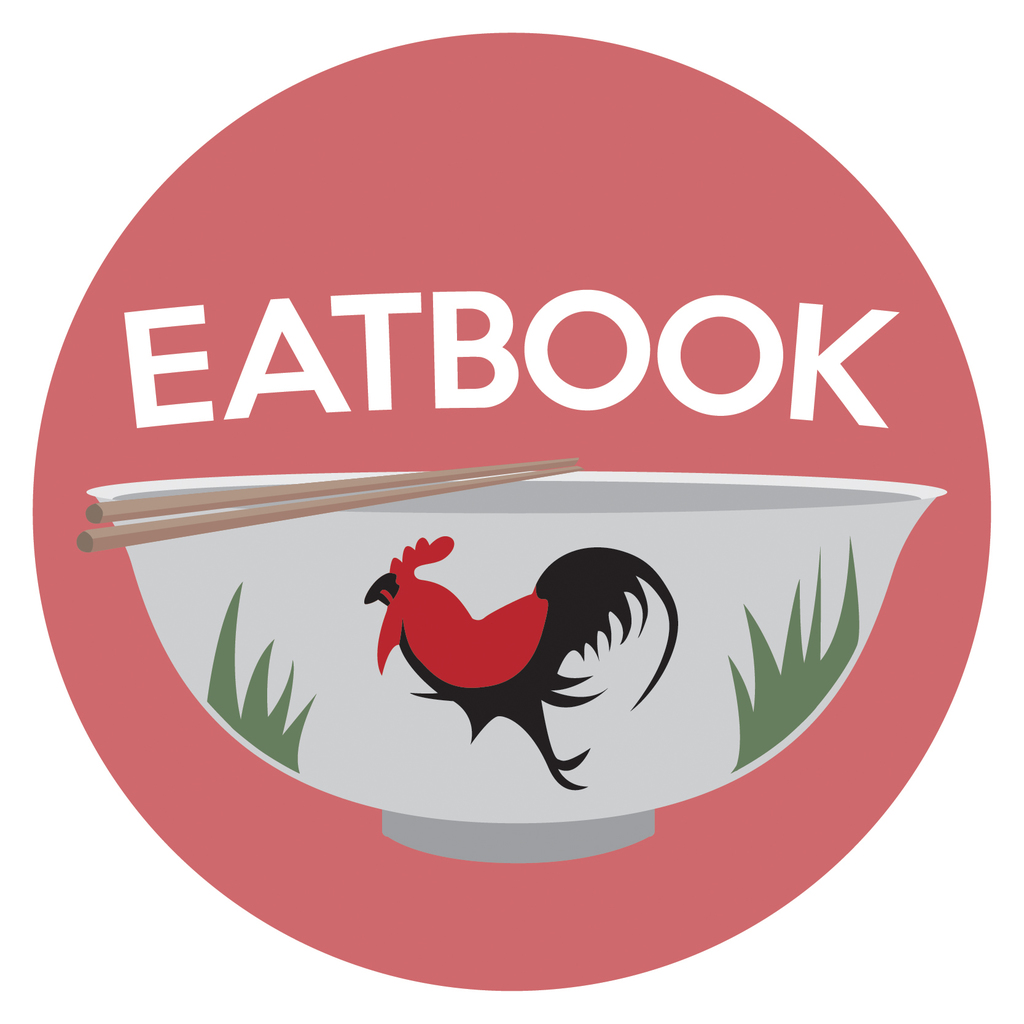 Drop us your email so you won't miss the latest news.