---
Greek restaurants that offer delicious dishes
---
As someone who has not had the opportunity to travel to Greece, the closest I can get to experience its rich culture is to have a taste of it – literally. Thankfully, our little sunny island is home to many Greek restaurants that allow us to get a feel of the country and, for those who have been there, a chance to reminisce about Greece.    
---
1. Bakalaki Greek Taverna
---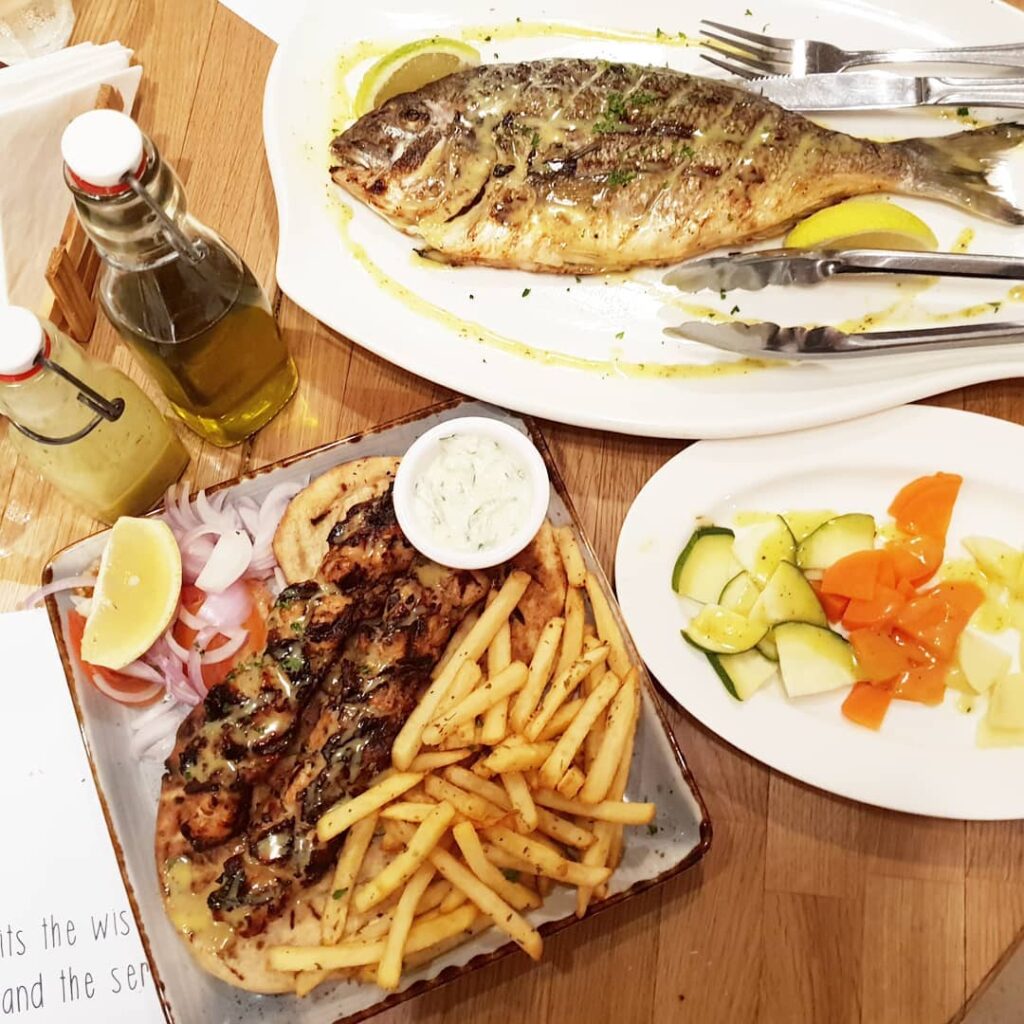 Image credit: @foodiedoo
Bakalaki Greek Taverna serves up huge portions of Greek food. Kalamaki Merida is a great sharing dish which comes with your choice of skewered grilled meat. Two of our favourites are Chicken ($23.90++) and Beef ($25.90++). The dish also comes with warm pita bread, tzatziki, tomato, onions and fried or baked potatoes. For oven-baked or sto fourno dishes, Moussaka ($25.90++) reminds me of lasagna. Baked upon order, this dish is served piping hot and comprises minced beef, eggplant, potato, creamy bechamel sauce and a surface of bubbling cheese.
Address: 3 Seng Poh Road, Singapore 168891
Opening hours: Mon-Thur 6pm to 10pm, Fri-Sun 12pm to 2:30pm, 6pm to 10pm
Tel: 6836 3688
Website
Menus
---
2. Alati
---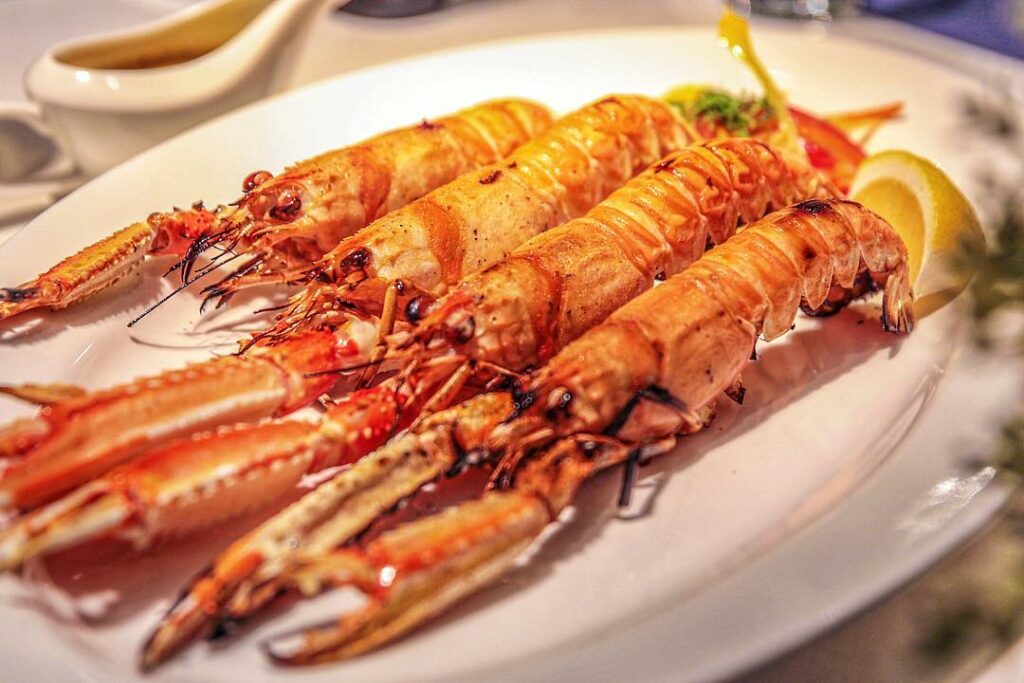 Image credit: Alati's Facebook page
Seafood lovers will be elated to know that Alati's menu centres around freshly caught seafood from the Aegean Sea, flown in at least thrice weekly. A must-have dish is their Karavides ($65++). You'll get 400g of grilled langoustines, served alongside fennel salad. If seafood is not your thing, they also have a range of meats, including Paidakia ($40++), which is grilled lamb cutlets, as well as beef and chicken.   
Address: 73 Amoy Street, Singapore 069892
Opening hours: Mon-Fri 12pm to 2pm, 6pm to 11pm, Sat, PH & eve of PH 6pm to 11pm (last order is at 30 minutes before closing)
Tel: 6221 6124
Website
Menus
---
3. Blu Kouzina
---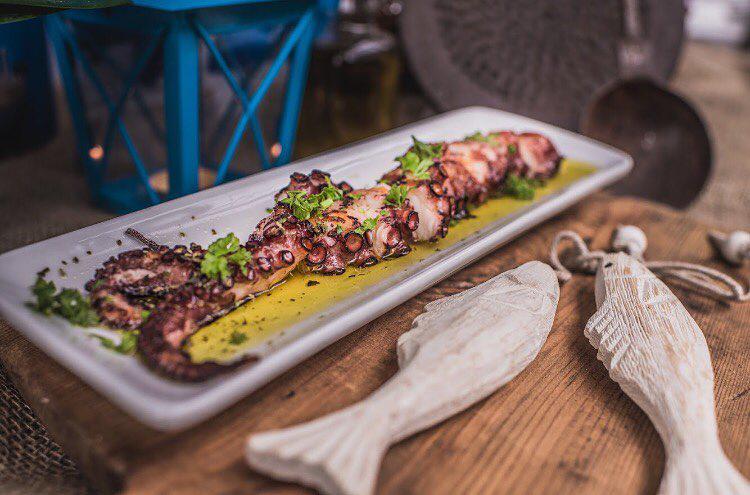 Image credit: @blukouzina
Situated at Dempsey Hill, Blu Kouzina is an Instagrammable space that combines designs from Singapore's history and Greek mythology. Their Hummus ($15.80++), which is a simple blend of tahini, chickpeas and the restaurant's house-pressed extra virgin olive oil, makes for a great appetiser. A popular vegetarian sharing plate is Feta Saganaki ($19.80++), a block of feta cheese pan-fried till golden brown, topped with honey and sesame seeds. For a satisfying yet heart-healthy dish, Sardines Shara ($29.80++) comprises grilled sardines served with lemon and olive oil.   
Address: 10 Dempsey Road, #01-21, Dempsey Hill, Singapore 247700
Opening hours: Daily 12pm to 2:30pm, 6pm to 10pm
Tel: 6875 0872
Website
Menu
---
4. Mykonos On The Bay
---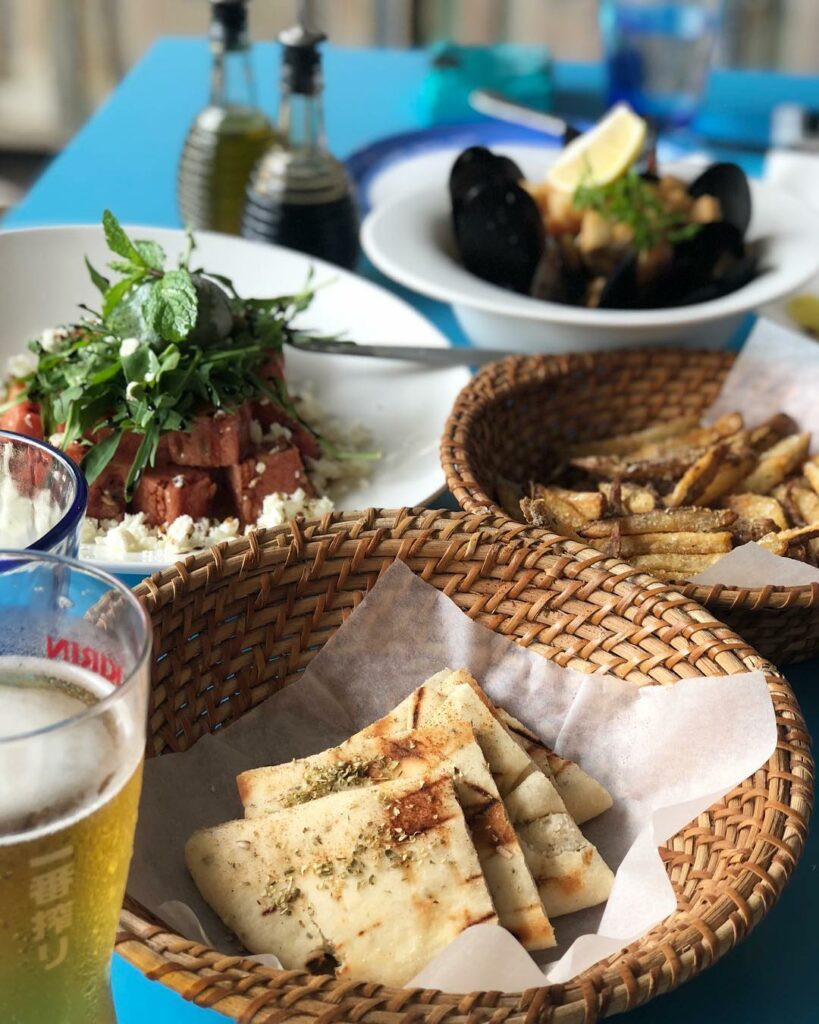 Image credit: @fishyfish
Mykonos On The Bay at Quayside Isle prides themselves in offering customers a dining experience similar to what one would typically have in Greece, complete with a picturesque view. Mykonos Dip Platter ($26++) allows indecisive diners to have a taste of popular Greek dips. It comes with tzatziki, grilled eggplant dip, as well as taramosalata, a fish roe spread. The dish also includes handmade pita!
8 Quayside Isle Restaurants To Check Out For Romantic Date Nights And Family Gatherings
Address: 31 Ocean Way, #01-10, Quayside Isle, Sentosa Cove, Singapore 098375
Opening hours: Mon-Wed 6pm to 10:30pm, Thur-Fri 12pm to 2:30pm, 6pm to 10:30pm, Sat-Sun 12pm to 10:30pm
Tel: 6334 3818
Website
Menu
---
5. Aryaa Kitchen
---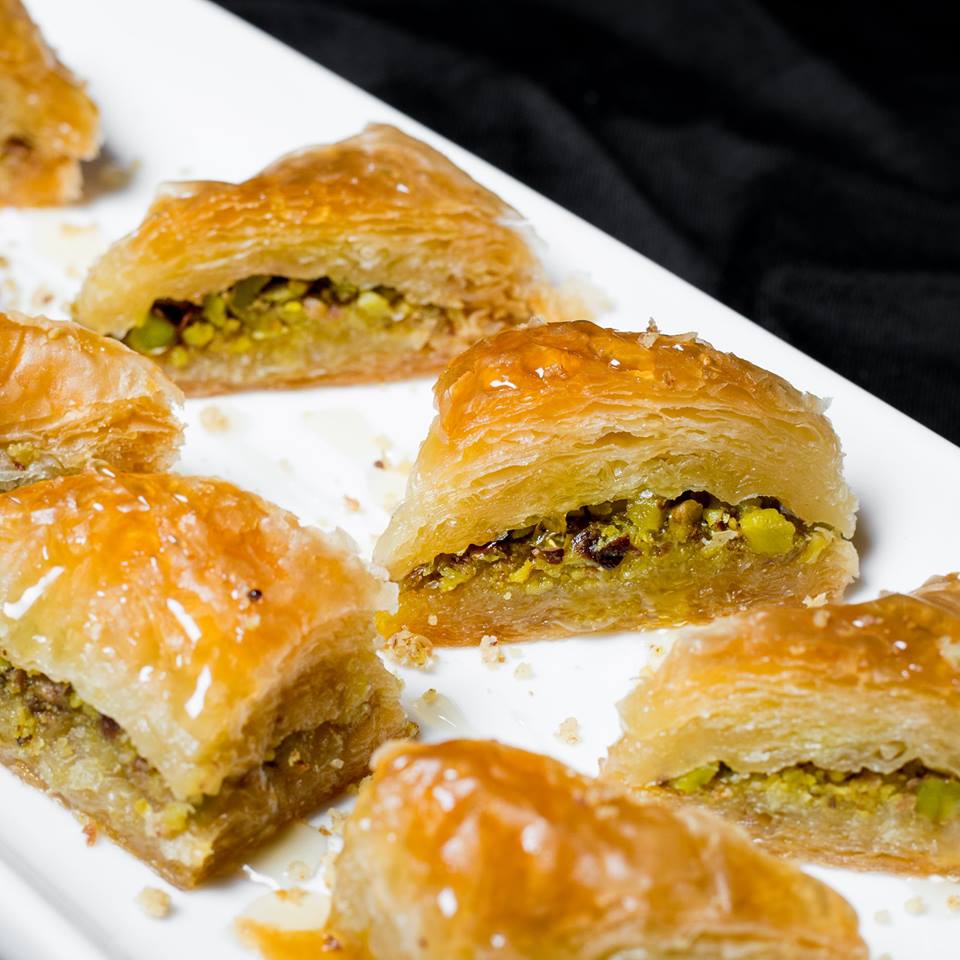 Image credit: Aryaa Kitchen's Facebook page
Aryaa Kitchen offers both Indian and Mediterranean cuisines. Aryaa's Grill Platter ($55++ for two people) comes with a combination of beef kofta, grilled lamb chops, chicken and lamb skewers served with garden salad, tzatziki dip and your choice of toasted pita or tomato rice. Aryaa's Signature Pistachio Baklava ($18++) is the restaurant's specialty dessert, and comprises pistachio nuts wrapped in layers of filo pastry and honey, served with a scoop of mocha ice-cream.  
Address: 7500E Beach Road, #01-201, Diners Building, Singapore 199595
Opening hours: Mon-Fri 12pm to 3pm, 6pm to 11pm, Sat 6pm to 11pm
Tel: 6291 6009
Website
Menu
---
6. Nostimo Greek Deli
---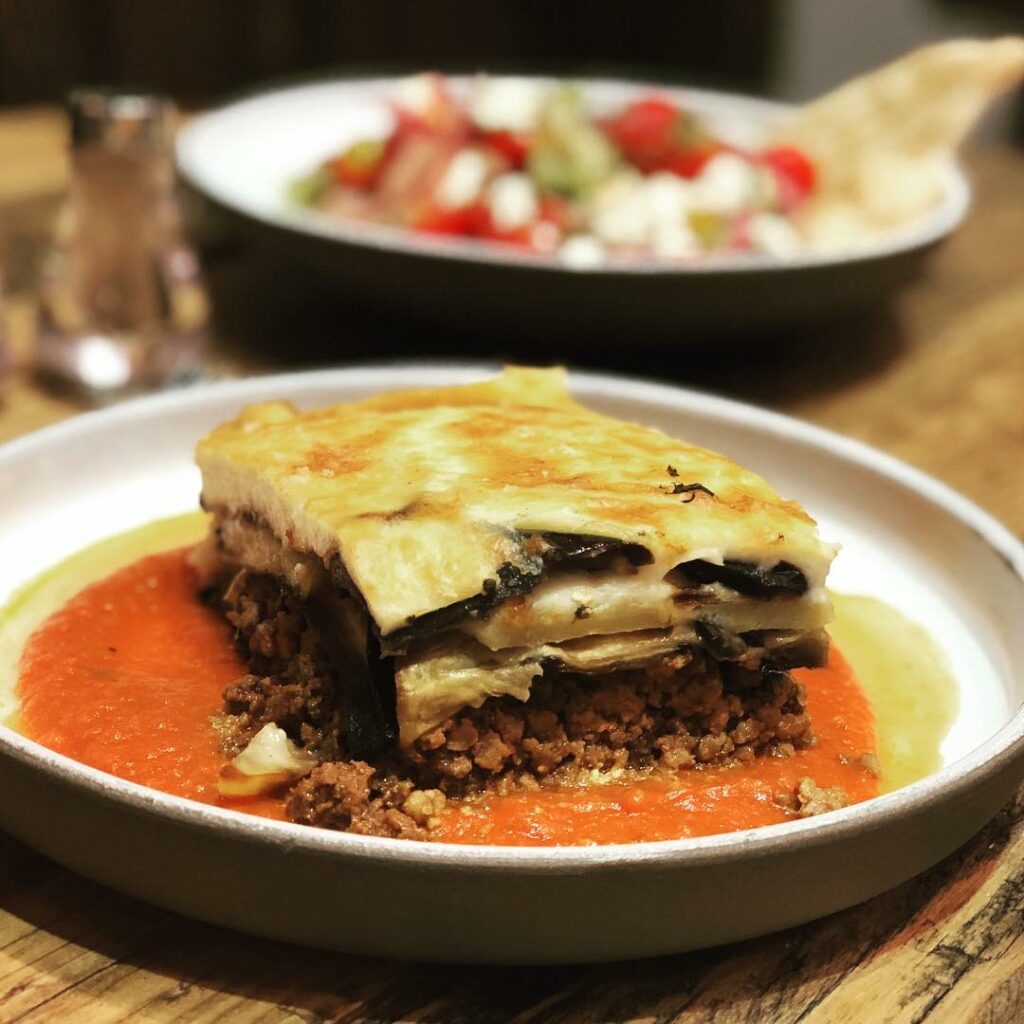 Image credit: @nostimogreekdeli
Nostimo Greek Deli serves up fuss-free and hearty Greek dishes that are affordable and delicious. Chicken & Hummus Tortilla ($11+) is a delicious dish comprising warm tortilla spread with a generous amount of creamy hummus and stuffed with roasted chicken, tomatoes and arugula. Those with a sweet tooth can try their Bougatsa – Milk Pie ($7.80+). This crispy pastry holds a core of sweet milk cream, and is served with icing sugar and cinnamon.
Address: 3 Temasek Boulevard, #01-365, Suntec City, Singapore 038983
Opening hours: Mon-Fri 8am to 9pm, Sat-Sun 10am to 9pm
Tel: 6250 5513
Website
Menu
---
7. Fotia
---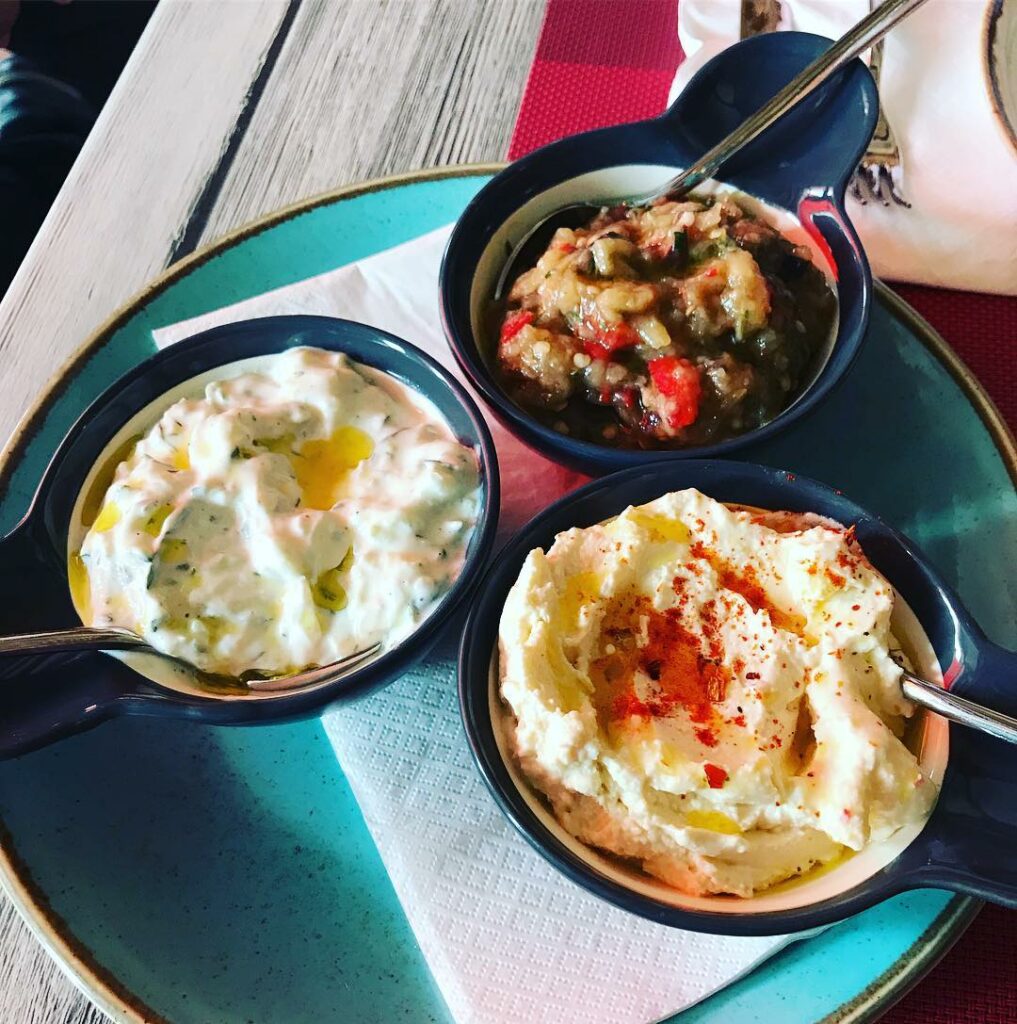 Image credit: @deadbabe
A new kid on the block, Fotia started business earlier this year. Dishing up a variety of authentic Greek and Mediterranean recipes, most of Fotia's dishes are made from scratch, including their Greek yogurt. Trilogia ($29.80++) offers diners with the best of three worlds – a selection of three dips of your choice and crispy pita bread. Baklava ($16.80++) is another dish you cannot leave without trying. Rather than being shaped into the regular square pastry, Fotia rolls the spiced pistachio mixture into a shape that resembles Chinese 'love letters', before topping the dish with vanilla ice-cream and a pistachio biscuit.   
Address: 1 Club Street, Singapore 069400
Opening hours: Mon-Thur 12pm to 10pm, Fri-Sat 12pm to 11pm, Sun 11am to 9pm
Tel: 9455 1004
Website
Menu
---
Greek food to jazz up your daily meals
---
With these Greek restaurants, you don't need to book a flight to Greece to savour their food. Furthermore, the sumptuous mains and desserts served at these restaurants definitely allow you to try something different from the usual. If you know of more awesome Greek restaurants, leave a comment down below!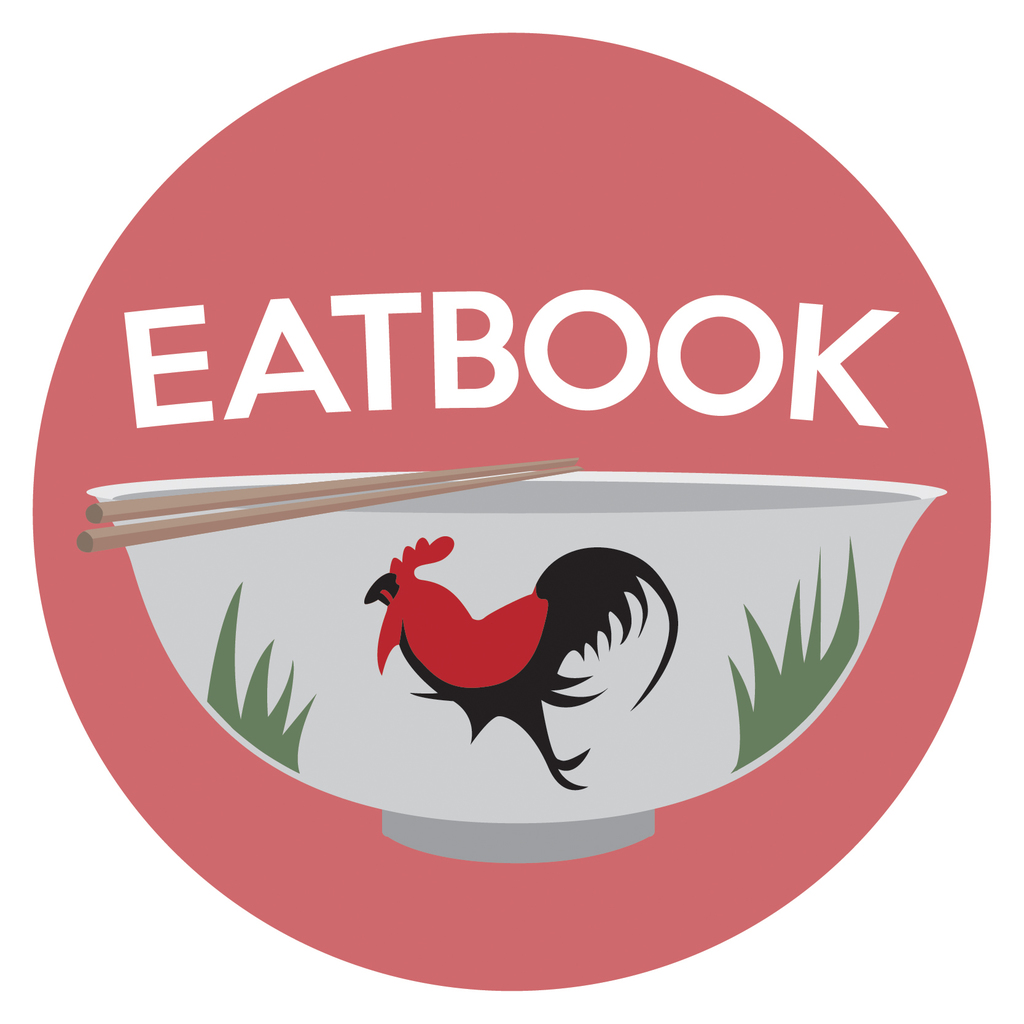 Drop us your email so you won't miss the latest news.