---
Dine at Quayside Isle @ Sentosa Cove
---
Update: Greator Lot is no longer at Quayside Isle.
To get away from the hustle and bustle of the city, I always seek respite in quiet places such as Quayside Isle @ Sentosa Cove. In the day, the space is great for families, and you can see children running around freely while parents enjoy their meal. Upon nightfall, the marina lights up – fairy lights are strung around trees and lamp posts – and makes for a romantic date night destination. Plus, all the restaurants there face parked yachts bobbing away in the water, so you are always assured a picturesque scenery no matter where you dine.
---
1. Greater Lot by Cedele
---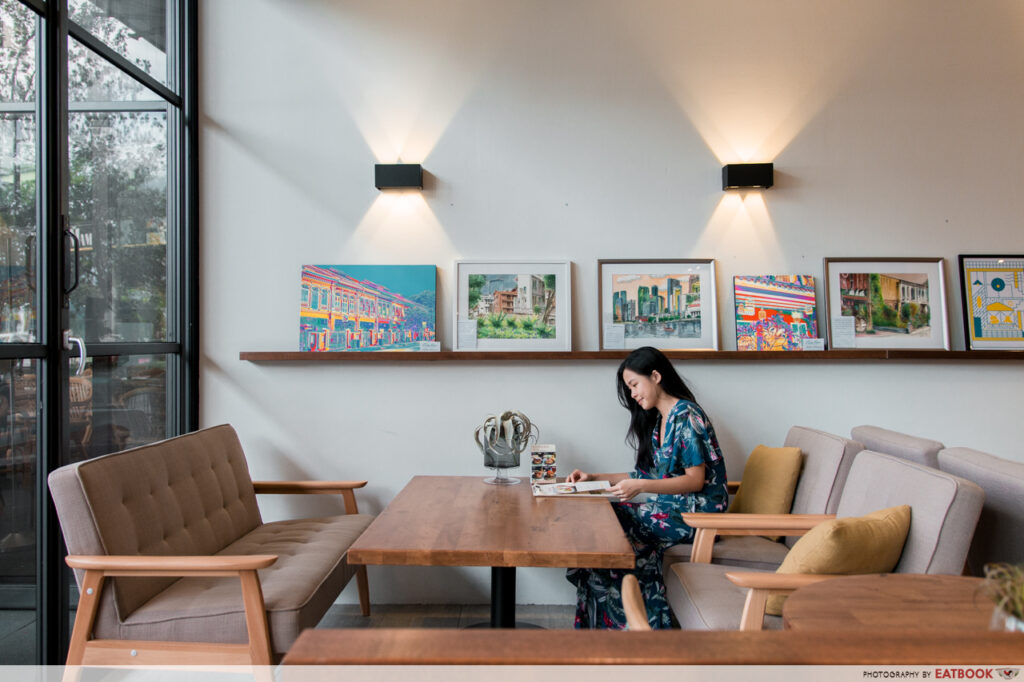 For a relaxing brunch session, look no further than Greater Lot by Cedele. Giving off a welcoming, laid-back vibe, the Scandinavian-style cafe is usually packed with diners during lunchtime. Adding to the entire dining experience are the friendly staff members, who never fail to serve you with a smile.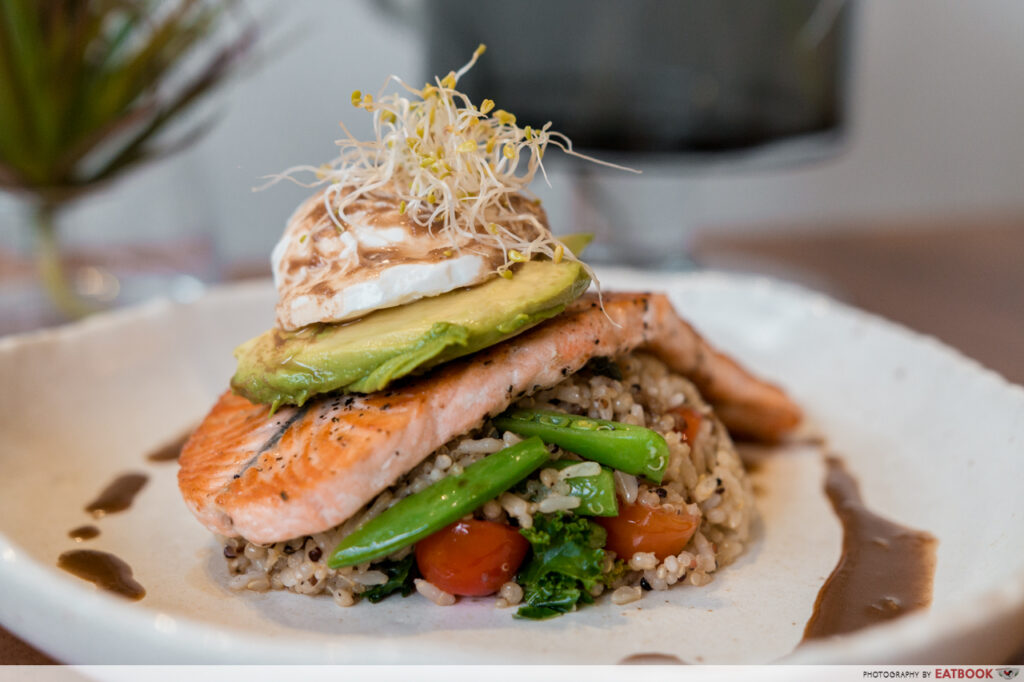 Opened by the guys behind Cedele, you can expect the food here to be just as wholesome and tasty. Celebrate the weekends and the gorgeous view with a serving of their Miso Ginger Salmon Grain Bowl ($25++). This healthy meal is made up of three types of grains, kale, as well as a generous slab of salmon fillet that was moist and flavourful. Topping the salmon is a chunk of avocado and runny poached egg.
Unit number: #01-08
Opening hours: Tue-Thur & Sun 8am to 8pm, Fri-Sat 8am to 10pm
Tel: 6262 1512
Website
---
2. Greenwood Fish Market
---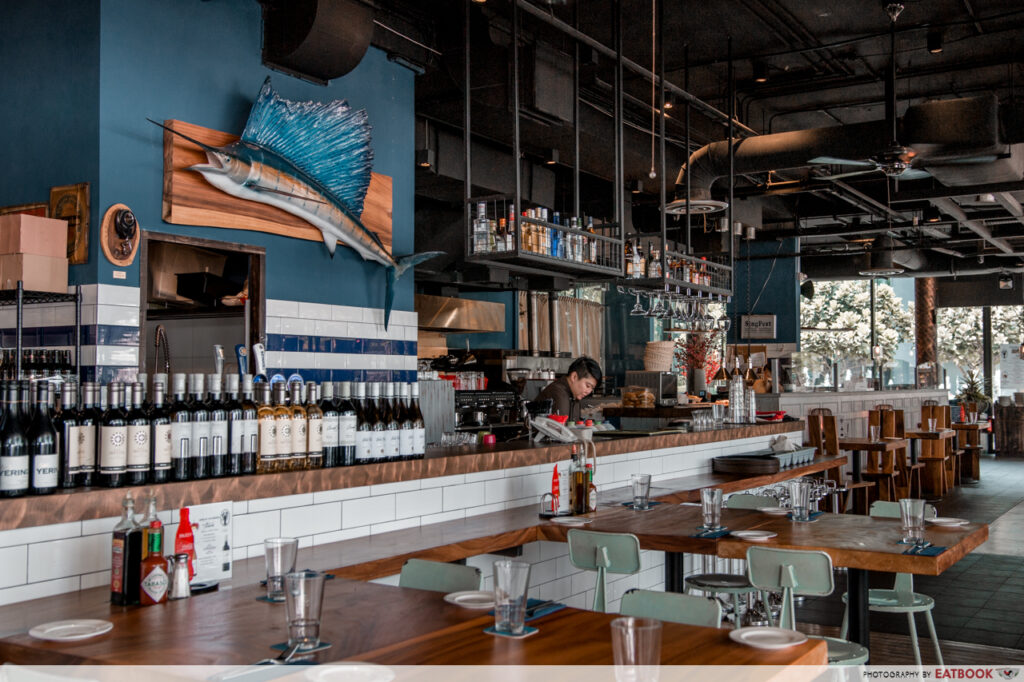 Priding themselves on importing the freshest catch from around the world is Greenwood Fish Market. Featuring a nautical theme, the restaurant is a real eye-catcher thanks to its timber dining tables and blue walls – there's even a sailfish plaque mounted on the wall! There's also a connecting grocery area, where you can buy wines, truffle oil and other gourmet goods.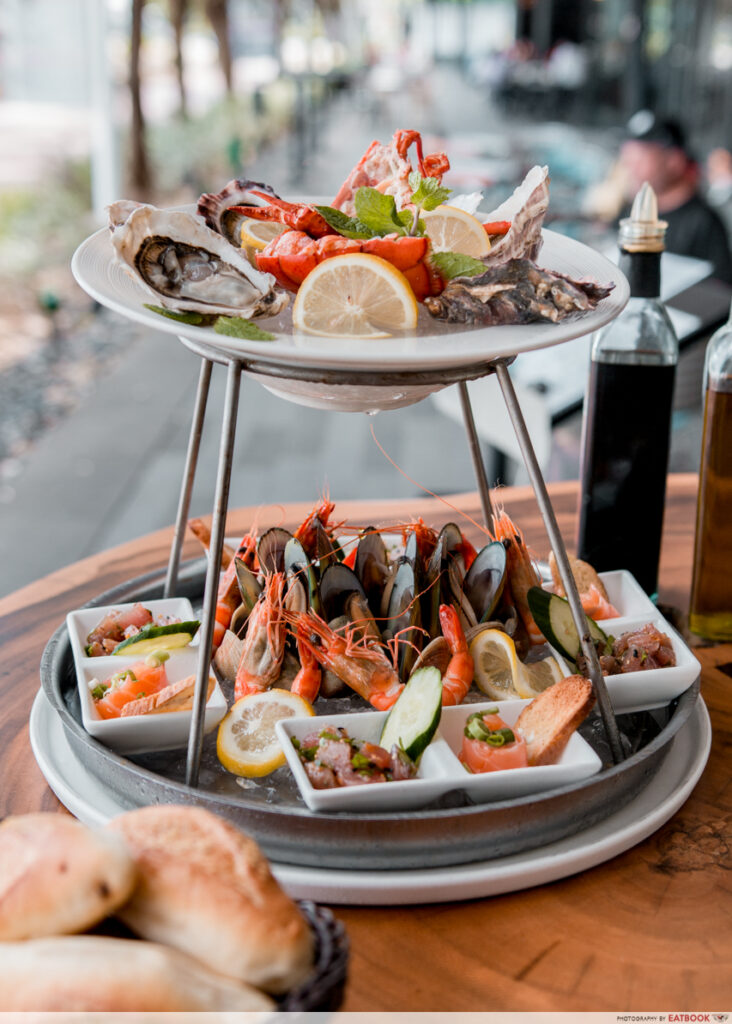 Great as an appetiser for four diners or a full meal between two hungry souls, the two-tiered Cold Seafood Platter ($99++) is highlighted by half a steamed Boston lobster, cooked live tiger prawns, freshly shucked oysters, New Zealand green-lipped mussels, and littleneck clams. It also comes with a portion of marinated yellowfin tuna with furikake, and cold smoked salmon that's smoked in-house with applewood!
Unit number: #01-04/05
Opening hours: Mon* 5pm to 10pm, Tue-Fri 12pm to 10pm, Sat-Sun 11am to 10pm
*Closed on the first Monday of every month.
Tel: 6262 0450
Website
---
3. Miska Café
---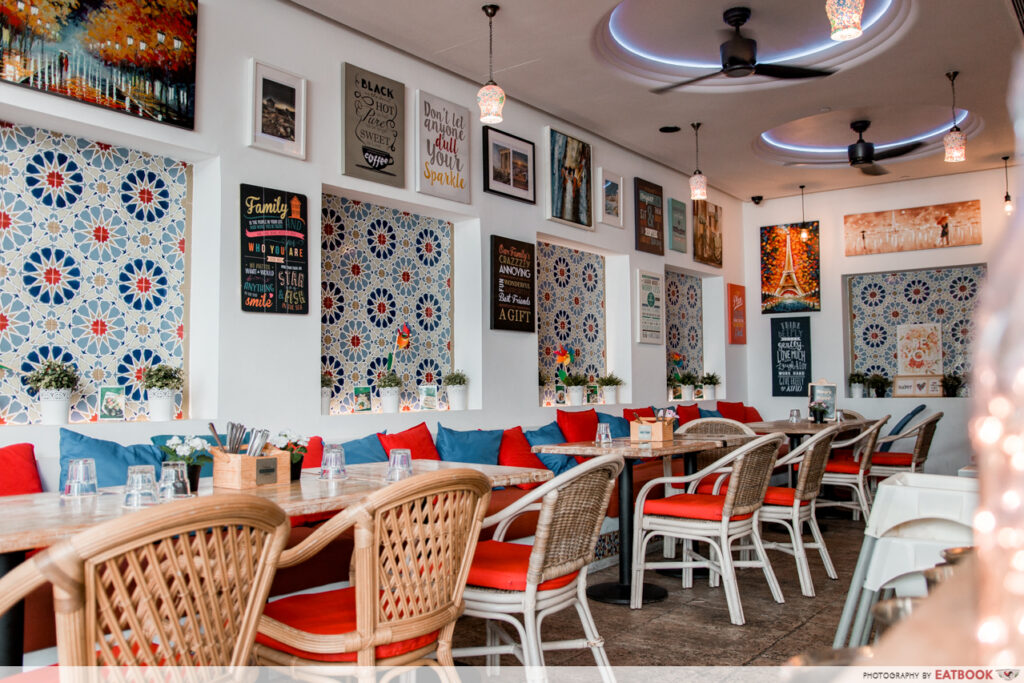 Hanging ornate Turkish lamps and mosaic wall tiles make Miska Café a swoon-worthy space to dine at. Snag a seat indoors at the cushy banquette lined with red and blue cushions, or if you prefer to soak up the sun, the al fresco area has wicker armchairs that are great for lounging in.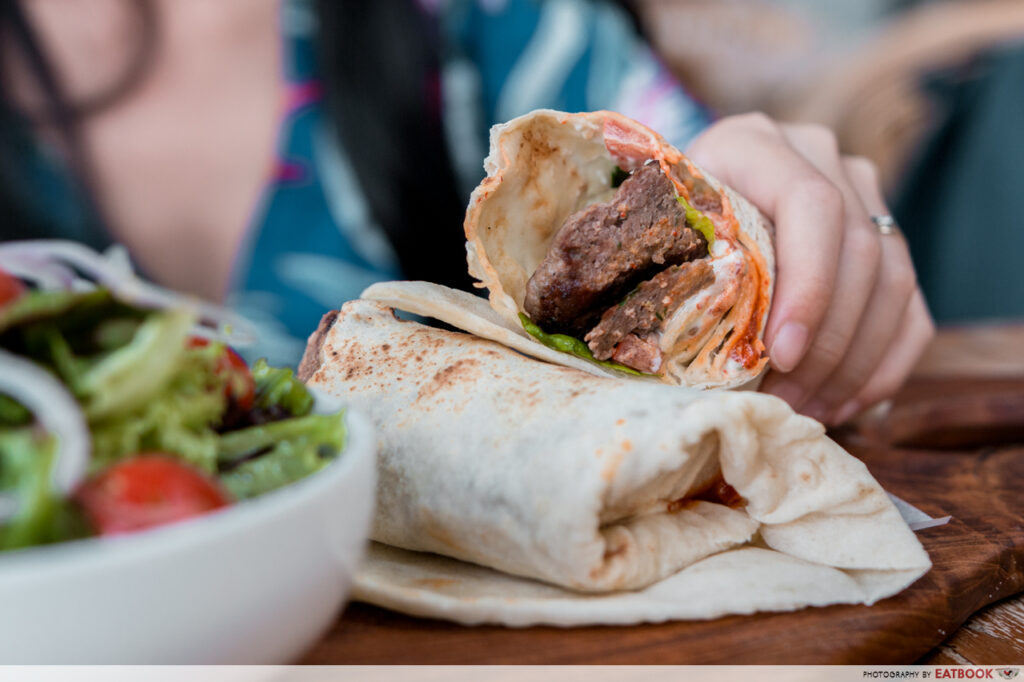 On the extensive Mediterranean-focused menu you will find items such as hummus, pizzas, and wraps. Order their Lamb Kofta Wrap ($22++) that's served with a choice of salad or fries. Cutting through the herby taste of the juicy grilled lamb patty were parsley, thinly sliced onions, romaine lettuce, tomato, and tzatziki sauce. While it is optional, we recommend adding their spicy sauce, which adds a nice kick to the hearty dish!
Unit number: #01-07
Opening hours: Mon-Fri 10am to 10pm, Sat-Sun 8:30am to 10pm
Tel: 6339 0903
Website
---
4. Museo
---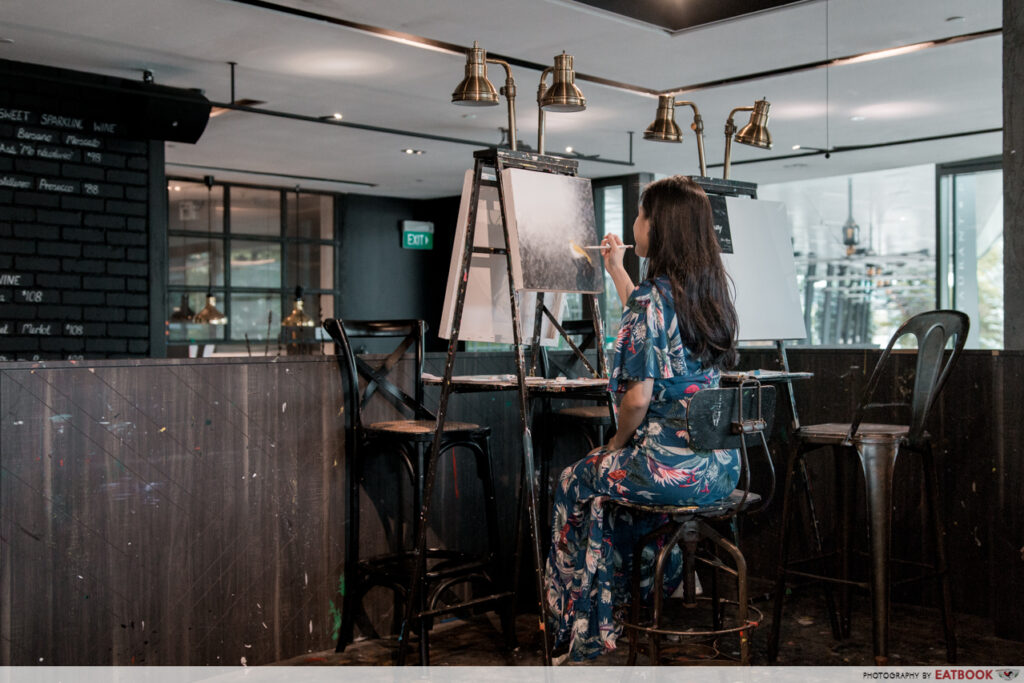 Museo takes on a discerning approach by combining food with art. The creative dining space invites you to unleash your artistic side and paint on a 50 by 50 cm canvas for a maximum of three hours at $48++.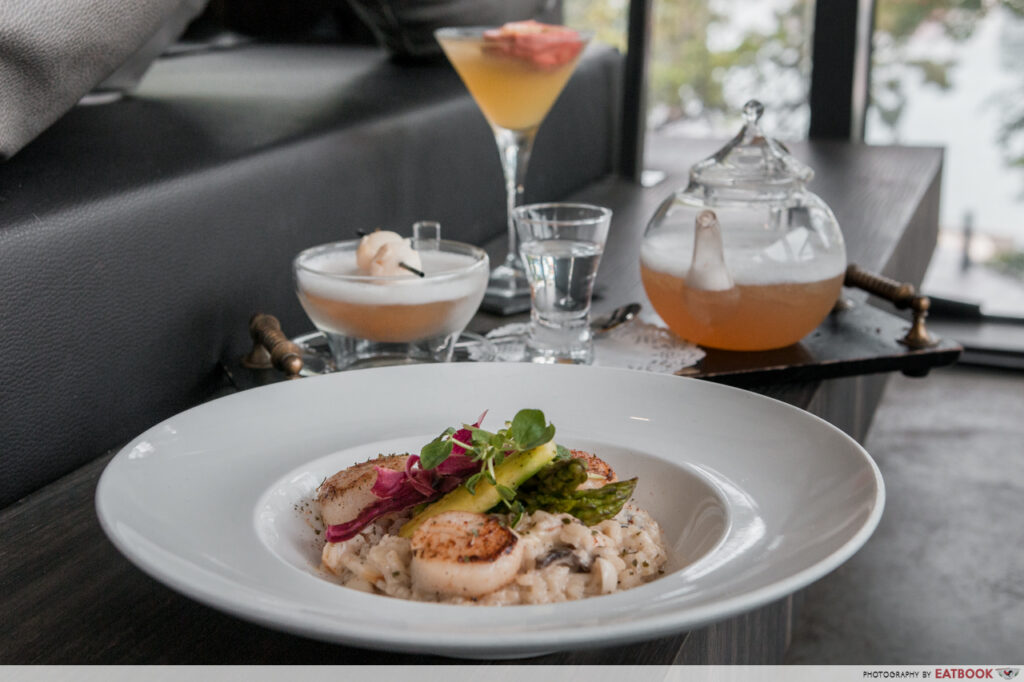 As an art student, I know painting can seriously work up an appetite. Satisfy your hunger with their Truffle Mushroom Risotto and Hokkaido Sea Scallops ($36++). The scallops are pan-seared, and its sweet flavour paired well with the earthy, smoky truffle risotto. They also have a wide selection of teas, and their housemade Ice Lychee Tea ($11++) made from oolong and lychee is a must-get.
Unit number: #01-22
Opening hours: Mon-Thur 3pm to 10pm, Fri 3pm to 11pm, Sat 11am to 11pm, Sun 11am to 10pm
Tel: 6734 8066
Website

---
5. Sabio by The Sea, Tapas Bar & Grill
---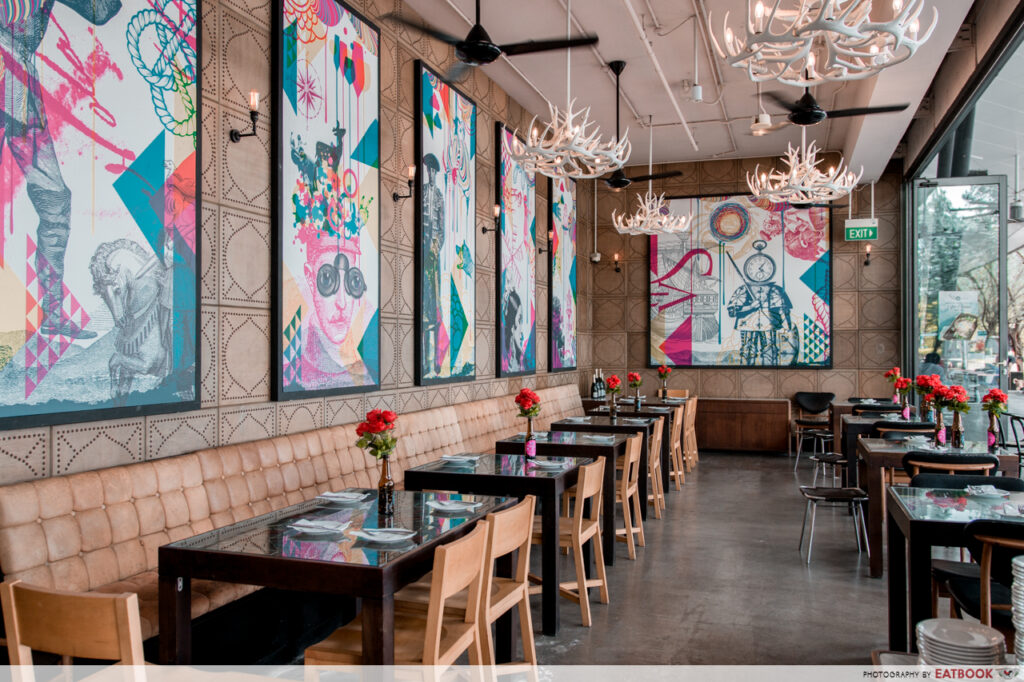 Luring me into Sabio by The Sea, Tapas Bar & Grill is the striking interior featuring kitschy artworks and hanging antelope's horns. It's all about having a fun time here; parents can rejoice as within the restaurant is a bouncy castle to keep children entertained, while the adults nurse a glass of sangria in peace.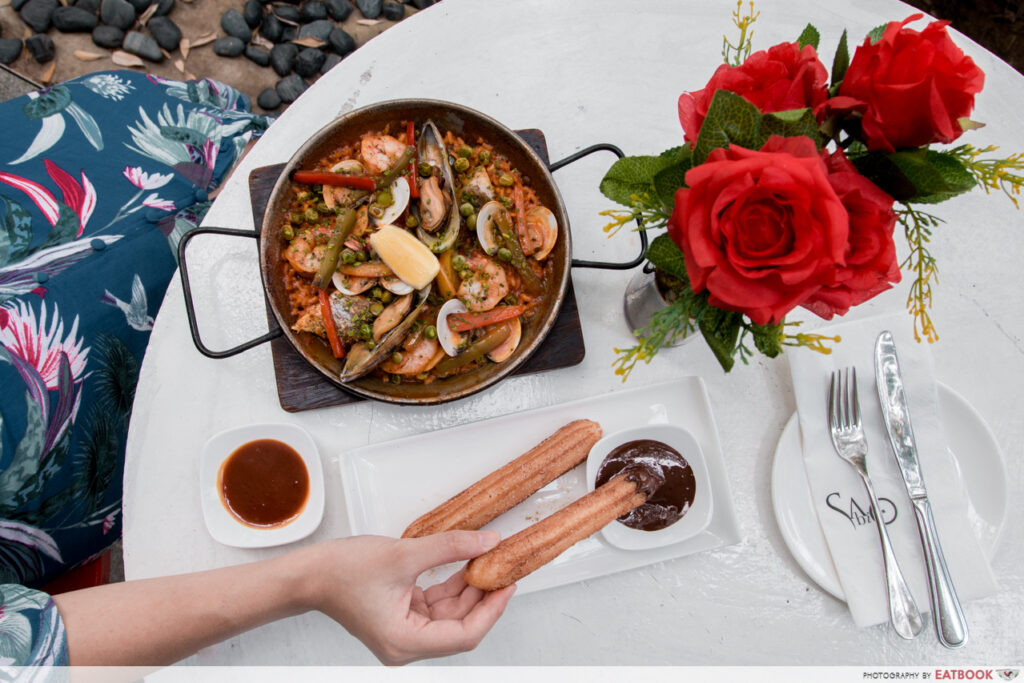 Agree to disagree, but it's not a true Spanish meal without a serving of Paella de Pescado ($29++/$49++). The signature dish is served in a traditional paella pan and comes filled with squid, sea bass, mussels, clams and shrimp. Done perfectly, the saffron-coloured rice soaked up the scrummy oceanic flavours of the seafood.
Unit number: #01-02
Opening hours: Mon & Wed-Thur 12pm to 10:30pm, Fri 12pm to 11pm, Sat 11:30am to 11pm, Sun 11:30am to 10:30pm (Closed on Tuesday)
Tel: 6690 7568
Website
---
6. Two Chefs Bar
---
Base on its decor alone, you will know that Two Chefs Bar is a Mexican-Italian restaurant – the walls painted in the colours of the Italian flag have hanging sombreros! There are plenty of seats, both indoors and out, making it great for big parties.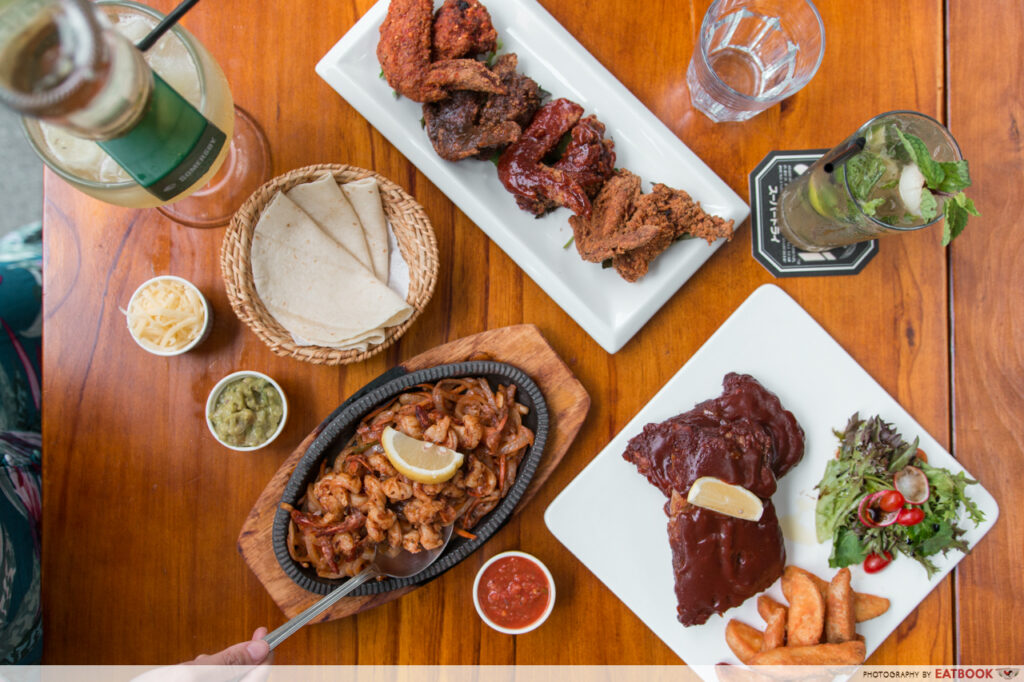 Marinated in a tantalising house-made sauce and cooked with bell peppers and onions, the Shrimp Fajitas ($29++) were bursting with flavour. Assemble it all together with the side of guacamole, red salsa, shredded cheese and warm flour tortillas. A great tipple to wash it all down is the SomerRita ($22++), featuring an entire bottle of Somersby Apple Cider dunked into a glass of margarita.
Unit number: #01-11
Opening hours: Mon & Fri 12pm to 10:30pm, Tue-Thur 3pm-10:30pm, Sat-Sun 11am to 11pm
Tel: 6268 8633
Website
---
7. Gin Khao Bistro
---
Gin Khao Bistro is a mark of elegance, with its sleek interior featuring chevron wooden flooring, tan brick walls and red velvet chairs. Despite its luxurious setting, their prices are kept relatively friendly.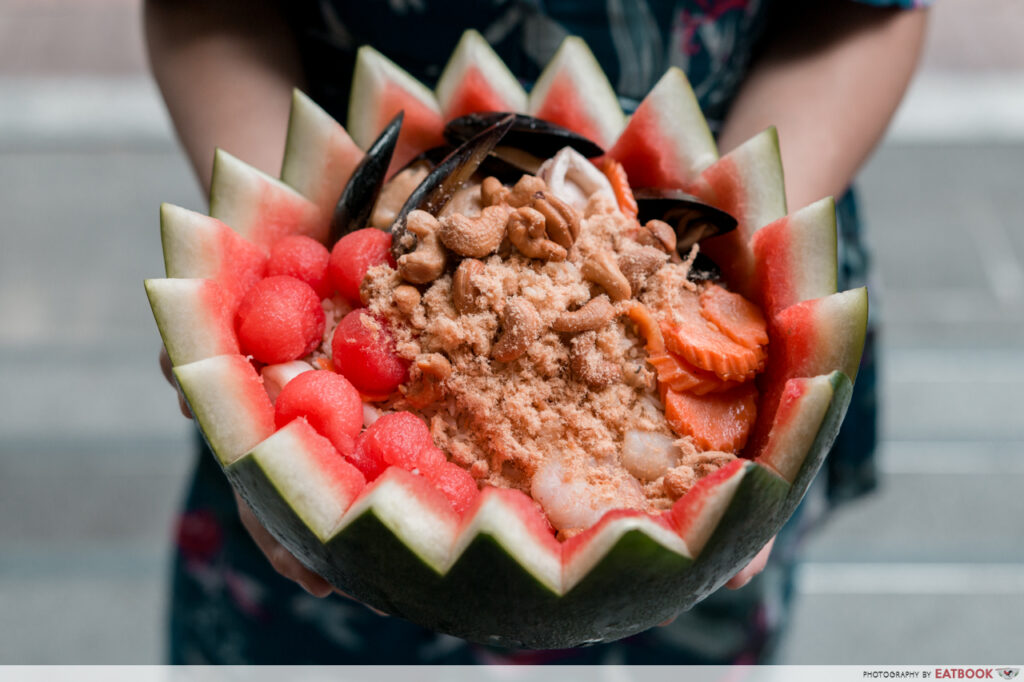 Perfect to have on a balmy evening by the marina is their Khao Phat Dtaeng Moe ($14.80++/$25.80++). Essentially fried rice served in a halved watermelon, the moreish dish came brimming with fresh prawns, squid and mussels, and had a tantalising wok hei aroma we found irresistible. Making the scrumptious dish refreshing were balls of watermelon.
Unit number: #01-12
Opening hours: Mon-Thur 12pm to 3pm, 5:30pm to 10pm, Fri-Sat 12pm to 10:30pm, Sun 12pm to 10pm
Tel: 6570 2208
Website
---
8. Blue Lotus – Chinese Eating House
---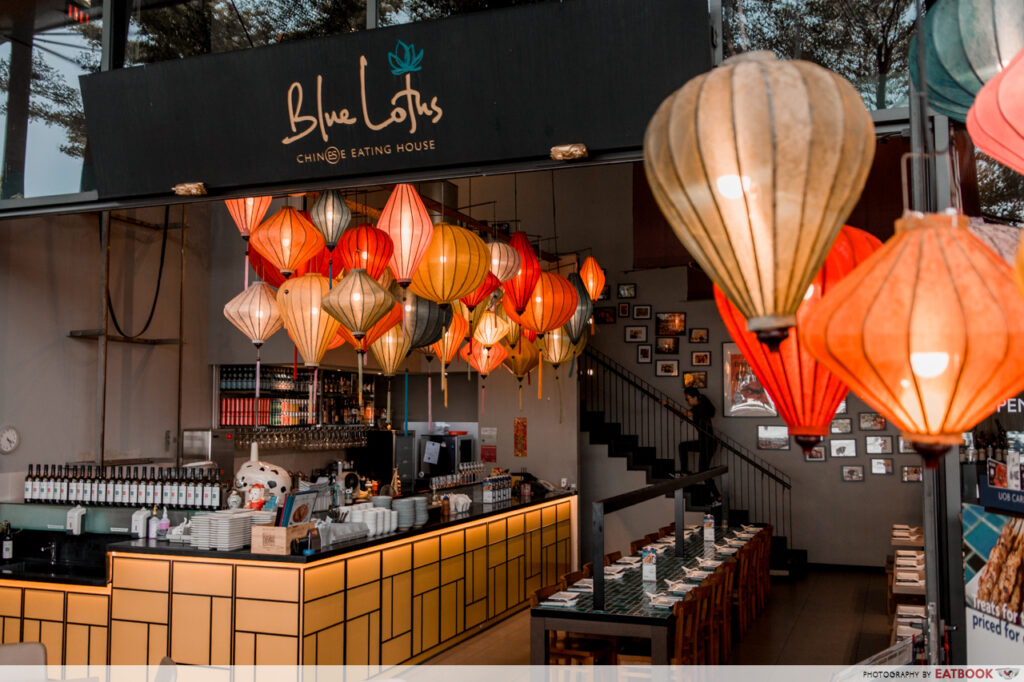 Brightly coloured lanterns adorn the ceiling at Chinese restaurant Blue Lotus – Chinese Eating House. Boasting ample seats, the stylish two-storey restaurant is ideal for gatherings with your loved ones.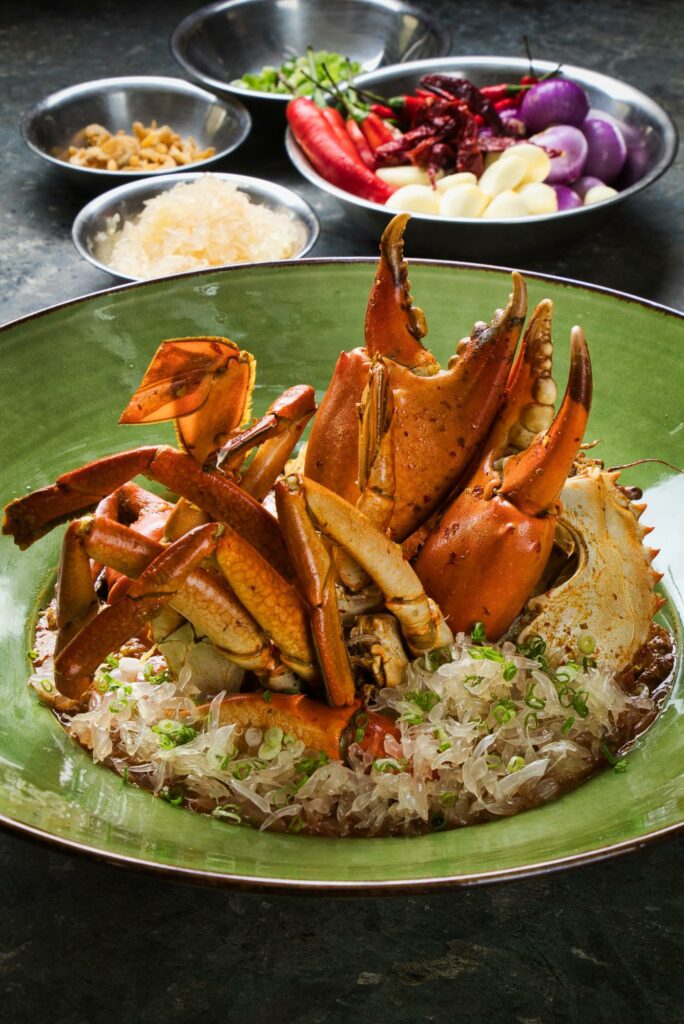 A unique take on Singapore's quintessential chilli crab is their Chilli Pomelo Crab ($8++ per 100g), where the citrusy bitterness of the added pomelo pulp gives another dimension of flavour to the piquant chilli crab sauce. Make the most of your weekend and come by for their Popiah Buffet ($18++ per person) to indulge in endless fresh spring rolls!
Unit number: #01-13
Opening hours: Mon-Fri 6pm to 10pm, Sat-Sun 11:30am to 3pm, 6pm to 10pm
Tel: 6339 0880
Website
---
Escape city life and dine at Quayside Isle
---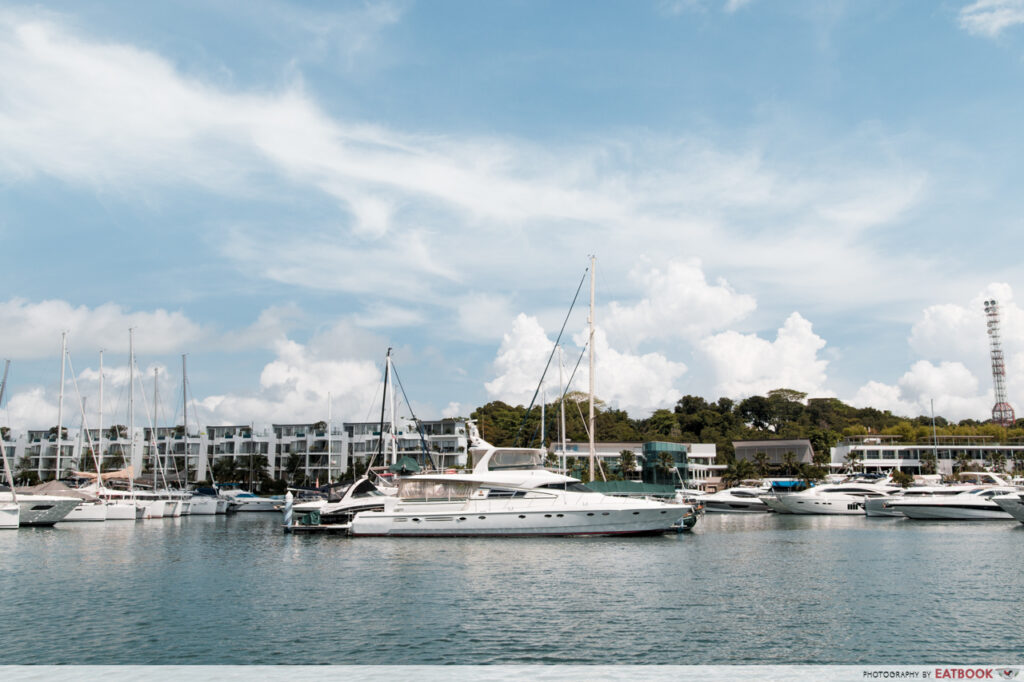 Good food coupled with a gorgeous view is why Quayside Isle is one of my favourite spots in Sentosa Cove. For a truly unforgettable experience, swing by every last Saturday of the month, from 6:30pm to 8:30pm, and catch live performances happening at the boardwalk!
Now, if you don't have a car, you will be glad to know getting to this beautiful enclave is really easy via public transport! Hop on the shuttle service from Harbourfront Bus Interchange to Sentosa Cove Village at just $2. Alternatively, if you're already in Sentosa, there's also a free bus service from Beach Station to W Singapore – Sentosa Cove.
On top of that, diners driving in on the weekdays – excluding public holidays – are also #blessed with free weekday lunchtime parking from 12pm to 2:30pm!
Address: 31 Ocean Way, Singapore 098375

Check out more promotions at Quayside Isle!
This is a sponsored post by Quayside Isle @ Sentosa Cove.