XXL Western platter from Steak & Bones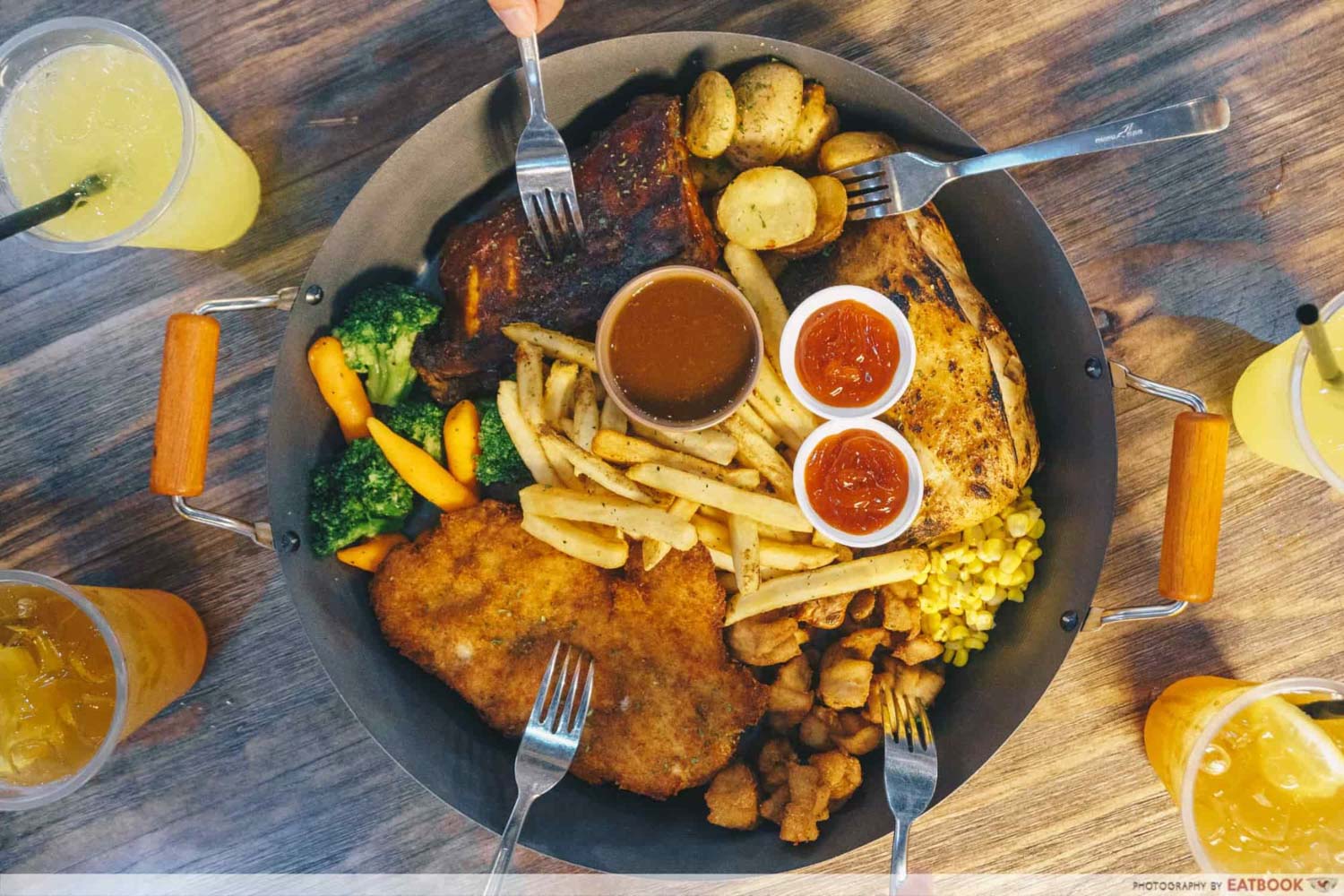 Just like buffets, XXL platters are always in demand. Whether you're pigging out by yourself or sharing a meal with several greedy friends, these gigantic sets will stretch your dollar to its ends. Take the hearty XXL Western platter from Steak & Bones for example. With a massive chicken drumstick, pork cutlet, BBQ ribs, free-flow fries, and karaage, this hearty set ought to fill up any big eater.  
Food at Steak & Bones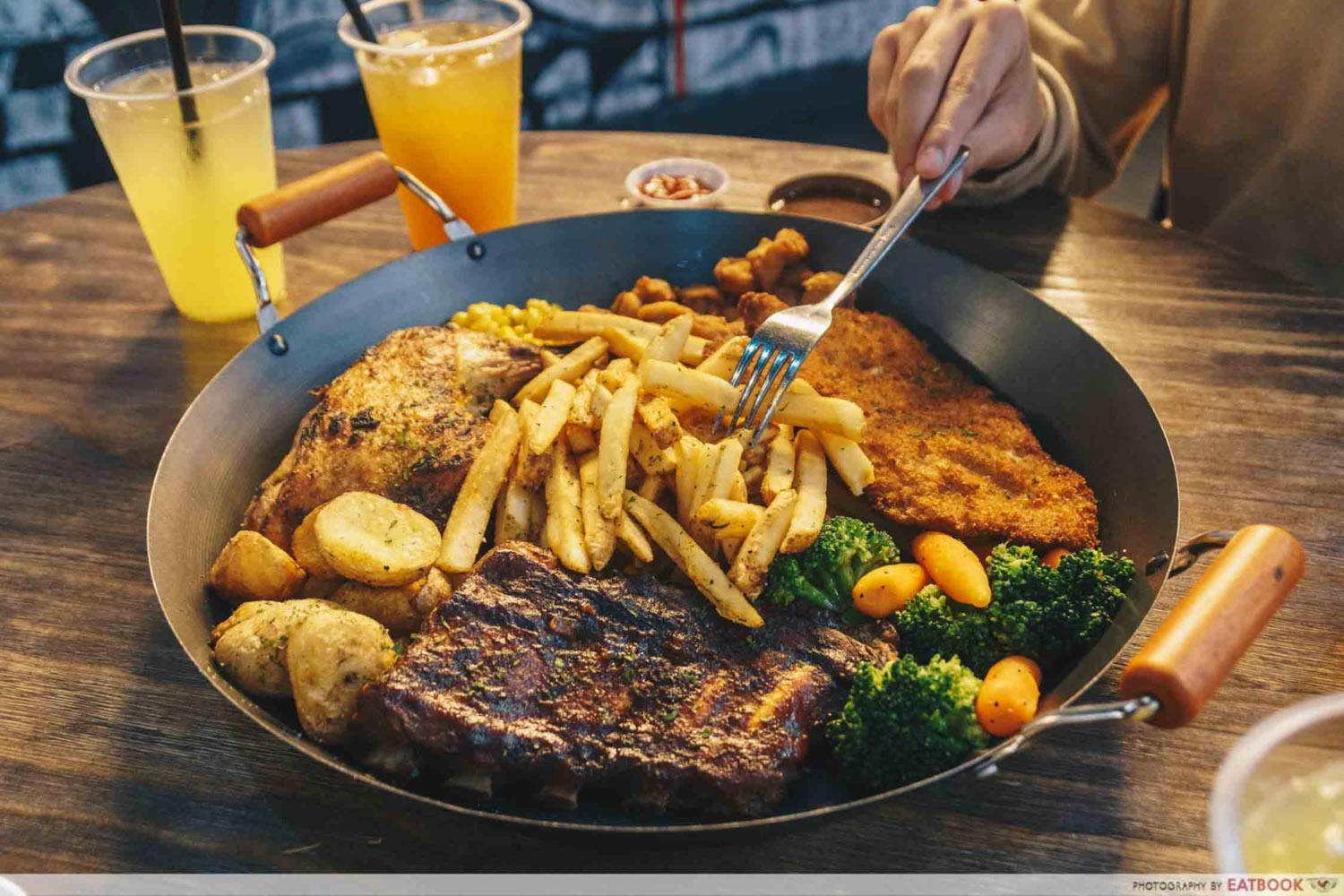 Excitement bubbled within me as the Giant Western Platter ($29.90) was prepared. I caught snippets of the food in the kitchen, teasing of the sumptuous affair ahead. Breaded cutlets crackling in oil, slabs of ribs sizzling atop fiery embers; each successive teaser left me hungrier by the minute.
Just when my hunger hit its peak, the platter arrived with a resonant thud. Roasted chicken drumstick, fried pork cutlet, pork ribs, chicken karaage, thick-cut fries, baby potatoes, broccoli, carrots, and corns; this smorgasbord of meat and greens could easily feed three to four people.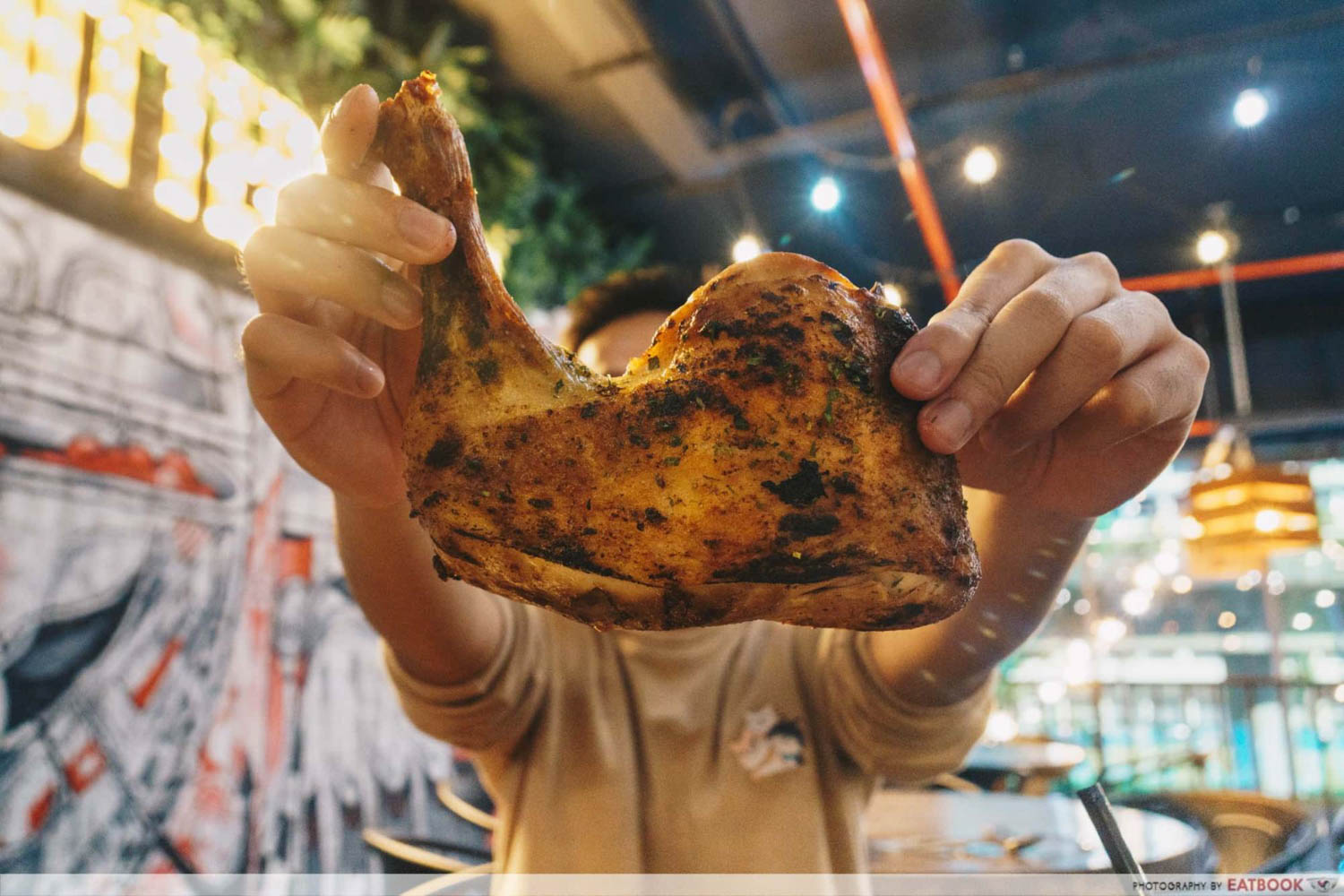 Among this throng of sides, their giant chicken drumstick caught my eye the most. Reminiscent of a tomahawk steak, this hulking slab of meat was blow-torched for an added smokiness. Torch grilling also furnished the drumstick with a crisper skin, which complemented its juicy and succulent meat.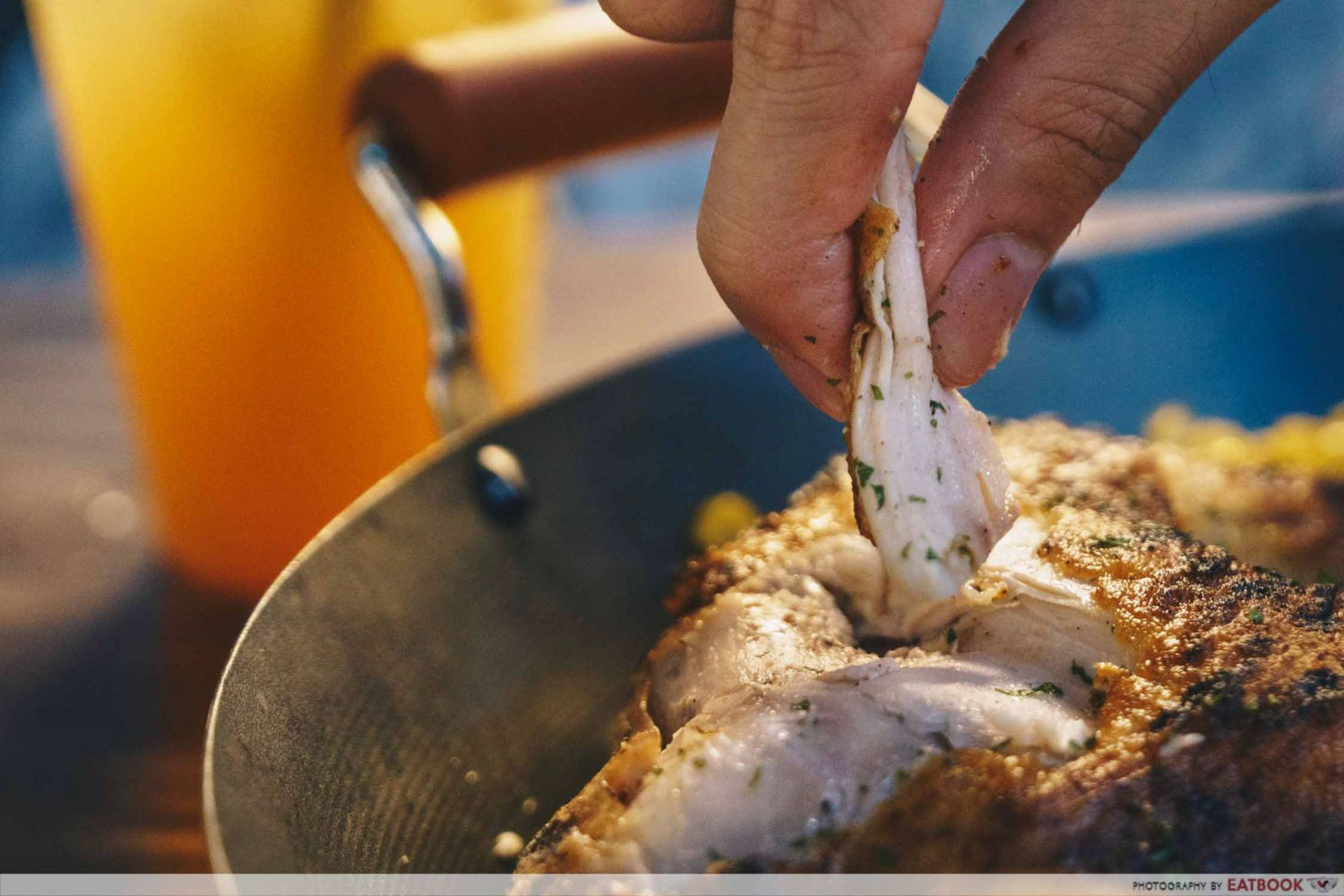 Alas, an impressive size was all their grilled drumstick boasted. Though it satisfied the most famished of carnivores, it was under seasoned and disappointed with its bland taste.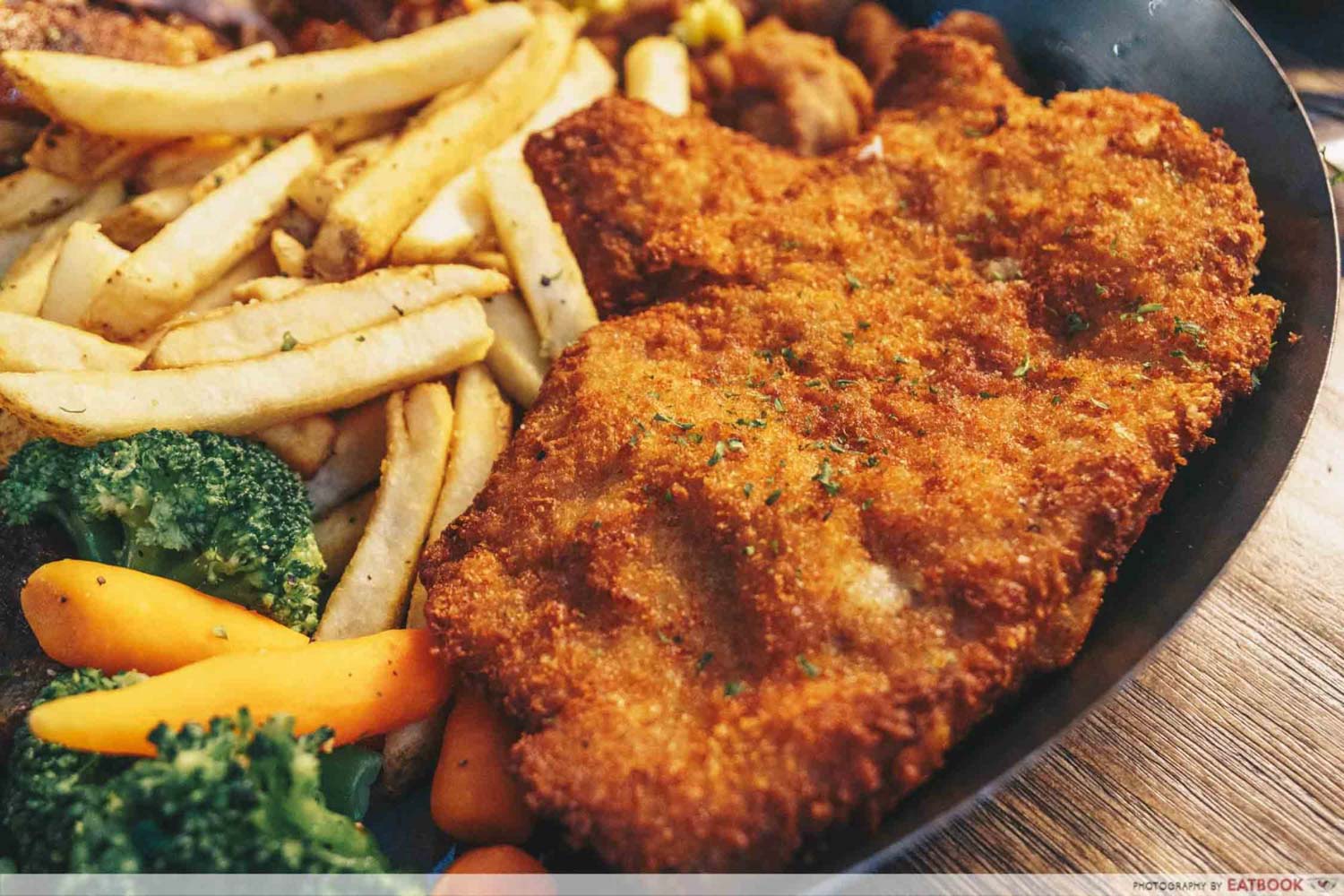 Unlike the grilled chicken, their giant fried pork cutlet delighted my palate with its full-bodied flavour. A unique rub of sake and mirin brought an Asian twist to the fillet, bolstering its porky tang with sweet accents.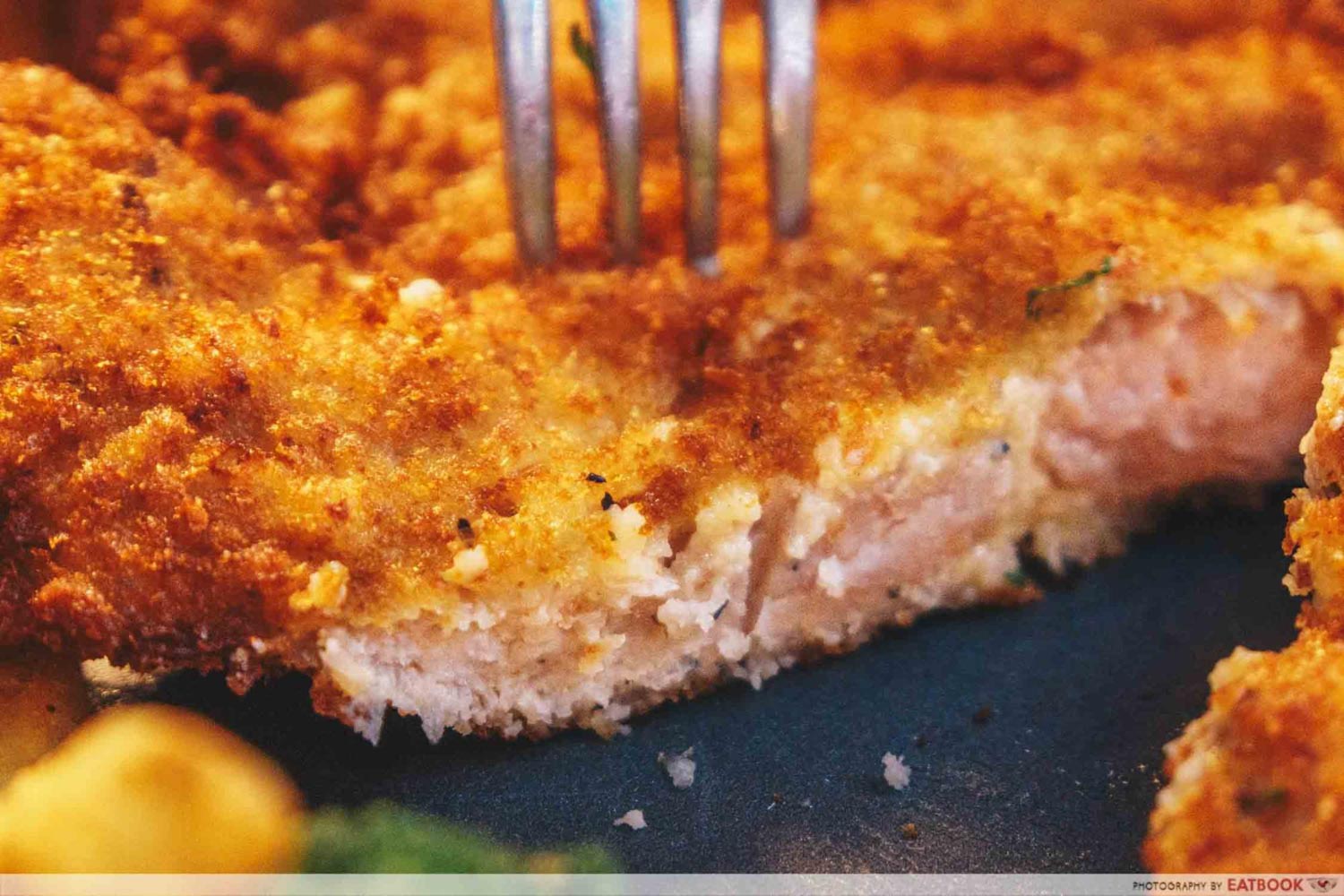 My sole dissatisfaction was with the overcooked meat, which required multiple forceful slices to cut through. Tough, dry, and frustratingly difficult to tear apart, this pork fillet offered an unsatisfying contrast to the light crunch of its panko crust.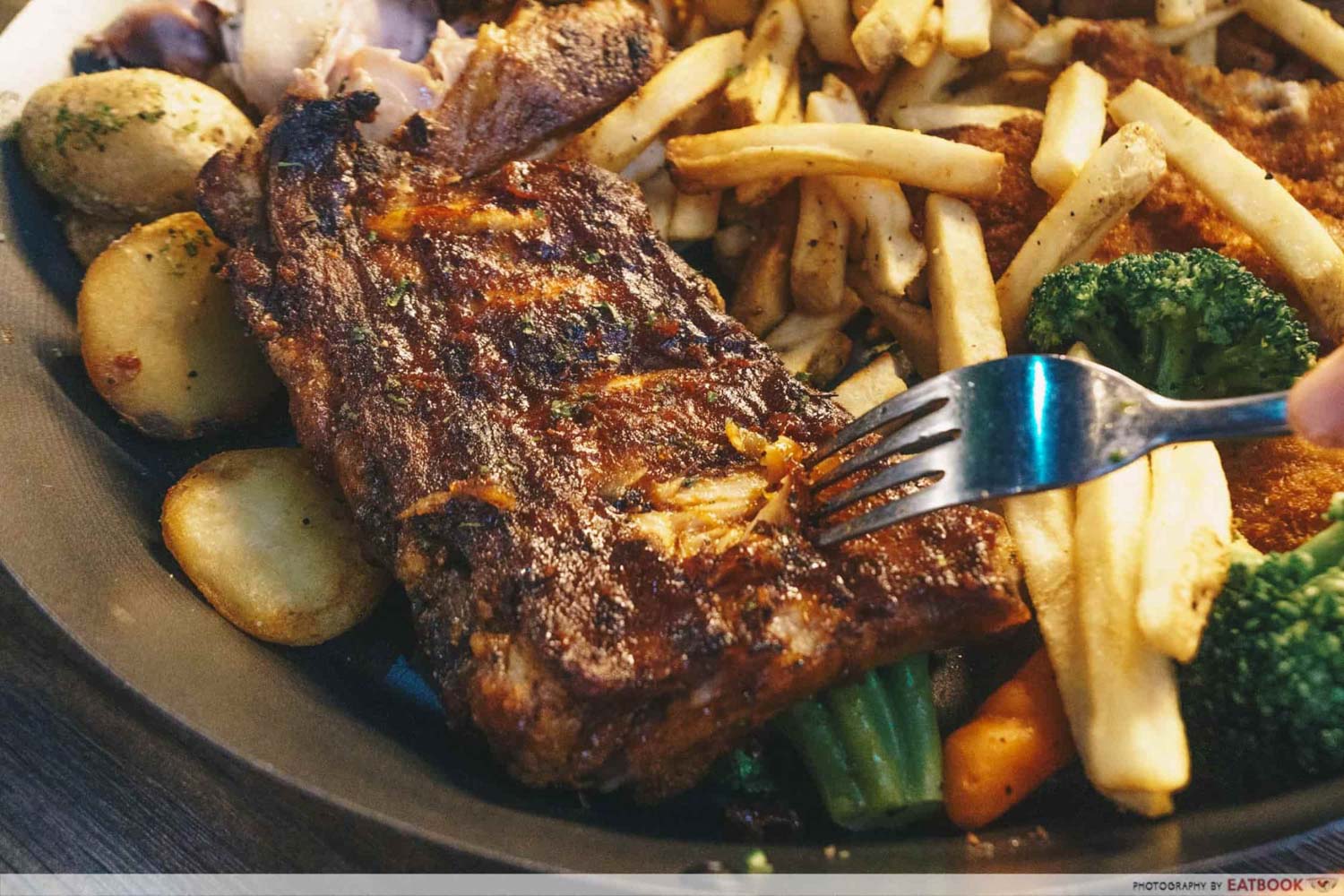 With their giant pork cutlet and chicken drumstick both falling short of expectations, the less eye-catching pork ribs stepped into the vacant spotlight. 
Adorned with just the right amount of fats, these ribs offered an even balance of savoury and creamy tones. A luscious barbecue sauce brought everything together, cutting across the grease while bolstering the meat with its hickory sweetness.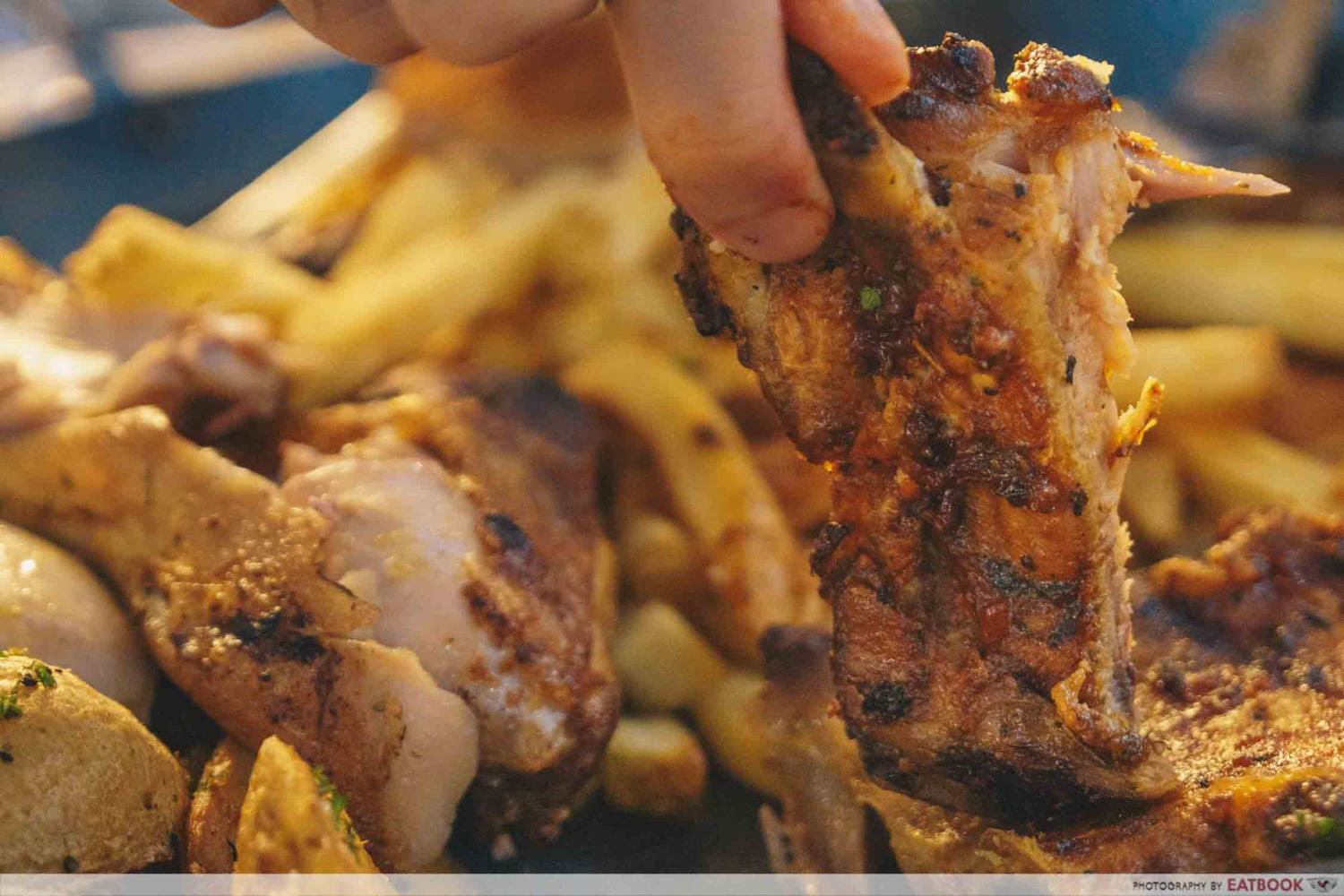 Admittedly, the pork ribs were slightly dry, but their fall-off-the-bone tenderness more than made up for it.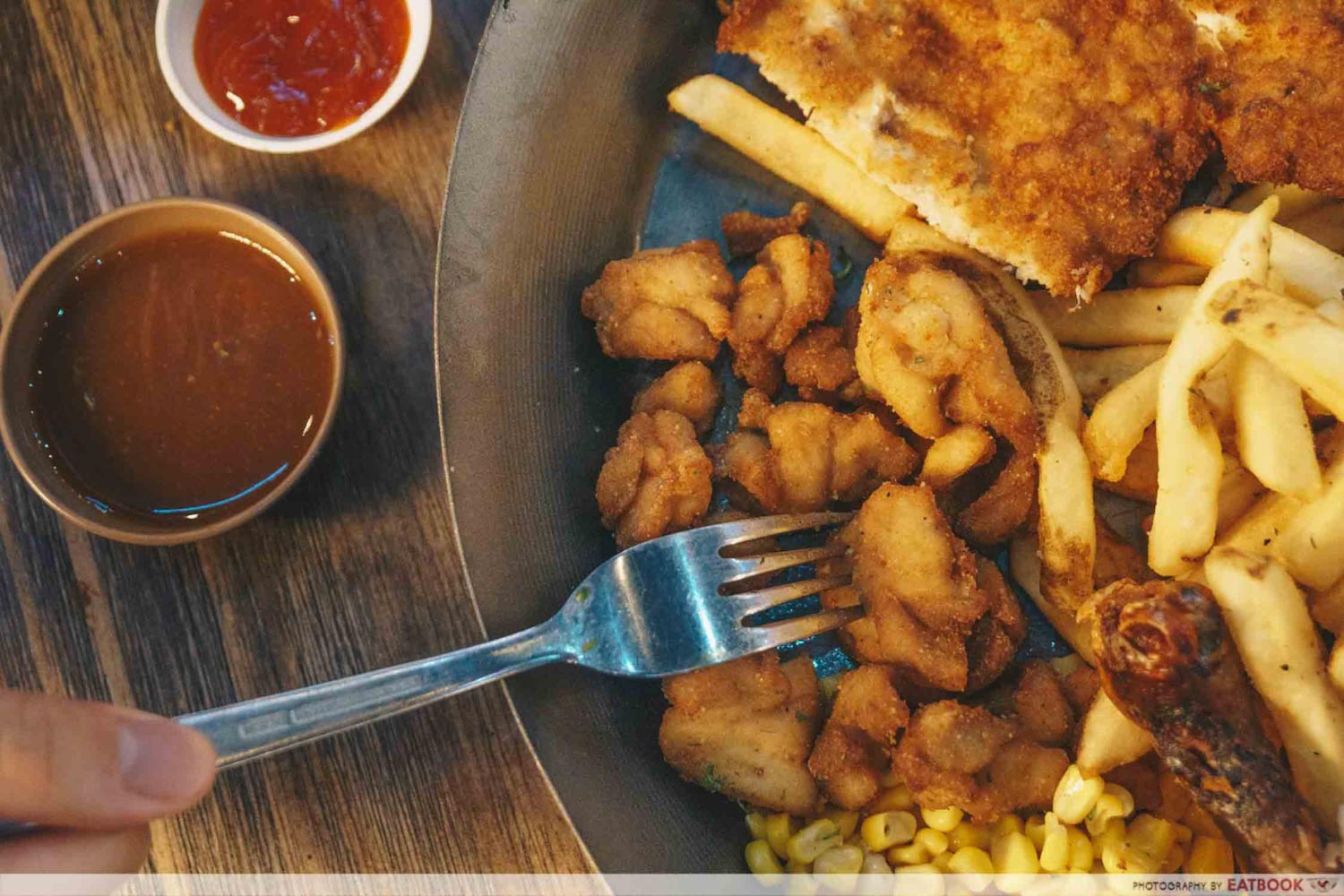 Similarly moreish was their chicken karaage. Tossed in a heady mix of salt and chicken powder, these juicy chunks of chicken thigh reeled me in for a second bite with their punchy and umami-laden kick.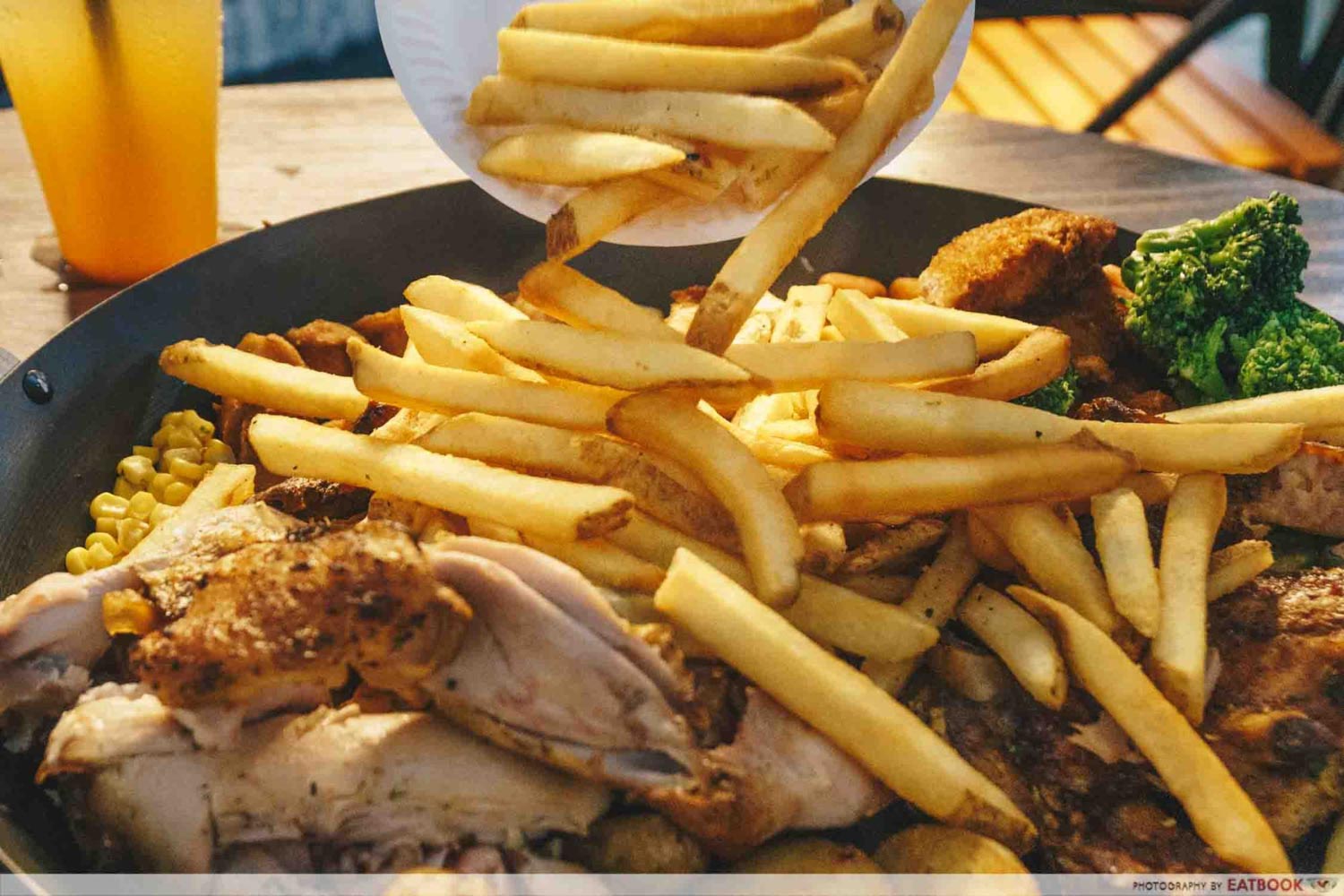 The best of the lot, however, was their thick-cut fries. Seasoned with a smattering of salt and cajun spices, these perfectly fried strips shine with their satisfying crunch, potatoey sweetness, and palatable saltiness
FYI, their fries are free-flow, so satisfry your hunger with a whopping mountain of these tater tots!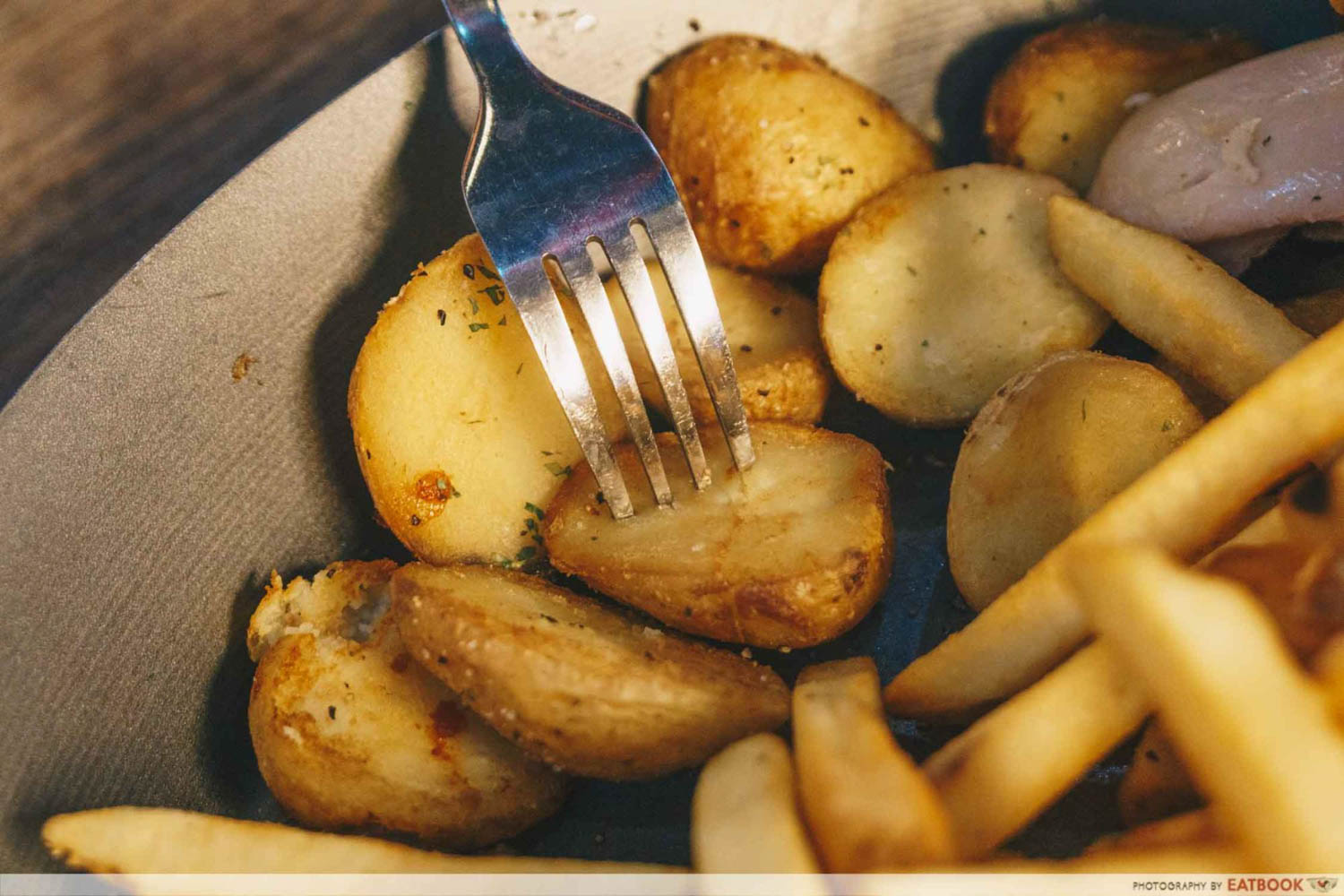 Compared to their addictive fries, the various greens that dotted the platter were pretty nondescript. Though the fried baby potatoes offered a welcome change with their crumbly and slightly crunchy mouthfeel, they carried a rather astringent aftertaste.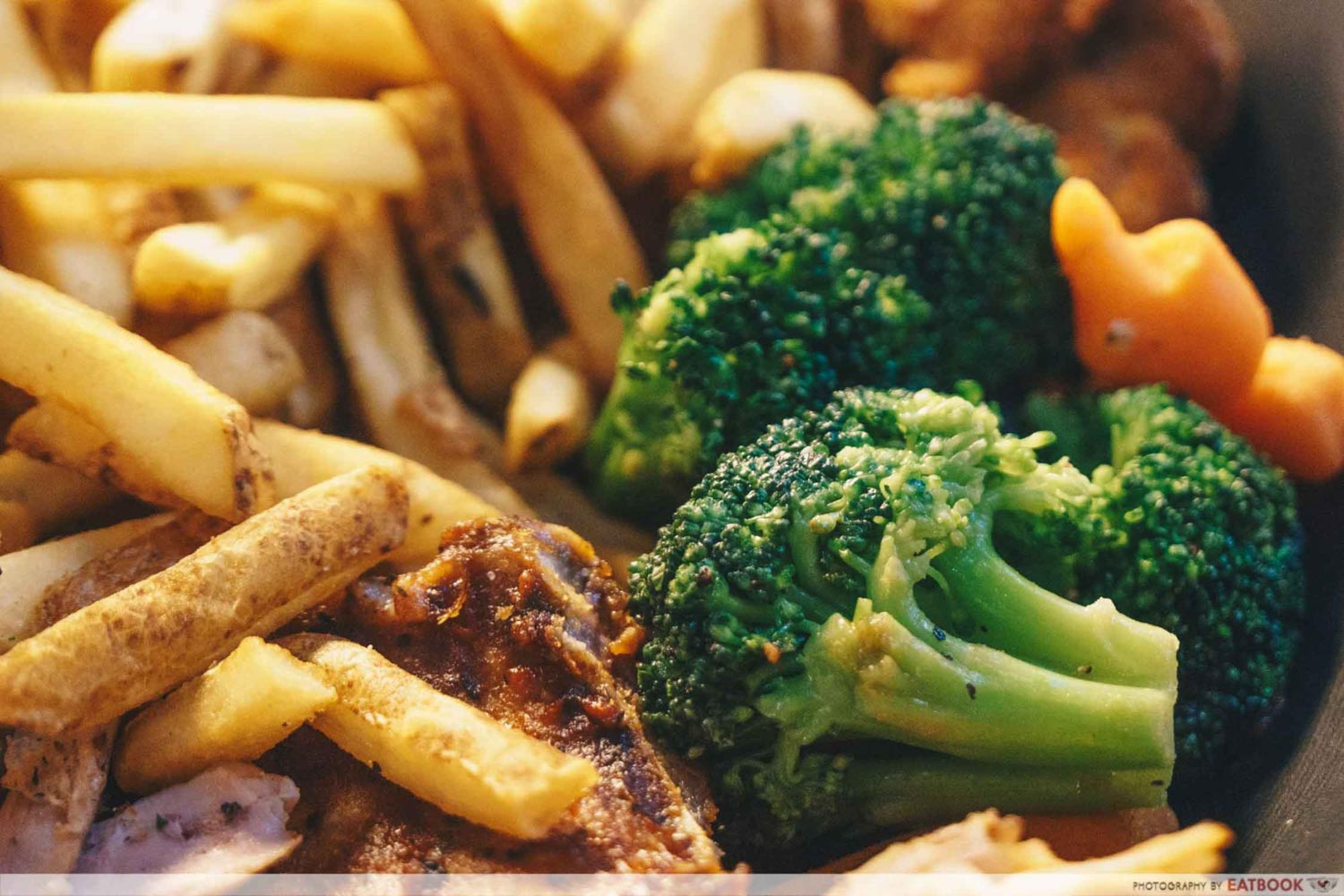 Flavoured with chicken fat, the blanched vegetables should have been a welcome inclusion with their buttery fragrance and salty kick. Yet, their bold taste piled onto the riot of robust flavours in the platter, creating an overwhelming wave of savouriness. 
Raffles Western Delight Review: XXL Chicken Cutlet With Fries And Fried Rice At $4.50
Ambience at Steak & Bones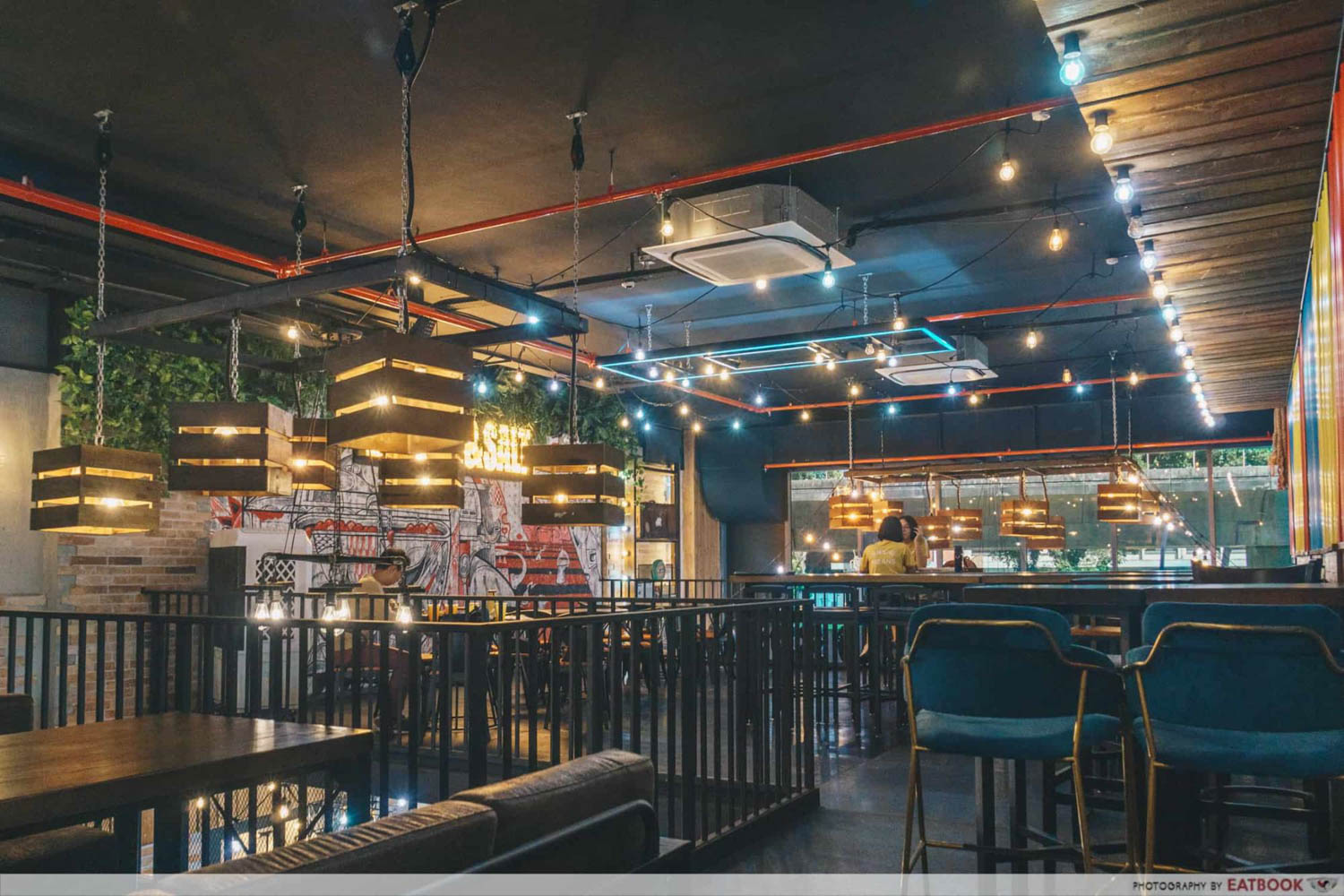 Steak & Bones forms part of Leisure Food Space⁠—a hipster cafe nestled within the industrial estates of Geylang. The quiet location, coupled with the vibrant and dainty decor, creates a relaxing setting for a chill getaway.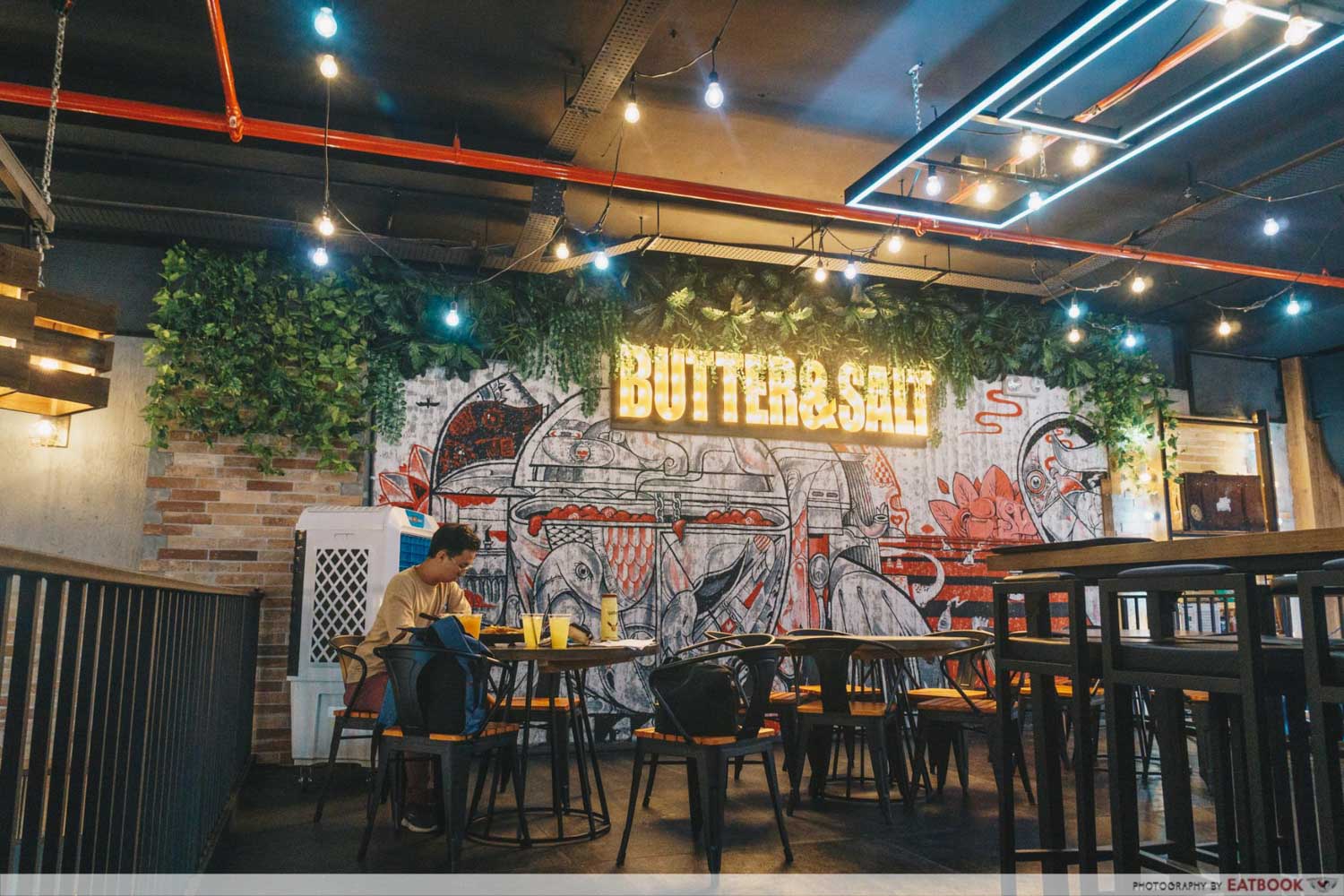 If you're here for stylish OOTD shots, head straight up to the second floor of Leisure Food Space. Charming pendant lights, elegant murals, and corrugated metal walls; there's plenty of backdrops to choose from for your personal photoshoot.
The verdict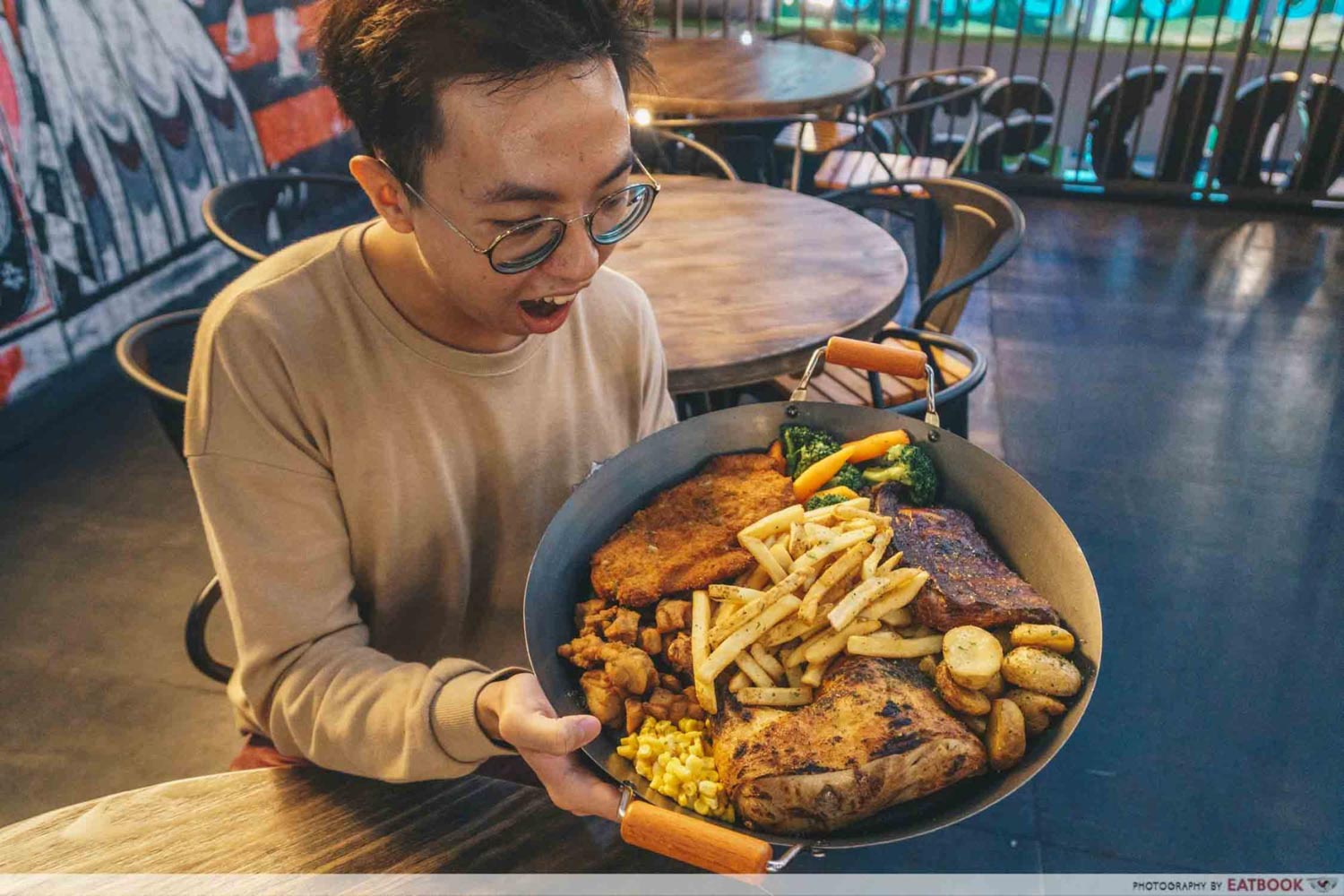 Most XXL dishes often leave you discontented, with paltry morsels falling short of what their glamorised posters promised. But the Giant Western Platter here delivers, with giant chicken drumstick, mammoth pork cutlets, and unlimited fries that will certainly leave with your tummy satisfied.
That being said, the preparation of some of their sides can still be improved. Further tweaks to the seasoning are needed to allow for a more cohesive combination of flavours. 
For more huge platters, check out the XXL tom yum seafood hotpot from Flying Wok! Lavished with a generous assortment of seafood, maggi noodles, and meat, this bountiful set can fill at least 10 famished bellies.
Flying Wok Review: Halal XXL Tom Yum Seafood Hot Pot For 10 Hungry Folks At $49.90
Address: 2 Sims Close, Gemini At Sims, Singapore 387298
Opening hours: Daily 11am to 11pm
Tel: 9696 7378
Website
Steak & Bones is not a halal-certified eatery.
Photos taken by Reynard Lee.
This is an independent review by Eatbook.sg.
Summary
Pros
— Giant portions
— Delicious, free-flow thick-cut fries
— Value for money
Cons
— Overcooked pork cutlet
— Underseasoned grilled chicken
Recommended Dishes: Giant Western Platter ($29.90)
Opening hours: Daily 11am to 11pm
Address: 2 Sims Close, Gemini At Sims, Singapore 387298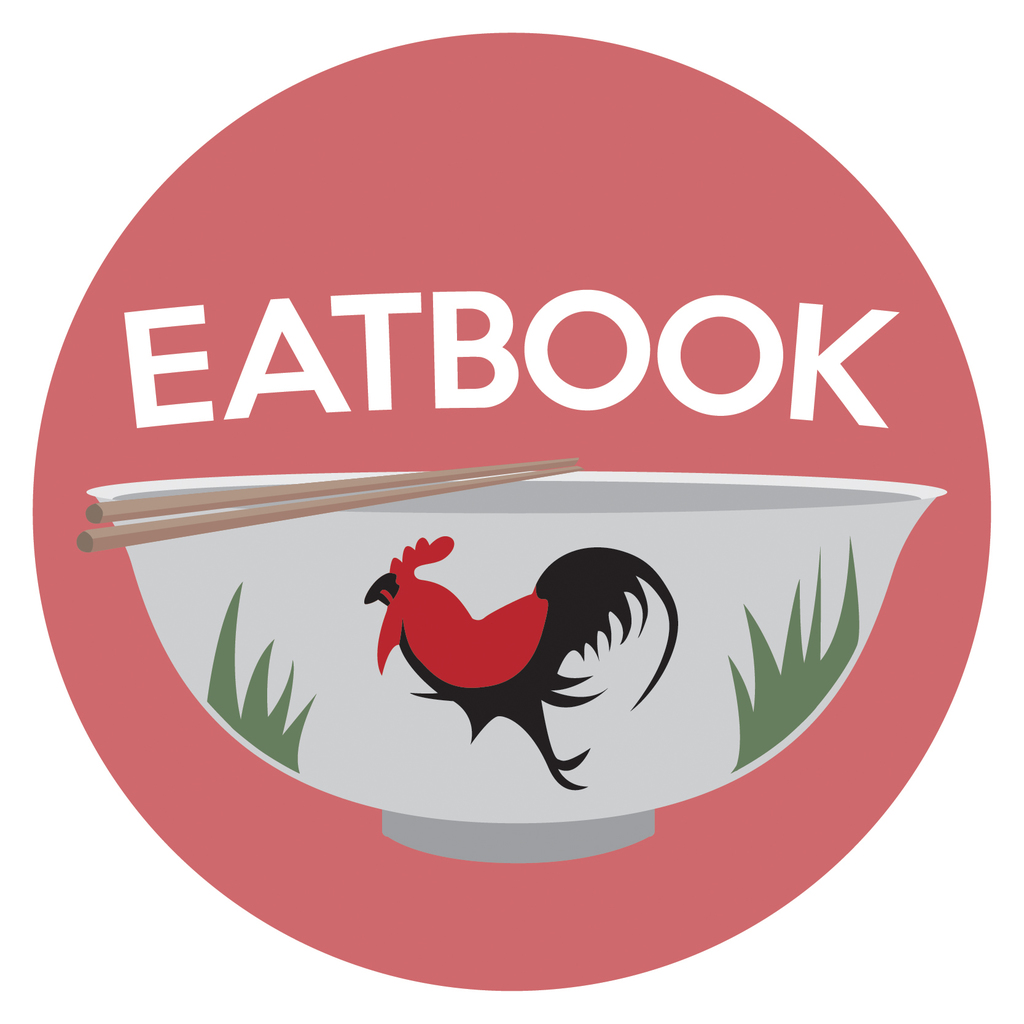 Drop us your email so you won't miss the latest news.