Super filling Western food at Raffles Western Delight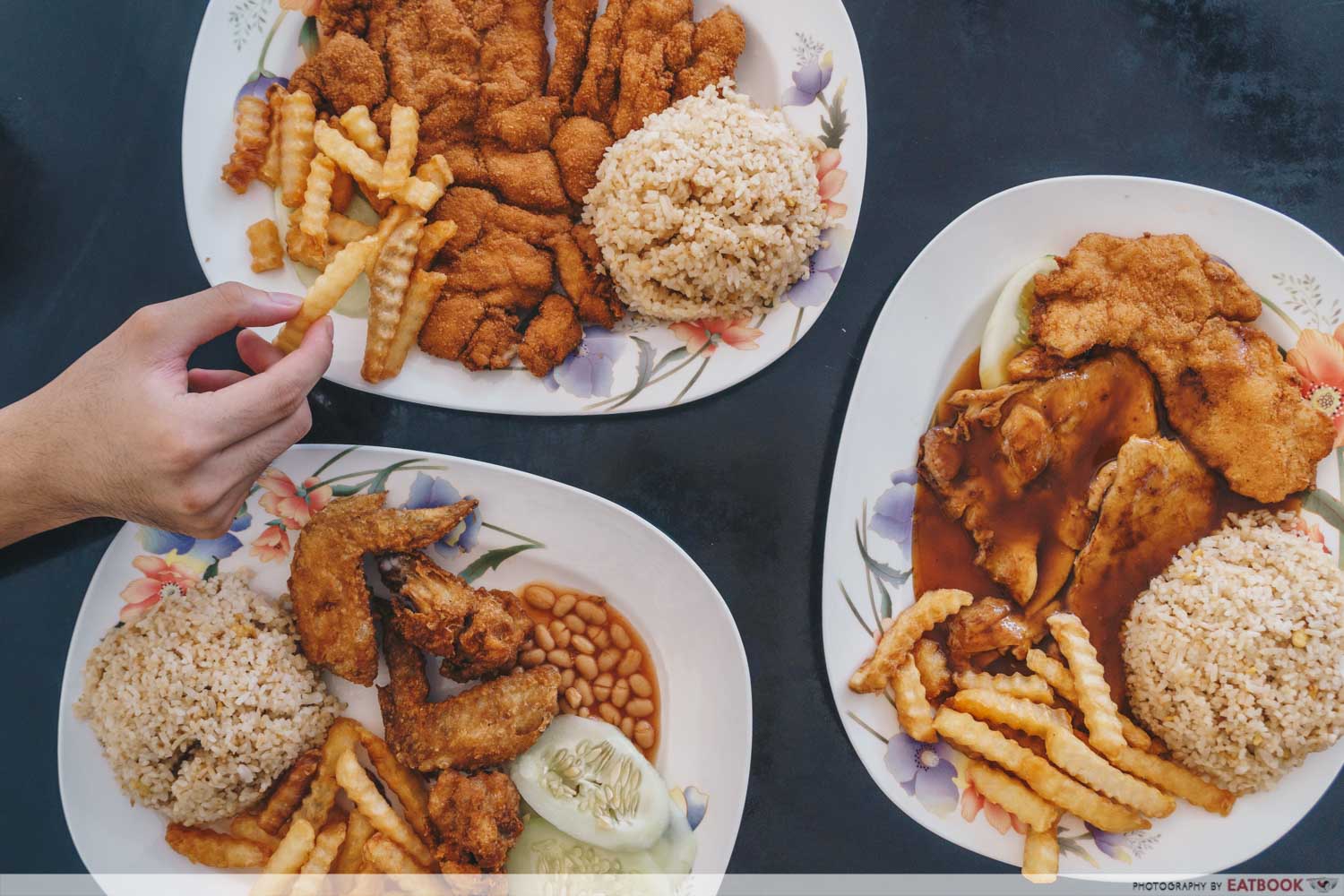 Take a quick glance at the simple menu and you may dismiss Raffles Western Delight as a typical Western hawker stall. Take a closer inspection, however, and you'll soon realise why this modest store is so popular.
The selection here is very affordable, with most of its dishes priced below $5. Furthermore, the place is known for its generous servings, so expect a parade of XXL dishes.
Food at Raffles Western Delight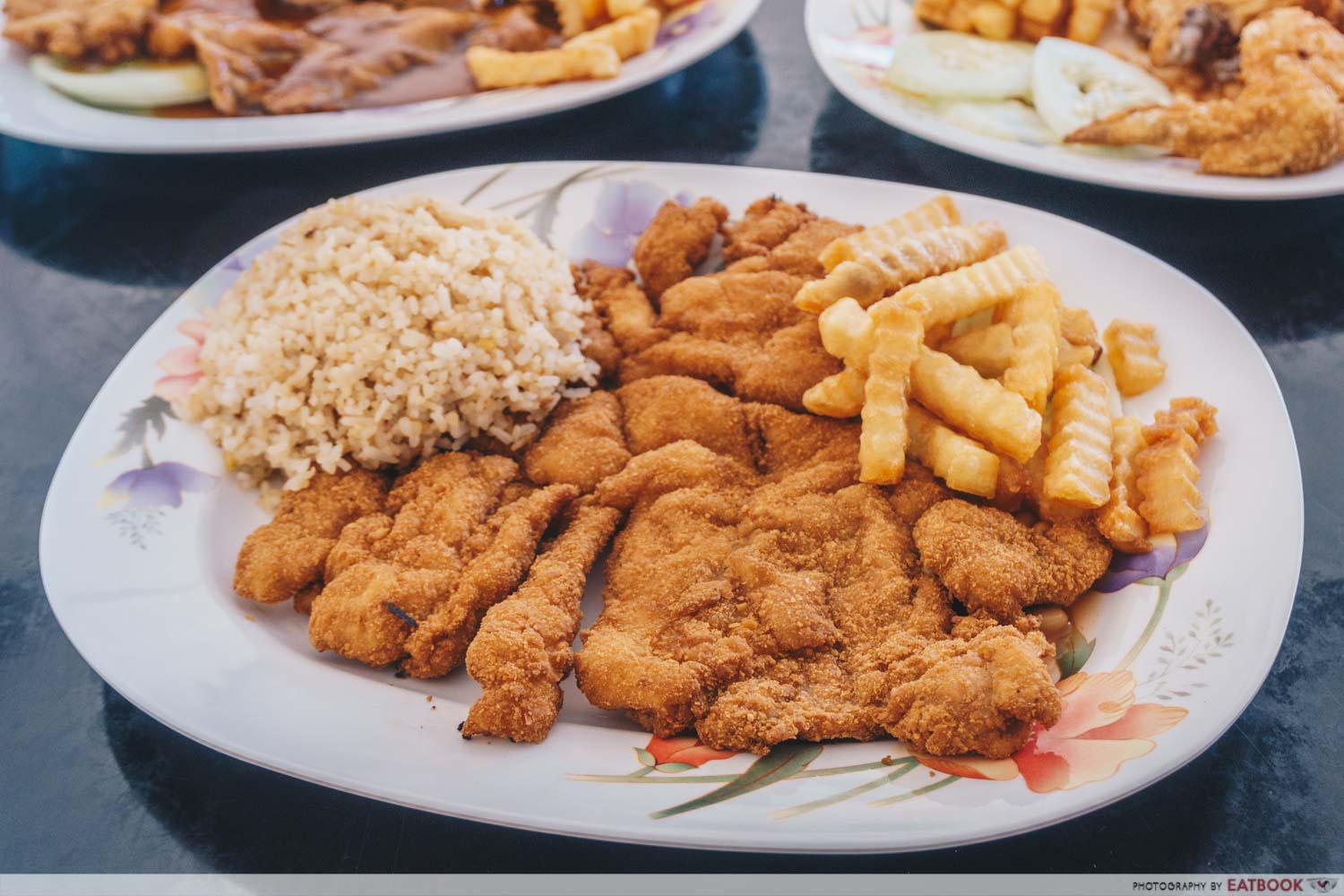 Raffles Western Delight may be snuggled in an ulu corner of Bedok, but it has garnered a strong following with their crowd-pleasing Chicken Cutlet Rice Set ($4.50).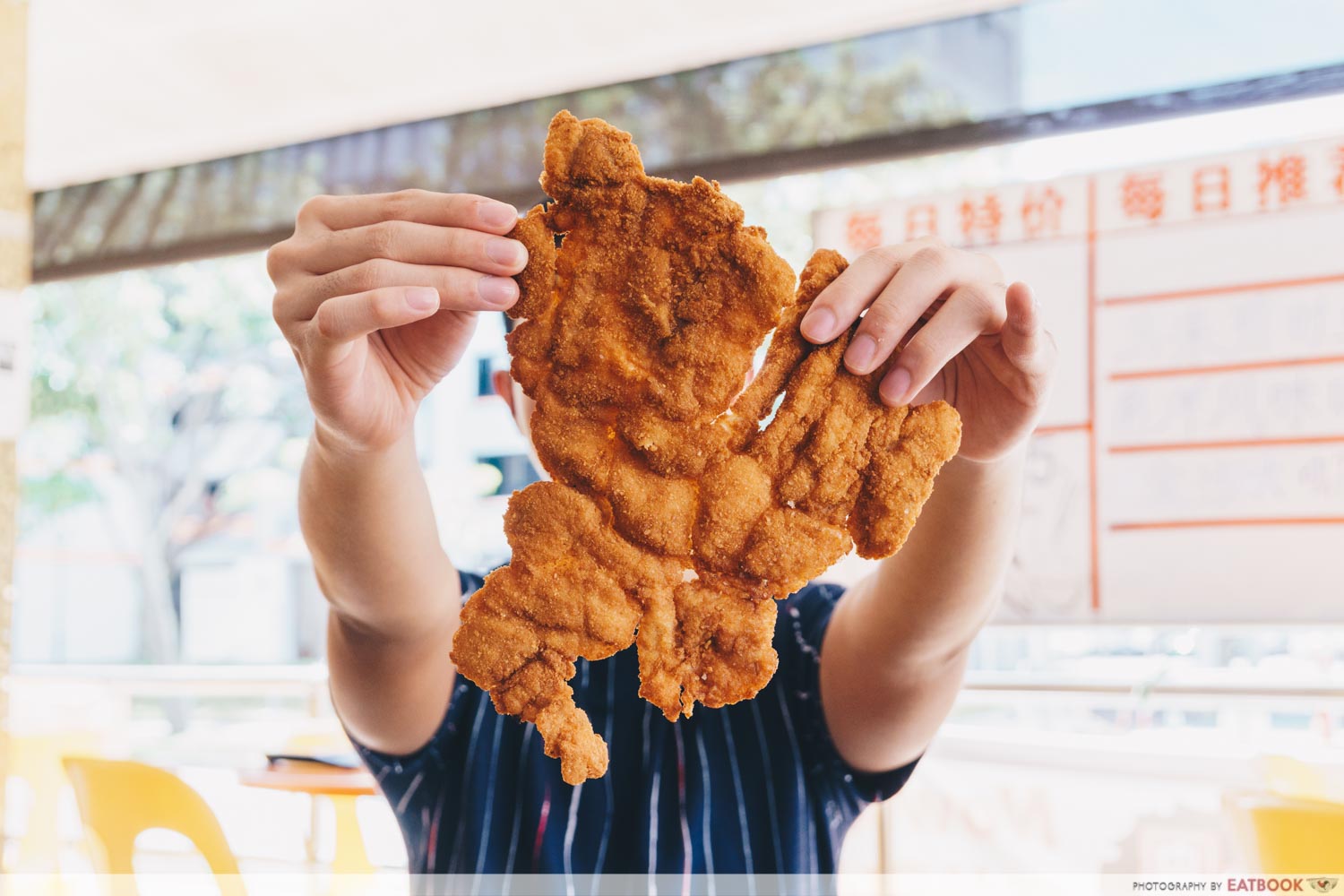 Even the hungriest carnivore will be satisfied by this colossal slab of meat. Lifting it up, this eye-catching treat easily covered my entire face.
Chicken Supremo Review: Huge And Crispy Chicken Cutlet At $4.80 In Jurong!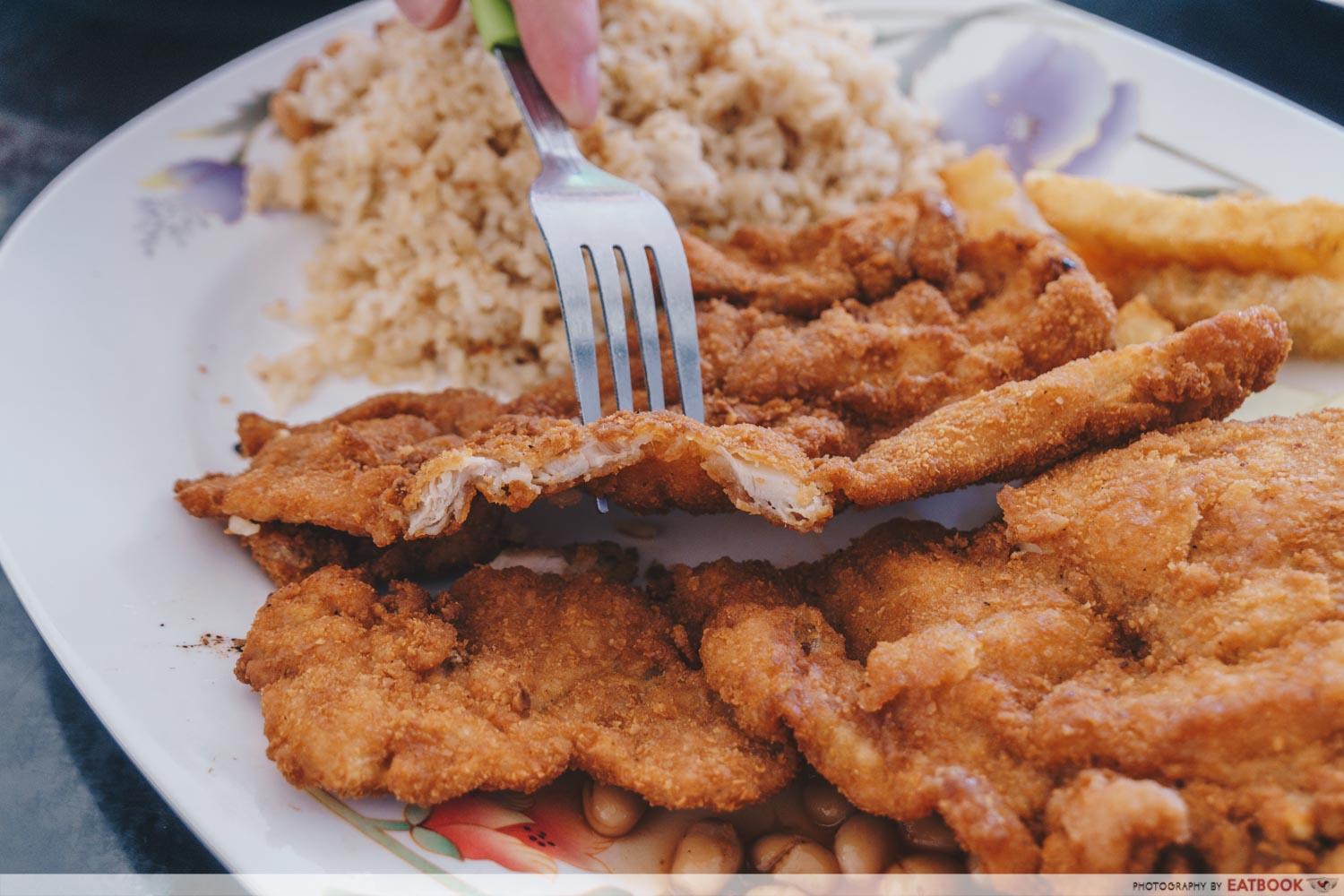 Though the meat was pounded into a thin state, the generous size of the cutlet more than made up for it. Superbly fried, the chicken cutlet was deliciously tender and succulent.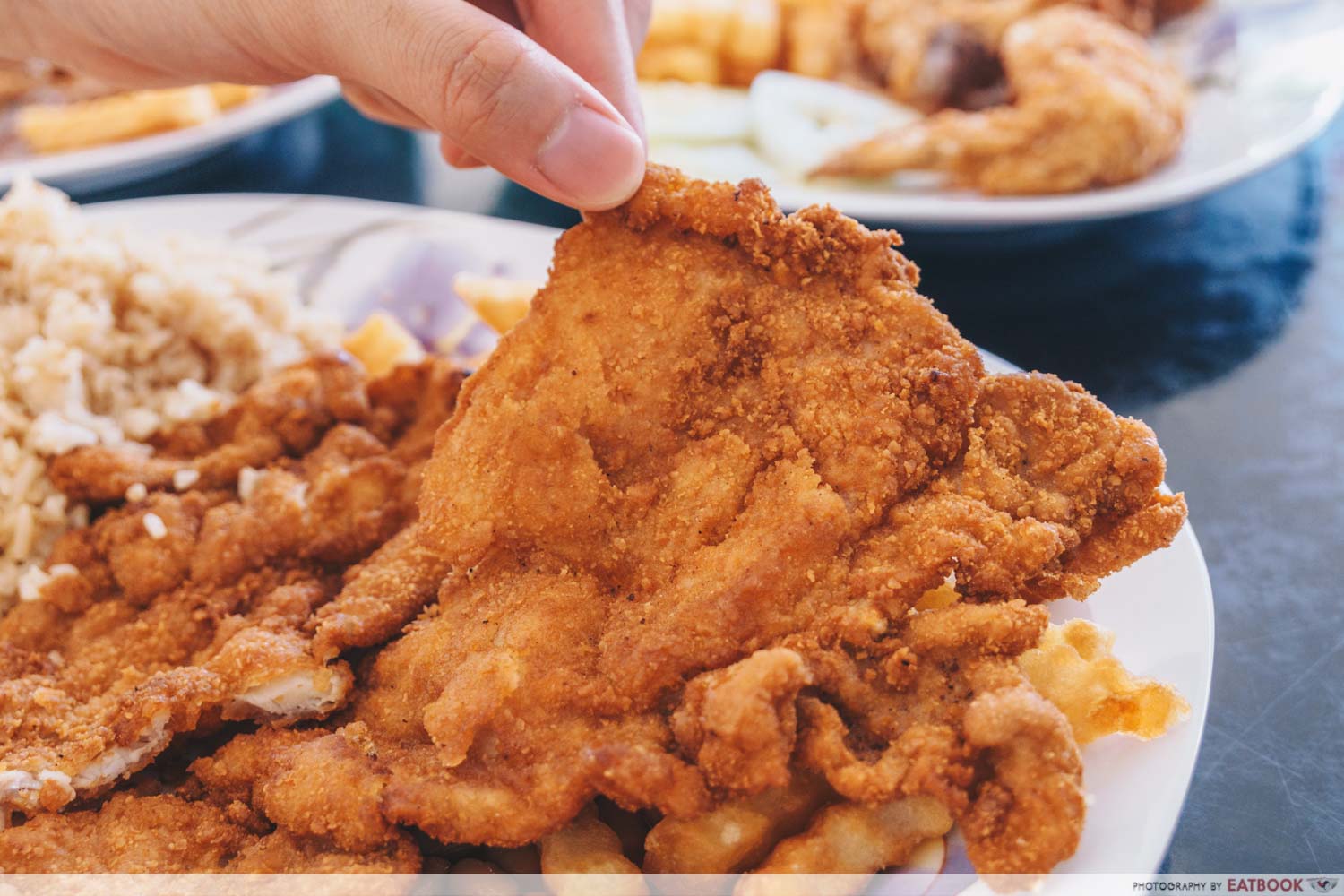 Thanks to the thin batter, the fried chicken boasted a crispy exterior which contrasted nicely with the succulent meat.
My only gripe was with the uneven spread of seasoning. While certain portions of the cutlet carried bold and salty notes, others were merely supported by peppery undertones.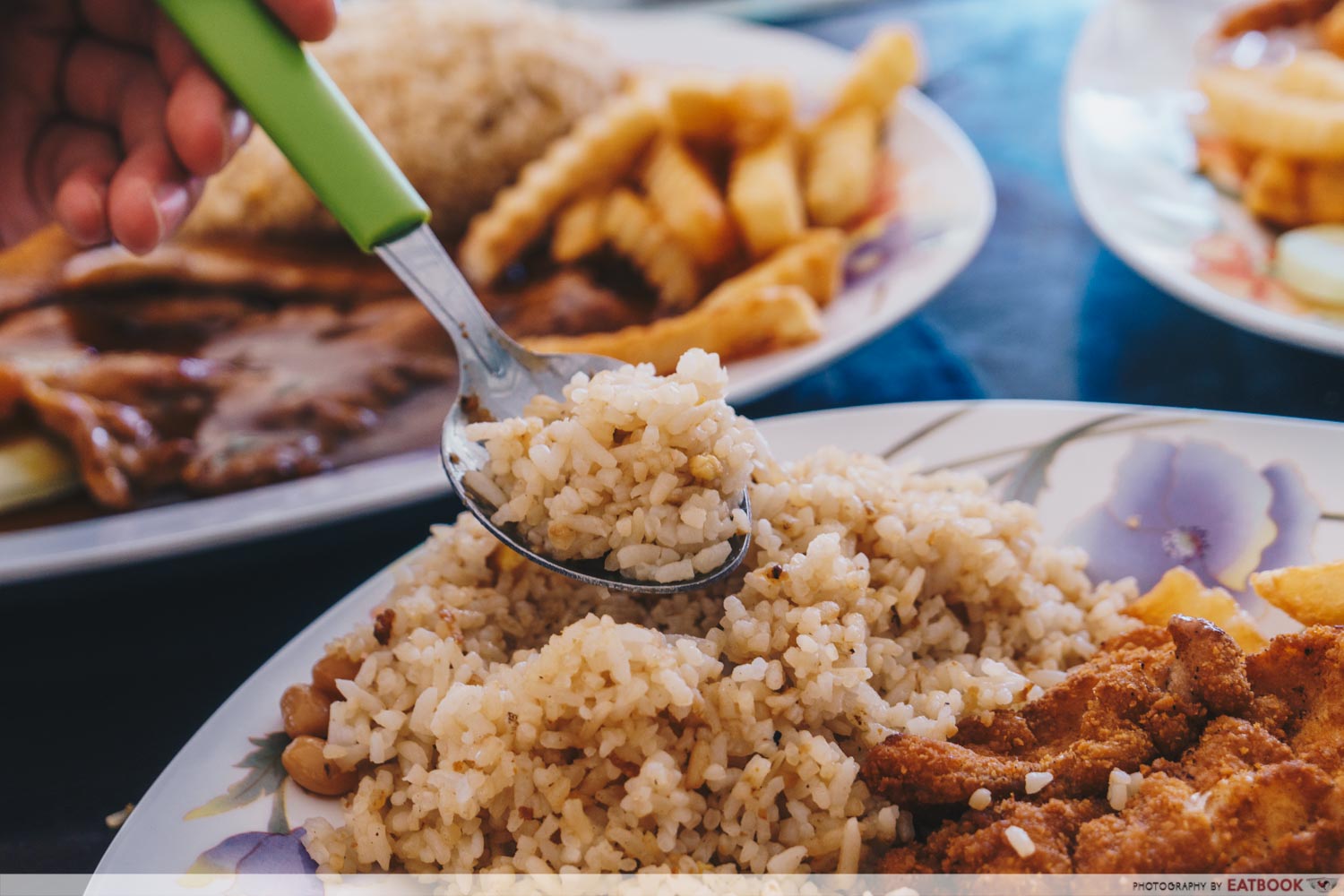 Each set also comes with a trio of sides: garlic fried rice, french fries, and baked beans. A garlicky aroma perfumed the fried rice, enhancing its savoury flavours. Coated in a barely discernible sheen of oil, the rice steered clear from the dreaded clutches of becoming jelak.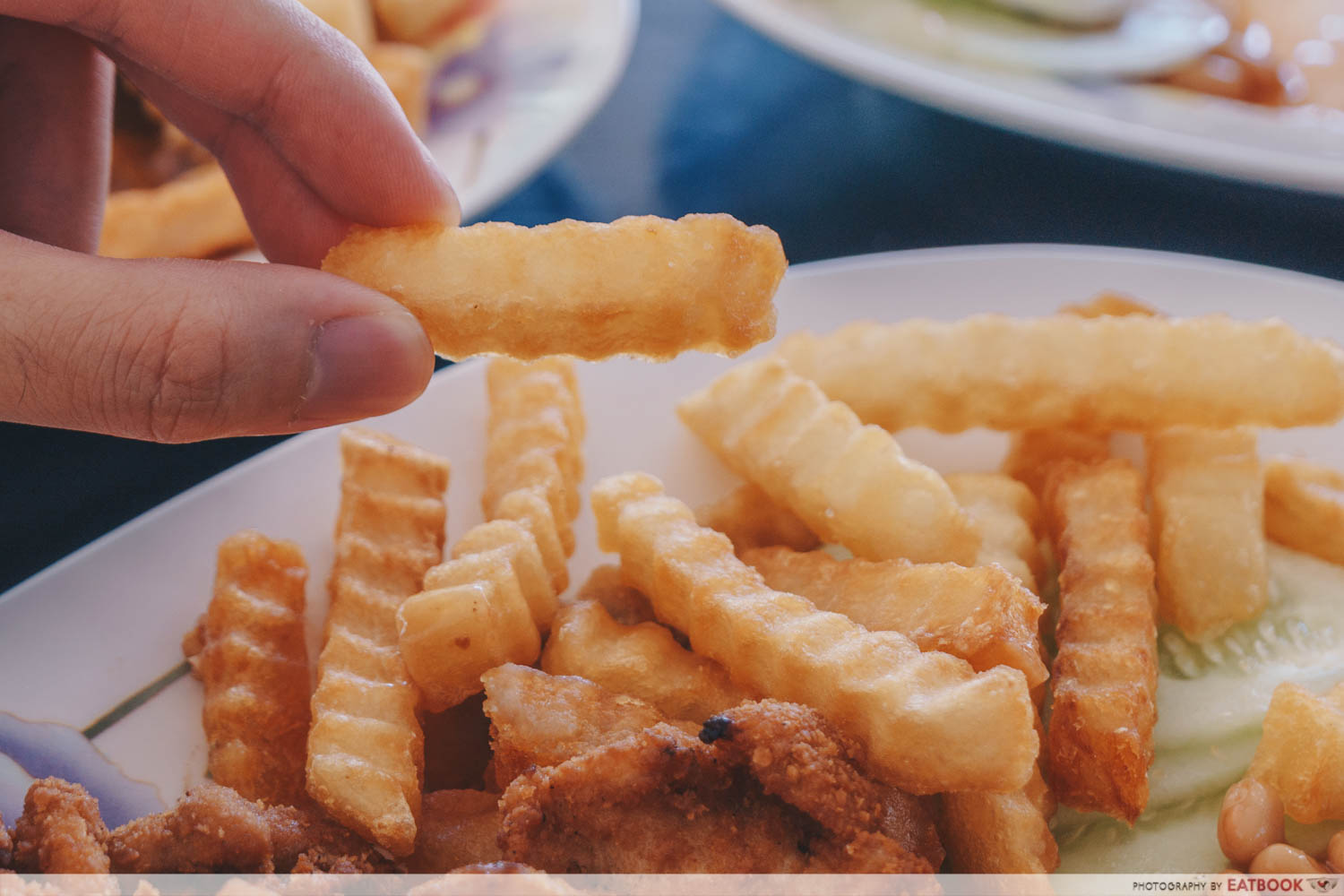 On the other hand, I found their crinkle-cut fries a tad bland. While they carried a pleasant potatoey sweetness, they could have benefitted from a heavier sprinkle of salt.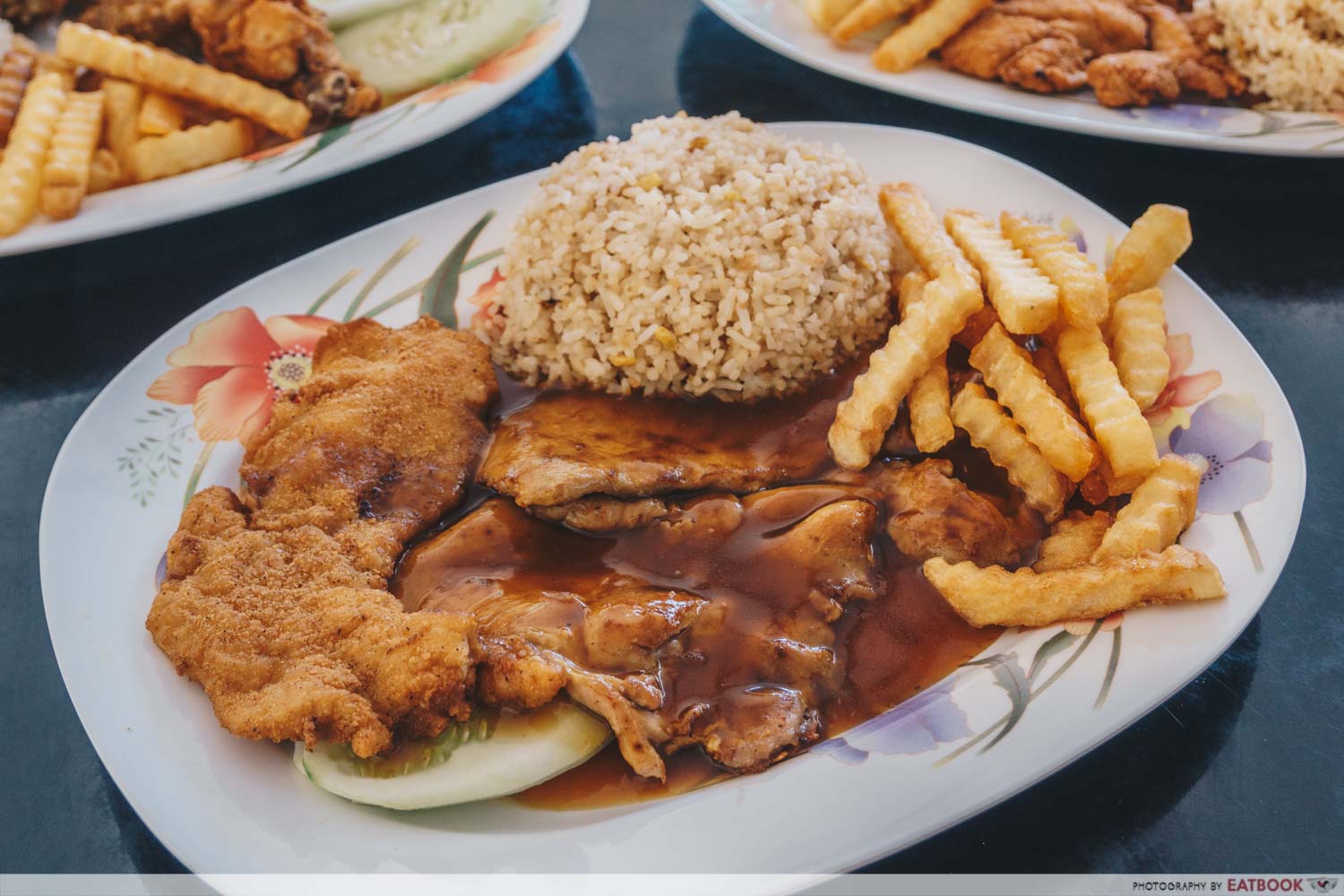 If you're famished, make a beeline for their Mixed Chop Rice Set ($6)! Featuring grilled pork fillet, grilled chicken thigh, fried dory, as well as a hefty scoop of garlic rice and fries, this hearty plate offers both carbs and proteins in spades.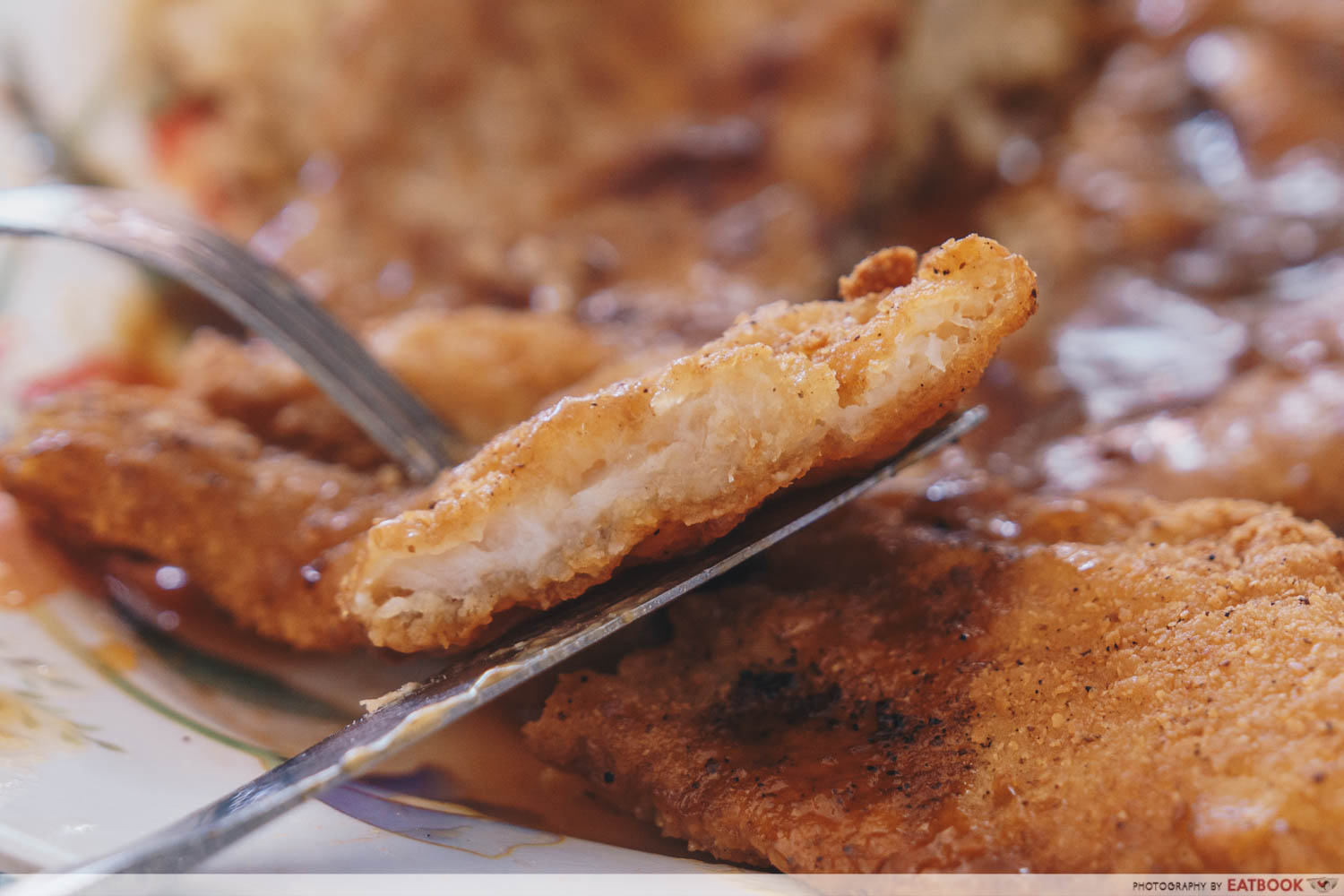 Just like the chicken cutlet, their fork-tender fried fish was encased in a wafer-thin crust. Dory fish usually tastes bland, but a generous rub of salt and pepper supplied it with a bolder profile.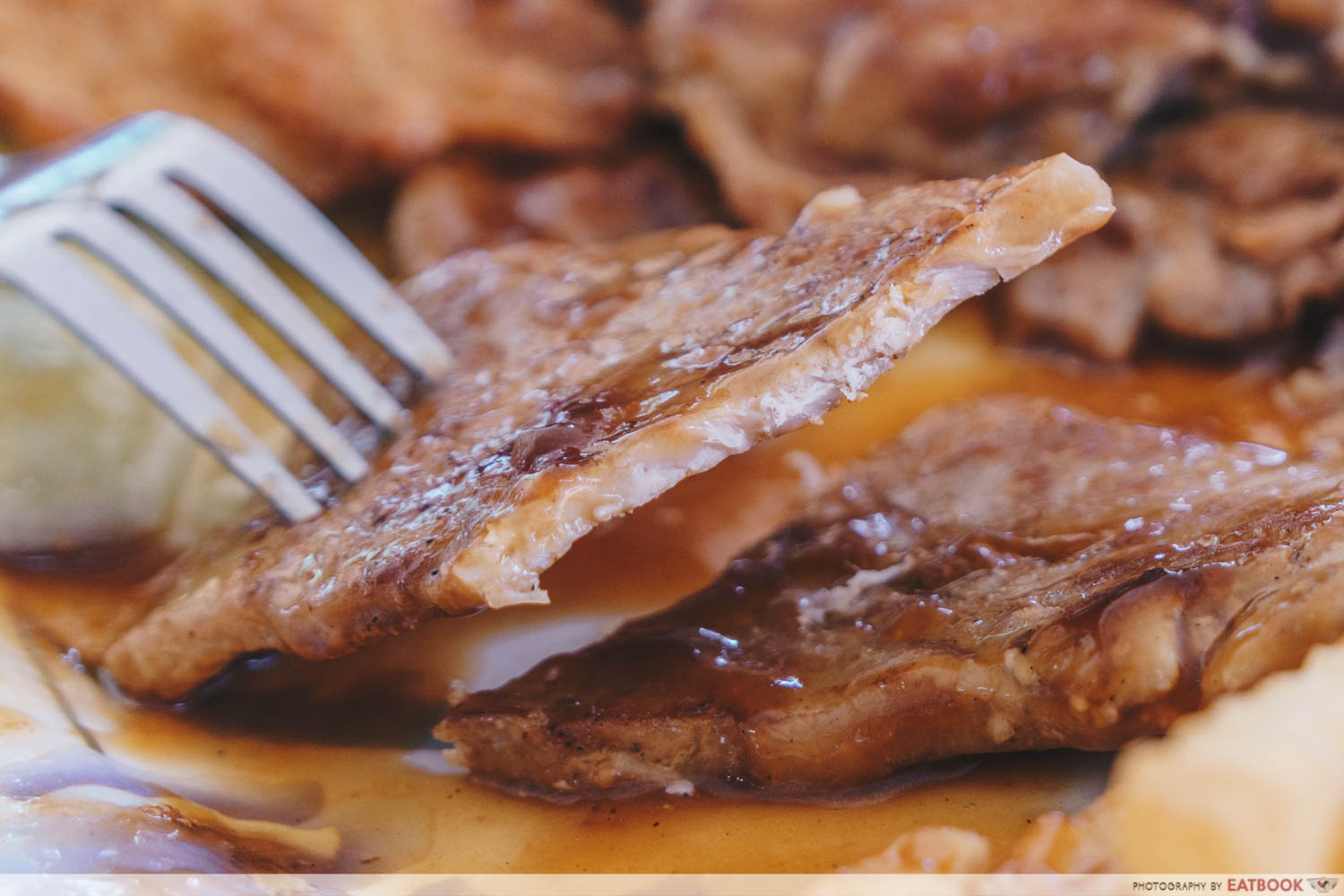 Among the three types of meat, the pork chop stood out with its robust taste. A heavy rub of soy sauce and sesame oil gave a savoury edge which bolstered the porky flavours of the fillet.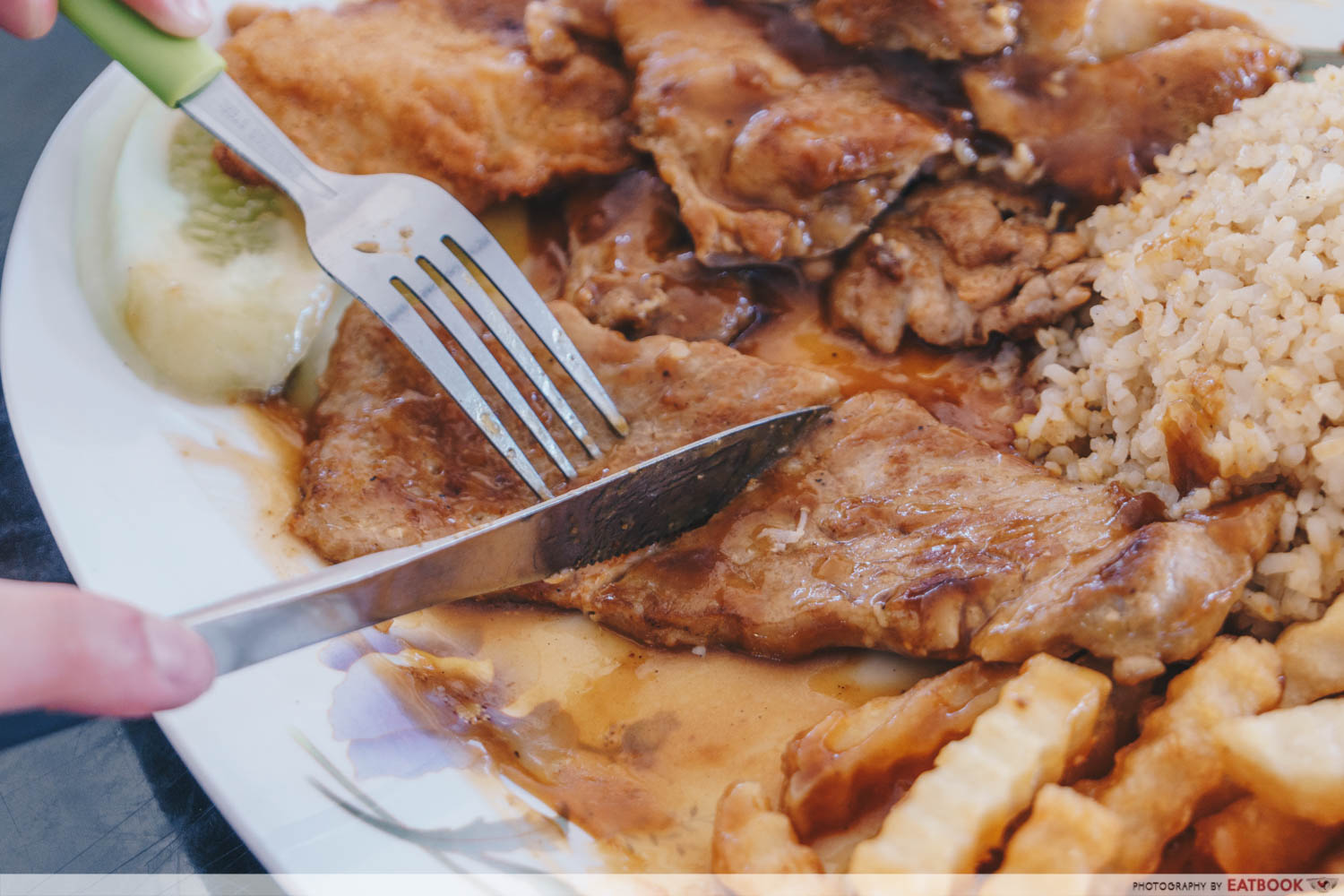 However, its texture was also the most disappointing. Considerably overcooked, the dry and stiff meat was frustratingly difficult to tear apart.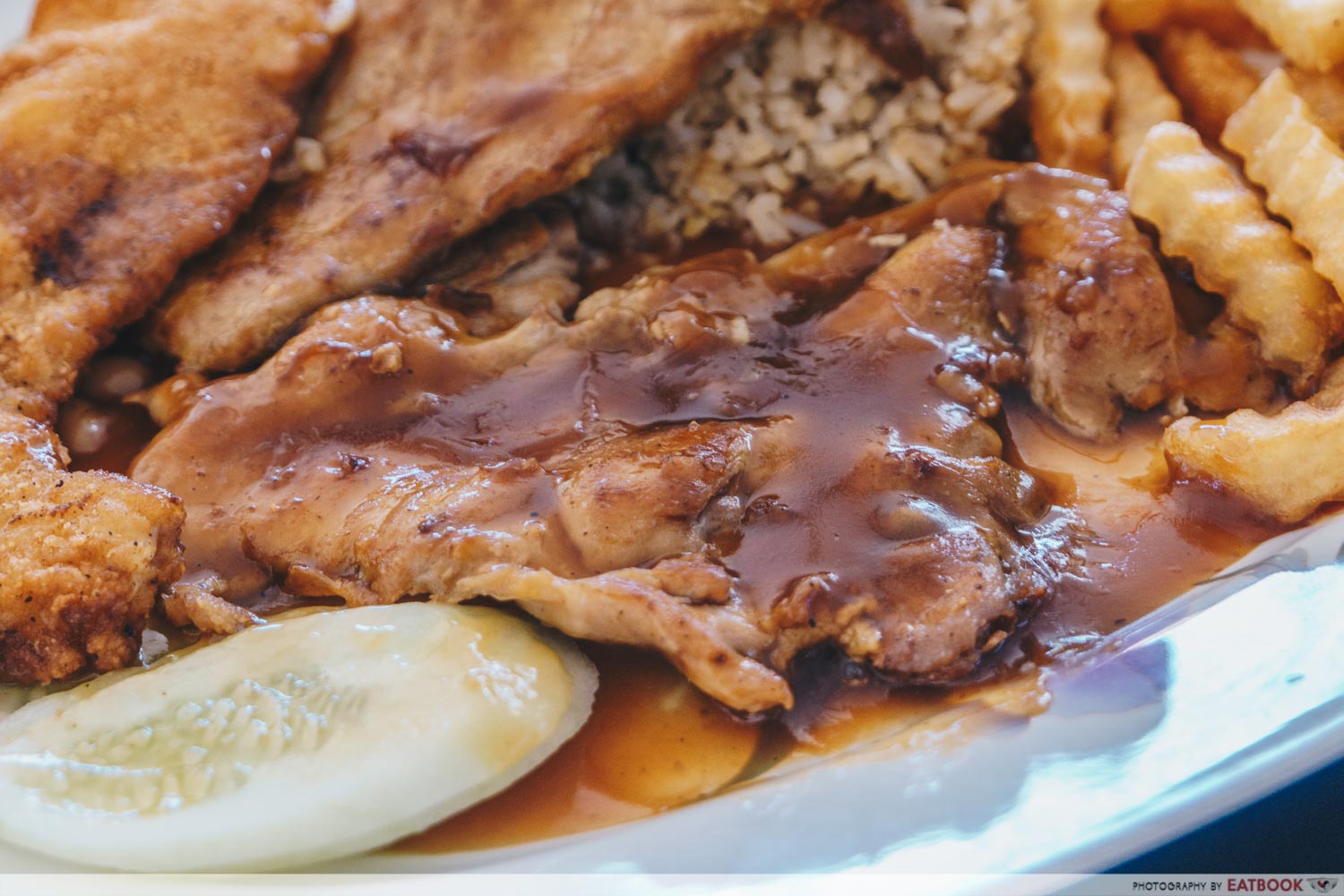 Perhaps the pork chop could have taken a leaf out of the grilled chicken's book. The latter was both succulent and tender, with every bite coaxing out its moreish juices. It also melded nicely with the robust mushroom gravy, creating a delectable medley of flavours.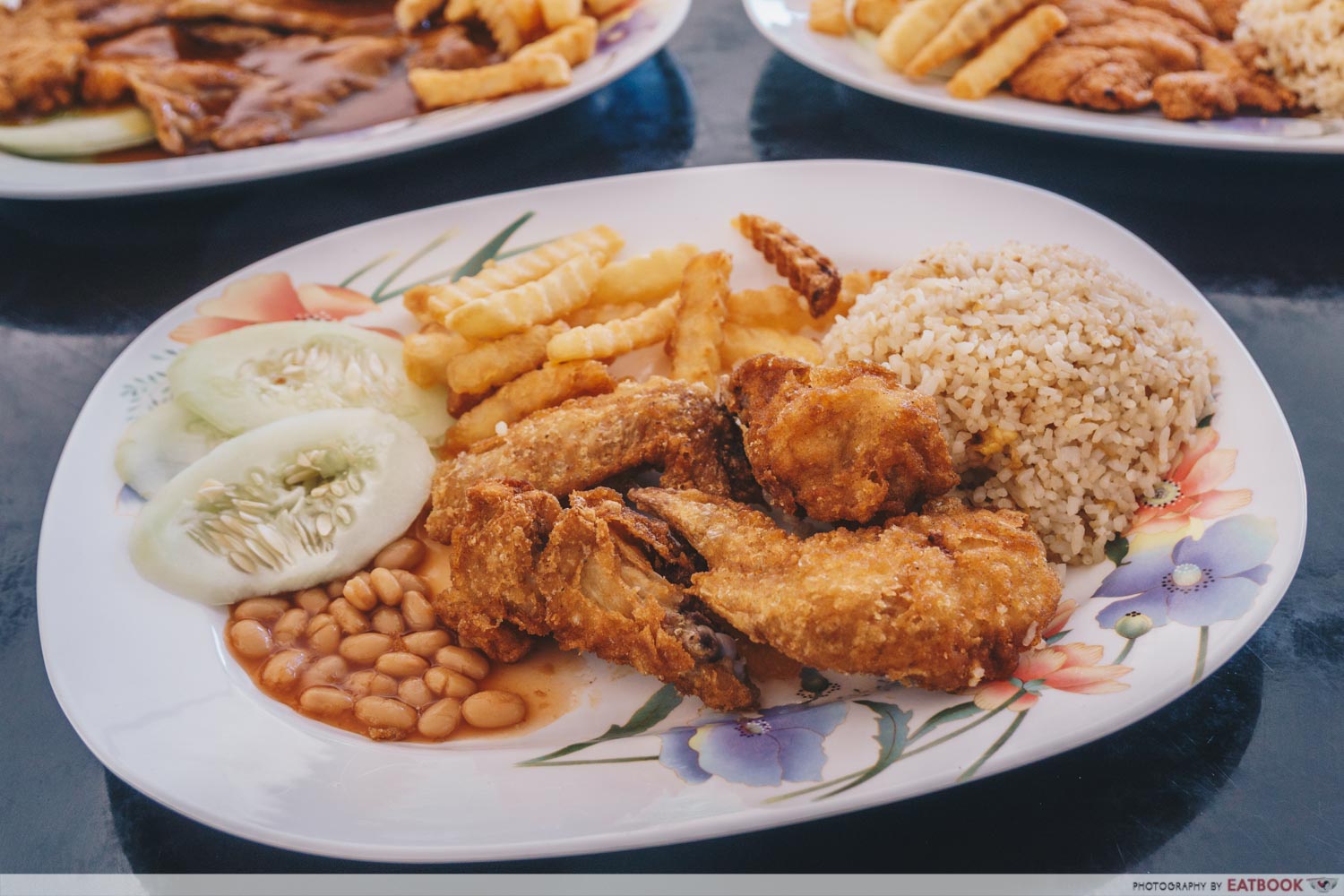 Those on a tighter budget can fill your bellies with their Fried Chicken Wing Rice Set ($3.80). Compared to their chicken cutlet, the wings boasted a crunchier texture, with every bite unfurling in resonant crackles.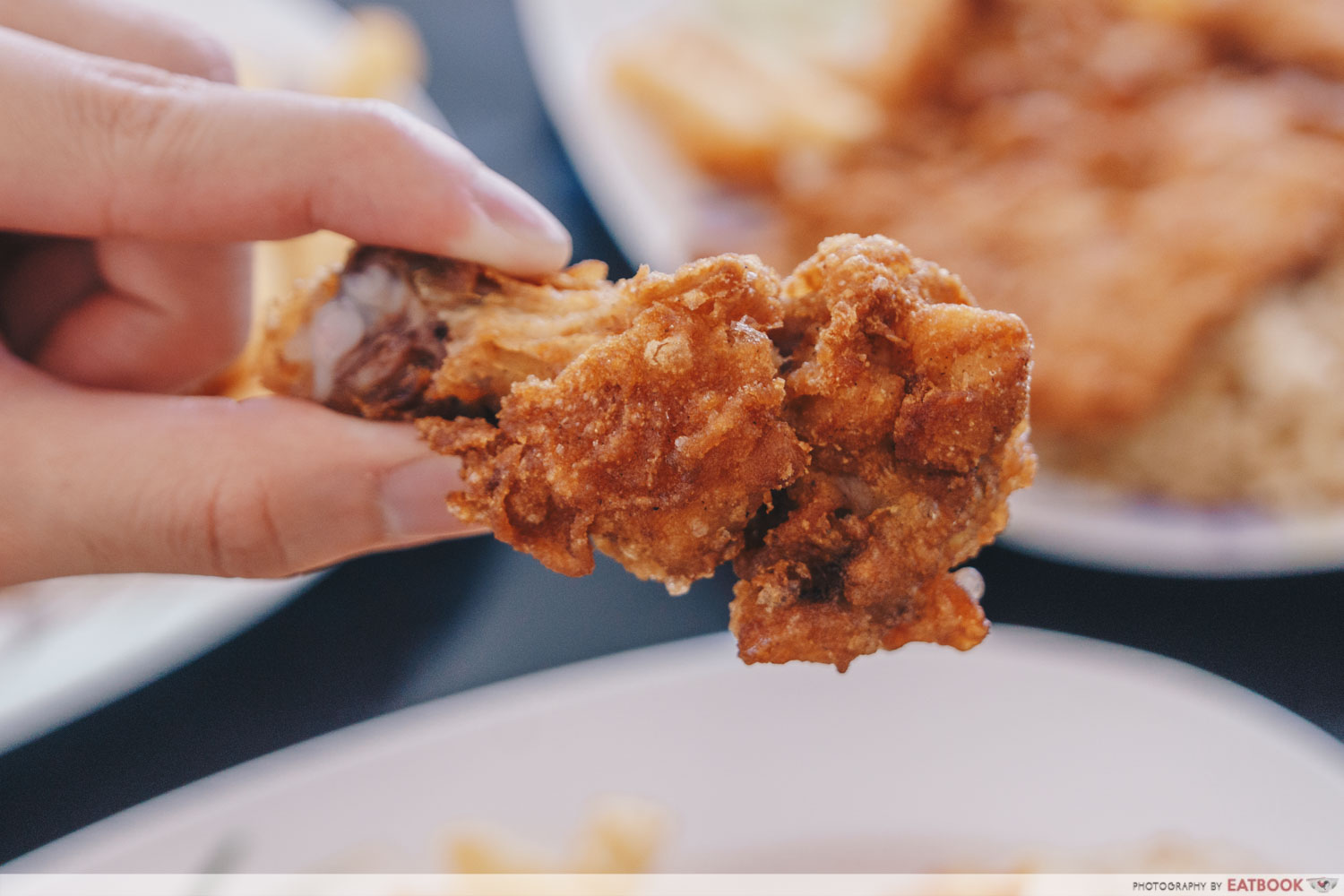 A nutty aroma perfumed the meat, suggesting a touch of sesame oil. A smattering of mushroom powder might have been added as well, as faint notes of umami punctuated this full-bodied combination of flavours.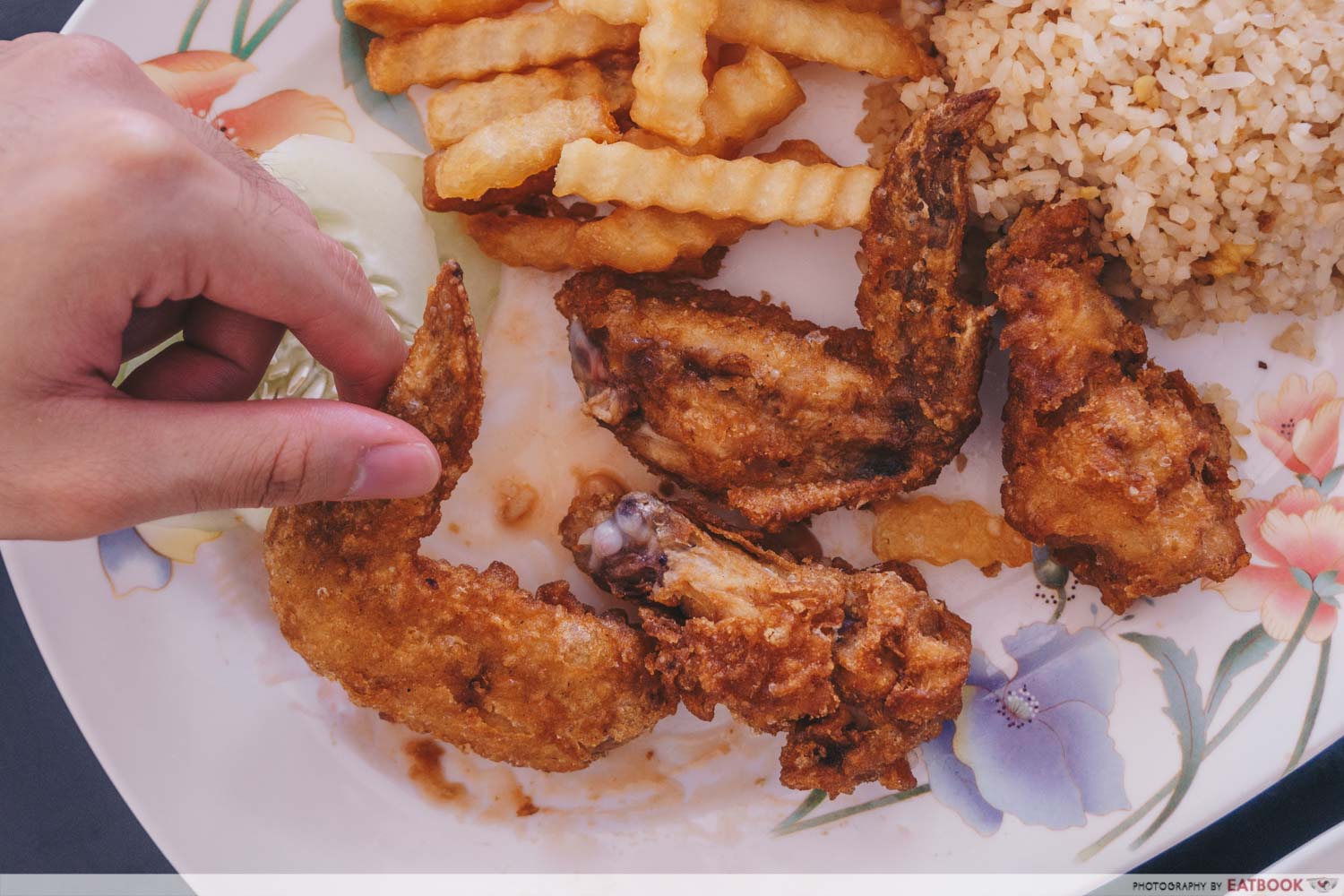 While the wings possessed an ASMR-worthy exterior, they were slightly overcooked on the inside, disappointing us with their dry and stiff bite.
Ambience at Raffles Western Delight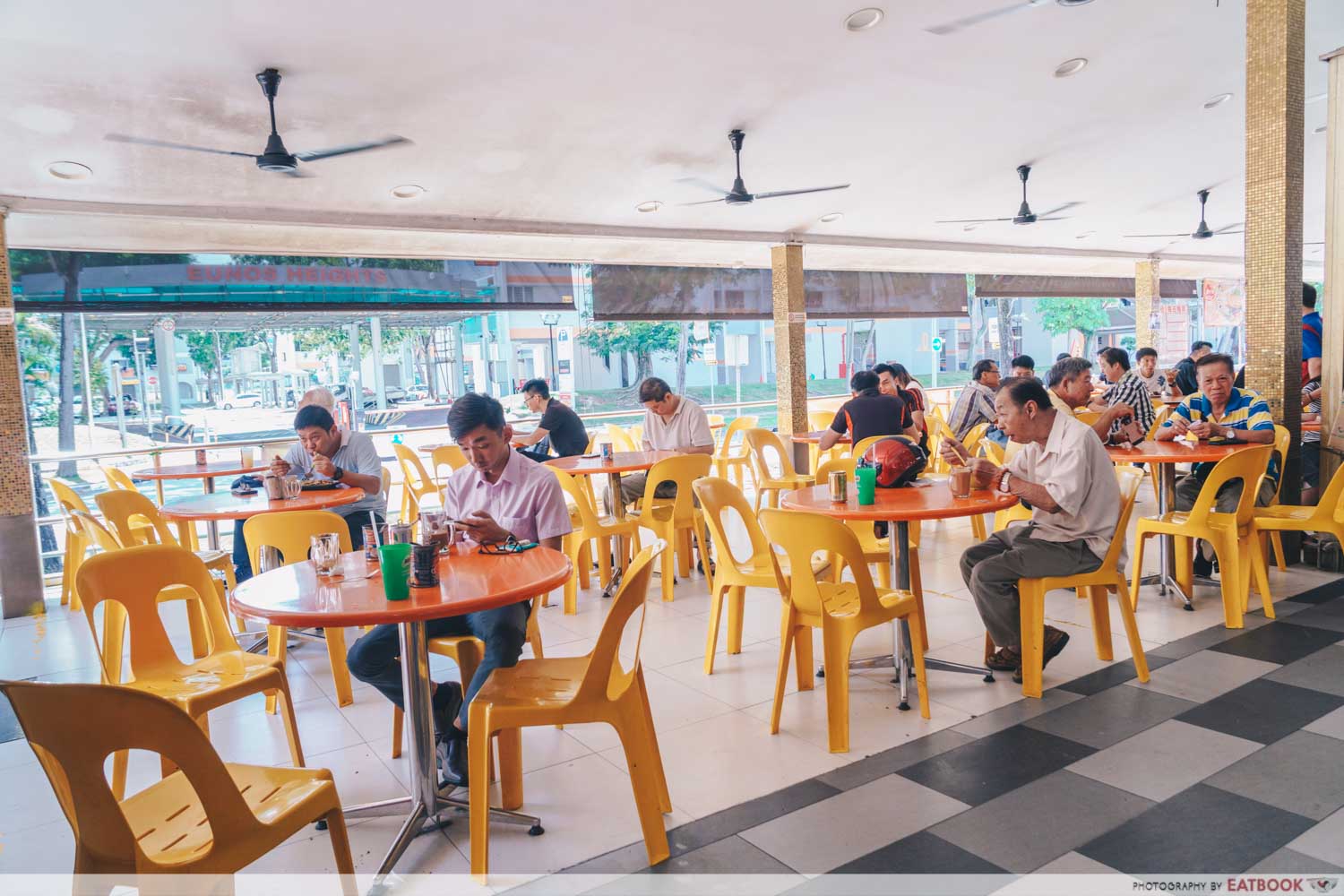 Snuggled within a nest of HDB blocks, Raffles Western Delight is a popular choice among locals for a hearty lunch. Though the kopitiam is well ventilated, it's best to bring along a portable fan for added comfort.
Raffles Western Delight is a 10-minute bus ride from either Kaki Bukit or Bedok North MRT Station. However, foodies won't be making a trip here in vain, as there's plenty of delicious food served in the area.
6 Bedok North Food Places To Fuel Up At After Your Bedok Reservoir Run
The verdict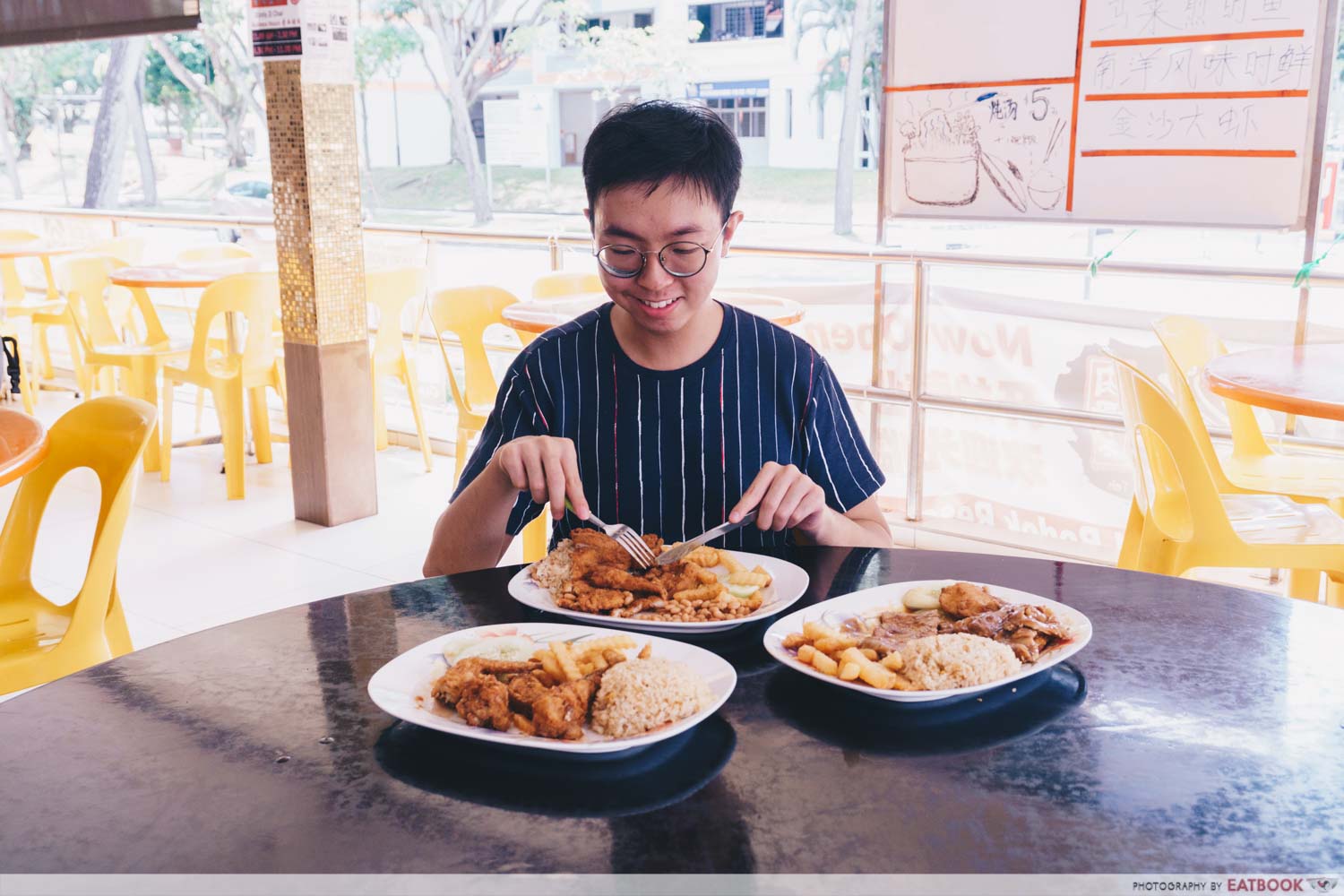 Google "Raffles Western Delight" and you'll get a paltry list of results. The stall doesn't market itself on social media and images of its food are few and far between online. Yet, with such filling portions and economical prices, word-of-mouth is all the publicity it needs.
Address: 631 Bedok Reservoir Road, Singapore 470630
Opening hours: Daily 11:30am to 9pm
Raffles Western Delight is not a halal eatery.
Photos taken by Rae Fung.
This is an independent review by Eatbook.sg.
Summary
Pros
— Highly affordable prices
— Generous portions
— Accessible location
Cons
— Typical menu
— Lacklustre pork chop
Recommended Dishes: Chicken Cutlet Rice Set ($4.50)
Opening hours: Daily 11:30am to 9pm
Address: 631 Bedok Reservoir Road, Singapore 470630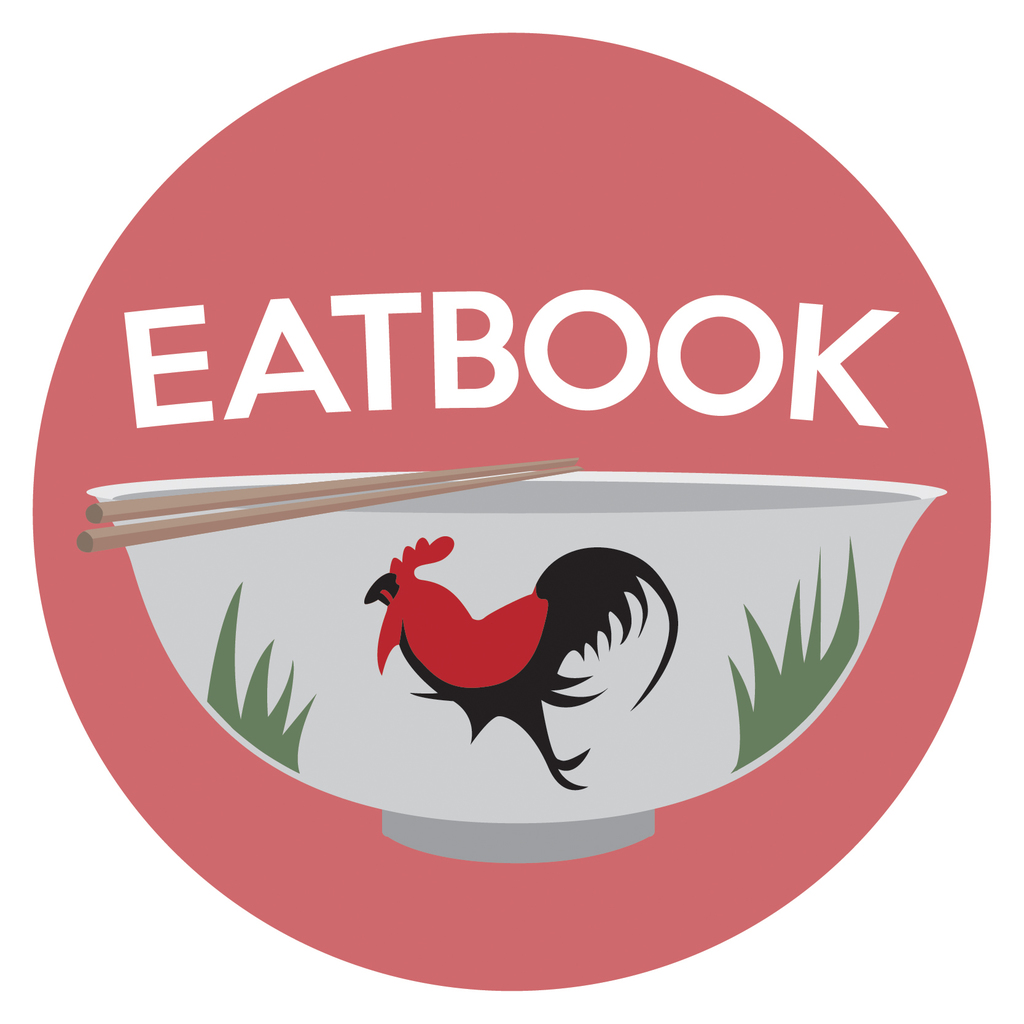 Drop us your email so you won't miss the latest news.