Nasi ambeng that's cheap and shiok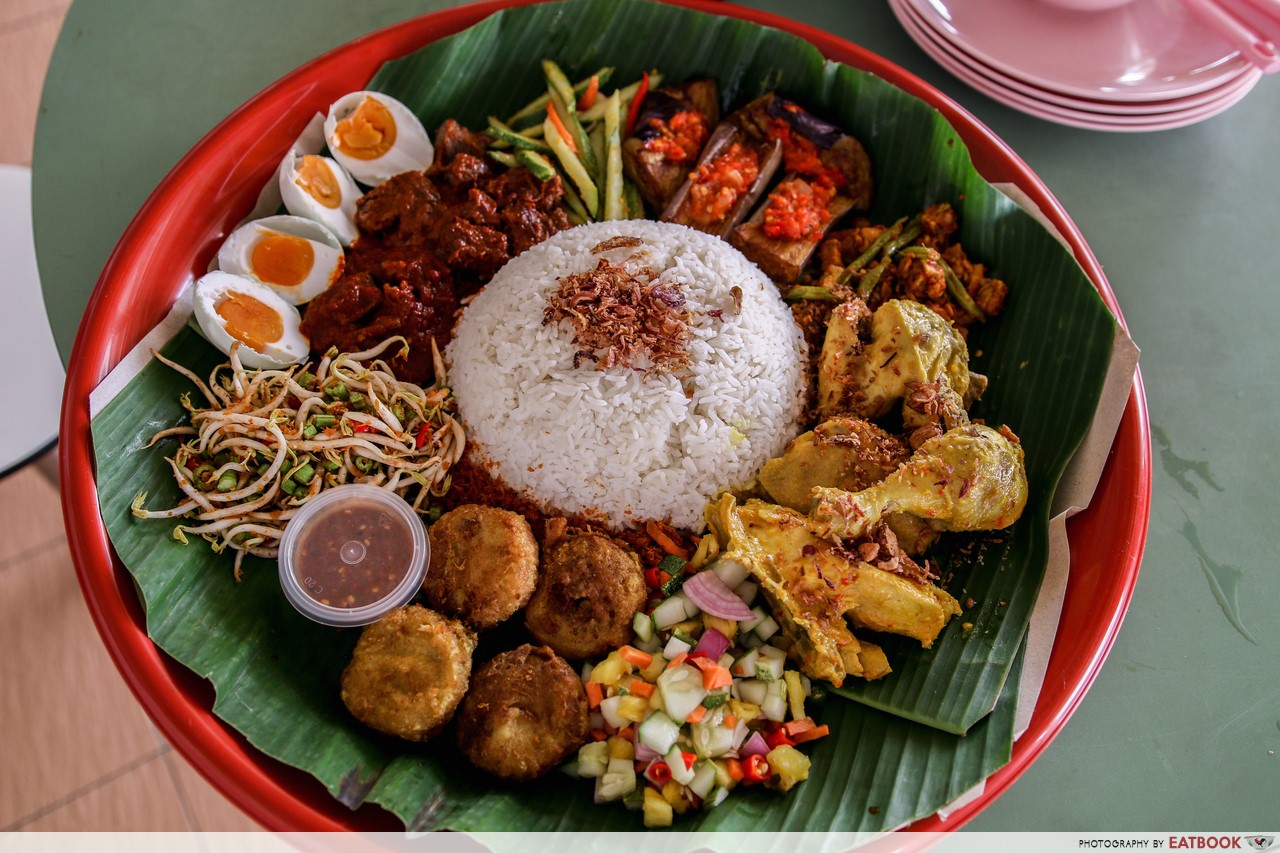 When I was invited to my best friend's cousin's wedding more than two years ago, I met the love of my life at the buffet spread. Paru goreng (fried cow lungs) and I carry a classic story of love at first bite, and from then on I never fail to get a portion of it every time I buy nasi padang.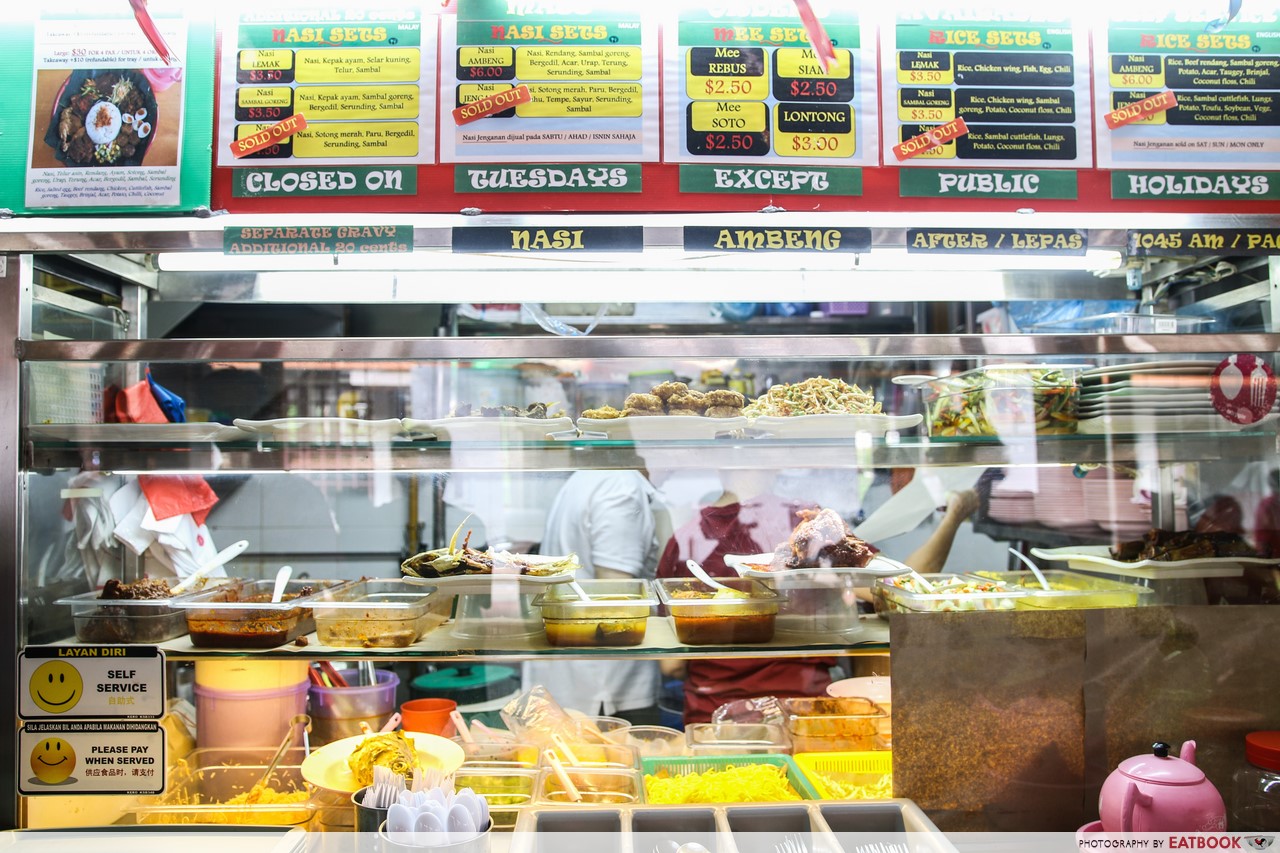 On my conquest to find the best paru goreng in Singapore, I came across Enak at Bedok South. But after some research, I realised the main highlight of this stall isn't nasi padang, but a GIGANTIC nasi ambeng that is able to feed a family.
Food at Enak
As explained by one of the regular customers we met, nasi ambeng usually contains a huge serving of basmati rice with chicken curry, vegetables, rendang and more. It is served in a huge tray and is able to feed four to five mouths.
Even though I usually hate sharing my food, our Nasi Ambeng ($15 for small, $30 for large) was so huge that I was more than willing to give some away!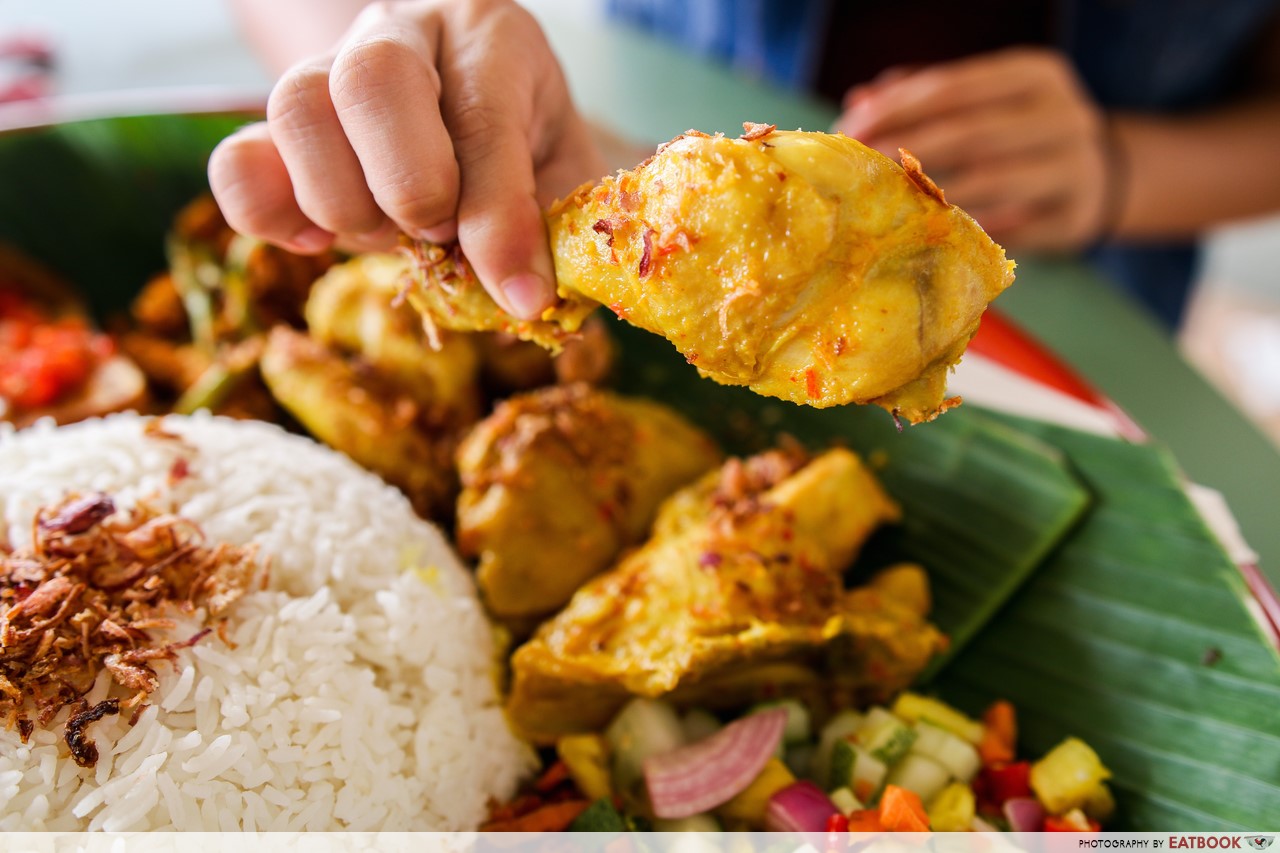 We got the large portion, which consists of ayam masak lemak cili padi, bergedil, beef rendang, sambal cuttlefish, sambal tahu tempe goreng, stir-fried beansprouts, sambal brinjal, acar and telok asin (salted egg).
My favourite ingredient among the lot has got to be the ayam masak lemak cili padi. The chicken is cooked in a thick savoury gravy that has a strong coconut milk fragrance and taste. The succulent chicken was infused with the delectable flavour of the gravy and I love how there's a kick of spiciness from the rempah (spice paste). You know you're getting well-cooked chicken when you don't mind eating the chicken breast because even that is tender.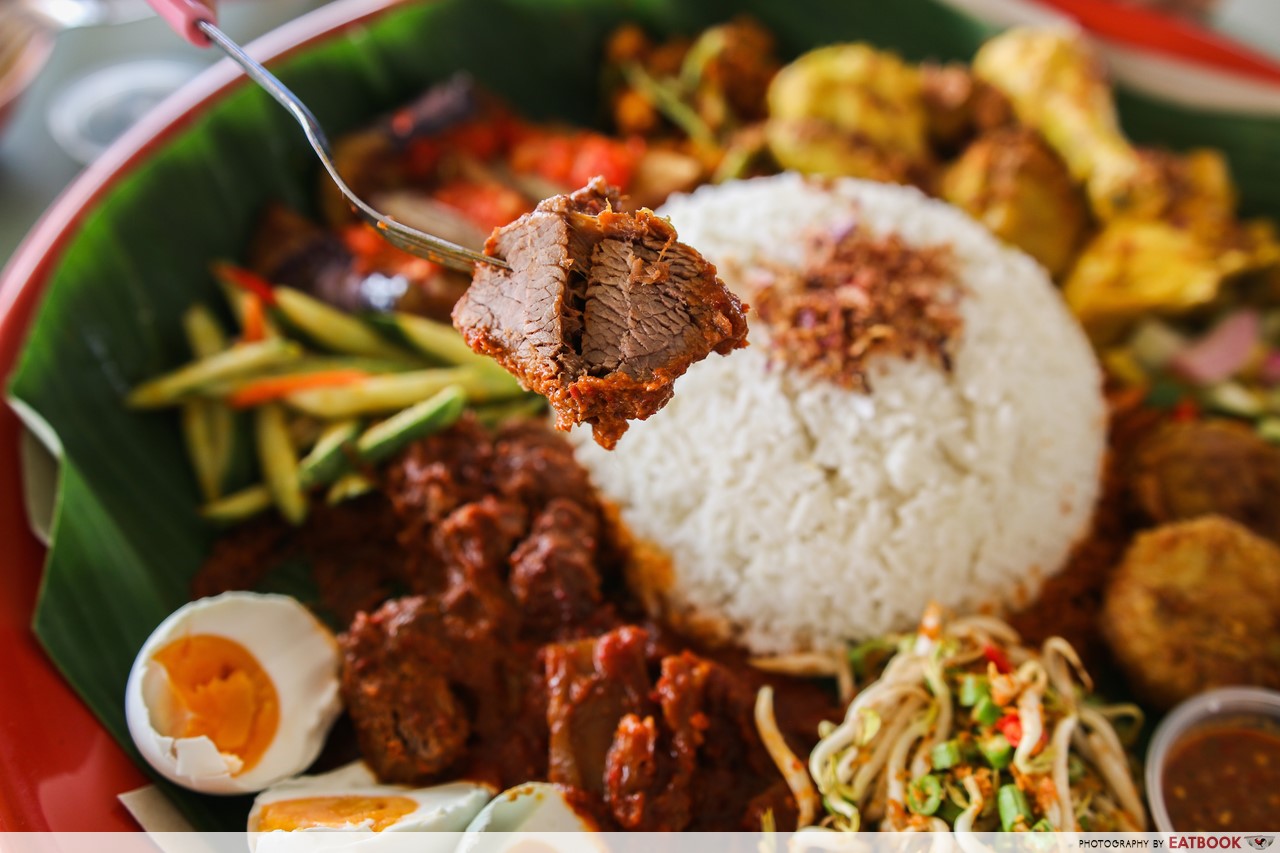 Another star on the plate was beef rendang. Their beef rendang was in a brighter tone of red than other beef rendangs I've had and the taste of the gravy reminded me of sambal you'd have with nasi lemak – spicy with a strong sweetness. The beef came in generous chunks and was leaner than I expected. That being said, each piece of beef was very fleshy.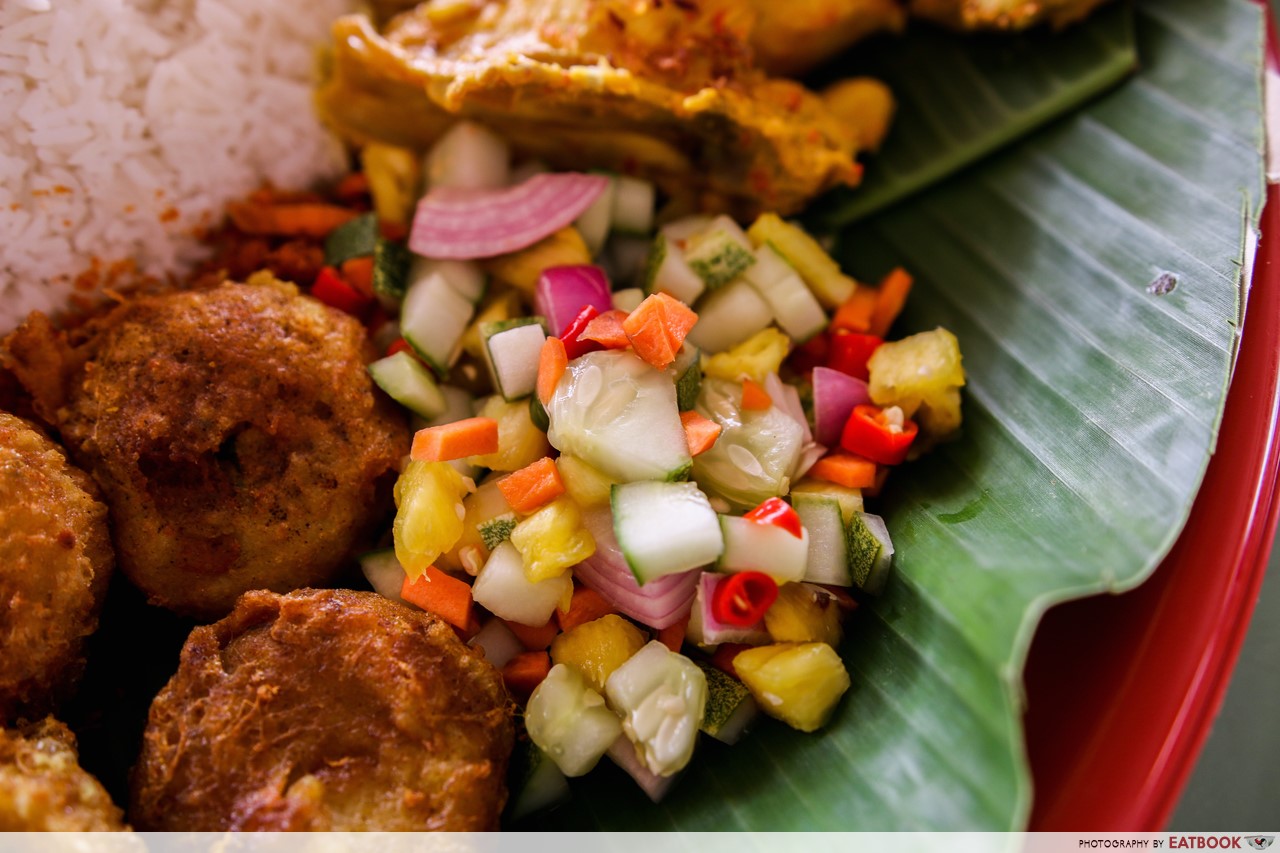 As there were tons of intense flavours on this plate, it was really refreshing to munch on the acar. For those who can't take the heat, this will not render any help to your burning tongue because it is tangy AND spicy!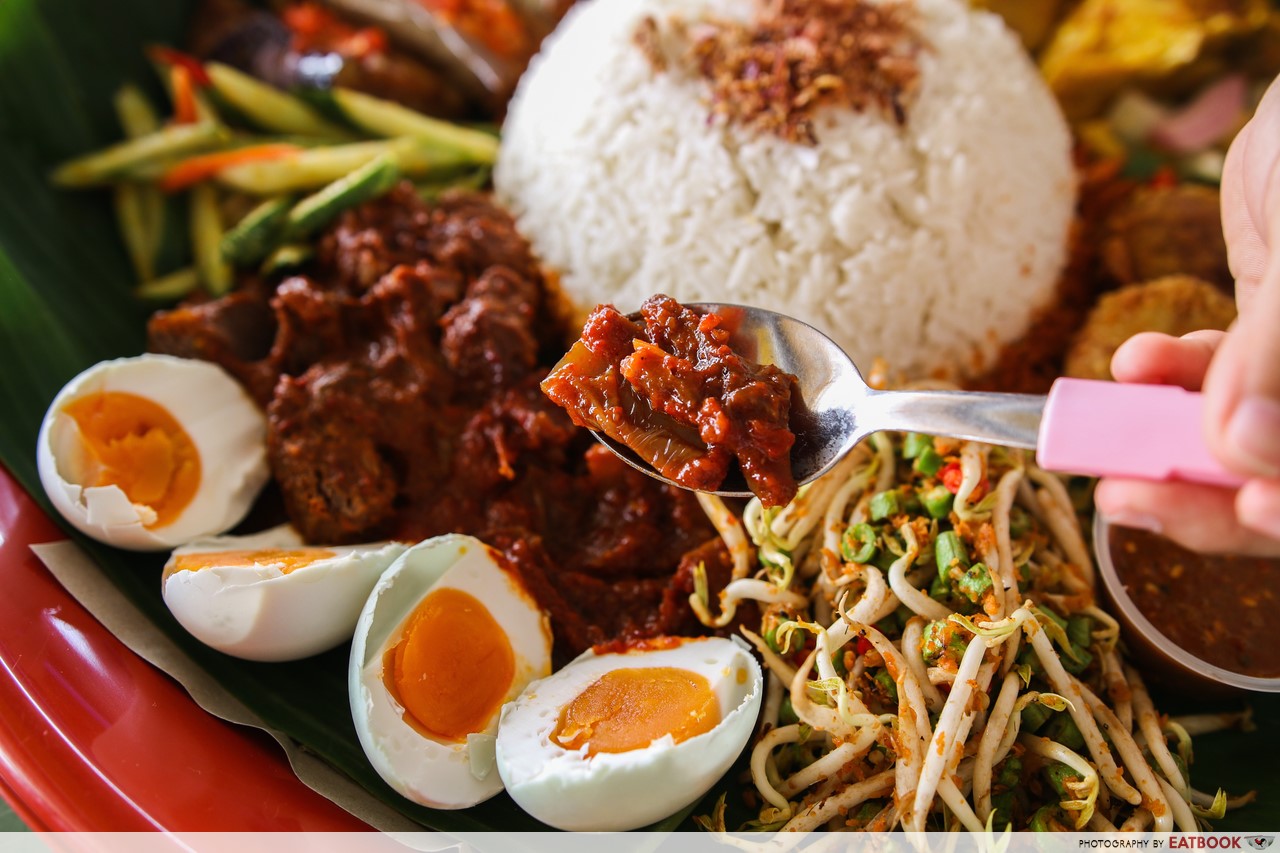 Another staple you'd always find on my plate of nasi padang would be sambal cuttlefish. I love how it gives you that heat without killing your taste buds so you can still enjoy spicy food without the torture. As compared to belacan, which is a savoury spicy chilli, sambal is sweet and spicy and I couldn't stop mixing it with white rice.
For those who aren't familiar with bergedil, it's fried mashed potato patty similar to a potato croquette. The ones at Enak were really fluffy in texture and super flavourful. But it was a bit too salty to eat it on its own so I had to eat it with the rice and some belacan.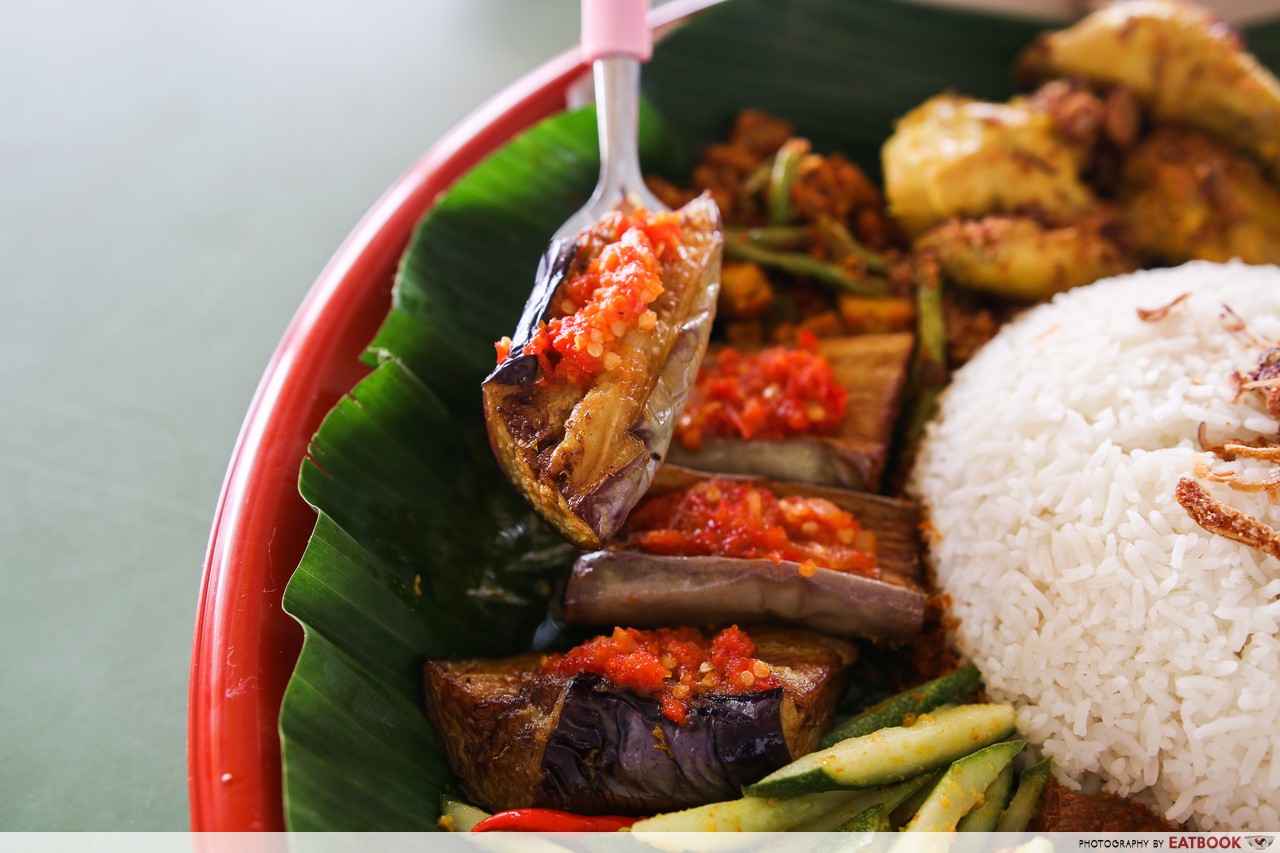 Among the veggie sides, the sambal brinjal is worth mentioning. The brinjal was soft, mushy and went well with the chilli on top. Even though the chilli was less flavourful than the other dishes on the plate, it complemented the natural sweetness of the brinjal well and provided a good balance to the heavy flavours on the rest of the plate.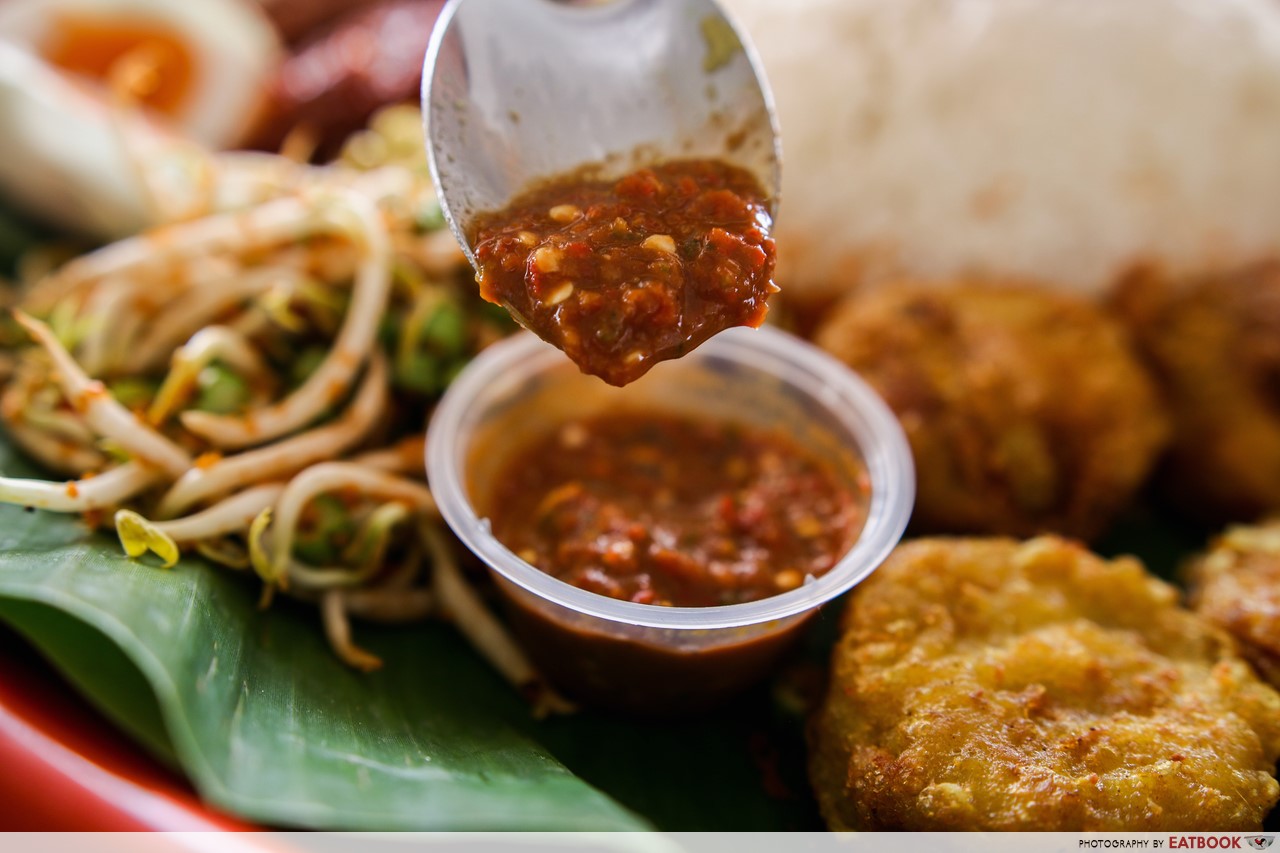 Even though the sides were mostly spicy on its own, I take spiciness very seriously so having belacan at the side was great. I could adjust the level of spiciness without altering the overall taste because this belacan was more spicy than savoury or sweet. I'm someone who can survive with a bowl of rice mixed with a good blob of belacan so if you're like me, you will find comfort in this!
Before I left, I dabao-ed the smaller portion of nasi ambeng that's just nice for two to three people.
If you're looking to dapao as well, don't worry about the presentation. They serve it just as nice as the plate that I had here and sealed it with cling wrap. You'll have to pay an additional $5 (small) or $10 (large) for the tray. Consider driving here to dabao or be prepared to carry it with your hands on public transport.
Waiting time at Enak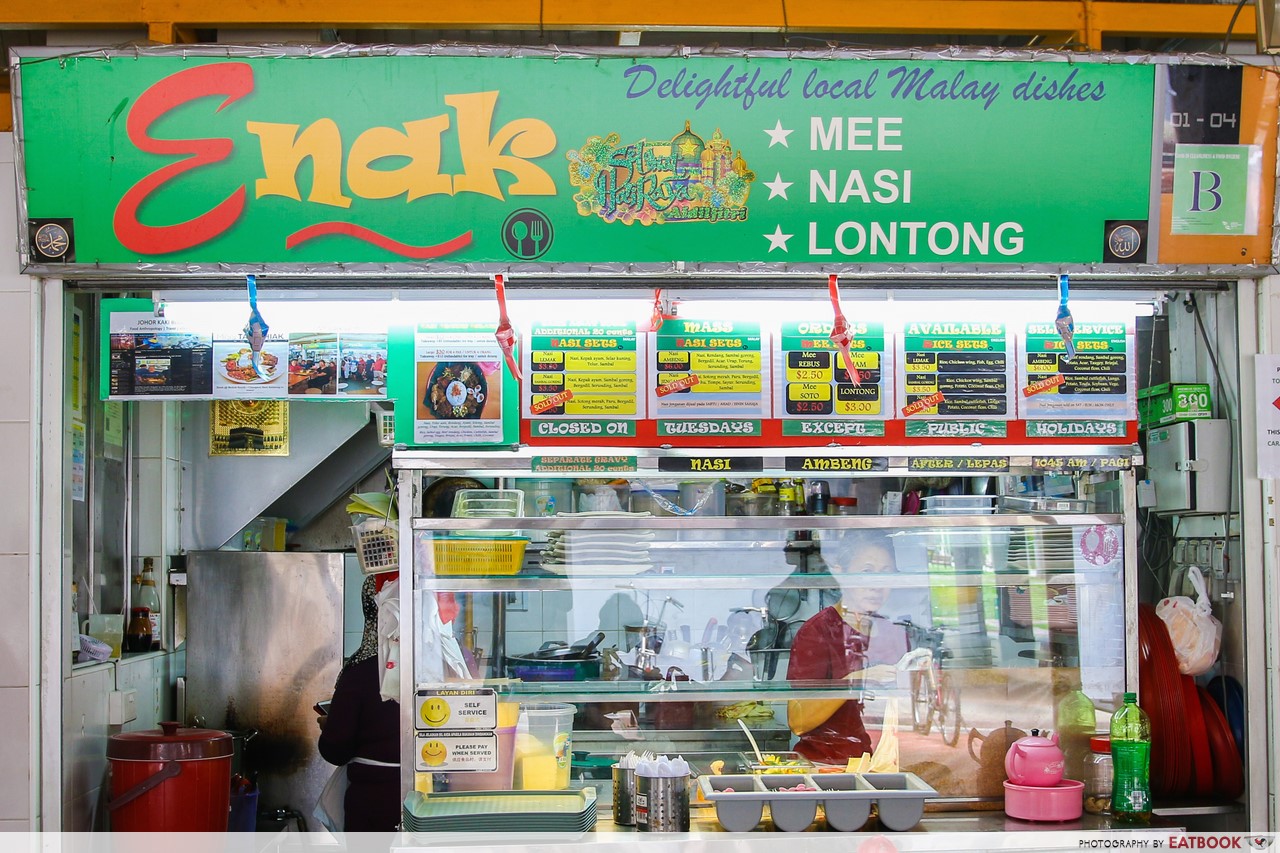 I went pretty early at 10am, thinking I would avoid the peak period, but there was already a queue. As nasi ambeng takes quite a bit of effort to prepare, we waited for around 20 to 30 minutes before we could tuck in.
The verdict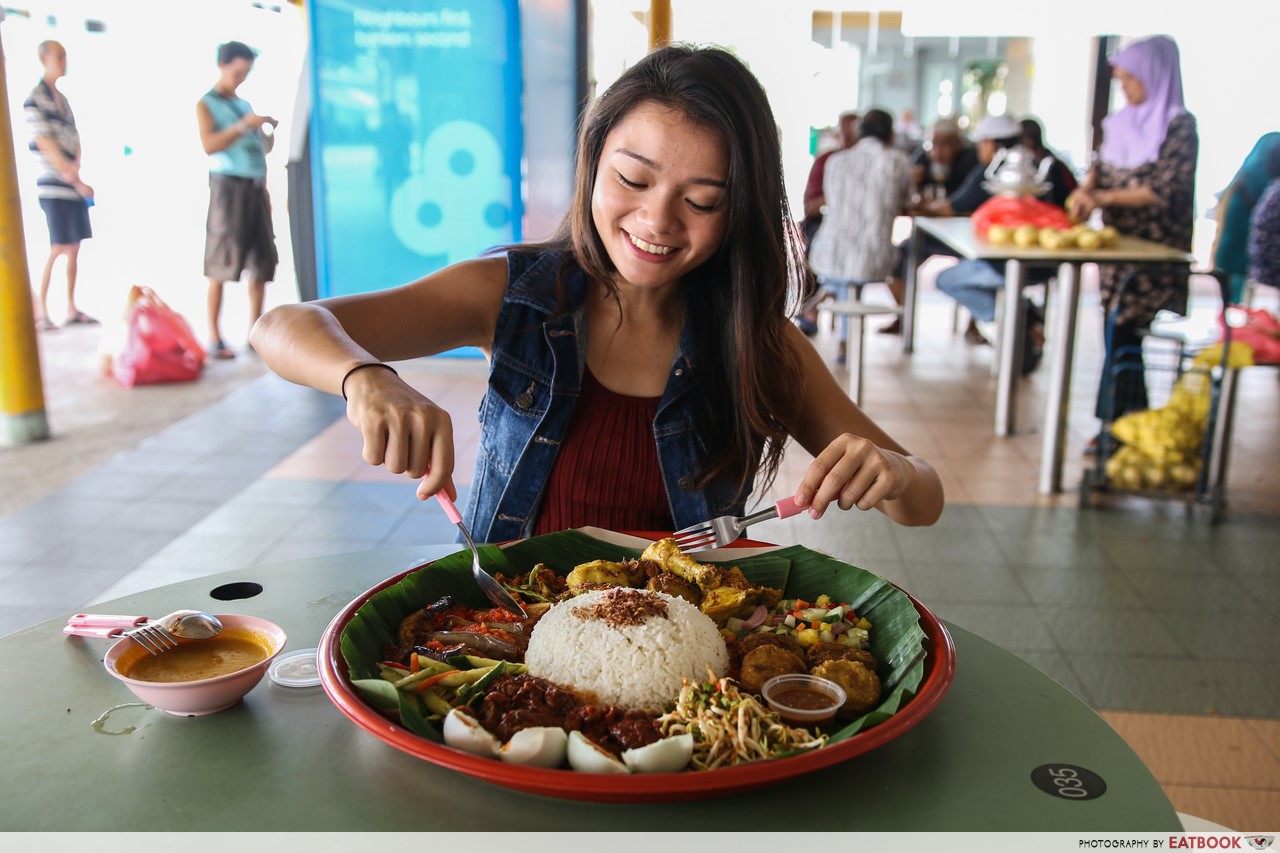 Nasi ambeng is a dish for people to come together and bond through sharing, and this is a meal you should try with your squad at your upcoming gathering. The cheap and good nasi ambeng at Enak proves you don't have to splurge for a satisfying meal! For those with huge appetite, this spot could be your new private haunt as well.
This is an independent review by Eatbook.sg.
Summary
Pros
– Affordable
– Great for sharing
Cons
– Long queue
– Sold out fast
Recommended Dishes: Nasi Ambeng ($15 for small, $30 for large)
Operating Hours:
Wednesday – Sunday 8am to 1pm
Address: Blk 16 Bedok South Road, Bedok South Market & Food Centre, Singapore 460016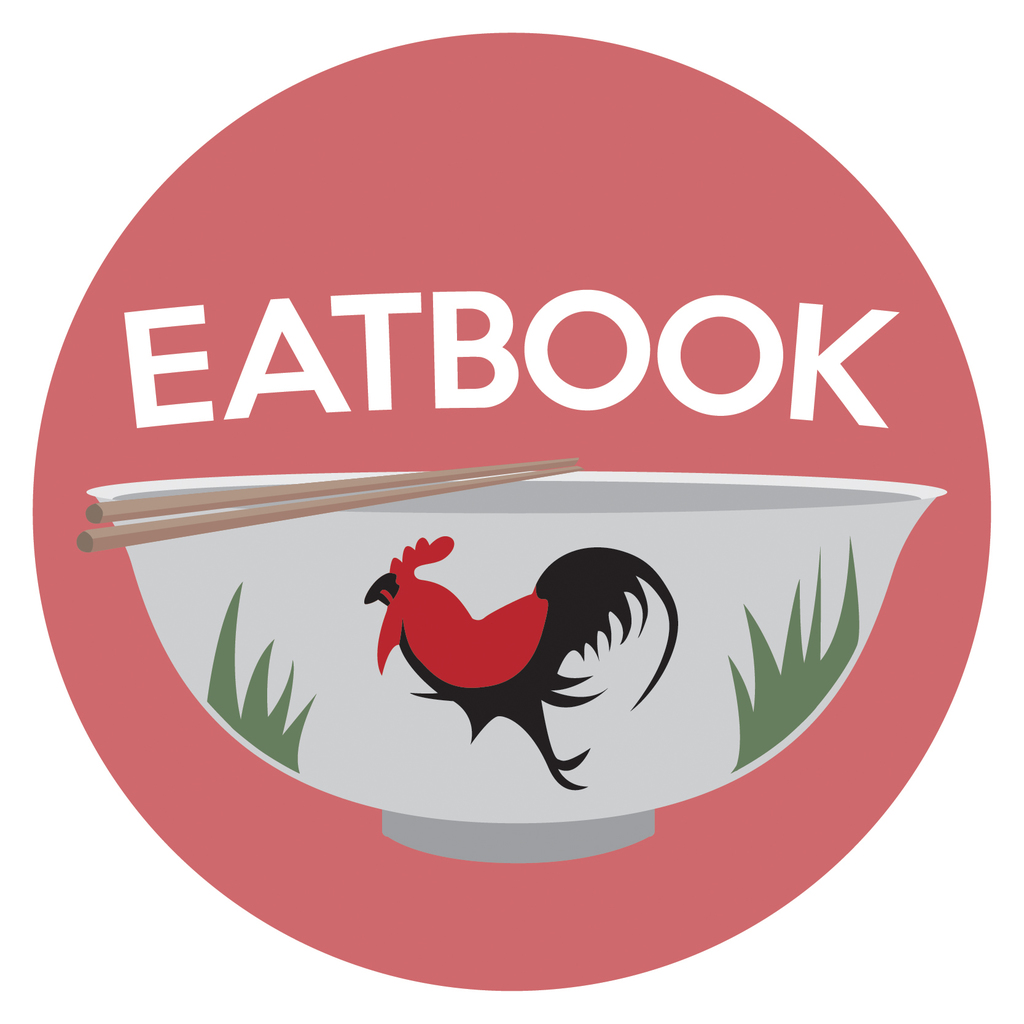 Drop us your email so you won't miss the latest news.