Feast on tonkotsu ramen for less than $10
UPDATE: Buta Kin relocated to Bedok previously, but they are now back at Beauty World Food Centre. The Special Tonkotsu Ramen and Tonkotsu Red Ramen are now priced from $7.50 and $6.50 respectively.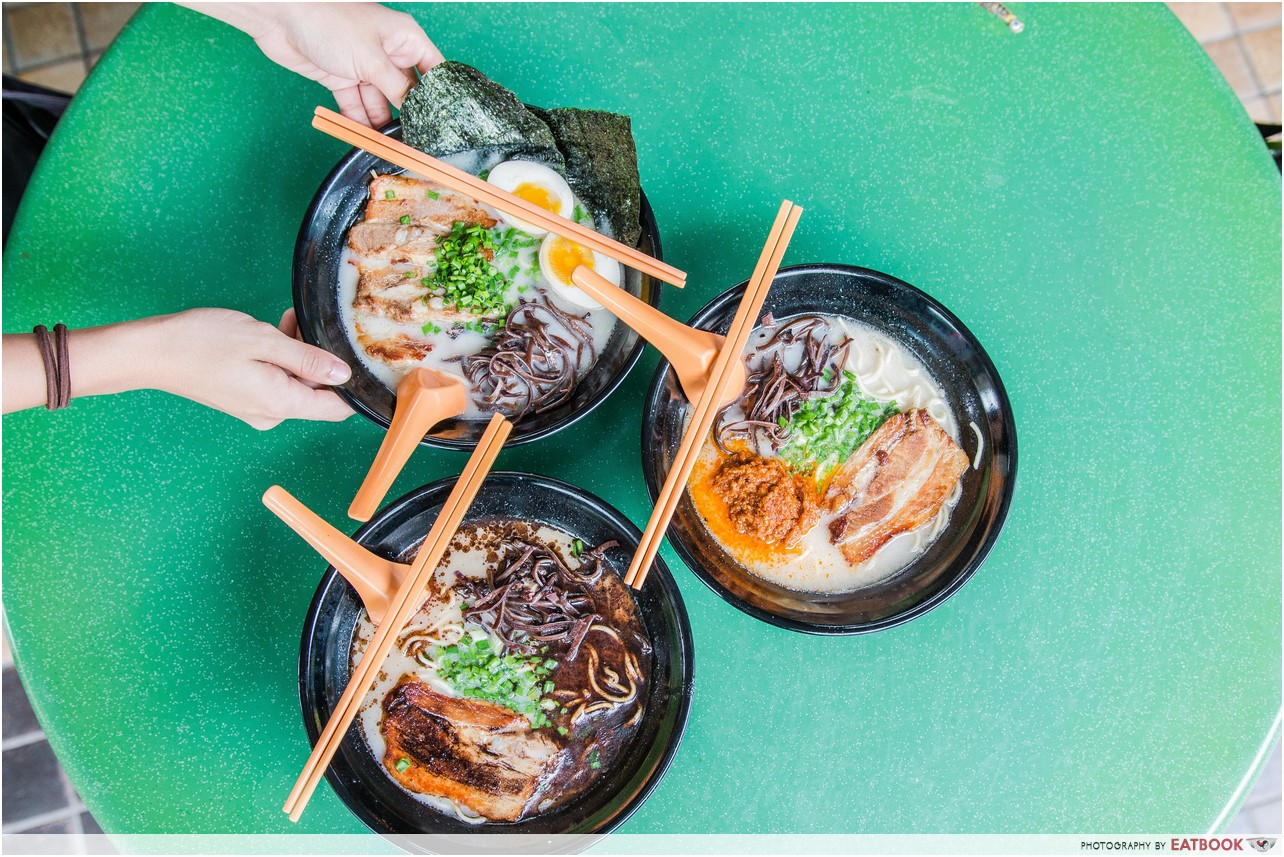 As someone who just came back from Tokyo not long ago, the stunning Mount Fuji and serene Lake Okutama aren't all that I'm missing. Rather, the steaming bowl of ramen I ate in the chilly wind is the number one thing I wish I could have again.
While Singapore does have pretty decent ramen spots – think Michelin-starred Tsuta that just opened here a week ago – it's not an easy affair for my wallet to down a bowl of ramen on a regular basis. So, being the ramen fan that I am, I was thrilled to find a bowl of legit tonkotsu (pork bone) ramen for just $6 at Buta Kin in Beauty World Food Centre.
Ramen at Buta Kin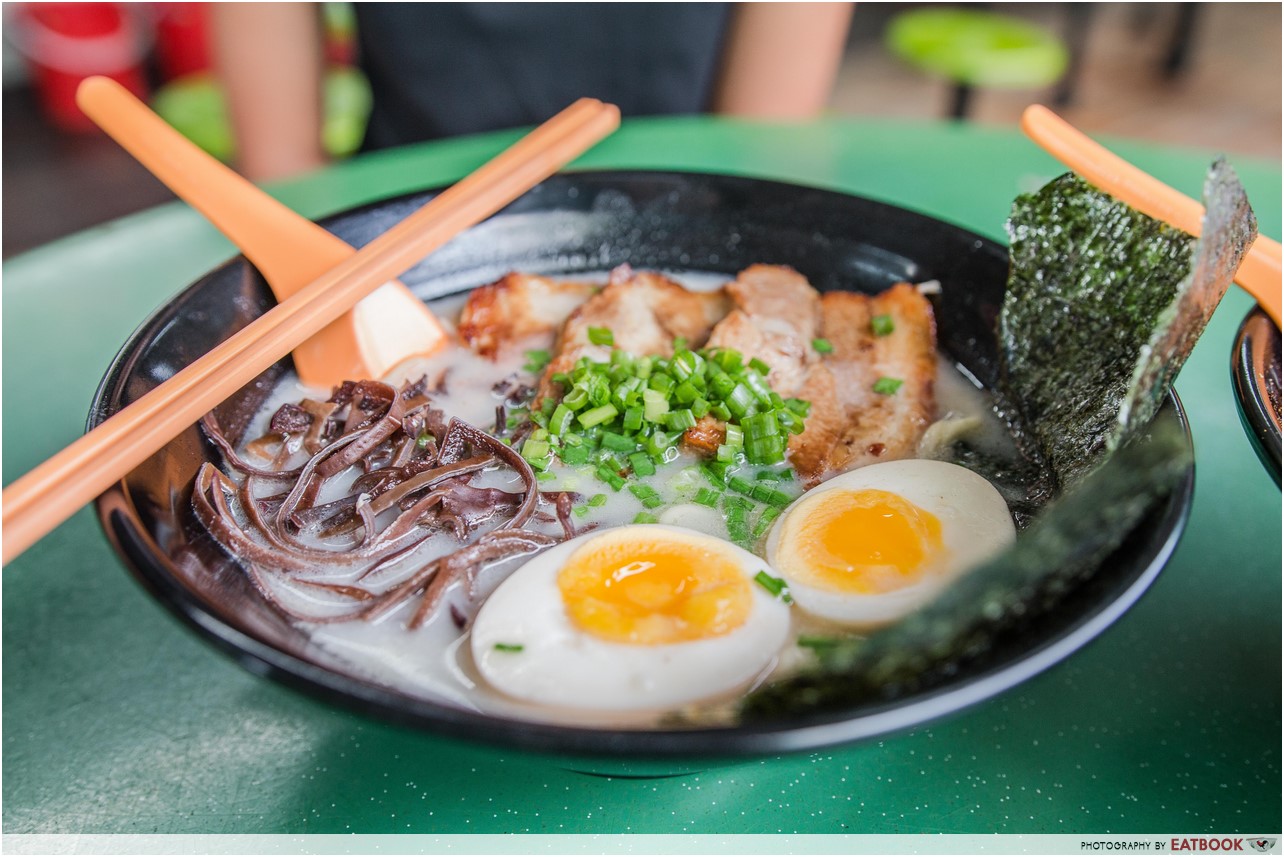 Prices at Buta Kin range from $3.50 to $6.90, so I had no qualms ordering the most expensive ramen on the menu – Special Tonkotsu Ramen ($6.90). #gobigorgohome
At $6.90, you get a piping hot bowl of tonkotsu ramen, 3 thick slices of chashu, a whole hanjuku (soft-boiled) egg, black fungus and nori (seaweed). I don't remember having this many ingredients when I paid for ramen that costs more than $10 at restaurants.
What makes this a standout is the broth. Made by boiling pork bones, chicken bones and chicken feet for 6 to 7 hours, the broth was a flavourful yet light tonkotsu soup base. It wasn't as thick and creamy as those you'd expect from high-end ramen restaurants, but you'll be glad because this doesn't make you want to gulp down bottles of water right after.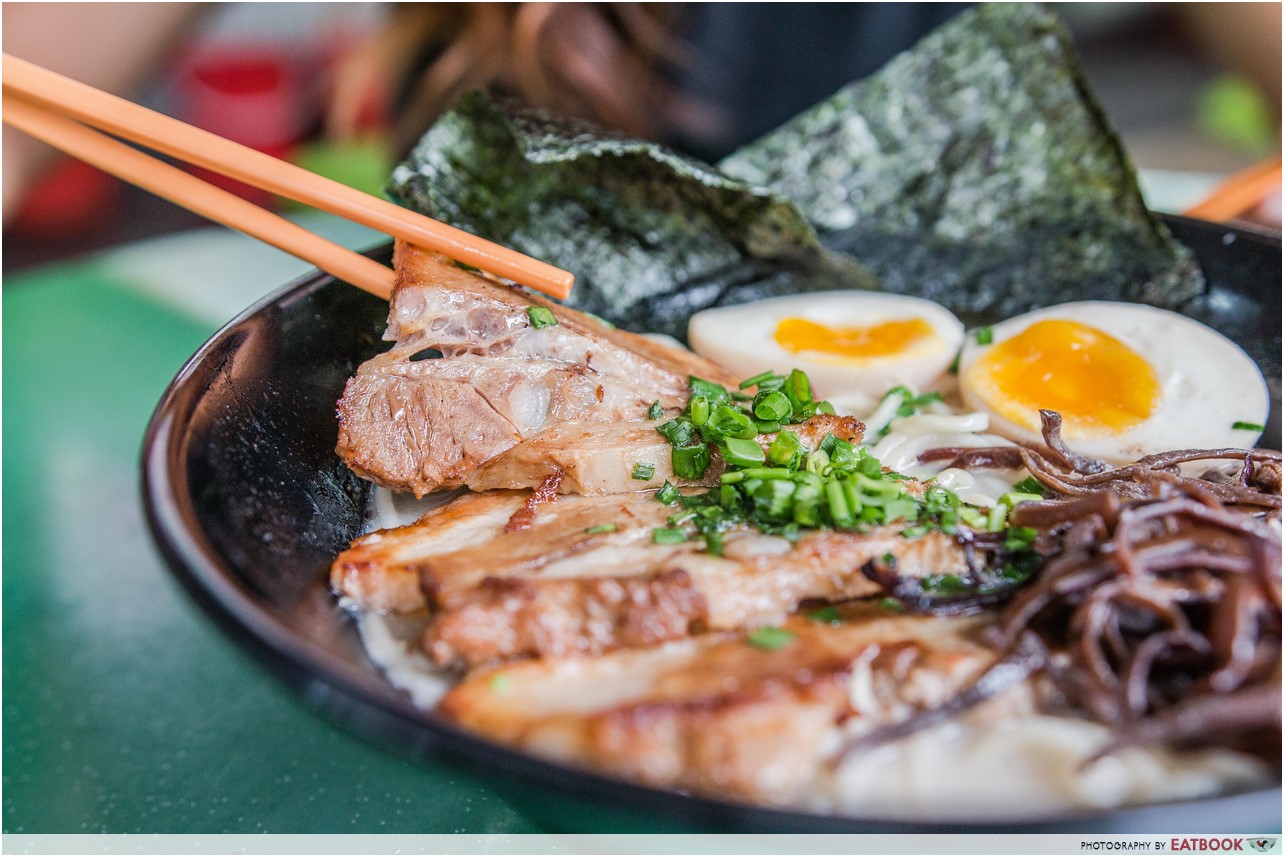 Giam siap is definitely not part of Buta Kin's dictionary, as their chashu comes in THICK cuts. The ratio of meat to fat was perfect and each slice was pan-fried before serving. Though it's slightly tougher than the usual chashu, it was a lot more fragrant.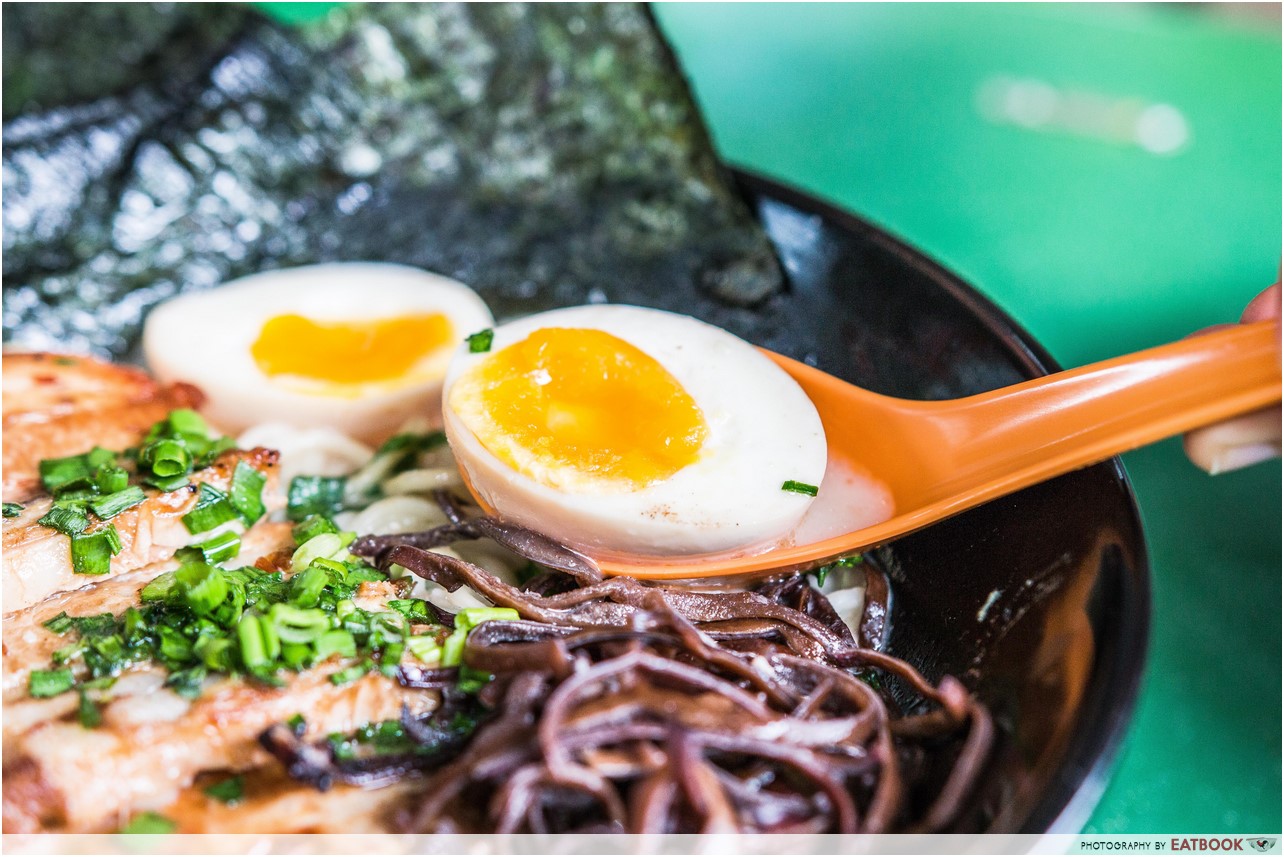 You know you're getting a good bowl of ramen when the hanjuku egg is on point. I'm someone who always leaves the best for last, so needless to say, I spent my last mouthfuls of this bowl of ramen savouring the soft egg white that delicately encased a runny yolk.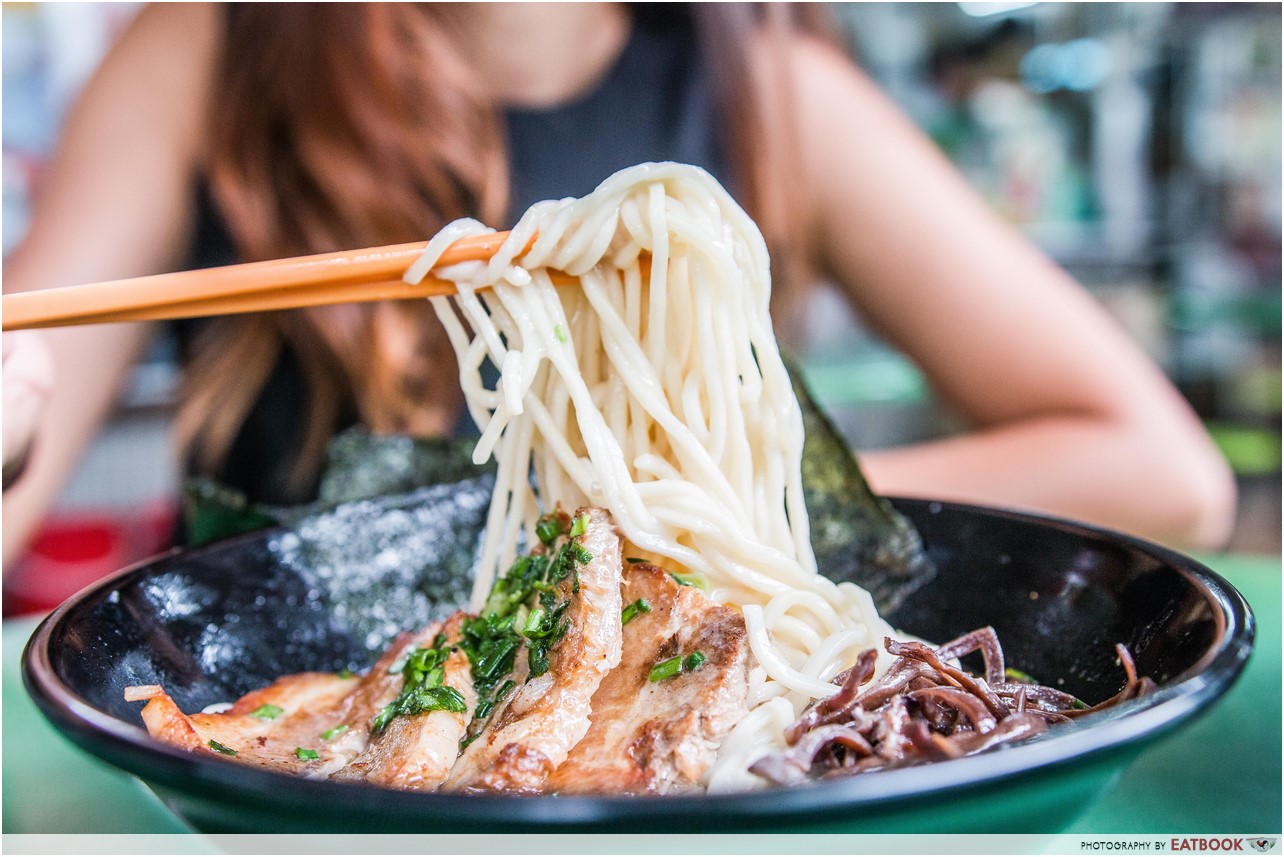 At Buta Kin, you can choose between ramen and udon to go with your broth. I chose ramen but the noodles that arrived didn't look or taste like the chewy Japanese noodles I'm used to. Rather, it's more like a hybrid of ban mian and ramen – a little more doughy and less springy than the usual ramen noodles you'll get elsewhere.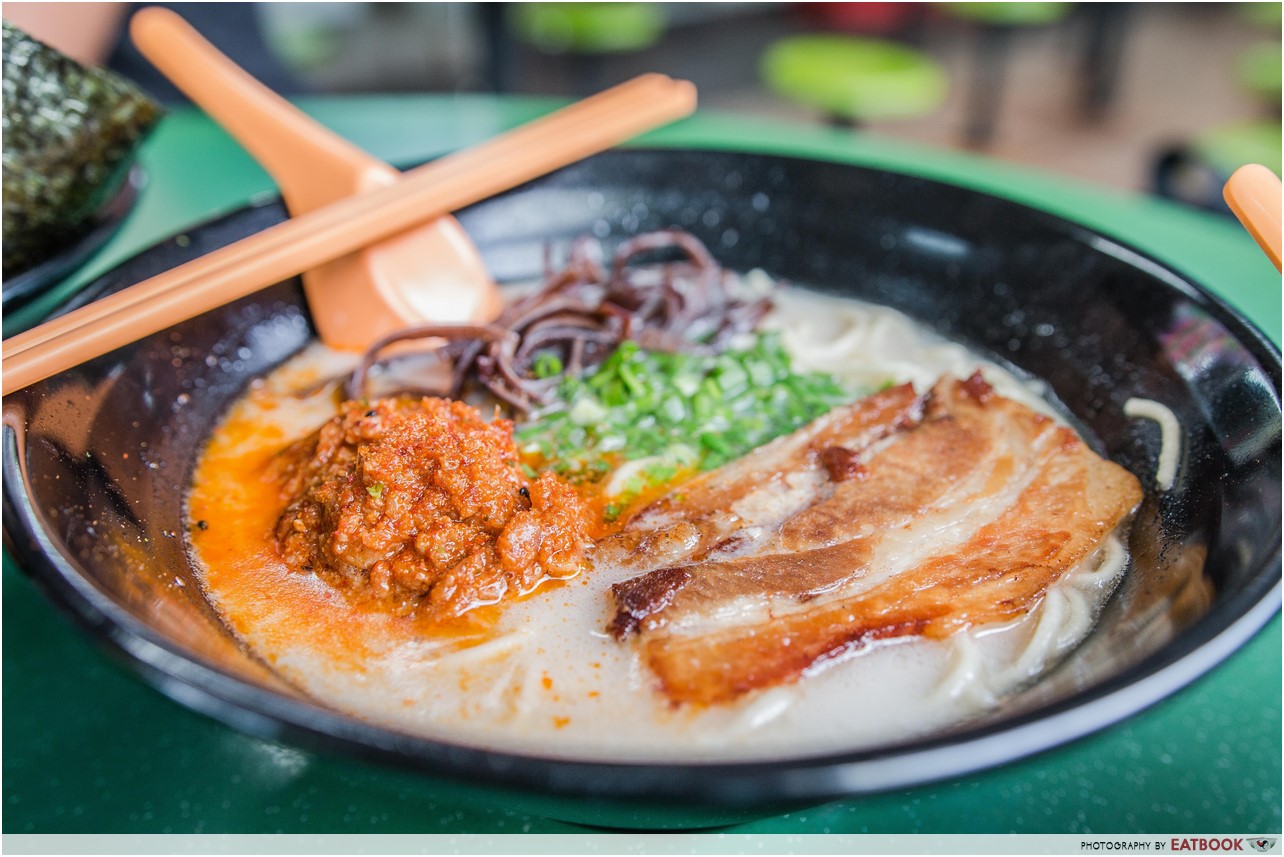 As a spicy food lover, I had to order Tonkotsu Red Ramen ($6). The ramen arrived with a blob of spicy minced meat paste, a slice of pan-fried chashu, black fungus and spring onions.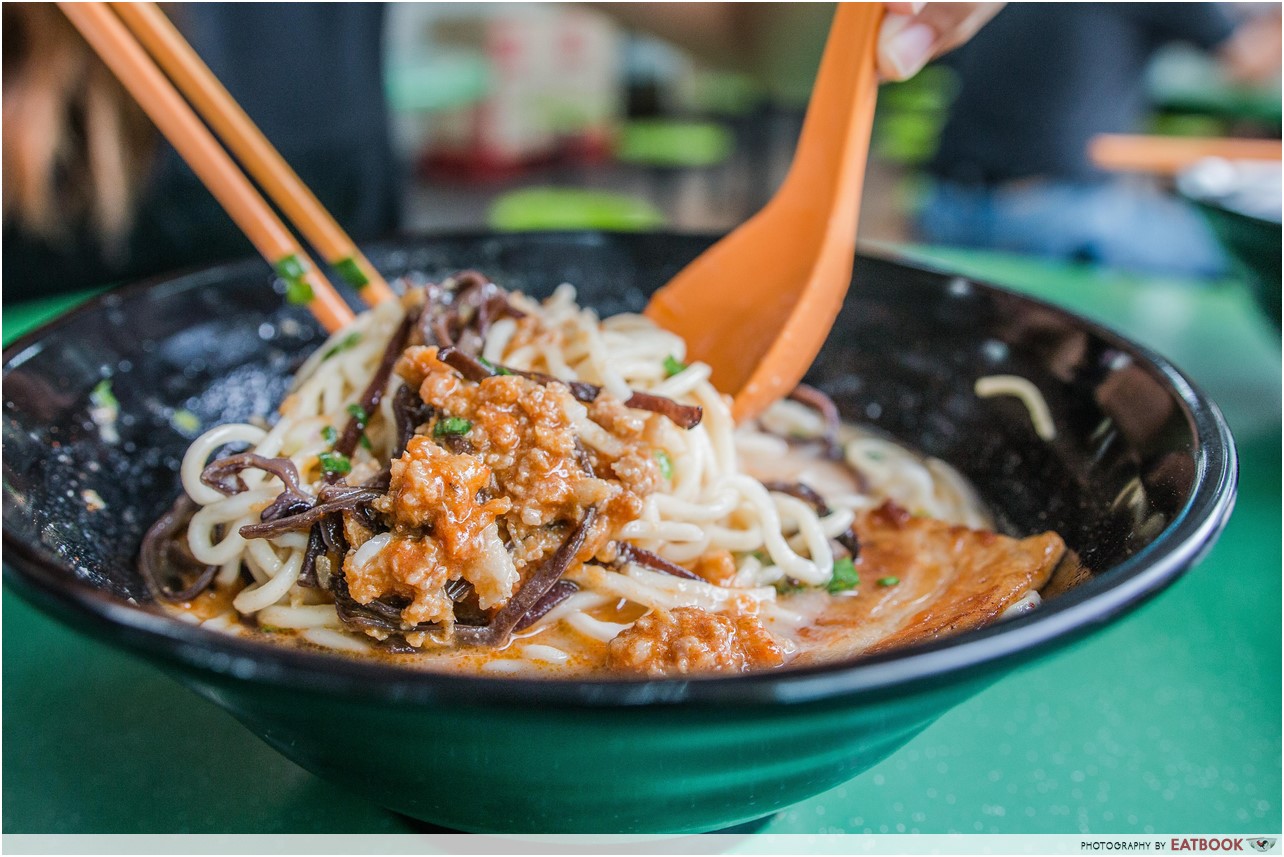 Perhaps my expectations were too high, but I was disappointed because the minced meat paste wasn't spicy enough for me. For those who want just a little kick in your ramen, this would probably do the trick. I did, however, love the bits and pieces of minced meat mixed with every spoonful of noodles and tonkotsu broth.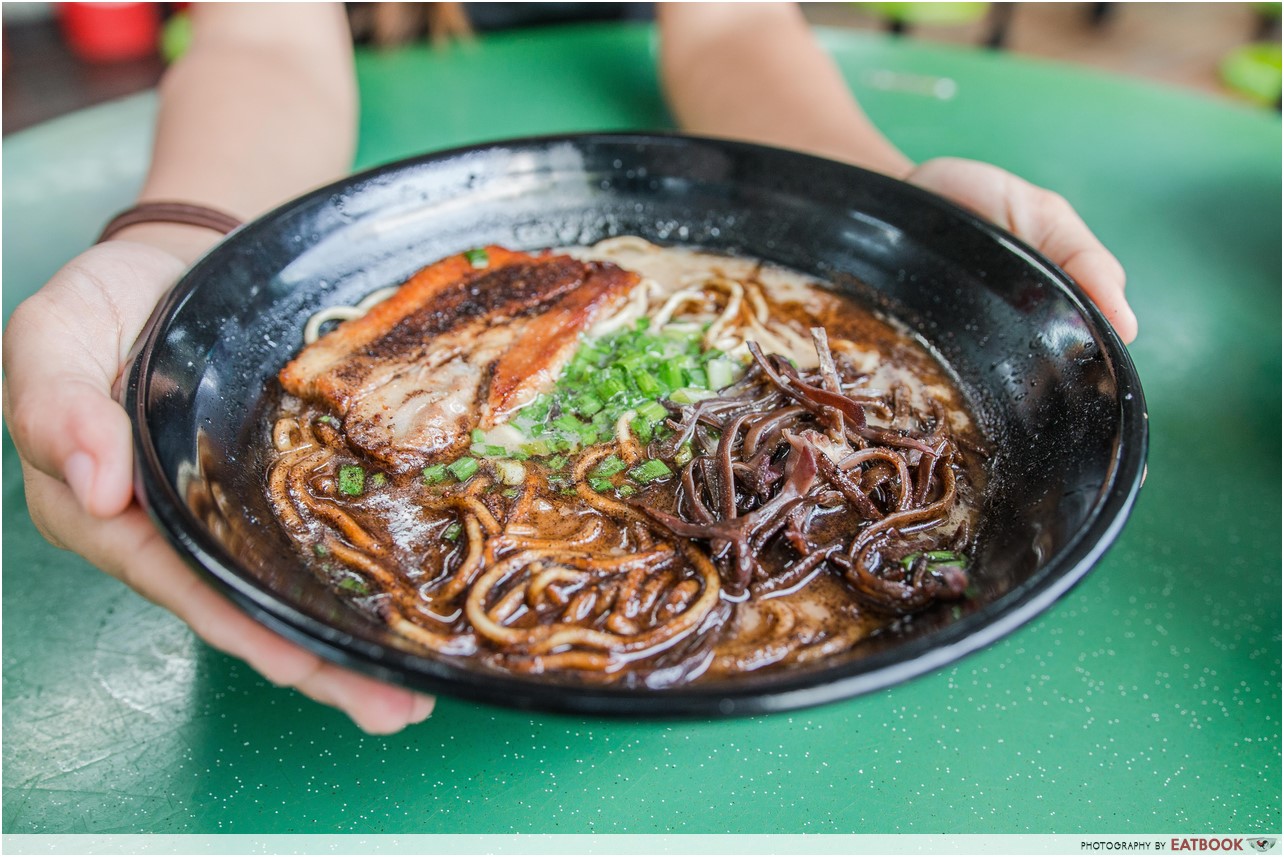 If you want something even richer in flavour, get Tonkotsu Black Ramen ($6). Sans spicy meat paste, the toppings here are the same as the Red Ramen's. This also comes with a splash of garlic oil and a black tonkotsu broth.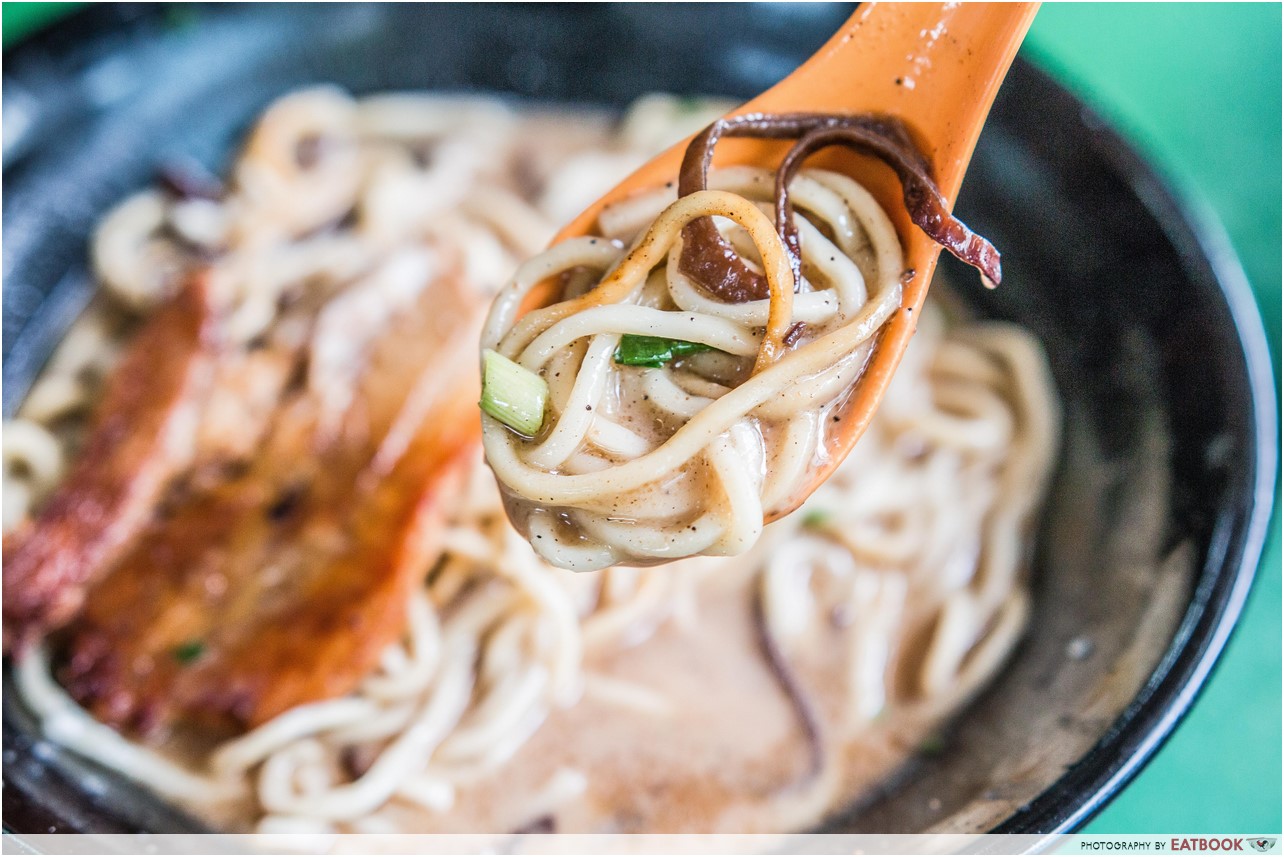 Flecked with black garlic, the broth was extremely fragrant and addictive. The robust garlic flavour reminded me of my mum's fried chopped garlic.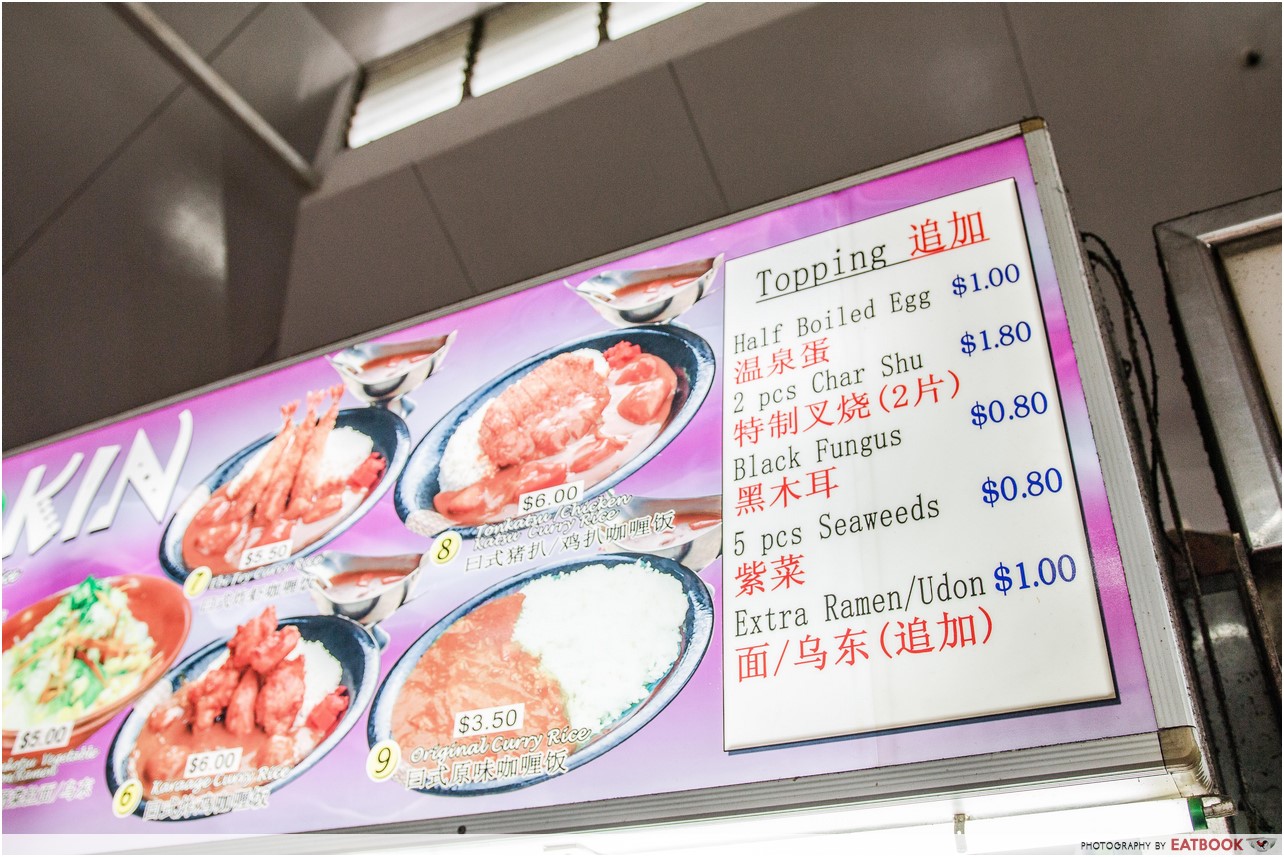 Portions here are more than enough to fill a hungry tummy, but if you're a hangry soul then go ahead and add more toppings to your bowl for $1 or less. Besides ramen and udon, Buta Kin also sells Japanese curry rice at similar prices.
Ambience at Buta Kin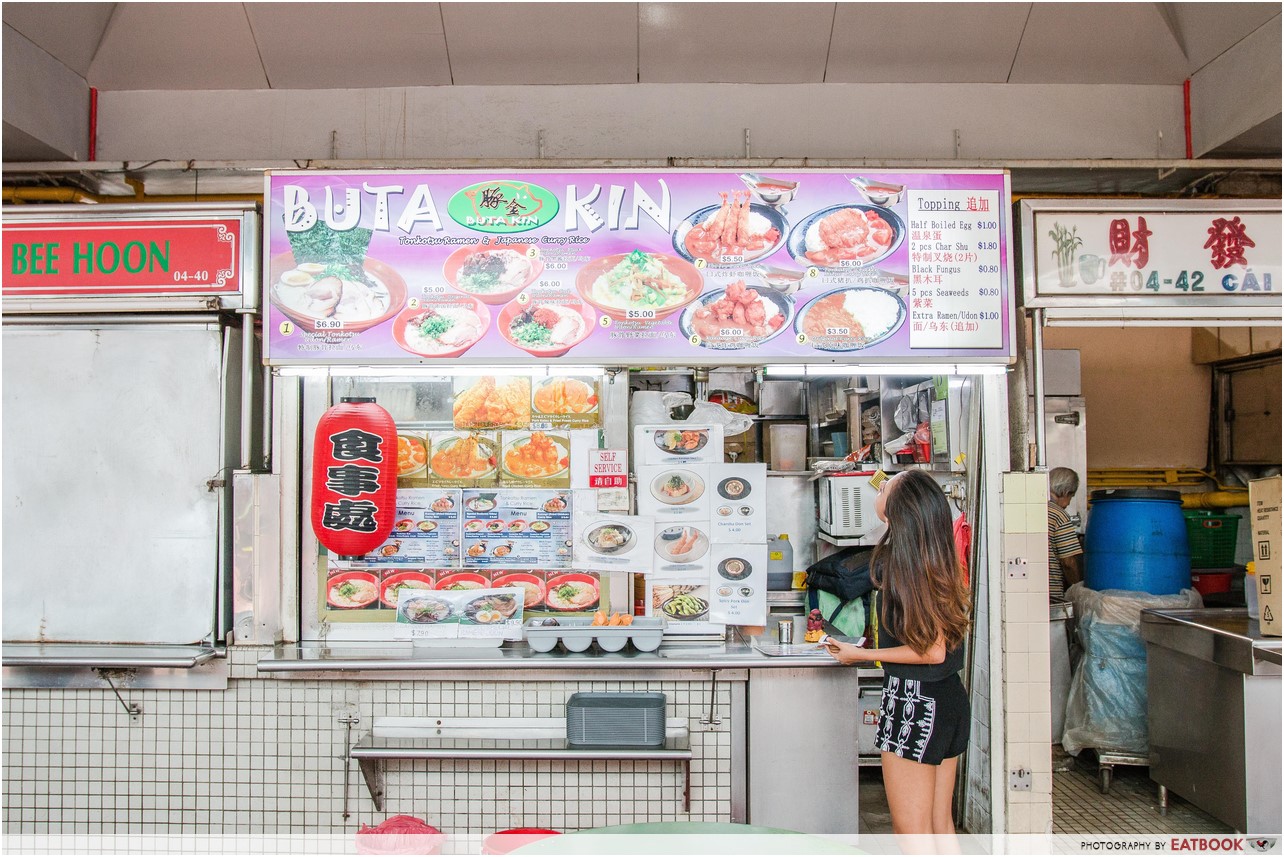 Though it's not the best idea to have a bowl of ramen under the sweltering heat, Buta Kin is worth your perspiration. The rabak atmosphere is also part of the reason why you pay so much less for a bowl of legit ramen. 
The verdict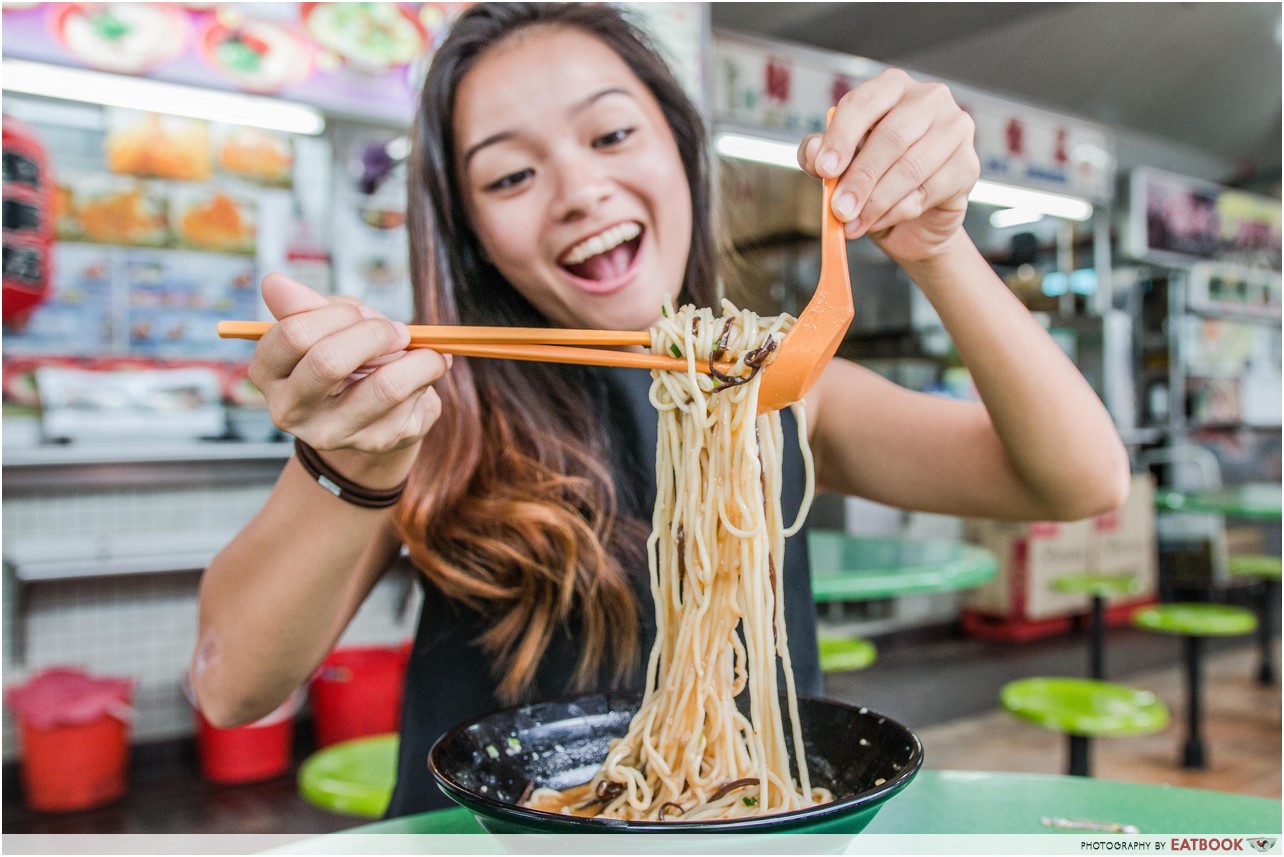 Don't dismiss Buta Kin because they're definitely not one of those Japanese kopitiam stalls selling maggie mee posing as ramen. While you won't get Ippudo's standard out of this humble stall, you can expect a bowl of tonkotsu noodles that's worth your buck.
Address: 144 Upper Bukit Timah Road, #04-28, Beauty World Centre, Singapore 588177
Opening hours: Mon-Fri 12pm to 8:45pm, Sat-Sun 11:30am to 8:45pm
Tel: 8661 60628
Website
Buta Kin is not a halal-certified eatery.
This is an independent review by Eatbook.sg.
Summary
Pros
– Affordable
– Wide variety
– Large portions
Cons
– No air-conditioning
Recommended Dishes: Tonkotsu Black Ramen ($6), Special Tonkotsu Ramen ($6.90)
Operating Hours:
Tuesday – Sunday 11am to 9pm
Address: , #04-28, Beauty World Food Centre, Singapore 588177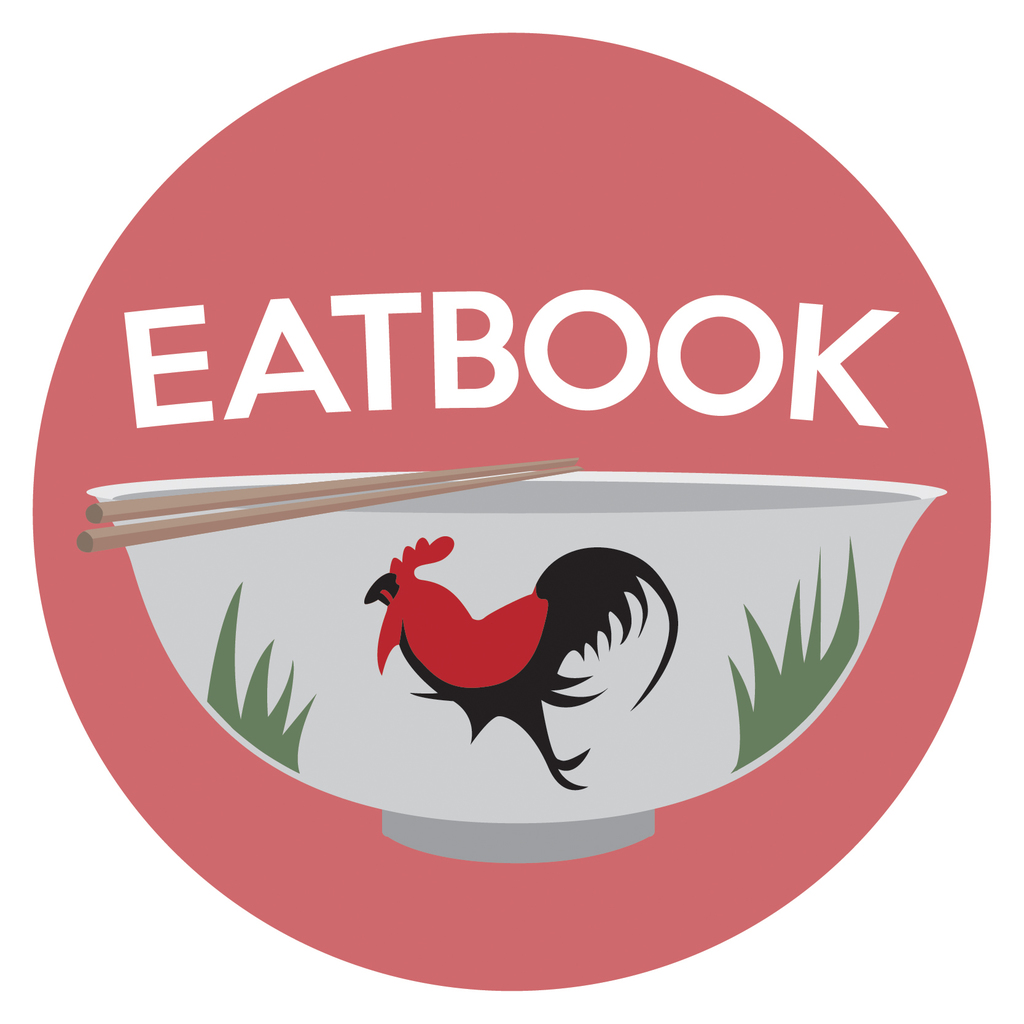 Drop us your email so you won't miss the latest news.