Tsuta debuts in Singapore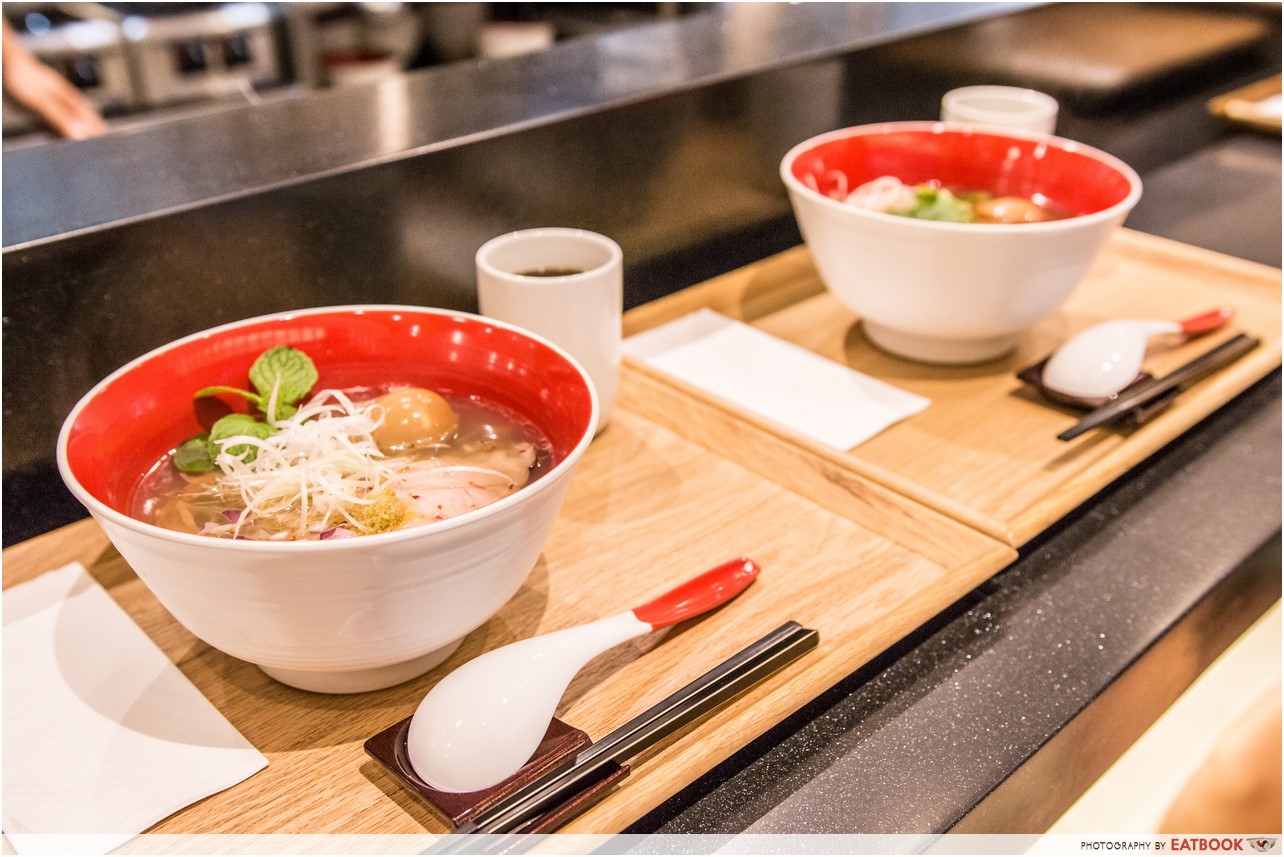 Tsuta, a small 9-seater ramen shop in Tokyo, won its Michelin Star in 2015 and remains the only ramen eatery to do so up to this day. Only 150 bowls of their noodles are served each day, with queues starting to form at dawn. Tickets usually sell out by 8am, hours before the shop opens their doors.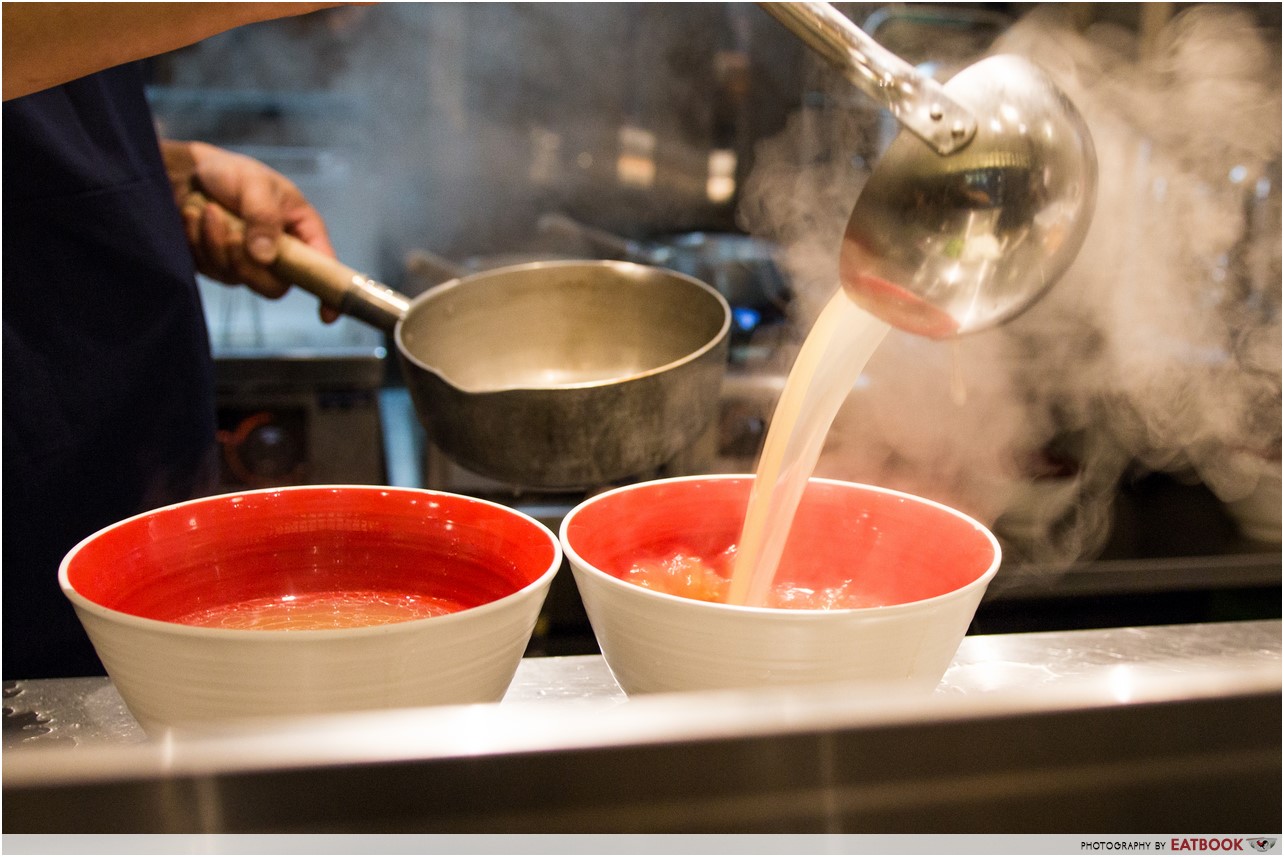 There's no longer a need for a ramen pilgrimage to Japan for a taste of Michelin-starred ramen, with the highly anticipated opening of Tsuta's first international branch right here in Singapore. Opened yesterday, Tsuta is located at Pacific Plaza, just a few metres from Orchard MRT Station's Exit A. The 18-seater Tsuta in Singapore uses the same signature recipes and ingredients as its Japanese counterpart, with founder Chef Yuki Onishi ensuring that standards are maintained.
As with most things Michelin-starred in Singapore, there's bound to be crazy queues at Tsuta. We got a taste of the ramen and here's what you need to know before deciding to spend time queuing at this highly-raved ramen joint.
Ramen at Tsuta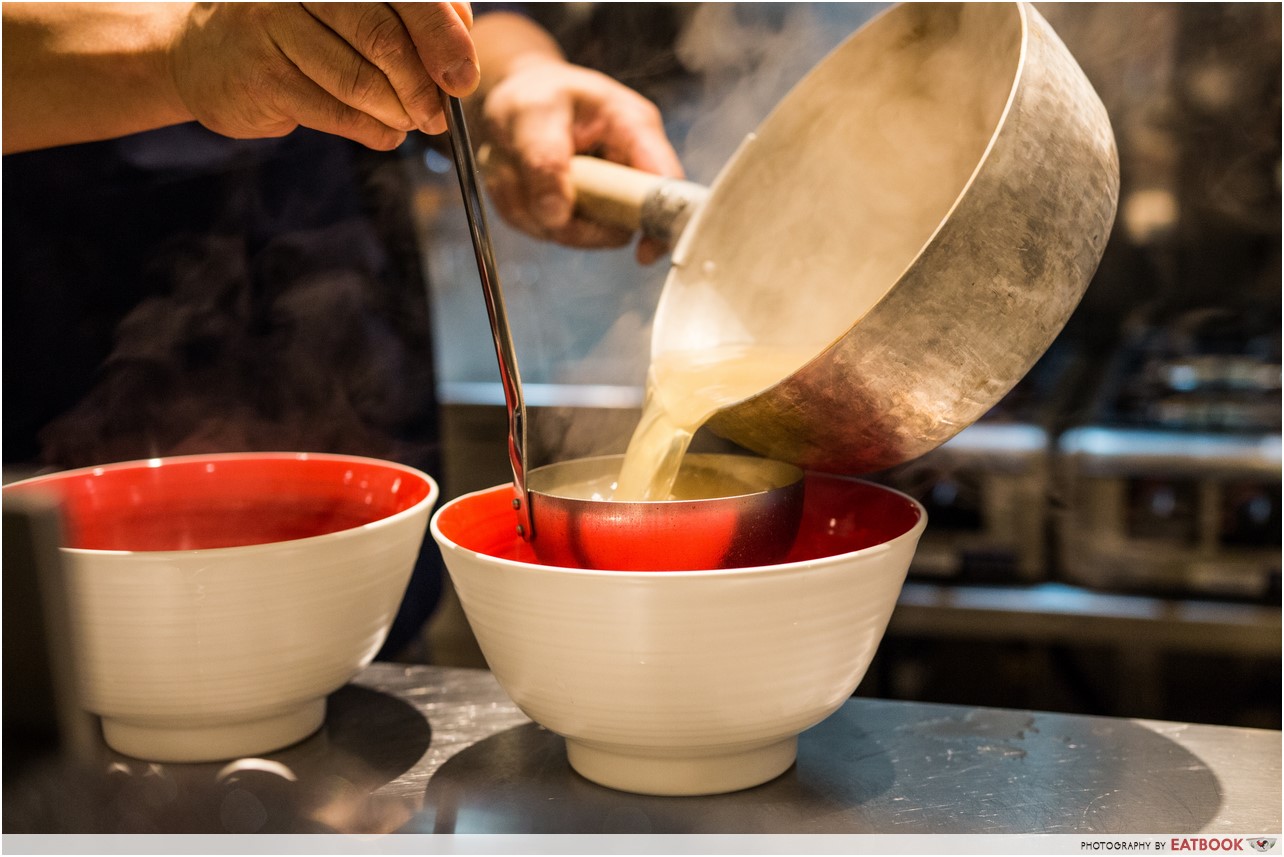 The backbone of Tsuta's ramen is their unique dashi soup stock, which serves as the base for every bowl of ramen. Made with whole chickens, clams, vegetables and other types of seafood, Tsuta's unique dashi stock is sweet, light, and full to bursting with umami goodness.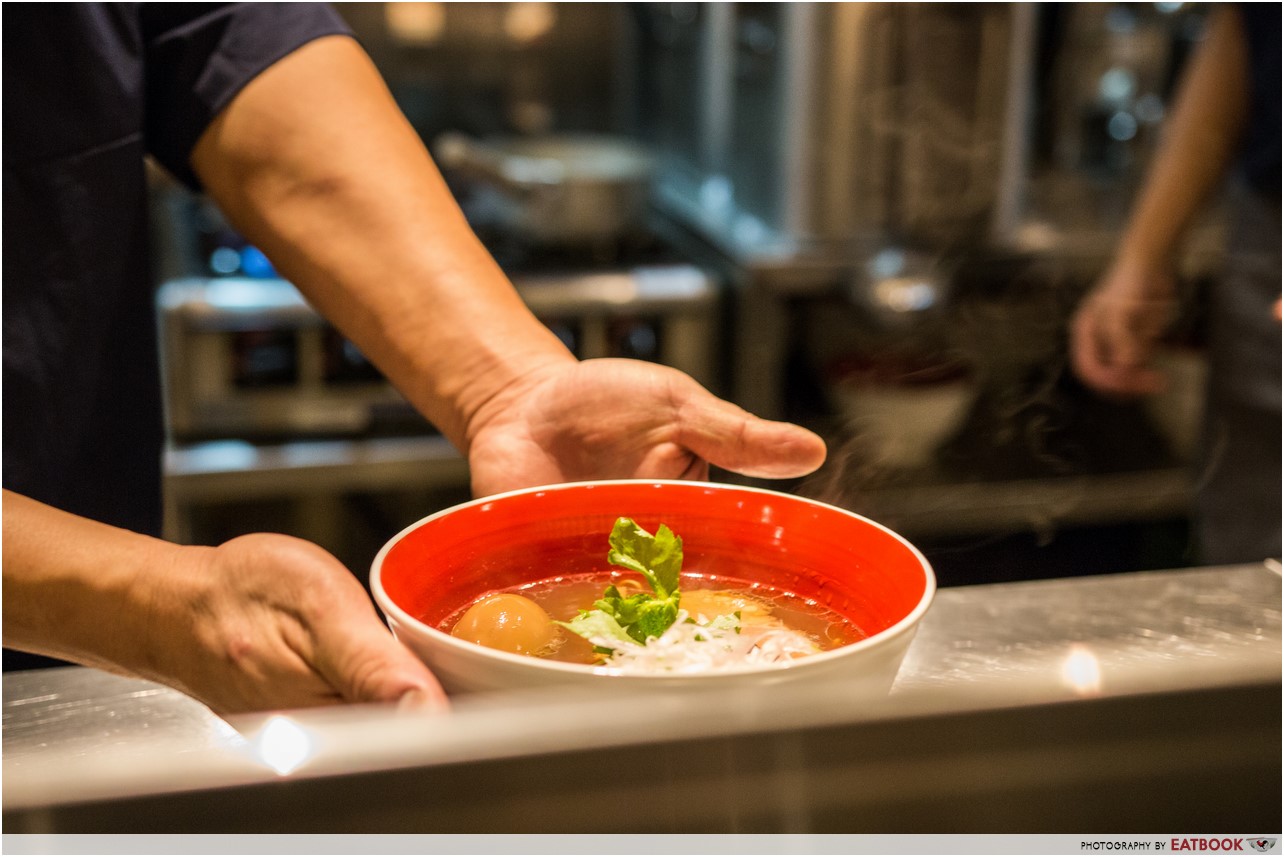 The soup is cooked till just below boiling point to retain the flavours in the broth. Although this means your bowl might turn cold quicker than usual, there are fewer chances of burning your tongue on scalding hot soup as you slurp.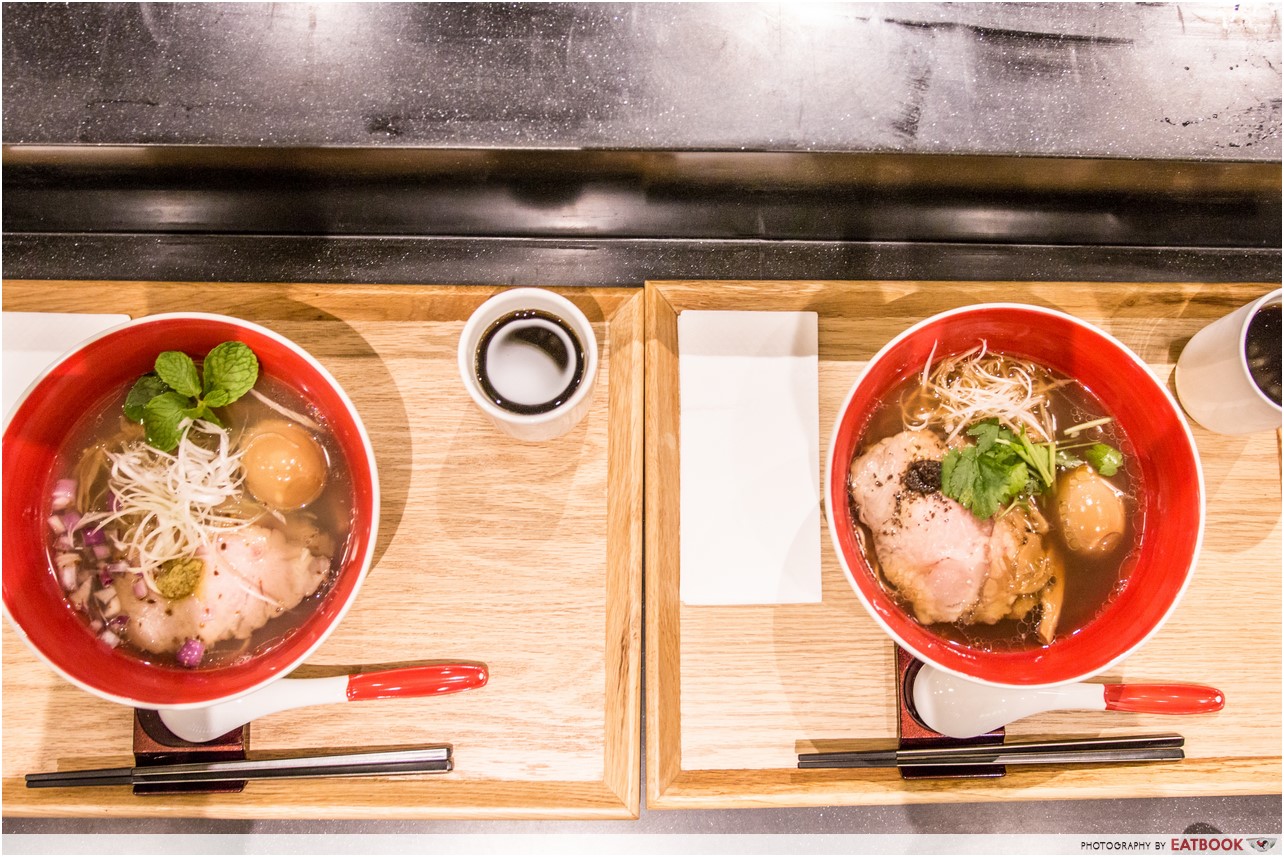 Tsuta only serves 2 types of soup base – Shio and Shoyu. We got Chashu Ajitama Soba ($22.80) with both types of soup bases. Each bowl came with 4 slices of marinated pork shoulder chashu, sliced leek, bamboo shoot and an ajitama egg.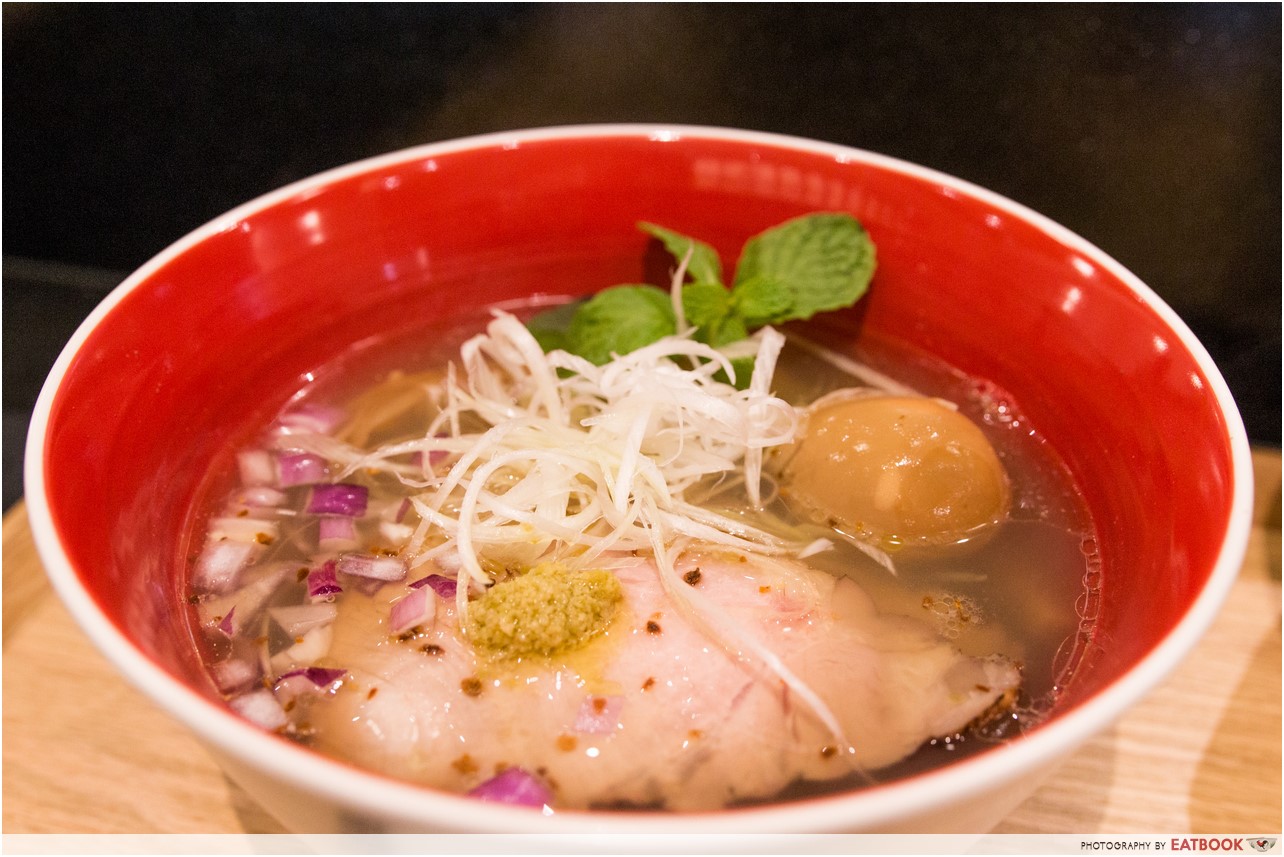 Chashu Ajitama Shio Soba ($22.80) is created with a mix of Okinawan sea salt and Mongolian rock salt, and finished with a light green olive purée made with truffle oil.
The crystal-clear broth is exceedingly light – a far cry from heavy soup bases characteristic of most ramen stalls. It took me awhile to get used to it, but as I took sip after sip, I began to appreciate the natural sweetness of the unique sidashi stock. The punch of umami in every spoonful is something to be reckoned with.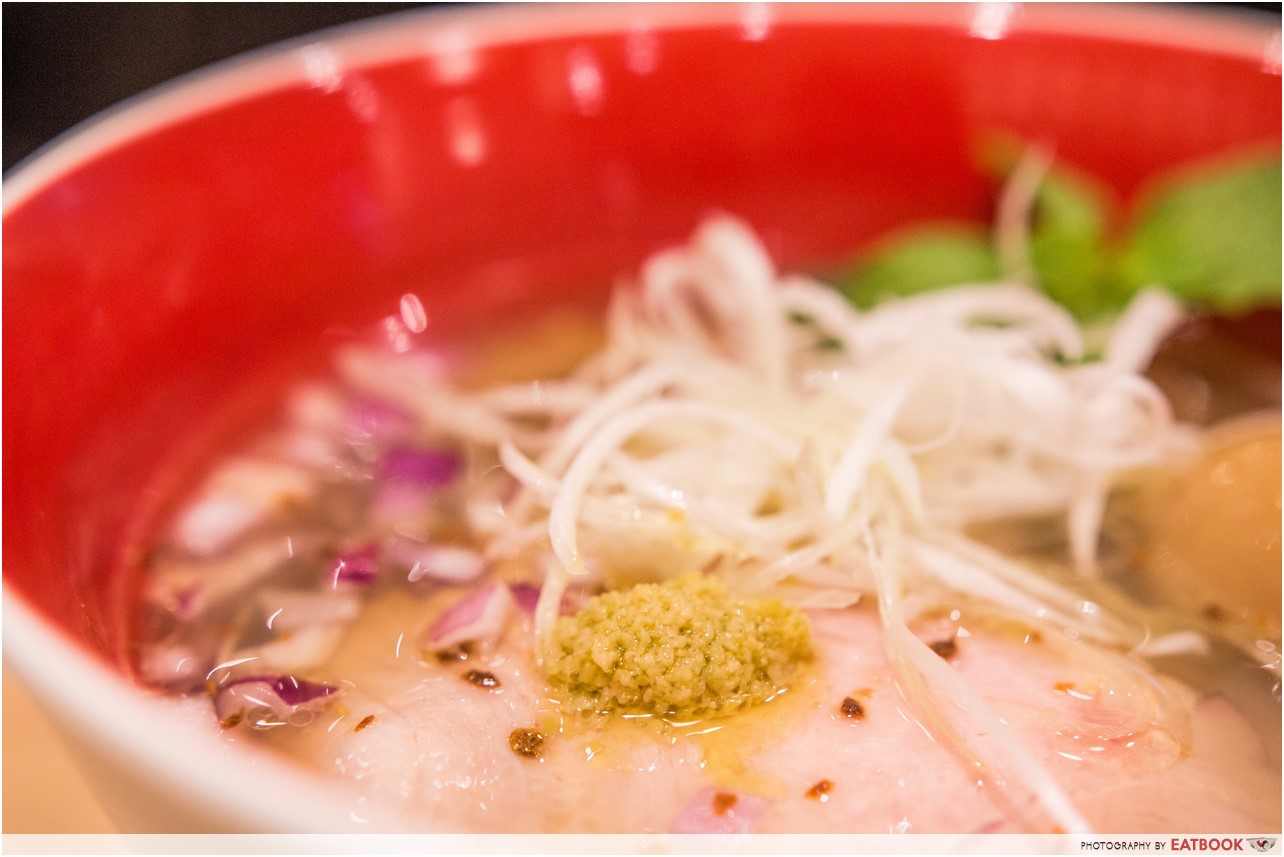 The addition of olive-truffle oil purée strengthened the overall profile of the ramen, without distracting from lighter flavours. However, I did find this shio ramen to be on the salty side.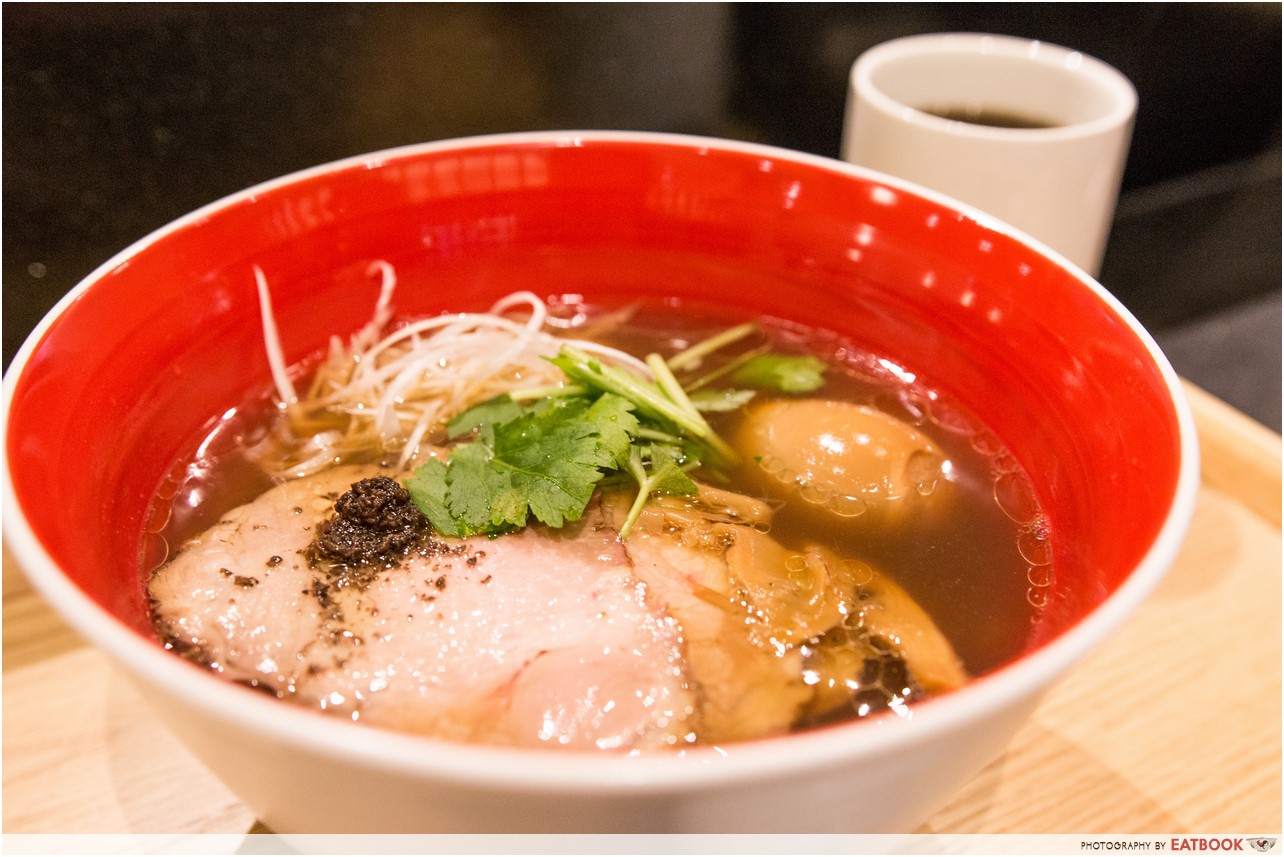 Out of the 2 soup bases, the shoyu ramen stood out as my favorite. Chashu Ajitama Shoyu Soba ($22.80) is seasoned with a blend of 3 different types of shoyu, including a custom-brewed shoyu from the Wakayama prefecture. This is paired with a black truffle purée.
Compared to the shio broth, the shoyu version is decidedly stronger and more robust. The shoyu complemented the dashi stock perfectly, boosting its natural sweetness and imparting a comforting depth of flavour. The interesting addition of truffle purée enhanced the deeper umami notes of the shoyu base, without overpowering the delicate seafood-chicken broth.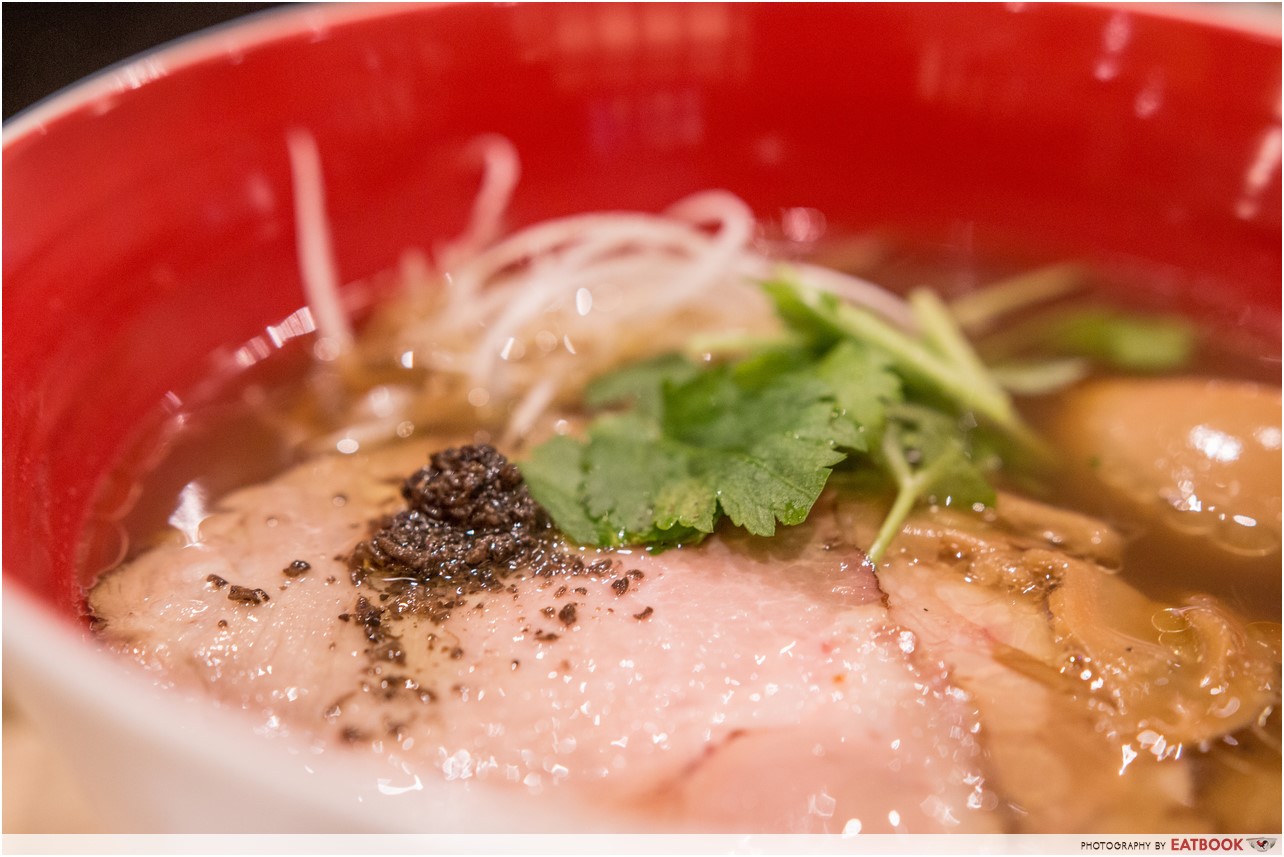 Usually when truffle is added to a dish, it becomes the most prominent flavour. However, in the case of Tsuta's shoyu ramen, the truffle purée simply served to intensify the earthy aroma wafting from the bowl, allowing other components to stand out on their own.
I predict more Singaporeans would prefer the shoyu ramen, seeing that we are used to richer flavours and tastes.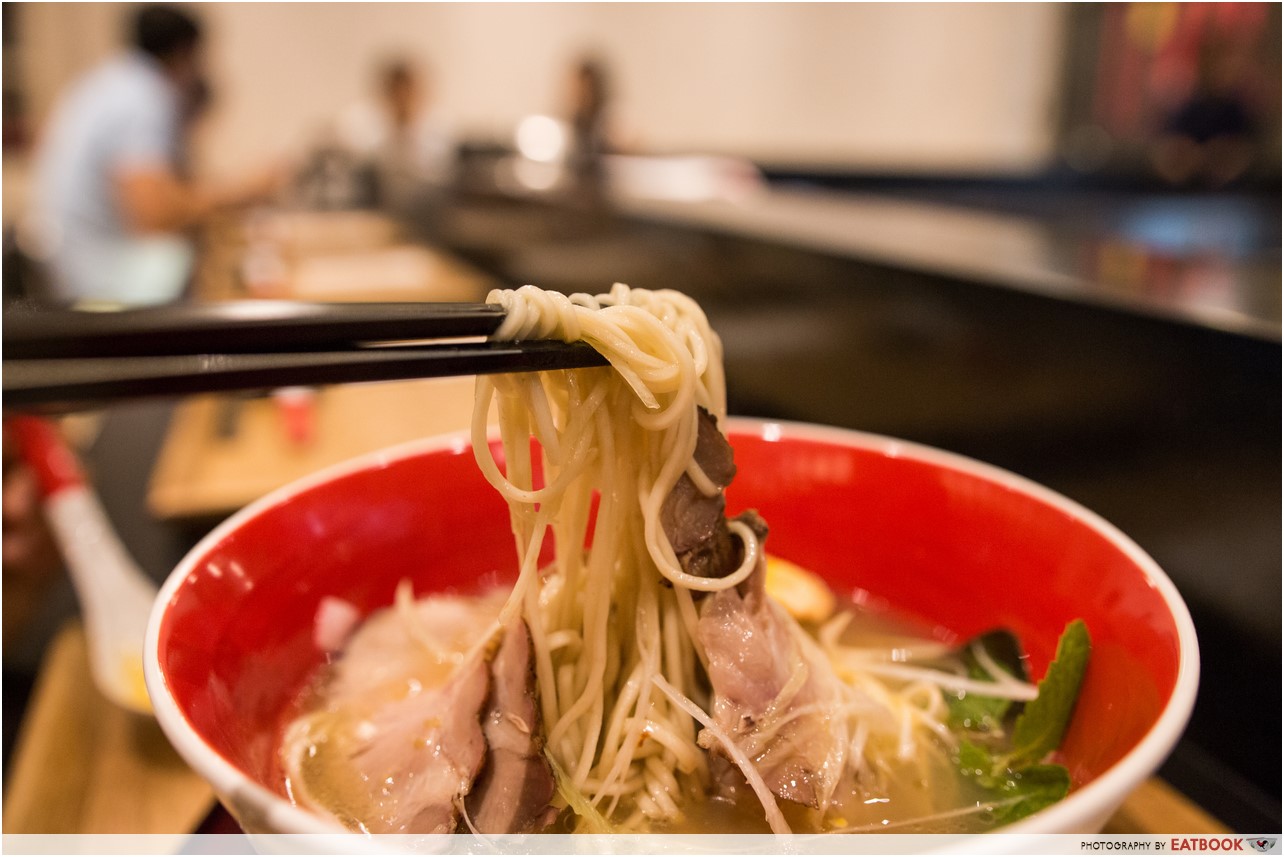 Tsuta's noodles are made on-site from a blend of several varieties of whole wheat and whole grain flour, for a precise noodle texture to complement the ramen broth. The long, thin noodles had just the right amount of bite, and paired wonderfully with the clear, comforting broth.
The noodles themselves had a slightly salty profile. It was later explained that Chef Onishi's secret technique results in noodles that pick up the flavour of the broth. This is so that maximum flavour is delivered to your palate as you slurp up the noodles.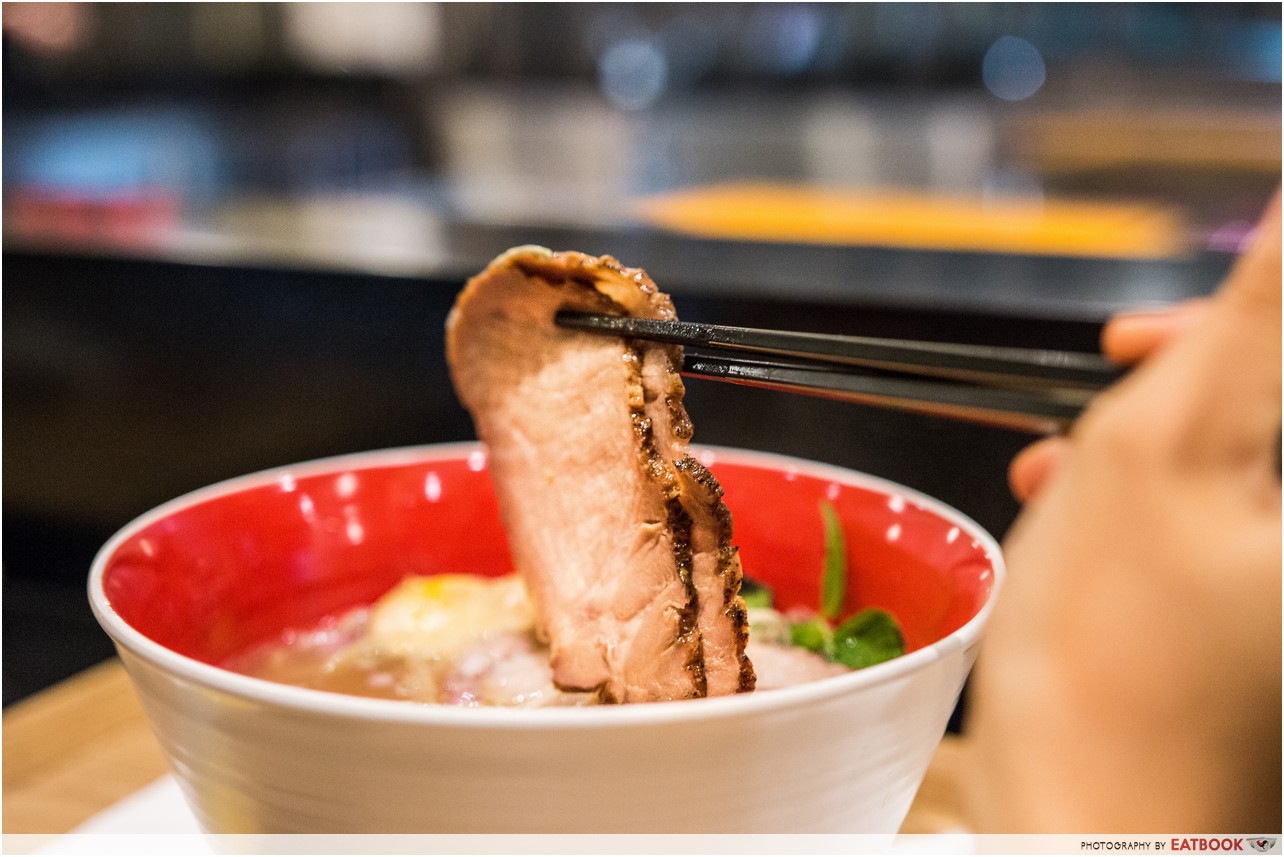 The chashu you'll find at Tsuta is worlds apart from the fatty pieces of chashu you'll find at most ramen chains.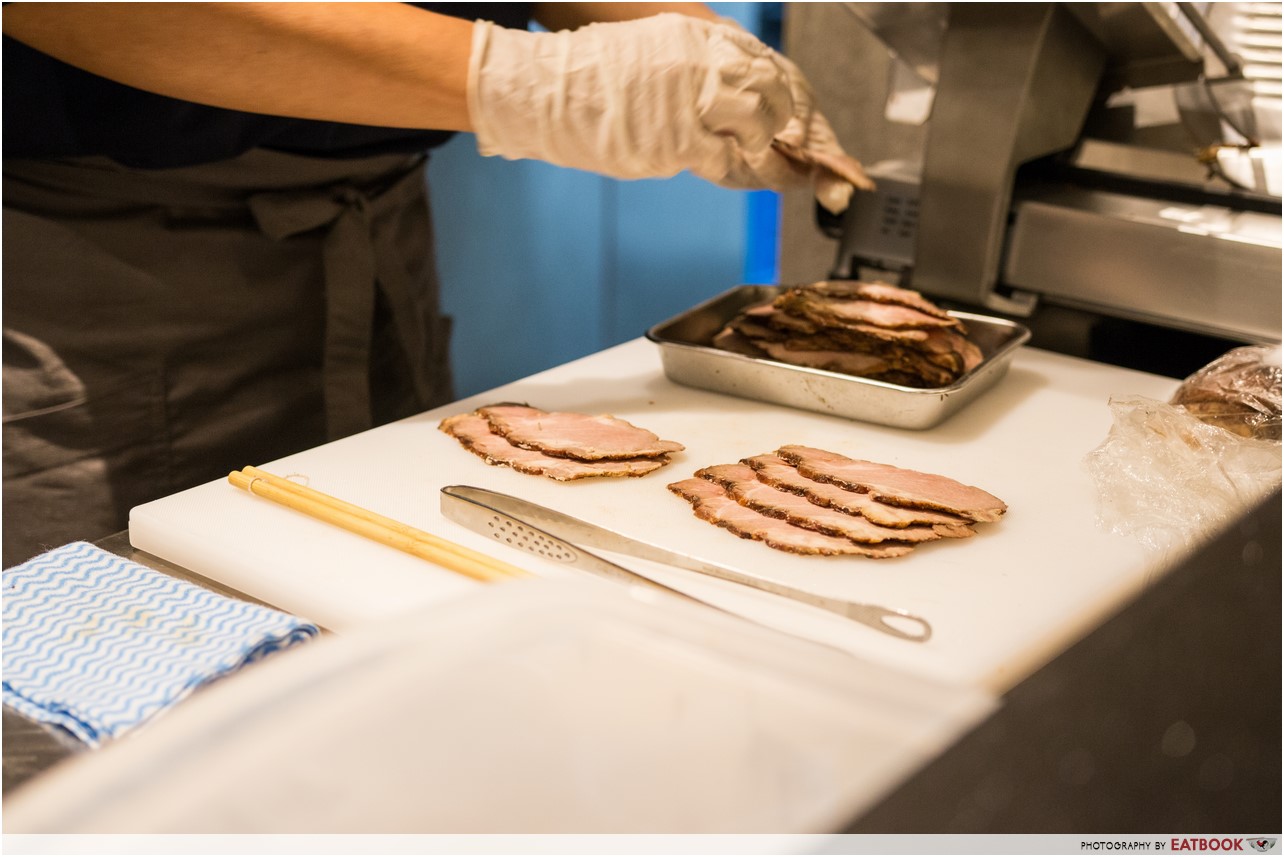 Chef Onishi's uses pork shoulder, rather than pork belly, for his chashu because he finds pork shoulder to be a superior cut as compared to other parts such as the belly. This results in slices of chashu that are much leaner, with a meatier mouthfeel.
I could see how this type of chashu pairs more harmoniously with Tsuta's signature clear broth. A more typical fatty chashu might make the soup greasy and affect the taste.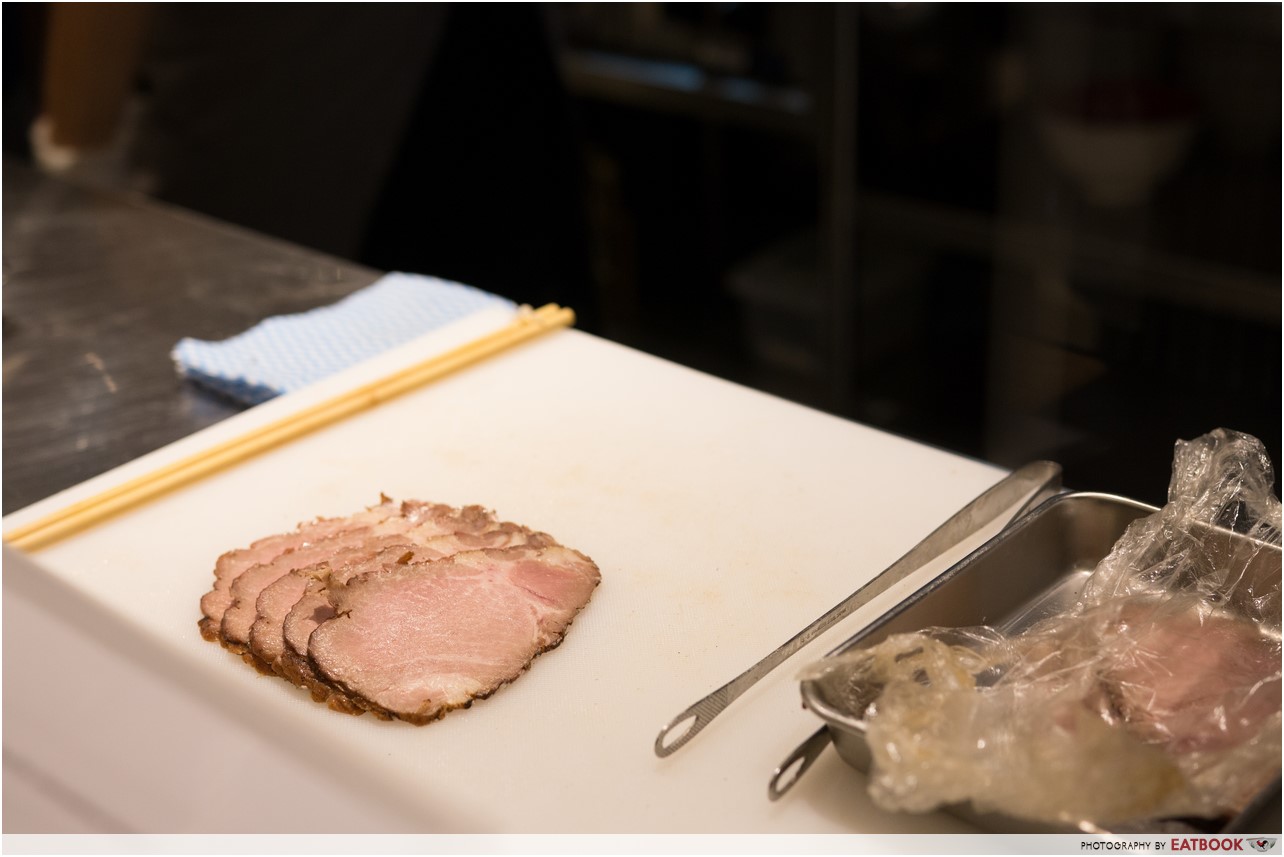 Tsuta's chashu doesn't have that melt-in-your-mouth feel of fattier cuts of chashu, but it's still good in its own right. The twice-baked chashu remains succulent and tender to the bite, despite a minimal marbling of fat.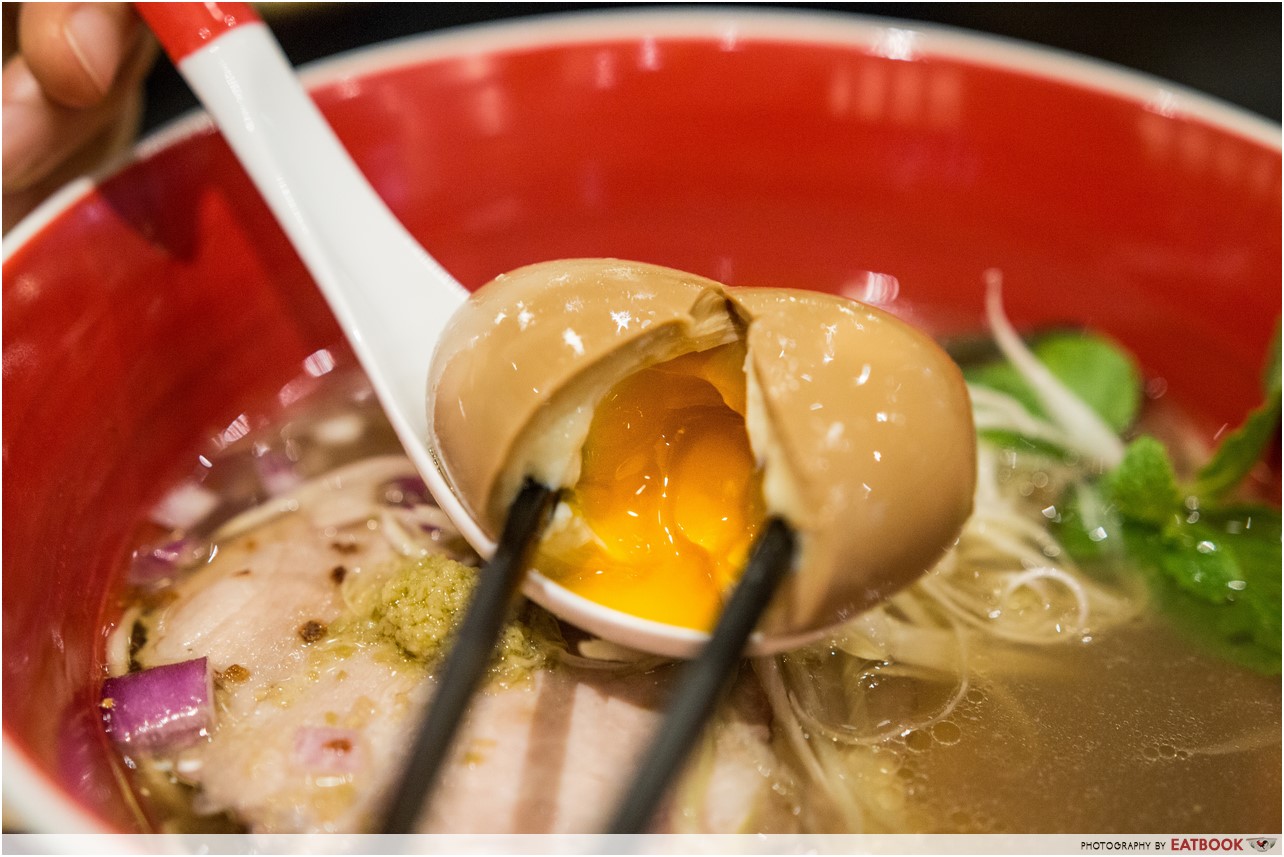 No good bowl of ramen is complete without a perfectly cooked ajitama tamago, or marinated soft-boiled egg. Eggs are soft-boiled before being steeped in a salty-sweet soy-based bath, and should have a creamy, custard-like interior.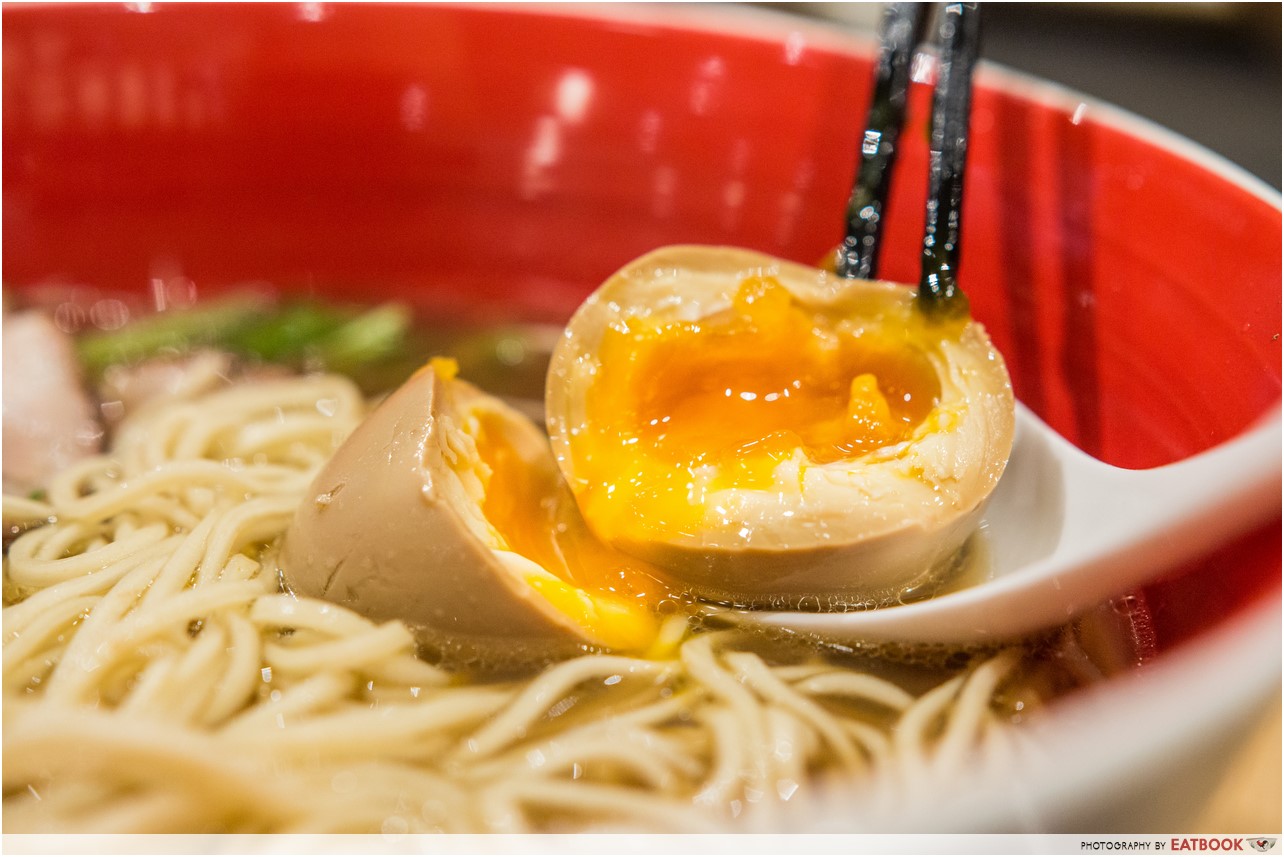 Tsuta's ajitama tamago had a firm, flavourful exterior with a lava-like golden centre. No overdone egg yolks here. 
Ordering at Tsuta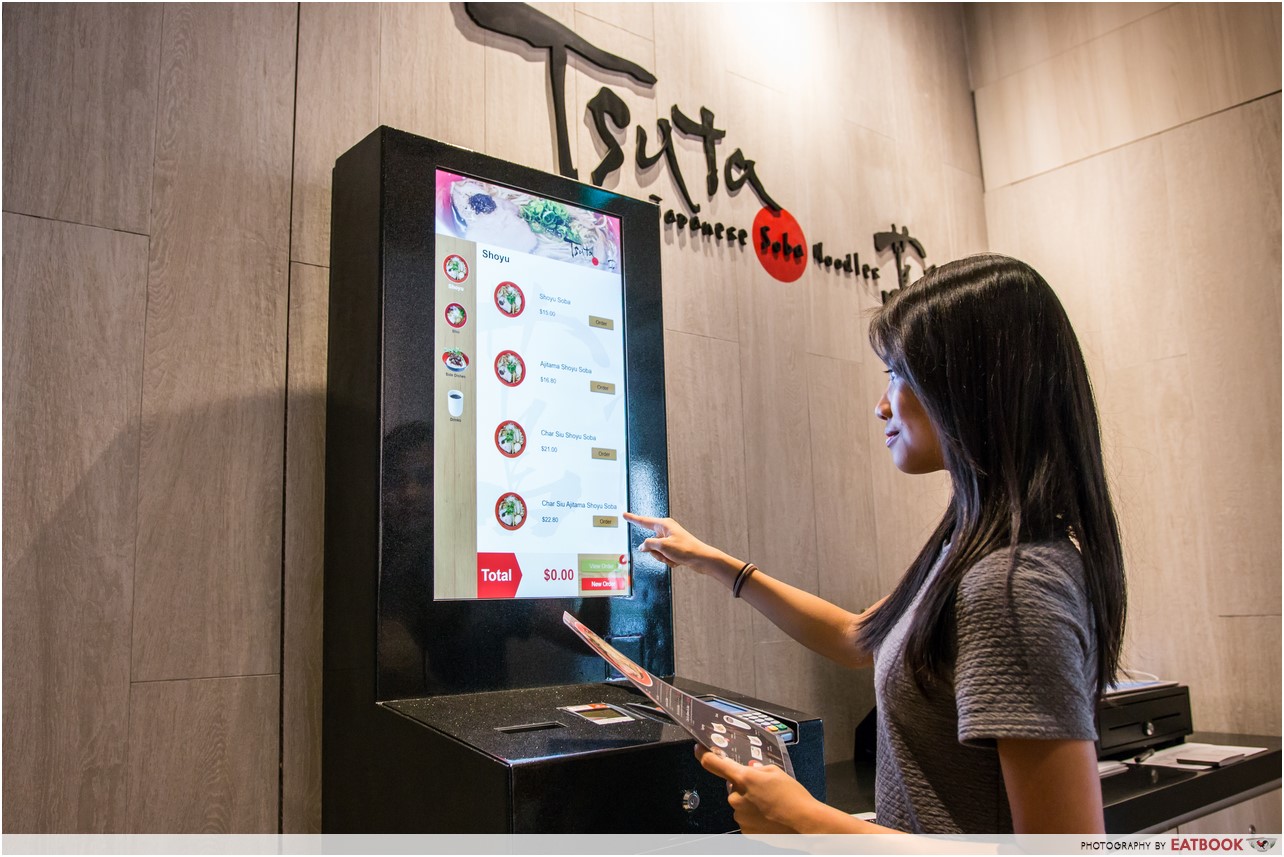 Upon entering the doors of Tsuta, you'll have to purchase a ticket from the ticketing machine, a la most ramen restaurants in Japan.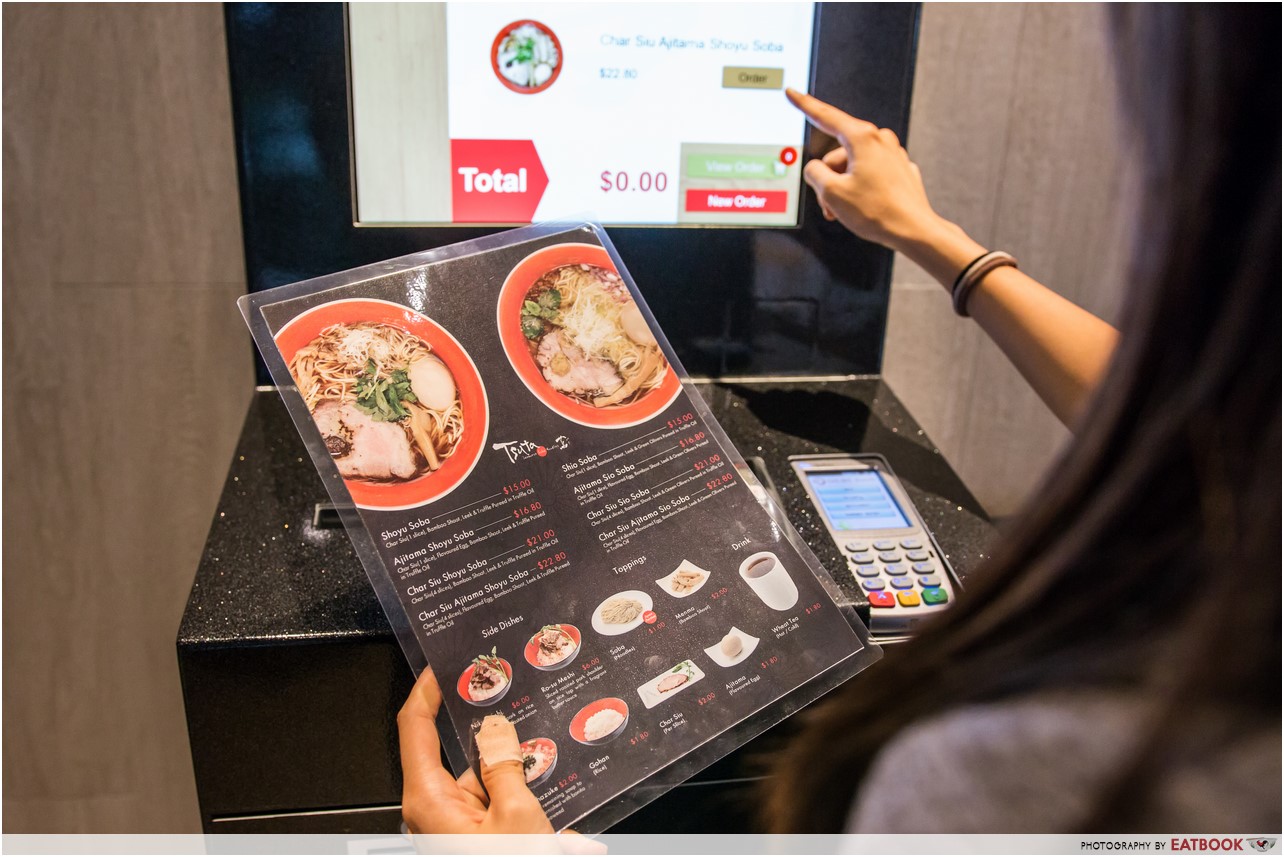 The only difference is that now, there's no need to play tikam-tikam with the ticket machine, as experienced in Japan by tourists who can't read Japanese. Tsuta's modernised touch screen ordering system is easy to place your orders with. You can select sides, additional toppings, and even choose between cash or card payment.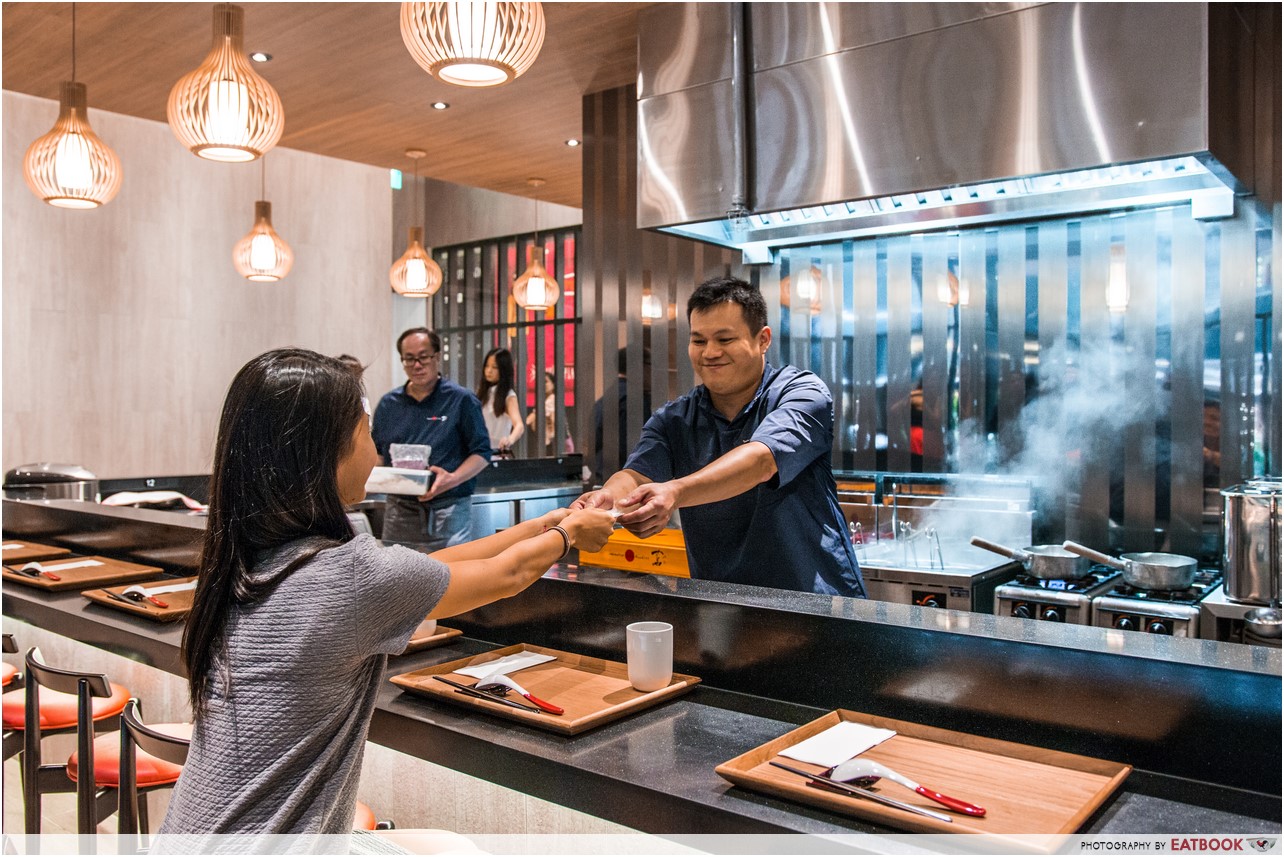 You'll then be ushered to your seat at the counter, where you'll pass one of the chefs your ramen order that'll be prepared right in front of you!
Ambience at Tsuta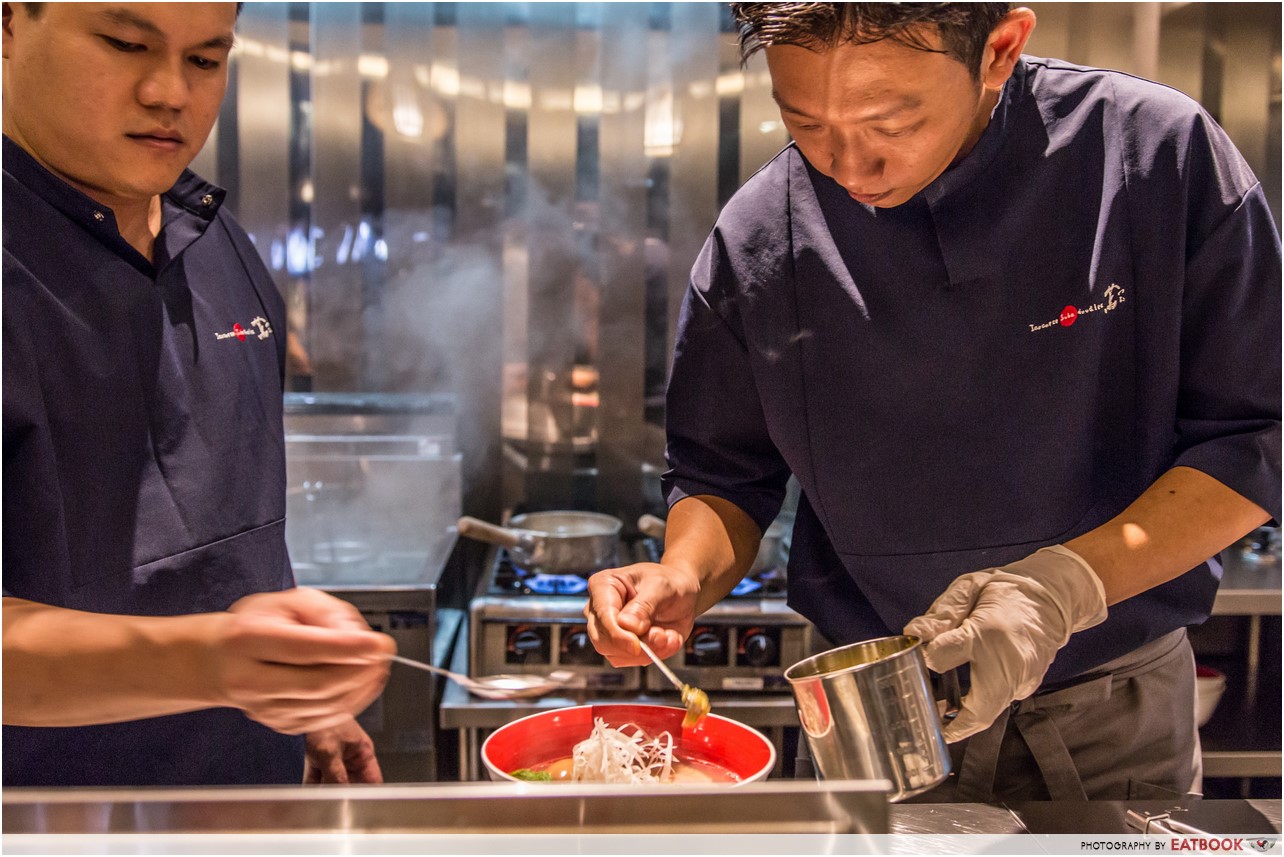 From our seats, we could observe the chefs swiftly preparing ramen with concentration and finesse, from skillfully tossing the noodles, to garnishing each bowl.
The chef serving us was exceedingly particular about us tucking into our bowls of ramen as soon as we got them, in order for us to savour the ramen while the texture of the noodles and temperature of the soup were at their optimum.
Take it from me, there really is a vast difference between a bowl of freshly-made ramen, and one that's been sitting out for a while. So don't take too long snapping photos!
The verdict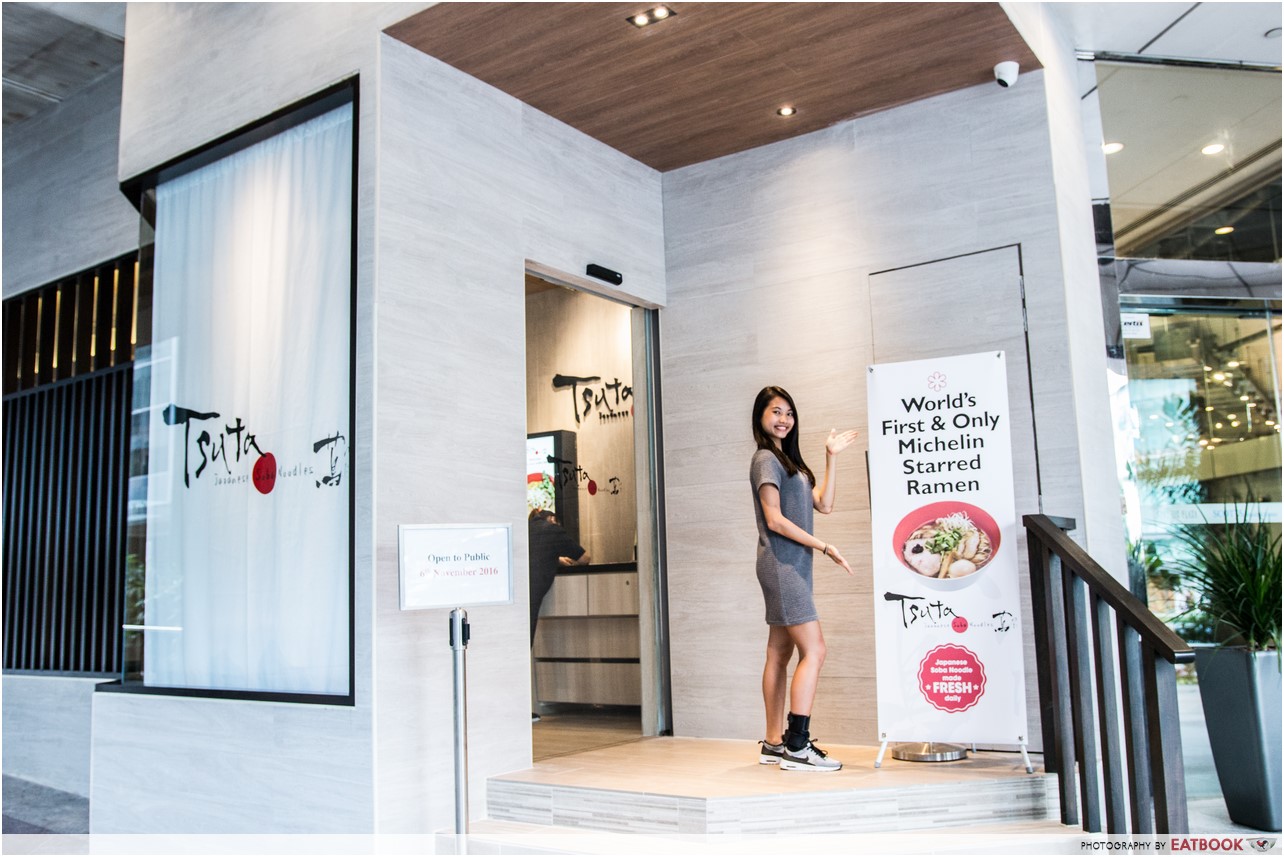 Tsuta's ramen was a very different experience for me, as I usually encounter richer, heavier ramen soups. I quite enjoyed this refreshing, cleaner-tasting ramen. Put it this way: if a typical bowl of ramen was a hot summer's afternoon, Tsuta's ramen would be a breezy spring evening.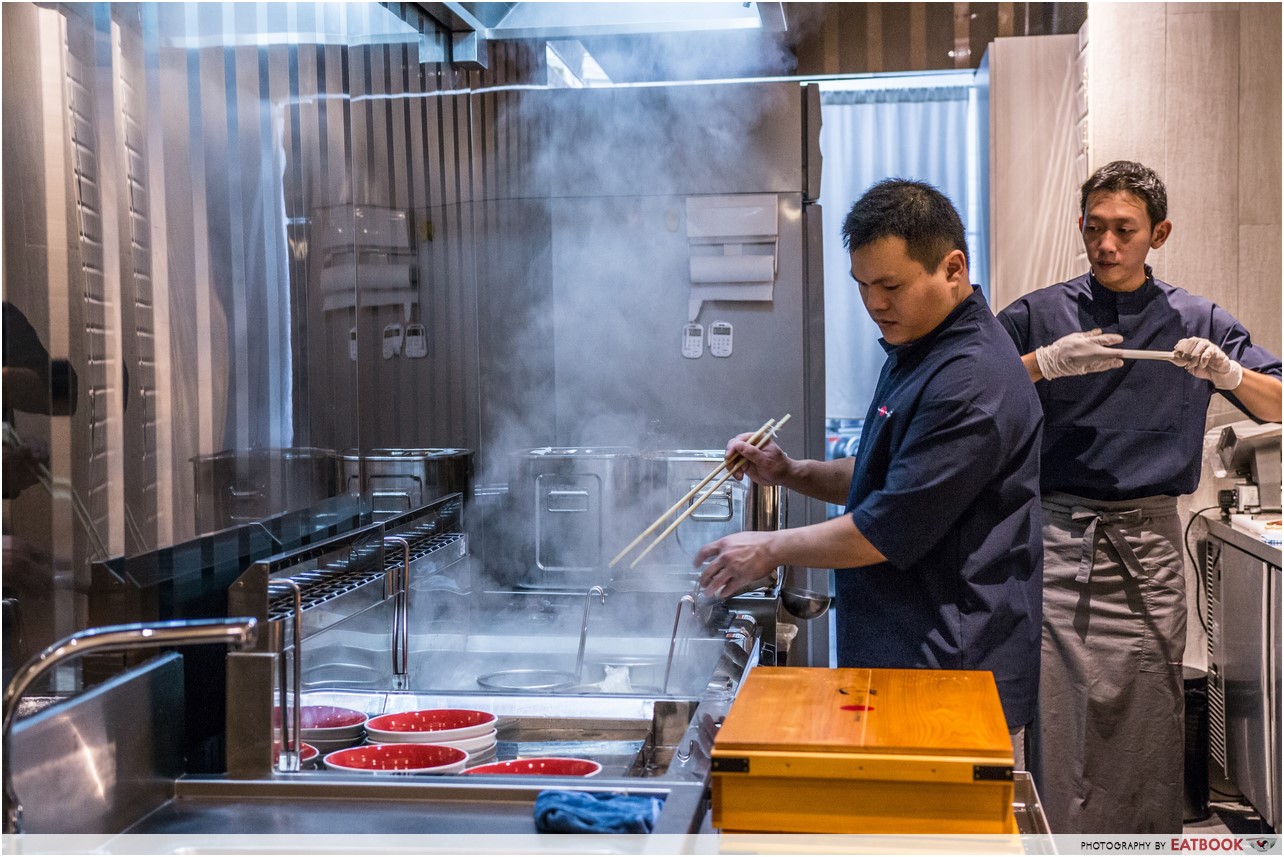 Although it might not taste as shiok as a thick, creamy tonkotsu broth, it's a bowl to be appreciated for its subtle complexity and lightness in taste. The inclusion of truffle and olive purée gave each bowl a slight fusion element, encapsulating Tsuta's modern approach to the iconic Japanese dish, while preserving the integrity of traditional ramen making techniques. The food here is well-executed, as should be expected from an award-winning restaurant.
In short, don't compare Tsuta to the regular bowls of ramen you have had in the past and come expecting something different.
This was a media tasting at Tsuta.
Summary
Pros
– Excellent quality and execution
– No GST and service charge
Cons
– Might come off as too bland for the local palate
– Small portions
Recommended Dishes: Chashu Ajitama Shoyu Soba ($22.80)
Operating Hours:
Monday – Sunday 11am to 6pm
Tel:
6734 4886
Address: 9 Scotts Road, #01-01, Pacific Plaza, Singapore 228210