Omote opens at City Hall with chirashi bowls and more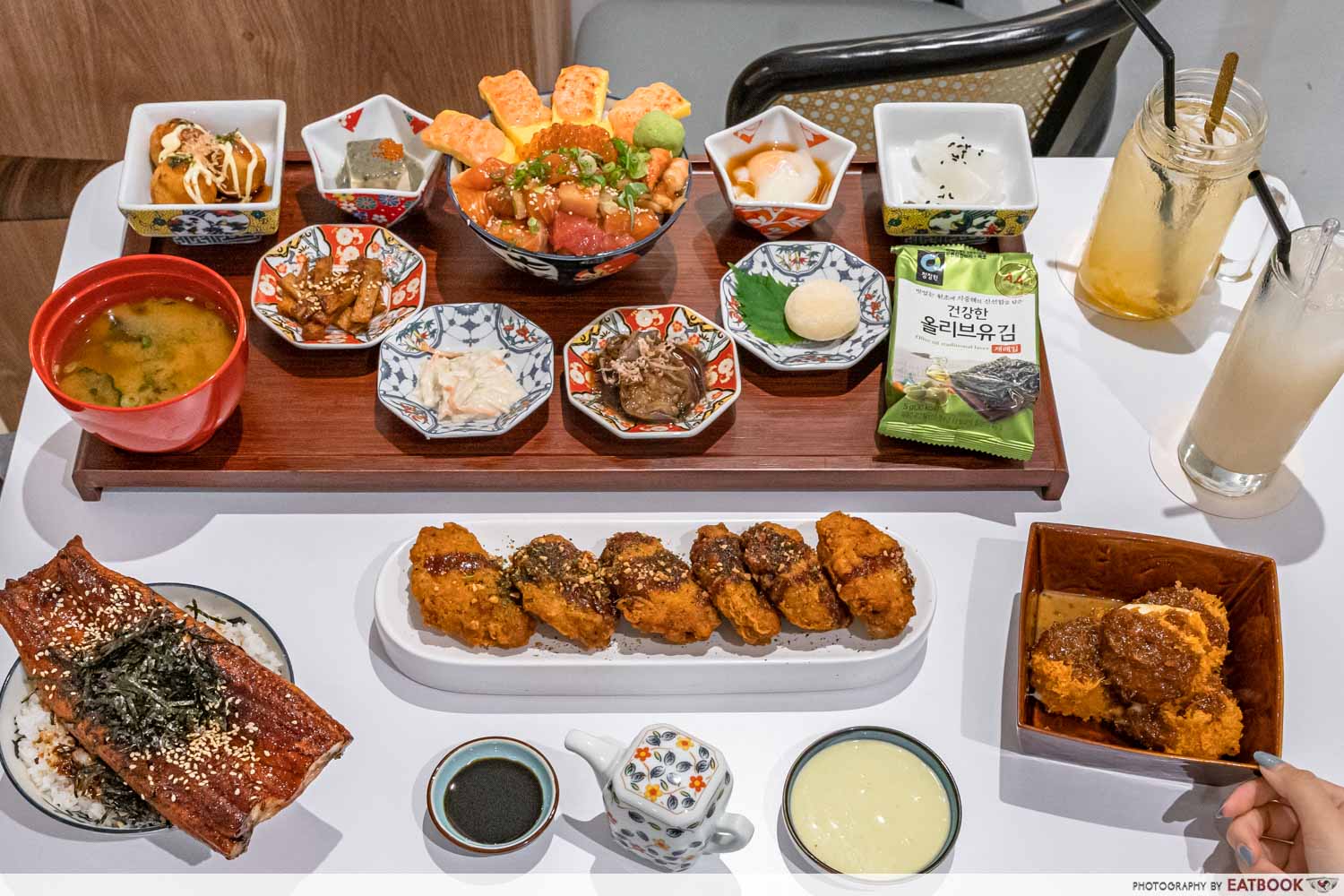 To say I'm a fan of Omote is an understatement. Having been a loyal customer since their early days as a 12-seater in Thomson Plaza, I would never go a week without having their food. Now, the progressive Japanese restaurant has opened a new outlet in Raffles City, so those working in City Hall can now enjoy wallet-friendly bara chirashi bowls, among other new offerings.
Food at Omote Raffles City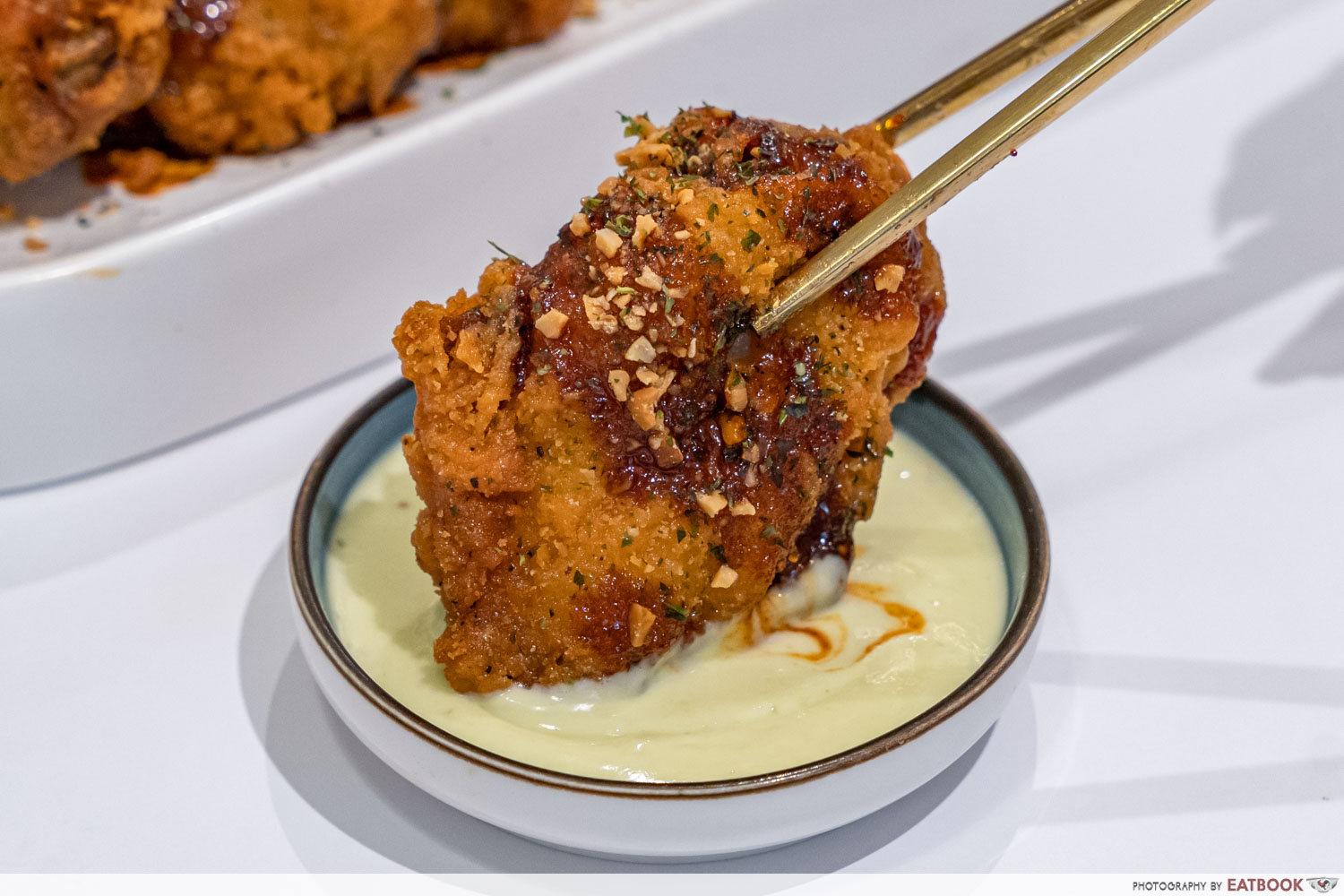 The revamped Omote menu features an extensive lineup of new Korean starters, including the Black Pork Kimbap ($15.80++) and Amakara Korean Wings ($12.80++). Other Singapore-inspired dishes have also made it to the menu, such as Crispy Chilli Crab ($28.80++) and Lobster Hokkien Mee ($24.80++). Currently, the Hokkien mee is only available at the Thomson Plaza outlet.
I was excited to try the Black Pork Kimbap, but it was unavailable when we visited. Instead, I ordered the Amakara Korean Wings, which were glazed with spicy miso sauce, and topped with crushed roasted nuts. It also came with a side of wasabi mayo dipping sauce.
I let out a squeal as I bit into the crispy chicken skin and immediately passed a piece to my colleague, who was busy capturing shots of the dish. She took a bite and nodded her head vigorously before remarking, "The chicken is so well seasoned!". The chicken packed a punch in flavour, and I loved how the sweet sauce had a light tang similar to that of Korean BBQ sauce. While most chicken wings I've had tend to lack flavour towards the middle, these were savoury and tender down to the bone.
As for the wasabi mayo, it tasted similar to hot mustard or horseradish. I appreciated that this dipping sauce did not burn the nose and had a creaminess to offset the wasabi's pungent flavour. It paired so well with the chicken wings that I couldn't help but double dip.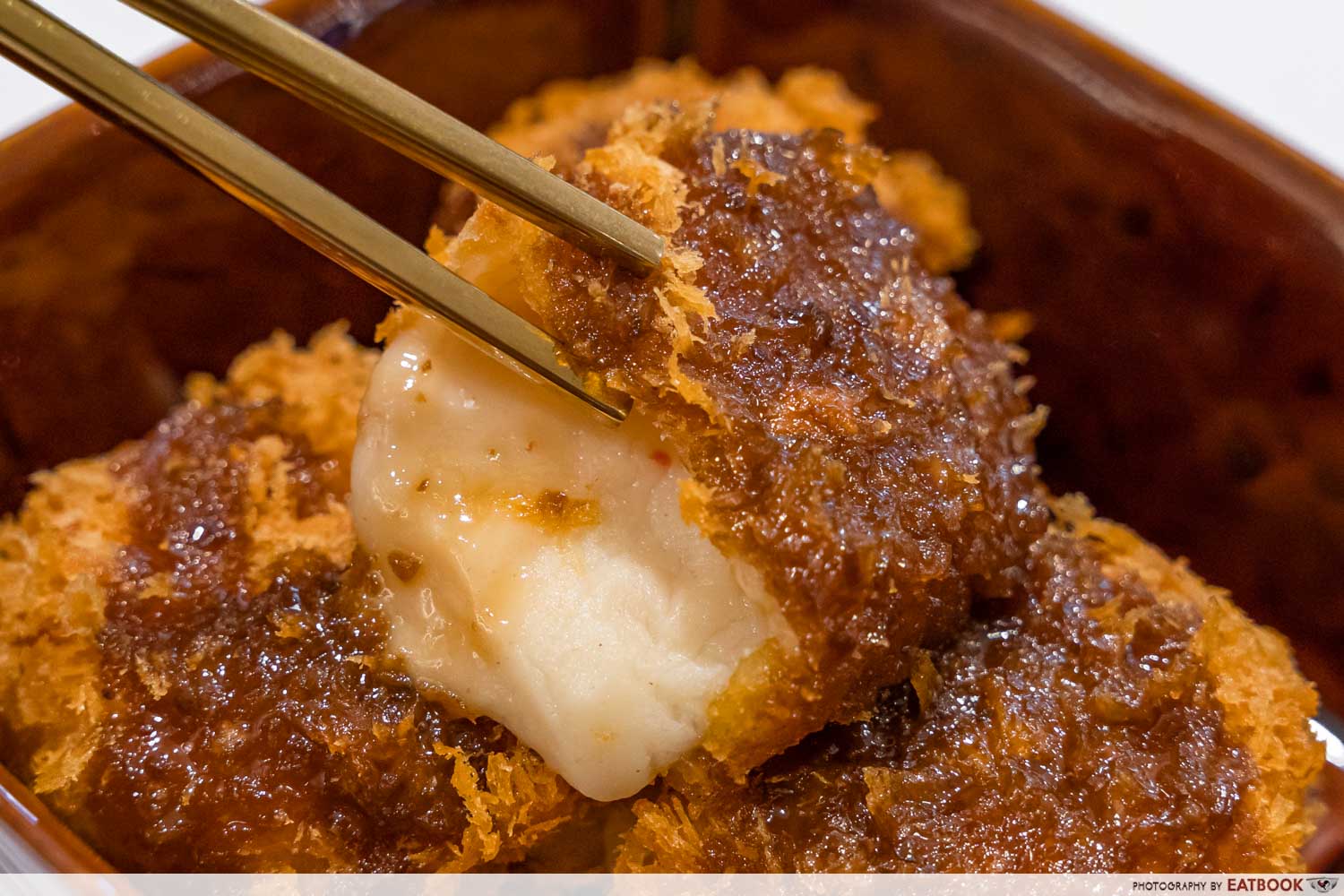 We also ordered the Truffle Cream Korokke ($7.80++), comprising mini croquettes topped with panko crumbs and stuffed with white truffle cream. While this seemed like a promising starter at first, my colleague and I were not fans of the cream filling, which was too sweet for our liking. I found the croquettes soggy and the truffle flavour too mild, though I enjoyed the piquant brown sauce, which added an umami flavour to the otherwise one-dimensional dish.
For mains, expect the same signature bara chirashi bowls offered at their Upper Thomson outlet, including the classic Omote Chirashi ($17.80++), Salmon Booster Chirashi ($25.80++), and Tamago Mentai Chirashi ($21.80++).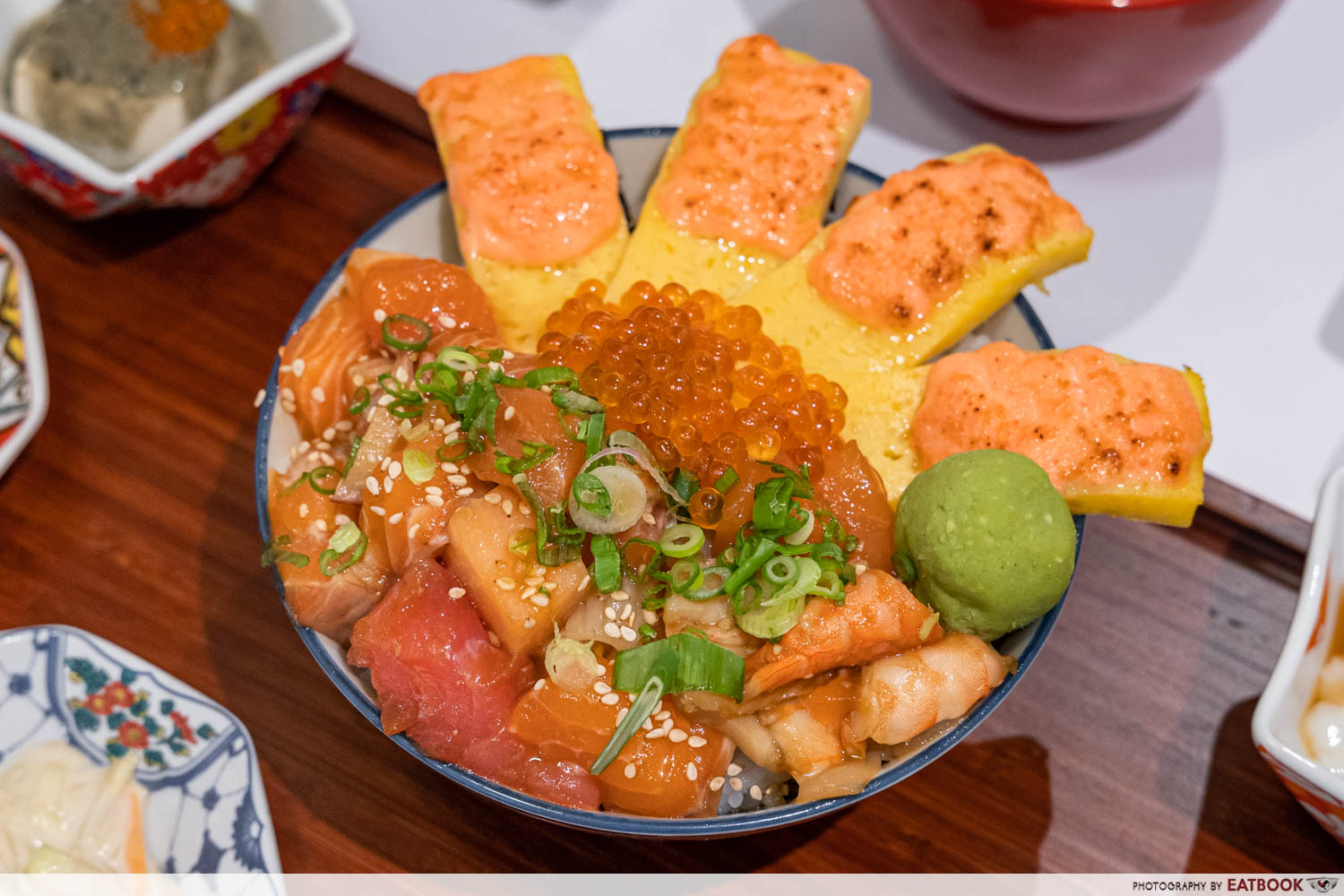 Whenever I dine at Omote, I always order the same dish without fail—the Tamago Mentai Chirashi. This sees juicy chunks of salmon and tuna torched aburi-style, served alongside slices of sweet mentaiko tamago, prawns, and other seafood.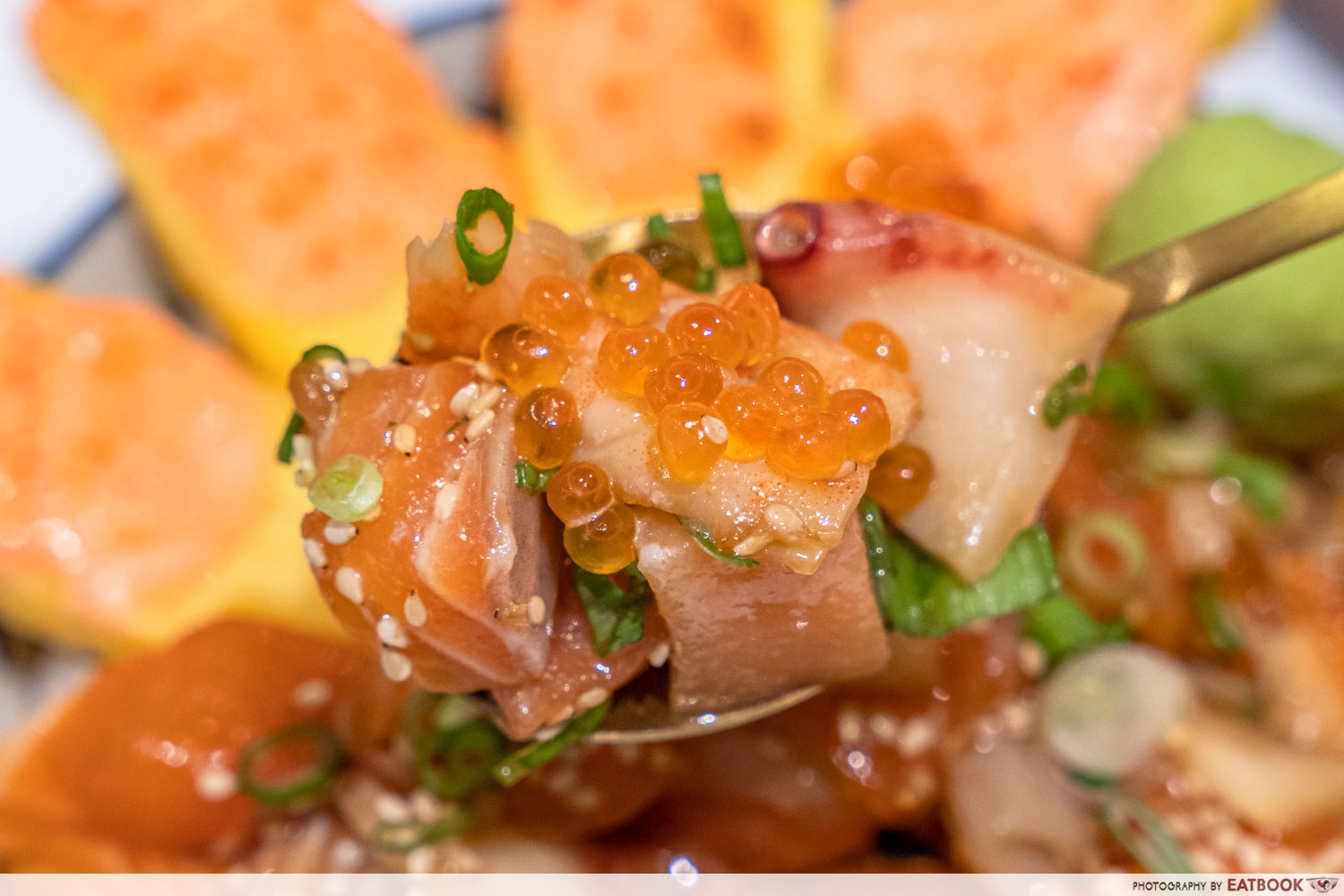 I personally prefer my food rich-tasting with lots of seasoning, which is what the chirashi bowls at Omote are known for. The sashimi tasted fresh with a good meat-to-fat ratio, and the ingredients given were generous—I thought it was a steal considering the price. As for the rice, they tend to clump together due to the sticky soy sauce, so I would usually mix in the mentaiko sauce to make it a little more creamy.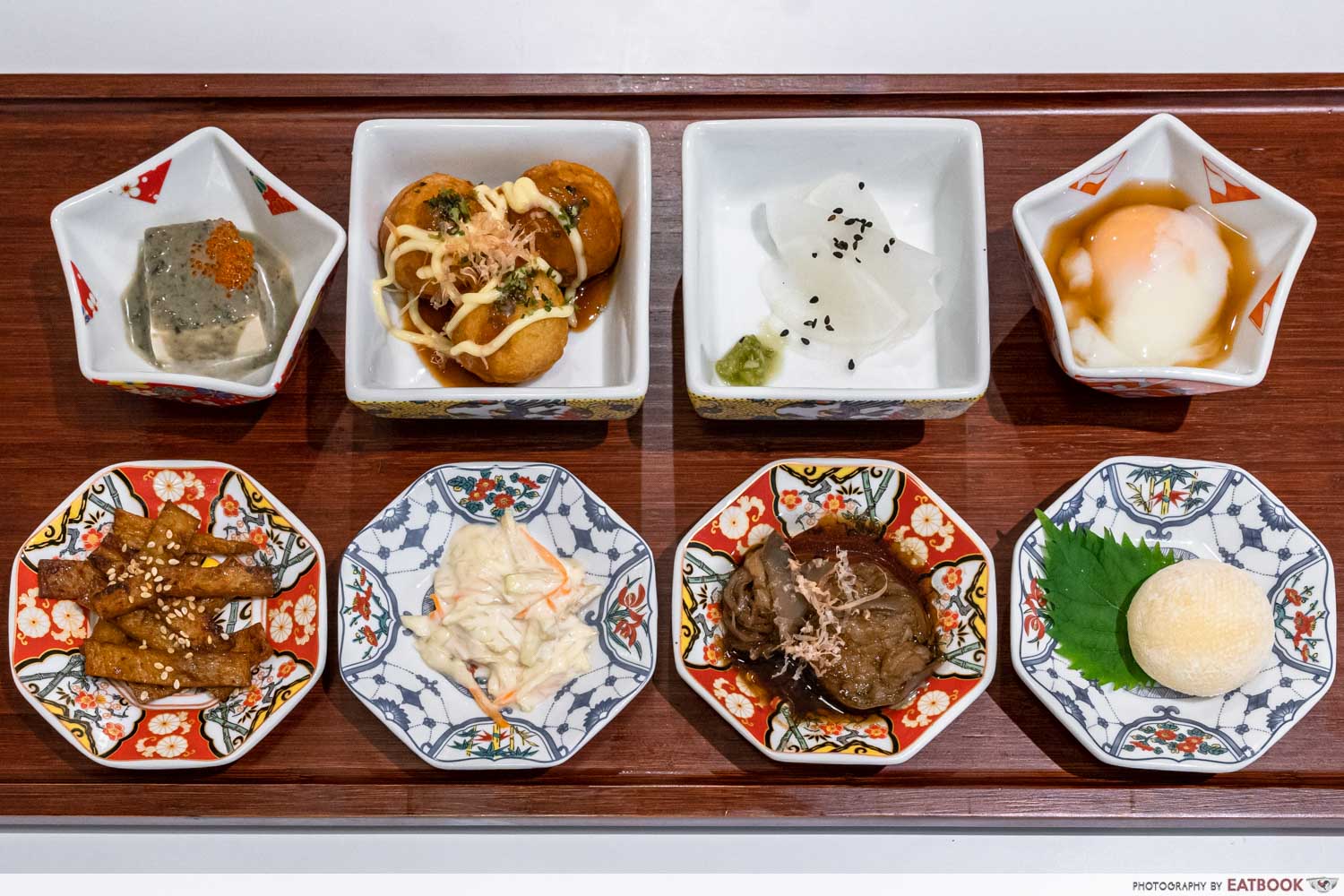 A new addition to Omote's menu is the Power Up Set ($9.80++), featuring a whopping total of 10 side dishes, including miso soup, vegetables, and dessert. The set is available for order with a purchase of any main item.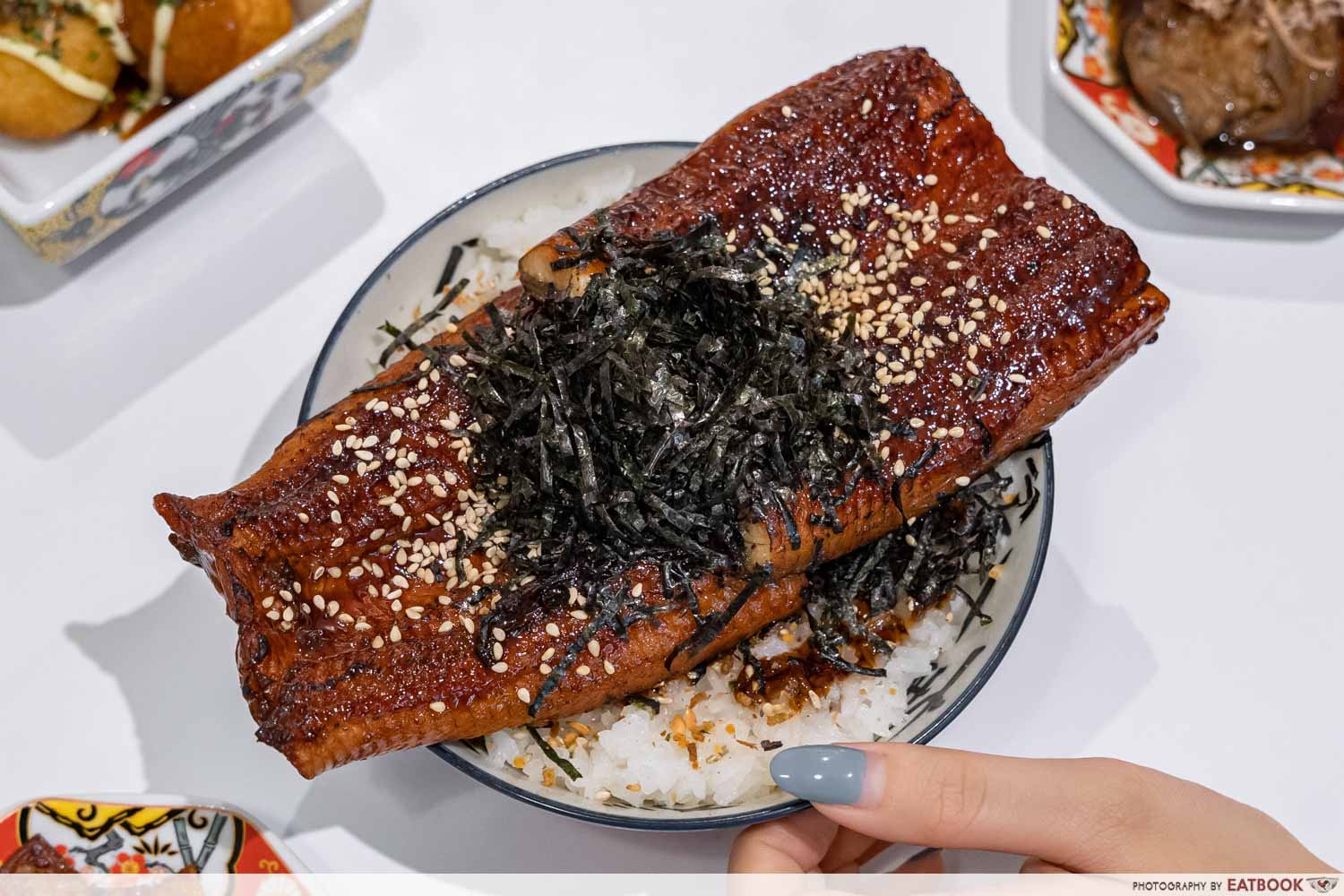 If you're not big on sashimi, there are also cooked mains such as the Spicy Yakiniku Don ($19.80++) and Grilled Salmon Teriyaki Don ($15.89++). We got the Unagi Kabayaki Don ($25.80++), consisting of a chargrilled slab of freshwater eel coated in a sweet soy sauce-based glaze. It was also sprinkled with sesame seeds and topped with furikake flakes.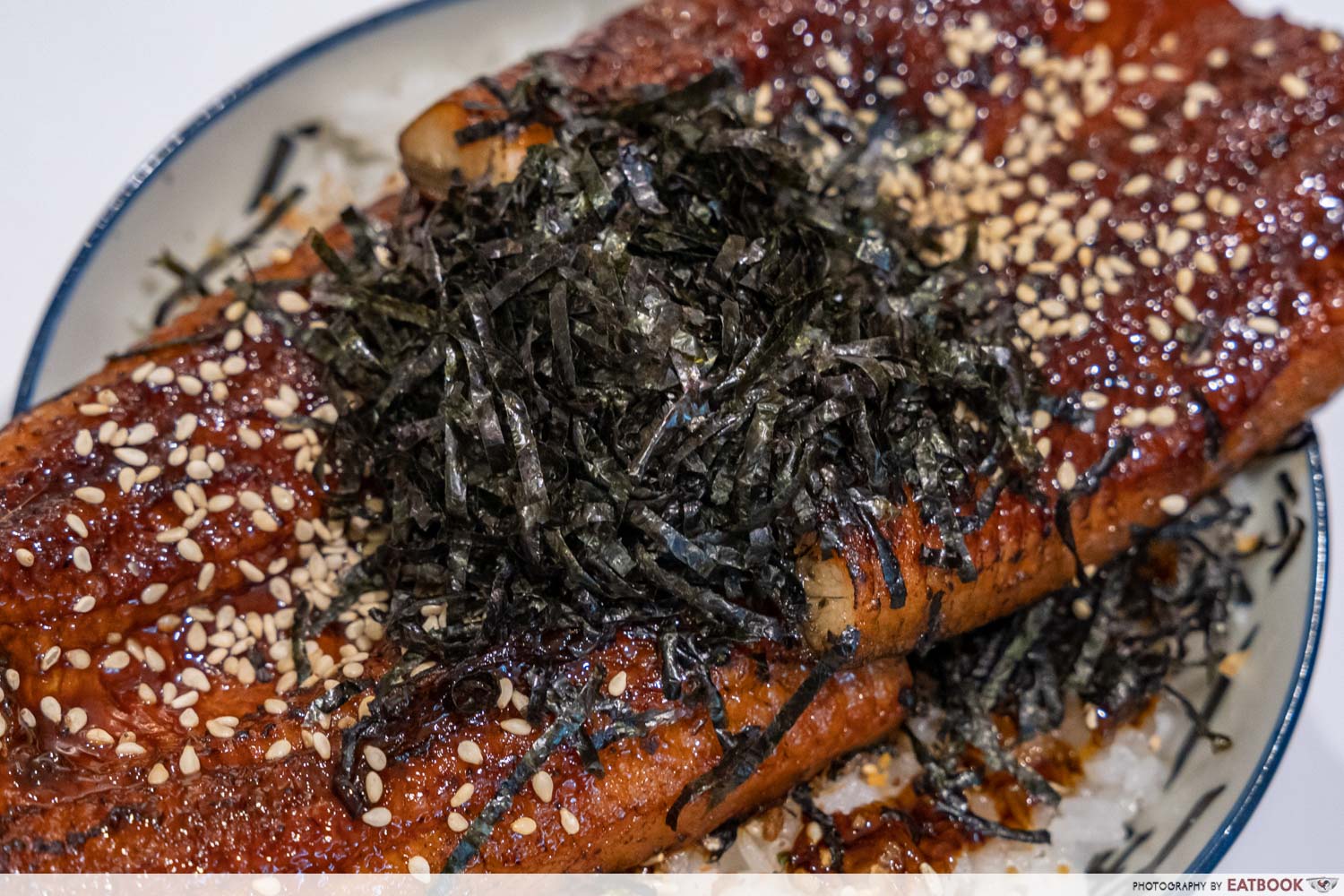 The unagi was sweet and had a light, palatable flavour. The meat was slightly chewy and sported a porous texture that soaked up the sauce, though this also resulted in the rice being a tad too dry. I liked the addition of furikake as its salty flavours balanced out the sweetness of the unagi, though a more generous amount could have helped to add flavour to the rice.
My colleague wrapped up her meal with a glass of refreshing Honey Citron Tea ($4++), while I opted for the Yakult Soju ($9++), comprising a mix of Chuga soju, cultured milk, and soda. The alcohol-spiked Yakult Soju was surprisingly easy to drink and didn't leave me tipsy even after I'd finished the whole glass.
Get Fresh Sashimi, Tendon, And More At This Hawker Stall Near Holland Village
Ambience at Omote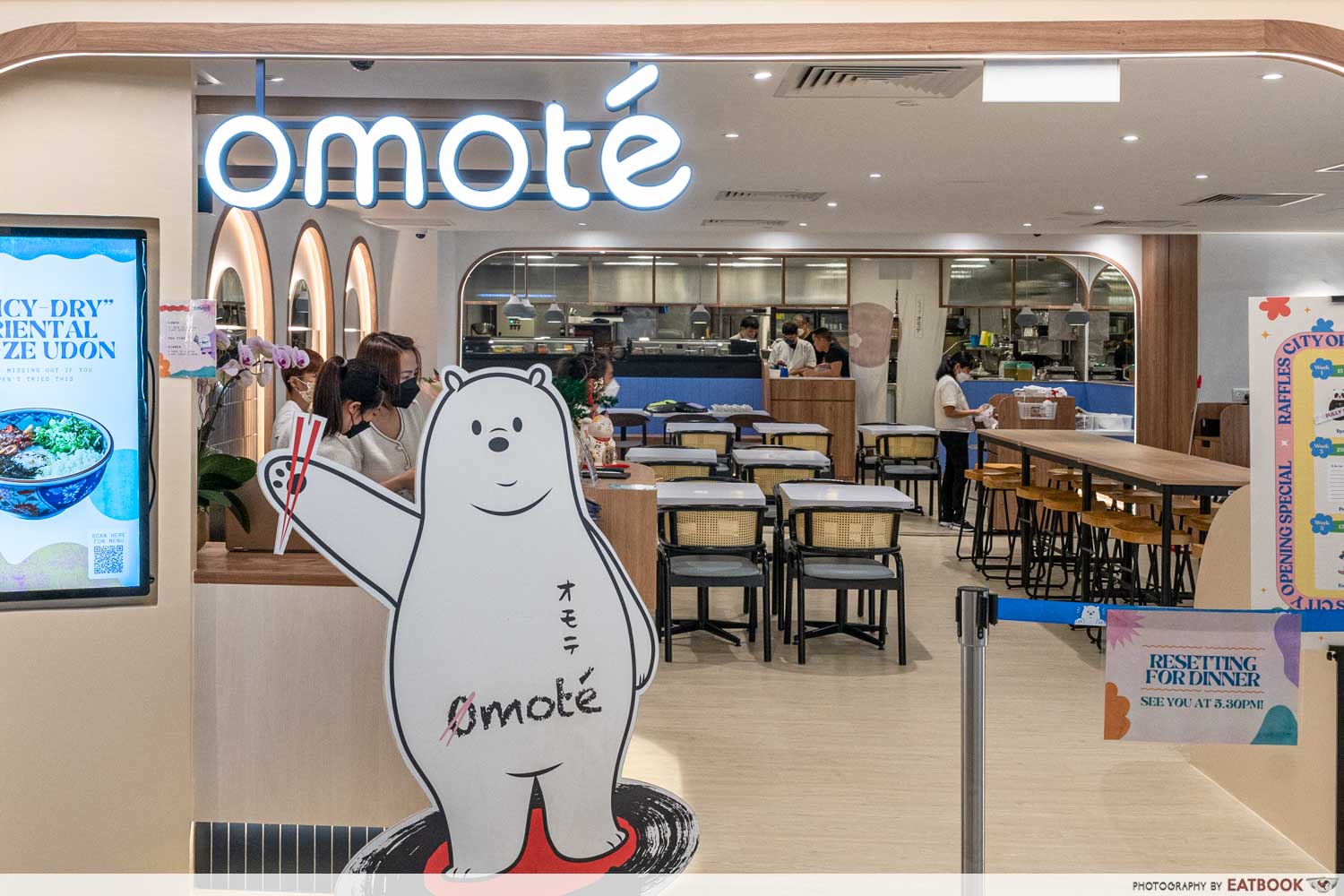 Frequent customers of Omote would be familiar with the eatery's long queues at Thomson Plaza, and you can expect the same thing over at the Raffles City outlet. My colleague and I waited over 20 minutes despite having a reservation, and the staff were too occupied to notice our attempts to catch their attention. This is not to say that the service was poor—in fact, the staff were friendly and had our food served within ten minutes of ordering.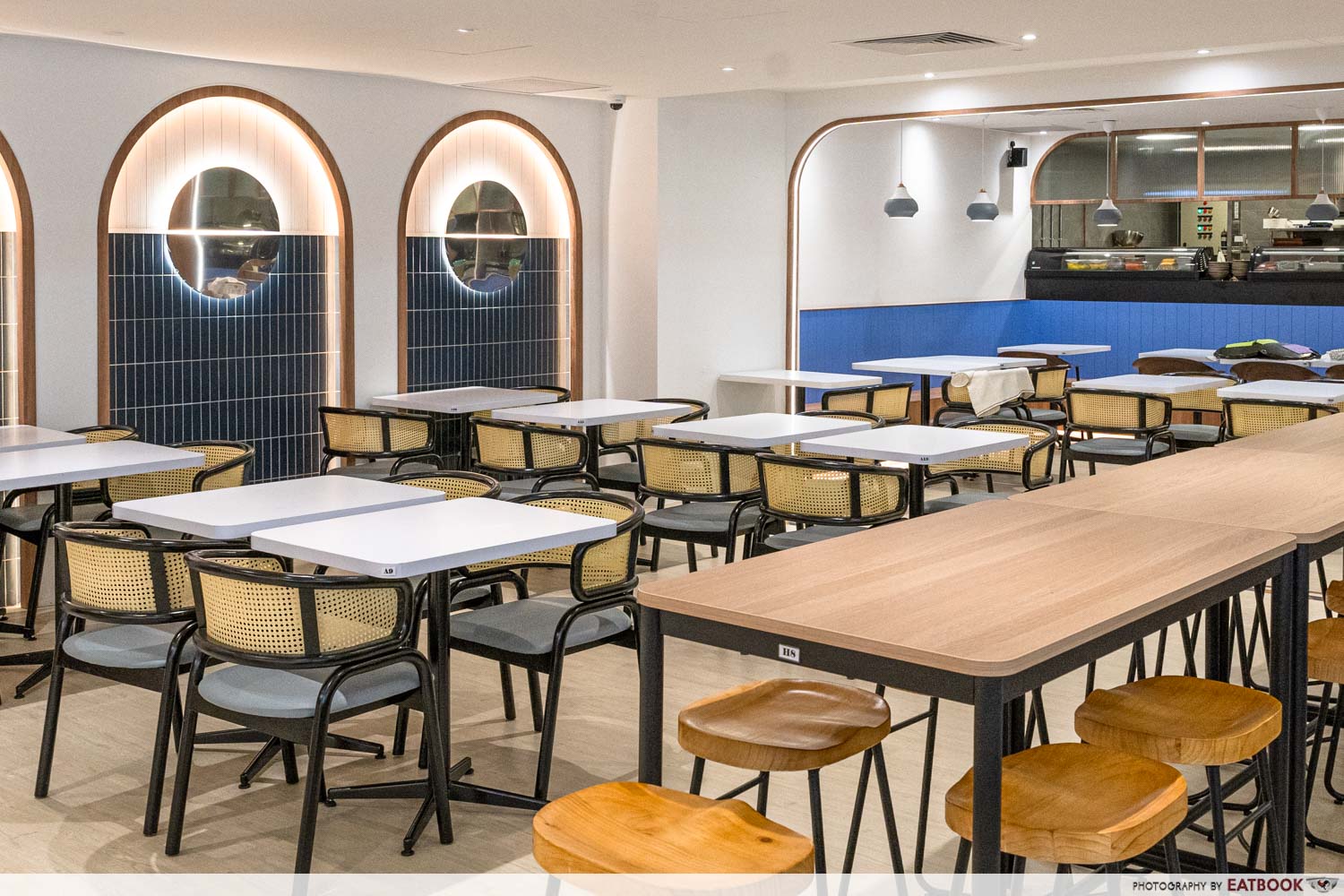 The new outlet sports a chic, modern look with tables more suited towards small groups. A long high table and sofa seats for cosier conversations are also available if you're dining with a larger crowd.
Omote Raffles City is a convenient four-minute walk from City Hall MRT Station.
The verdict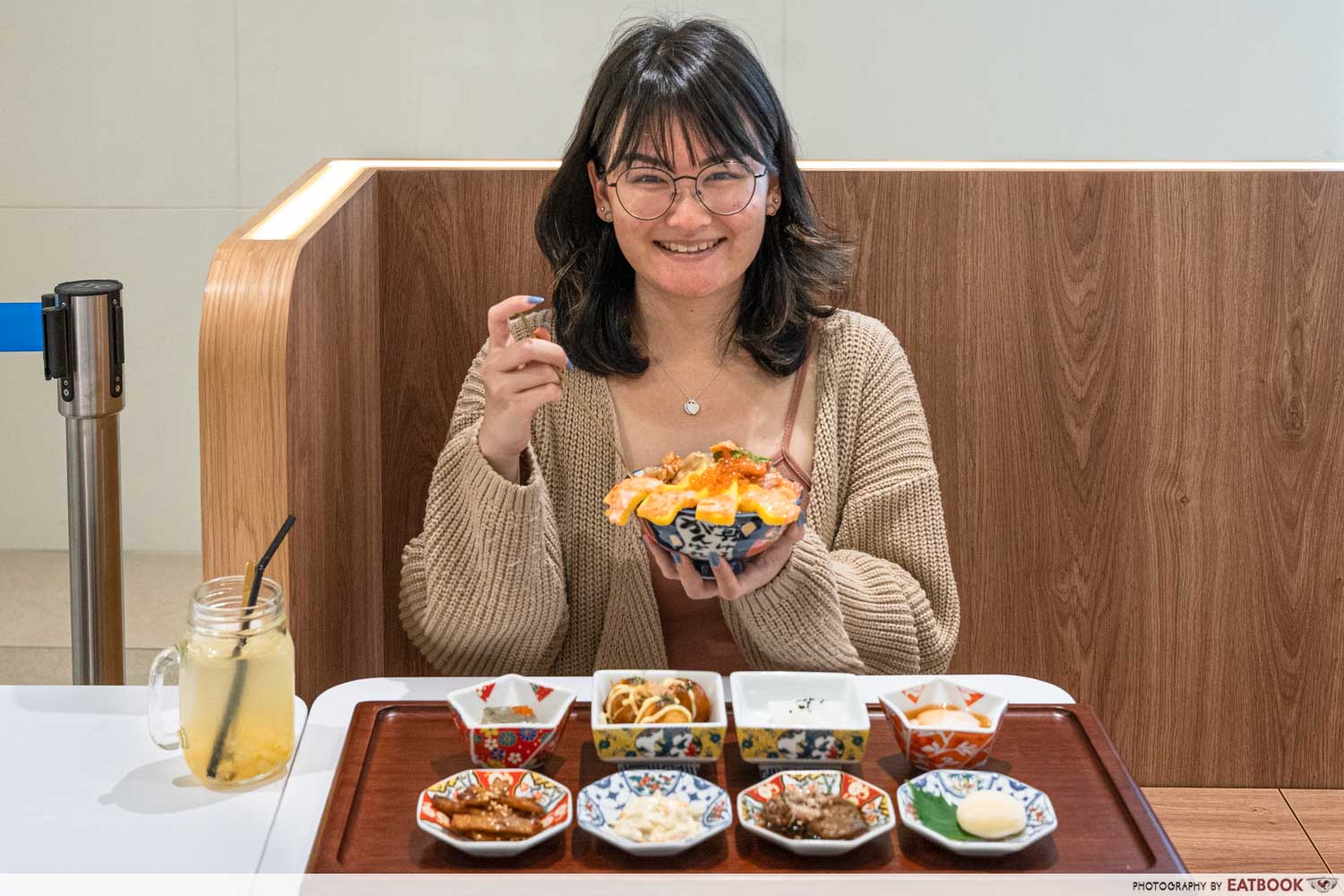 My latest visit to Omote did not disappoint, and I left the restaurant with my pants nearly bursting at the seams. I appreciate how the quality of their chirashi bowls has always remained consistent and how the portions are worth what you paid for. It's a shame I did not get to try more of their Korean appetisers, but that gives me more reason to come back next time!
For more Japanese cuisine in City Hall, read our review of Ka-EN Grill & Sushi Bar. Otherwise, check out the newly opened Cafe Kitsune at Capitol Singapore, which serves French pastries and sandos.
Address: 252 North Bridge Road, #B1-44C Raffles City Shopping Centre, Singapore 179103
Opening hours: Sun-Thur 11:30am to 2pm, 5:30pm to 8:45pm, Fri-Sat 11:30am to 2:30pm, 5:30pm to 9pm
Tel: 9899 3670
Website
Omote is not a halal-certified eatery.
Ka-EN Grill & Sushi Bar Review: Japanese Restaurant In City Hall With DIY Wagyu BBQ
Photos taken by Hui Hui Lau.
This was a media tasting at Omote.
Omote Review: Popular Japanese Restaurant Opens In City Hall With Mentaiko Chirashi Don And More
Omote Review: Popular Japanese Restaurant Opens In City Hall With Mentaiko Chirashi Don And More -

8/10
Summary
Pros
– Wallet-friendly Chirashi bowls
– Wide range of dishes
– Located near City Hall MRT Station
Cons
– Long queues
– Some Korean dishes were not available
Recommended dishes: Tamago Mentai Chirashi ($21.80++), Unagi Kabayaki Don ($25.80++)
Opening hours: Sun-Thur 11:30am to 2pm, 5:30pm to 8:45pm, Fri-Sat 11:30am to 2:30pm, 5:30pm to 9pm
Address: 252 North Bridge Road, #B1-44C Raffles City Shopping Centre, Singapore 179103