Ka-EN Grill & Sushi Bar for sashimi and Wagyu in City Hall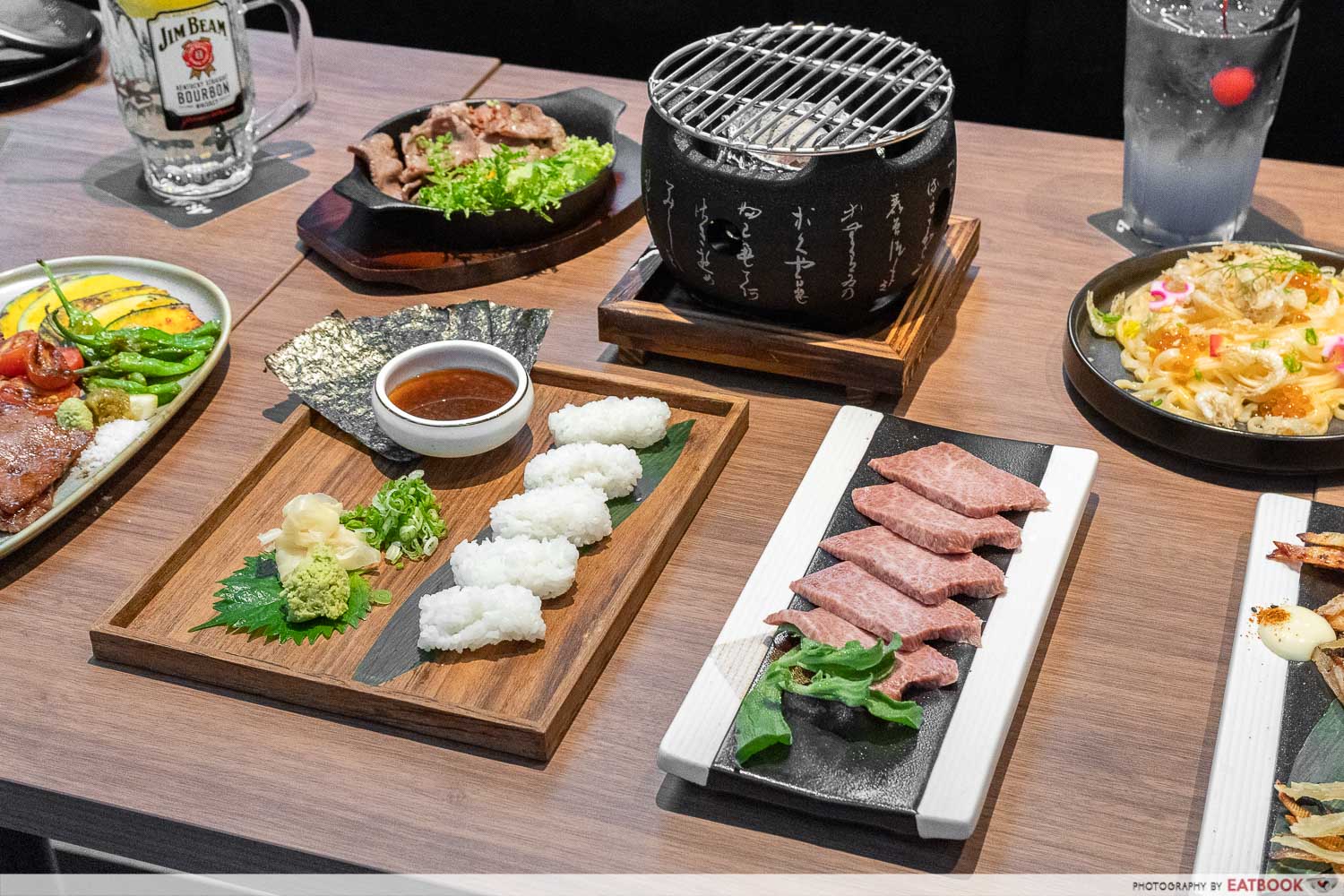 Taking over the space previously occupied by Katachi Style is Ka-EN Grill & Sushi Bar, the newest addition to Arcade @ The Capitol Kempinski at City Hall. It is also the latest concept by EN Group, the company behind Tamago-En and Tempura Makino. The restaurant dishes out a classic range of Japanese dishes, including sashimi, grilled seafood, premium Wagyu, and izakaya-style alcoholic beverages. Open until midnight on Fridays and Saturdays, it is also a suitable spot for late-night gatherings or a post-dinner nightcap.
Get A5 Wagyu Pizza By An Ex-Akira Back Chef At This Tanjong Pagar Restaurant
Food at Ka-EN Grill & Sushi Bar

To start, we had the Ka-EN Otsumami With Sake Flight ($39++), comprising three varieties of seasonal sake—Komochi Yariika, Matsumae Zuke, and Lemon Kurage—accompanied by light bites: Spear Squid With Eggs, Simmered Herring Roe With Kelp And Squid, and Jellyfish Marinated In Lemon. As someone who doesn't typically drink sake, I was surprised by how smooth and light these sakes were. They also went well with the refreshing seafood, particularly the delicate jellyfish.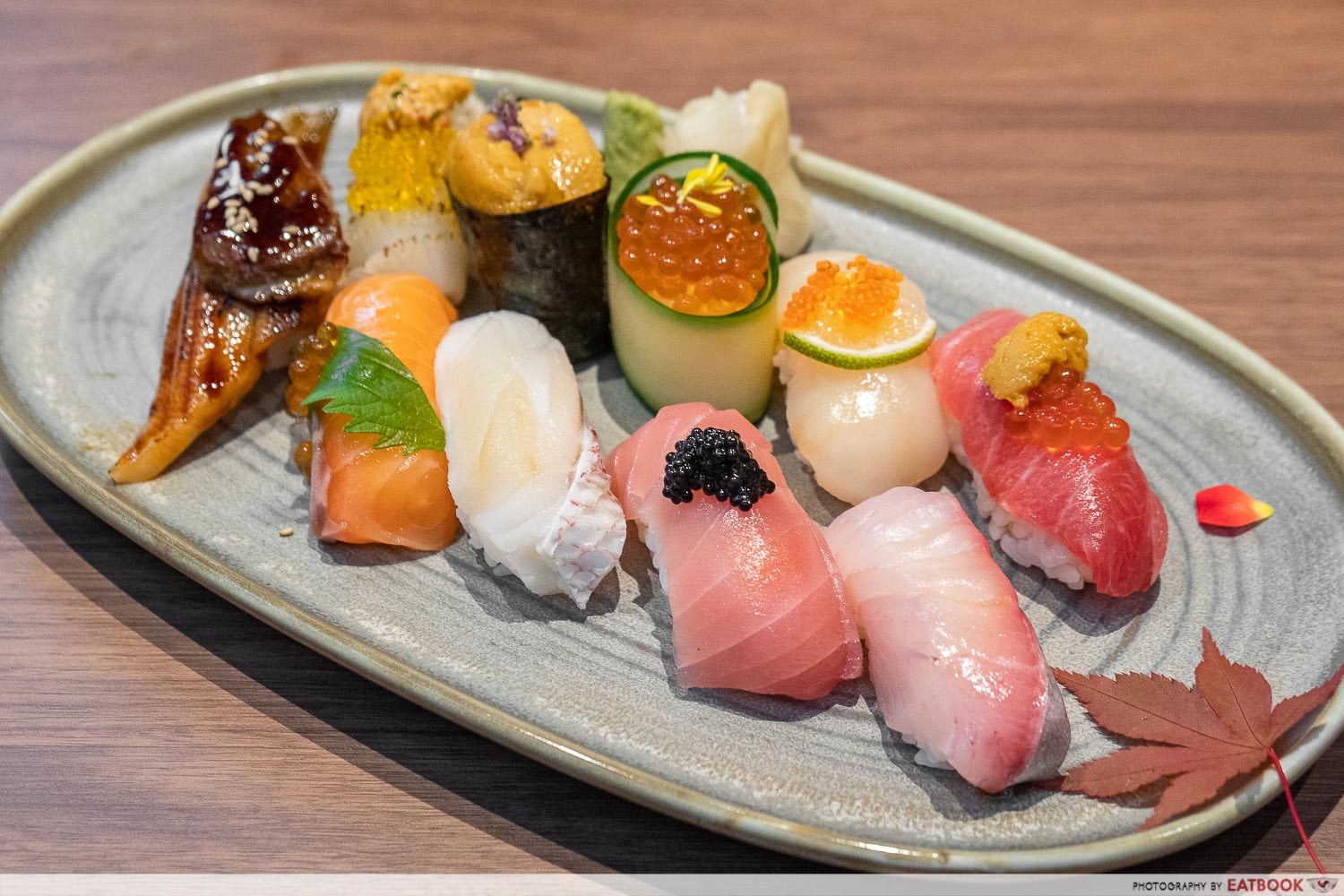 Next was the 10 Kinds Nigiri Sushi ($50++), which saw a mouthwatering plate of sushi with sea urchin gunkan, salmon roe, sea eel with foie gras, and Japanese scallops, among other sashimi cuts. The sashimi and sushi came in elegant yet thick potions and did not have a fishy taste. I especially liked the fatty bluefin tuna, which had a buttery flavour that was worth savouring on its own without adding any sauces.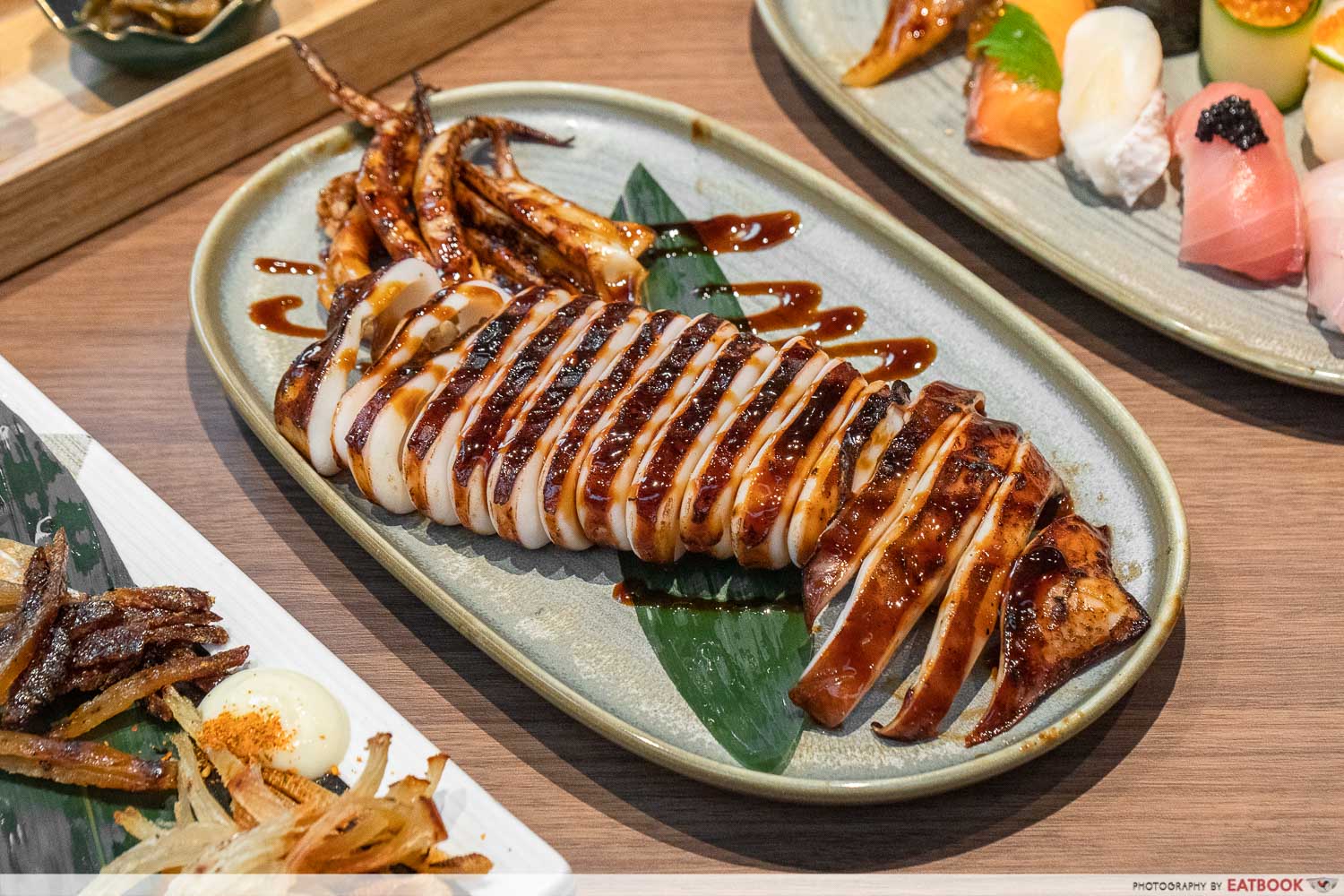 Also included in the set was the Ika Surume ($19++), which consisted of charcoal-grilled squid cut into slices for easy consumption and glazed with a thick teriyaki sauce. The smoky squid had a slight chew and a subtle hint of smokiness. The teriyaki sauce was also umami, complemented by the sweetness of the squid.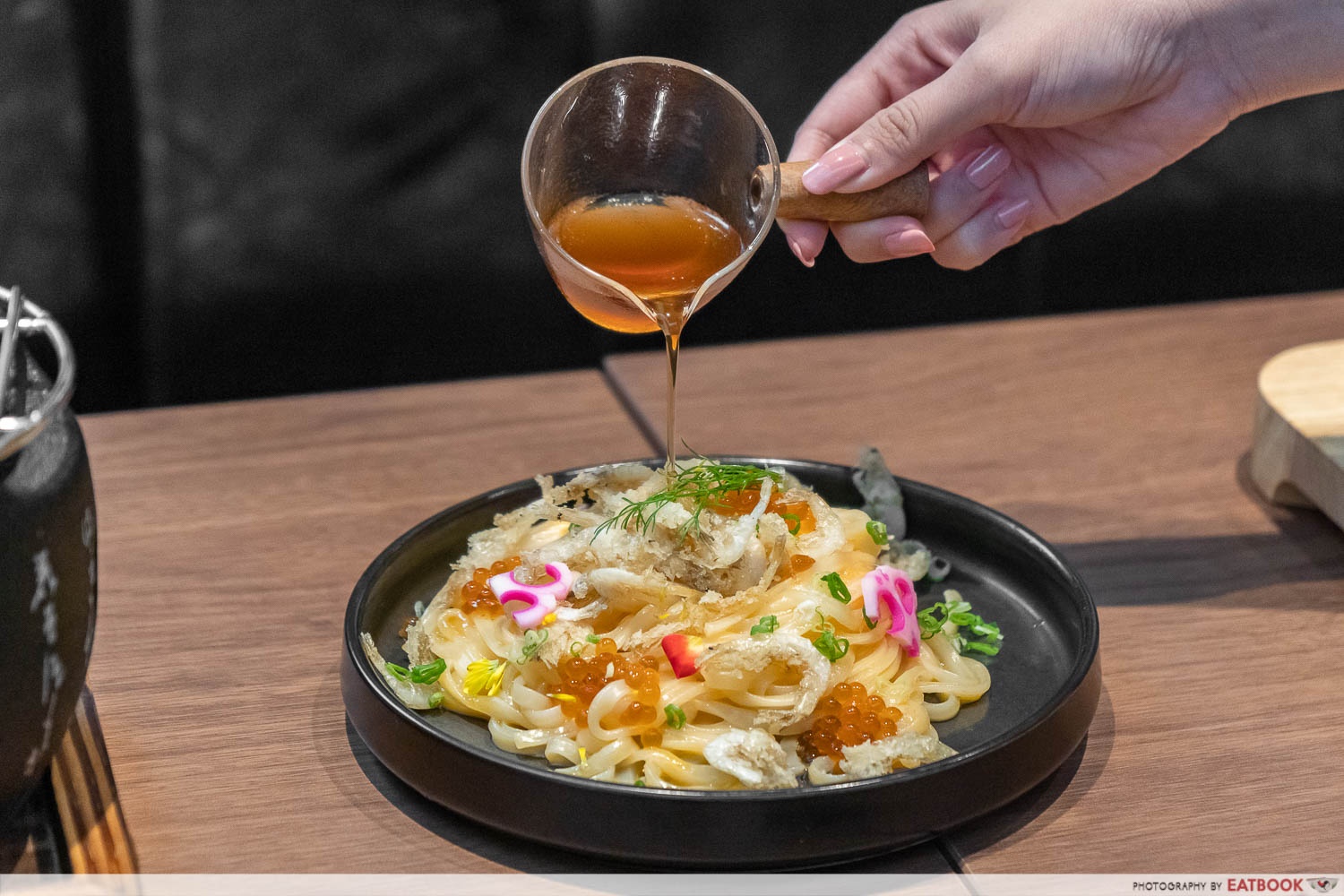 We then tried the Shiro Ebi Bukkake Inaniwa Udon ($22++), a beautifully plated dish that comprised dry inaniwa udon cooked in a savoury dashi broth. The silky udon noodles were coated in a creamy sauce that reminded me of carbonara. It also came topped with deep-fried Japanese glass shrimps and a gooey Okinawa egg.
I couldn't help but slurp up almost half of this delicious dish—to my colleague's dismay. The udon succeeded in being fairly light on the palate despite its creaminess, and I liked how the salmon roe burst with a salty-sweet flavour when I bit into them.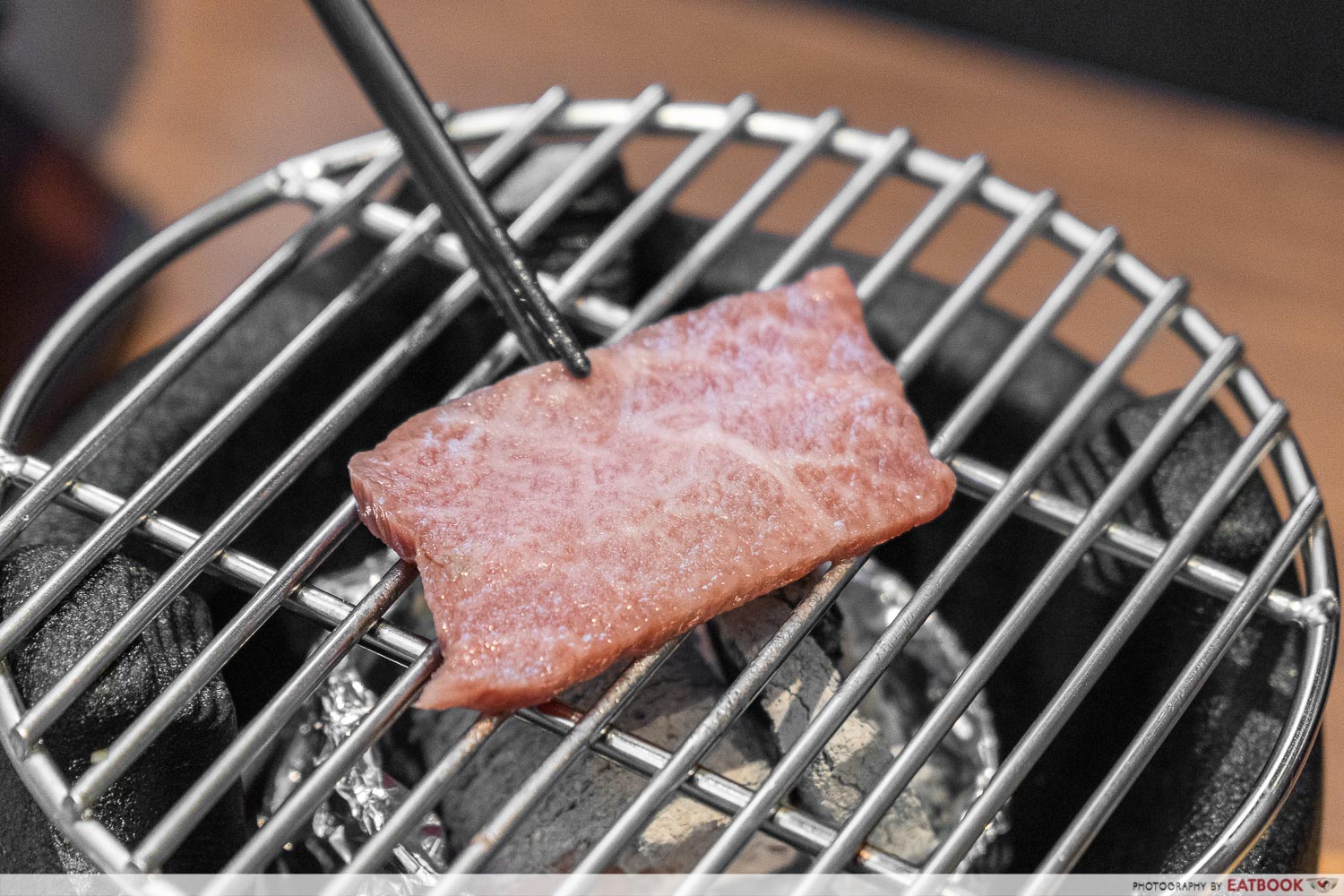 Then, I was treated to one of the best Wagyu I've had in a long time, thanks to the DIY Premium Wagyu Sumi Yaki Set ($35++). This set came with A4/A5 Miyazaki Wagyu, rice balls, and seaweed, which I used to make my own nigiri sushi. I could also grill my own Wagyu slices, which turned out to be a simple and enjoyable affair.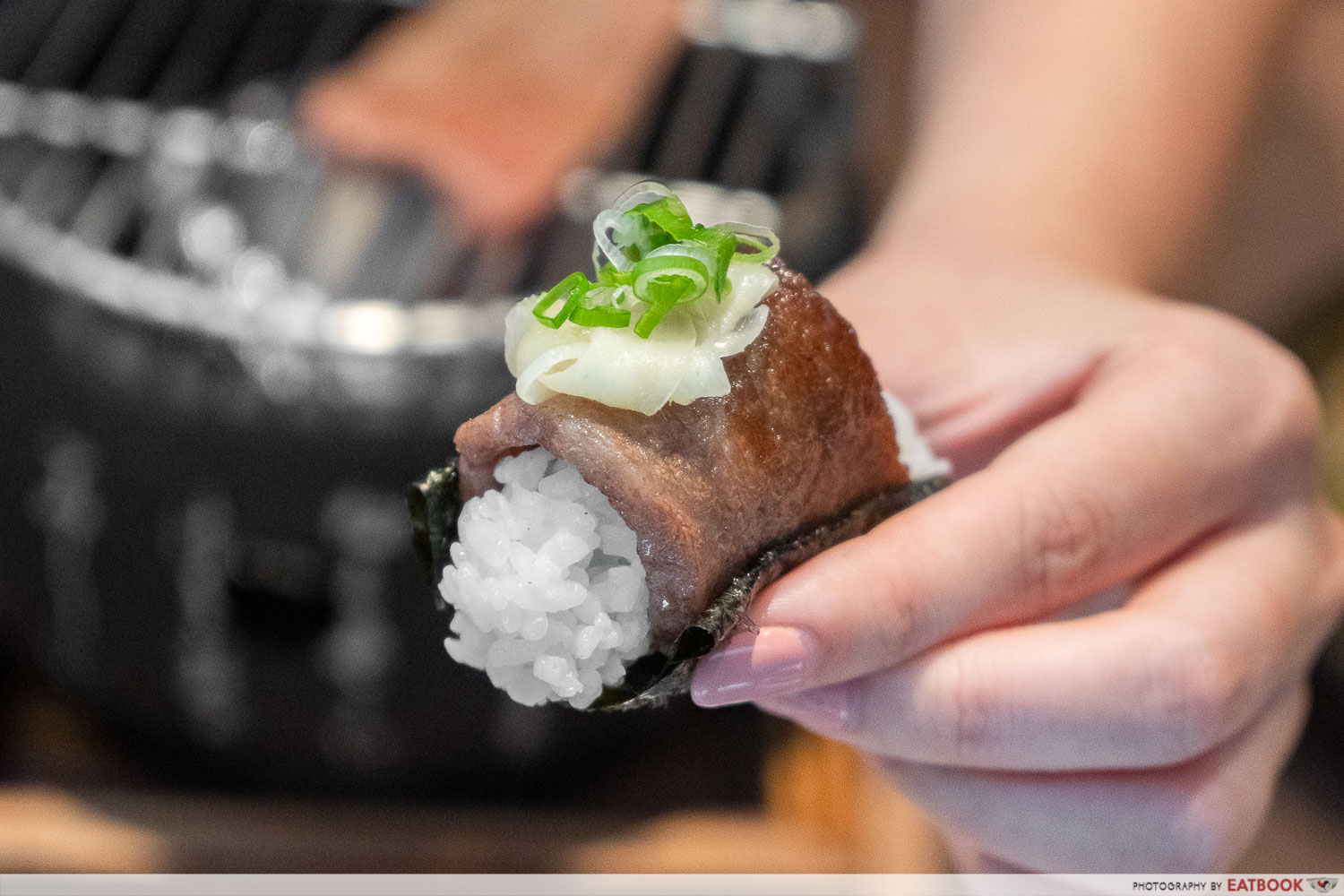 I love how the grill gave the Wagyu its smoky char, and it didn't take much effort before the meat completely disintegrated in my mouth. I had my Wagyu cooked to a medium-rare finish, which allowed the meat to remain juicy and tender. It was also not too greasy, yet with a rich, fatty taste and a velvety decadence.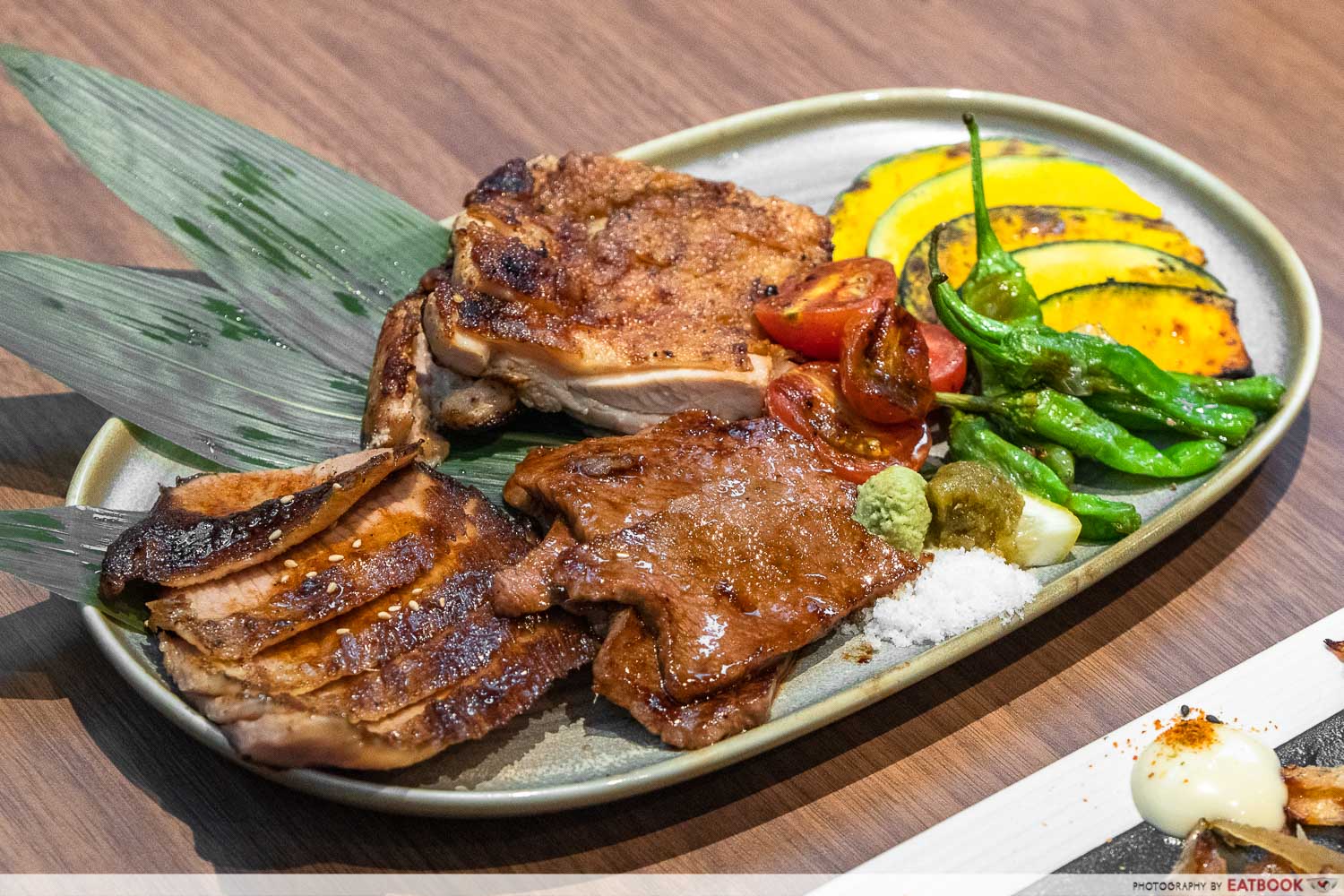 If you don't trust your grilling skills or prefer your meat ready-to-eat, order the Signature Meat Platter ($55++) instead, which comes with a selection of premium Wagyu, Iberico pork cheek, teppan chicken, and assorted vegetables. The Wagyu here was seared to perfection, and while it was not as tender as the one from the DIY set, I enjoyed its firm texture and strong beefy taste.
The restaurant also offers an extensive list of sake with different gradings for your enjoyment, as well as a selection of house pours, cocktails, wines, and beers. I washed everything down with the Classic Jim Beam Highball ($8++), a bourbon-soda mix with citrusy notes.
59 Hutong Yakiniku Review: New Taiwanese BBQ Restaurant With A5 Wagyu Beef And Iberico Pork
Ambience at Ka-EN Grill & Sushi Bar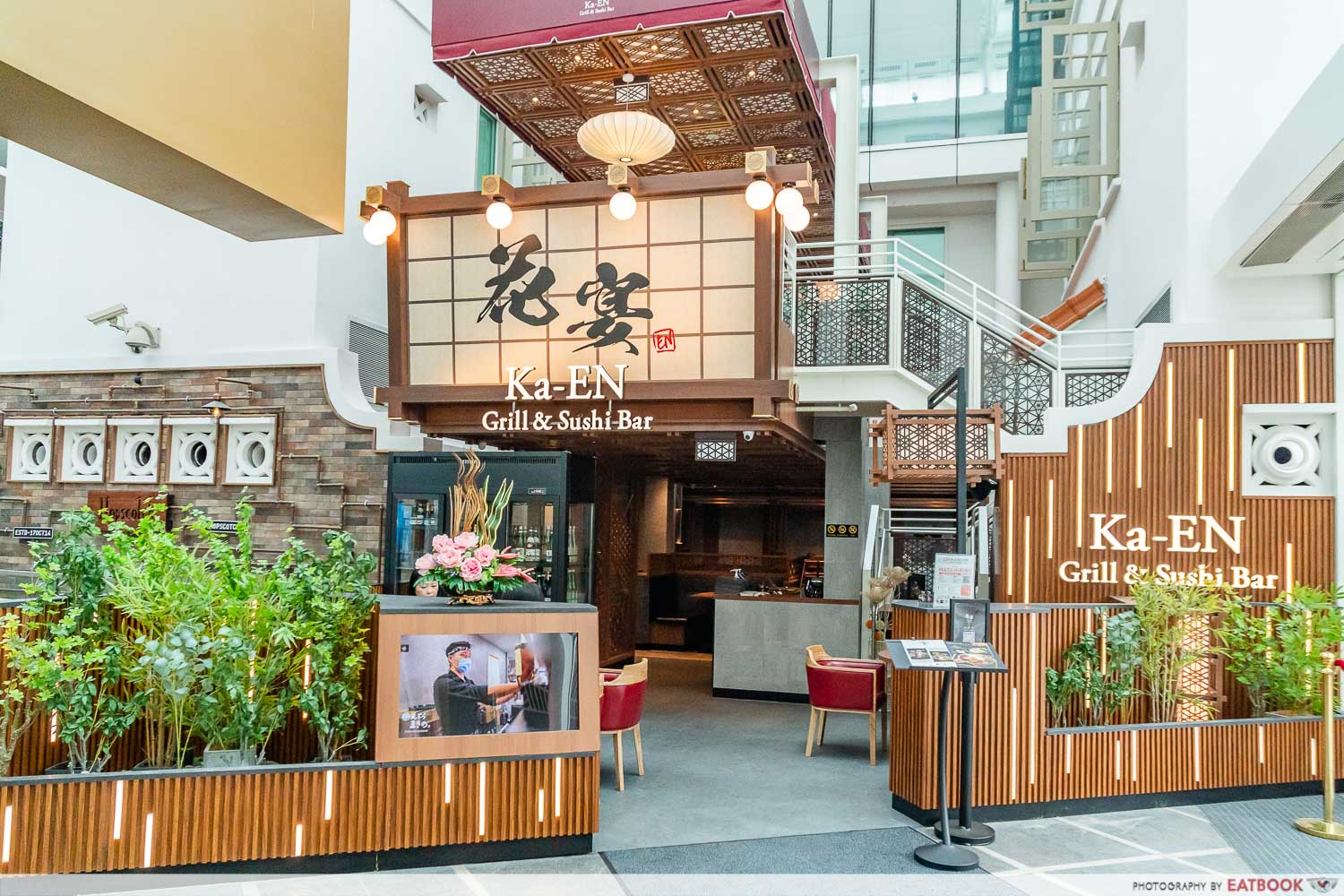 Ka-EN Grill & Sushi Bar is hard to miss with its grand storefront and Japanese decor. The restaurant boasts a cosy dining space with izakaya booths on the first level and a 12-seater loft for private events. There's also a relaxing alfresco area great for people-watching or enjoying chill drinks at night. While waiting for your food to be served, you can head over to the eatery's open kitchen and watch the chefs cook up a storm over the sizzling charcoal grill.
Ka-EN Grill & Sushi Bar is a short three-minute walk from City Hall MRT Station.
The verdict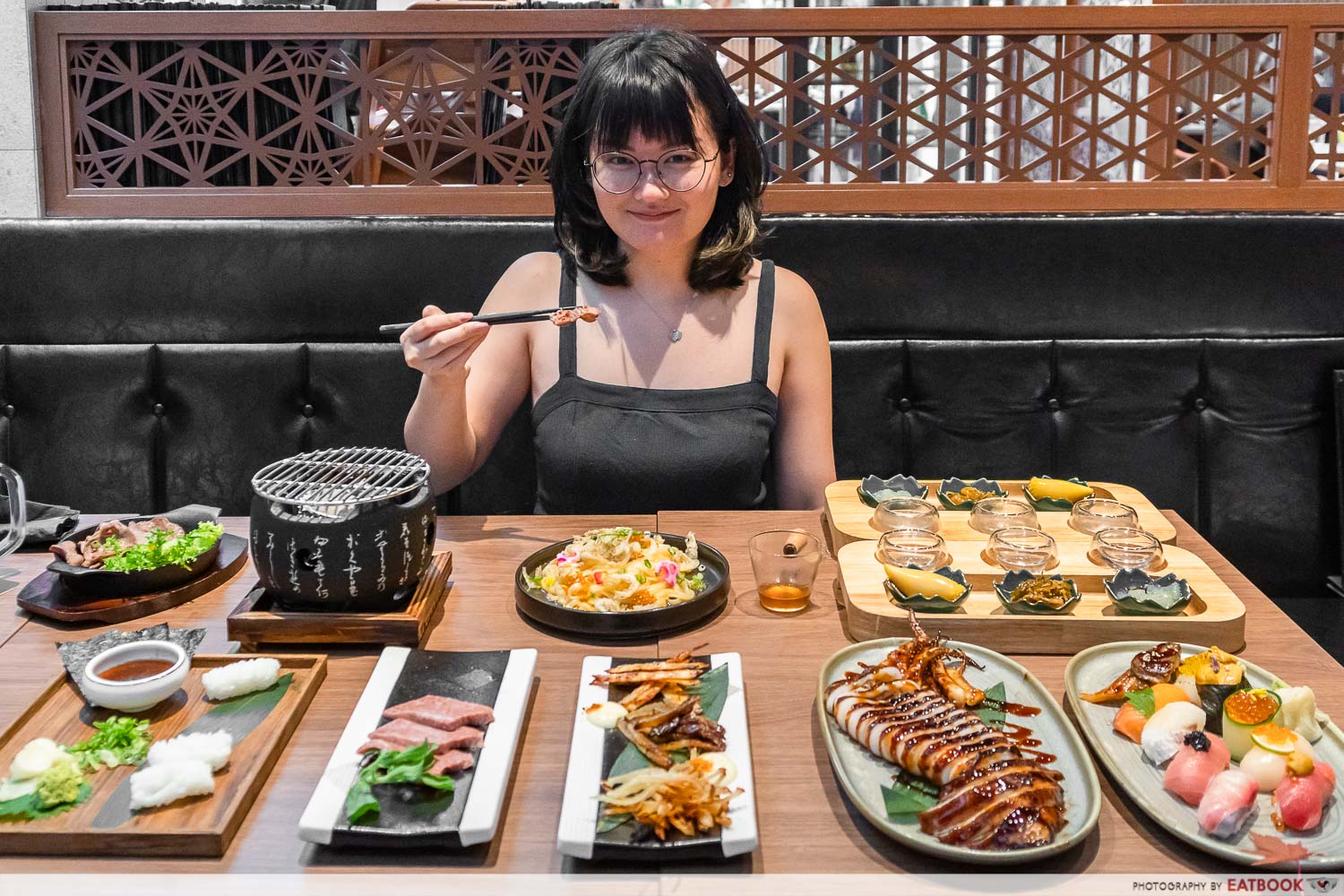 I was impressed by the food at Ka-EN Grill & Sushi Bar and found it a challenge to fault any of their dishes. There were some interesting offerings, such as the DIY Wagyu set and inaniwa udon, and I can still taste the juiciness of the grilled Wagyu as I write this now. The food is on the expensive side, but it is, after all, an atas Japanese restaurant where the quality of food—in my opinion—justifies its price tag. I will definitely be coming back for more.
For other eats in the City Hall area, read our True Breakfast review. Otherwise, check out our Billion Bowls review for affordable rice bowls by an ex-Mikuni chef.
Address: 15 Stamford Road, #01-82 Arcade @ The Capitol Kempinski, Singapore 178906
Opening hours: Mon-Thurs 11am to 4pm, 5pm to 10pm, Fri 11am to 4pm, 5pm to 12am, Sat 11am to 12am, Sun 11am to 10pm
Tel: 6284 3788
Website
Ka-EN Grill & Sushi Bar is not a halal-certified eatery.
Billion Bowls Review: $6.90 Japanese Rice Bowls By Ex-Mikuni Chef
Photos taken by John Lery Villanueva.
This was a media tasting at Ka-EN Grill & Sushi Bar.
Ka-EN Grill & Sushi Bar Review: New Japanese Restaurant In City Hall With Sashimi And DIY Wagyu Sets
Ka-EN Grill & Sushi Bar Review: Japanese Restaurant In City Hall With DIY Wagyu BBQ -

8.5/10
Summary
Pros
– Delicious and well-varied Japanese fare and drinks
– Opens until 12am on Fridays and Saturdays
– Just a short walk from City Hall MRT Station
Cons
– Food is on the pricey side
Recommended dishes: 10 Kinds Nigiri Sushi ($50++), Shiro Ebi Bukkake Inaniwa Udon ($22++), and DIY Premium Wagyu Sumi Yaki Set ($35++)
Opening hours: Mon-Thurs 11am to 4pm, 5pm to 10pm, Fri 11am to 4pm, 5pm to 12am, Sat 11am to 12am, Sun 11am to 10pm
Address: 15 Stamford Road, #01-82 Arcade @ The Capitol Kempinski, Singapore 178906