Shrimp Prawn Seafood serves the best shrimp glass noodles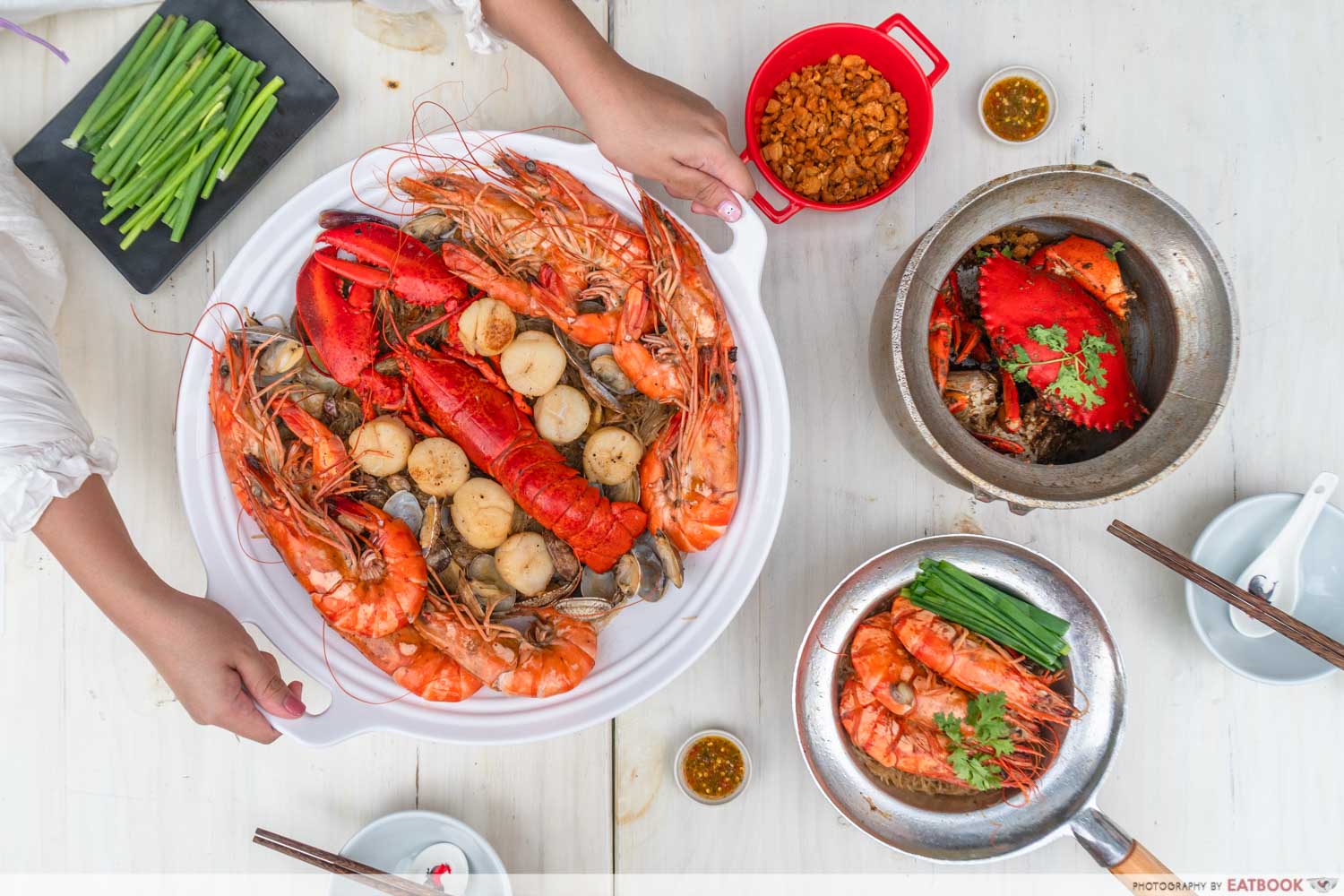 Finally. Something I can confidently rate a 9/10 for. Shrimp Prawn Seafood deserves the highest verdict score I've ever given thus far, and there are many reasons why. Previously only available after a two-hour wait at the Chatuchak Night Market Singapore event, their Goong Ob Woonsen (a.k.a. shrimp glass noodles) is now sold at their new restaurant located along Boat Quay. 
Food at Shrimp Prawn Seafood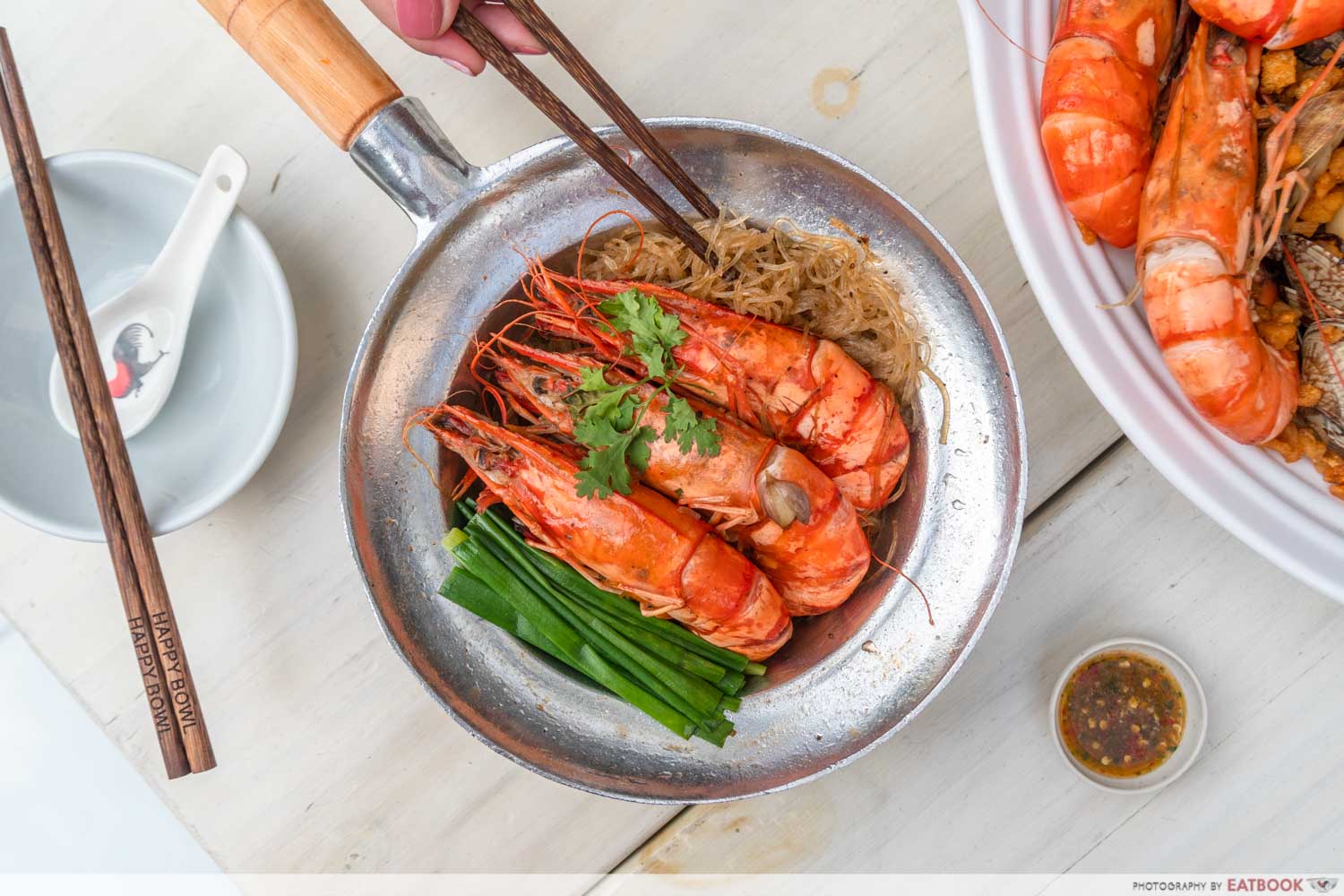 It was at the Chatuchak event where my colleague and I unanimously gave our vote to Shrimp Prawn Seafood's Steelpot Prawn Vermicelli as the best dish of the night. The vlog was unscripted and our vote was unplanned. We simply fell in love with the pork lard-loaded, sauce-soaked, garlic-glutted, and black pepper-packed pot of Thai-style glass noodles.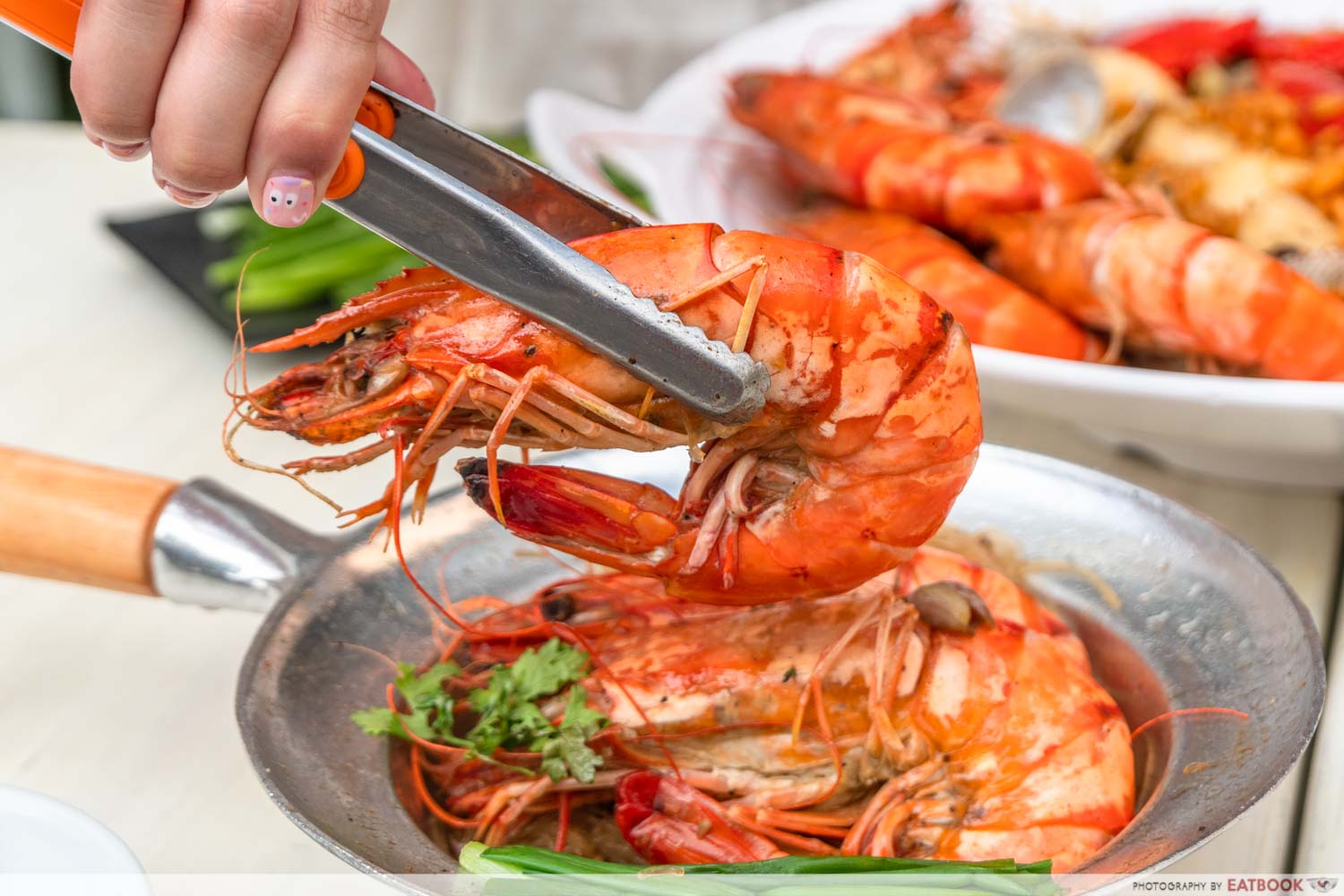 At the event, a serving of this seafood glass noodle will cost you $16 and at least two hours of queuing in Singapore's humid weather. However at their new restaurant along Boat Quay, it now sets you back a little more at $18.80++ a pop, but with air-conditioning or a river view to boot.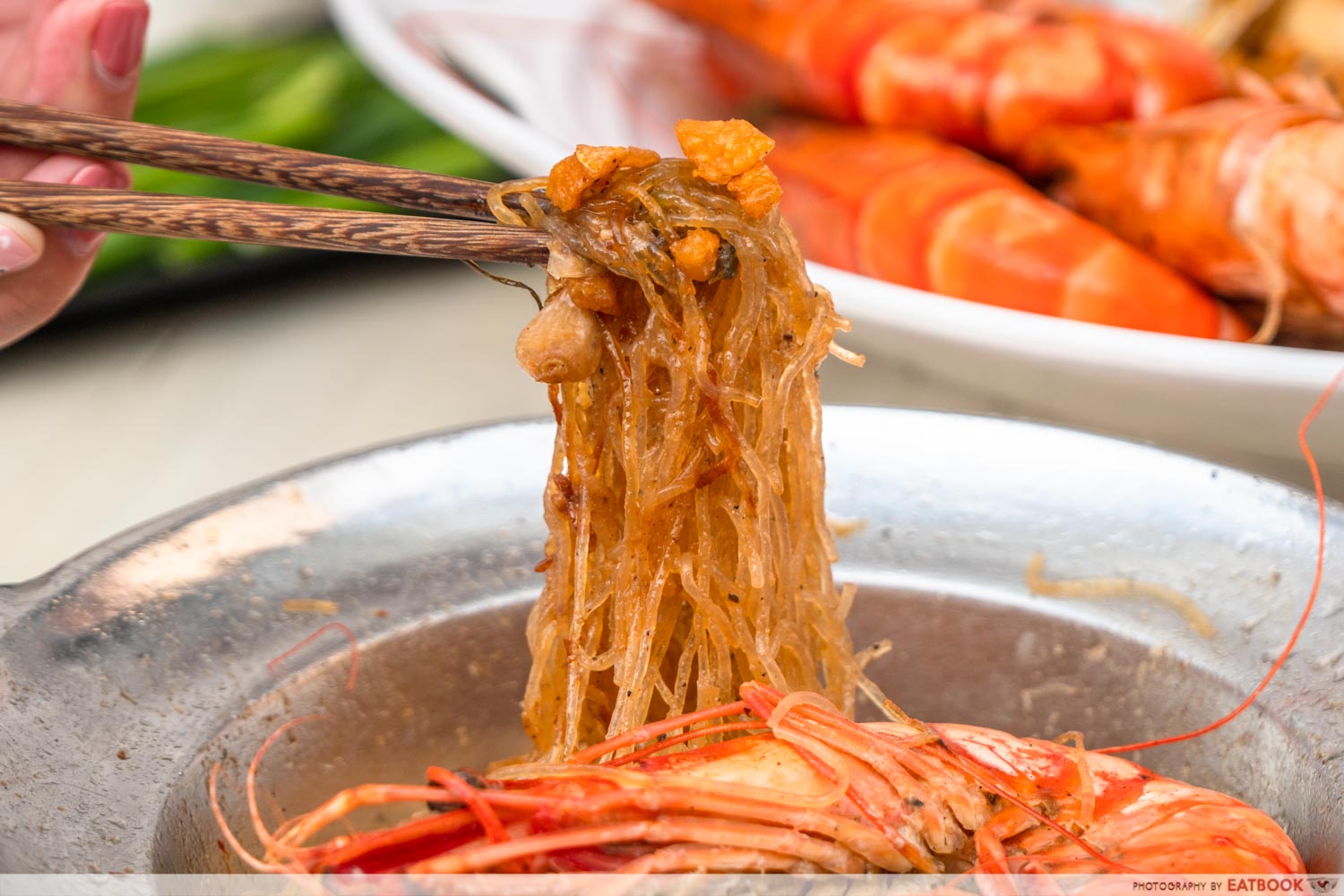 I hate to overhype, but I have to confess that writing about this dish got me salivating as I reminisced about the glass noodles. Chef-owner Alvin had experimented and tweaked his recipe over 300 times before settling for this specific cooking method and set ingredients. 
To achieve the wealth of flavours in the noodles, he first fries up petite Thai garlic bulbs, sliced ginger, coriander roots, and a ton of coarse Sarawak black pepper, known for its mild heat and bold aroma. Next, the noodles are added into the pot, followed by raw prawns, and deep-fried pork lard. 
Everything is slow-baked and thoroughly tossed so that the oil, juice from the cooked prawn, and pooled sauce emulsifies. Every slurp of the noodles is thus creamy in texture and heavy in flavour.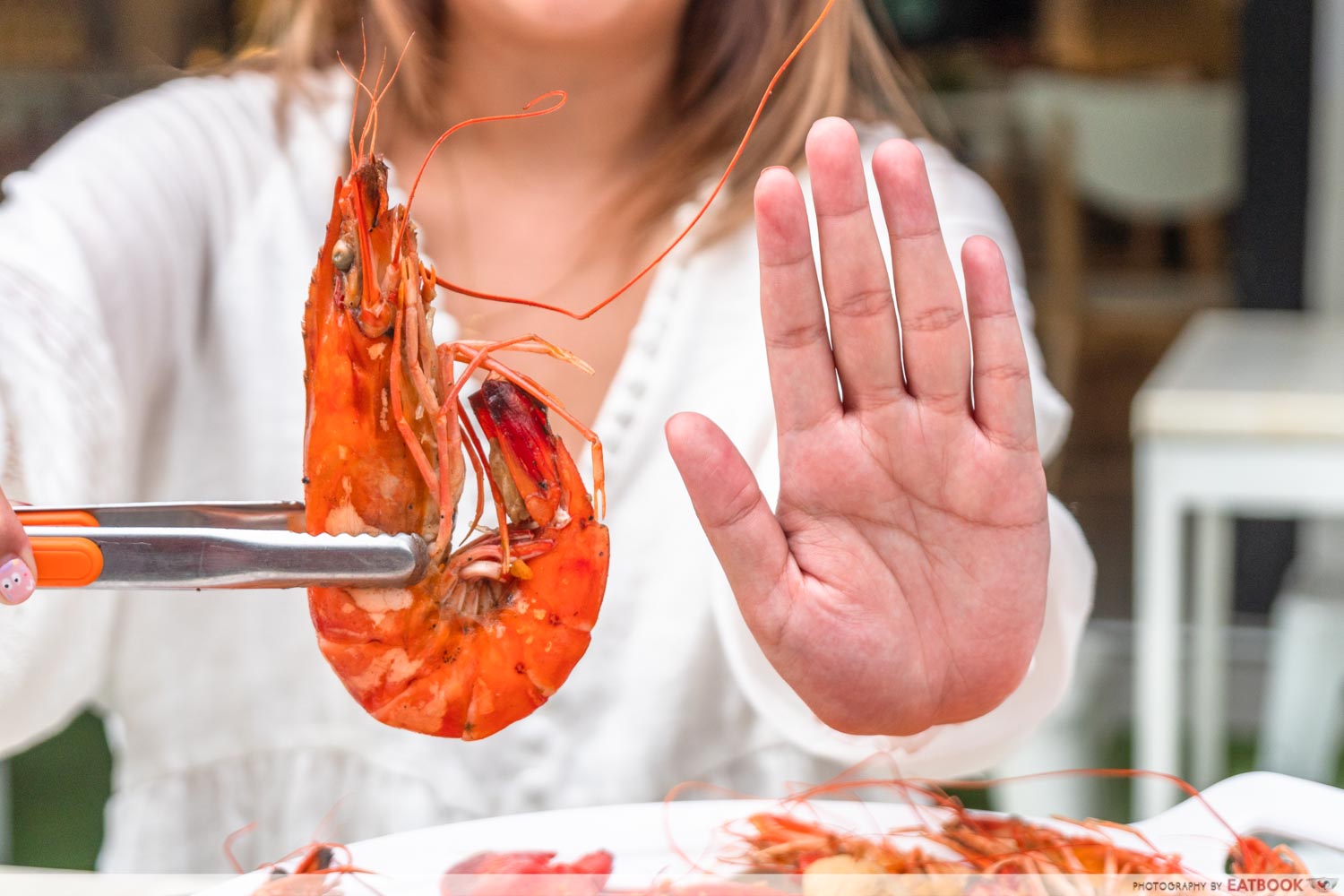 No kung fu hustling here. My iron palm is merely used to show how substantially large each king tiger prawn was. Every pot comes with three huge prawns, which are slow-baked in the steel pot on top of a bed of glass noodles.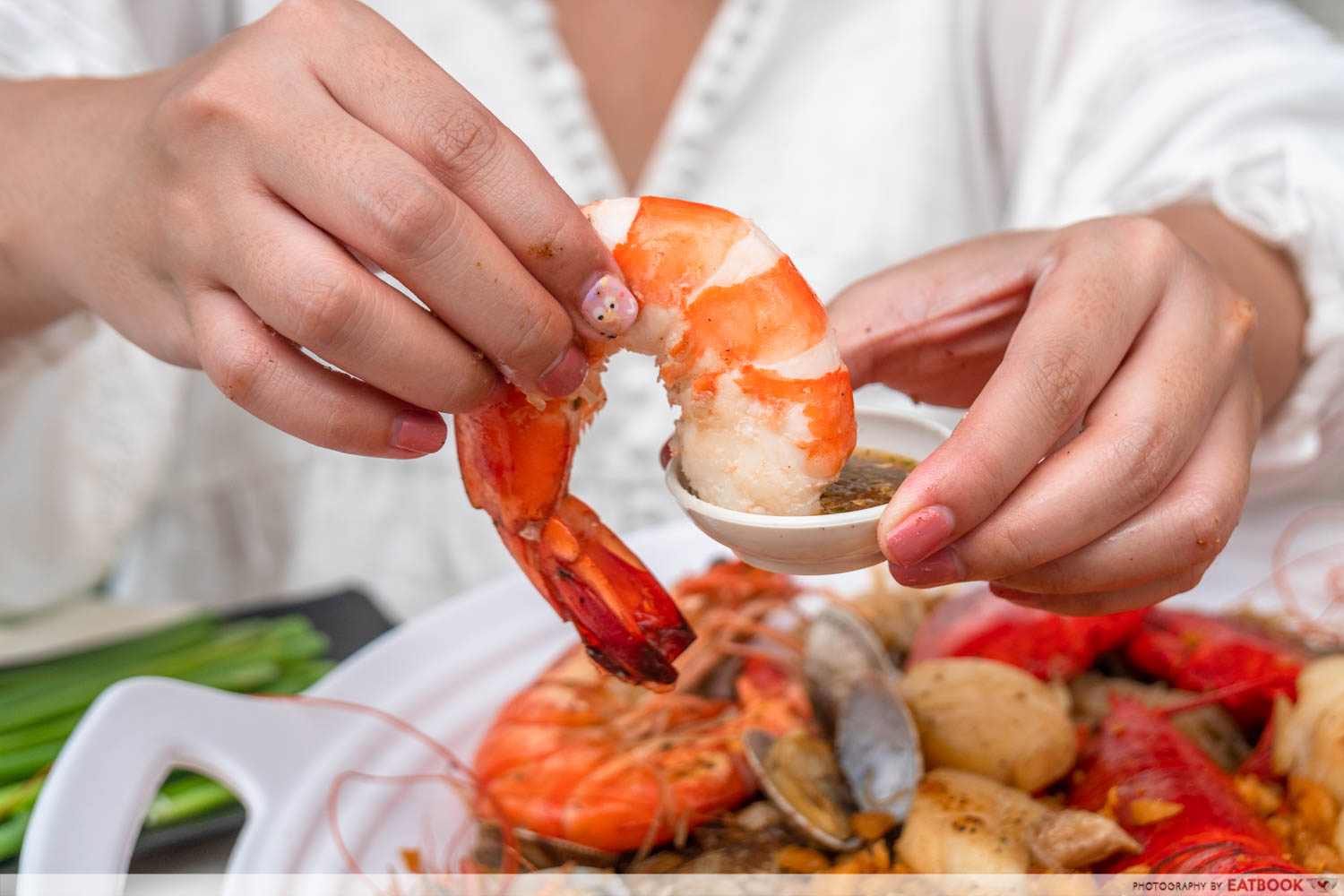 They are sweet, succulent, and fresh. But for an added kick, be sure to drench the thick prawn meat in their soya sauce-based chilli and lime dipping sauce.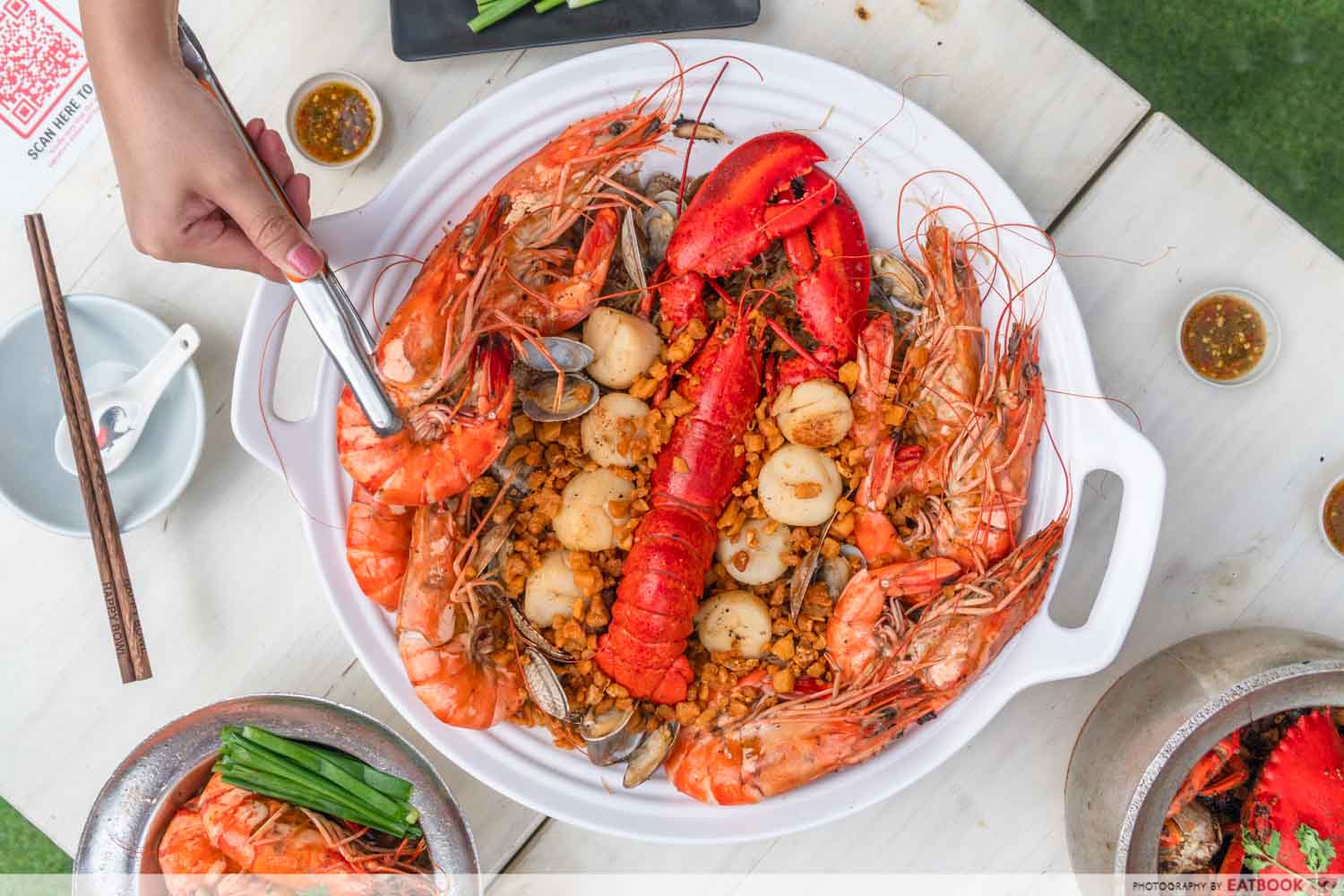 Other than their classic Steelpot Prawn Vermicelli, Shrimp Prawn Seafood now also serves a wide variety of seafood vermicelli, including a cheaper Vannamei Vermicelli ($12.80++) that comes with smaller prawns, Lala Vermicelli ($13.80++), Scallop Vermicelli ($28.80++), and even a humongous Seafood Vermicelli Platter, priced from $138++!
Do note that there will only be three platters available a day, so be sure to call and make a reservation before heading down.
Each platter comes with a base of eight king tiger prawn, eight jumbo scallops, half a kilogram of Korean lala, along with the same bed of vermicelli at the bottom. The Seafood Vermicelli Platter with Lobster is priced at $158++, while the one with mud crab is $138++. Both platters can easily feed five people or more.
I recommend ordering the latter, as the Boston lobster we got was slightly too firm and overcooked for my liking. Firing up the plethora of seafood with different cooking speeds must have been a nightmare in the kitchen.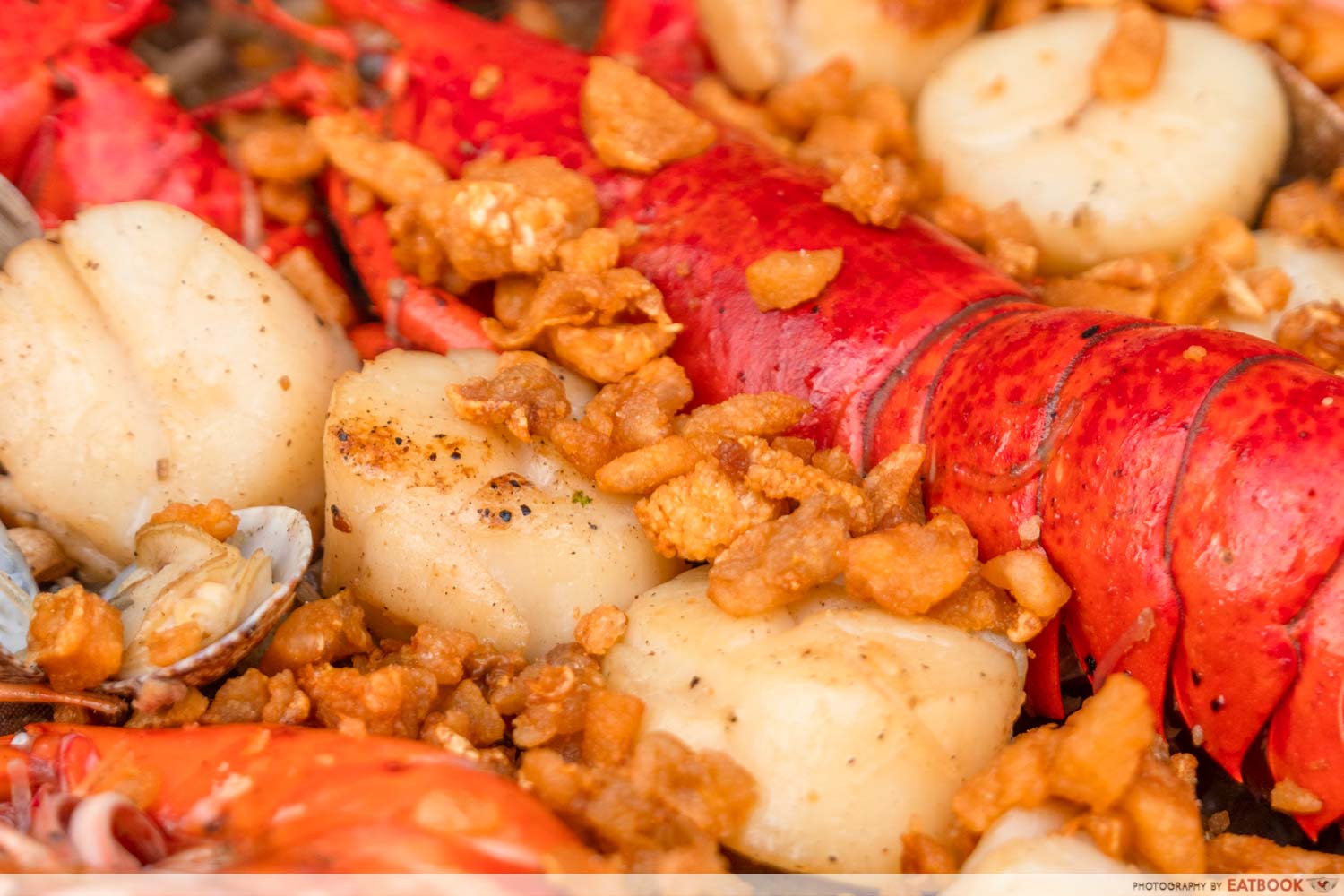 Other than the Boston lobster, the other seafood were well cooked with a chewy texture and natural sweetness. Let's not forget about the best part of the dish—the immense amount of pork lard. These golden nuggets are generously garnished atop, making sure every mouthful of noodles or seafood is sinfully and deliciously unctuous.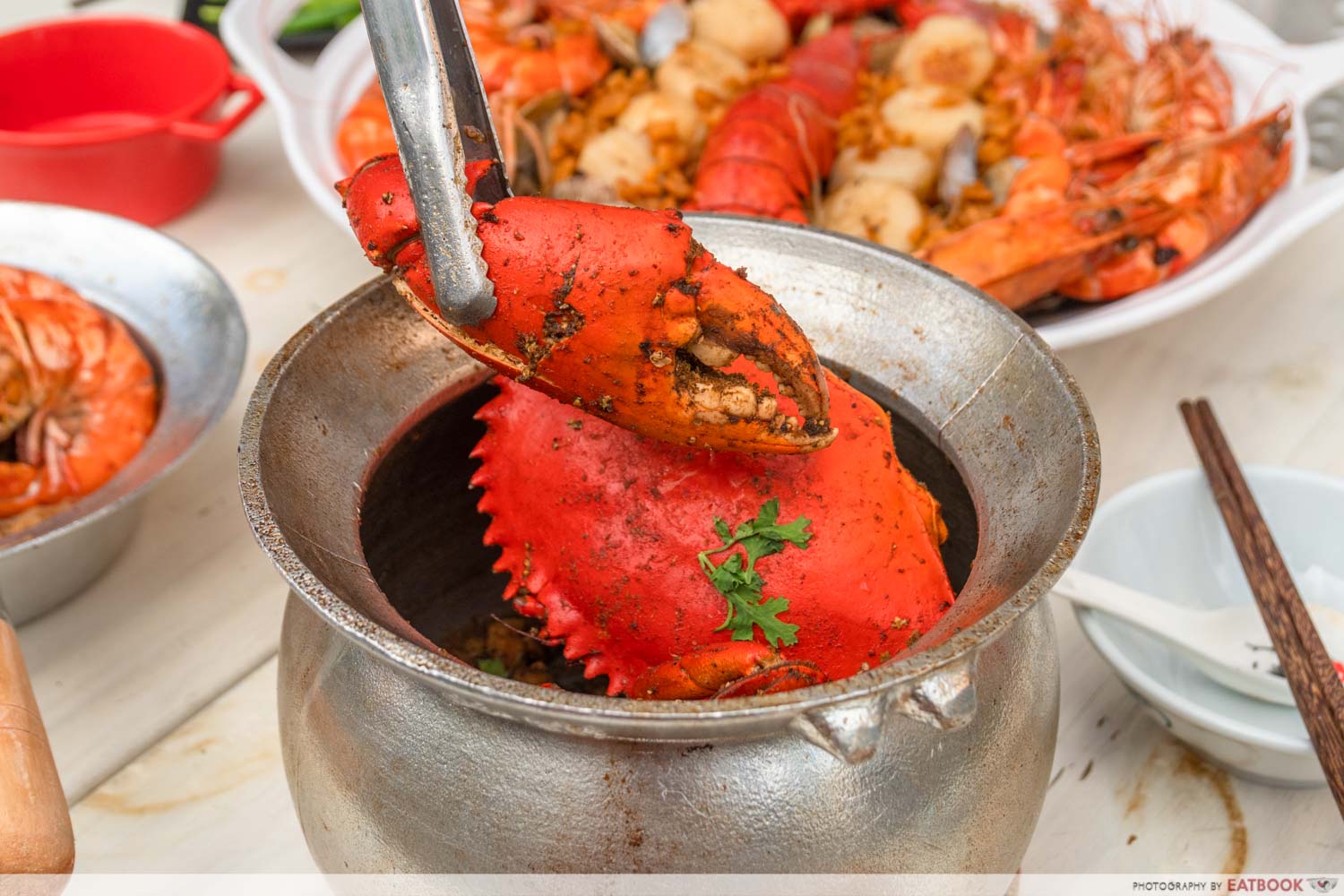 Another interesting item on the menu to try is their Dog Mother Crab ($29.80++ for 400g, $59.80++ for 700g). Directly translated from "狗母锅", the name of this unique steel pot dish might sound a little vulgar, but its intense flavour will definitely tantalise your tastebuds.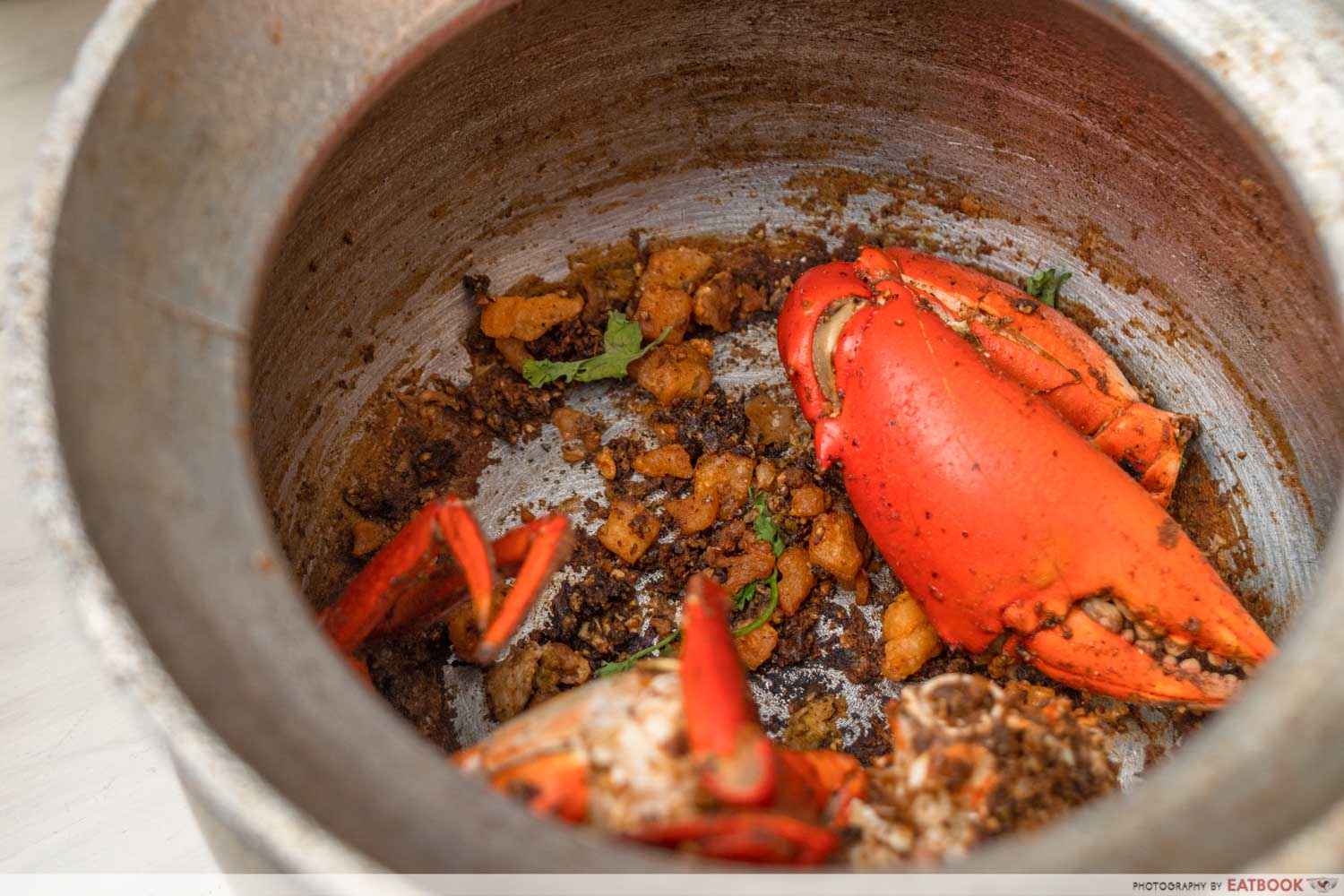 Imagine a slow-baked mud crab that has been seasoned with a dry rub of spices such as white and black pepper, as well as a spoonful of pork lard, which seems to be a recurring ingredient for dishes at Shrimp Prawn Seafood.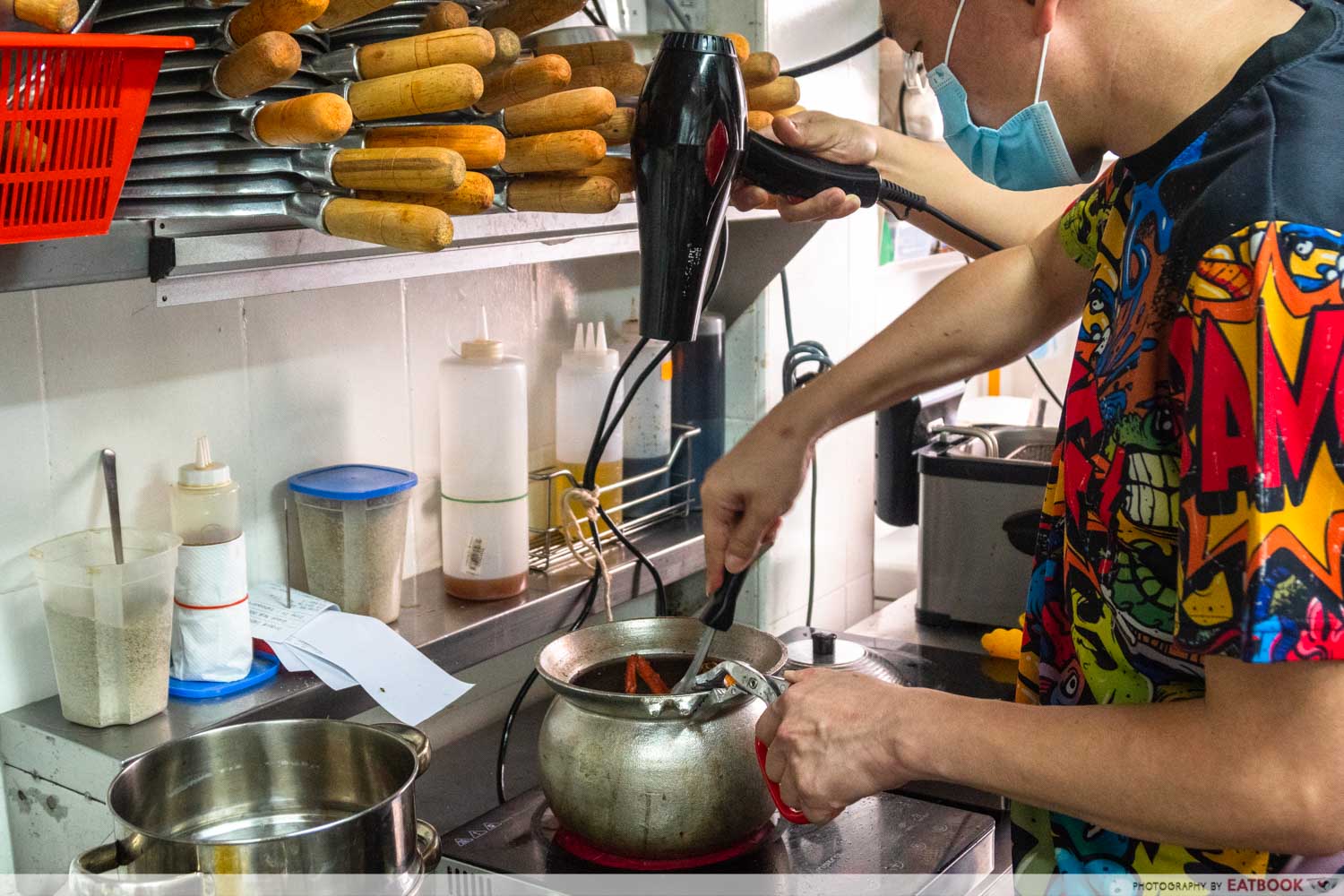 For this dish, Alvin uses the special pot to first bake the crab in the marinade of spices and covers it before lining the edge with sesame oil. When it's cooked, he makes use of a hair dryer as a finishing touch, blasting the spices and pork lard with heat for the flavours to mingle with the baked seafood, at the same time adding a breath of wok hei in the mix. The result is sweet slivers of crab meat, this time further highlighted by an intense peppery fragrance and spiciness.
Ambience at Shrimp Prawn Seafood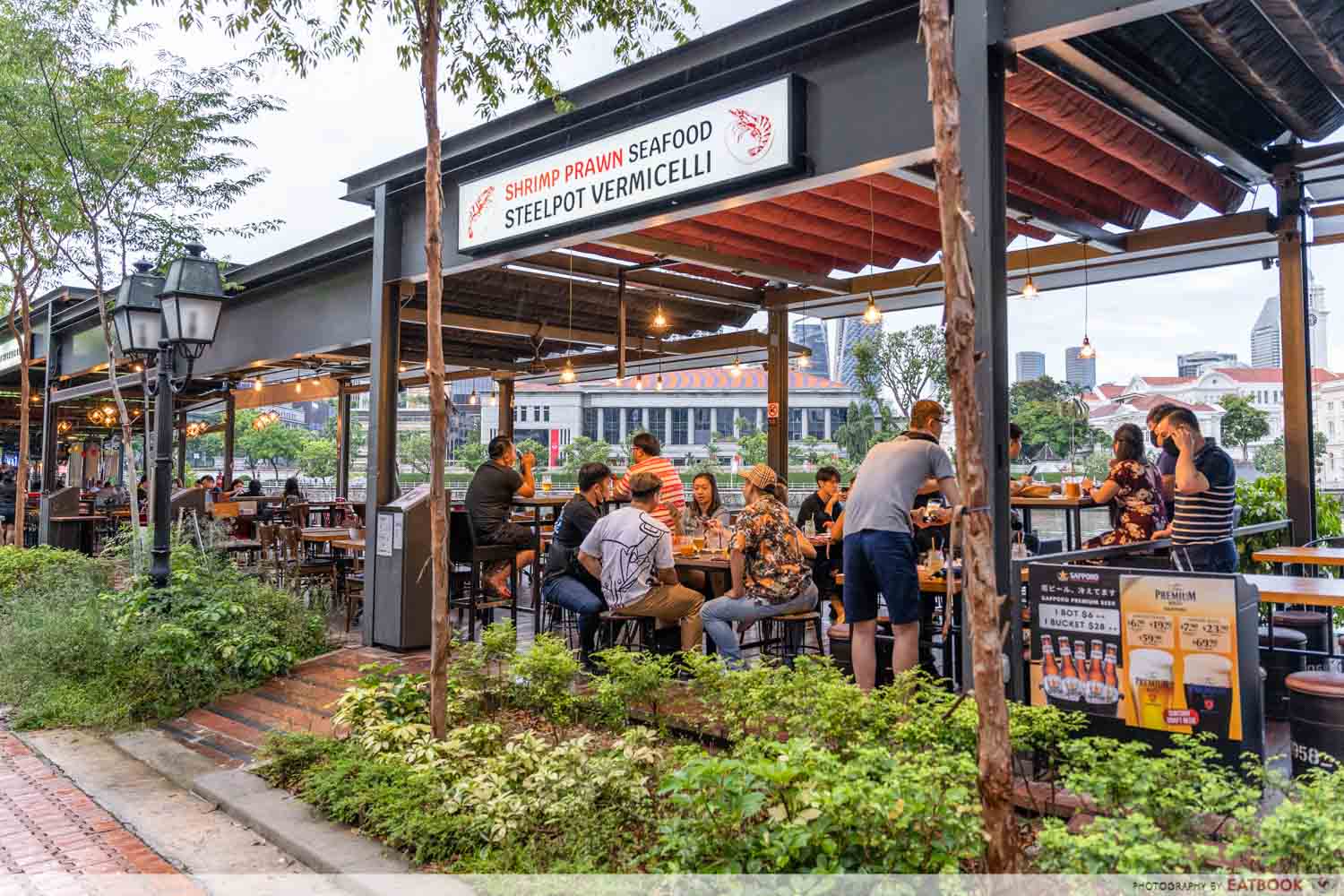 Shrimp Prawn Seafood was initially located on Circular Road when they first opened, but soon shifted to a much better spot along Boat Quay. The restaurant not only has a cosy and more modern ambience, they now also have an alfresco area along the Singapore River. Sadly having a view of the calm waters, Parliament of Singapore, as well as towering CBD buildings comes with a trade off. Unlike the indoor seating, there isn't air-conditioning or fans outside.
The verdict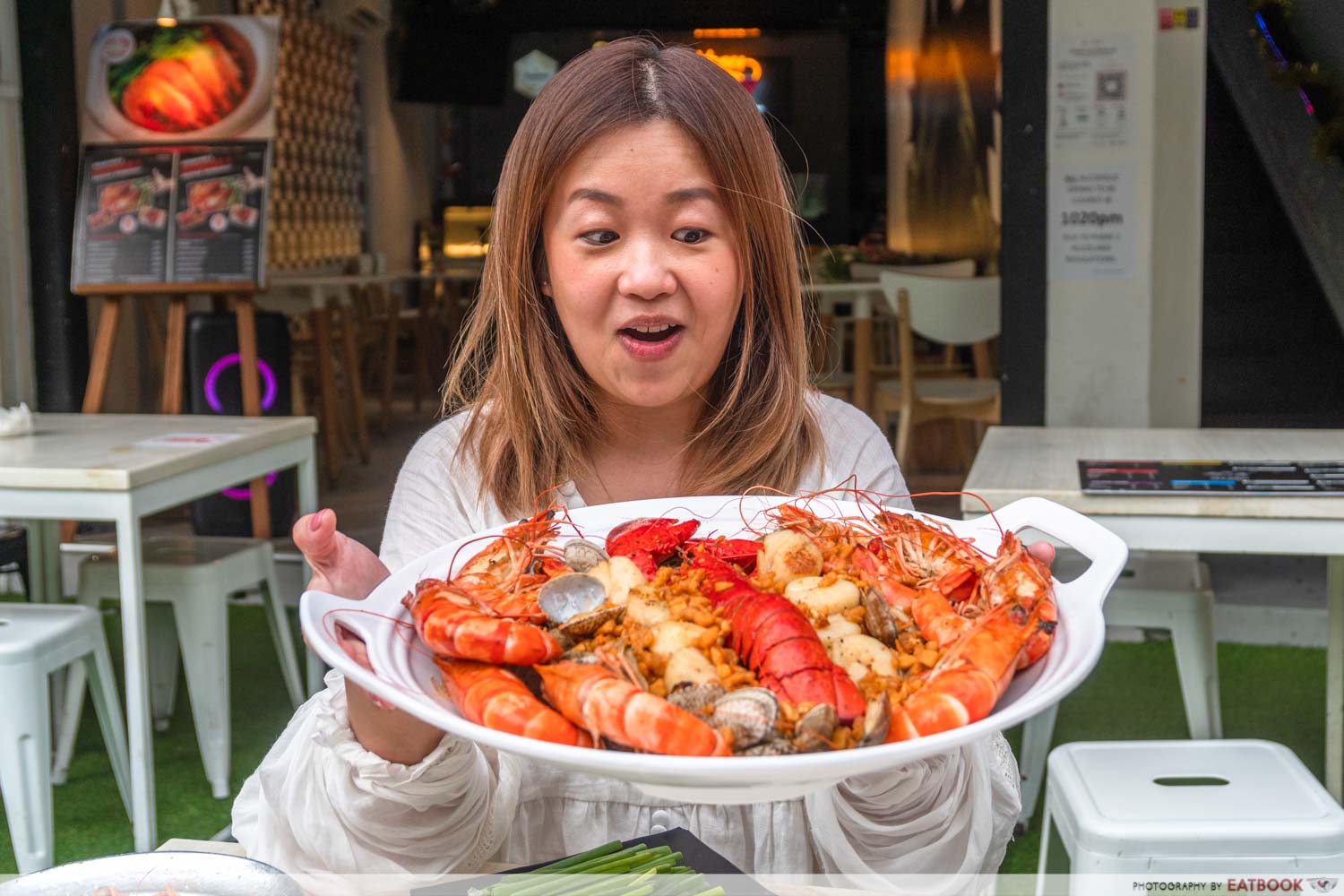 I might be biased, as I am a big fan of fresh seafood, aromatic spices, and pork lard. Coincidentally, Shrimp Prawn Seafood's signature dishes are composed of a medley of just all that. Coming down to the restaurant itself, the dishes impressed me just as it did the first time we had it at the Chatuchak event in Singapore. The restaurant now also has an extended menu of new items which had me vowing to return with my family and friends.
That being said, this is a place to visit when payday comes, as prices ain't cheap. Servings might be generous but coming back too frequently will burn a hole in your pocket. For those on a budget, or for office workers who are looking for something good for lunch to relieve some stress, order their more affordable Vannamei Vermicelli at $12.80++ instead.
Before you head down, another thing to note is the hour-long waiting time. The Chatuchak event was the first time Alvin showcased what he had to offer, and this restaurant is a dive head first for him, right after the event ended mere months ago. Along with his strict quality control, he aims to provide his customers with the best steel pot vermicelli in Singapore, so time might not necessarily be of the essence here.
If you're looking for more good food around the area, check out the secret restaurant Dragon Chamber, or head to Dopa Dopa Creamery for some artisanal gelato.
Address: 53 Boat Quay, Singapore 049842
Opening hours: Mon-Fri 11:30am to 10:30pm, Sat-Sun 4:30pm to10:30pm
Tel: 8375 3888
Website
Shrimp Prawn Seafood is not a halal-certified eatery.
Photos taken by Lim An.
This was a media tasting at Shrimp Prawn Seafood.
Summary
Pros
– Fresh seafood
– Generous portions
– Well-seasoned dishes
Cons
– Slightly pricey
– Long waiting time
Recommended dishes: Steelpot Prawn Vermicelli ($18.80++), Dog Mother Crab ($29.80++ for 400g, $59.80++ for 700g)
Opening hours: Mon-Fri 11:30am to 10:30pm, Sat-Sun 4:30pm to10:30pm
Address: 53 Boat Quay, Singapore 049842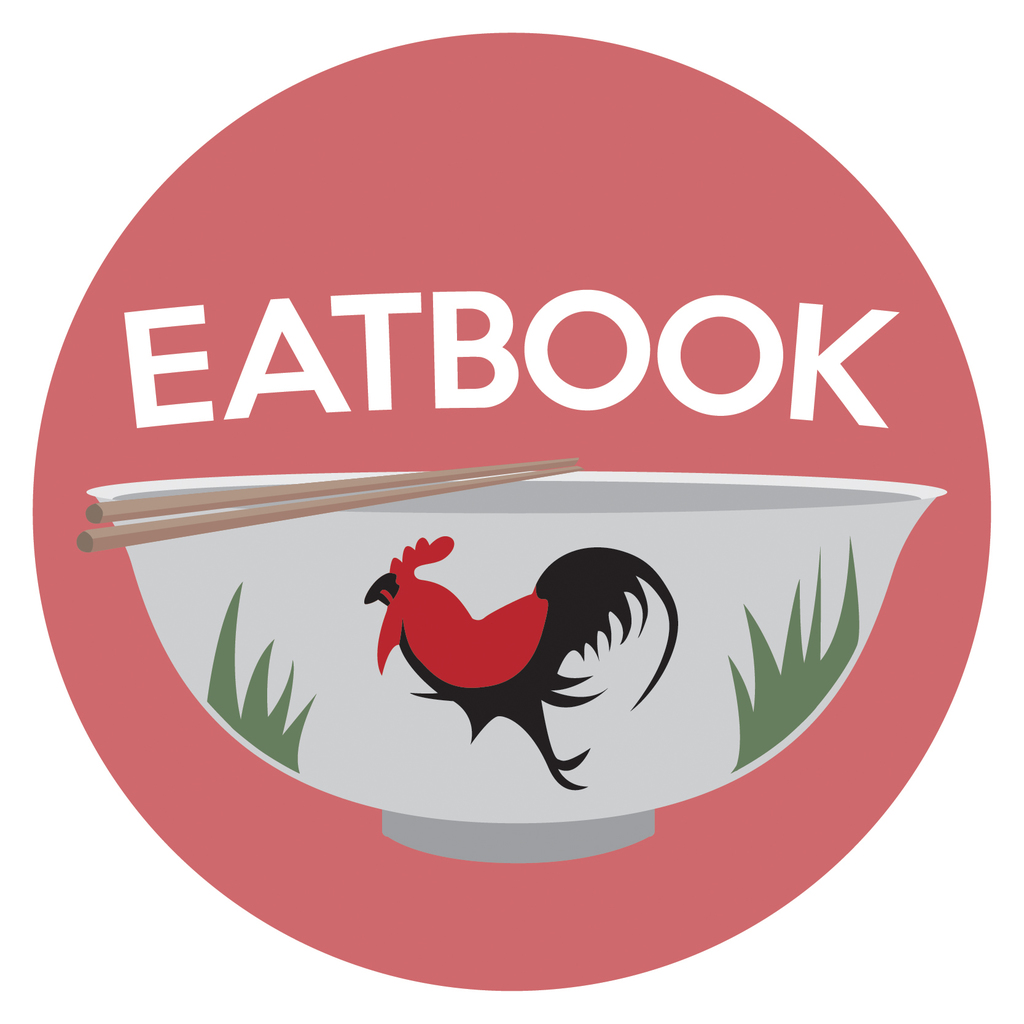 Drop us your email so you won't miss the latest news.