Tempura Makino at Suntec City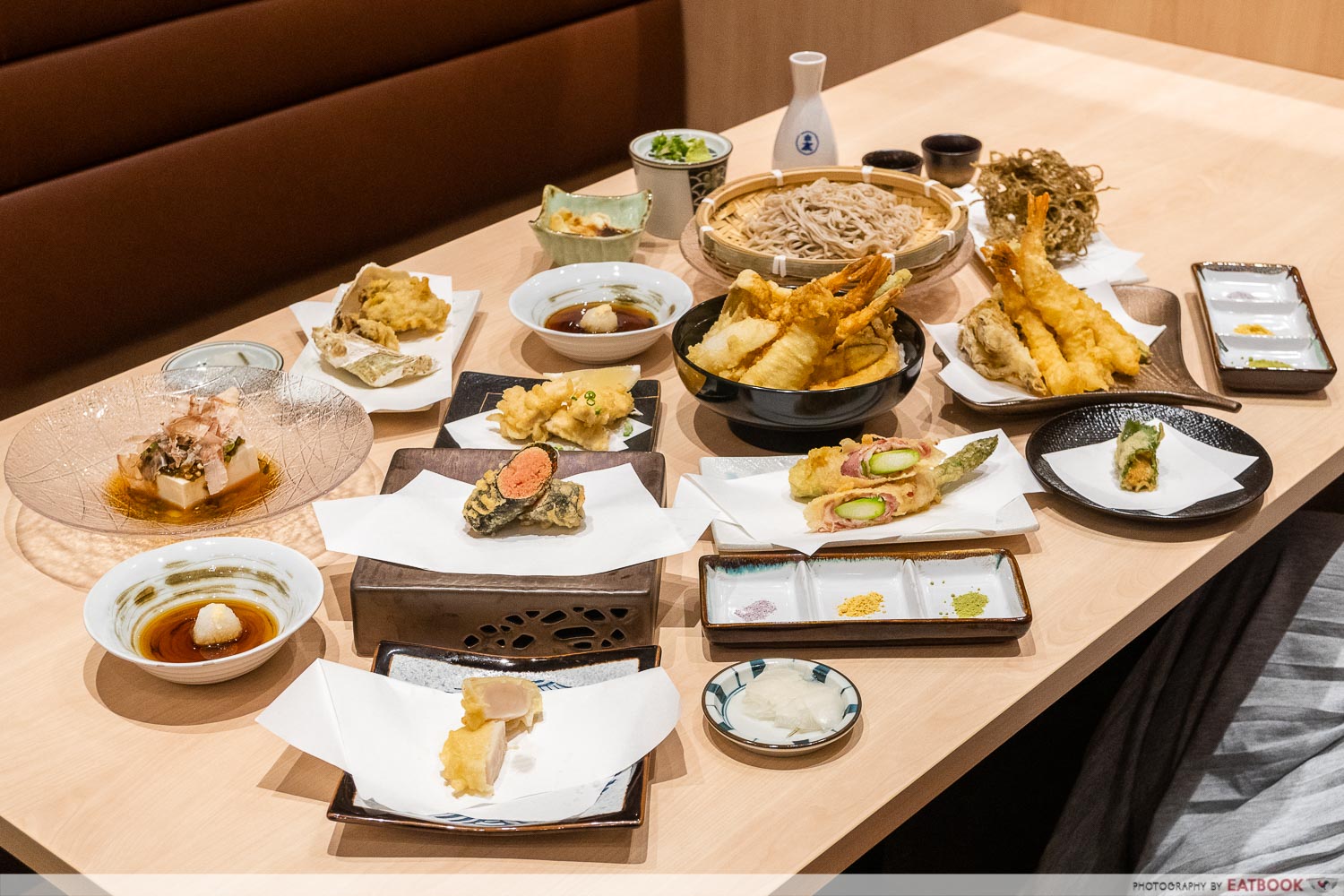 After my visit to Tempura Tendon Tenya last year, I was pleasantly surprised to find out that yet another Japanese tempura specialist was coming to Singapore. I don't mean fancy-schmancy tempura that costs an arm and a leg, because the cheapest item on the menu at Tempura Makino in Suntec City would set you back just $1.50++.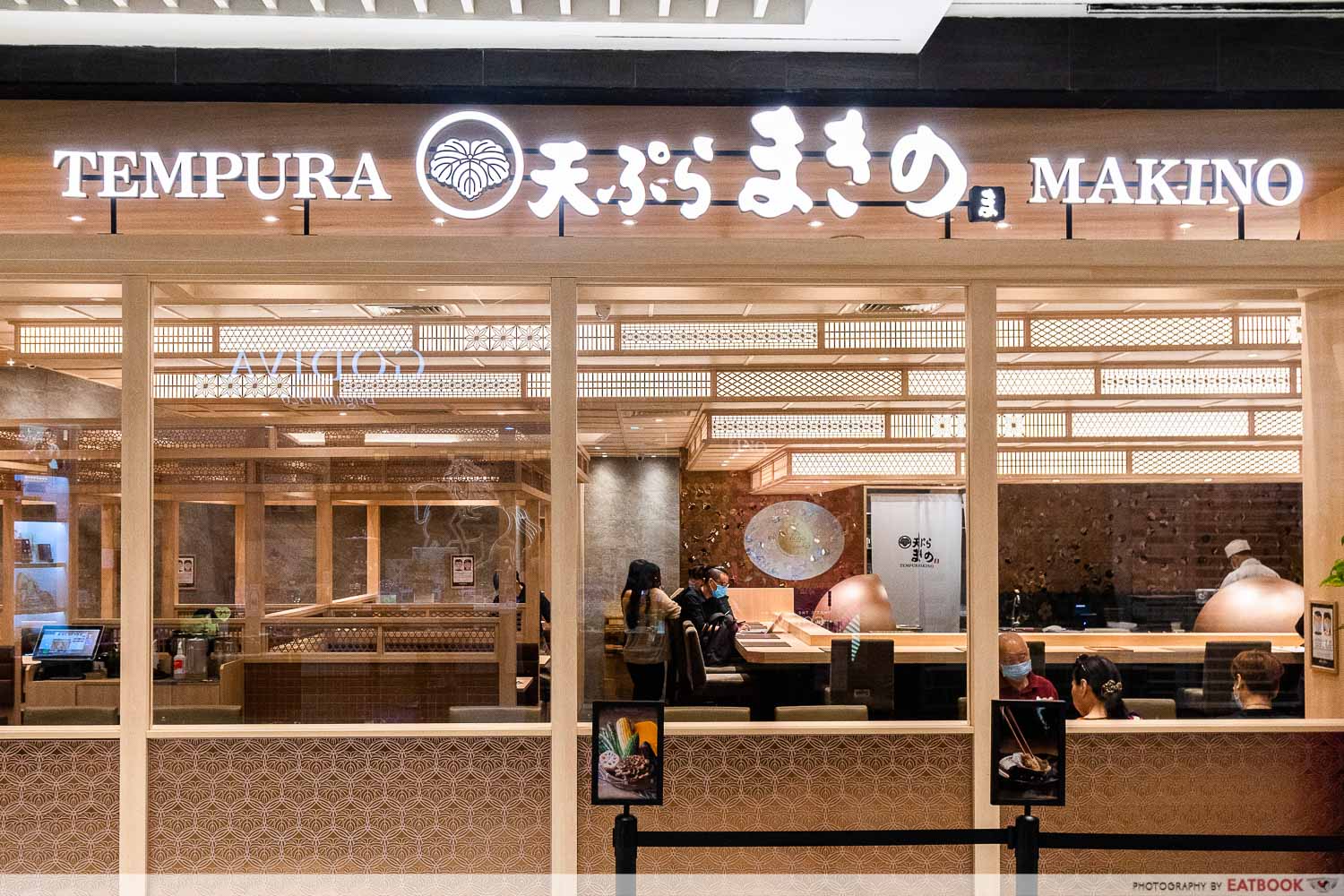 With more than 10 outlets in Japan, Tempura Makino is no stranger to making tempura. They're not an old name, but they specialise in serving their food Tsudoage-style, where each piece of handcrafted tempura is fried to order, and served one at a time.
Kiwami's New Suntec City Outlet Has Mala Ramen, Wagyu Fried Rice, Hokkaido Snow Crab And More
Food at Tempura Makino
For the best experience, get a seat at the counter, where you can watch the tempura chefs as they work their craft. It's atypical for a dining experience that's this affordable, where none of the a la carte tempura items costs more than $10, except for one item—Steak Tempura, which just misses that price range at $10.80++.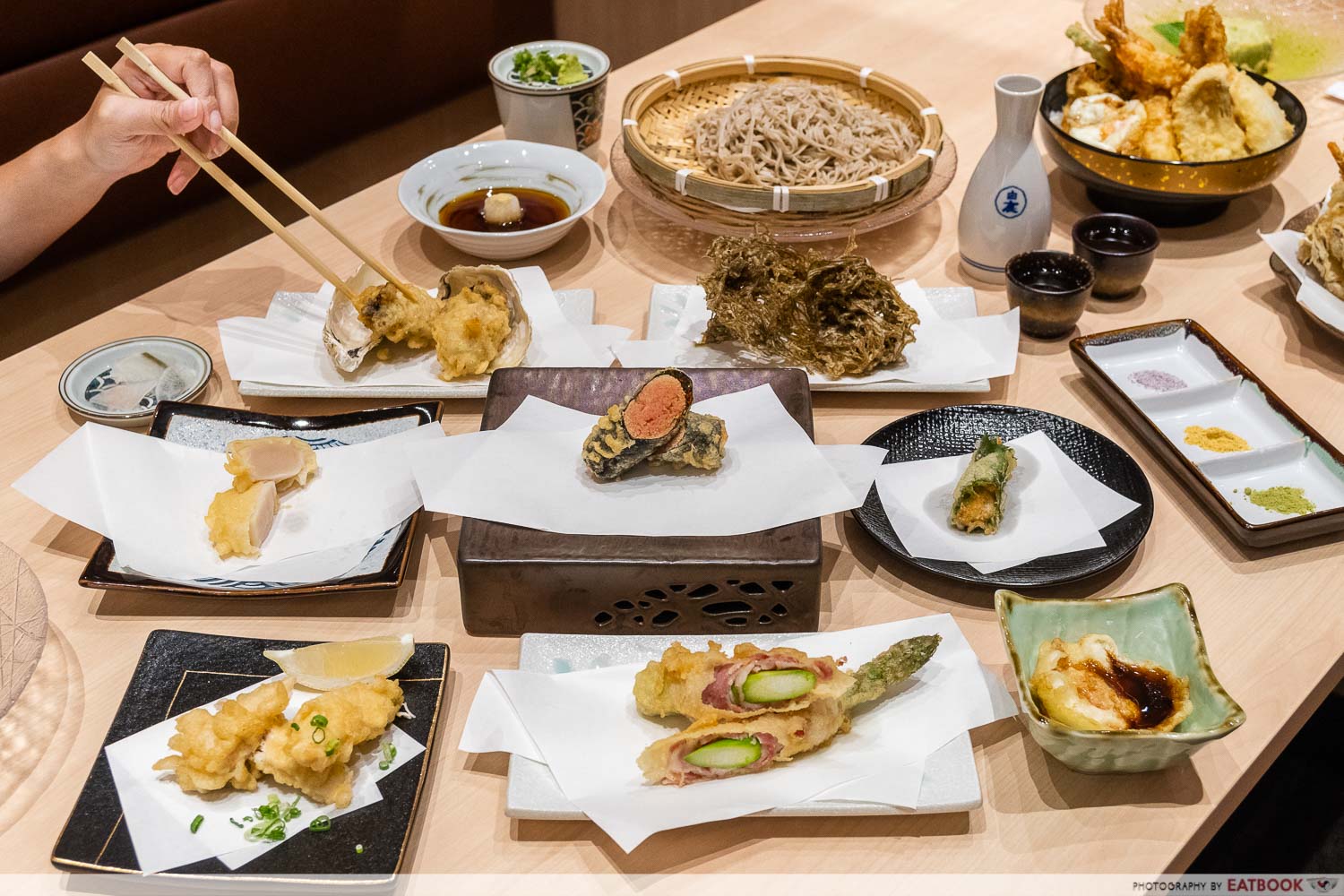 The flour that's used to prepare the tempura batter, and a fair number of the ingredients featured on the menu here, are imported from Japan. In the case of the former, it results in a light, crisp coating that's worlds apart from some of the stodgy, doughy tempura dough you'd encounter elsewhere.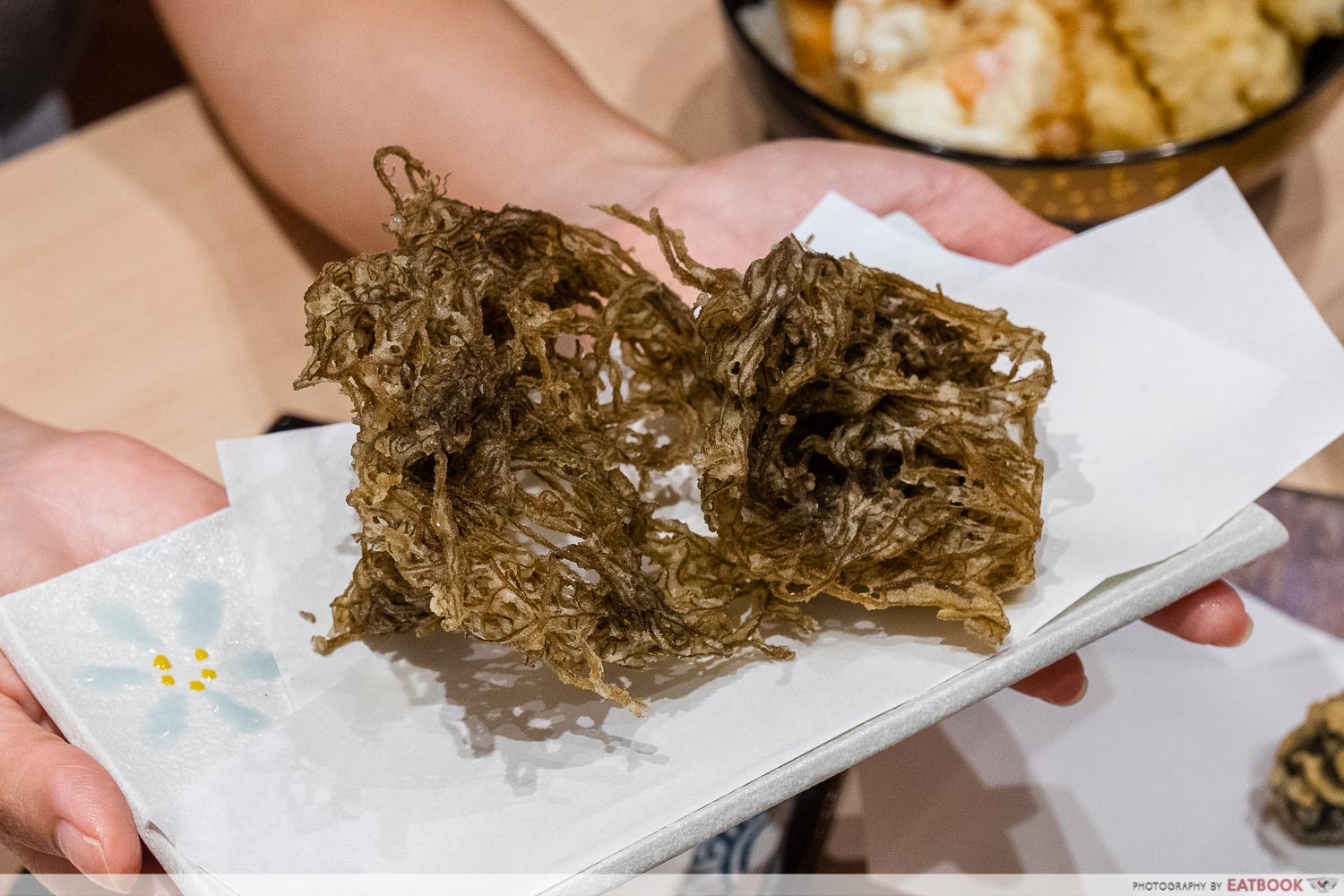 Some of the imported items include an Okinawan Mozuku Seaweed ($5.80++) that's super low in calories. This seaweed is specially harvested for its health benefits including antibacterial properties. It's also said to promote longevity, support the immune system, and support your gut health! It's usually slimy, but when fried this way, you'll barely notice that you're eating something healthy.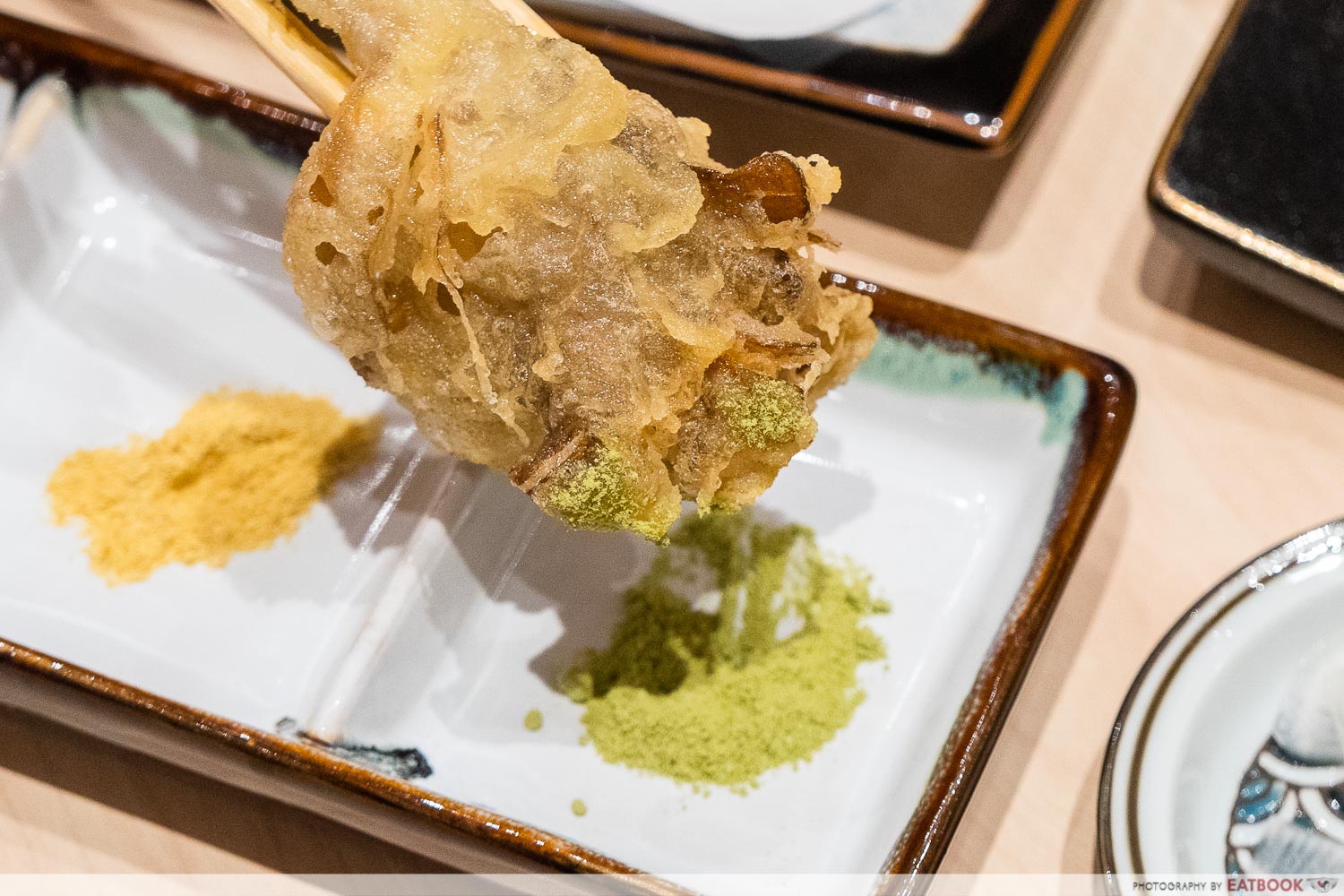 The Maitake ($2++) is another such import that's been brought in all the way from Hokkaido. The earthy, meaty mushroom goes really well with the three salt dips that each diner gets, in particular the green matcha salt, which IMO highlights the natural flavour of the shroom.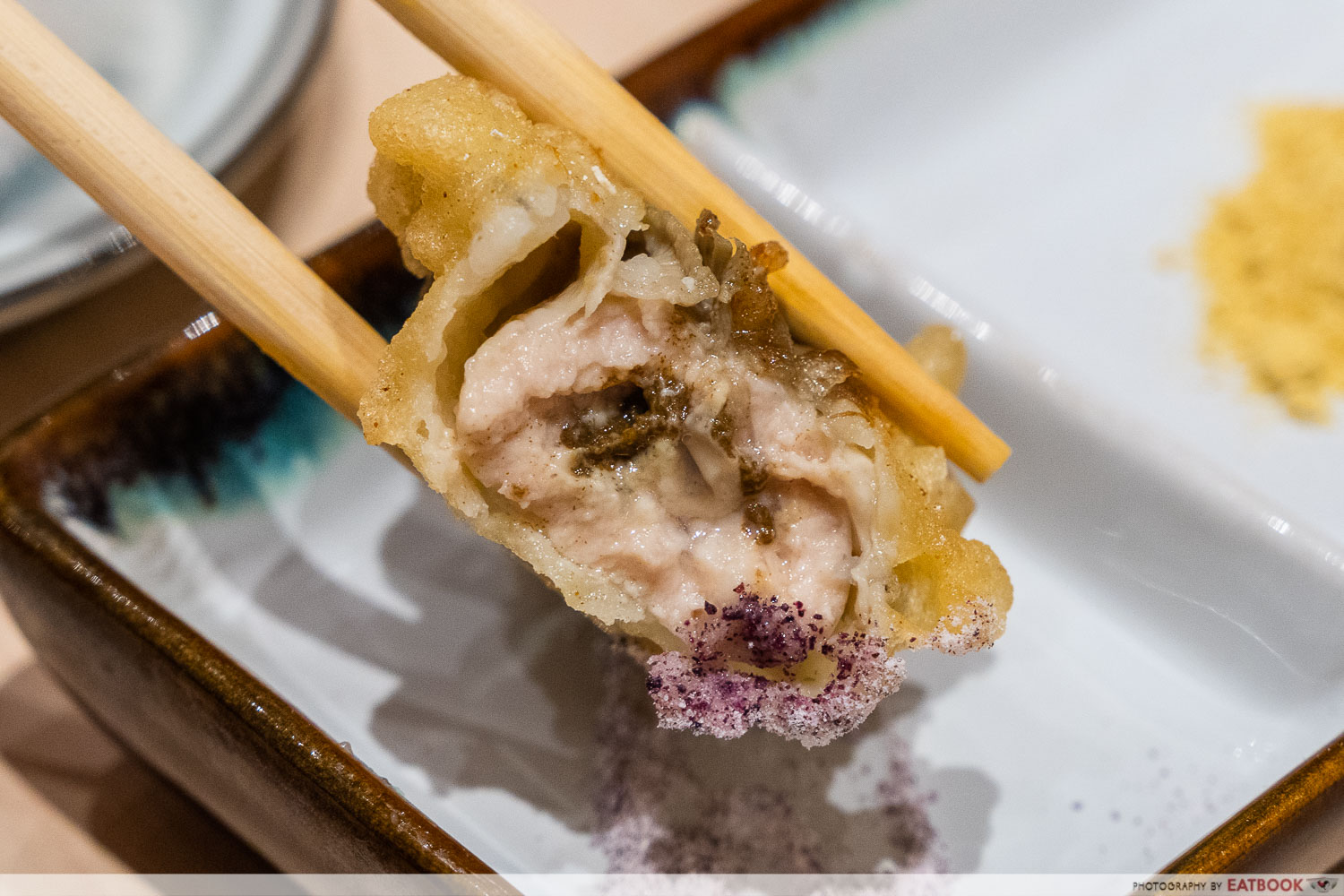 My colleague and I agreed that the ultimate best item of our meal was the Oyster ($3.80++), which comes from Hiroshima. Hiroshima oysters are prized for their rich taste and meatiness, and boy, was it apparent here. Each bite was creamy, without tasting overly briny. It contrasted well with the crisp batter, and tasted even better after dipping lightly into the purple shiso salt.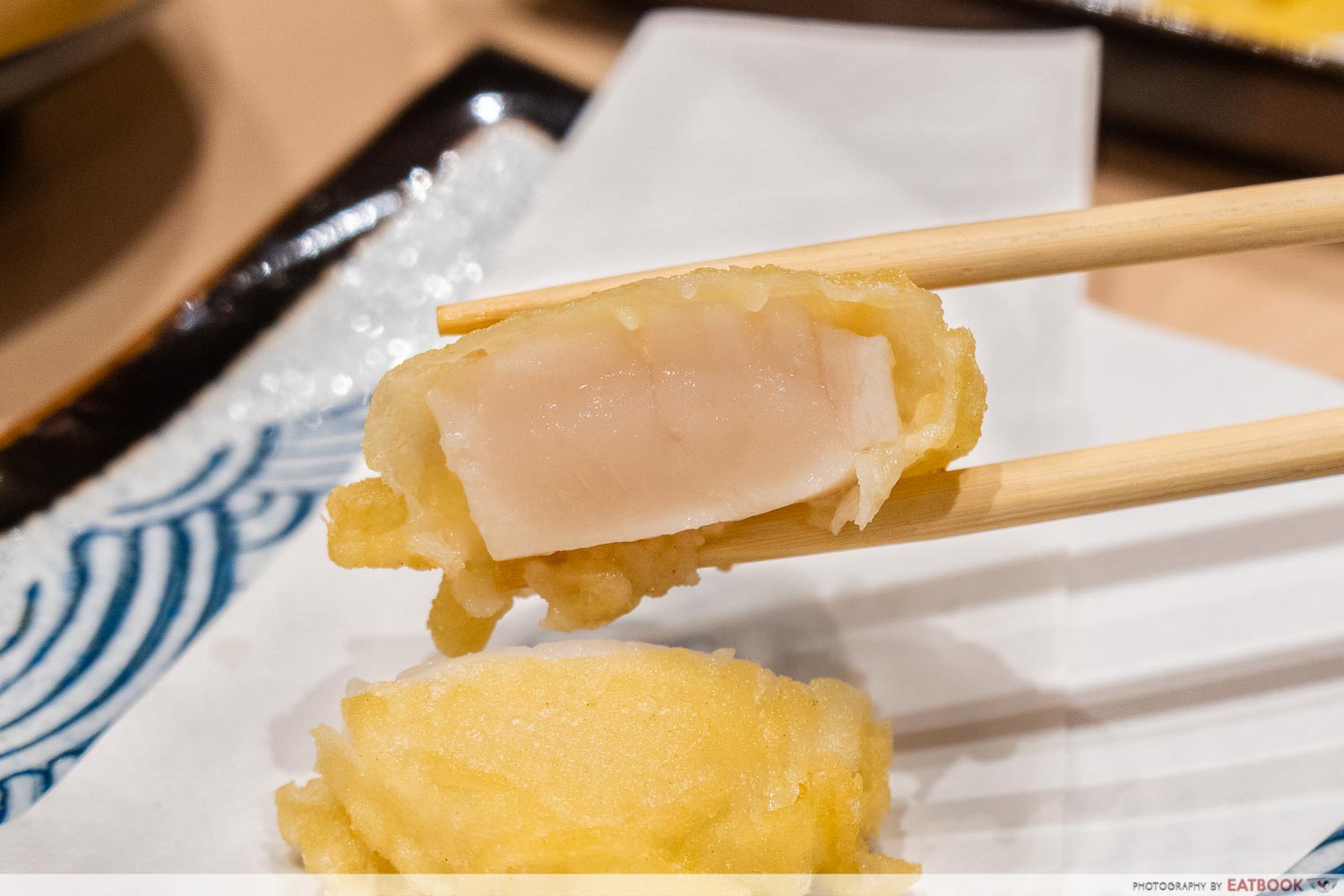 While the Scallop ($6.80++) was fresh and sweet, fried perfectly with a slightly underdone middle, I would highly recommend eating this ASAP. Of all the items we tried, the crust on this got soggy and limp the quickest.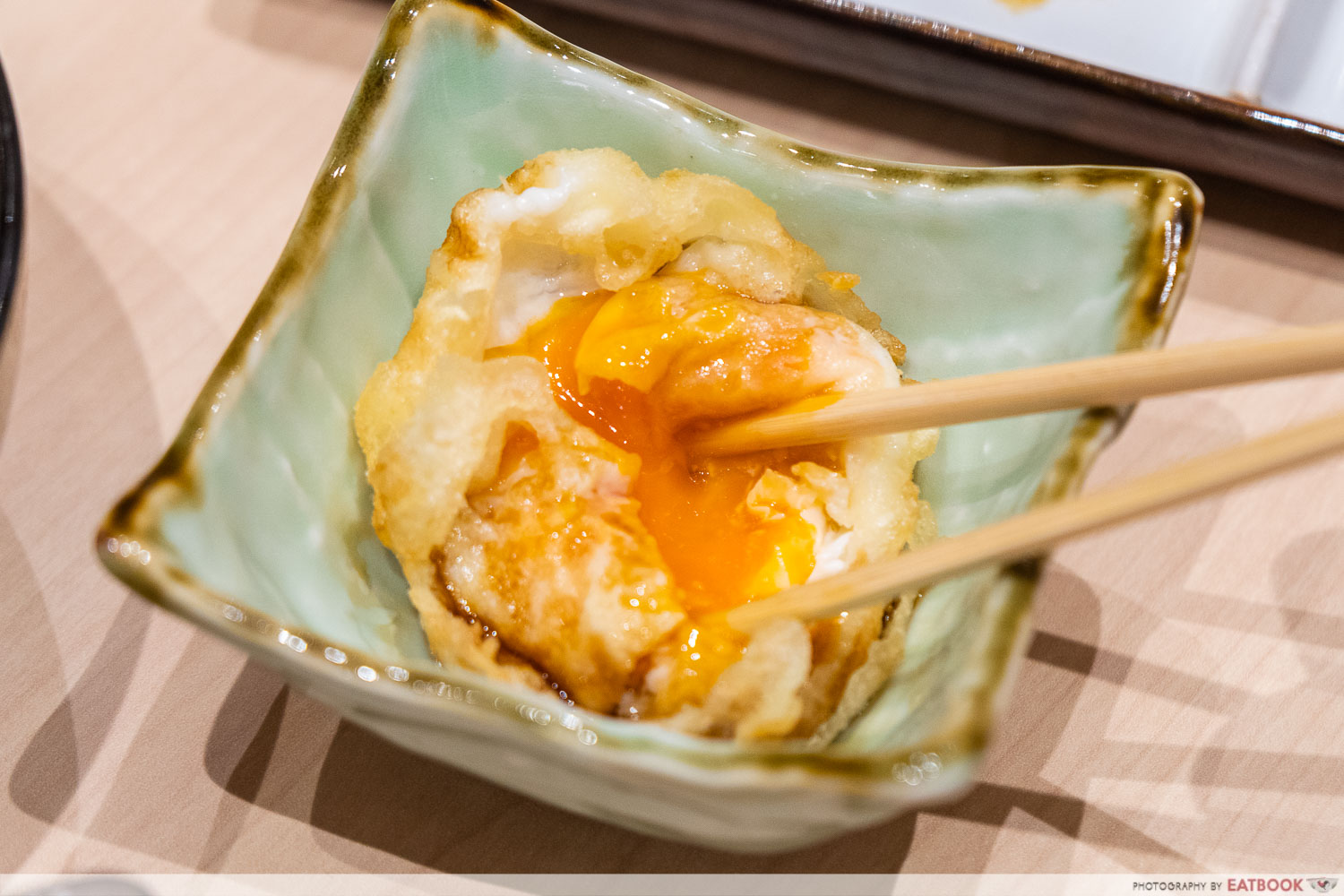 Another item I would return for is the Egg Tempura ($2.50++), featuring an Okinawan egg with its characteristic deep orange yolk. It's dashed with a house-special tare sauce, which ties up the richness of the yolk with the crispness of the batter. While I enjoyed this on its own, it would go very well on a bowl of Japanese rice as well.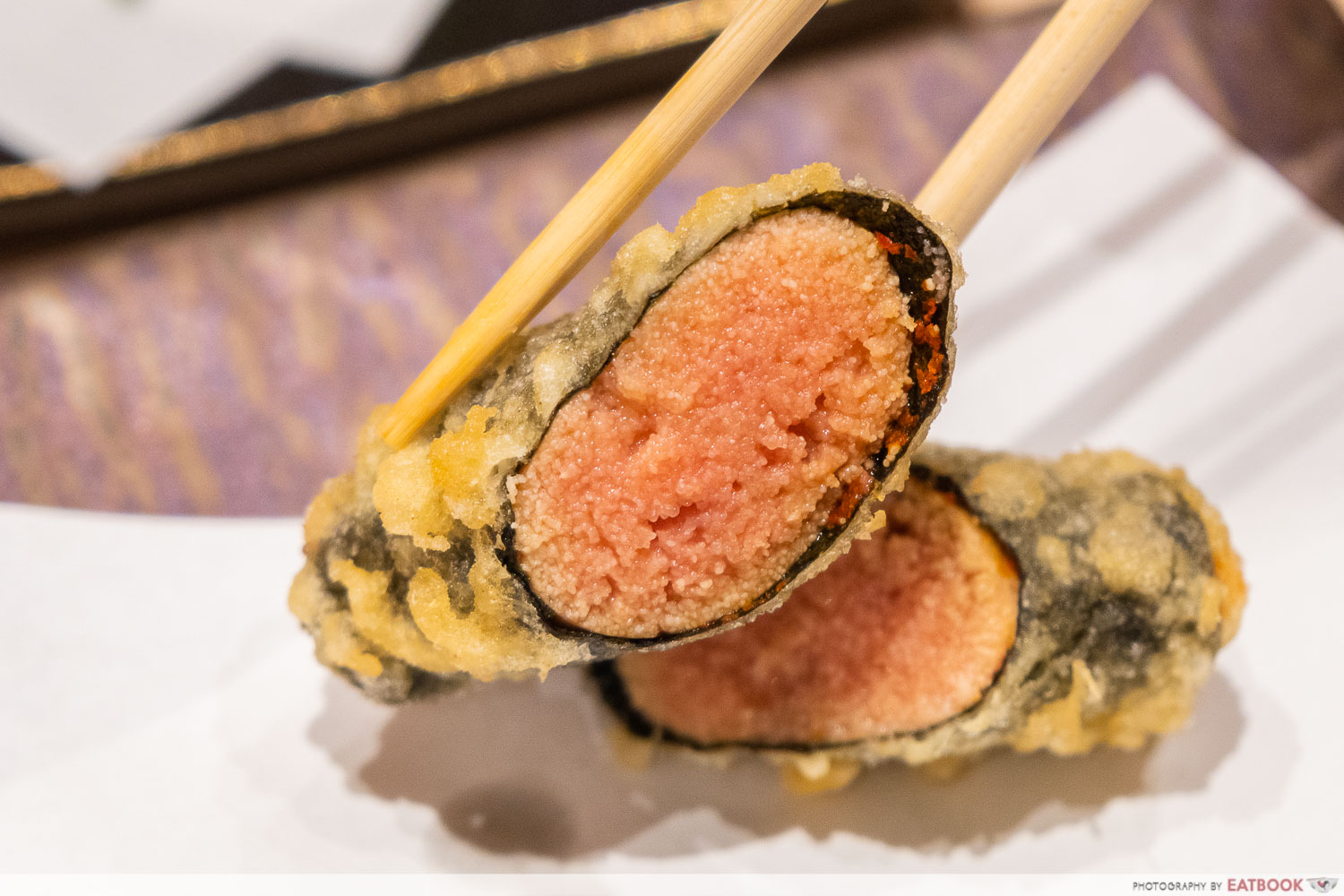 I expected to enjoy the Mentai Seaweed ($6.80++), but this really needs to be had with a bowl of rice and perhaps some Kewpie mayonnaise. It sees a chunky lobe of the spicy cod roe, wrapped in seaweed, and deep-fried. Having it on its own was a little too much, and that's coming from me, a person who can appreciate rich and savoury food.
The Uni Ohba ($8.80++) was also a letdown for me, although the price on this is very attractive. Uni and shiso leaf are a great pairing, with the light spicy-pepper notes of the shiso complementing the luxe ingredient. Here, they use Canadian uni, but the piece that I got wasn't the creamy uni I'd expected, and the serving was a little threadbare.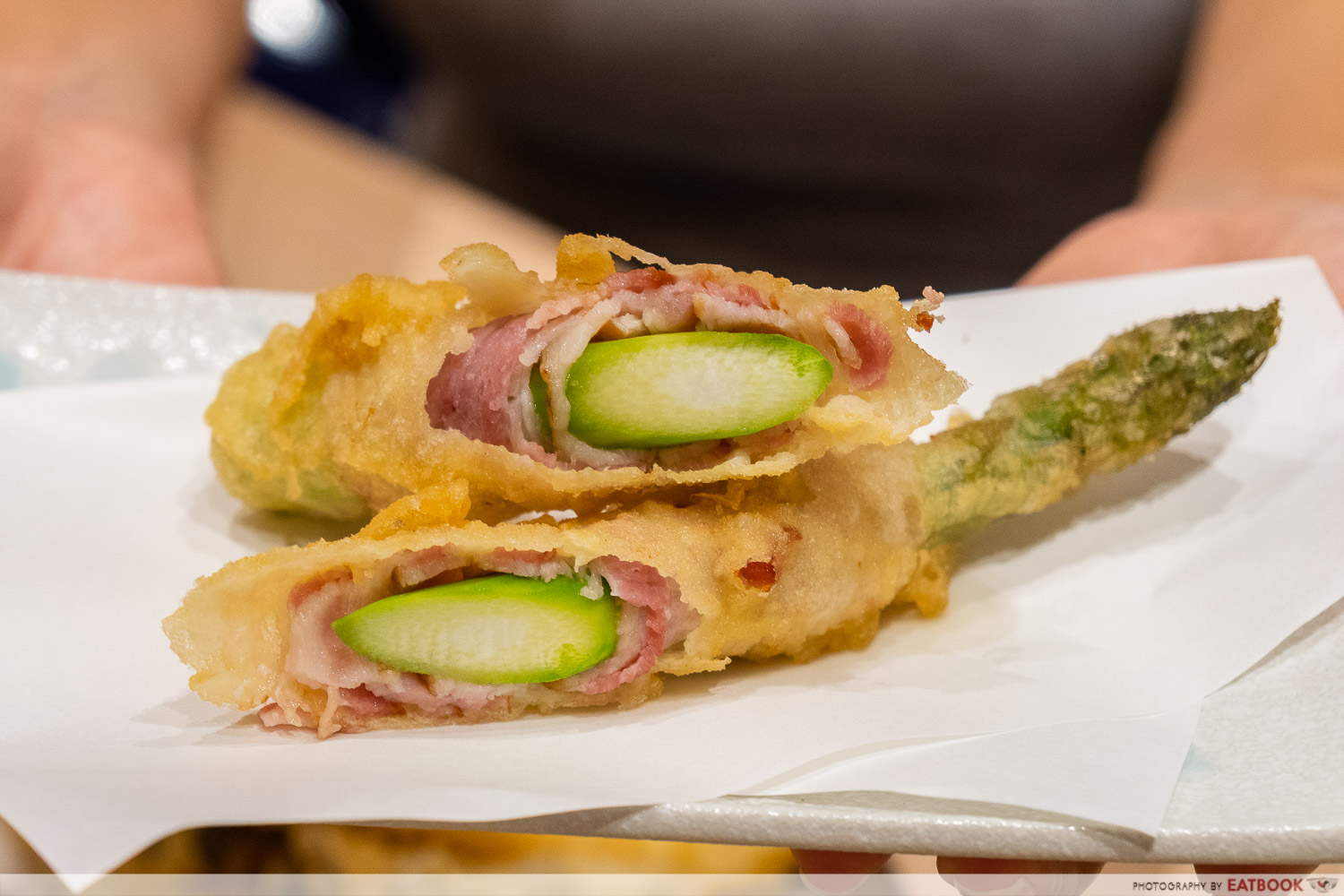 A sure crowd-pleaser is the Asparagus and Bacon ($4.80++), because bacon-wrapped-anything is always great. A great big stalk of asparagus is rolled up in a blanket of bacon—I enjoyed how they used a more mature stalk of asparagus, rather than baby asparagus, because there was more body and crunch to stand up against the salty pork.
If you're expecting mature asparagus to be tough and woody, this isn't. As it's deep-fried, the vegetable was not too green-tasting, and not overcooked to sogginess either.
Create your own tempura experience and complete the meal with your choice of Rice ($2++), Inaniwa Udon ($7.80++), or Soba ($6.80++)—you can choose to have the soba in hot soup, or cold with a soba shoyu.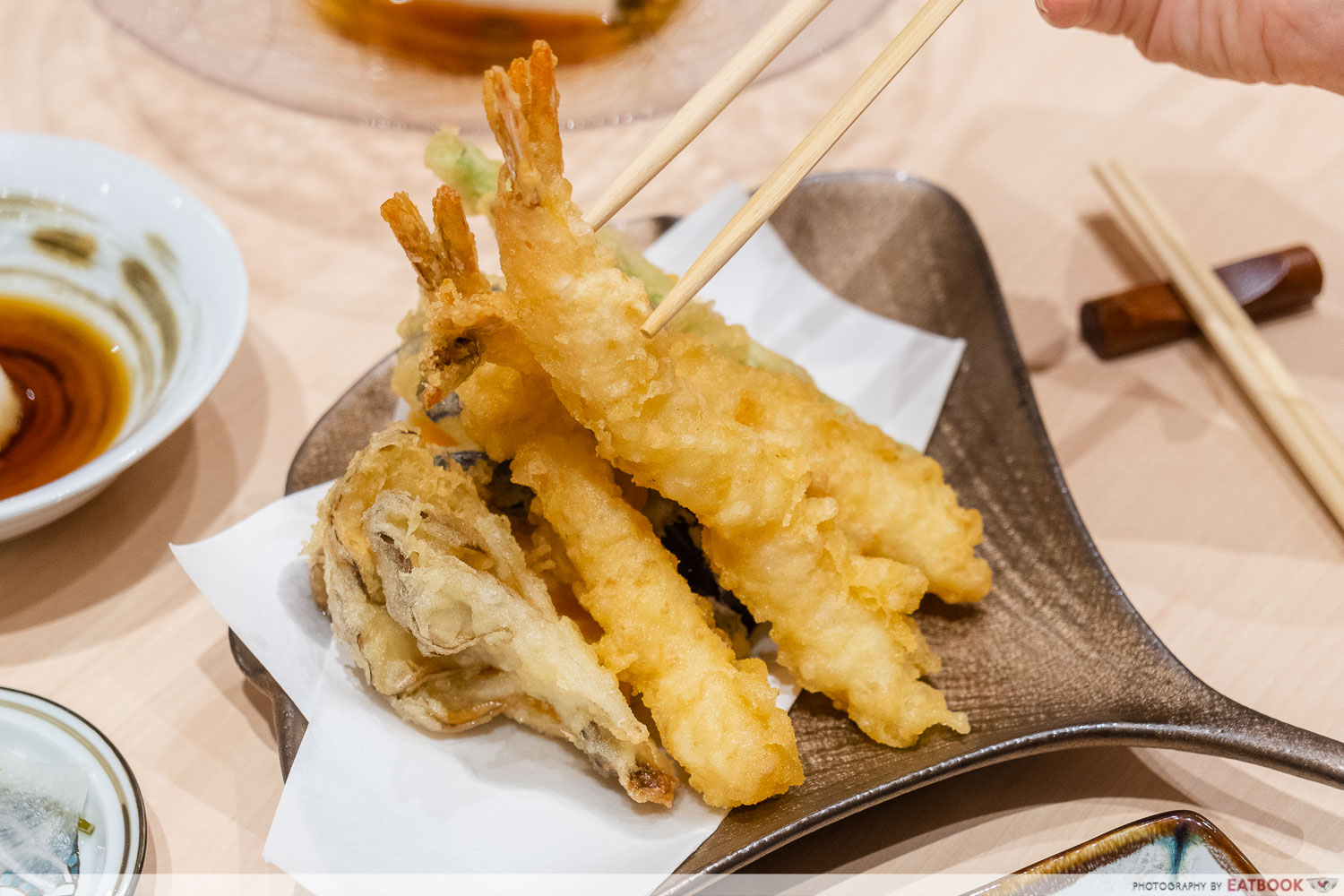 To make things easier, skip the a la carte and go for the Tempura Platters, one of which is a Prawn & Vegetable Tempura ($16++), which comes with assorted vegetables and three prawns. These were fresh-tasting, and the batter held up well even after we had taken some time to photograph everything.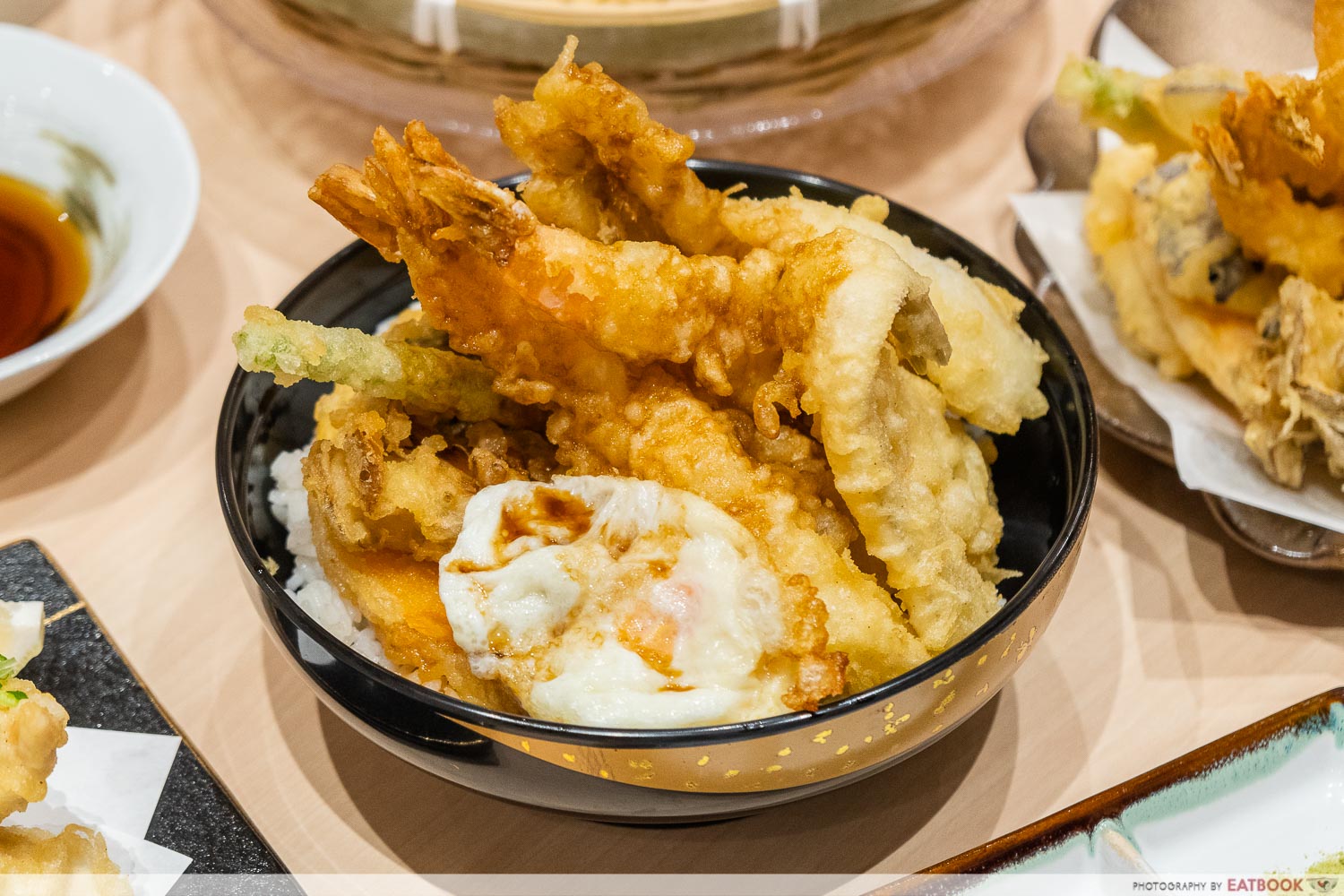 Otherwise, the Makino Special Tendon ($25++) is a convenient option where you'll get a selection of tempura, including the Egg Tempura, in a single bowl, doused in tare sauce. This comes with miso soup and a side dish.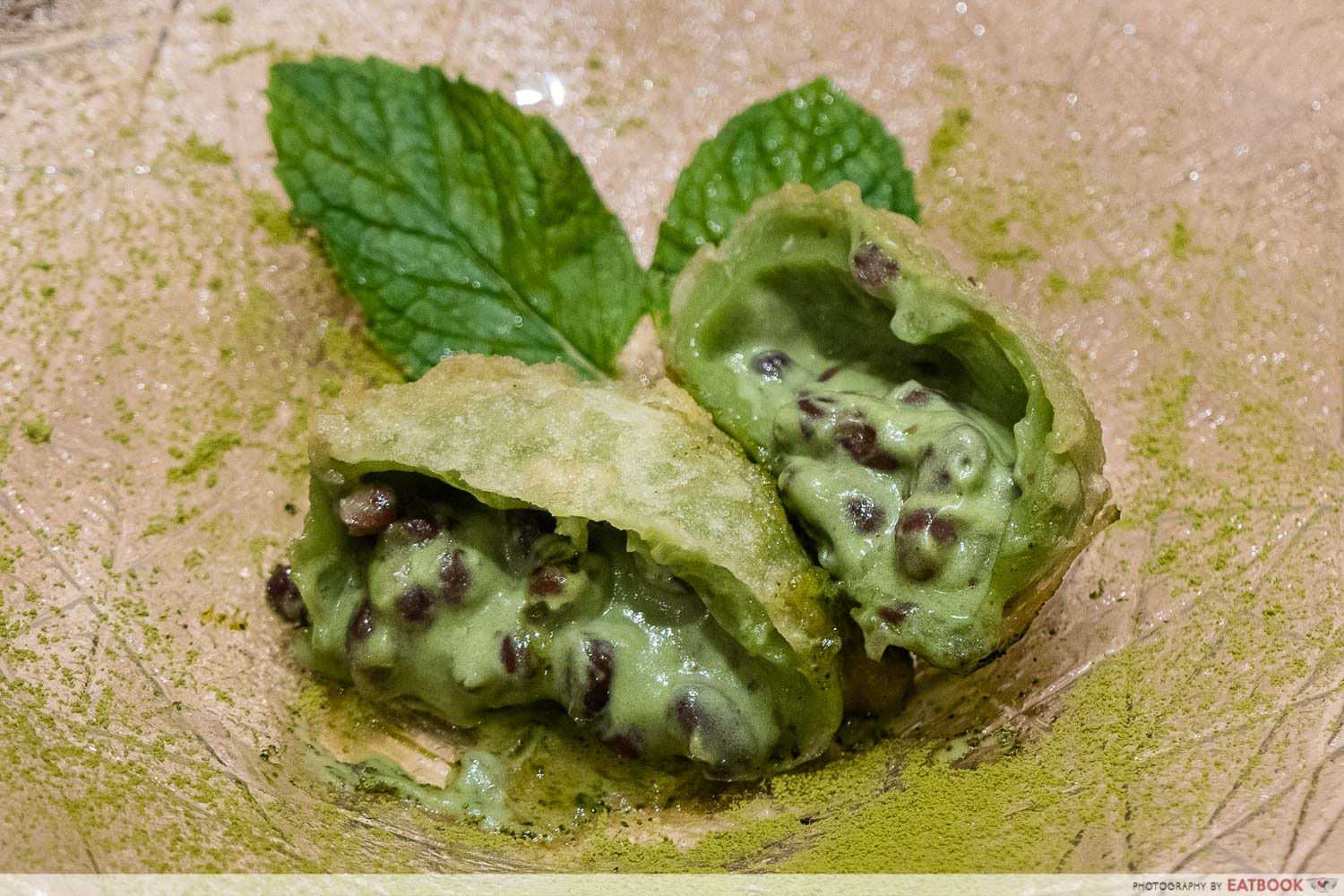 End the meal with a sweet tempura, and go for Matcha Mochi Tempura ($4.80++), a generous deep-fried mochi that's full of matcha-azuki cream!
Ambience at Tempura Makino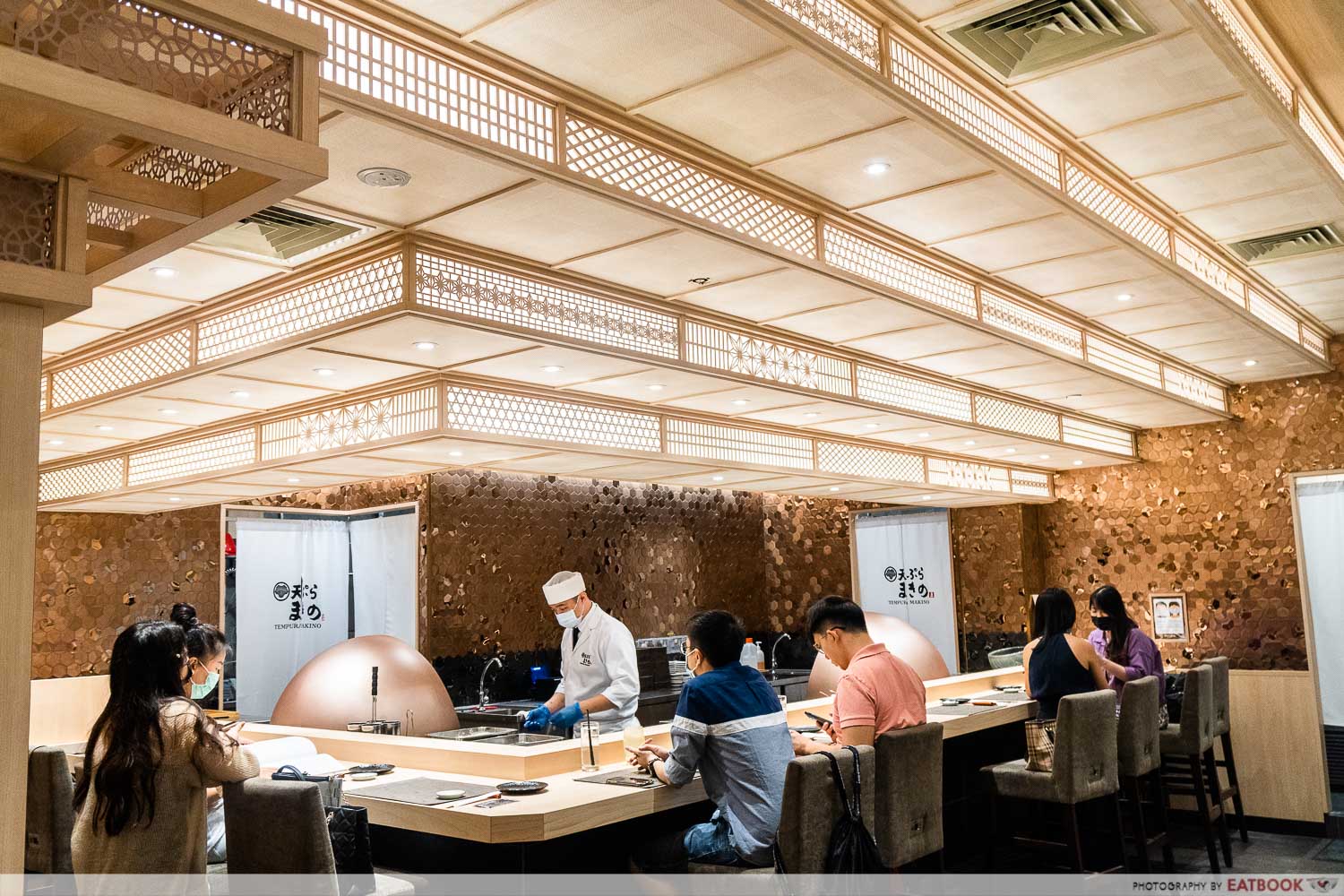 Tempura Makino's location in Suntec City puts it within easy access of multiple train stations: Esplanade MRT Station, Promenade MRT Station, and even Raffles City MRT Station. Esplanade MRT Station is the closest by, and if you're looking for a landmark within the megamall, the tempura specialist is situated in the same building as Tokyu Hands, Don Don Donki, and Uniqlo.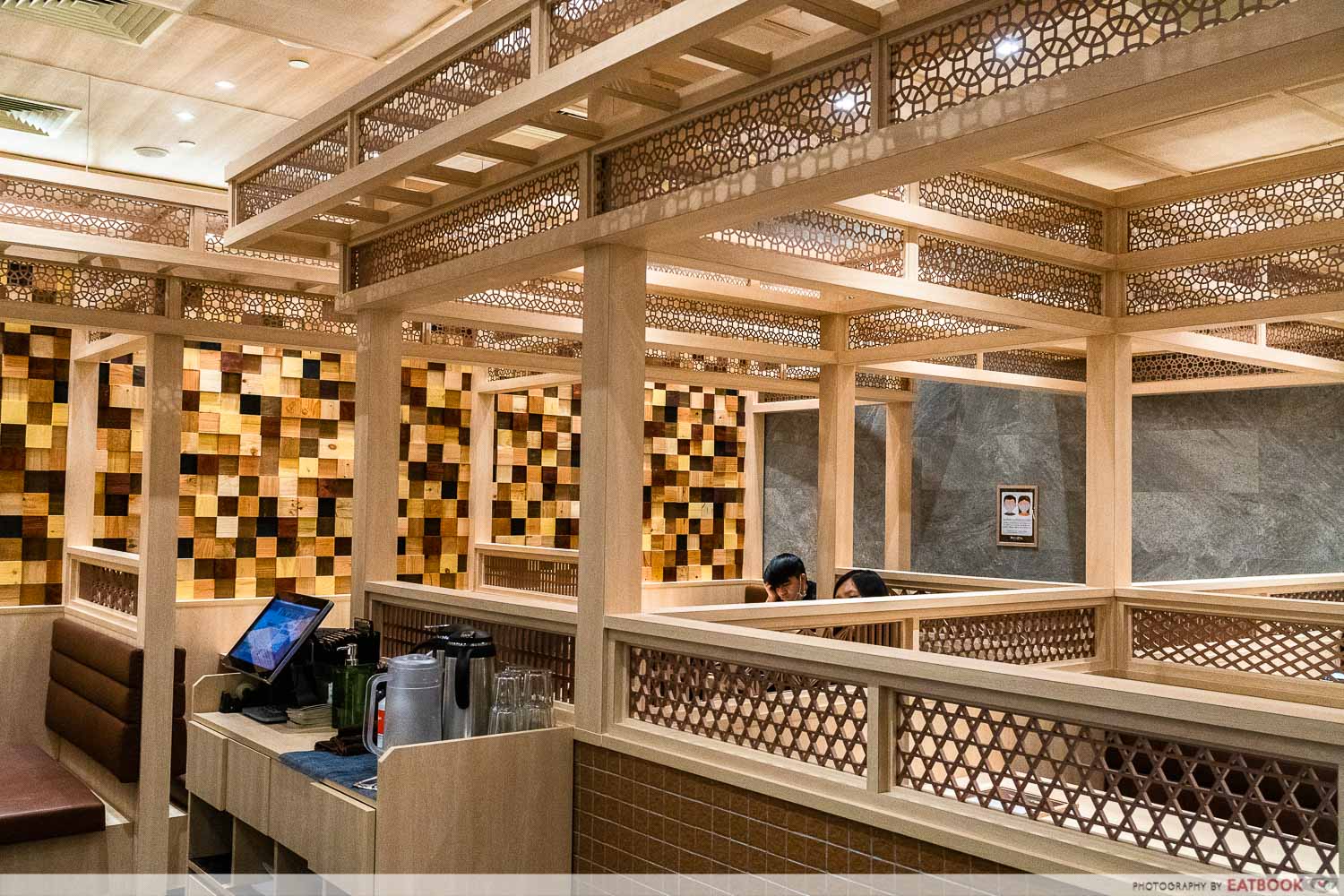 You're greeted with the open kitchen space when you enter, with two frying domes behind which the chefs prepare the tempura. Look up, and you'll find stepped, lit-up feature ceilings that seem influenced by temple structures in Japan. Alternatively, there are regular table seats, or booth seats, boxed in with wooden lattices that immediately bring Japan to mind, offering a degree of privacy during your meal.
The verdict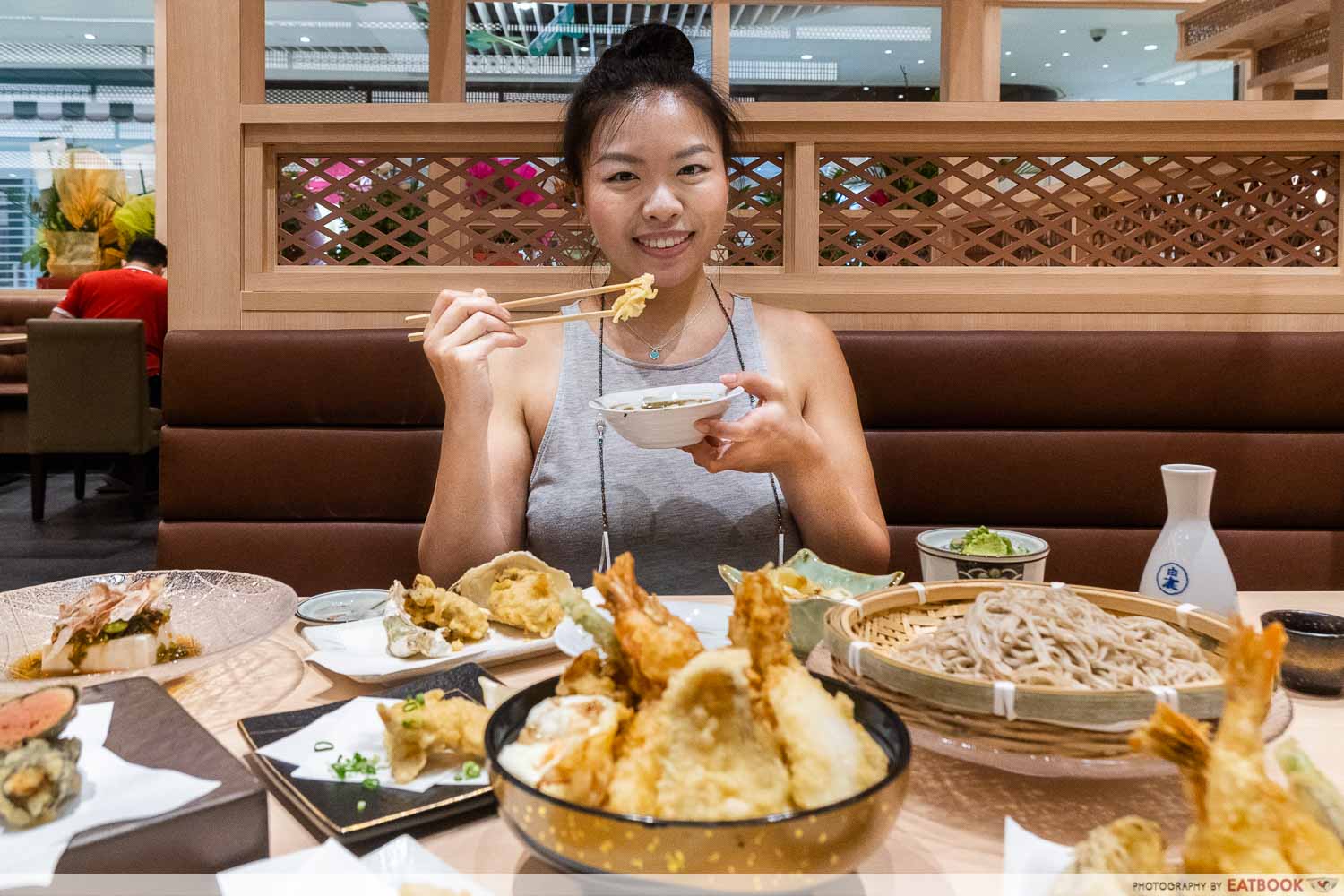 As far as affordable tempura goes, Tempura Makino hits the spot, while giving you all the chi chi, atas feels. The tempura is generally well done, although some pieces that I tried could do with minor tweaks. A lot of thought has gone into the decor of the space, and you could almost imagine yourself transported to the land of the rising sun. For the price point, I would most certainly consider Tempura Makino when I have a tempura craving.
They officially open tomorrow, and to celebrate the occasion, all diners are entitled to one free tempura egg each from 22 September to 24 September 2021! And there's good news for South-siders too, because plans are underway to open another branch in VivoCity very soon.
For more food recommendations in Suntec City, check out Kiwami—a Ramen & Gyoza Bar with mala ramen. Alternatively, check out our Suntec City Japanese Food Guide for a variety of Japanese dining selections!
Suntec City Japanese Food Guide: 15 Places For Unagi, Shabu Shabu Buffet And More
Address: 3 Temasek Boulevard #02-305/308/311, Suntec City Mall, Singapore 038983
Opening hours: Daily 11am to 10pm
Website
Tempura Makino is not a halal-certified eatery.
Photos taken by Emily Teu.
This was a media tasting at Tempura Makino.
Tempura Makino Review: Freshly Fried Tempura From $1.50++ Including Uni, Hiroshima Oyster And More
Tempura Makino Review: Freshly Fried Tempura From $1.50++ Including Uni, Hiroshima Oyster And More -

7.5/10
Summary
Pros
– Affordably priced
– Quality produce
Cons
– Uni was not great
– Mentai Seaweed was a bit too much
Recommended dishes: Egg Tempura ($2.50++), Asparagus and Bacon ($4.80++), Oyster ($3.80++)
Opening hours: Daily 11am to 10pm
Address: 3 Temasek Boulevard #02-305/308/311, Suntec City Mall, Singapore 038983