Japan's famous unagi restaurant Unatoto opens in Tanjong Pagar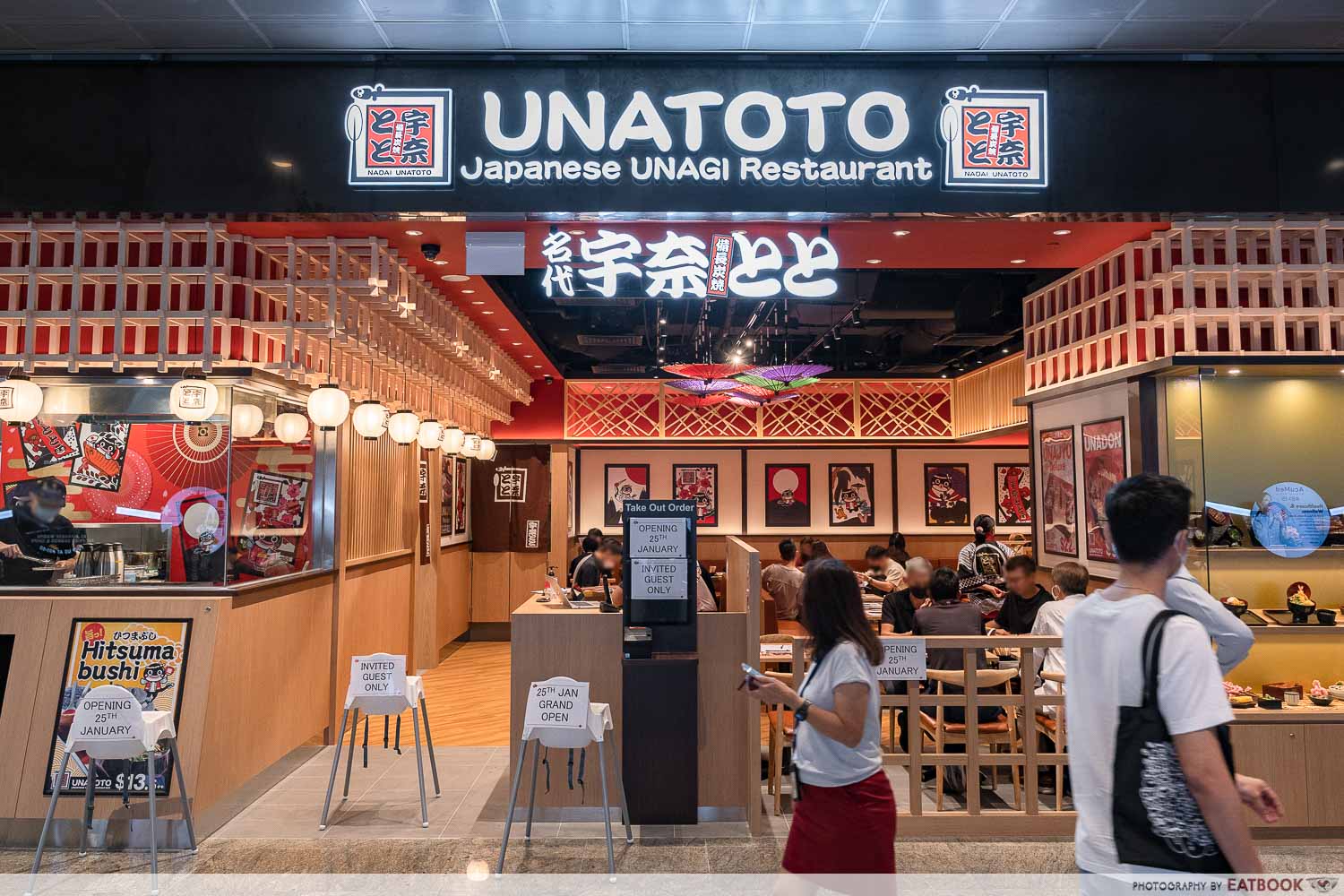 Unagi lovers may have recalled the recent buzz around the Japanese unagi franchise, Unatoto, and their debut in Singapore. Well, the buzz is officially over as the eatery is now open at Tanjong Pagar's Guoco Tower. We went to pay them a visit to see how the eatery stacks up against the likes of Man Man and Una Una.
Unatoto: Japan's Popular And Affordable Unagi Chain To Open In Singapore, Prices From $8.50
Food at Unatoto
Unatoto's menu features a wide variety of items, including Japanese sides with the likes of chawanmushi, fried chicken, and assorted tempura. Taking a quick look around, I noticed that almost everyone had ordered the Umaki ($3+), a Japanese rolled omelette with a thick slice of kabayaki eel in the middle. Curious, I ordered one for myself.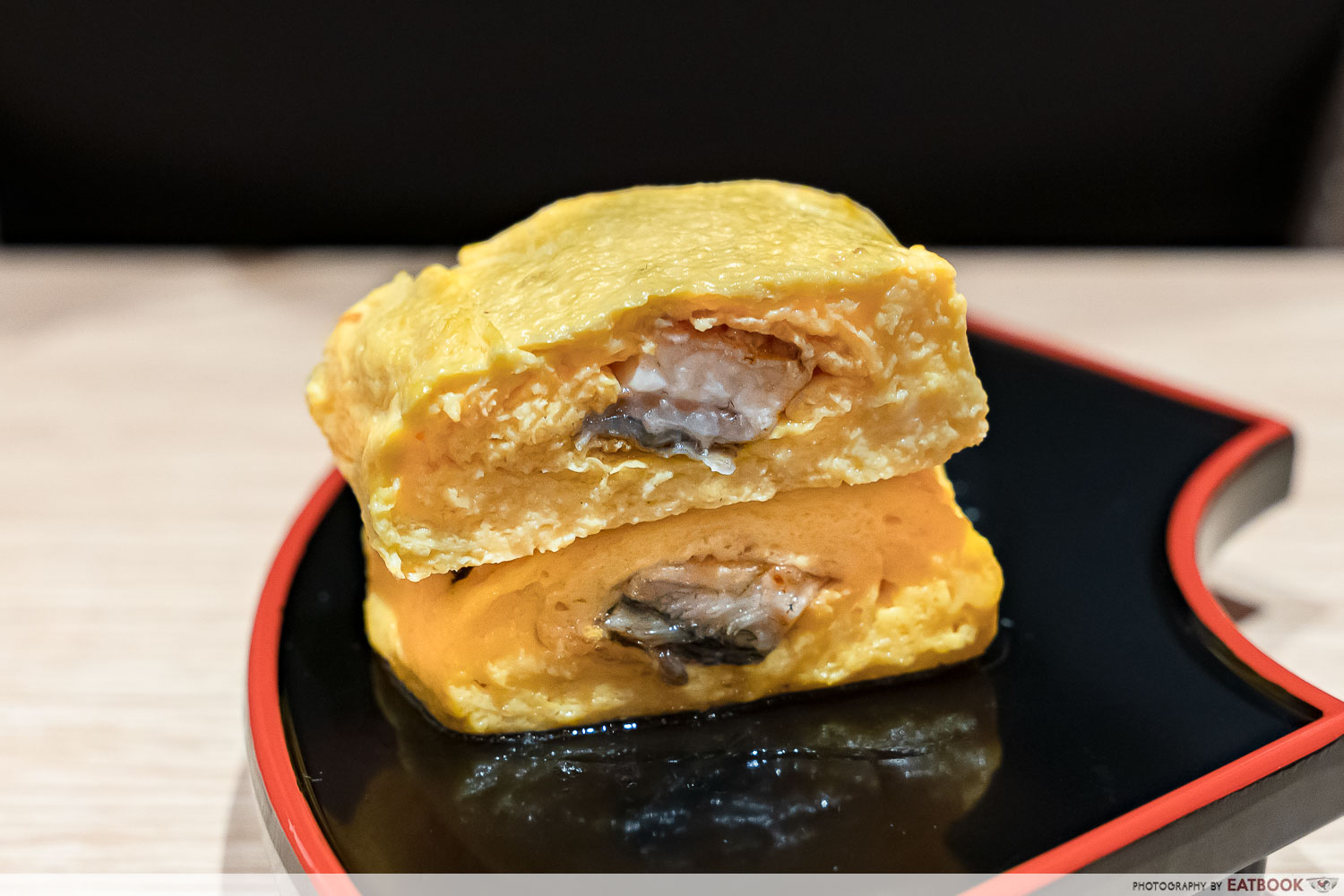 The umaki was not as sweet as I expected it to be. It tasted more like an English omelette rather than tamagoyaki, the latter of which is typically sweeter. The eel took a backseat, with its subtle flavours beautifully complementing the light dashi stock that soaked into the egg's fluffy layers.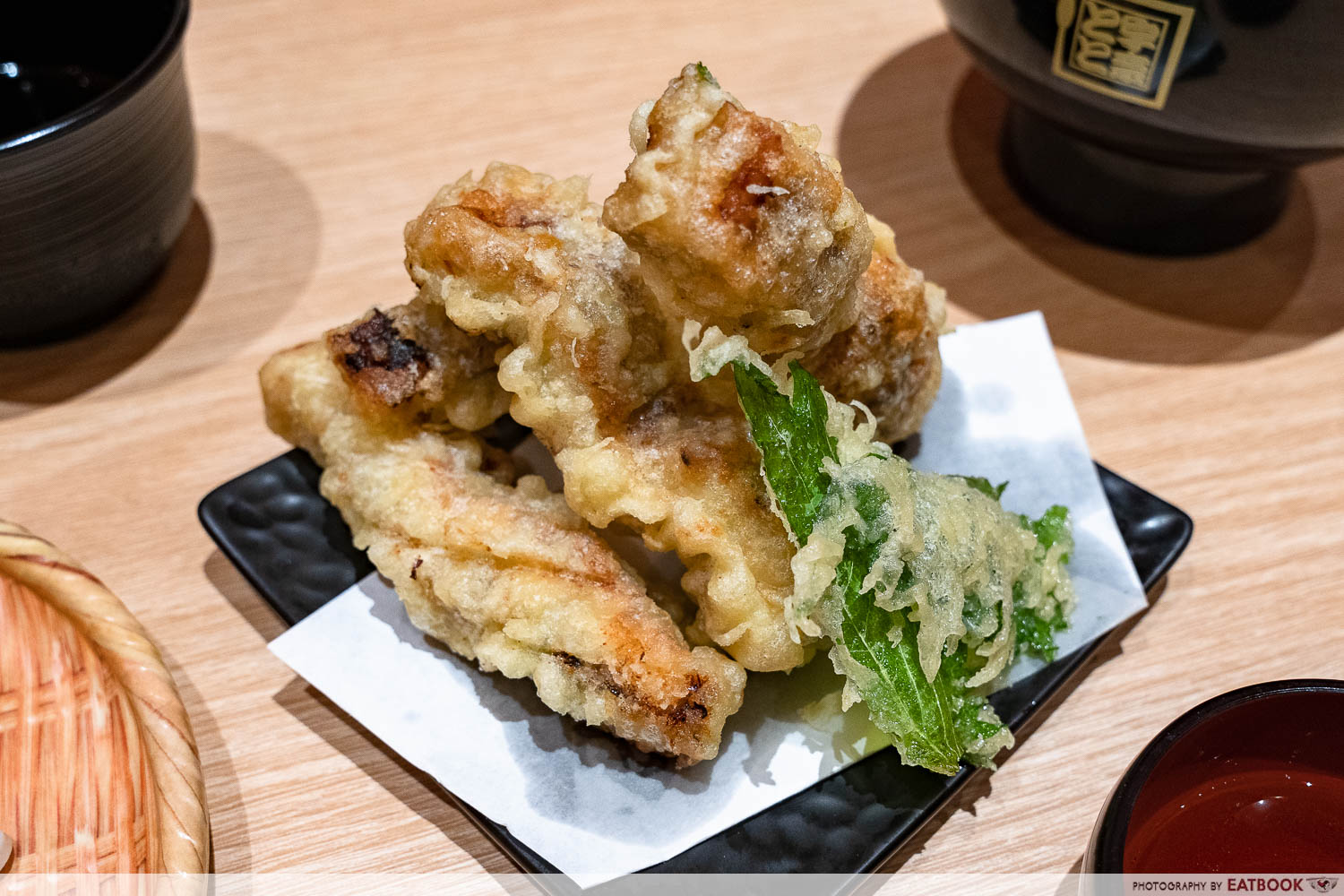 We also had the Unagi Tempura ($6+), a less common dish served in Japanese restaurants. I've never had unagi done tempura-style before and was looking forward to trying this unique dish.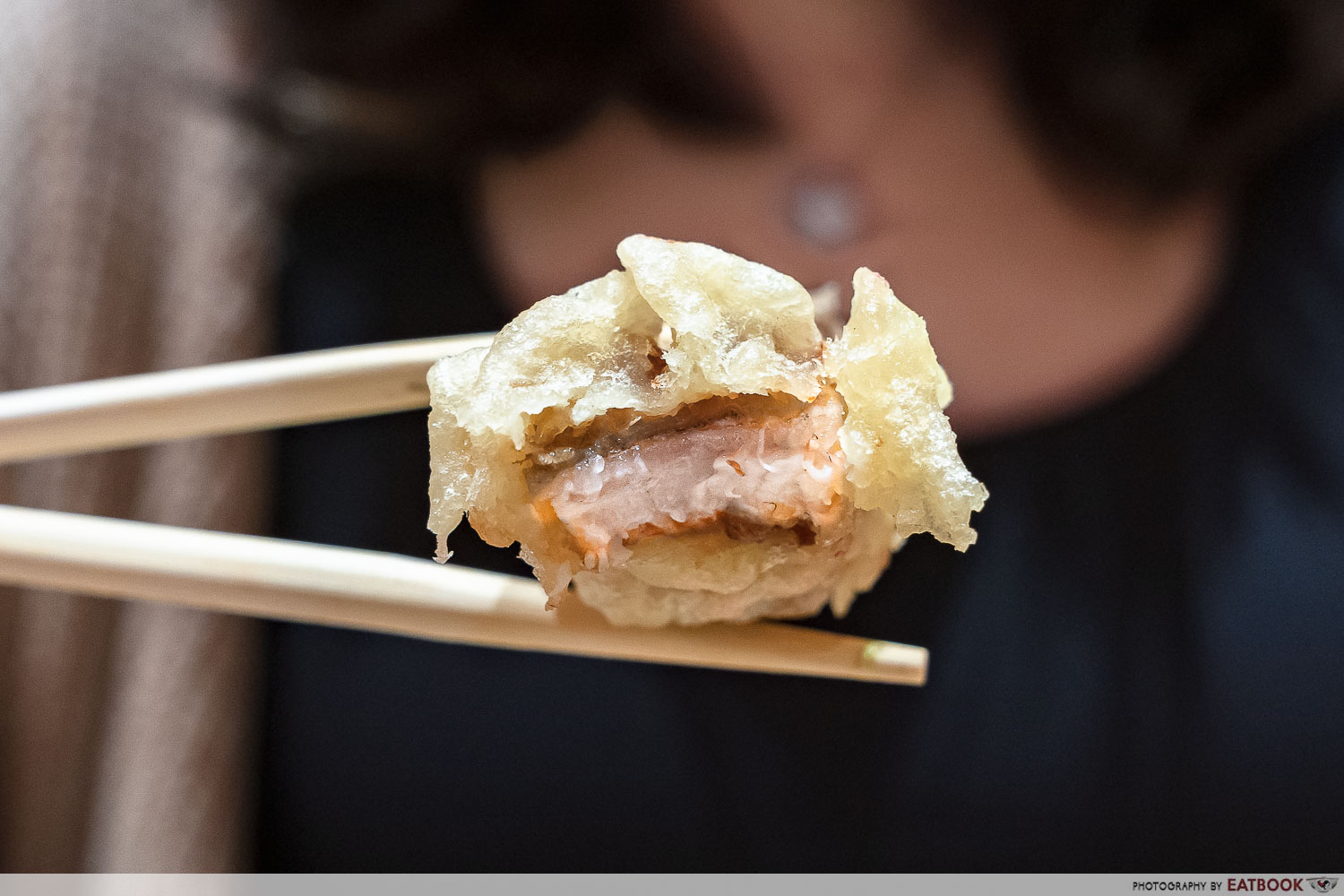 As I bit into the deep-fried eel, it let out a loud crunch that juxtaposed with the softness of the meat beneath. The meat had a palatable, sweet flavour that paired well with the salt and sansho tempura dip. Unfortunately, I wasn't a fan of the tempura-fried maple leaves as they were too oily.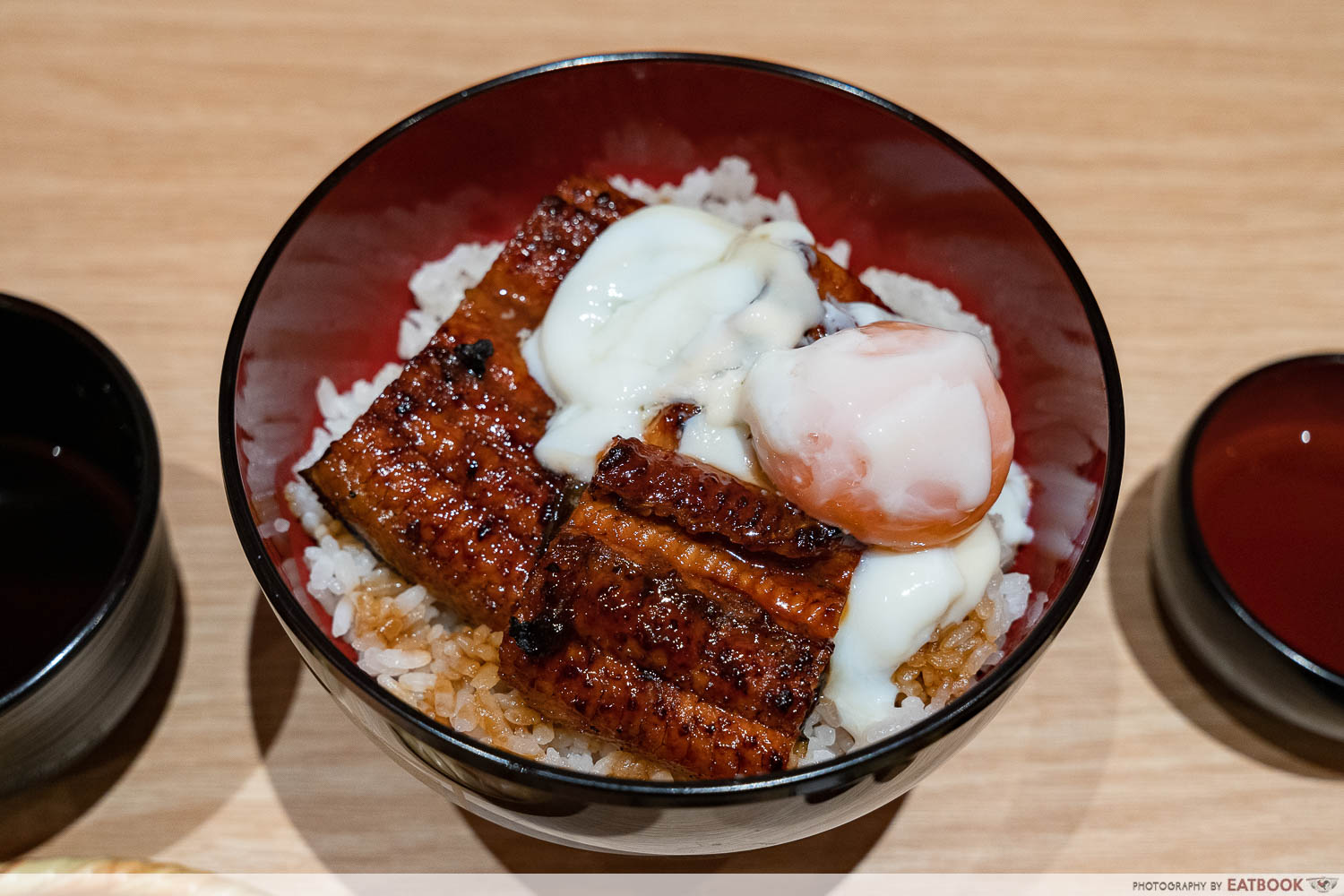 In the mains department, there's the Unagi Don, which starts from $9.50+ for the single portion, and $14.50+ for the upsized Unadon Double. We opted for the latter.
You can also make this a complete meal by getting a set. Value Set A ($4+) comes with your choice of one soup—Unagi Liver or Red Miso—and one appetiser. There are nine appetisers to choose from: mini kimchi, onsen egg, okara, mini salad, pickled vegetables, salted cucumber, chilled tofu, edamame, and flavoured chives.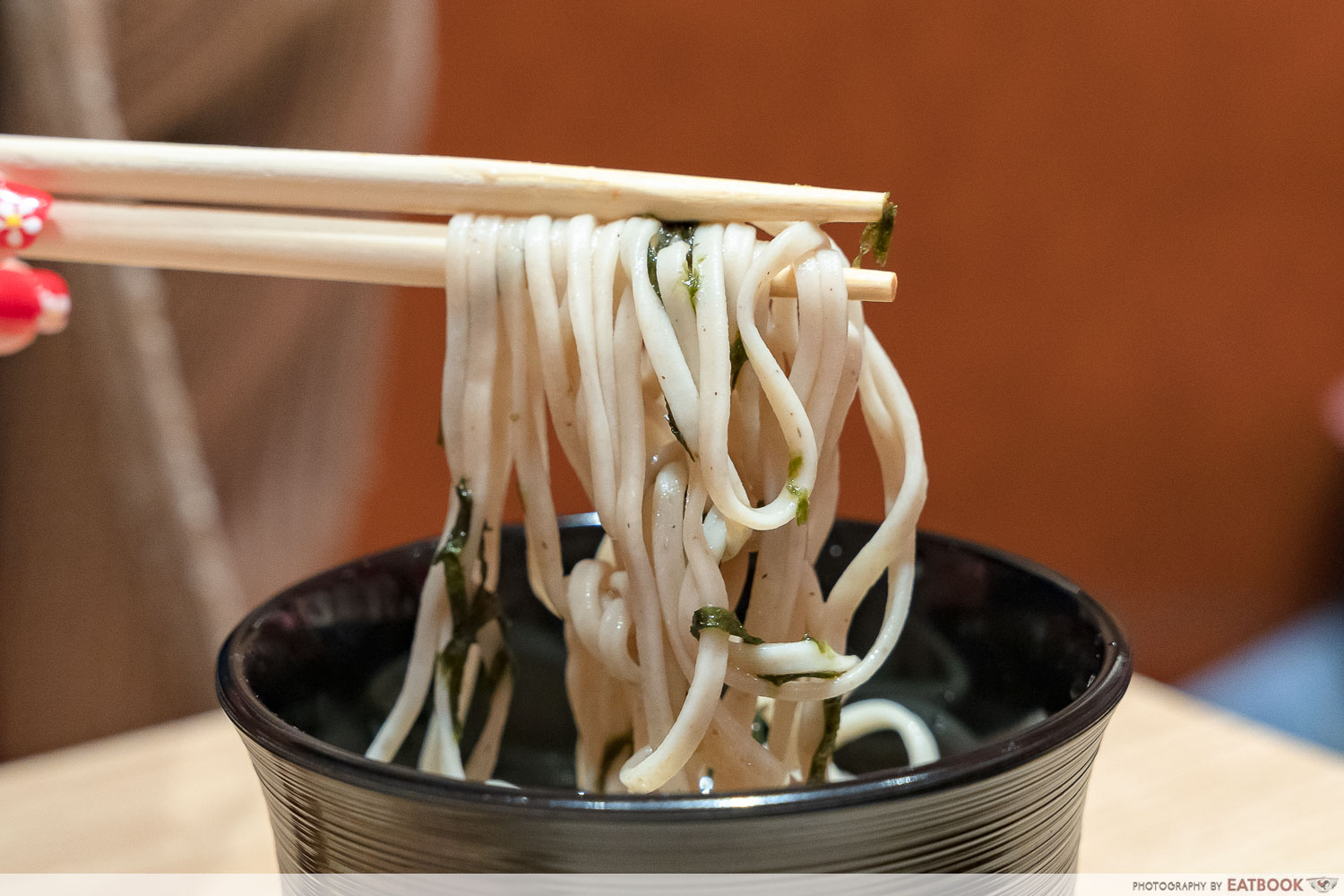 Value Set B is priced at $5+ and offers one appetiser along with your pick of mini soba noodles or mini udon noodles.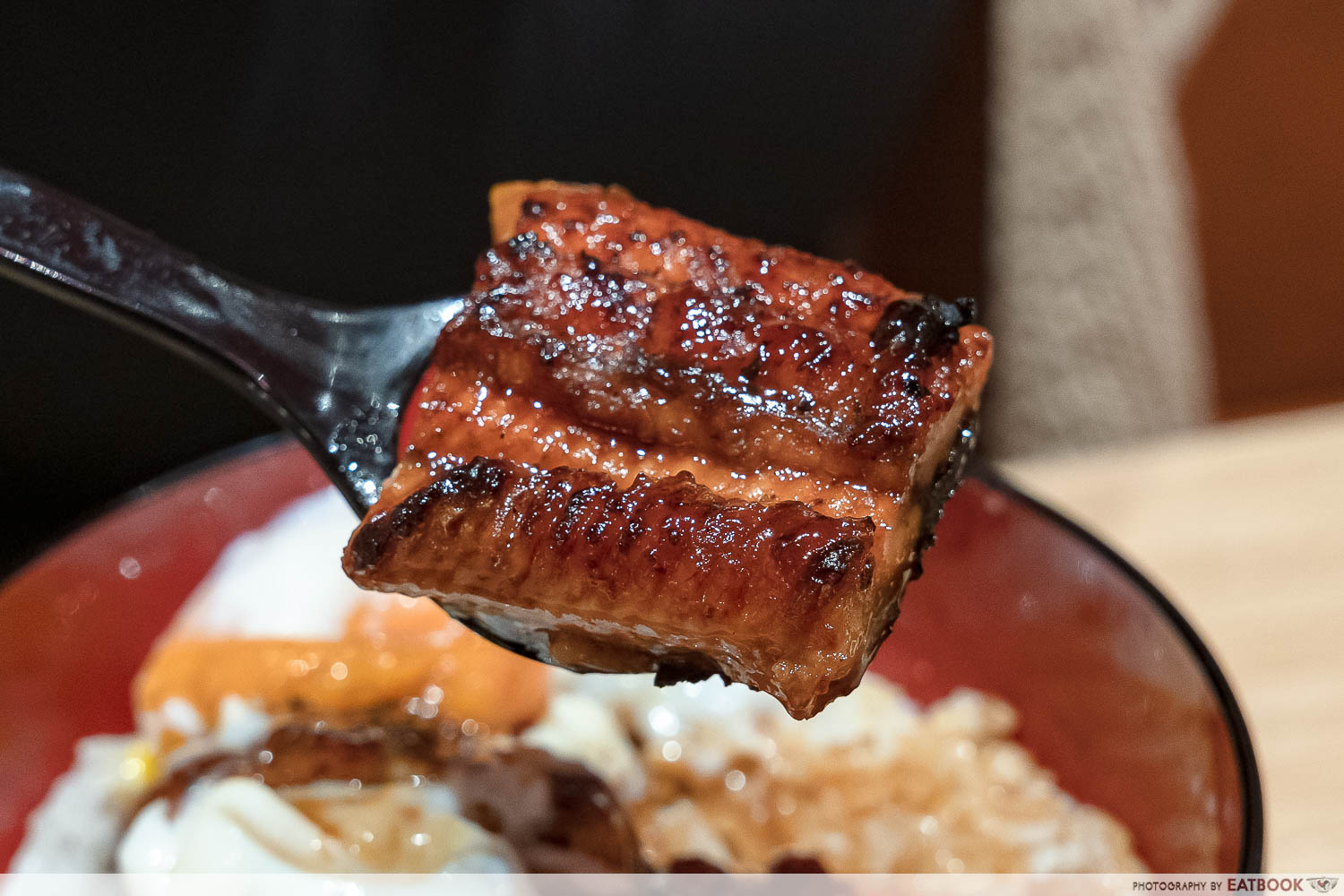 Our Unadon Double came with two slabs of grilled unagi, glazed with Unatoto's signature teriyaki sauce and served atop a bed of pearl grain rice. I eagerly snuck in a few bites in between the shoot, unintentionally letting out a satisfying squeal as I was taken aback by how delicious it was.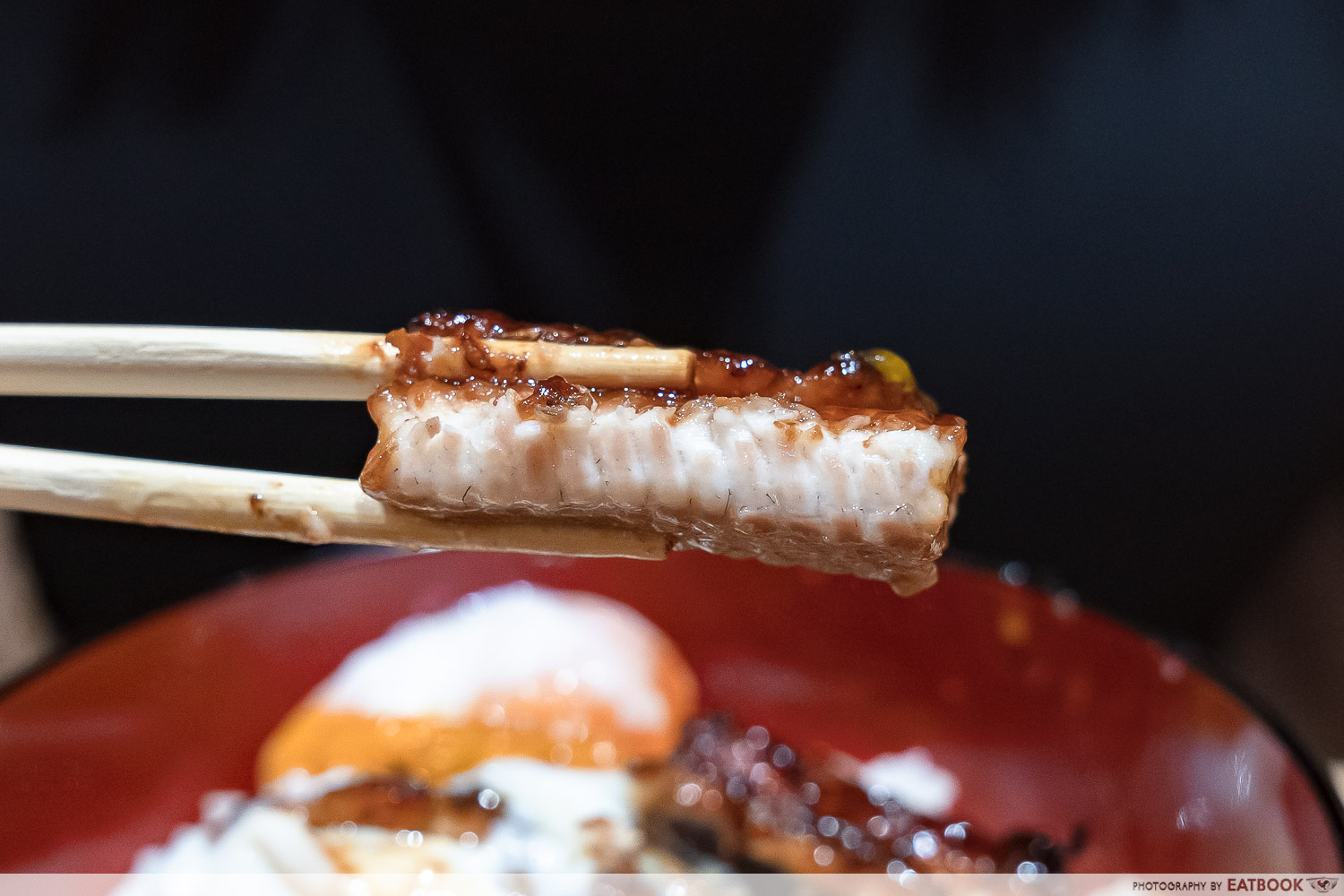 The meat was tender and soft, with the skin on top offering an added layer of chewiness. I also appreciated that the unagi did not have a strong fishy taste. While I typically avoid unagi dishes as I'm not a fan of the bones, they didn't pose a major problem during my meal. Instead, the unagi bones here were fine and soft, although there were a few larger ones that got stuck between my teeth.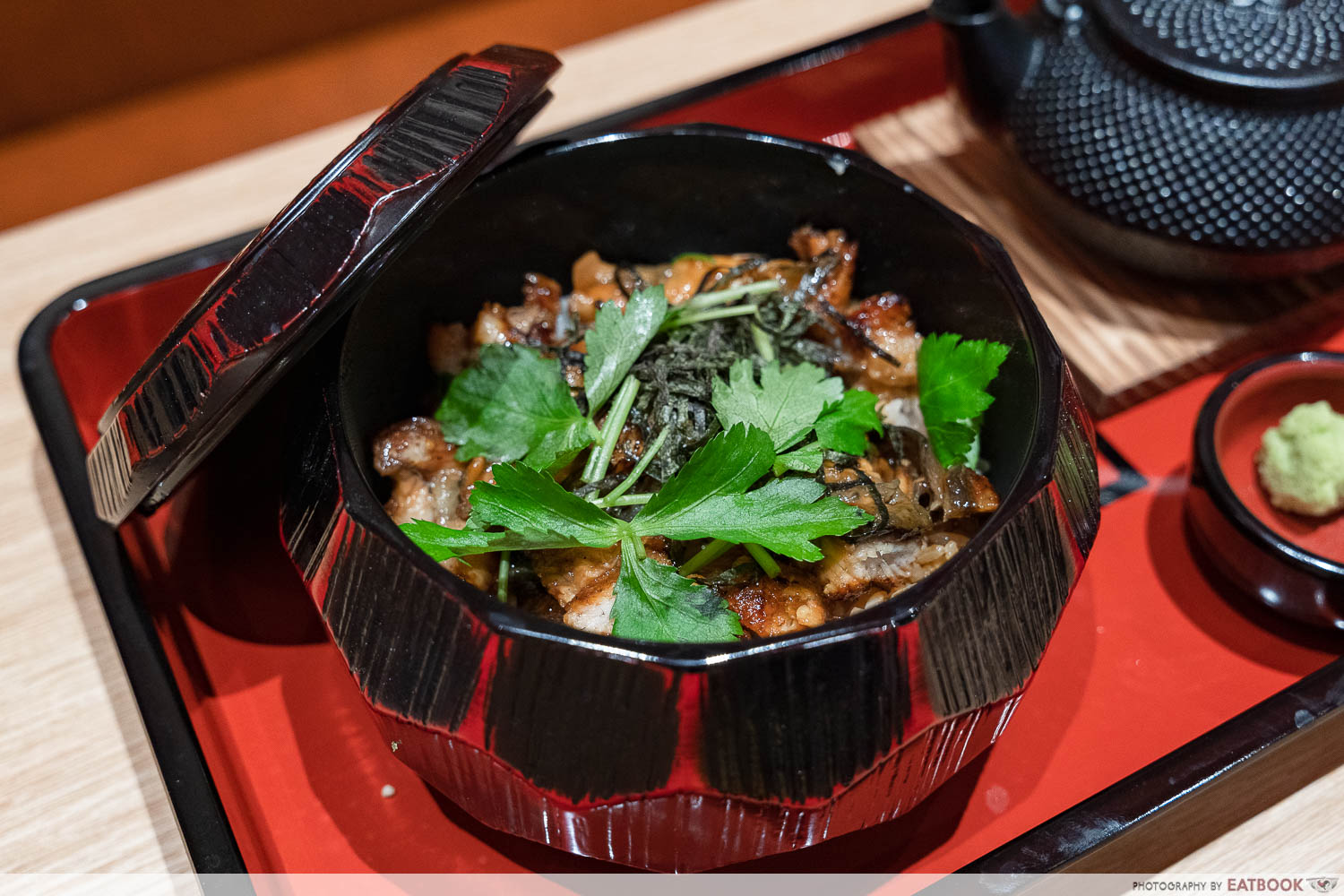 Next, we had Hitsumabushi ($13.50+), a popular Japanese dish that was all the rage in Singapore when Man Man introduced the dish to its menu. This unagi dish from Nagoya can be enjoyed three ways—as is, with the broth poured into it to turn the portion into an ochazuke "porridge", or with the sauces and toppings served on the side.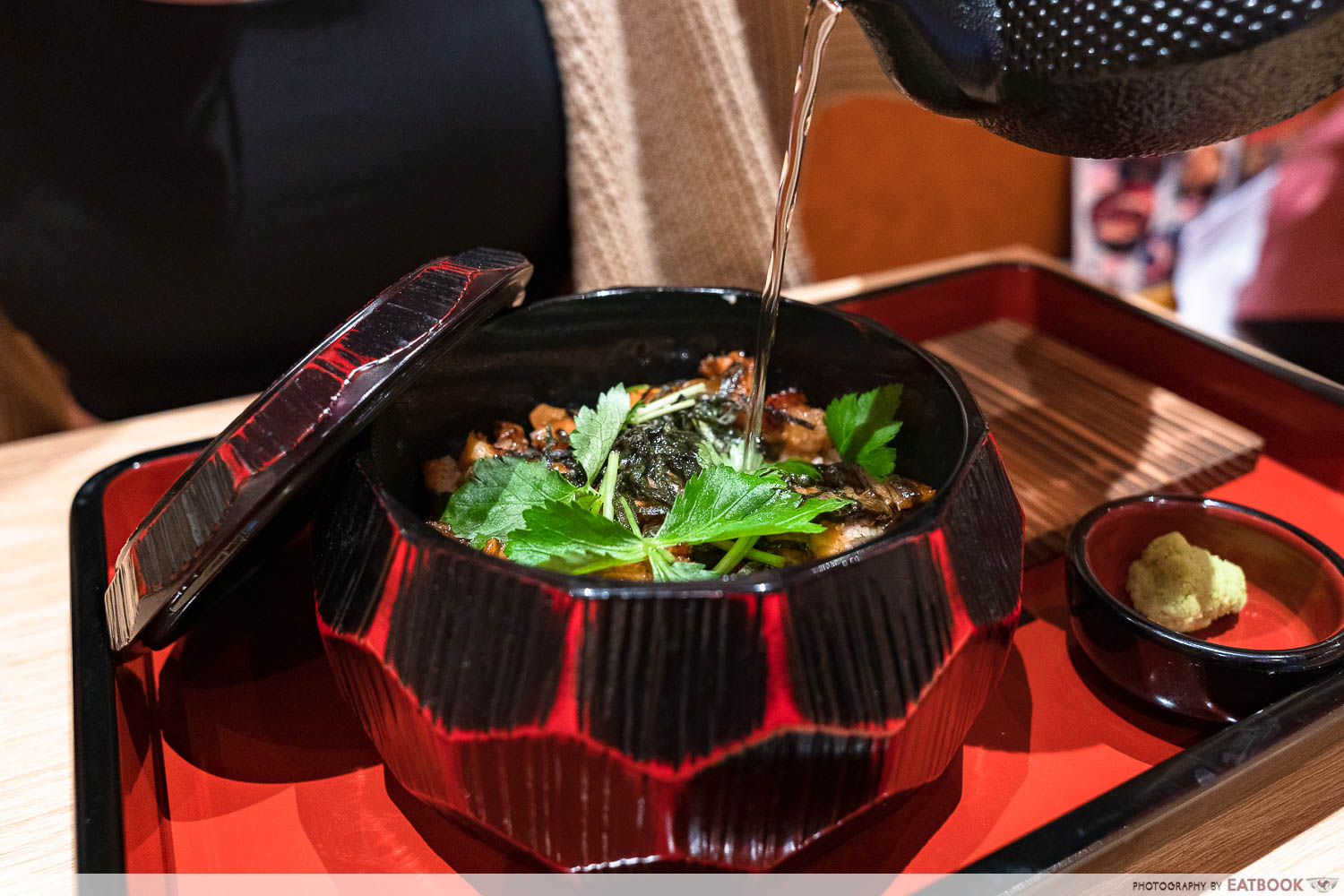 I poured the dashi broth into the rice and mixed the unagi chunks with the chopped spring onions and kizami nori. The broth was light and served as a refined palate cleanser from the rich taste of the eel. I also added in some wasabi for a bit of heat.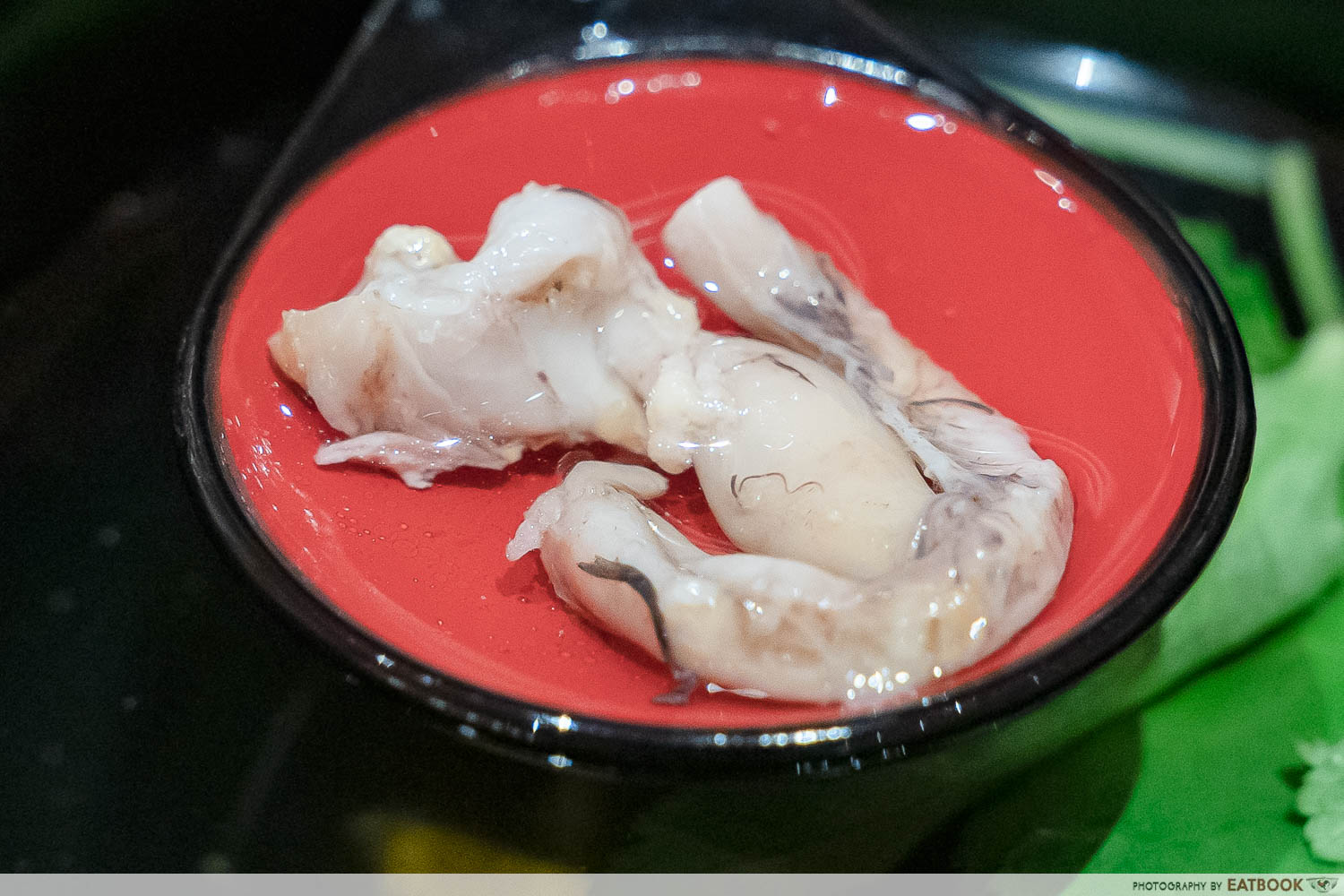 Our Hitsumabushi came with the Value Set A, comprising our pick of chilled tofu and the Unagi Liver Soup—a dish I reluctantly ordered after some encouragement from the staff. With an open mind, I took a sip of the broth. The unagi liver tasted similar to chicken liver, albeit more rubbery, and had a meaty flavour coupled with a hint of bitterness from the coriander. I recommend that you skip this dish if you're not a fan of innards or coriander.
Gyutan-Tan Review: Affordable Ox Tongue Shabu Shabu And More In Tanjong Pagar
Ambience at Unatoto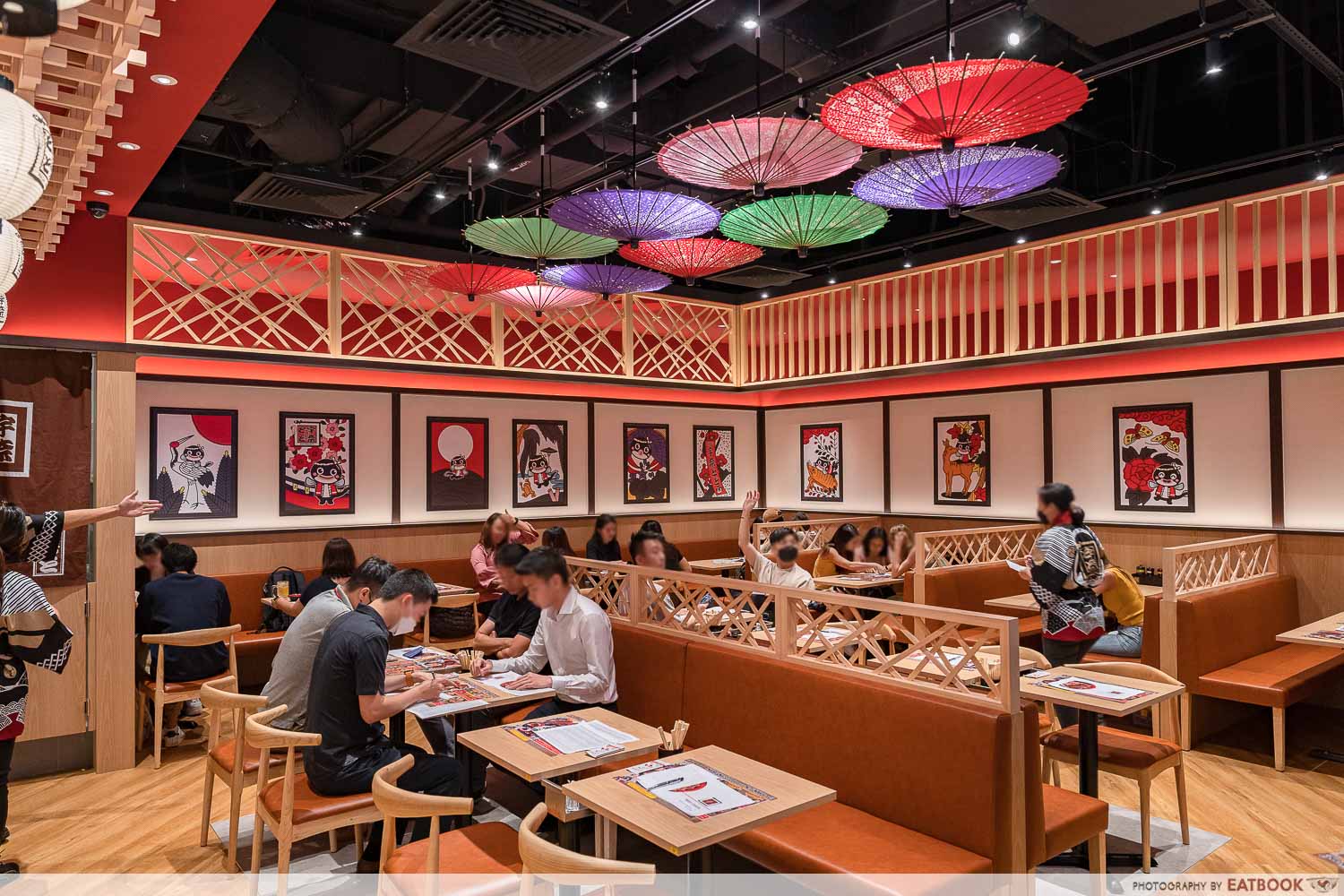 Unatoto is located on Basement 1 of Guoco Tower, right next to Tanjong Pagar MRT Station Exit F. The Japanese eatery looks more like a casual restaurant than a fast food chain. It sees  a similar aesthetic to that of their Tokyo counterpart, with paper parasols and traditional lanterns dangling from the ceiling.
Service is on the slow side, but the friendliness of the staff makes up for it. After all, it was a full house, and they've only just opened, so we'll cut them some slack!
The verdict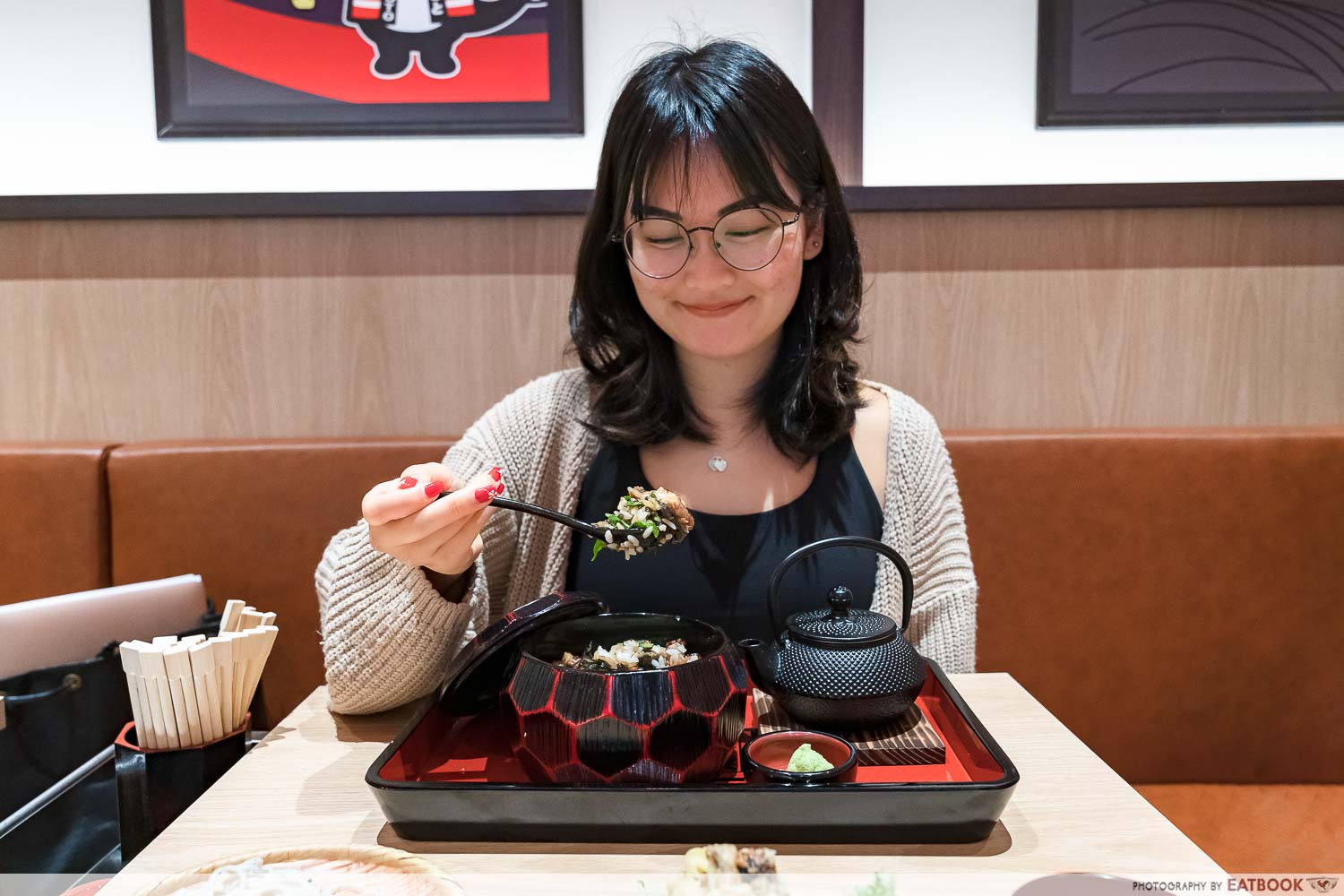 If you're a fan of unagi and don't want to splurge at an expensive restaurant, Unatoto is a decent and affordable way to satisfy your kabayaki eel cravings. Their mains are hearty enough, and the set meals are value-for-money, so you will definitely leave with a full stomach. I'll be sure to come back the next time I find myself looking for something pocket-friendly in the CBD!
For more unagi spots to check out, read our Xi Man review, where we try out a specialty restaurant run by a former Michelin-minted chef. Otherwise, check out our guide to the best Japanese restaurants in Singapore.
Address: 7 Wallich Street, Guoco Tower, #B1-03, Singapore 078884
Opening hours: Daily 11am to 10pm
Website
Unatoto is not a halal-certified eatery.
Photos taken by Jasper Juay.
This was a media tasting at Unatoto.
Unatoto Review: Famous Japanese Chain Opens With Unagi Bowls From $9.50+ In Tanjong Pagar
Unatoto Review: Famous Japanese Chain Opens With Unagi Bowls From $9.50+ In Tanjong Pagar -

7.5/10
Summary
Pros
– Value-for-money unagi dishes
– Convenient location near Tanjong Pagar MRT Station
– Good variety of appetisers and sides
Cons
– Service was slow
–  Value set side dishes were just average
Recommended dishes: Unadon Double ($14.50+) and Hitsumabushi ($13.50+)
Opening hours: Daily 11am to 10pm
Address: 7 Wallich Street, Guoco Tower, #B1-03, Singapore 078884