Una Una for cheap unagi hitsumabushi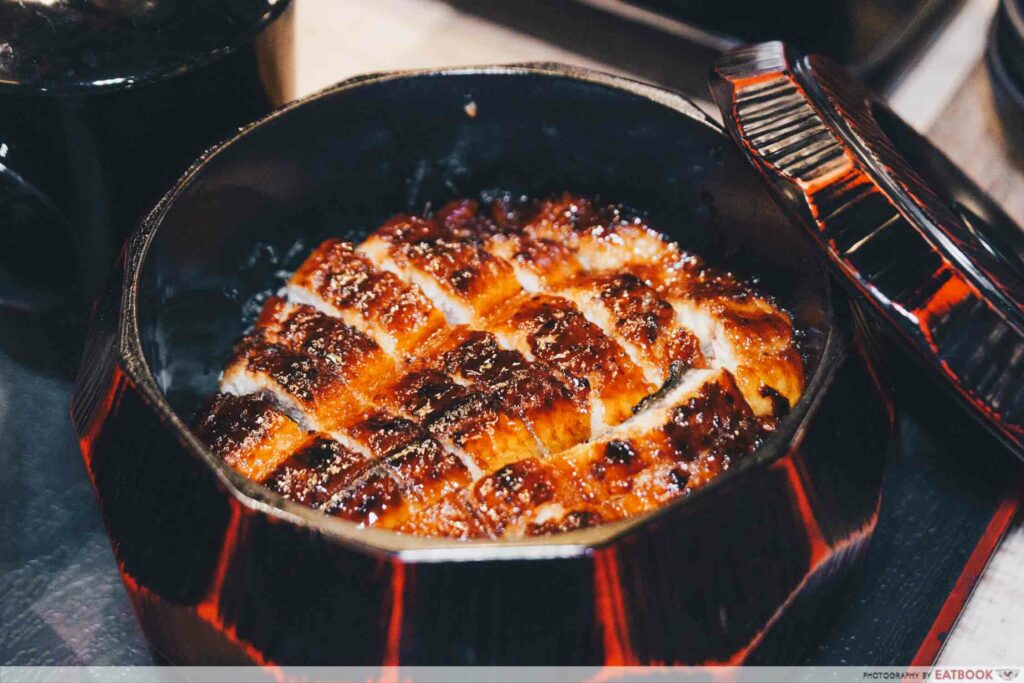 It has been three years since Man Man opened, causing a massive surge of unagi restaurants to open up in Singapore. However, most of these restaurants require you to have a fat wallet to foot the bill, as their signature hitsumabushi set costs above $20++. Well, if you have not had the chance to try this luxe dish before, you can now do so at the newest unagi restaurant, Una Una.
Food at Una Una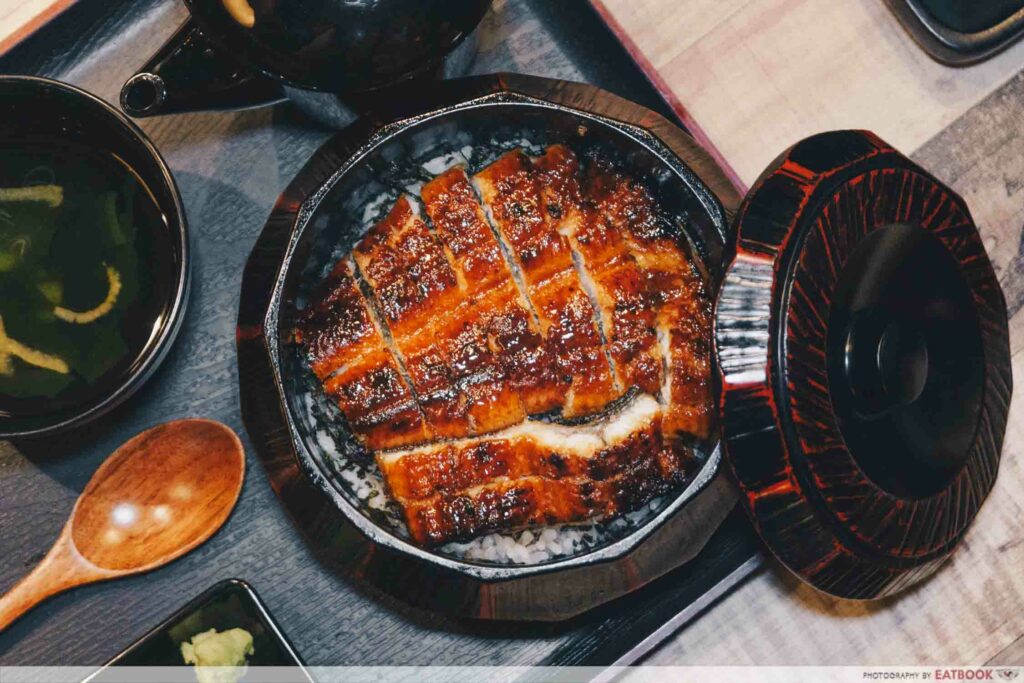 Located at Bugis+, the restaurant is now in the running of serving the cheapest hitsumabushi in town at only $9.80++ for a small serving; the regular bowl is priced at $14.80++, while the double portion is $19.80++—still cheaper than most hitsumabushi in the market.
For those new to the unagi game, hitsumabushi is a famous Nagoya dish in which grilled unagi is chopped, and neatly placed over a bed of rice. It is unlike a normal donburi though as it comes with an array of condiments—namely spring onions, wasabi, and nori—and dashi, so that you can enjoy the dish in four different ways!
The unagi sauce is flown in from Japan, so you can rest assure you're getting the good stuff. They also use a double-dipping technique, where they baste the unagi in their special house-made sauce twice, as they grill it over charcoal. As a result, the unagi was consistently good throughout the bowls we tried. It was seared beautifully, resulting in crispy and sweet skin. Yet, there was a jelly-like layer between the meat and skin which proved to be simply addictive. That layer gave a good mix of textures to every mouthful.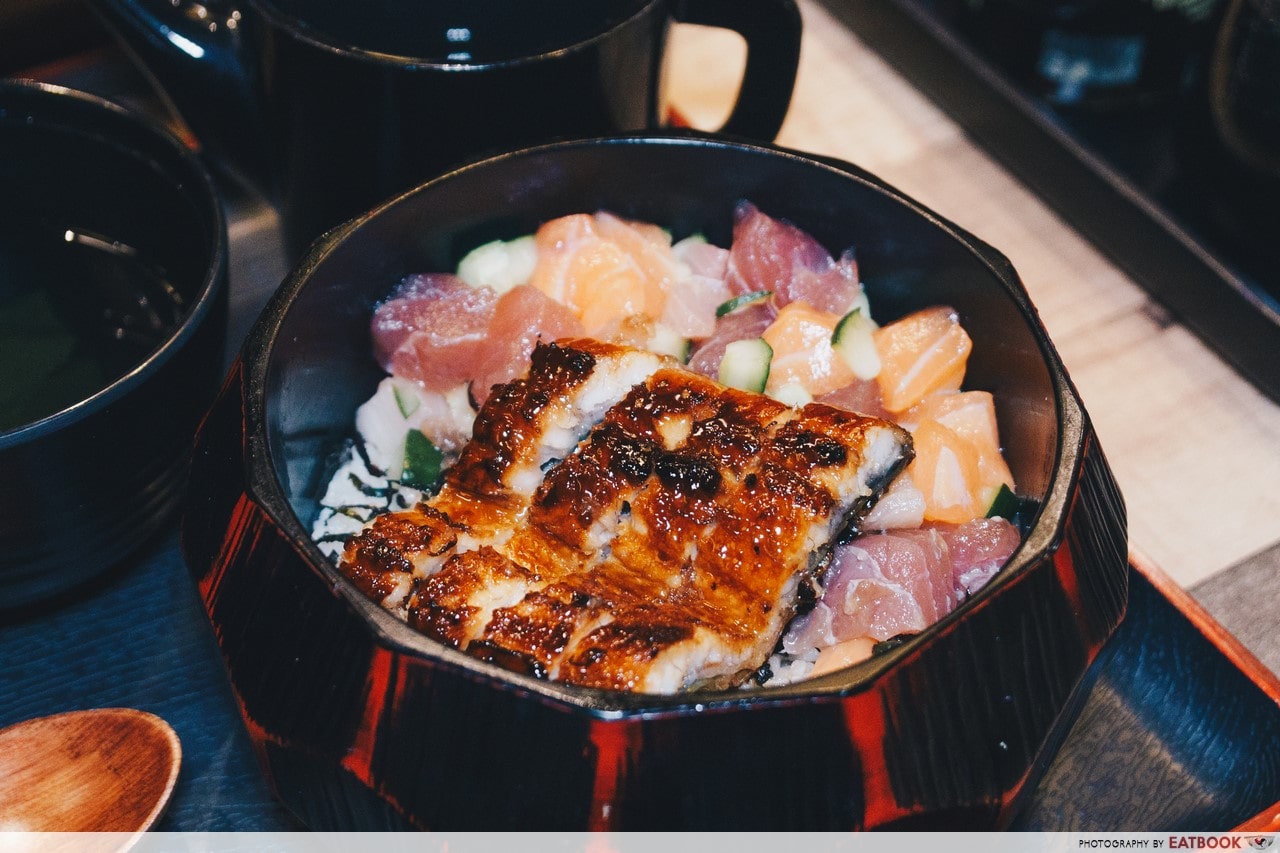 Hardcore seafood lovers will love the Kaisen Hitsumabushi ($18.80++) which combines the unagi bowl with another perennial favourite, the kaisendon. This dish sports the same savoury-sweet unagi alongside diced salmon and tuna. While the fish did accentuate the sweetness of the unagi, they also gave briny undertones—deepening the flavours in the bowl.
That being said, I wished they cut down on the amount of cucumbers in the Kaisen Hitsumabushi. In addition to their bland taste, the cucumbers were overly crunchy which clashed with the tender meat.
Uya Review: New Unagi Restaurant In Wheelock Place That Can Rival Man Man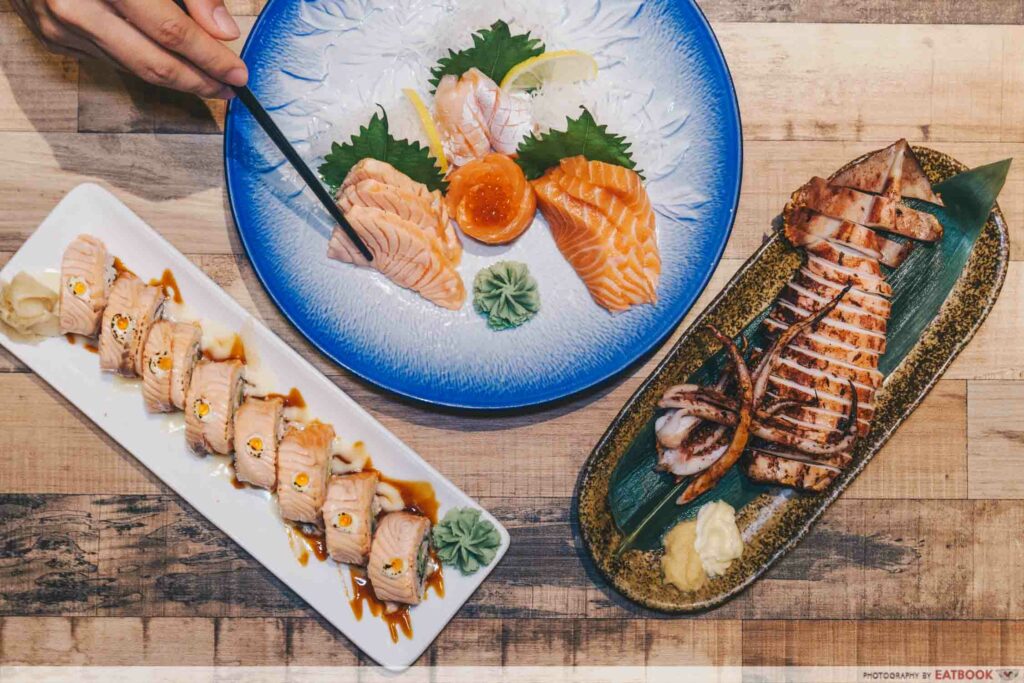 Aside from hitsumabushi, Una Una also serves other Japanese delights including sashimi, rice bowls, and sushi rolls—all of which are affordably priced.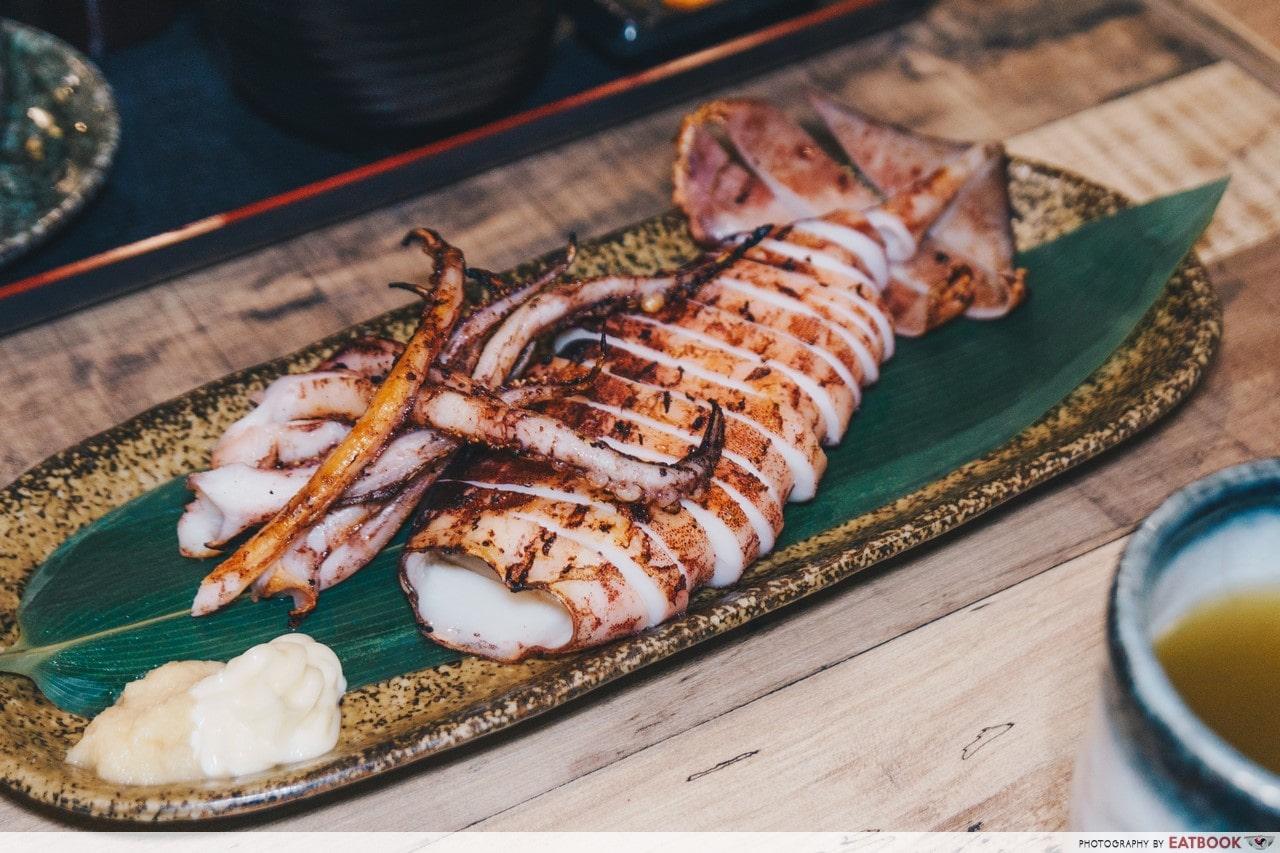 While the three sides we tried were delicious in their own right, the Hokkaido Grilled Squid ($14.80++) stood head and shoulders above the rest with its huge portion. Despite being grilled, the meat was still soft and supple, with a slight butteriness. The charred bits added a dash of bitterness to the squid but those who aren't a fan need not fret as the dish comes with a dollop of mayo to take off the edge.
Ambience at Una Una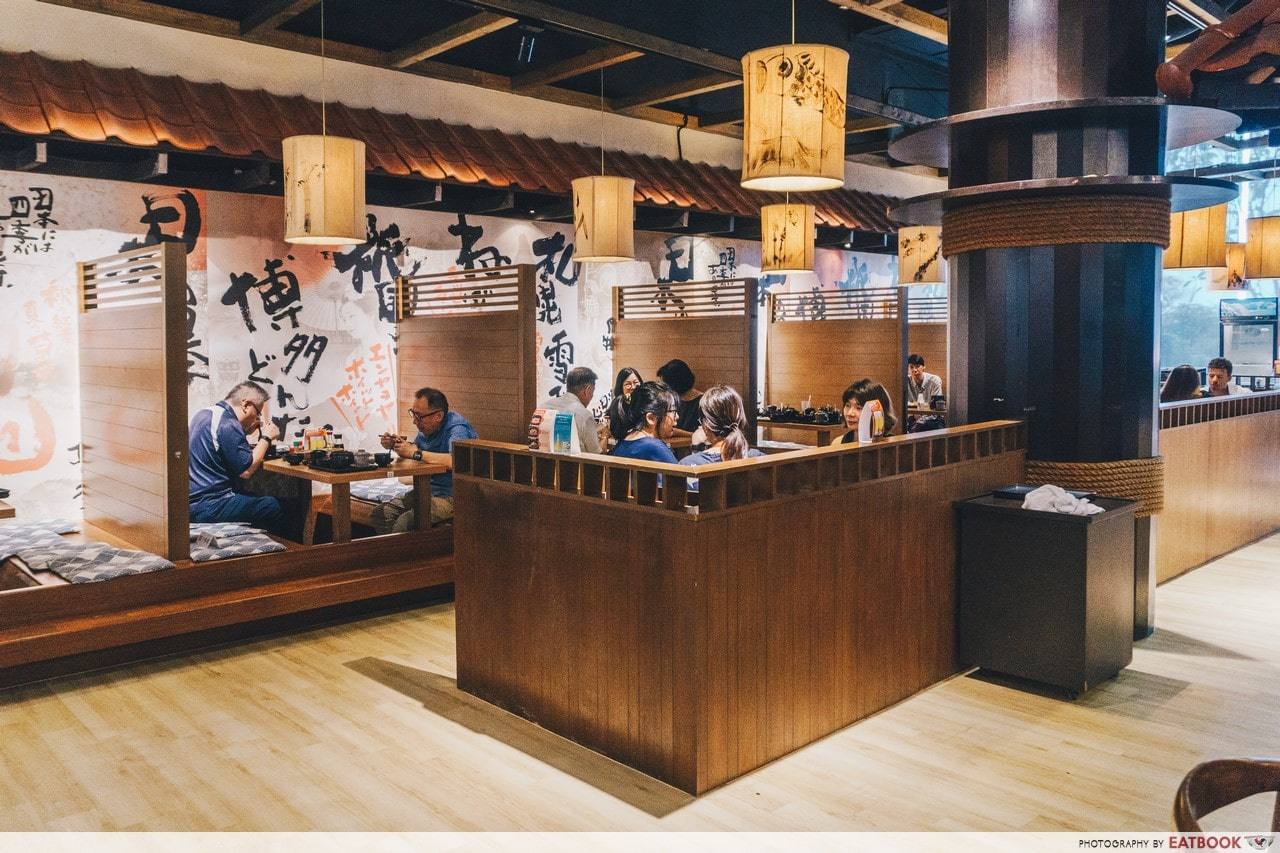 Step into Una Una and It's easy to think you've entered a portal to an izakaya in Tokyo. Wooden fixtures fill the space, be it in the form of seats or flooring. Seats are also aplenty with booth seats being the most popular. With calming Japanese tunes playing in the background, it's easy to feel at home within the first few bites of your meal. The service was extremely fast as the waitstaff were quick to provide us with the miscellaneous items we requested.
The verdict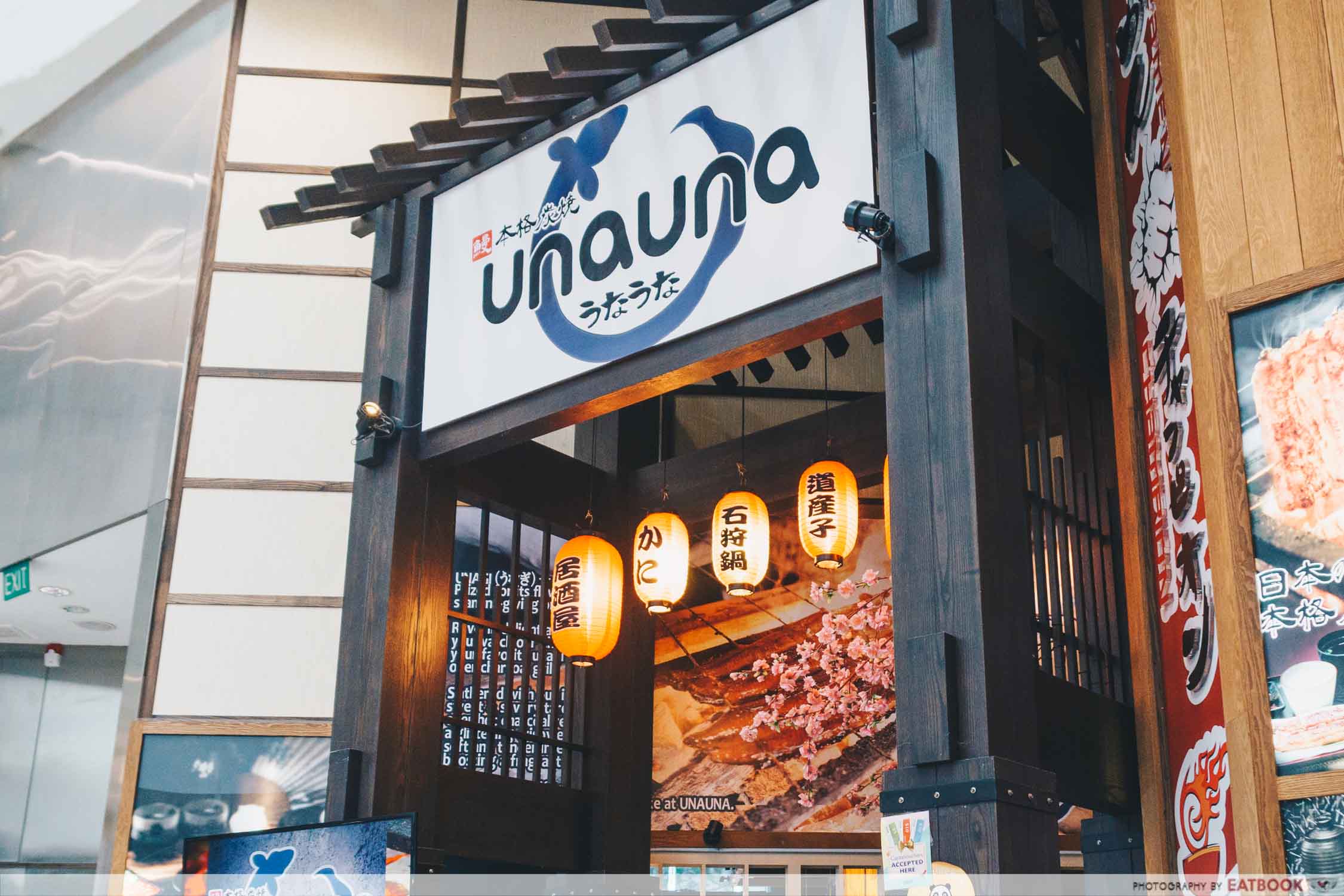 Hitsumabushi might not be a dish that's familiar to the average Singaporean but Una Una makes for a wonderful starting point with its reasonable prices and delicious food. Even without taking prices into account, the grilled unagi was amazing—boasting a great balance of sweet and savoury flavours.
The restaurant's design is also another thing of beauty, with motifs and decorations that'll throw you to the Land of The Rising Sun. All in all, Una Una exceeded our expectations and hopefully, it'll be a mainstay of Bugis+ in the years to come.
Una Una has also recently opened a new branch in Suntec City, at unit #03-315, open daily from 11:30am to 3pm, and 5:30pm to 10pm.
For other good food in Bugis, check out this list of Bugis food places for rainbow cheese dippers and decadent egglets.
20 Bugis Food Places In Singapore Including A Halal Thai Restaurant And Vietnam Pho
Address: 201 Victoria Street, #04-10, Bugis+, Singapore 188067
Opening hours: Mon-Fri 11:30am to 3pm, 5pm to 10pm, Sat-Sun 11:30am to 10pm
Tel: 6835 7056
Website
Unagiya Ichinoji Review: 125-Year-Old Unagi Restaurant by Tokyo's Miyagawa Honten
Photos taken by Lim An.
This article has been updated on 21 November 2020.
Una Una Review: New Unagi Restaurant At Bugis Serving Cheapest Hitsumabushi At $9.80++
Summary
Pros
– Excellent unagi
– Reasonable prices
– Beautiful ambience

Cons
– Kaisen Hitsumabushi could do without the cucumbers
Recommended dishes: Hitsumabushi (from $9.80+), Hokkaido Grilled Squid ($14.80++)
Opening hours:Mon-Fri 11:30am to 3pm, 5pm to 10pm, Sat-Sun 11:30am to 10pm
Address: 201 Victoria Street, #04-10, Bugis+, Singapore 188067