Uya serves up unagi bowls at Orchard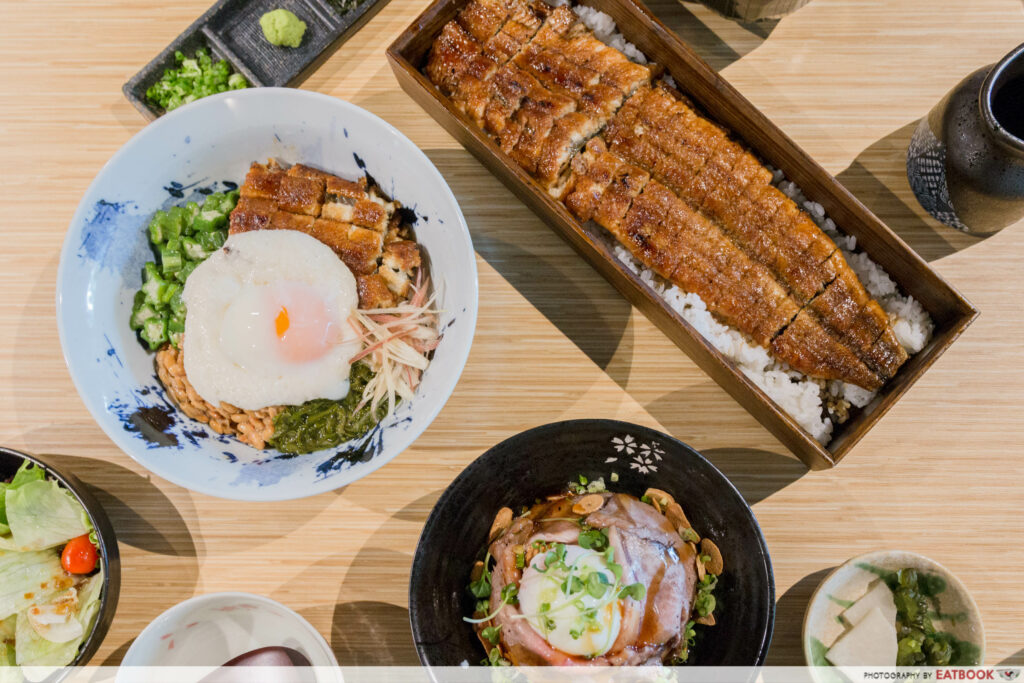 While I love eating everything and anything, I have to admit I'm quite a food bore when it comes to Japanese food. My orders whenever I'm dining at a Japanese restaurants are always the same: a sashimi platter, mixed tempura, and a plate of grilled unagi. And while I've always been dying to try the legendary Man Man, I never could muster up the will to stand in line. Plus, it's only for grilled eel. Which is why Uya, the latest unagi restaurant to open in Singapore, got my attention. Not only are their eels prepared similarly to the #OG unagi restaurant along Keong Saik, they also do up a selection of standard Japanese fare, meaning I never have to order unagi only.
Food at Uya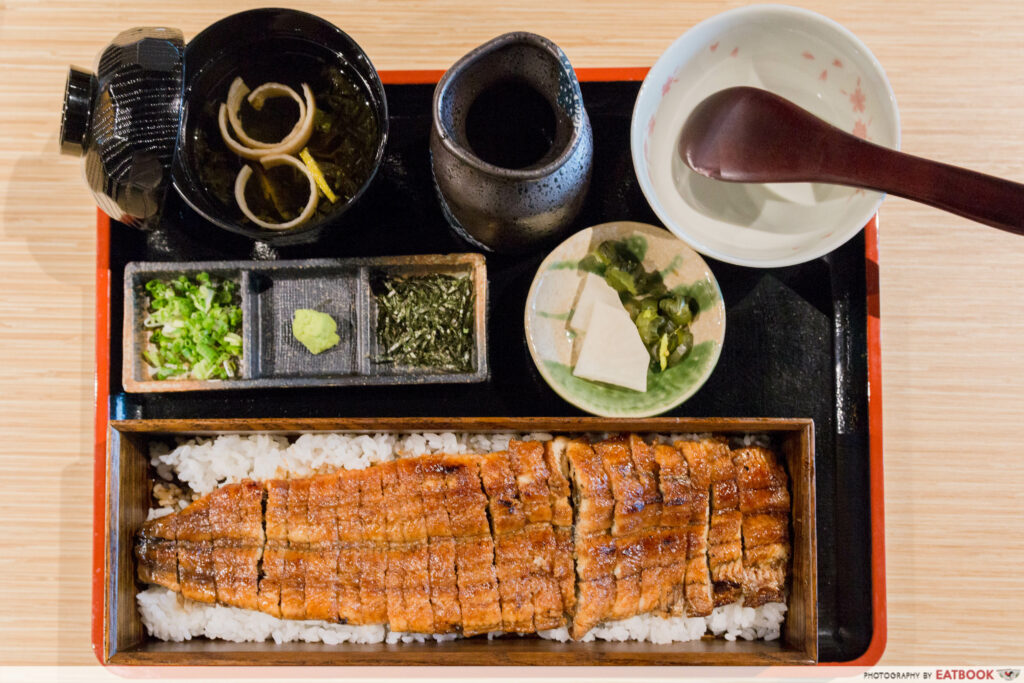 Unagi is, of course, the prized ingredient at Uya, and their signature dish is the Hitsumabushi ($35++ for medium, $48++ for large). We got the large to share, and we were served a long bamboo box filled with short-grain Japanese rice and an entire piece of chopped-up eel boasting a lustrous glaze.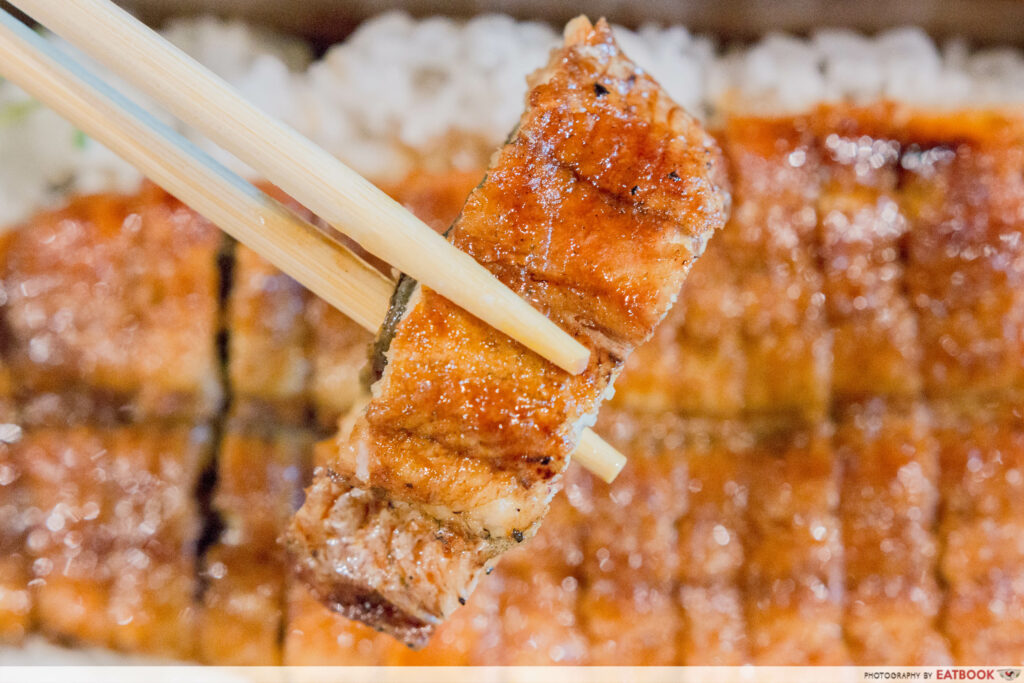 Now, those new to the unagi scene might not know this, but hitsumabushi is a famous Nagoya speciality, which invites you to enjoy the eel in three different ways – with some seaweed, wasabi and chives, ochazuke-style, or simply on its own.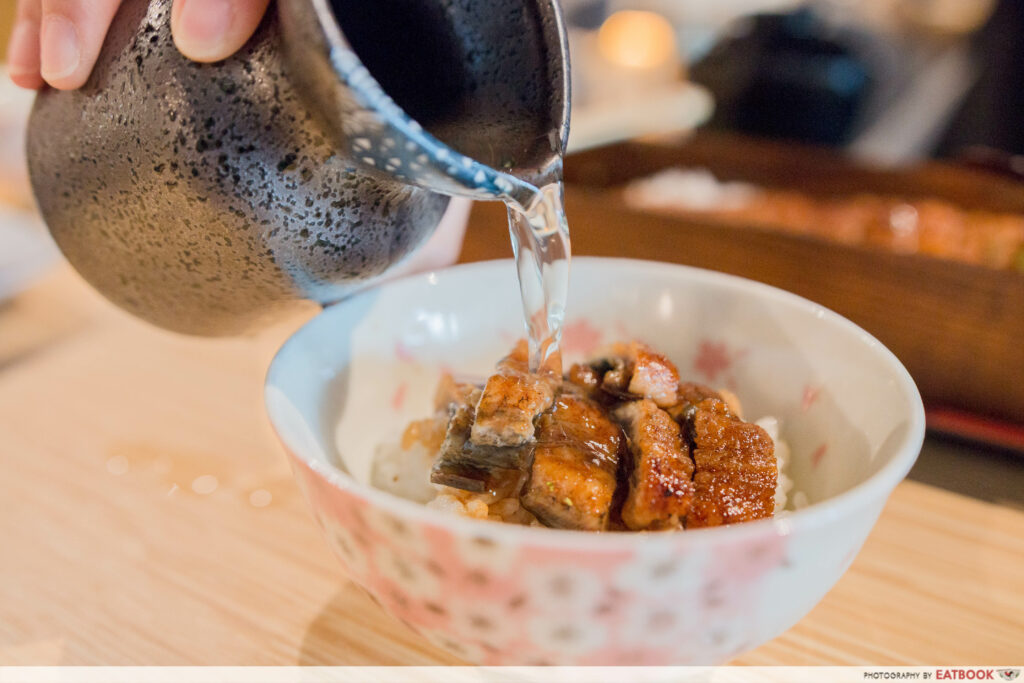 The taste of the first method reminded me of sushi and was nothing to shout about. While the ochazuke version, which saw us portioning our rice and unagi into a small bowl before pouring some light bonito-rich broth over, evoked a sense of comfort and reminded me of the homey fish porridge my mom used to make when I fell sick.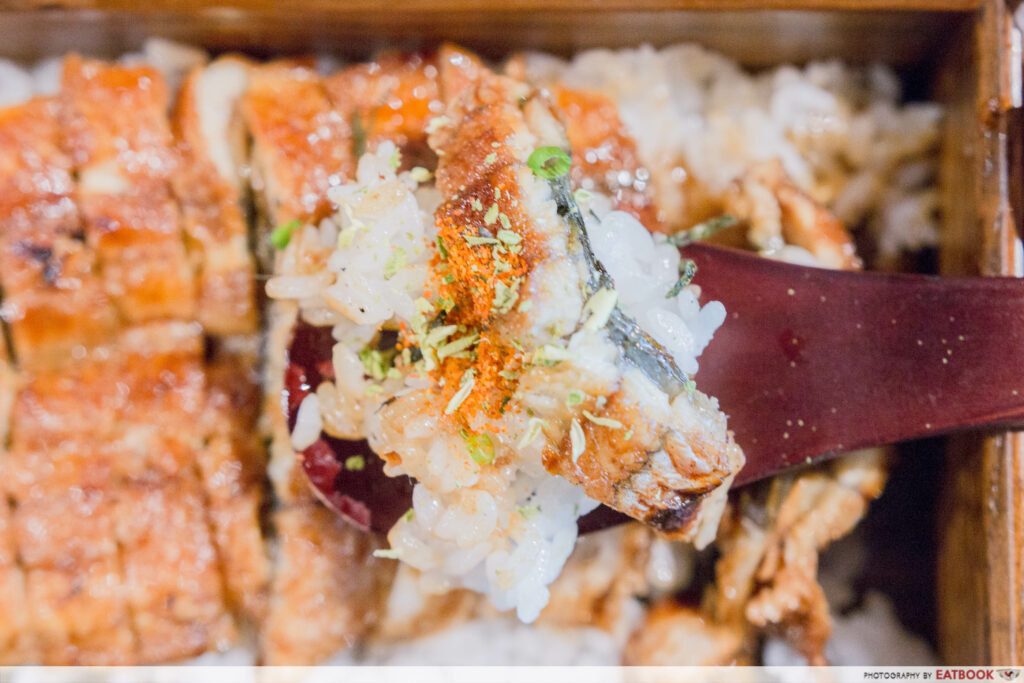 Unlike most places, where you are asked to try the rice and eel without any toppings, the manager of Uya recommended us to sprinkle some shichimi (Japanese spice mixture) and gaban over. The latter is a Japanese pepper that's highlighted by a slight floral aroma, which really mellowed down the robust flavour of the unagi and gave it a delicate touch.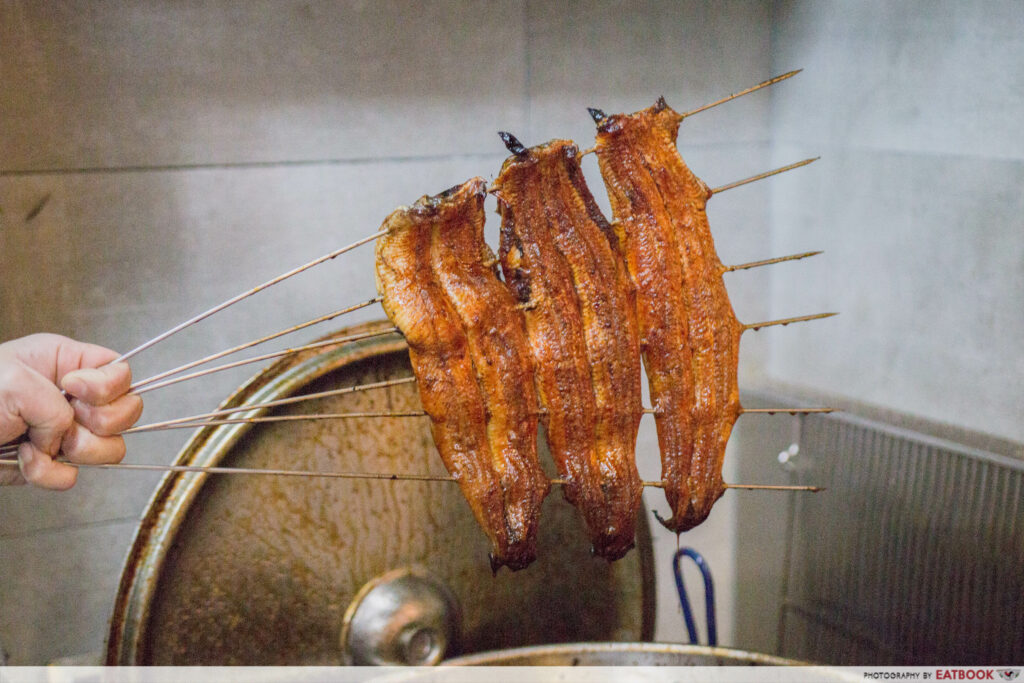 The unagi would be nothing if not for its scrumptious unagi tare. Said to follow a closely-guarded secret recipe from the eel wholesaler's family, the sauce was neither sweet nor overly rich that the natural flavour of the eel was masked.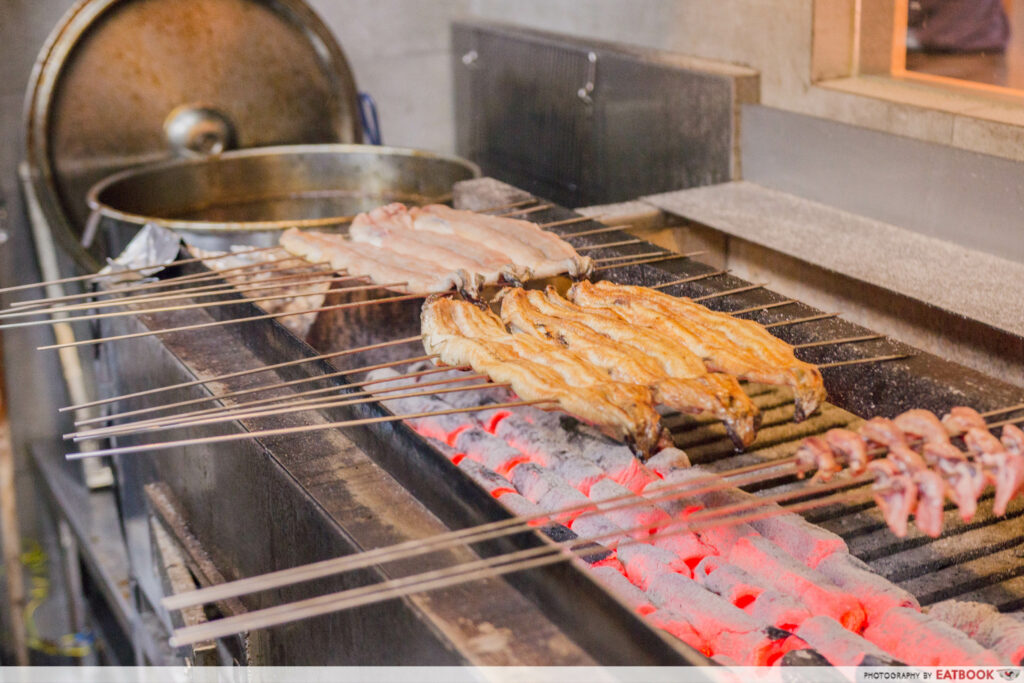 Grilled over a charcoal flame, the eel had a pleasant smoky aroma and slightly crisp sides. We did wish the eel was plumper with more tender meat though.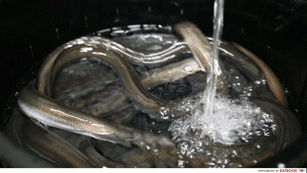 Now, I'm also a sucker for quality produce and was pleased to find out that Uya works together with a fourth-generation eel wholesaler in Japan and ships the farm-bred eels over twice a week. They are kept alive at the back of the restaurant in stacks of black buckets that are constantly filled with fresh, UV-treated water.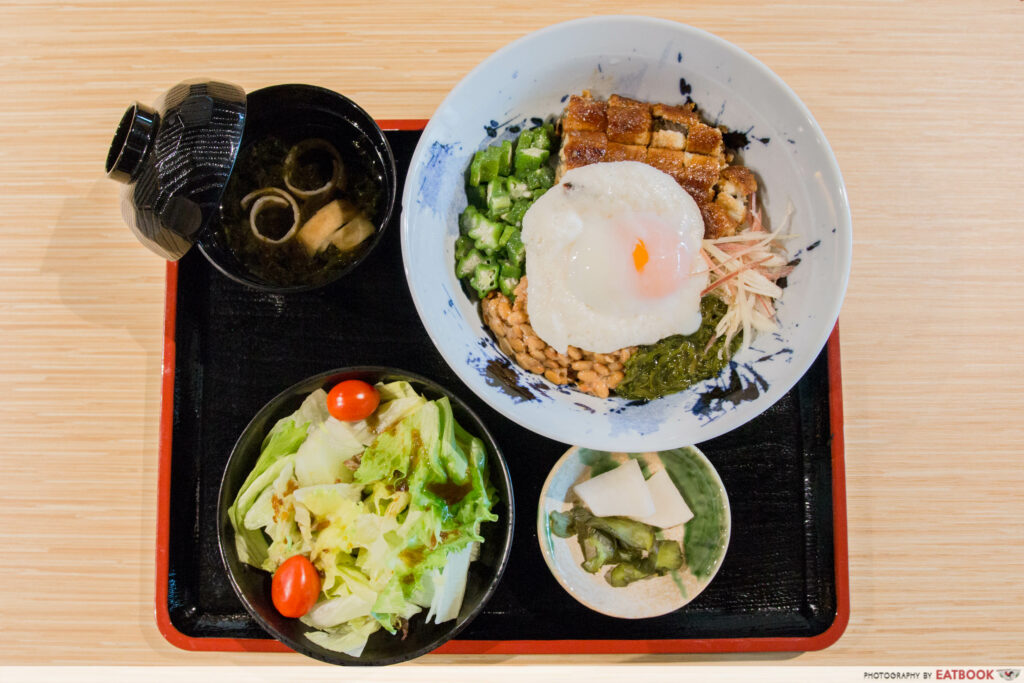 The Healthy Unagi Rice Bowl ($29++) called out to me with its toppings of eel, vegetables, and sous vide egg. However, when I dug into the dish, I was put off by its texture. Turns out, the vegetables in the rice bowl were "neba neba" – a Japanese word for slimy food. It was indeed a bowl that required someone with an acquired taste to finish. But if you're a fan of natto and okra, you might just enjoy this gooey unagi don.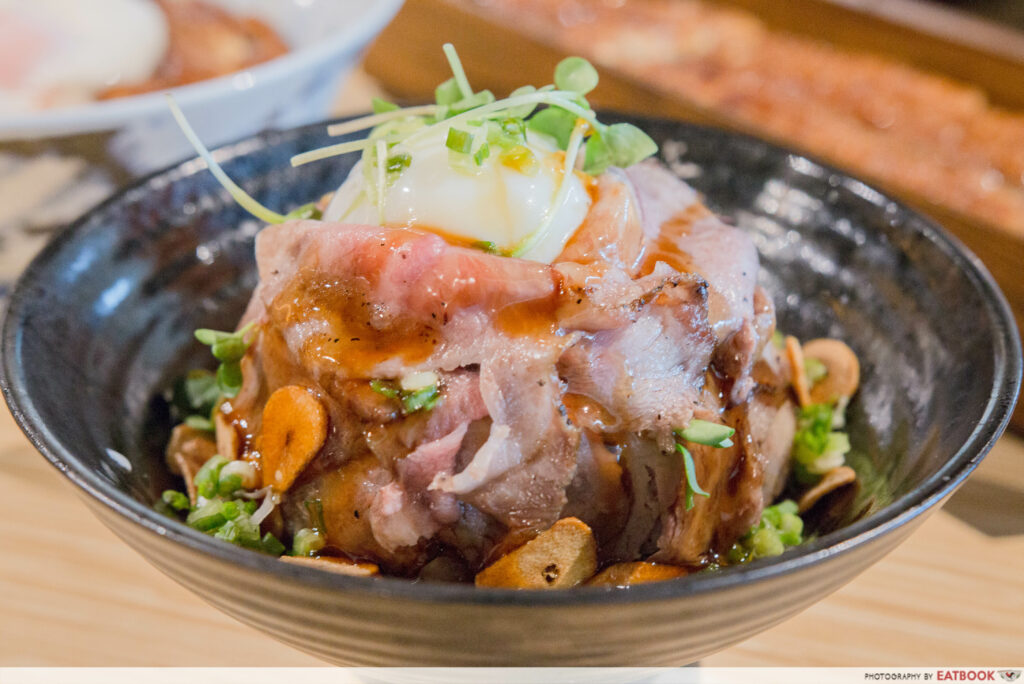 Good quality beef is something I can never say no to, so I decided to go wild and give their Rare Wagyu Rice Bowl ($27++) a try instead of settling for my safe choices of Sashimi Rice Bowl ($23++) and Tempura Rice Bowl ($23++). Disappointment was not on the menu for this dish, and I would definitely come back here again for the mountain of buttery beef strips.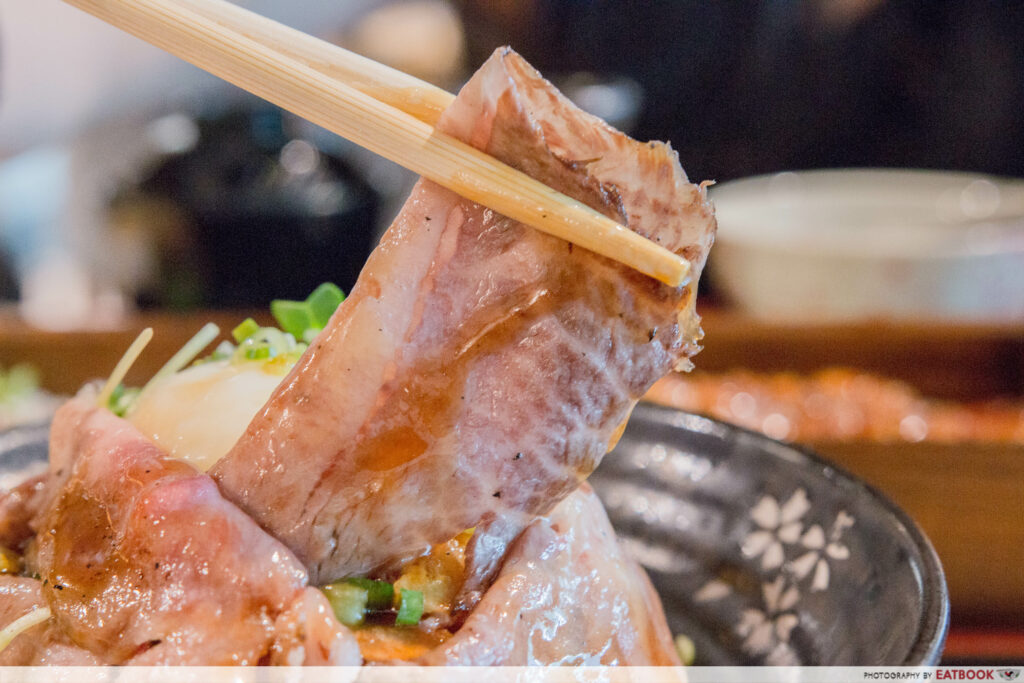 The wagyu strips featured fatty marbling and had a distinctive beefy flavour. What really pulled the dish together was the velvety poached egg, which added a decadent creaminess to the dish, along with the pieces of fried garlic. The fragrant fried garlic cut through the sweet seasoning of teriyaki-coated beef with its savoury notes.
Ambience at Uya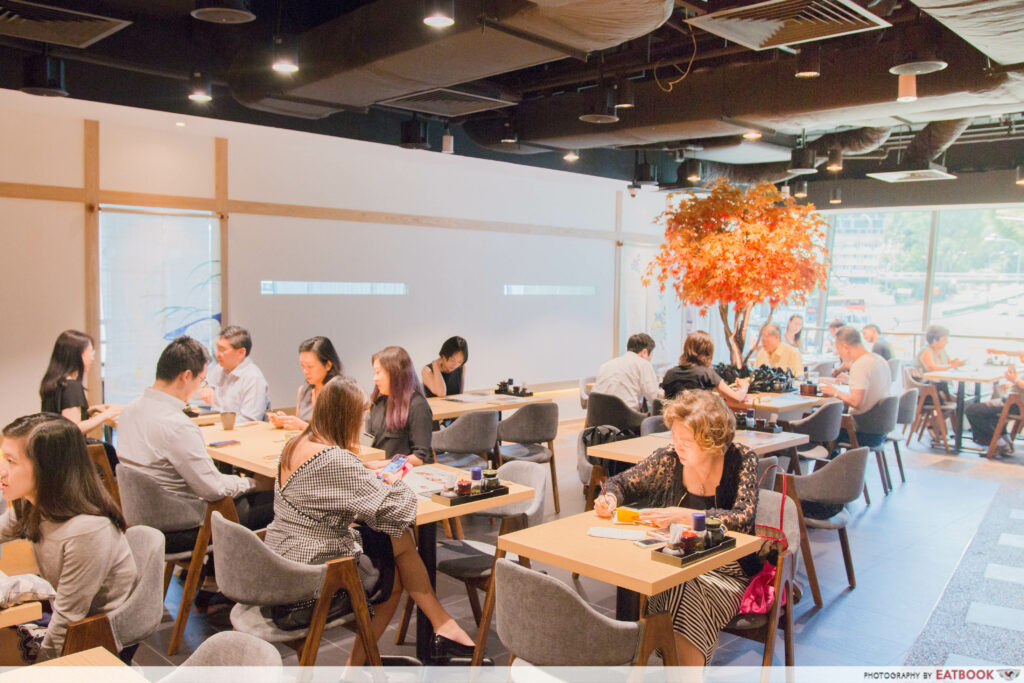 Sunlight streams into Uya and brightens up the minimalist chic interior. I love how the space is decked up to accommodate various occasions, from solo meals to casual lunch dates as well as important business meetings, which can be held in one of their private rooms. We went there for a weekday lunch, and found that the main dining hall was fully packed with office workers and tourists alike.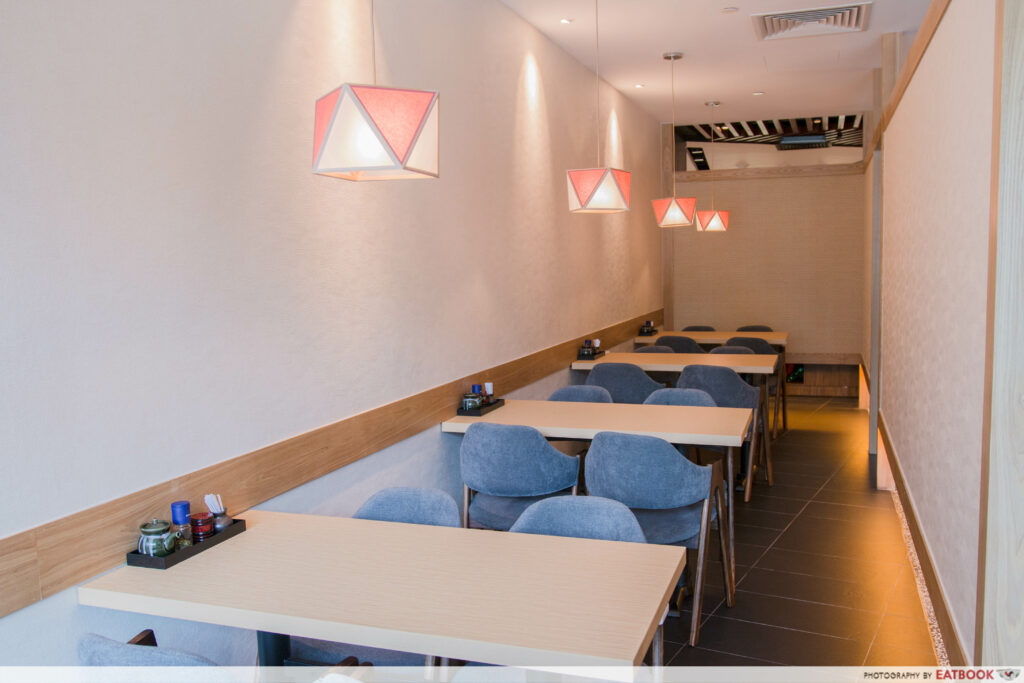 I understand that at Man Man you can watch the entire preparation process, so I really appreciate how I don't have to face the chefs slaughtering the eels when I'm dining here, as I find it really gruesome. Instead, everything is done at the back of the kitchen, so those with soft hearts won't have to face the guilt while eating. Nonetheless, if you still want to see a bit of action, you will be pleased to know you can catch the chef grilling up the eel through a glass window panel; only the gutting of the eel is not for show.
The verdict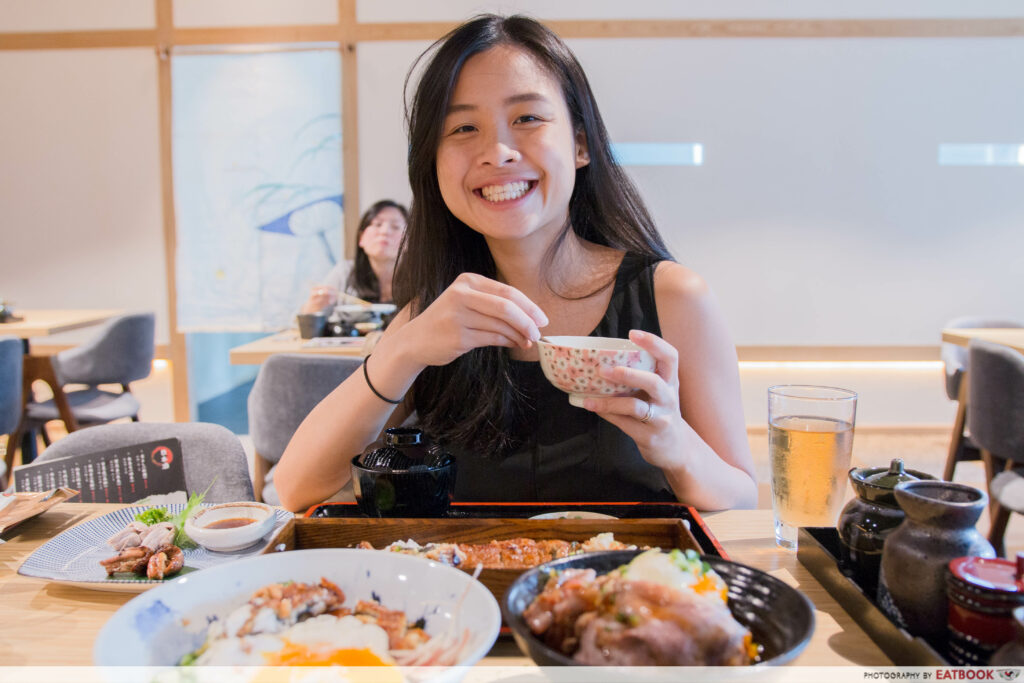 Beat the queue and head to Uya for your unagi fix I say! Sure, I've not tried Man Man, but I daresay the stylish ambience here and the fact that I can make a reservation puts Uya in the lead. Plus, the eels are as fresh as it can be and of high quality, although they can be slightly skinny. The only bummer is that it's a little on the pricey side, and I don't see myself forking out more than $30 for a bowl of unagi or beef bowl, even if their rice sets do come with a side of miso soup with yuzu, salad, and pickles.
If you're looking for more affordable Japanese grub at Orchard Road, check out Hokkadio Marche at Don Don Donki or Japanese Foods Garden in Shaw Centre.
Address: 501 Orchard Road, #02-15/16, Wheelock Place, Singapore 238880
Opening hours: Sun-Thur 12pm to 2:30pm, 6pm to 9:30pm, Fri-Sat 12pm to 2:30pm, 6pm to 10pm
Tel: 6732 1096
Website
This was a media tasting at Uya.
Summary
Pros
– Great ambience
– Quality ingredients
– Delicious food
Cons
– Pricey
– Eel could be a bit fattier

Recommended dishes: Rare Wagyu Rice Bowl ($27++) and Hitsumabushi ($35 medium, $48 large)

Operating hours: Sun-Thur 12pm to 2:30pm, 6pm to 9:30pm, Fri-Sat 12pm to 2:30pm, 6pm to 10pm
Address: 501 Orchard Road, #02-15/16, Wheelock Place, Singapore 238880