---
Yishun food is bound to get you drooling
---
I'm always green with envy whenever my friends tell me they're eating at Yishun. I live terribly far away, so it's always for a special occasion that I find the time to head on down for a meal. And boy, do the food never disappoint! Here are some of my favourite Yishun food places which get me travelling down the red line for.
---
1. Pizza Maru
---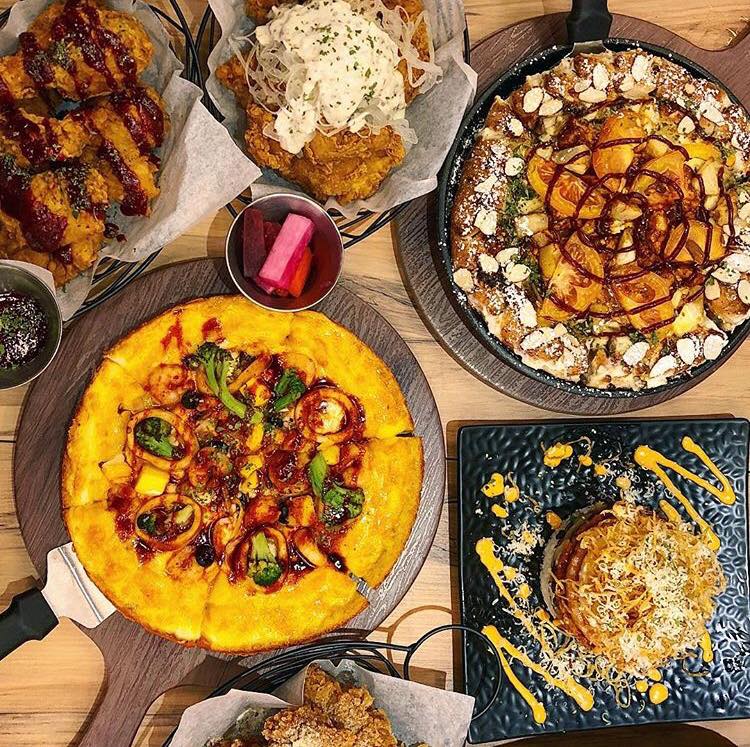 Image credit: Pizza Maru's Facebook Page  
The Koreans are known for combining savoury with sweet, and here at Pizza Maru, they have done the same to their pizzas. Get your tastebuds prepped for a world of flavours – the ingredients which go into making these pizzas are vast and diverse. Take the crusts, for instance, which are made with green tea and black rice dough, and contain healthy grains including barley and flaxseed.  A favourite of ours is their Real BBQ Chicago ($26.80++), which is topped with chicken, BBQ sauce, icing sugar, almond flakes, honey and more!  
Address: 1 Northpoint Drive, #B1-192/193, South Wing, Northpoint City, Singapore 768019
Opening hours: Daily 11:30 am to 10pm
Tel: 6254 4307
Website
---
2. Yap's Noodles
---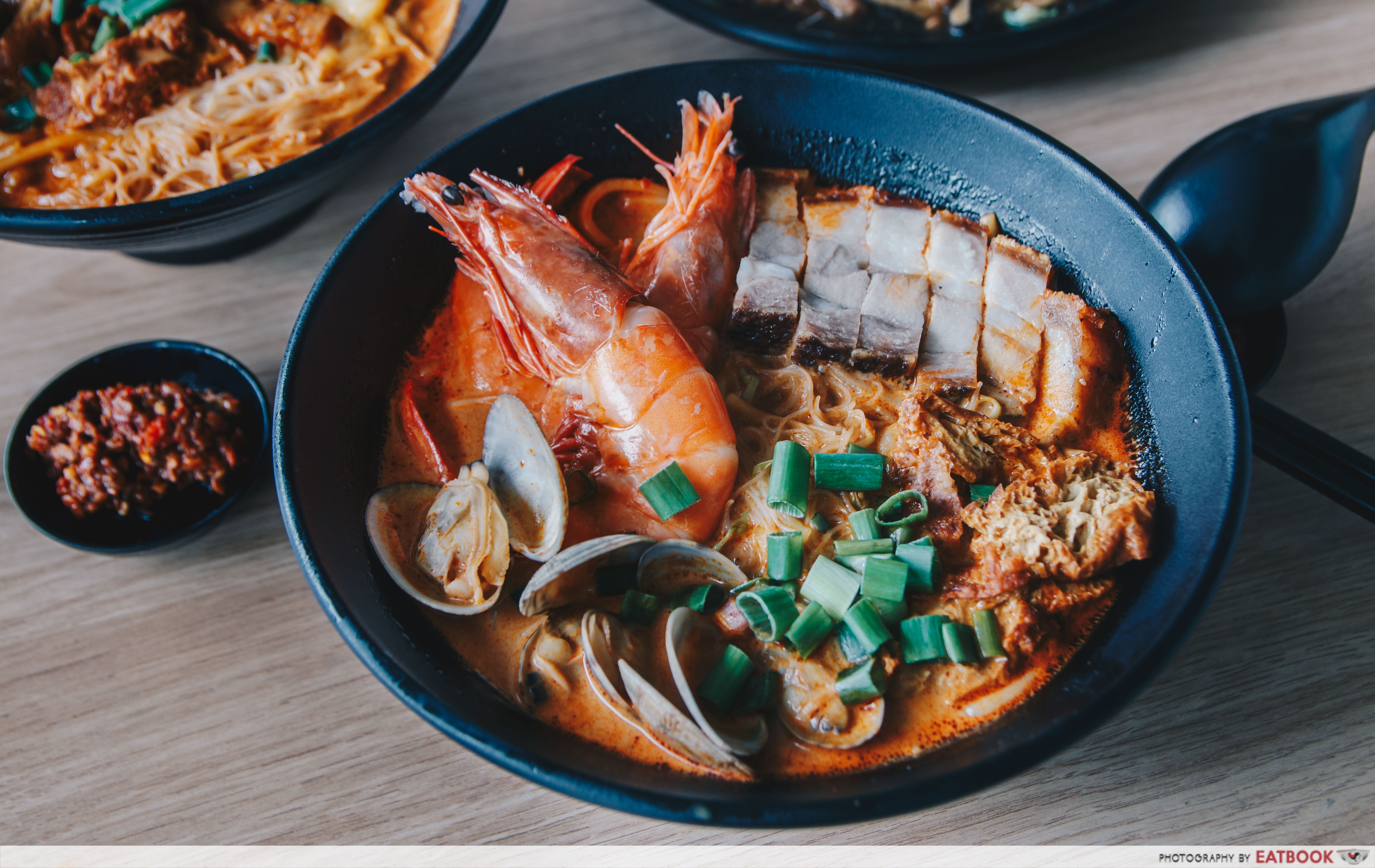 The curry noodles at Yap's Noodles are not to be missed! Served in a hawker stall, you'll hardly believe your eyes as you take in the amount and variety of ingredients included. Try their Curry Seafood Roasted Pork Noodles ($6.50). It contains two large prawns, a scattering of clams, chunks of roasted pork and some tau pok. The soup tastes a little velvety, similar to laksa, minus the strong flavour of coconut milk. You can also opt for an add-on of Cheese for $1, which richens the broth considerably.
Read on more in our full review of Yap's Noodles.
Address: 51 Yishun Avenue 11, #01-36, Yishun Park Hawker Centre, Singapore 768867
Opening hours: Daily 9am to 9pm
Tel: 9670 4328
Website
---
3. Long Jiang Chinos
---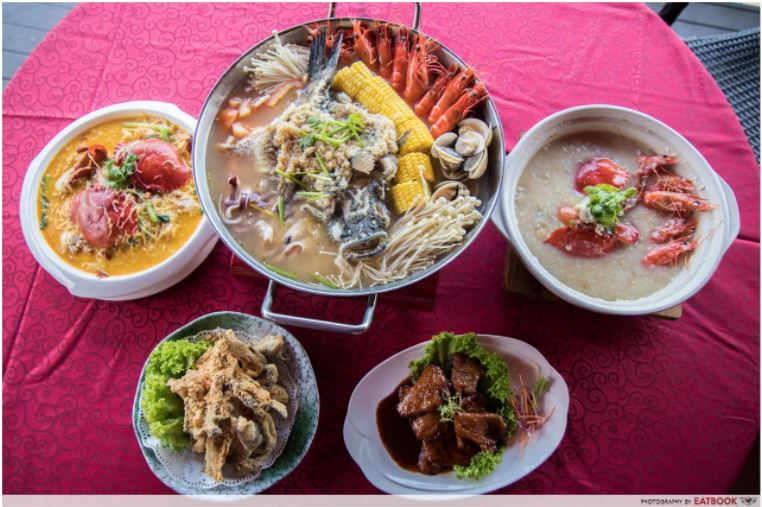 If you love seafood, you'll fall head over heels in love with Long Jiang Chinos. This Chinese restaurant specialises in them, and offers over 100 different dishes. Come with a large group of family or friends and share their Seafood Hot Pot ($128++); a huge steaming pot filled with clams, prawns, squid and a whole soon hock fish. Another interesting dish to try is the Cheesy Crab Beehoon with Crab Roe ($44.80++), which contains bee hoon and two crabs soaking in a rich and cheesy yellow broth.
Check out our full review of Long Jiang Chinos.
Address: 81 Lorong Chencharu, Singapore 769198
Opening hours: Daily 11:30am to 2pm, 5:30pm to 10pm
Tel: 6757 7887
Website
---
4. Hai Xian Zhu Zhou
---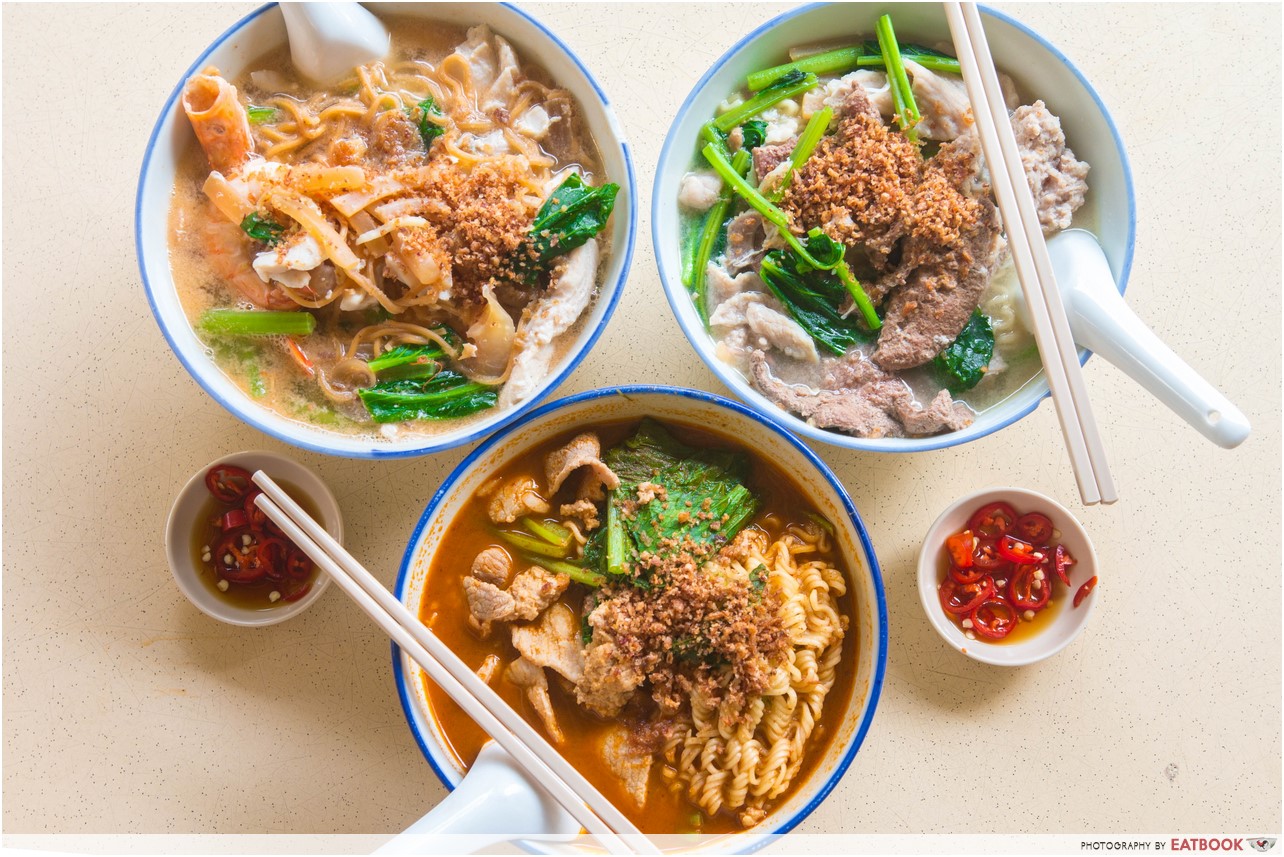 It's hard not to like instant noodles. The ke kou mian at Hai Xian Zhu Zhou is in a whole other league! You can choose between different flavoured broths such as pork, seafood and tom yum. Either way, all soup bases are bursting with umami. A recommended dish is their Pork Koka Noodles ($3), which is both affordable and hearty. Do come early if you're keen on giving this place a try; the queues during lunch hours can get pretty intense!
Find out more in our full review of Hai Xian Zhu Zhou.
Address: 233 Yishun Street 21, #01-472, Choh Dee Place, Singapore 760233
Opening hours: Thur-Tue 6am to 3:30pm
---
5. Munchi Delights 
---

Munchi Delights takes old-school min jiang kueh and reinvents them into a colourful, new hipster snack. There are three flavours of min jiang kueh base you can choose from: original, matcha and charcoal. Then, pick one of their unique spreads to fill them up. Some unique fillings you might be keen to try include Oreo Cream Cheese ($1.60) and Banana Chocolate ($1.60). They also do traditional ones such as Peanut ($1.20) and Red Bean ($1.20).
Address: 51 Yishun Avenue 11, #01-43, Yishun Park Hawker Centre, Singapore 768867
Opening hours: Daily 7am to 10pm
Tel: 8242 5588
Website
---
6. Ah Tan Wings 
---

There's no way you should miss out on Ah Tan Wings' mouthwateringly crispy and rich har cheong gai when you're at Yishun. This stall was started by a pair of young siblings, Tan Wee Yang, 26, and his  sister Tan Yu Yan, 29. There are only three main dishes on the menu – Atas Wing Meal ($5.20), Atas Cutlet Meal ($6.50) and Basic Wing Meal($3.50). The Atas Wing Meal will definitely fill up hungry souls. It consists of two chicken drumlets, two wings, a sunny side up, and fragrant white rice steamed in chicken broth.
Address: 51 Yishun Avenue 11, #01-40, Yishun Park Hawker Centre, Singapore 768867
Opening hours: Daily 11am to 9pm
Website
---
7. 928 Yishun Laksa
---

Image credit: @smorgasbordofdelights
Laksa lovers, you've got to drop by 928 Yishun Laksa, also known as the 'Very Nice Laksa Stall'. The Laksa (from $2.80) is not only cheap, but comes brimming with bee hoon or yellow noodles, tau pok, crab sticks, cockles, egg and bean sprouts in a creamy, spicy broth. Snaking long lines form outside the stall at any time of the day, so do be prepared to queue upon your arrival.
Address: 928 Yishun Central 1, #01-155, Singapore 760928
Opening hours: Mon-Sat 8:30am to 7pm
Tel: 9731 9586
---
Yishun food in abundance
---
The sheer amount of stores in Northpoint City alone provide you with more than enough options when you're looking for good Yishun food. If you live far away from Yishun like me, I say it's definitely worth the time and distance to travel down for a hearty meal.
For more food along the red line, check out this compilation of 10 Bishan food places under $15 or this list of 10 hidden eats in Orchard under $20.