Long Jiang Chinos serves giant seafood hot pots
Update (5 April 2019): Long Jiang Chinos has permanently closed.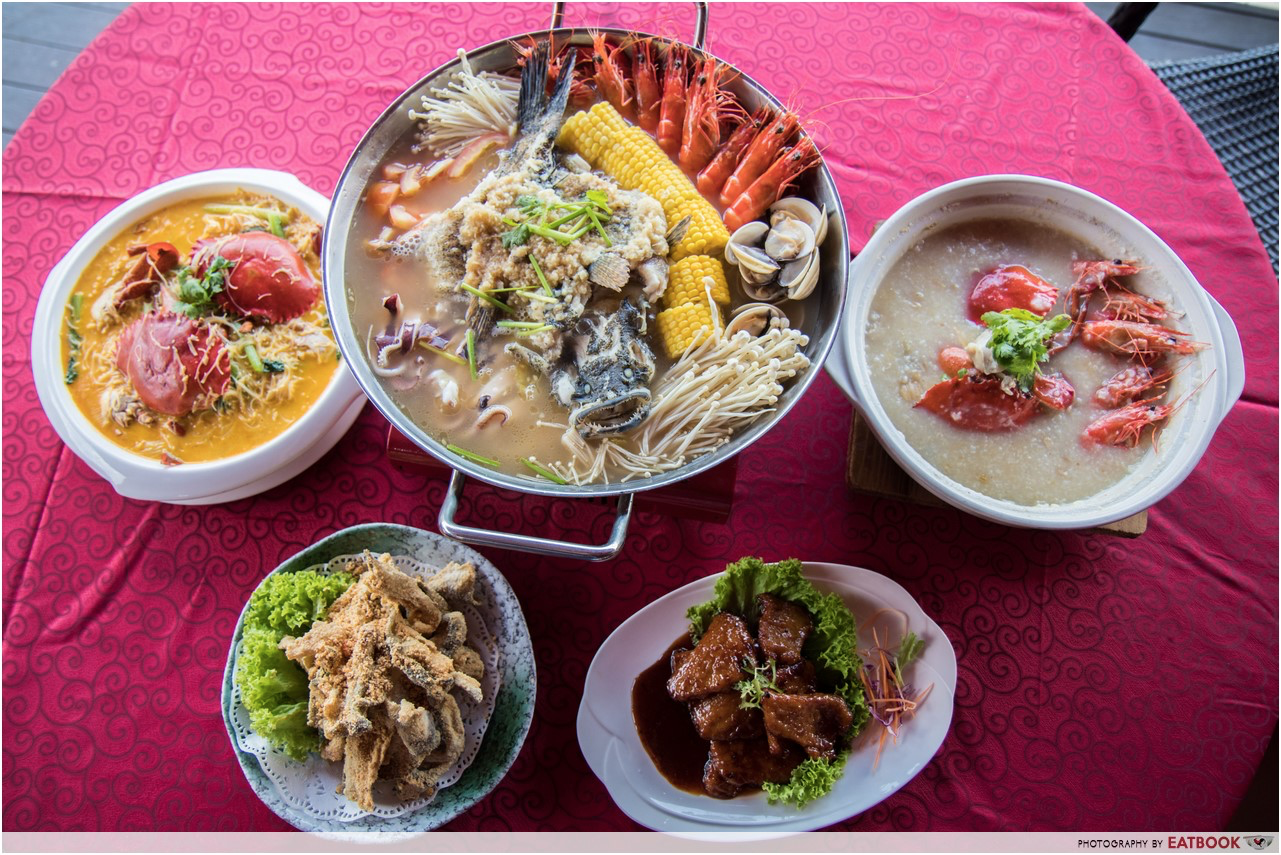 The first and only time I visited ORTO at Yishun was for a one-day Zumba class, and my impression of the park was that it is an ulu spot for sports. When I'm thinking about places to dine at with my family, ORTO doesn't come to mind either. So it really took me by surprise to find a bunch of restaurants, including Long Jiang Chinos, there. This Chinese restaurant specialises in seafood and serves over 100 dishes!
Food at Long Jiang Chinos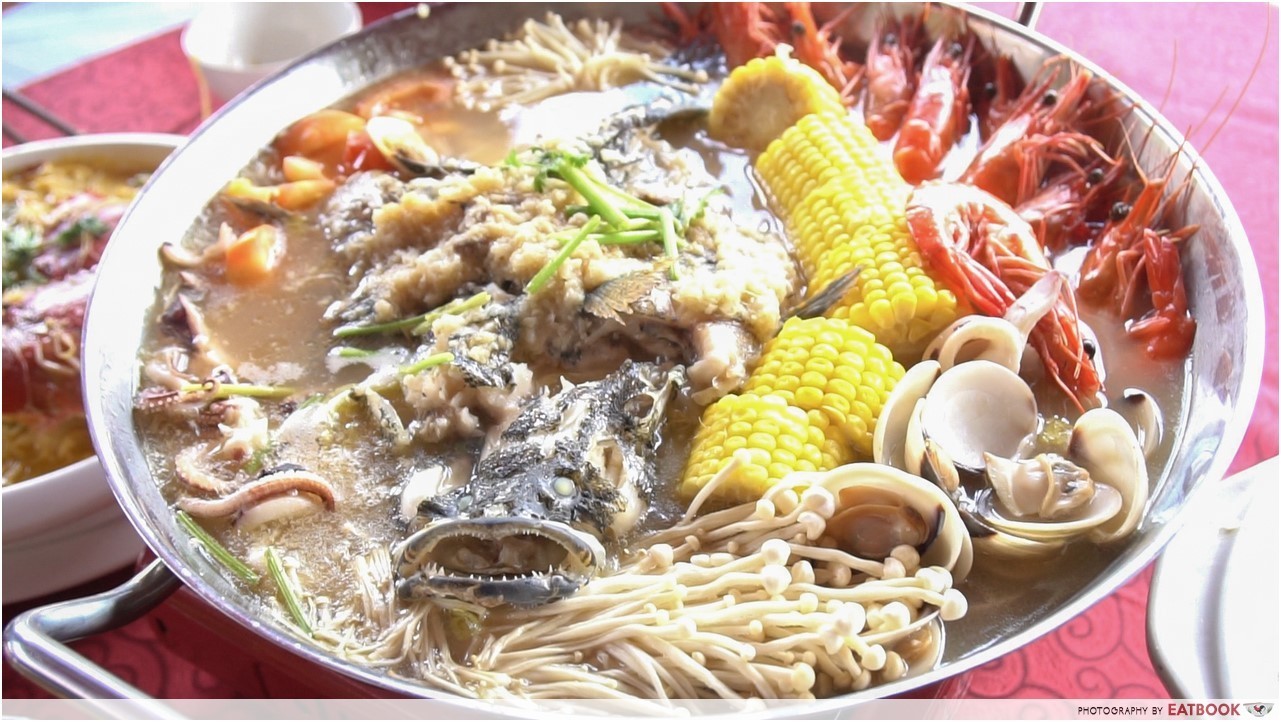 While we were at Long Jiang Chinos, we tried four of their specialities. The most memorable one was their latest creation, Seafood Hot Pot ($128++). In a huge simmering pot was broth filled with clams, prawns, squid, and most strikingly, a whole soon hock fish. Generous portions of cabbage, tomatoes, mushrooms, and corn were also buried in the pot of soup, enhancing the sweetness of the broth.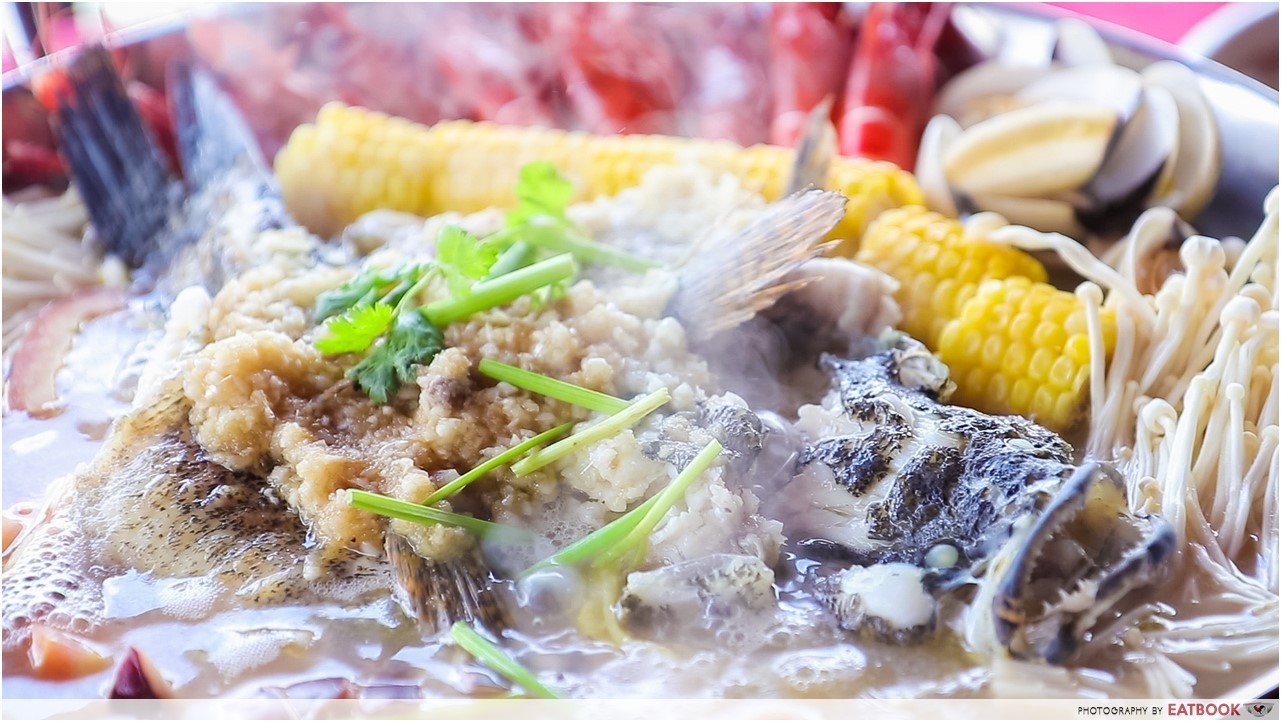 Although putting the entire fish in the soup made it an impressive sight, I was slightly put off by the idea that the soup might be too fishy. My first taste, however, was nothing like that.
Unlike many seafood hot pots that use lightly flavoured broths, Long Jiang Chinos uses chicken broth that has been simmered for hours. This gave an overall flavourful and rich broth with a touch of sweetness brought about by the seafood and vegetables.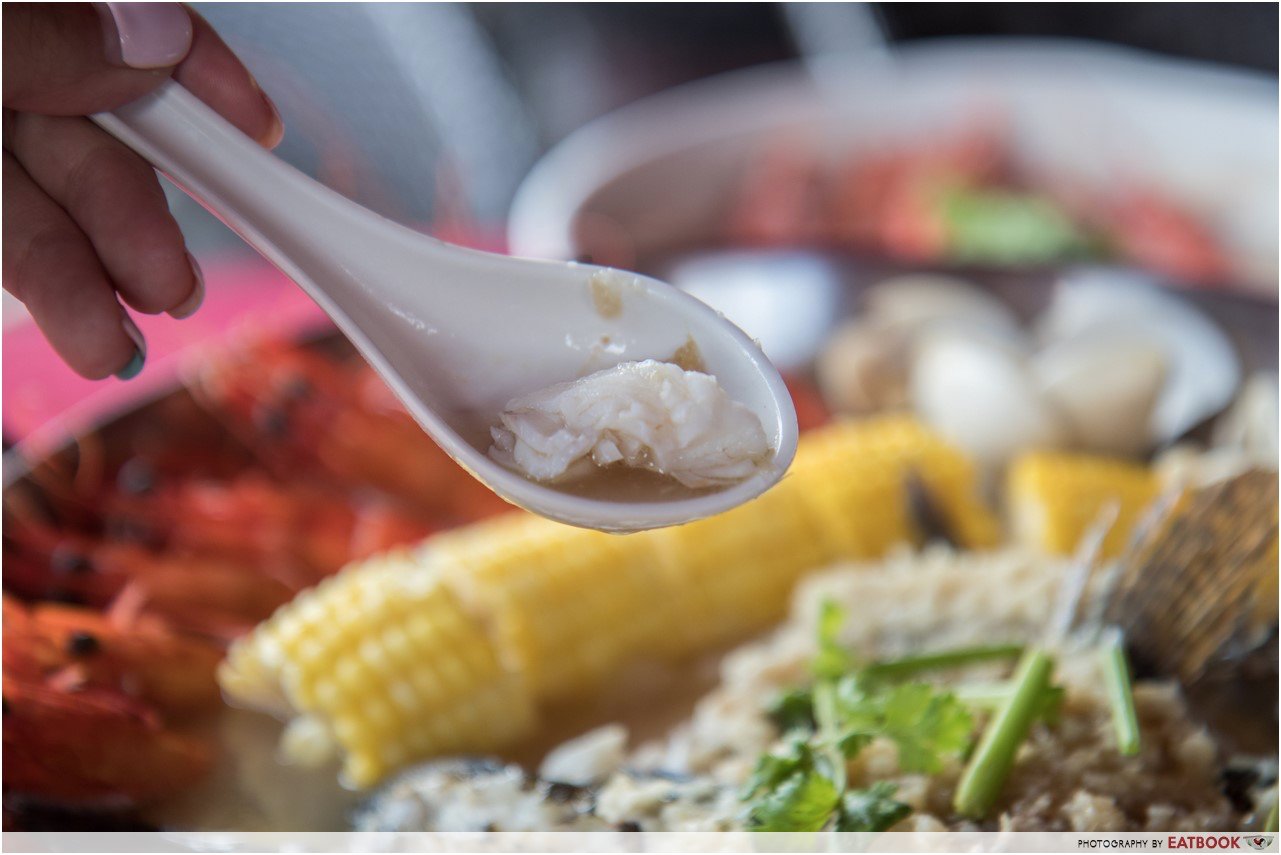 The highlight of the hot pot was the soon hock fish that weighed about 700g. The fish was covered with a layer of soya sauce, ginger, and garlic, and the flesh came off easily in thick and firm chunks. Even though the fish was left simmering in the broth for over 20 minutes during our meal, it was not overcooked and the flesh remained tender, slightly springy, and well-flavoured by the broth.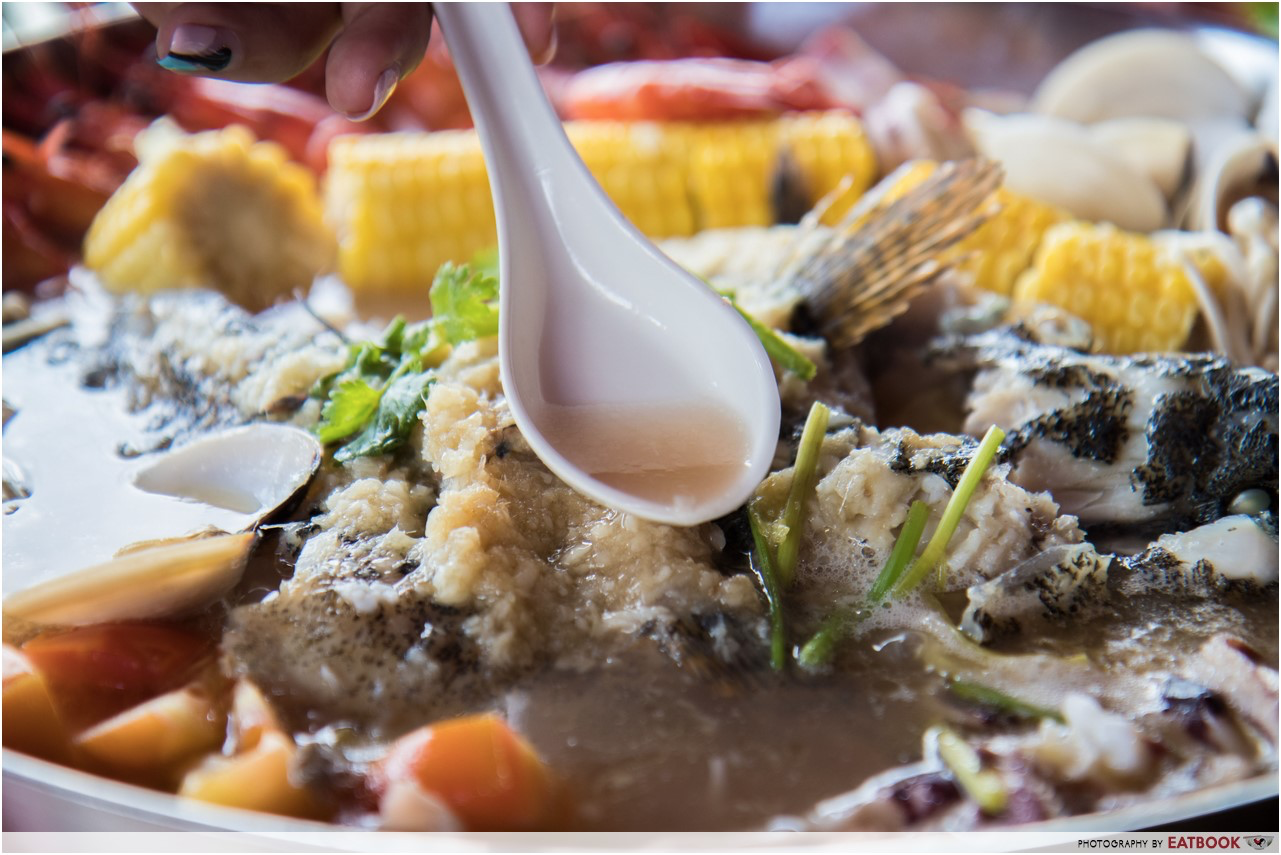 The other ingredients such as prawns and squid were also fresh and added different textures to the dish. After sitting in the broth for a while, the seafood soaked up much of the soup and each bite had a good mix of sweetness and saltiness.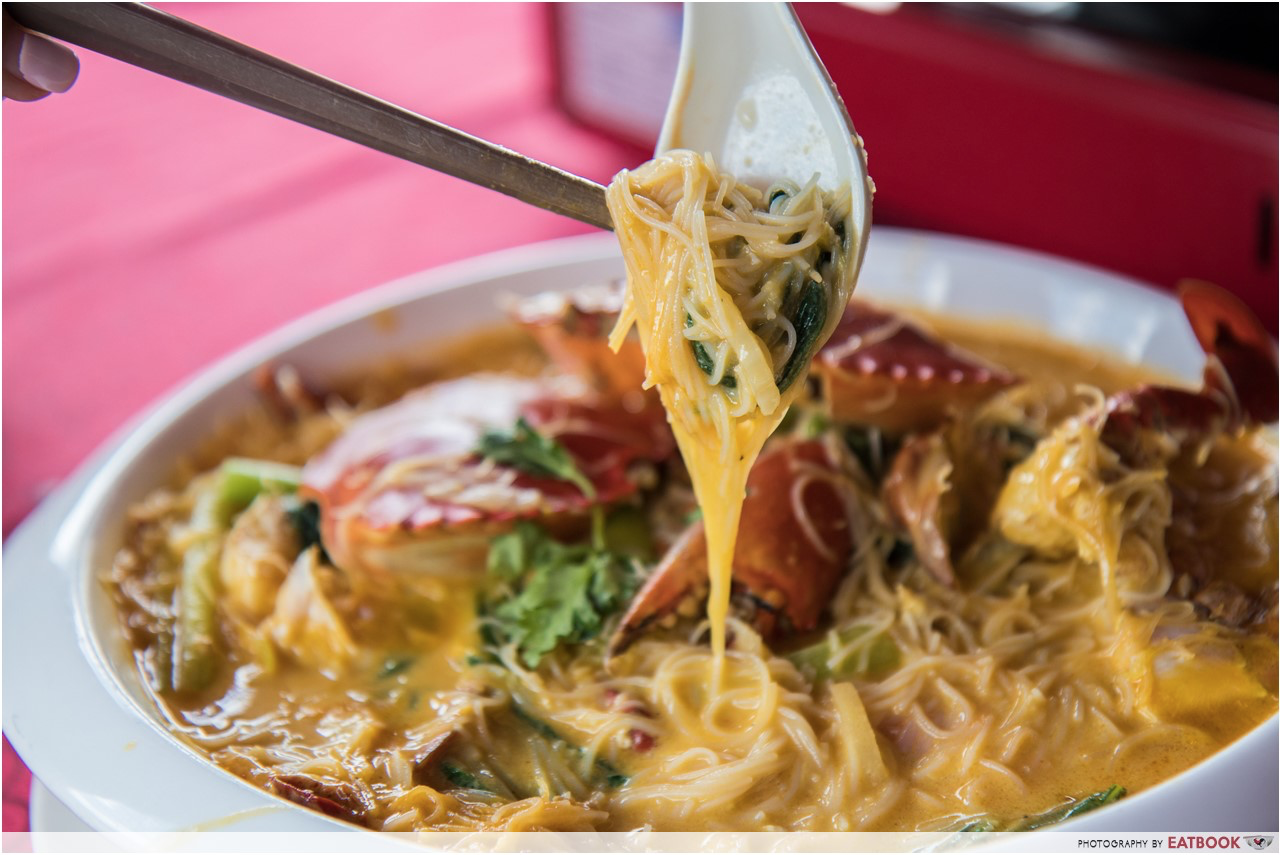 Another dish which was surprisingly well-executed was Cheesy Crab Beehoon with Crab Roe ($44.80++). In a bowl of creamy yellow sauce laid a generous amount of beehoon and two whole crabs. I liked how the soft beehoon completely absorbed the sauce, making each spoonful of noodles flavourful and juicy. The sauce had a surprisingly distinct cheese taste and there was a tinge of spiciness that neutralised the pungent smell of cheese, which some may not like.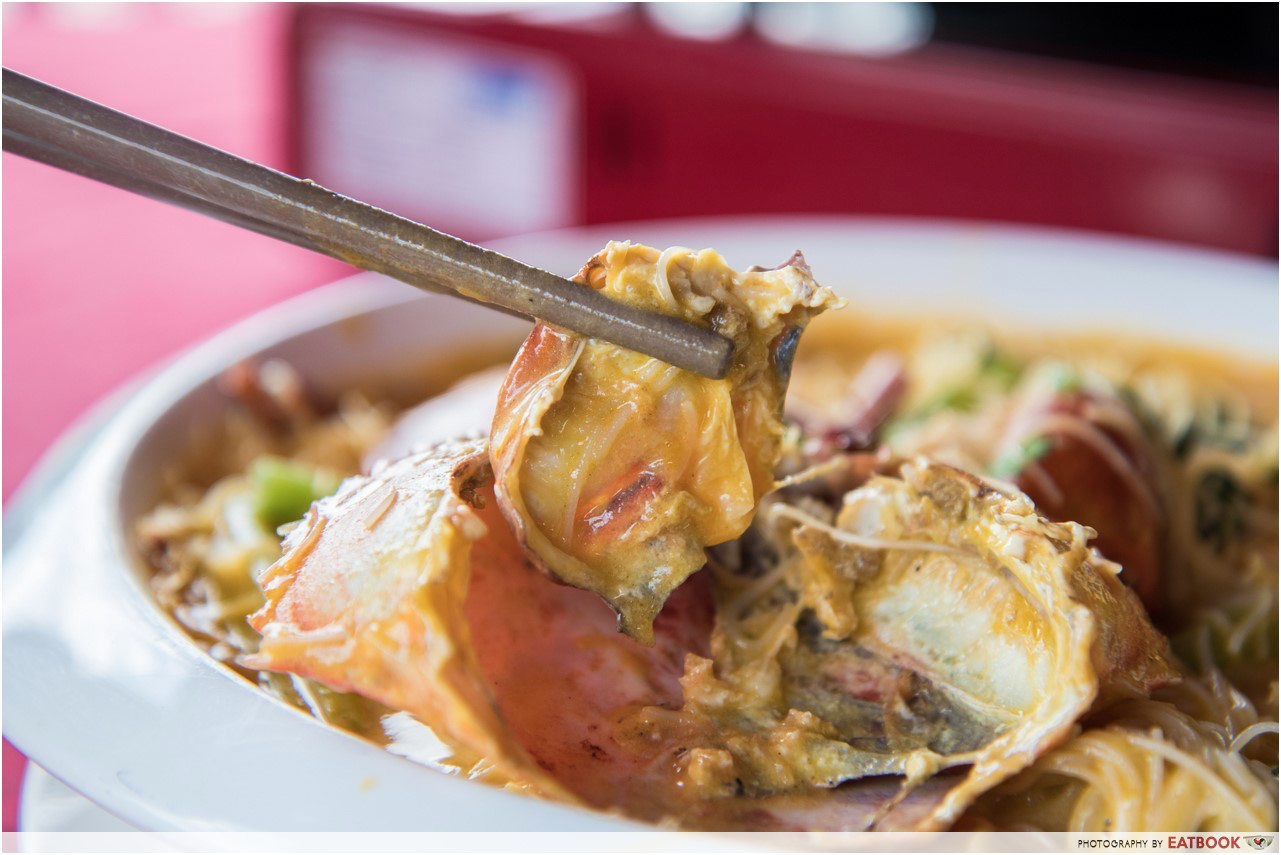 The crabs were small, slightly bitter, and didn't contain much crab roe. For a dish that focuses on crab and crab roe, it was disappointing that only the gravy stood out to me. The dish would have been more value-for-money if the crabs were bigger.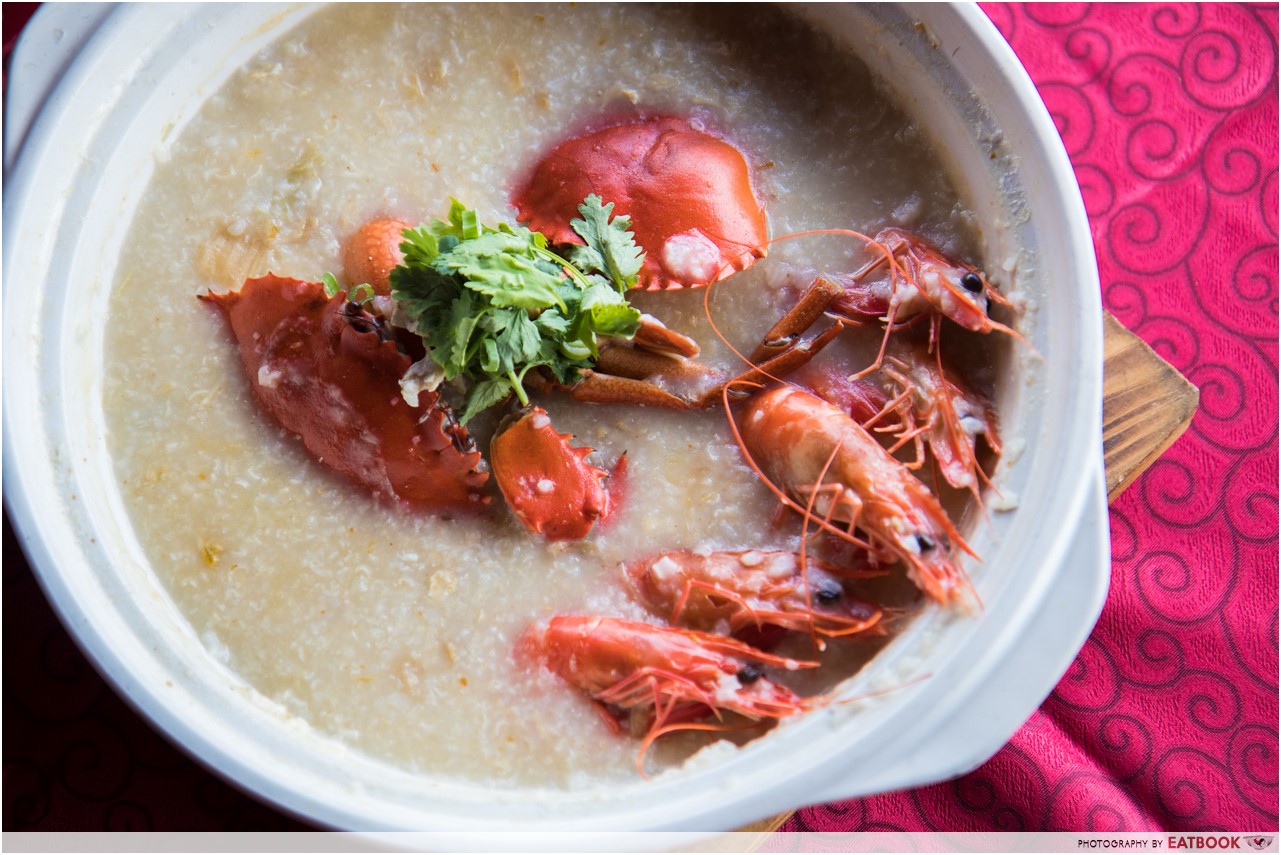 Another new dish that we tried was Teochew Crab & Prawn Porridge ($44.80++). When served, the pot of bubbling porridge was very fragrant. Unlike most Teochew-style porridge, this one had a thicker consistency and was heavily flavoured with bits of dried scallops and dong cai (pickled vegetables).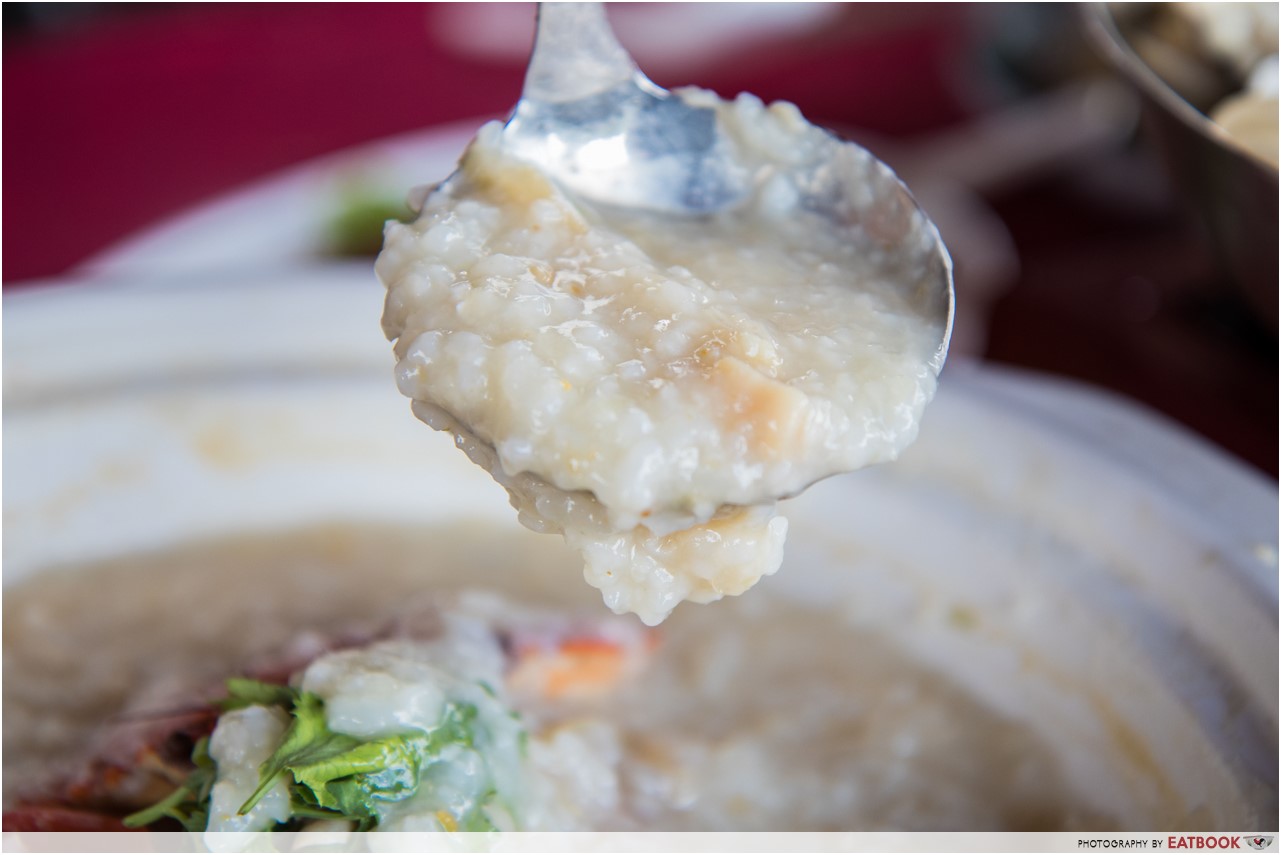 The porridge was tasty on its own and didn't need condiments to go along with it. Each mouthful was warm and comforting, making it hard for me to stop at one serving. The prawns were also huge and sweet, with a delightful chewy texture to it. However, like the cheesy crab beehoon, the crabs in the porridge were small and unimpressive.
The porridge and seafood were delicious on their own but there could have been a better blend of flavours. The porridge had neither the sweetness nor freshness of seafood that I expected and it felt like the porridge and seafood were cooked separately and put together only when served.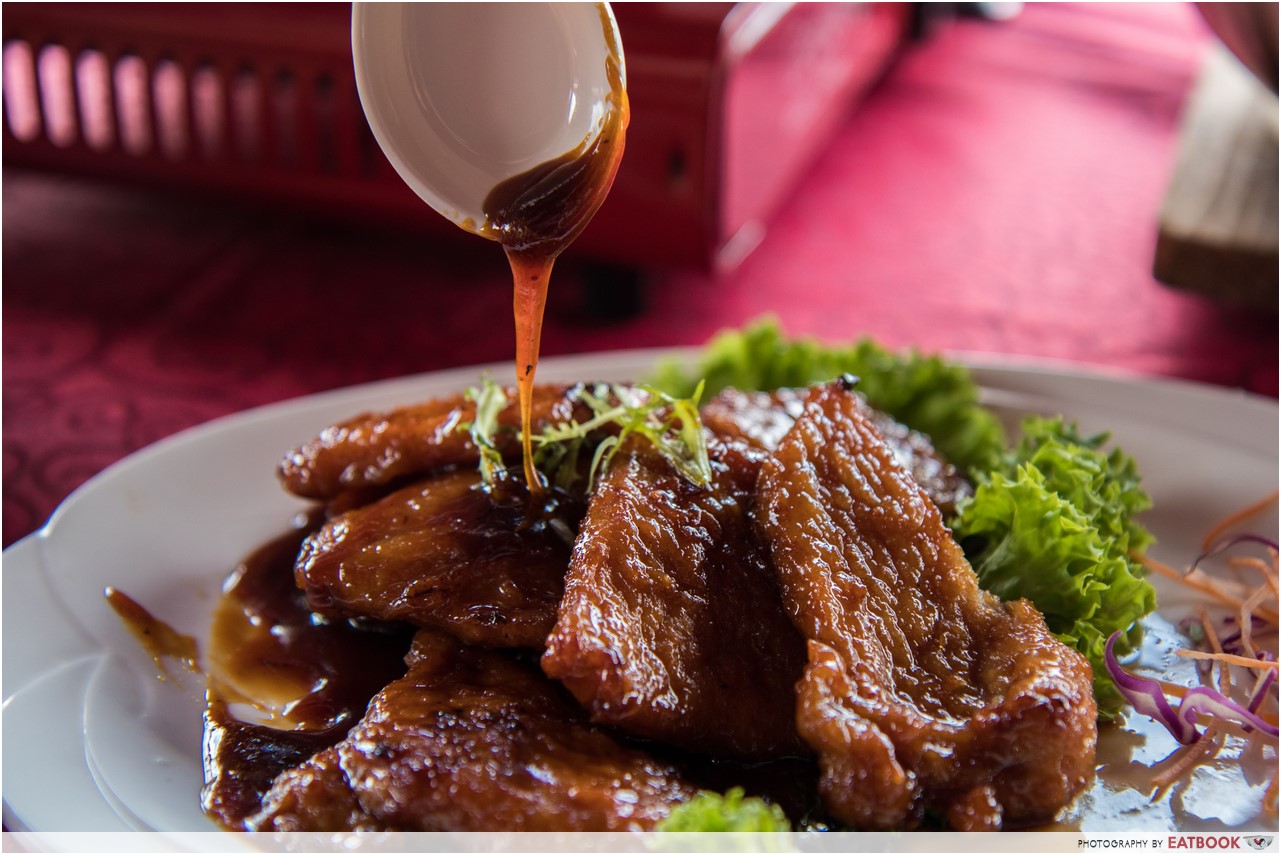 The last dish we tried was Pan Seared Black Iberian Pork in Cantonese Style ($20++/28++/38++), one of their non-seafood dishes. Covered in a gelatinous sweet and savoury sauce, the thick cutlets were marinated well and had some charred corners that were especially delectable. Although the meat was a little tough at certain parts, I generally enjoyed the dish and it was a good alternative to the seafood dishes.
Besides the pan-seared pork, Long Jiang Chinos also serves other non-seafood dishes including Fried Beef Hor Fun ($14++/22++/28++) and Crispy Chicken with Salted Egg Yolk ($14++/20++/26++).
Ambience at Long Jiang Chinos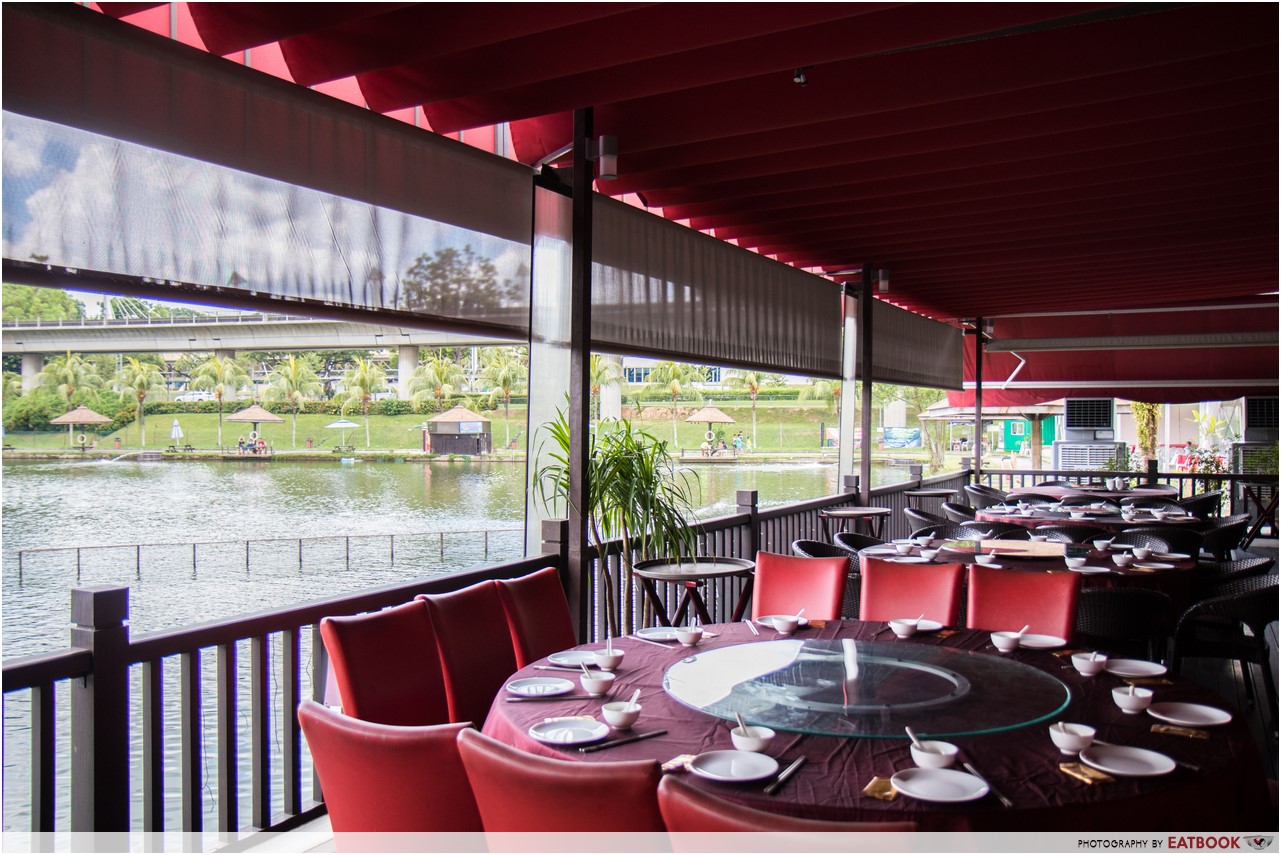 Located beside ORTO's huge fishing pond, the restaurant has a laid-back vibe with an impressive view. Most of their tables are situated outdoors, and there are a few air-conditioned rooms for those who prefer a more intimate gathering. While the outdoor seats are spacious and suited for big family gatherings, it can also become unbearably warm during the day. Those wanting to go for the indoor rooms would, however, have to spend a minimum of $600 just on food.
The verdict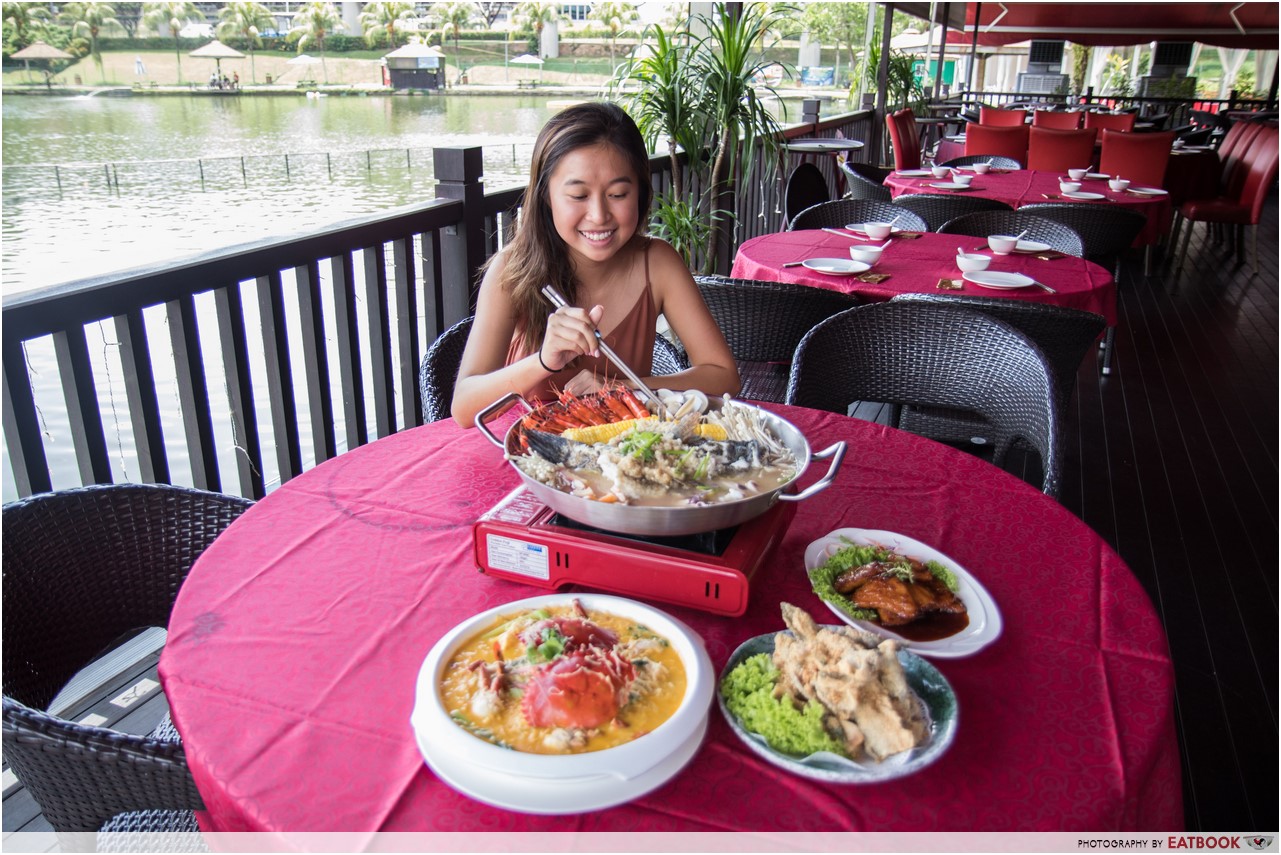 Overall, most of the dishes we tasted were not impressive but for the seafood hot pot alone, it was worth the trip. As the prices lean towards the steeper side, this is probably not a place I would visit with my friends but with my family during special occasions. For those looking to spend a day with your family at this adventure park, their extensive menu will have something for both the young and old. For more atas seafood buffets, check out these hotel seafood buffets! Alternatively, those who want to give your wallets a break can visit these hawker seafood soup stalls. 
Address: 81 Lorong Chencharu, Singapore 769198
Opening hours: Daily 11:30am to 2pm, 5:30pm to 10pm
Tel: 6757 7887
Website
Long Jiang Chinos is not a halal restaurant.
This was a media tasting at Long Jiang Chinos.
Summary
Pros
– Fresh seafood
– Wide variety of food
– Seafood hot pot was delicious
– Good for large family gatherings
Cons
– Expensive
– Limited seats indoors
– Inconvenient location
Recommended Dishes: Seafood Hot Pot ($128++)
Operating Hours:
Daily 11:30am to 2pm, 5:30pm to 10pm
Address: 81 Lorong Chencharu, Singapore 769198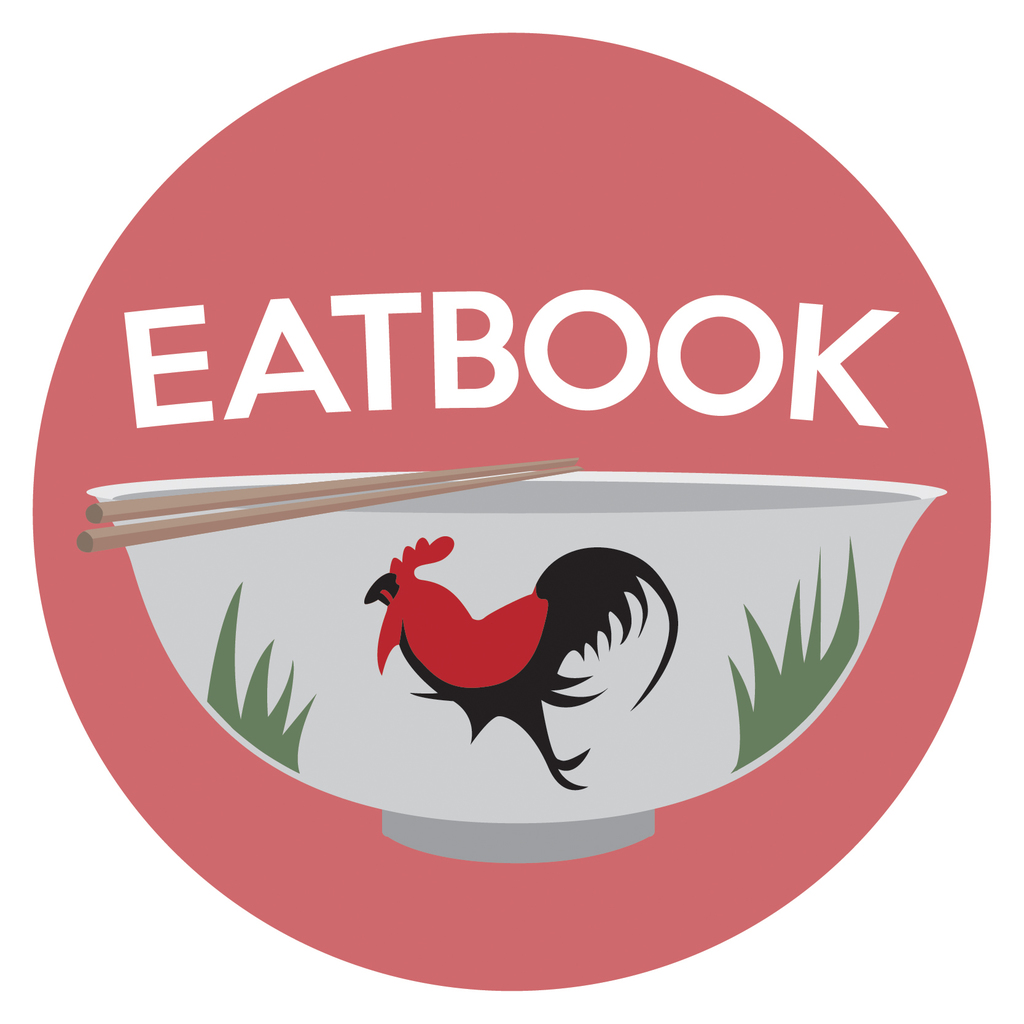 Drop us your email so you won't miss the latest news.