---
Hawker seafood soups for your next crayfish craving
---
A bowl of delicious soup is one of the reasons I look forward to dinner at home after a stressful day at school or a long day at work. Recently though, Instagram images of huge, hearty bowls of seafood soup have been tempting me to eat out. The trend for hawkers stalls of late seems to be to incorporate premium ingredients into seemingly simple dishes. Here's our lineup of hawker seafood soups that serve a party of fresh seafood complementing bowls of robust umami soup.
---
1. Fresh Generation

---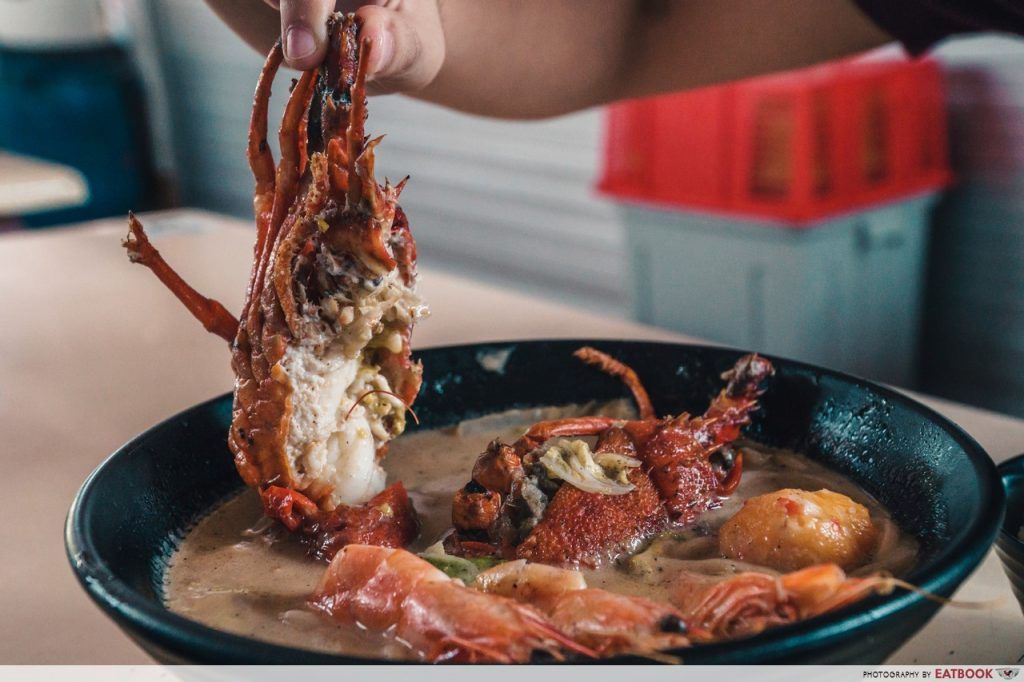 A Signature Seafood Platter ($28) from Fresh Generation feeds two to three people with crayfish, scallops, lala, prawns, lobster balls, and plump slices of snakehead fish. Their ingredients come in pairs, in a broth that has a strong flower crab flavour, even though there isn't any crab meat in the soup. Add a whole lobster for $22, but if that's not gonna be enough, get yourself a Lobster Seafood Soup ($28 for one, $58 for three people) instead.
Check out our full review of Fresh Generation.
Address: 51 Upper Bukit Timah Road, #02-164, Bukit Timah Market & Food Centre, Singapore 588215
Opening hours: Tue-Sun 11am to 9pm
Tel: 9451 1633
Website
---
2. Shun Feng Crayfish Delight
---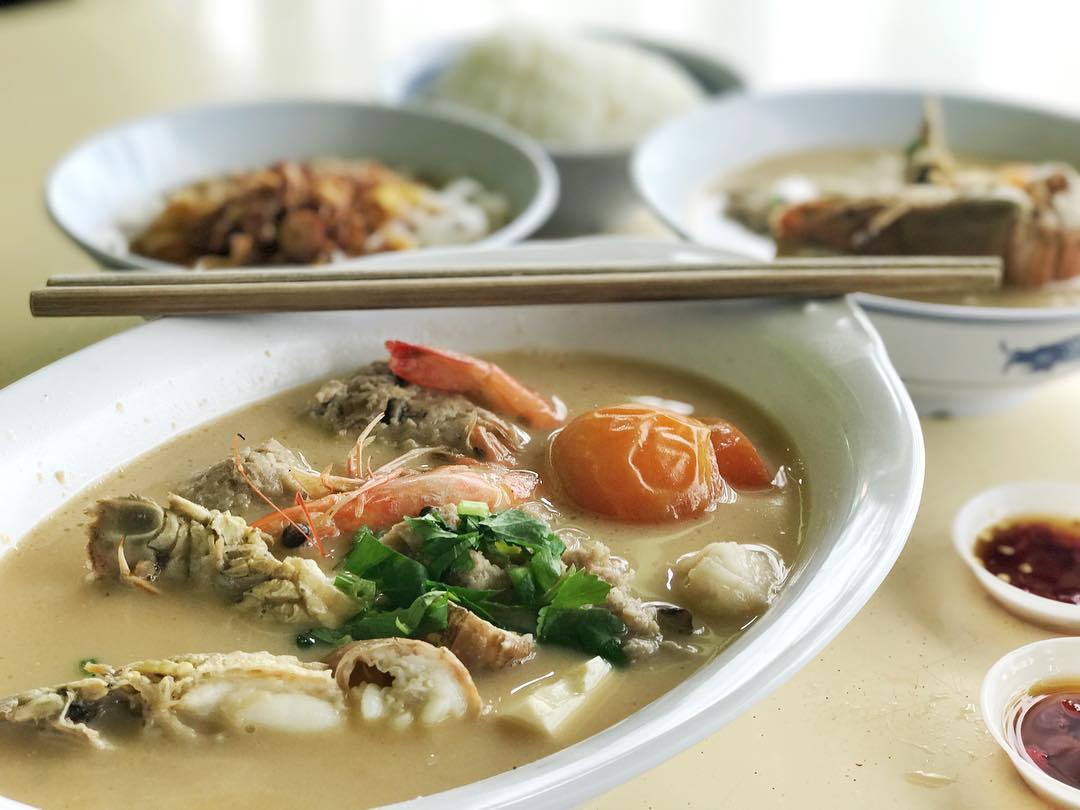 Image credit: @plutoniumignite
Do yourself a favour when you're at Shun Feng Crayfish Fish Delight. Instead of rice, order their delicious Crystal Hor Fun ($0.50) that's made with six ingredients, then tossed in sweet, savoury dark sauce with deep fried shallots. Crystal Crayfish Delight ($6/$10) is cooked in a creamy pork-based broth, with three whole crayfish, and extra meatballs for the large portion. They are a five-minute walk from Khatib MRT Station and the stall opens till midnight for supper!
Address: 848 Yishun Street 81, Singapore 760848
Opening hours: Daily 11am to 12am
Website
---
3. Xinshi Lobster & Seafood Bee Hoon
---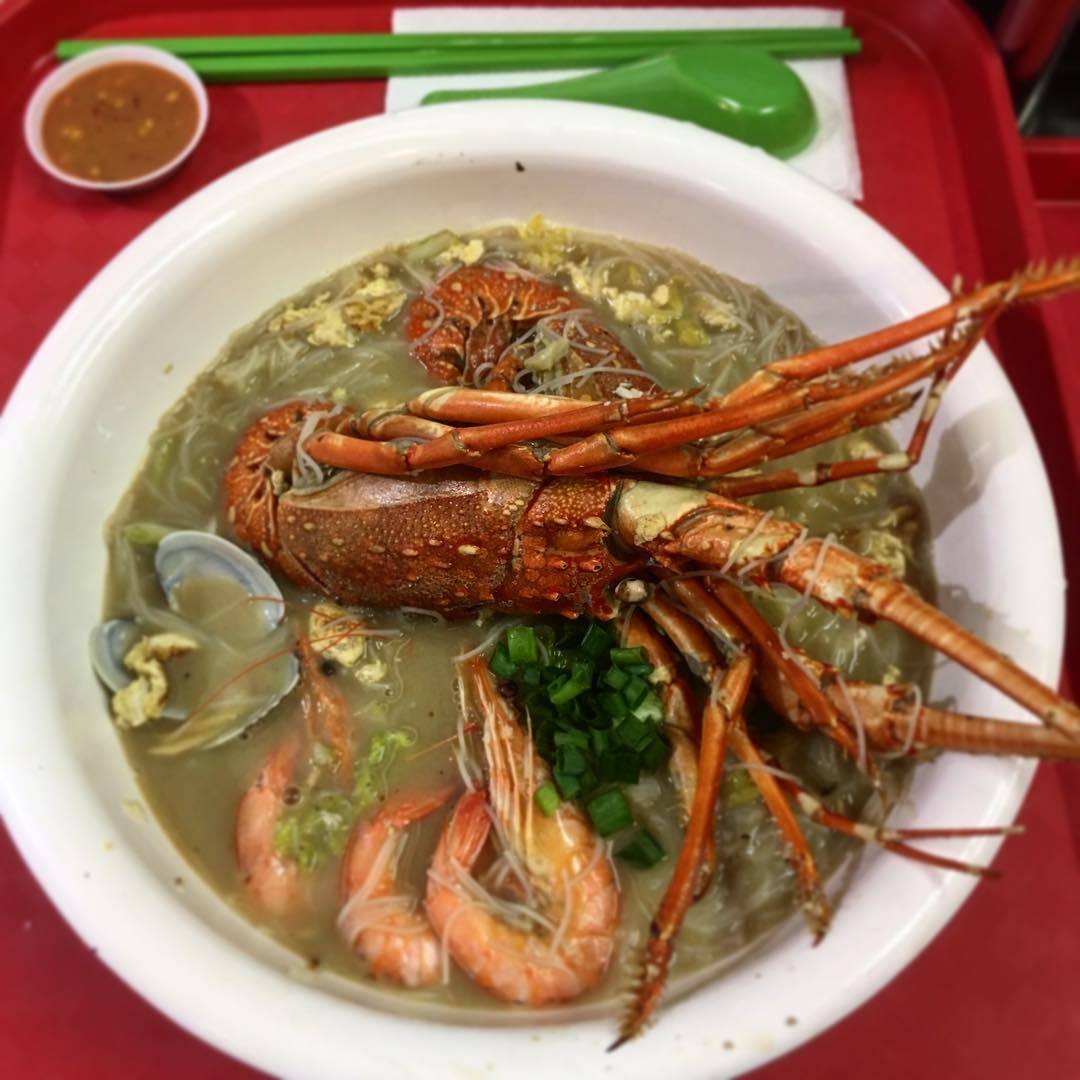 Image credit: @xinshidelights
The bestseller at Xinshi Lobster & Seafood Bee Hoon is Crayfish Seafood Bee Hoon ($16 for one, $21 for two crayfish). Crayfish roe delightfully contrasts the sweet and fresh crayfish meat, and their house-made chilli adds sourness. Chicken, carrots, onions, lobster and prawn heads flavour the broth base. A tasty new creation is Cheese Seafood Noodles ($9.80), which is topped with torched cheese!
Address: 500 Clemenceau Avenue North, #01-58, Newton Food Centre, Singapore 229495
Opening hours: Tue-Thur 5:30pm to 11pm, Fri 11:30am to 1:30pm, 5:30pm to 12am, Sat, 5pm to 12am, Sun 5pm to 9pm
Tel: 8228 8444
Website
---
4. Yan Ji Seafood Soup
---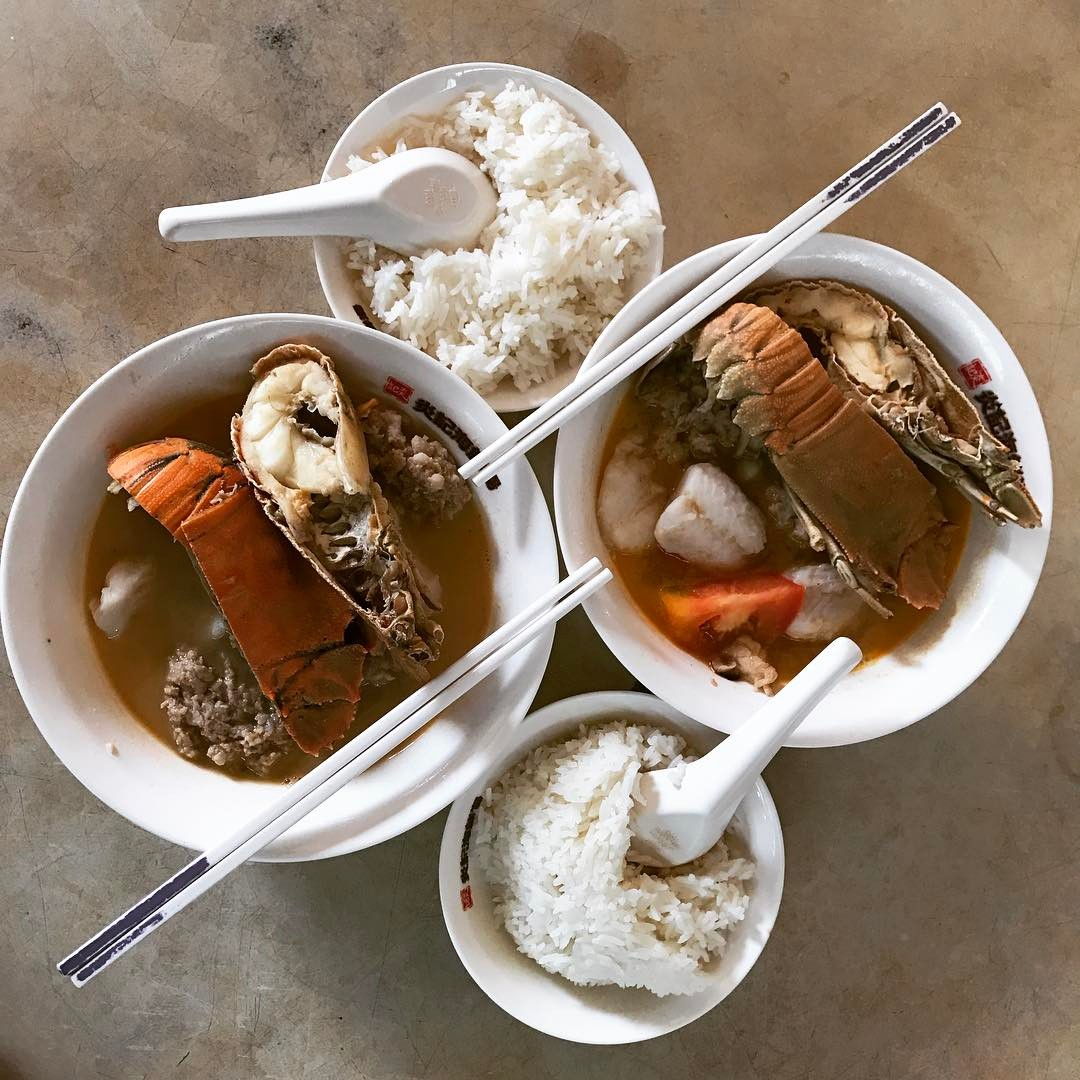 Image credit: @mingjietan
For folks at Woodlands, Yan Ji Seafood Soup sells a basic bowl of seafood soup with Dory Fish at $6, or Crayfish, Pomfret or Red Grouper at $16. Their soup is a light, milky brown, with a deep crustacean sweetness and dried sole fish flavour. They come with big chunks of minced pork with bits of fats. The pork tastes mildly savoury, and has a spongy texture from being mixed with mushrooms. While you're there, consider ordering a huge portion of Braised Pig Trotters ($7) as a side.
Address: 4A Woodlands Centre Road, #02-11, Woodlands Centre Road Food Centre, Singapore 731004
Opening hours: Tue-Sun 11am to 8:30pm
Tel: 9798 5886
Website
---
5. A.S. Seafood Soup

---

Image credit: @michmuses
Crayfish Seafood Soup ($12/$14) is the most expensive item at A.S. Seafood Soup, but its price is justified as crayfish and prawns add prominent umami-sweetness to the broth. For $12, you get a tender crayfish, three crunchy tiger prawns, silky fish slices, and spongy chunks of minced meat. Chicken, dried scallops, and pork ribs create their orange broth, giving it a full-bodied flavour, albeit with a relatively mild crustacean taste.
Address: 412 Bedok North Avenue 2, #01-114, Chow Hin Coffeeshop, Singapore 460412
Opening hours: Mon 11am to 3pm, Tue-Sun 11am to 8:30pm
Tel: 9037 2259
Website
---
6. Sin Kee Seafood Soup
---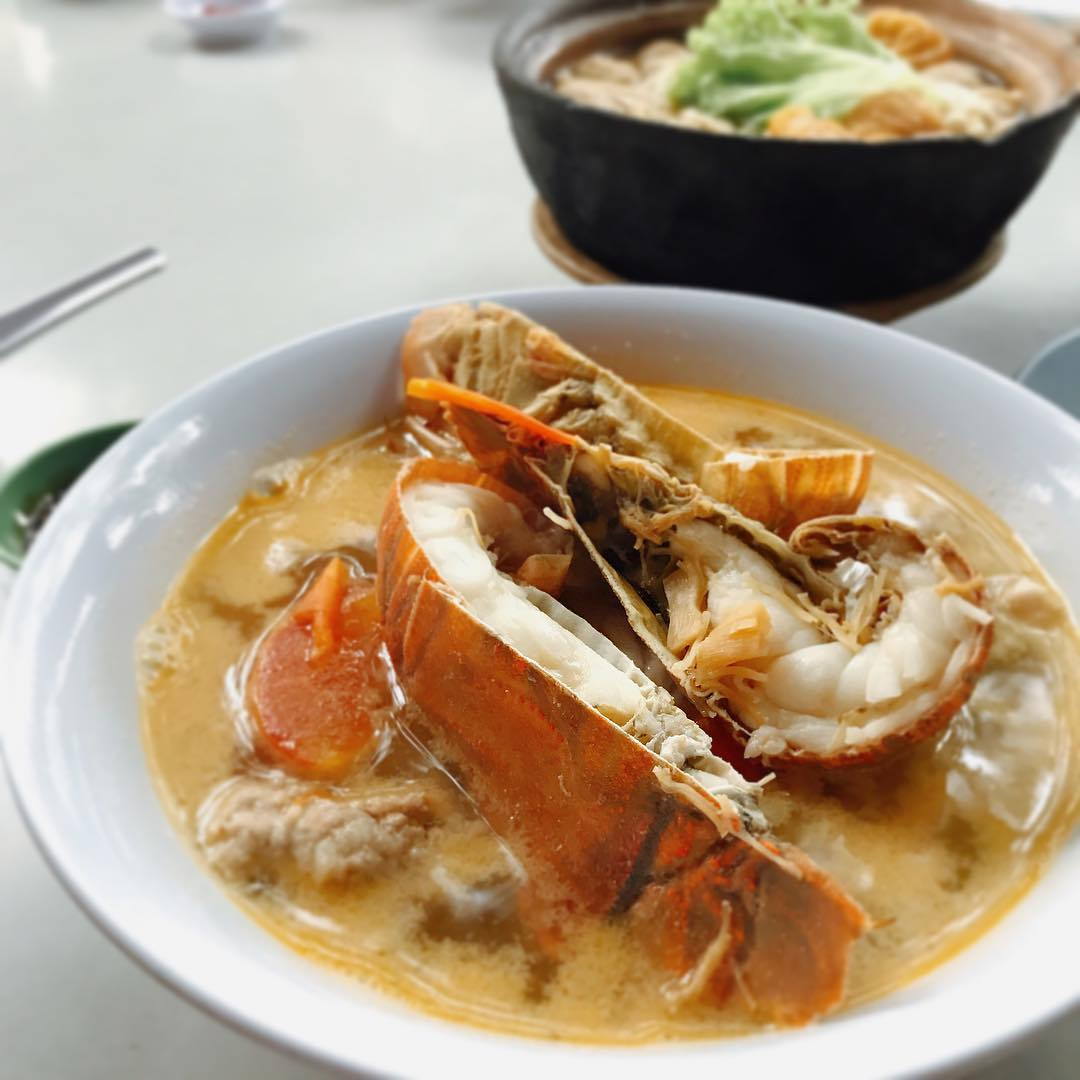 Image credit: @maviscjy
Sin Kee Seafood Soup is located in the same coffee shop as Hong Ji Claypot Bak Kut Teh. You can choose from dory ($5/$6.50), batang ($6/7.50) and pomfret ($8.50/$10.50), with crayfish available as an add-on at $9.50, $10.50 and $11.50 respectively. Using the same broth for all dishes, each portion is simmered with thick fish slices, two to three big prawns, and chunks of marinated minced meat that have absorbed the broth's essence. The soup is sweet with seafood and meat, with an overcooked tomato adding tang.
Address: 19 Marsiling Lane, #01-329, Teo Chap Bee Eating House, Singapore 730019
Opening hours: Tue-Sun 10.30am to 8.30pm
Tel: 9355 7783
Website
---
7. Xian Seafood Lala Beehoon

---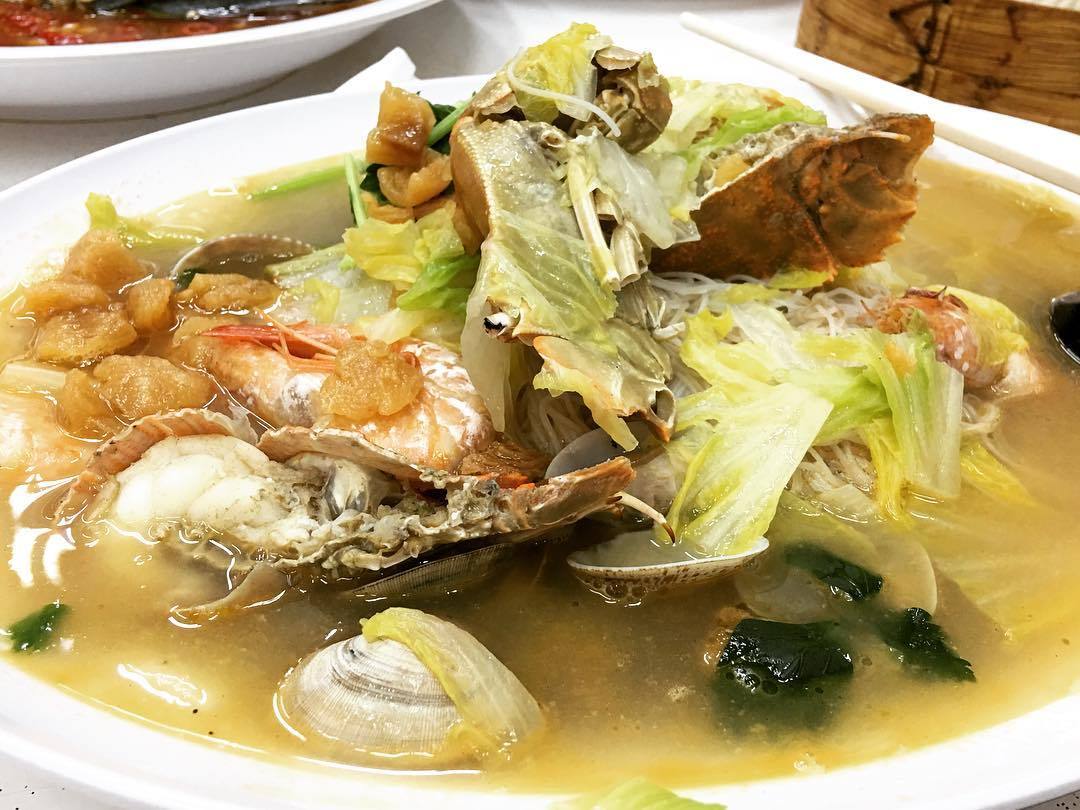 Image credit: @spread_of_comestibles
Xian Seafood Lala Beehoon sells Crayfish White Bee Hoon  ($15/$20/$25) that comes with prawns, clams, and pork lard. Their light milky broth is cooked from chicken feet, chicken, and pork ribs, and their silky bee hoon is given a quick fry to create a wok hei fragrance before being set aside. Beehoon and seafood are then cooked together in the stock a la minute. Generous amounts of pork lard and white cabbage enhance the sweet soup with robust bursts of flavour!
Address: 304 Ubi Avenue 1, #01-103, Singapore 400304
Opening hours: Daily 11am to 3pm and 5pm to 9.30pm
Tel: 8228 8444
---
8. Lobster Time

---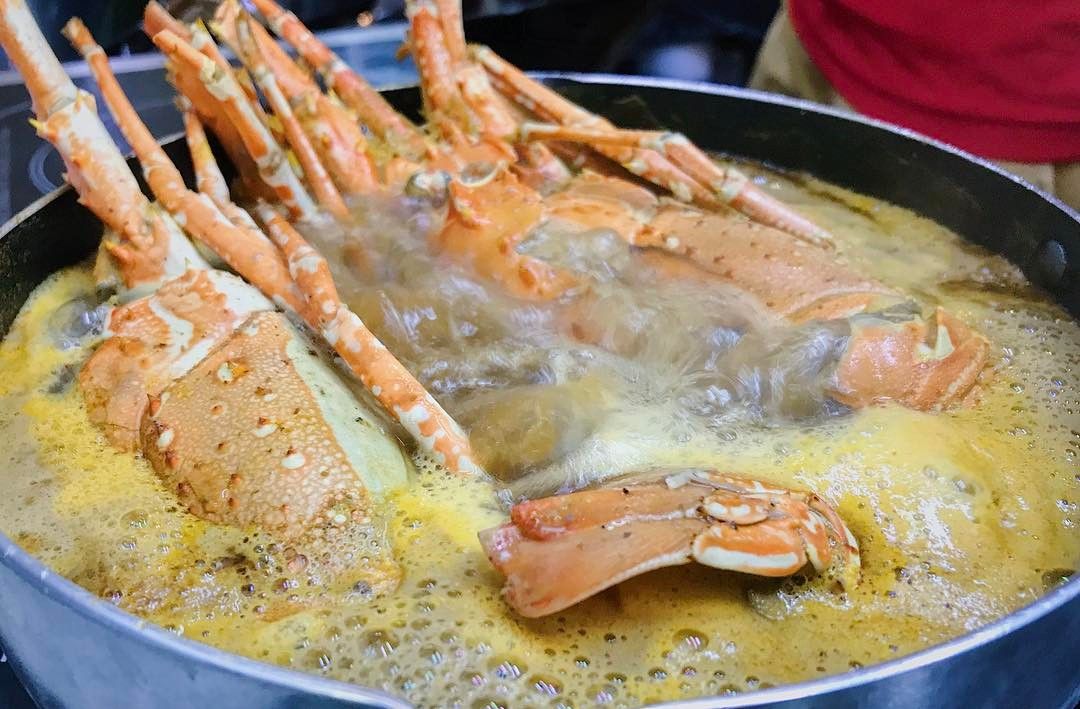 Image credit: @lobstertime120
Lobster Time sells Penang-style prawn noodles with lobsters and crayfish on top of the usual prawns. They offer both crayfish with clams ($16.50) and lobster with clams ($26.50), but for the undecided, their combo ($38.50) goes all out with a Malaysian lobster, crayfish, prawns, clams, and half a hard-boiled egg. Their house-made chilli sauce is an addictive dip, but it might overpower your soup so don't go crazy with it. For those who find their broth too bland, Lobster Time also offers a dry option that tosses the ingredients in sambal instead.
Address: 120 Bishan Street 12, #01-67, Singapore 570120
Opening hours: Daily 10am to 9pm
Website
---
9. Sumo Big Prawn Noodle
---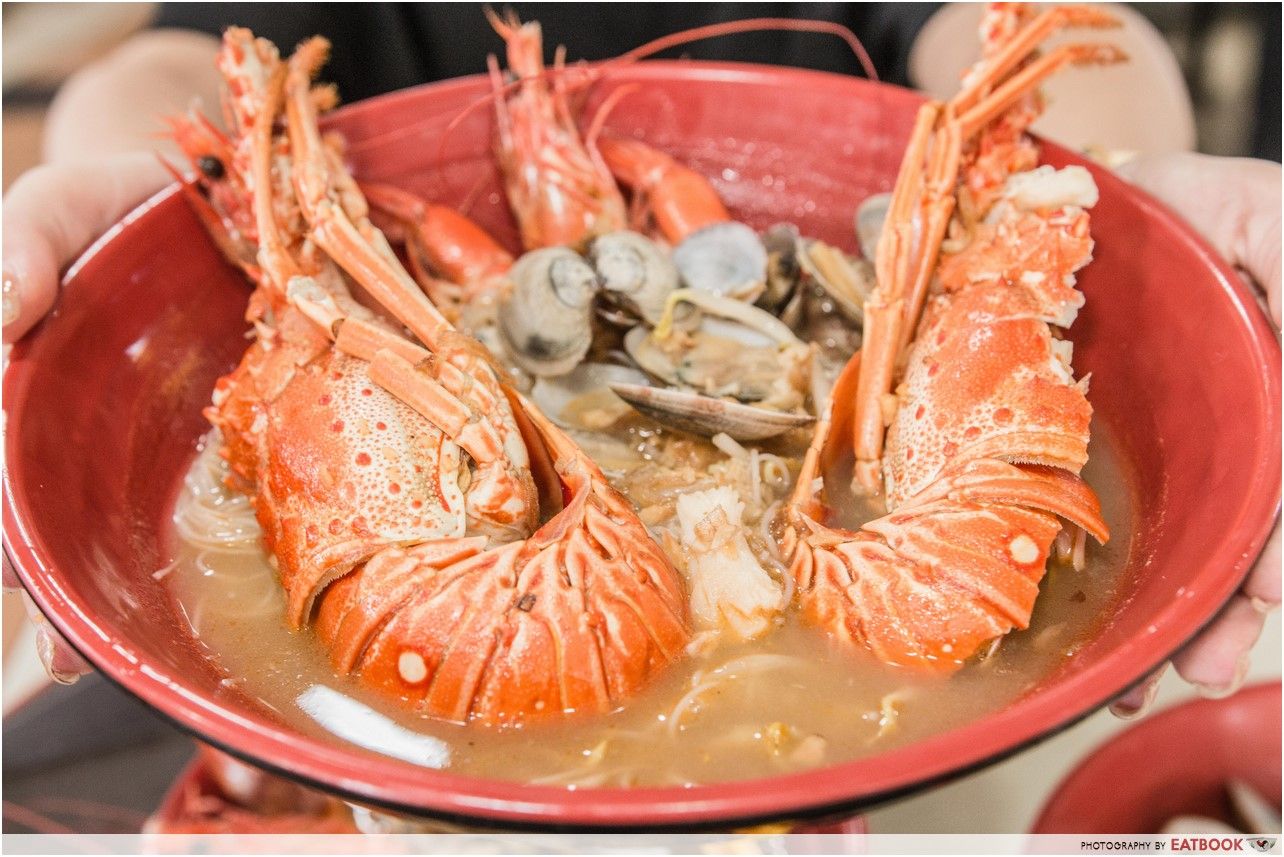 Sumo Big Prawn Noodle's broth is made from boiling prawn shells with pork ribs. Their famous Sumo Big Prawn ($8) features jumbo prawns that are naturally sweet and crunchy, and their Crayfish soup ($13) has three crayfish on a heap of clams and noodles. Each bowl of soup is packed with minced garlic and Chinese cooking wine, leaving an aftertaste of garlicky sweetness. While their soup is lighter than typical prawn mee soup, it's flavourful with a tinge of sweetness, making it easier to slurp up without feeling jelak.
Check out our full review of Sumo Big Prawn Noodle!
Address: 628 Ang Mo Kio Avenue 4, #01-72, Ang Mo Kio 628 Market & Food Centre, Singapore 560628
Opening hours: Tue-Sun 9.30am to 9pm
Tel: 9299 2621
Website
---
10. Woon Woon Pek Bee Hoon
---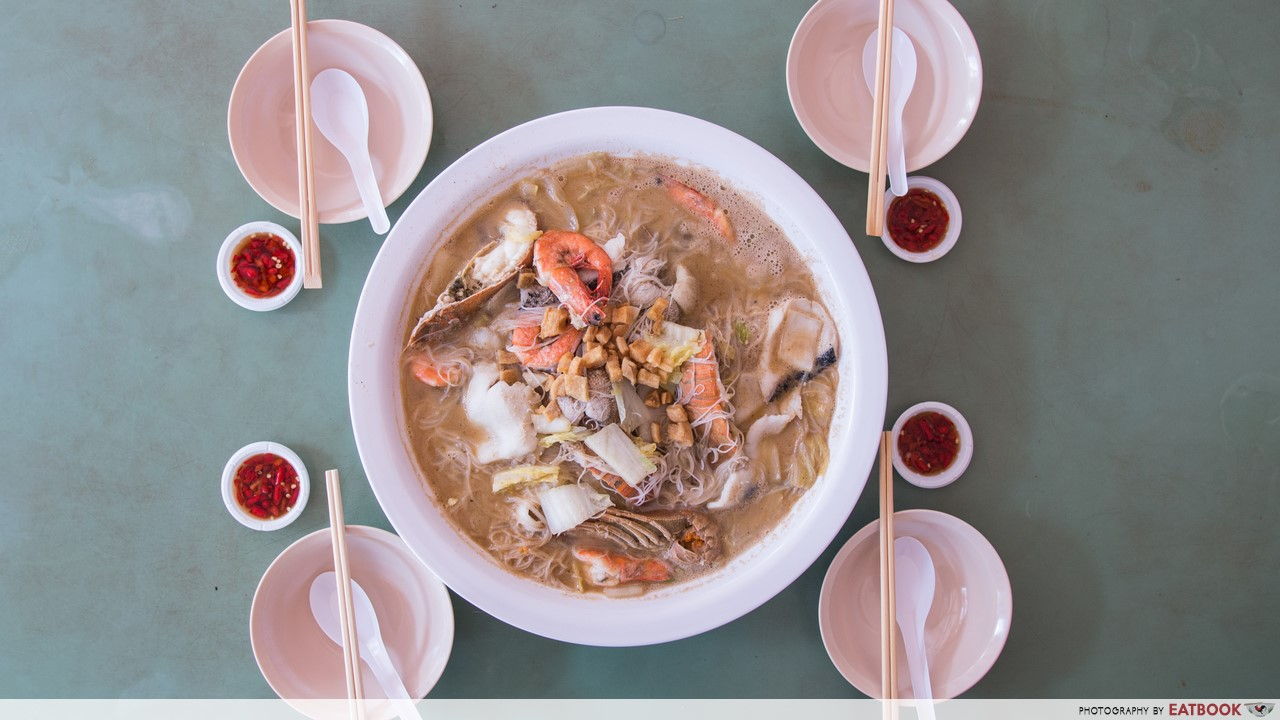 Woon Woon Pek Bee Hoon specialises in white vermicelli with fish slices, prawns, crayfish, or flower crab. Their sweet seafood soup is tinged with wok hei as the ingredients are lightly stir-fried first. We recommend their Seafood Platter ($30), which is good for three to four people, as it brims with seafood. If you didn't come with a party though, have a single portion for $5.
Check out our full review of Woon Woon Pek Bee Hoon!
Address: 2 Changi Village Road, #01-52, Changi Village Hawker Centre, Singapore 500002
Opening hours: Tue-Sun 11am to 9pm
Tel: 9451 1633
Website
---
Try these for the next cray cray craving!
---
With so many huge bowls of seafood and crayfish, it's hard to decide where to start, so why not tick one off this list on the next rainy day? Let us know which other seafood soup gems you know of! If you're craving crab dishes instead, check out our list of uncommon crab dishes to try at your next family dinner.
---
Featured image taken from Instagram user @mingjietan's post.