Satisfy claypot bak kut teh cravings at Hong Ji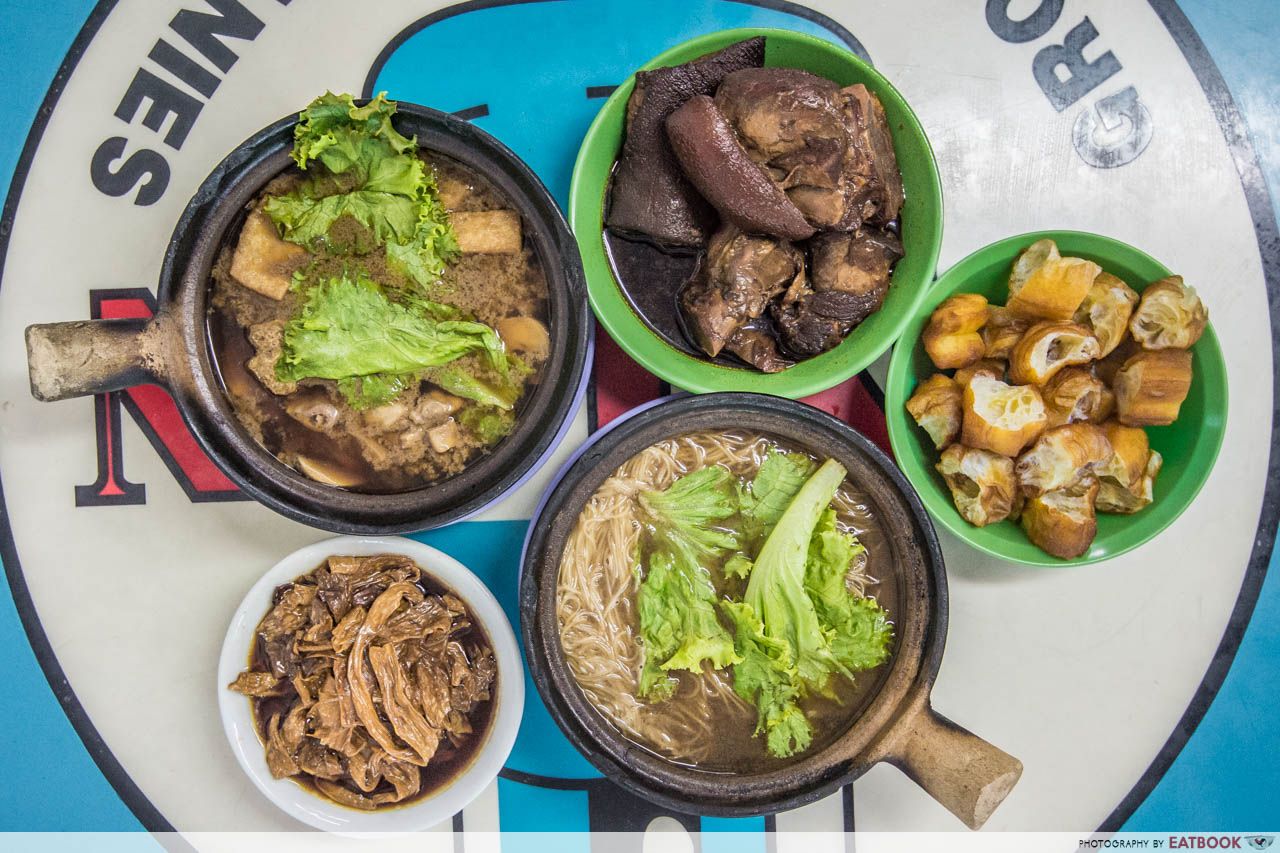 Herbal bak kut teh should get a spot beside porridge and yong tau fu as comfort food, or remedies to rainy days and bad mornings. Label me biased, but there's something about hearty, flavourful herbal soup I can't say no to – not forgetting the plus point of avoiding a near-death experience from choking on a mouthful of ultra-peppery Teochew-style bak kut teh.
Eating bak kut teh at restaurants can get rather pricey, but Hong Ji Claypot Bak Kut Teh can satisfy your cravings at just $5.
Food at Hong Ji Claypot Bak Kut Teh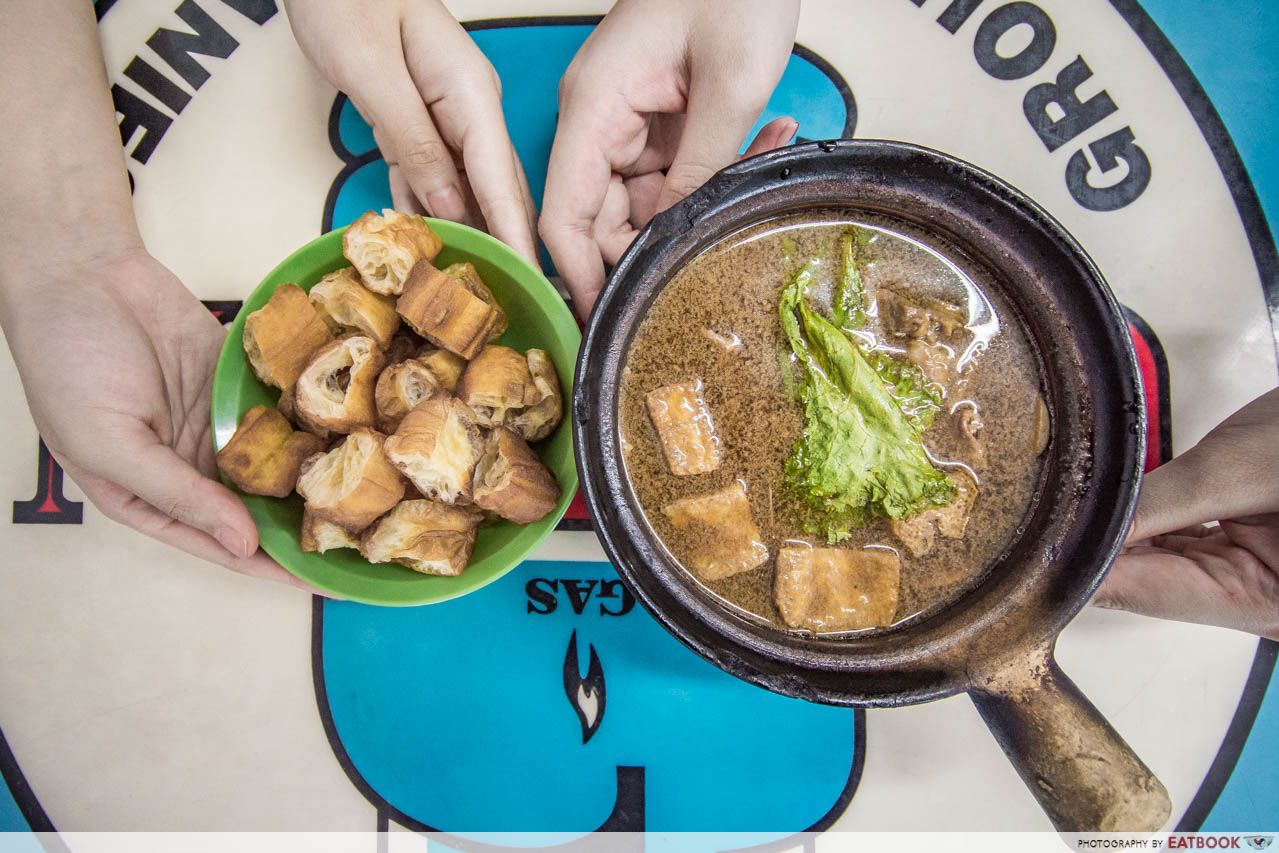 The first dish we got was Claypot Bak Kut Teh Mixed ($5.50), which arrived bubbling with a woody, herby fragrance permeating the air. Hong Ji Bak Kut Teh serves bak kut teh Hokkien style, with meat stewed in a dark-coloured broth made from Chinese herbs, rather than the more common peppery Teochew version.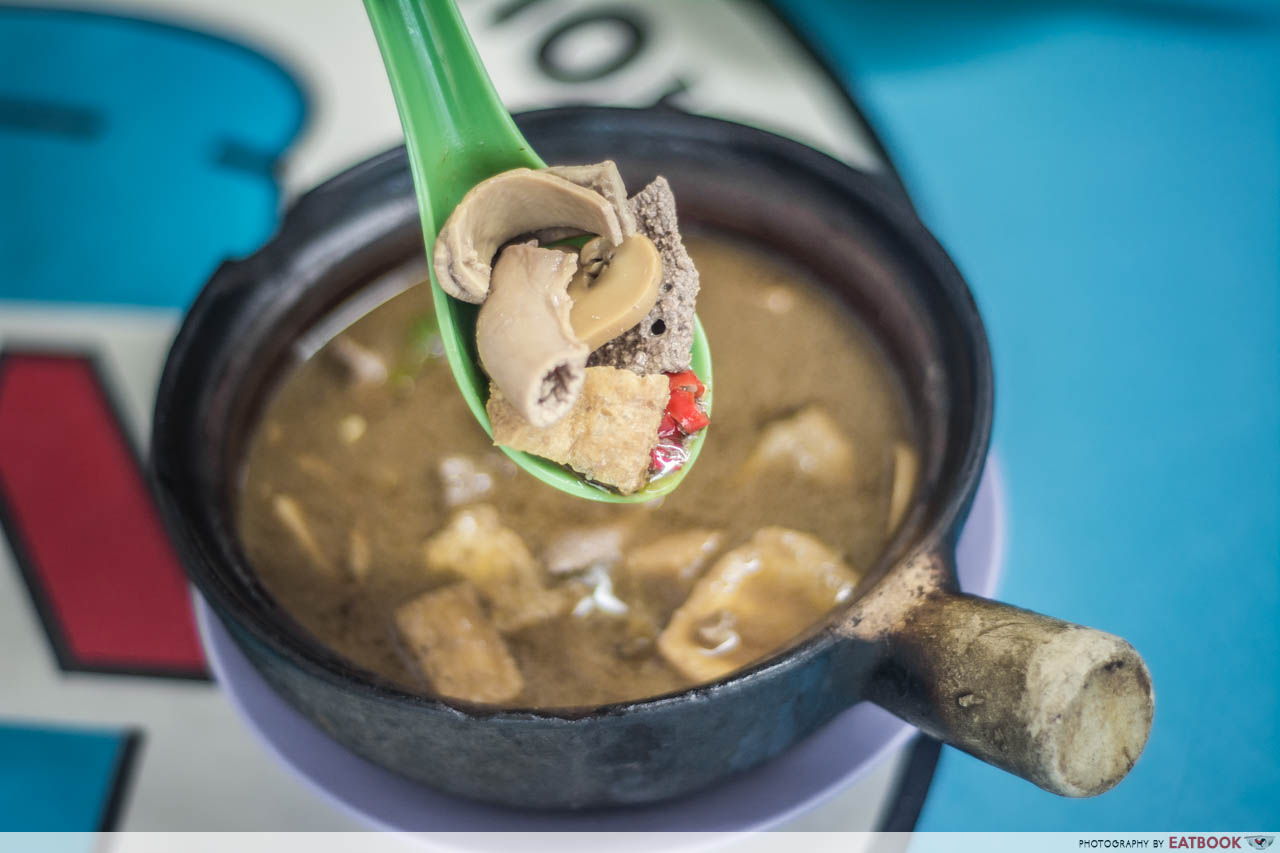 Chunks of pork ribs and slices of pig stomach, liver, intestine, tau pok, and button mushroom were included in the mixed bak kut teh pot. There was a generous portion of ingredients, especially considering the price.
We expected the broth to be pungent and slightly medicinal but were surprised by how light it was on the palate. The medley of herbs used built a full and balanced flavour. Drop a few slices of chilli padi in the broth to add a spicy kick to the primarily woody, slightly sweet, taste of dang gui (Chinese angelica root). The soup is the right amount of salty, not at all greasy, and very easy to down, so it's good news that Hong Ji refills your claypot with more broth at no extra charge.
You tiao (dough fritter) is a must-have to dunk in bak kut teh broth. The you tiao ($1) at Hong Ji were served untoasted so they were limp and a little tough to chew. These pieces of fried dough are better when soaked in broth than eaten on their own.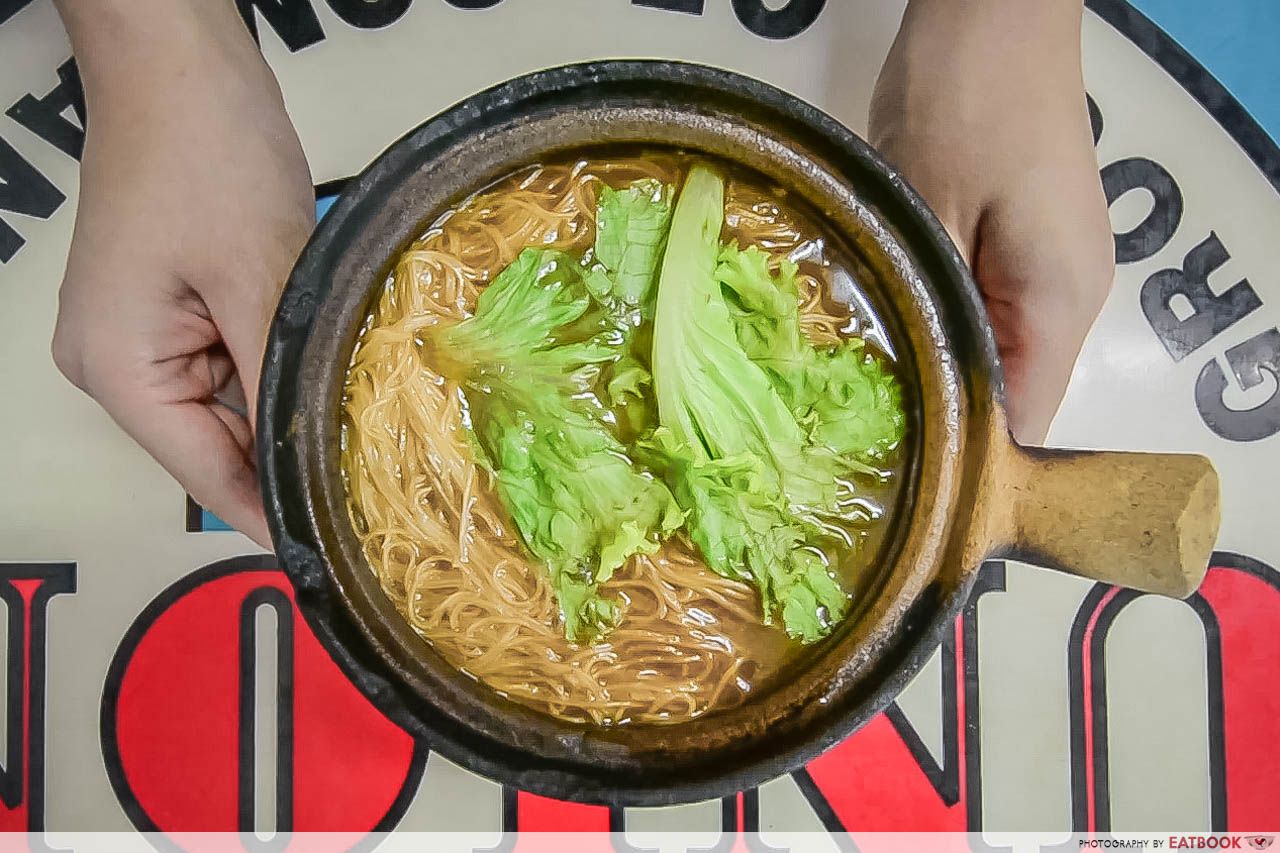 If you aren't a fan of the thick yellow noodles used in Claypot Bak Kut Mee ($5), request for Claypot Bak Kut Mee Sua ($5) instead. This is the type of food you'd crave for on chilly, rainy mornings.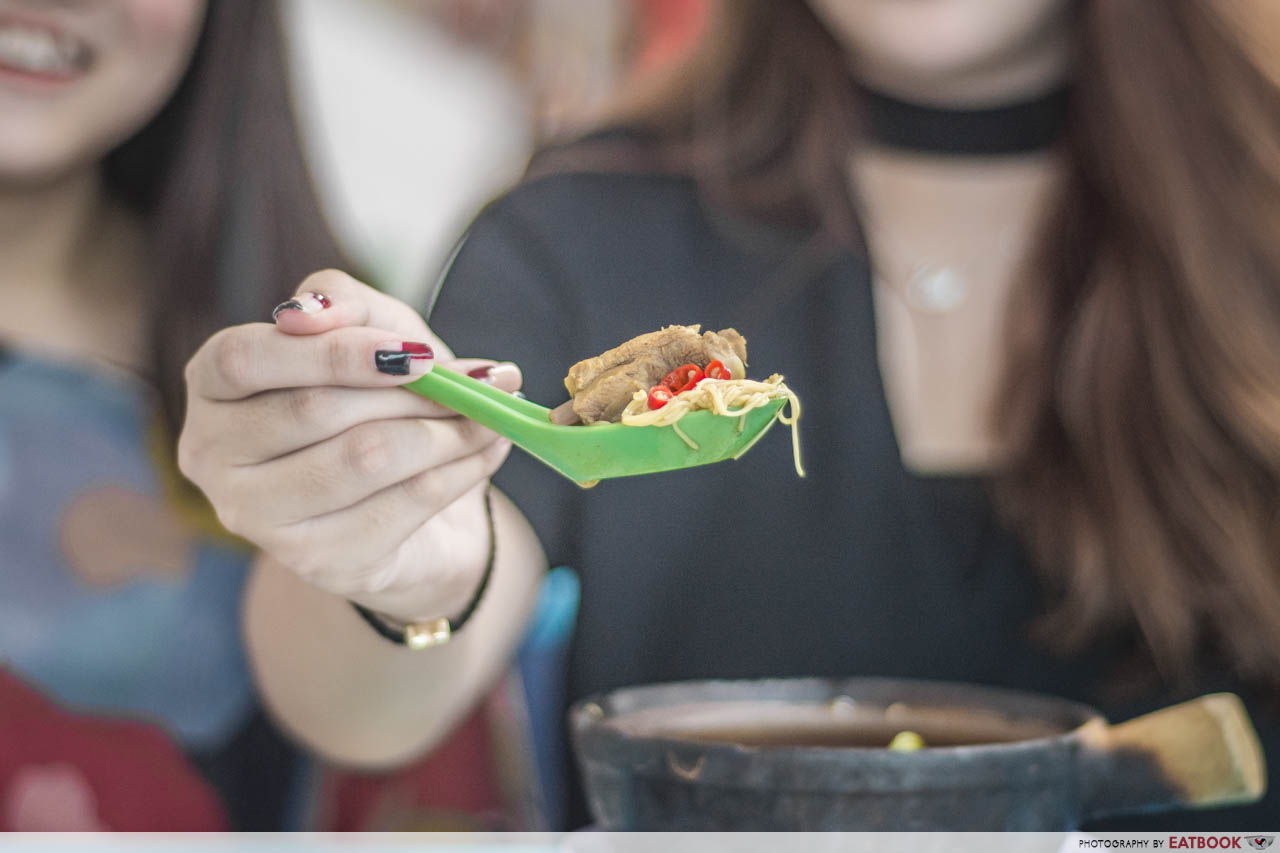 The mee sua was cooked till borderline mushy, which was good because it was so slurp-able and broke apart with hardly any chewing. The pork ribs Hong Ji served were small cuts that weren't exceptionally meaty. Though the meat on the pork ribs wasn't falling-off-the-bone soft, it was tender and the firm texture they had made a good contrast to the soft noodles.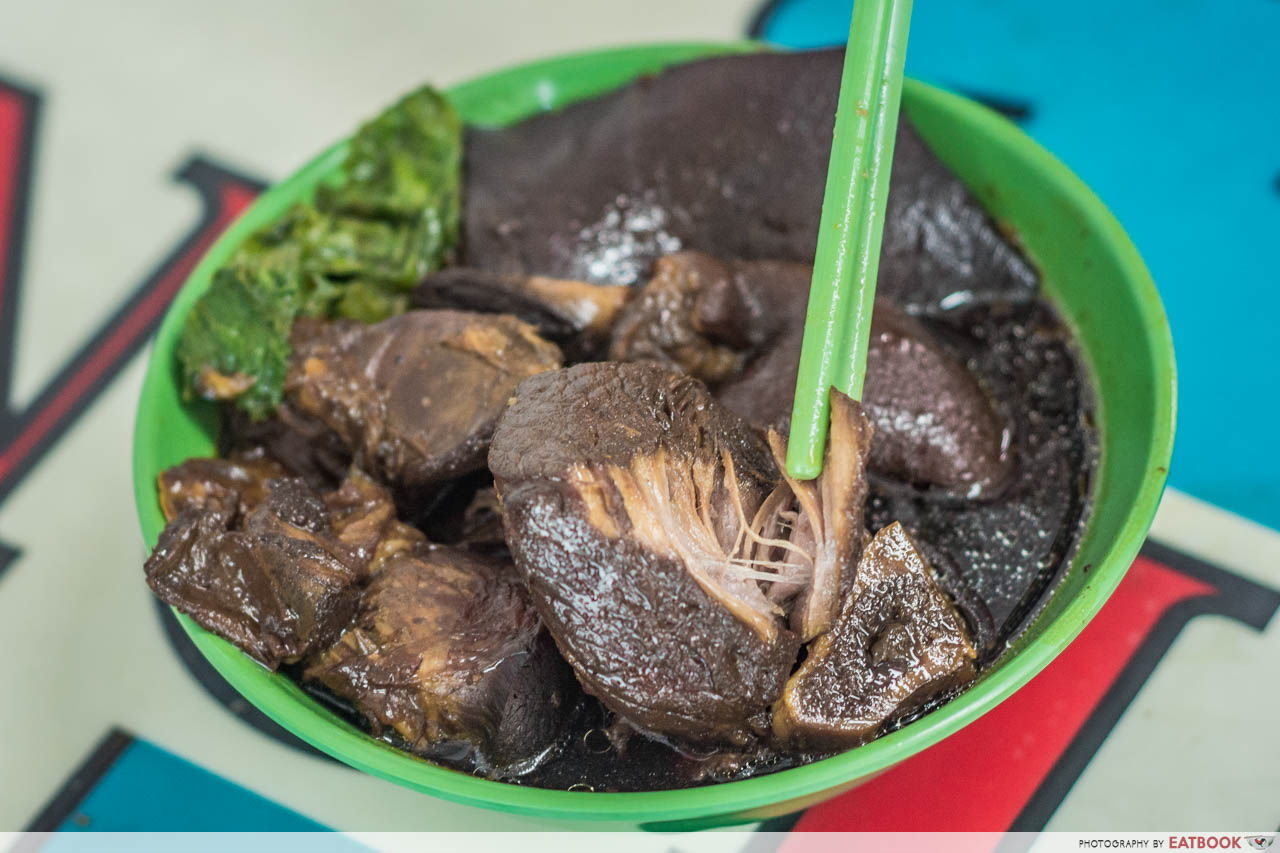 We also ordered Pig Trotters ($5) to go with our bak kut teh. This dish impressed us with the rich and robust flavour of its braising sauce and the flavour it imparted to the meat. The pork trotter was relatively lean, which helped the meat retain its firmness like the pork ribs in Claypot Bak Kut Mee Sua. I prefer this level of doneness over the ultra-soft, almost melting texture of pork trotters served in other restaurants. The pig trotter here had more meat than fat, and I liked that it did not leave a greasy or heavy aftertaste.
Ambience at Hong Ji Claypot Bak Kut Teh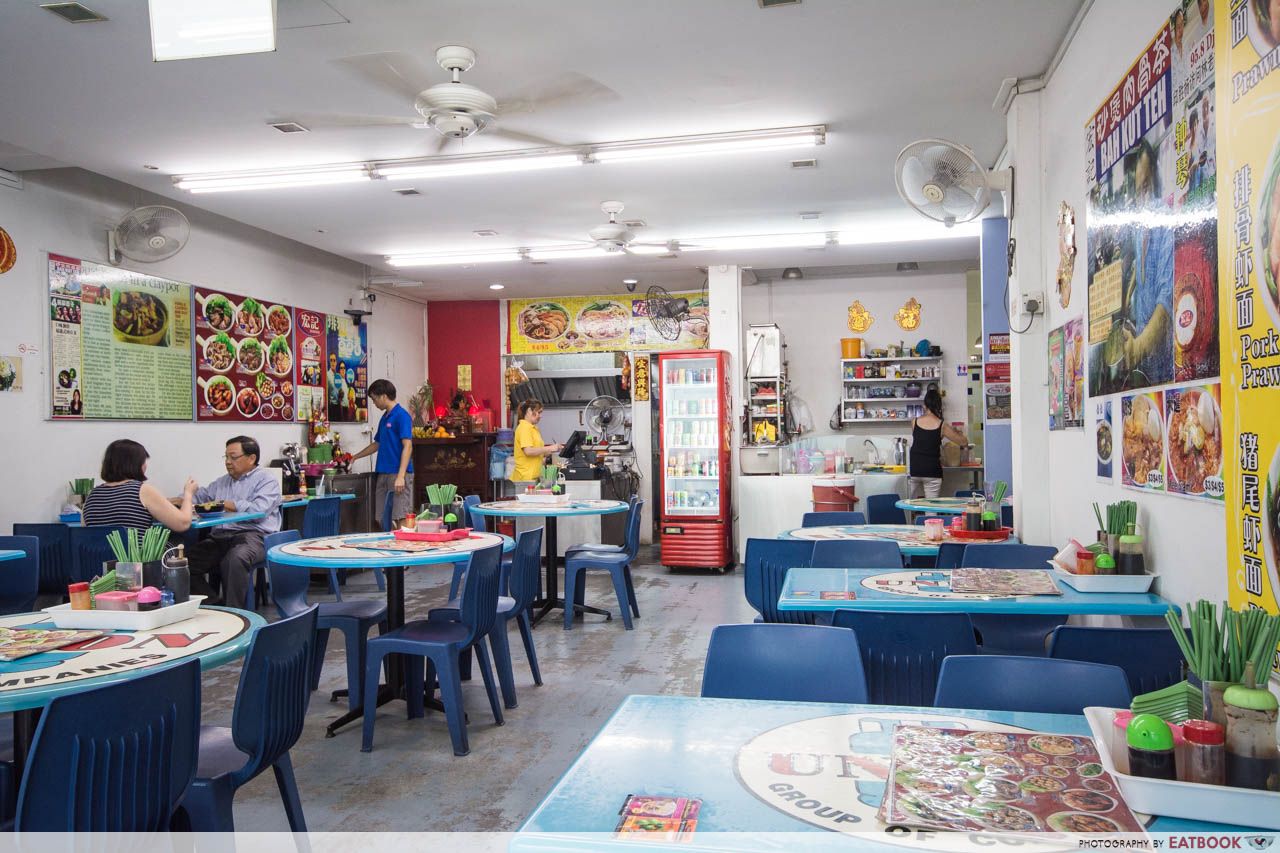 We visited Hong Ji Bak Kut Teh's Thomson branch. You should be able to get a table easily here. There are ceiling fans but ventilation is on the weaker side and the restaurant can get rather hot and stuffy, especially in the afternoon. Service was quick and the staff were friendly.
The verdict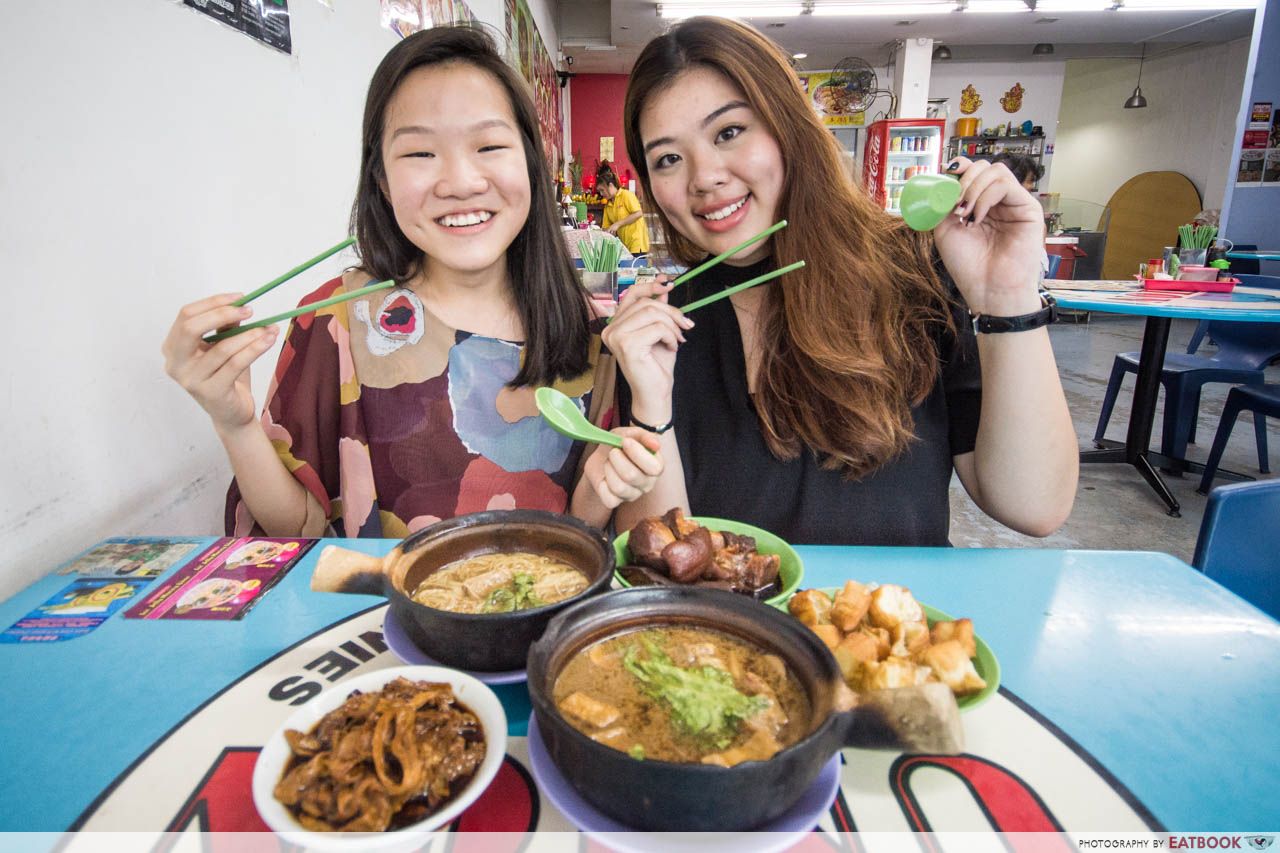 For tasty and affordable bak kut teh, Hong Ji is one eatery to consider. The food is satisfyingly homely, comforting, and worth a visit if you're in the area. Their menu features a variety of other options such as prawn mee and mee siam, so it's suitable for groups, even those that can't agree on eating bak kut teh. Hong Ji also has other branches in Ang Mo Kio and Marsiling.
Address: 910D Upper Thomson Road, Singapore 787112
This is an independent review by Eatbook.sg.
Summary
Pros
– Affordable
– No GST or service charge
– Variety of other dishes on the menu
Cons
– Inconvenient location
– Only cash payment is accepted
Recommended Dishes: Claypot Bak Kut Mee Sua ($5), Pig Trotters ($5), Claypot Bak Kut Mixed ($5.50)
Operating Hours:
Daily 8am to 9pm
Tel:
9682 2614
Address: 910D Upper Thomson Road, Singapore 787112