---
New restaurants in August 2018
---
August has got us craving for dishes from all around the world. From rich and vibrant Mexican cuisine, to mouth-watering Malaysian desserts, it's all about international fare this month. Here's a list to bookmark for the next time you need ideas on where to bring your friends to!
---
1. Papi's Tacos
---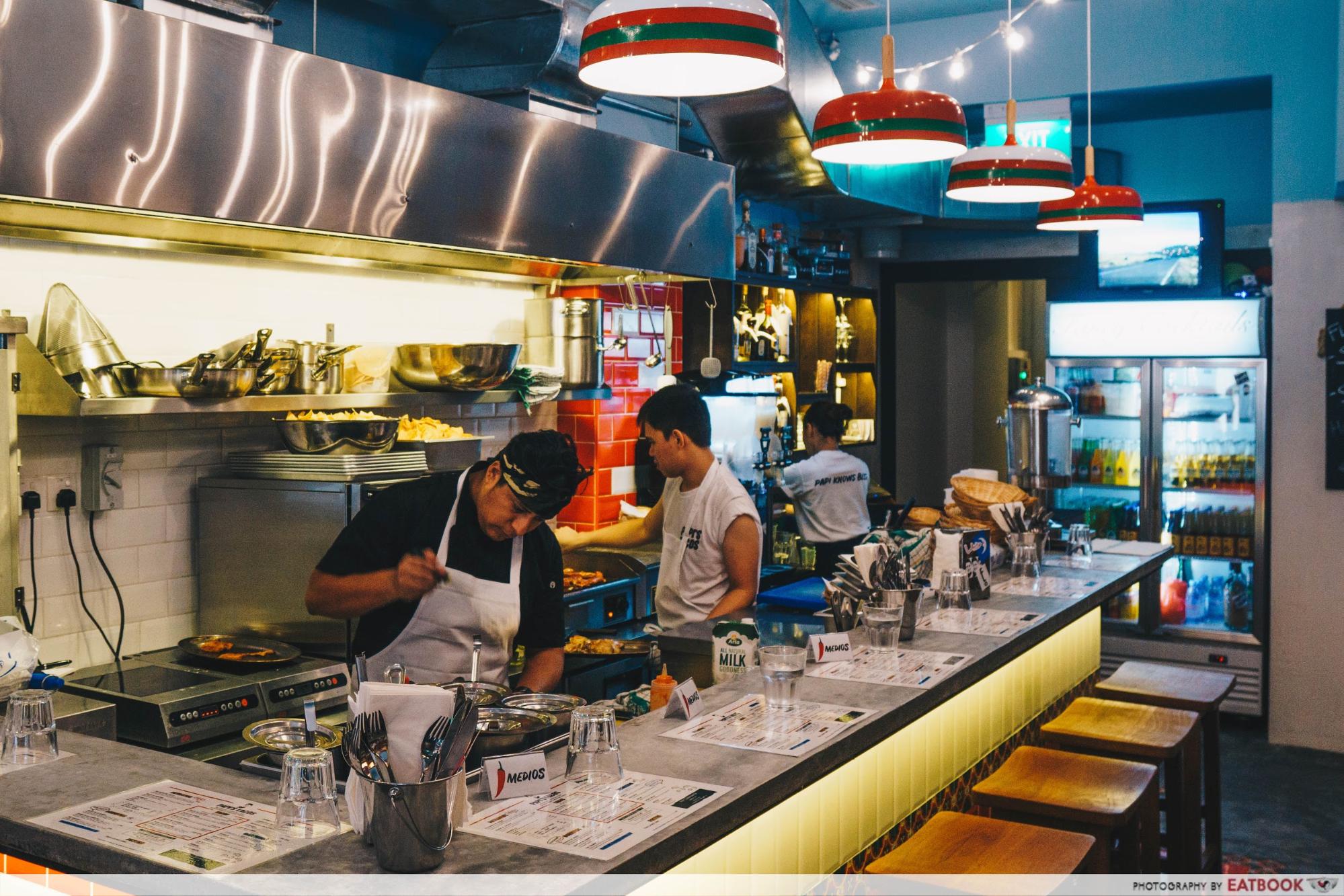 Papi's Tacos might be pretty smol, but their tacos pack a whole lotta flavours. A new joint at Seah Street, this bright Mexican shop is opened by the team behind Employees Only. Their menu offers not just tacos, but also burritos and quesadillas with free-flow salsa. Those looking to chill out can get a tipple too. They've got a selection of wine, beer, and margaritas. The restaurant doesn't take reservations, so pop by early to get a seat.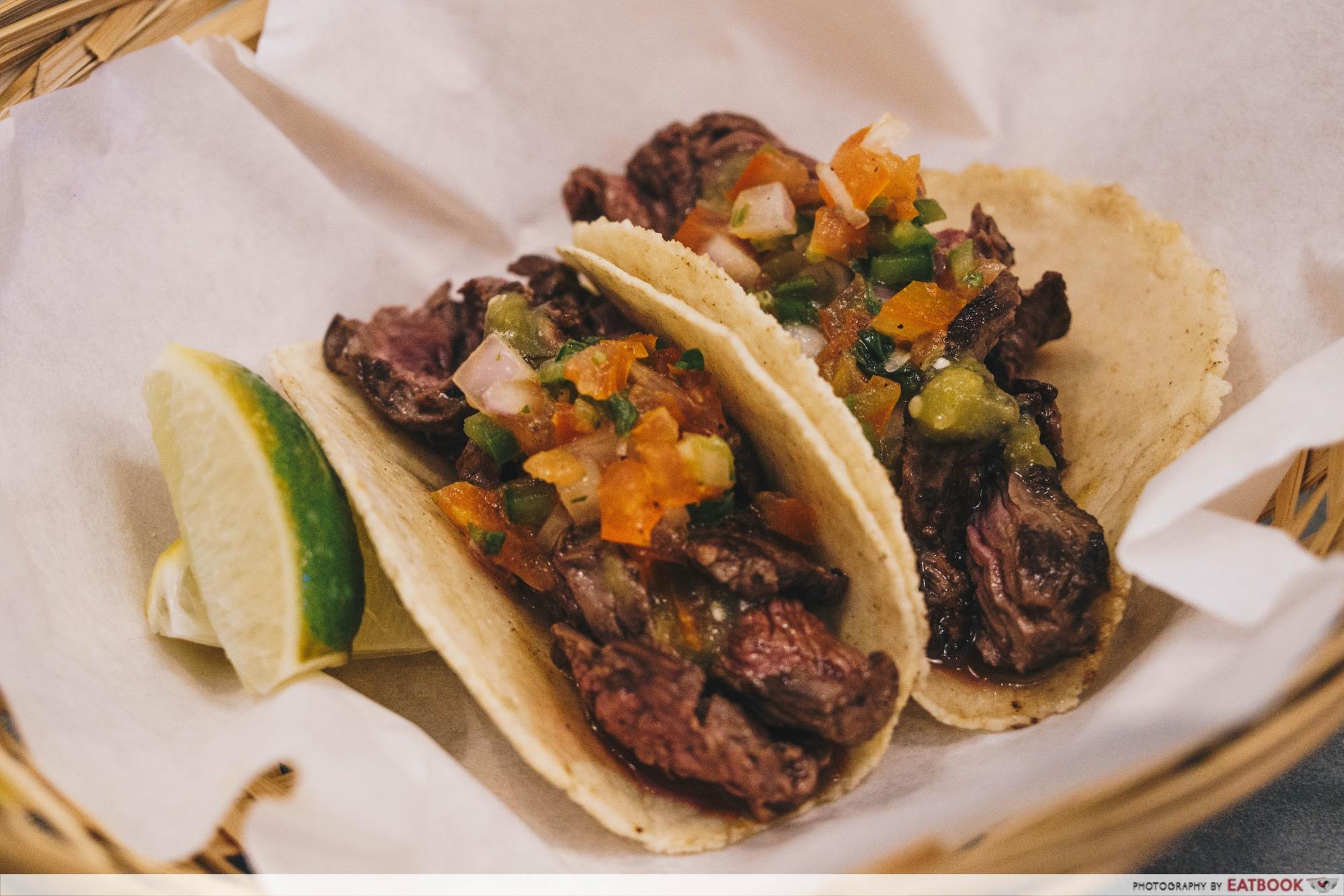 There are six taco dishes on the menu, and we loved Tacos De Asada ($13++ for two, $19++ for three) and Tacos De Pescado ($13++ for two, $19++ for three). The former is a chunky steak taco topped with housemade salsa, red onion, and coriander. Tacos De Pescado is grilled white dory taco, complete with crunchy cabbage and smoked chipotle aioli. A must-order here is also Mushroom Quesadilla ($12++). Served with salsa and sour cream, this cheesy classic wasn't much of a looker, but impressed us on first taste.
Address: 39 Seah Street, Singapore 188395
Opening hours: Mon-Sat 5pm to 12am
Website
Menu
---
2. Bao Makers
---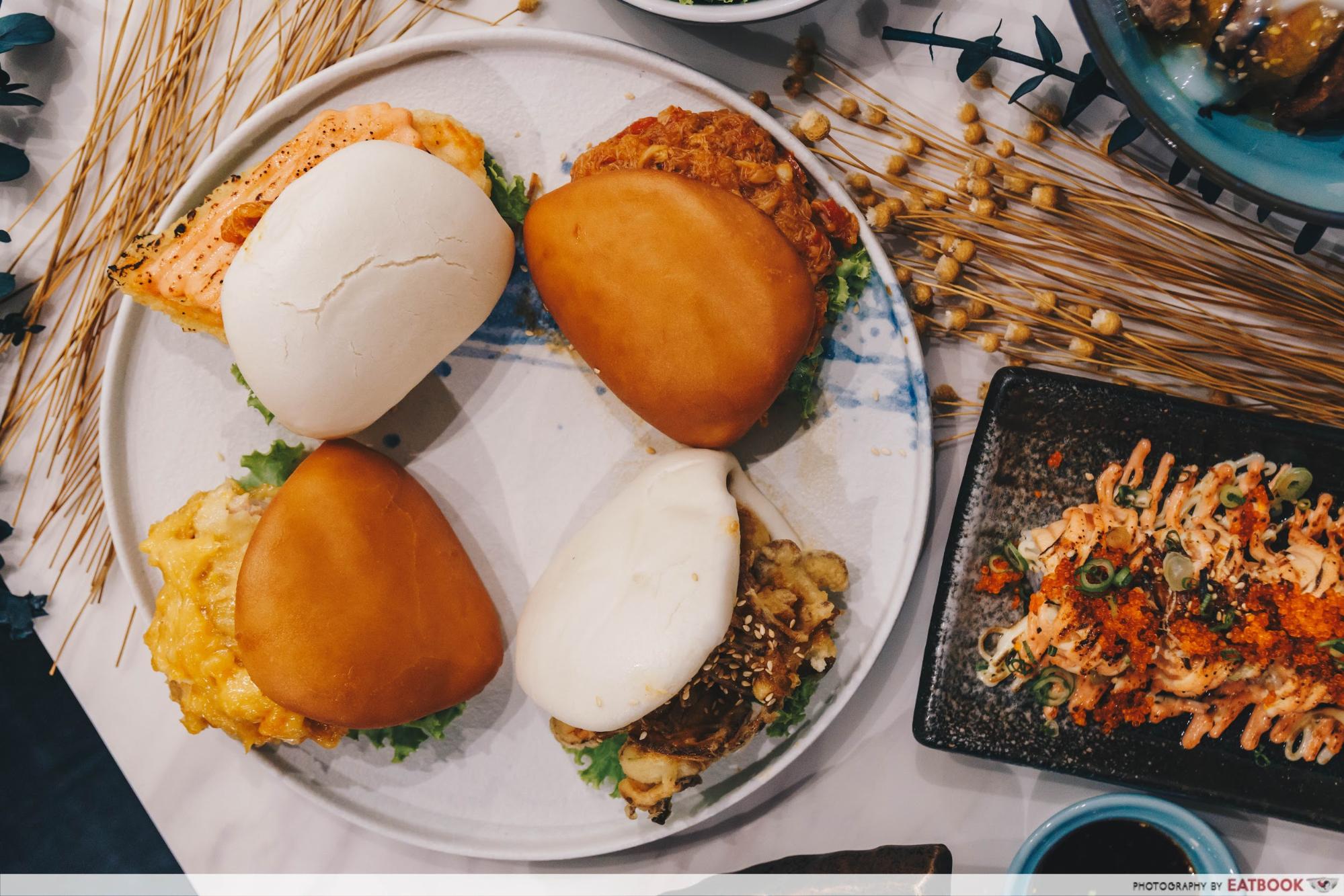 This three-year-old restaurant that just shifted to the hipster enclave that is Keong Saik Road continues to impress with a new menu and location. Aside from old favourites such as Chilli Crab Bao ($5.80++), the new menu also offers Japanese rice bowls for those looking for a quick meal during lunch, and sharing dishes such as Beef Steak Teppanyaki ($16.80++) and Kecap Manis Chicken ($8.80++) at night.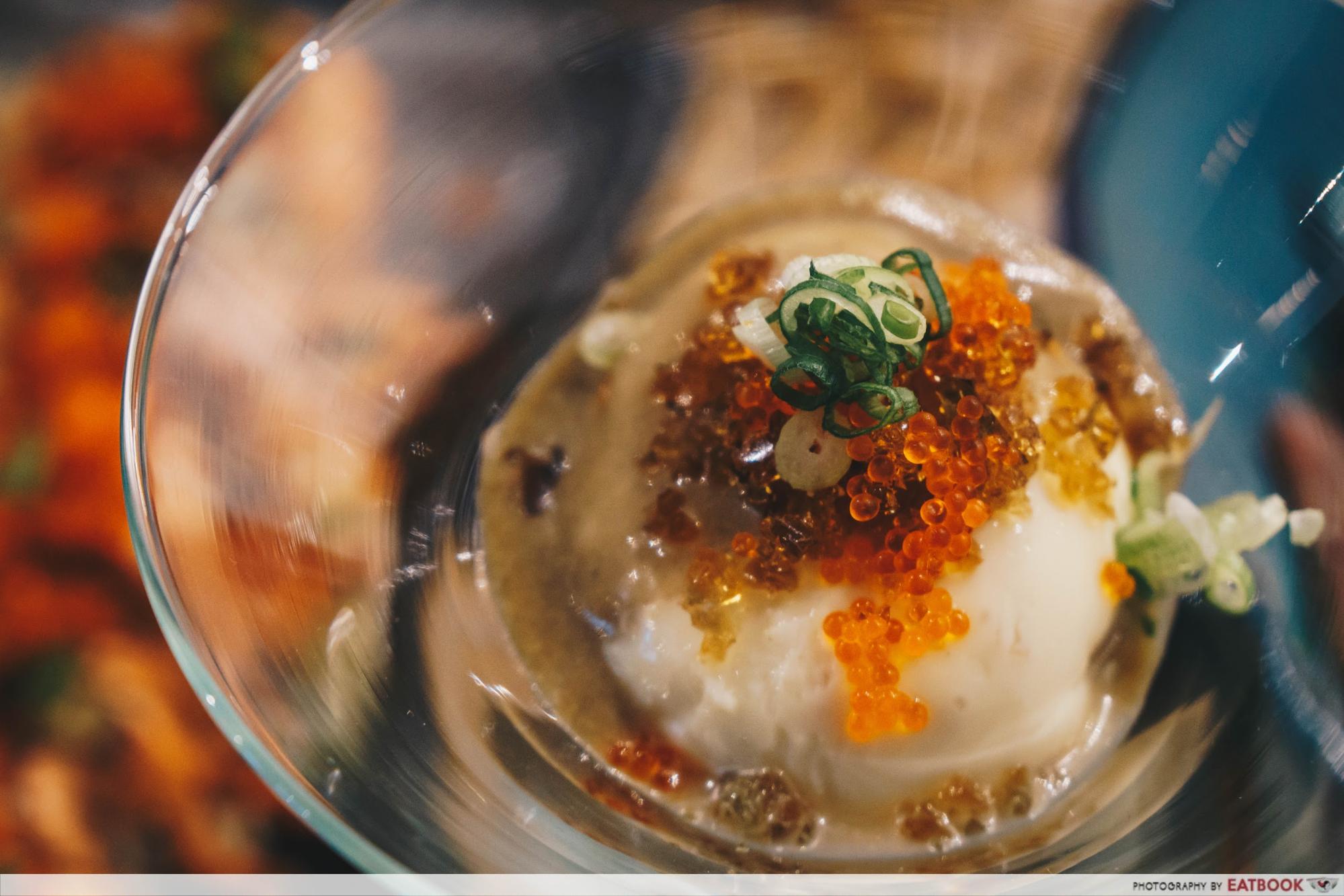 Also new on the menu is their Crabmeat Beancurd with Century Egg Sauce ($5.80++). Served cold on a chic martini glass, shredded crab stick is encased in a soft scoop of silken tofu before being topped with ebiko, spring onions and century egg sauce. A decadent and unique combination if you're a fan of century eggs.
Check out our full review of Bao Makers!
Address: 4 Jiak Chuan Road, Singapore 089261
Opening hours: Mon-Thur 12pm to 3pm, 6pm to 10pm. Fri-Sat 12pm to 3pm, 6pm to 11pm
Tel: 6291 2330
Website
---
3. Ten Ren Tea
---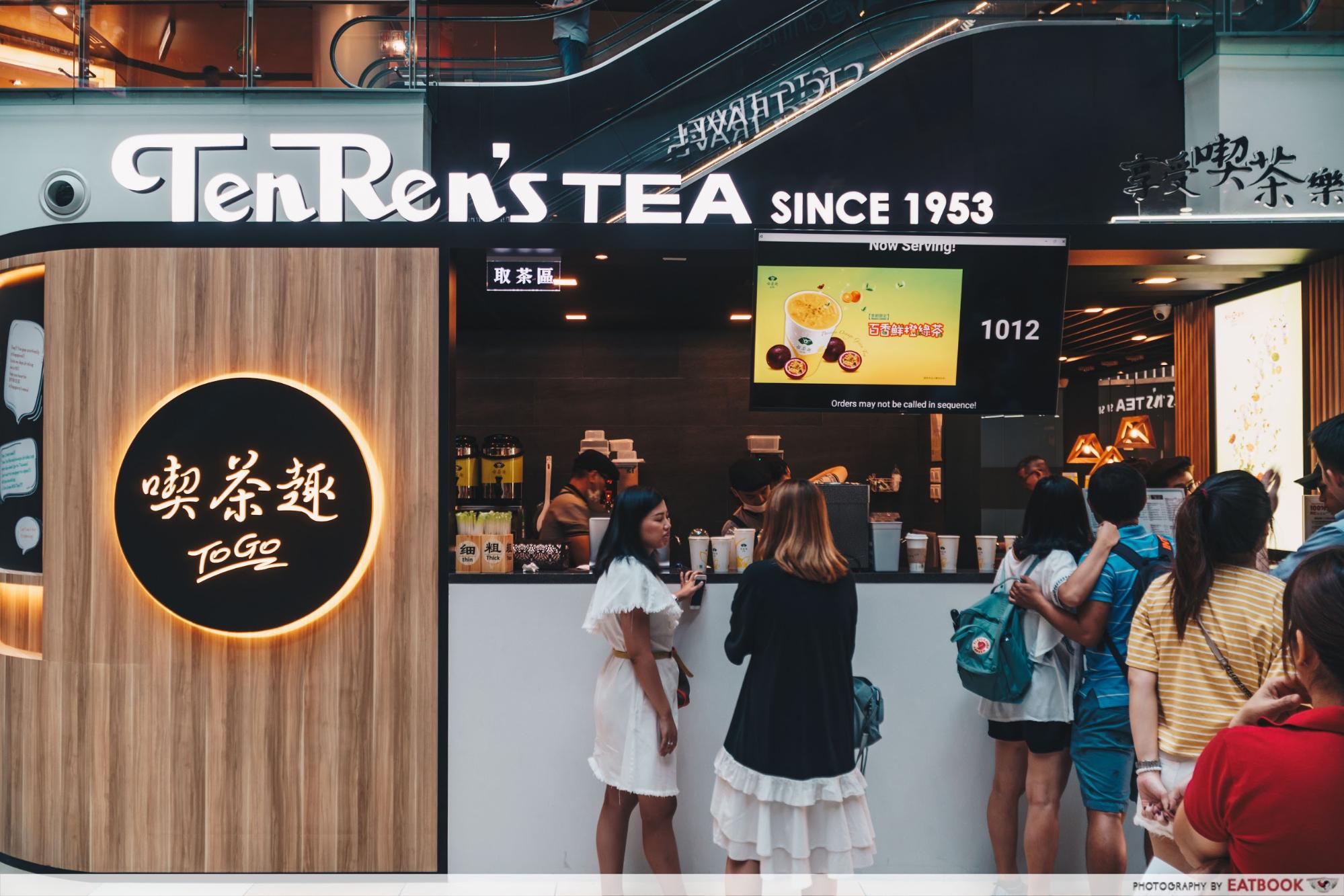 Located in the atrium of Chinatown Point, this new bubble tea place is hard to miss. While Ten Ren Tea may not seem very much different from your typical bubble tea shop, it distinguishes itself by using natural ingredients in its teas. Expect your drinks to contain fresh instead of canned fruits, and also fresh milk.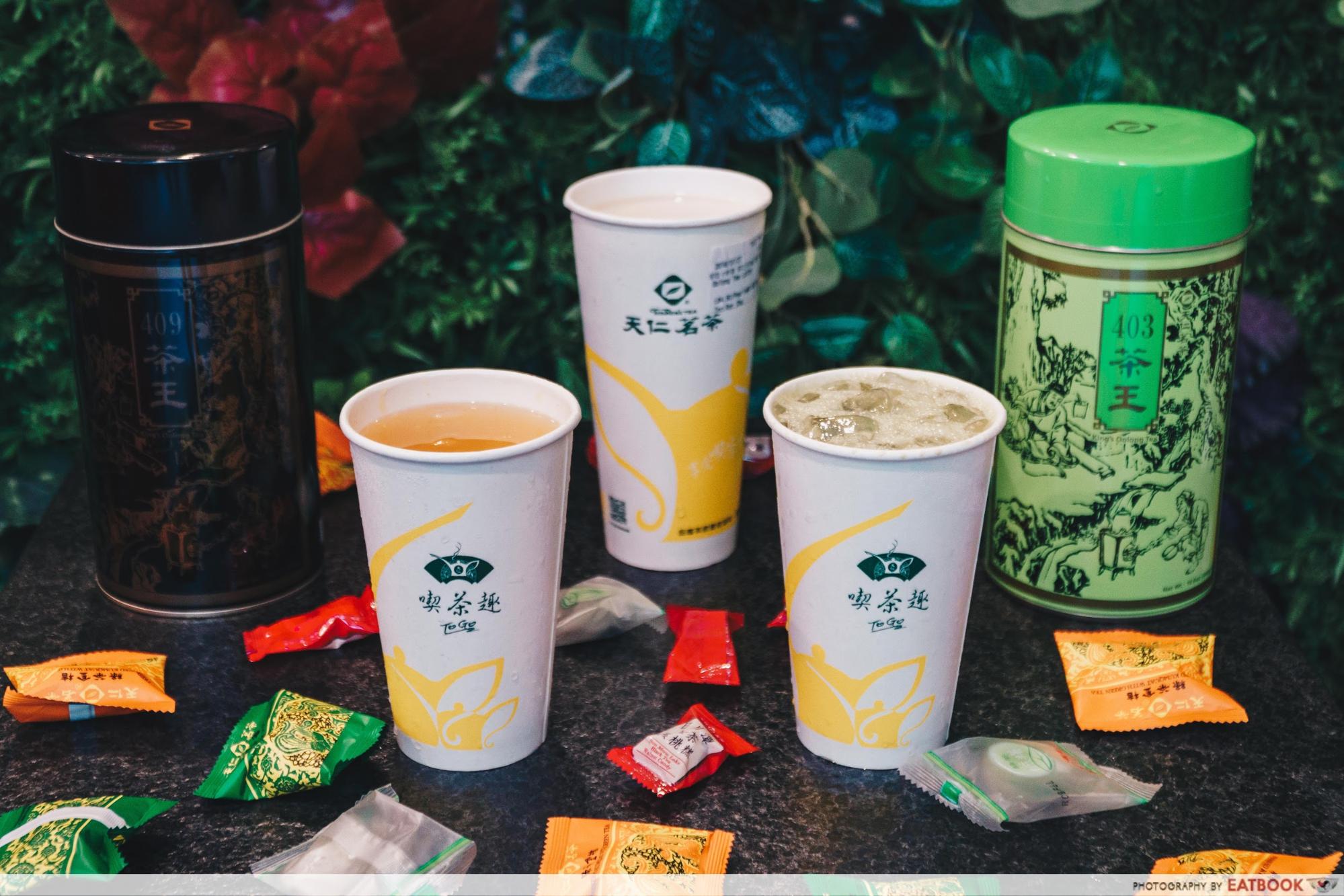 From your standard milk tea to fruit tea and even latte, the drinks here are set to appeal to different palates. While you're here, be sure to check out their signature 913 King's Oolong Milk Tea (from $2.90), Matcha Latte (from $4.60), and Orange Green Tea (from $4). A hot favourite is their Taro Green Milk Tea (from $4.10), which is made with actual yam!
Check out our full review of Ten Ren Tea!
Address: 133 New Bridge Road, #01-07, Chinatown Point, Singapore 059413
Opening hours: Daily 10am to 10pm
Tel: 6593 4333
Website
Ten Ren Tea 天仁茗茶 Review: Famous Taro And King's Oolong Milk Tea Opens At Chinatown
---
4. Isaac Toast
---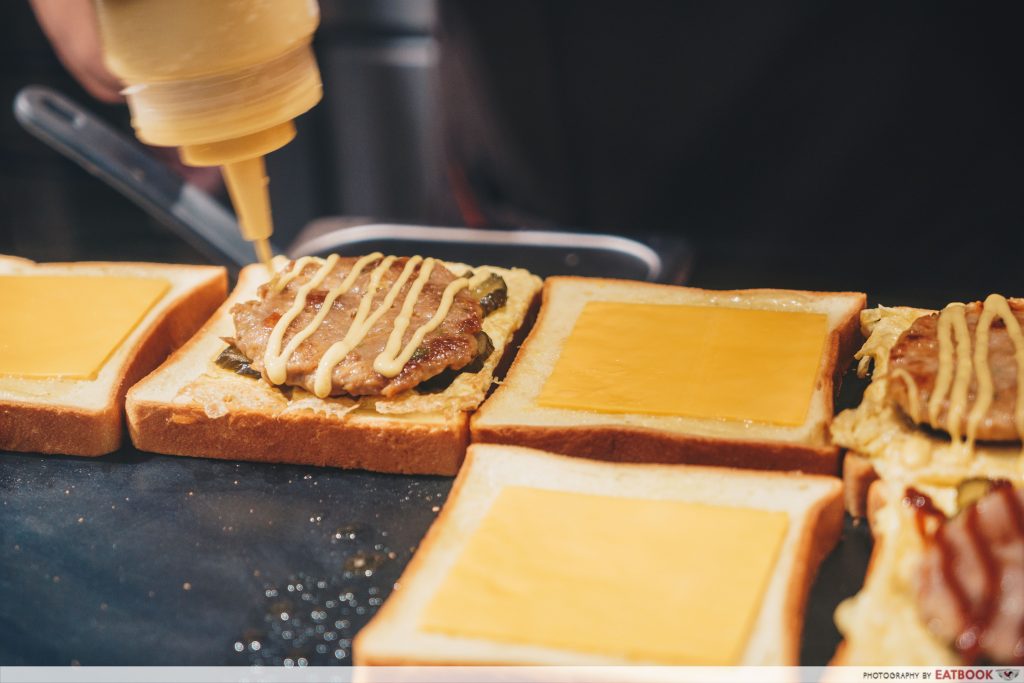 Korea's latest toasted sandwich sensation has hit our shores. Hailing from Seoul, Isaac Toast has already attracted long queues for its unique Korean flavours and specially made bread.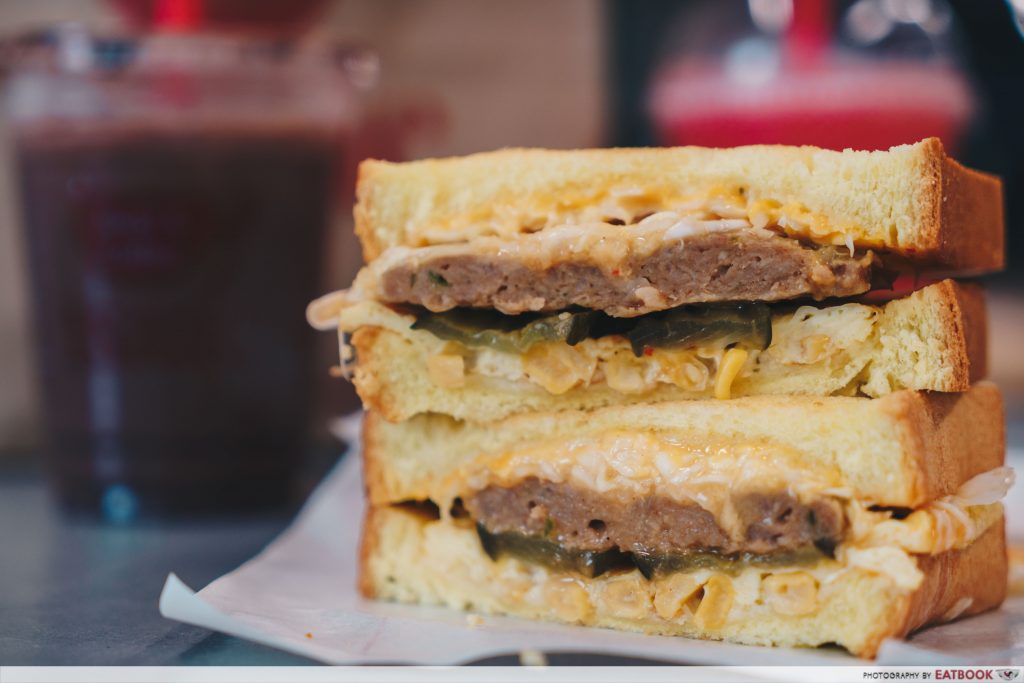 Try their Spicy Tteokgalbi ($6.50) for something unique. Tteokgalbi is a Korean dish made with minced beef short ribs. Juicy and thick, the patty also comes with a strong taste of green chilli settling in after a few bites. The toast was overall mildly spicy – enough to call it a spicy toast but not enough to give it much kick.
Check out our full review of Isaac Toast!
Address: 68 Orchard Road, #B2-42, Plaza Singapura, Singapore 238839
Opening hours: Daily 9am to 10pm
Website
---
5. La Pizzaria
---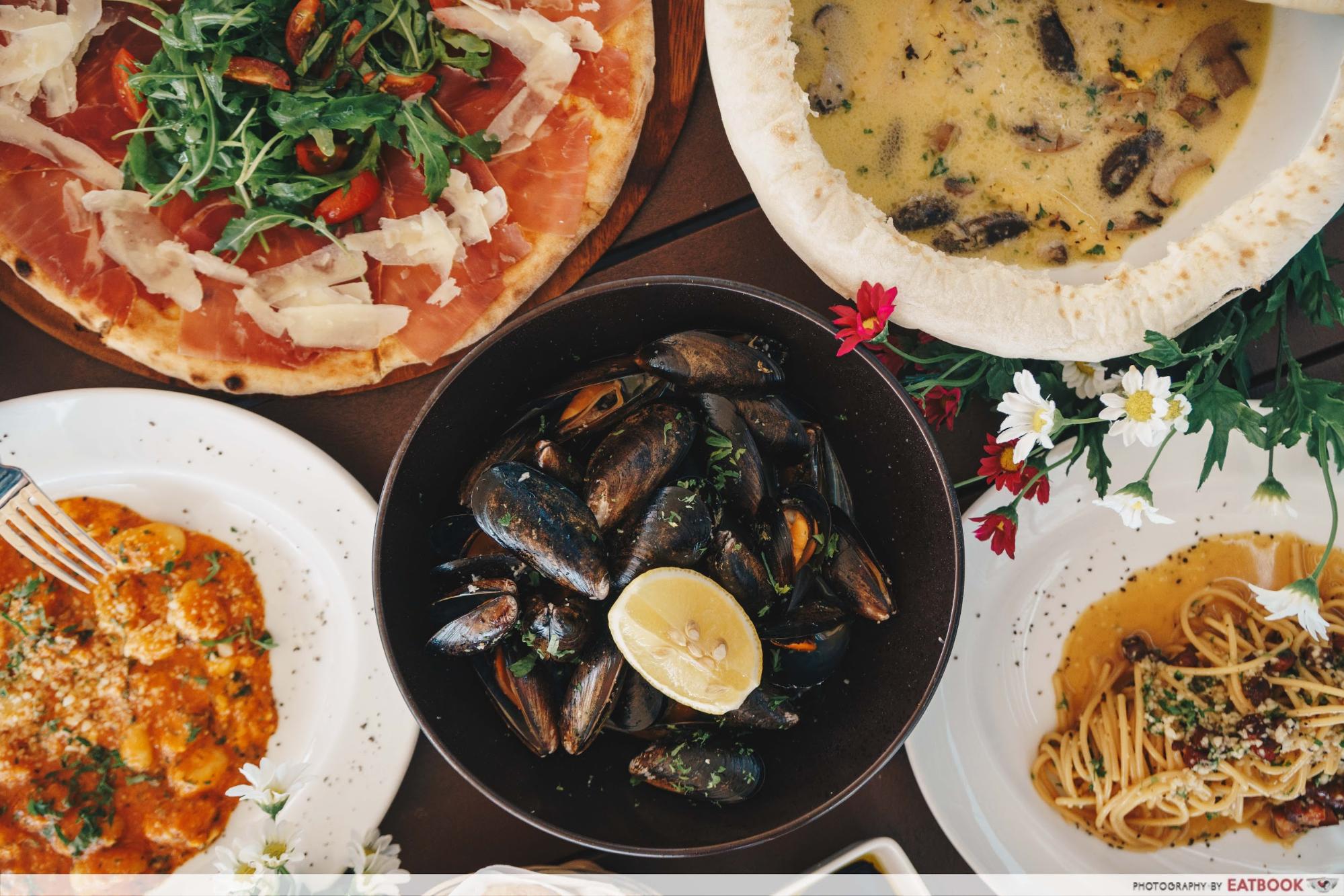 La Pizzaria at the Republic of Singapore Yacht Club offers Italian dishes that lean towards traditional recipes. Located at the edge of the waterfront club, it offers a great view of the harbour and sleek yachts bobbing in the sea. It also comes with a sheltered outdoor deck that offers a cooling sea breeze.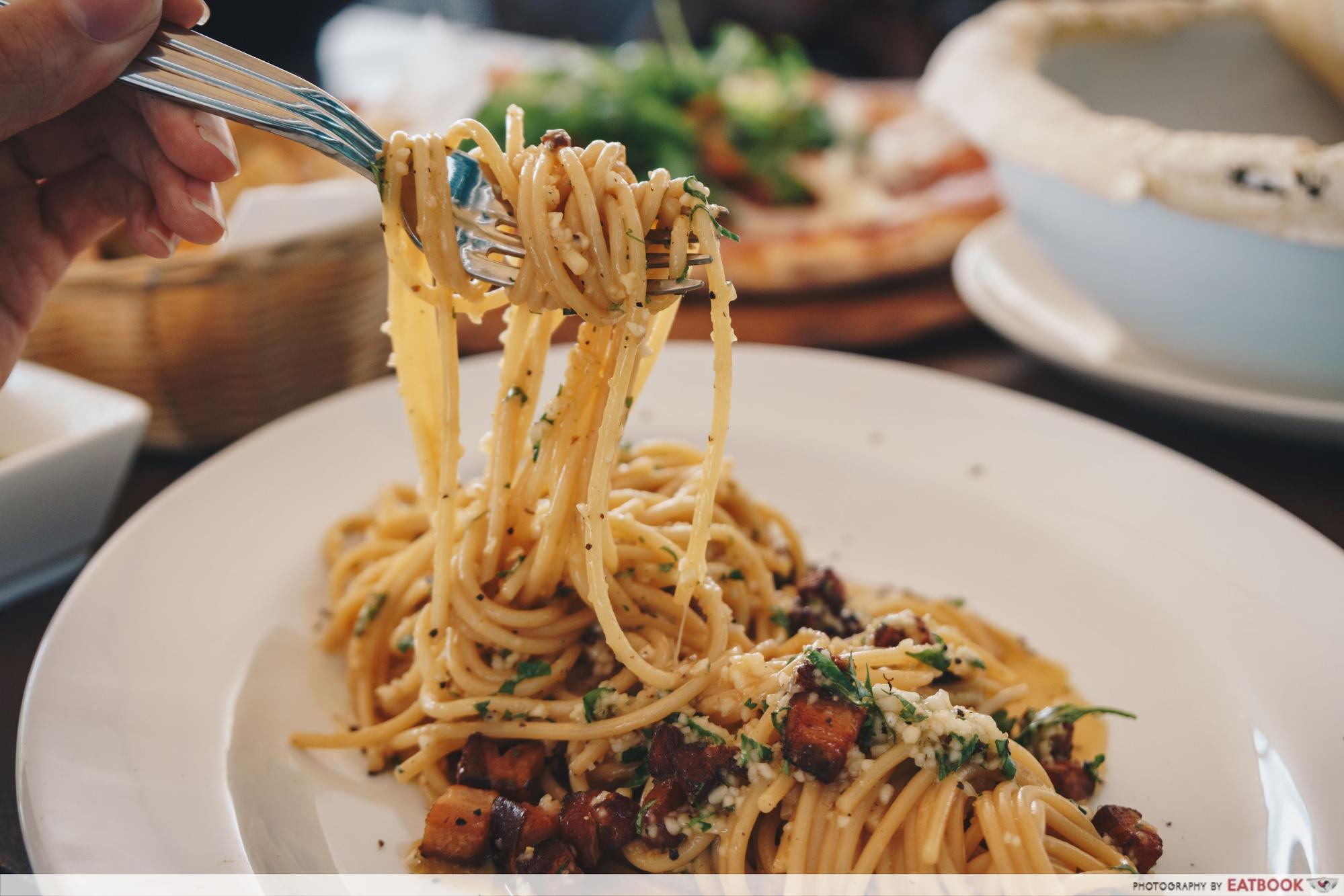 Try their Spaghetti Carbonara ($19+). Instead of being soaked in cream sauce, the carbonara here follows the traditional Italian recipe of using just eggs and cheese for the base. Bits of Parmesan were also sprinkled carefully over the dish, adding a nice bit of creaminess without being too rich. Chunks of salted Italian bacon gave the pasta a nice coating of fat, adding flavour to every bite.
Check out our full review of La Pizzeria!
Address: 52 West Coast Ferry Road, Singapore 126887
Opening hours: Sun & Tue-Thur 12pm to 2:30pm, 6pm to 10pm, Fri-Sat 12pm to 2:30pm, 6pm to 11pm
Tel: 6768 9443
Website
Menu
---
6. Hokkaido-Ya
---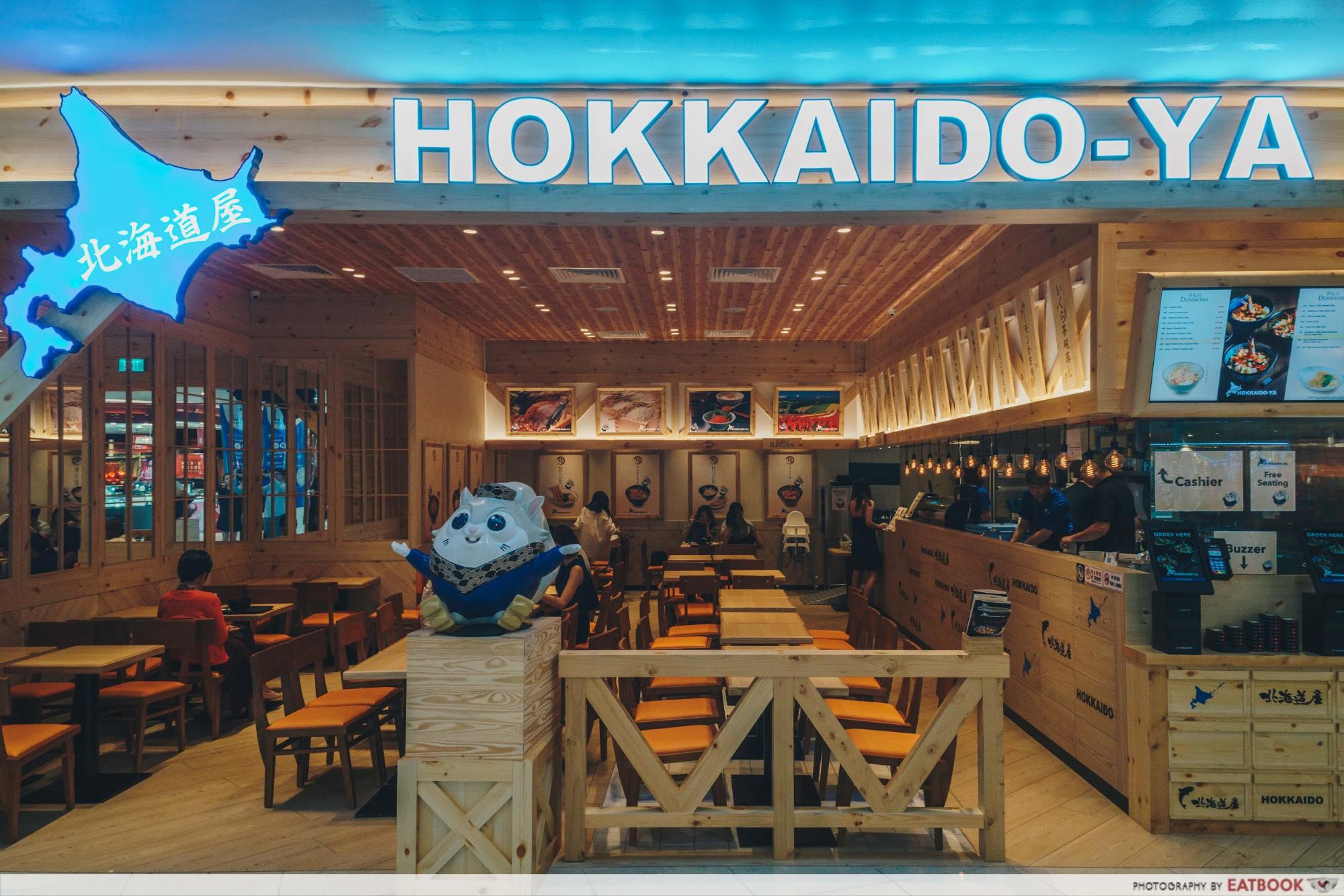 Located right beside its sister restaurant Sushi Tei, Hokkaido-Ya is a casual Japanese restaurant serving a wide range of dishes. Have fun interacting with their artificial intelligence-enabled self-ordering kiosks. The programme uses facial recognition to offer targeted promotions suited to the past dining preferences of returning customers.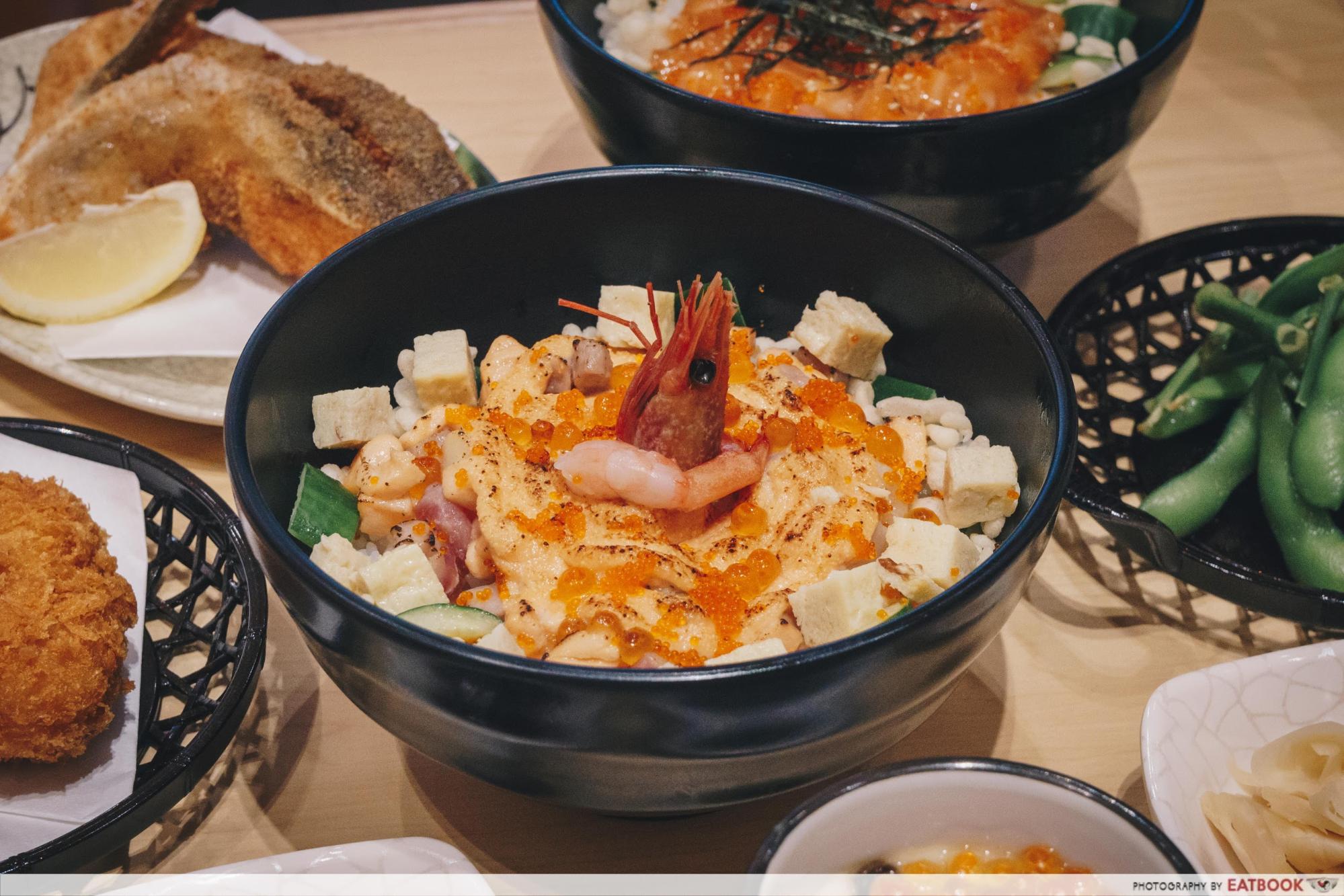 There is something here for everyone, from ramen to rice bowls and white curry. Highlights include Hokkaido Butter Corn Hotate Ramen ($12.90+), Aburi Mentai Bara Chirashi Don ($14.90+), and Shirobuta Pork Katsu Hokkaido White Curry Rice ($12.90+). Not only is the food good, the prices are also easy on the wallet for days leading up to payday. When the Japanese food cravings call, Hokkaido-Ya definitely warrants a visit.
Check out our full review of Hokkaido-Ya!
Address: 1 HarbourFront Walk, #02-153, VivoCity, Singapore 098585
Opening hours: Daily 11:30am to 10pm
Tel: 6376 8387
Website
---
7. Phoenix Lava Bun
---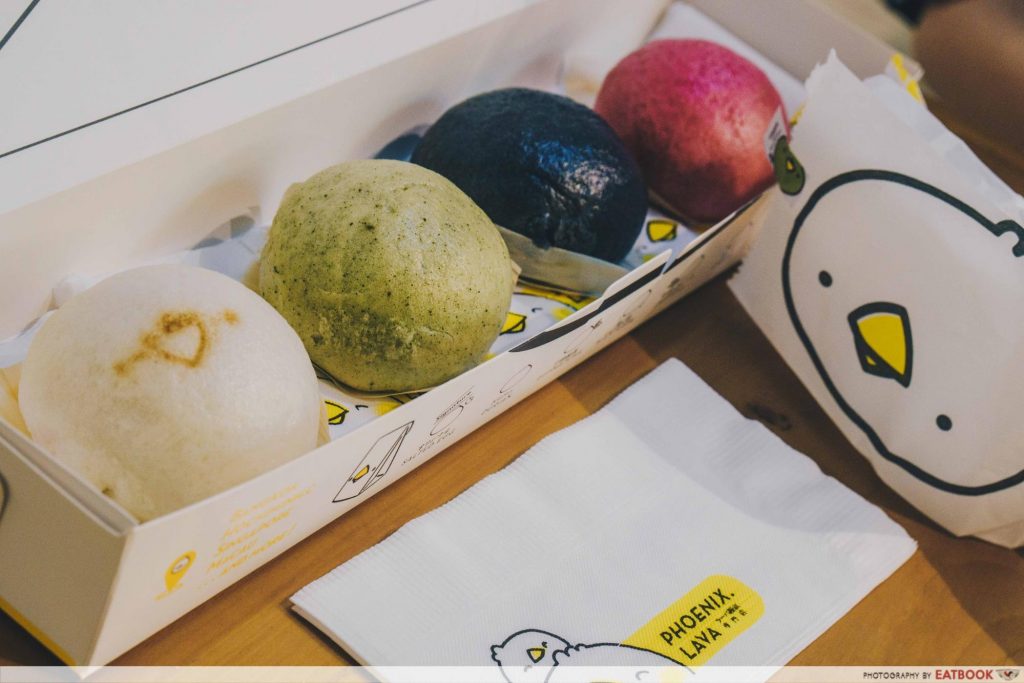 Durian was all the craze last month. And rocking the Internet with its oozy, flowy durian lava buns is Phoenix Lava. Once exclusively sold in Bangkok, these durian seed-shaped buns are now available at Raffles Xchange.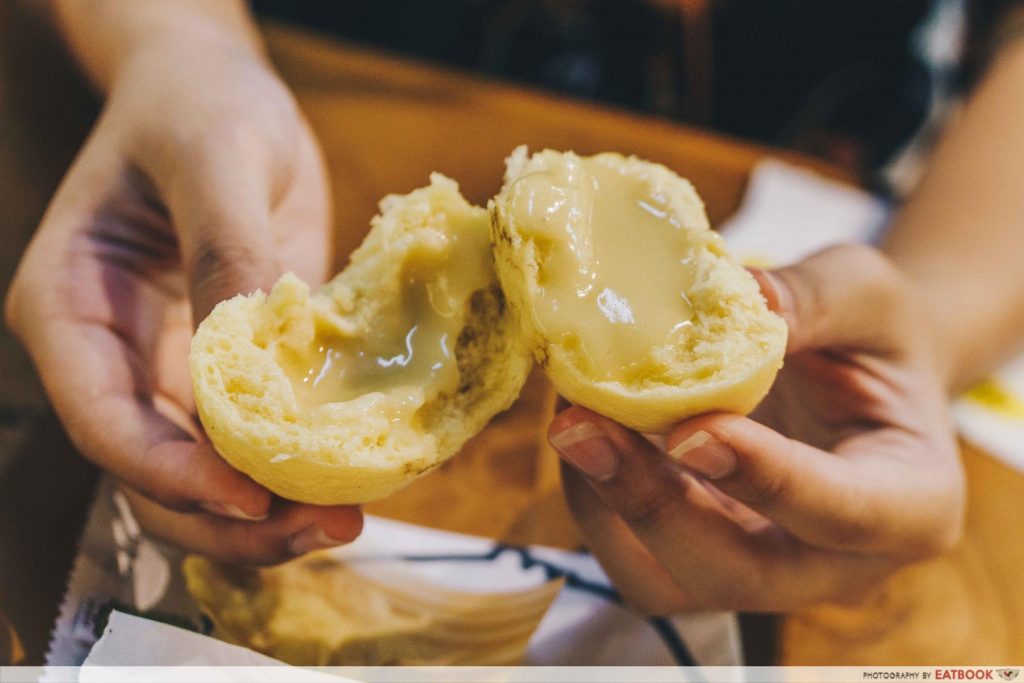 The signature Monthong Durian ($3.80 for one, $18 for a box of five) is the main attraction at the Singapore outlet. Filled with creamy durian puree, the buns are baked fresh every day. However, we found the filling to be too mild and did not complement the doughy bun.
Find out more about the buns from Phoenix Lava!
Address: 5 Raffles Place, #B1-32/33, Raffles Place MRT Station, Singapore 048618
Opening hours: Mon-Fri 10:30am to 9pm
Tel: 6636 4368
Website
Bangkok's Famous Durian Lava Bun From Phoenix Lava Is Here In Singapore
---
8. Street Submarine
---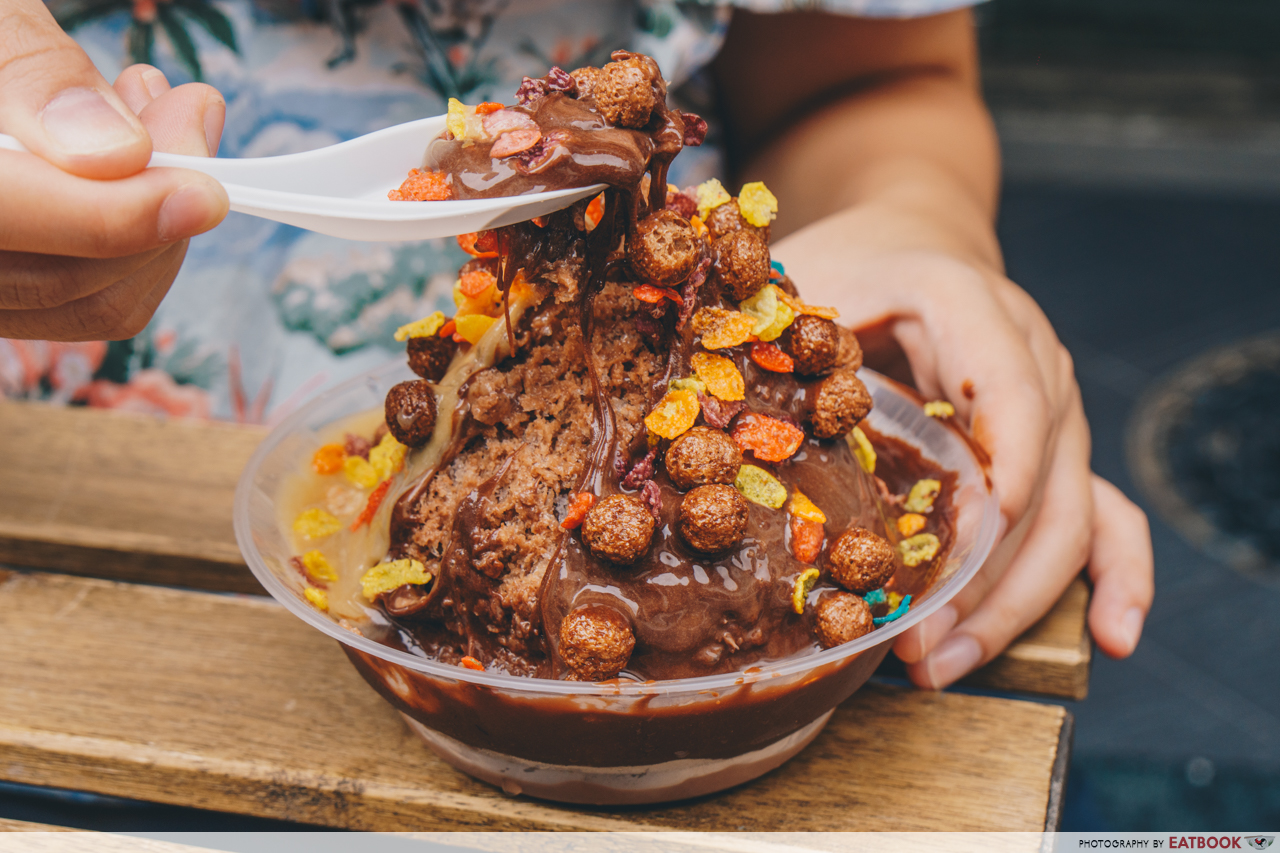 Located at hipster Haji Lane, Street Submarine serves Singapore's first Milo Ice Kepal. Translating to "thick Milo rolled up ice", these delicious concoctions went viral when a humble stall from Kuala Kangsar, Malaysia, started selling them in plastic drink bags.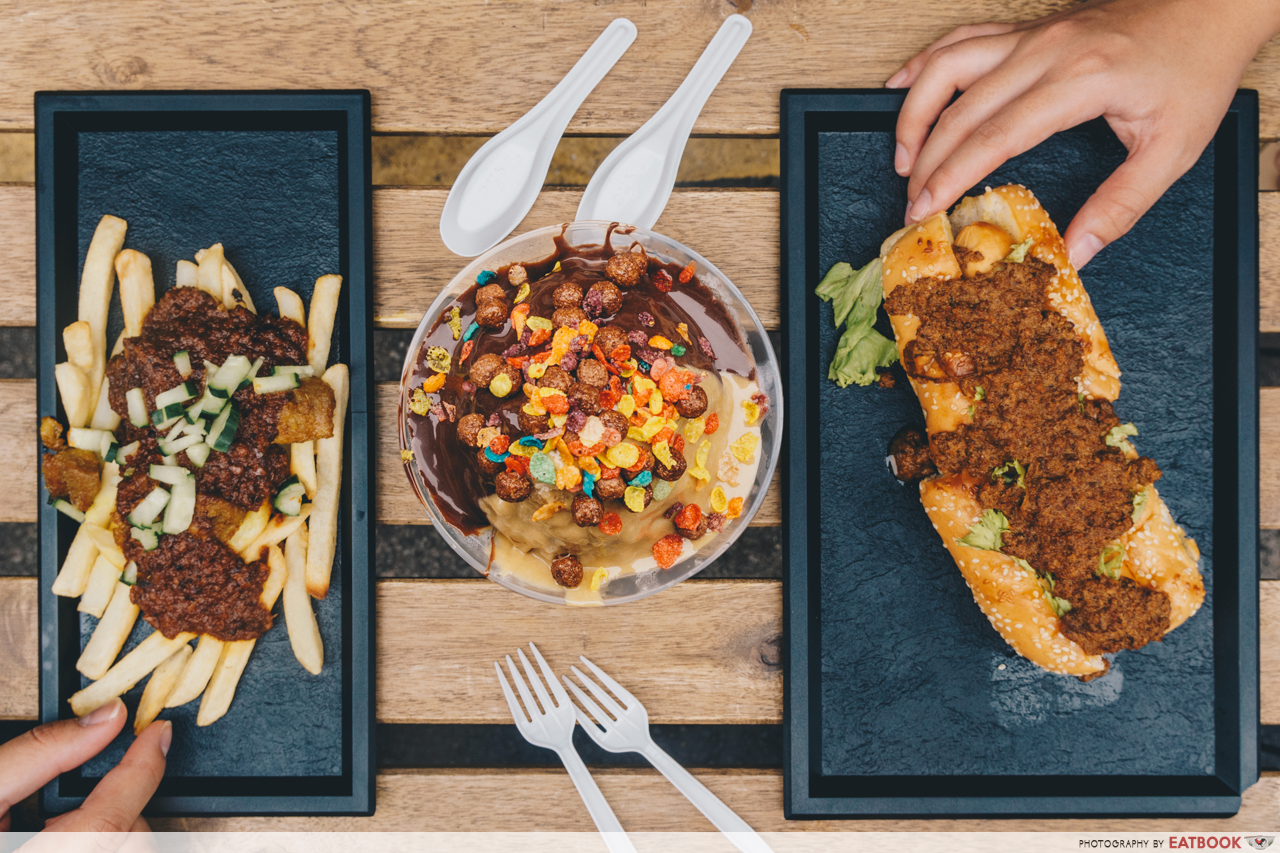 Street Submarine offers Milo Ice Kepal ($5), Horlicks Ice Kepal ($5), and Ice Kepal Michael Jackson ($8). Get the latter for the best of both worlds. The thick sauces are generously ladled atop a ball of crushed ice, making each spoonful taste like a zhnged-up Milo Dinosaur. Other must-tries include Chicken Satay Fries ($5.50+) and Chili Rendang Sub ($8), which make great options for quick bites in Bugis.
Check out our full review of Street Submarine!
Address: 34 Haji Lane, Singapore 189227
Opening hours: Daily 11am to 10pm
Website
Street Submarine Review: Muslim-Owned Cafe Serving Singapore's First Ice Kepal Milo And More
---
9. Cheese Addiction
---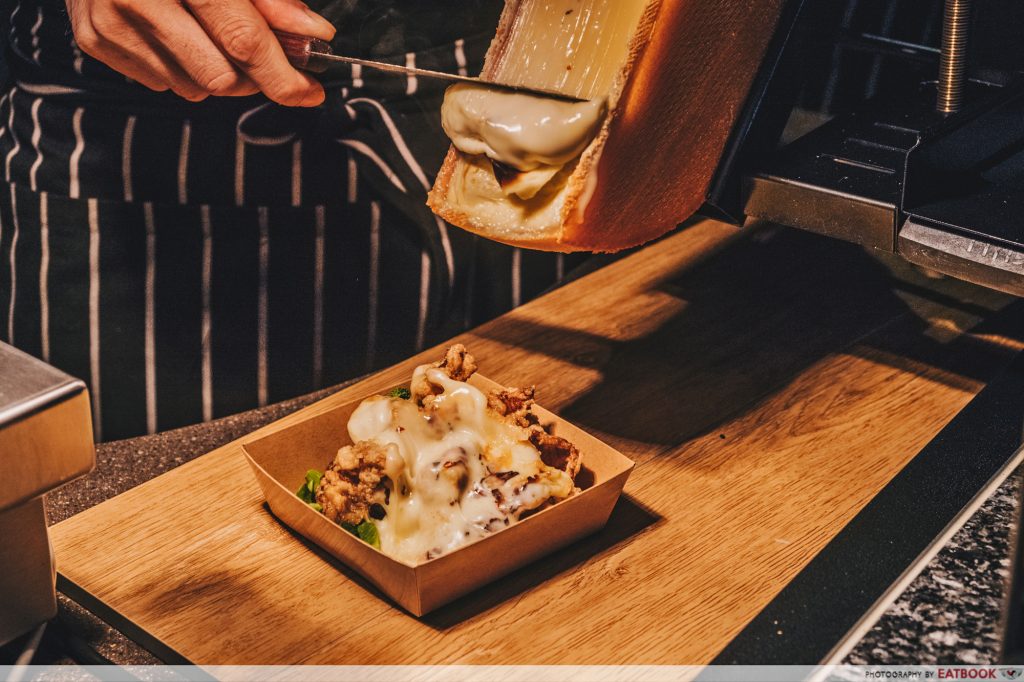 Cheese Addiction at the newly reopened Century Square serves up raclette cheese with a variety of fried food. The cheese is melted on the spot, so be prepared to wait, especially when the stall gets crowded.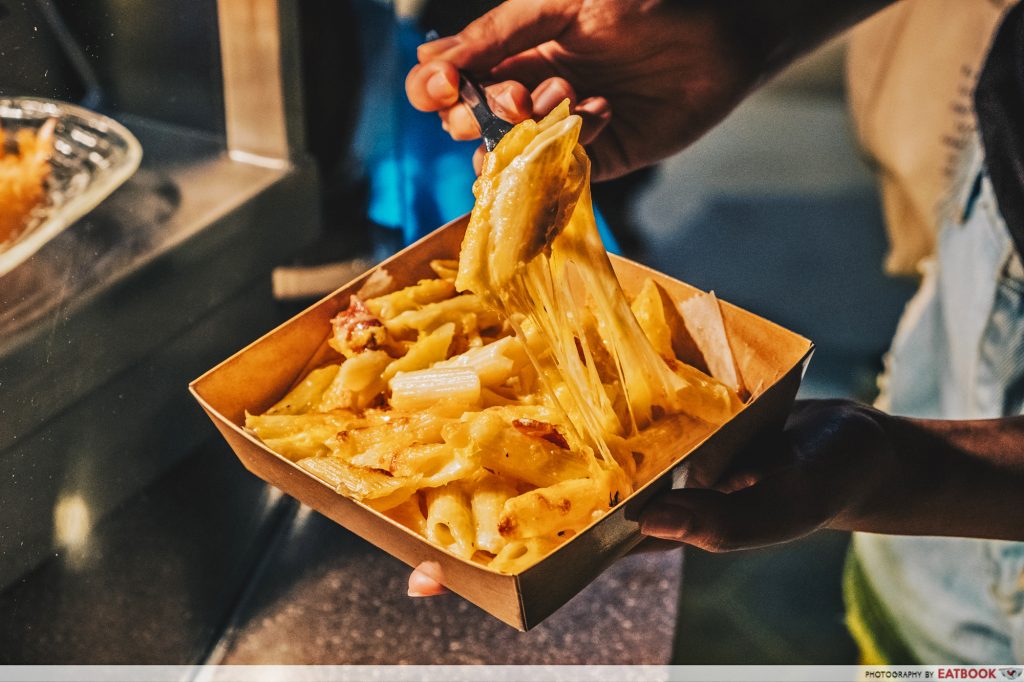 Two dishes we tried here are Raclette Tori Karaage ($6.90) and Raclette Shrimp ($6.90). The thick layers of cheese give an added flavour profile to the otherwise one-dimensional fried chicken and shrimp. This combination may be too heavy for those who are not fans of greasy food though. If you're more of a carb person, try their Kimchi Cheese Tteokbokki ($5.90) or Mac and Cheese ($5.90) instead.
Check out our full review of Cheese Addiction!
Address: 2 Tampines Central 5, #B1-39, Century Square, Singapore 529509
Opening hours: Daily 10am to 9:30pm
Tel: 9029 5838
Website
---
10. Mr Men and Little Miss visit Kumoya
---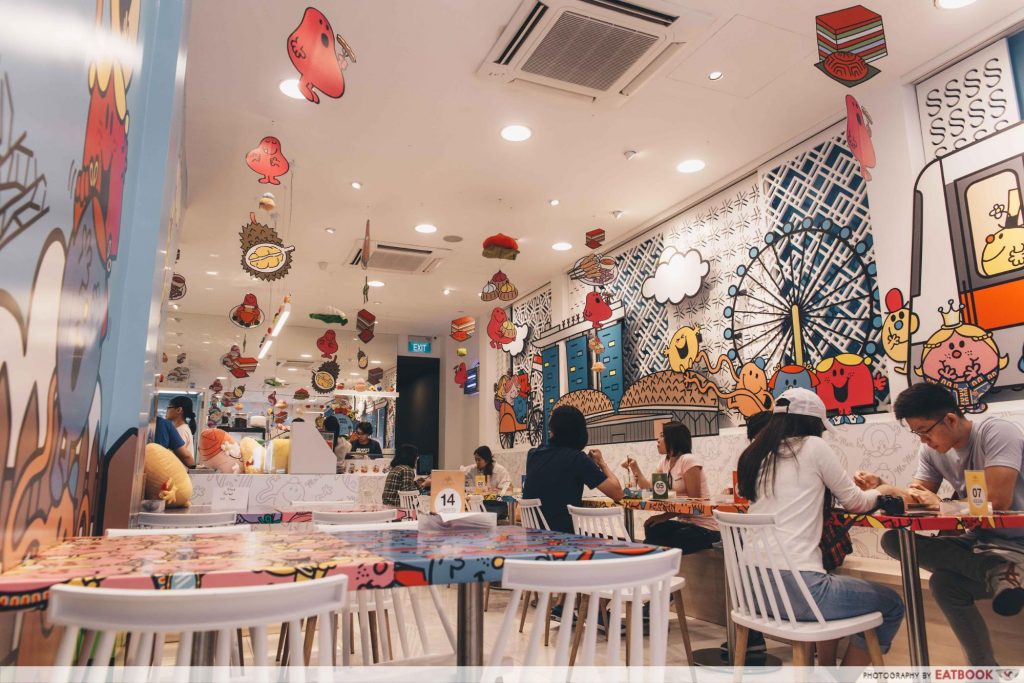 Known to host pop-up themed cafes is Kumoya at Bugis. This time, they've invited Mr Men and Little Miss to Singapore! The cafe, now named Mr Men and Little Miss visit Kumoya, is decorated with all your favourite characters, from Mr Greedy to Little Miss Princess. And the best part is, the walls are decorated with them doing everyday things, from taking the MRT to visiting the Singapore Flyer.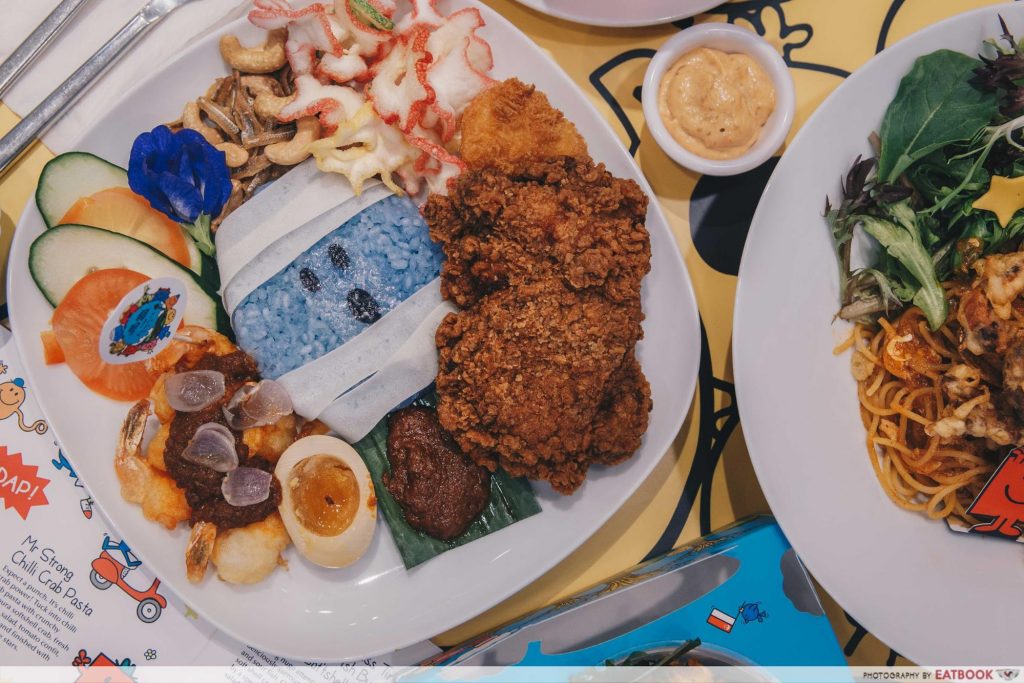 The cutest main here is the Mr Bump Knock-out Nasi Lemak ($23.90+). You'll find Mr Bump surrounded by fried chicken, spicy sambal tempura prawns, a potato croquette and more. The overwhelmed character is made using rice that has been cooked with butterfly pea flower and coconut milk.
Find out if it's worth going to Mr Men and Little Miss visit Kumoya!
Address: 8 Jalan Klapa, Singapore 199320
Opening hours: Tue-Thur & Sun 12pm to 9:30pm, Fri-Sat 12pm to 10:20pm (last order 30 minutes before closing)
Website
---
Bonus 1: Antoinette
---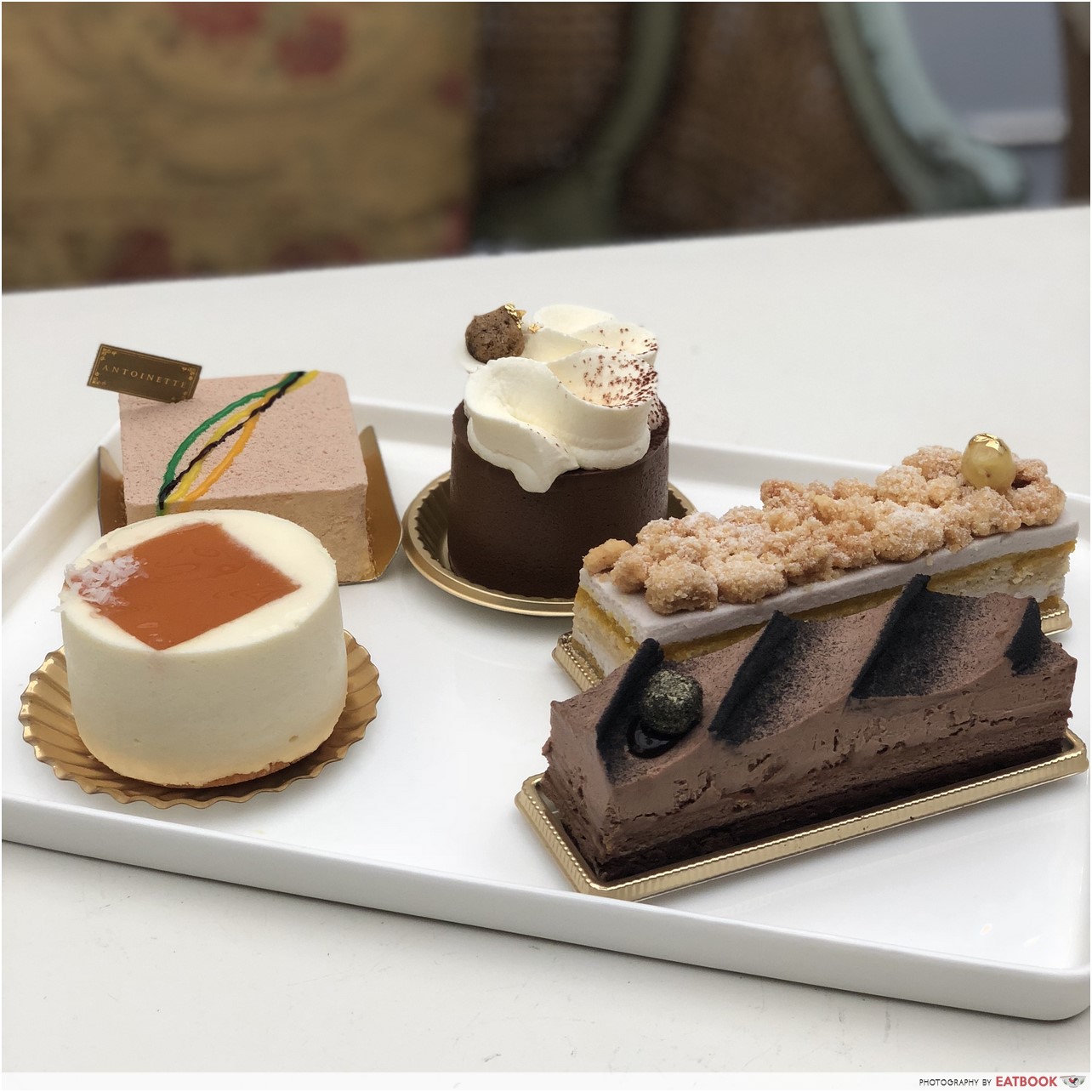 Left to right: Cheese Please, NUDE cake, Haute Cafe, Orh Nee Cake, Chocolat No. 5
The brainchild of chef-owner Pang Kok Keong, Antoinette pâtisserie continues to charm with its chic Parisian vibes. This time round, the three-time Pastry Chef of the Year at the World Gourmet Summit has drawn upon inspiration from fashion icons such as Coco Chanel and Issey Miyake for its new menu.
Featuring four new cakes, the NUDE cake ($11++) was my favourite out of the lot. Taking inspiration from the nude makeup trend, NUDE cake consists of a light layer of finger sponge filled with a refreshing blend of tropical mousse made from passionfruit, mango, pineapple and lime. The sponge is then enclosed in coconut creme Chantilly and sea salt caramel parfait to give off a uniquely shade of nude. I was particularly impressed by how the vibrant tropical flavours can be reflected in a cute and chic package that looks like it's straight out of Sephora.  
Address: 30 Penhas Road, Singapore 208188
Opening hours: Mon-Thur 11am to 10pm, Fri 11am to 11pm, Sat 10am to 11pm, Sun & PH 10am to 10pm
Tel: 6293 3121
Website
Full list of outlets
---
Bonus 2: Birds of a Feather
---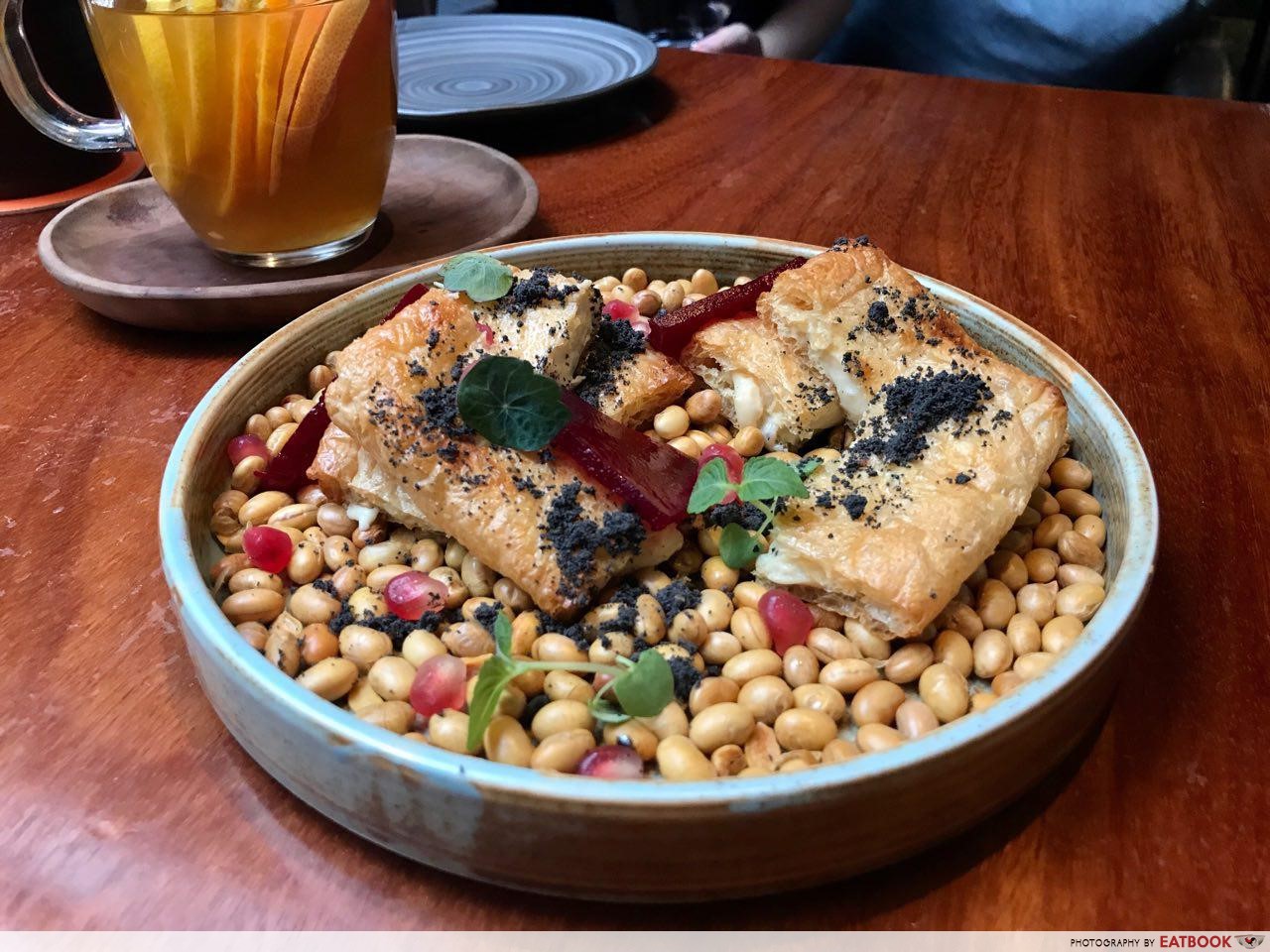 Ma la lovers are in for a real treat with the new menu at Birds of a Feather. Fresh from his adventures in Chengdu, French-trained head chef Eugene See mixes contemporary Western techniques with bold and vibrant Sichuan flavours.
Inspired by stinky tofu, Birds Not Stinky Tofu ($16++) combines creamy silken tofu with strong and pungent Vieux Lille cheese. The mixture is then wrapped up in a pocket of tau kwa-esque aburaage tofu and baked for a crisp exterior. A sprinkling of pomegranate seeds and pickled beetroot are added to help offset the strong 'stinky' tofu taste. As a person who absolutely hates the smell of stinky tofu, I find this version to be extremely forgiving thanks to the added acidity from pomegranate and beetroot.  
Another must-try dish is their Charcoal Grilled Pork Bits ($15++). Pork belly is first marinated in a blend of Sichuan spices, then deep-fried and finished in charcoal grill. I was reminded of the strongly flavoured cumin-laced barbecued meats in China, but find this version to have a strangely different level of finesse, thanks to the fat that was perfectly sealed from the deep-frying process.
Address: 115 Amoy Street, #01-01, Singapore 069935
Opening hours: Daily 10am to 11pm
Tel: 6221 7449
Website
---
Bonus 3: Botanico
---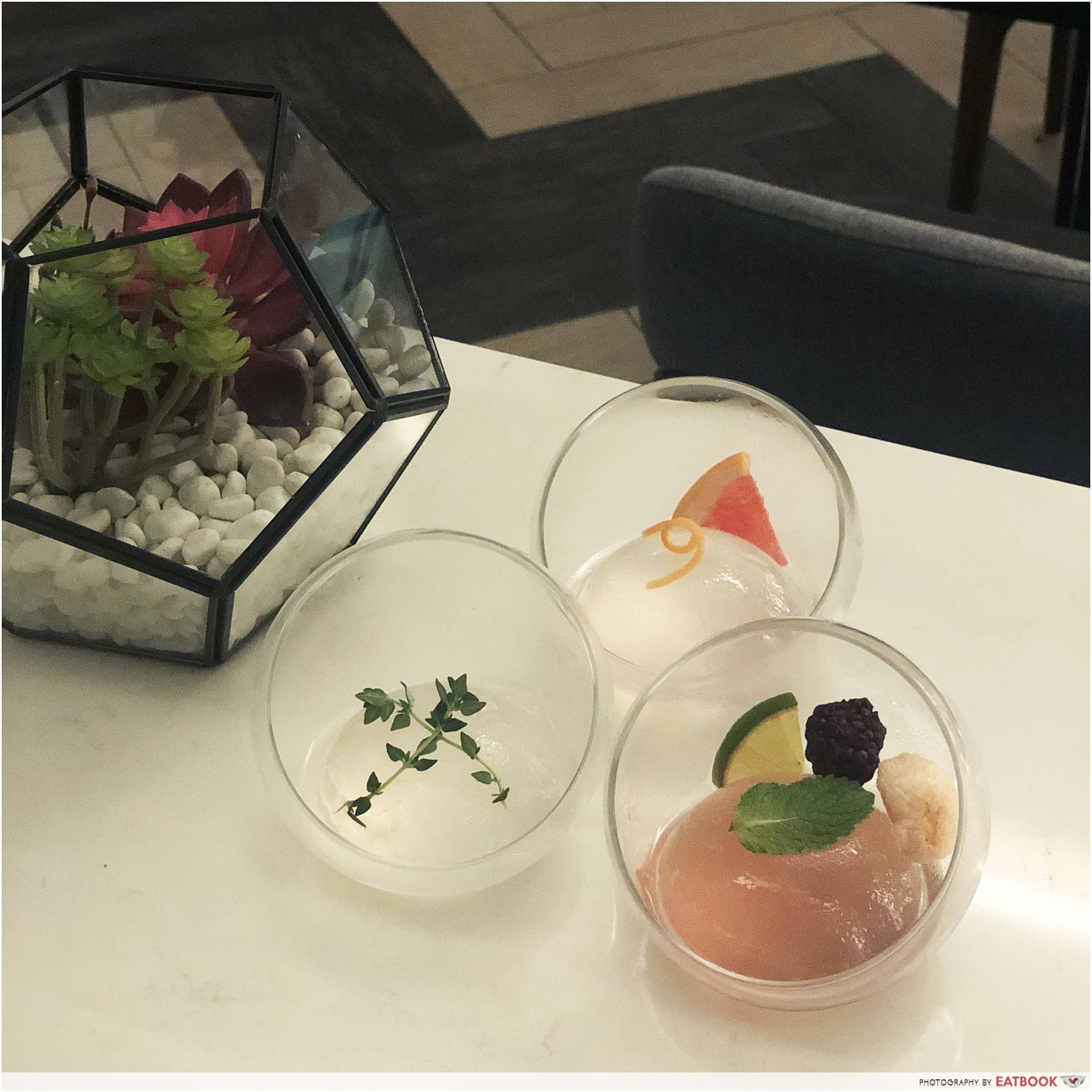 Nestled within Botanic Gardens, Botanico is the romantic date night restaurant for all your special occasions. From birthday surprises to getting down on one knee, this serene spot gives you the privacy you want without being boring. The outdoor terrace is enchanting both in the day and at night. Lined with fairy lights, this air-conditioned space is cosy, elegant, and comfortable – basically where you'd want to hold an intimate wedding at.  
For something to share, go for the Beef Tongue ($20++). The thin slices Australian beef tongue are brined and sous vide, before being chilled. They're absolutely soft and almost melt in your mouth as you slowly savour each slice with chipotle mayo and mustard caviar.
Dessert lovers, try the Lemongrass Panna Cotta ($10++) served with housemade ginger ice-cream. Unique and refreshing, this is a dessert that won't give you that jelak feeling even if you devour it all.
Alternatively, skip the sweets and go straight for their cocktail jellies. Named Progressive Cocktails, these are cute little blobs of booze that are more potent than they look. For something strong, go for the Garage Gin'onic ($13++) or Thyme Lemonade ($13++), which is made with just vodka, lemon juice and thyme. These offer a kick with none of that burn, and serve as a tasty ending to your meal.
Address: 50 Cluny Park Road, Singapore 257488
Opening hours: Wed-Fri 6pm to 11:30pm, Sat-Sun 11am to 3pm, 6pm to 11:30pm
Tel: 9831 1106
Website
Menus
---
New restaurants for all occasions
---
The list of new restaurants has got us all pumped up for August. With National Day falling on the 9th this month, there's additional reason to cheer. Take a break from busy assignments or tight deadlines, and visit these new outlets this month!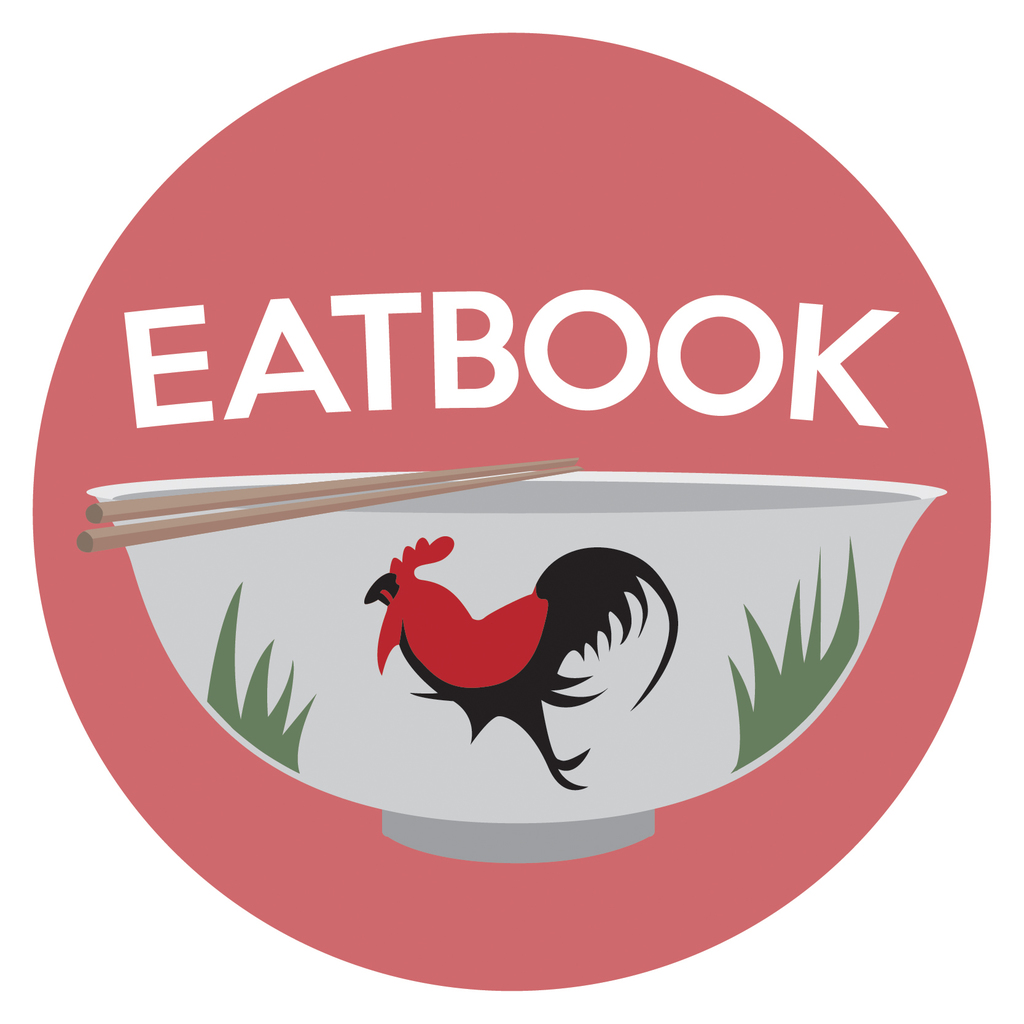 Drop us your email so you won't miss the latest news.