Cheese Addiction at Tampines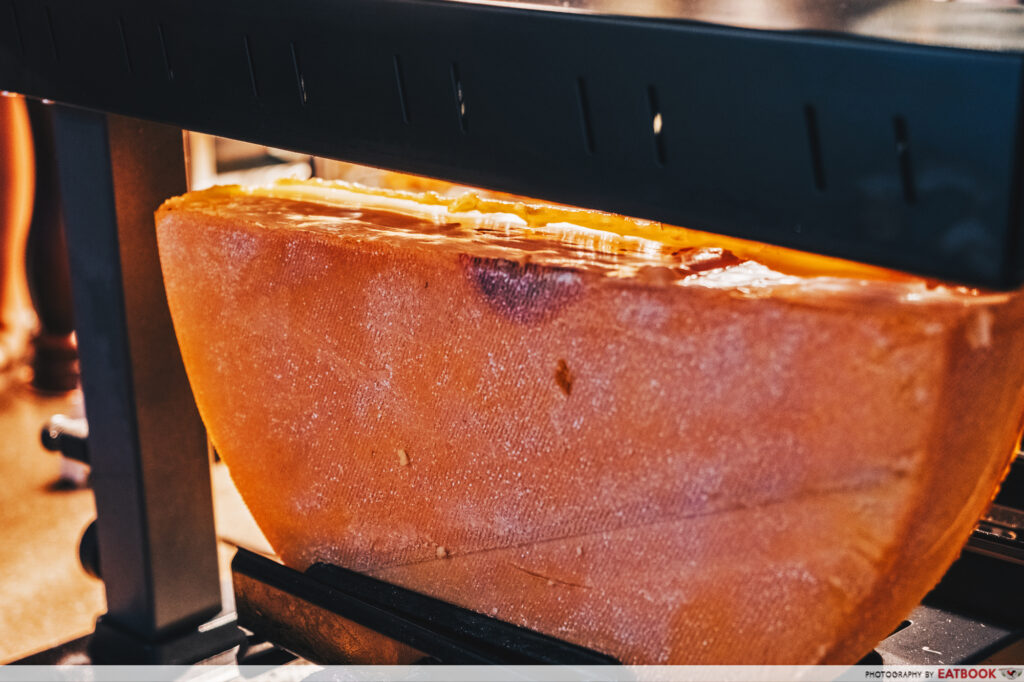 When checking out Seoul In A Sandwich last week, we couldn't help but  be drawn to the pungent smell of cheese wafting from Cheese Addiction. While we have tried raclette cheese many times at hipster bazaars and food festivals, finding a kiosk serving up raclette cheese in a shopping mall still got us excited.
Food at Cheese Addiction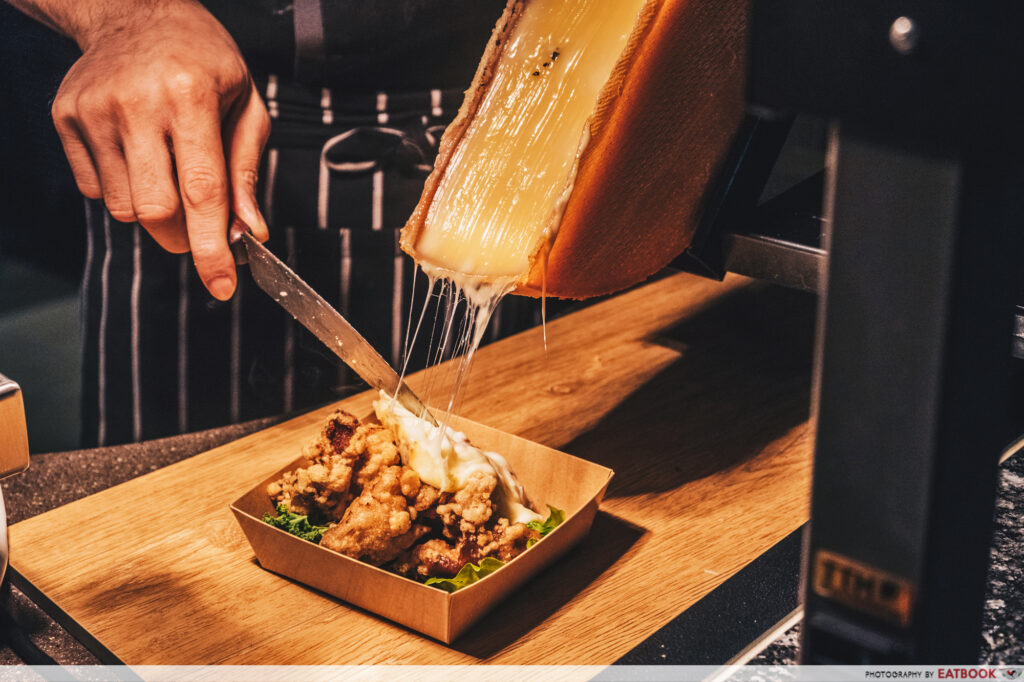 The first dish we got was the Raclette Tori Karaage ($6.90). There were six huge pieces of fried chicken blanketed with warm, gooey cheese and sprinkled with bits of sesame seeds. Like any good karaage you get from a decent Japanese eatery, the ones at Cheese Addiction were fried to a nice brown and was served hot and crispy. Mainly savoury and garlicky, the chunky pieces of chicken were mostly made of lean meat, but still retained a juicy and tender texture.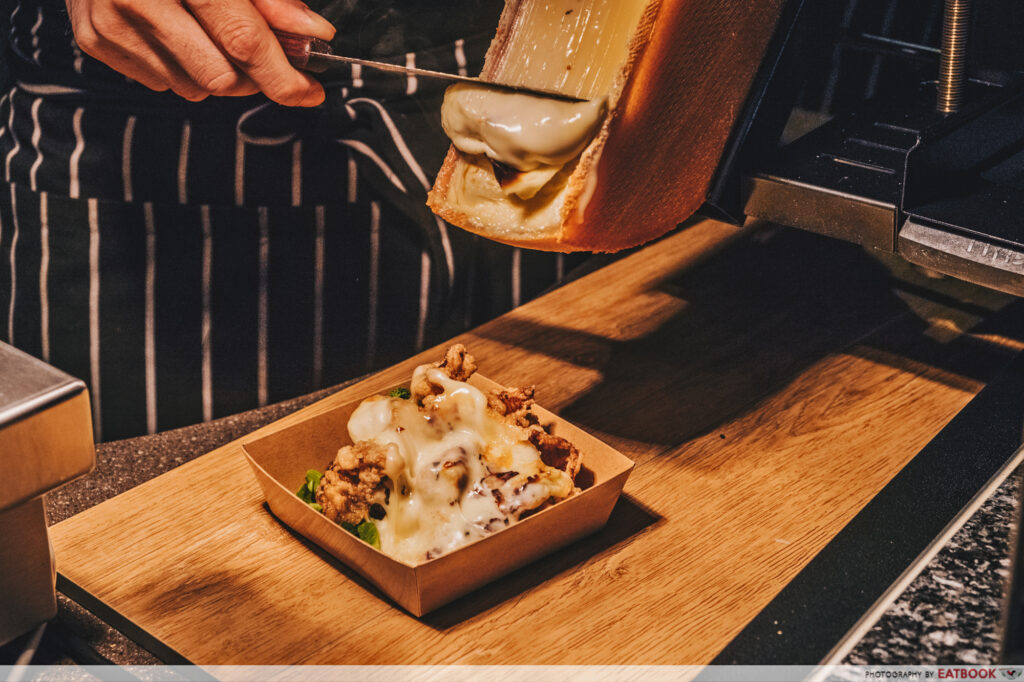 As for the cheese, the layers were so thick that you don't have to worry about not getting a perfect cheese pull shot. Compared to its intense smell, the taste of the cheese was much more subtle, reminding me of gruyère cheese.
Overall, I liked that the cheese added another flavour profile to the otherwise one-dimensional fried chicken. However, the combination may be too heavy for those who are not fans of overly greasy food.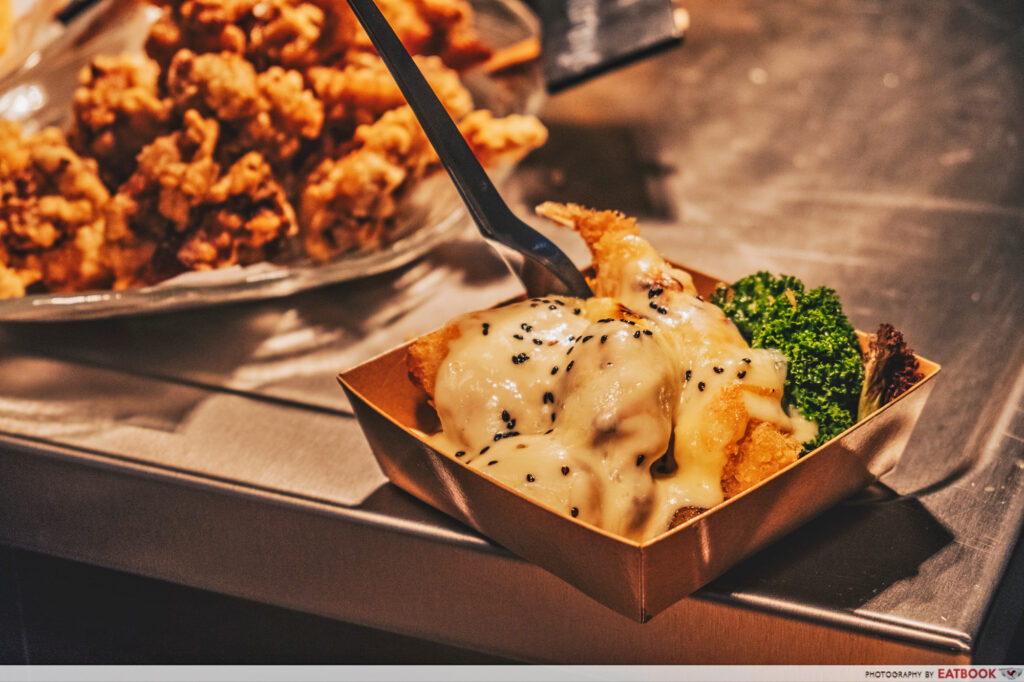 The other dish that we tried – Raclette Shrimp ($6.90) – had a greater variety of ingredients. Below the standard layer of melted cheese were ingredients such as baby potatoes, chicken cocktails, shrimp nuggets, ebi fry, and a shrimp cheese ball.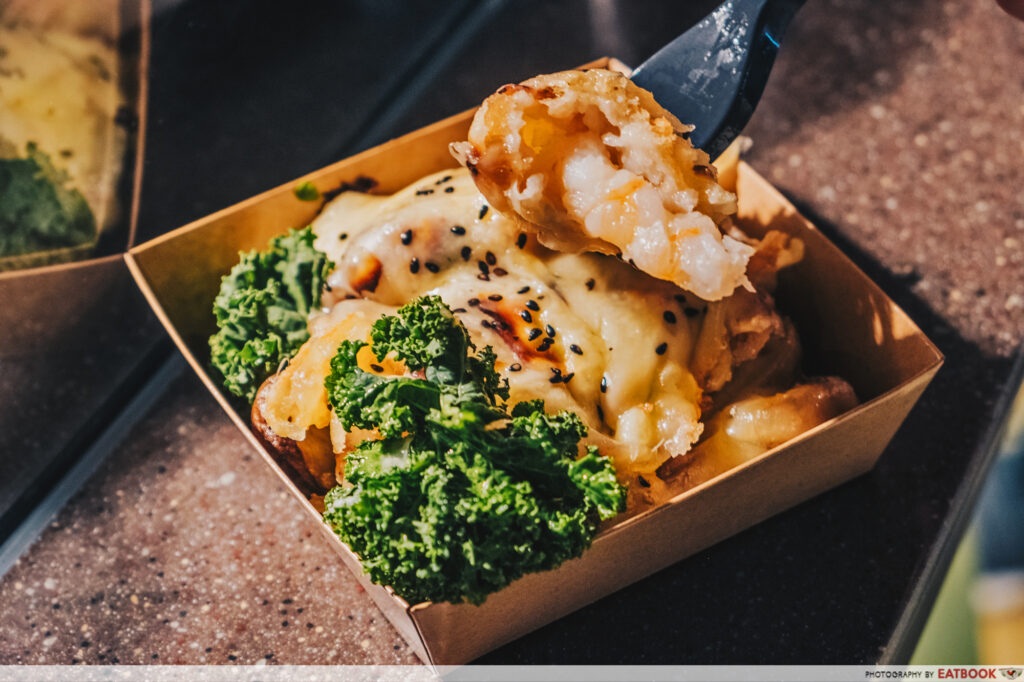 We started with ebi fry – the item I was most excited for. While the shrimp looked huge, we were slightly disappointed that it was mainly made up of  batter. With the thick layer of cheese coating the batter, the taste of the shrimp was further diminished and we could hardly tell if there was any shrimp in it.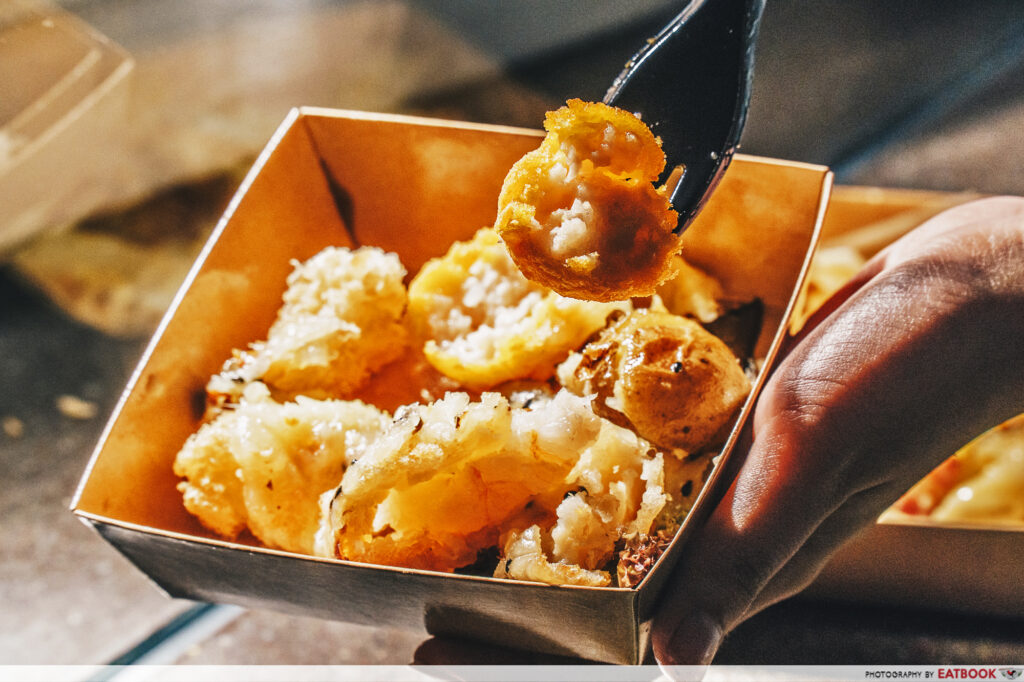 Though the ebi fry was underwhelming, the other ingredients pulled the entire dish up. We took a special liking to their prawn nugget and shrimp cheese ball. Both reminded me of Old Chang Kee's Prawn Nugget Onstik, but with a softer texture, making it easier to munch on them.
If you are getting this, I'd recommended eating the nugget before the shrimp cheese ball; the latter is saltier and may overwhelm the lighter-tasting nuggets.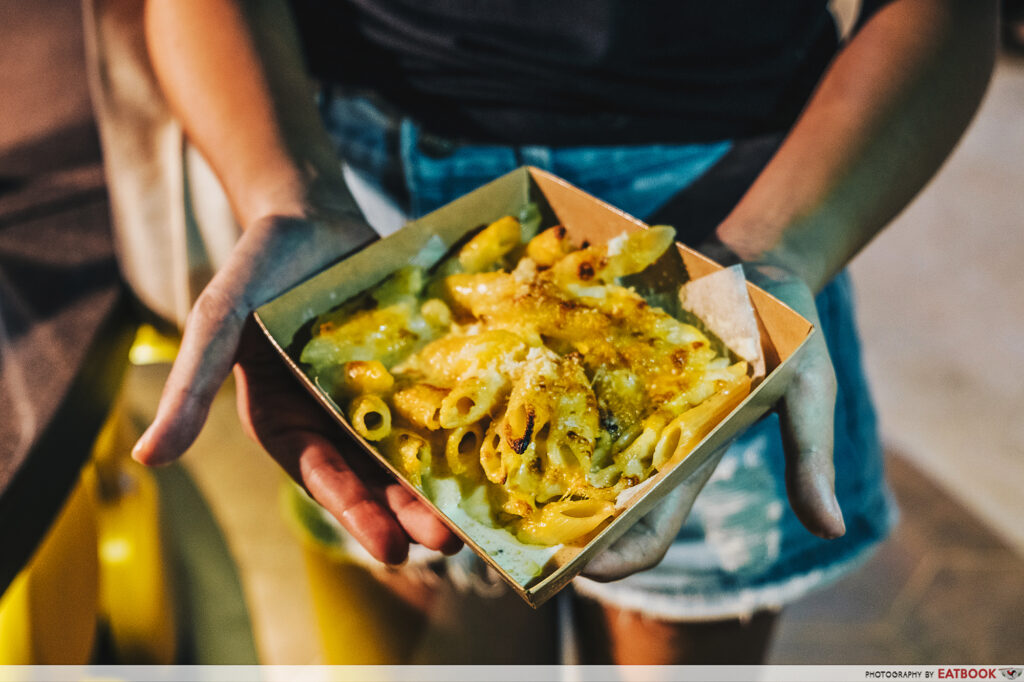 They also have an a la carte baked cheese menu, where you can also find dishes such as Kimchi Cheese Tteokbokki ($5.90) and Wagyu Beef Bolognese w/ Pickles ($6.90). They were unfortunately unavailable during the time we visited, so we settled for their Mac and Cheese ($5.90).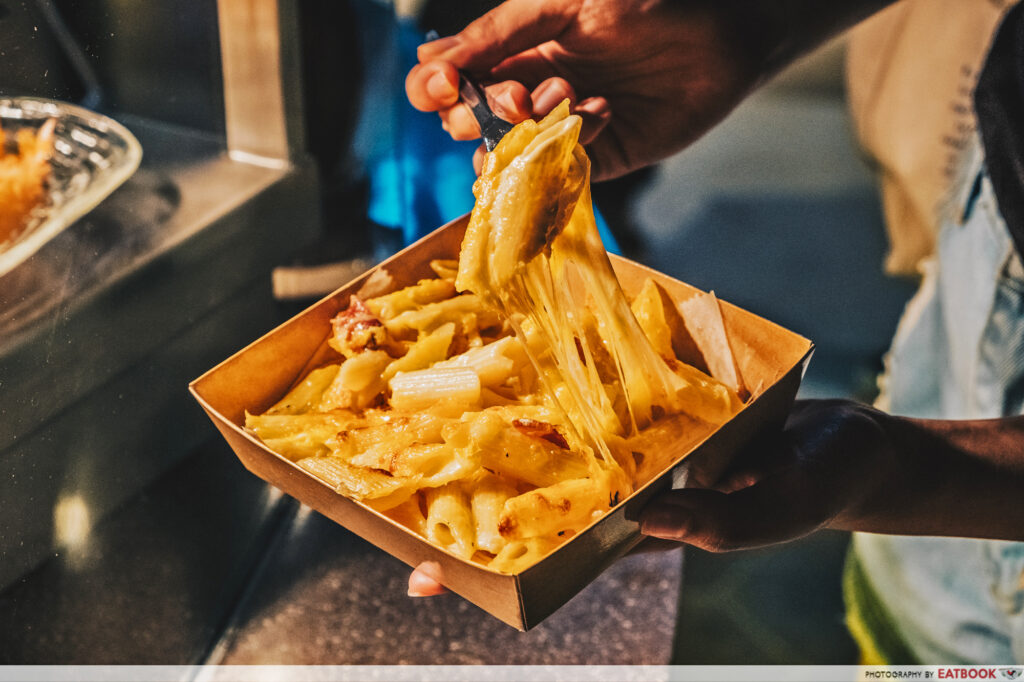 Instead of using macaroni, the one here came with penne that was coated in carbonara sauce, cheese, before being topped with bacon bits.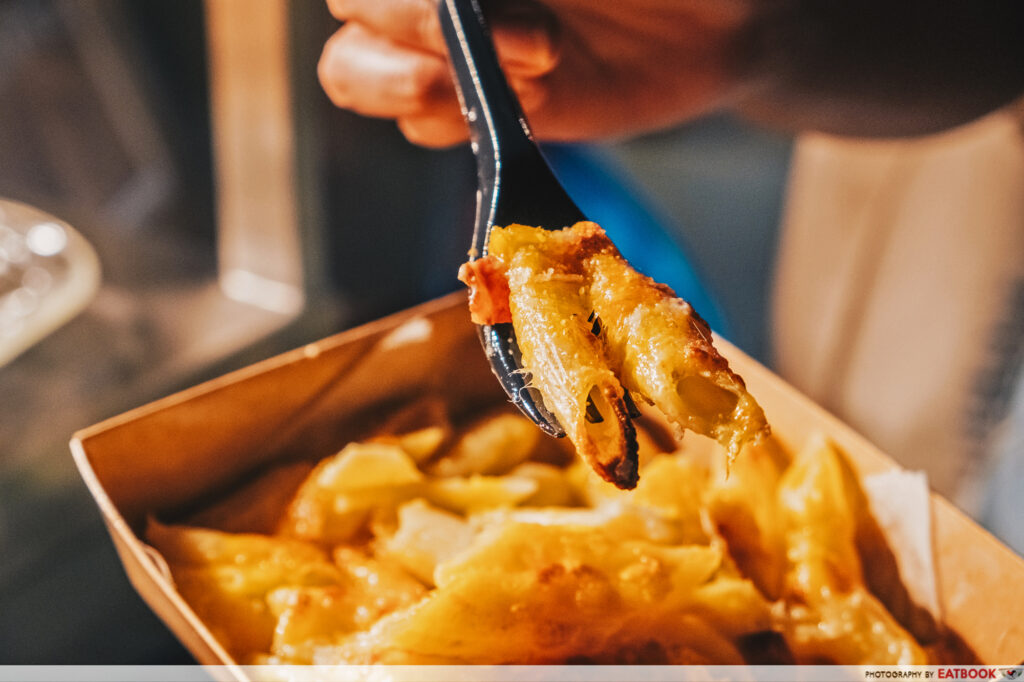 The top layer of penne was baked, such that it was slightly charred to add a bit of crispiness to the al dente pasta. There was also a light hint of smokiness, which was an enjoyable addition to the overall dominant cheese taste.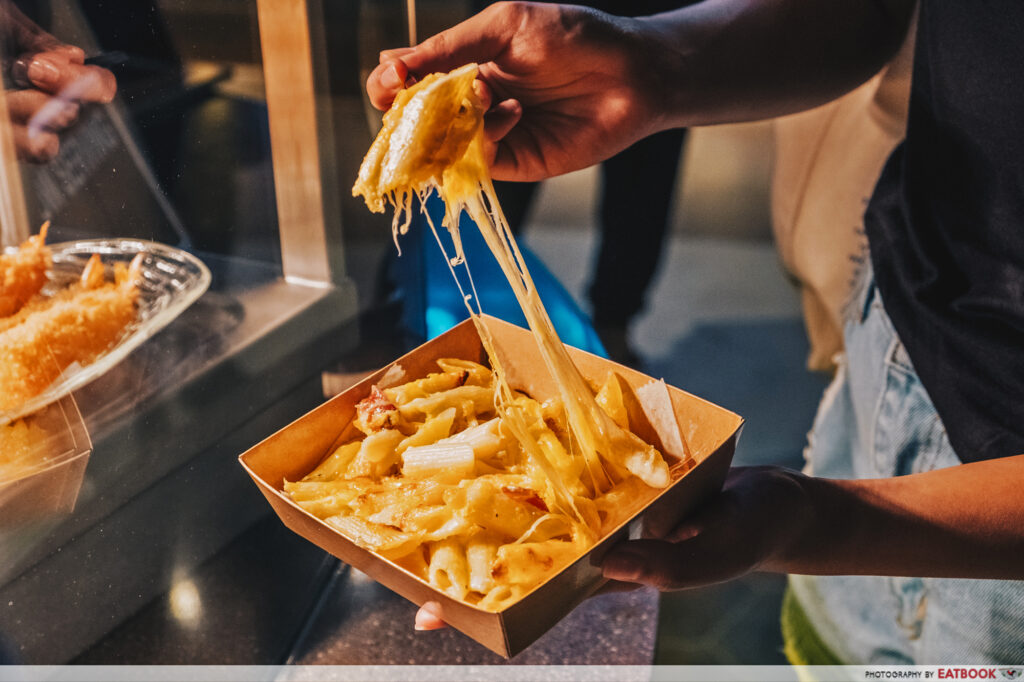 Overall, this dish fulfilled all  components of a decent mac and cheese. However, there was nothing spectacular to shout about this dish. For a wider variety of tastes and texture, I'll recommend 'upgrading' the Mac and Cheese with toppings such as Tori Karaage ($1.50 for two pieces) or Ebi Fry ($1 for one piece)!
Ambience at Cheese Addiction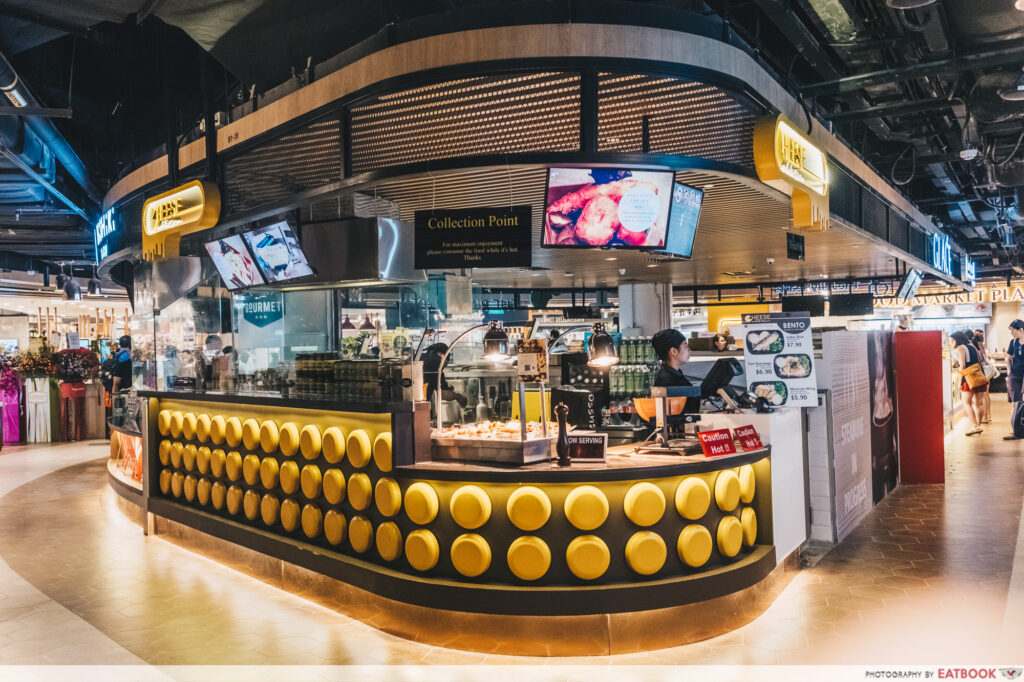 Occupying a small space at the basement of Century Square, Cheese Addiction is a pick-up kiosk with no seats available. At the front, you can expect to see a huge raclette melter.  The raclette cheese is melted on the spot upon order, meaning you get your cheese hot and gooey. Do be prepared to wait a little especially when the stall gets packed.
The verdict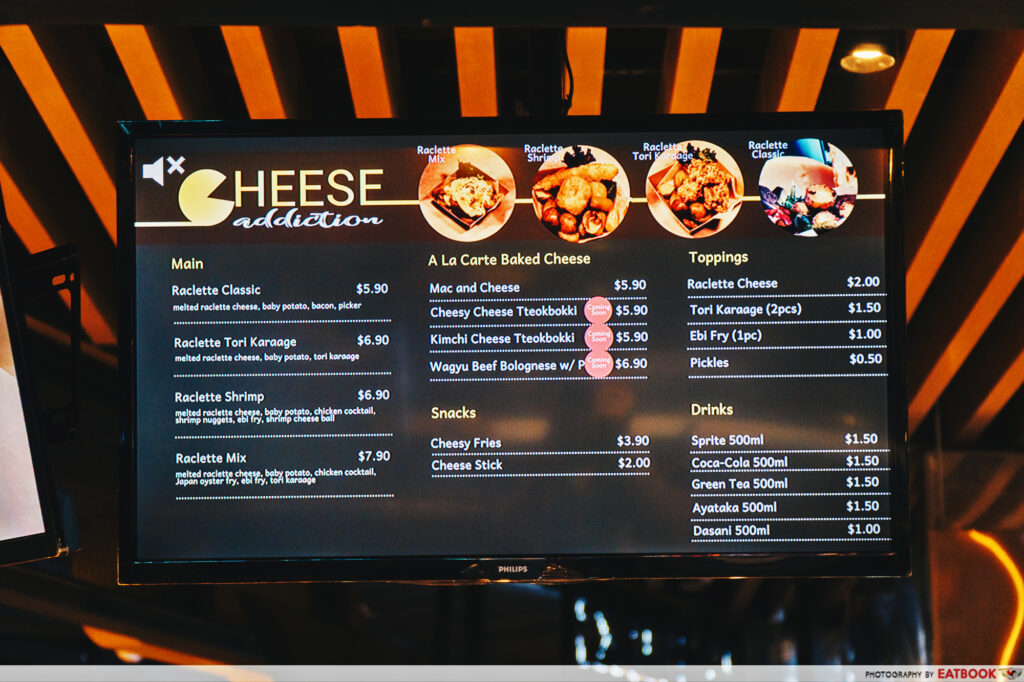 Although the food at Cheese Addiction were not mind-blowingly delicious, they still did a good job as a satisfying snack. Both the Raclette Tori Karaage and Raclette Shrimp tempt me to pay a second visit – but only if I happen to be around the area. Hopefully the Kimchi Cheese Tteokbokki will be available the next time I'm here!
Address: 2 Tampines Central 5, #B1-39, Century Square, Singapore 529509
Opening hours: Daily 10am to 9:30pm
Tel: 9029 5838
Website
Cheese Addiction is not a halal restaurant.
This is an independent review by Eatbook.sg.
Summary
Pros
– Affordable
Cons
– No seats
Recommended Dishes: Raclette Tori Karaage ($6.90), Raclette Shrimp ($6.90)
Operating Hours:
Daily 10am to 9:30pm
Address: 2 Tampines Central 5, #B1-39, Century Square, Singapore 529509