Hokkaido-Ya at VivoCity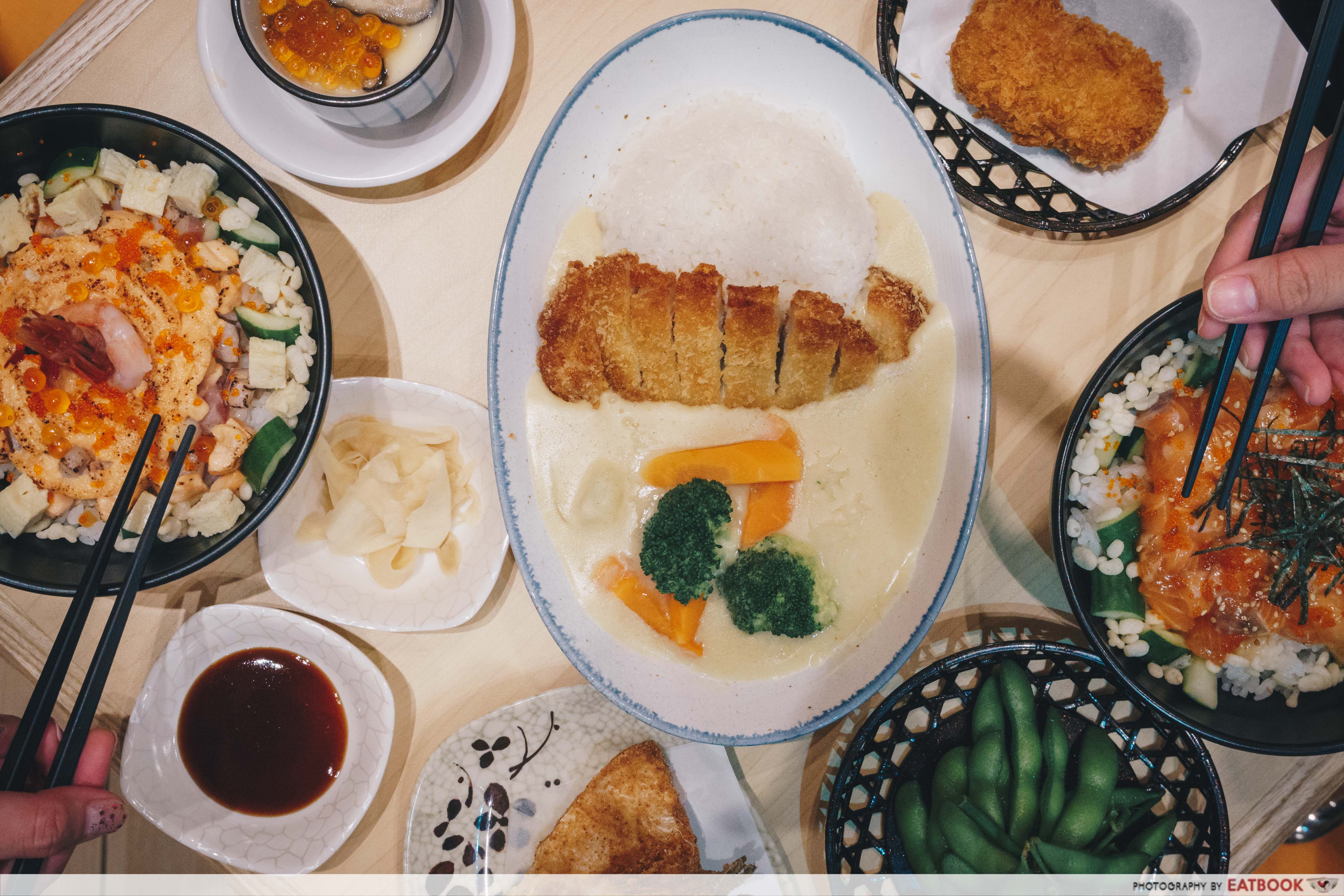 A new kid on the block is Hokkaido-Ya, a casual Japanese restaurant located in VivoCity, owned and managed by the same people behind Sushi Tei. Found right beside the sister restaurant, Hokkaido-Ya boasts not only value-for-money food, but also cool technology that wowed first-time diners like me.
Food at Hokkaido-Ya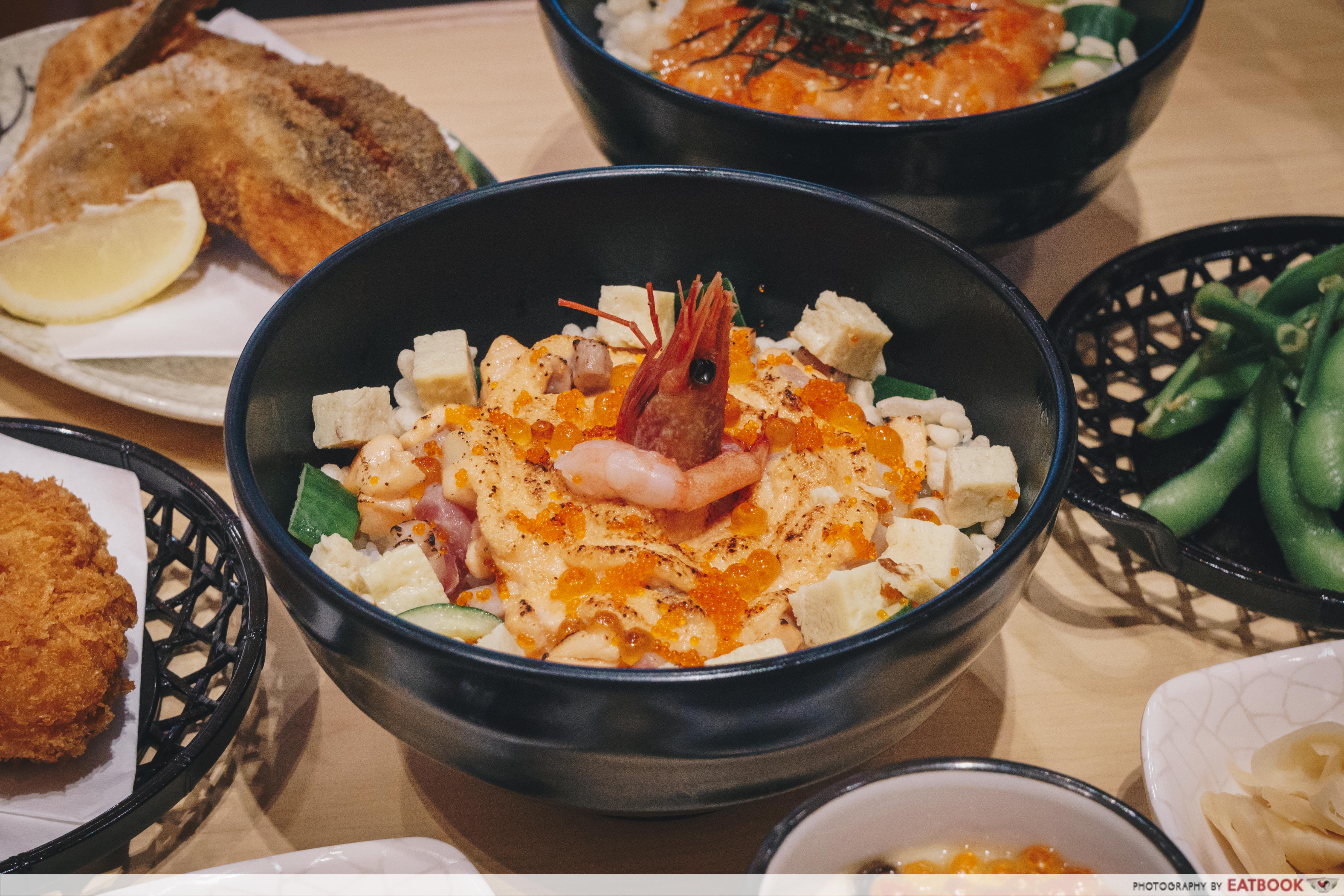 Sashimi lovers will be ecstatic to find a good variety of rice bowls and salad dishes served with your favourite seafood. Our favourite was the Aburi Mentai Bara Chirashi Don ($14.90+). It features an assortment of diced Hokkaido scallops, Norwegian salmon, tuna, house-made tamago, sweet prawns, salmon roe, flying fish roe, and whelk clams, scattered atop a bed of sushi rice from Niigata.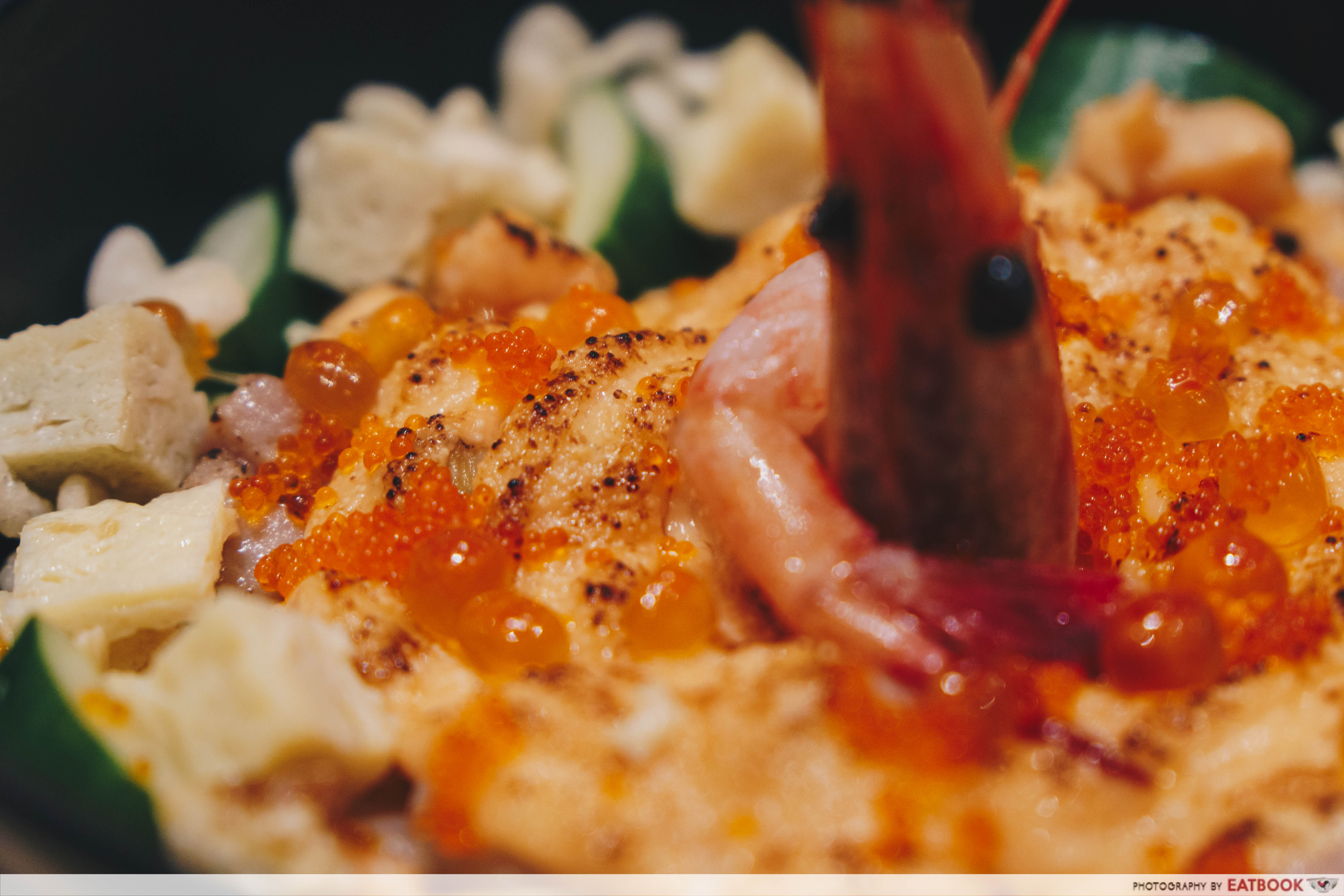 The dish was torched before serving, giving each mouthful a fragrant char. The thick mentaiko sauce further brought out the freshness of each dice of sashimi, making it hard to put my spoon down. Those looking for a lighter meal can also opt for their Bara Chirashi Salad ($14.90+), which comes with a choice of sesame or onion dressing.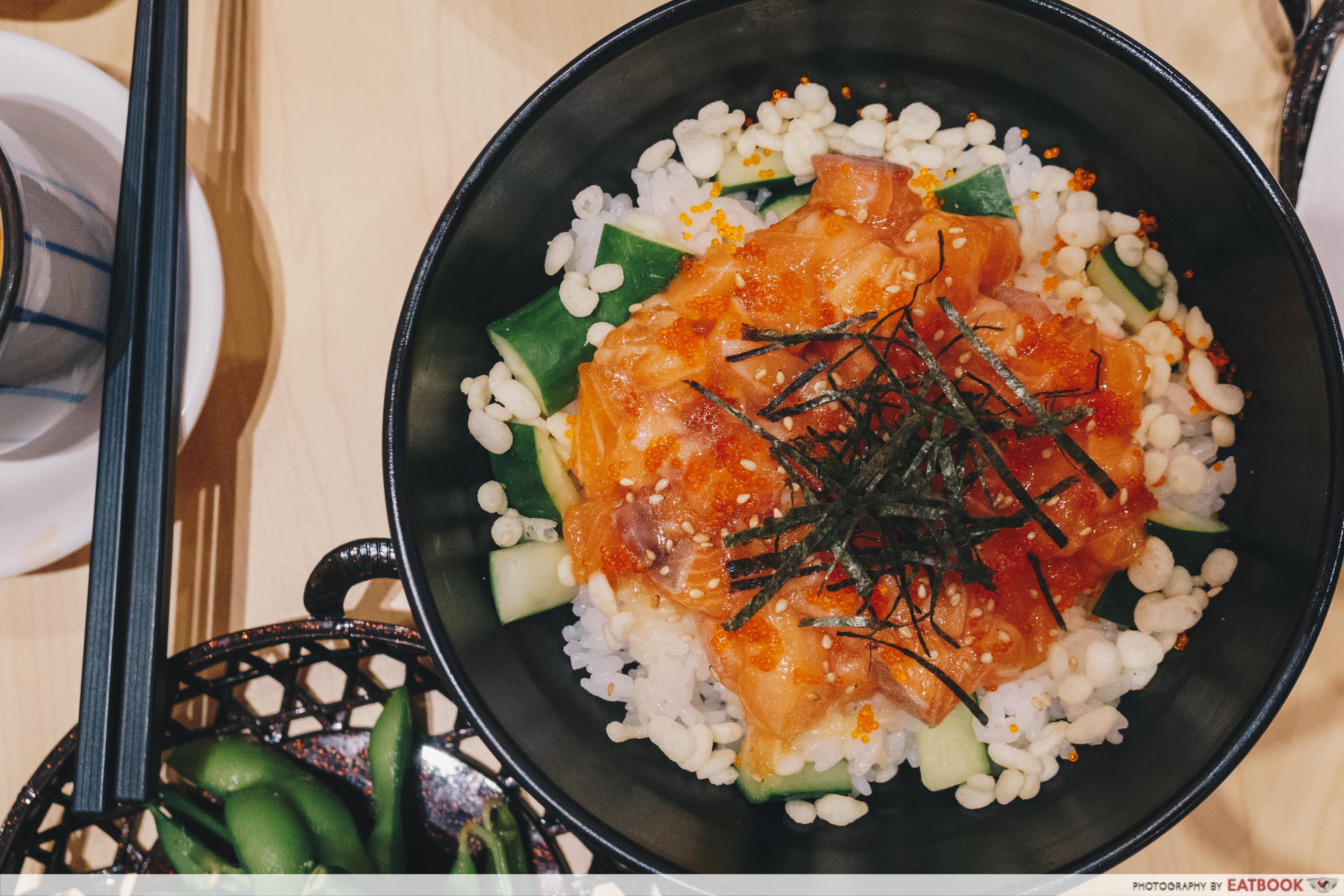 If, like me, you like all things truffle, be sure to try either their Truffle Salmon Don ($10.90+) or Truffle Bara Chirashi Don ($14.90+). I recommend choosing the former as the truffle taste might overpower the more mild-tasting sashimi like scallops and sweet shrimps. It is also good to note that the salmon used at Hokkaido-Ya is not frozen but chilled and air-flown from Norway.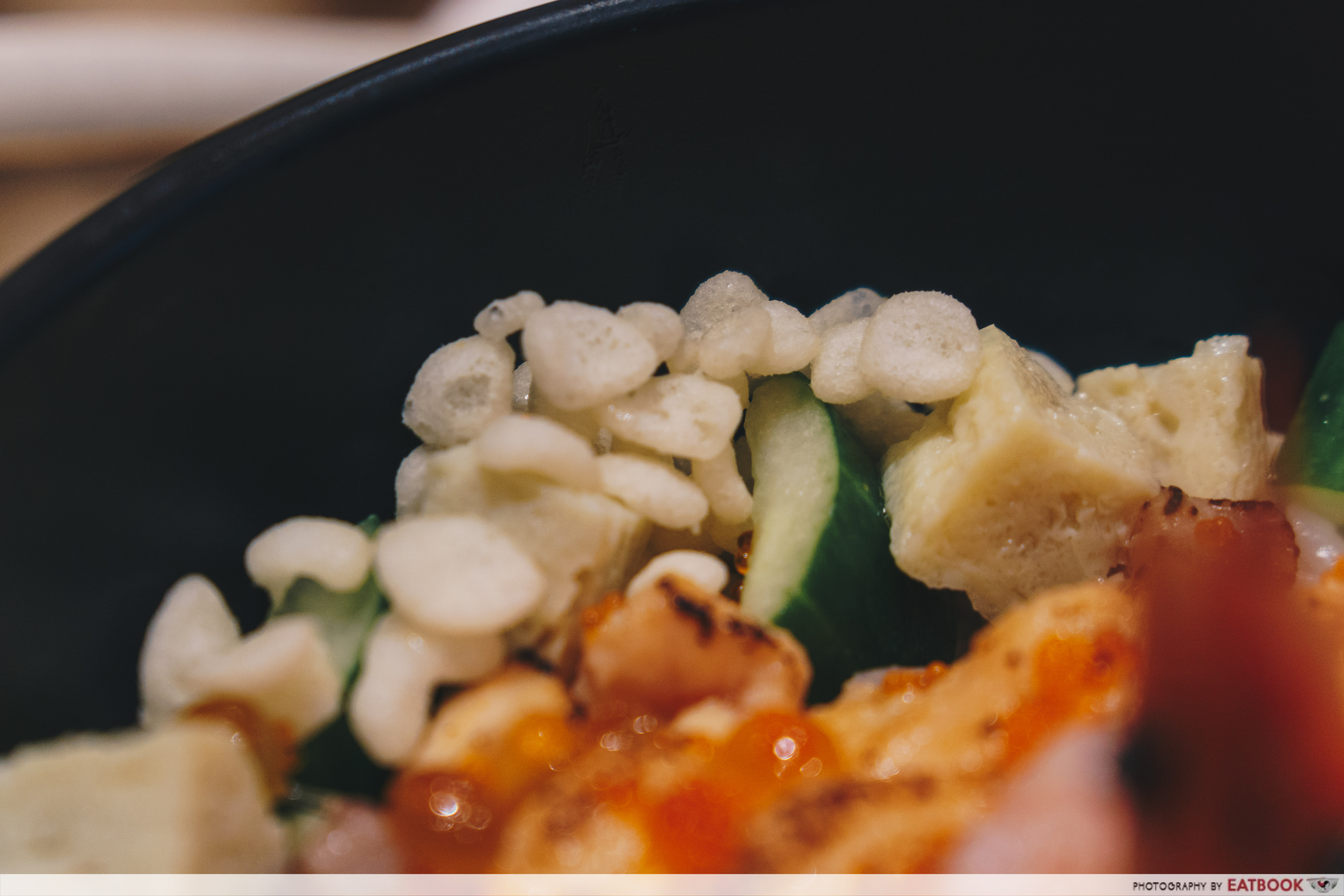 Texture makes taste. Other than the deliciously fresh sashimi, the clever addition of crisp tempura crumbs and cucumber also made each mouthful more enjoyable.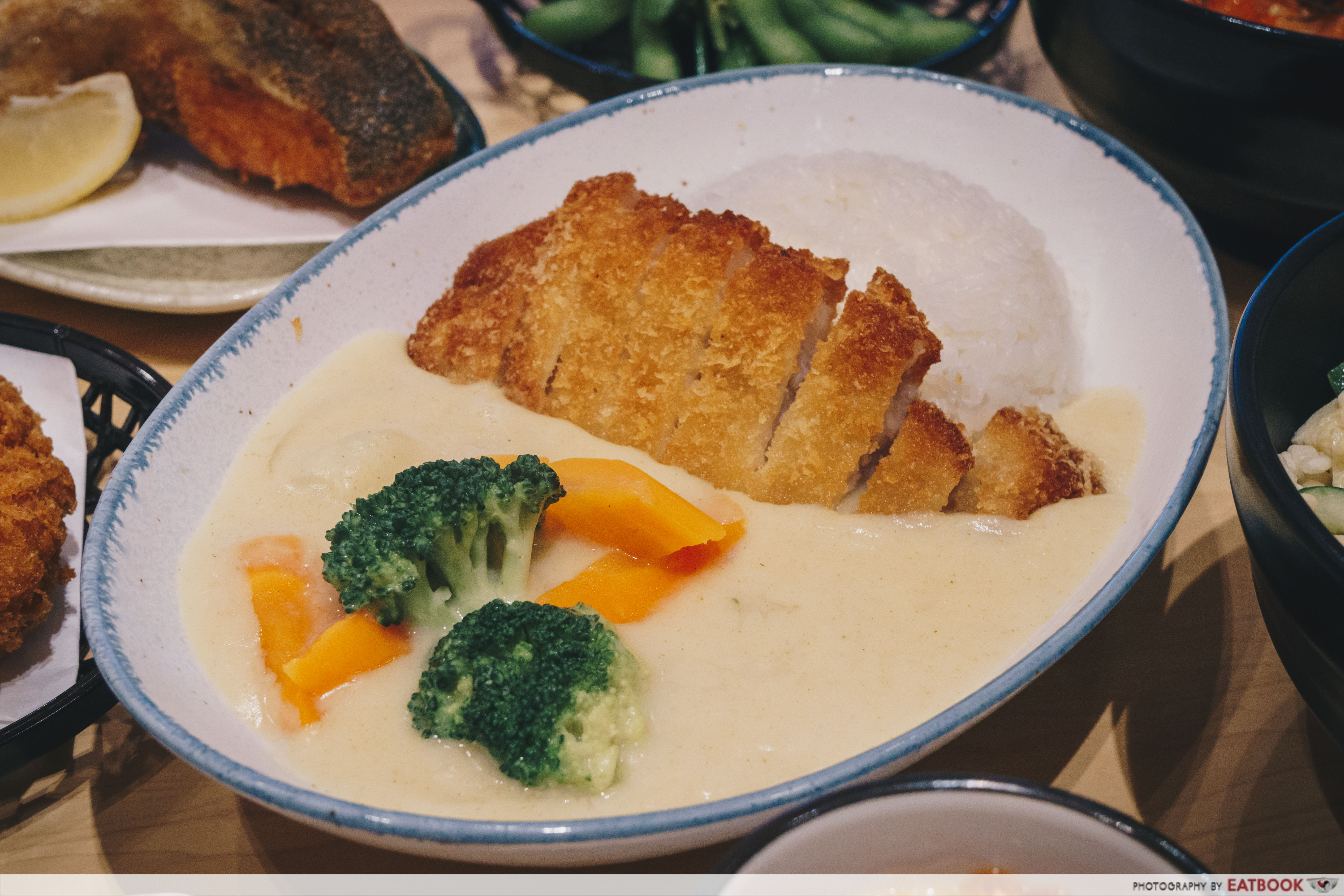 One item on the menu that got me excited was the Shirobuta Pork Katsu Hokkaido White Curry Rice ($12.90+). I have to confess – Hokkaido white curry only caught my attention when I first tried white curry instant noodles during an Eatbook Taste Testers episode on "Unique Japanese Instant Noodles".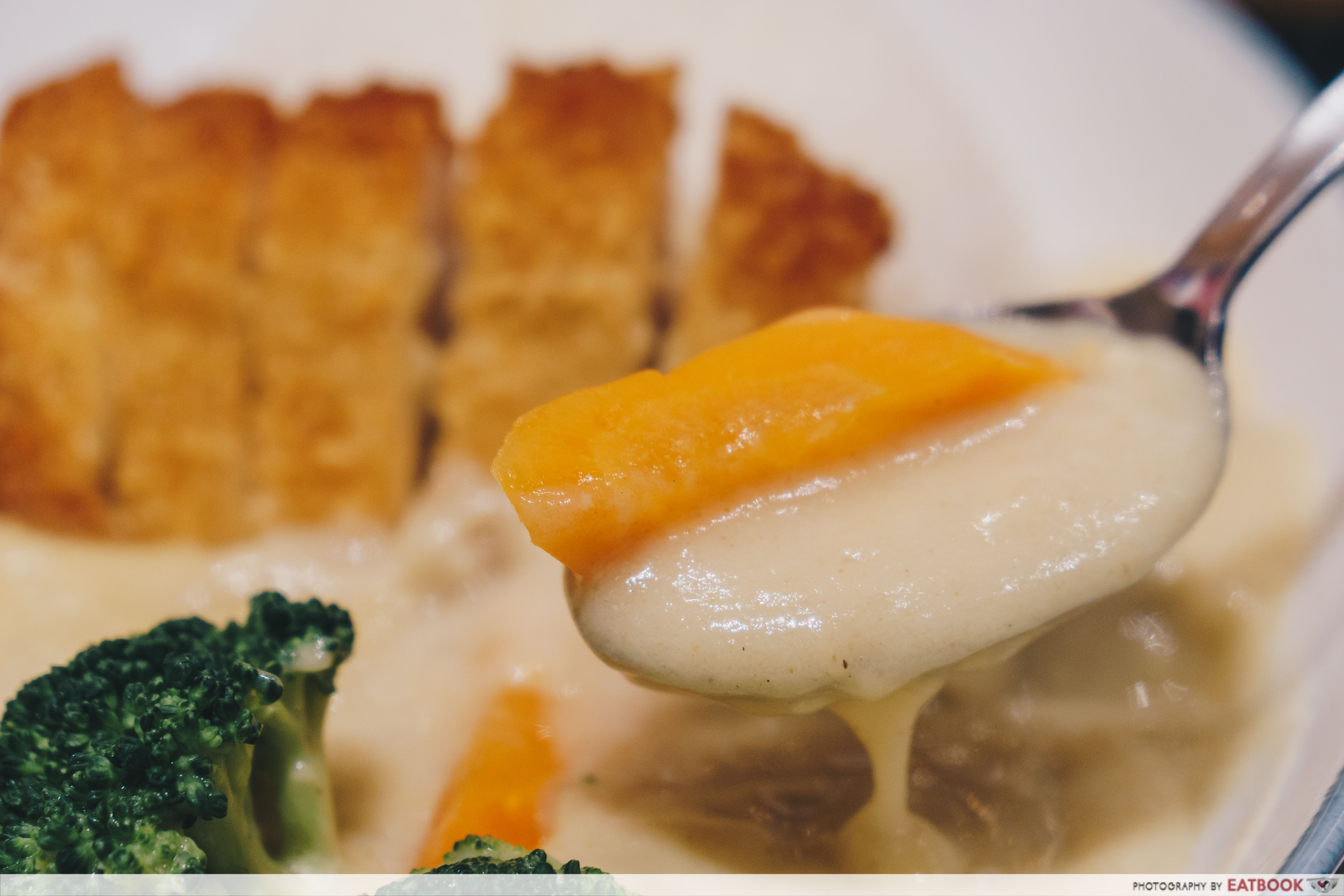 Despite this being my first taste of white curry coming out from a legit kitchen, I was sold. It was mild and creamy, a dish I can totally see kids enjoying as well. When paired with sweet carrots and broccoli, it became one homely and hearty dish.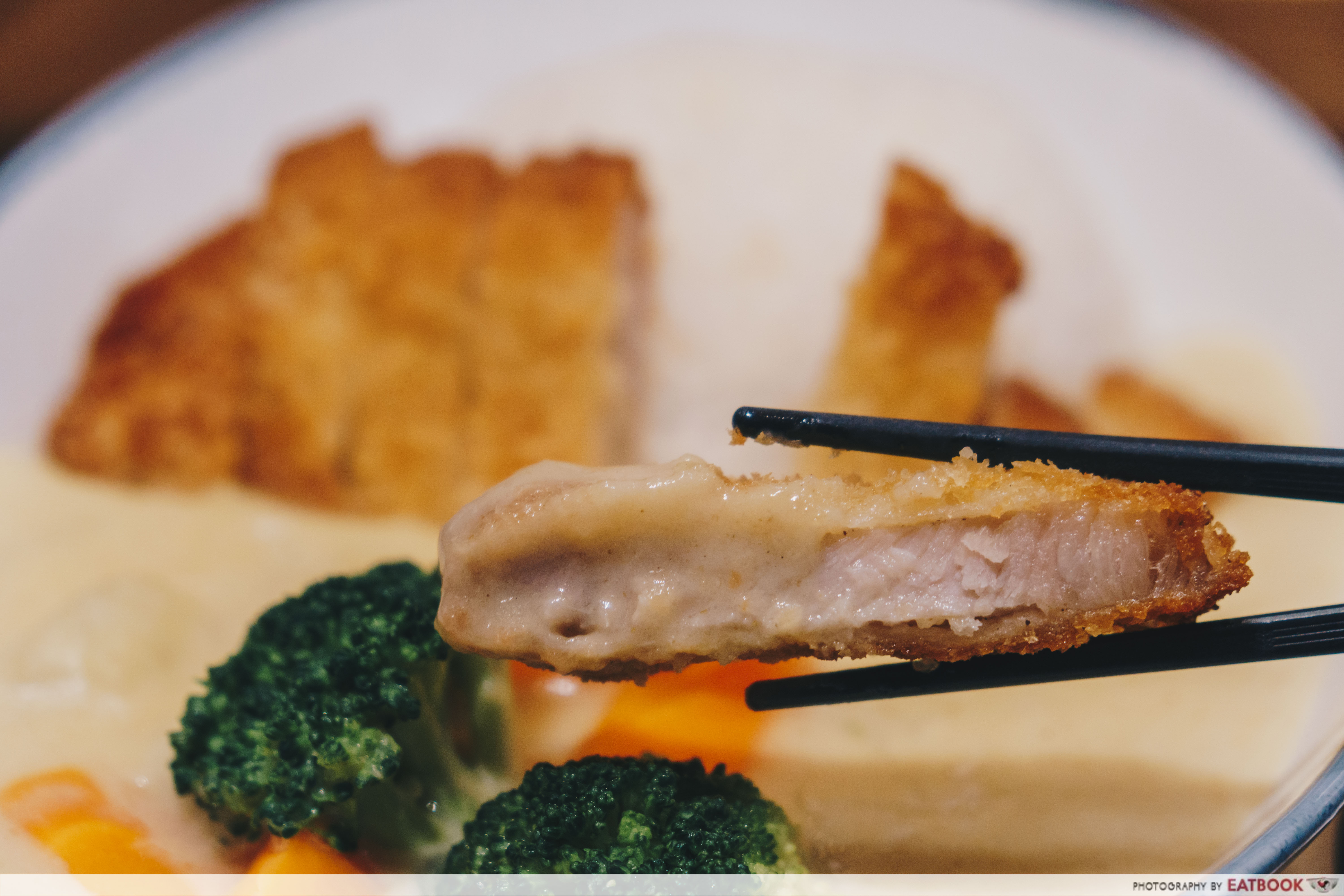 The best part of this white curry rice was the shirobuta pork katsu. When you bite through them, the first sensation is the crunch, then you're into succulent meat. Coated with breadcrumbs then deep-fried, each slice of pork was a juicy parcel, from the layer of fat along the side.
10 Affordable Donburi Places To Enjoy Japanese Rice Bowls At $12 Or Less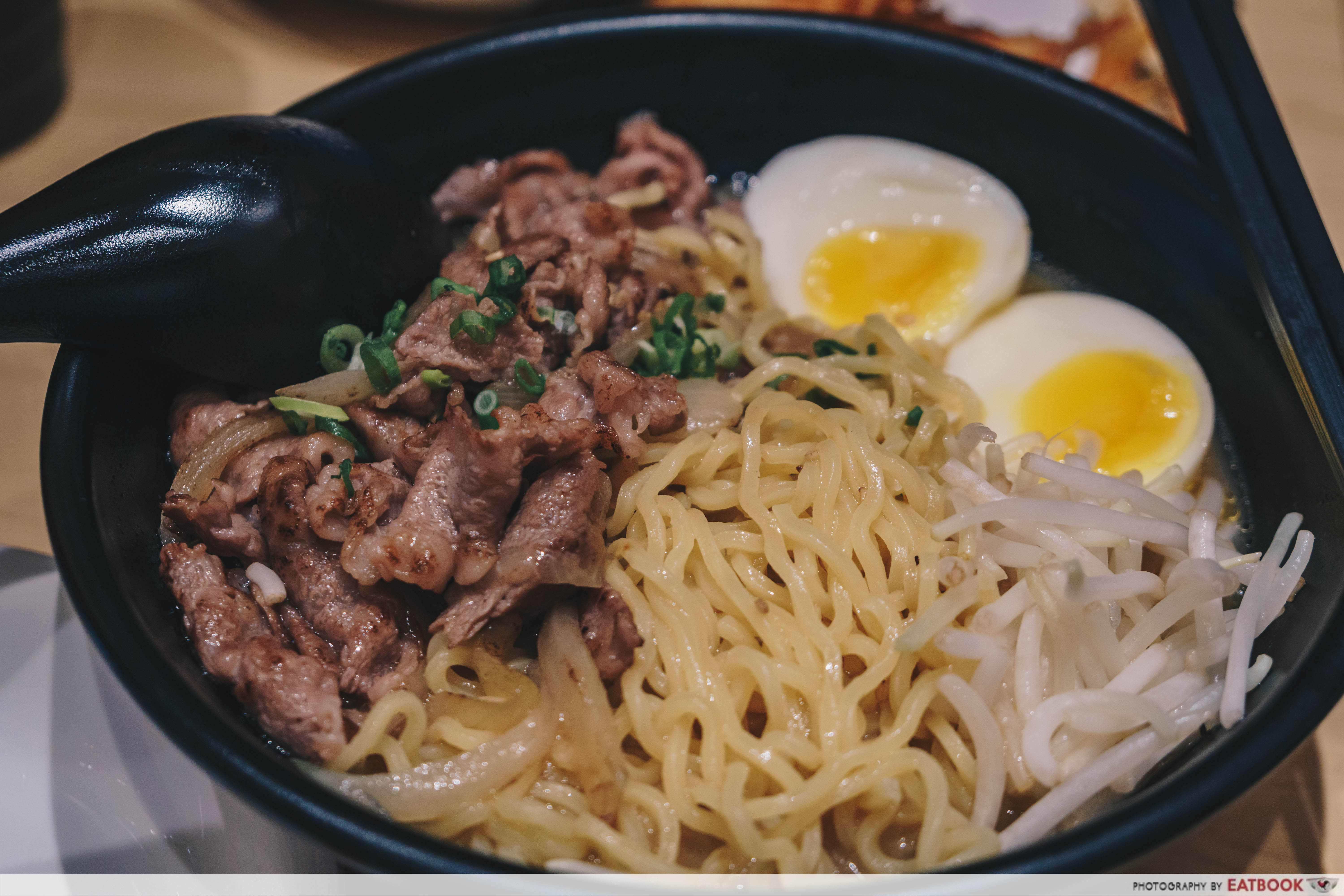 Another highlight was the Hokkaido Beef Ramen ($15.90+). Choose from three kinds of broth: Paitan (white pork-based broth), Miso, or Spicy Miso. I was impressed by how tender the beef slices were. This might be attributed to how they pan-fry the beef to medium-rare doneness, before adding them on top of the ramen. The beef had a good Maillard brown sear, creating a delicious caramelised flavour.
Ambience at Hokkaido-Ya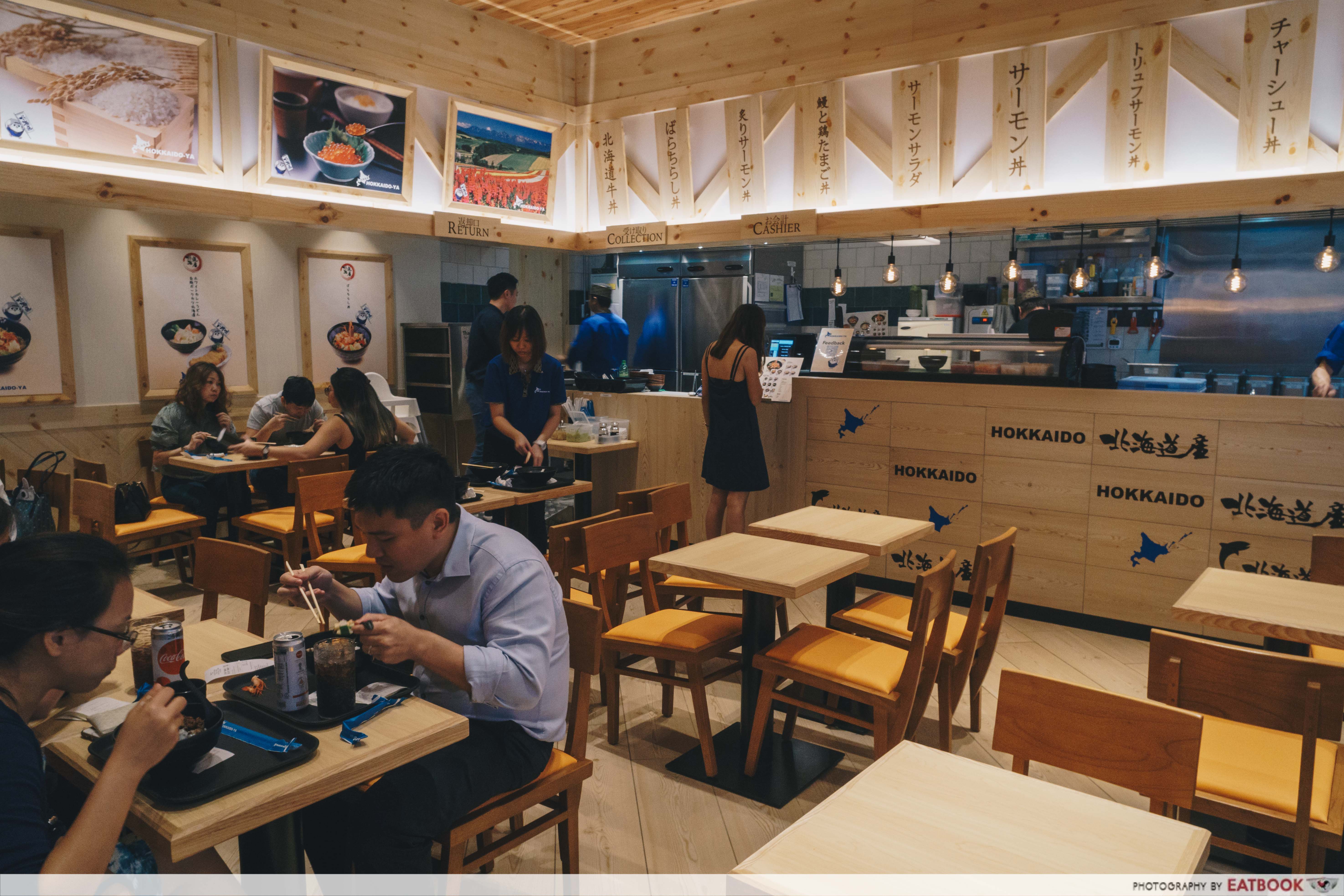 When lunch or dinner time comes around, there would typically be a 10- to 15-minute wait for a table. This is a considerably short wait as compared to many other eateries in VivoCity. Other timings don't usually render a wait for seats, as there were more than five tables available when I was there again later in the week.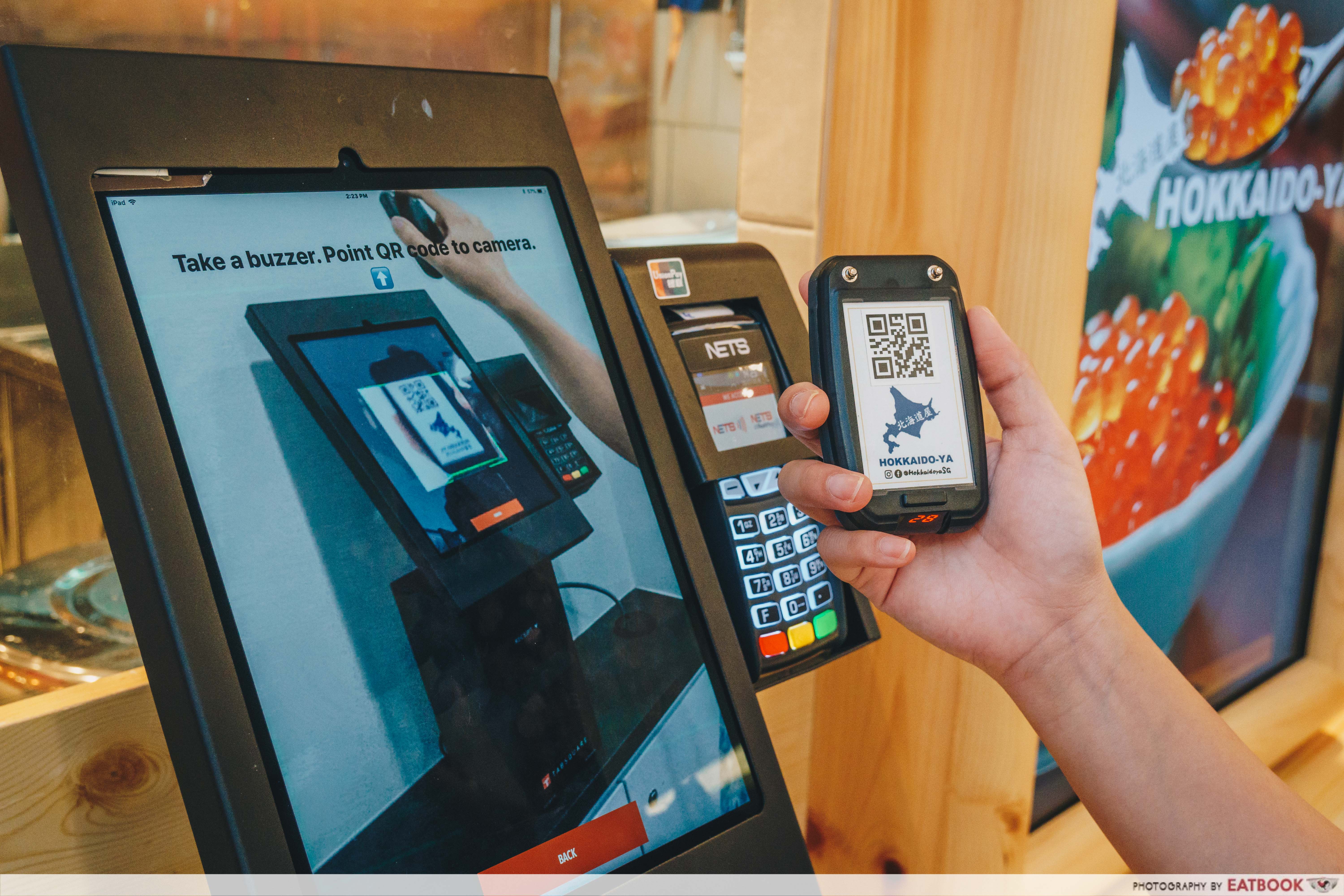 Here at Hokkaido-Ya, everything is self-service except the clearing of tables. At the point of purchase, have fun interacting with the Artificial Intelligence (AI)-enabled self-ordering kiosk. This facial recognition programme enables customers to have quick access to their past orders. Not only that, Hokkaido-Ya is also able to offer targeted promotions to each individual, according to their dining preferences.
The verdict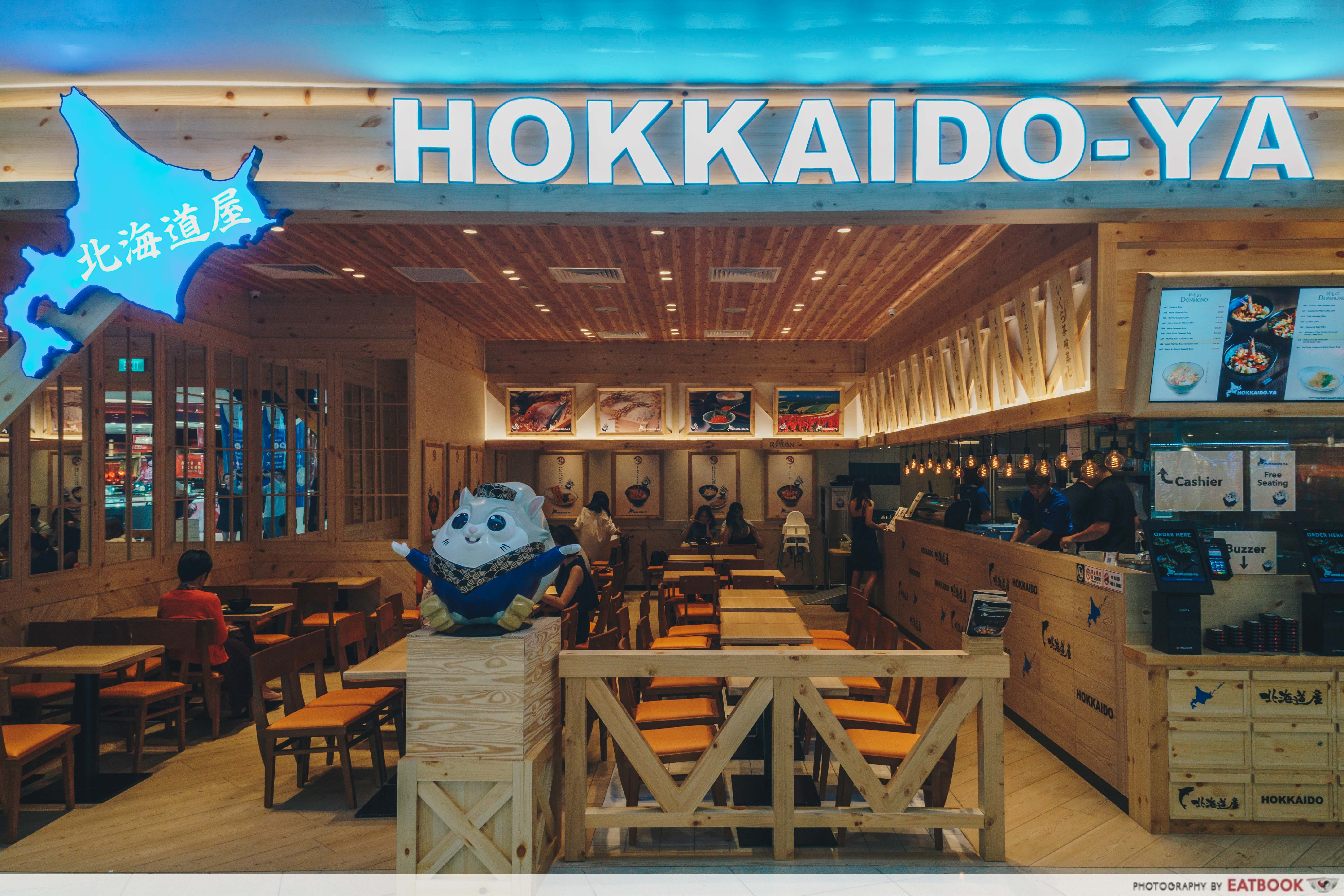 There's something for everyone at Hokkaido-Ya. This is the kind of place I would head to over and over again. The food is good, location is convenient, and prices wouldn't burn a hole in the pocket. With a fast table turnover rate and efficient self-checkout counters, waiting is also kept to a minimum. The only thing I wish for is for them to open up more outlets around Singapore.
If you are looking for more Japanese food in Singapore, check out Umi Nami at Holland V or Konjiki Hototogisu, which serves up Tokyo Michelin Bib Gourmand truffle ramen.
Umi Nami Review: Bara Chirashi Don At $10 And Aburi Salmon Don At $13 Nett
Address: 1 HarbourFront Walk, #02-153, VivoCity, Singapore 098585
Opening hours: Daily 11:30am to 10pm
Tel: 6376 8387
Website
Photographer: Maverick Chua
This was a media tasting at Hokkaido-Ya.
Check out our new ratings guide!
Hokkaido-Ya Review: Truffle Salmon And Aburi Mentai Chirashi Don At This Japanese Restaurant
Summary
Pros
– Well-seasoned dishes
– Fun concept
– Wide variety
Cons
– Portions are small for some dishes
Recommended Dishes: Aburi Mentai Bara Chirashi Don ($14.90+), Shirobuta Pork Katsu Hokkaido White Curry Rice ($12.90+), Hokkaido Beef Ramen ($11.90+)
Opening Hours:
Daily 11:30am to 10pm
Address: 1 HarbourFront Walk, #02-153, VivoCity, Singapore 098585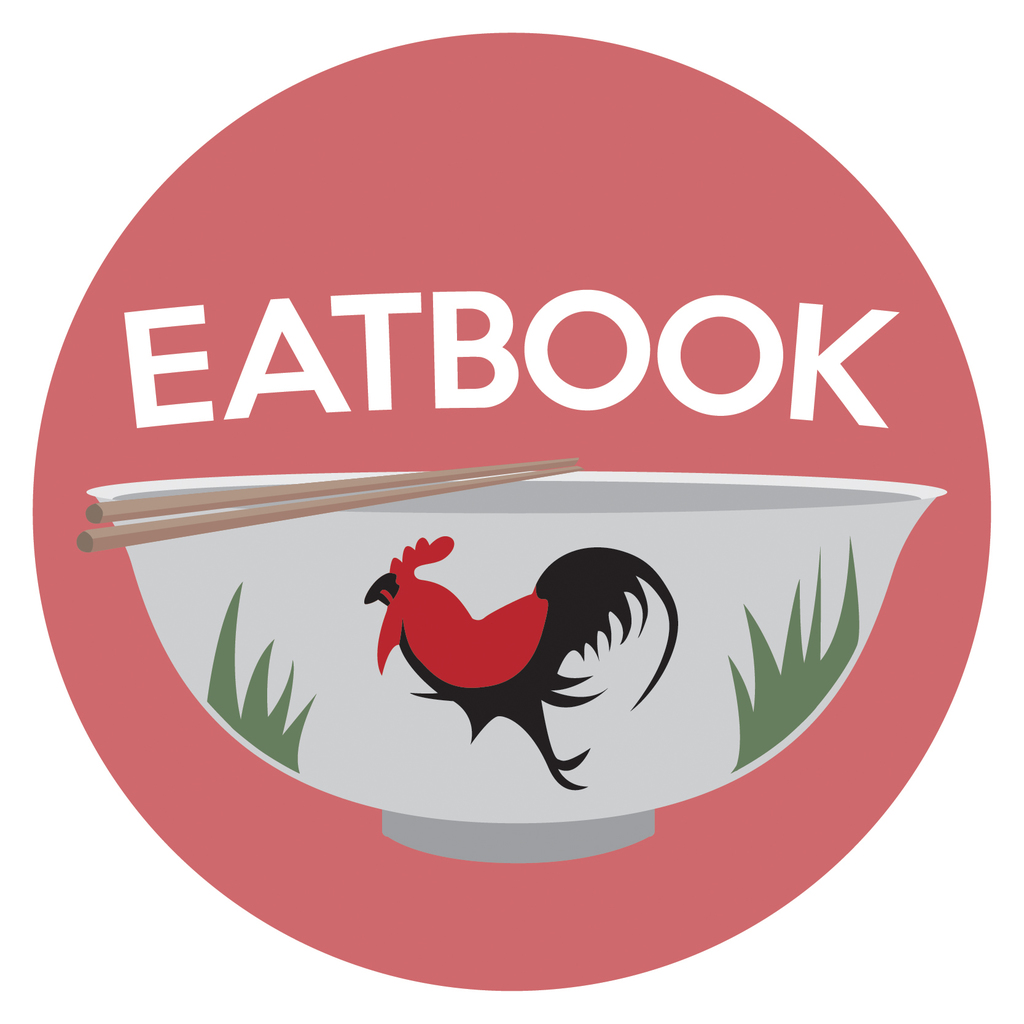 Drop us your email so you won't miss the latest news.