Konjiki Hototogisu Ramen comes to Singapore from Tokyo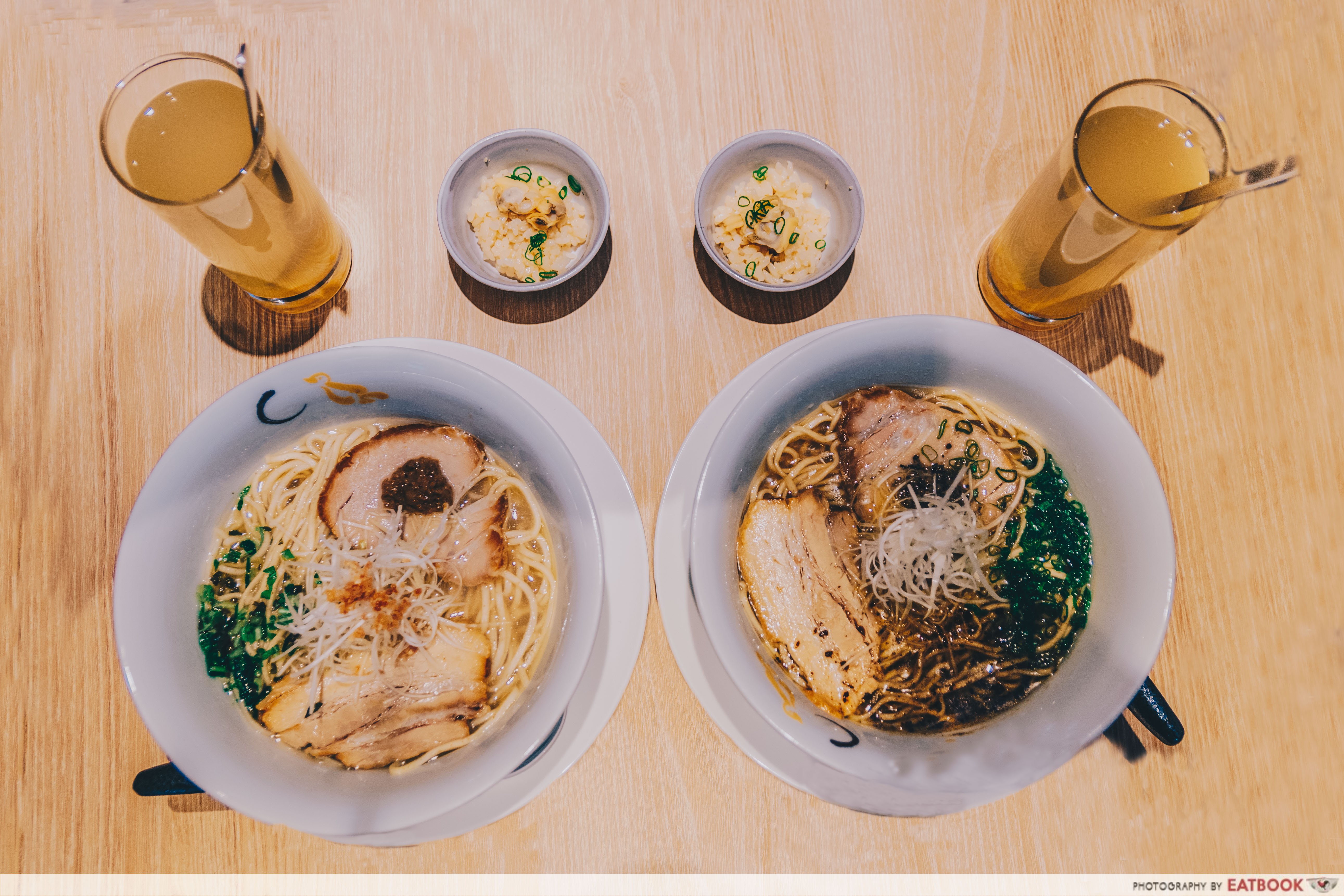 There is no short of ramen spots in Singapore, but I always welcome new ones with open arms. Konjiki Hototogisu Ramen is an award-winning ramen restaurant located within Chijmes, but it should definitely not be considered "another ramen shop". Started off as a humble hole-in-the-wall shop with just eight seats, Konjiki Hototogisu Ramen rose to international recognition for serving an unconventional triple-base soup of clams, pork bone and dashi broth.
Food at Konjiki Hototogisu Ramen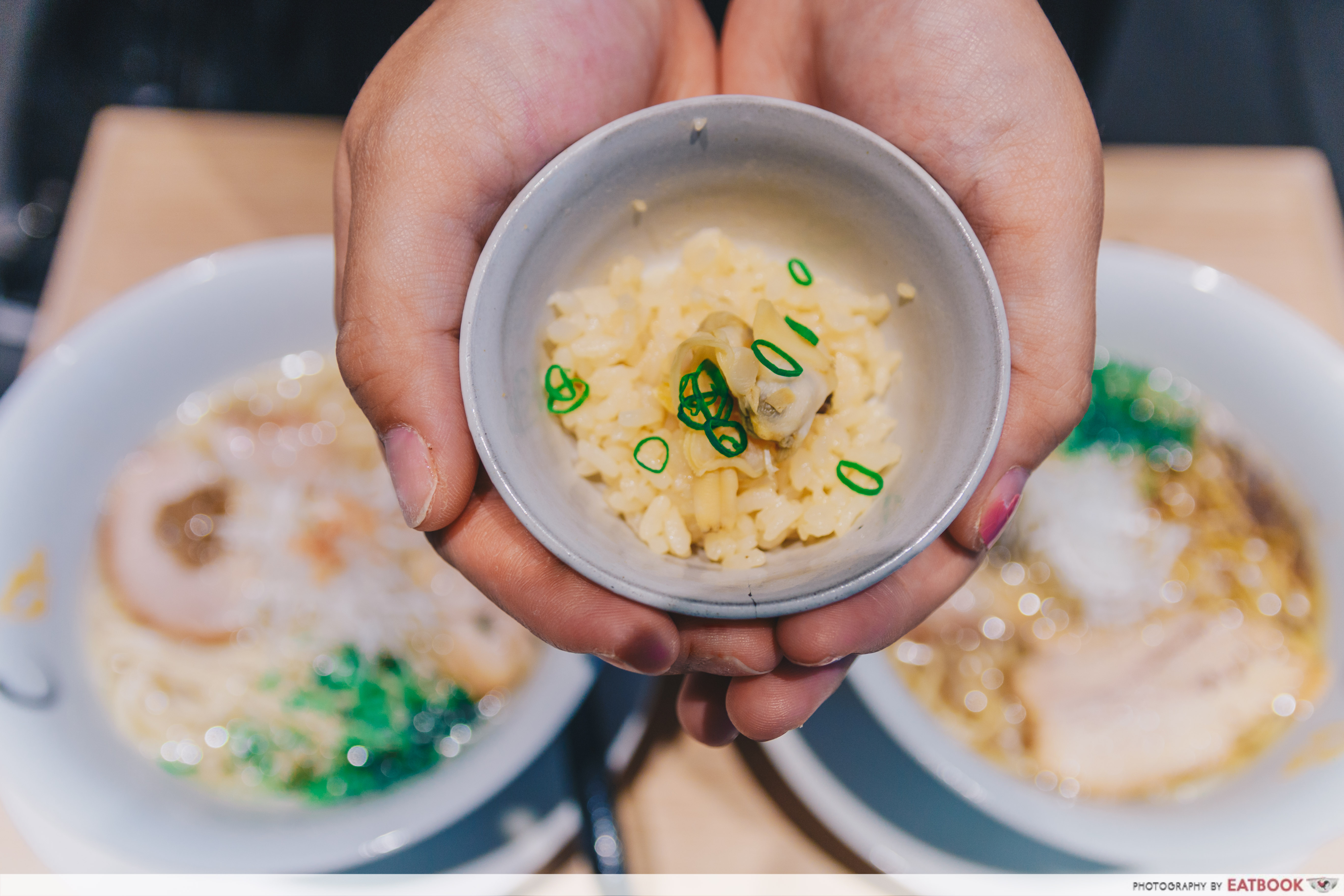 Before our ramen arrived, we were pleasantly surprised by a small, complimentary portion of clam rice. Each order of ramen gets you one portion. This was a thoughtful start to the meal with the purpose of letting patrons whet their appetite while waiting for their food to arrive. The sweet clams did hype me up to try the clam broth ramen.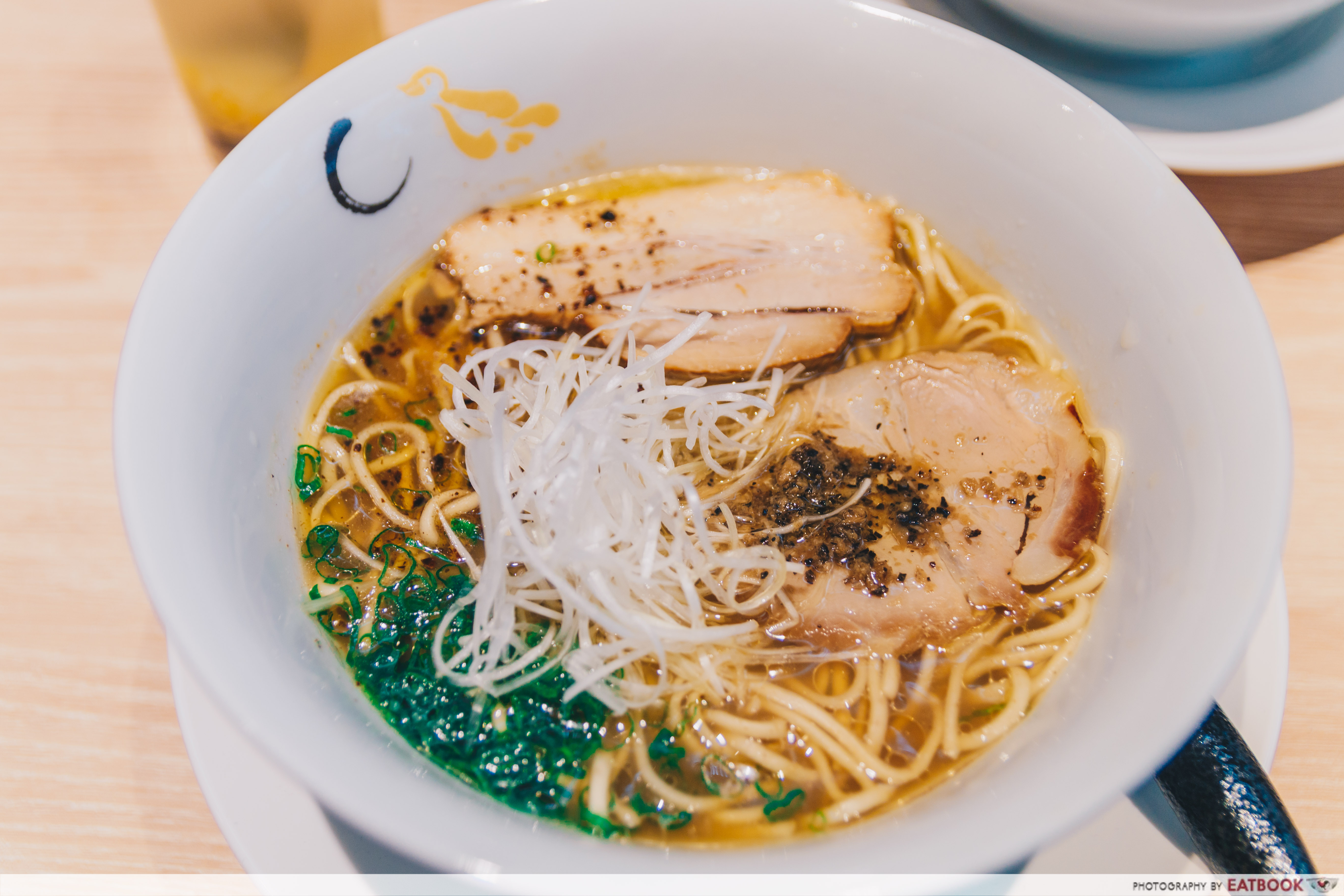 The first bowl that came was Shoyu Hamaguri Soup Signature ($14.90++). Do not be fooled by the plain appearance of the dish. Take a more detailed look and you will realise a trio of garnishes on top of the noodles.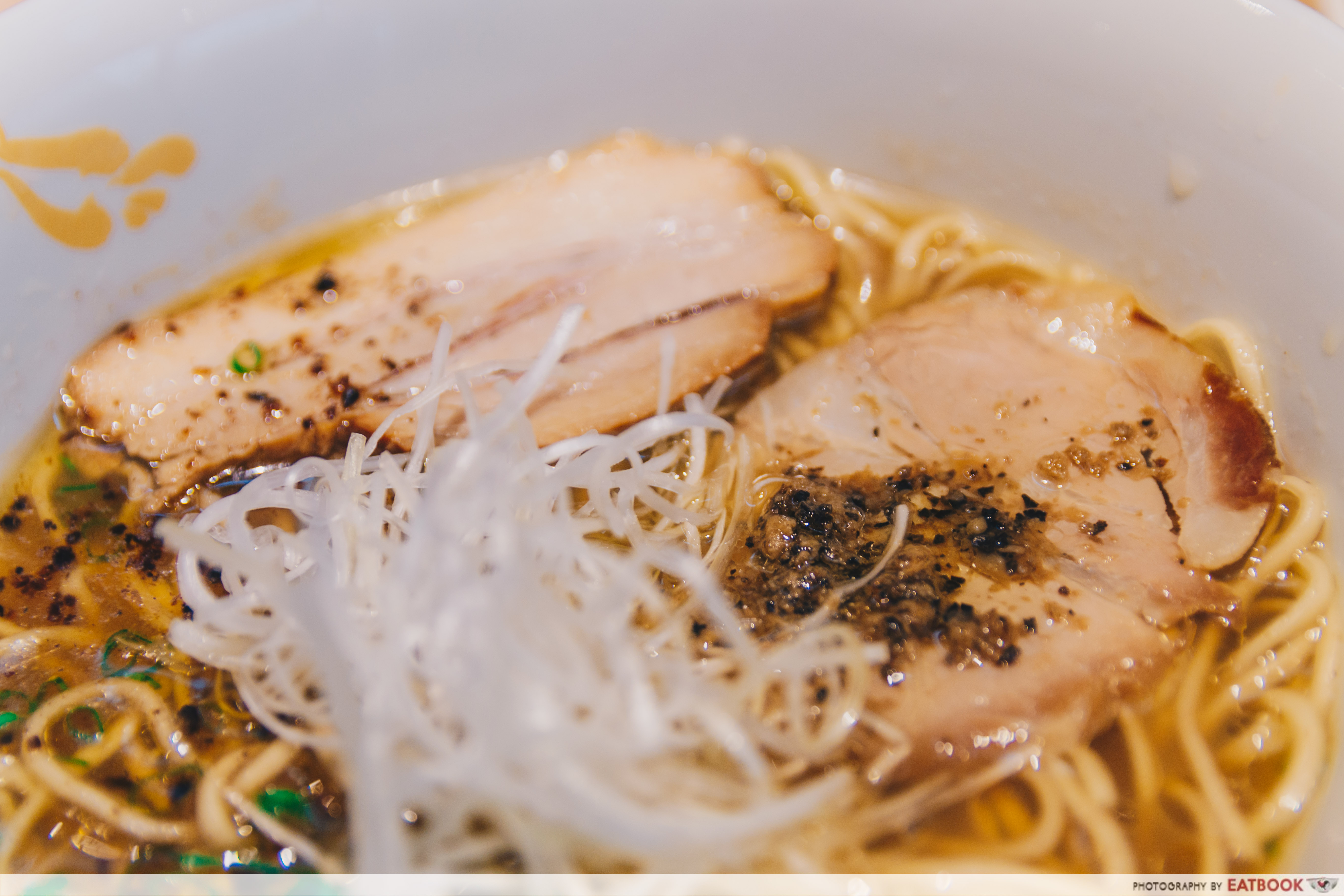 They are freshly chopped spring onions, black truffle paste, and porcini flakes. Porcini is well-liked for its nutty aroma and you might better know it as the mushroom used in Tokyo Milk Cheese Factory's Porcini & Gouda Cookies.
Our server introduced steps to appreciate Konjiki Hototogisu's Ramen. First palm your hands around the bowl to feel the warmth, next take in wafts of the fragrance, and then sip from different parts of the bowls with the various toppings before inhaling the noodles. Do it with a loud slurp – it is the Japanese way of showing enjoyment and appreciation to the chef!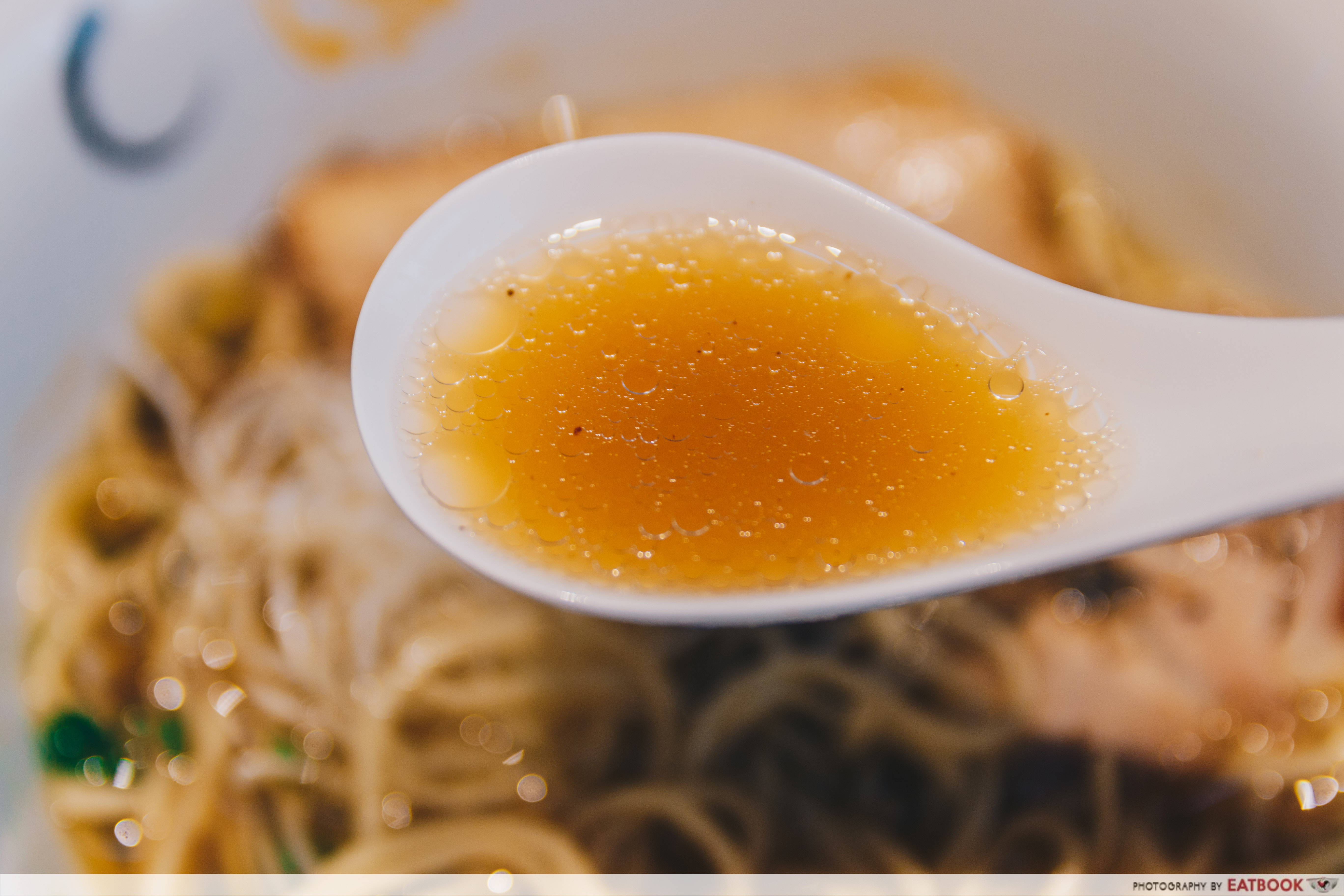 There was intensity in the flavours and each sip had a different aroma attributed to the various toppings. Even though the broth here looked less cloudy than tonkotsu broth, it impressed me with depth in the taste department.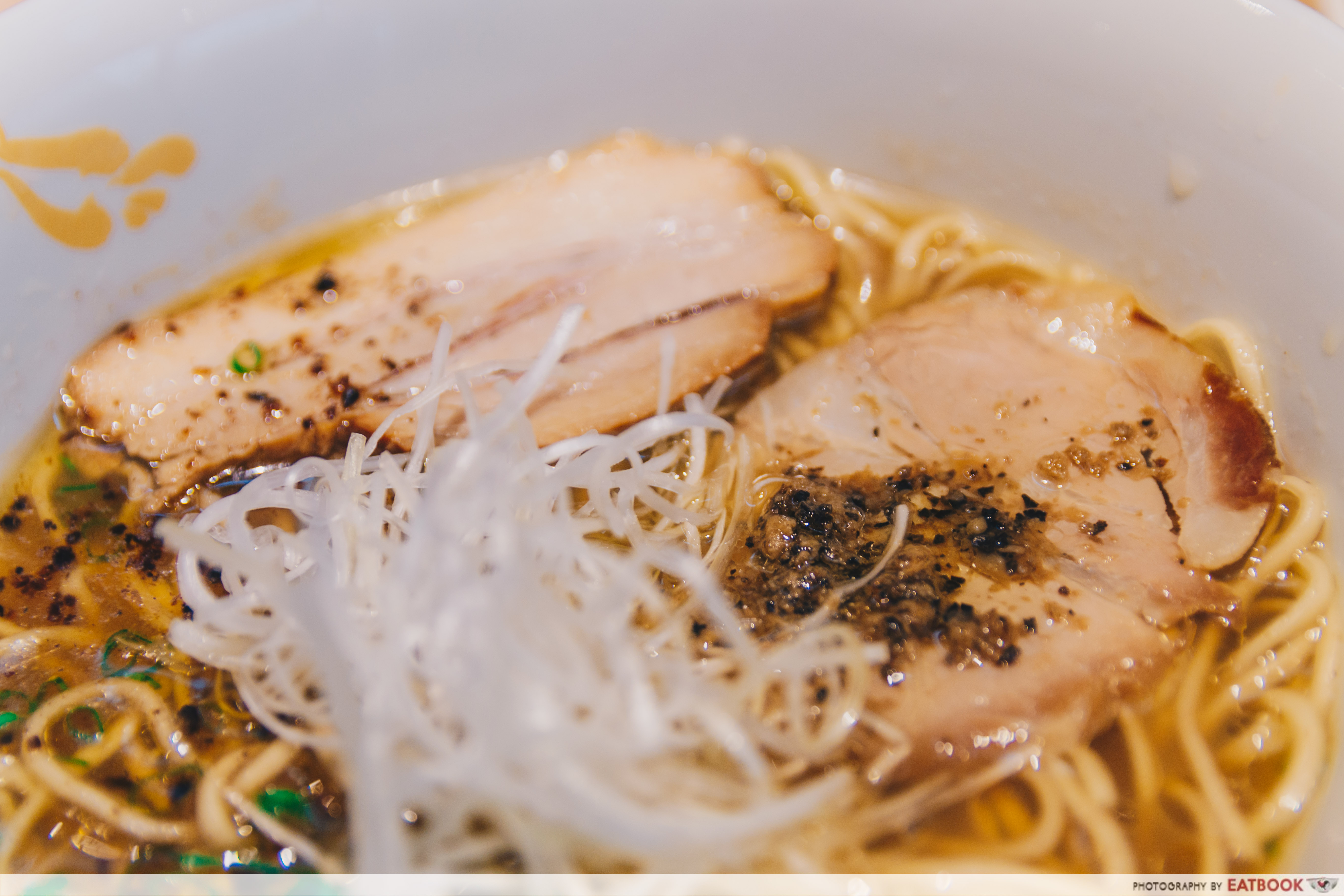 Each of Konjiki Hototogisu's signature dishes also comes with chashu of two kinds. One is a fork-tender slice of pork belly while the other is soft chashu slow-cooked in a house-made marinade. The latter tasted just like bacon and I could only wish for more.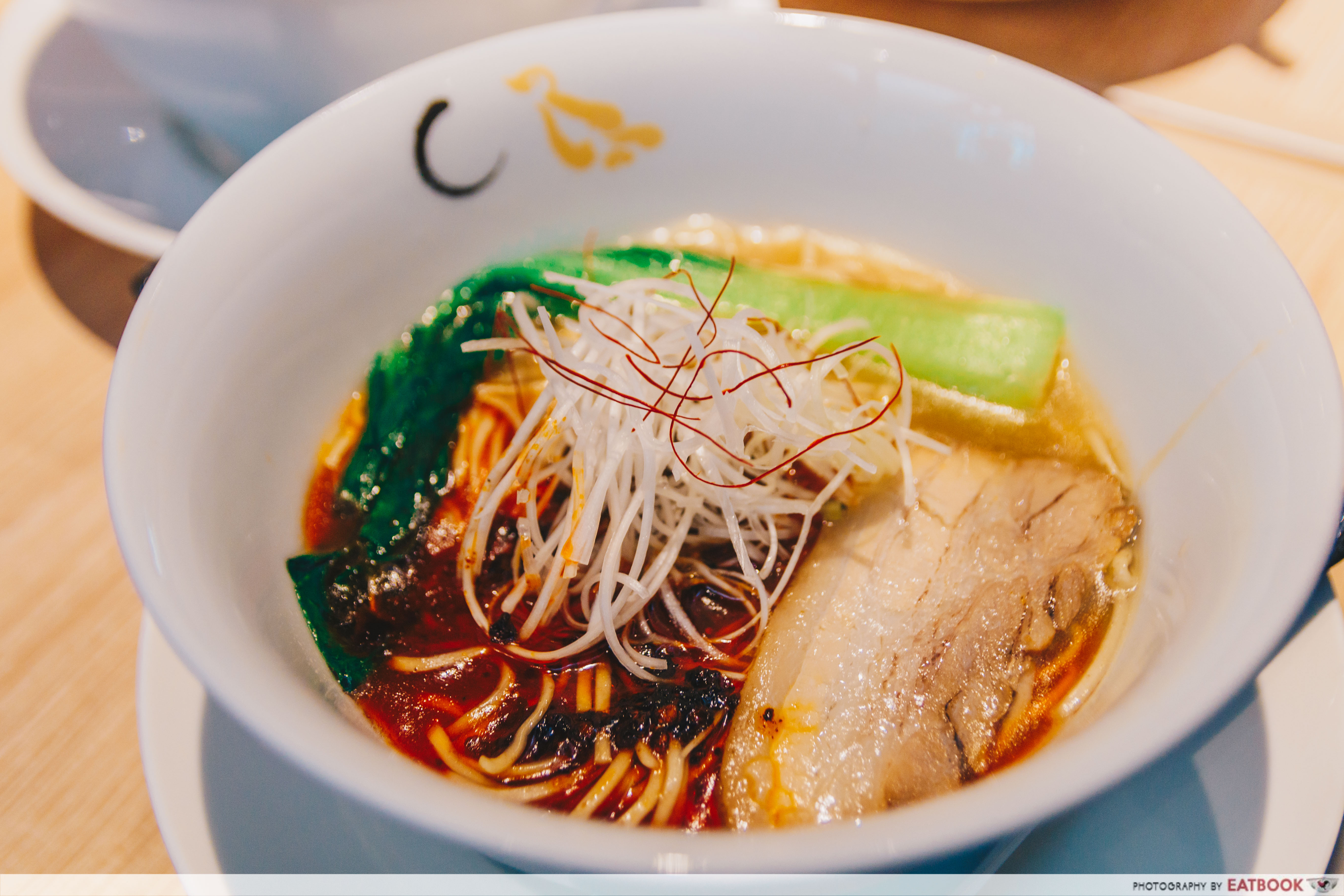 Those looking for an extra kick, try their Tonkotsu Spicy ($14.90++). Unlike many ramen shops in Singapore that just add a dash of chilli oil on top, Konjiki Hototogisu uses spicy minced pork and beans to flavour their ramen.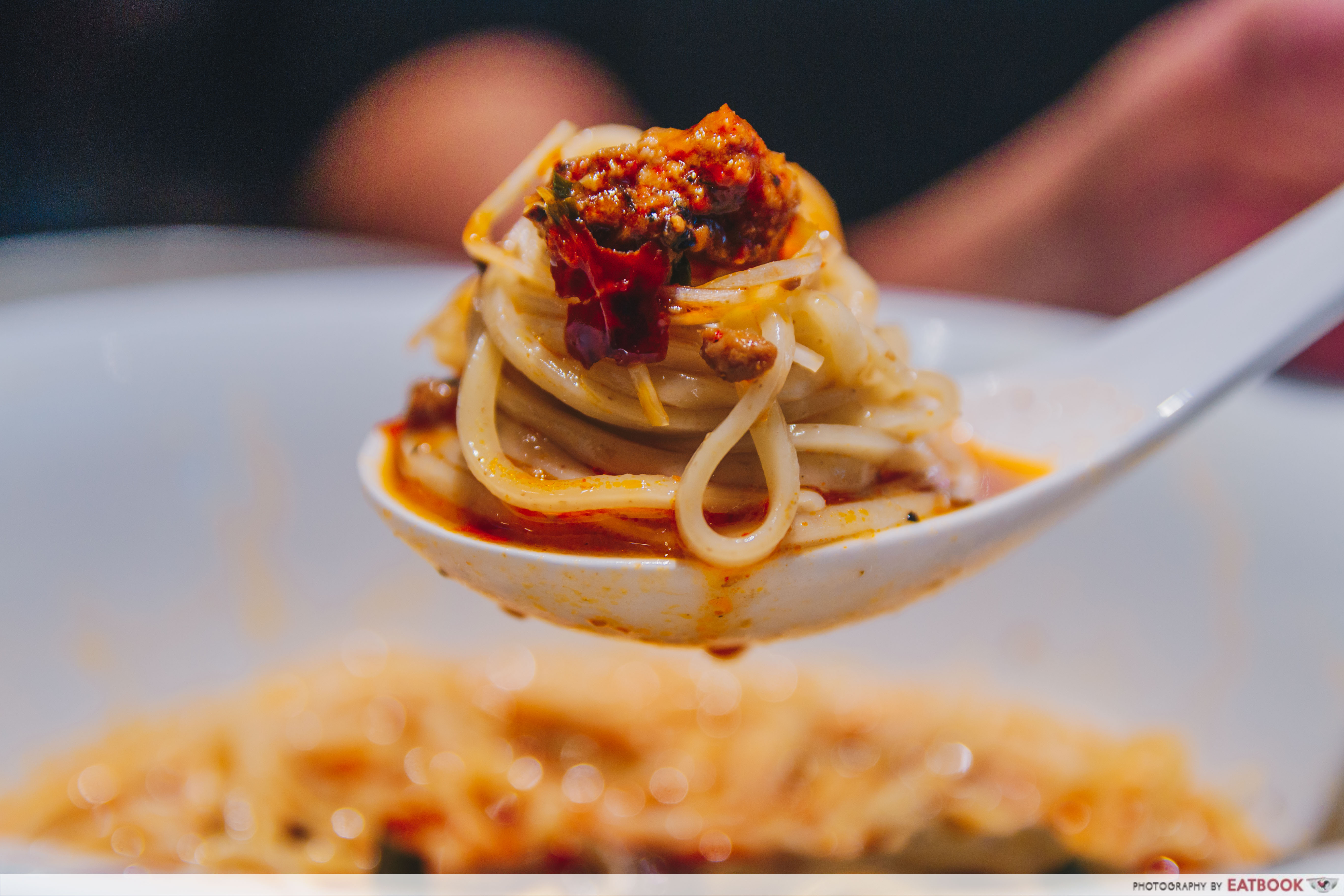 Each bowl comes with a slice of pork belly and some leafy vegetables. You may add a half-boiled egg at $2++. The spice level for this one is bearable, on a scale of one to 10 with 10 being numbingly spicy, Tonkotsu Spicy scored a four.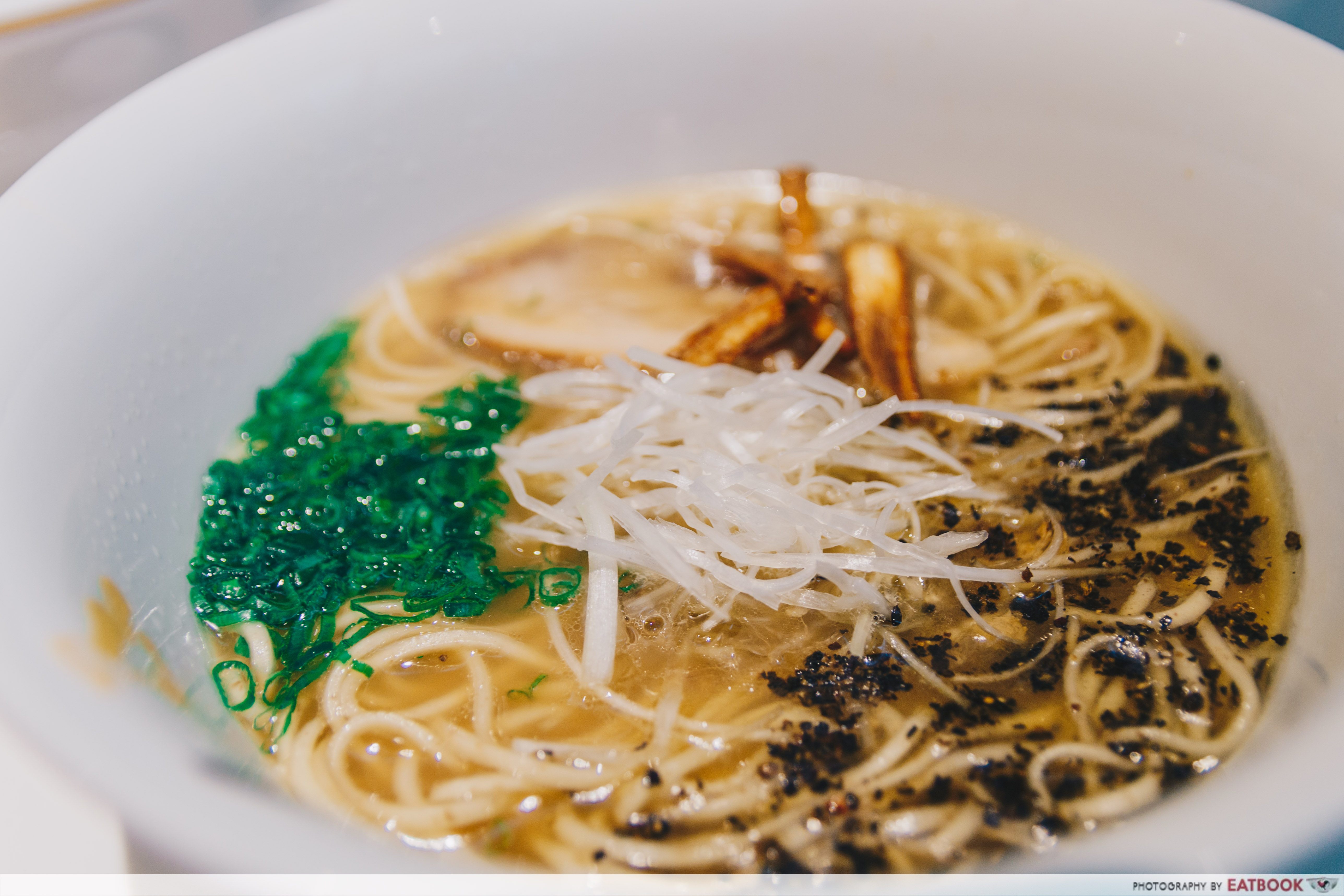 There is also a Singapore-exclusive creation by chef-owner Mr Yamamoto – Tonkotsu Smoke & Pepper ($13.90++). It features a tonkotsu broth and toppings such as fried burdock roots, minced pork, and pepper. The minced pork was smoked using sakura wood chips, highlighting the ramen with a fruity smoky flavour. When combined with the dash of black pepper and oil, it tasted like peppered smoked duck; a flavour you don't usually find in soups. Do note that it is only available in the menu from 6 July onwards.
The noodles used here are also worth a mention. Made in-house using whole grain flour from Hokkaido, each strand is speckled brown. This nutritious and fibre-rich alternative would fare well with #fitspos or the health-conscious, and be a sure hit with my mom.
Ambience at Konjiki Hototogisu Ramen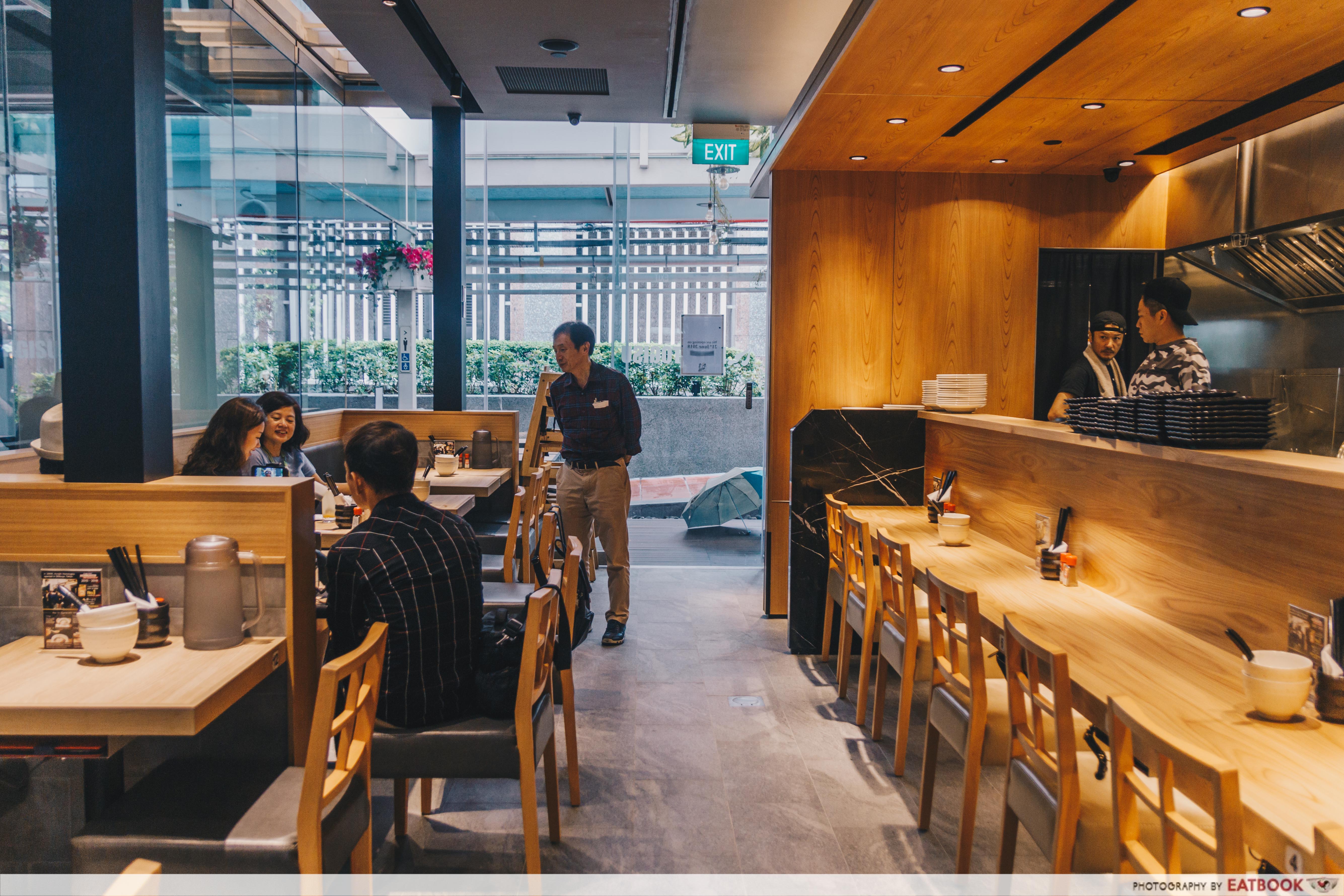 Contrary to the little shop they operated from in Tokyo, the outlet in Chijmes is brightly lit and spacious – the perfect place for a warm, no-frills meal. The bar seats are my favourite. You can enjoy your noodles and observe the kitchen hum with activities, like a well-oiled machine.
The verdict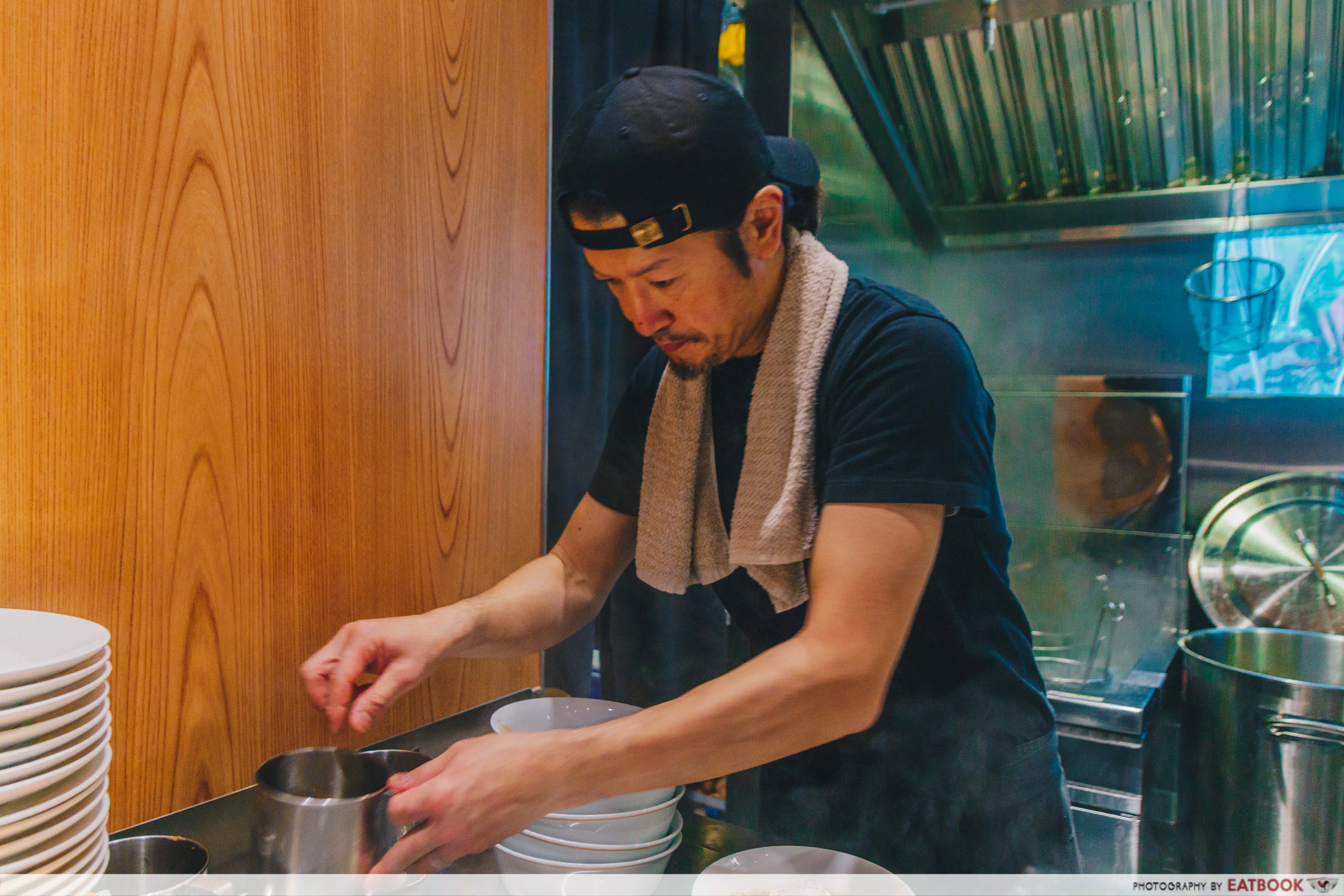 I've always shied away from dining at Chijmes with friends as I only thought of the area as a place with exorbitant prices. Despite being awarded the Tokyo Michelin Bib Gourmand for four years consecutively, Konjiki Hototogisu Ramen has proved me wrong with their reasonable prices. With prices ranging mostly between $13.90++ and $16.90++, this ramen joint makes it in my list of best ramen shops in Singapore.
If you are looking for more Japanese food in Singapore, check out our reviews on Yokozuna Stall for cheap and good bento and sushi rolls, and Umi Nami at Holland Village.
10 Cheap Ramen Places To Get Your Ramen Fix At Less Than $10.50
Address: 30 Victoria Street, #01-17, Chijmes, Singapore 187996
Opening hours: Daily 12pm to 3pm, 5pm to 9:30pm
Tel: 6256 3155
Website
Konjiki Hototogisu Ramen is not a halal eatery.
This was a media tasting at Konjiki Hototogisu Ramen.
Summary
Pros
– Interesting menu
– Well-flavoured dishes
– Nice location
Cons
– Not ideal for big groups
Recommended Dishes: Shoyu Hamaguri Soup Signature ($14.90++), Tonkotsu Smoke & Pepper ($13.90++)
Operating Hours:
Daily 12pm to 3pm, 5pm to 9:30pm
Tel:
6256 3155
Address: 30 Victoria Street, #01-17, Chijmes, Singapore 187996