Mr Men and Little Miss Cafe in Singapore
Update (5 Jan 2019): Kumoya is now hosting a Pusheen cafe pop-up.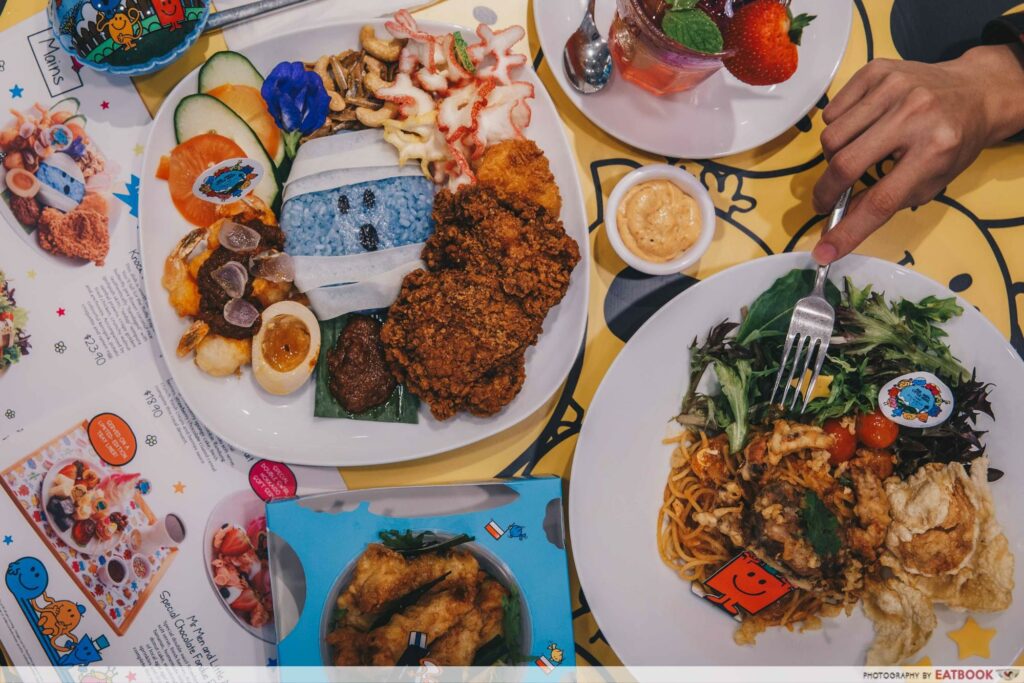 Mr Men and Little Miss were a pretty important part of growing up, and even today, I'm pretty sure I still have a few of their books lying around in my house. So when I heard about the Mr Men and Little Miss visit Kumoya pop-up cafe, which runs from 5 July to 30 September 2018, it brought out the Mr Nostalgia in me, and I headed down for a sneak peek. Here are the highlights!
Food at Little Men and Little Miss visit Kumoya
Being an avid fan of our national dish, I simply had to tuck into the Mr Strong Chilli Crab Pasta ($21.90+) first. And it didn't disappoint – the chilli crab sauce used for the springy pasta was thick and sweet, complete with those little eggy bits found in the classic dish.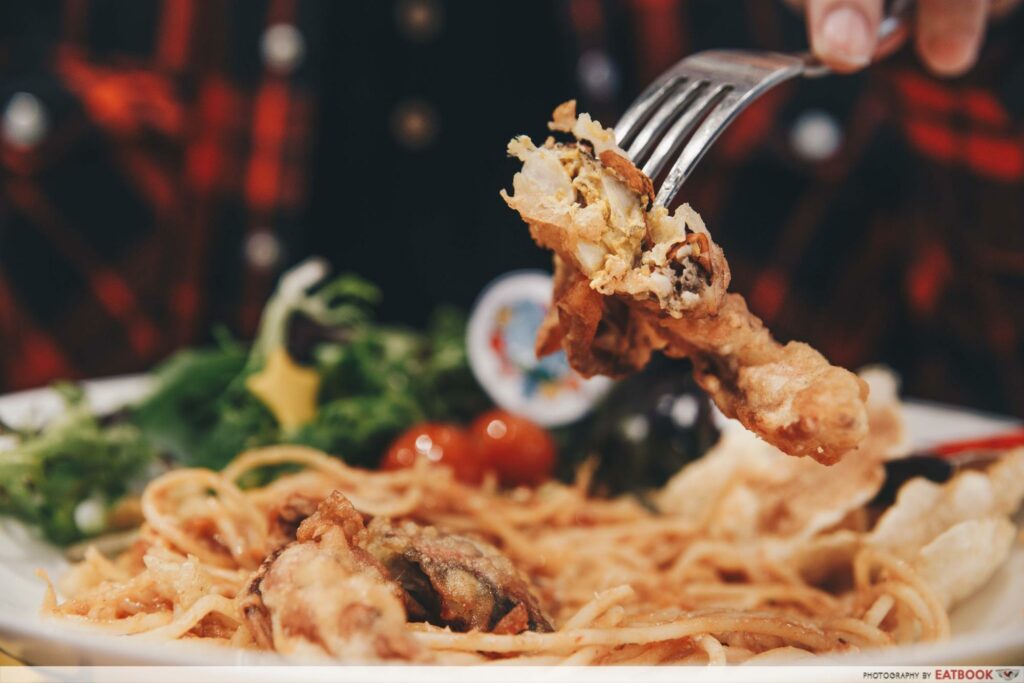 The accompanying tempura soft-shell crab was crisp on the outside yet juicy on the inside – super satisfying to sink your teeth into. And in case the dish got too sinful, there's a healthy dose of garden salad on the side to balance it out.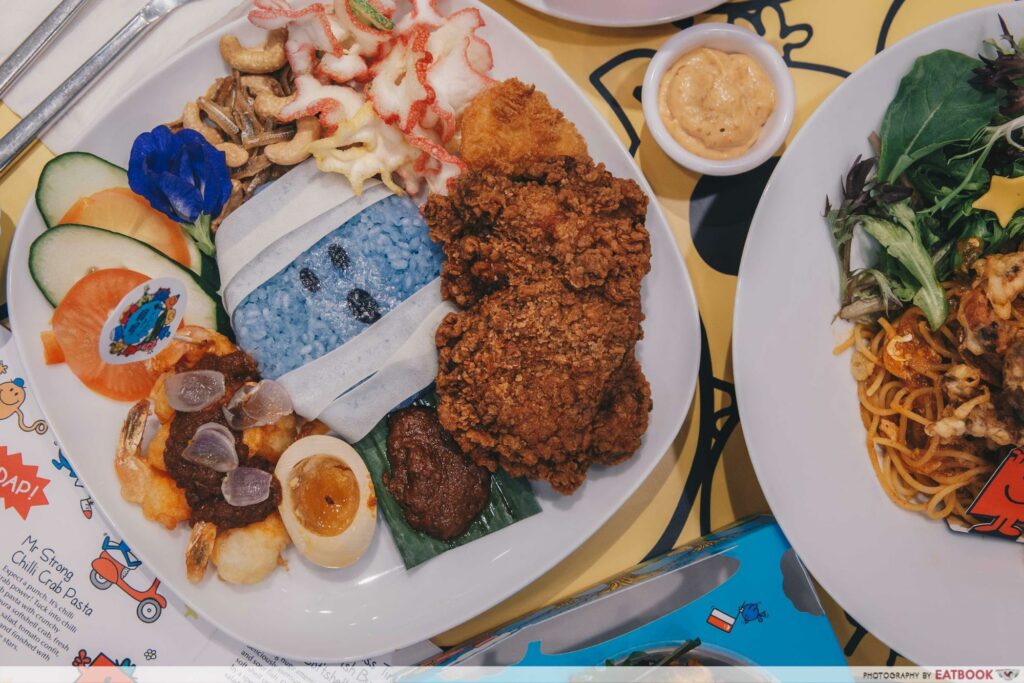 Mr Bump Knock-out Nasi Lemak ($23.90+) doesn't look much like the hawker dish we're all familiar with. And that's because it's been zhng-ed with a whole host of other toppings. On top of the usual ikan bilis, fried chicken and cucumber slices, this one comes with spicy sambal tempura prawns, crunchy cashews, colourful keropok, a potato croquette, and an onsen egg with soft, rich yolk.
The butterfly pea flower coconut rice is also blue instead of the usual white or green, and is very fragrant.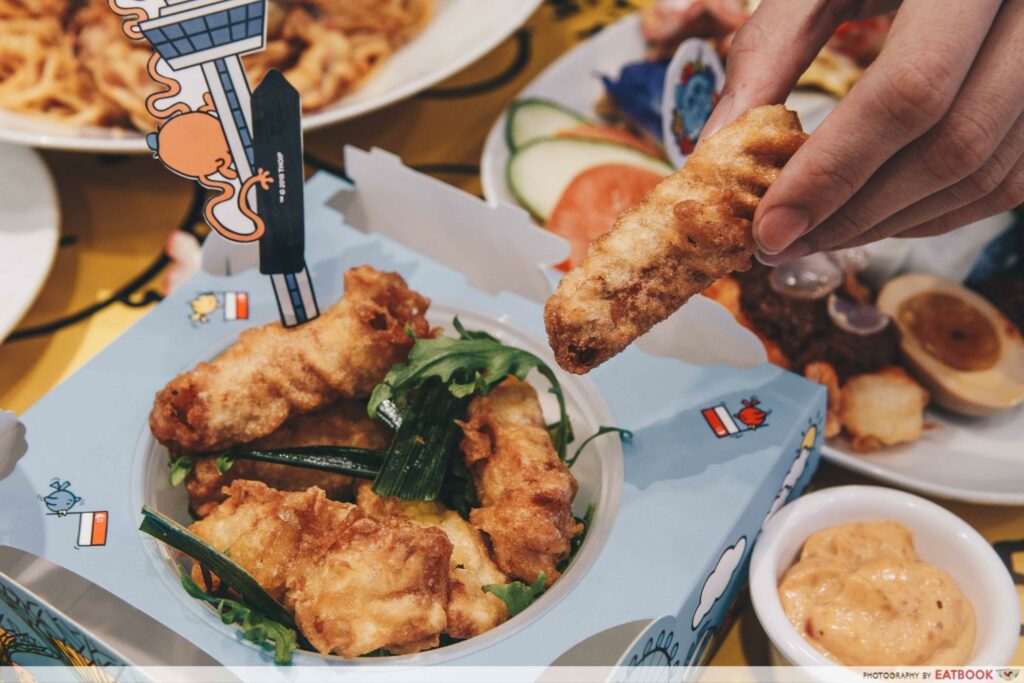 If you're not in the mood for a heavy meal, there's a selection of snacks available. One I enjoyed was the Tempura Mackerel Otah with Sambal Mayo (12.90+).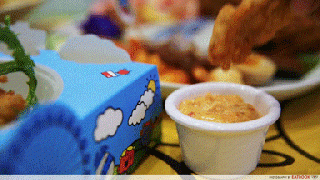 Wrapped in a crispy shell, the otah was as spicy and addictive as the hawker versions. When coupled with the tangy sambal mayo, we couldn't put each piece into our mouths fast enough before reaching for the next one.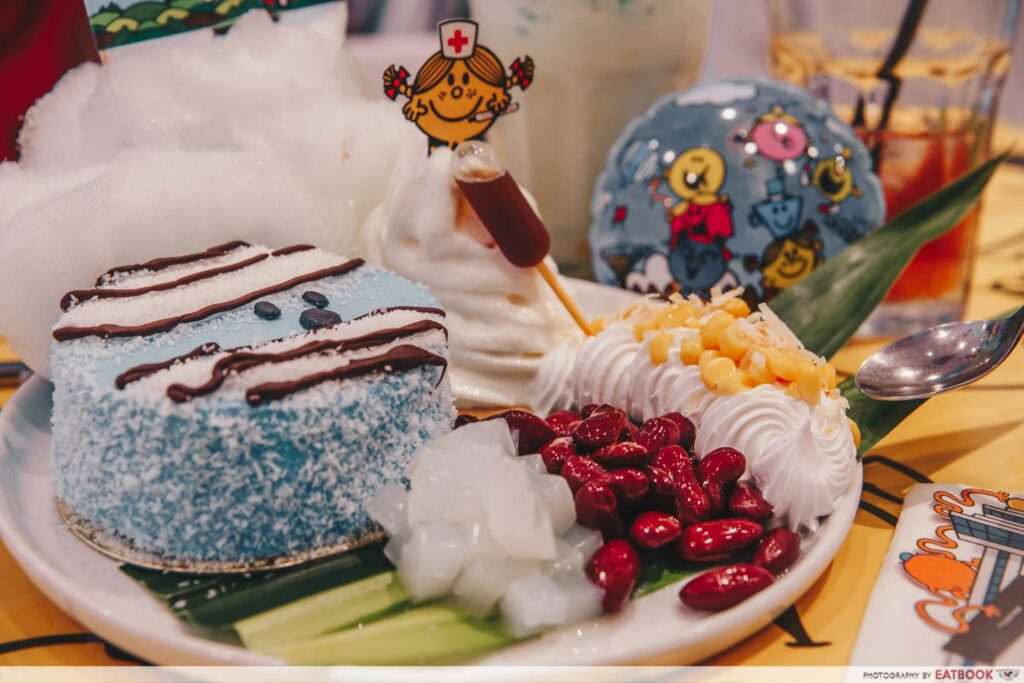 If you've managed to leave room for dessert, you'll want to tuck into Mr Bump Pow-Wow Pandan Sponge Cake ($17.90+). This over-the-top dessert comes with a pandan sponge cake, Hokkaido soft serve, cotton candy, kidney beans, whipped cream topped with corn, and even nata de coco.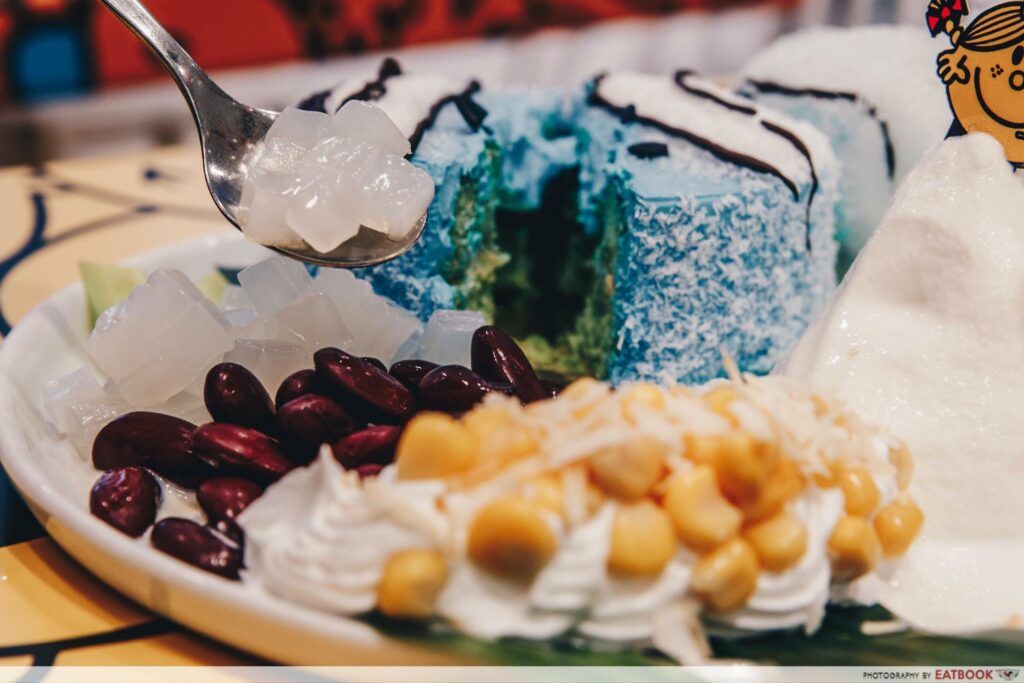 While the cake was rich and didn't have the artificial taste of pandan essence, the nata de coco pieces were smaller and not as refreshing and addictive as they usually are.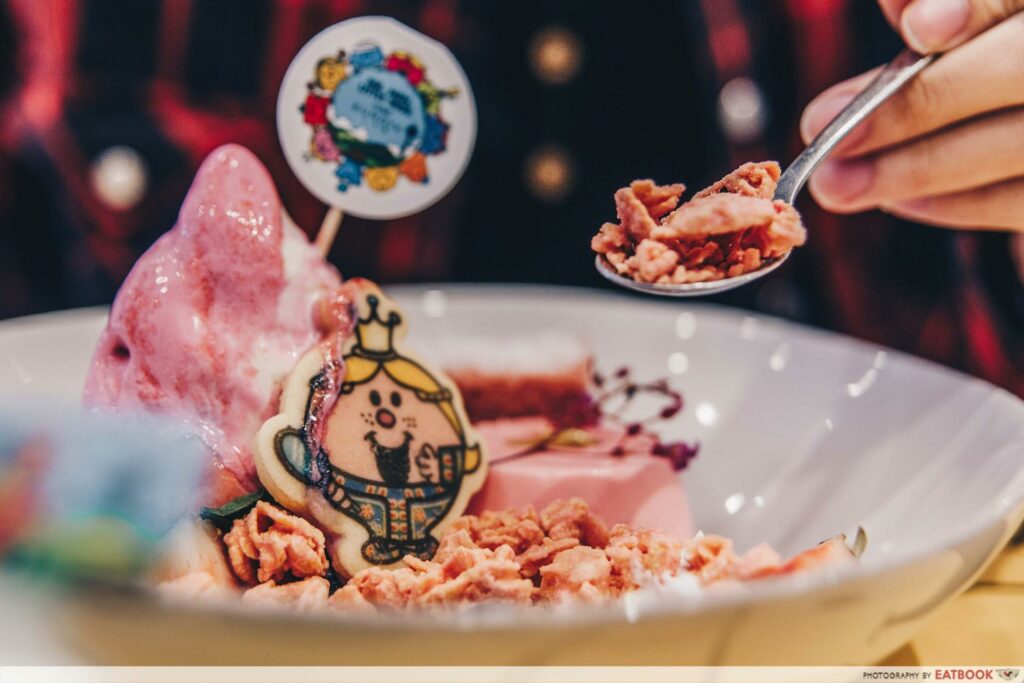 This Little Miss Princess Bandung Strawberry Parfait ($18.90+) is paired with a small cup of berry syrup that you can drizzle all over the dessert. But that's not entirely necessary, seeing as how the bandung pudding and strawberry sponge cake were pretty sweet to begin with.
There's also strawberry Hokkaido soft serve on this dessert that goes great with the cookies and strawberry chocolate coated cereal crunch!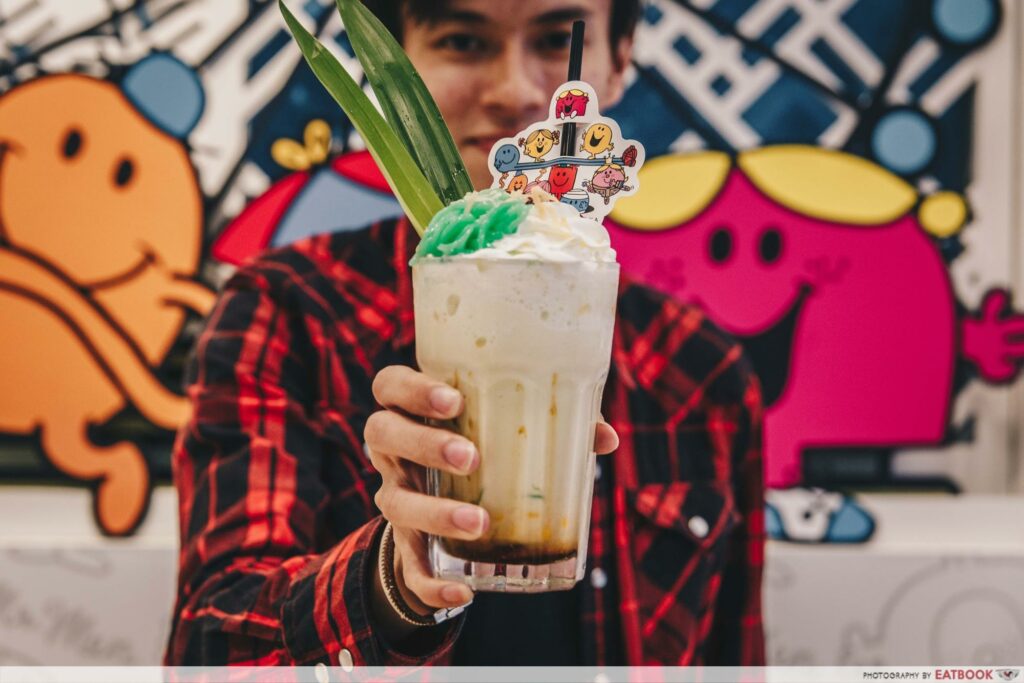 There's quite a variety of drinks too. We went with Chendol Gula Melaka Frappe ($14.90+). Even though the pricey drink looked pretty, it was way too thick and sweet – almost like I was drinking melted ice-cream.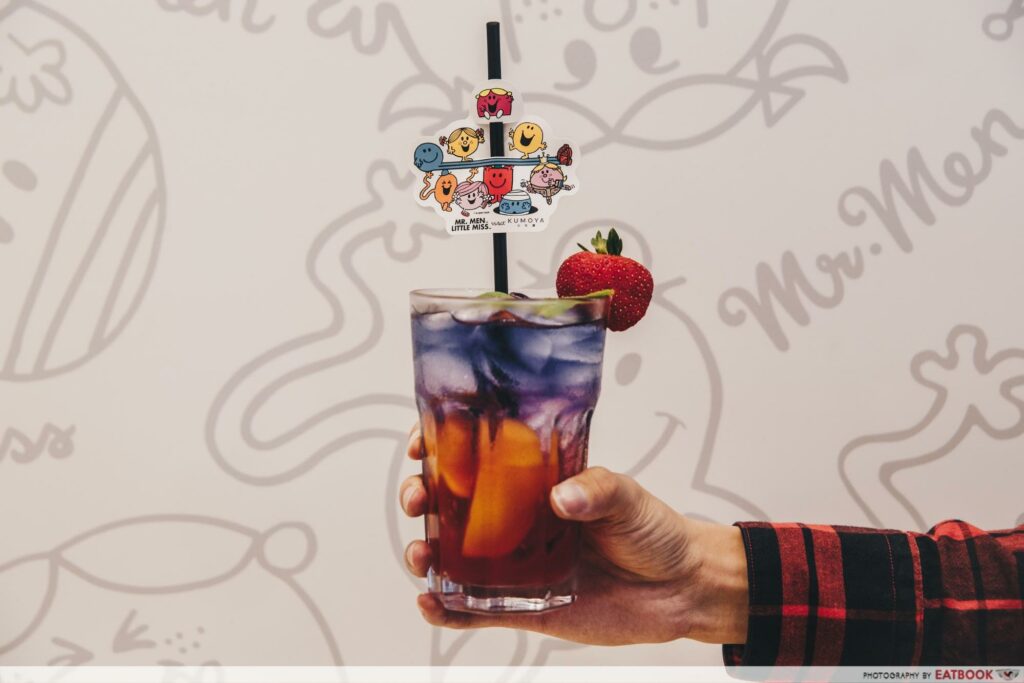 We decided to switch to Butterfly Pea Flower Momo Juice ($10.90+). Even though the sweetness of this drink was notably toned down, it was still a little too sugary for my liking, especially when I neglected to mix the drink initially.
Ambience at Mr Men and Little Miss visit Kumoya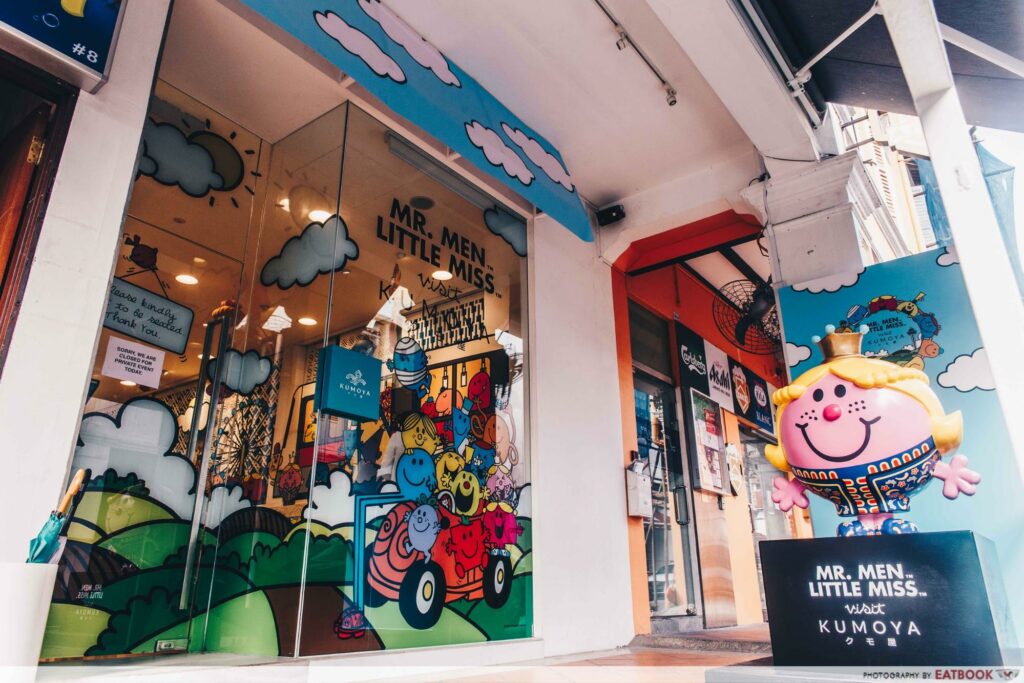 While there are plenty of cafes populating the streets of Bugis, the colourful entrance of Kumoya and the distinctive Miss Princess grinning at you outside will make this place easy to find.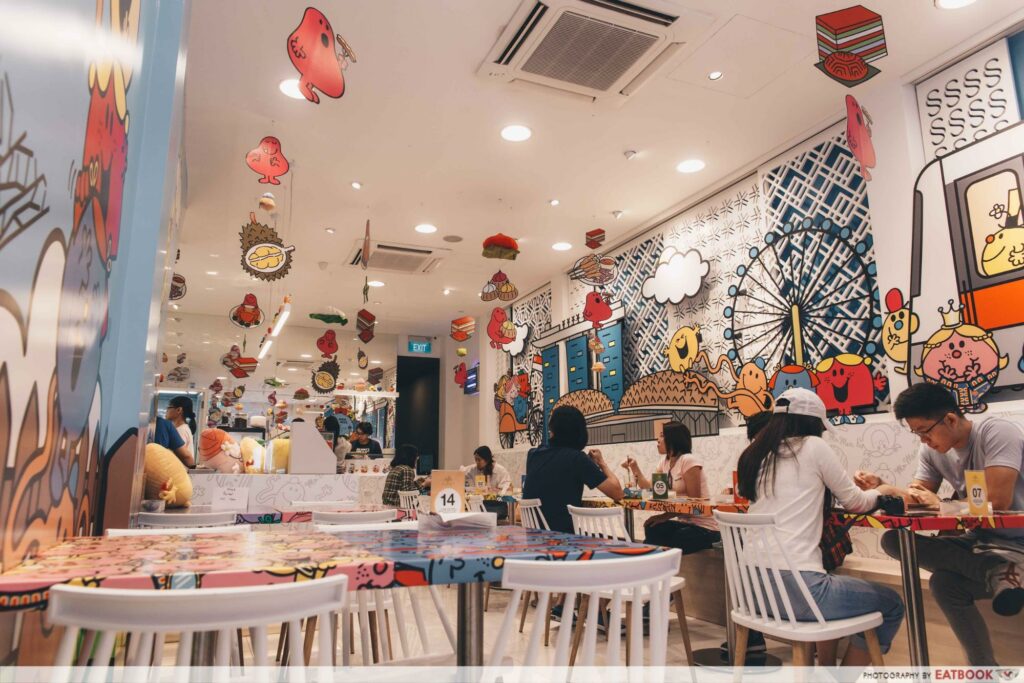 Kumoya has hosted a few pop-ups in the past, including that of Care Bears and Miffy, and their experience shows in the decor. The walls are decked in adorable Mr Men and Little Miss characters, and the theme fits naturally into the cafe space. The tables are rather small, so I'd recommend visiting in smaller groups of two to four.
The verdict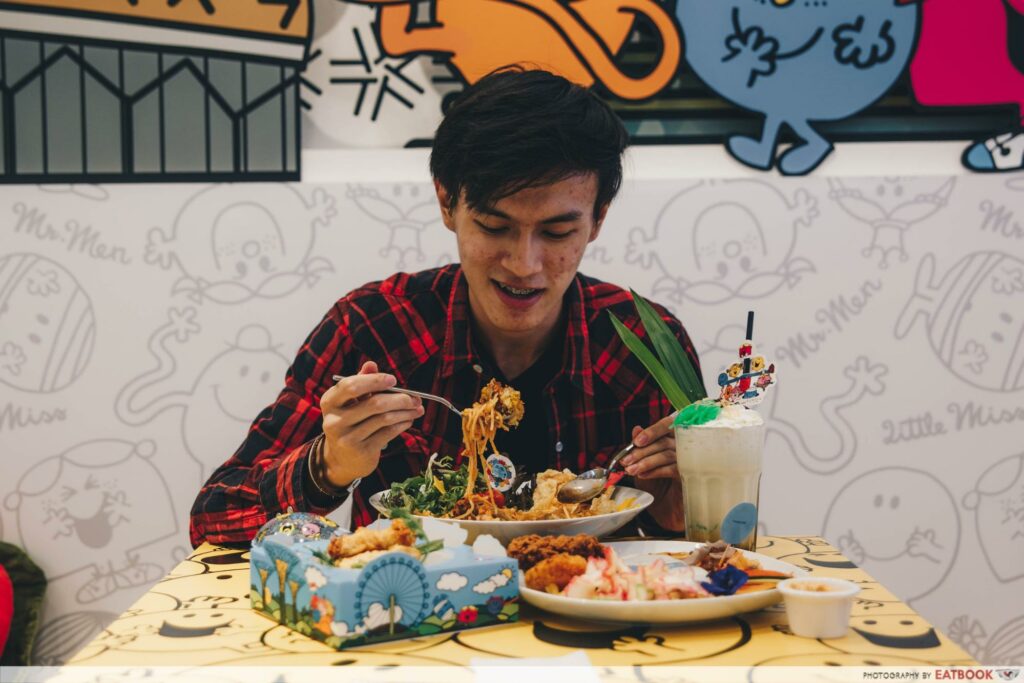 Pop-up cafes are known more for their themes and aesthetics than the taste, so I was pleasantly surprised by the flavours here. The food caters to both sweet and savoury palates, and while they can be pricey, the novelty of the dishes warrants at least one visit for those who loved the books when they were kids.
Address: 8 Jalan Klapa, Singapore 199320
Opening hours: Tue-Thur & Sun 12pm to 9:30pm, Fri-Sat 12pm to 10:20pm (last order 30 minutes before closing)
Website
Kumoya is not halal-certified.
This was a media tasting at Mr Men and Little Miss visit Kumoya.
Photos by Daryl Goh.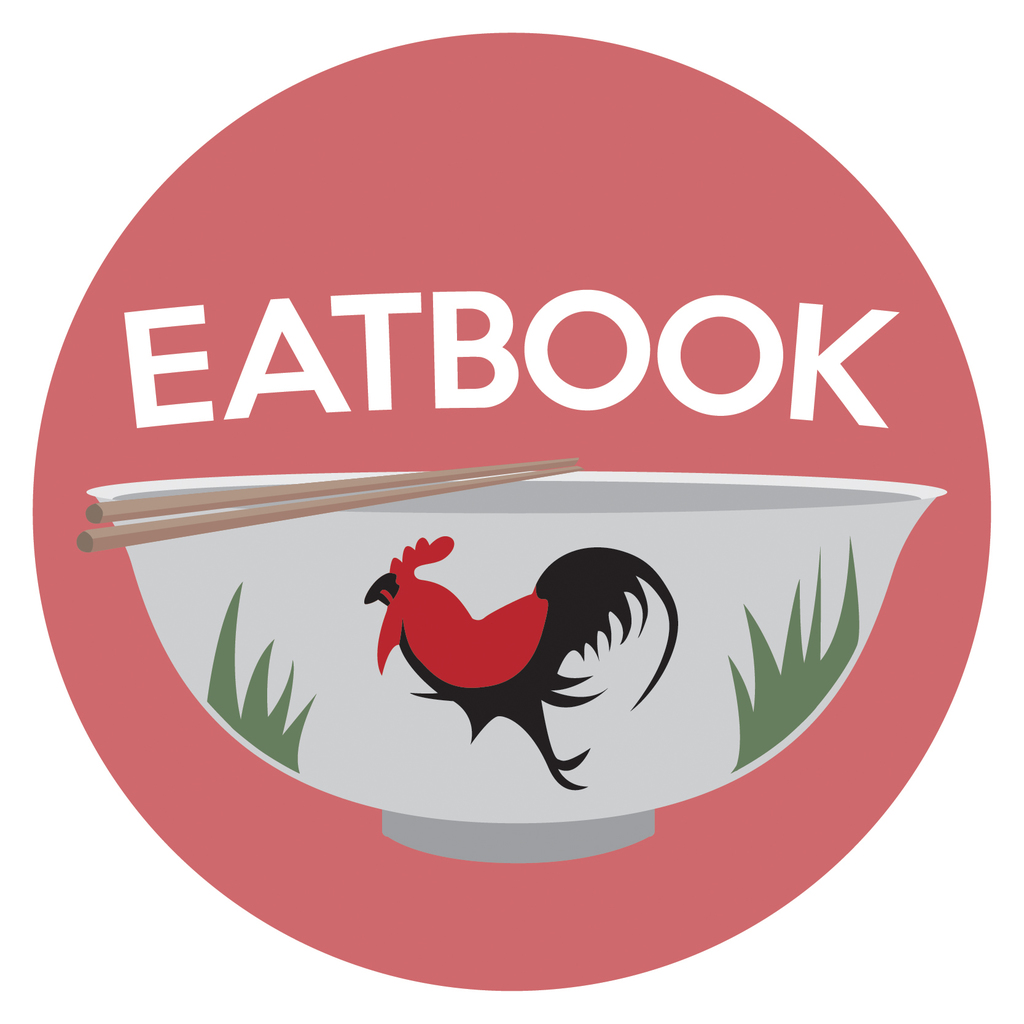 Drop us your email so you won't miss the latest news.