New Care Bears Cafe at Care Bears x Kumoya in Bugis
Update (5 Jan 2019): Kumoya is now hosting a Pusheen cafe pop-up.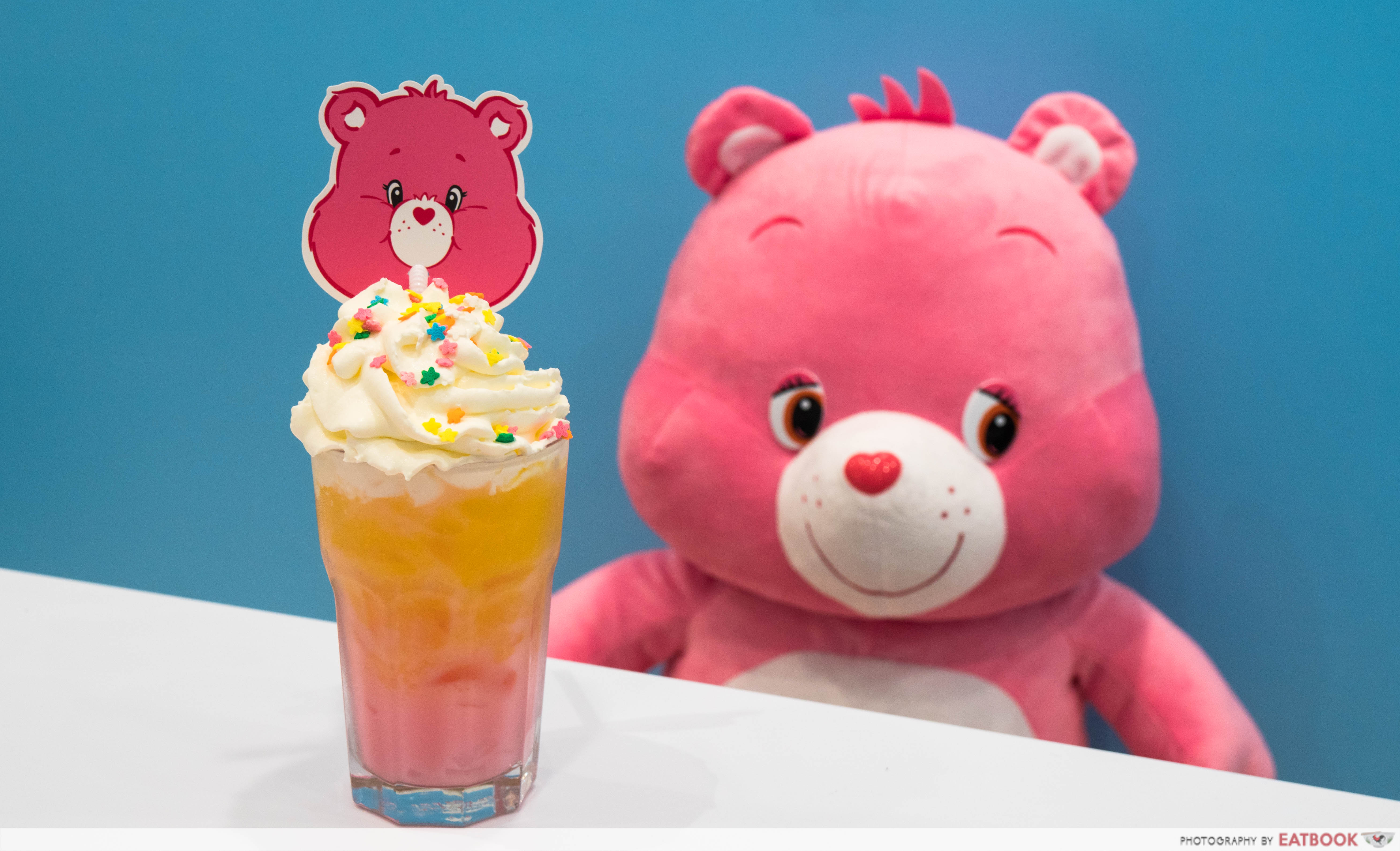 Singapore is spoilt for choice when it comes to themed cafes. From Gudetama to Hello Kitty and Charlie Brown, we can't get enough of adorable themed treats.
So y'all might be as delighted as I was to hear about a new Care Bears cafe, named Care Bears x Kumoya, that will open its colourful doors on 1 Feb 2018. Whether you are a '90s kid who grew up with the television series or not, this vibrant cafe is sure to lift a little of that weight off your shoulders with its rainbow decor, multi-coloured food and rows of Care Bear plushies.
Hosted by Kumoya, which brought Miffy Cafe and Cinnamoroll Cafe into Singapore briefly in 2017, the Care Bears cafe will only be hanging around for two months so make sure to head down soon if you are interested!
We managed to get a sneak peak into the vibrant and happy little world of Care Bears x Kumoya before it opened officially – here is how it went.
Food at Care Bears cafe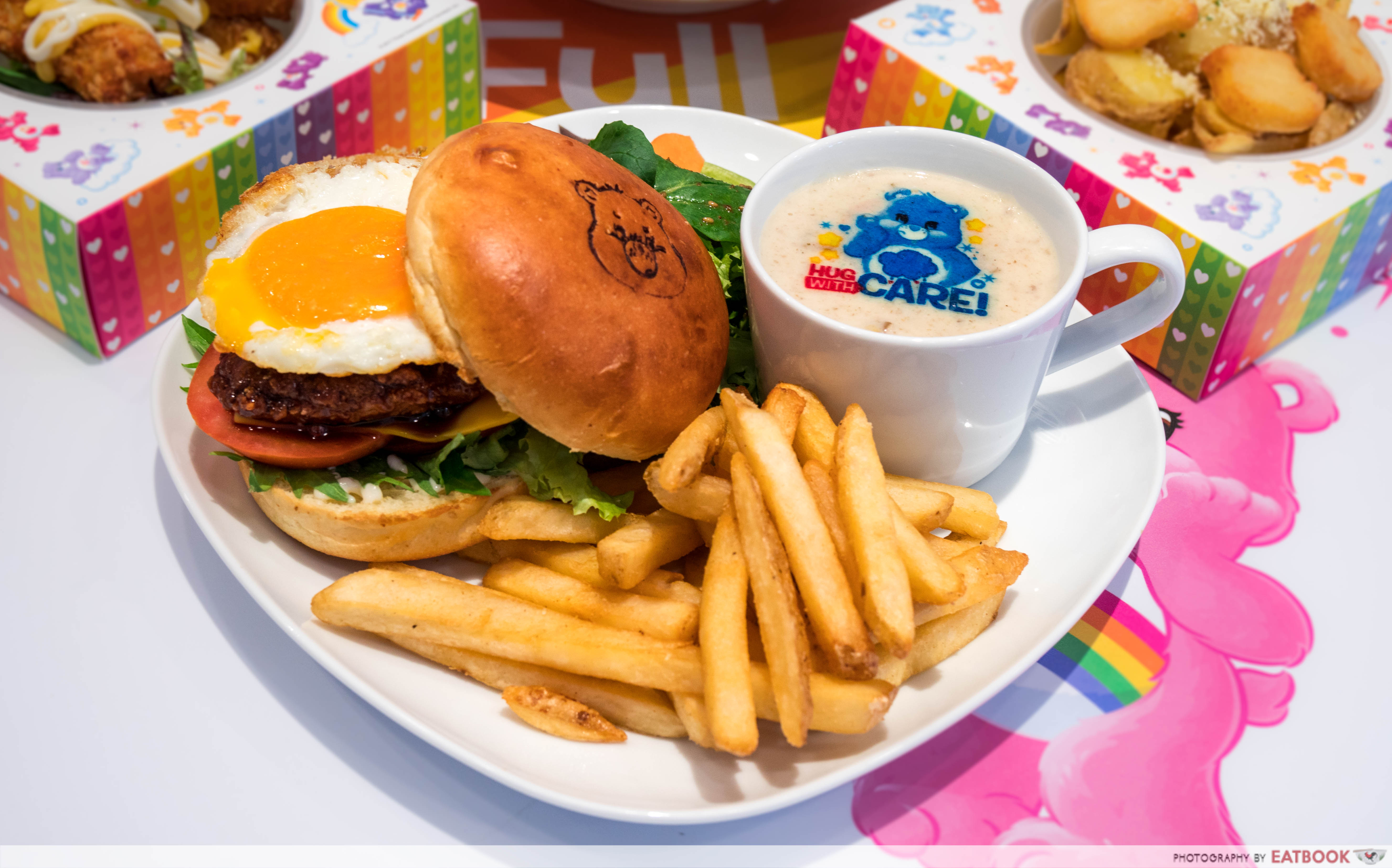 My favourite thing about this Care Bears cafe is the effort they put into the details. One look into their menu and you'll realise most of their signature dishes are inspired by individual Care Bear characters!
For our mains, we ordered a Cheer-Up Chicken Katsu ($21.90+), which came on a fully packed plate consisting of a burger and three sides: salad, thick-cut fries, and mushroom soup.
This dish is inspired by the blue Grumpy Bear and in the words of the menu, "When Grumpy Bear is grumpy, nothing almost puts a smile on his face like Juicy Japanese Katsu Chicken". If there is any dish in the restaurant that can turn a frown upside down, this is it.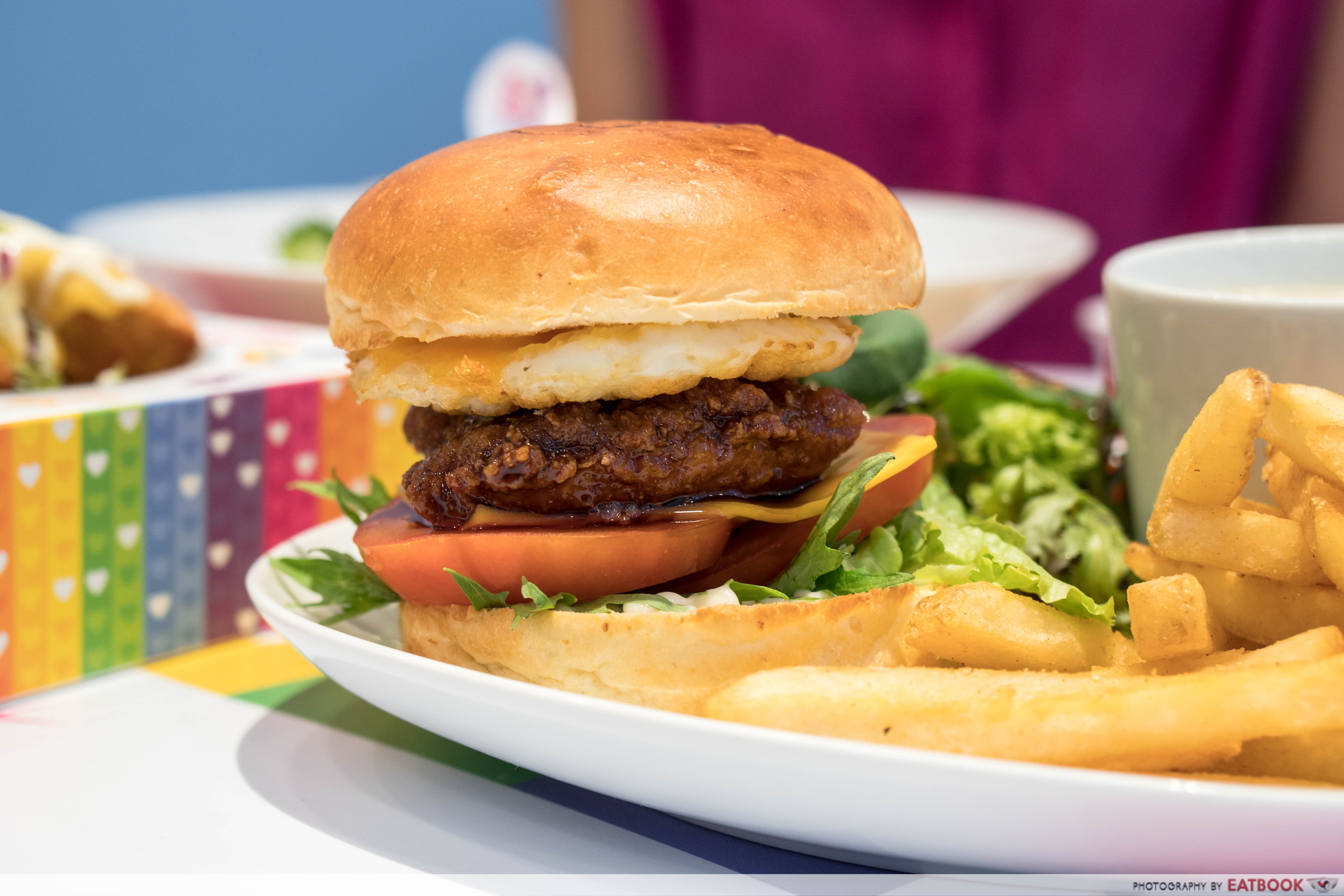 The star of this dish is the burger which is stuffed with a juicy chicken katsu that has a crisp skin glazed with thick teriyaki sauce. Topped with a sunny side up, thick slices of fresh tomatoes and a dense, freshly toasted bun, this dish is certainly a die die must try.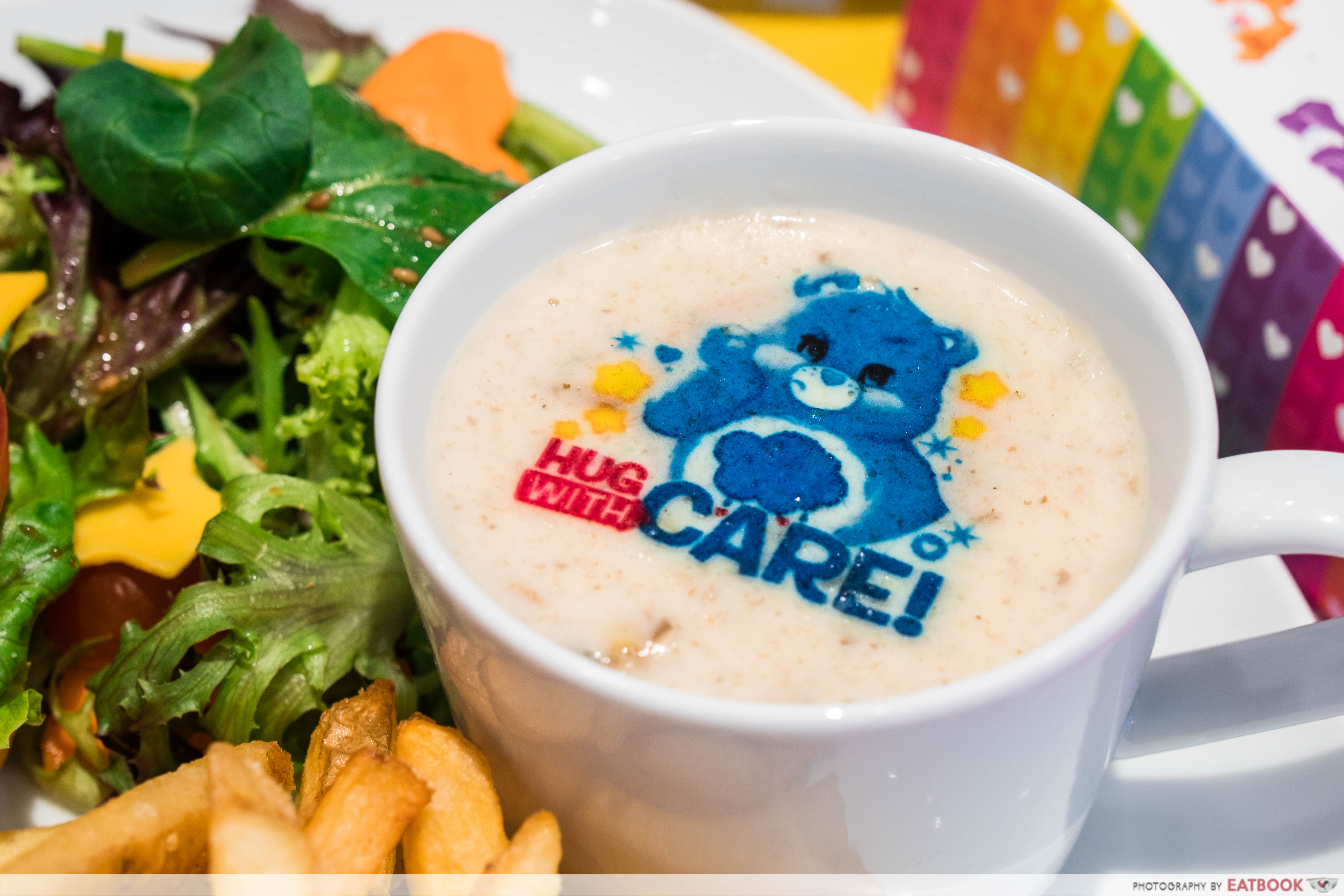 Stealing the scene is the mushroom soup which is topped with an edible printed image of Grumpy Bear. It was almost a pity to stir the pretty picture into the soup.
Although safe to eat, I would strongly advise removing the thin film of print before taking a sip from the soup. It certainly is cute but the texture of the thin film does not go well with the warm soup. The rest of the soup was thick and creamy with small bits of mushroom in it.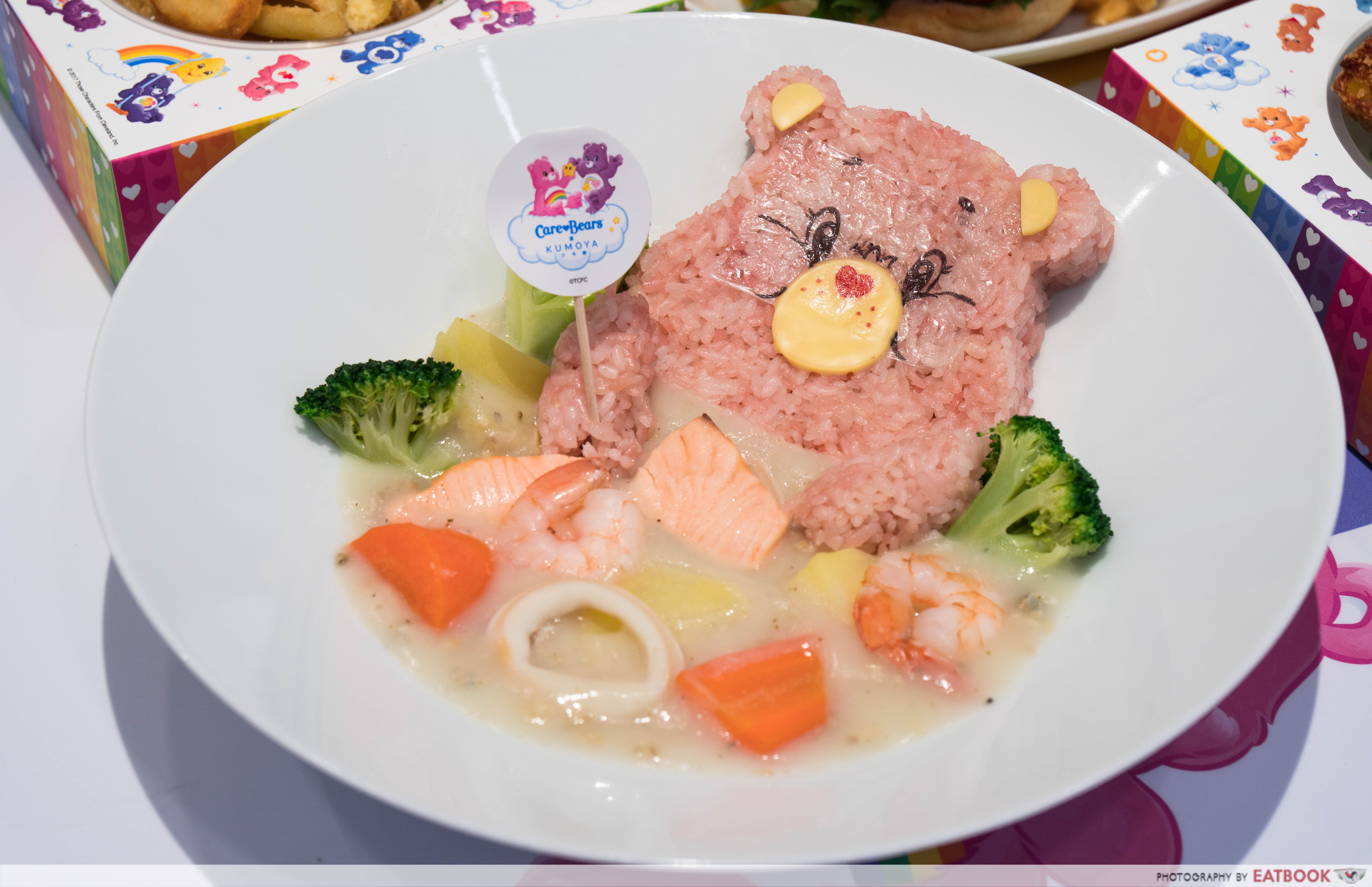 Next, we tried The Seafood Chowder You'll Love-a-lot ($28.90+), which is the most expensive item on the menu. Care Bear lovers, watch out for this dish as it comes with a free 5-inch Love-a Lot Plushie that's worth $14.90! The plating was really adorable and resembles Love-a-Lot taking a dip in a pool of seafood.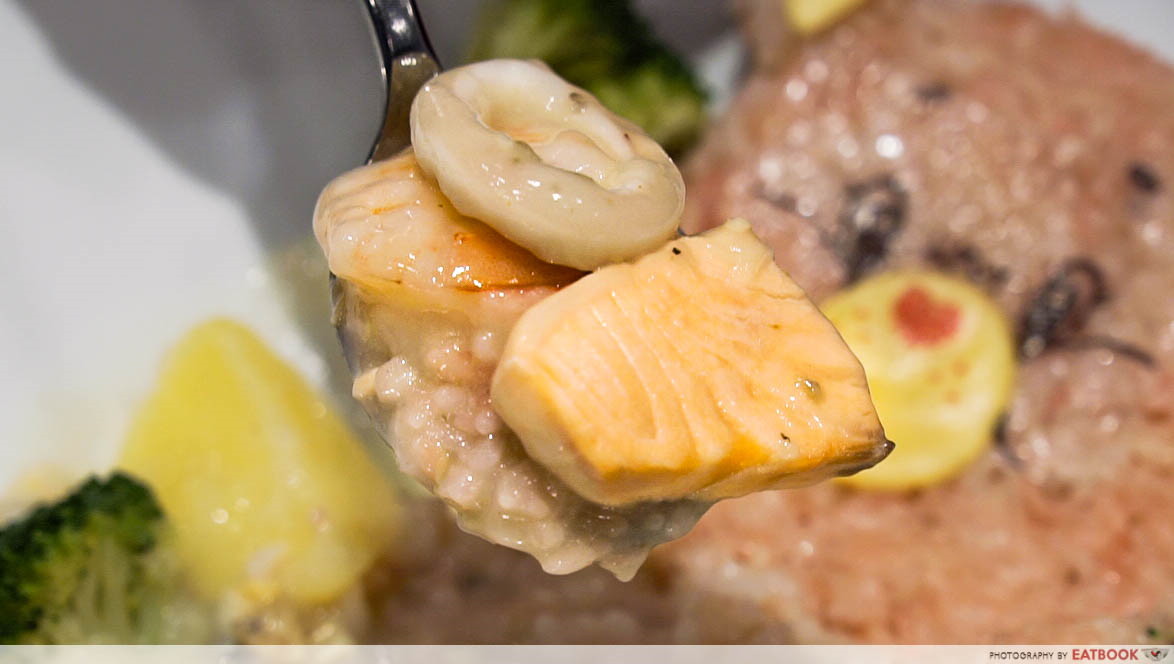 Bonus points to the pink, beetroot-tinted rice for its uncanny resemblance to the bear that inspired it. However, the chowder was a tad bland and the seafood, comprising chewy squid rings, salmon slices and prawns, was mediocre.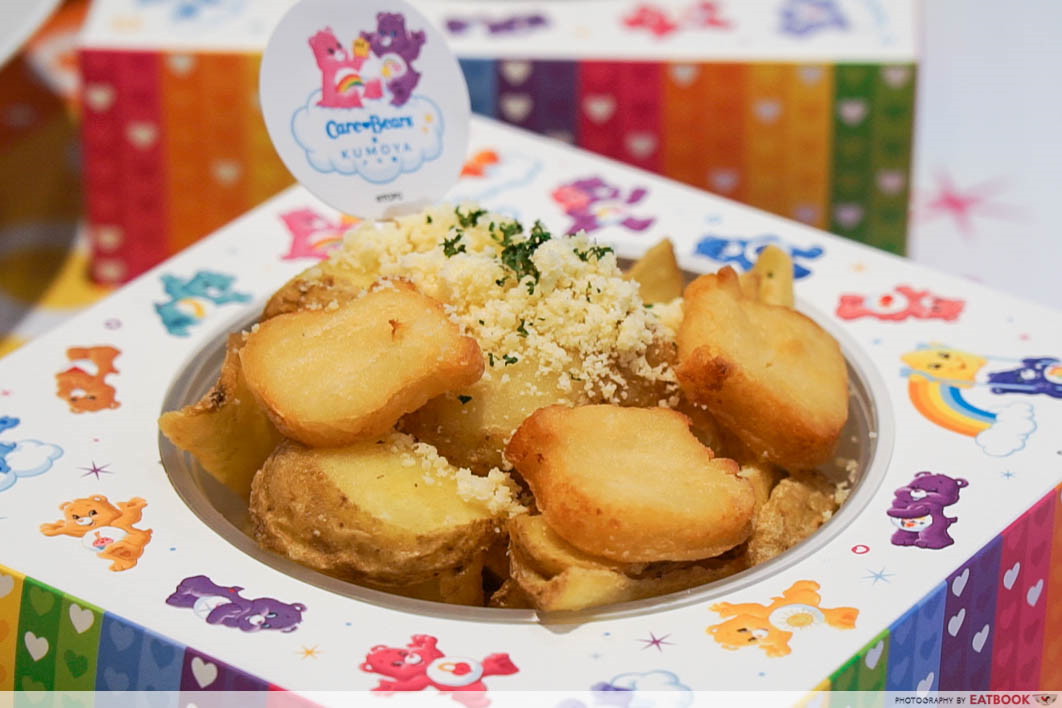 For sides we ordered their Truffle Fries ($11.90+) which comes with a house-made truffle mayo dip. Many cafes serve truffle dishes these days – some a hit but others a miss – so we ordered this dish to see if the truffle fries here were the real deal. 
When it arrived at the table, I immediately caught the wafting musky aroma of truffle oil. Smell test, check.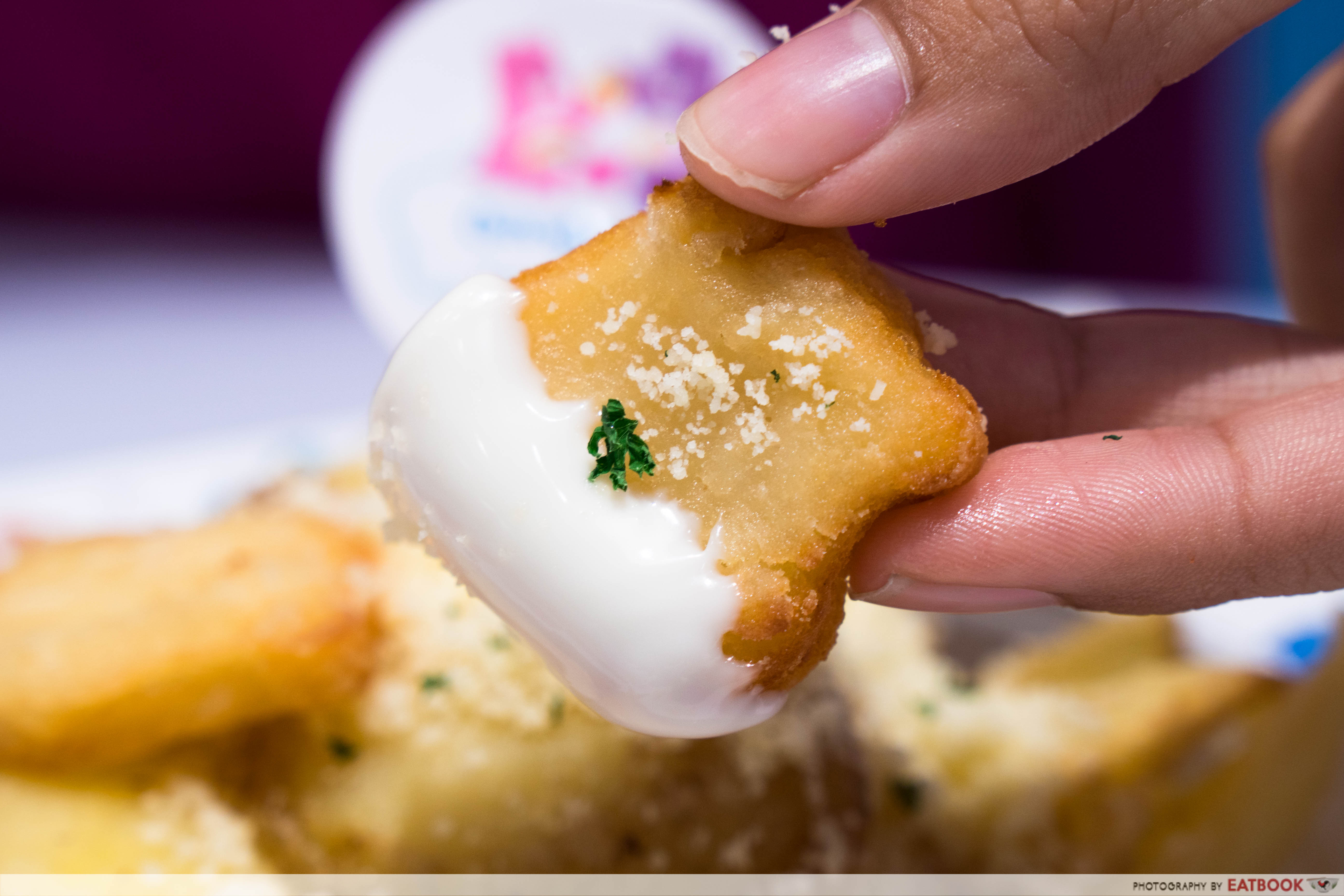 Visually, it looked appealing as well with mini bear-shaped potato nuggets sitting on top of a deck of unevenly cut fried potato wedges. As a cherry on top, there was a generous spoonful of parmesan cheese and a pinch of oregano which complements, and lingers in your mouth with the taste of truffle oil.
If the potatoes itself were a 7/10, the toppings would bring it to an 8. But the dish isn't complete without the truffle mayonnaise dip which pulls it up to a solid 9. Although the truffle dish was legit, it was too jelak for one person to finish so order it to share with two to three people.
Drinks at Care Bears cafe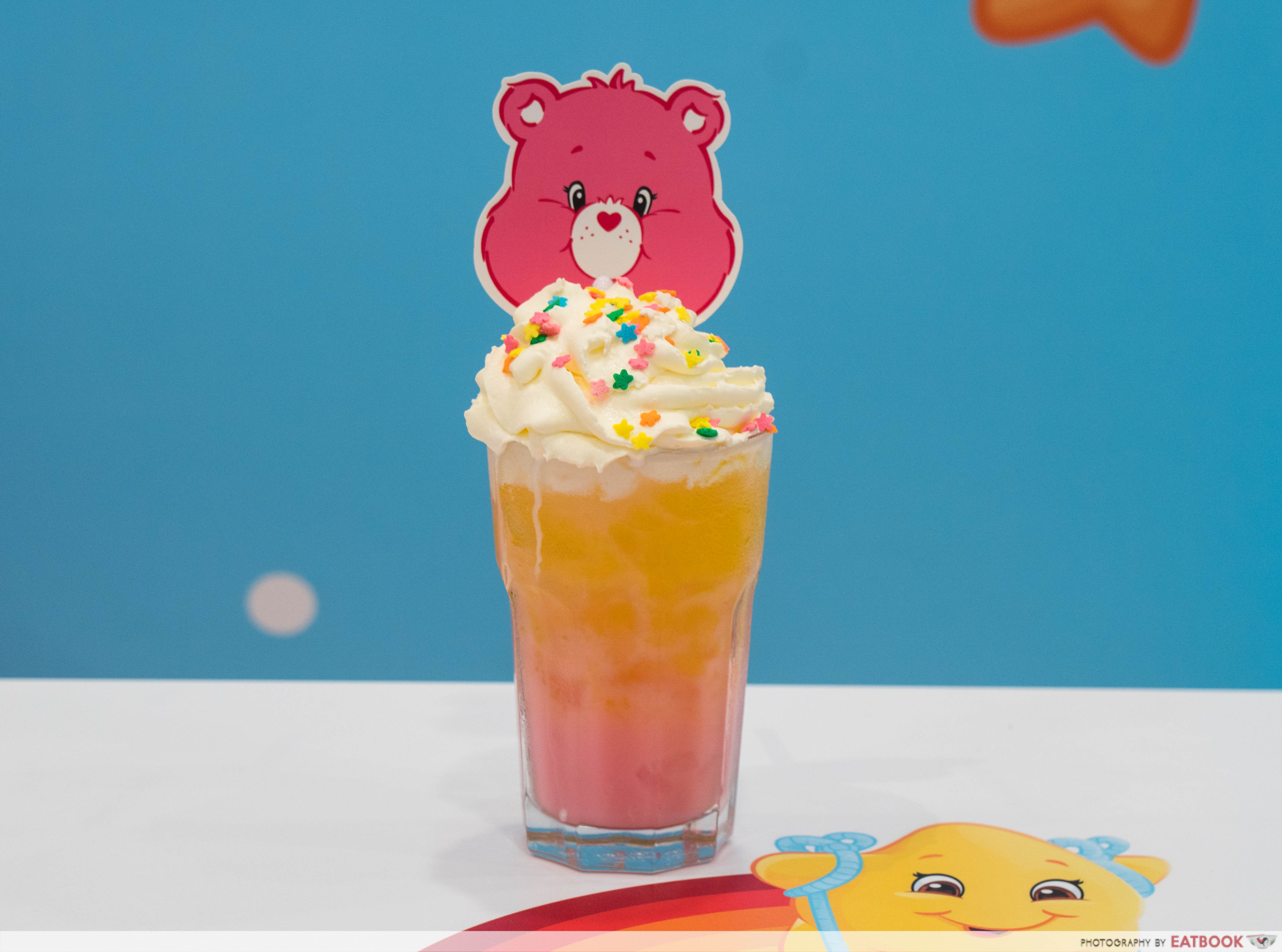 Care Bears cafe offers a variety of drinks priced from $8.90+, and all of them seem photogenic. Unfortunately, my stomach cannot afford space for them all.
After much deliberation, I picked Magic Mango Strawberry ($11.90+), a pretty orange and pink iced beverage with chewy nata de coco, topped with whipped cream and little stars. Taste-wise, it is like a mango-flavoured Yakult – sweet with a little acidity for balance.
The one downside was that it was a bit hard to get to the nata de coco bits in the drink because the straw was a tad too narrow. But overall the drink was refreshing – especially in Singapore's warm weather.
Desserts at Care Bears cafe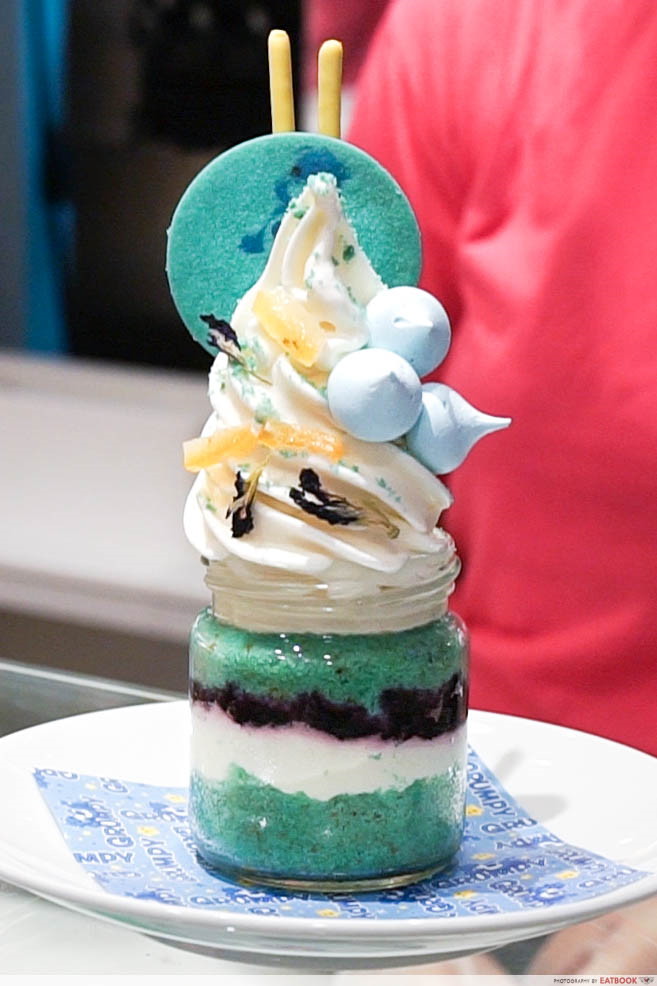 After hearing the people at the next table rave about the Feeling Blue Berries Cake Jar ($12.90+), we decided to give it a shot and it was fantastic.
This sky blue dessert is an intricate work of art; you will be able to see why if you pop by the dessert prep counter near the cashier to watch the staff put together the sweet treat.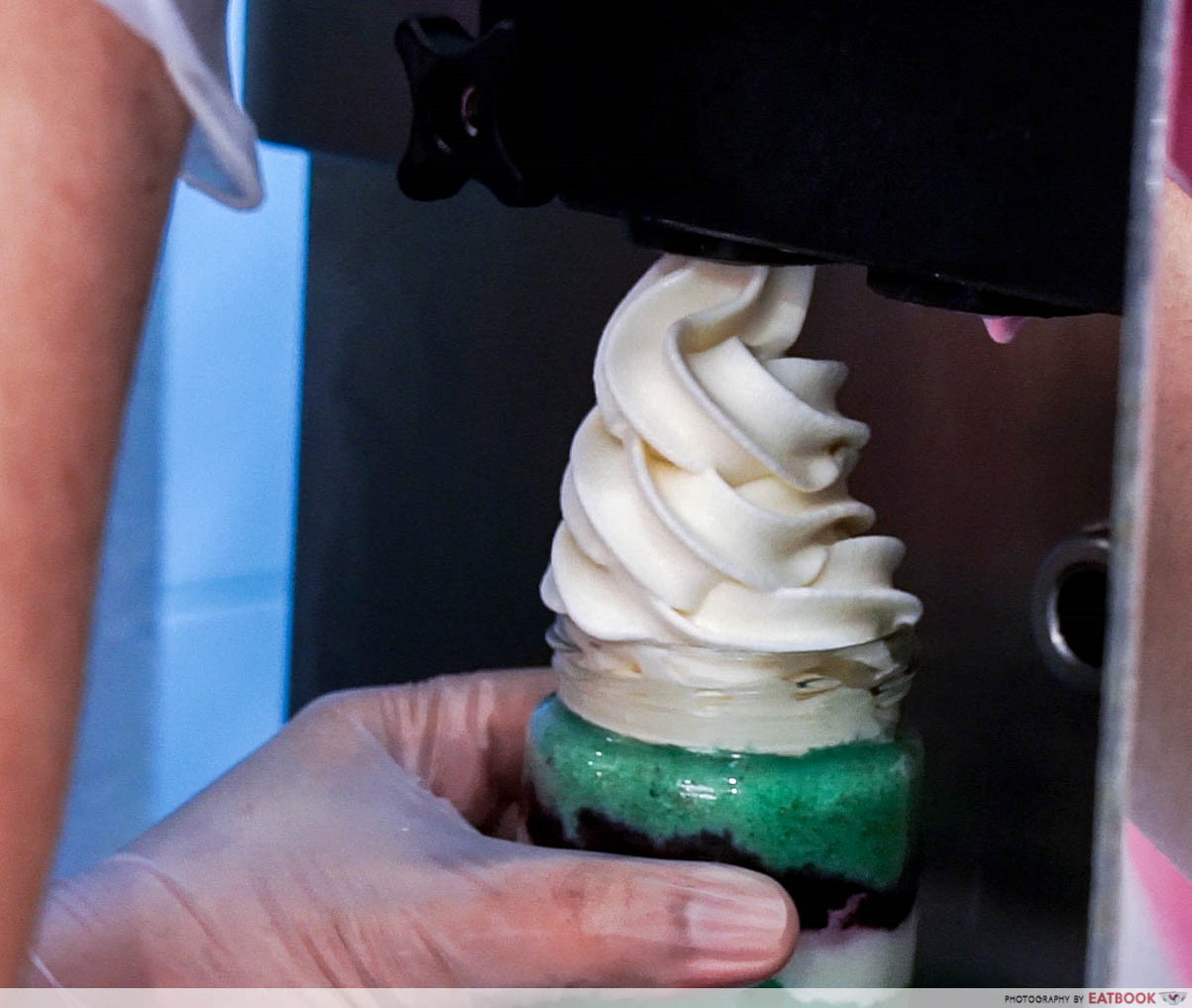 The base of the dish is a glass jar filled with layers of moist butterfly pea tea-tinted cake, mixed berry compote for a fruity kick, and a layer of milky cream. Smooth Hokkaido soft serve is then swirled on top, and the whole thing is decorated with blue cookie bits, sweet and zesty orange skin and edible petals.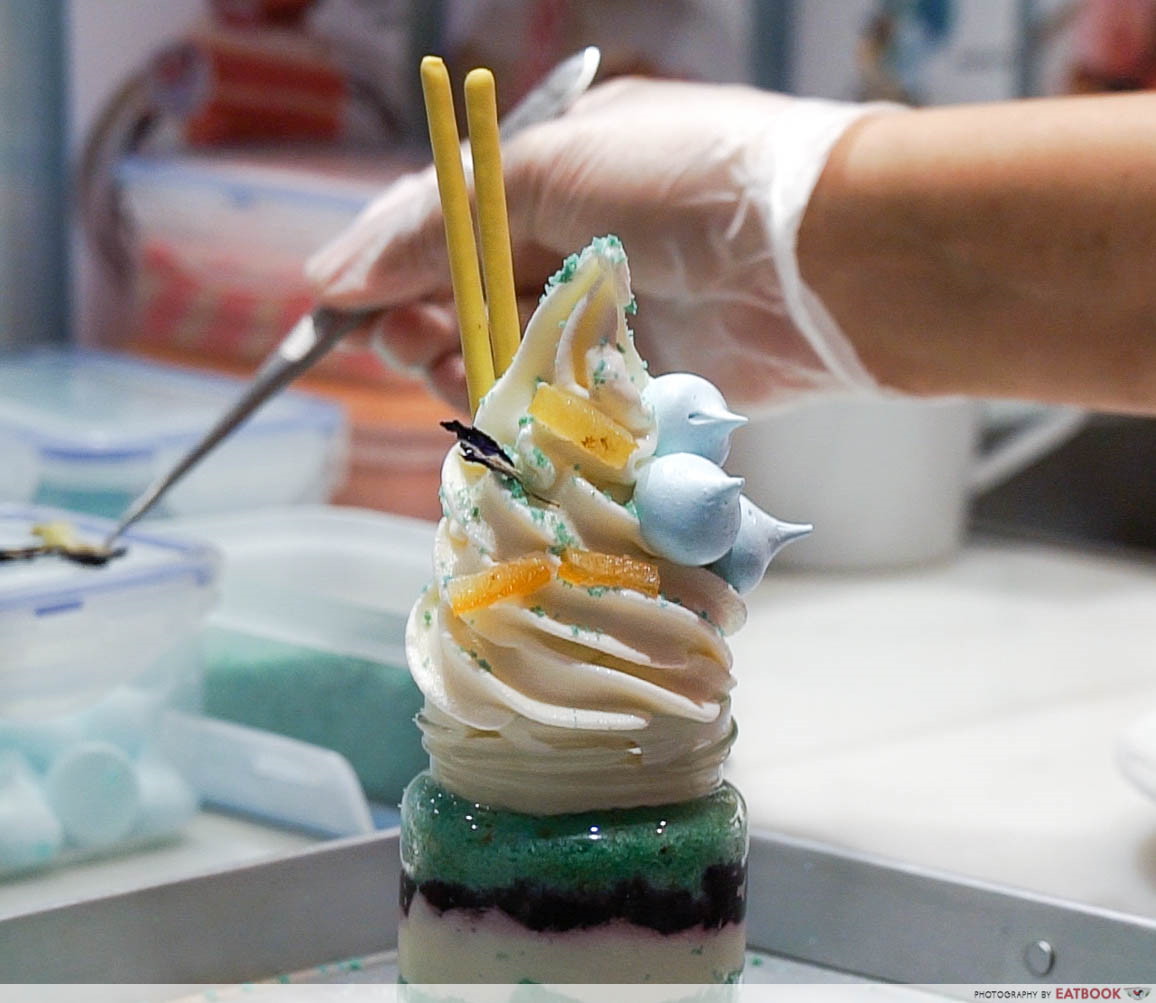 As if that isn't enough for a party in the mouth, a staff member added two chocolate banana Pocky sticks and popped a crumbly Grumpy Bear blue cookie on top of the whole thing.
The layers of the cake worked in harmony with the ice-cream, creating a medley of milky sweetness with a hint of fruity flavours in each bite. The Pocky sticks and cookie added an extra oomph of texture and body to the soft dessert. If you only have space for one dish in the whole menu, make sure to go for this!
Merchandise at Care Bears x Kumoya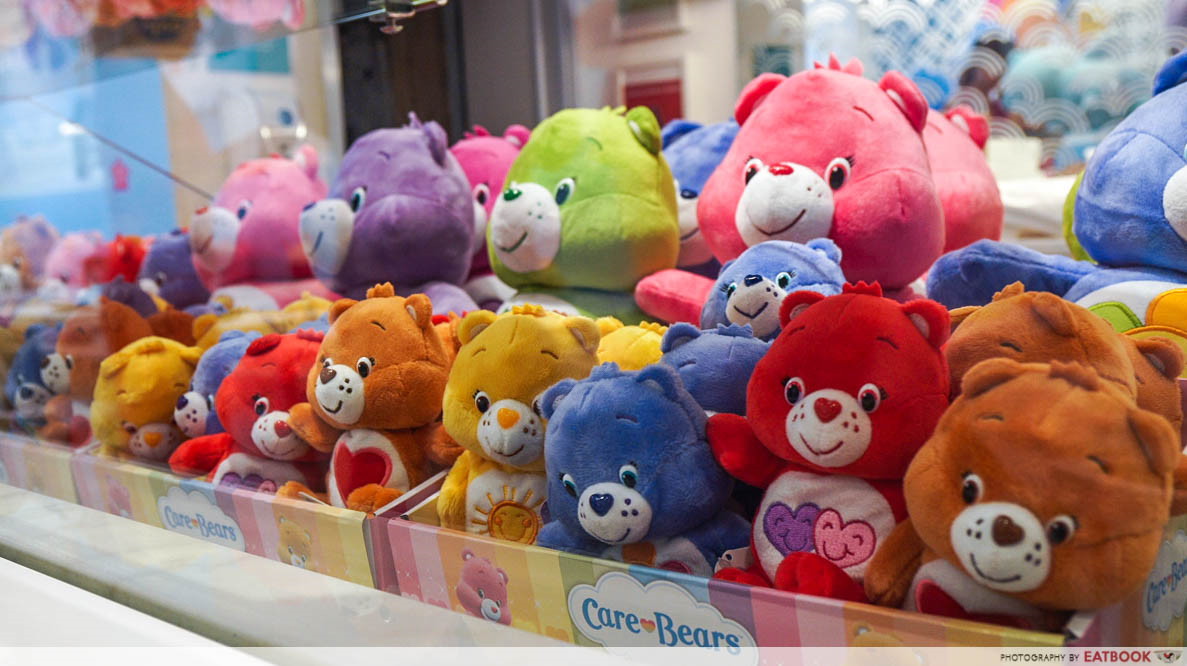 To #throwback even deeper into your childhood memories, you can check out their mini merchandise corner which sells Care Bear plushies of various sizes with a price range between $14.90 and $59.90.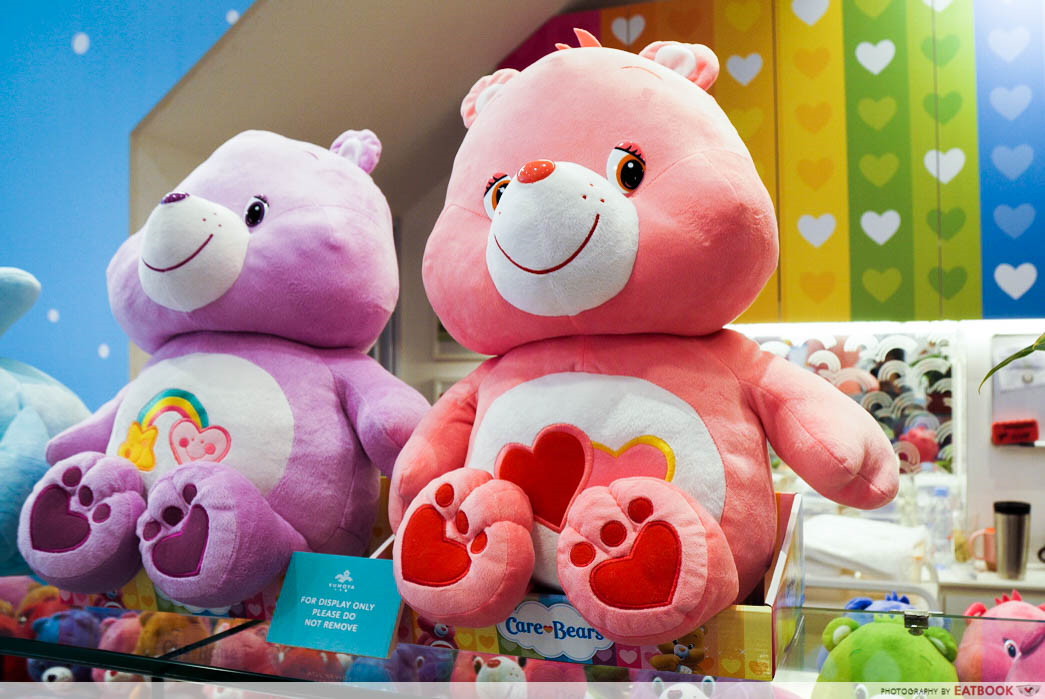 The 15'' Care Bear Plushie ($59.90) is exclusively supplied to the cafe and available for a limited time only, so make sure to get your hands on them ASAP if you are interested in bringing one home!
Ambience at Care Bears cafe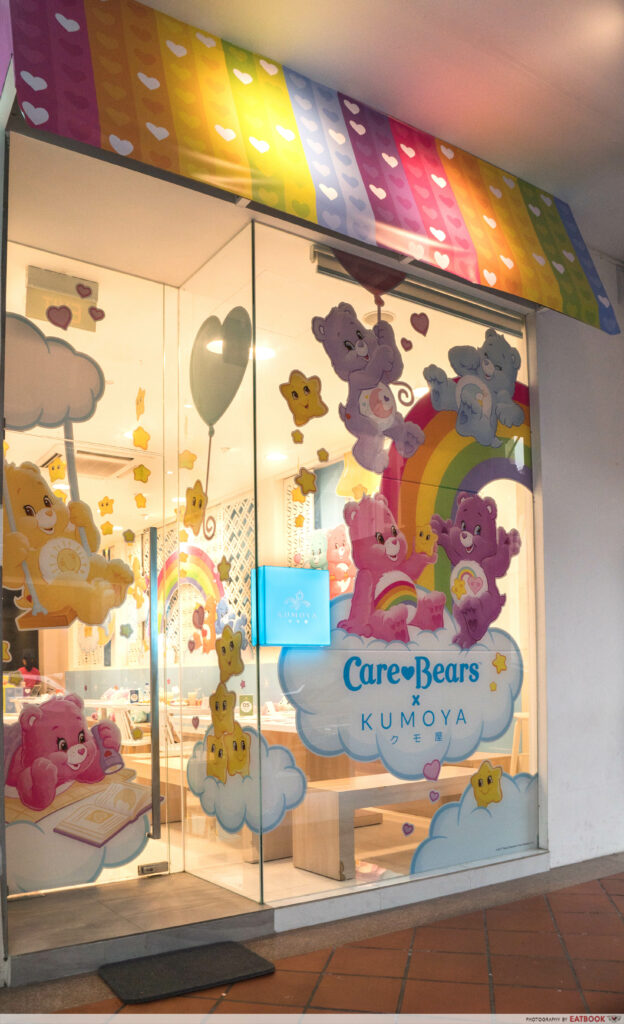 Located among a row of shophouses on the outskirts of Bugis, this place might be a little hard to find. But once you walk past it, it is almost impossible to miss the brightly decorated cafe with rainbows and Care Bears adorning its glass walls.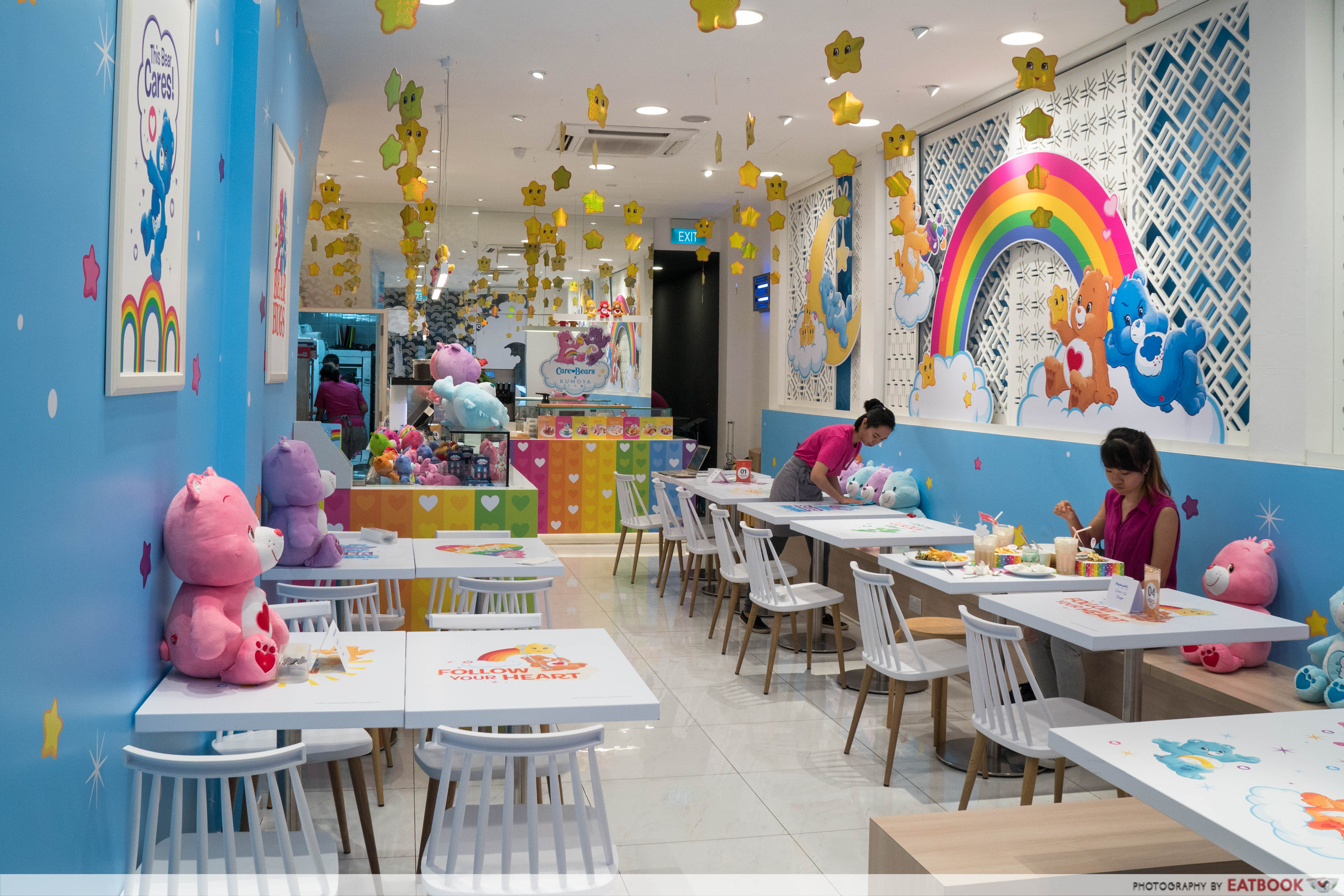 The cafe is a small but cosy one with a seating capacity of 30 people and an interior that makes you feel like you fell down a rabbit bear hole and into the world of Care Bears. It is a full immersive experience with catchy Care Bear theme songs playing in the background, rainbows and stars hanging, and large plushies everywhere for you to cuddle.
The verdict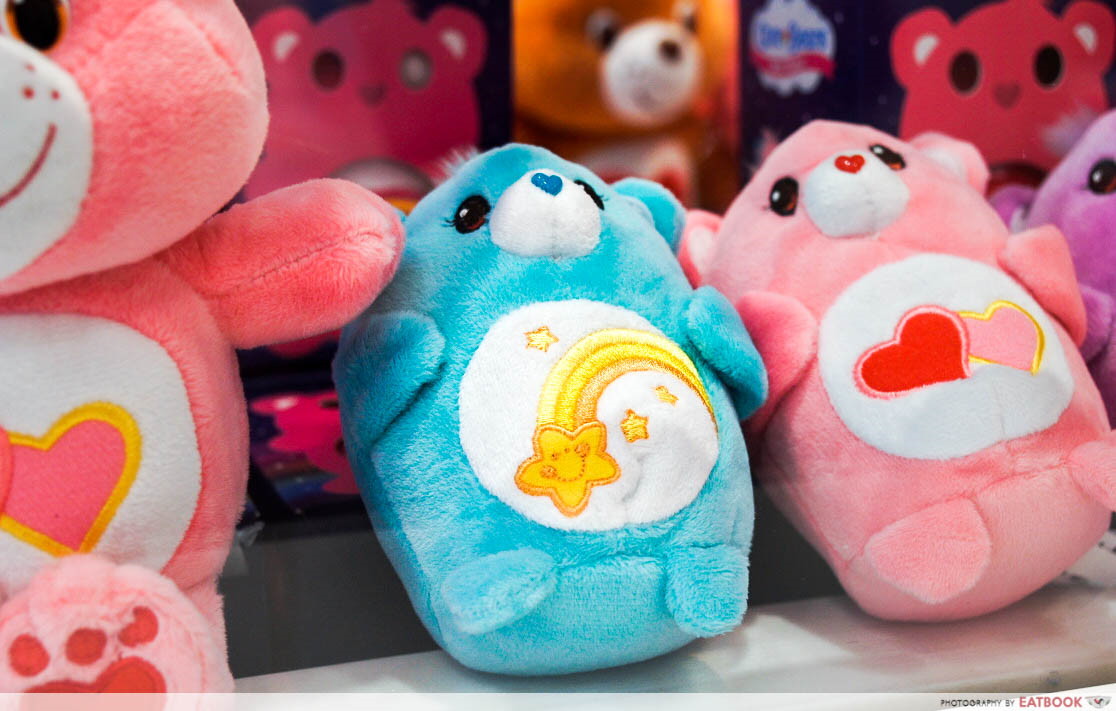 From food to decor and music to plushies, this cafe takes their theme seriously and follows through with it inside and out. It provides a fresh addition to the cafe scene in Singapore, and its limited time presence makes it all the more enticing to visit! Do note that there's a minimum spending of $10 required, so be sure to pop by for a meal or desserts and not just a drink!

Address: 8 Jalan Klapa, Singapore 199320
Opening hours: Tue-Thur & Sun 12pm to 9pm, Fri-Sat 12pm to 10:30pm
Tel: 6297 3727
Website
Care Bears x Kumoya is not halal-certified.

This was a media tasting at Care Bears x Kumoya.

Summary
Pros
– Adorable and creatively designed food
– Great for the 'gram
– Large table available for big groups
Cons
– Some dishes were not value-for-money
– Minimum $10 spending
Recommended Dishes: Cheer-Up Chicken Katsu ($21.90+), Truffle Fries ($11.90+) , Feeling Blue Berries Cake Jar ($12.90+)
Operating Hours:
Tue-Thur & Sun 12pm to 9pm, Fri-Sat 12pm to 10:30pm
Address: 8 Jalan Klapa, Singapore 199320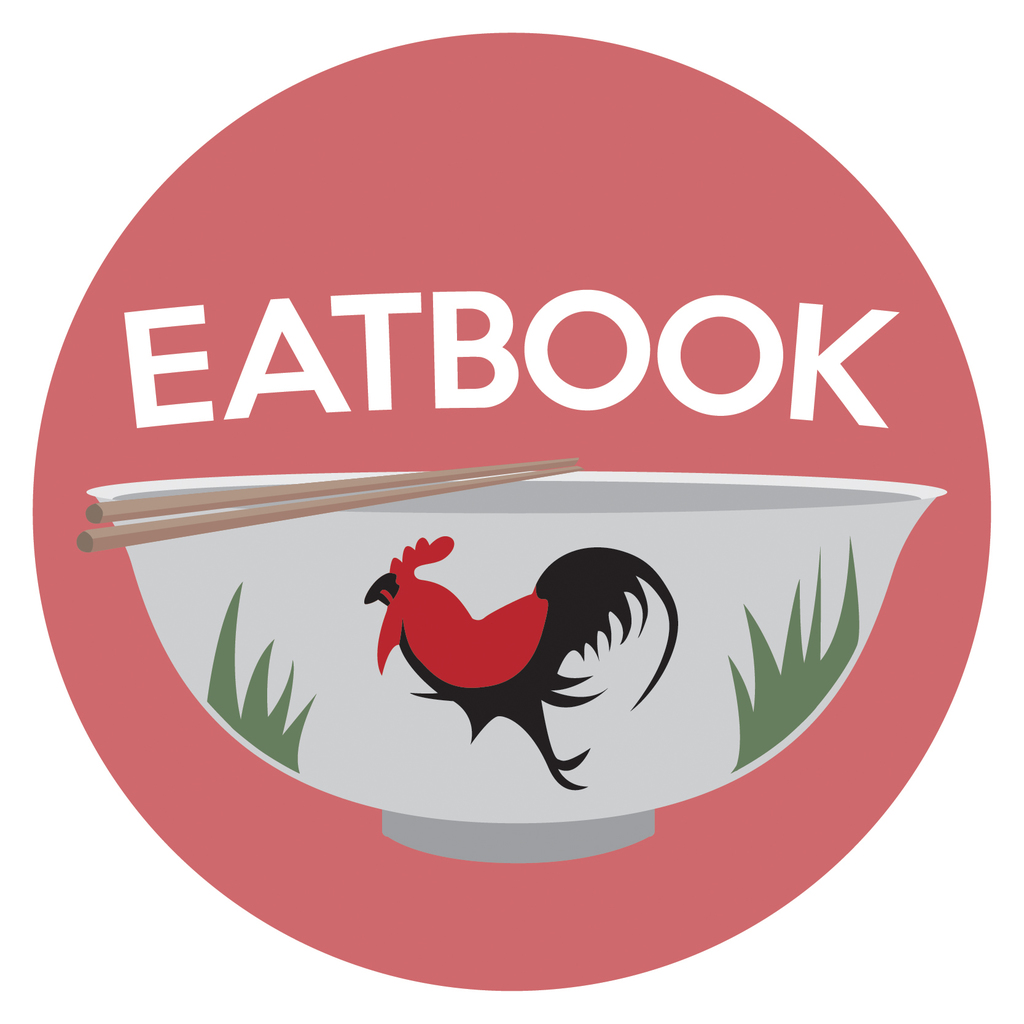 Drop us your email so you won't miss the latest news.