Go gaga at Gudetama Cafe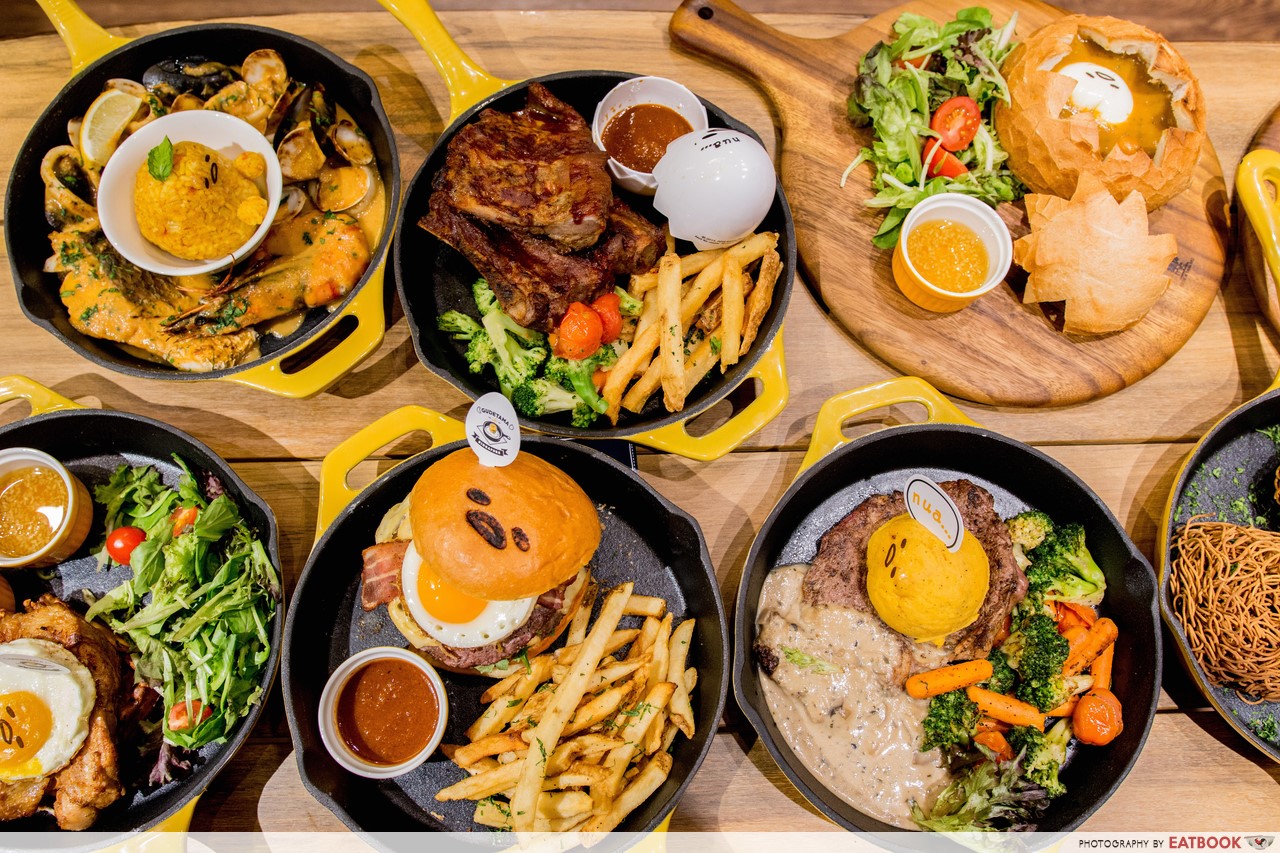 You would've seen this lazy, unmotivated egg all over social media by now. Whether you can't stand it or are completely obsessed with it, this lil egg has now got a cafe to its name!
Slated to open on 30 November, Gudetama Cafe is a heaven for those who swear by their undying love for this Sanrio character. Entering the cafe, you'll find yourself squealing over the decor before snapping a good 423198439 photos in succession. Even if you're not into cutesy stuff, there's a promise of molten lava yolks that'll give all your food shots an extra #foodporn factor.
Here comes the million-dollar question: is the food good? With a series of character cafes charging exorbitant prices for average dishes, it's no wonder we are getting skeptical of such places. To me, Gudetama Cafe found a balance by being equal parts kawaii and tasty.
Mains at Gudetama Cafe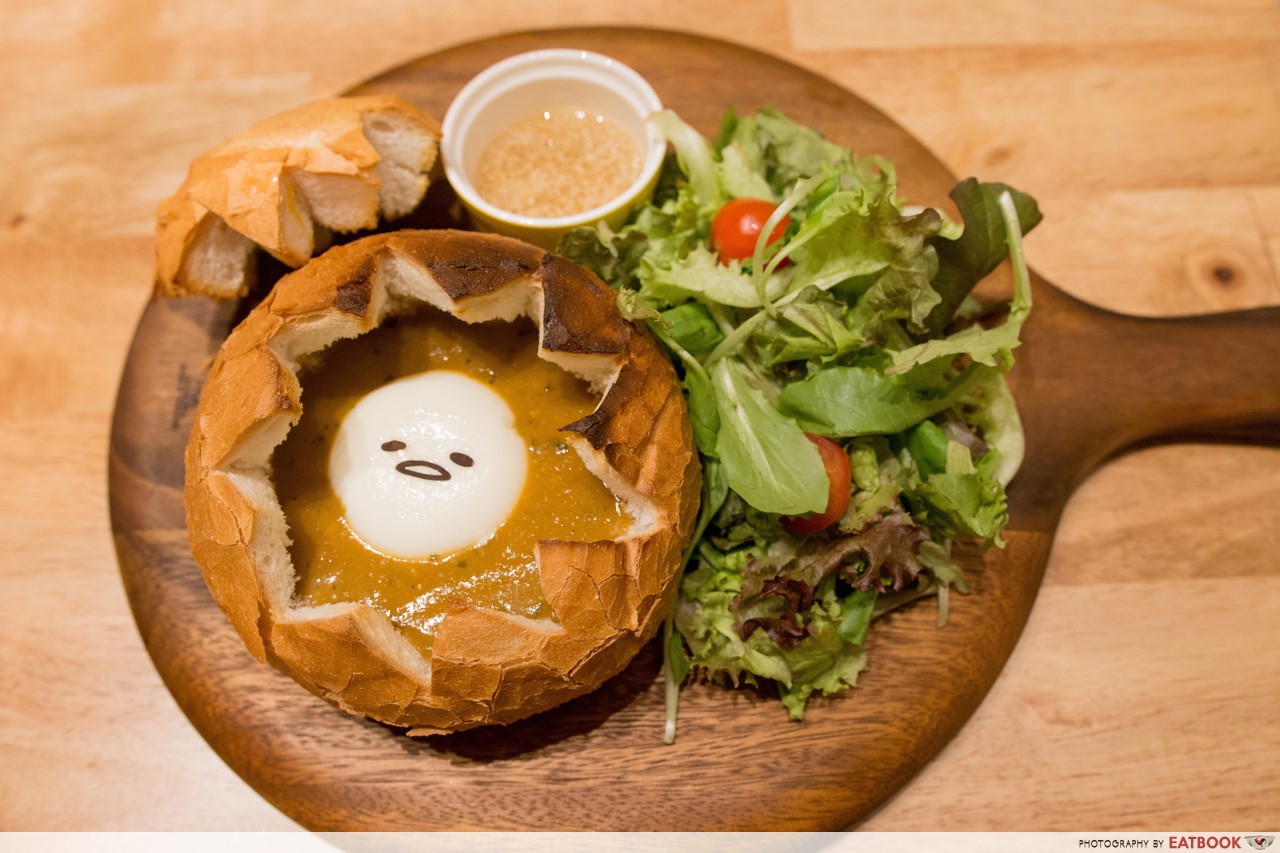 Arriving in a bread bowl is Gudetama Lobster Onsen ($16++) complete with a floating poached egg. The Gudetama in the soup actually looks like it's enjoying a good ol' soak in the onsen and that's the exact expression I had after consuming the warm, comforting soup.
While the taste of lobster came through strongly, the texture of the soup was little too lumpy for my liking. Sad to say, the lumps were not made of lobsters. 
Next up, Eggcited Cajun Chicken with Waffles ($23.90++). Slicing into the dish, the sunny side up put on a glorious show of golden ooze, and the chicken, a promising crackle. Even though the waffle wasn't as crispy as I hoped it would be, the entire dish worked well together.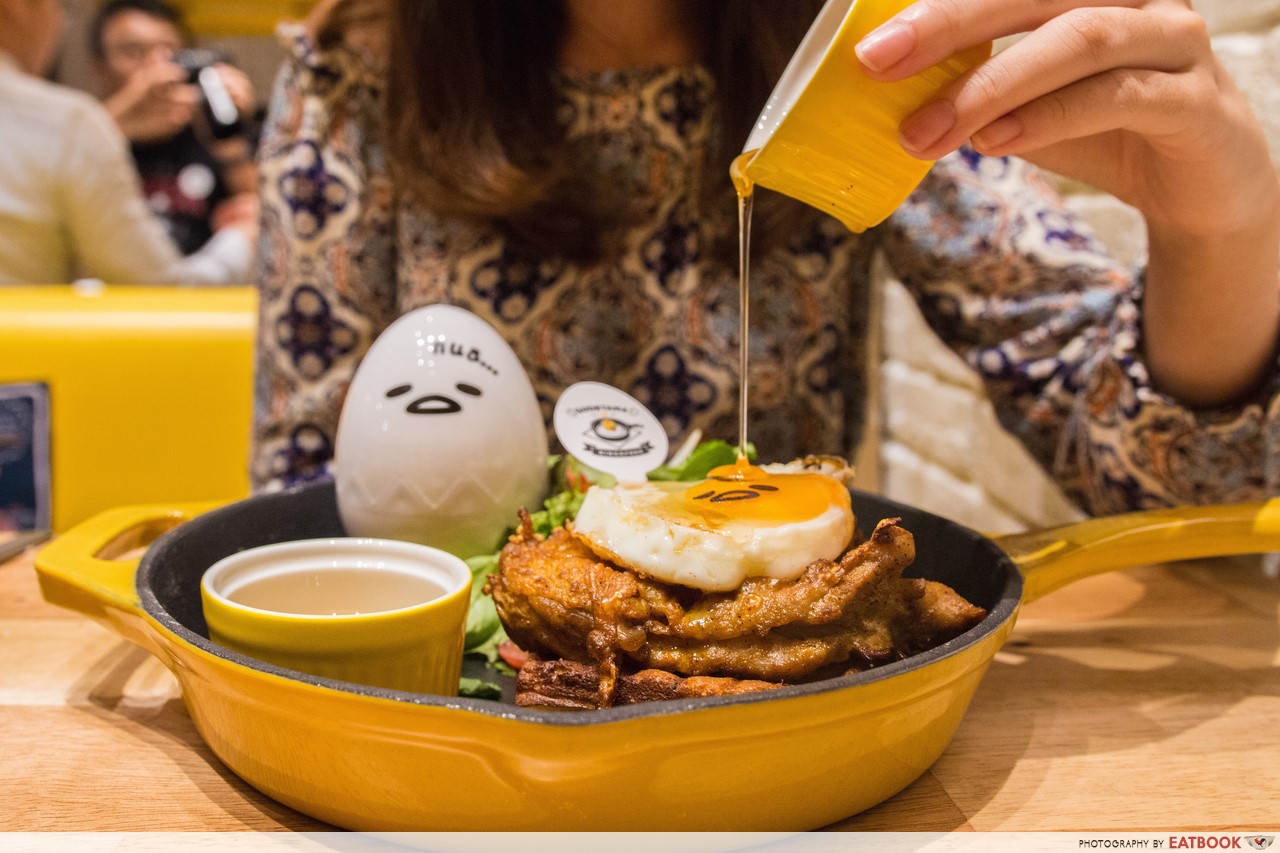 Drizzle some maple syrup over it before tucking in to make this the ultimate sweet-savoury breakfast dish.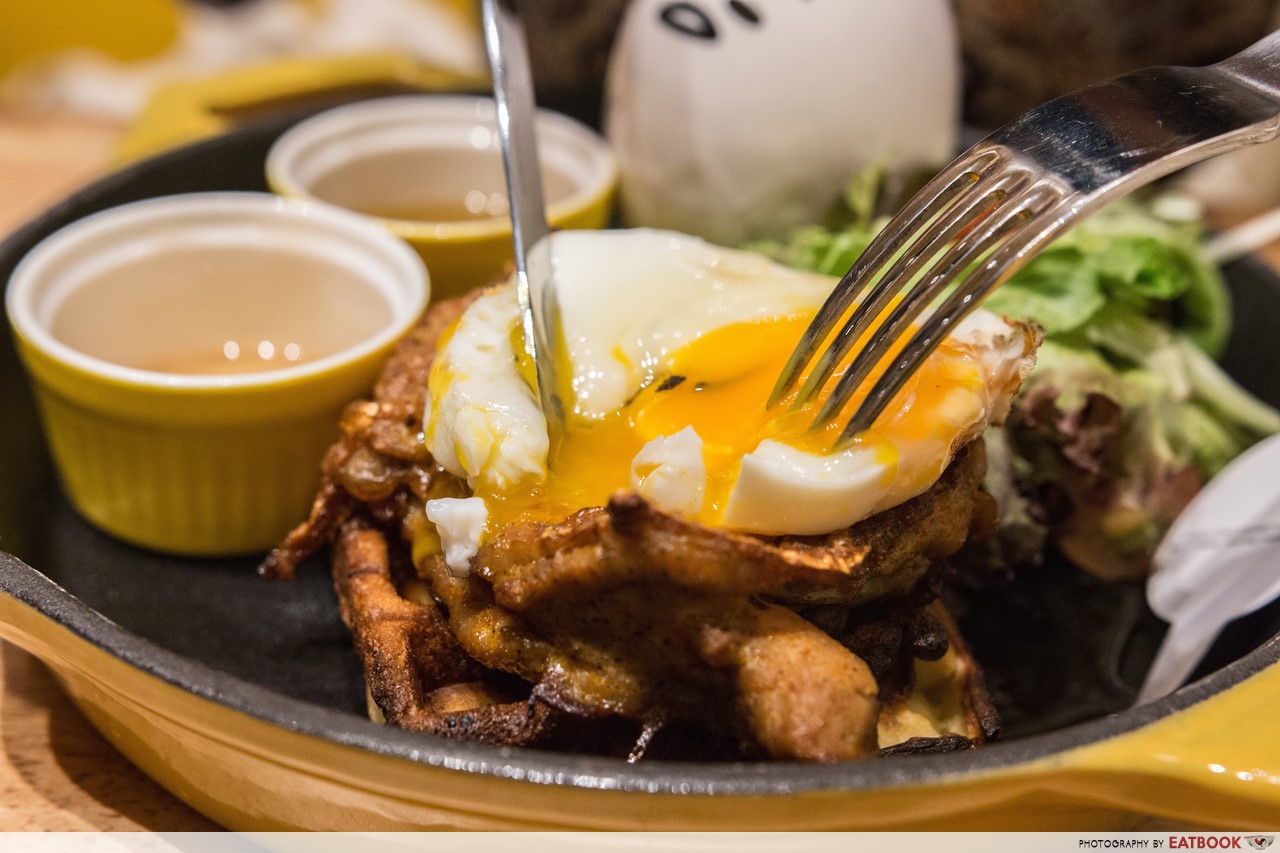 The bold cajun flavour of the tender chicken grabs your attention first, before the creaminess of the yolk and the winning combi of maple syrup and doughy waffle comes through. This dish is hearty, comforting and one that is easy to polish off the plate.
Desserts at Gudetama Cafe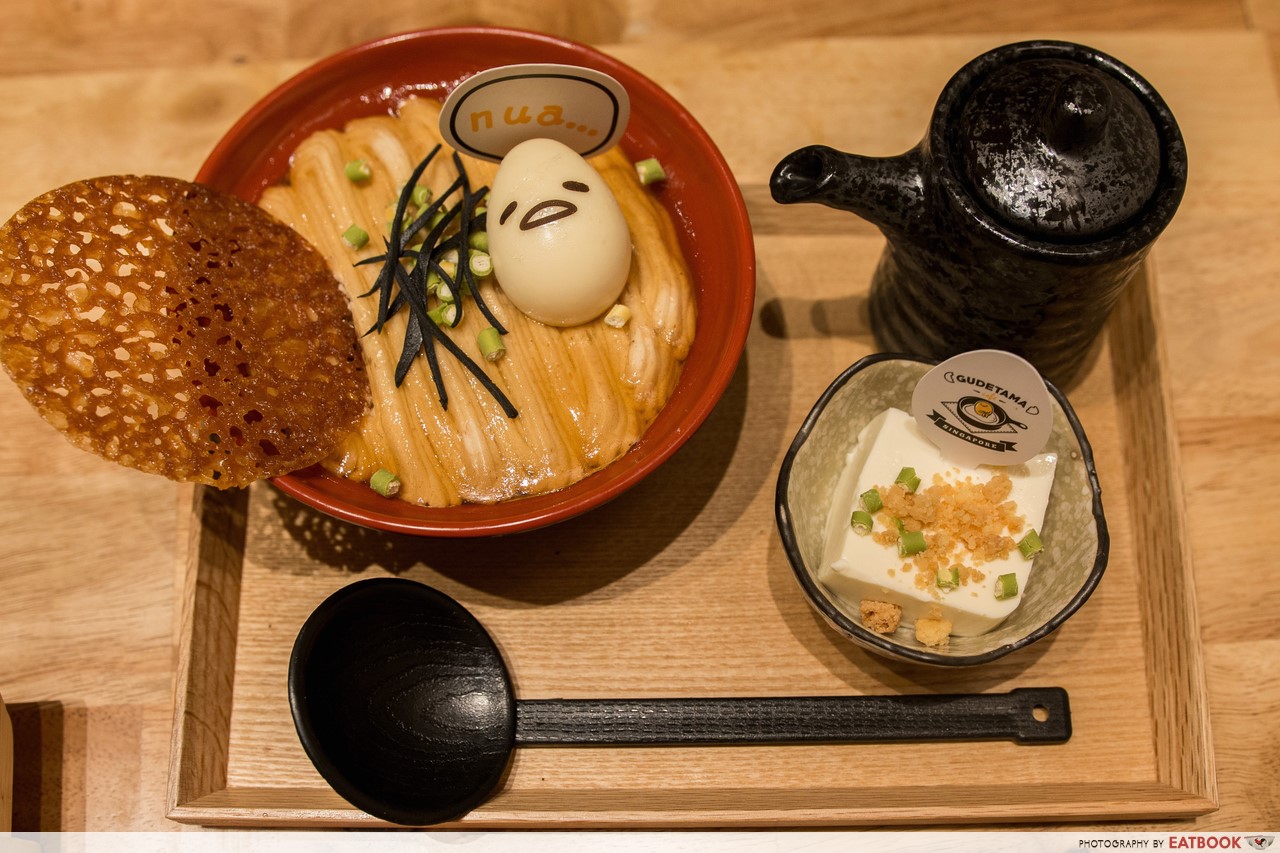 To put our second stomach to good use, we got Shoyu Ramen ($21.50++). Don't be fooled, because this adorable dessert is made up of neither soy sauce nor ramen. Instead, you'll find a layer of Mont Blanc under Earl Grey jelly and sitting atop a chocolate and feuilletine cake. Accompanying it is a block of panna cotta and sweetened rose tea.
This dessert was inspired by @littlemissbento's ramen cake, and she's working closely with Gudetama Cafe to design and create dishes. Her biggest challenge is incorporating a Gudetama element into dishes that don't feature eggs like "Shiok" Pork Ribs ($38.50++), which comes with a sauce holder in the form of an egg with Gudetama's face and the word "nua" (Hokkien for "soft").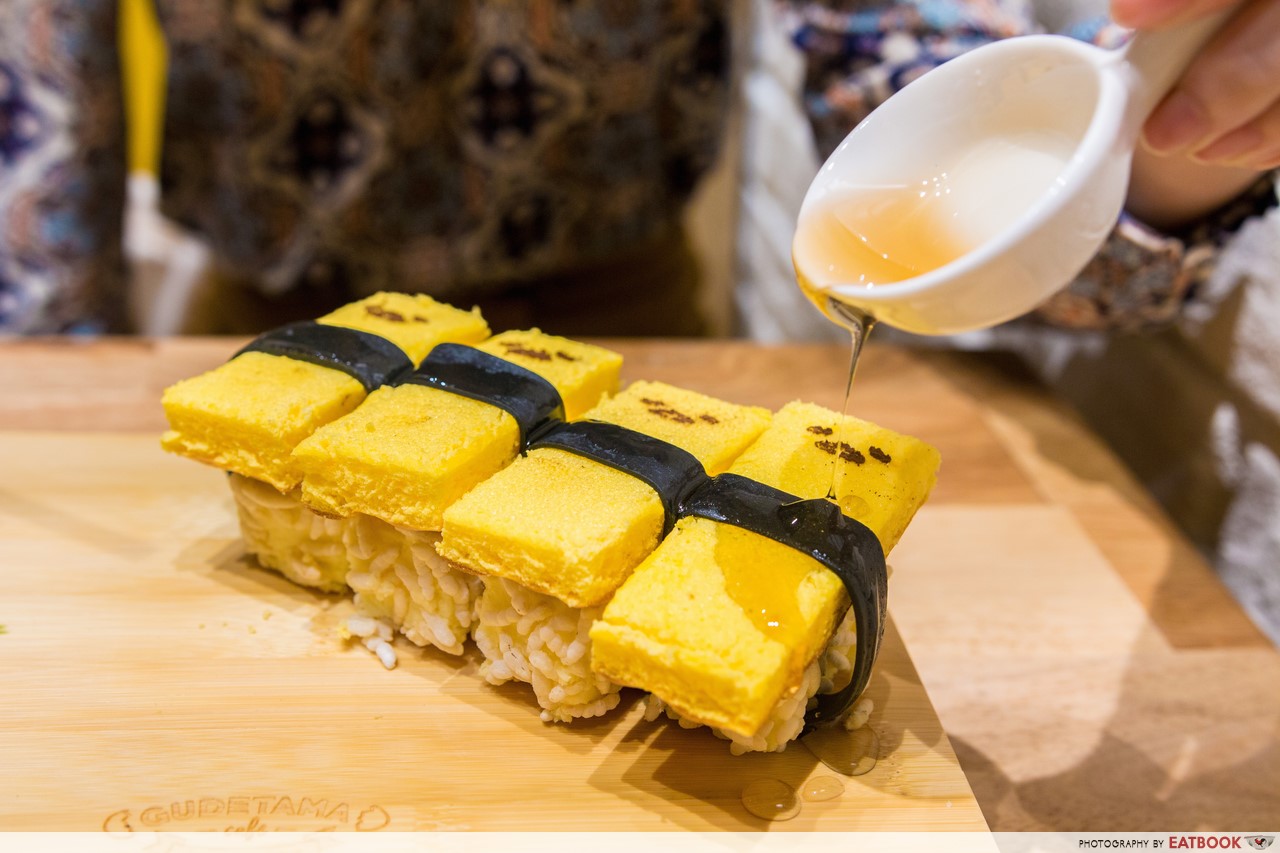 And it doesn't stop at ramen. TA-MA-GO ($17.90++) is a dessert made of sponge cake and a cheesecake base coated with puffed rice. There's matcha curd on the side to enhance the flavour, but it was a little too thick to be spread smoothly. The rice crisps had a soggy, lau hong texture as well, making this a dish I wouldn't order again.
Drinks at Gudetama Cafe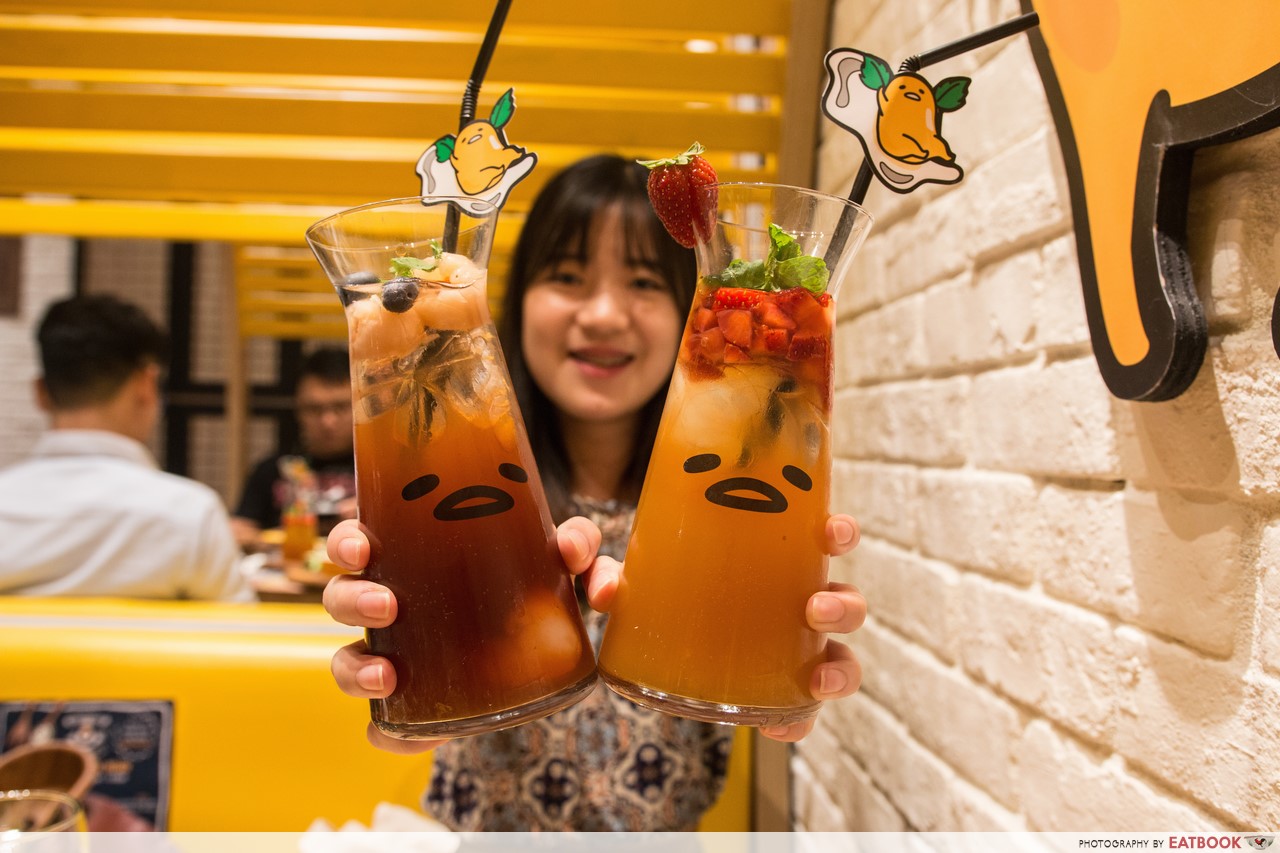 Between Hula Hula ($8.50++) and Straw-Very "Lazy" ($8.50++), I'd pick the latter. Straw-Very "Lazy" is tea infused with blueberries and lychee, which made for a refreshing drink. Hula Hula had strawberries floating on rose tea. It reminded me of a scented candle, so hold off this if you want something light.
Ambience at Gudetama Cafe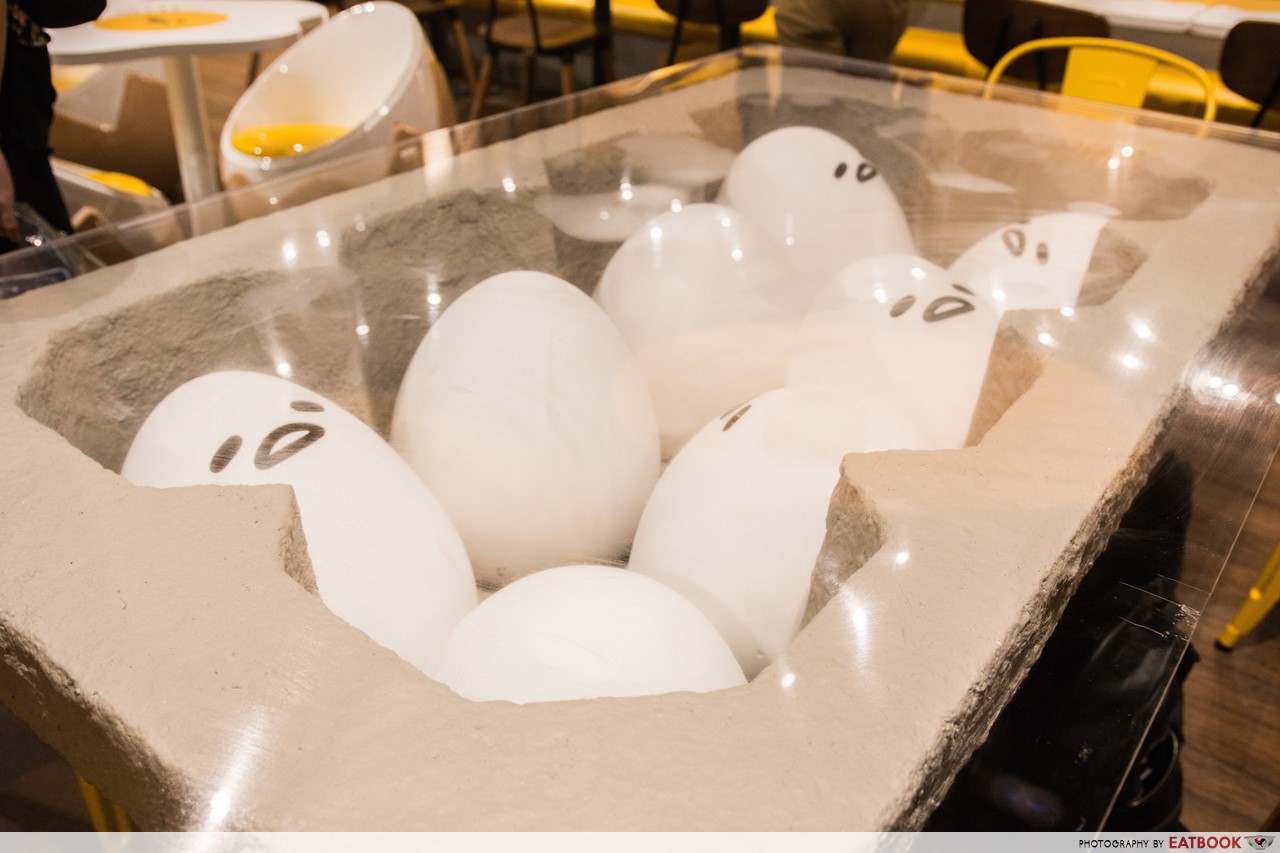 I may not be Gudetama's biggest fan, but there's no denying that this place brought out the fangirl in me. Besides the egg shaped chairs and tables, they had a carton of Gudetamas as a giant table that took the prize for me.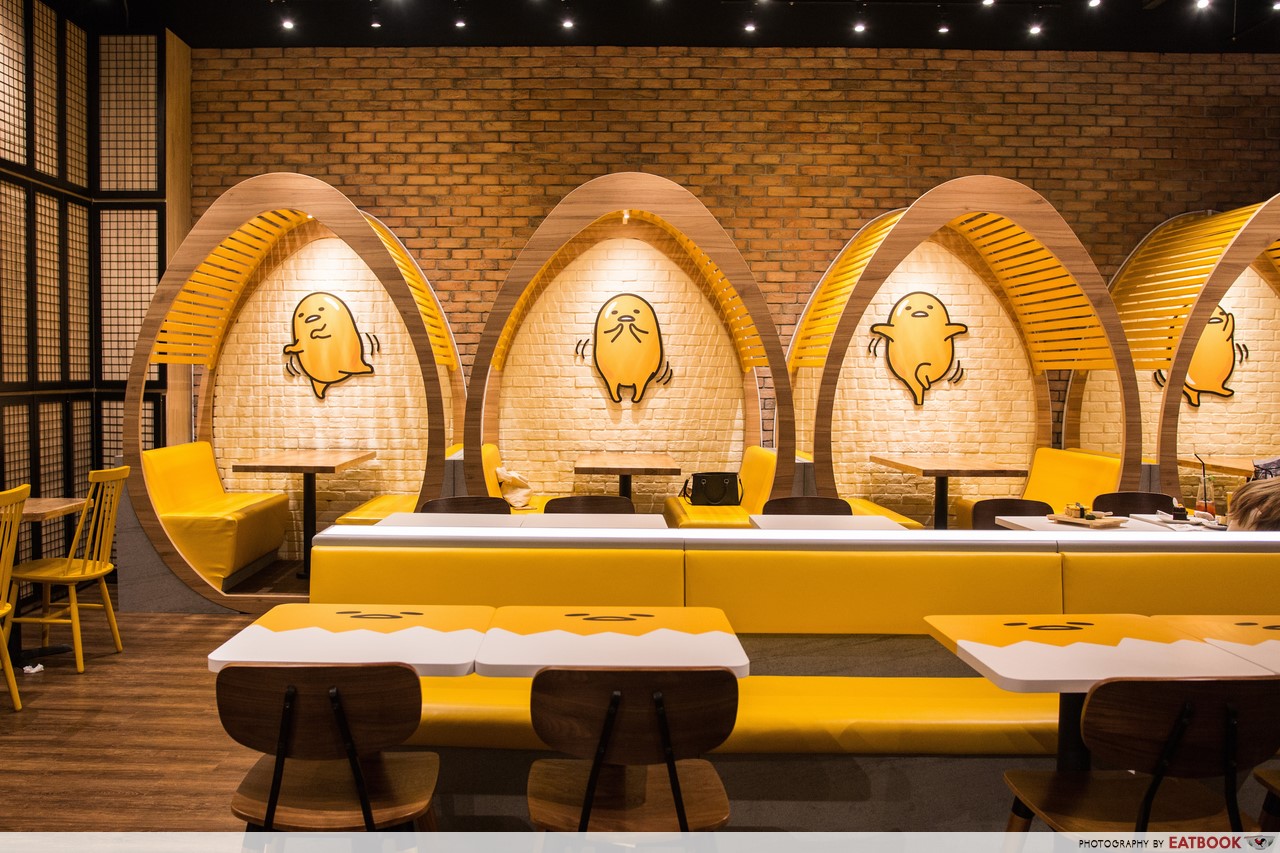 The egg shaped booths were cosy and bright, and can seat up to four people. There's also a different posed Gudetama in each one that you can take pictures with.
The verdict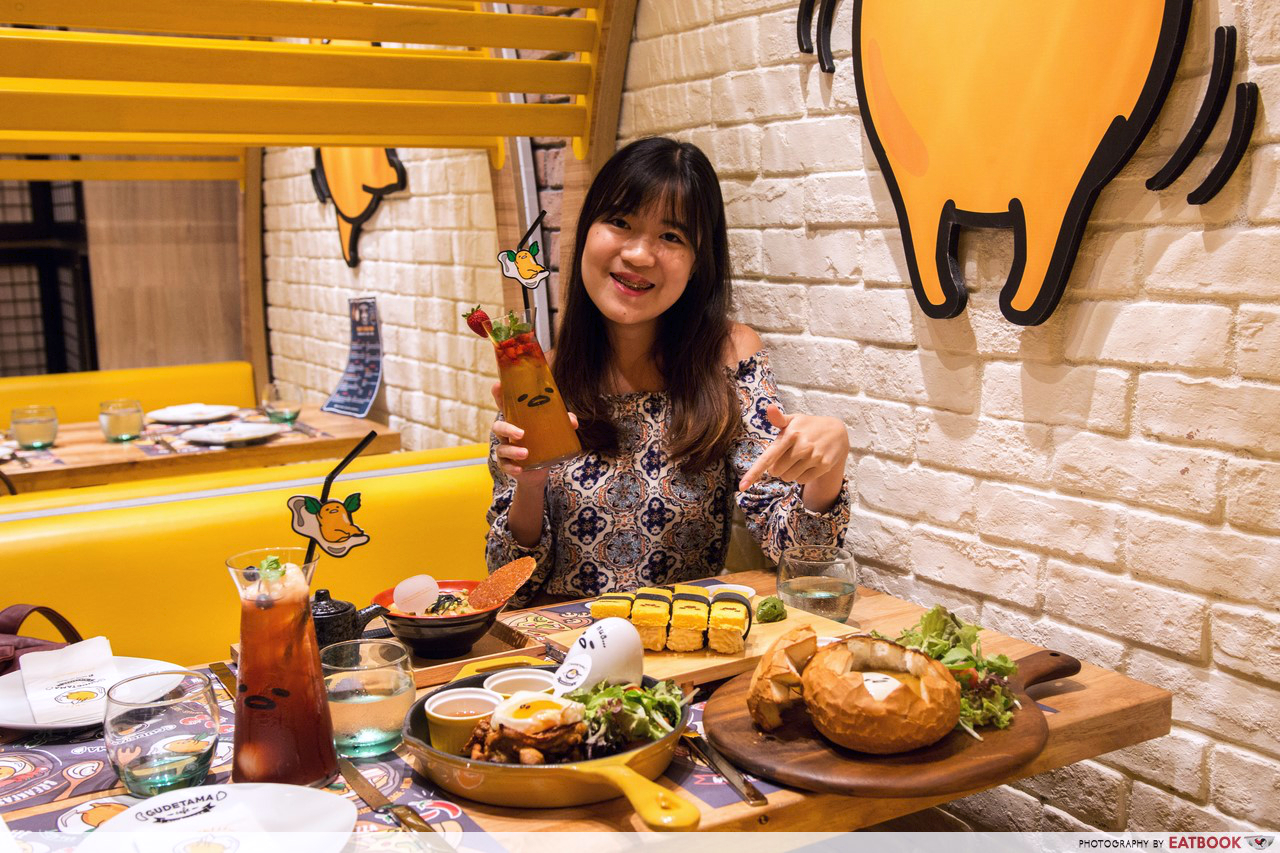 As compared to some other character cafes in Singapore, food here is considerably better. You'll find familiar dishes like waffles, as well as quirkier options like the ramen- and sushi-shaped desserts. The 112-seater cafe exudes a snug and friendly vibe as well, so you can expect long queues the second the doors open.
Although nosh here can be a little pricey, most items are good to share, so you won't be paying as much as you think. While the jury is still out on whether this will be the most popular character cafe in Singapore, I must say it's one of the few that tempts me to return. In short, fans of Gudetama will have a ball of a time here, but the experience probably won't be that bad for the unwilling ones who got dragged into coming here either. 
This was a media tasting at Gudetama Cafe.
Summary
Pros
– Unique decor
– Instagrammable food
– Convenient location
Cons
– Expensive
– Long queue
Recommended Dishes: Eggcited Cajun Chicken with Waffles ($23.90++), Straw-Very "Lazy" ($8.50++)
Operating Hours:
Monday to Thursday 9am to 10pm
Friday to Sunday 8am to 10pm
Last order at 9:30pm daily.
Address: 3 Temasek Boulevard, #01-361, Suntec City Mall Tower 3, Singapore 038983