Cinnamoroll cafe offers a whole load of kawaii
Update: This pop-up cafe has permanently closed.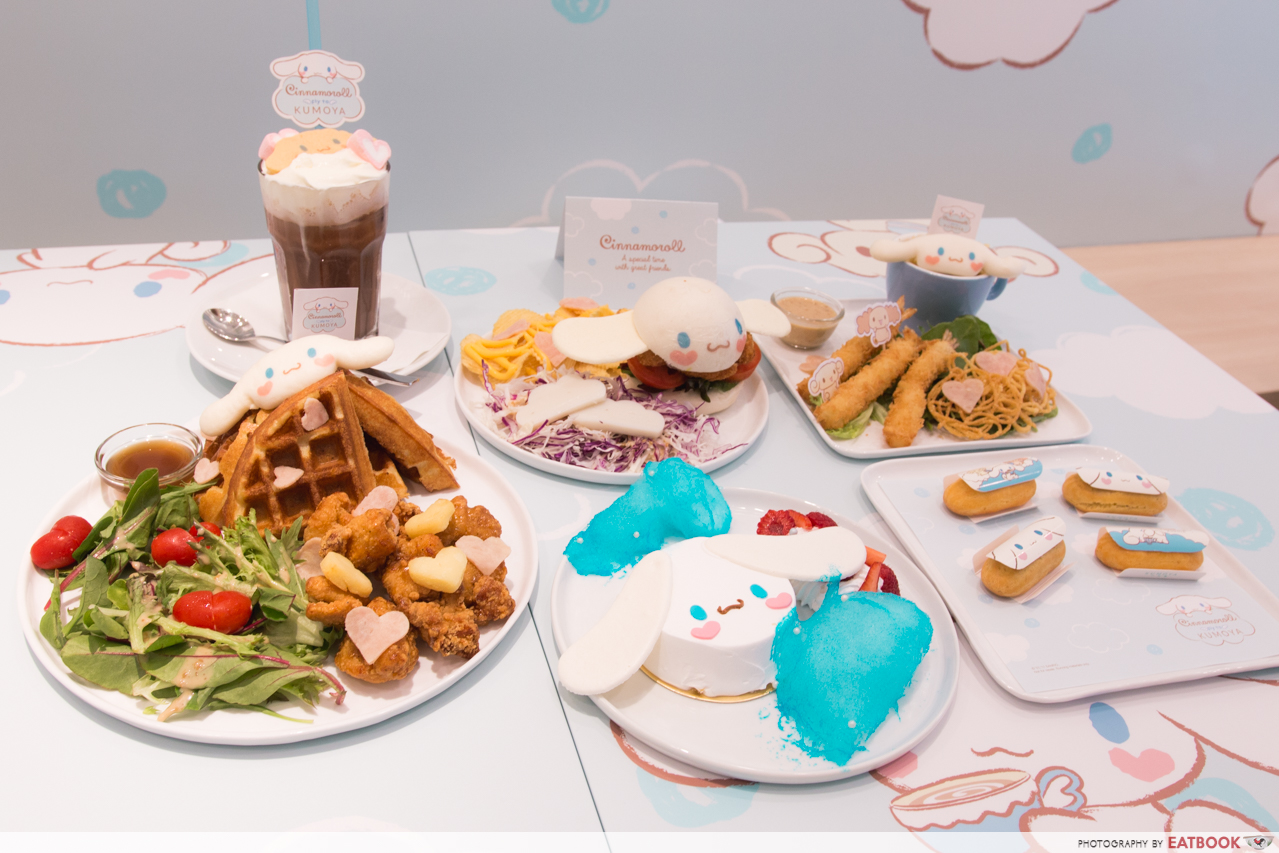 I may not be a hardcore pink-lovin' girly girl who squeals at the sight of Hello Kitty, but that didn't stop me from fawning over the fluffy soft toys, adorable food, and detailed interior design of the new pop-up Cinnamoroll cafe, AKA Cinnamoroll Flies To Kumoya.

To celebrate the 15th anniversary of this beloved character, Sanrio and Kumoya collaborated to start this pop-up cafe at Bugis. If you're already sold, take note that this will only last from 17 May to 13 August 2017, so pay them a visit while you can!
Food at Cinnamoroll cafe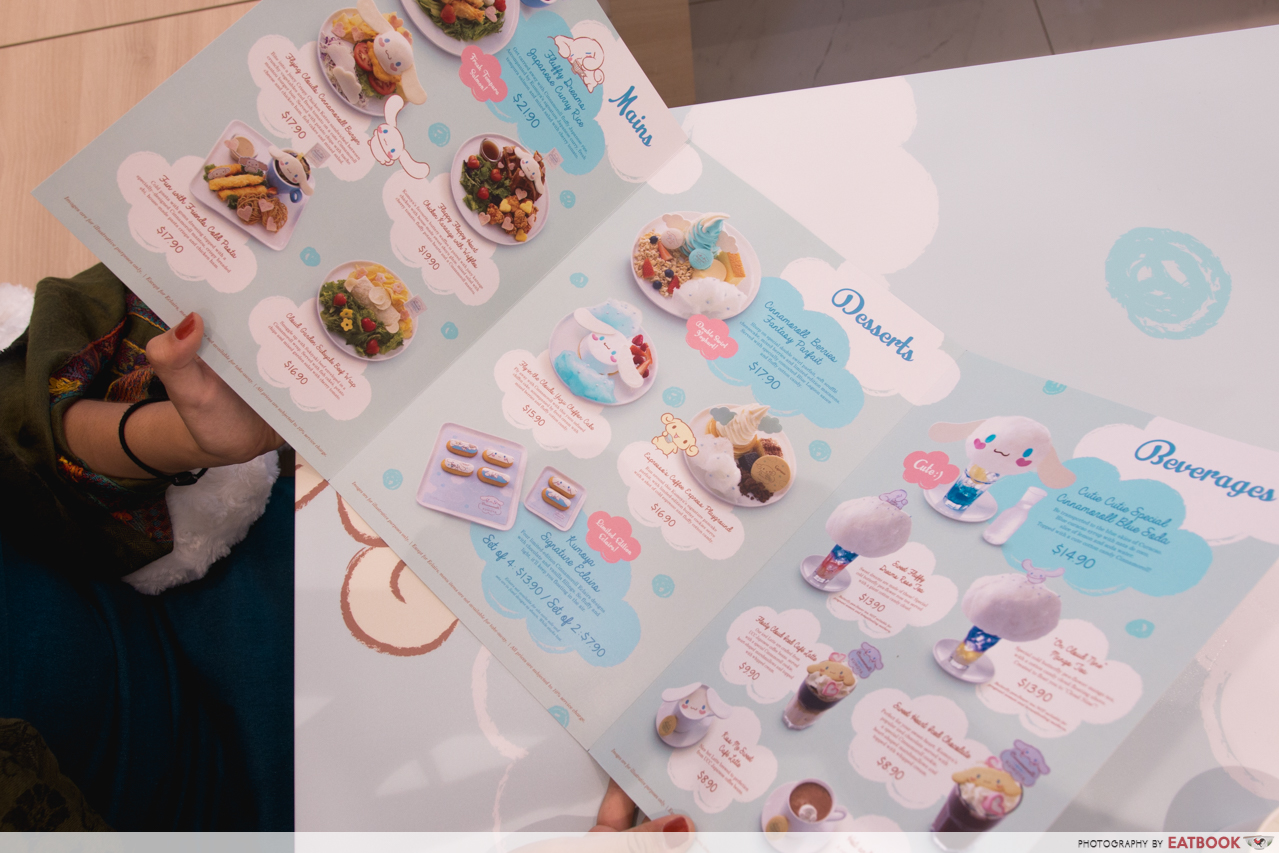 Their menu has been curated and styled by food artist and blogger, Shirley Wong AKA @littlemissbento, as well as the Kumoya kitchen team. Shirley was also the one who helped Gudetama Cafe design their dishes. Every single dish and drink here features the adorable Cinnamoroll.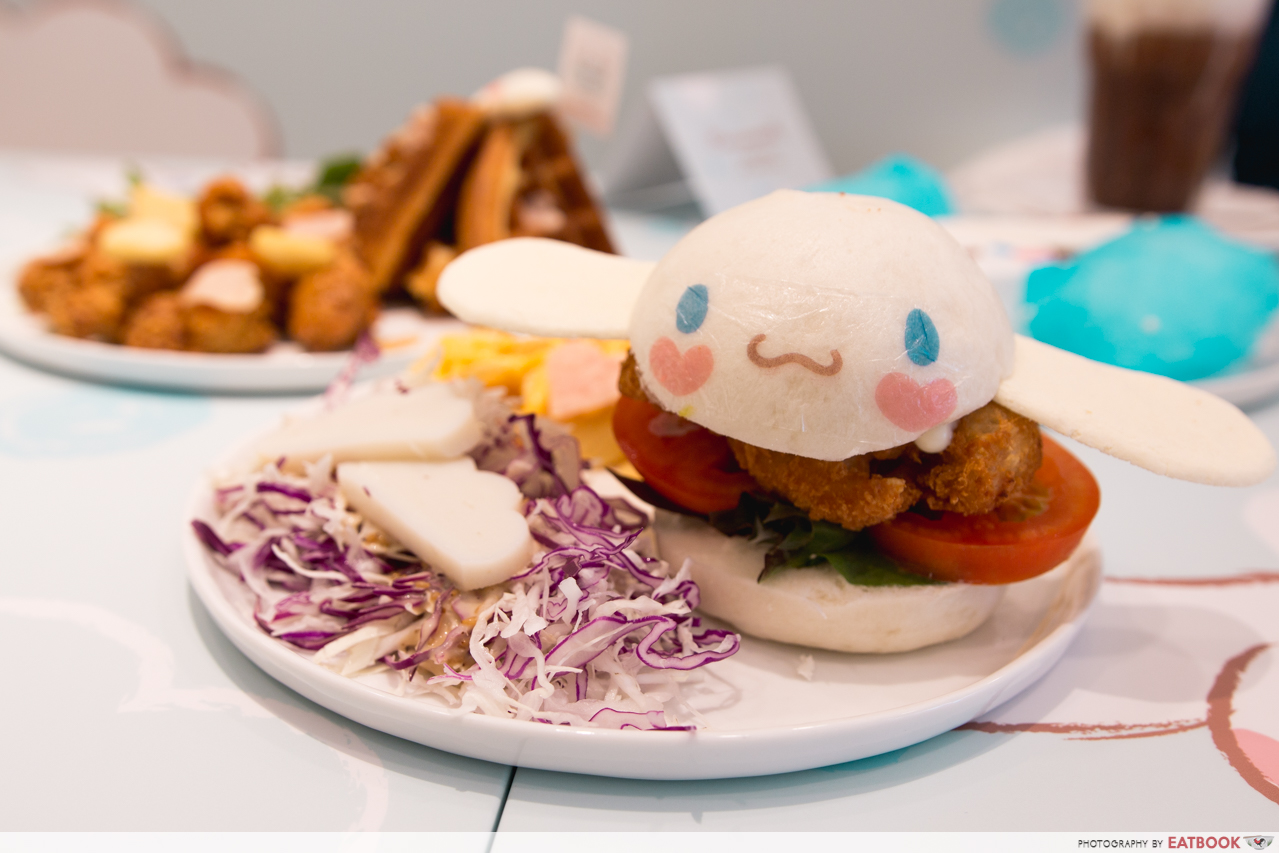 We started with this Flying Clouds Cinnamoroll Burger ($17.90+). The burger was made with a chicken katsu patty, a dollop of mayonnaise, fresh tomato slices, lettuce leaves and a mantou bun. The top half of the bun even had Cinnamoroll's face and two plain meringue ears sticking out from both sides.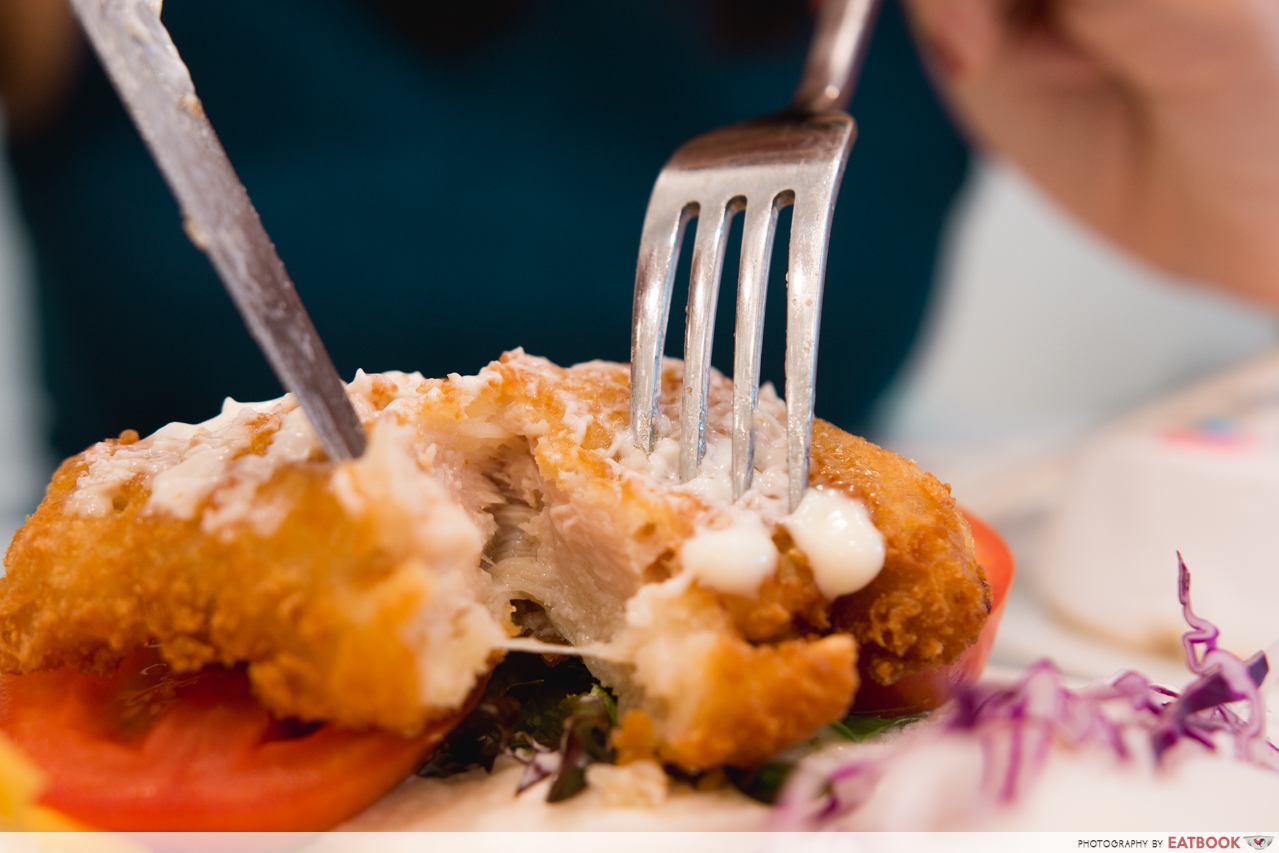 The highlight of this dish was the chicken katsu. Juicy and tender, the chicken was easy to cut into. The thin layer of fat and mayonnaise added some creamy richness to the burger. Slightly crispy and golden brown, the lightly battered crust gave every bite more texture
Though the bun was undeniably adorable, it was quite dense and on the dry side. The burger was served with a side of salad made with shredded red cabbage leaves, a drizzle of sesame dressing, and two cloud-shaped fish cake slices. There was also a handful of potato chips.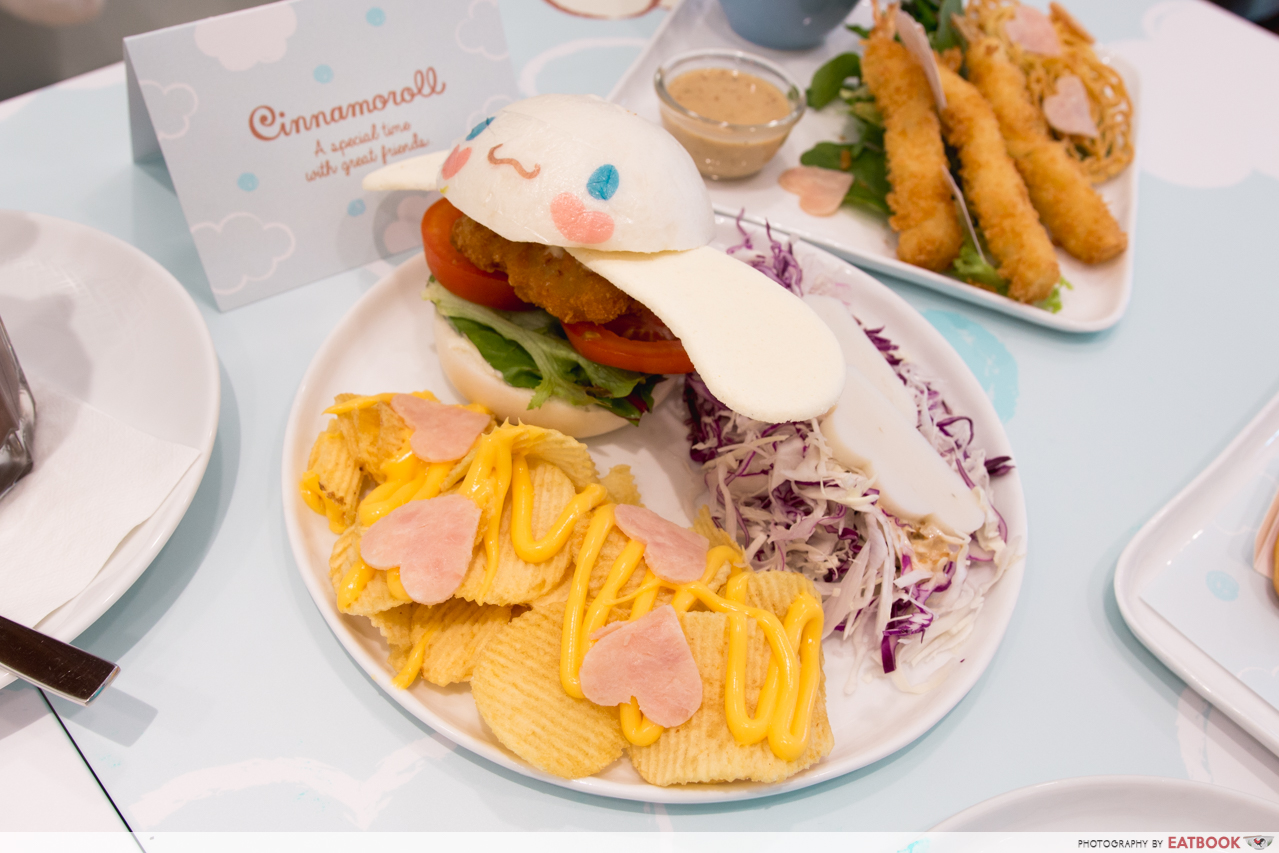 The ridged potato chips were topped with light nacho cheese and heart-shaped ham slices. The saltiness of the chips and ham was mellowed out by the creamy cheese sauce.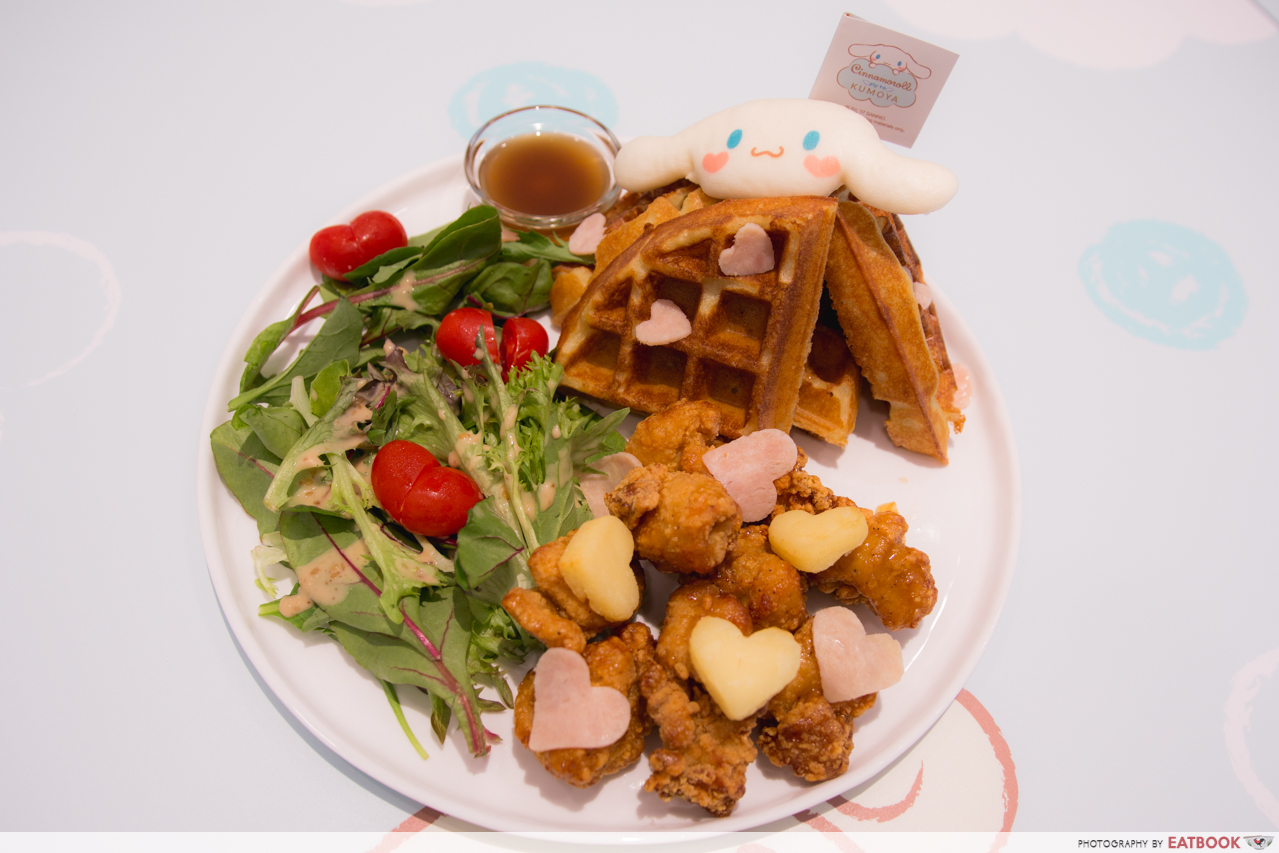 If you're a fan of brunch items, get their Flappy Flappy Heart Chicken Karaage with Waffles ($19.90+). This was my favourite main out of the three we tried. This dish comprises a warm waffle, shoyu glaze, several pieces of chicken karaage, as well as a salad with cherry tomatoes and sesame dressing.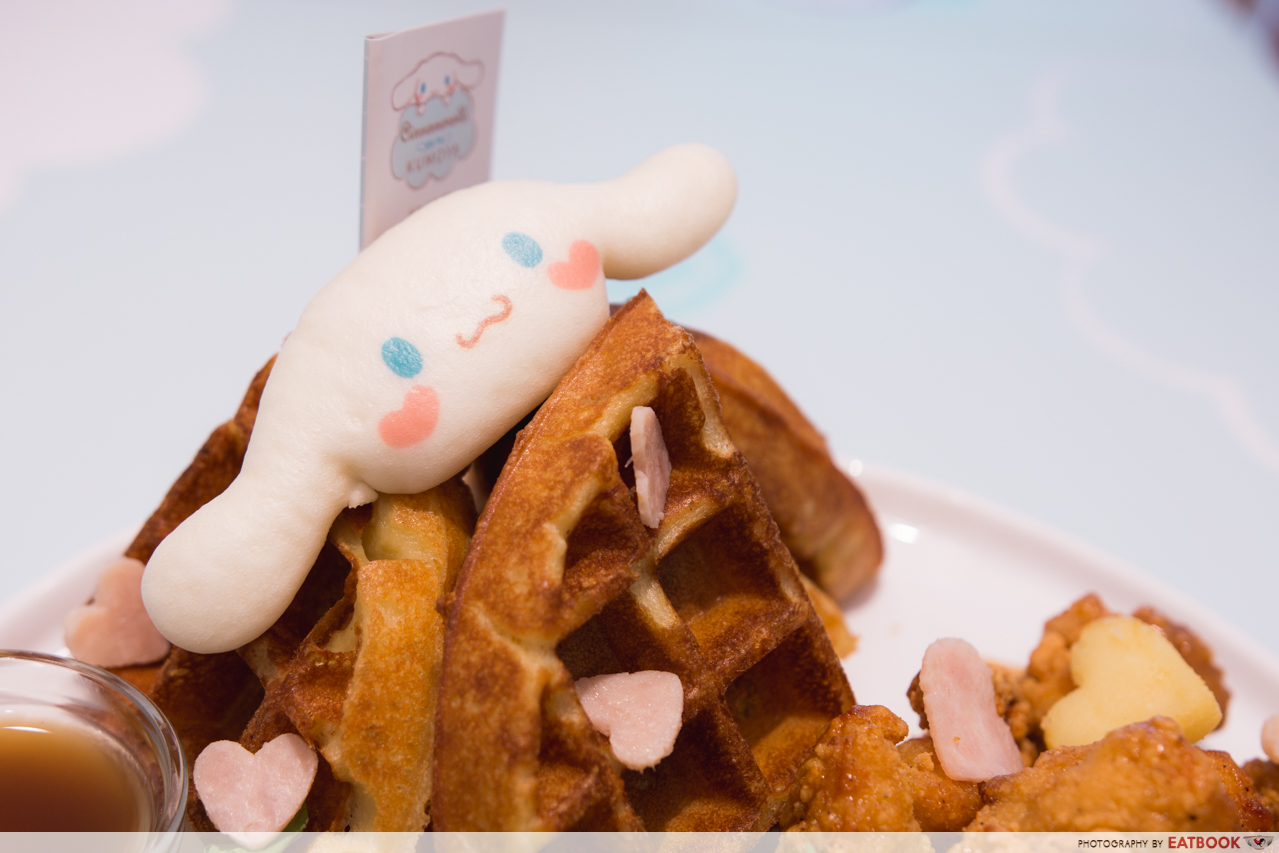 The Cinnamoroll mantou and the small heart-shaped pieces of ham, potatoes, pineapples and cherry tomatoes brought the entire look of this dish together.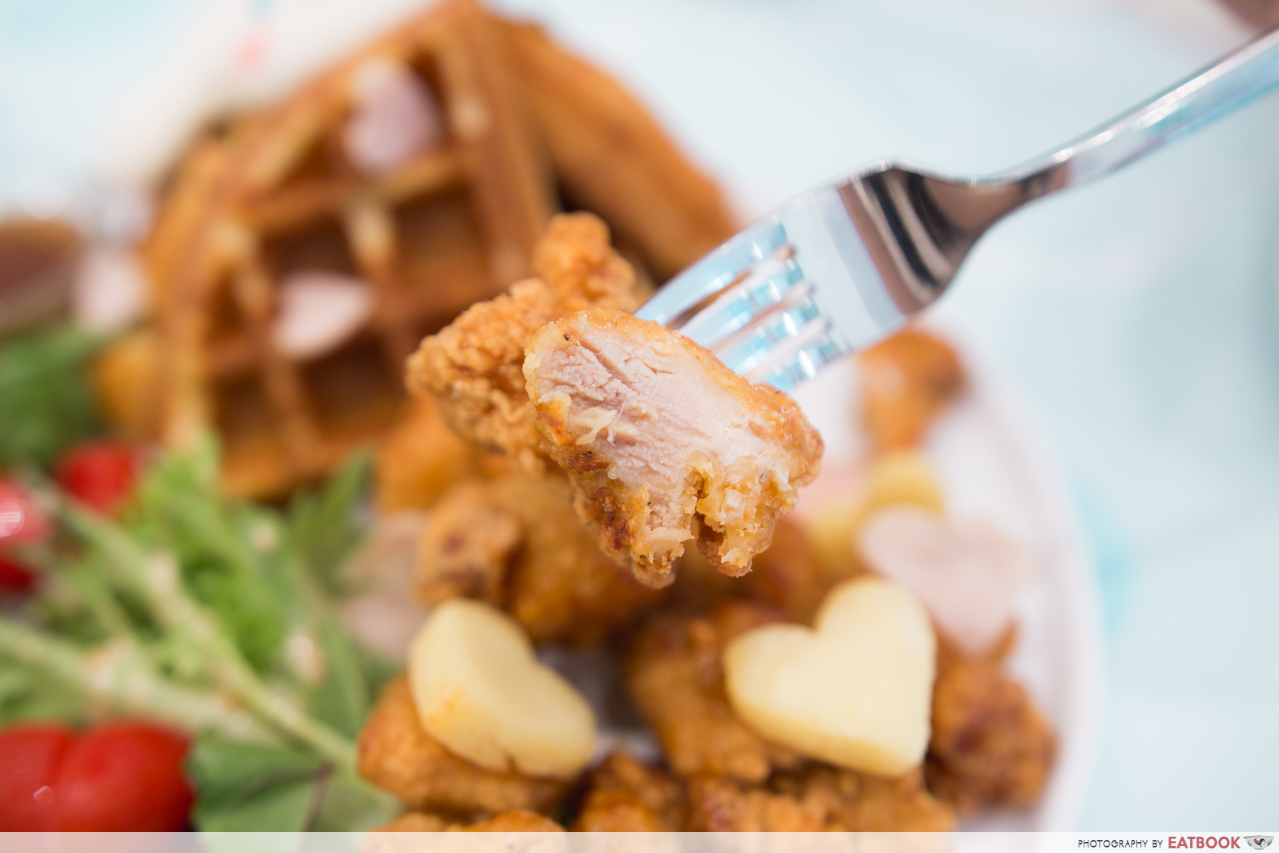 The pieces of karaage chicken were juicy and tender, very similar to the chicken katsu in the previous dish. Though these were perfectly fine on their own, they tasted even better when eaten with the waffles and shoyu sauce.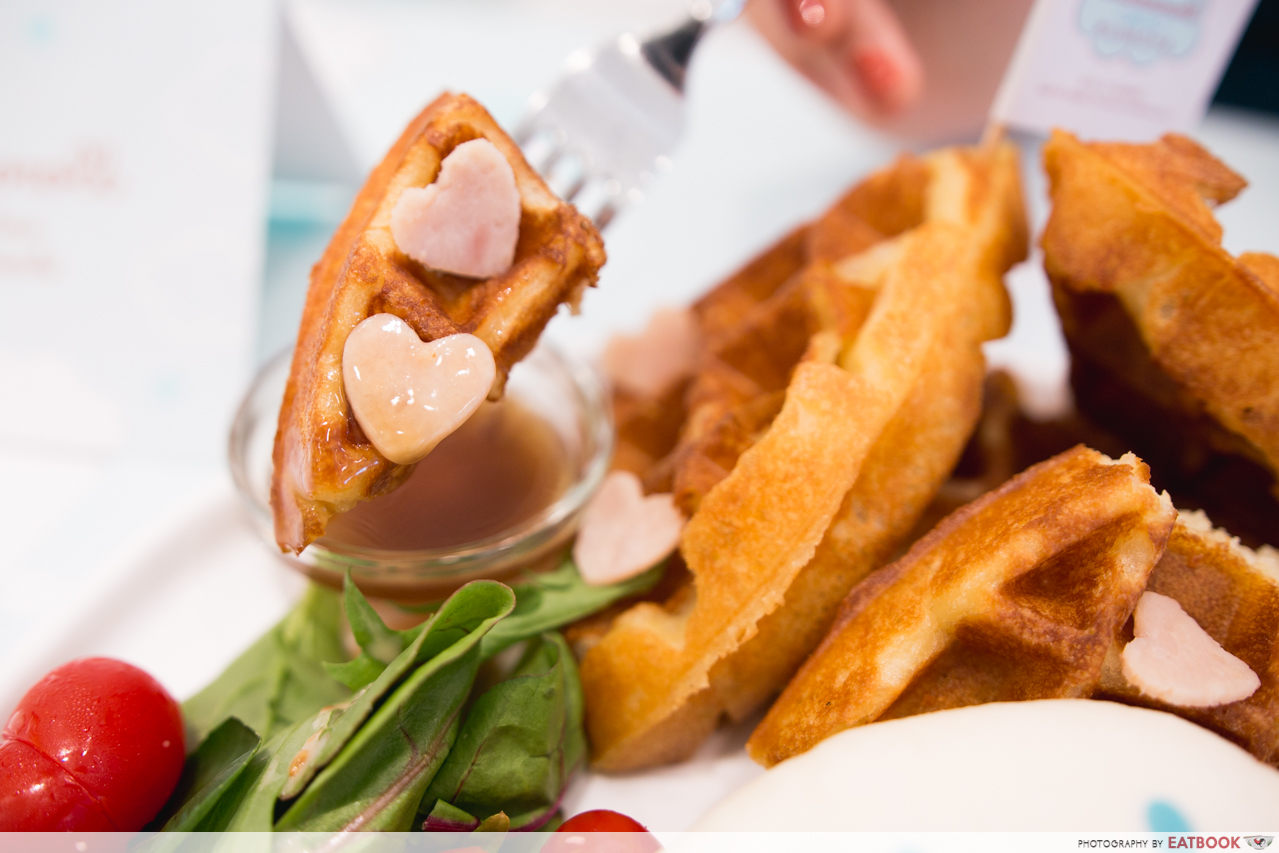 These waffles were crisp on the outside and had crunchy edges, while still being soft and dense on the inside. The batter had a slight salty taste, which worked out well with the savoury chicken. Their house-made shoya glaze had citrusy notes though it was still mostly sweet, making it more complex in flavour as compared to maple syrup.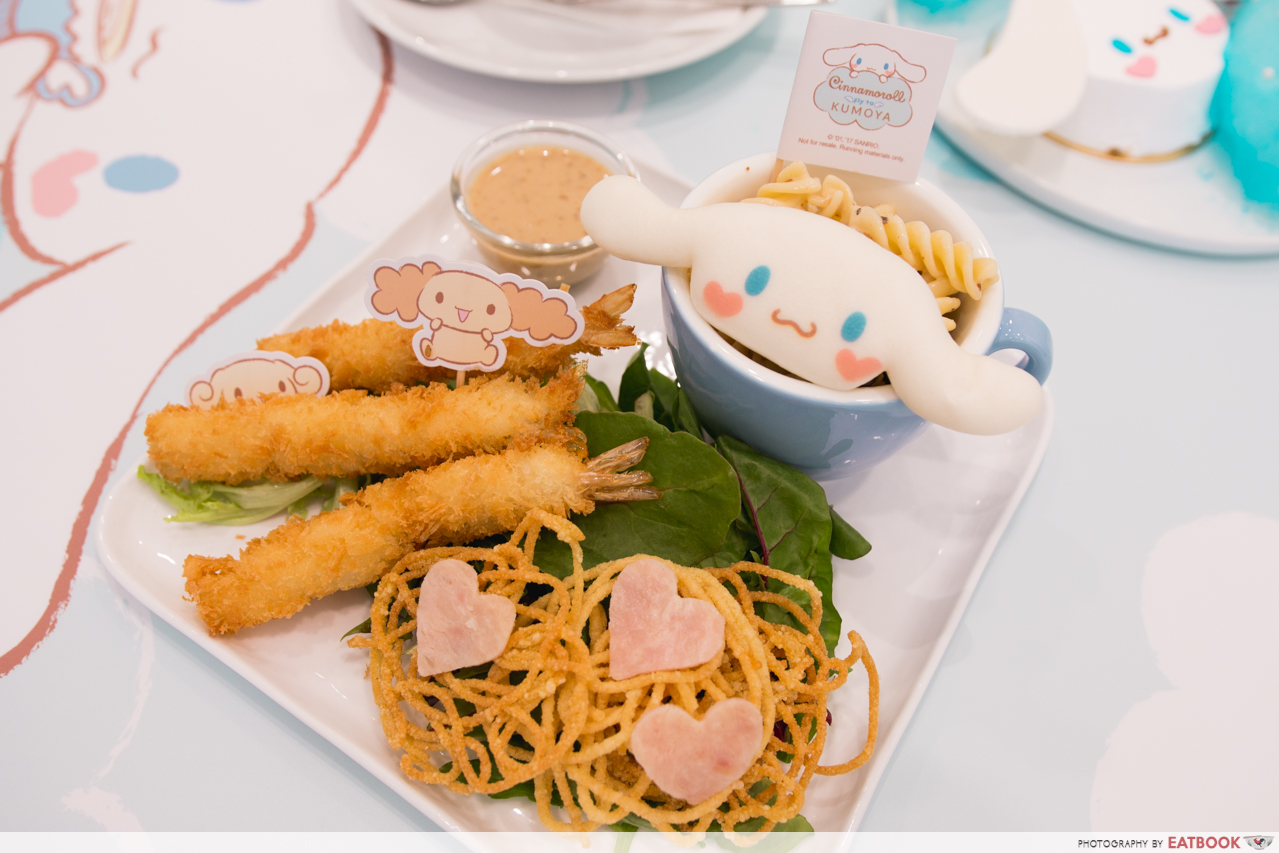 The last main we tried was Fun with Friends Cold Pasta ($17.90+). Though this dish may have looked as cute as the others, it came in a relatively small serving. A cup of cold pasta was topped with a Cinnamoroll mantou and served with house-made pasta crisps and tempura prawns.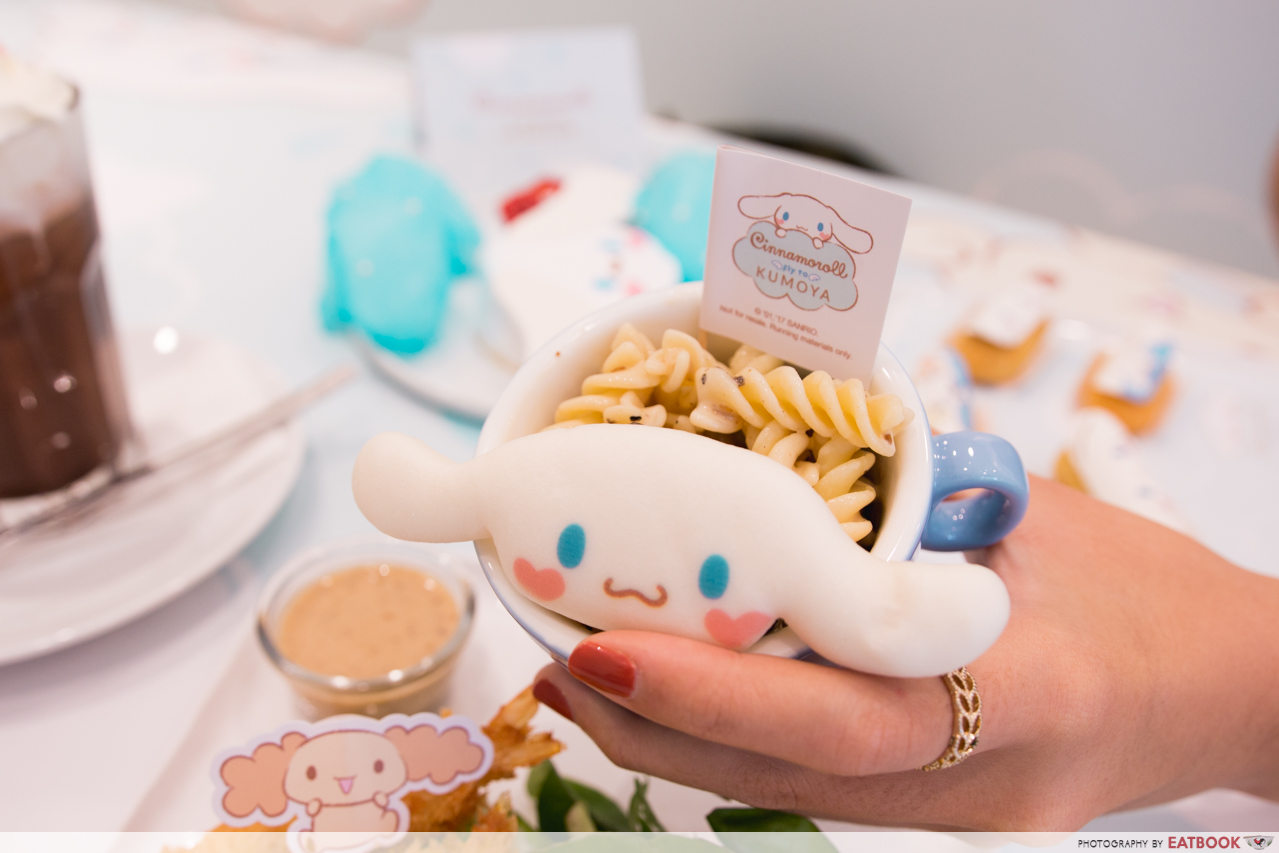 Cold rotini pasta and chunks of mushroom were tossed in Japanese roasted sesame dressing and served in a sky blue tea cup. Though the pasta's spiral shape was great for the sauce to cling onto, the dish was still quite plain and could use more flavour.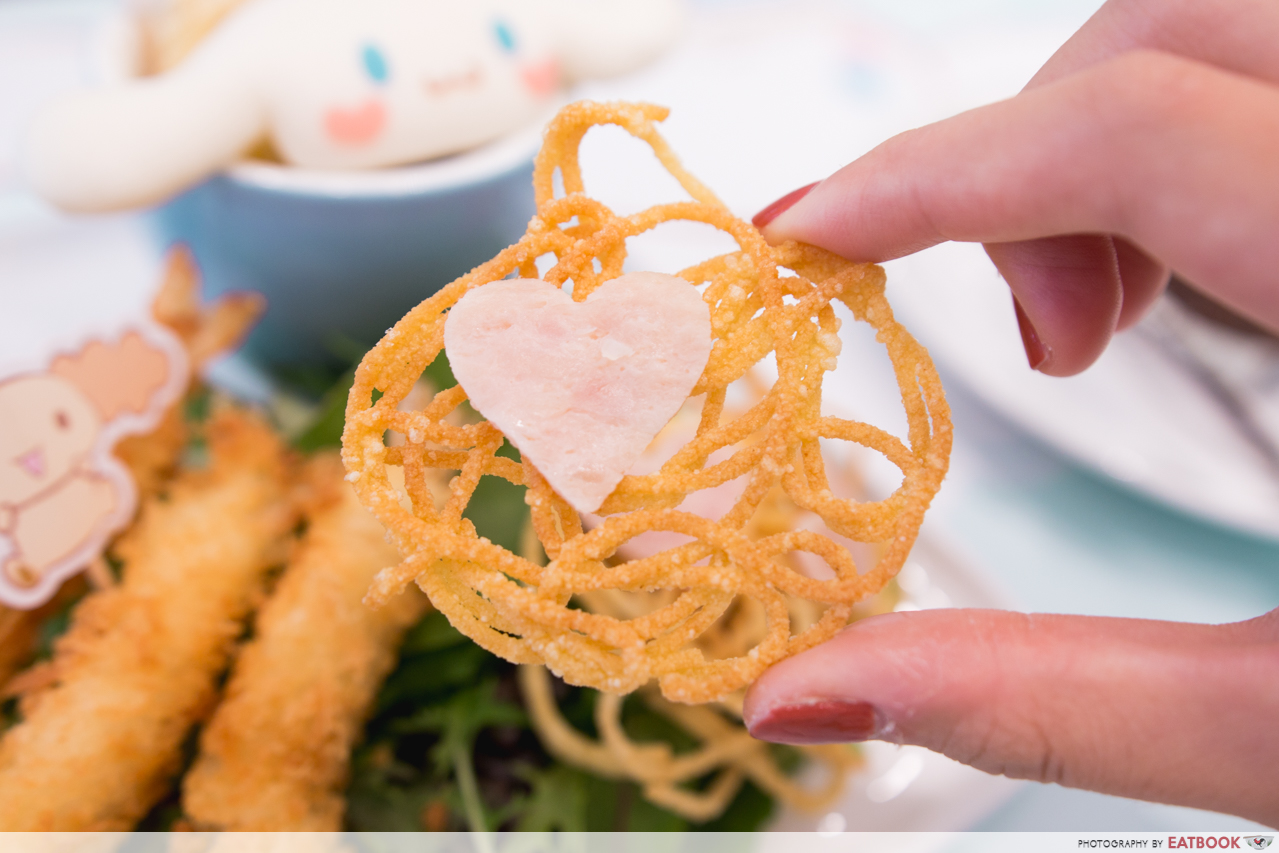 These house-made pasta crisps gave the dish more texture. The crunchiness of each piece reminded me of murukku. But just like the cold pasta, these were lacking in flavour.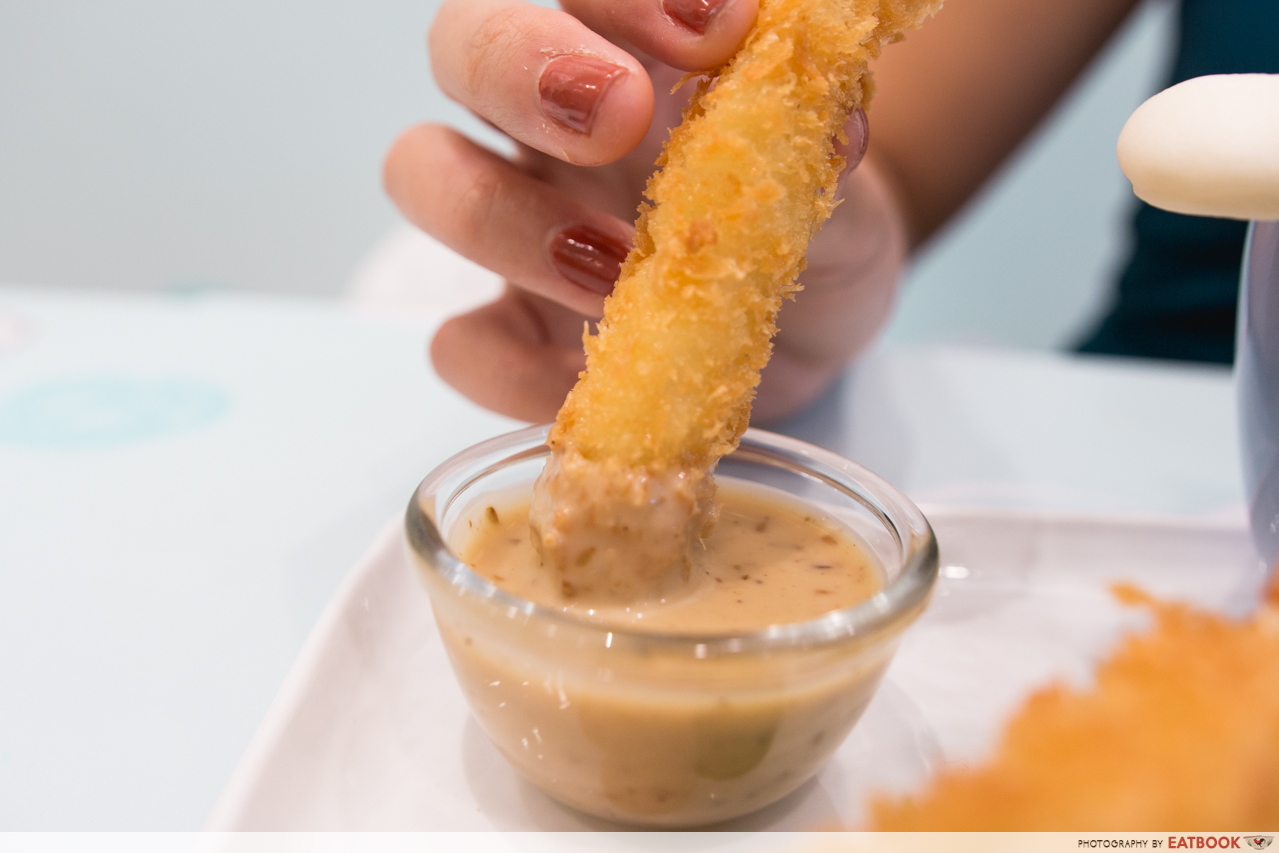 The tempura prawns were the highlight of this dish. Each piece had a thin layer of batter and panko, ensuring that the outer layer of the prawns remained crispy without being greasy. The roasted sesame sauce used in the pasta was also served on the side and went well with the natural sweetness from the prawns.
Drinks at Cinnamoroll cafe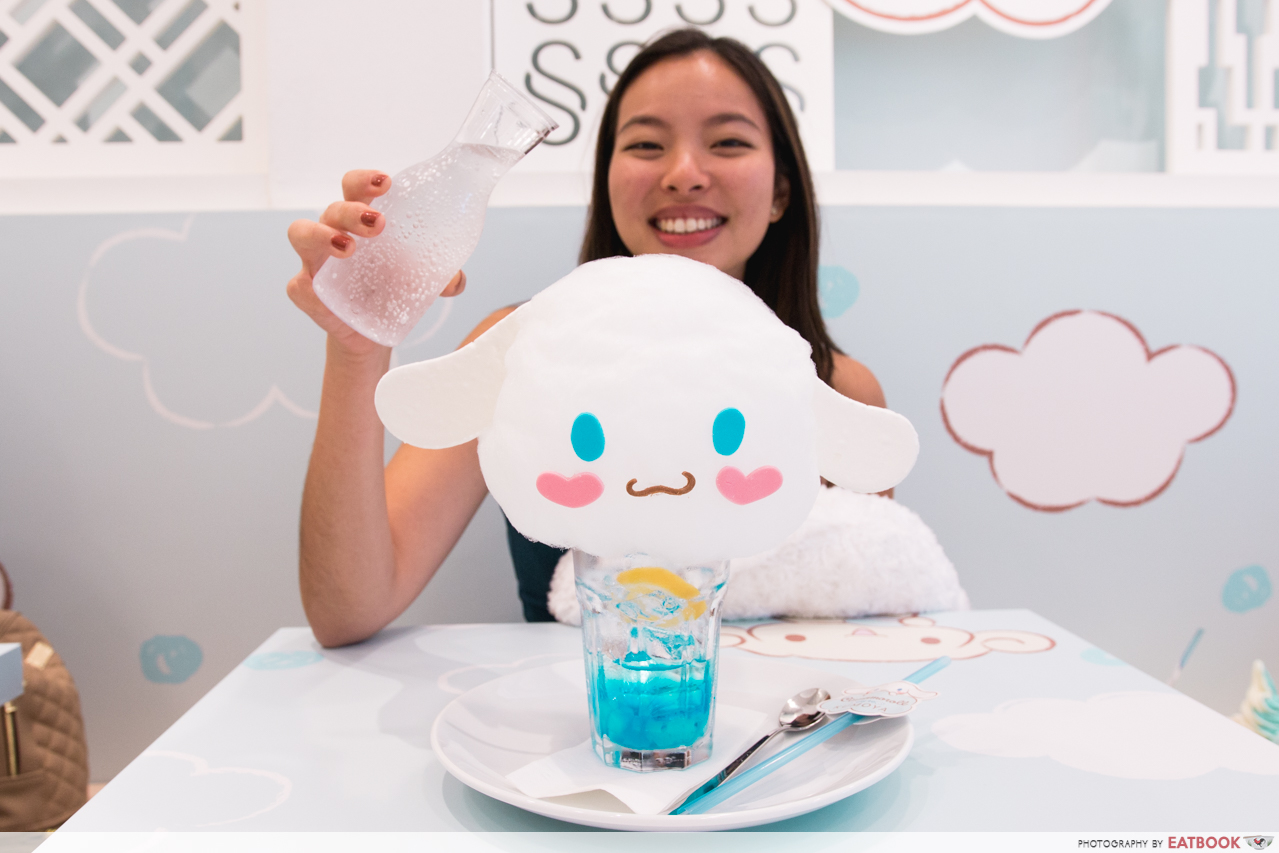 The pop-up cafe features a handful of over-the-top beverages in their menu, including this Cutie Cutie Special Cinnamoroll Blue Soda ($14.90+). We were presented with a bottle of soda water, as well as a glass with non-alcoholic blue curacao syrup and nata de coco chucks at the bottom, topped with a volleyball-sized cloud of cotton candy.
Don't fawn over it for too long because Singapore's humid weather will cause the cotton candy to melt very quickly. Even after mixing in the soda and dissolving the cotton candy, the drink tasted like slightly still tonic water.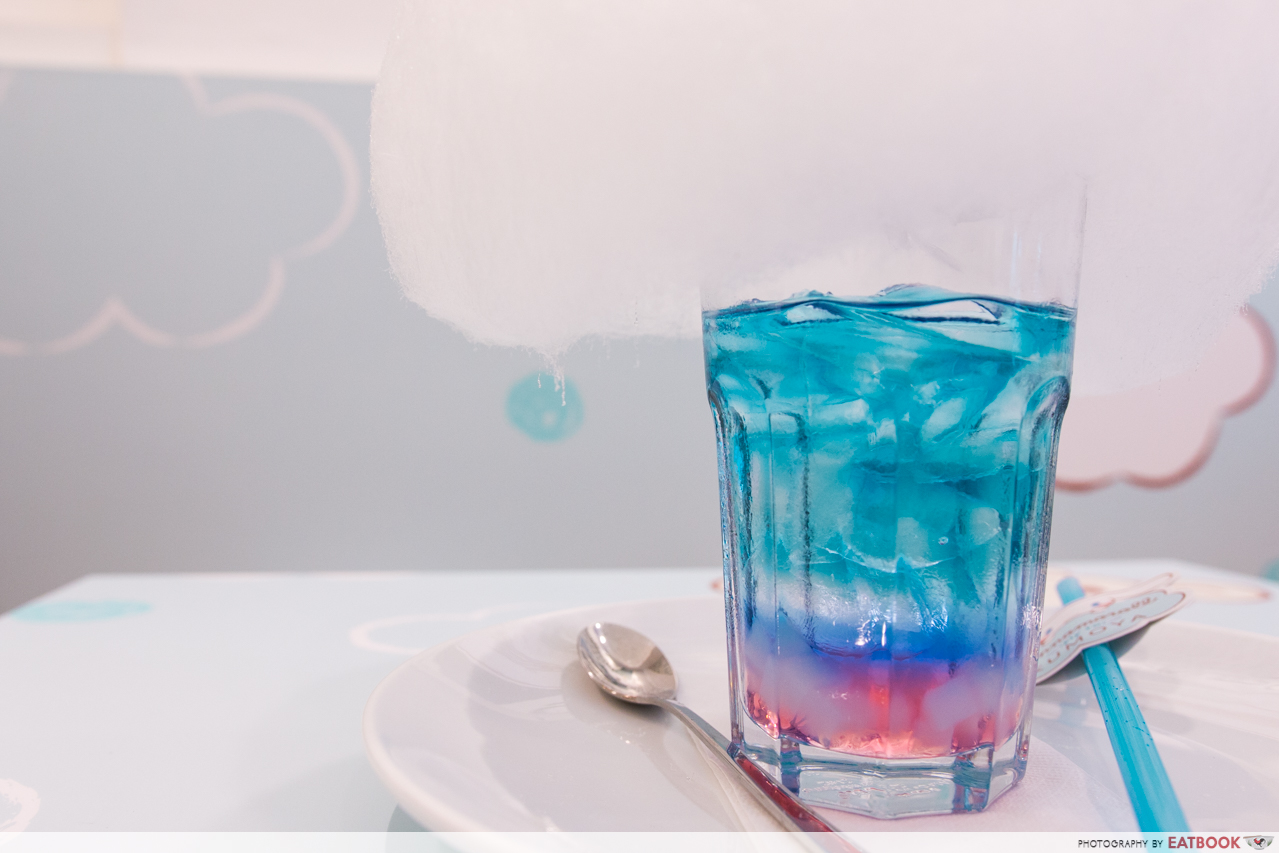 Their Sweet Fluffy Dreams Rose Tea ($13.90+) was my favourite drink, especially since I prefer tea over fizzy drinks. This drink had three layers of vibrant colour and basically looked like liquid sunset. The drink had a pleasant rose flavour and tasted like a lighter, more refreshing version of bandung.

Note: this is made with butterfly pea flower tea, which is not suitable for pregnant women or breastfeeding mothers.
Desserts at Cinnamoroll cafe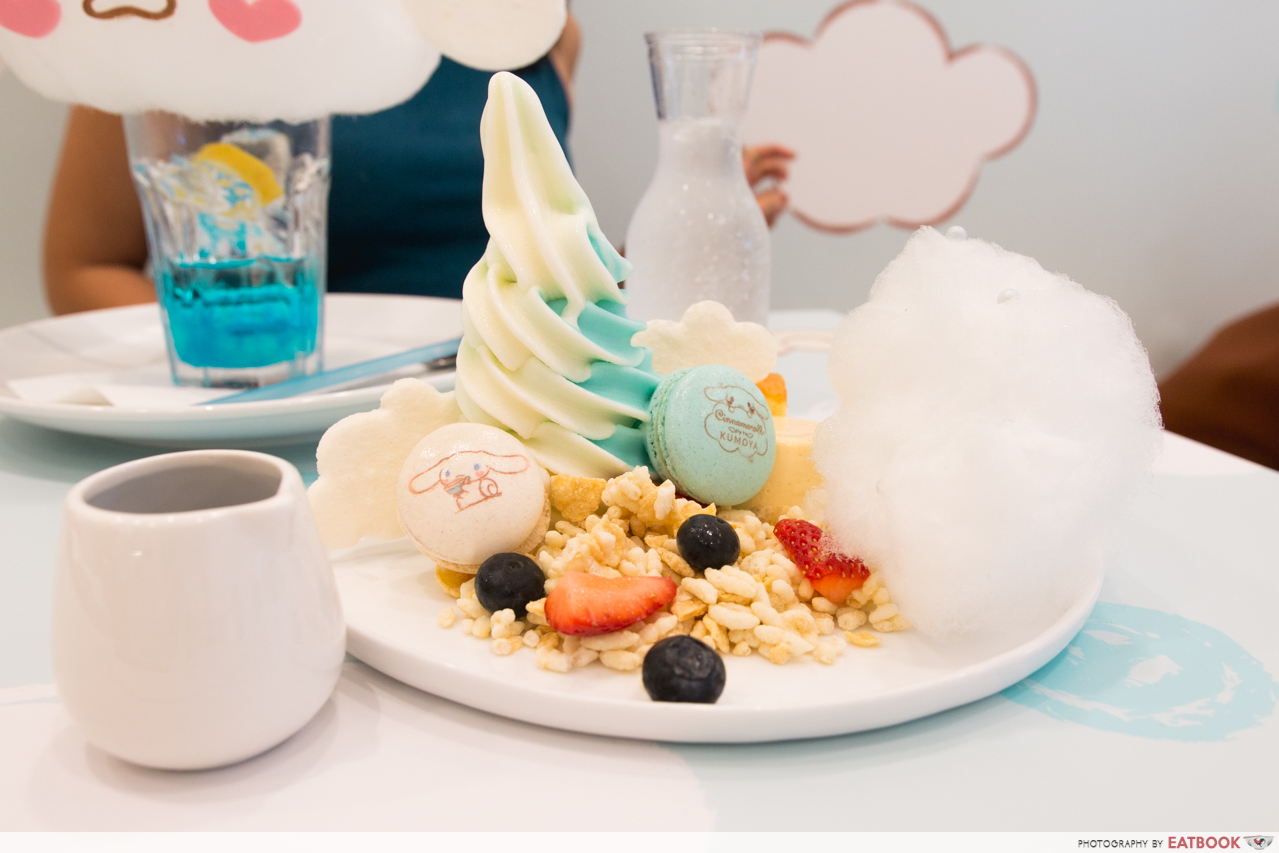 For a cold dessert, get their Cinnamoroll Berries Fantasy Parfait ($17.90+). There were many components in this dessert: cotton candy, syrup, puffed rice, berries, macarons, Japanese cheesecake, vanilla pudding, and a double-swirl frozen yogurt.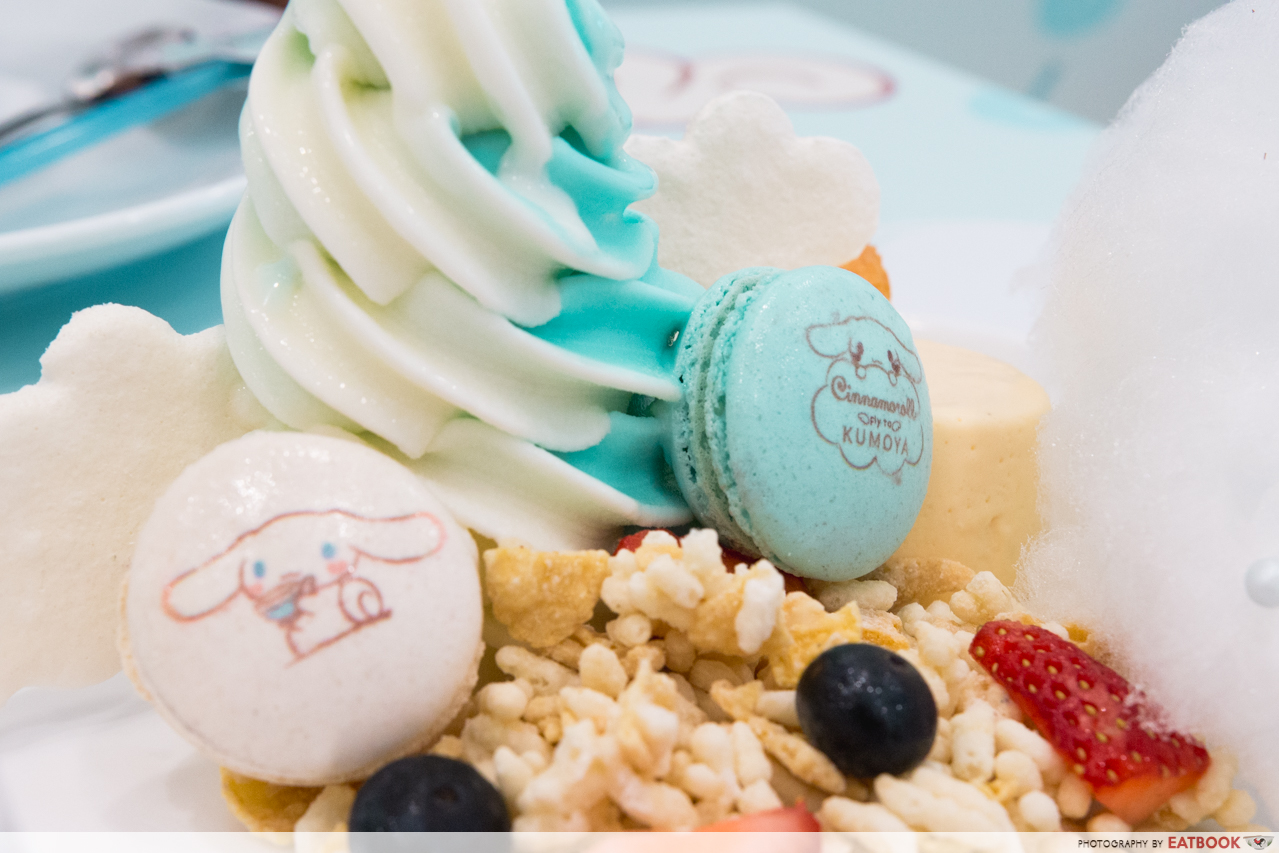 The frozen yogurt managed to be quite creamy while still being refreshing as it had just enough tartness to balance things out. It went well with the crispy puffed rice, which gave the dish a lot of texture without affecting the stronger flavours. The two macarons had adorable Cinnamoroll pictures printed on their shells. Taste-wise, they were run-of-the-mill macarons and didn't have a distinct flavour.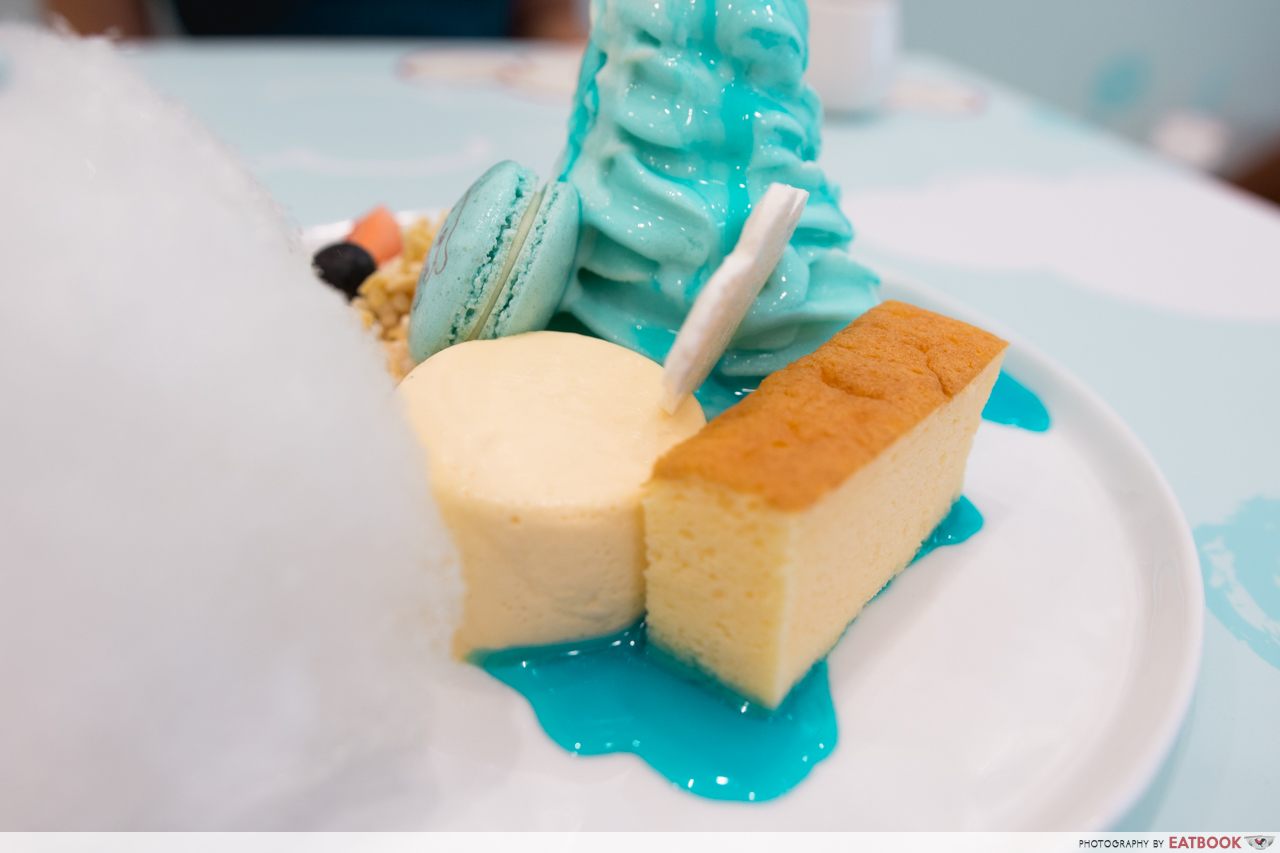 The vanilla pudding was very creamy and smooth though it was lacking in flavour. But that was nothing a little bit of syrup couldn't fix, and adding the blue sauce made it taste more like flan. The slice of Japanese cheesecake was fluffy and added yet another layer of texture to the dessert. Overall, this satisfying dish had a good balance of sweetness, crunchiness and creaminess.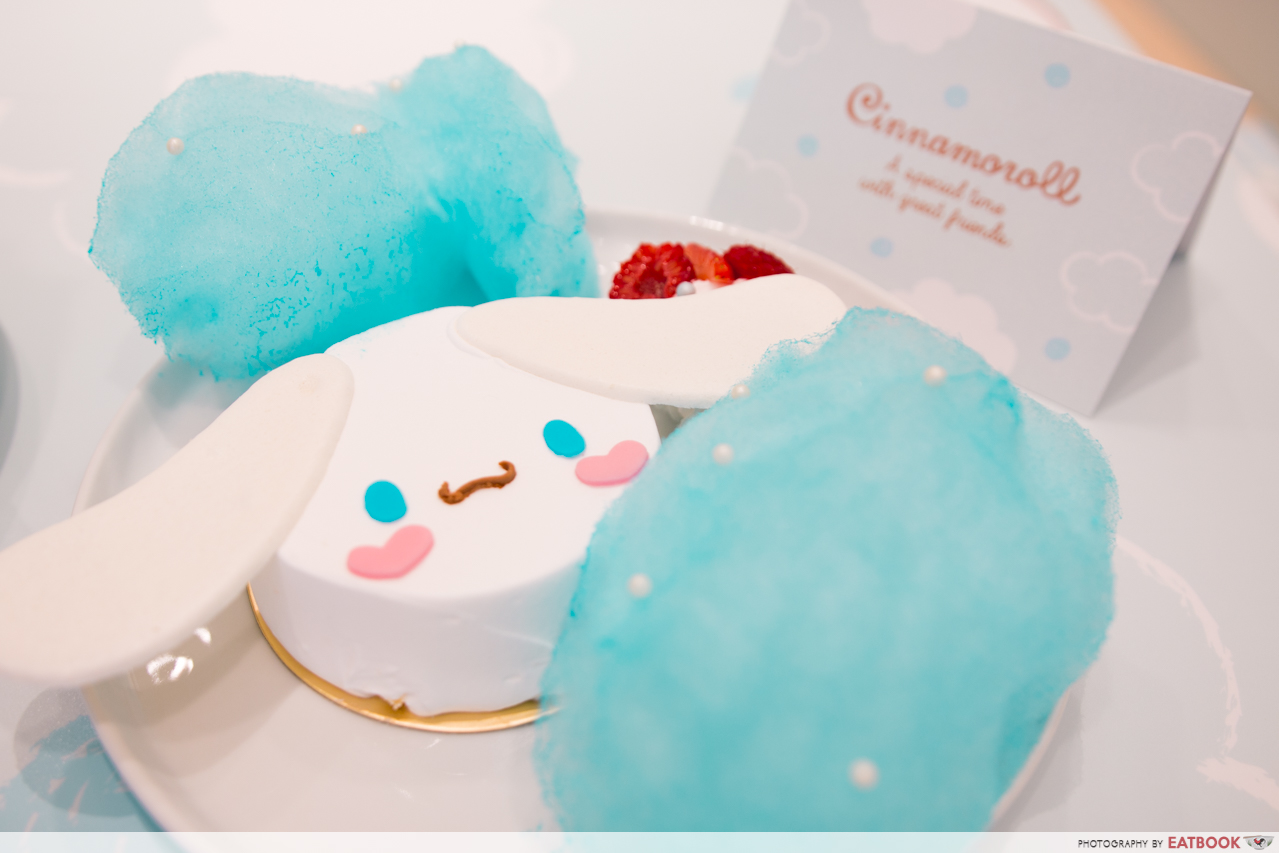 Fly-in-the Clouds Yuzu Chiffon Cake ($15.90+) was my favourite dessert to look at. The simple design of the perfectly frosted chiffon cake, fluffy blue cotton candy clouds, and the swirl of berry-studded whipped cream came together beautifully on the plate.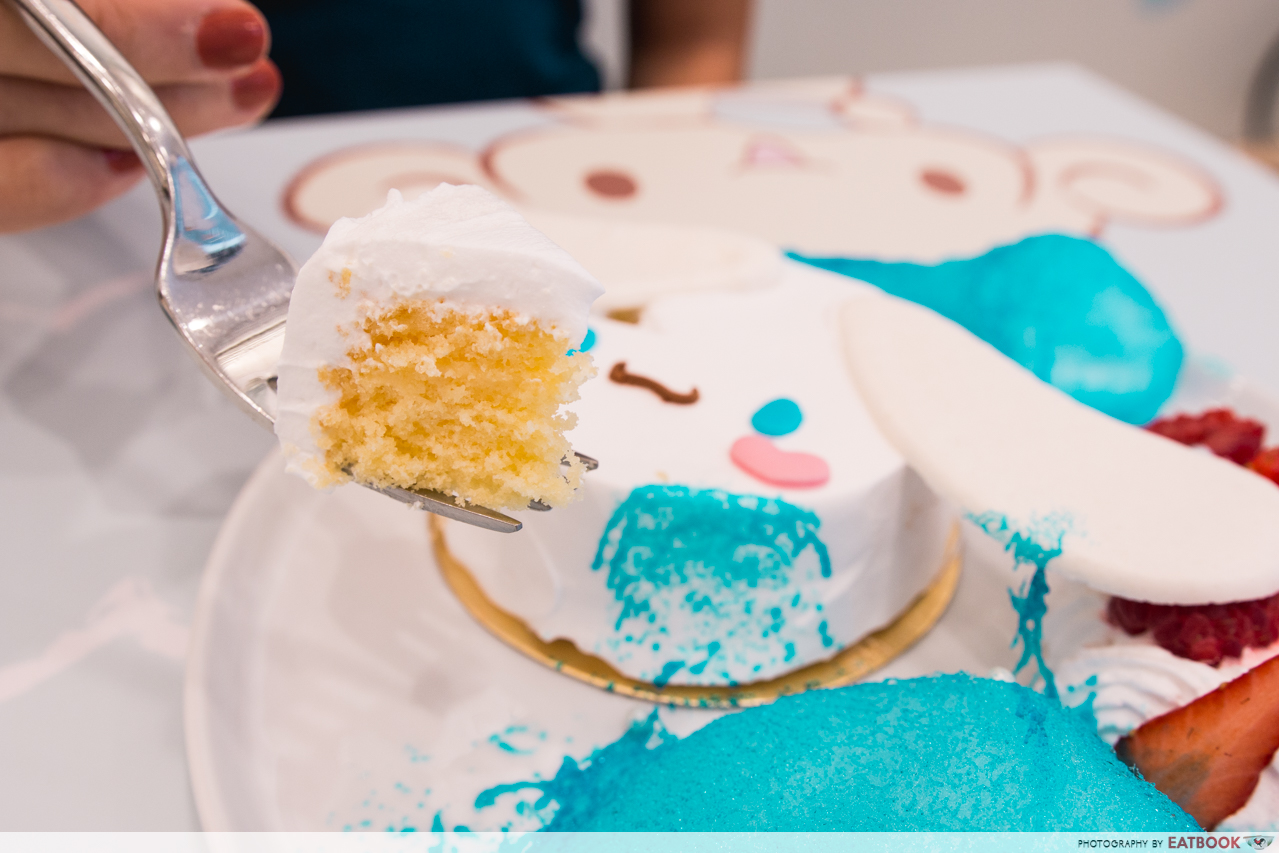 The chiffon cake was very airy and light, both in terms of taste and texture. This yuzu cake had a slightly tart, fruity flavour, reminding me of sweet lemon curd. It went well with the sweetened whipped cream, while the berries added bursts of refreshing flavour. I found the dish to be on the plainer side, but that might just be because I prefer richer and more decadent desserts.
Ambience at Cinnamoroll cafe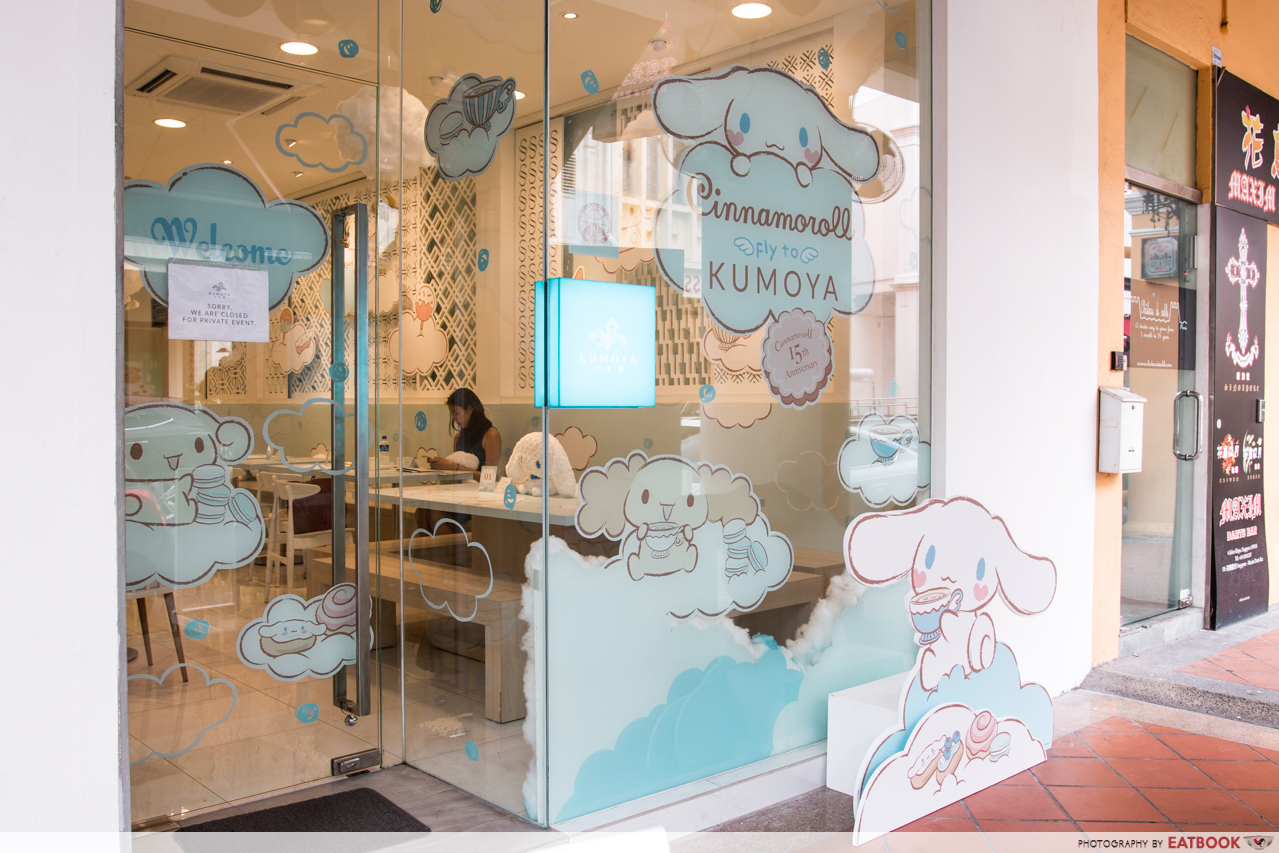 Kumoya is about a 10-minute walk from Bugis MRT Station. It'll be hard to miss, especially since the storefront is laden with kawaii Sanrio characters. You can also check out their photobooth outside, complete with fun props and a cute background, after your meal.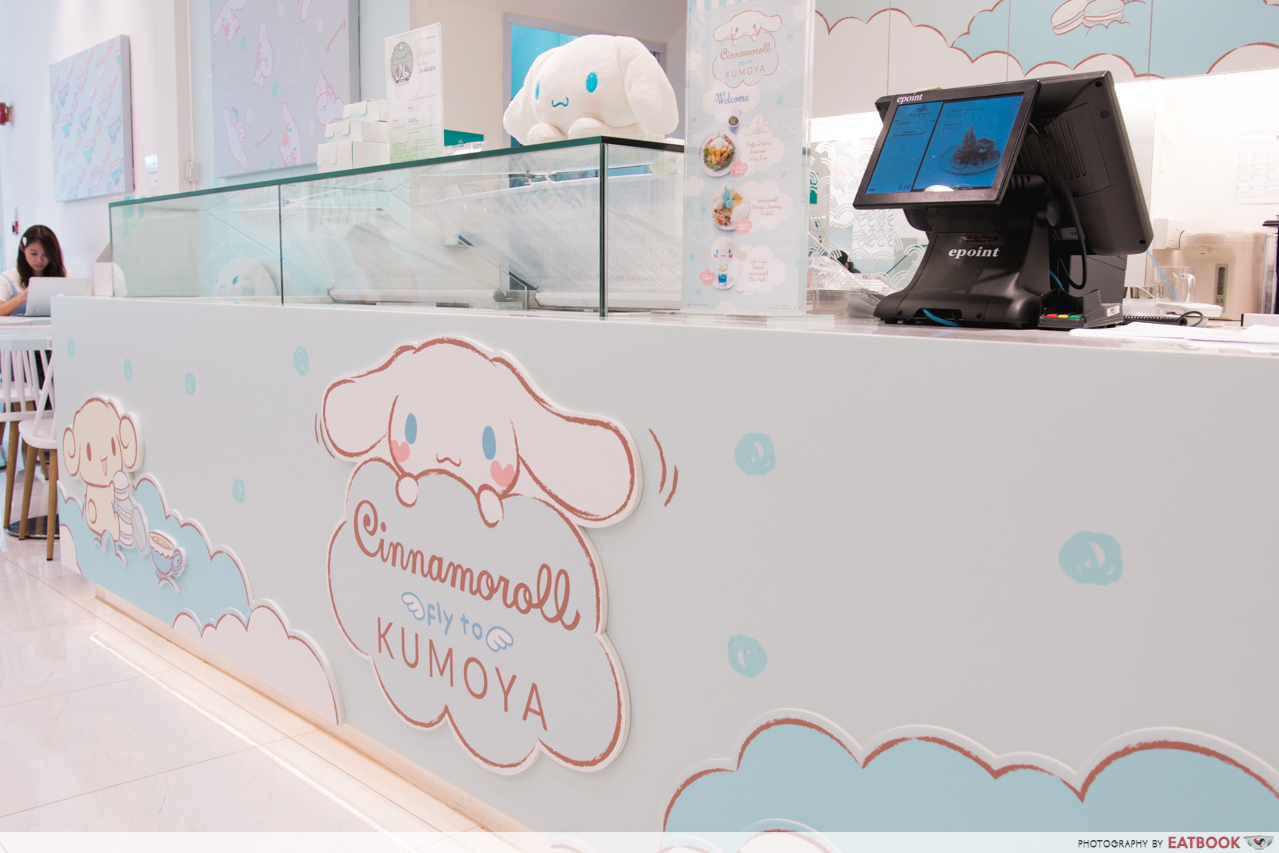 Though Kumoya took extra care to incorporate Cinnamoroll into their menu, a huge part of this experience was definitely the cafe's themed decor. From the counter and table tops, to the wallpaper and stuffed toys, the entire cafe was decked out in Cinnamoroll characters and fluffy clouds.
The verdict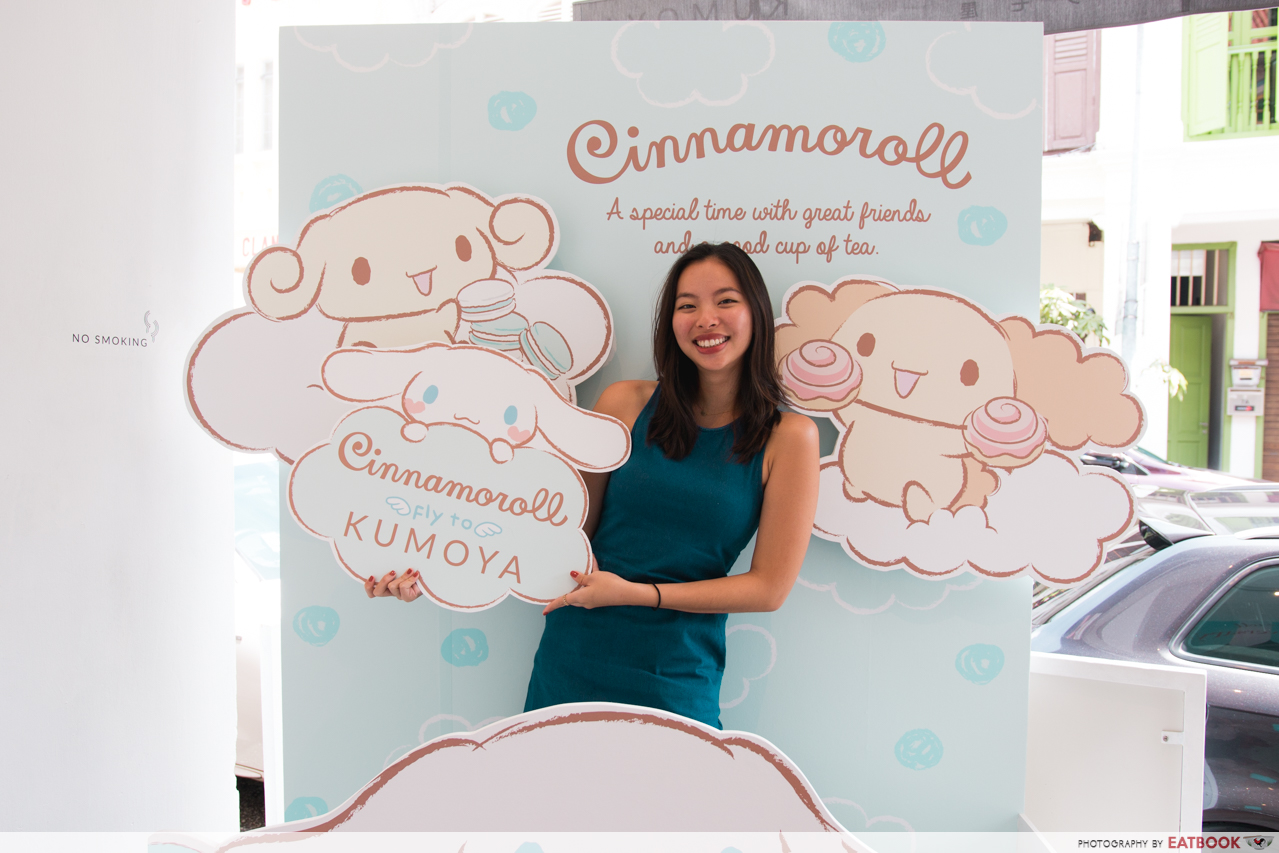 When it comes to the quality of character cafes, I think it boils down to how enjoyable the entire experience is, rather that just the food itself. Visiting Cinnamoroll flies to Kumoya and dining here were both immersive and fun. So whether or not you're a Sanrio fan, anyone who can appreciate cute flying puppies should pay a visit before it closes in August.
Address: 8 Jalan Klapa, Singapore 199320
Opening hours: Tue-Thur 12pm to 9pm, Fri-Sat 12pm to 10:30pm, Sun 12pm to 9pm
Tel: 6297 3727
Website
Kumoya is halal-certified.
This was a media tasting at Cinnamoroll flies to Kumoya.
Summary
Pros
– Unique decor
– Instagrammable food
– Halal-certified
Cons
– Some dishes were better than others
– Limited seats
Recommended Dishes: Sweet Fluffy Dreams Rose Tea ($13.90+), Flappy Flappy Heart Chicken Karaage with Waffles ($19.90+), Cinnamoroll Berries Fantasy Parfait ($17.90+)
Operating Hours:
Tuesday – Thursday 12pm to 9pm
Friday – Saturday 12pm to 10:30pm
Sunday 12pm to 9pm
Tel:
6297 3727
Address: 8 Jalan Klapa, Singapore 199320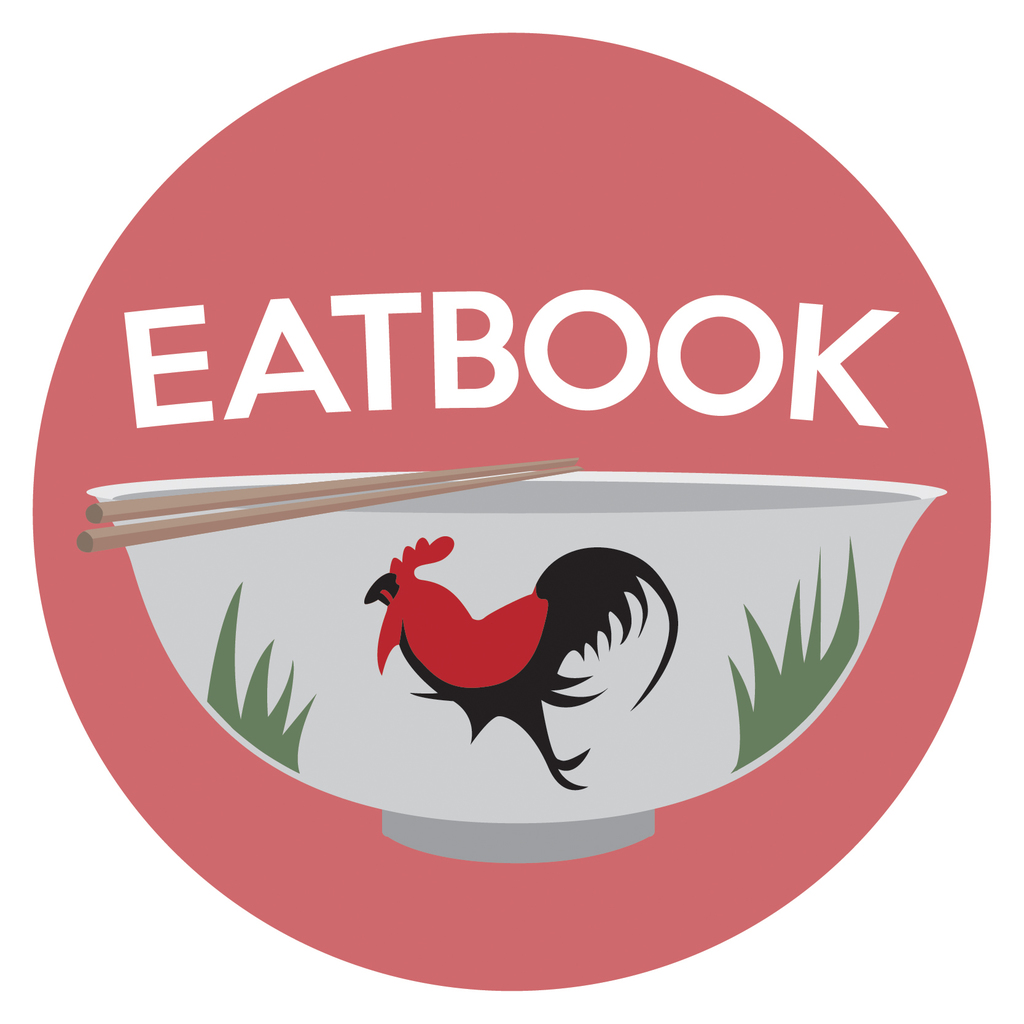 Drop us your email so you won't miss the latest news.