Pork burgers at Seven & Ate
Update: Seven & Ate is now permanently closed.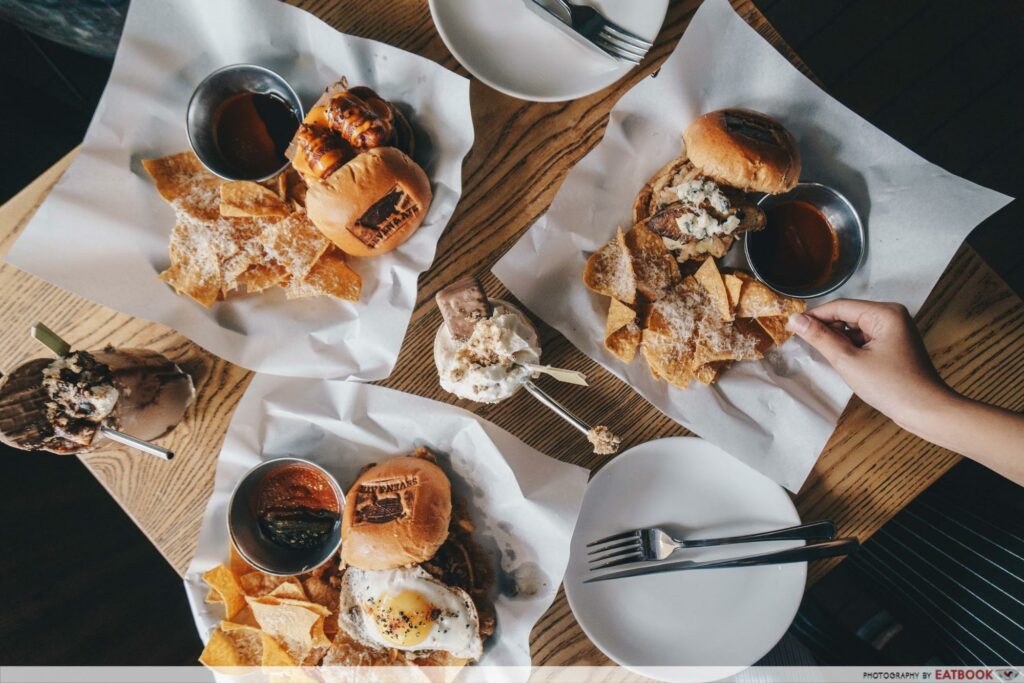 As a self-proclaimed health junkie, fast food is something that I rarely touch. But when the craving hits, it's always for burgers. From famous international brands such as Shake Shack and In-N-Out Burger to local ones such as Fatboy's, I've had them all. And the latest burger place that I am adding to my go-to places for good burgers is Seven & Ate.
Food at Seven & Ate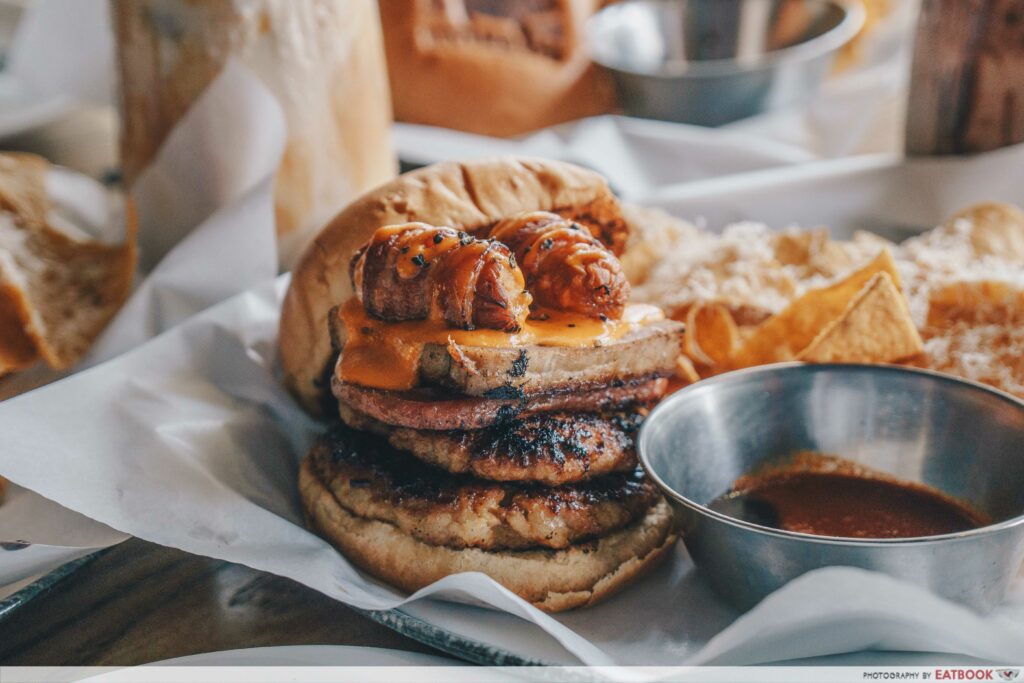 The main dishes served at Seven & Ate are pork burgers and from their list of more than 10 varieties, we chose three. First up was 3 Little Pigs ($18). This is basically a little tower of meat made up of two pork patties, grilled Spam, bacon-wrapped sausage, slow-cooked pork belly, and Sriracha mayo.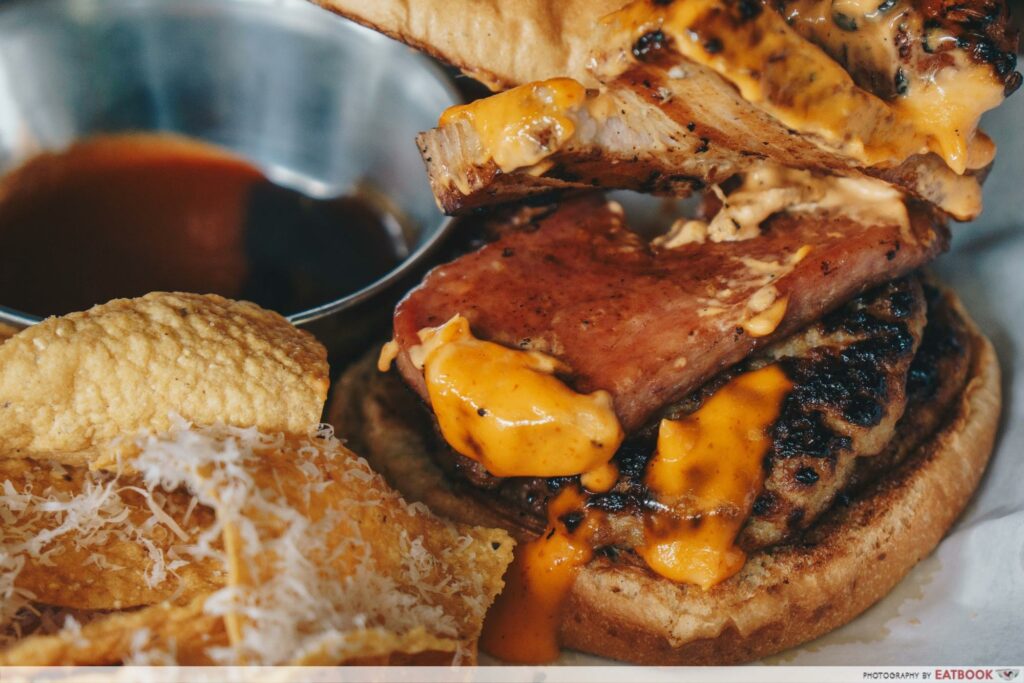 Stacked high and gloriously, I half expected the burger to fall apart the moment I dive my fork and knife into it. However, we were pleasantly surprised that the layers held together and eating it was a relatively clean affair.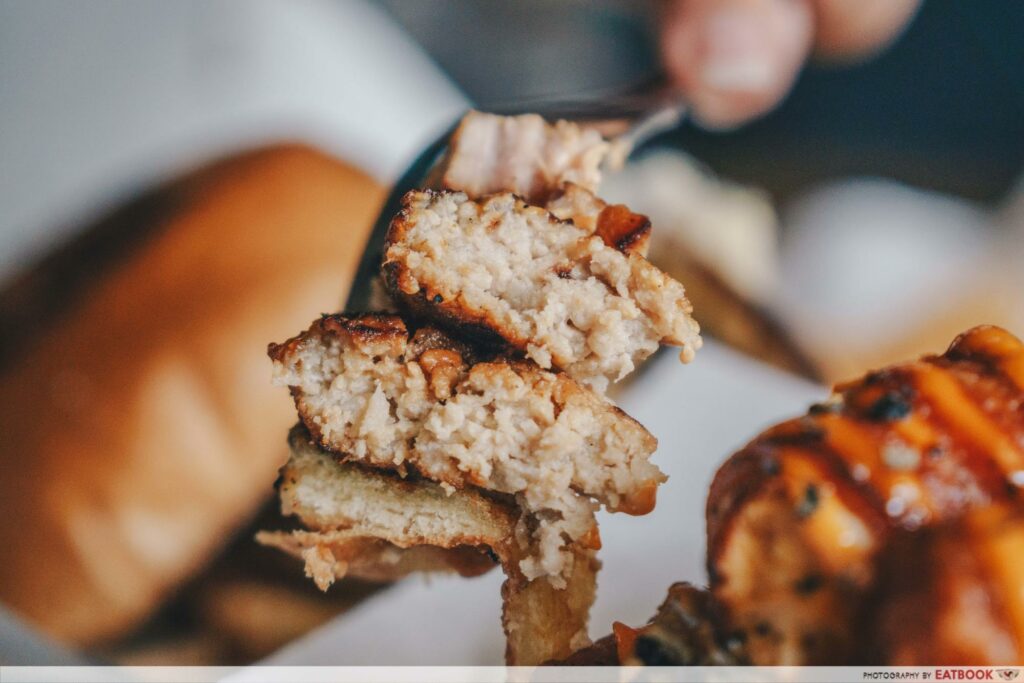 Taste-wise, the first bite was a burst of flavours. The most distinct taste that stood out to me came from the honey mustard pork patties. Slightly sweet and salty, the patties reminded me of an even more flavourful version of Tori Q's chicken balls. The best part was that while the patties were lean and meaty, they retained the marinade well, making them surprisingly juicy. In terms of both taste and texture, the pork patties were nothing like the ones I've had all my life and these surely top my list of good burger patties!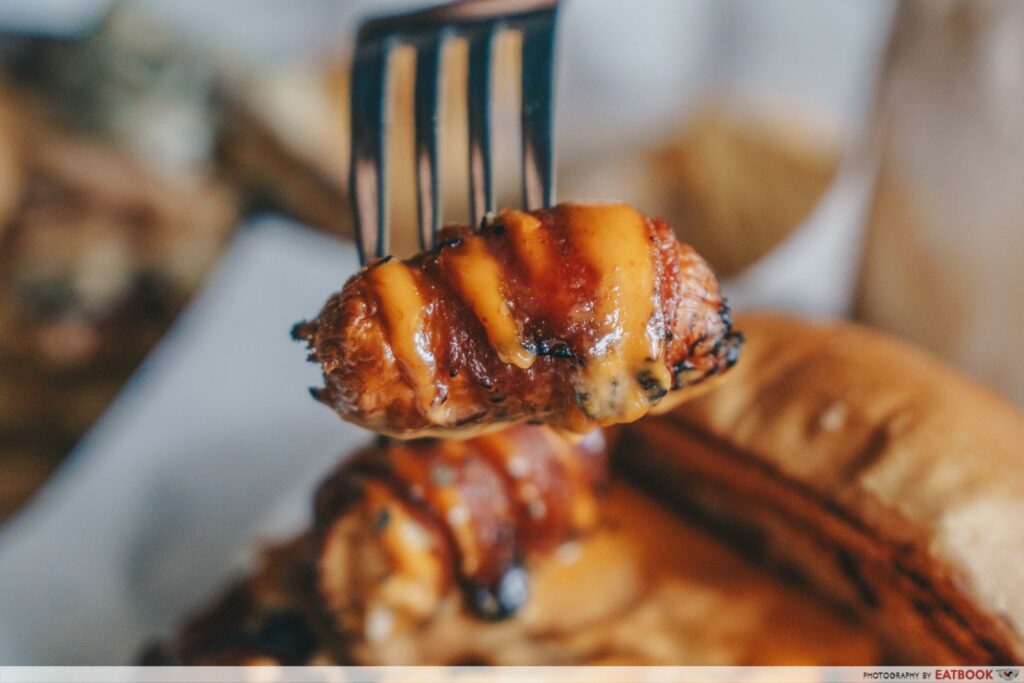 While the taste of the luncheon meat and pork belly were slightly overpowered by the patties, the sausages wrapped in bacon were hard to miss. Besides a heavy smoky flavour, the Sriracha mayo that coated the sausage also gave a punch of spiciness to the meat.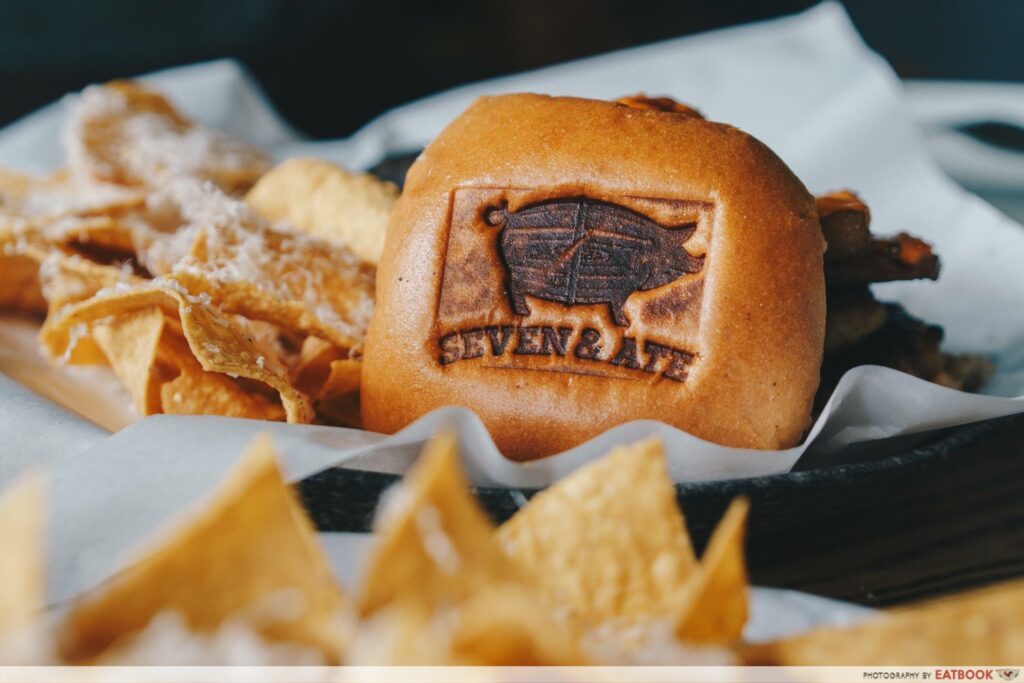 As for the brioche buns, they were fluffy and slightly charred on the sides, giving a nice crispiness to it. Though there was an unmistakable buttery taste to the bread, it was not oily at all, so you won't have to worry about greasy fingers if you are planning to eat the burgers with your hands!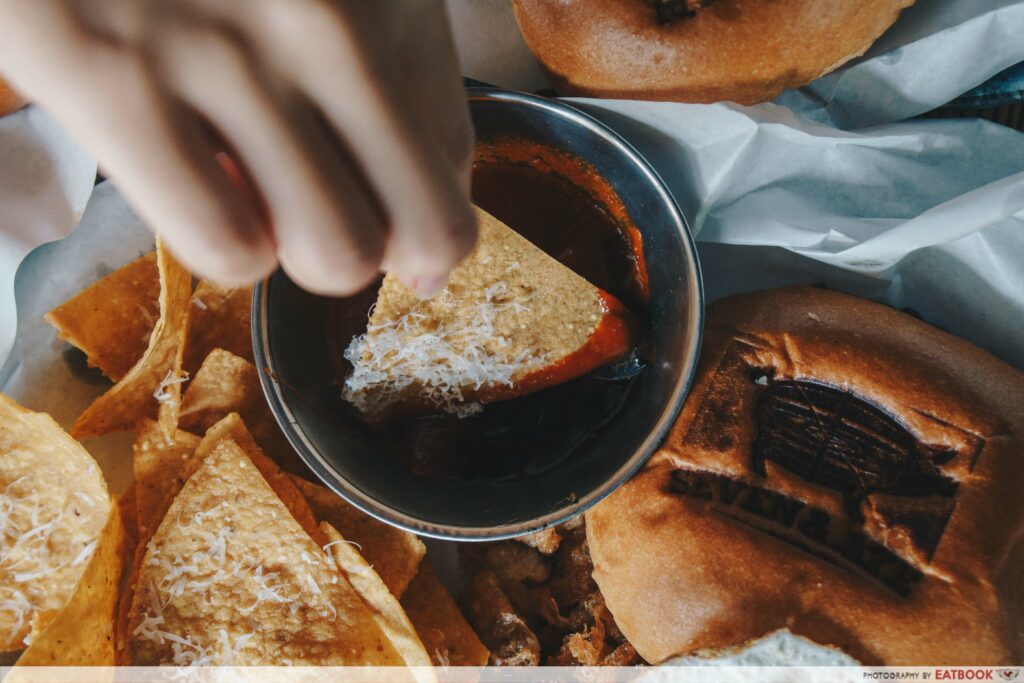 Another burger that we had was Jam & Eggs ($15). This was a simpler version of the first and was made of the same double patties, house-made bacon jam, egg fritters, and a fried egg on top.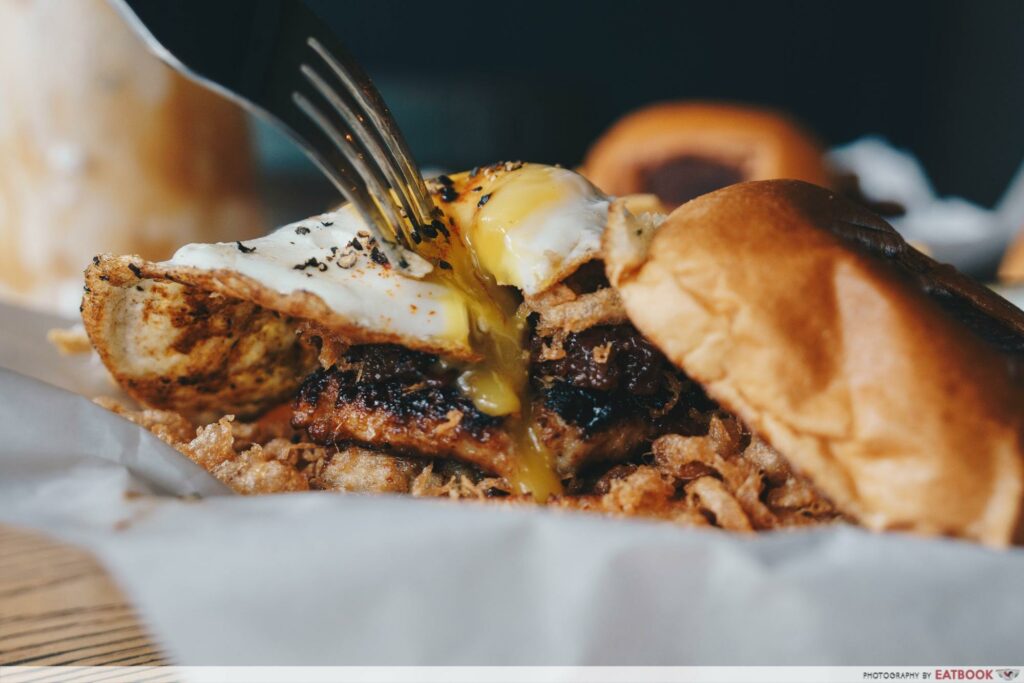 Even with fewer ingredients, this burger was still packed with flavours from the two patties. The fried egg was also not overly cooked and the egg yolk was slightly runny. Combined with the patties and caramelised bacon, the egg balanced the flavours out, making it a good option for those who are not fans of heavy flavours!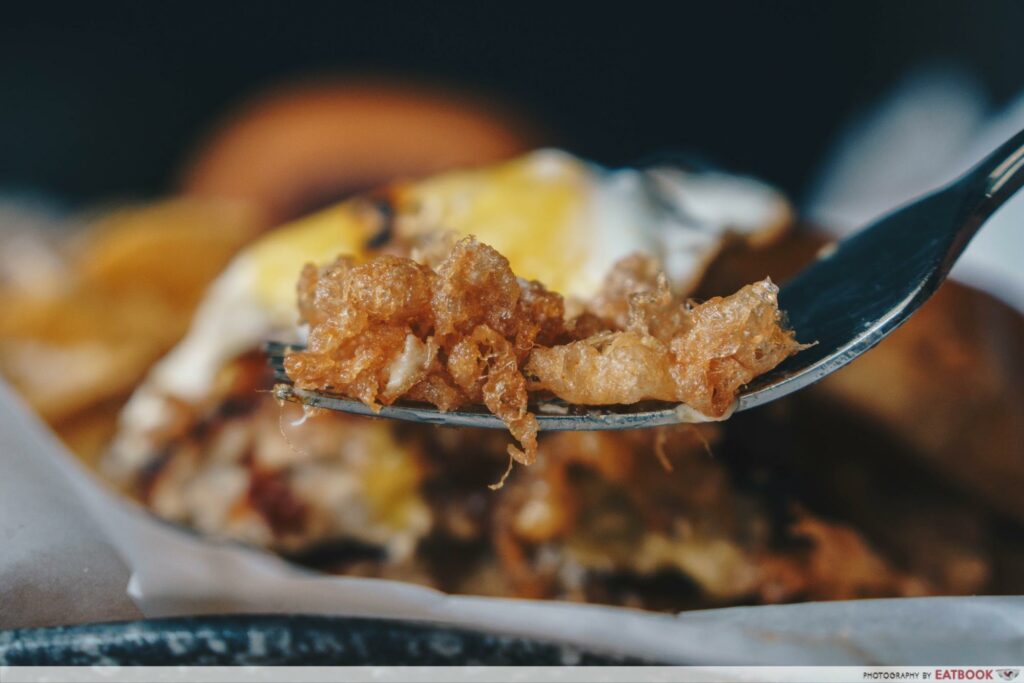 As for the egg fritters, they made an interesting addition to the burger. Although there was not much taste, they added a nice crunch to every bite.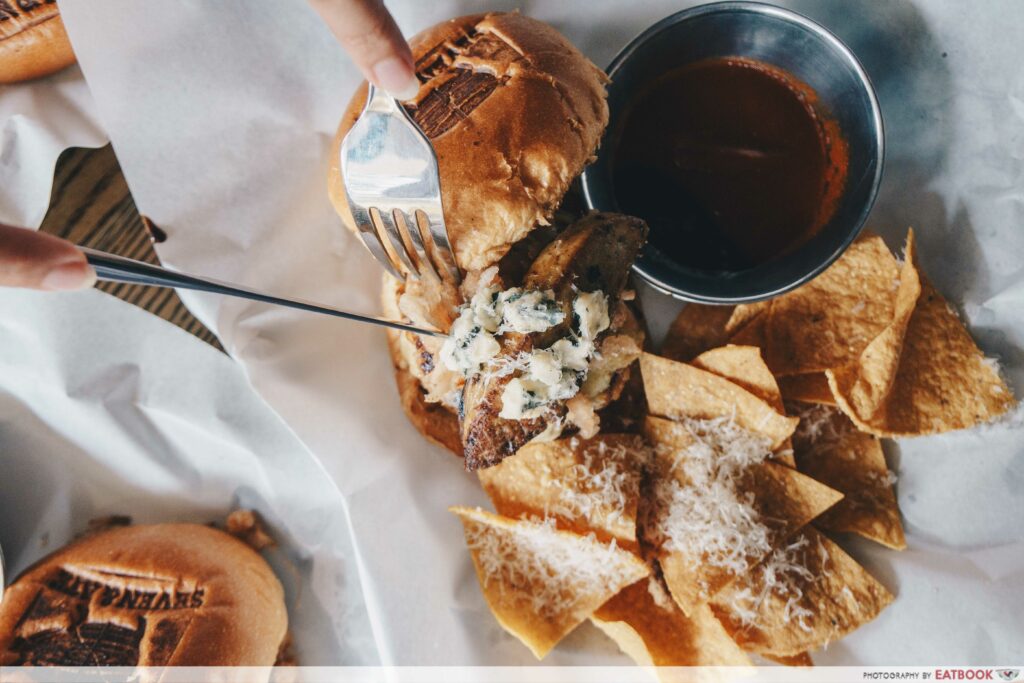 The last one that we tried was their Atas Burger ($24). This one consisted of double patties, foie gras, blue cheese, and melted gruyere that held the layers together.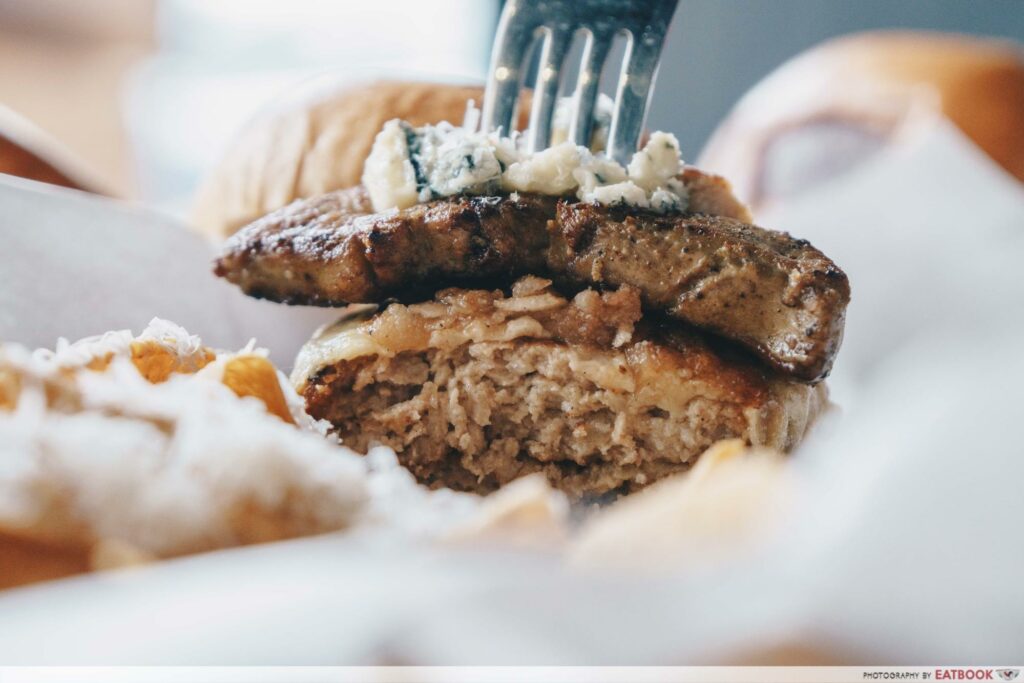 While the smell of the other two burgers were strong, this one takes the cake. With the grilled foie gras and pieces of blue cheese sitting on top, the burger was pungent and immediately overpowered the scent of the other dishes.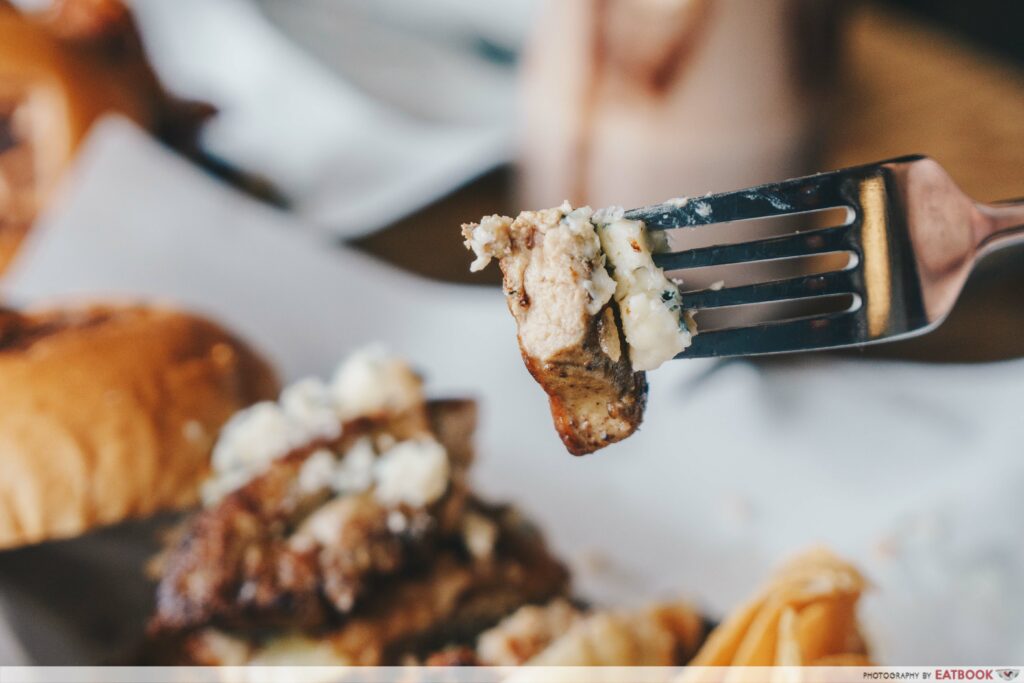 For someone who isn't a big fan of duck liver, this one took me by a pleasant surprise. Compared to the patties, the taste of the foie gras was light, and what stood out most was its creaminess. However, while the initial few bites were enjoyable, the richness of the dish got a little overwhelming after a while.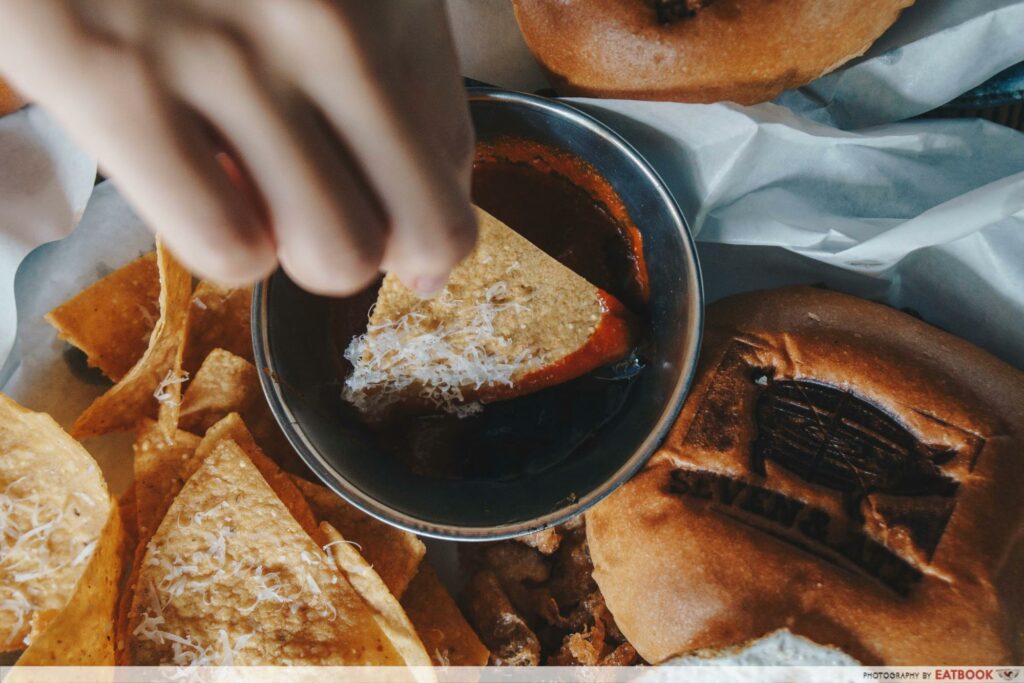 For that, I was glad that a huge serving of nacho chips came with the burgers as snacking on them did a good job in refreshing the palate! With bits of shaved cheese and a serving of spicy sauce on the side, the chips were crunchy, spicy, and salty.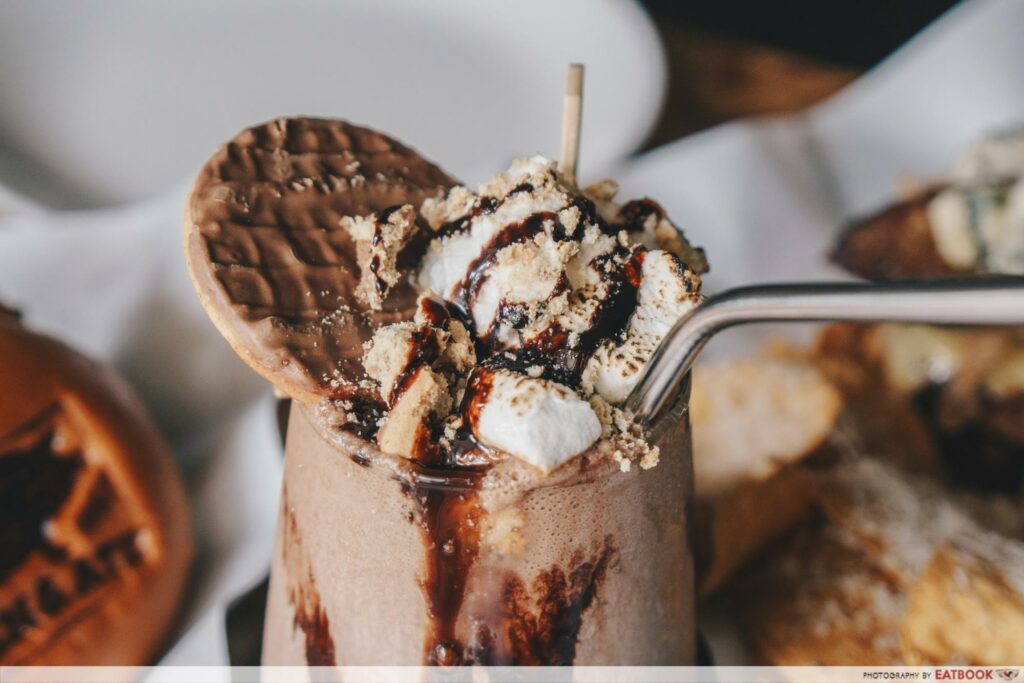 To go with burgers, we also ordered two of their alcoholic milkshakes. The first one was S'mores ($14), which was made from blending chocolate ice-cream, chocolate syrup, and Baileys together. The beverage was also topped with a chocolate-coated biscuit, whipped cream, and torched marshmallows.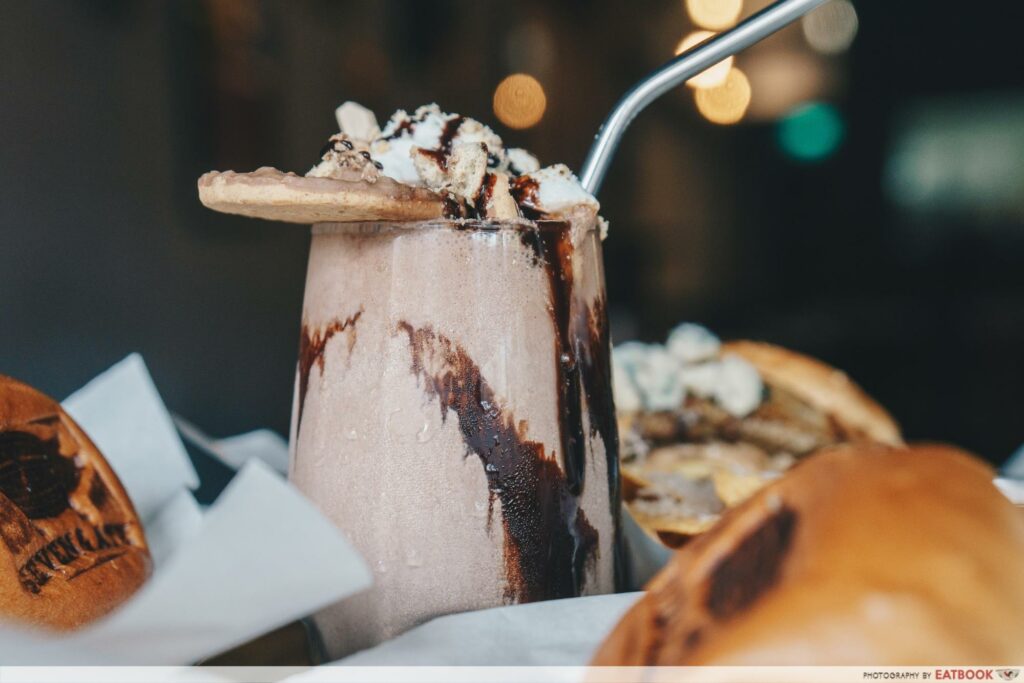 Appearance-wise, this over-the-top drink would do great on your social media feed. As for its taste, it's best suited for the hardcore fans of Baileys. Overall, it was an even thicker and sweeter version of the original Baileys Irish Cream.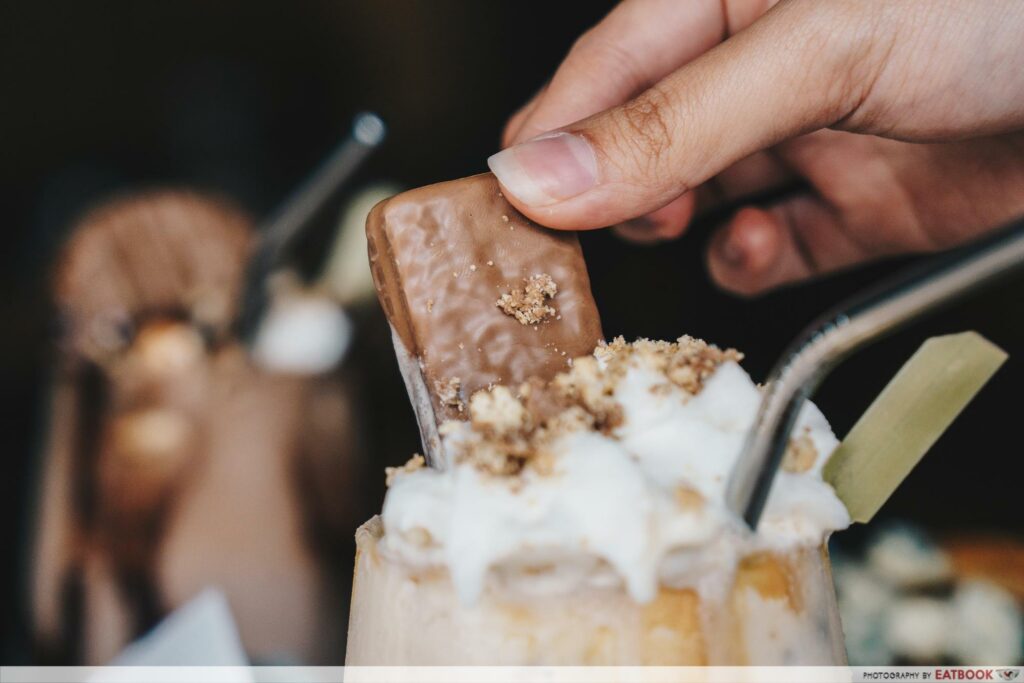 The other flavour that we had was Peanut Butter Tim Tams ($14). Made of chocolate ice-cream, peanut butter, and vodka, this one also had a strong taste from the generous amount of alcohol. If you love your hard liquors, these milkshakes will be delicious twists to your typical drinks. But for people who do not take alcohol well, spend the money on sides like Spam Fries ($9) or Scotched Quail Eggs ($10)!
Ambience at Seven & Ate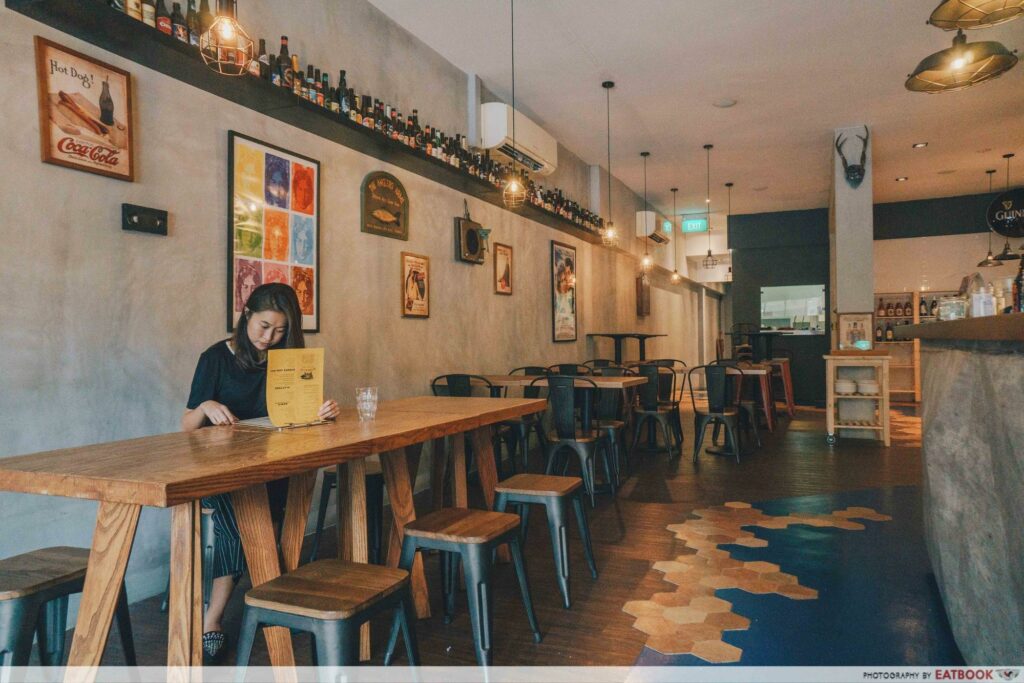 Seven & Ate occupies a cosy space along Horne Road and sits right opposite Jalan Besar Sports Centre. The first thing that you'll notice once you enter the gastropub is the bar serving up varieties of bottled beers as well as beers on tap. With retro designs and loud old-school pop music playing in the background, this gastropub is a chill place to wind down at after a busy day!
The verdict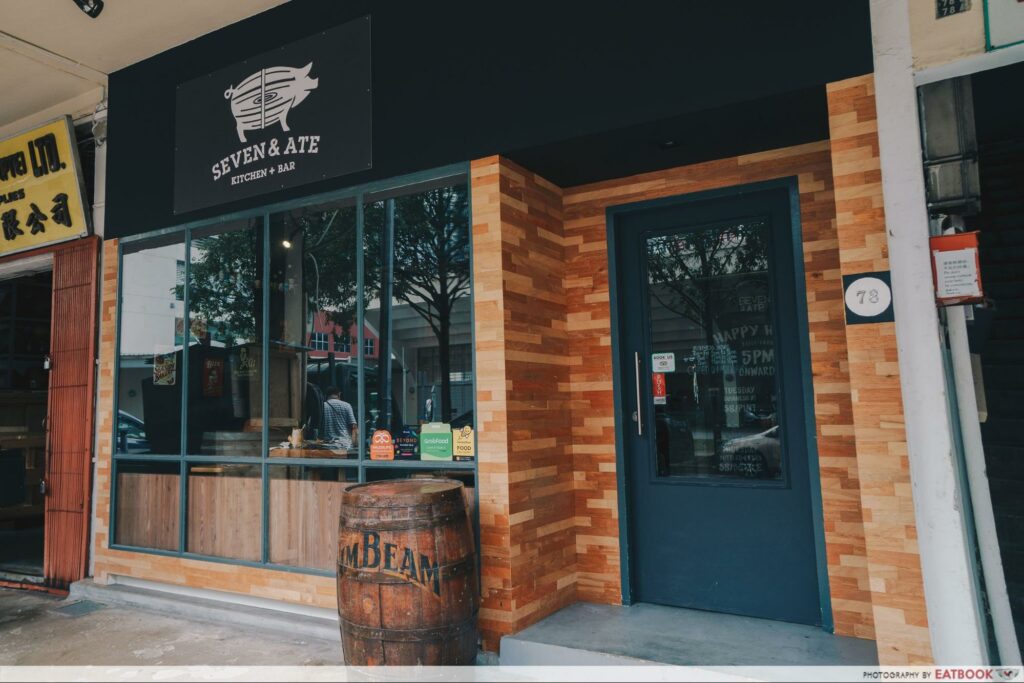 Although we didn't get to try their side dishes or bowls, the burgers alone were enough to have me start planning my second visit to Seven & Ate. For the generous portions, the prices were affordable too and I'll surely hit up their craft beers the next time I visit!
Address: 78 Horne Road, Singapore 209078
Opening hours: Tue-Fri 4pm to 12am, Sat 11am to 12am, Sun 11am to 10pm
Tel: 9618 5726
Website
Seven & Ate is not a halal restaurant.
This post is brought to you by Seven & Ate.
Seven & Ate Review: New Pork Burger And Spiked Milkshake Bar At Jalan Besar
Summary
Pros
– Delicious food
– Great service
Cons
– Slightly expensive
Recommended dishes: Ichigo Mille Feuille, Strawberries with Matcha Cream, Truffle Mushroom Soup with Onsen Egg
Opening Hours: Tue-Fri 4pm to 12am, Sat 11am to 12am, Sun 11am to 10pm
Address: 78 Horne Road, Singapore 209078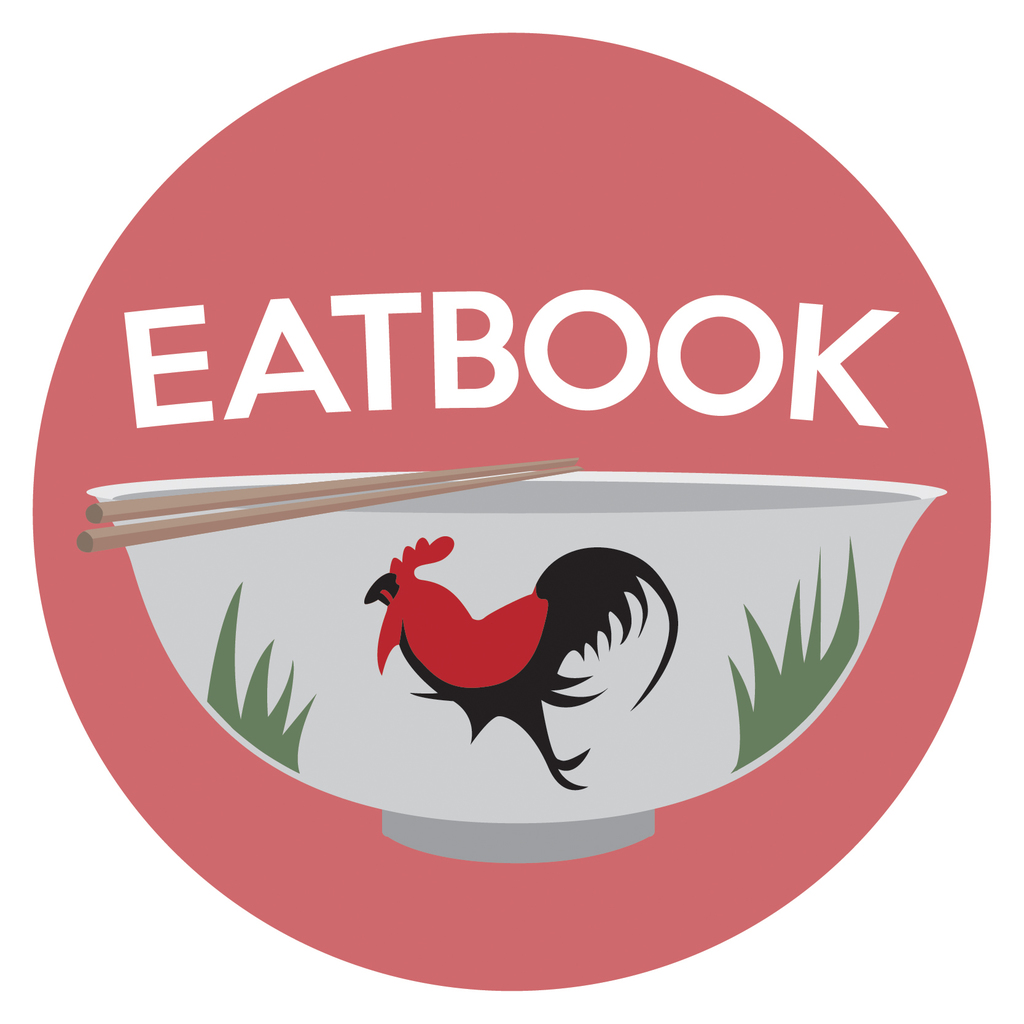 Drop us your email so you won't miss the latest news.