Miffy cafe pop-up at Kumoya in Bugis
Update: This pop-up cafe has permanently closed.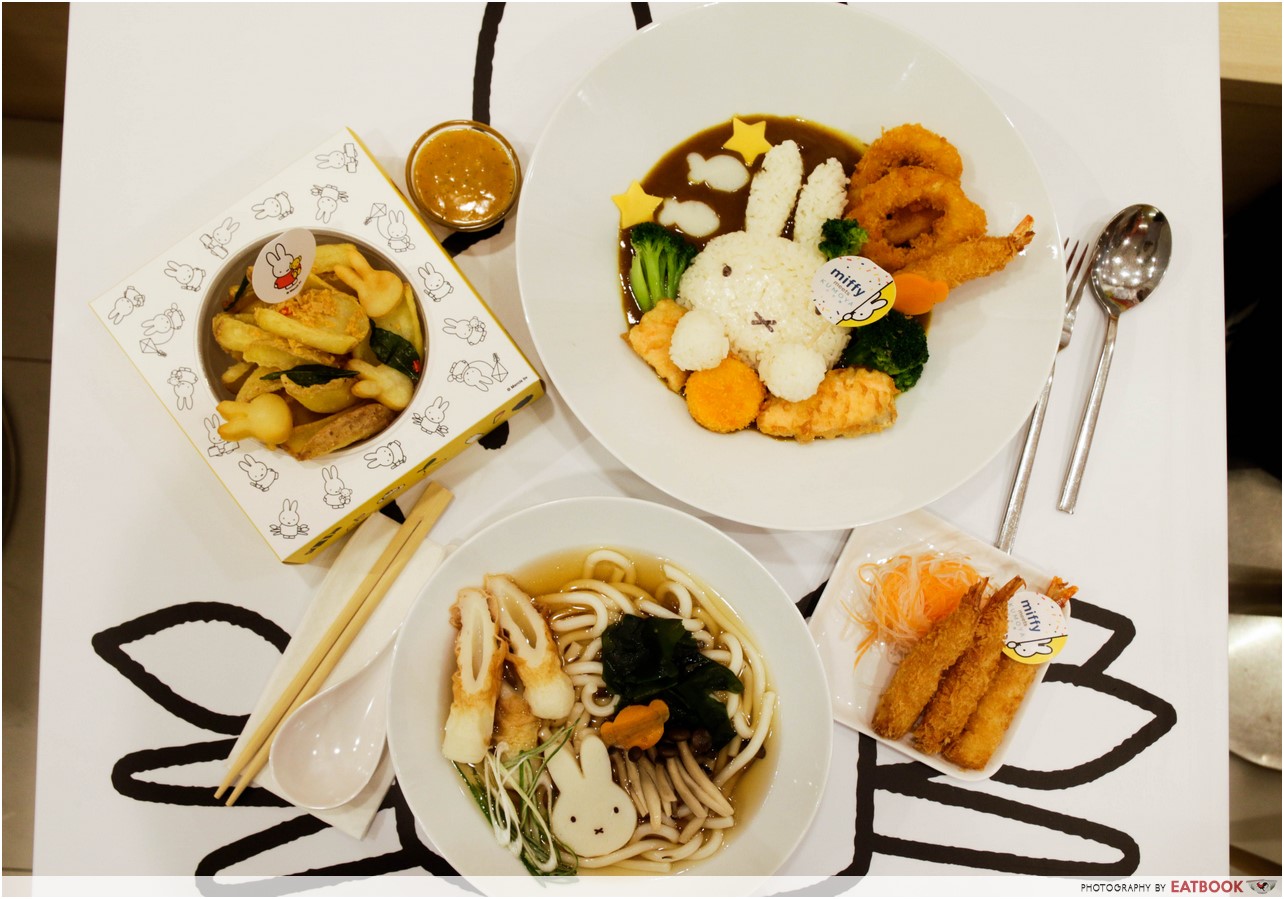 I once knew Miffy as "le petit lapin" in French when the little bunny still had a different name in every language. I can't believe how she's taken me back to being a child again though. Once I stepped into Miffy meets Kumoya, the new pop-up Miffy café at Bugis, a myriad of cheery colours excited me. Adorable soft toys were asleep on beams that hung from the the ceiling, and the seats were full of cushions and large Miffy plush toys. I fell in love with the yellow one with a white button that was on my seat. She was so huggable and cute with floppy ears that I barely let go of her.
You can catch her from 5 October to 31 December 2017, as Kumoya celebrates their first anniversary with Miffy meets Kumoya. If you've visited Cinnamoroll Flies to Kumoya, their menu has been expanded with many more items and tweaks to some others.
Food at Miffy cafe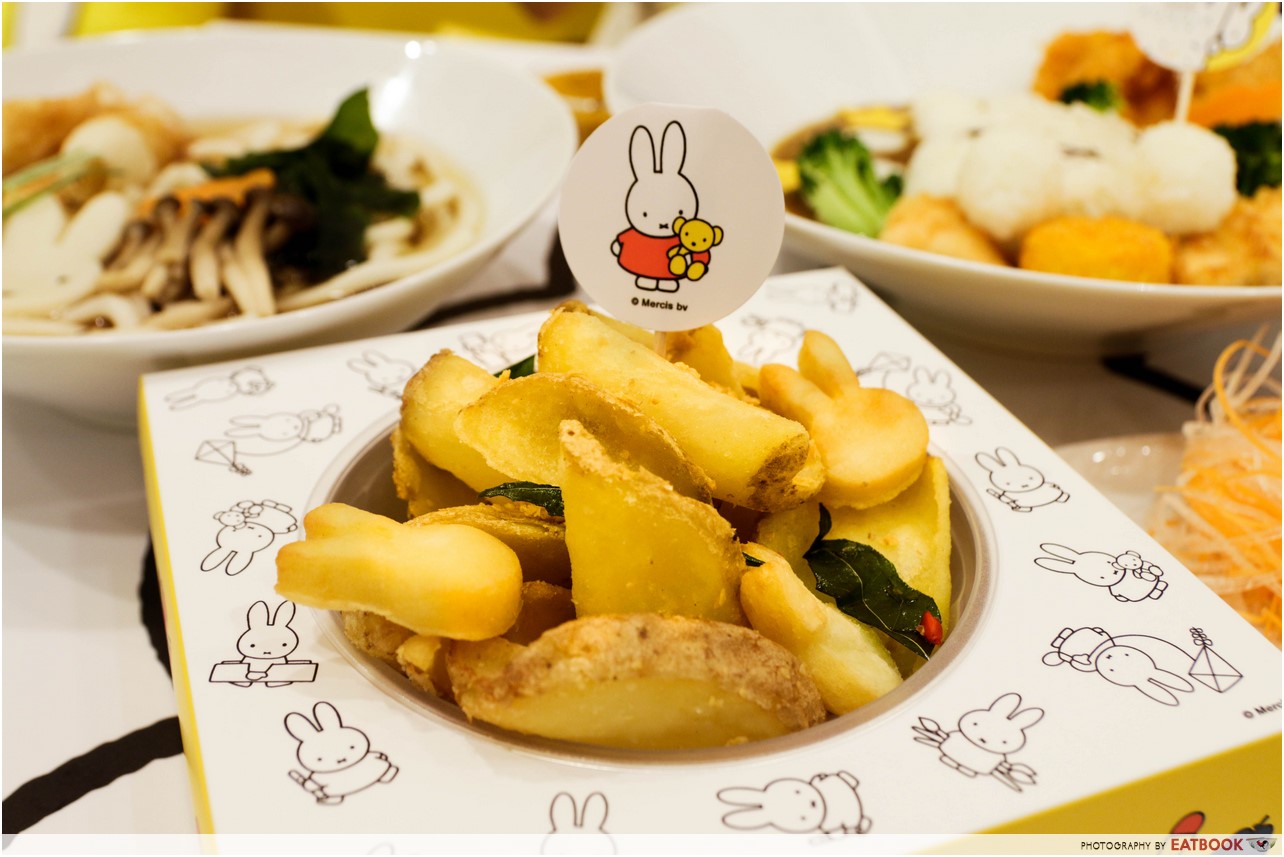 First on the menu were four flavours of Miffy fries to choose from, and I was peckish for their Sunny Salted Egg-Yolk Fries ($11.90+). A paper box holder decorated with Miffy cartoons held slices of fried potatoes that were sprinkled with salted egg yolk cereal bits. A small saucer of house-made salted egg yolk dip came with it.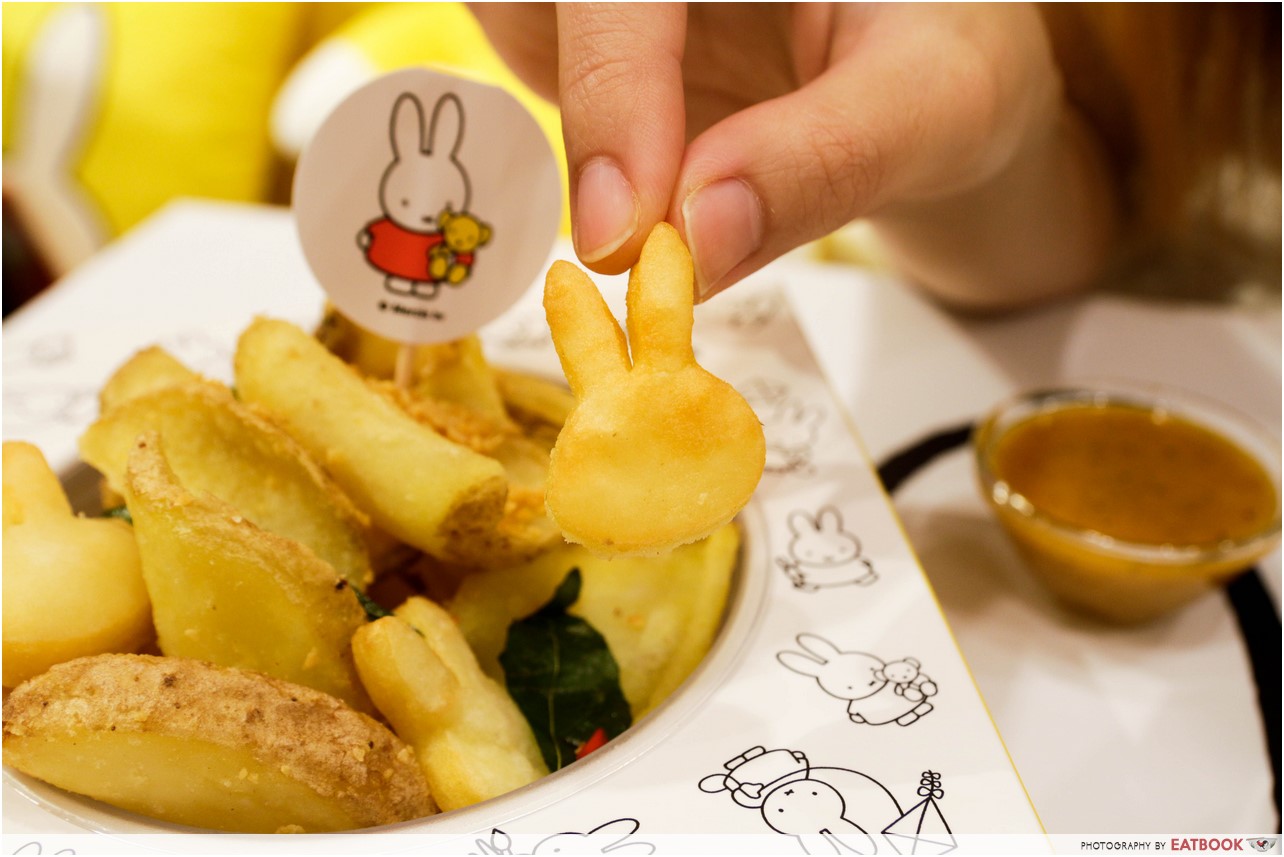 The potato slices weren't sliced too thin so their edges were crispy while their centres were soft. Two of them were Miffy-shaped. Curry leaves that garnished the slightly saltish dish had a faint aroma, and the cereal tasted of salted egg yolk. A few bits of chilli padi are hidden at the base so kids should watch out if they can't take the heat.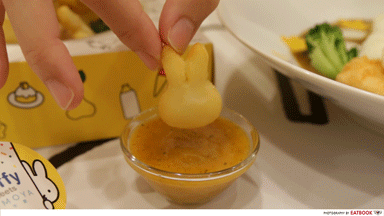 The salted egg yolk flavour in the sauce wasn't rich, and the starchy and smooth dip didn't have a salty aftertaste. Although I'd prefer it with more pronounced flavours, this would be more agreeable with those who aren't big fans of salted egg yolk. I'd have preferred more sauce though.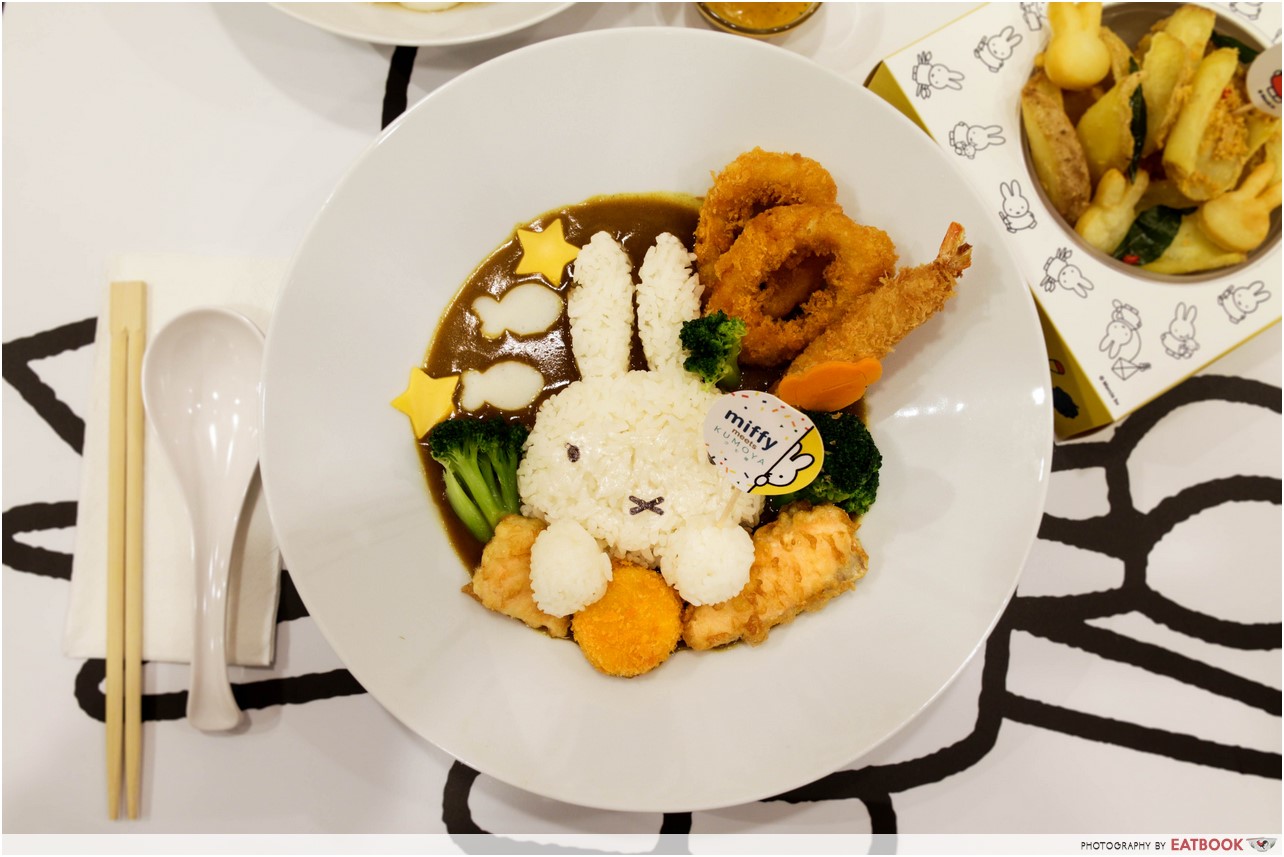 Splashing Good Fun Japanese Seafood Curry Rice ($24.90+) looked super Instagrammable with a pile of Miffy-shaped Japanese rice swimming in Japanese curry. Decorating it were fish-shaped kamaboko (fish cake), star-shaped cheese, steamed broccoli, breaded calamari, breaded ebi, breaded scallop, and fresh tempura salmon.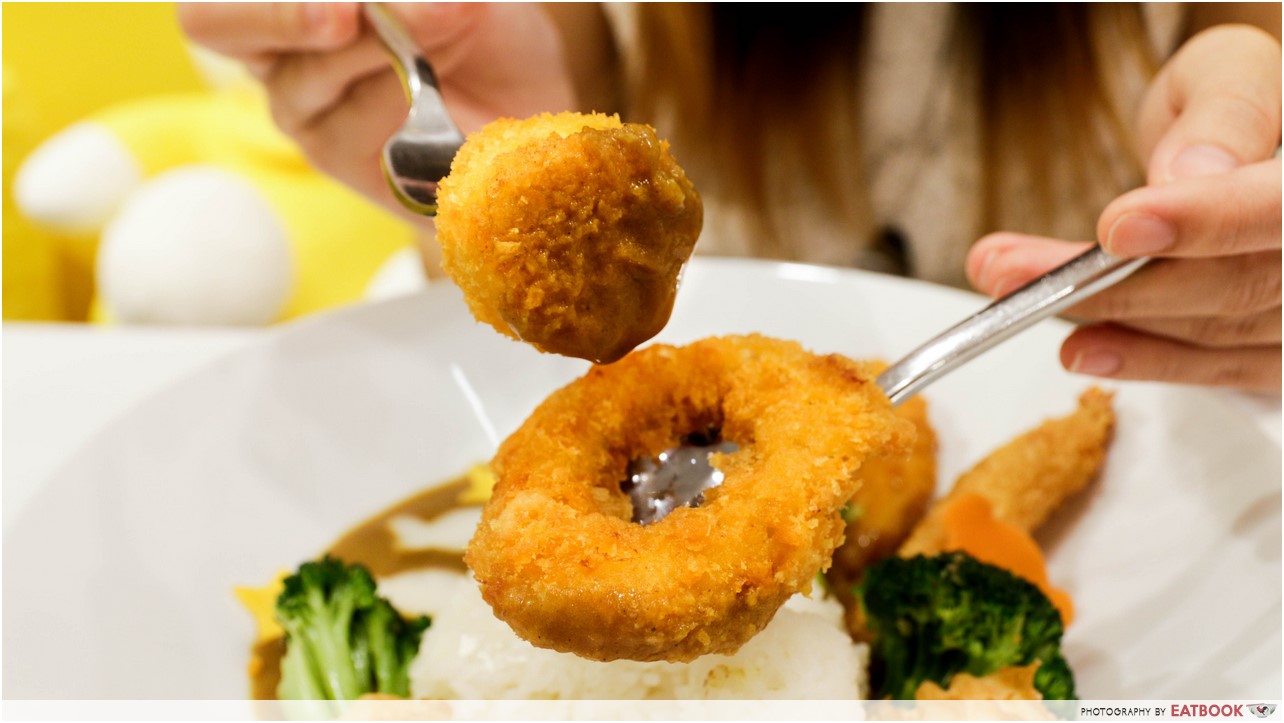 I didn't want my fried food to go soggy so I ate them first. Their breaded casing was delightfully crunchy, and surprisingly, wasn't greasy. The scallop meat was chewy without much taste, whereas the tempura salmon was meaty and firm with some flavour. I liked the calamari most though for how its slight chewiness contrasted with its crunchy case.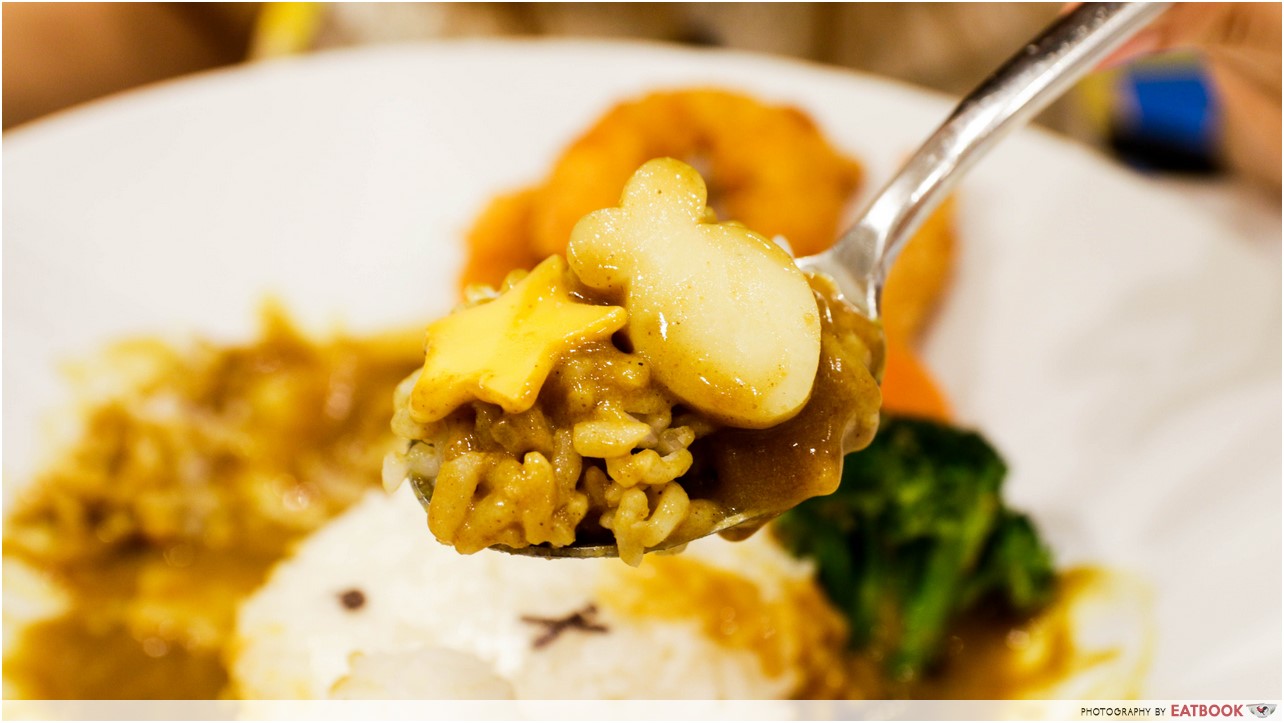 I couldn't help but leave Miffy to the last, and the rice balls that formed her paws were interestingly chewy. A little voice screamed inside me when I messed up Miffy's face to mix her with the sauce. The curry was salty with slight heat and a subtle aroma of spices. It generally overpowered the flavours of the cheese and fish cakes but I felt there could've been more sauce still.
The flavours in this dish weren't particularly impressionable but seems suitable for a child, especially with the kawaii rice and crunchy fried toppings.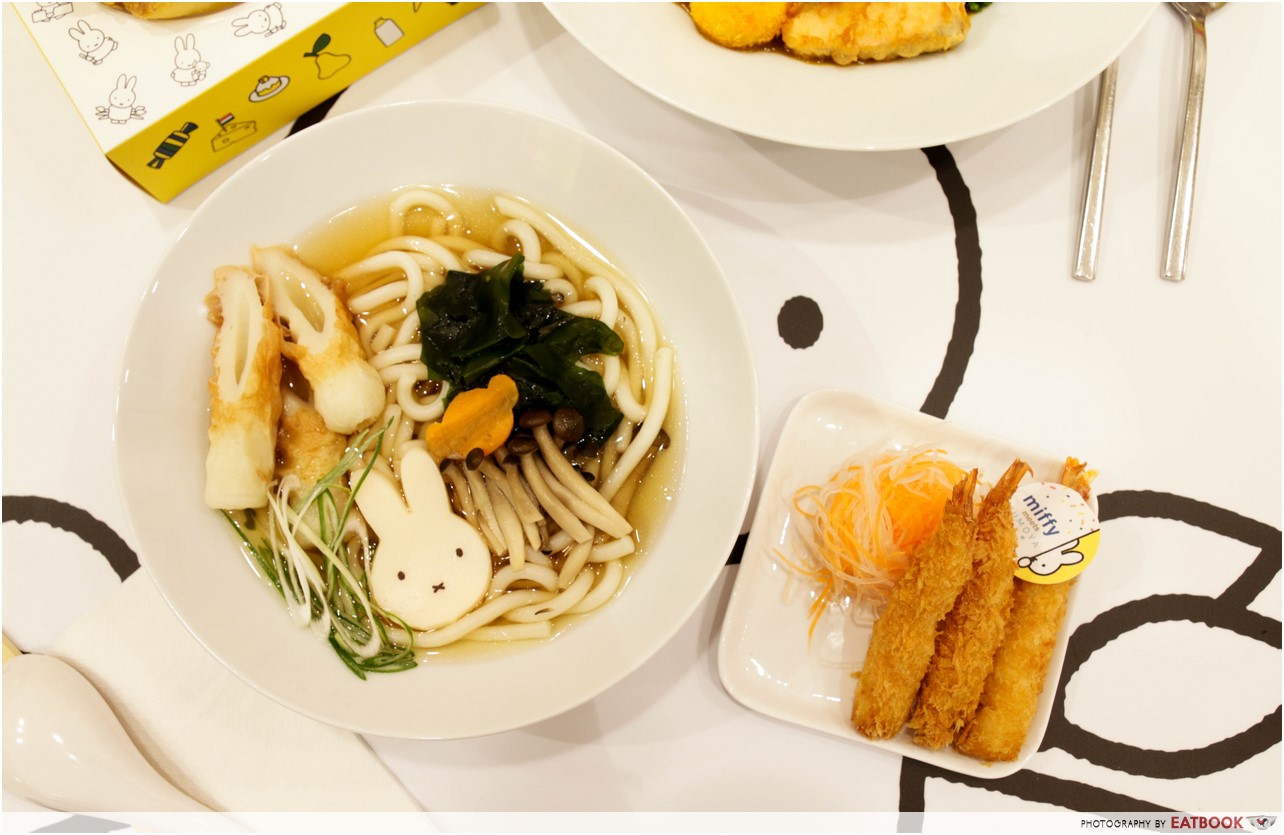 We were recommended Souperlicious Hot Udon with Breaded Ebi ($20.90+) which came with a side of breaded ebi and shredded carrot. Udon was topped with a Miffy kamaboko, wakame (seaweed), shimeji mushroom, a piece of bear-shaped carrot, chikuwa (tubular fish cake), and Japanese leek.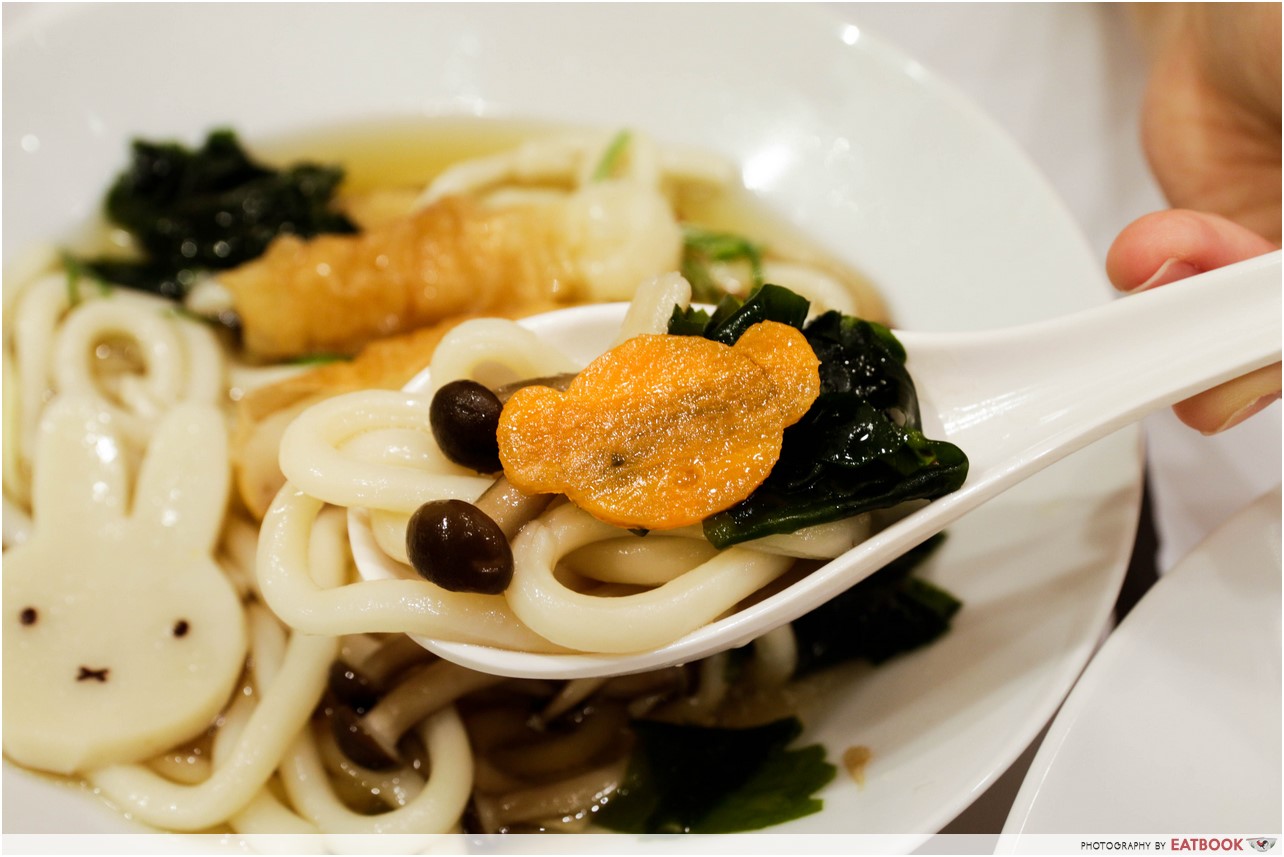 The udon had a wonderful texture that was slightly chewy, and the clear brown broth was very light and saltish but didn't leave me thirsty. I slurped them up with wakame. The Miffy fish cake was soft when I bit into it, whereas the chikuwa was firmer with milder flavour.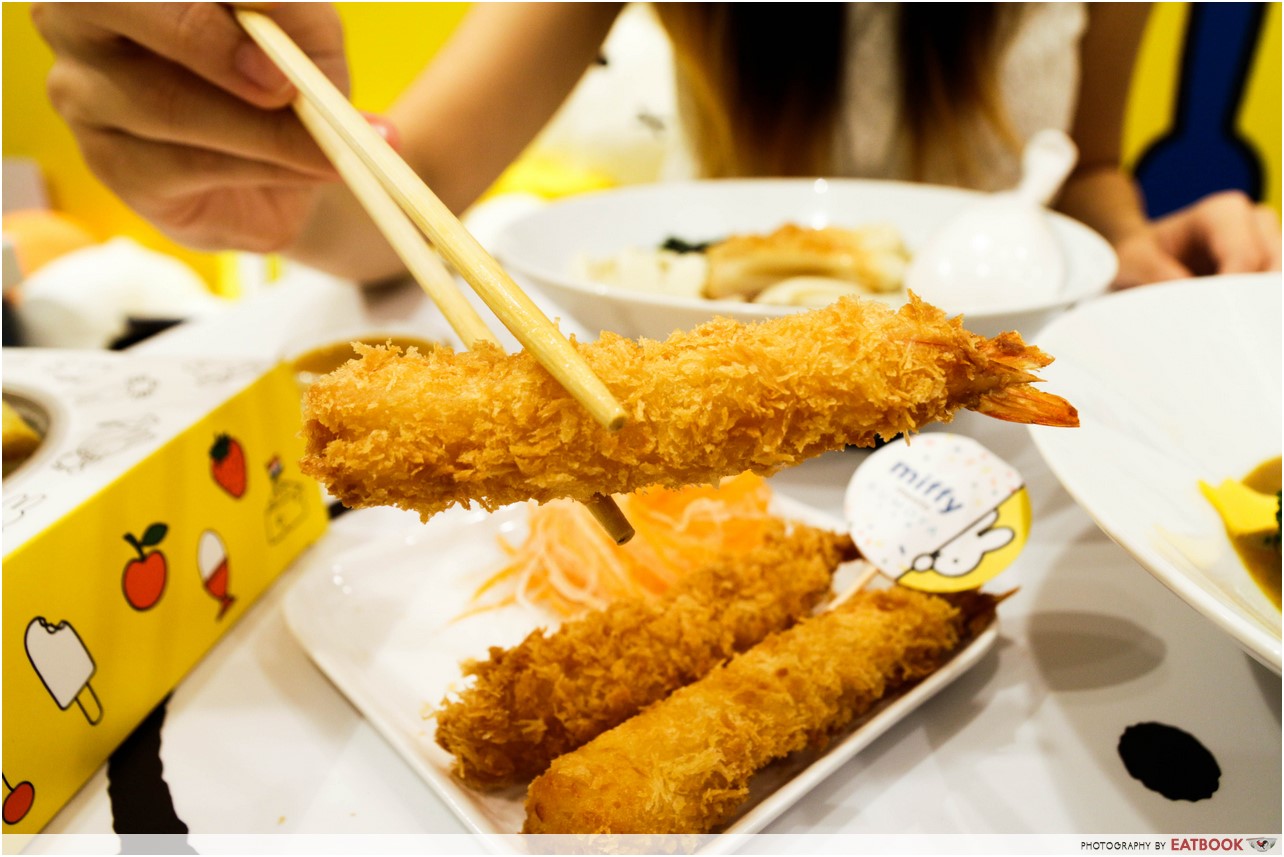 The ebi flavour wasn't strong but the breading was very crunchy, like in the dish before. The batter was light and not greasy which was a great complement to the soup.
Matcha Mountain Azuki Shibuya Toast ($23.90+) is Miffy café's most popular dessert. Shibuya toast is decorated with freshly churned Hokkaido soft serve, swirls of both matcha and plain cream, fruits, matcha sticks, and a Miffy cookie. It's sprinkled with pistachio bits, and had two dango balls and some azuki on its side.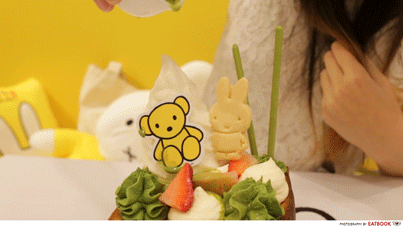 I drizzled sweet and creamy matcha sauce over it and cut the Shibuya toast open. The toast was very solid, unlike the fluffy ones I'm used to, and was hard to slice and eat.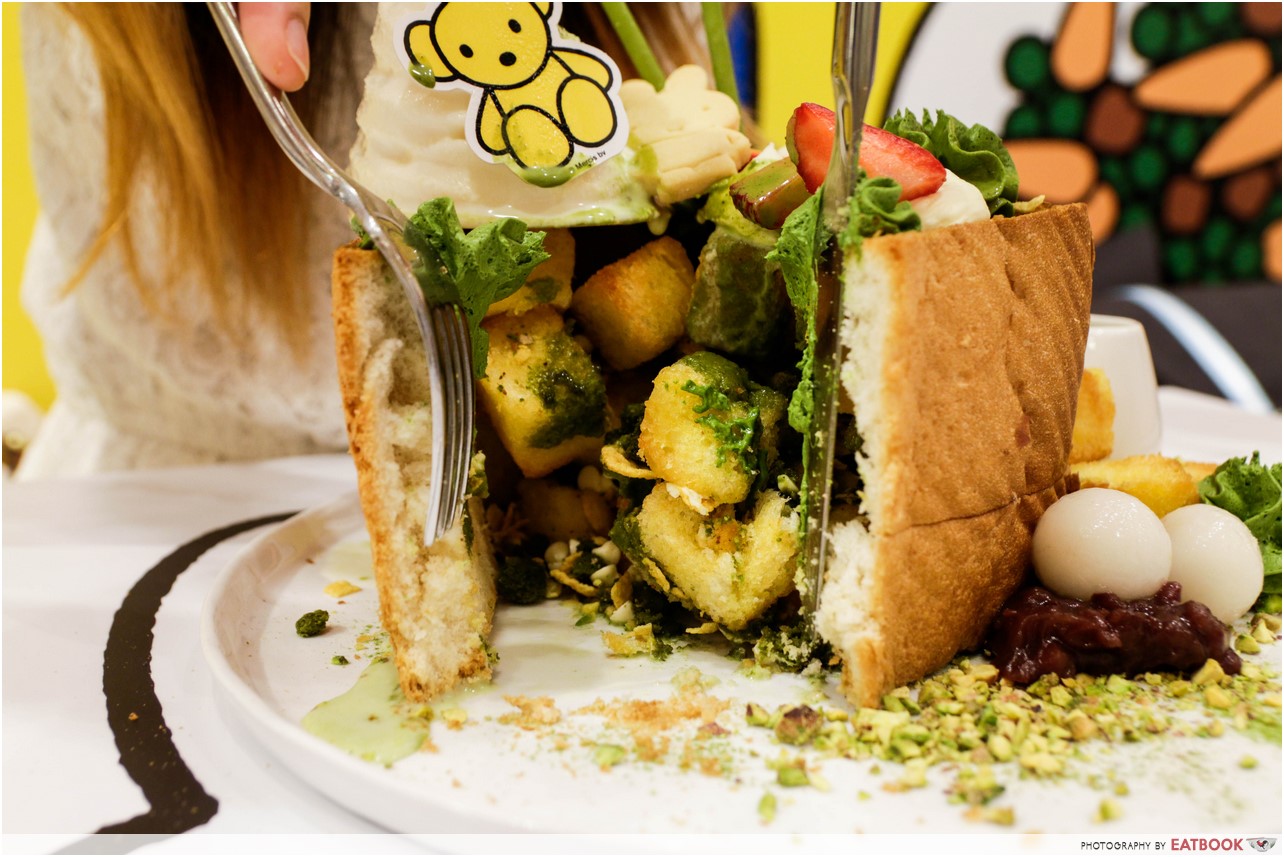 Opening it revealed squares of buttered toast which I loved scraping the milky and icy ice-cream with. The plain cream was another delicious pairing but if you like some bitterness, you'll enjoy their matcha cream. The strawberries were sour but didn't mar my enjoyment. I plucked off the only buttery Miffy cookie and soon forgot about the fruit.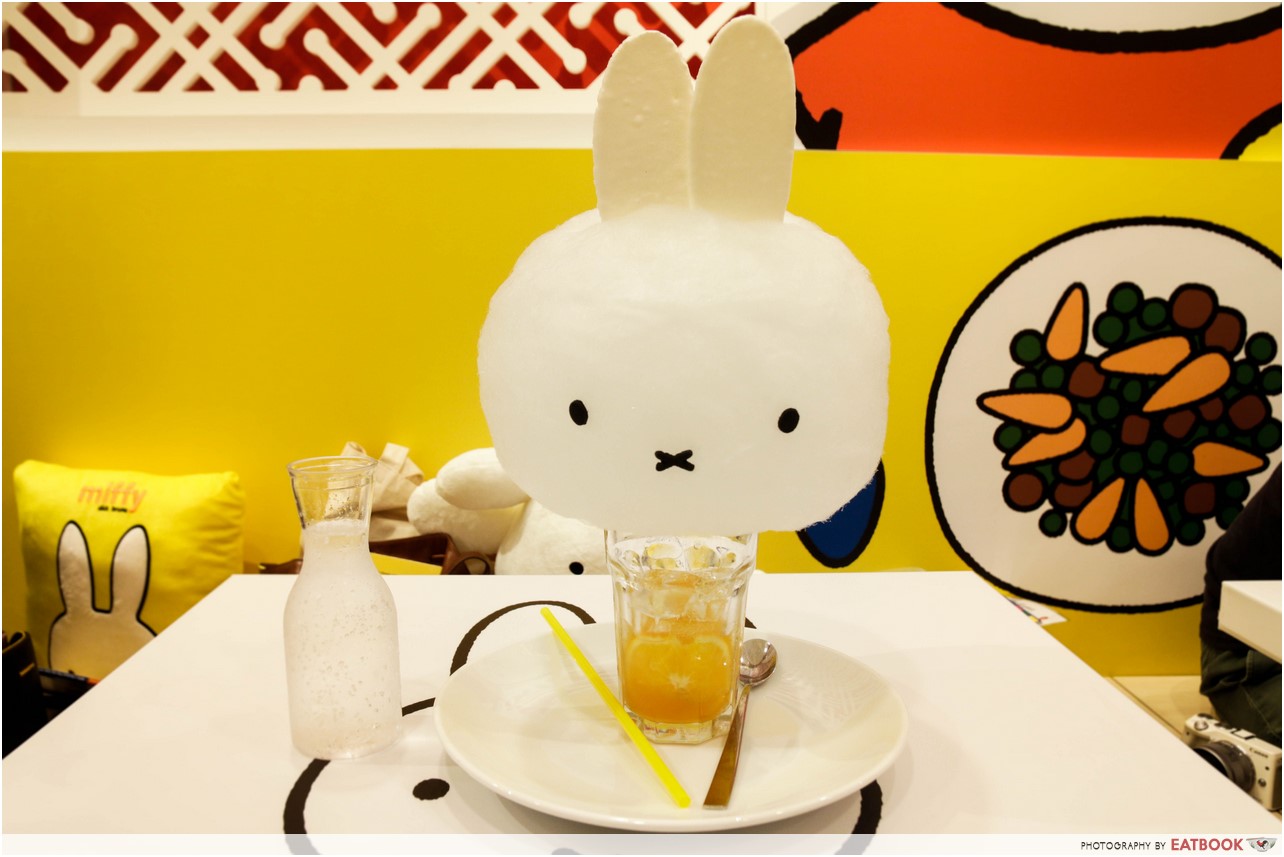 To wash it all down with some cuteness, we had an Instagrammable Miffy Original Orange Soda ($14.90+). A large Miffy head made of cotton candy sat on a glass of orange syrup with nata de coco. Word of warning – the cotton candy gives way quickly so snap your pictures fast.
A bottle of fizzy soda came with it and I poured it over Miffy, melting the sweet cotton candy into the cup. Fortunately, they also provided a plate underneath that caught my messy spillovers. I realised Miffy's ears were sugary biscuits and her black eyes and mouth were crunchy. I gave my drink a stir and sipped up the refreshingly fizzy drink. The cotton candy cloud balanced the tangy syrup, giving it just the right sweetness. I really liked that there wasn't a cloying aftertaste.
Ambience at Miffy cafe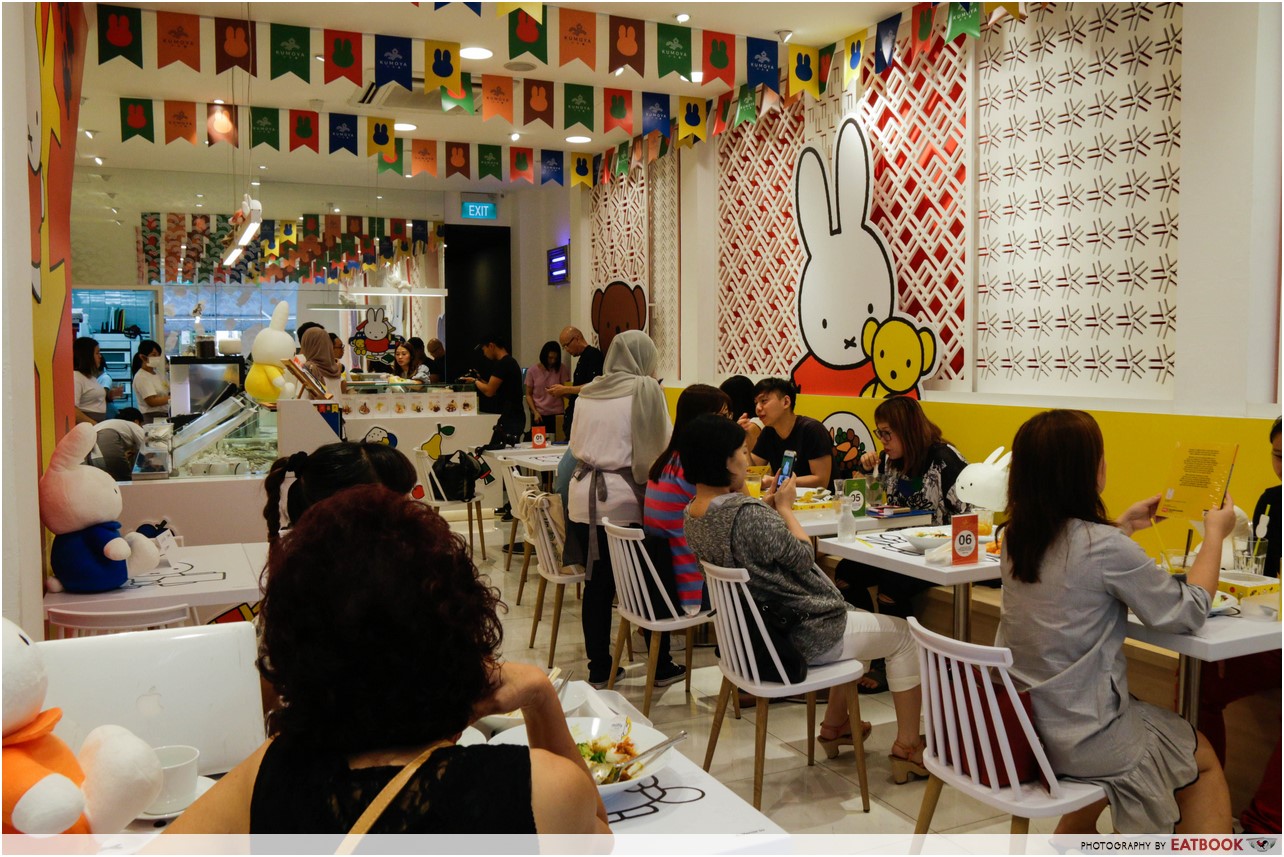 Kumoya is a small café that feels cosy with colourful decorations. We took a short bus ride from Lavender MRT Station and spotted its storefront decorated with large wall stickers of cartoon carrots, sweets, and fruits. A big plastic Miffy figurine greeted us with a photo opportunity too.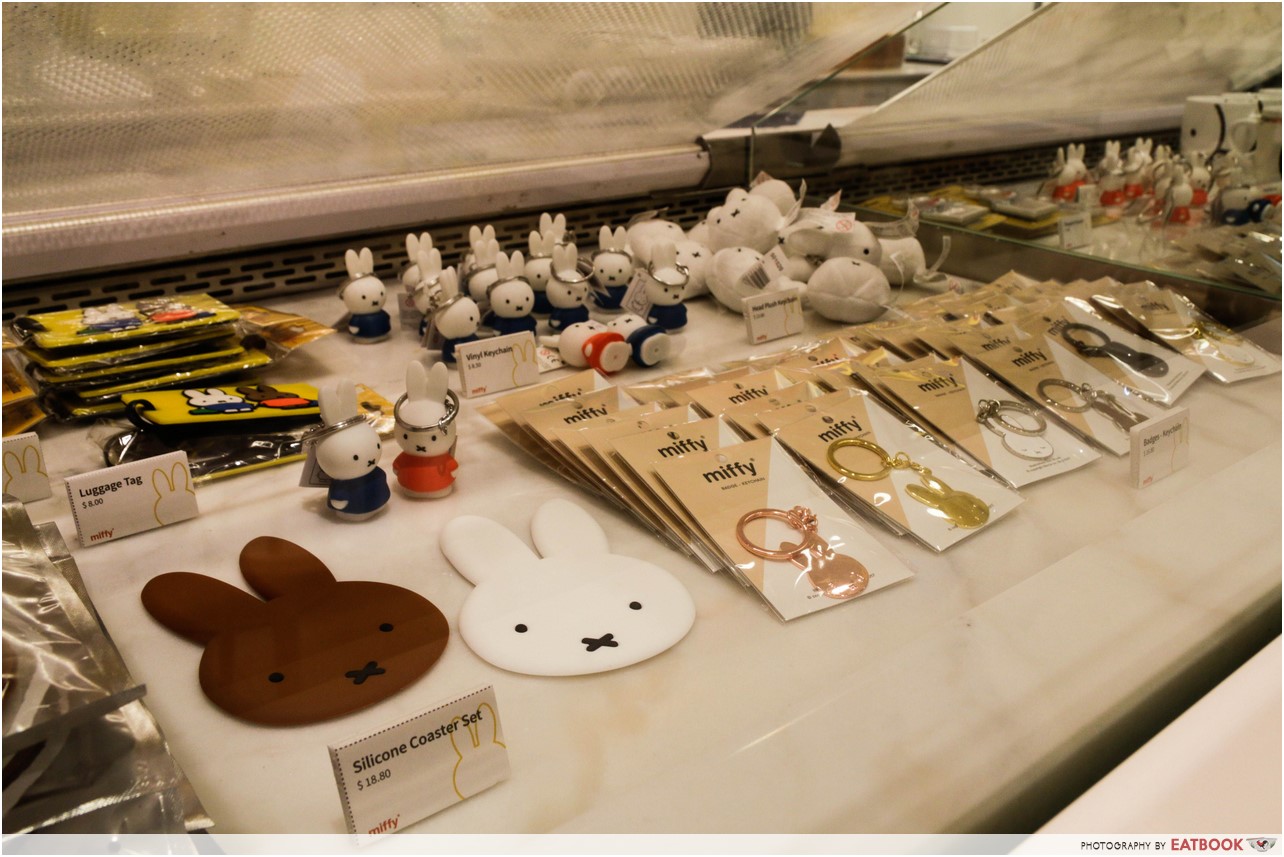 To one side of the cashier counter, you can watch the staff put your dishes together or video them building Shibuya toasts. On the other side is where you can check out various Miffy merchandise, though the plushies that sit beside you on the chairs while you eat are probably the most adorable! There's even a Miffy cookbook ($18.68+) by Little Miss Bento, who helped designed the Miffy dishes, if you'd like to make your own Miffy treats for the little ones.
The verdict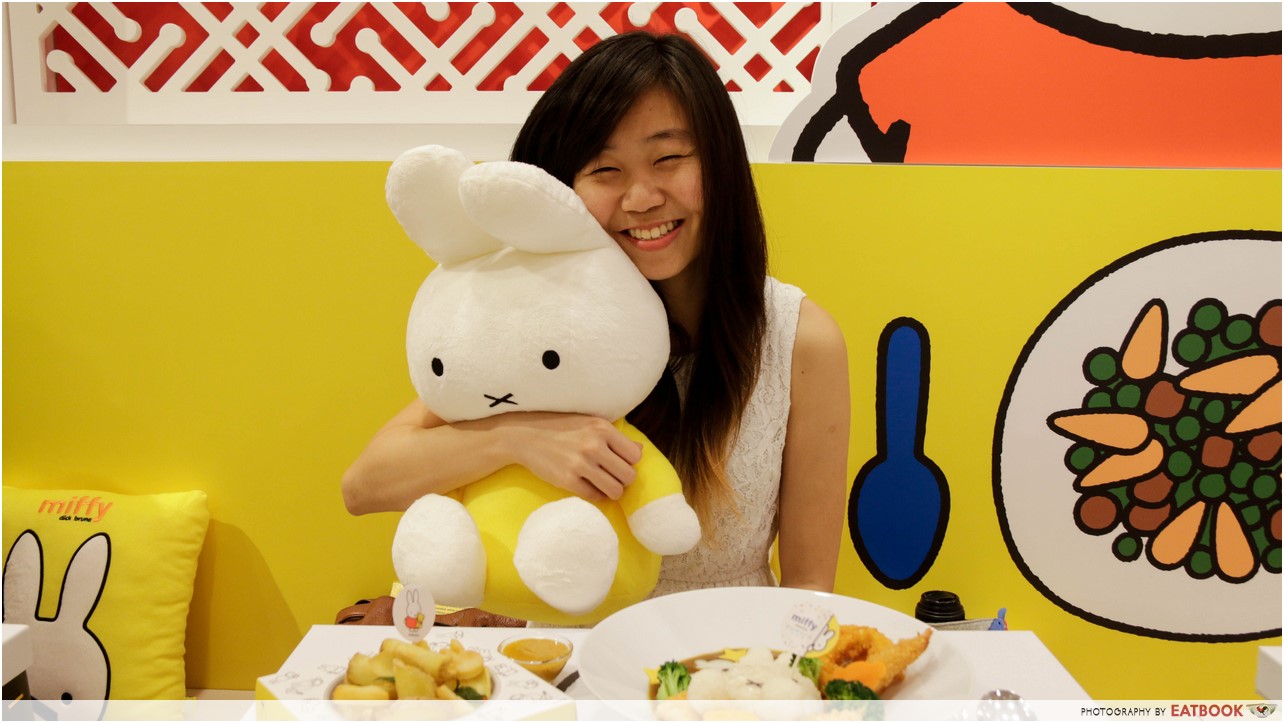 I never pegged myself as a girly girl because I grew up chucking aside stuffed toys and pleading my mum to buy me boys' clothes. The little rabbit buried herself into my heart; I went in as a young lady and came out missing Miffy. It took about half a year for Kumoya to put this together and they managed to draw out the personality of Miffy – uncomplicated, positive, and adventurous. I realised this as I left gleefully, more happy that I came than that I had to leave. Although I sometimes feel some character cafés are overhyped, a part of me is always sad when I hear that they closed down from the lack of traffic. It feels like a part of childhood going away. This pop-up concept though makes me feels that Miffy might come back for a visit again, and that keeps the excitement alive.
Address: 8 Jalan Klapa, Singapore 199320
Opening hours: Tue-Thur & Sun 12pm to 9:30pm, Fri-Sat 12pm to 10:30pm
Tel: 6297 3727
Website
Kumoya is a halal-certified cafe.
This was a media tasting at Miffy Meets Kumoya.
Summary
Pros
– Super cute
– Family-friendly café
– Instagrammable food and decor
– Halal-certified
Cons
– Expensive
– No reservations allowed
– $10 minimum spending
– Dining time may be limited to 90 mins during peak hours
Recommended Dishes: Sunny Salted Egg-Yolk Fries ($11.90+), Souperlicious Hot Udon with Breaded Ebi ($20.90+), Matcha Mountain Azuki Shibuya Toast ($23.90), Miffy Original Orange Soda ($14.90+)
Operating Hours:
Tue-Thur and Sun 12pm to 9pm, Fri-Sat 12pm to 10:30pm
Address: 8 Jalan Klapa, Singapore 199320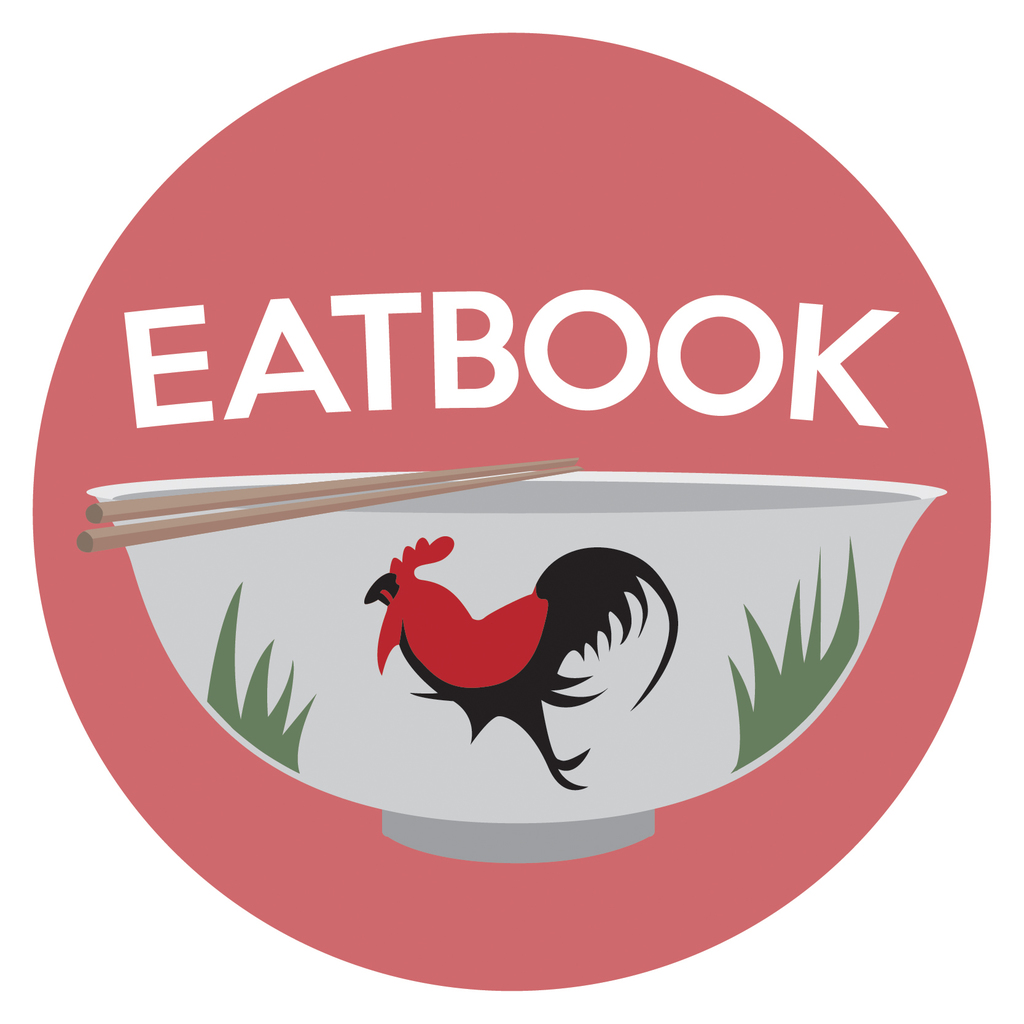 Drop us your email so you won't miss the latest news.