Pusheen Cafe in Singapore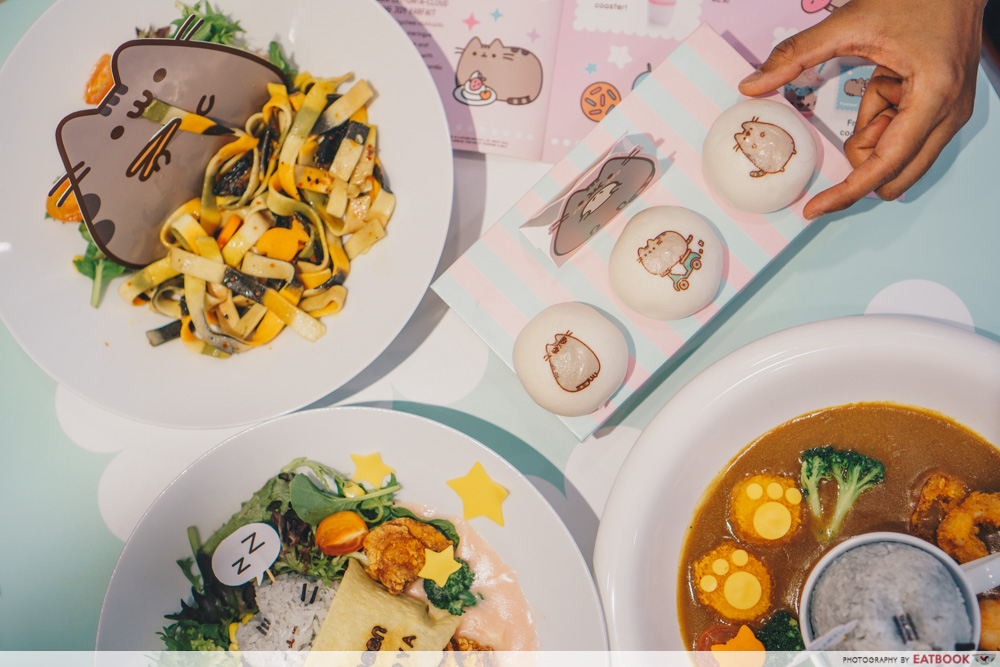 Anyone who's seen my Facebook page is woefully aware that fat cats are my weakness. That's why I've taken a liking to Pusheen.
The tubby feline has been the subject of many stickers, shirts and memes, and now, she's the theme of Kumoya's latest pop-up café. Just like previous collaborations, you can expect a hearty spread of cutesy mains and desserts here.
My Little Pony x Kumoya Cafe Review: Equestria-Themed Burgers And Cakes Near Bugis
What sets Kumoya apart from other themed cafés is that they've got Little Miss Bento at the helm to design the food. That means masterfully crafted items so beautiful, you'll hesitate to take a bite.
Food at Pusheen x Kumoya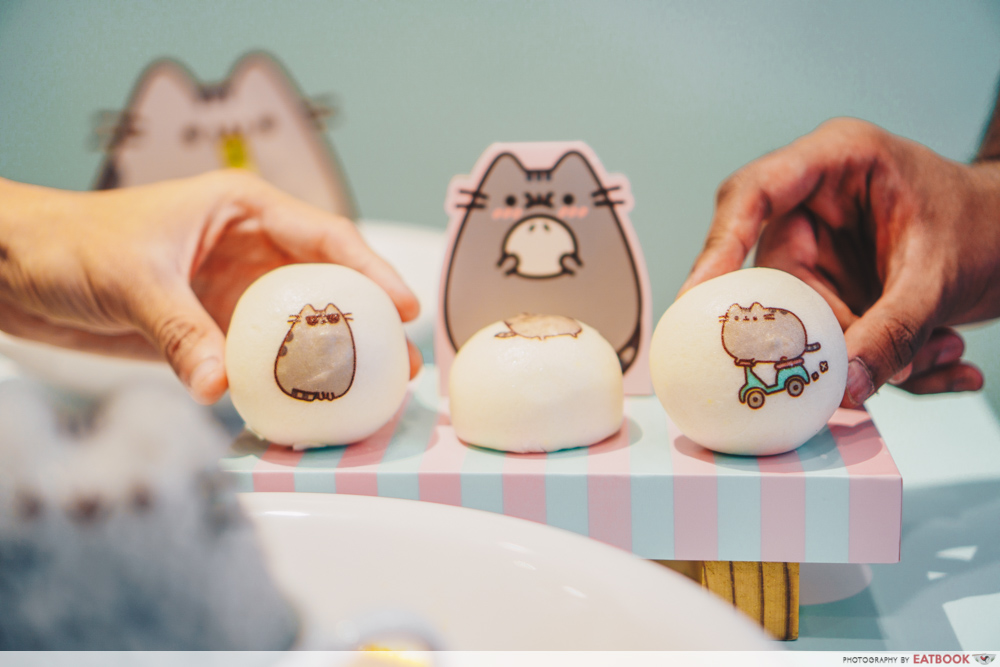 Served on a wooden board, each of the Pusheen Purrfect Special Green Tea Buns ($10.90+) was stamped with an image of Pusheen doing adorbz things like smiling and smizing. Tearing the fluffy buns apart revealed green tea filling that was potent and bittersweet. That being said, the amount of filling could have been more as we felt that it was scant. Once you're done, remember to bring home the limited-edition display card!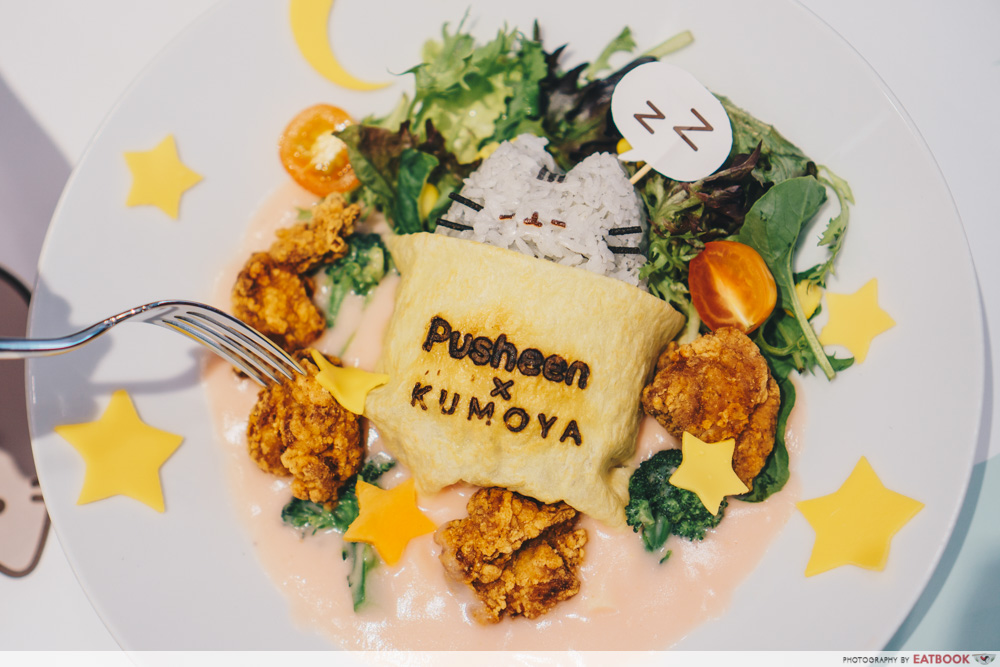 The award for "Most Beautiful Plating" goes to the Pusheen Cat Nap Creamy Japanese Rice ($22.90+) 'cause LOOK AT HOW CUTE IT IS! Charcoal rice has been arranged to resemble a sleeping Pusheen. Soft egg crepe is literally blanketing the cat, completing the serene image. Decorating the bed is a mix of crispy Japanese karaage chicken, star-shaped carrots & cheese, and fresh garden salad.
The beetroot cream sauce had a smooth consistency and rich flavour which worked wonders with the juicy kaarage. Unfortunately, the rice was too hard for our liking though smooshing it with the sauce did the trick.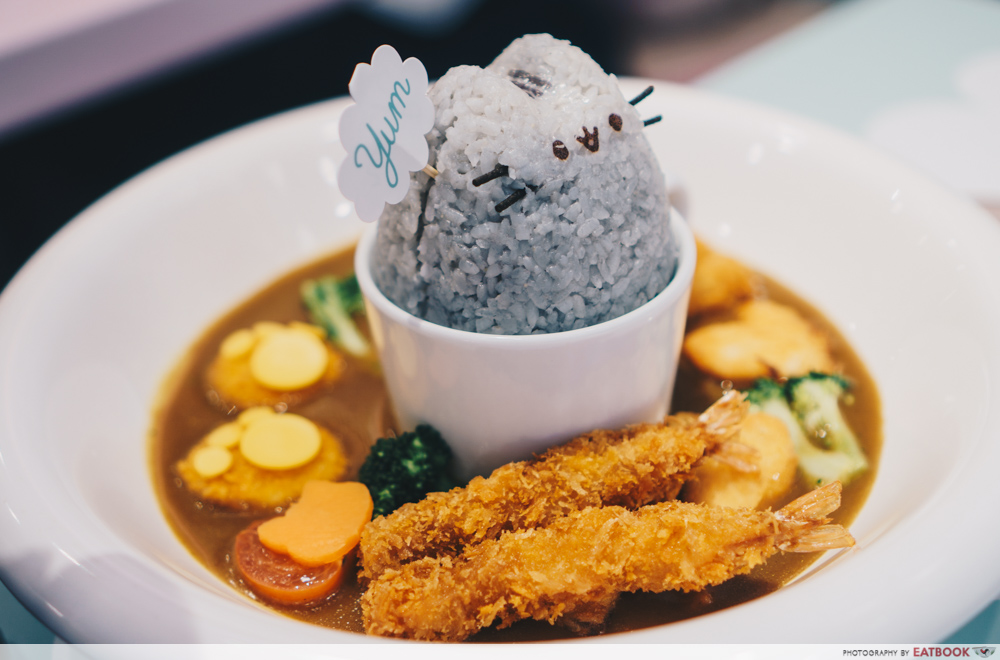 We faced a similar problem with the Pusheen Floating Fun Japanese Seafood Curry Rice ($23.90+); scooping out the rice required some force. Surrounding the cup is a sea of curry, splayed with an assortment of breaded ebi, calamari, scallops, and fresh tempura salmon. Although the seafood was satisfactory, the curry was way too salty.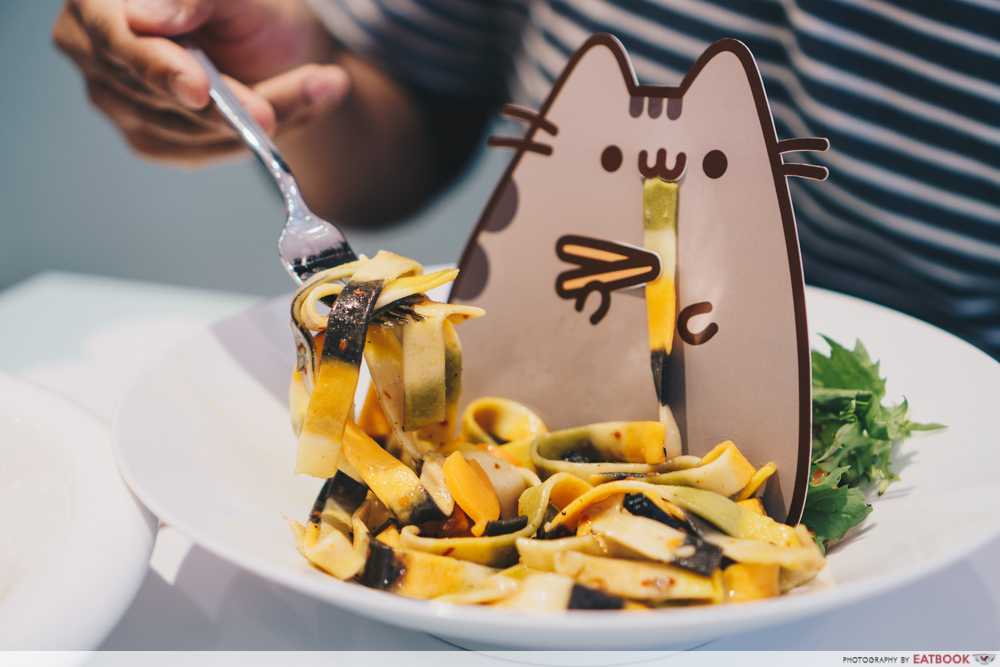 As much as I wanted to like the Pusheen-Loves-Pasta Truffle Aglio Olio ($19.90+), it turned out to be quite a disappointment. The dish consists of multi-coloured Tagliatelle pasta cooked in truffle oil, and then served with sauteed mushroom, turkey bacon, fish-shaped carrots and cat-shaped cheese.
An aesthetically pleasing dish, no doubt. However, our pasta was overcooked, resulting in a gummy texture. Worst of all, there was barely flavour and zero truffle aroma in the dish.
Thankfully, the desserts we tried fared so much better. We're talking worlds apart.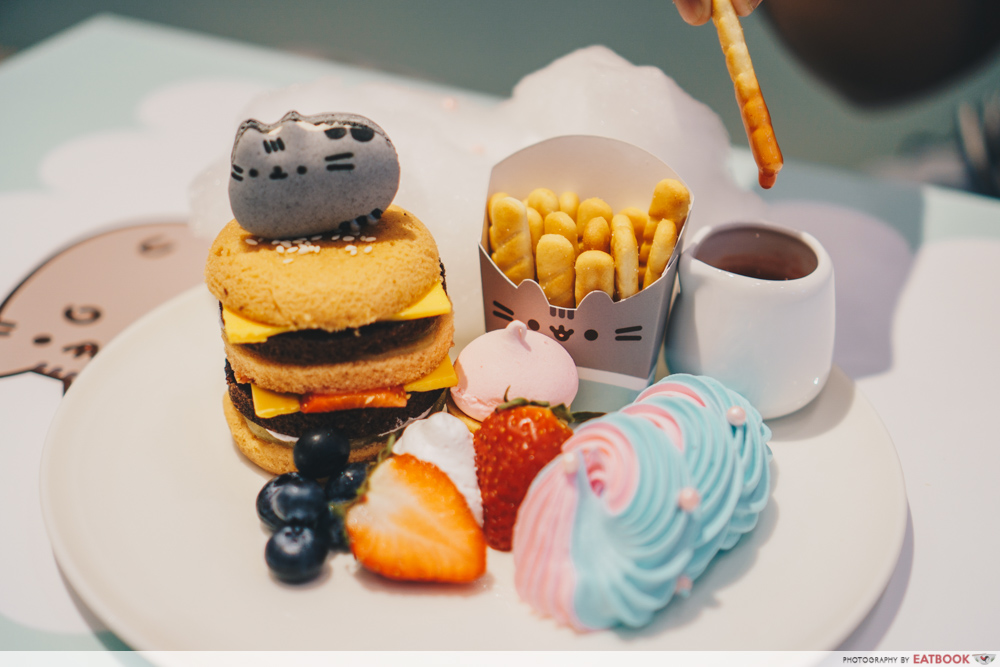 As someone who loves the idea of having a dessert as a main, the Pusheen Double Delight Fruitcake Burger ($17.90+) checks off all the boxes of a must-have. It's bright, it's sweet and it's innovative. The item comprises a mini fruitcake burger, capped with a 3D Pusheen macaron. Surrounding it are a hodgepodge of treats like meringues, berries, cotton candy and cream.
What's interesting here are the spiral biscuit fries. They paired beautifully with the treacly strawberry sauce and were addictive to boot!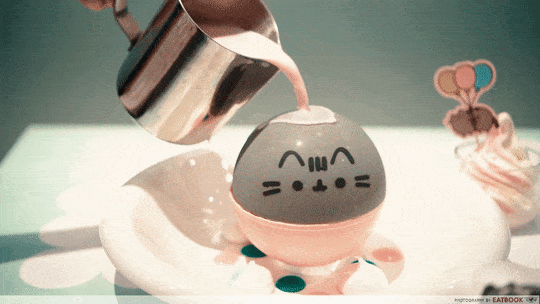 I foresee the Pusheen Purrfect Surprise Choco Ball-Of-Yum ($22.90+) being the subject of many IG stories. Simply pour steamed milk over the humongous chocolate ball and it'll melt to reveal a Halloween bag's worth of delights like marshmallow, candies, a mini swiss roll, and Froot Loops. Slurping the resulting concoction was akin to eating a Level 100 cereal bowl, with its warmth and milkiness bringing forth nostalgic memories.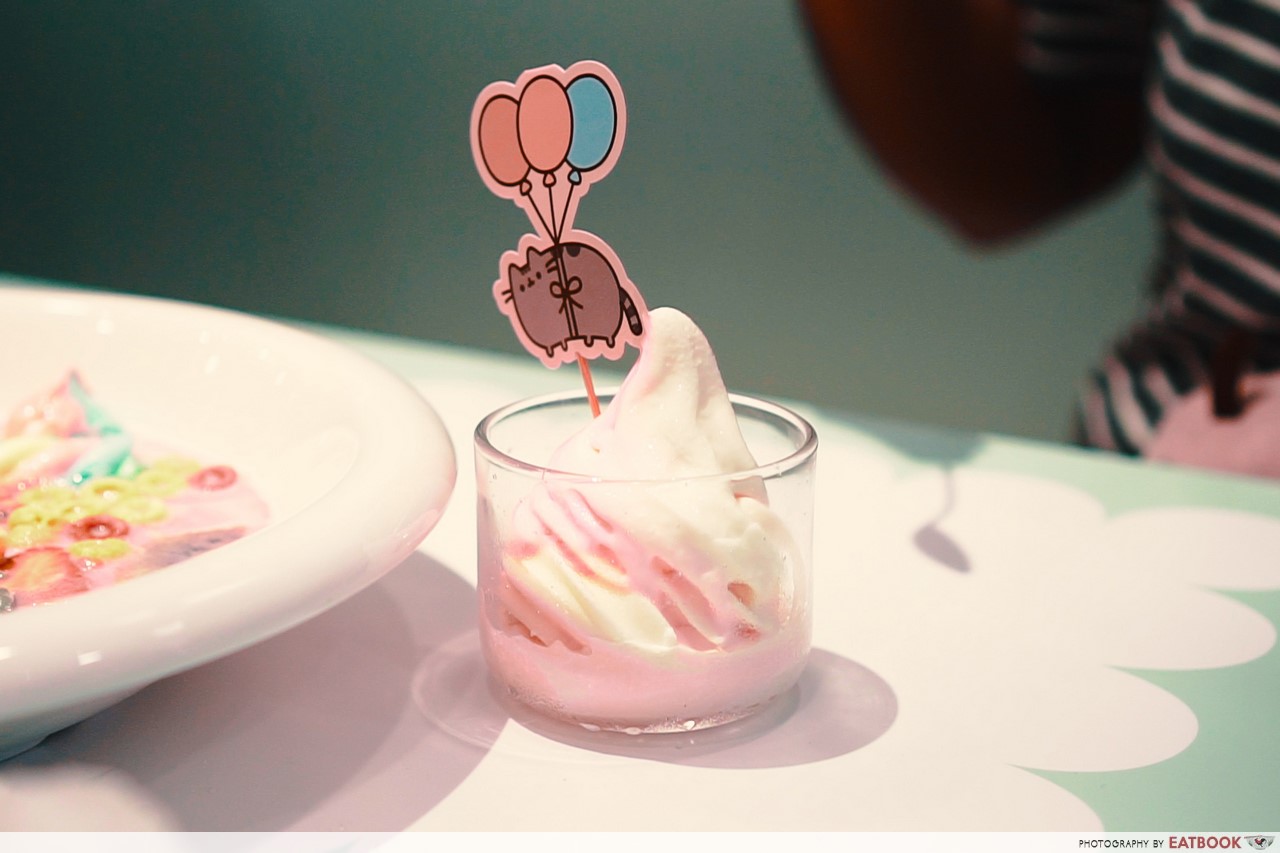 Surprisingly, the star player of the dessert isn't found anywhere on the plate. It's actually the lychee Hokkaido soft serve that's, well, served separately in a glass cup. It had the right balance of tartness with strong floral notes for good measure. The result: a wonderful palate cleanser.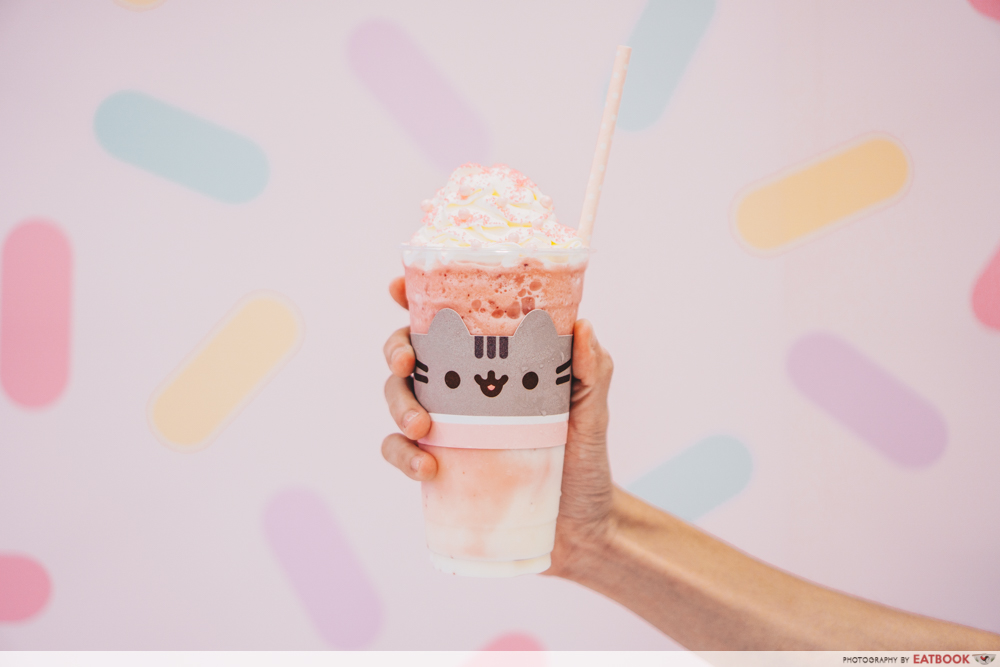 By the time we got to the Strawberry Cheesecake Frappe ($12.90+), we expected to be overwhelmed by a whole lotta saccharine. Luckily, this wasn't the case at all. In fact, I'd even say it was refreshing, given the richness of the cream. The drink wasn't cloying at all, though you'll need a wider straw than the ones provided to suck up the generous amount of pink pearl bits.
Ambience at Pusheen x Kumoya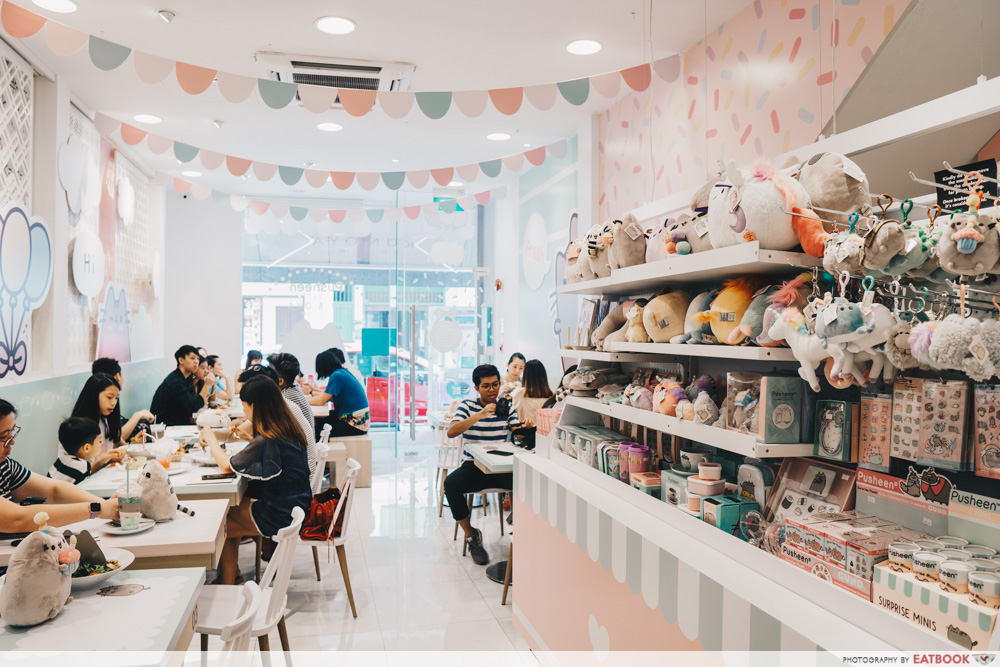 As always, the ambience here is top-notch. I like the brighter tones used in this iteration as they gave the café a more welcoming feel. My colleague was squealing at the myriad of plushies displayed all over. It's also worth mentioning that there's a claw machine just outside the entrance where you can win these plushies. Each attempt costs $2, so be sure to bring extra notes.
The verdict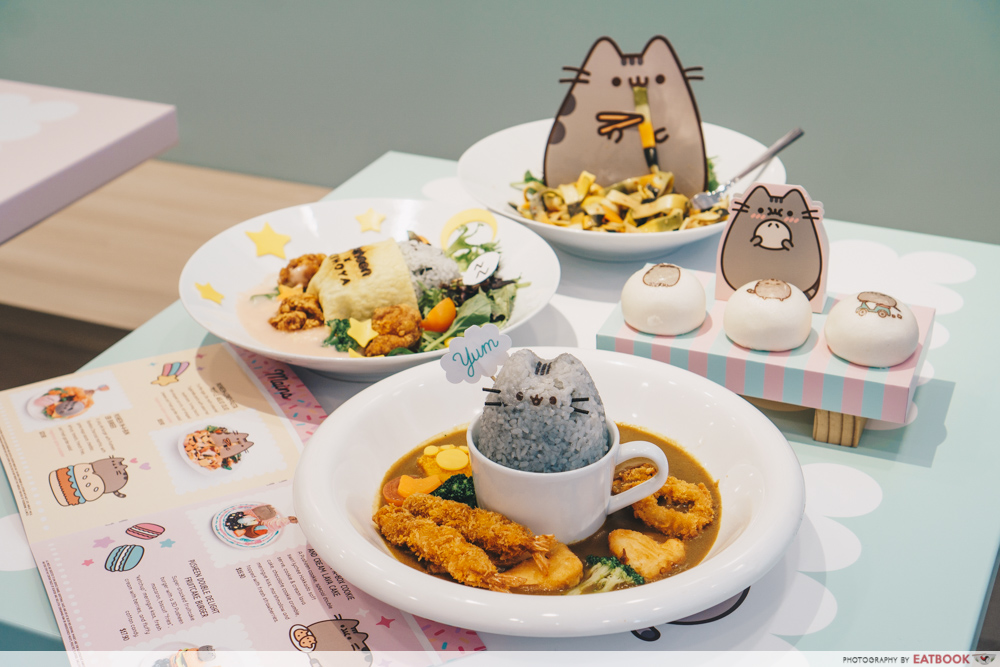 Even though I've visited Kumoya a couple of times by now, I'm glad that they're still able to impress me. Admittedly, the mains didn't blow me away this time but man, the latest desserts are something else. If you're an ardent fan of Pusheen or just someone with a raging sweet tooth, you'd do well to visit Pusheen x Kumoya Cafe.
Address: 8 Jalan Klapa, Singapore 199320
Opening hours: Tue-Thurs, Sun 12pm to 9:30pm, Fri 12pm to 10pm
Website
Photos taken by Adria Tham.
This was a media tasting at Pusheen x Kumoya Cafe.
Summary
Pros
– The dishes were all beautifully designed
– The desserts were amazing
Cons
– Most of the mains were disappointing
Recommended dishes: Pusheen Double Delight Fruitcake Burger ($17.90+), Pusheen Purrfect Surprise Choco Ball-Of-Yum ($22.90+), Strawberry Cheesecake Frappe ($12.90+)
Opening hours: Tue-Thurs, Sun 12pm to 9:30pm, Fri 12pm to 10pm
Address: 8 Jalan Klapa, Singapore 199320