Ten Ren Tea at Chinatown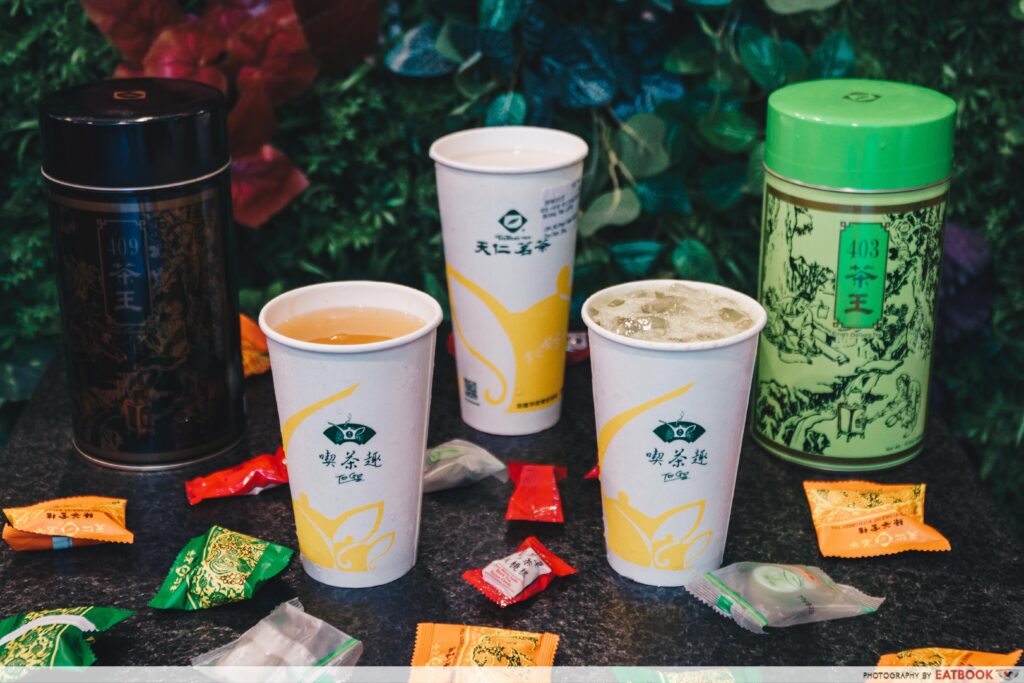 We wrote about Ten Ren Tea when it was first announced to be opened in Singapore. As the occasional bubble tea drinker who is bored of common options, I was looking forward to trying this new Taiwanese brand to hit town.
At first glance, Ten Ren Tea may not seem different from other bubble tea brands, serving standard tea such as green and oolong tea. However, it's still able to distinguish itself by using 100% natural and fresh ingredients – its fruit teas use fresh fruits instead of canned fruits. The Taiwanese tea brand also has outlets in Hong Kong, Indonesia, Los Angeles and more. With all these said and done, we had to taste Ten Ren Tea's drinks and judge their quality for ourselves.
Drinks at Ten Ren Tea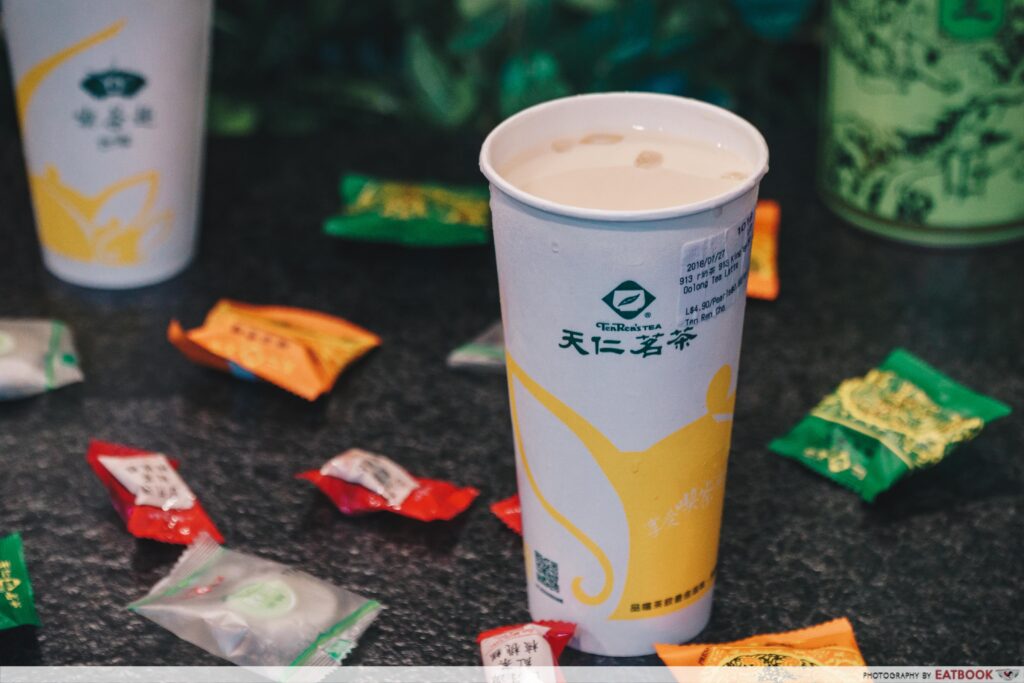 We started off with their signature 913 King's Oolong Milk Tea (from $2.90), which is a blend of oolong with ginseng and milk. Although ginseng is one of the key ingredients in this drink, we weren't able to taste its sharp bitterness, as it was finely neutralised by the rich woodiness of oolong and the creamy finish of milk. Overall, the drink was refreshing and light on my palate, and we also appreciated how there wasn't a cloying aftertaste that often follows most sweetened milk teas.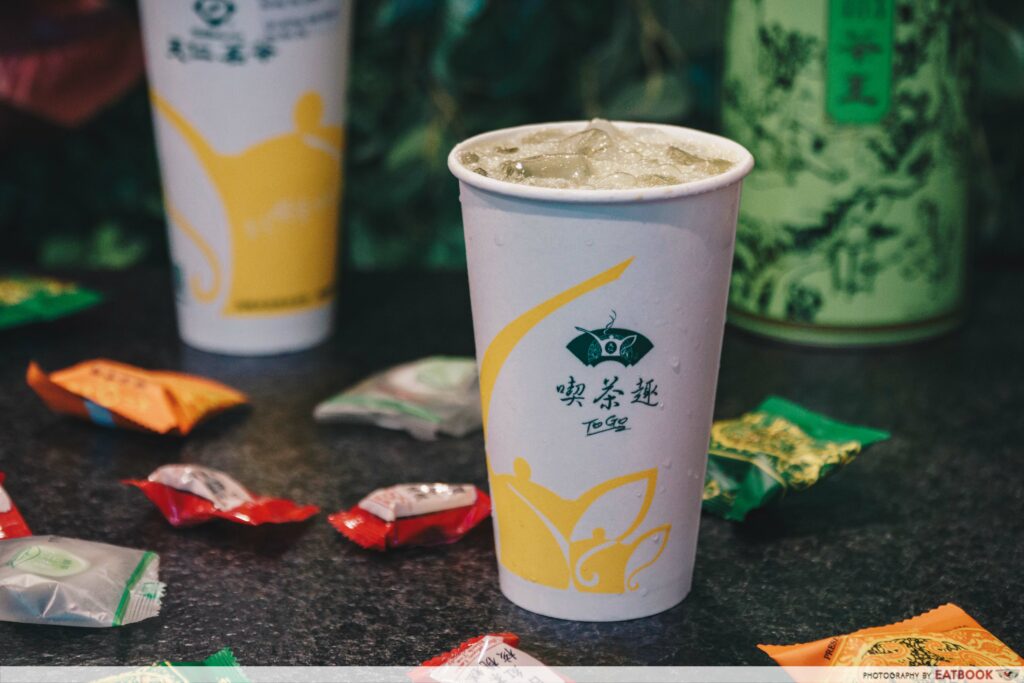 The Matcha Latte (from $4.60) also came highly recommended on the menu. This is another drink that scores well in the balance department for me, as the richness of the milk and the light bitterness of the matcha did not overpower each other. The result was a drink that had a delicious hazelnut-like taste that left us craving for more.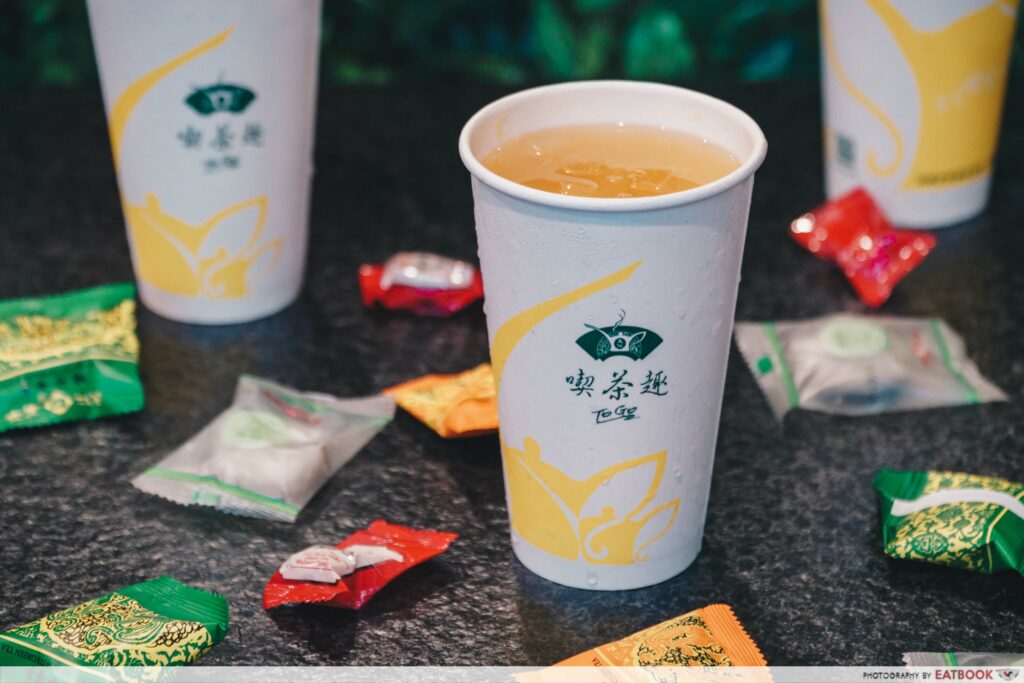 We also gave the Orange Green Tea (from $4) a go. True to its commitment to only using fresh fruits, freshly squeezed oranges were used for this drink. We could definitely taste its pleasant citrusy sweetness, which complemented the flowery aroma of the green tea well. As a plus, orange pulp was added to the drink, giving it a zesty tinge that burst when chewed.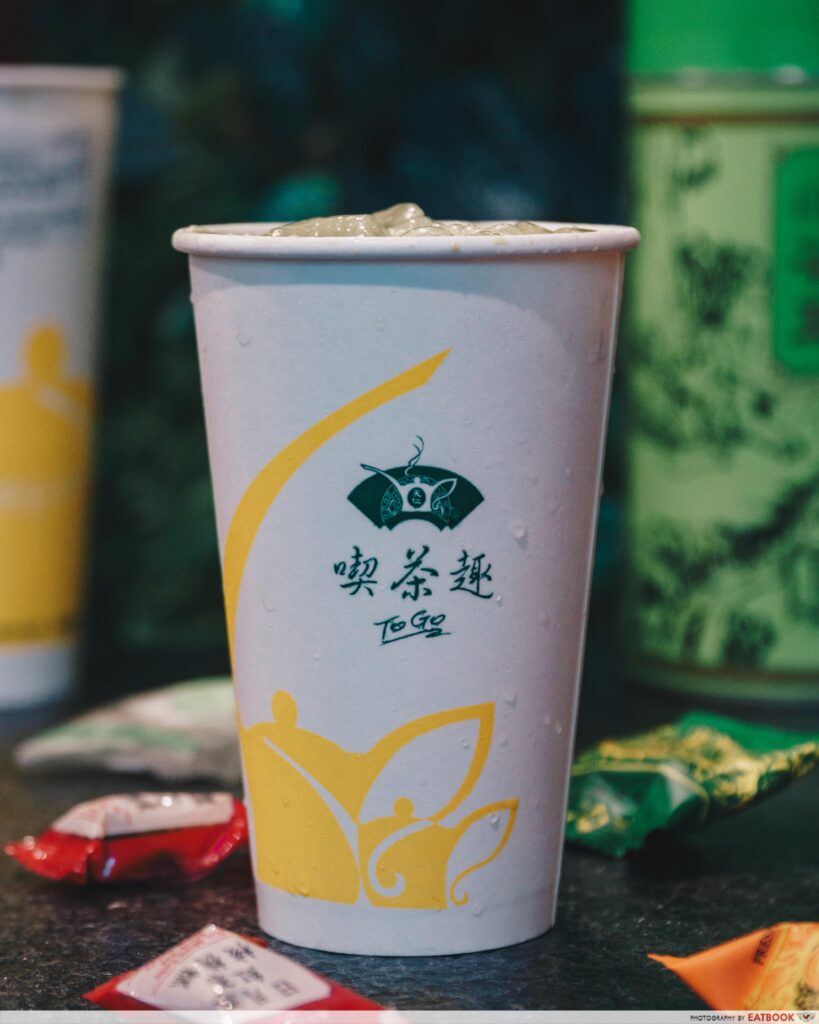 Another drink that stood out for us was the Taro Green Milk Tea (from $4.10). As actual yam was used, the overall drink was pleasantly thick, which is something I would expect of an ingredient as heavy as taro. The thickness of the drink was complemented nicely by the generous serving of taro cubes that are given as free toppings, giving the drink a bonus chewy texture. Although the taro may seem overpowering at first, it isn't entirely the case. The creaminess of the milk used could still be distinctly tasted against the sweetness of the taro, although the light flavour of the green tea was lost.
Snacks at Ten Ren Tea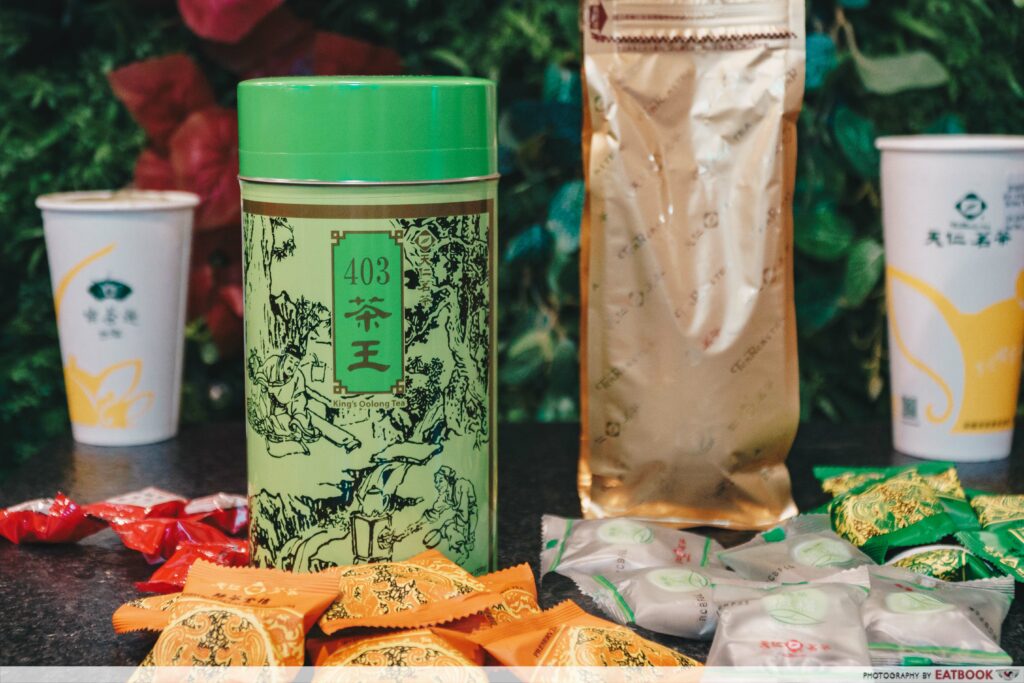 Apart from the teas that form the core part of Ten Ren Tea's business, a selection of pure tea blends and tea-infused snacks are also for sale. We particularly liked their Green Tea Mochi ($6.70 for a 360g bag).
Key amongst its ingredients are green tea powder, glutinous rice powder, and red beans. While there is sugar in the mochi, it is actually only lightly sweetened, which meant it didn't leave behind the unpleasant aftertaste of saccharine sweets. Also, don't let its humble exterior fool you, for it's able to hold its shape well, allowing you to savour its gooey softness for a few extra bites. This, to me, made up for its lack of filling. It's little surprise that we couldn't resist snagging more of these goodies!

Ambience at Ten Ren Tea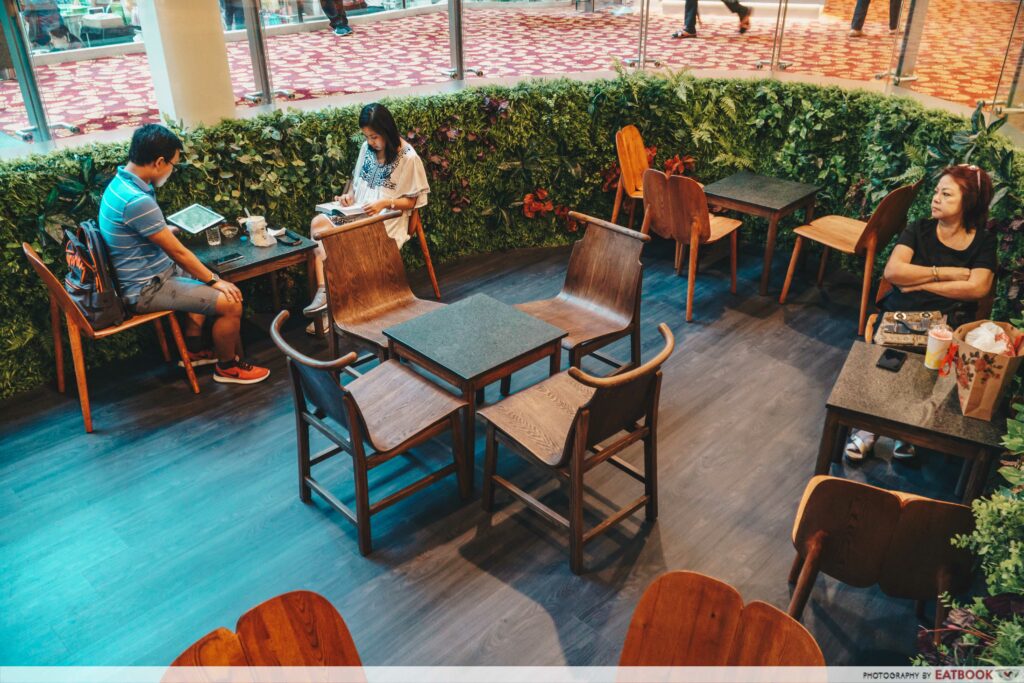 Strategically positioned in the main atrium of Chinatown Point, Ten Ren Tea is hard to miss with its classy modern shopfront fitted with wood panels. I especially like how the modern aesthetic of the shopfront is contrasted by classic Chinese furniture at the back, complete with chairs and tables crafted out of solid wood. The ambience of the dining area is, however, disrupted by its exposure to the rest of the bustling mall, and staying here for too long might become an uncomfortable experience.
The verdict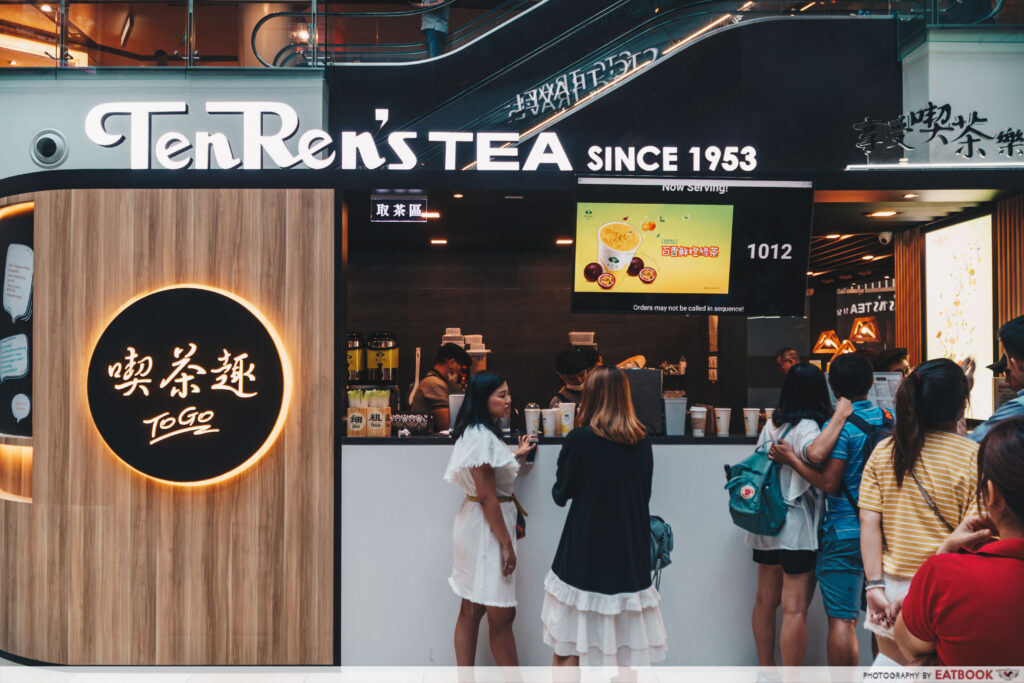 The drinks sold by Ten Ren Tea are definitely some of the best I've had, especially when compared to its close competitors. I'm also pleased to see that they're mindful of their prices, ensuring that it's on par with standard rates. The best part? You pay roughly the same prices for quality and freshness that aren't necessarily guaranteed elsewhere.
Address: 133 New Bridge Road, #01-07, Chinatown Point, Singapore 059413
Opening hours: Daily 10am to 10pm
Tel: 6593 4333
Website
Photos taken by Maverick Chua.
This is an independent review by Eatbook.
Check out our new ratings guide!
Summary
Pros
– Flavours in drinks were well balanced
– Decent price range for the quality
– Easy to locate from the entrance of Chinatown Point
– Convenient location
Cons
– Open dining area may get too noisy
Recommended Dishes: 913 King's Oolong Milk Tea (from $2.90), Matcha Latte (from $4.60), Orange Green Tea (from $4)
Opening Hours:
Daily 10am to 10pm
Address: 133 New Bridge Road, #01-07, Chinatown Point, Singapore 059413