Fresh Generation offers lobster seafood soup at a hawker centre
Update: Fresh Generation has since closed down.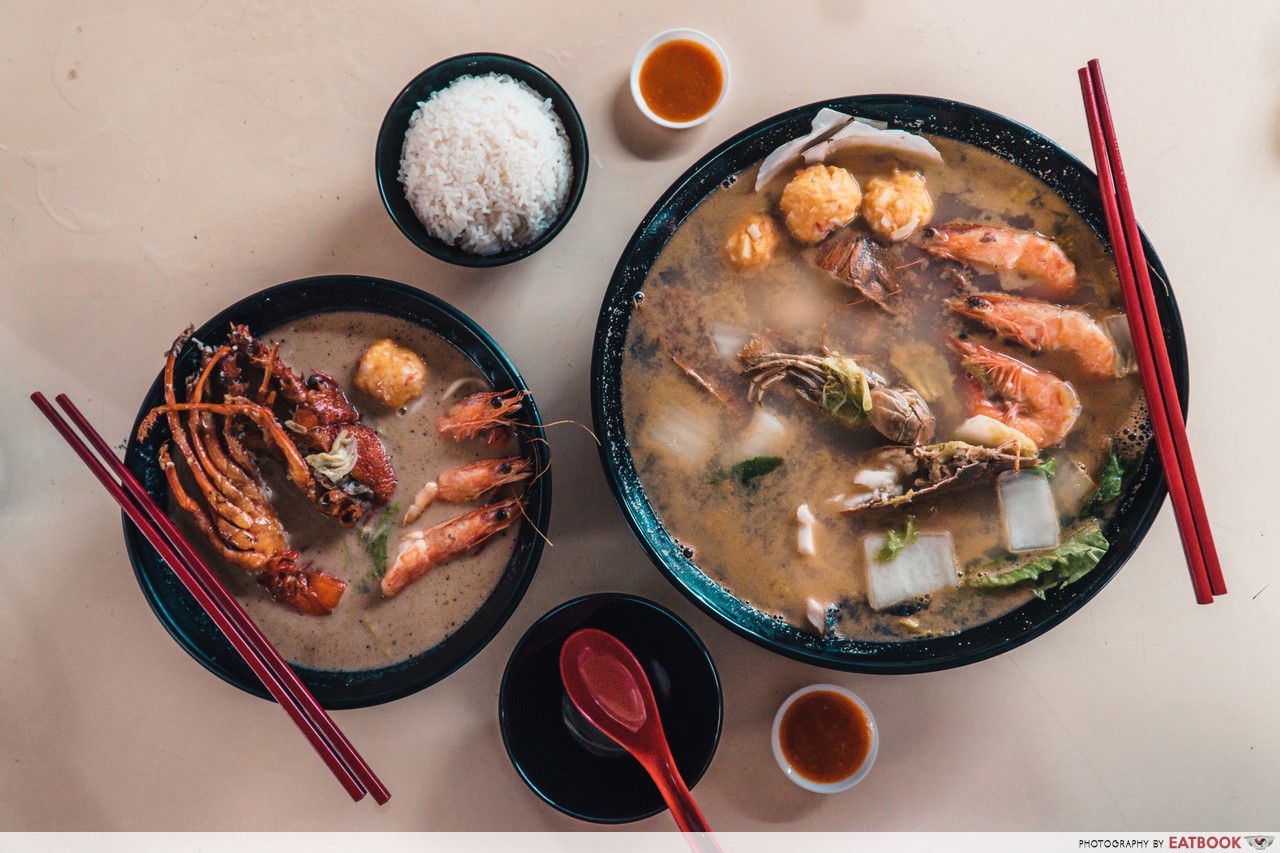 A lobster and seafood feast drenched in rich, umami soup is not really what you would expect to find at a corner of Bukit Timah Market and Food Centre.
Opened in March by the same people behind Woon Woon Pek Beehoon, Fresh Generation is quite the hidden gem in a hawker centre. It comes after a long line of new-age hawker food, showing how hawker fare is no longer a humble $3-per-bowl affair anymore.
Food at Fresh Generation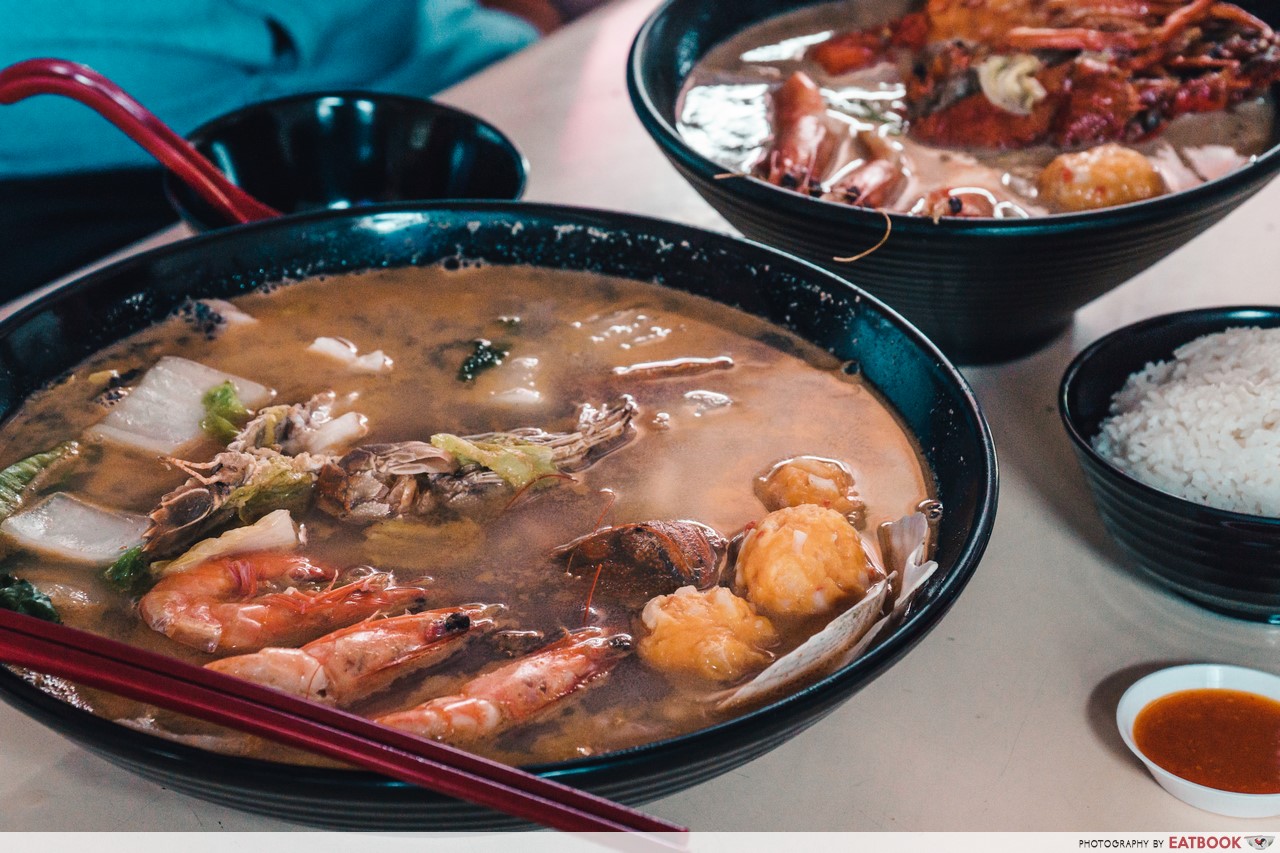 The stall features seafood soup in different sizes, with various types of seafood. I knew we had to get our hands on their Signature Seafood Platter ($28), which had an assortment of seafood served in a bowl bigger than my face.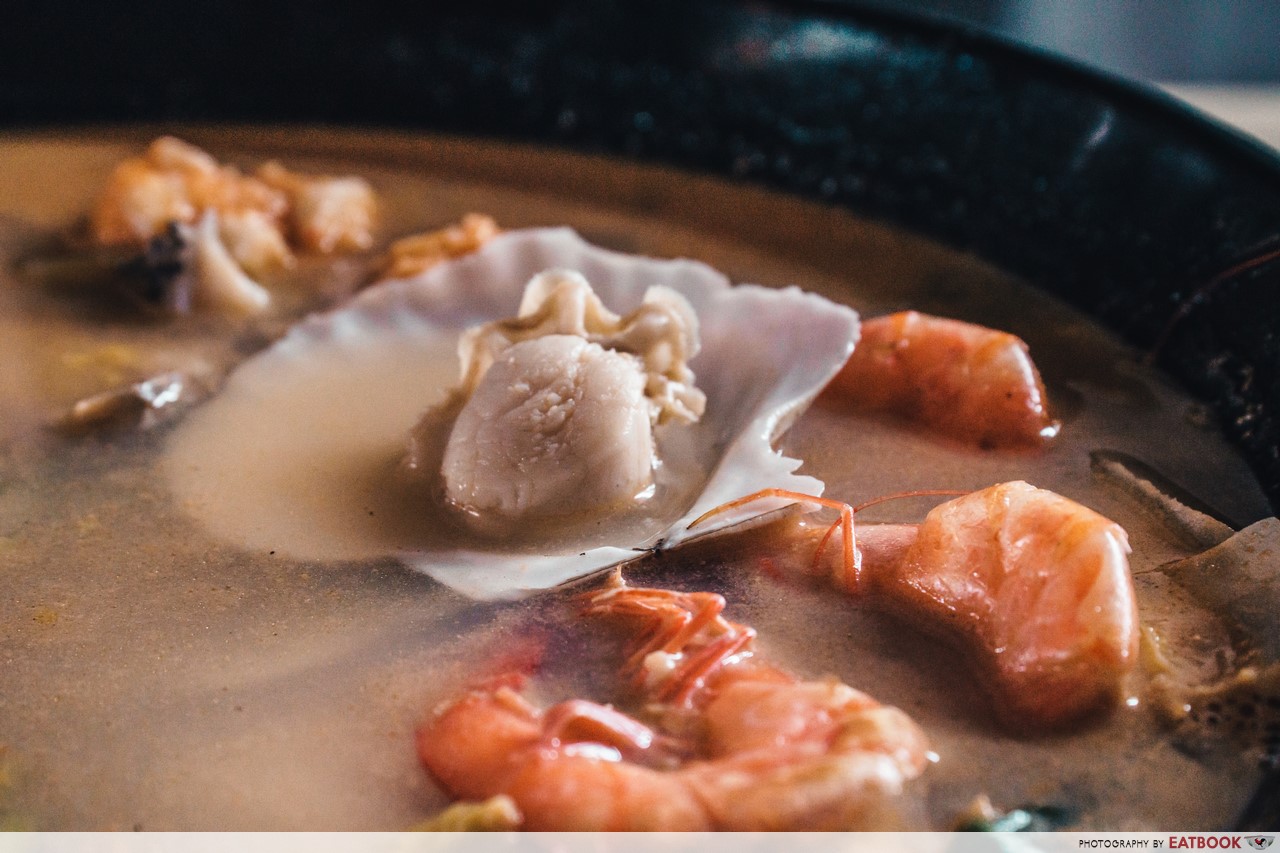 This massive bowl, meant for two to three people, came with crayfish, scallops, lala, prawns, lobster balls, and slices of sheng yu (snakehead fish). They are generous with the lala, fish slices and scallops, but to me, the lobster balls seemed like something you can buy at a supermarket.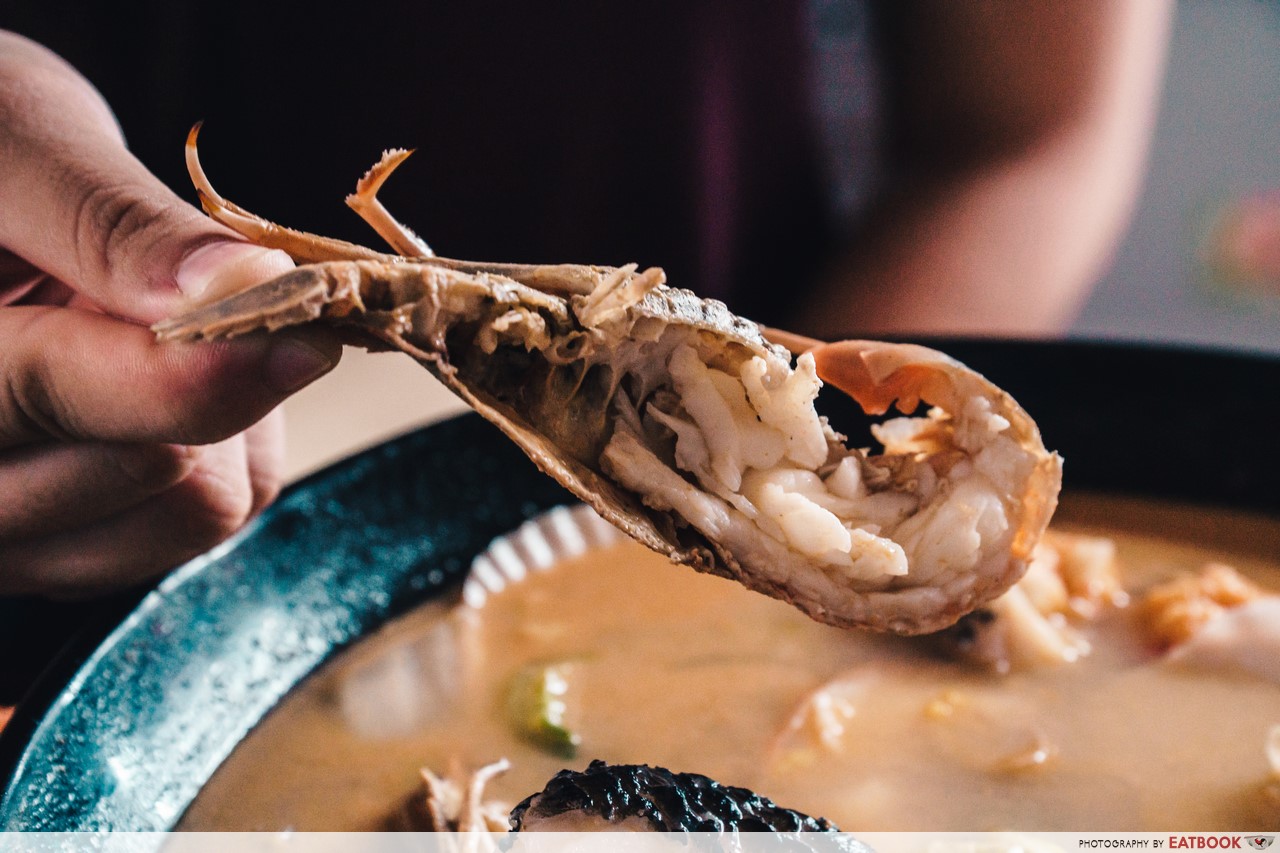 The crayfish was cooked to the right texture; the flesh was firm and could be removed from the shell easily. It was also juicy and sweet. You can choose to add a whole lobster ($22) to your platter, or more of the above seafood by topping up some money.
The platter serves about two hungry hippos, or three modest eaters. Personally, as a girl with quite a healthy appetite, I would recommend it for two to share. Plus, the seafood also comes in pairs – less of those awkward "You eat lah!" scenarios.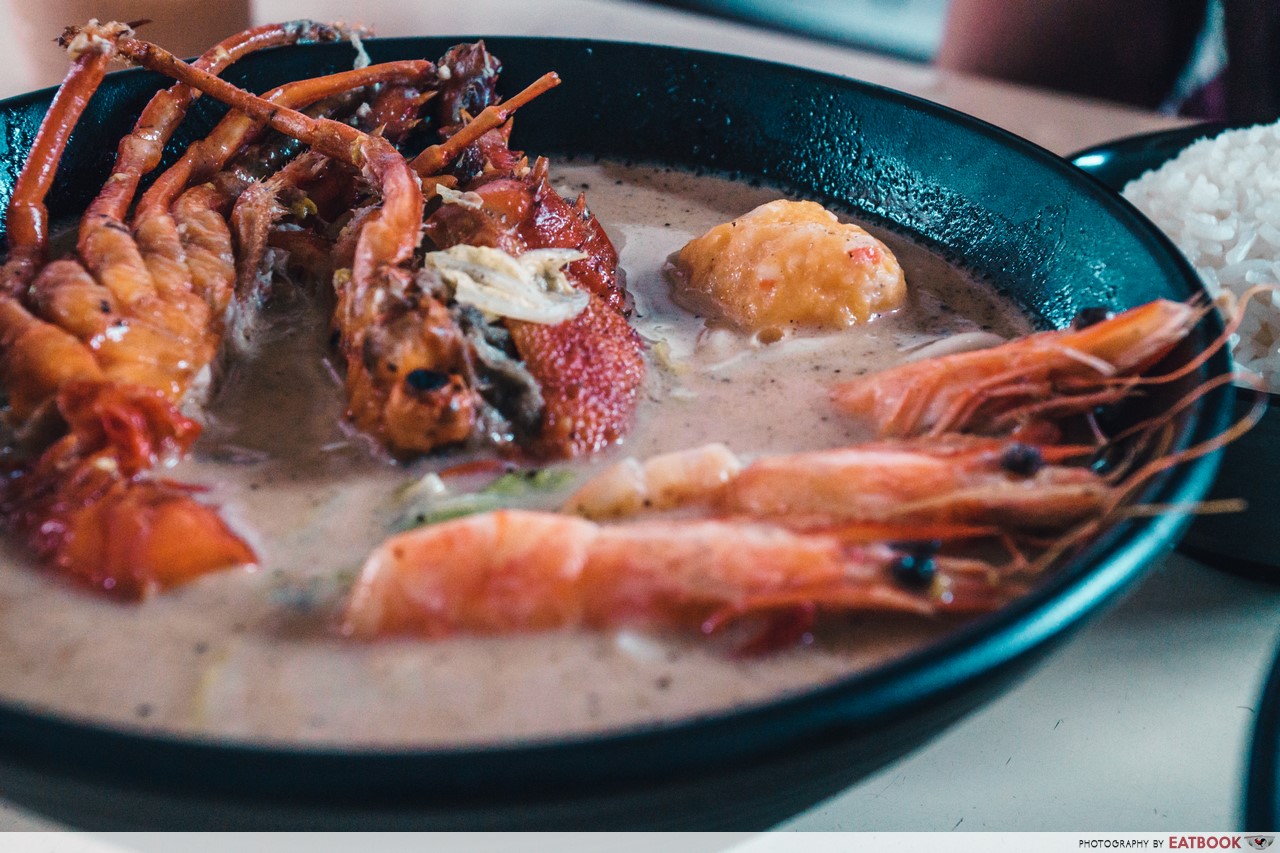 We chose to have the lobster separately in their Lobster Seafood Soup ($28 for one person, $58 for three people). This option came with a whole lobster, lobster balls, and prawns. The lobster was not as large as I expected from photos floating around the internet, but was still decent.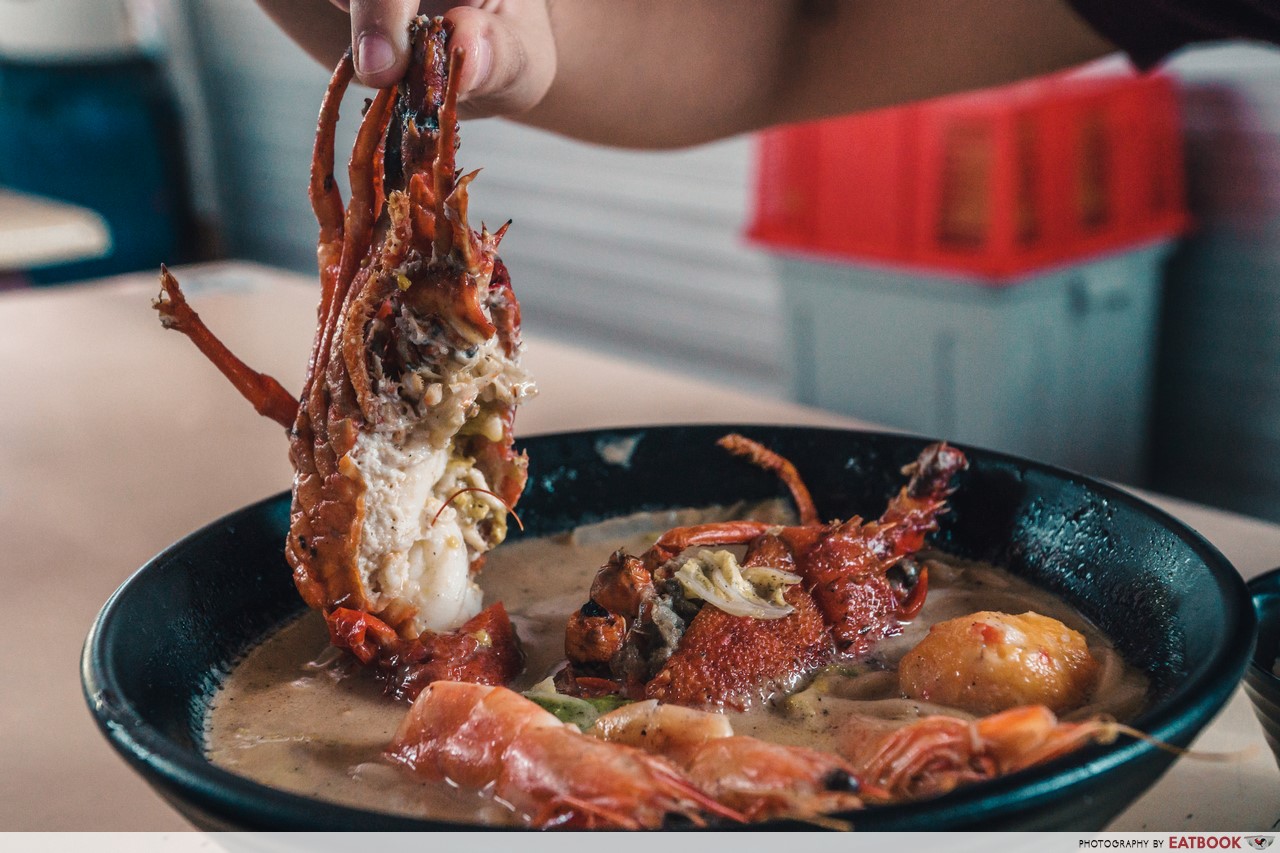 I had quite some trouble removing the lobster meat from its shell, and feared that this might mean it was overcooked. However, this was not the case. The meat was still sweet with a tinge of chewy texture. That being said, I preferred the crayfish meat in the other dish just because it was more tender.
What sets Fresh Generation apart from Woon Woon is the ample amount of delicious seafood broth you can get here. While Woon Woon serves up white beehoon soaked in broth in a relatively shallow bowl, Fresh Generation offers a much larger and deeper bowl of soup, meant for you to slurp up bowl after bowl.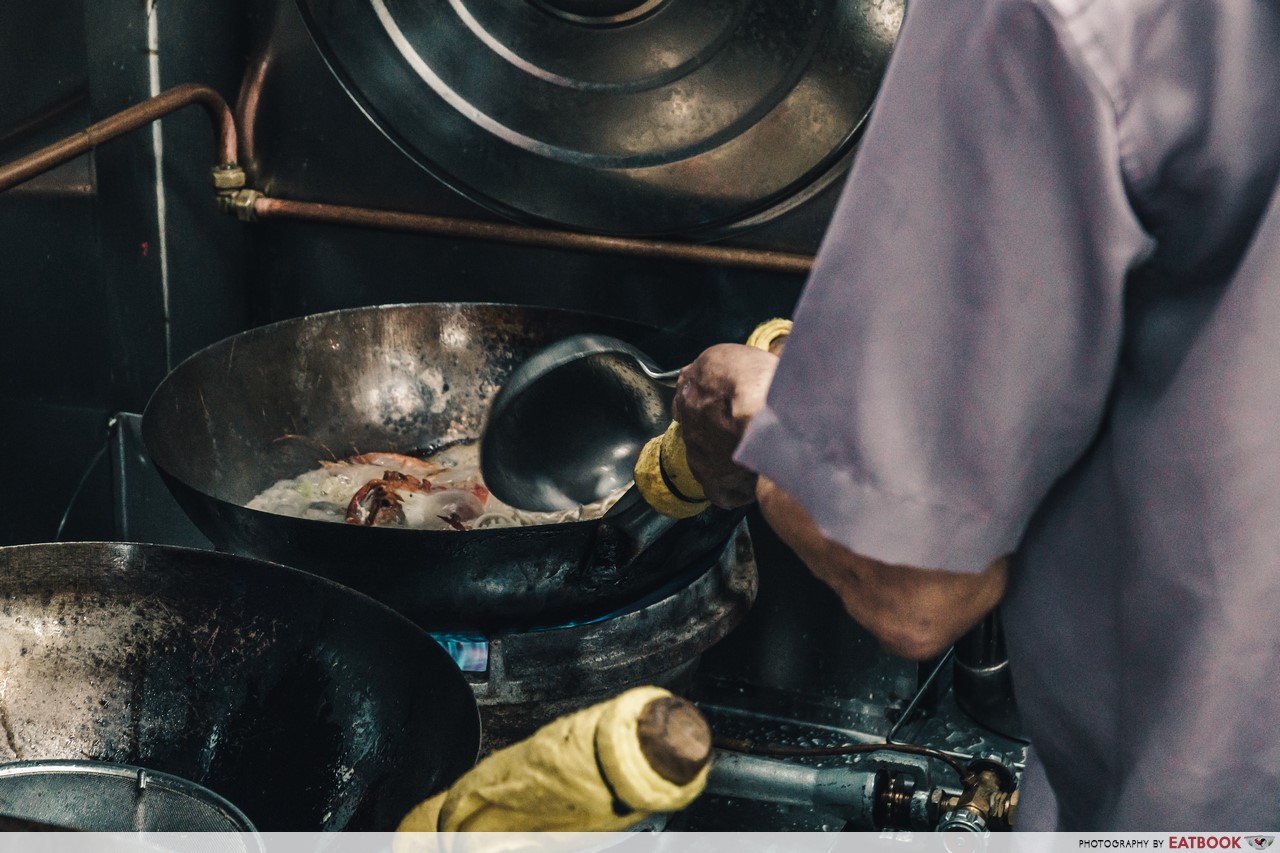 And that was what I did, for the broth was a sweet combination of boiled flower crabs and lala. The wok hei fragrance of the seafood, which was lightly wok-fried to bring out their fragrance, also added to the umami bomb. The soups do not come with flower crabs, but the strong crab flavour was definitely present.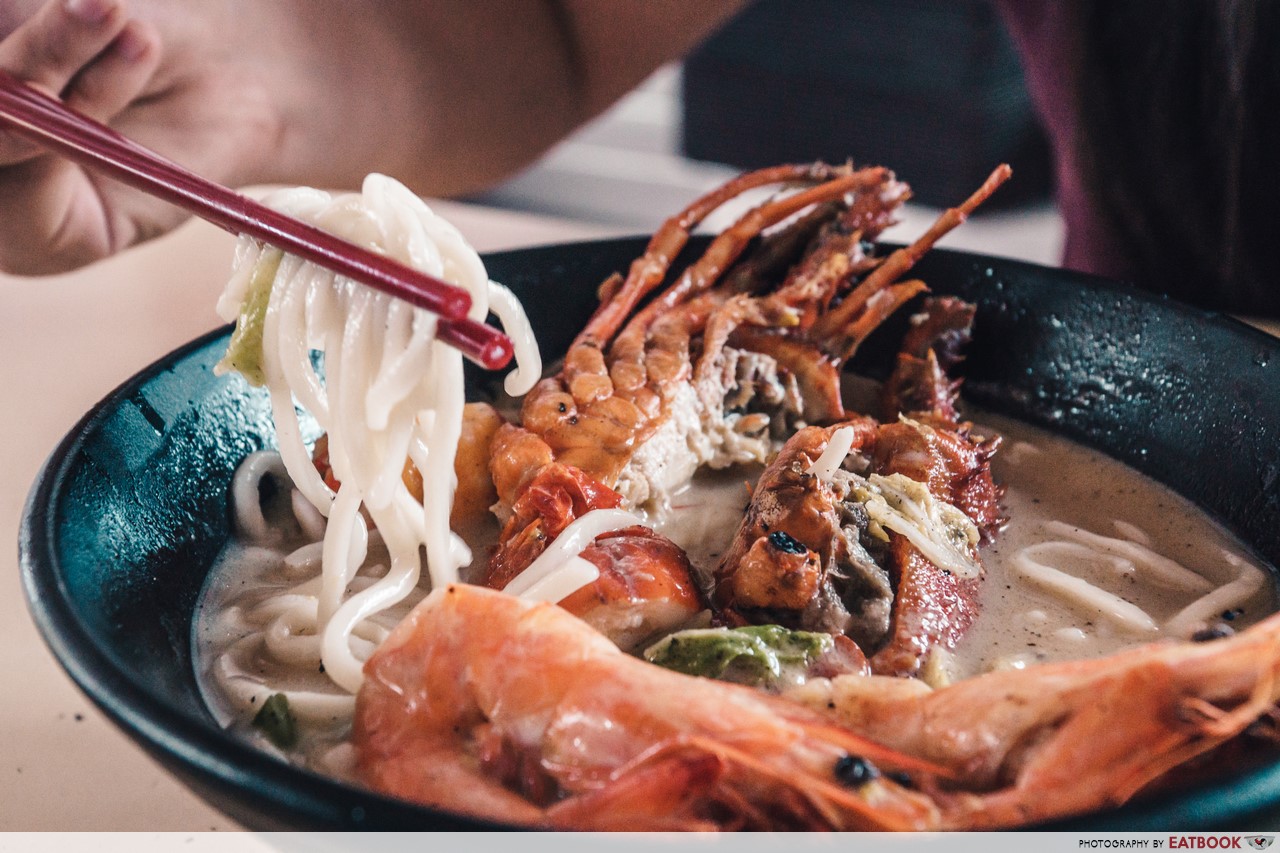 You can also choose to add handmade noodles ($0.50), or have rice ($0.50) to go with your seafood soup.
What is interesting to note is that the flavour profile of each dish changes with what seafood ingredients you have in it, even though the same broth is used. The soup for the seafood platter was savoury with a sweet seafood taste, but the soup for the lobster bowl was on another level.
Perhaps it was because the lobster soup was more saturated in a smaller bowl, but the wok hei fragrance in it was much stronger, and I could smell it wafting over when it was placed in front of me. This made the lobster soup way more flavourful and rich. I preferred this, and would add lobster to make my soup taste much more 'powerful', but some might find it a tad salty.
If you are looking for a more budget meal but still want delicious seafood soup, they also have options for one: Original Seafood Soup ($6), Crayfish Seafood Soup ($10), and Scallops Seafood Soup ($10).
Owners of Fresh Generation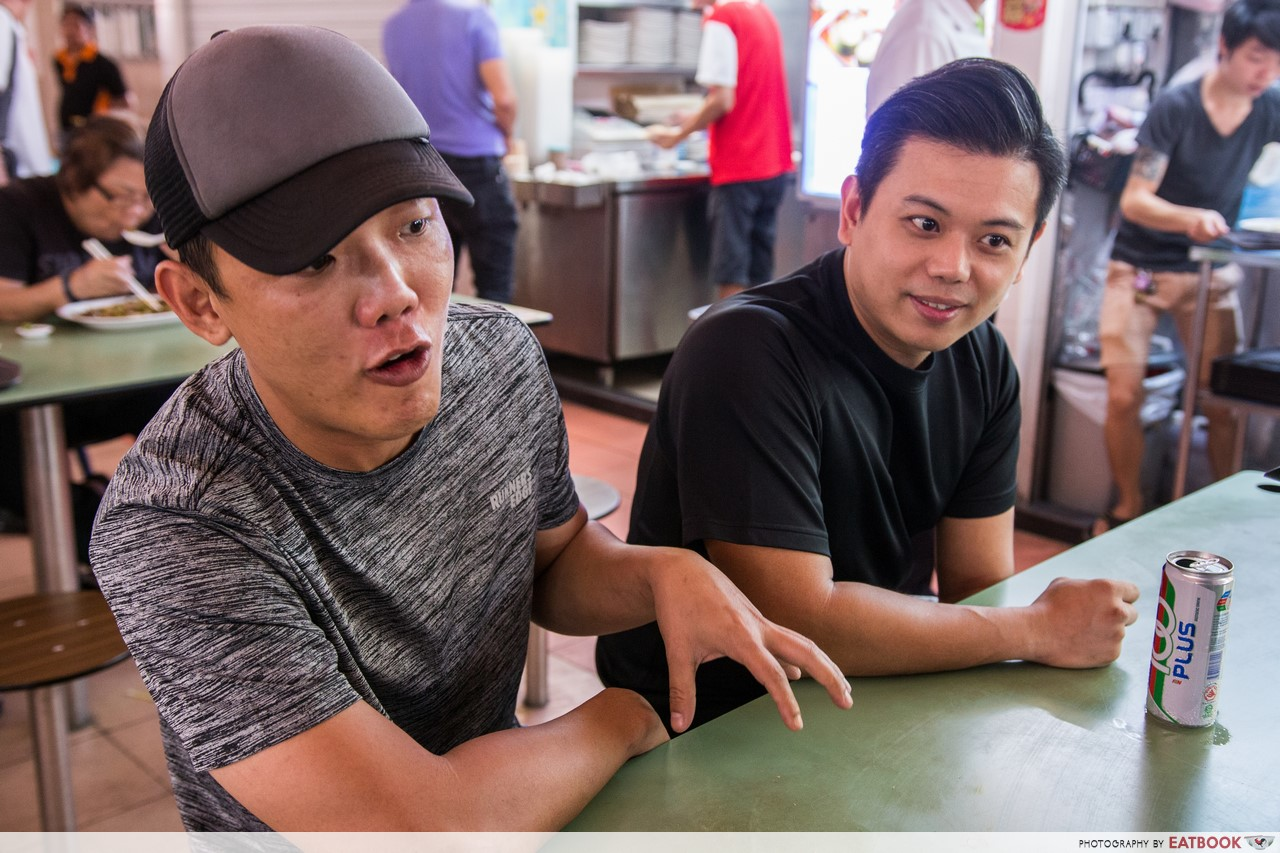 After seeing the success of their first stall, which opened in July last year, Javien and Reece opened their second outlet, Fresh Generation, eight months later. The corporate business partners turned hawkers sold the companies they were building up over the last 10 years before venturing into F&B.  
Javien and Reece are not usually at the Bukit Timah branch, and Reece's father, a former restaurant head chef, is the one serving up bowls of delicious seafood broth. The kitchen skills at the first outlet were passed down by the old man himself, so you could say you are dining directly from the master at Fresh Generation.  
Ambience at Fresh Generation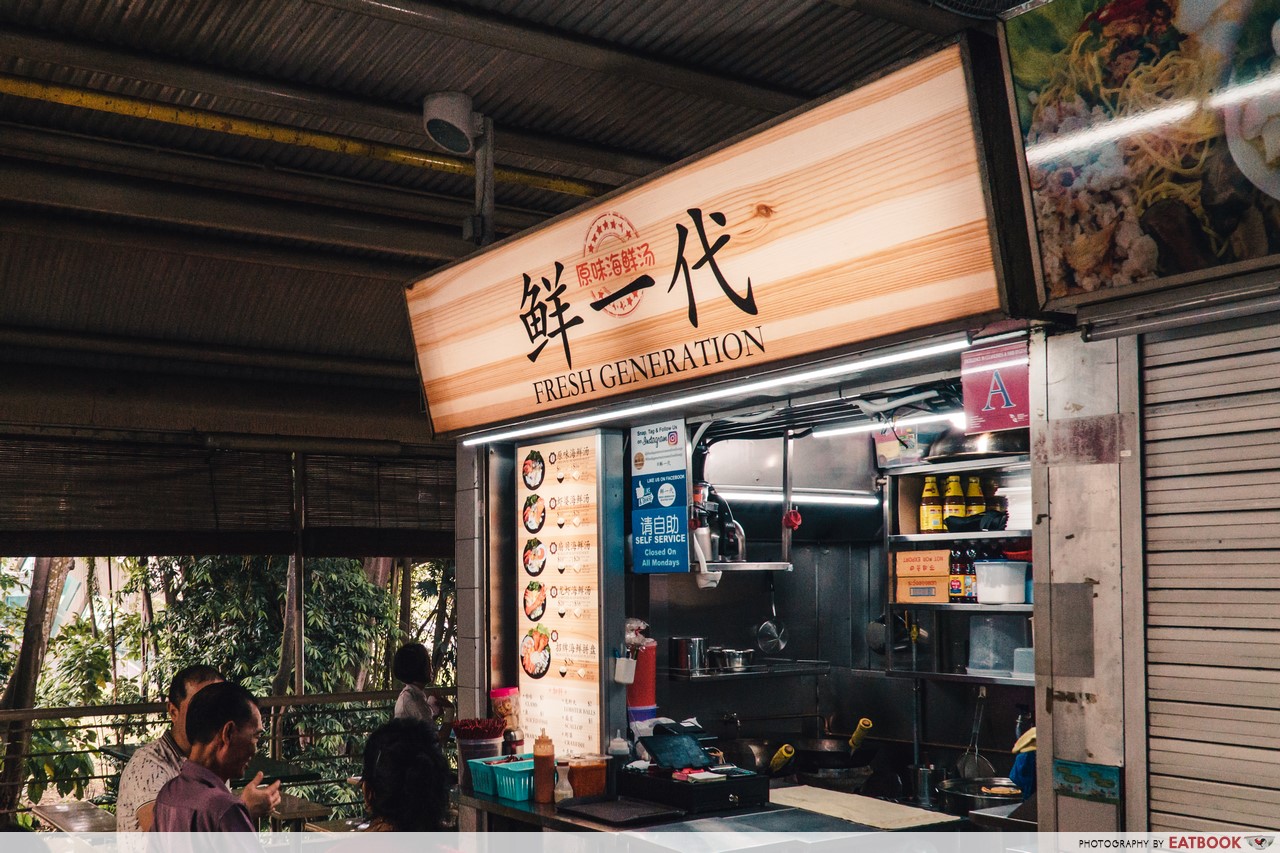 A hawker centre is obviously not the poshest of places, but the area is well-ventilated and is kept reasonably clean. The chef prepared our orders pretty quickly, and was very nice about heating our soup up so we can have it nice and warm after taking pictures!
It was not particularly crowded during lunch hour on a weekday but, according to one of the staff members, they can be out of lobsters in the evening. It's apparently very popular among "young people" who are bringing their folks out for a family feast.
The verdict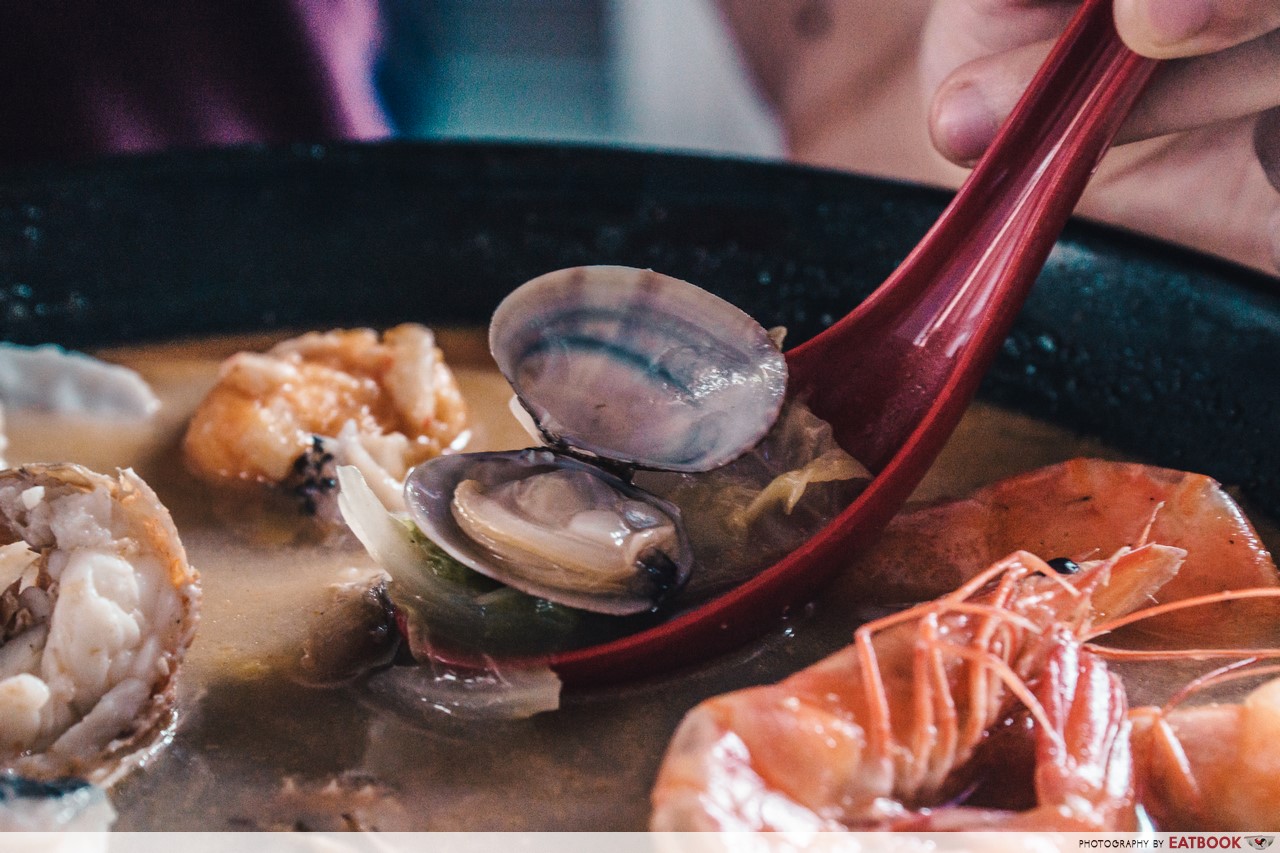 Shelling out over $50 at a hawker centre is a little pricey, but it's to be expected since it's seafood. At $28, the price is reasonable for the amount of seafood, though I feel the soup is really the ultimate star. Just plain noodles and delicious soup would be enough to make me return to Fresh Generation.
Address: 51 Upper Bukit Timah Road, #02-164 Bukit Timah Market & Food Centre, Singapore 588215
Opening hours: Tue-Sun 11am to 9pm
Tel: 9451 1633
Website
This is an independent review by Eatbook.sg.
Summary
Pros
– Delicious soup
– Accessible location, a two-minute walk from Beauty World MRT Station
Cons
– Pricey for hawker food
Recommended Dishes: Seafood Platter ($28, serves two to three people)
Operating Hours:
Tuesday – Sunday 11am to 9pm
Tel:
9451 1633
Address: 51 Upper Bukit Timah Road, #02-164, Bukit Timah Market & Food Centre, Singapore 588215