---
Updated hawker food to up your hawker food game
---
The hawker food scene is changing. People are willing to pay more than $3 for laksa and giant Hokkien mee these days. While we love a plate of old-school chicken rice, it doesn't hurt to explore different ways to enjoy hawker food. These updated hawker food unlock a new level of 'yum' with unconventional ingredients. For those who can't survive without hawker food, check out these slightly more atas, but still affordable versions of your favourite fare.
---
1. Fish roe and smoked salmon chee cheong fun
---
It's East meets West at Da Chang Jin Handmade Chee Cheong Fun. Their Fish Roe and Smoked Salmon Chee Cheong Fun ($5) puts a unique twist to this breakfast dish. The owner makes the chee cheong fun from scratch every day, resulting in a smooth and silky rice noodle roll to slurp on. Further differentiating this chee cheong fun from the crowd is the chye poh (preserved radish) that's topped on it. While it may not look like a significant change from the usual fried shallots, it is a very noticeable upgrade to your taste buds.
Address: 44 Holland Drive, #02-33, Holland Drive Market and Food Centre, Singapore 270044
Opening hours: Daily 7:30am to 3pm
---
2. Truffle chicken rice
---
Eat Chicken Rice serves chicken rice with a slightly atas twist by infusing mushrooms with truffle oil before mixing it into chicken rice. Truffle Chicken Rice Set ($8.90) comes with half a spring chicken, either poached or roasted, and half a lava egg. Plus, the stall is located in the heart of town!
Address: 8 Grange Road, #B1-01, Koufu Foodcourt, Cathay Cineleisure Orchard, Singapore 239693
Opening hours: Daily  11am to 9:30pm
Tel: 9828 3490
Website
---
3. Crayfish curry bee hoon
---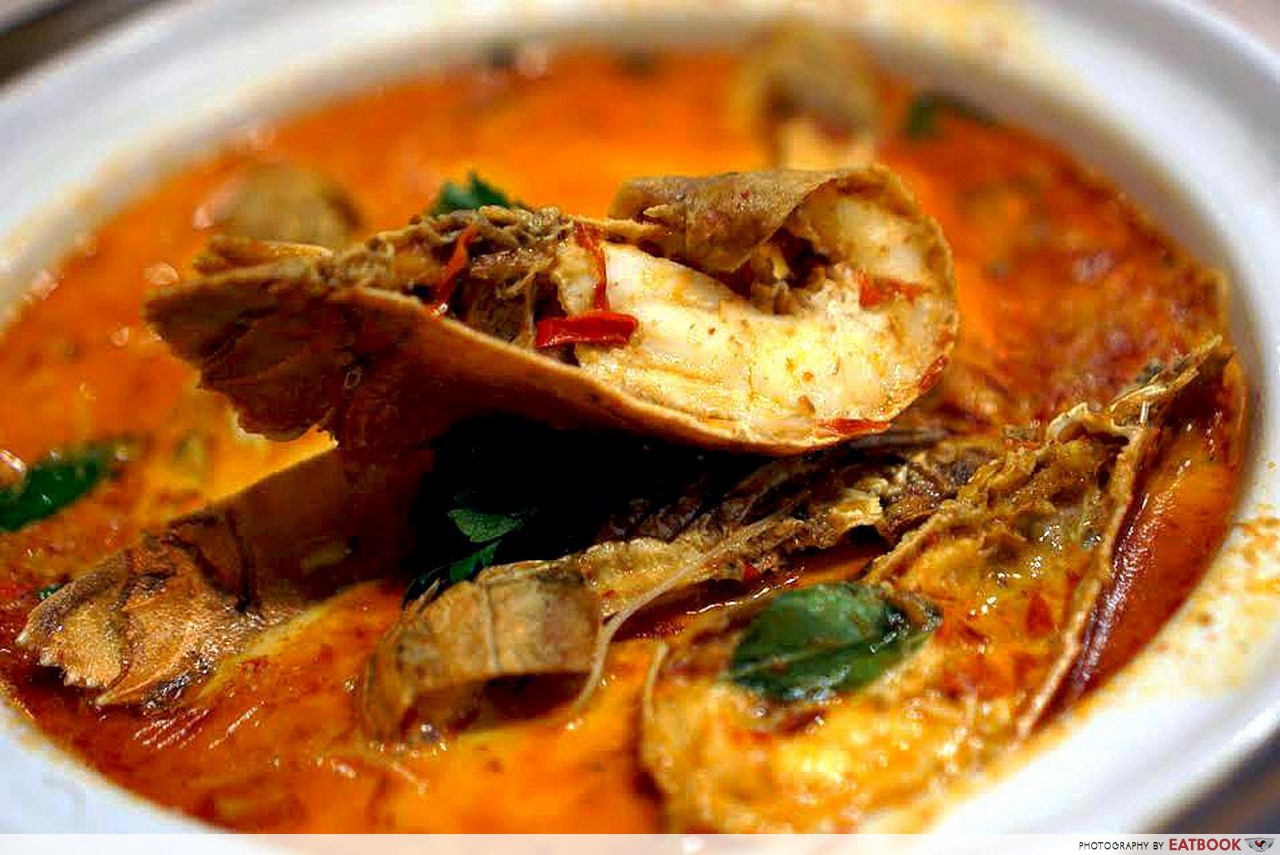 Update: Big Lazy Chop is now permanently closed.
Big Lazy Chop's Crayfish Curry Beehoon ($13+/$19+/$24+) is made super shiok with generous portions of crayfish in a clay pot. The curry is done Indonesian-style, which means evaporated milk is used instead of coconut milk. The medium portion is good for about three people, and will have you sipping bowl after bowl of the spicy broth. Another must-have at this restaurant is their XL Ribs ($22+, $30+, $45+) that come in either a butter champagne or salted egg yolk glaze. The ribs come with plastic gloves kindly provided by the eatery, so you can savour them like the caveman you truly are.
Address: 1A Short Street, #01-04, Singapore 188210
Opening hours: Daily 11:30am to 2:30pm, 5:30pm to 10:30pm
Tel: 6238 8443
Website
Menu
---
4. Crayfish laksa
---
Famous Sungei Road Trishaw Laksa proves you don't have to zhng the price to zhng the food. A bowl of laksa ($5.50) not only comes with prawns, fish cake and tau pok, but also crayfish! The gravy here is slightly thinner than your usual laksa, because it's made with fresh coconut juice instead of coconut milk. A quirky item on the menu that rocketed them to fame is fruit juice mee siam ($3), found nowhere else in Singapore. It's mee siam made with fresh fruits instead of the usual assam. They's also on Michelin's Bib Gourmand list, so you know it's definitely worth a try.
Address: 531A Upper Cross Street, #02-66, Hong Lim Food Centre & Market, Singapore 051531
Opening hours: Mon- Sat 10:30am to 6:30pm
Read our full review of Famous Sungei Road Trishaw Laksa.
---
5. Cheese crab bee hoon

---
Besides its crab dishes, one huge reason to check out Don Signature Crab is their prices. At just $25, I'd make a beeline for their Cheese Crab Bee Hoon, featuring a whole Sri Lankan fresh crab drenched in cheesy goodness. Cheese isn't usually paired with crab, but the combination works pretty well in this case. Thick beehoon at the bottom soak up the cheesy zhup, so be sure to leave them to the last!
Address: Blk 206 Toa Payoh North, #01-1197, Bee Chow Hng Eating House, Singapore 310206
Opening hours: Mon-Fri 12pm to 8:30pm, Sat-Sun 1pm to 8pm
Website
For another affordable place to eat crabs, check out 21 Seafood, which offers three small crabs for $25!
---
6. Lobster prawn mee
---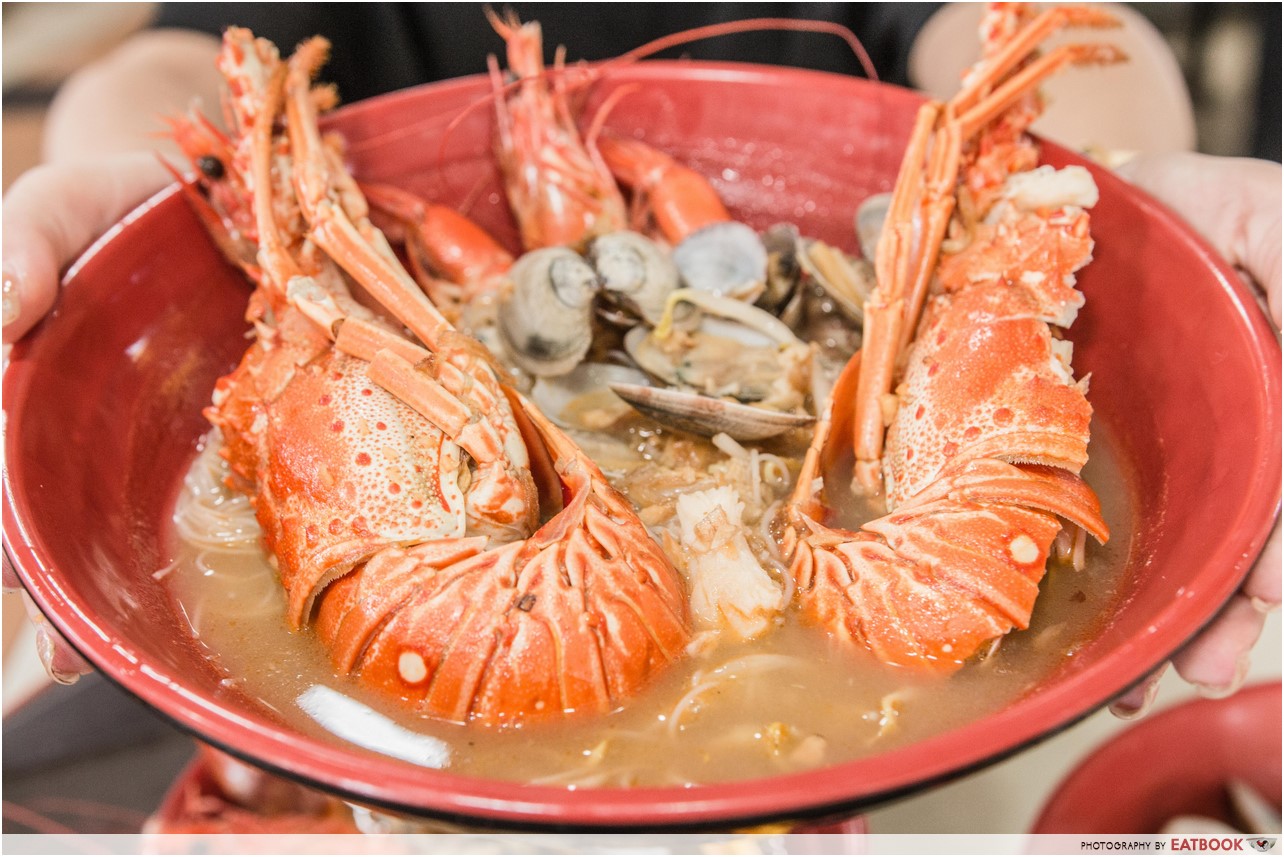 Sumo Big Prawn has really upped the hae mee game. This hawker stall at Ang Mo Kio boasts long queues every day with people waiting to try their Lobster and Big Prawn Noodle Soup ($18.90). A departure from your usual prawn mee soup, the broth here is rich with the taste of crustaceans and Chinese wine. It's by no means a typical hawker price tag, but it's definitely cheaper than what you'd get at a restaurant. Served with three crayfish sliced into halves, their Crayfish Bee Hoon Soup ($13) is also a hit.
Address: 628 Ang Mo Kio Avenue 4, Singapore 560628
Operating Hours: Tue-Sun 9:30am to 4pm, 5pm to 9pm
Tel: 9816 4514
Read our full review of Sumo Big Prawn.
---
7. Big Street

---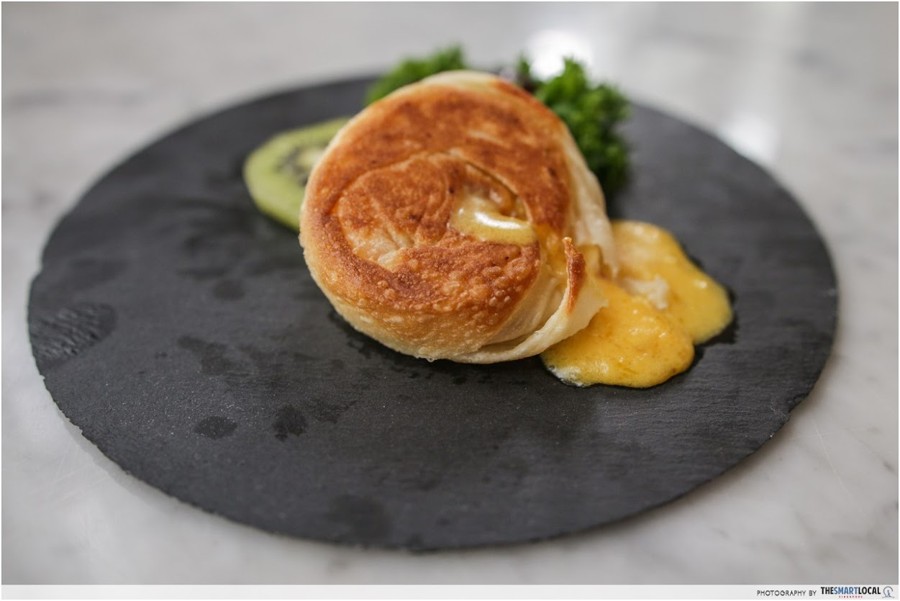 Big Street takes prata to the next level by serving it with stuffing and toppings you won't find at typical mamak stalls. Salted egg yolk prata ($6) has got salted egg yolk lava oozing out of the crispy prata, while Chilli crab coin prata ($28 for nine pieces) is topped with chunky bits of chilli crab sauce. For those who need some help for V-day, check out their Valentine's special: Curry Chicken in heart-shaped puri ($15). This dish has curry chicken stuffed in a crispy puri (a type of deep-fried bread), and you can have a one-for-one deal on it using the Snatch app!
Address: 104/106 Jalan Besar, Singapore 208828
Opening hours: Tue-Sun 5pm to 5am
Tel: 6100 2661
Website
Check out our full review of Big Street.
---
8. Big prawn noodles

---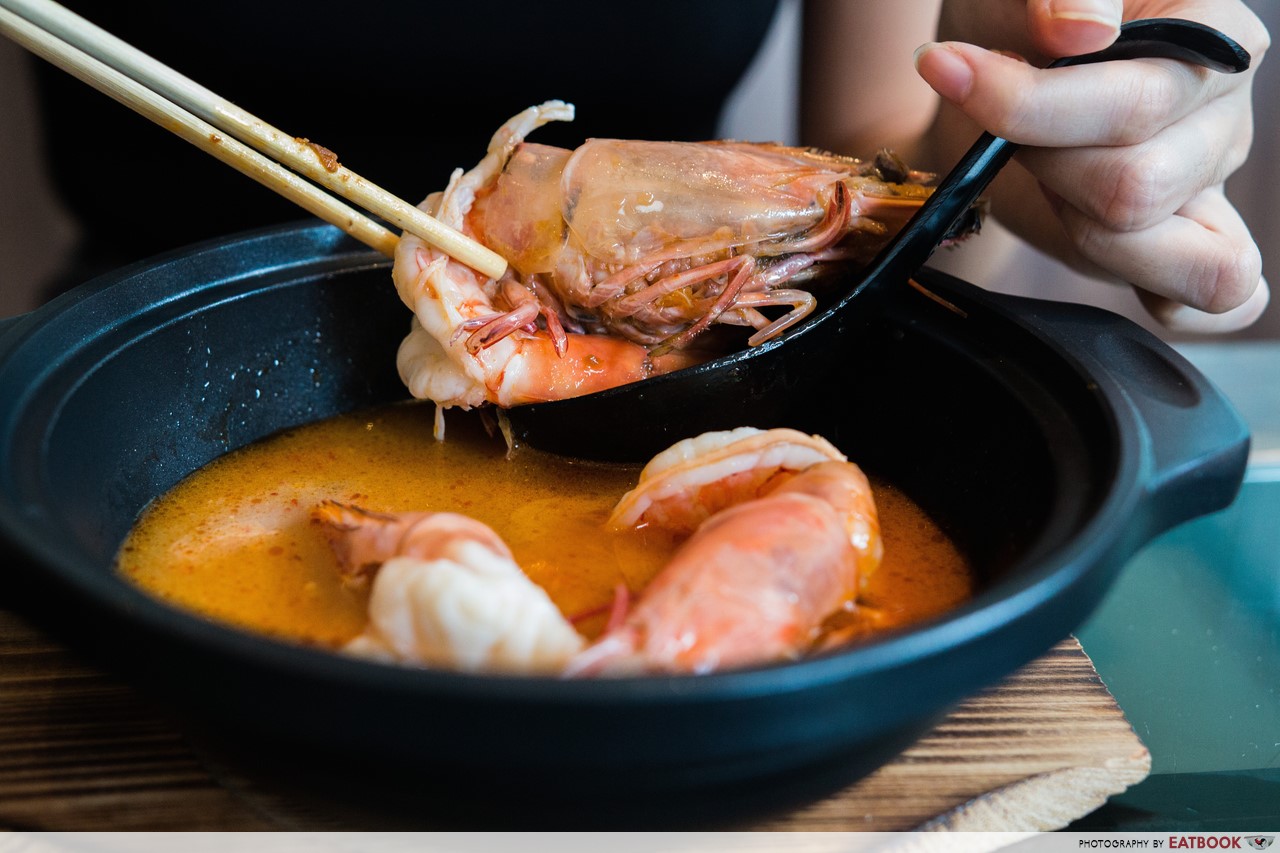 Even though the famous Wah Kee Big Prawn Noodles at Pek Kio has a new space at the Esplanade, you don't have to fork out much more to have their prawn mee at this air-conditioned restaurant. Their signature prawn noodles cost $6++ here, making it only a dollar or two more expensive than what you can get at Pek Kio. What you should try here, however, is Prawn Noodles with Large Sized Prawns ($20++). The prawns used in this dish are ridiculously jumbo and juicy, and pair really well with their comforting broth and 'special spicy sauce'. 
Address: 8 Raffles Avenue, #01-13C, Esplanade Mall, Singapore 039802
Operating Hours: Sun-Thur 11am to 2:30pm, 5pm to 10:30pm, Fri-Sat and eve of PH 11am to 2:30pm, 5pm to 11:30pm
Tel: 6327 9187
Website
Read our full review of Wah Kee Prawn Noodles.
---
9. Seafood bak chor mee
---
Bak chor mee is not just about bak chor (minced meat) and mushrooms, Yong He's seafood bak chor mee comes with generous toppings such as prawns, scallops, clams, fish maw, and imitation abalone for $5! Talk about upsized bak chor mee. The house-made chilli sauce and braised mushroom sauce are worth a mention too, as they go surprisingly well with the mee kia (thin egg noodles).
Address:18 Bedok South Road, Singapore 460018
Opening hours: Tue-Sun 7am to 3pm
Website
---
10. Fish soup with fish maw 
---
Zion 91 An Shun Fish Soup deserves praise for their seafood soup ($5/$6). This comforting dish is served with generous slices of fish, big prawns, and lots of fish maw. Their fried fish is also different from regular fish soup stalls – they're fried upon order and served on the side with a sweet dipping sauce. They close early when they sell out – and they sell out quick – so be sure to head down early!
Address: Blk 206 Toa Payoh North, #01-1197, Bee Chow Hng Eating House, Singapore 310206
Opening hours: Mon-Sat 10am to 7pm
---
Hawker food made classy
---
Next time you wanna bring bae to a slightly classier date but still refuse to bust the bank, head to these spots instead. Because we all know the perils of having to plan for a monthsary every 30 days while still having enough to BTO. Let us know if you have any other updated hawker dishes to recommend!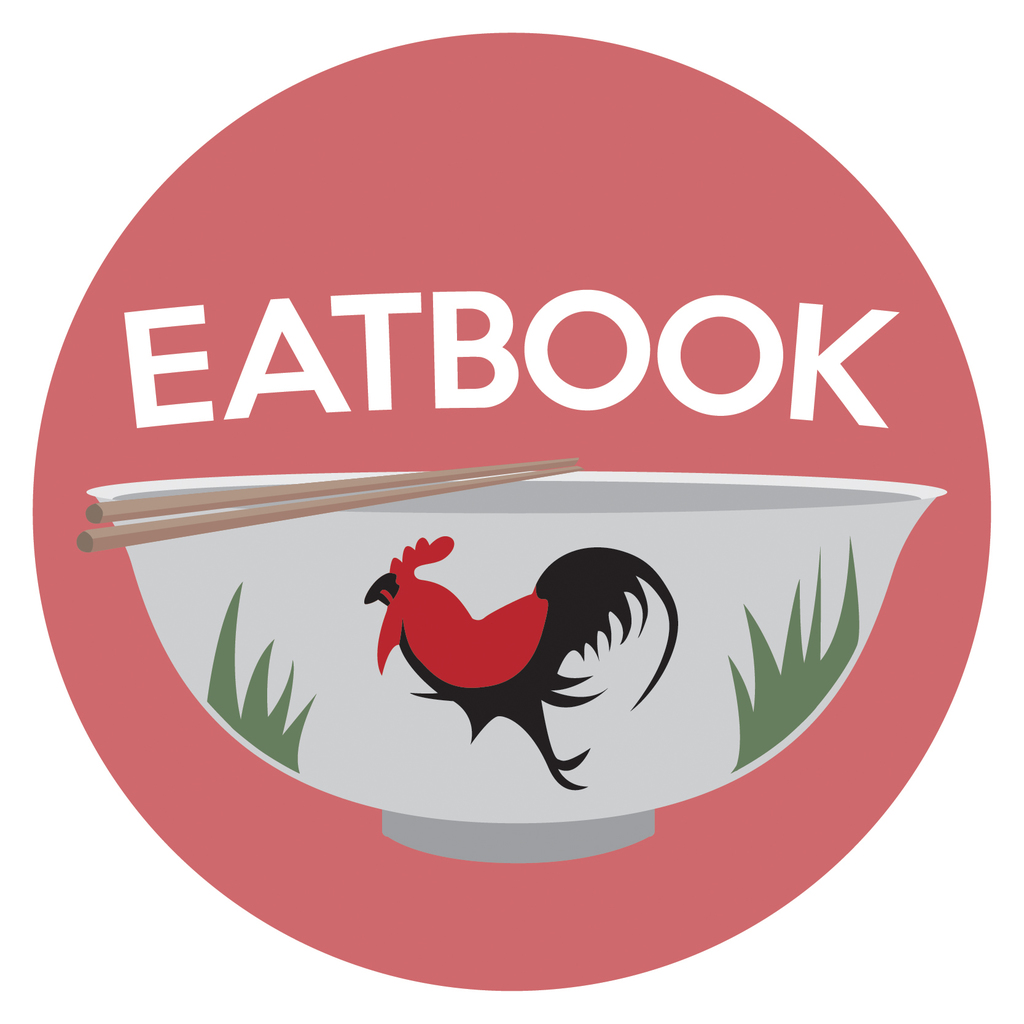 Drop us your email so you won't miss the latest news.