Wah Kee's famous prawn mee is now at Esplanade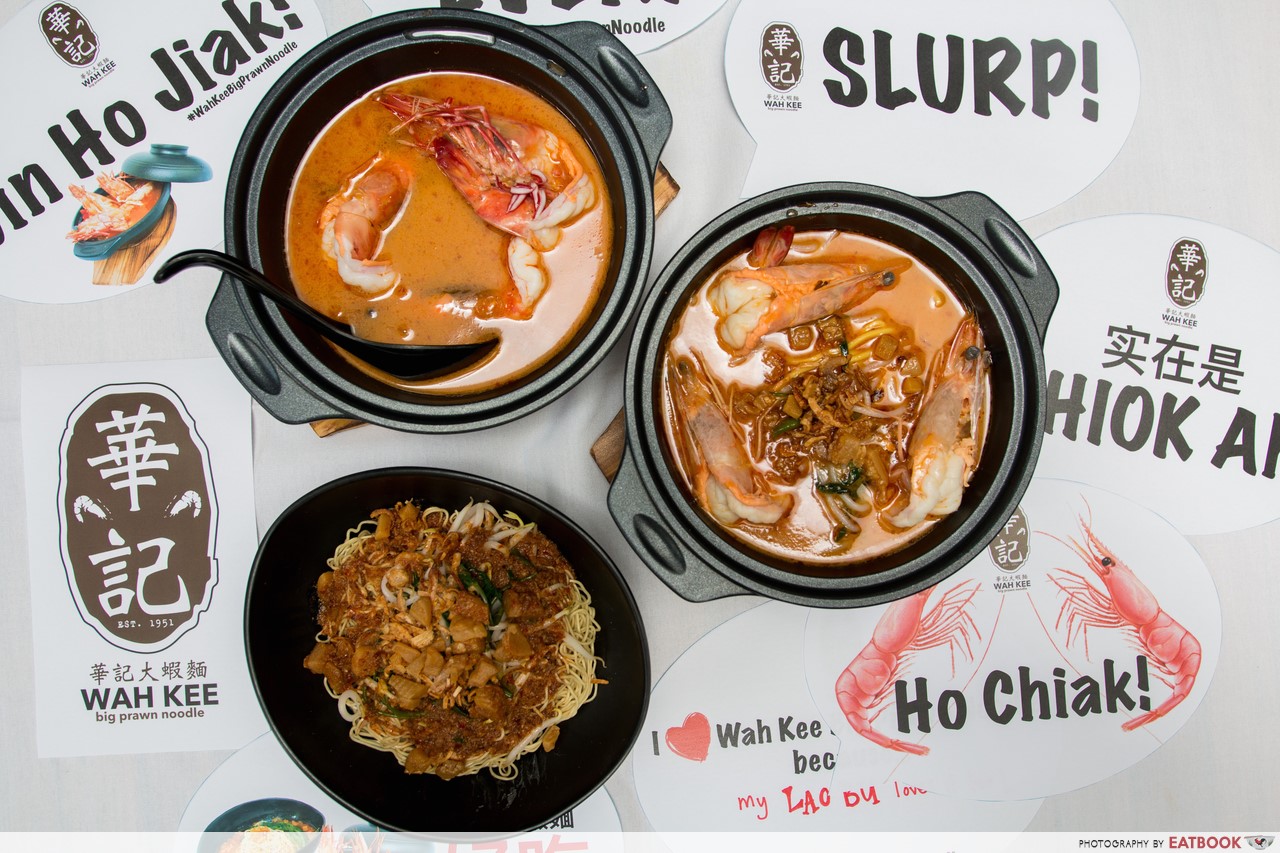 Wah Kee's story is a well known one. From selling "kok kok" mee in a pushcart to relocating to Pek Kio Market and opening a restaurant now, Wah Kee has certainly come a long way. Passed from generation to generation, one thing remains the same: their super comforting, jin ho jiak prawn mee.
Prawn mee at Wah Kee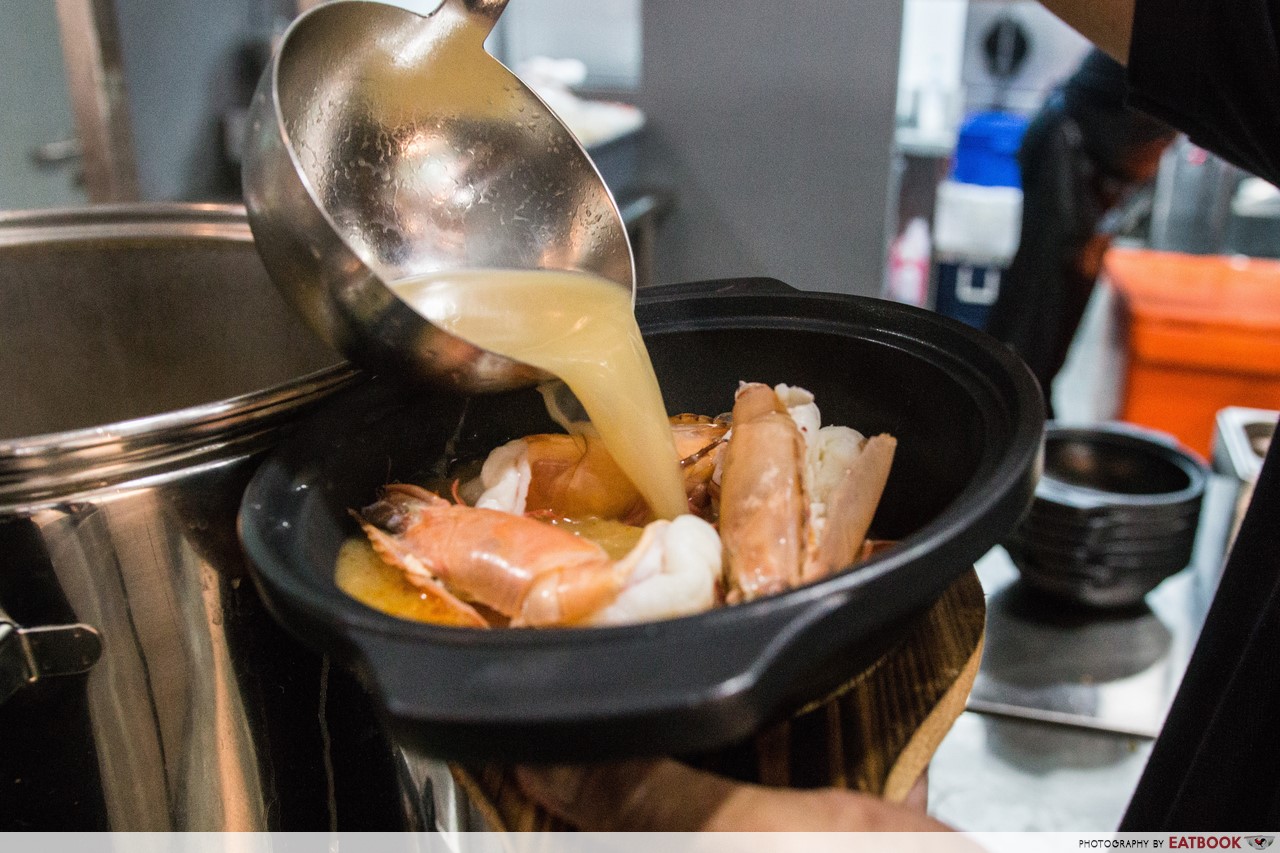 Now that they've got an air conditioned place at Esplanade, you're probably wondering about the price. The good news is, you're gonna be paying the same for their large and extra large prawns in prawn noodle. A bowl of prawn noodles with regular prawns will set you back $6++, only a dollar to two up from the Pek Kio stall.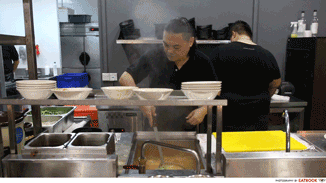 Prawn mee here is done pretty much just like the hawker style, except that the kitchen here is bigger.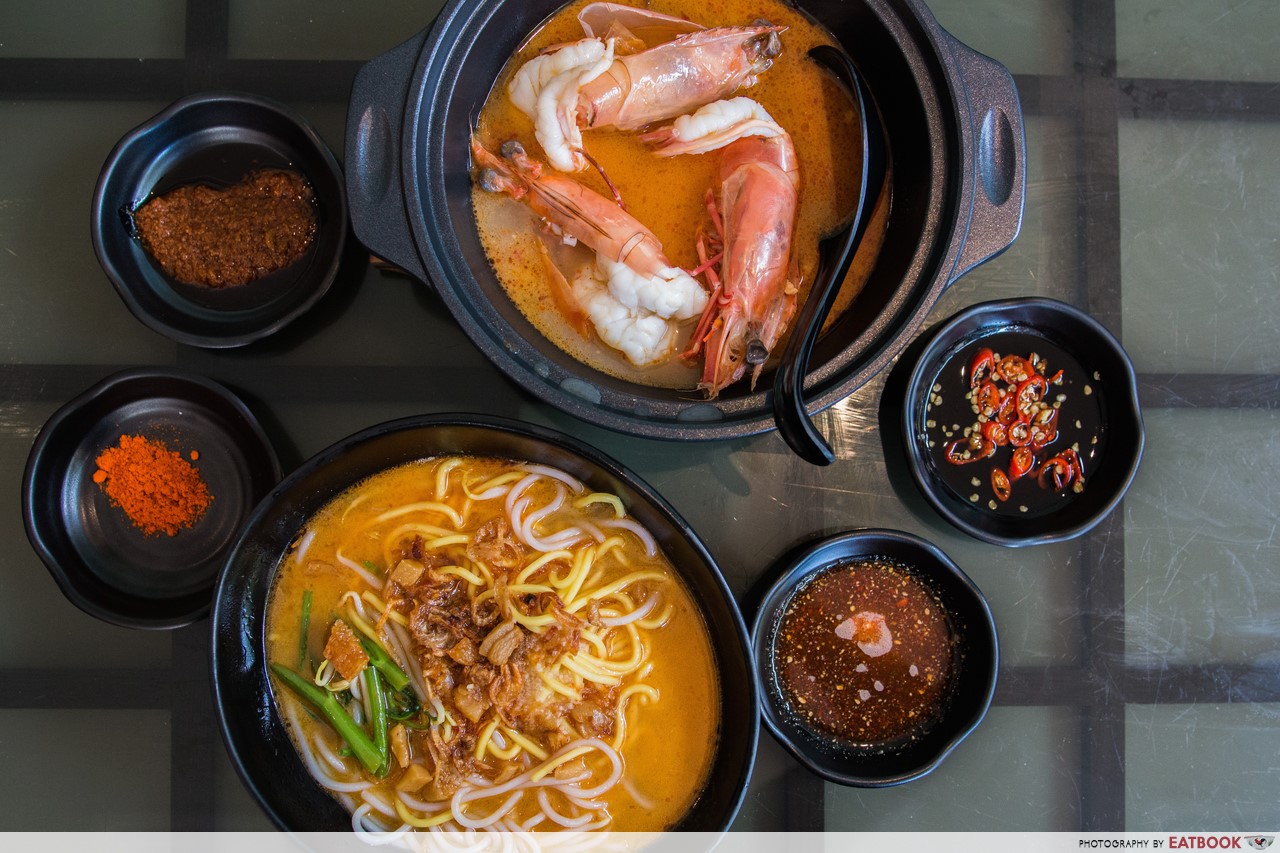 For a prawn mee to impress, it needs a good broth, perfectly cooked noodles and, of course, fresh prawns. Wah Kee's prawn mee checked all the boxes for me, and things only got better when I saw the size of their prawns.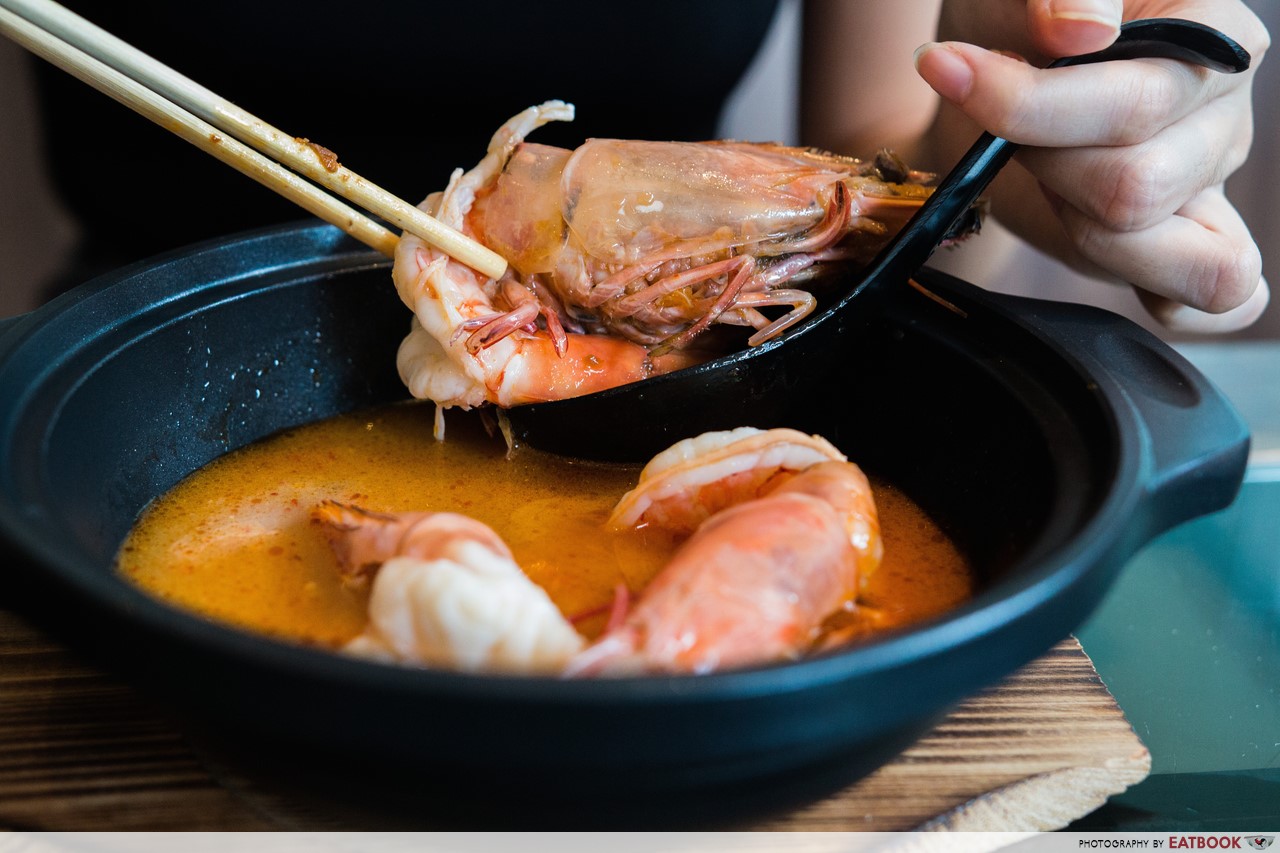 They were HUGE. As in, near palm-sized kind of huge. And these were only their Prawn Noodles with Large Sized Prawn ($20++). I couldn't even begin to imagine how colossal their extra large prawns would be. Fleshy, meaty and sweet, one of these lovely crustaceans could easily replace three regular sized prawns.
As if that wasn't shiok enough, a mouthful of their noodles completely won me over. The mixture of yellow mee, thick beehoon, kangkong and beansprouts gave a myriad of textures that was seriously enviable, complete with a crunch and a chew.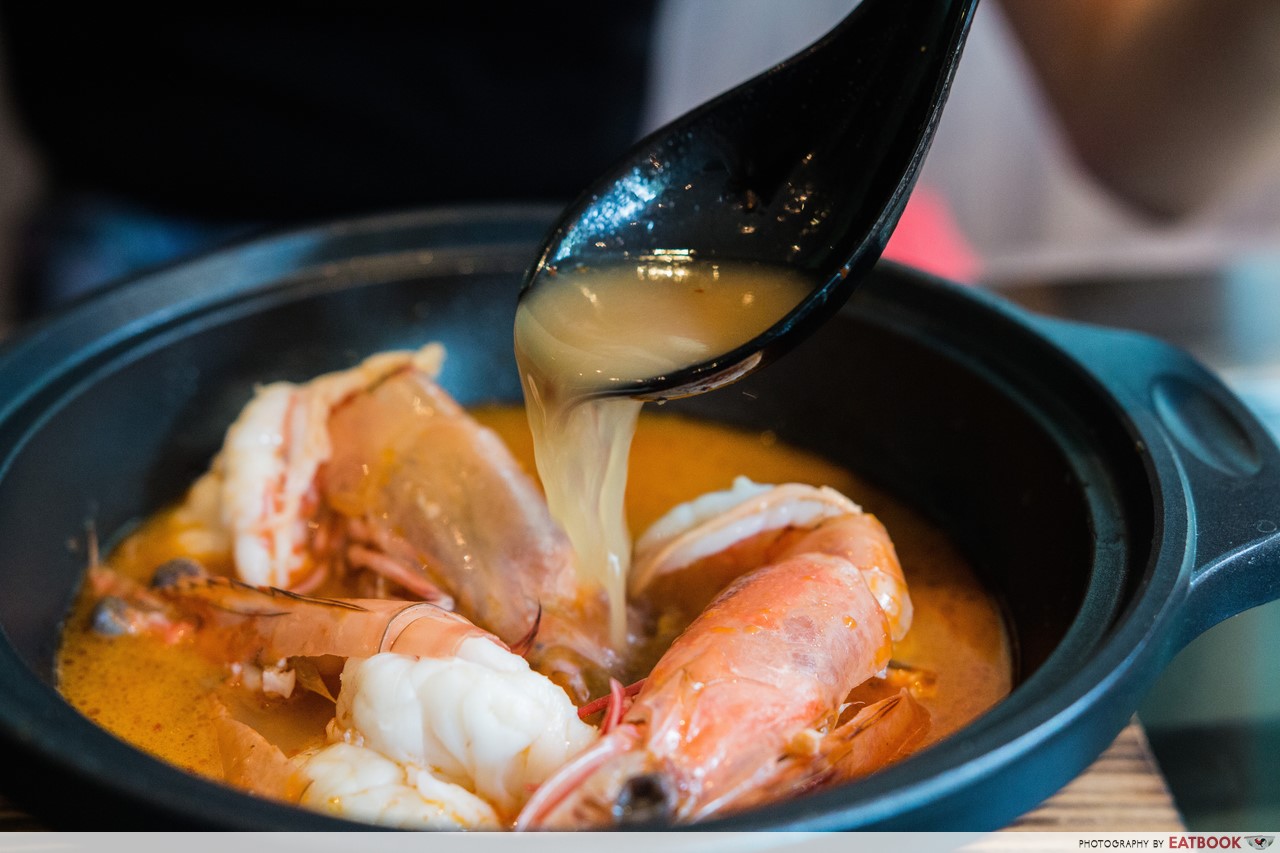 And the soup, oh the soup. Just like Vietnamese coffee in the coffee world, Wah Kee's broth possesses a glorious depth. The soup was light, but the layers and umami flavours were apparent at first sip.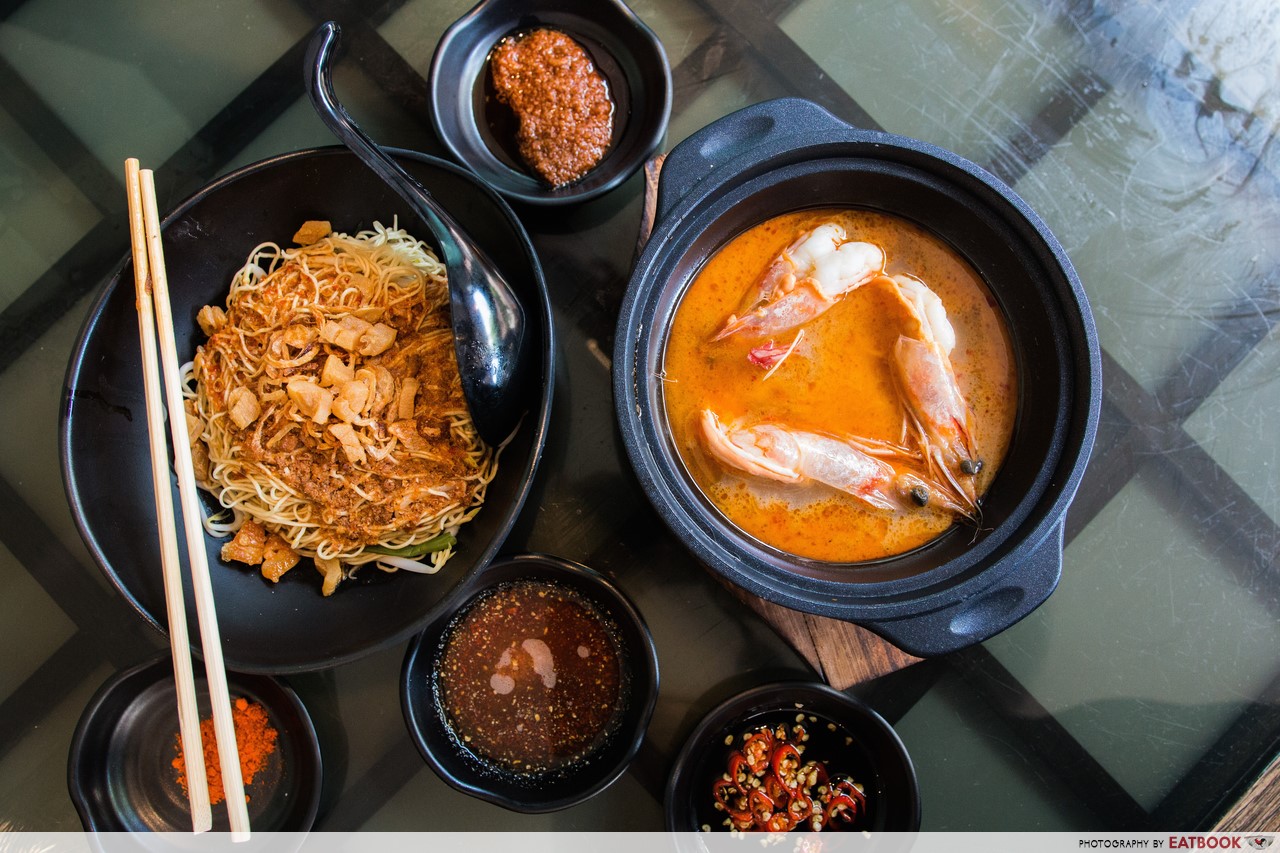 Next up, Dry Prawn Noodle with Medium Sized Prawn ($12++). If it's your first time at Wah Kee, this is the dish you have to try. A bowl of dry mee kia is topped with a heaping pile of lard and chilli, and served with a side of the prawns in soup – 100 percent our idea of the best of both worlds.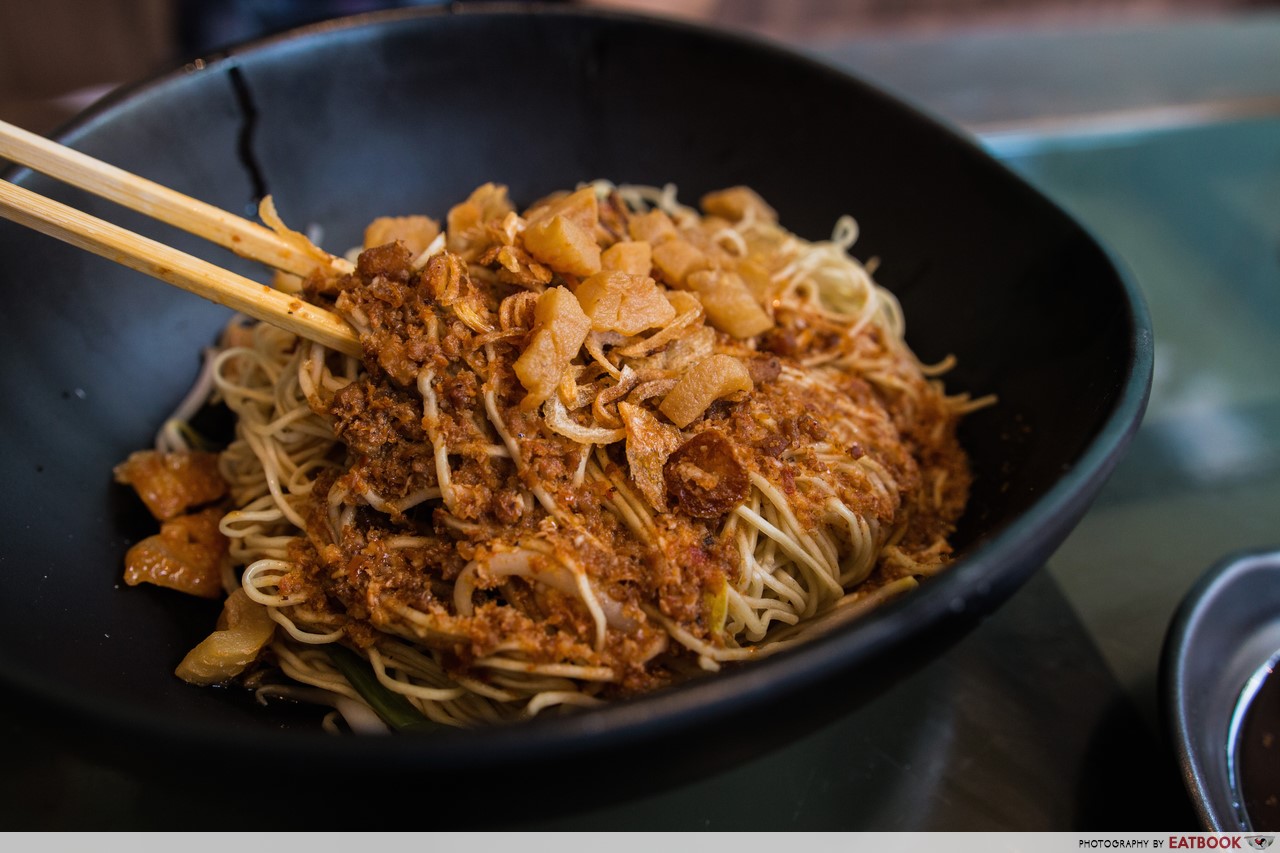 These noodles are supplied by the owner's brother, who specially custom made them for Wah Kee. They weren't very chewy per se, but they provided a nice doughy chew and were easy to bite off. We recommend stirring a little extra sambal chilli into the noodles to make this an unforgettable dish!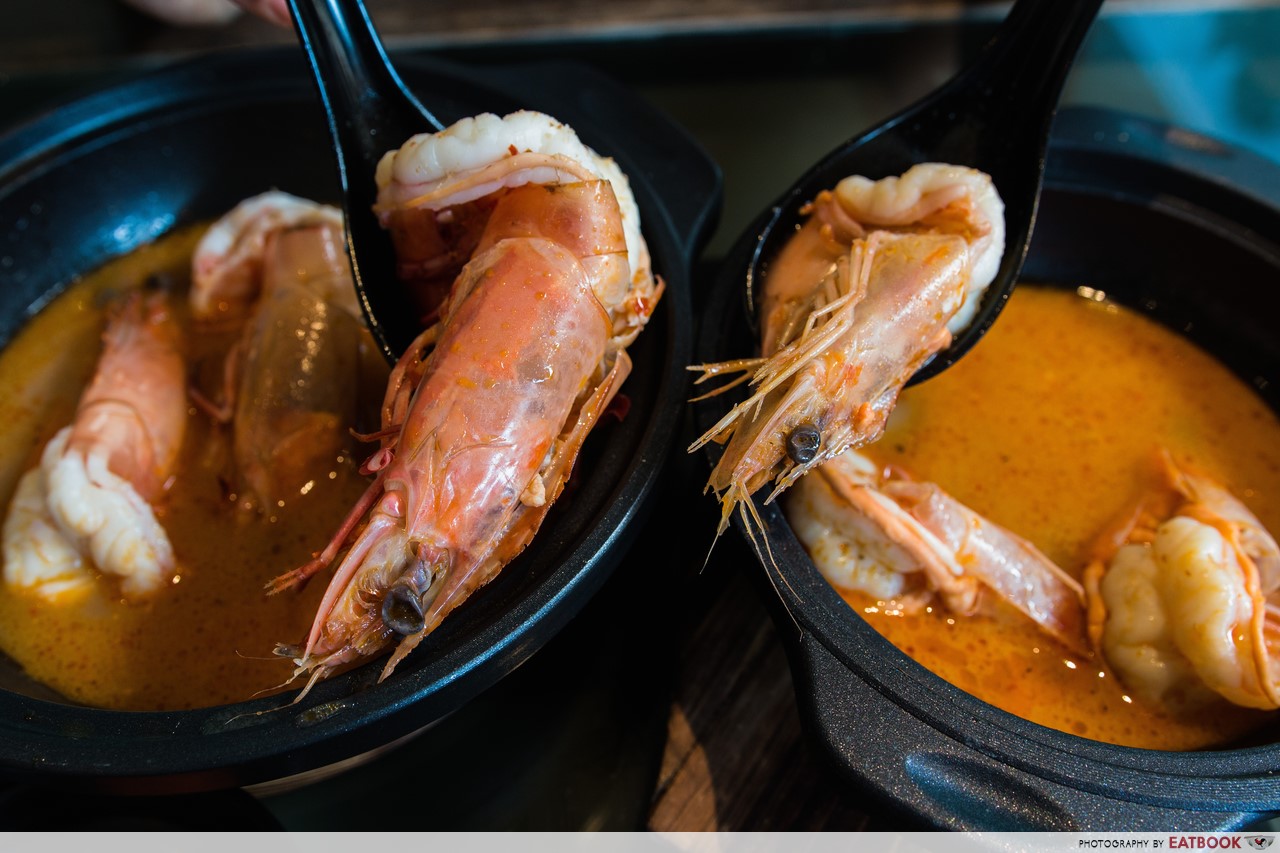 Although the medium prawn looked tiny compared to the large one, it was nothing short of fresh. Plus, it had a good amount of prawn roe, was crunchier, and a delight to have with Wah Kee's special spicy sauce.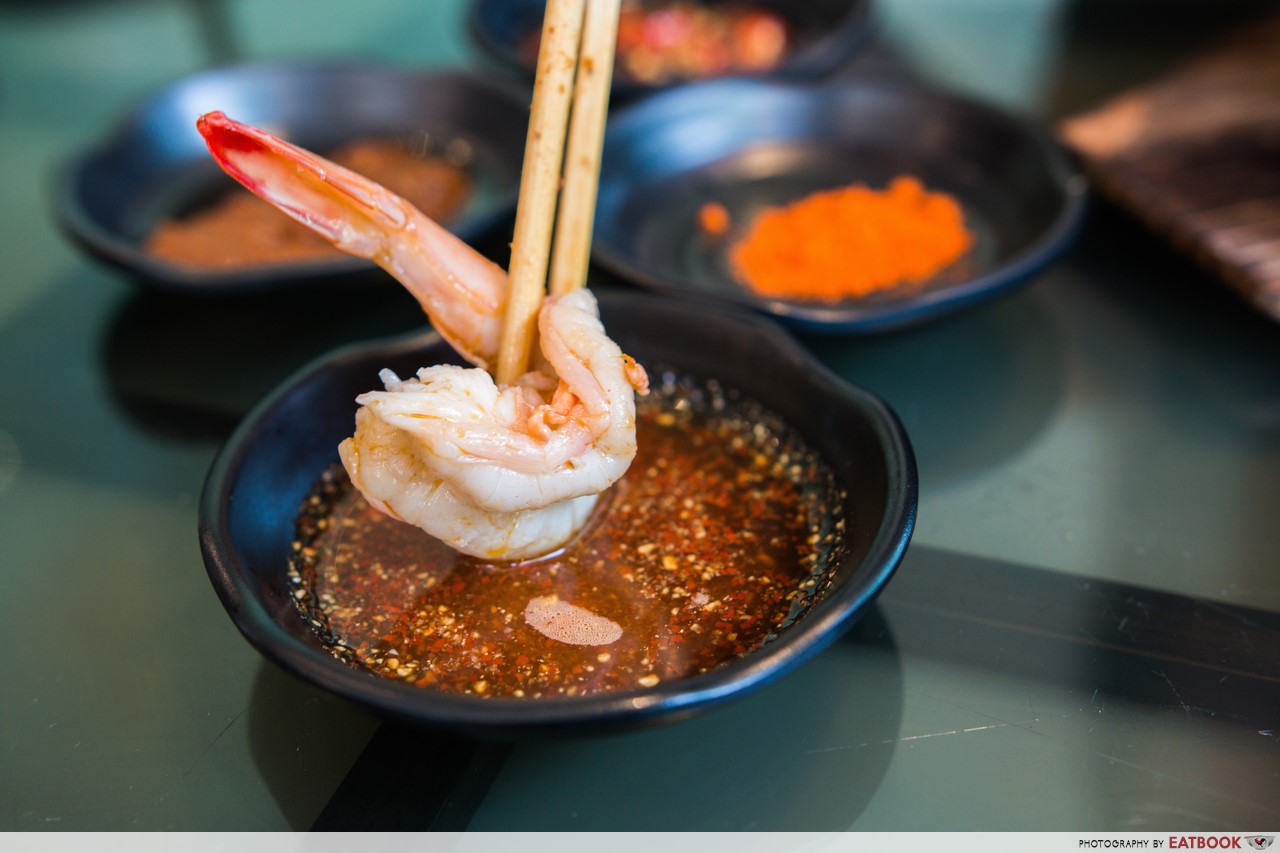 This sauce shouldn't be underestimated. I loved it so much I regretted having the prawns without it, so defo give it a try!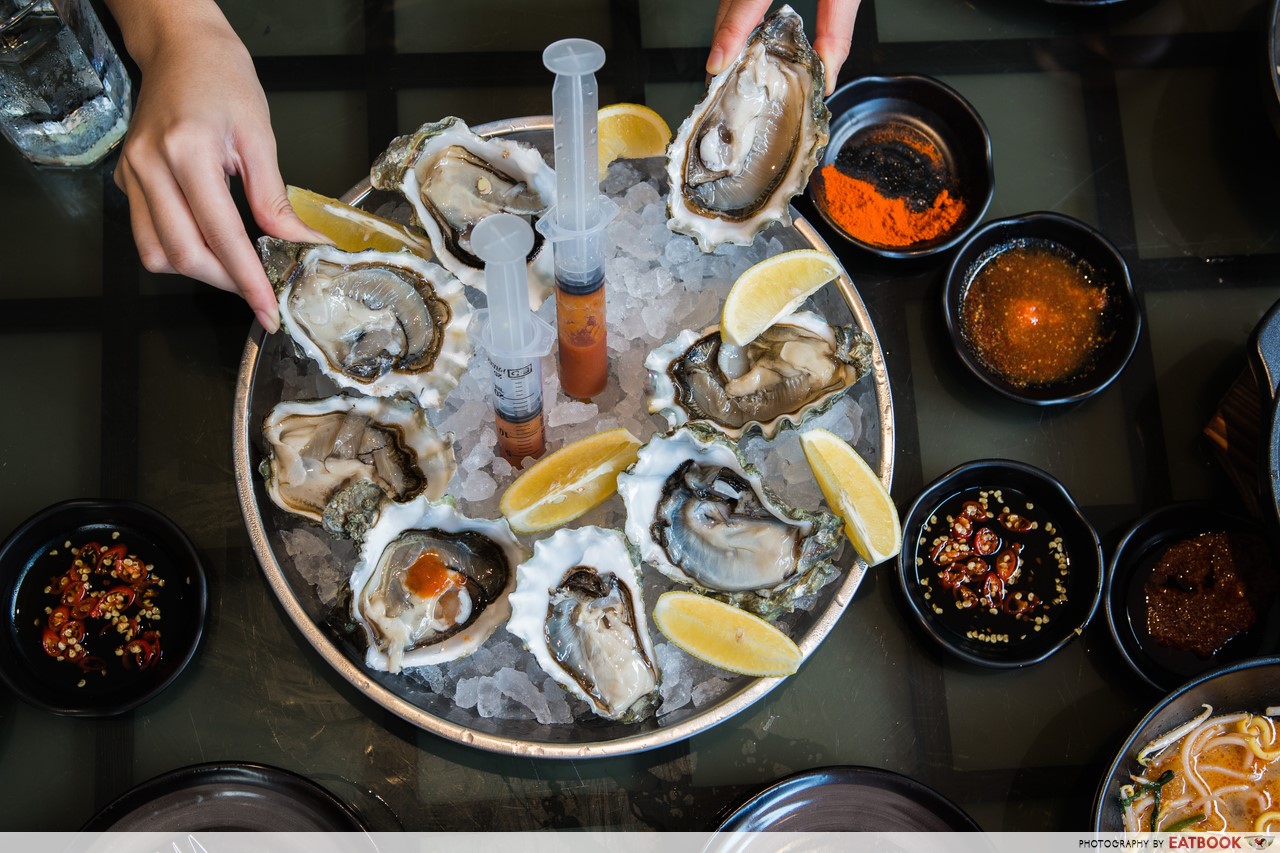 To end the meal off on a high, we were treated to a platter of freshly shucked succulent French and Canadian Oysters.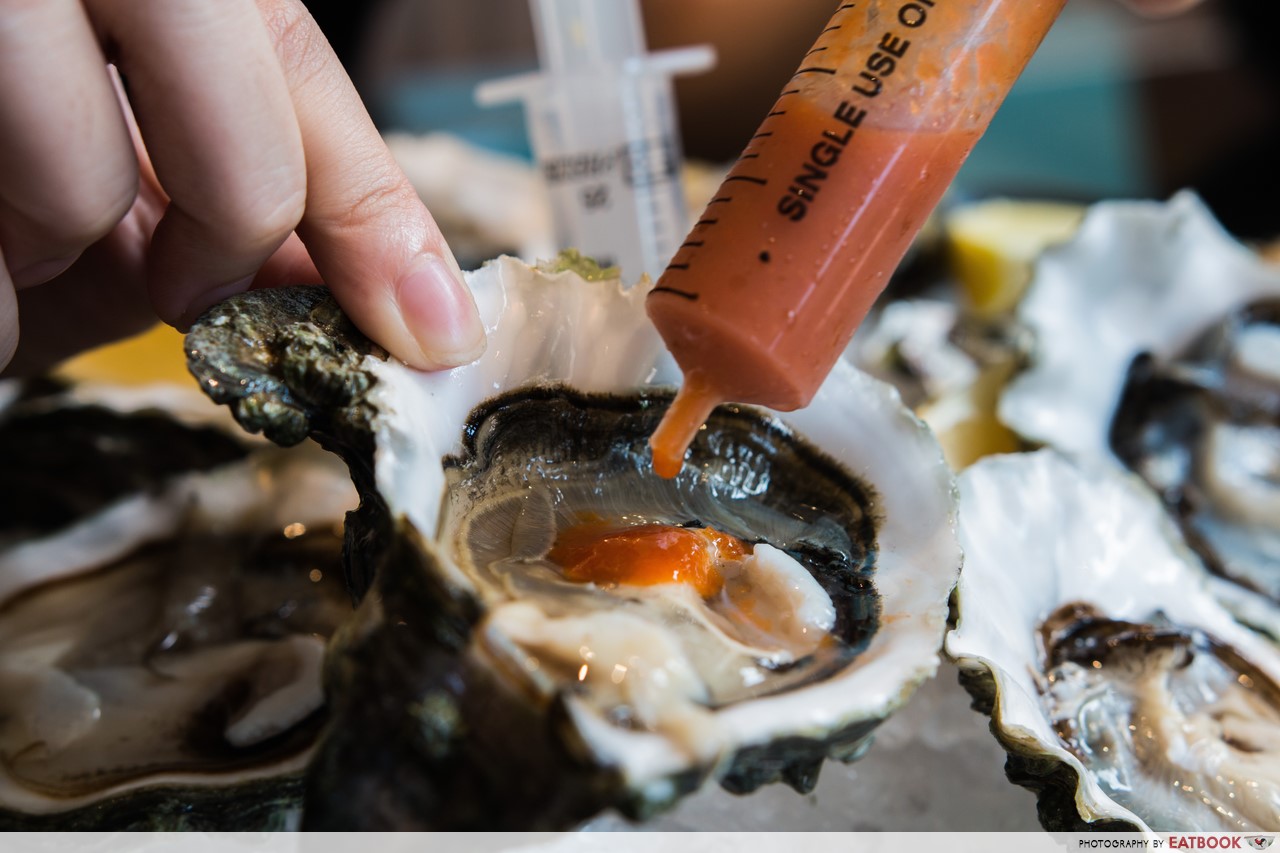 The Fresh French and US Oysters go for $48++ per dozen, and they have Tabasco in syringes that make eating oysters with it a little easier.
Ambience at Wah Kee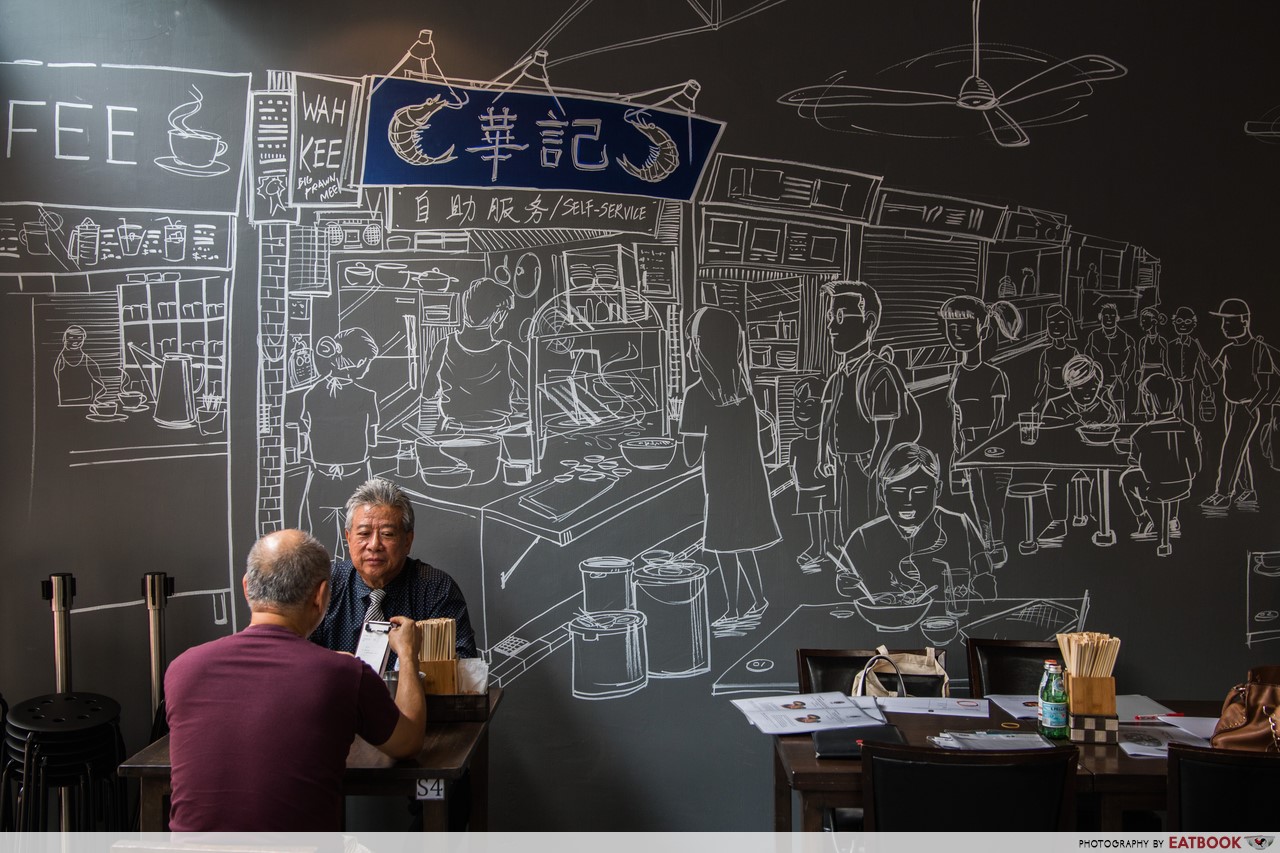 In Singapore's weather, anywhere with air-conditioning will naturally be favoured. Besides that, I love how they have an entire wall with a mural of the Pek Kio stall, which I felt helped to serve as a reminder of their roots.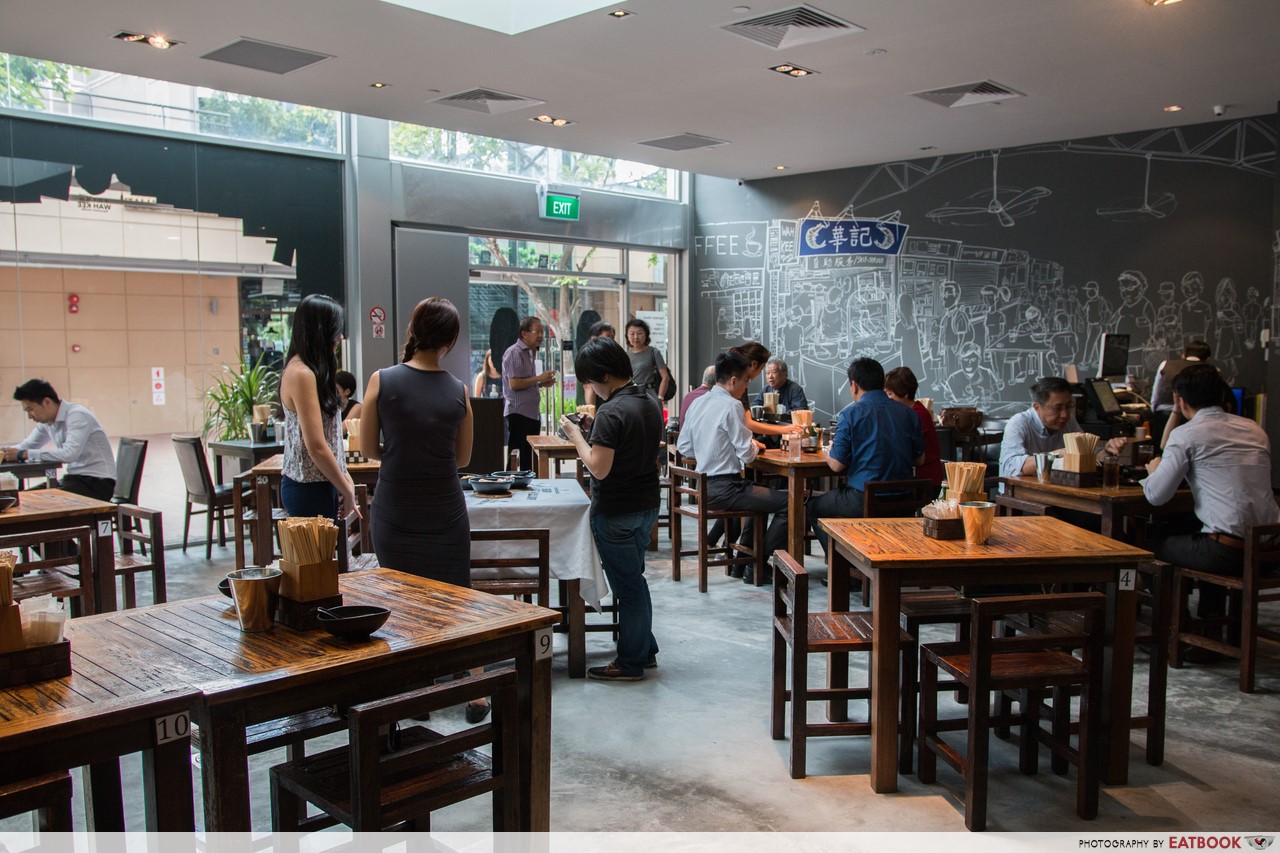 The choice of tables and chairs and the way the utensils were placed reminded me of a roadside eatery, and the layout of the restaurant allowed for groups from two to eight, with ample space between each group.
The verdict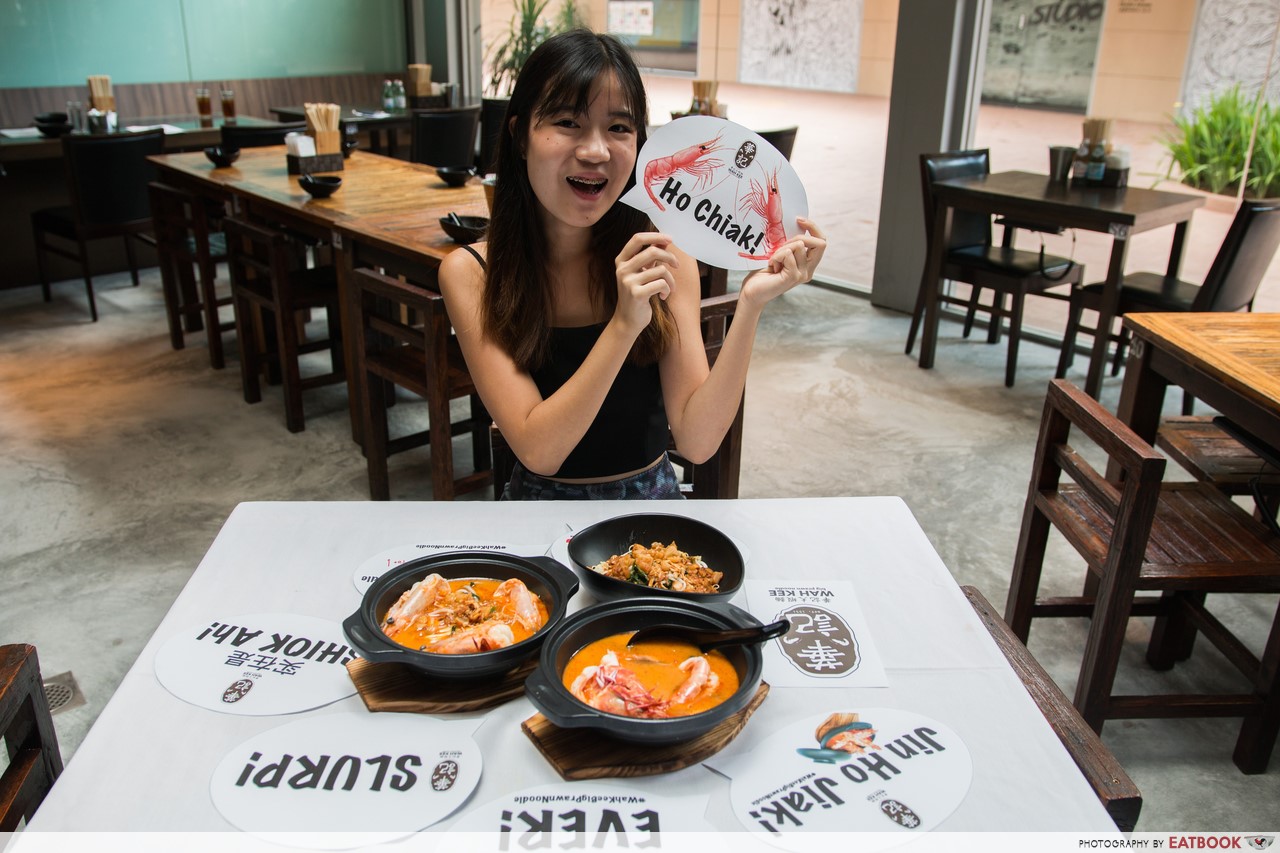 This photo perfectly sums up my experience at Wah Kee. And when it comes to prawn mee, it's hard to go wrong with the "bigger is better" idea. I now spend my days wondering if regular sized prawns were really just mini sized afterall and dreaming of Wah Kee's soup. If you haven't treated your tastebuds to this gem of a dish, do yourself a favour and head down ASAP. I know I found my new go-to eatery whenever I'm at the Esplanade now.
This is an independent review by Eatbook.sg.
Summary
Pros
– Comfortable environment
– Fresh ingredients
– Accommodates small and large groups
Cons
– Long queue
Recommended Dishes: Dry Prawn Noodle with Medium Sized Prawn ($12++), Prawn Noodles with Large Sized Prawn ($20++)
Operating Hours:
Daily 11am to 2pm, 5pm to 10pm
Tel:
6327 9187
Address: 8 Raffles Avenue, #01-13C, Esplanade Mall, Singapore 039802