Sumo Big Prawn changes the prawn mee game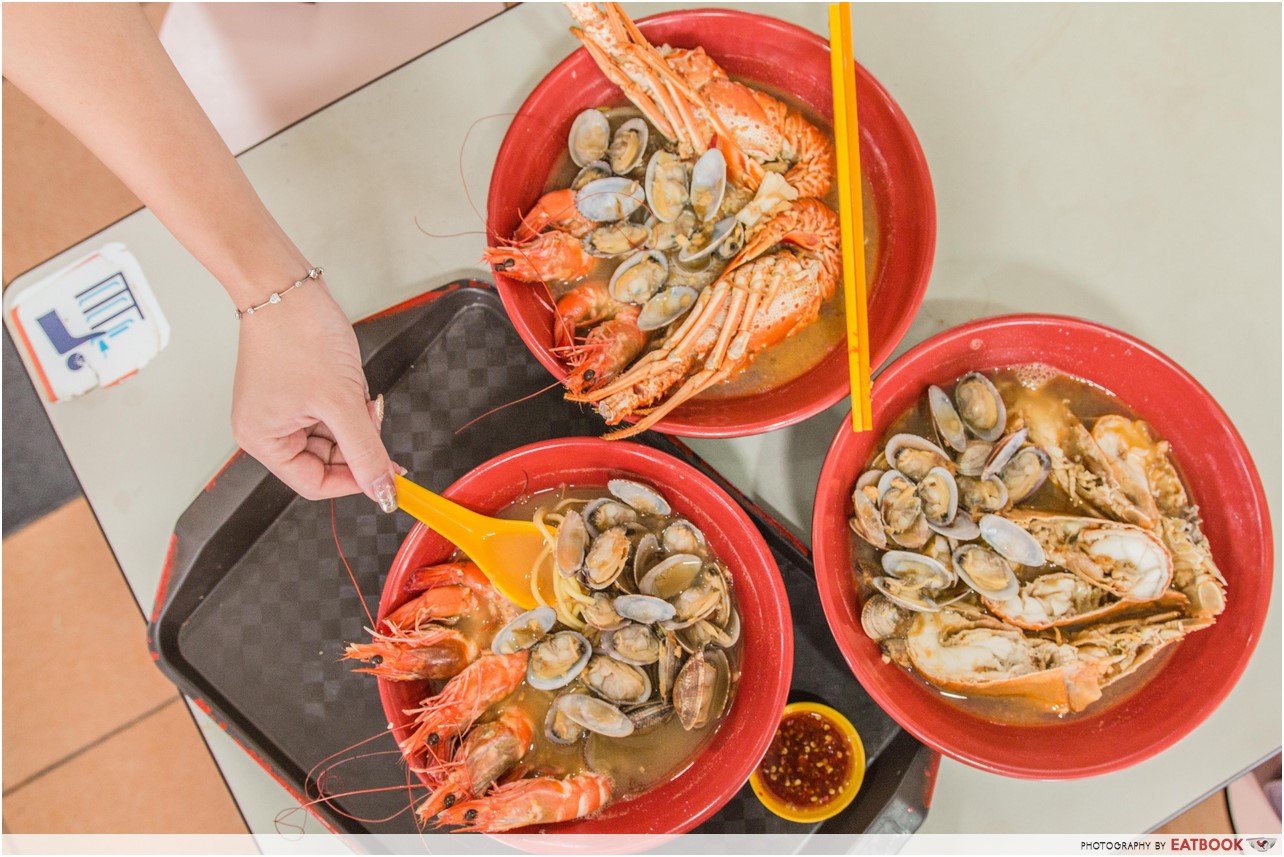 The "bigger is better" philosophy doesn't stop at cutting a slice of cake, it also seems to be the mantra of Ang Mo Kio's biggest hawker hit, Sumo Big Prawn. And no, we're not talking about the size of the bowl of prawn noodles, but the PRAWN itself. When raw, these prawns can be bigger than a child's face, and even when cooked they are much larger than usual. Plus, beyond prawn mee, Sumo Big Prawn also has crayfish soup and even lobster bee hoon!
Food at Sumo Big Prawn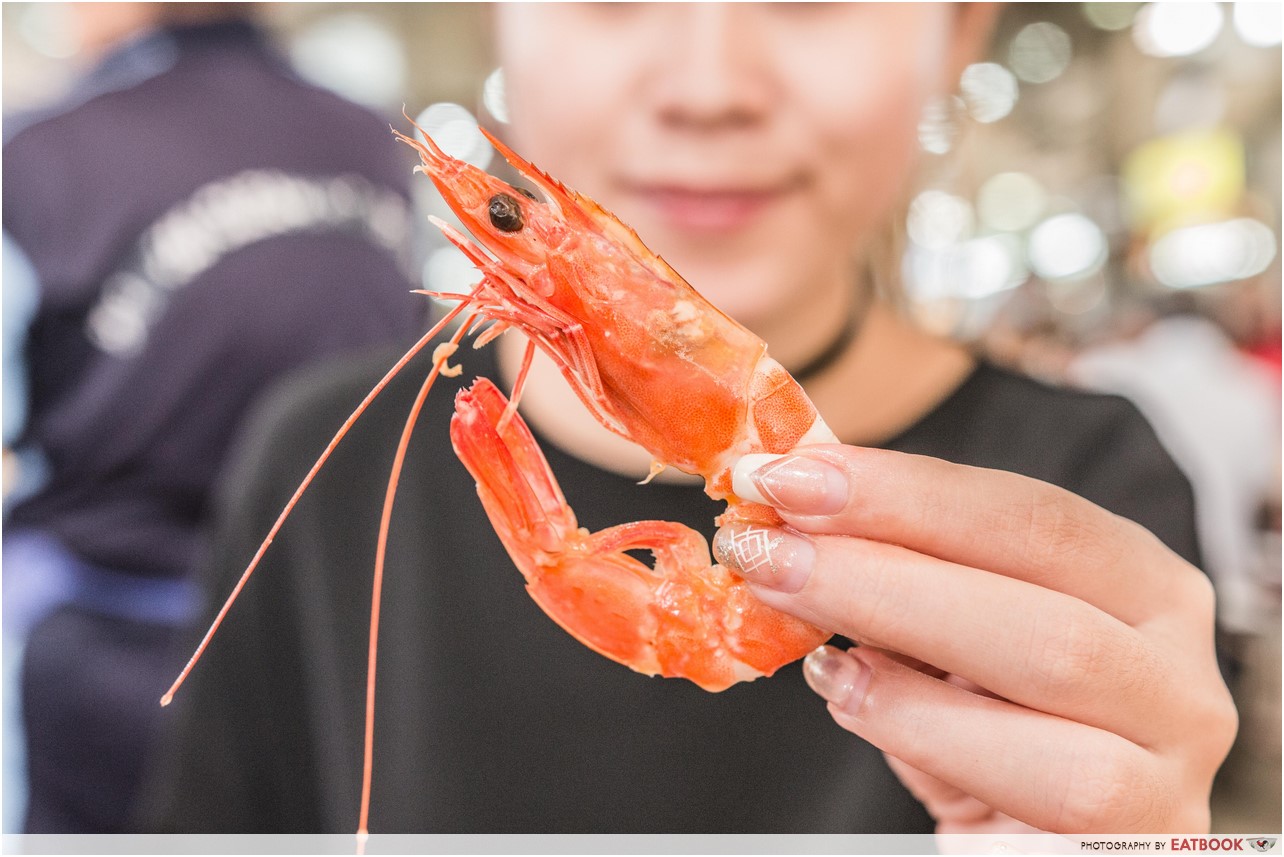 Although Prawn Bee Hoon Soup ($5) was unavailable when we arrived, no hearts were broken as we had our hopes pinned on the up-sized version, Sumo Big Prawn ($8).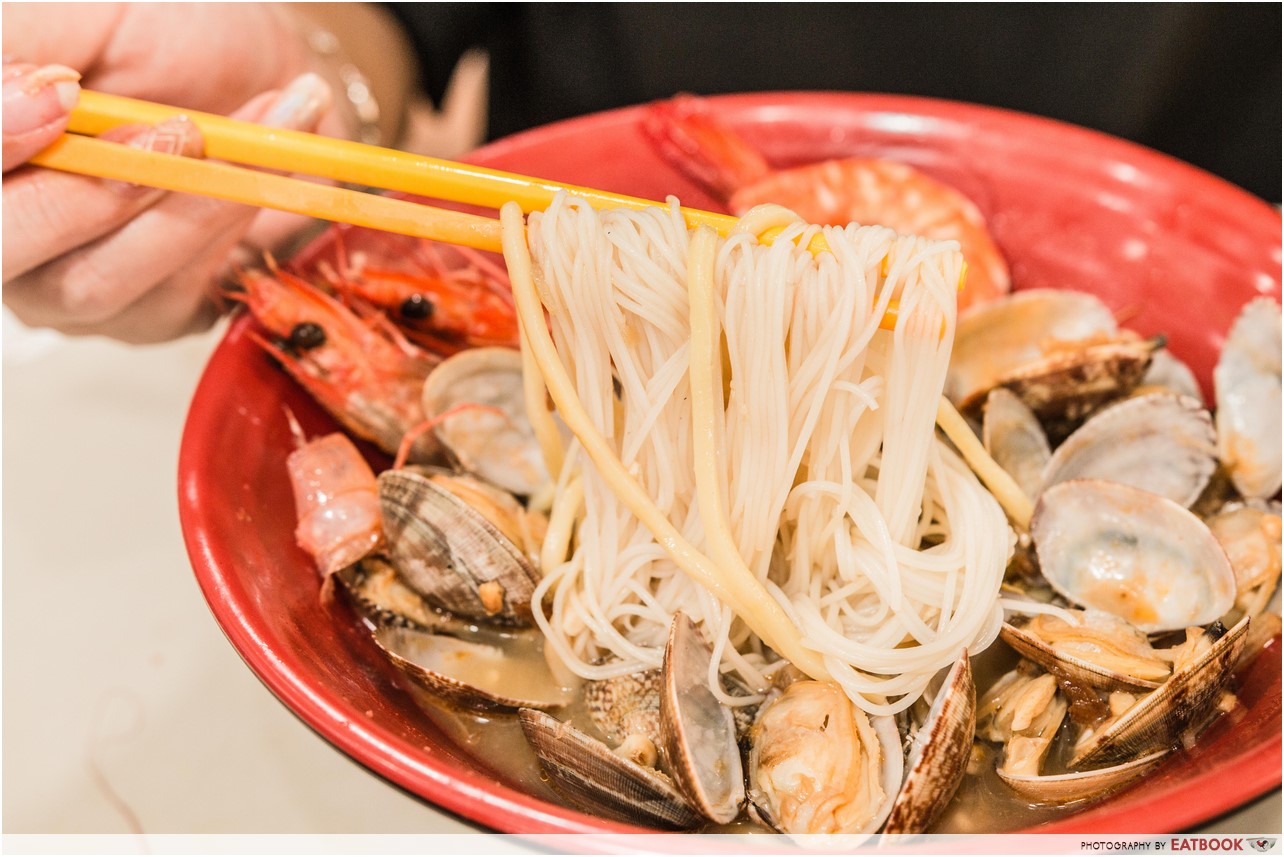 Just like how I like my ang baos, these prawns were red and fat. Blanched only on order to retain its natural sweetness, each jumbo prawn was delightfully crunchy and the clams were springy without a trace of sand. We paired this with a mix of bee hoon and yellow noodles, which provided a good base for the broth to cling onto as we slurped the bowl clean.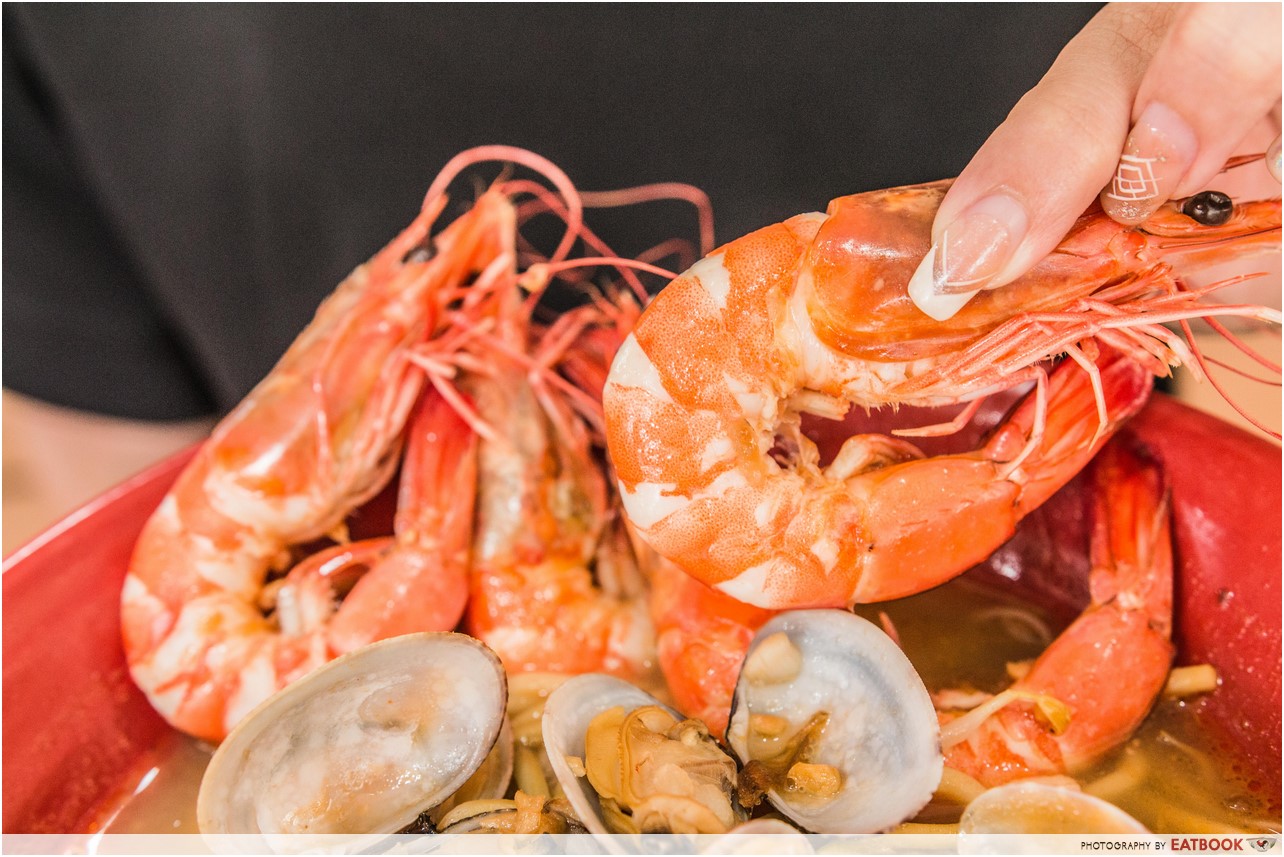 The highlight of every bowl is Sumo's umami-filled broth, made by boiling prawn shells and pork ribs. Despite its rich tomato-red colour, the soup was not overwhelmingly dense but packed with minced garlic and generous swigs of Chinese cooking wine that left a wave of garlicky sweetness in my mouth and warmth to my stomach.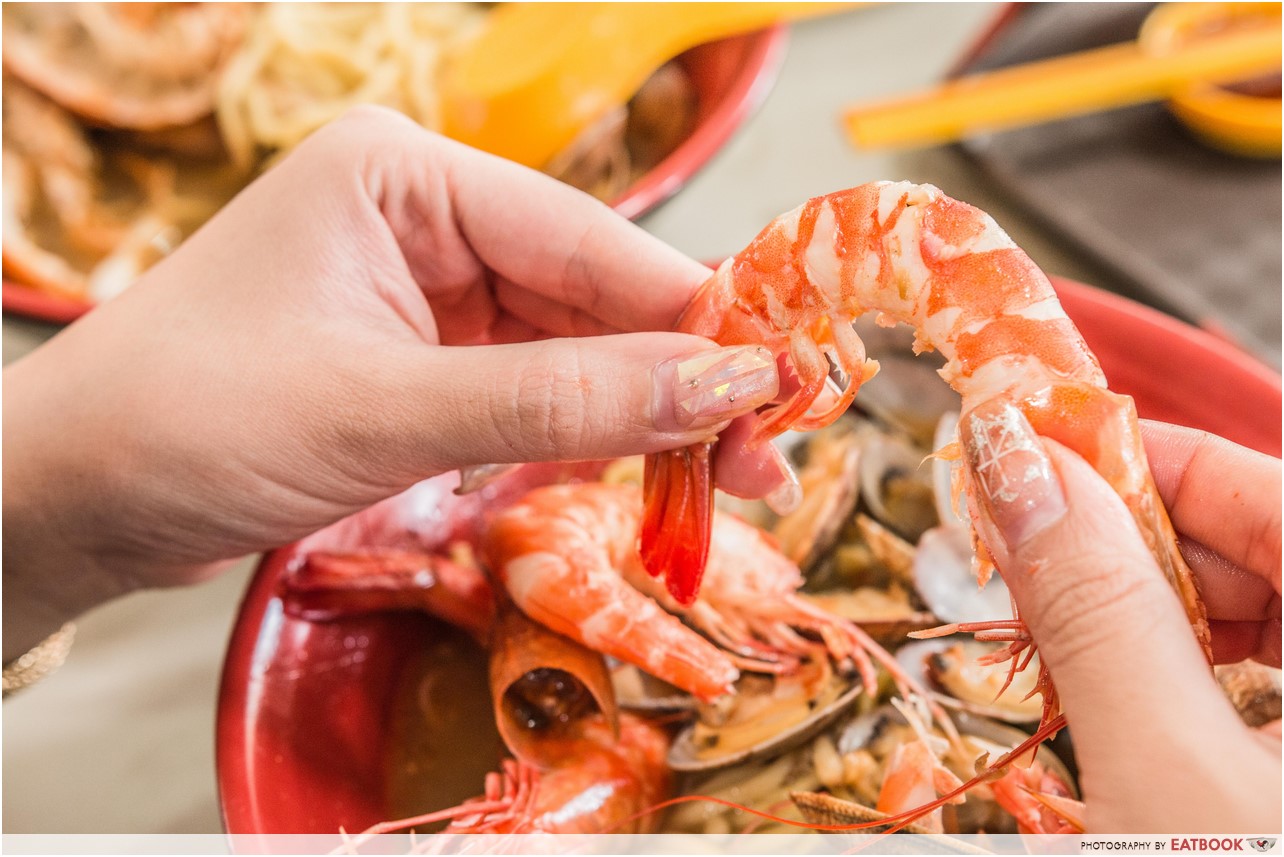 I also liked how the prawns are peeled in the middle, leaving just the head and the tail attached – no getting your hands dirty here!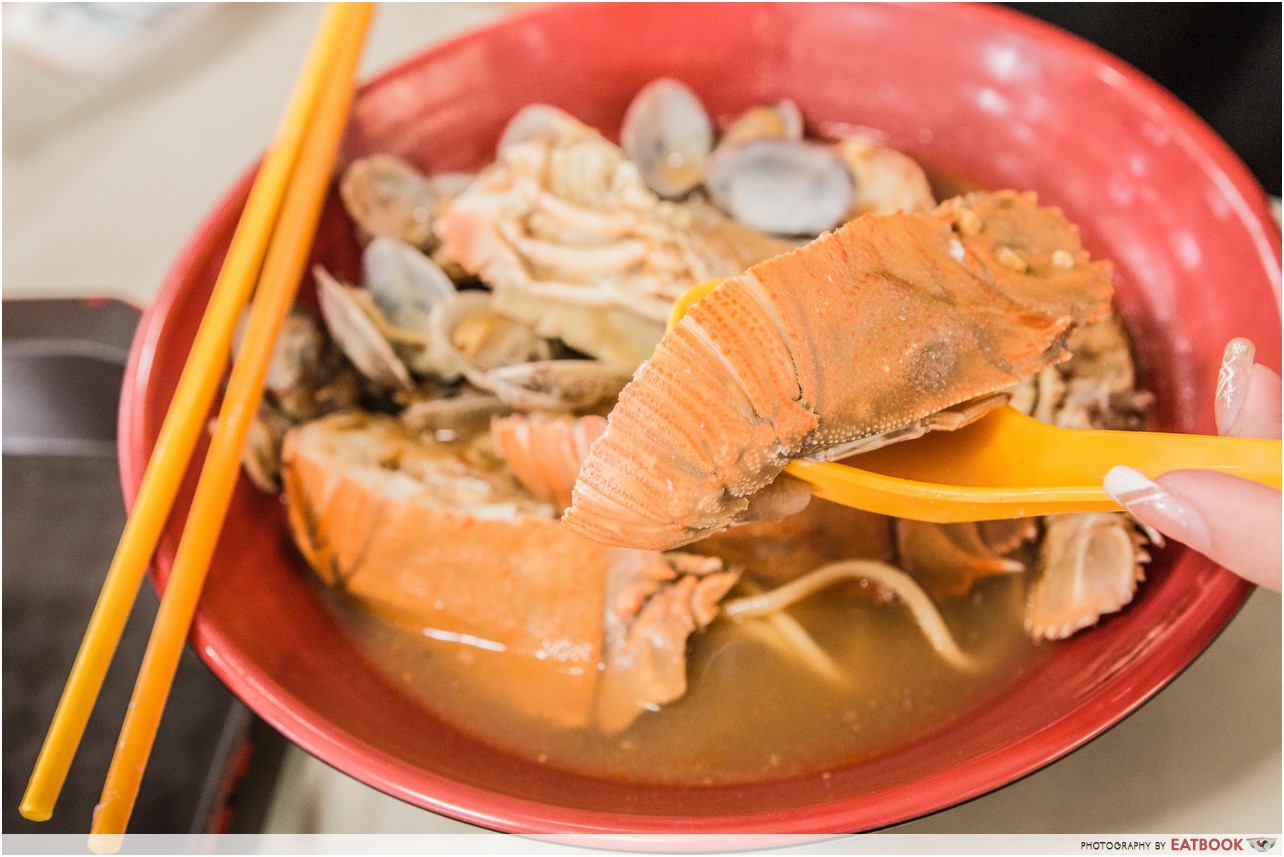 For $13, Crayfish soup is an extravagant bowl of six halved crayfish stacked on a mountain of clams and yellow noodles.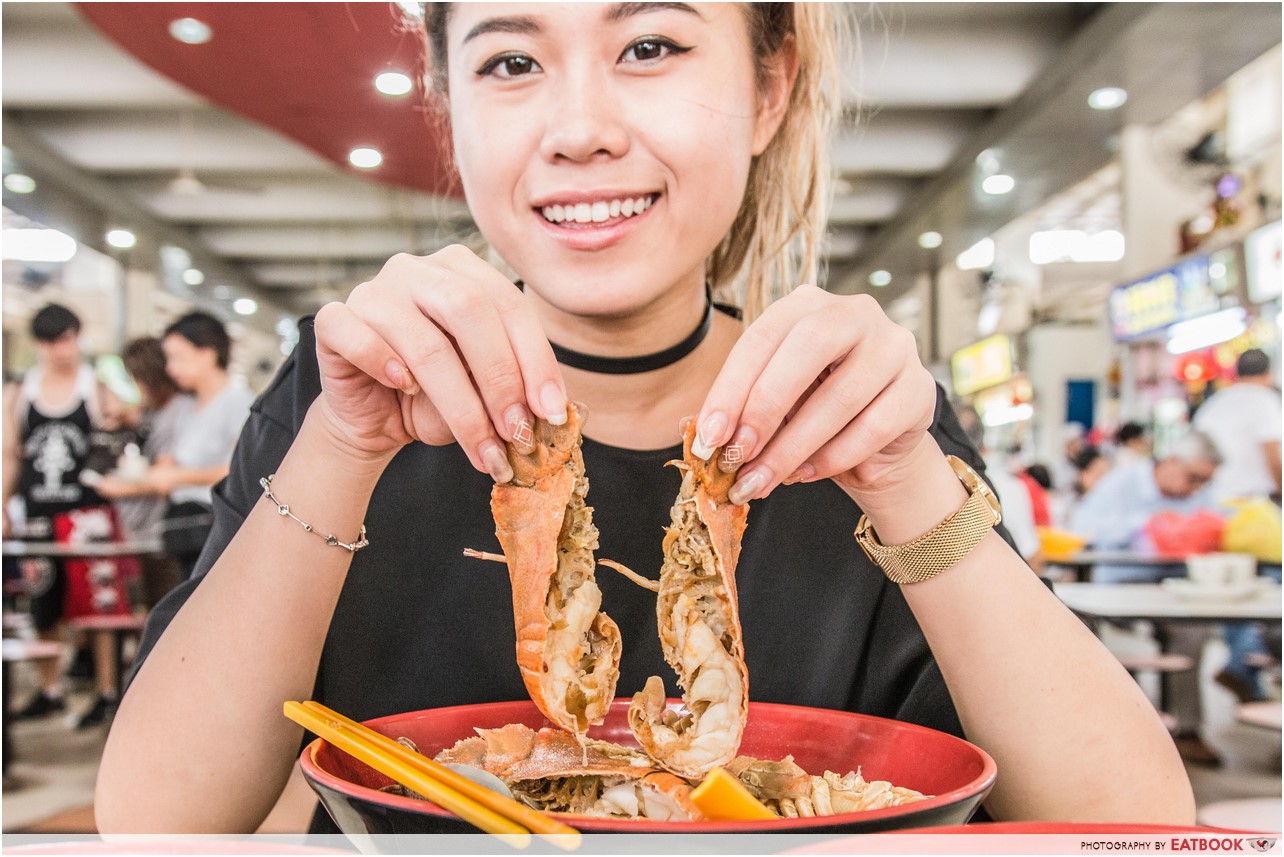 The crayfish meat peeled smoothly out of its shell, and was a lot more succulent than the lobster's. With every bite, the fresh meat left a lingering sweetness that balanced well against the savoury yellow noodles and garlicky broth.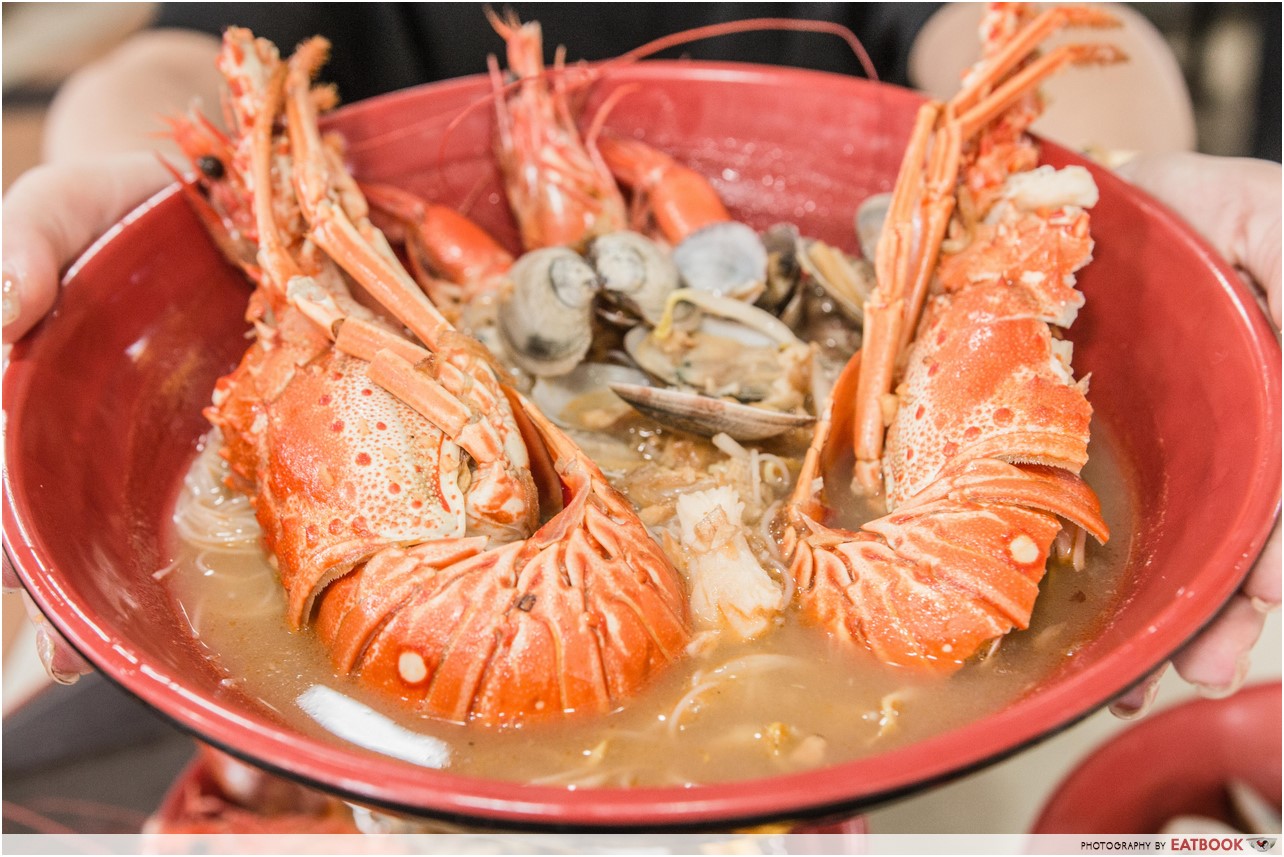 The most expensive item at Sumo Big Prawn is Lobster Bee Hoon Soup. It's usually priced at $18.90, but we got ours at $24.90. This is because they usually use Asian lobsters, but they have to substitute it with premium Colombian lobsters until the former is back in stock. This huge red bowl was piled with a full lobster, two big prawns and loads of clams to completely cover the bee hoon beneath.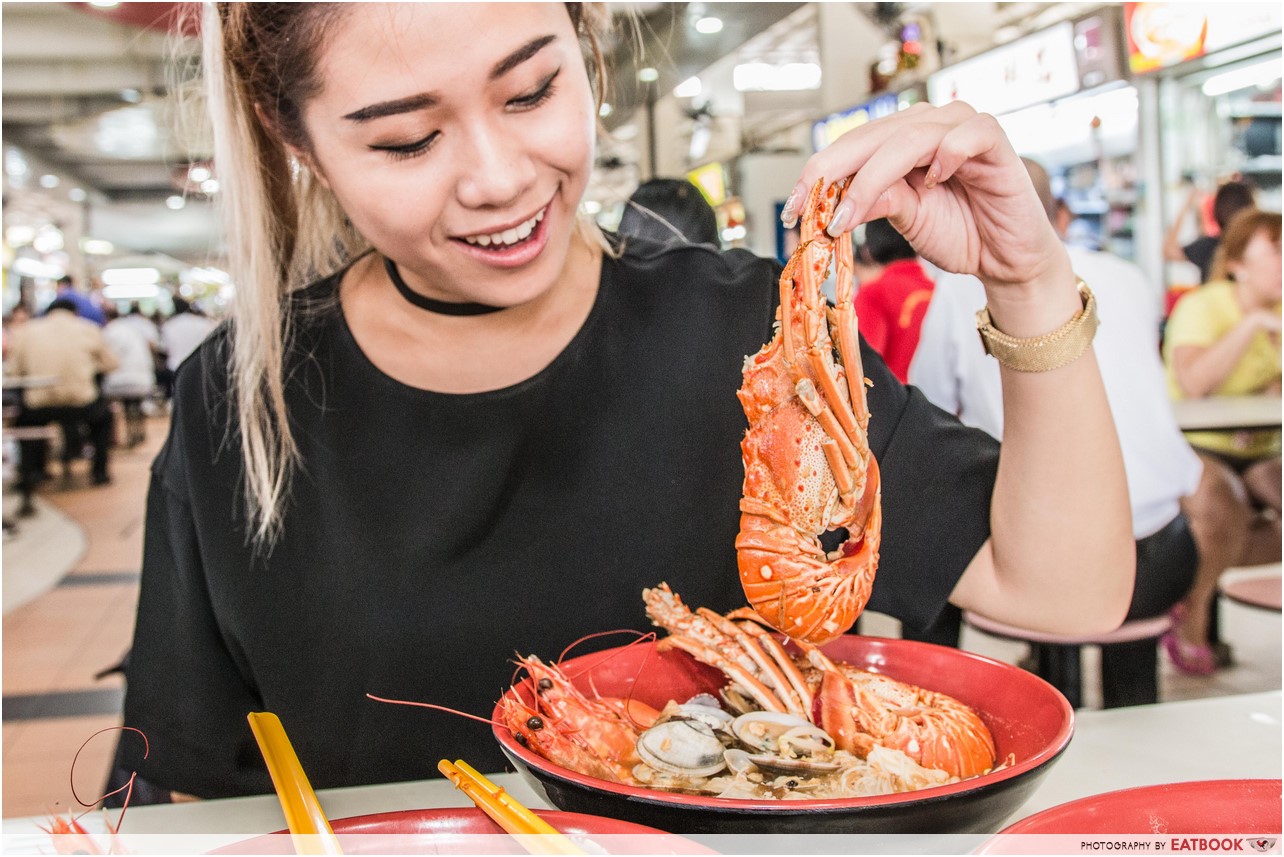 Although this 300g to 350g lobster was generously meaty, I was disappointed to find mine overcooked and tough. However, it's still worth buying to taste this crustacean without the usual price tag.
Ambience at Sumo Big Prawn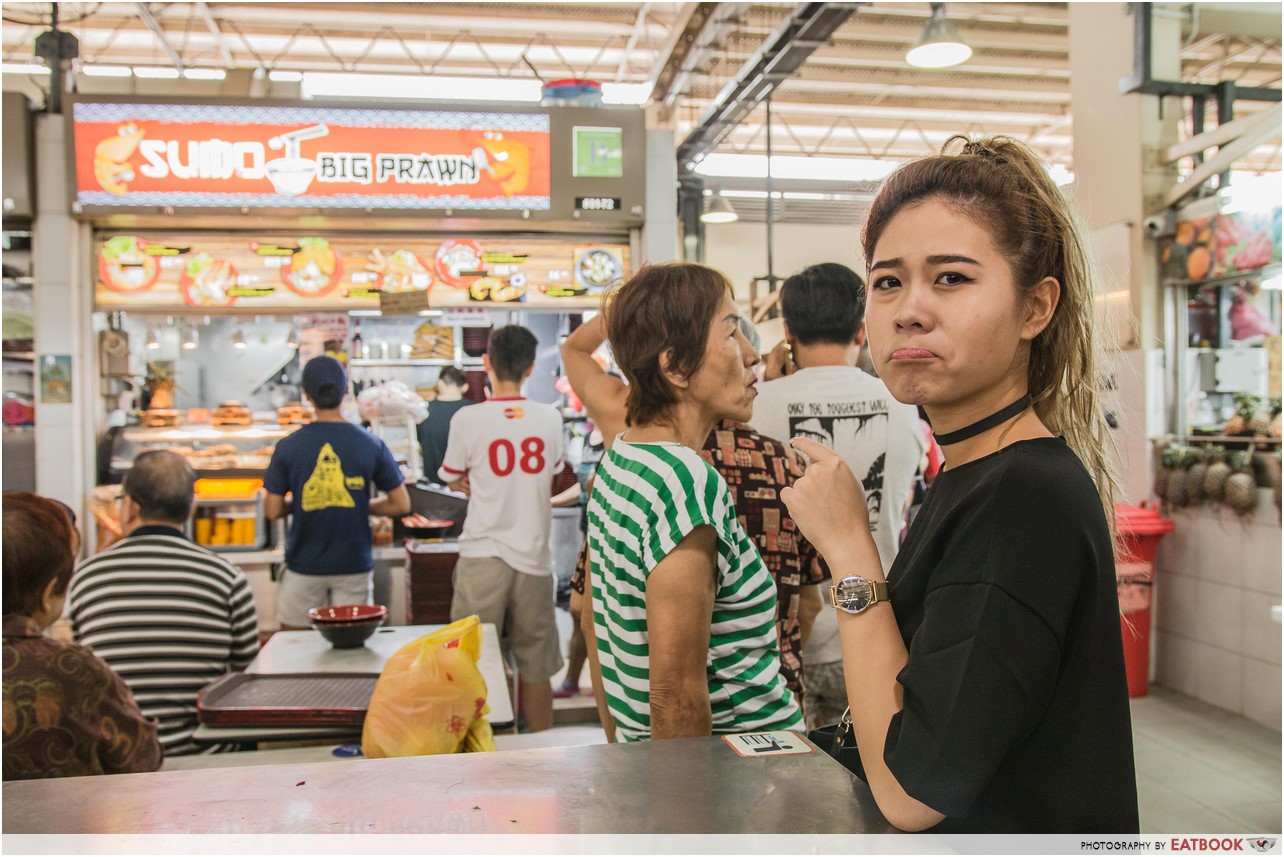 Don't be put off by the huge line, because each dish is well worth the wait. Unlike older hawker centres, AMK 628 Market is well-lit and ventilated, dismissing any concerns about consuming a steaming hot bowl of soup in a non-air conditioned place.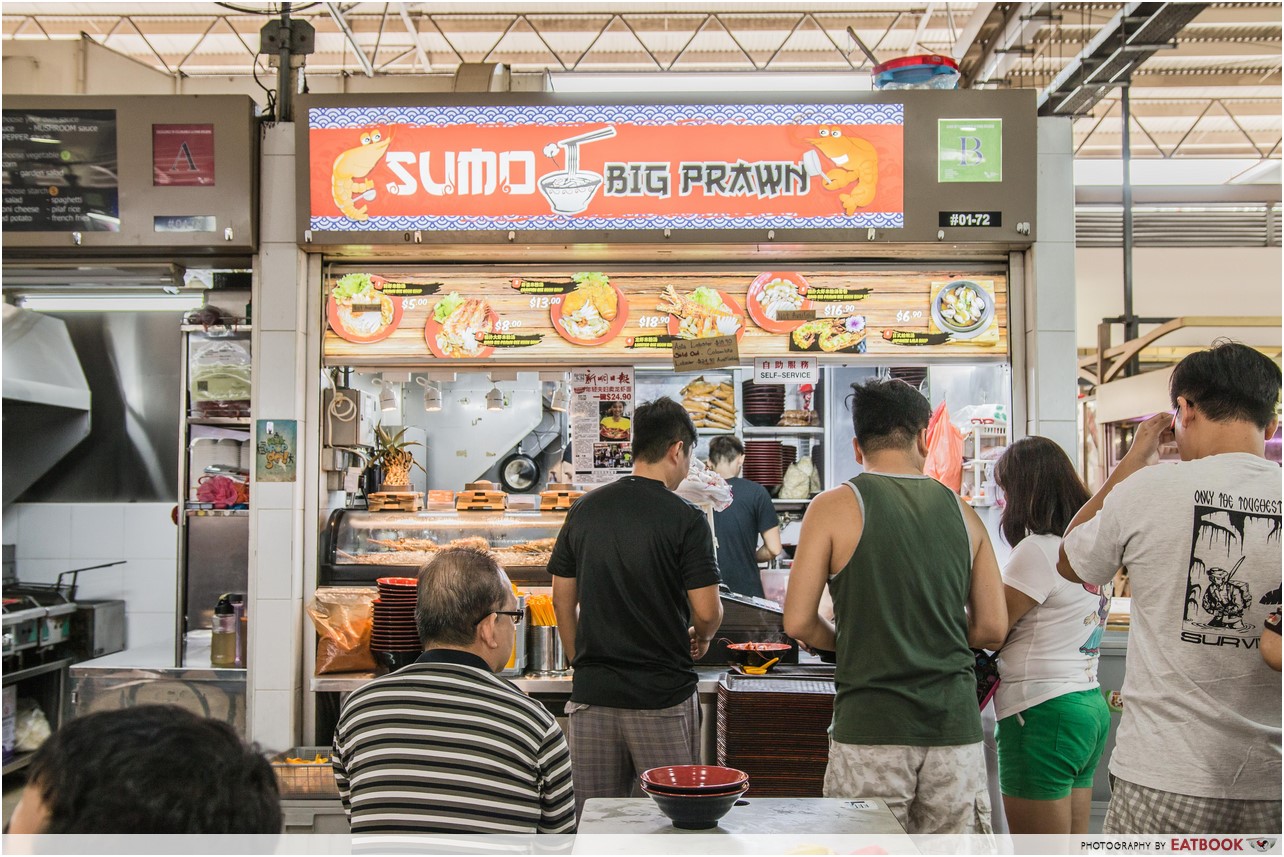 Service was great as well. When we couldn't finish our meal, the staff were more than happy to help dapao our leftovers, even topping our soup up before we left.
The verdict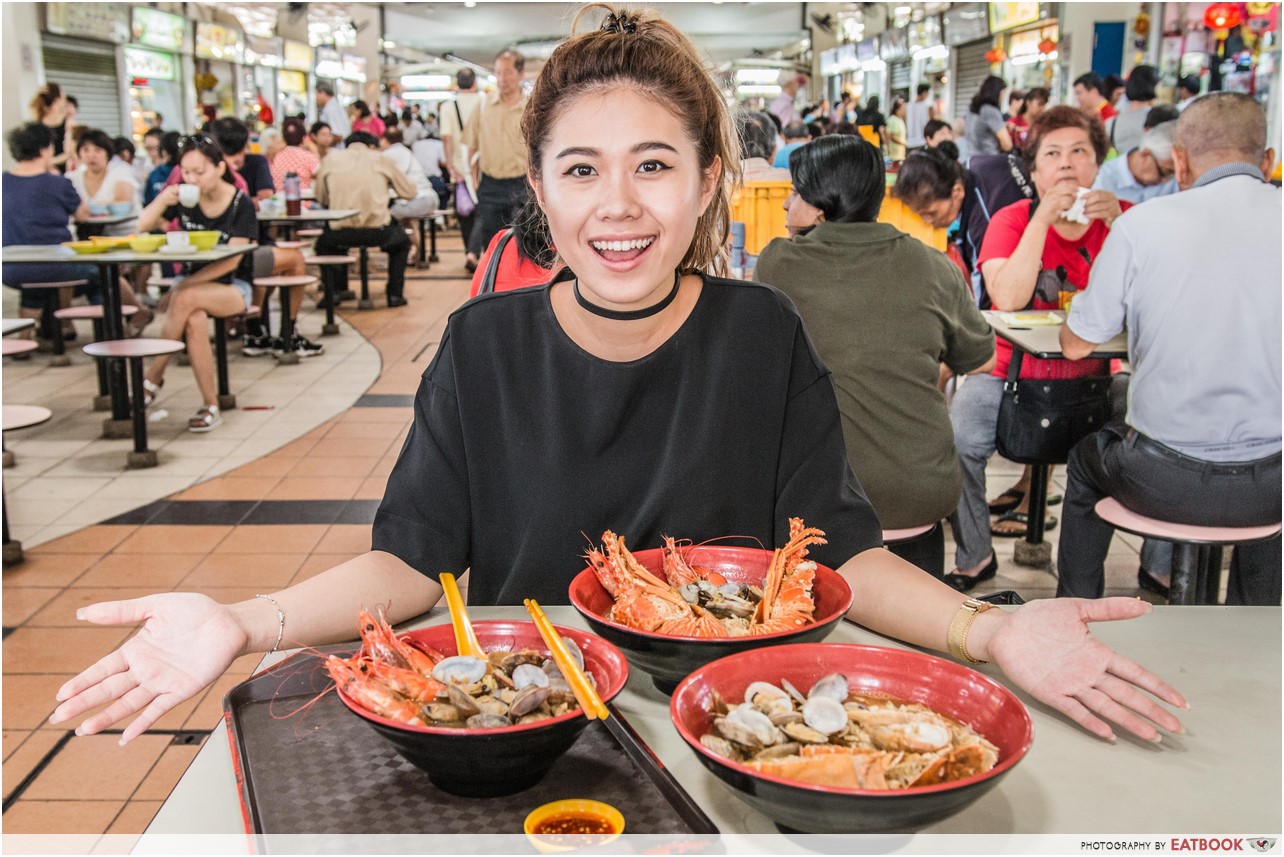 If judging by best value for price paid, there's nothing like the size or ingredients of these show-stoppers! I'm also amazed by how much seafood Sumo Big Prawn is able to pile into every bowl.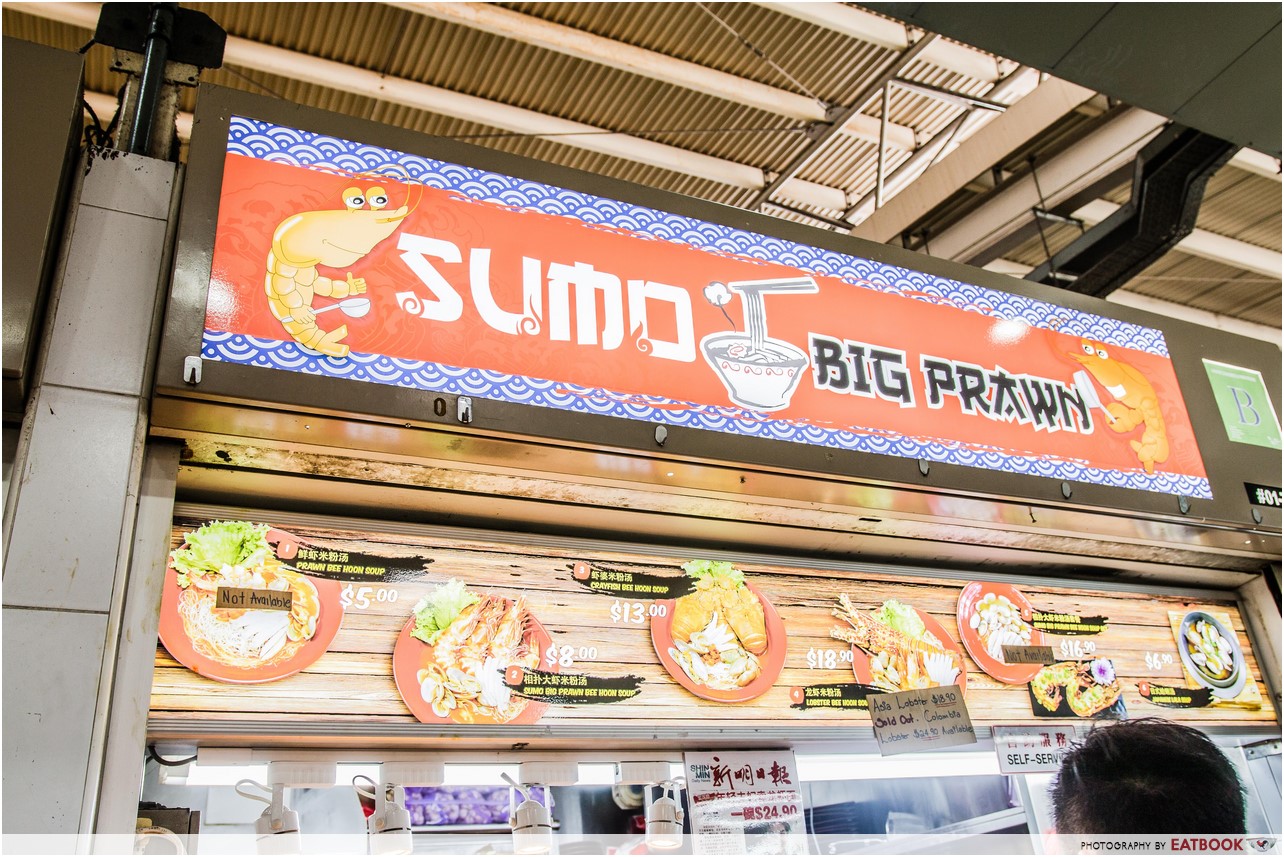 Other than the overcooked lobster, Sumo Big Prawn ticks all the boxes of a cheap but atas noodle bowl that leaves my tummy satisfied. I'll definitely be back for more crayfish and prawn noodles soon!
Address: 628 Ang Mo Kio Avenue 4, AMK 628 Market, Singapore 560628
Opening hours: Tue-Sun  8:30am to 7:30pm, Mon 8:30am to 2pm
Tel: 9299 2621
Website
Sumo Big Prawn is not a halal-certified eatery.
This is an independent review by Eatbook.sg.
Sumo Big Prawn Review: Lobster And Crayfish Prawn Mee At A Hawker Stall In AMK
Sumo Big Prawn Review: Lobster And Crayfish Prawn Mee At A Hawker Stall In AMK -

8.5/10
Summary
Pros
– Large portions
– Value for money
– 10- to 15-minute walk from Yio Chu Kang MRT Station
Cons
– Long queue
Recommended Dishes: Crayfish Yellow Noodle Soup ($13), Sumo Big Prawn Noodles ($8)
Operating Hours:
Tuesday to Sunday 9:30am to 4pm, 5pm to 9pm
Tel:
9299 2621
Address: 628 Ang Mo Kio Avenue 4, AMK 628 Market, Singapore 560628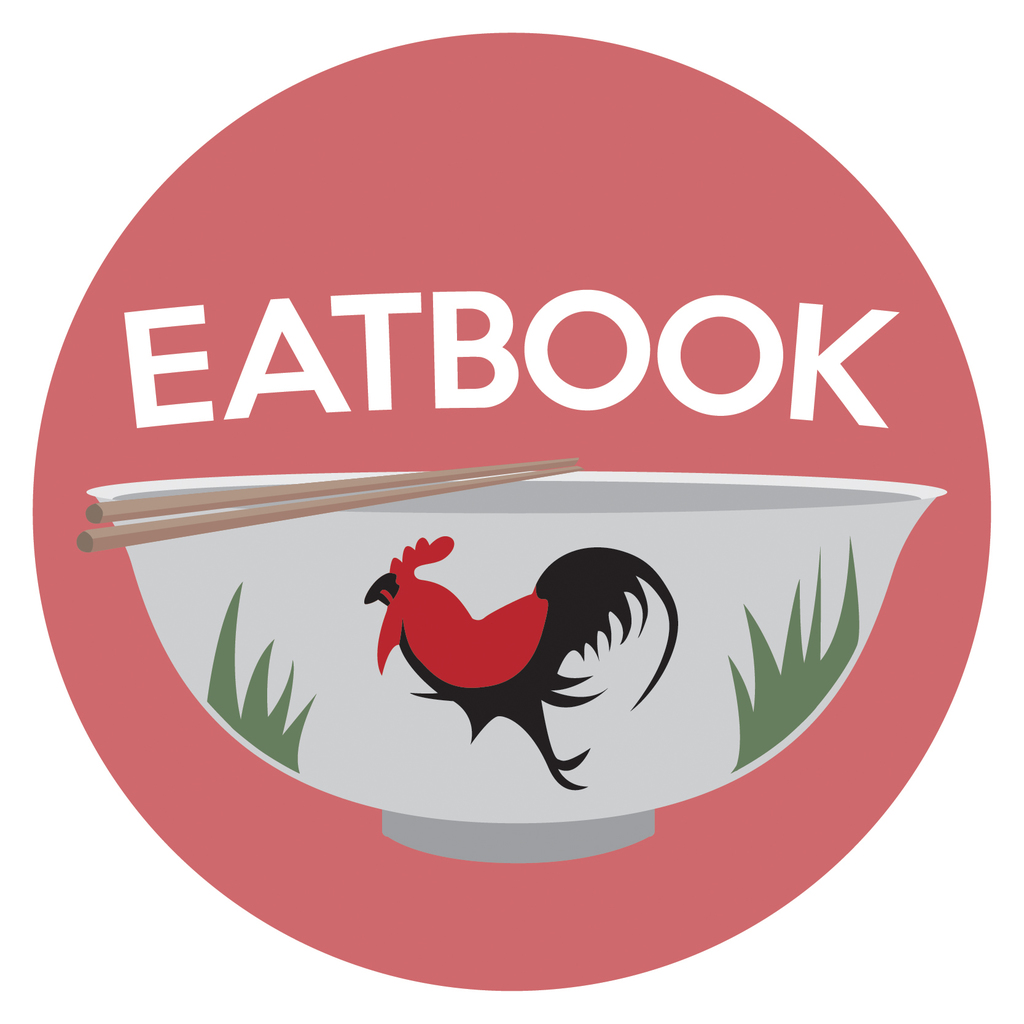 Drop us your email so you won't miss the latest news.